Did you know that New Hampshire has just thirteen miles of scenic coastline? That number might seem small compared to other coastal states in the U.S. (California, for example, has over 800 miles of coastline), but those thirteen miles are well worth exploring with your family.
New Hampshire's ocean beaches are a sheer delight. What they lack in warm water—this is New England after all— they make up for in clean, sandy fun and gorgeous views.
In addition to the state's coastal beaches, there are many lovely freshwater beaches to explore as well. Whether you are a young family looking for easy access to the water and lots of amenities, or you have teens who like to head off the beaten path, there is a New Hampshire beach for you!
Here are six wonderful New Hampshire beaches to try with your family. Many of them are included in half-day bike tours of the NH seacoast.
1. Hampton Beach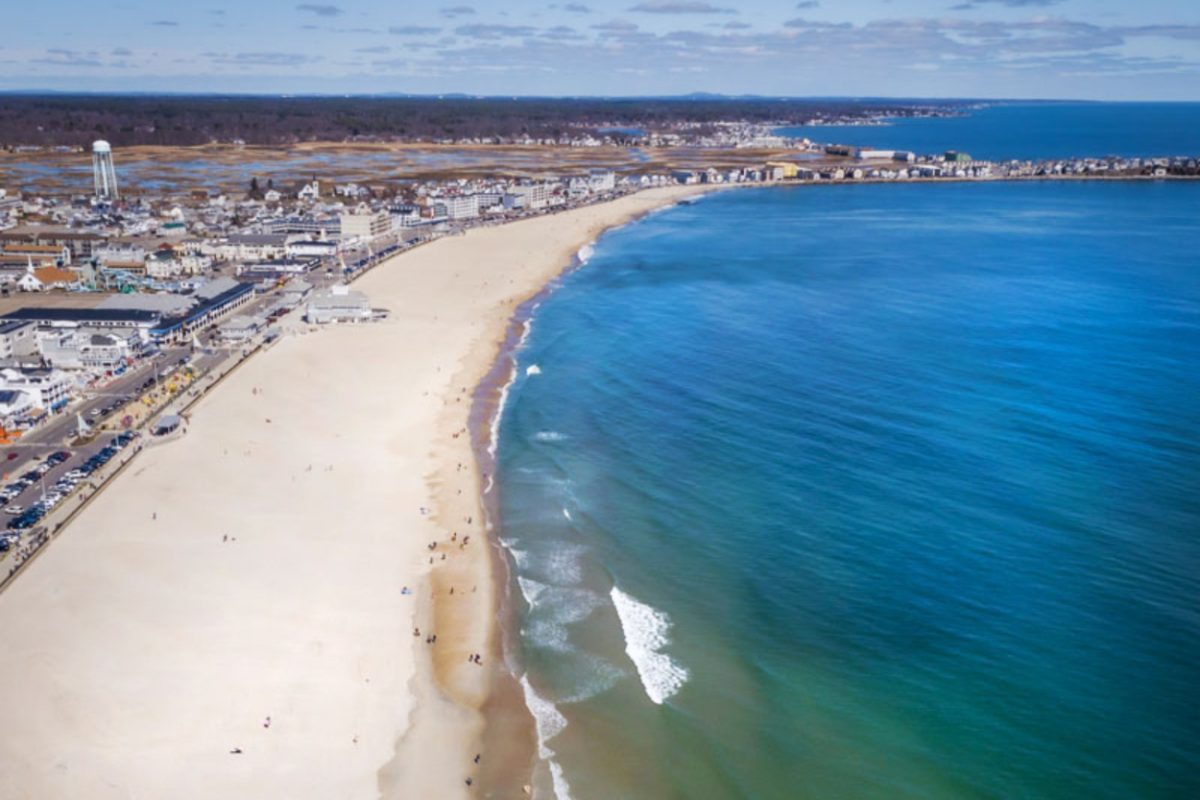 Hampton Beach State Park is often the first beach that comes to mind when thinking about the beaches of New Hampshire. It is the biggest ocean beach in New Hampshire, with over a mile of wide, sandy shoreline.
The hard-packed sand seems to be made for strolling and lounging! You'll find lifeguards, large restrooms and changing areas, and plenty of room to spread your blanket, even at high tide.
A fabulous bonus is the large, enclosed playground for kids, right next to the beach. Once inside the playground, you can relax—there is only one entrance and exit to watch. It's a nice way to give kids a break from the sand and salt, and for parents to take a break from lifeguard duties.
Hampton Beach does get crowded in the high season, so plan your time carefully. Arrive early in the day in order to secure parking in the main lot or along the street. Coin-operated meters and pay stations are available.
The beach offers events all summer long, including a yearly sand sculpture event and musical performances in the bandshell. Plus, there are fireworks every Wednesday night in season.
Bring a blanket to sit on, something warm to sip, and sweatshirts for everyone. Drink-warming cups are also a great idea. It gets chilly in New Hampshire at night!
Traffic can be a bit intense leaving the fireworks, so if your crew is up for it, you might want to linger on the dark beach to let some of the cars clear out before departing.
One of the benefits of Hampton Beach is its proximity to the town, and you can find some really good places to stay here.
There is a strong honky-tonk vibe in the town, but it's all in good fun. You'll find yourself nostalgic for your own childhood beach days! You'll find gift shops and food options galore (you may wish to set a family budget before exploring the offerings).
Try Sweet Hannah's for homemade fudge and two dozen flavors of saltwater taffy. Sal's pizza bills itself as "home to the biggest slice on the beach" and makes for a budget-friendly dinner option, while the Boardwalk Café offers live entertainment seven nights a week and a children's menu that includes fish and chips.
Location: Hampton Beach State Park
160 Ocean Blvd Hampton,
NH 03842.
Find places to stay near Hampton Beach
---
2. North Beach
North Beach, a couple of miles north of Hampton Beach, is a great pick for those wanting a slightly quieter beach day.
While the sand here is lovely, it does tend to get covered up at high tide, so watch those tide tables! The good news is that the beach is lined with large granite slabs, which make for perfect perches in a pinch.
The wave action here can be a bit intense, depending on the day, so just keep an eye out for any posted warnings. The flip side is that on a windy day, you and your kids might be able to spot surfers in the waves.
If you have daring teens (and maybe wetsuits!) you can even try the wave action out yourself. Skimboarding is another fun option if you aren't up for surfing. There are multiple shops in the area that sell, or even rent, skimboards and other gear if you don't have your own.
Metered parking is available at North Beach, and the bathhouse is open year-round, making this a convenient spot for a winter beach walk with the kids. Just bundle up and bring along some hot chocolate!
If you are hungry before or after your beach fun, stop in at nearby KB's Bagels and Java. Choose from multiple flavors of bagels and spreads, ice cream, sandwiches, and a wide variety of hot and cold drinks. You are sure to find something to satisfy any appetite.
Location: North Beach
920 Ocean Blvd
Hampton, NH 03842
Find places to stay near North Beach
---
3. Wallis Sands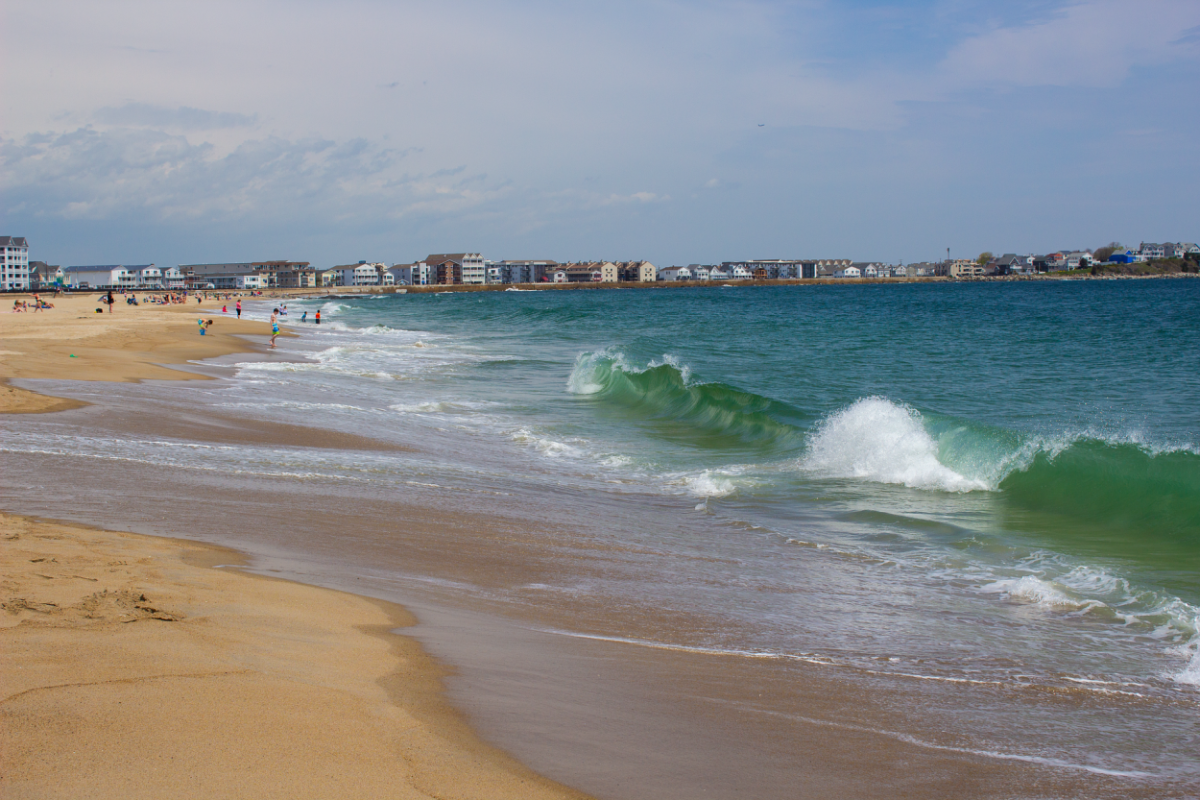 If you are hankering for a beach that is slightly off the beaten track, try Wallis Sands. This beach is ten miles north of Hampton Beach, in Rye, New Hampshire. With a family-friendly vibe, a beach store that sells food and drinks (including ice cream), and a generous bath house, it is especially suitable for children. Lifeguards are on duty during high season.
What sets Wallis Sands Beach apart is the grassy picnic area with tables you can use free of charge. No sand in your sandwiches! The grass also provides a great place for kids to run off a bit of steam if the sands are crowded, or the tide is up. There are loads of rocks to the side of the beach to explore— a nice bonus for adventurous families.
This beach does get busy in the high season, so the usual advice to arrive early applies. Late June or early September weekends might be a perfect time to have a bit more room to spread out!
Hot tip: You can reserve a parking spot online up to thirty days before your arrival—no need to circle around waiting for someone to depart!
While options for food within walking distance are limited, there are several restaurants to try in the nearby town of Rye. Petey's Summertime Seafood is a classic choice. They have all of your beach favorites, from fried clams to lobster rolls to chowders.
There are several non-seafood options as well, such as burgers and chicken sandwiches. The children's menu is solid, and kids can even get a Shirley Temple to go with their meal.
If it's ice cream you are after, Lago's is a must-try. They have won the award for New Hampshire's Best Ice Cream multiple times. You will find old-fashioned ice cream sodas here, as well as unique flavors like Funky Panda—Oreos, toasted coconut, plus a caramel swirl on top of homemade vanilla ice cream.
While choosing just the right flavor might be challenging for kids, it's an ideal way to cap off a day at the beach.
Location: Wallis Sands Beach
1050 Ocean Blvd
Rye, NH 03870
603-436-9404
Find places to stay near Wallis Sands Beach or in Rye
---
4. Weirs Beach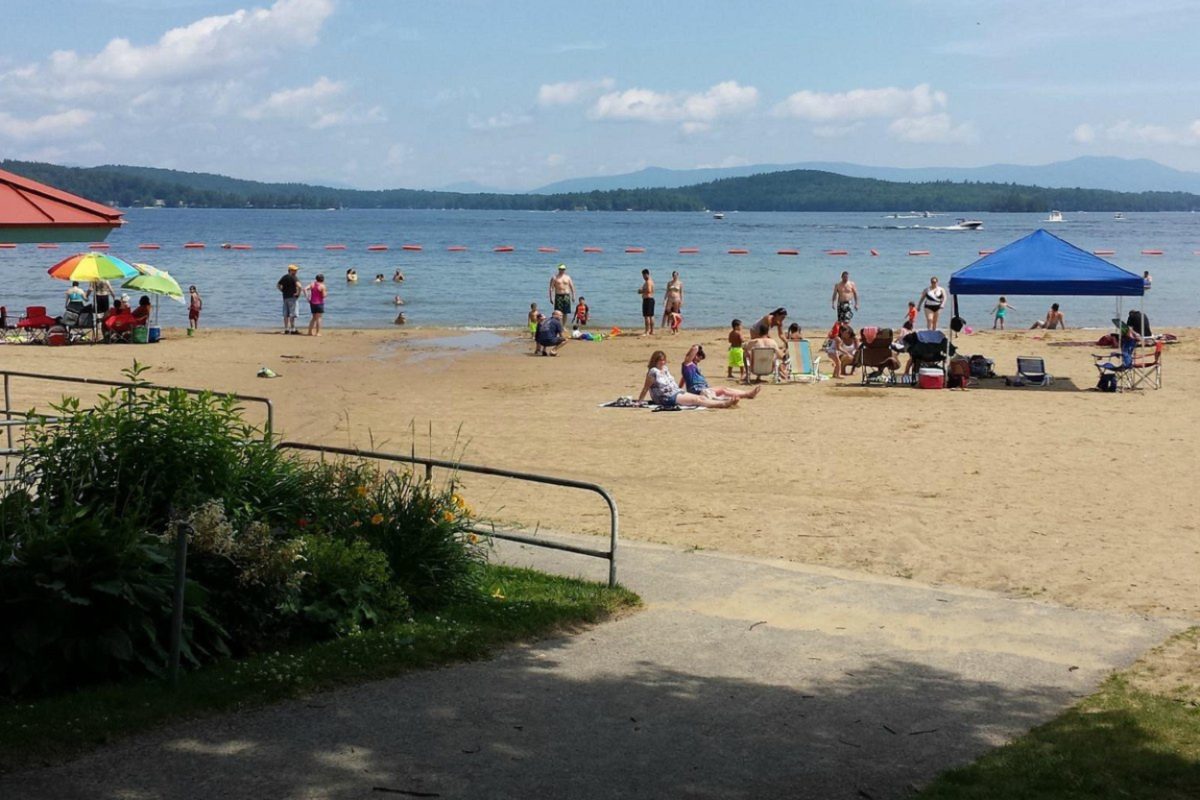 If ocean beaches aren't your thing (or you'd prefer calmer water) freshwater options in New Hampshire abound.
Weirs Beach on the southern shore of Lake Winnipesaukee is an especially fun option for kids that like to stay busy. It has a 1300-foot-long boardwalk to explore.
During your walk, you will see marvelous views of the lake and the nearby Ossipee mountain range. You can stop and rest on conveniently placed benches along the way, so even the tiniest of toddlers can do this walk.
You can even stop to swim at several lake access points along the way. In between marveling at the views, there are many shops and restaurants to explore.
Half Moon Gift Shop is a classic spot for picking up souvenirs, while Half Moon Beach Shop has everything you might have forgotten to pack for your beach fun (including beach towels). You'll even find an old-fashioned arcade that has been in business since 1949. Pinball, anyone?
Weirs Beach itself offers grassy shade to spread your blanket and picnic on, in addition to the expanse of sand. As a bonus, the water temperatures are quite a bit warmer than you'll find at the ocean beaches.
In July and August, the water temperature can reach into the 70's! During the high season, you will find a bathhouse and lifeguards on the beach. There is even a playground to explore. One important note is that no flotation devices or toys are allowed at the beach, and no snorkeling is allowed.
If you need to refuel, there are many options for doing so within walking distance from the beach. Kellerhaus makes fantastic homemade ice cream and chocolates. There is even an ice cream buffet, where you can create your own sundae.
Location: Weirs Beach
Laconia, NH 03249 USA
Find places to stay near Weirs Beach
---
5. Echo Lake
Another great (and quieter) freshwater option is Echo Lake State Park in North Conway, located close to the best ski resorts in New Hampshire. This lake is tucked underneath Cathedral Ledge, a 700-foot tall ledge with gorgeous views over the Saco River Valley to the nearby White Mountains.
The ledge is worth a trip in its own right, and it's easy to access by a mile-long auto road. With older children, you might even enjoy taking the 3.4-mile roundtrip hike up the ledge. The exertion will make those views even sweeter.
For the adventurous, several hiking trails begin in Echo Lake State Park, including an easy 0.8-mile option that goes around the lake.
Parking is limited in the park, but as with Wallis Sands Beach, you can make a parking reservation online up to thirty days prior to your visit. This is highly recommended! Without a reservation, it is best that you get there right at opening time.
The beach itself is lovely, with clear, green-hued water and a ring of lush pine trees. There are bathhouses and changing rooms on site. Because the water is shallow, it tends to stay on the warmer side—so it's wonderful for younger children.
There is even a snack bar in season, or you can pack a picnic to enjoy at one of the picnic tables. If you bring binoculars, you can spot rock climbers making their way up Cathedral Ledge.
No motorboats are allowed on the lake, so this is an ideal spot for older kids to try out kayaking as well. You can even fish here!
The lake is open all year, though facilities tend to close down in the chilly months. If you visit during the off-season, when the lake is quiet, you might even be able to hear your voices echoing off the surrounding mountains.
Location: Echo Lake State Park
68 Echo Lake Rd, North Conway, NH 03860
(603) 356-2672
Find places to stay near Echo Lake in North Conway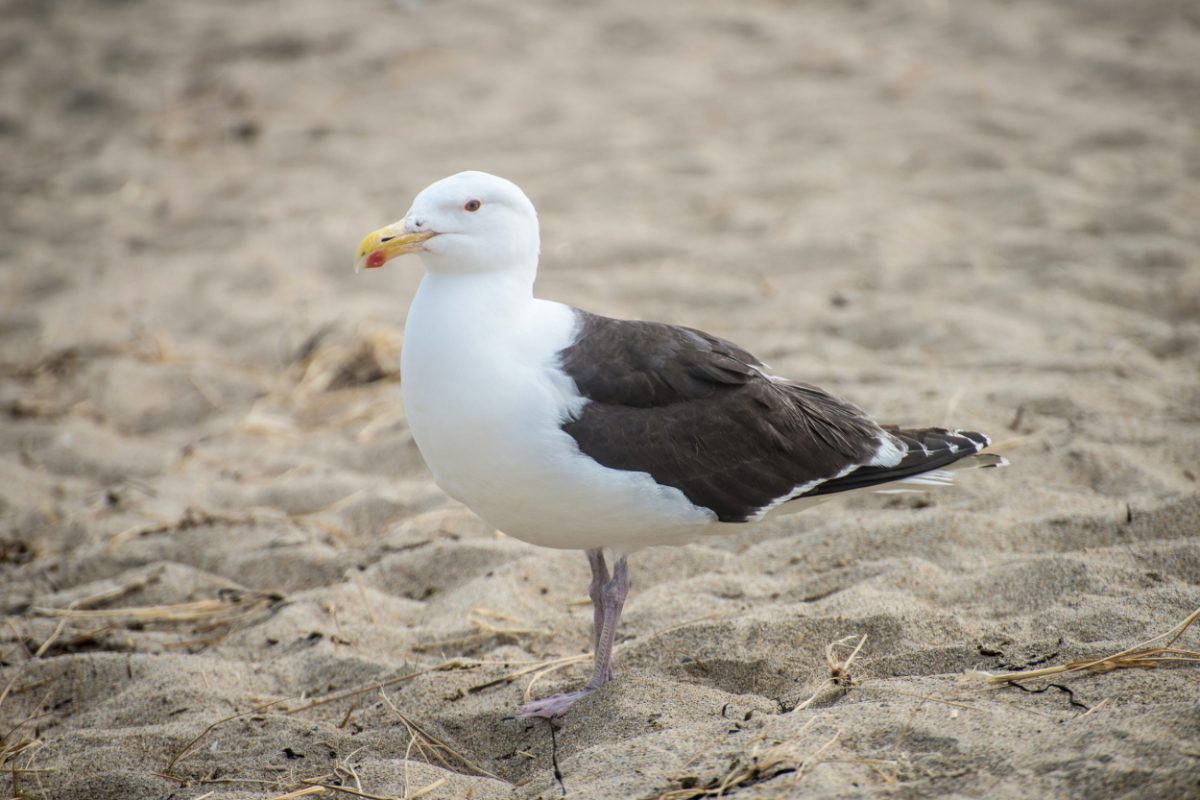 ---
6. Diana's Baths
For a totally different water experience, head to Diana's Baths in North Conway. You won't find any sand here. Instead, you'll find a series of small waterfalls and pools along Lucy Brook.
The pools differ in size. Some are perfectly designed for dipping your feet, while others are large enough to submerge your whole body in the refreshing water.
Photo opportunities abound here, and the sound of trickling water is a lovely addition to the scenery. You will find a plethora of flat rocks to eat your picnic, sunbathe, or just take it all in.
You will need to walk a bit to get to Diana's Baths, but it is a half-mile stroll through lovely woods on a flat, well-maintained trail. (Sneakers are advised, due to the tree roots that abound.)
The parking lot is large and you will need to pay at the pay station and display your pass on your car's dashboard. Bring cash, as credit cards are not accepted.
If the parking lot at Diana's Baths is full, you'll need to swing by another time. You will see people parking on the road, but this is not technically allowed and you are likely to get ticketed. Do bring a towel to dry off afterward, and maybe some water shoes if your children have sensitive feet.
Location: Diana's Baths
3725 West Side Rd, Bartlett, NH 03812
Find places to stay near Diana's Bath in North Conway
If you want to pick up some picnic food for your North Conway beach adventures, there are several options. Try Big Dave's Bagel and Deli, which was voted "best bagel in New Hampshire." They have convenient online ordering and offer loads of bagel varieties and sandwich options with fun names like, "The Backpacker Sub."
If you are up early, Old Village Bakery is a must-try. They do tend to sell out by mid-morning, but any of their options, from the cinnamon rolls to the oversized cookies, will make a fantastic complement to your New Hampshire water adventures.
So out of all these, which beach in New Hampshire are you going to visit first?