There's no shortage of things to do and places to visit in Northern California. This region offers a wonderful balance of outdoor sights, fun activities, and metropolitan cities, sure to delight any and every tourist. Although it's a large area, there are many great day trips in Northern California, whether you choose to stay in one city or overnight in several places.
It's a good idea to book a car, as public transportation between areas is limited outside of San Francisco. Alternative options include day or overnight bus tours.
Be prepared for slightly cooler and wetter weather, especially along the coast and if you're used to southern California weather. No matter what time of year you visit, you will enjoy your stay in Northern California!
San Francisco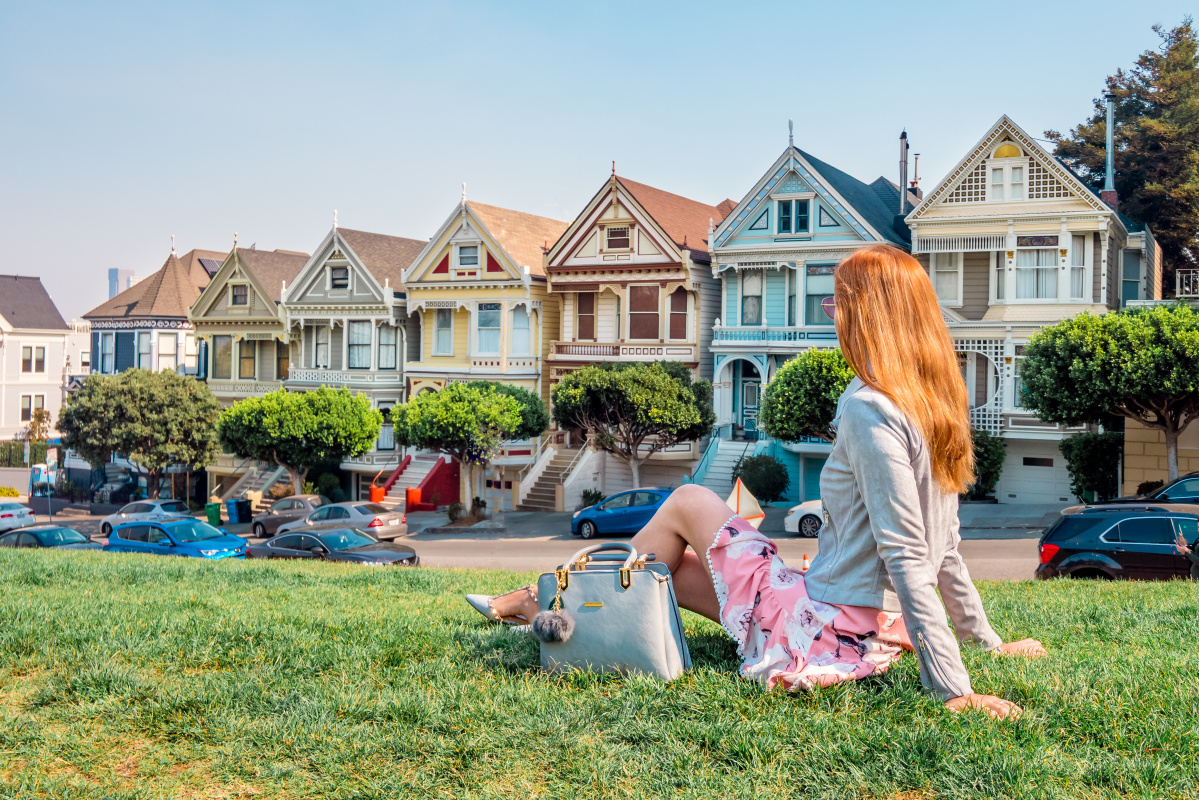 "I left my heart in San Francisco" is a familiar tune that speaks of "morning fog," a "blue and windy sea," and "golden sun." These lyrical terms perfectly describe this hilly and relaxed bayside city.
Expect windier weather and a fun local vibe, without the hustle and bustle that you find in most cities. If you're looking for things to do in Northern California, then San Francisco is the top attraction!
Dumplings (and More!) in Chinatown
Chinese immigrants arrived in San Francisco early in the city's history and eventually established the largest Chinatown outside of Asia. This district encompasses a roughly rectangular area between Powell and Kearny Streets and Broadway and Bush Streets. Don't miss Dragon's Gate (Bush St. and Grant Ave.), a ceremonial gate that serves as an unofficial entrance to the district.
There are many wonderful restaurants to choose from in Chinatown. Chong Qing Xia Mian (915 Kearny St.) has an extensive noodle selection and is known for its spicy Szechuan. Delicious Dim Sum (752 Jackson St.) is true to its name and very popular. You can also check out the Golden Gate Fortune Cookie Company and customize your fortune! If you're in San Francisco in February you may even catch some Chinese New Year events.
Banish Yourself to Alcatraz
A trip to San Francisco isn't complete without a visit to the notorious Alcatraz Island. This rocky outcrop in the middle of the bay was home to a fort and then a prison for over 150 years. The federal penitentiary was in use for nearly 30 years and housed famous prisoners such as the gangster Al Capone. The prison has been wonderfully preserved and provides the public with a wealth of interesting information.
A visit to Alcatraz is also a great opportunity to take pictures of the city! Make sure to get your tickets in advance, lines are long and tickets sell out fast. There are several tour options, that include the ferry fee, starting at around $39.90 per adult. Allow at least three hours for the whole experience.
Stroll Along Fisherman's Wharf
Fisherman's Wharf is a bayside tourist area located on several piers. You can drive, taxi, walk, take the MUNI F-Line streetcar, or hop on the Powell/Hyde or Powell/Mason cable car to the wharf. For detailed transportation information, you can visit the Fisherman's Wharf Community Benefit District website.
There is lots to do at Fisherman's Wharf – the Aquarium of the Bay, National Liberty Ship Memorial, Madame Tussauds, and more! If you're short on time, it's worth a visit just to walk around, stop in some shops, and get a bite to eat. Take a moment to look for seals along the water! If it's a clear day you may even catch a glimpse of the Golden Gate Bridge.
Two delicious stops are Ghirardelli Square and Boudin Bakery. Ghirardelli gets its namesake from the famous chocolatier, and you can visit The Original Ghirardelli Ice Cream & Chocolate Shop. The Boudin Bakery is the home of sourdough bread– a San Francisco classic.

If you have time, finish your visit with some games at Musee Mecanique, located at the end of Fisherman's Wharf (Pier 45 at the end of Taylor St.). This unique display contains over 200 coin-operated mechanical games and toys (think Zoltar the Fortune Teller). This "museum" is open 10:00 AM – 8:00 PM, and the only cost is whatever you spend to play the coin-operated games.
Get Whisked Away on a Cable Car or Meander Down Lombard Street
San Francisco is known for its cable cars, and you can get an authentic experience by taking one of the historic cars on the California, Powell/Hyde, or Powell/Mason lines. Purchase your ticket in advance to give yourself more options for boarding locations. One ride is $2.50. To buy tickets or check out the cable car maps visit the San Francisco Metro System website. Please note, during busier times (summer, weekends, etc.) there is usually a wait to board.
Lombard Street is said to be the "Crookedest Street in the World," and is also a heavily photographed tourist attraction. To take a look, or walk, for yourself, the most iconic portion of the street is between Hyde and Leavenworth Streets. It's best not to drive– due to its popularity there is usually a wait and the city is considering implementing a charge.
Gaze at the Golden Gate
The Golden Gate Bridge is the symbol of San Francisco and is one of the most well-known (and beautiful!) bridges in the world. Viewing the Golden Gate Bridge can be tricky, due to its location and the frequent foggy weather. The bridge is actually located to the north of the city, approximately 3 miles (4.8 kilometers) from Fisherman's Wharf.
You can drive, bike, or walk over the bridge, or you can view it at a distance from many observation points including Fort Point National Historic Site, Golden Gate Overlook, and Crissy Field. To get some fresh air and great views, go hiking in the Golden Gate National Recreation Area.
Sacramento & Napa Valley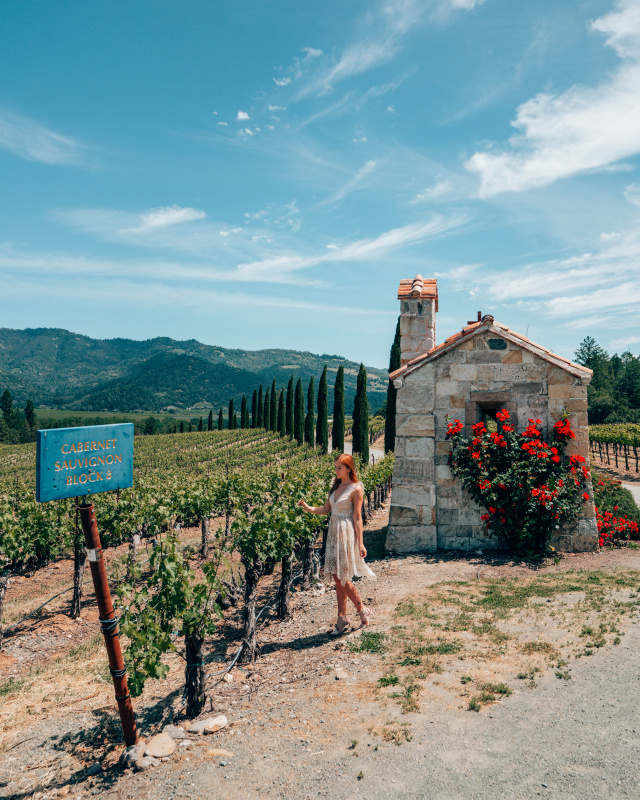 Stop in Sacramento to experience Californian politics, history, and art. You may want to sample their "farm to fork" cuisine craze, or grab a coffee at one of the many independent coffee houses. A visit to Northern California also wouldn't be complete without spending some time in Napa Valley. You don't have to be a sommelier to appreciate one of the best (and most beautiful) wine regions in the world!
Appreciate the Art
Sacramento has plenty to offer the art lover. Groundswell Gallery is a newly opened favorite, while the Artists' Collaborative Gallery is a co-op with a variety of pieces, including jewelry, sculpture, and more. The Kennedy Art Gallery offers interesting art inside an old Victorian building. Many art galleries are located in Midtown Sacramento, so you can visit a few easily in one day, by foot or by car! The Crocker Art Museum provides art and events, and is one of the oldest art museums in the western U.S.
Visit the California State Capitol
Sacramento is the capital of California, and you can visit the Capitol Building and its museum. Not only is the museum interesting, but the building and grounds are impressive. Don't miss the portraits of the Governors- including Ronald Reagan and Arnold Schwarzenegger. The collection also includes murals and interesting historic flags. Guided tours are available from 9:00 AM to 5:00 PM.
See Old Sacramento & Take a Ride Through History at the Railroad Museum
The Old Sacramento Waterfront is a historic area with attractions, shopping, and entertainment. When you step into this National Historic Landmark District you will be transported to Gold Rush-era California. Make sure to check out the designated historic buildings and the Pony Express monument!
Or spend an hour drifting down the scenic Sacramento River while learning about the historic gold rush.
One attraction at the Old Sacramento Waterfront that you can't miss is the California State Railway Museum. The collection is extensive and includes restored train cars, interactive exhibits, and actual train rides (from April-September, for an additional cost). The Museum is open from 10:00 AM-5:00 PM and general admission only costs $12 per person (adults).
Find Some Fresh Food
Sacramento is called the "Farm to Fork" capital due to its commitment to fresh and local food. You can experience this in several ways, by visiting a farm, stopping by a farmer's market, or sampling some farm to fork food at a local restaurant. This website provides names and addresses of participating restaurants, bars, coffee shops, and other businesses.
You can also visit during the annual Farm to Fork Festival which includes music, food, wine, and a variety of itineraries and tours to choose from. The festival usually occurs in late September.
For other times of the year, Grange (926 J St,) and Ella Dining Room & Bar (1131 K St.) are just two of the many farm to fork restaurants to choose from. For farmers markets, check out Capitol Mall or Sacramento Central.
Have a Glass (or Two) in the Napa Valley Wine Region
Napa Valley is only an hour's drive from Sacramento, but you could easily spend days wandering through and sampling the many vineyards, restaurants, and activities here. Napa is not just for wine lovers– ride on a hot air balloon, fly over the valley in a Cessna, visit a spa, or take a culinary class! If you are a wine drinker, check out one or more of Napa's most popular varieties including Cabernet Sauvignon, Chardonnay, Merlot, Pinot Noir, Sauvignon Blanc, or Zinfandel.
Before you go to Napa, you should pick a few vineyards that you want to tour and/or activities that you'd like to do, as well as your transportation. There are tours available, as well as a wine trolley, bicycles, and even a "wine train." You can visit Napa at any time of year, and you'll get better deals during the winter months. August to October is harvest time, which also means this is the busiest time for tourism in the valley.
Yosemite National Park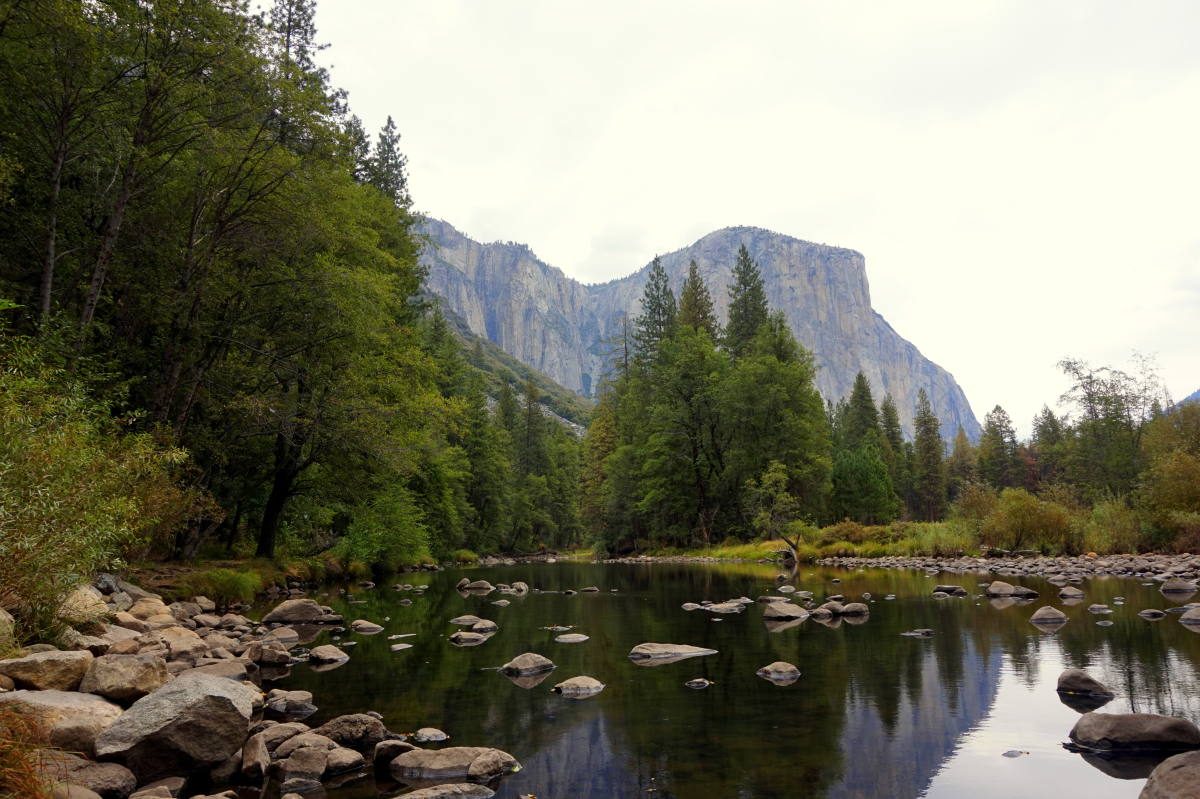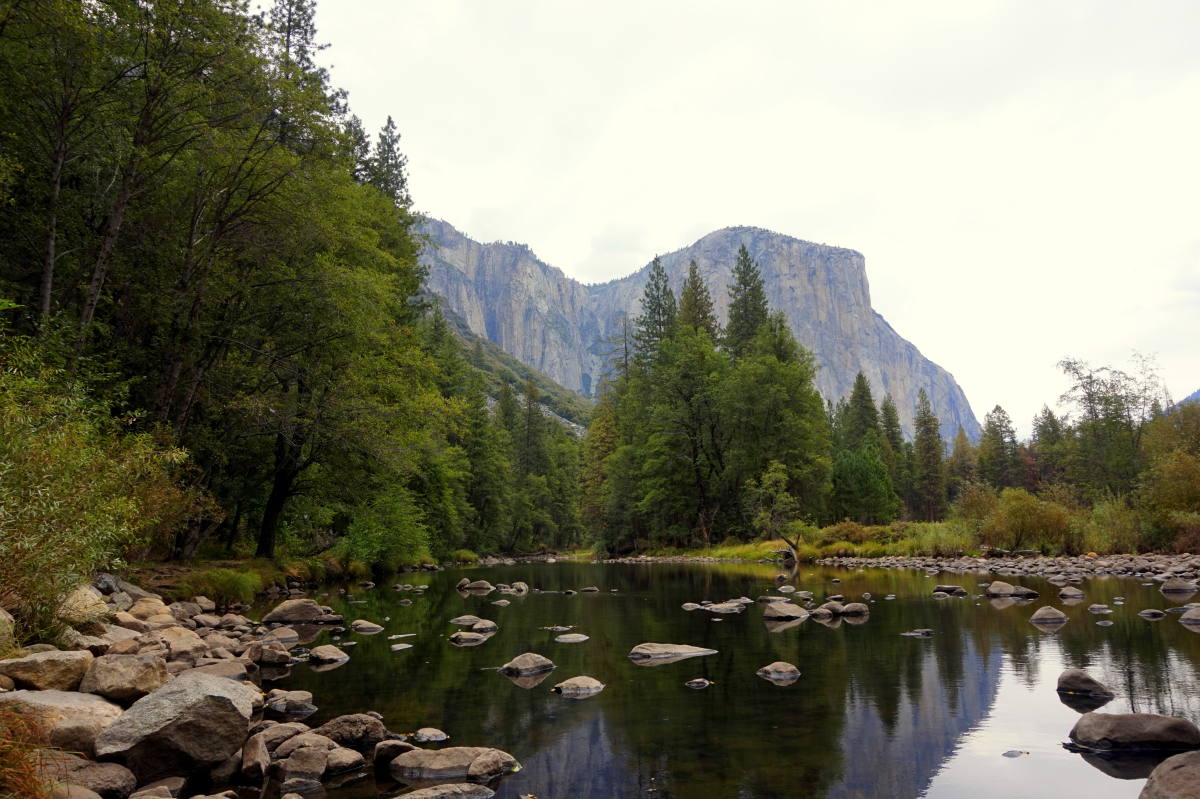 Yosemite is arguably one of the most beautiful national parks in the U.S. A trip to see Yosemite's jaw dropping landscapes is not to be missed during a stay in Northern California. It is important to note that the park is not close to the cities– it's about a 3-hour drive from either San Francisco or Sacramento. For this reason, you may want to book accommodation close to or in the park, or to take a guided tour (if you're short on time).
If you're an outdoor adventurer, there are definitely options to camp, stay in lovely lodges, go hiking to Sentinel Dome, biking, skiing, fishing, mountain climbing, and more.
Many campgrounds take reservations, so book ahead. Don't miss El Capitan, one of the most awe inspiring and picturesque natural wonders in the park.
Redwood Forest
California is home to two types of giant trees- coastal redwoods and giant sequoias. Not only are these trees massive, they're also extremely old.
You have several options to visit these larger than life trees, so you can choose a destination depending on your location in Northern California. If you're planning to visit Yosemite, you can see giant sequoias in Mariposa Grove.
Muir Woods National Monument and Big Basin Redwoods State Park are both close to San Francisco, while Redwood National and State Parks (encompassing four parks) are located at the very top of California. There are even more parks to choose from, so pick the one that works best for your itinerary!
Lake Tahoe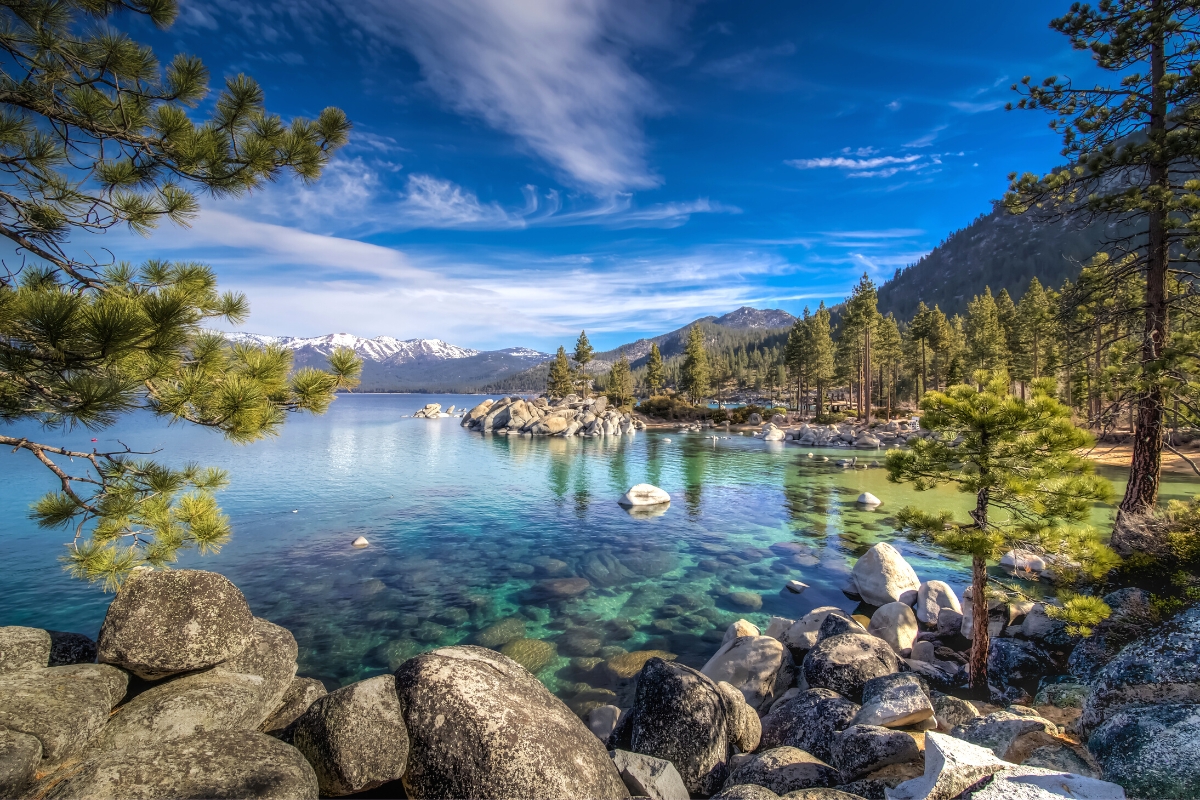 Lake Tahoe is a large and stunning body of water located on the border of Nevada and Northern California. Surrounded by mountains, Tahoe is a great stop for skiers, and is only about a 2-hour drive from Sacramento.
This area also offers golf resorts, beaches, restaurants, and casinos. You can drive or bike around the lake, making stops for pictures and attractions, or you can book a cruise on the lake itself. Activities vary by season, so make sure to plan accordingly!
Cruise Up the 1
California State Route 1 offers beautiful views and runs through cool coastal towns. Hop on near San Francisco and drive north for dramatic wine country views, or drive south for Big Sur, Monterey, and Hearst Castle.
One unique stop on the northern route is Glass Beach near Fort Bragg. This area was a dump site, resulting in discarded glass evolving into a seaglass-strewn beach. If you choose to drive south, make sure to cross Bixby Bridge in Big Sur and grab a bite at the resilient Big Sur Bakery, which is back in business after renovations due to landslides!
Winchester House in San Jose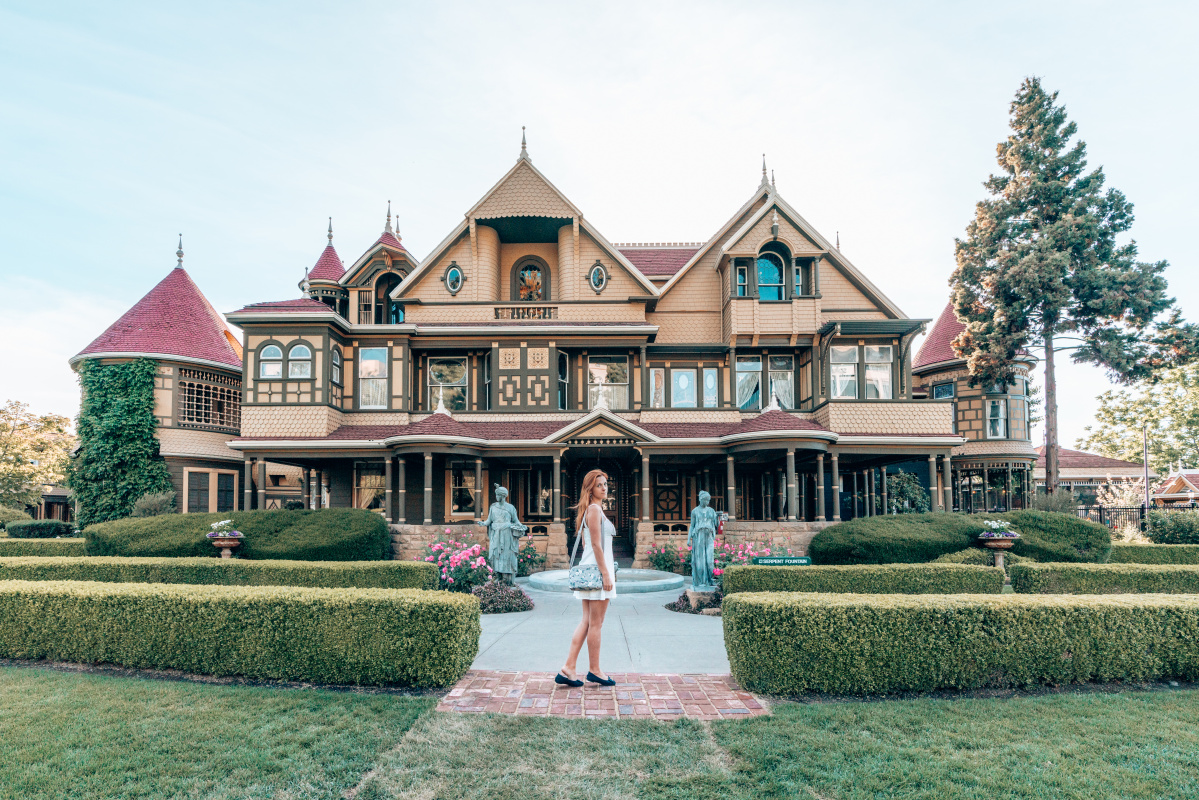 A house some dare not enter, and others add to their bucket list. The Winchester Mystery House in San Jose was constructed over 56 years from 1866 to 1922. Built by Sarah Winchester, the house supposedly has 160 rooms, 2000 doors, and 10,000 windows and covers a staggering area of 24,000 square feet.
Sarah Winchester was the widow of William Winchester, the owner of Winchester Repeating Arms. It is said that she was haunted by the spirits of people who had been shot and killed with the Winchester rifle.
To pacify these haunting spirits, she had to build the house and kept reconstructing it till her death. They say the construction instructions were received when she communicated with spirits in her seance room.
Taking 20 million dollars to build, the house has many secret passages and resident ghosts. Visit at your own peril!
Drive Along The Pacific Coast Highway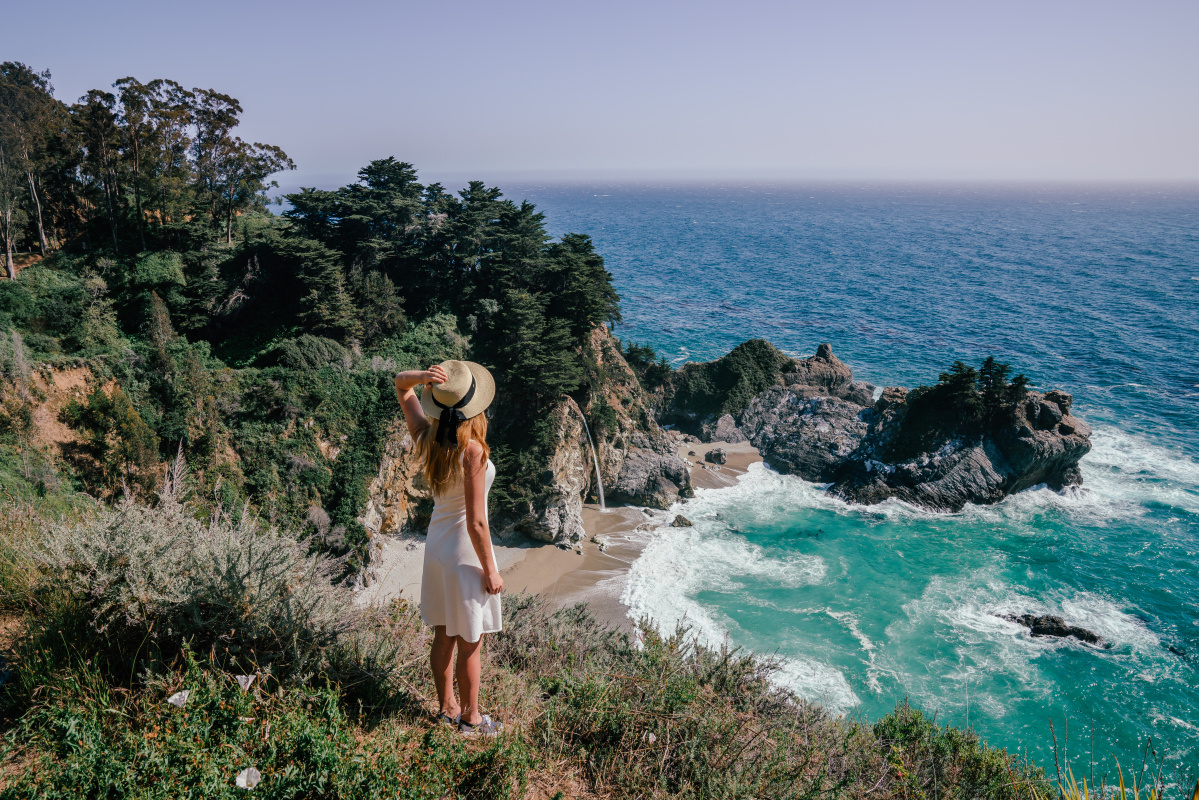 The Pacific Coast Highway has some of the most beautiful vistas to drive along. It's part of the bigger State Route 1 or Highway 1, which stretches from Dana Point in Orange County to Legget in Mendocino County.
San Francisco, San Jose, Monterey Bay, Hearst Castle, etc – many of the must-visit towns in California on this route, this amazing stretch of coastline is perfect for a road trip with friends or family.
To explore this major All-American Road or National Scenic Byway built in the 1930s, here's the perfect Pacific Coast Highway itinerary.
Jelly Belly Jelly Bean Factory
An important stop on any Northern Californian itinerary is a visit to the Jelly Belly Factory in Fairfield, California. One of only three factories worldwide, with the other two are in North Chicago, Illinois and Rayong, Thailand.
The star of the factory, the Jelly Belly jelly bean is sold in over 50 flavors in countries the world over. In addition to regular flavors like lime, orange, mango, cherry, and cappuccino, you'll also find flavors like a margarita, mai tai, and egg nog.
A self-guided visit to the factory at 1 Jelly Belly Lane, Fairfield, CA costs a mere $5 for adults, $2 for kids, and is free for young ones under 2. Open from 9:15 am to 4 pm, you can learn how jelly beans are made, why they take 1 to 2 weeks to make, browse the Jelly Bean Art Gallery, interact with the exhibits in some sections or dine at the Jelly Bean Cage.
Lassen Volcanic National Park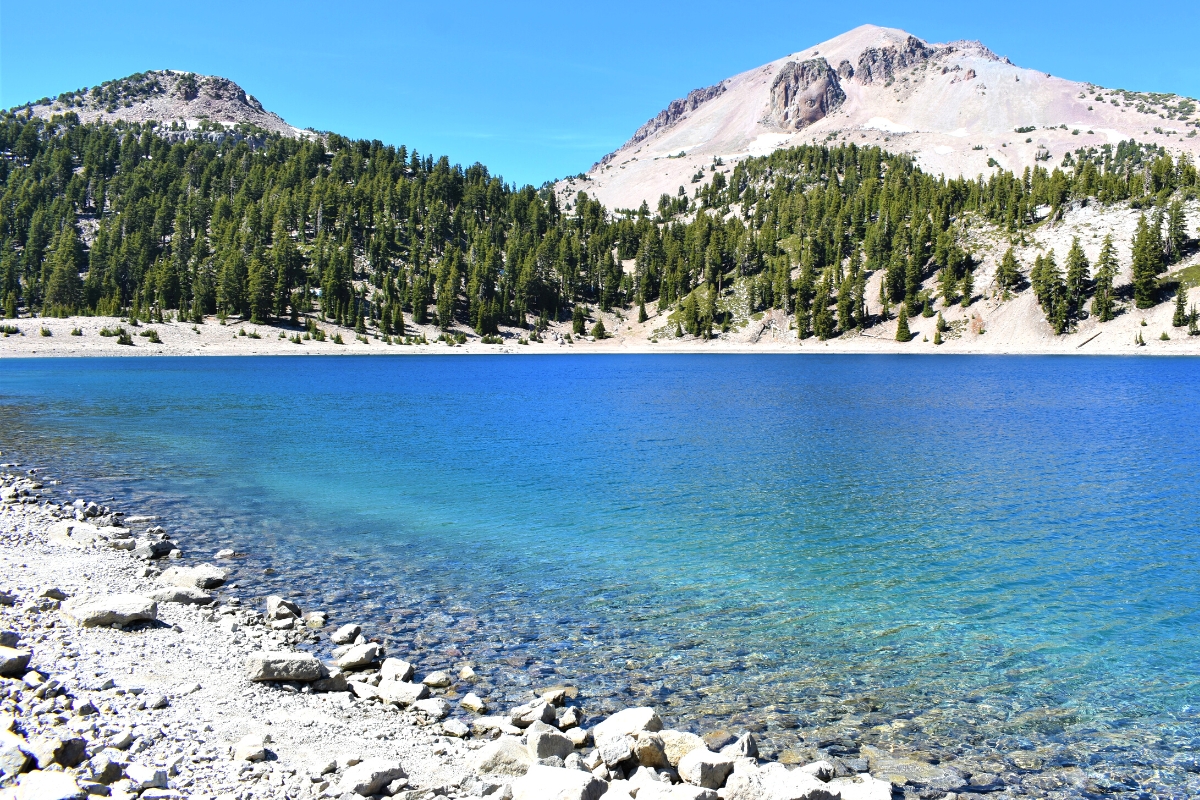 An off-the-beaten-path site in California, the Lassen Volcanic Park is home to flowering meadows, beautiful lakes, and steaming fumaroles. It was formed by the merging of Cinder Cone National Monument and Lassen Peak National Monument in 1907 and was designated as a park in 1916.
Owing to its existence in volcanoes, the park is still volcanically active in some areas, especially around Lassen Peak which is filled with mud pots, hot springs, and fumaroles or Bumpass Hell filled with acres of boiling mud.
Lassen Volcanic National Park is perfect for camping and hiking, or for simply driving through on the 30-mile park highway. Entrance to the park is valid for 7 days and costs $15 on foot or bike, $10 in winter, $30 for a vehicle pass, and $25 for a motorcycle pass.
There are two stores in the park for camping supplies, groceries, and snacks. For a hot meal, head over to the Drakesbad Guest Ranch which serves home-cooked meals in its historic dining hall. The ranch that was settled in the 19th century is a great place for a family vacation and for swimming in the thermal mineral waters of Boiling Springs Lake.
Of course, you can also go camping at the grounds near Manzanita Lake, Juniper Lake, Butte Lake, Summit Lake or Warner Valley. Who knows, you might get lucky and see a black bear. The sightings are very rare!
---
Northern California offers something for every visitor and is a great destination year-round. Because this region is so large, it's a good idea to plan transportation ahead of time if you want to explore outside of the cities.
Make sure to sample the fresh cuisine and wine, and go for a hike or try one of California's many outdoor activities!
Have more suggestions for what to do in Northern California? Leave your thoughts in the comments! And if your next stop is Southern California, make sure to check out my guide.