One of the best ways to travel more for less money is a to plan a long layover somewhere on the way to your destination. On my way back to the Netherlands from Mexico, I managed to get a 24-hour layover in Chicago thanks to United Airlines. While a lot of people would probably say that a day in Chicago is not enough, I think it's a good place to stop for a layover. If you organize your time wisely then you can see a lot!
24 hours in Chicago – What to Do in Just 1 Day?
Of course, as is usual in my case, I didn't fly to Chicago without experiencing any problems. My suitcase got lost on the way. A very nice lady from the luggage service informed me that pretty much all of the suitcases got lost somewhere on the way between Houston and Chicago. I had to be patient and wait for my suitcase for the next 2 hours as it wouldn't have arrived at the hotel on time. So keep this in mind during a layover!
---
Getting to Chicago from O'Hare Airport
Getting to downtown from Chicago O'Hare Airport is super easy since there is a direct train. You can buy tickets at the machine – it's easy and clear. However, that's where the easy part ends.
As soon as I got to downtown Chicago I quickly learned that the last person to ask for directions is the local police. To my surprise, the first policeman sent me in the wrong direction and told some nice people who were willing to help me. The second policeman had no idea which way was North or South in Chicago. I just had to gamble and walk in the direction I thought was correct and in less than 20 minutes I somehow got to my hotel.
I'd suggest getting some wifi and using Google Maps for sure.
The place was nice and clean, as most of the hostels are in the US, but way too big for socializing and meeting people. A funny detail about this hostel was that it dealt with Latin American guests by putting a sign instructing people to place used toilet paper in the toilet bowl instead of the bin.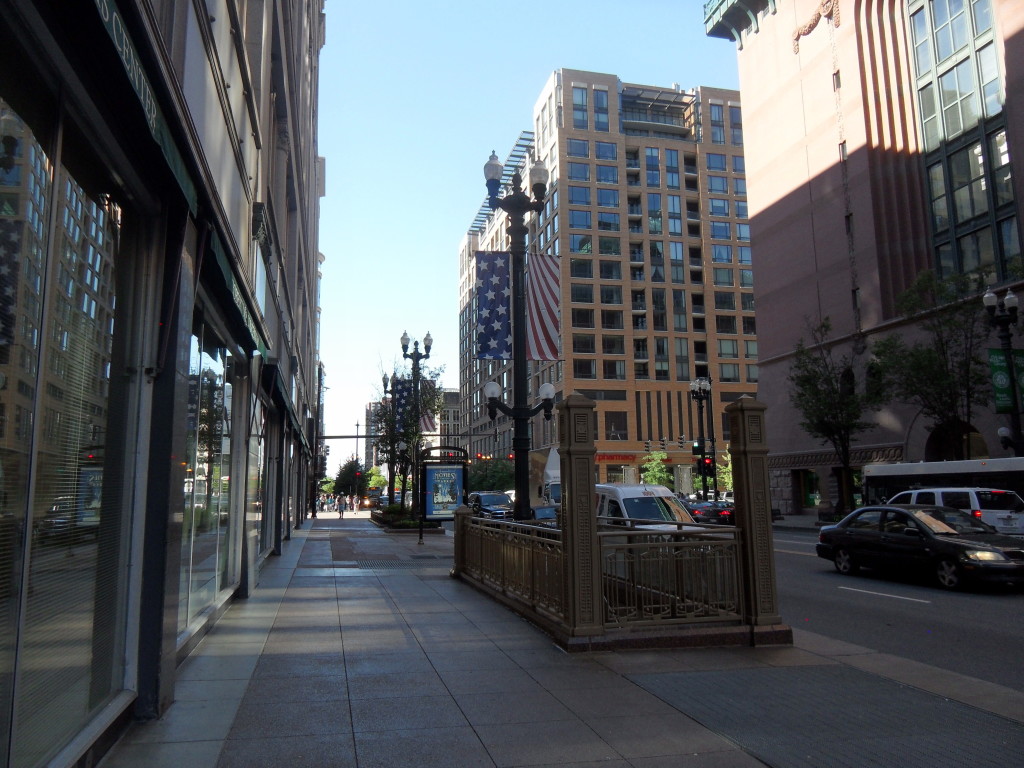 ---
Exploring Chicago on foot
While some people prefer to use a tour bus to get around a new city, I would say that you can surely walk around downtown Chicago. There's nothing wrong with the sightseeing bus, but I didn't have any issues walking around.
Chicago's architecture definitely impressed me with its nicely decorated skyscrapers. I ended up spending the evening at the Sweetwater Tavern and Grill with some friends. Afterward, I walked to my hotel feeling perfectly safe.
Talking about Chicago's skyline, I have to say that it was definitely more impressive than that of New York. It didn't have much flora, but neither does any American big city.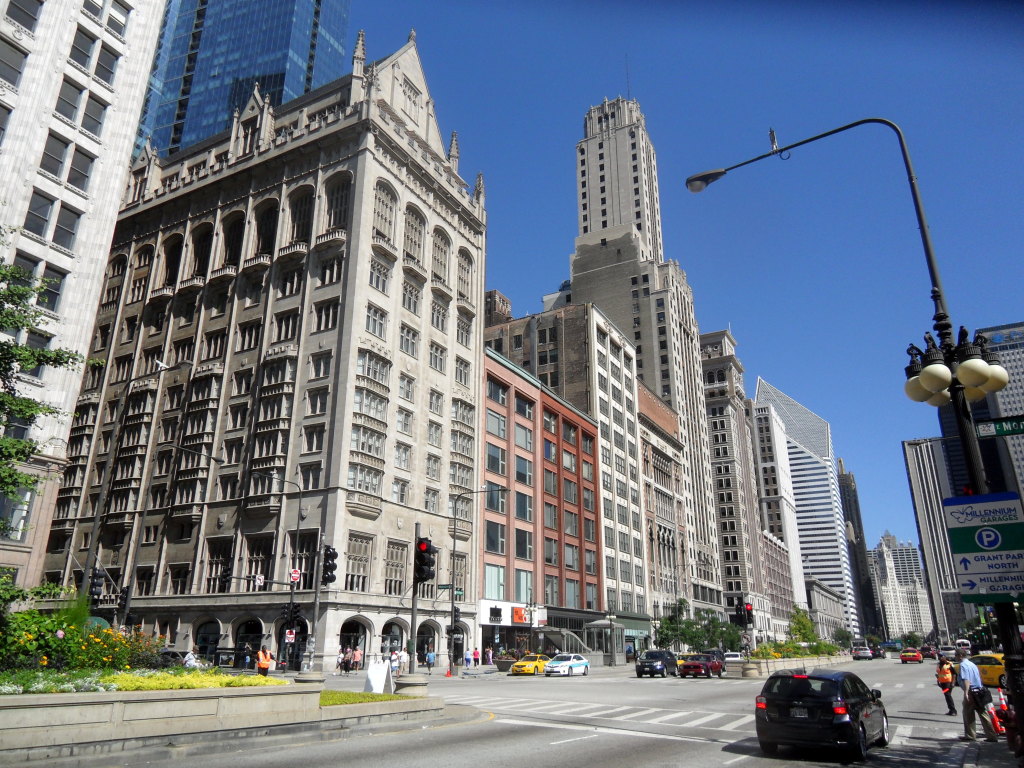 ---
Willis Tower Glass Floor
I had a chance to see the entire skyline from the tallest building in Chicago, the Willis Tower, formerly known as the Sears Tower. I was told this place was incredibly crowded and I wouldn't get to take any photos while standing on the glass floor. But I played it smart and got there at 8 AM with the ticket I purchased online. That was I didn't have to stand in line and became the first visitor of the day. It was super weird to be there by myself for the first 10 minutes, but definitely worth it!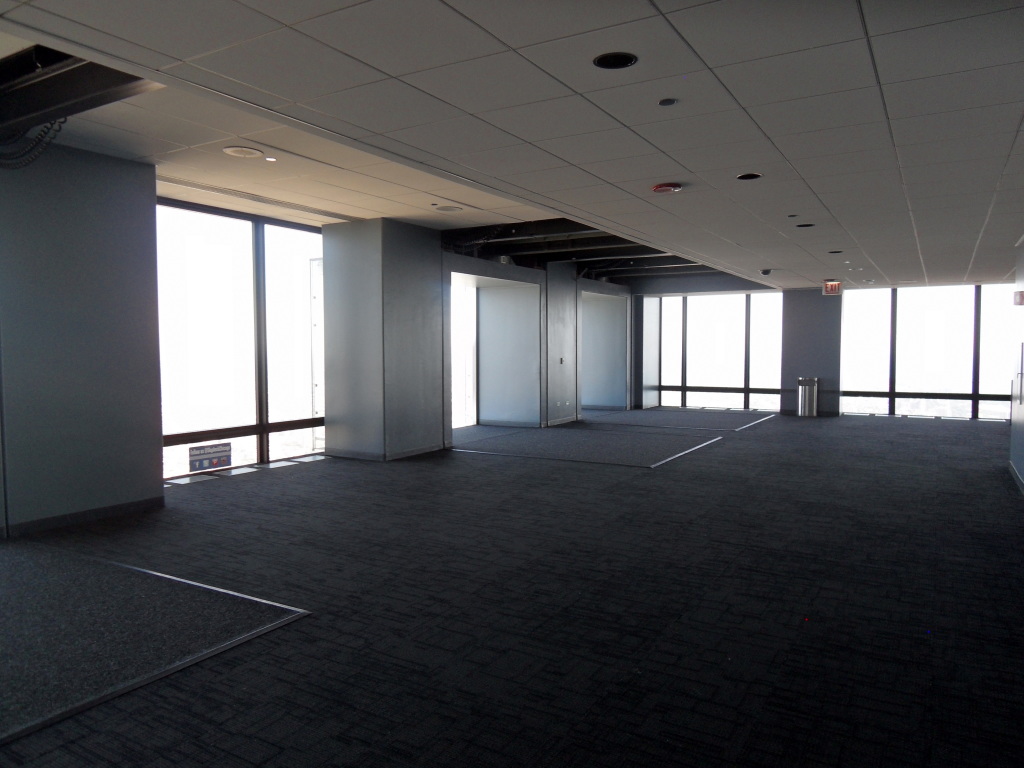 ---
Cloud Gate – The Bean
The second attraction of the day was the famous "bean", officially known as the Cloud Gate. This big sculpture in the Millennium Park attracts tons of tourists every year, for a good reason. It's a fun place to see your reflections, take a few photos and enjoy the rest of the park after. Millennium Park is not only known for the bean; it's also home to some awesome fountains, museums, and impressive sculptures.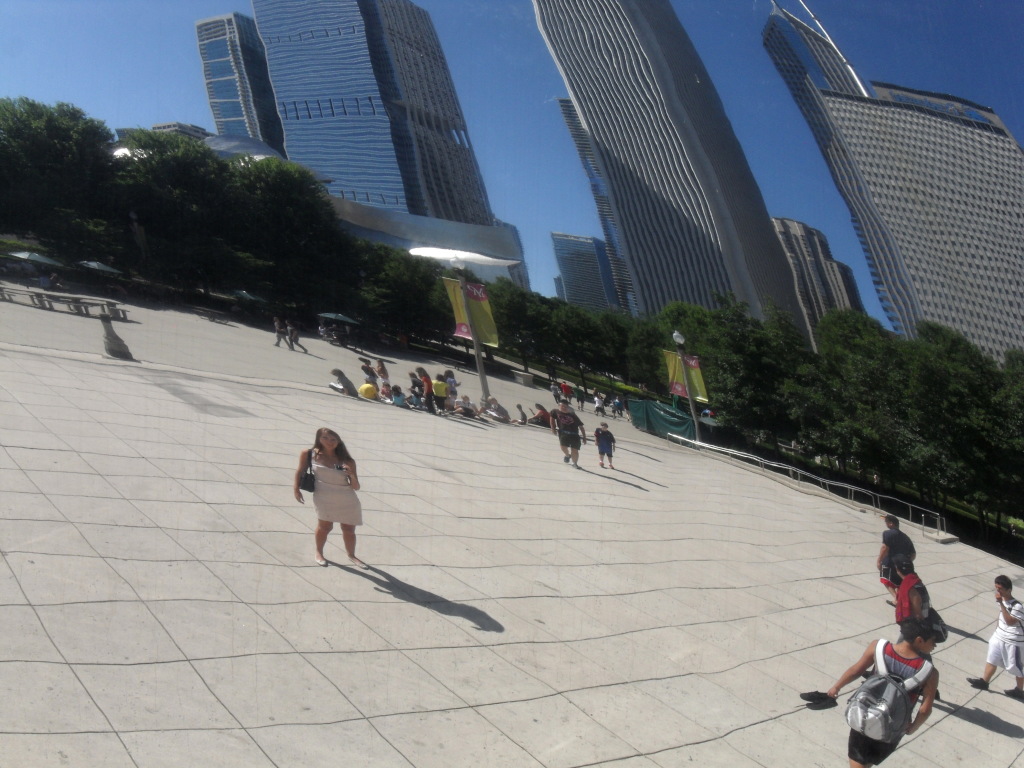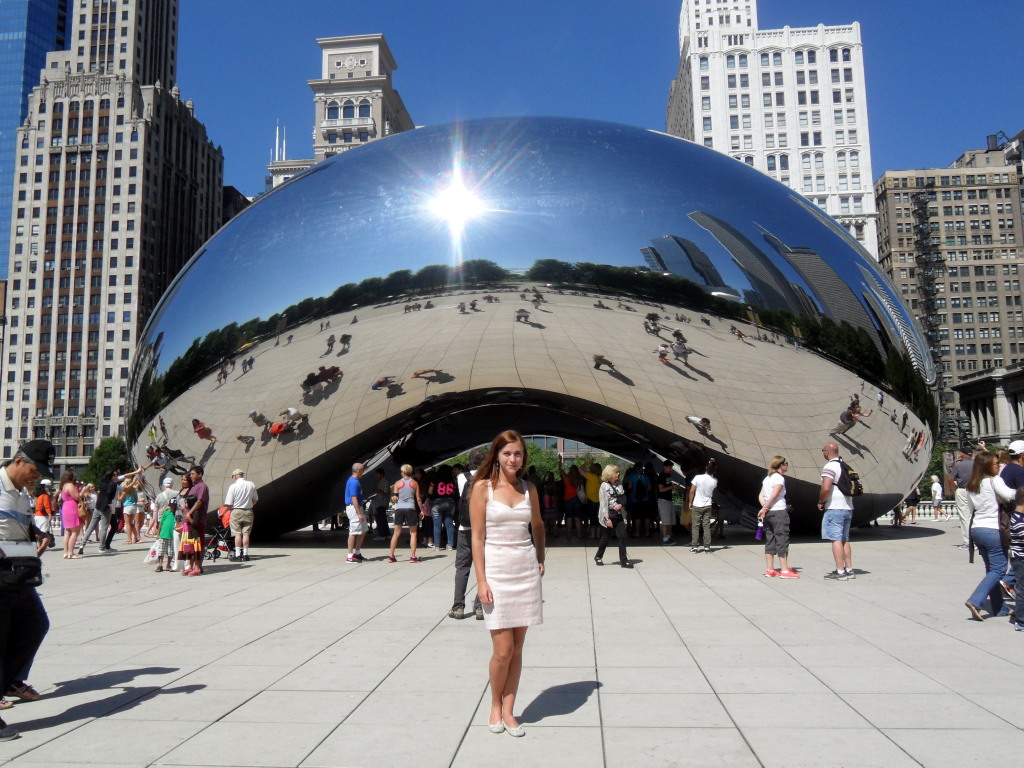 ---
What to eat in Chicago?
Chicago pizza! I couldn't leave Chicago without having a taste of some of its famous authentic deep-dish pizza. Luckily for me, I happened to be there during the Taste of Chicago festival. Some of the best restaurants in the city to set up stalls and sell samples of their food.
It was an incredibly hot day so walking around in the sun wasn't easy, but definitely worth it. I got to try some awesome Chicago-style pizza that I fell in love with - sorry New York City!
But if you're looking for a dessert, fudge is the answer.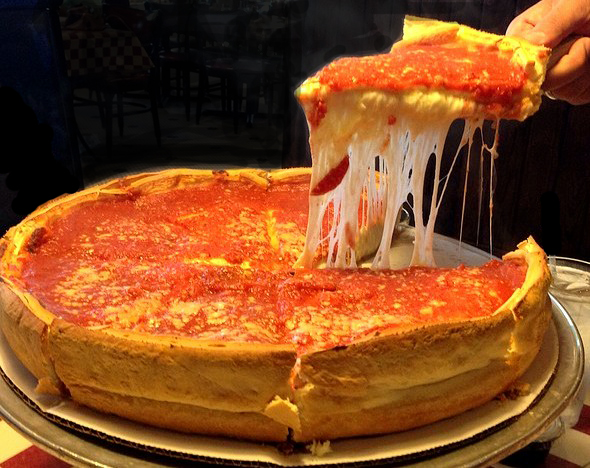 I feel like even though 24 hours wasn't nearly enough time to explore Chicago properly, it was more than enough to give me a taste of the city. But you can surely squeeze in a lot of living before and after the sunset in Chicago. Enjoy!
---
Other practical information:
Trick for saving on water: If you want to save money on the water get a LifeStraw Water Bottle. It's a water bottle with special filter that will allow you to drink tap water. Or even some from the pond, puddle or waterfall - everywhere!
INSURANCE: Don't forget to arrange a health insurance before heading to Chicago, or anywhere in the US. The easiest and the most reliable travel insurance is World Nomads Travel Insurance. Get it before your trip to avoid unnecessary troubles that might ruin your holidays!
Suggested guides for visiting Chicago: