Powdery white ski slopes, roaring fires, unique shopping experiences, and fun adventures like snow tubing. These are all things you can experience when you head to New Hampshire in the winter!
Winter is a magical time of year to visit the Granite State, with frosty air and plenty of snow on the ground, if you are lucky. Whether you are an avid outdoors person, or you'd rather spend time cozied up inside, New Hampshire has a winter getaway for you.
Best of all, many destinations work for a wide variety of personalities and interests, allowing a group or family to travel together with ease. Whether you're renting a car or driving your own, here are some of the best winter getaways in New Hampshire.
New Hampshire Winter Getaways Ideas
1. North Conway, New Hampshire
North Conway is a top-notch winter getaway in New Hampshire. If you are into skiing, this area can't be beaten. In fact, it was voted the #1 Ski Town in the United States by USA Today. With several ski slopes to choose from in the immediate area, you are sure to find one that suits your style.
With North Conway as your base, you can explore the popular Attitash Mountain Resort. It offers both group and private ski lessons, both of which can be geared toward first-timers.
You can reserve your gear online ahead of time, to save both money and time. You can always purchase your own ski gear later once you know what suits you better.
There is even lodging provided at the base of the resort, in Attitash Mountain Village, if you want easy access to all of the fun.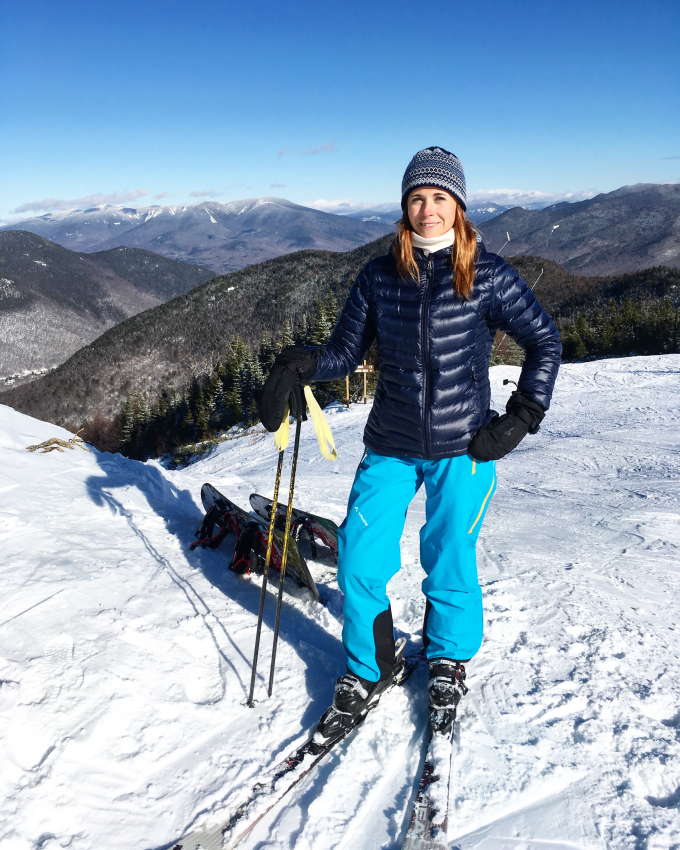 If you aren't into downhill skiing, you'll still have tons of outdoor fun to choose from in the North Conway area. Check out the offerings at Great Glen Trails Outdoor Center. They offer cross-country ski trails, snow tubing sessions, and guided snowshoe tours where you might hear owls and spot animal tracks.
Kids ages five and up are welcome to join the tours as well. The truly adventurous can even rent a fat bike here. The wide tires make it possible to traverse the snow. It's a bike ride you will never forget, and a fun way to enjoy the winter scenery.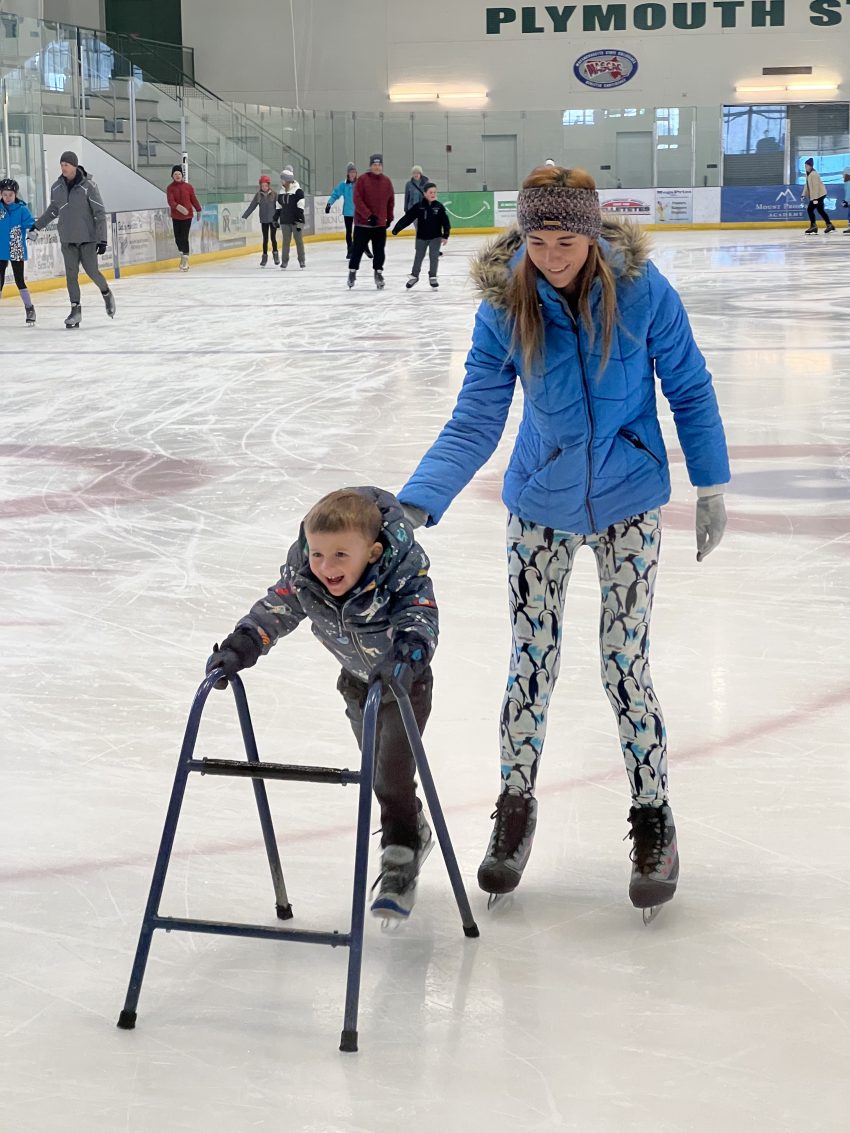 If playing in the snow isn't your thing, you might work on a visit to the famous 6,000-foot Mount Washington. It's accessible in wintertime, thanks to Great Glen Trails. The center runs the Mount Washington SnowCoach, which will bring you and your family up to the tree line for incredible views over the surrounding landscape.
This tour is extremely popular, so it's recommended that you book well in advance. If you choose this tour, do pay attention to weather conditions. The weather on top of Mount Washington is extremely unpredictable and often very different from the weather below.
It has been known to snow at the summit, even in the middle of summer! If you want to exit the SnowCoach to take photos, you will want plenty of layers, including warm gloves and a hat.
North Conway offers plenty of events to choose from, even in the winter. If you visit in December with children, you might wish to check out Journey to the North Pole, a two-hour train ride that culminates in a visit with Santa and his elves (along with a sing-along and a special gift for each child). Tickets cost $58 for Coach, $68 for First Class, or $78 for Upper Dome / First Class Plus.
An especially fun event for foodies is the Annual Chocolate Festival. This typically occurs in late February, and has been going on for over thirty years.
On the chosen day, you can follow the trail map (provided online before the event) to participating locations to enjoy chocolate treats of all kinds.
Typical offerings include hot chocolate, chocolate-dipped strawberries, and of course, chocolate-chip cookies, but part of the fun is seeing what each participant comes up with. You can get to the locations (usually inns or candy shops) by driving, or by skiing if you are feeling up to it!
When it's time to warm up from your outdoor fun, there is plenty of indoor fun to be had. North Conway is home to dozens of outlet shops, selling everything from clothes to housewares to candy.
Settler's Green is one of the most popular shopping destinations to check out, and it is open every day during the winter months.
If you need a place to stay in the area, home rentals are a popular option for families but if you are up for a splurge, check out Adventure Suites. (It's honestly worth driving by just to see the neat façade).
You can choose from rooms like "The Jungle," which includes a hot tub and a bar with animal-shaped stools, or the "Haunted Castle" which comes with a Ouija board and a drawbridge, plus fun extras like a skull-shaped chandelier. Teens will love it!
Looking for something more intimate? The Cranmore Inn has been in operation since 1863. Its location makes walking to shops and restaurants easy. Some rooms have kitchenettes and fireplaces, and there is even a family suite with separate bedrooms.
North Conway offers tons of great food options when it's time for dinner. If you have a hankering for a burger, Wicked Fresh Craft Burgers is the way to go. They offer beef, turkey, and vegetarian burgers, plus tons of fry sauces (the Wicked Truffle Sauce is a particular favorite). Seating is available inside, though it is a bit limited.
The Muddy Moose Restaurant offers standard pub fare, such as steak, fish and chips, and sandwiches. Its large size, log cabin vibe, and boisterous atmosphere make it great for families (do call ahead for a reservation though—you might even be able to get seated near the fireplace!).
Perfect Stays in North Conway:
Adventure Suites
Cranmore Inn & Suites
Stonehurst Manor Including Breakfast and Dinner
Starlight Lodge North Conway with Ski to Door access
---
2. Portsmouth, New Hampshire
For a winter New Hampshire getaway by the sea, try Portsmouth, New Hampshire. This bustling, lively town makes for a perfect winter weekend escape since shops and restaurants tend to stay open all year.
You will have many lodging options to choose from. If you can swing it, try to stay within walking distance to town. Parking can be tricky on busy nights and weekends!
There are cozy inns like the Sailmaker's House, a boutique inn with just ten rooms (all with private baths) and all sorts of historical touches – such as narrow staircases and original windows. The Residence Inn Downtown is a family-friendly option. All of the suites have kitchenettes for preparing quick meals, and there is a heated indoor pool to enjoy.
Even if you don't want to head to the beach for a wintry walk, you will find plenty to do in Portsmouth. The famous Strawberry Banke Museum will likely be closed for the season, but you can skate at the outdoor ice rink there.
Online tickets are the way to go if you want to give it a whirl, with reservations made available each Sunday for the week ahead. You can rent your gear here, and even sign the kids up for skating lessons.
If you are a history buff, check out the Portsmouth Harbor Trail, a scenic trail that links several historical houses and landmarks. You can pick up a guide to the Harbor Trail at the Visitor's Center, or take a 2-hour guided tour of Portsmouth and New Castle Island (highly recommended as the guides are knowledgeable and passionate about the area).
In addition to admiring the architecture of the area, there are tons of shops and restaurants to check out in Market Square. Portsmouth Book and Bar is a fun stop for all ages — you can have a snack (or a full meal) in the middle of a bookstore. The books themselves are nicely curated and the helpful staff can help you find just the right title.
Kids will want to check out G! Willikers Books and Toys, a family-owned business since 1978. For a fun evening out, check out 3S Artspace. Depending on the evening, you'll find live musical performances, talks, and even family dance parties.
Hungry? There is no shortage of options for dining in Portsmouth, even in the winter. For excellent diner food, The Friendly Toast is a must. Breakfast is served all day and includes fun options like the "Doughnut Stop Believing," a breakfast sandwich on a toasted donut, as well as classic diner options with a twist, like buffalo chicken grilled cheese. Kids can choose something from the "Tiny Toast" menu.
If you have a sweet tooth, there are even a few bakeries to try. You can't go wrong with any of the cake slices at Ceres Bakery, and they often have seasonal options on offer. It's a lovely way to cap off your day in Portsmouth.
The Best Stays in Portsmouth:
Port Inn and Suites, Ascend Hotel Collection
Fairfield Inn Portsmouth Seacoast
The Hotel Portsmouth – Downtown
Hilton Garden Inn Portsmouth Downtown
3. Ice Castles and North Woodstock, New Hampshire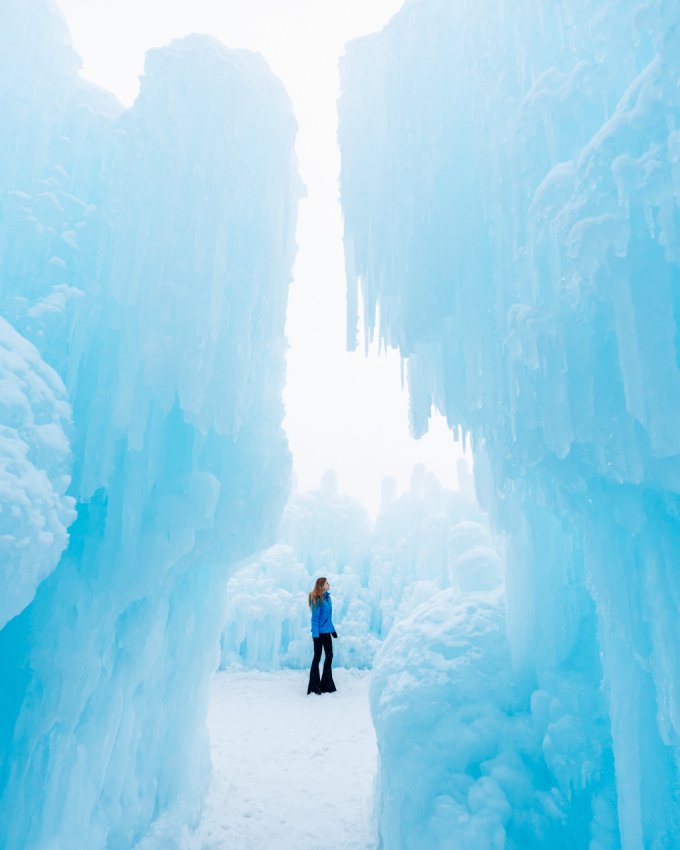 Want some extra magic this winter? Head to the Ice Castles in North Woodstock. The Ice Castles are typically open January through February, and make a perfect central activity for a North Woodstock getaway.
Here, you can walk through ice caverns and intricately carved ice doorways, and squeeze through icy passageways (a particular favorite for kids!). For the young, and young at heart, there are even slides made from ice!
Your kids will think you have walked into a real-life fairytale, and you'll agree with them. You can even take a sleigh ride and try out snowtubing here. If you visit at night, the ice is illuminated, making the experience even more magical.
While tickets for the Ice Castles are sometimes available at the door, it is recommended that you purchase a time slot in advance online, as a set number of tickets are available for particular times. For the budget-conscious, weekday trips to the Ice Castles are several dollars cheaper.
If you visit, you'll have to plan your clothing layers carefully. It's cold in New Hampshire in the winter! You might even wish to bring along snow gear for younger children (and anyone who wants to try out the ice slides).
Boots are helpful to avoid slipping on the ice. There is a snack shop on site, but it tends to be on the pricey side, so you might want to fuel up before you head out for your chilly fun. Adults can even visit the Polar Pub for a seasonally-themed beverage!
When it's time to bunk down, you might choose to stay at the Holiday Inn Express to be closest to the icy fun. They serve a complimentary breakfast and boast a heated indoor pool.
All of the rooms here have refrigerators and microwaves, making them great for families. InnSeason Resort Pollard Brook is another solid option. It offers kitchenettes, an easy drive into town, indoor and outdoor hot tubs, and even an on-site movie theater.
In addition to exploring the Ice Castles, there is plenty to do in the surrounding area. Loon Mountain offers skiing and wintry gondola rides, in addition to snowtubing for all ages.
They even have a chairlift to make the climb back up manageable, plus a tot tubing area for your youngest tubers. You can even go tubing at night under the lights, for a memorable experience.
Ready for some fuel? Restaurant options in the area abound. Black Mtn. Burger Co. is a popular choice (keep in mind that they are closed Wednesdays and Thursdays). During busy seasons, consider calling ahead to have your name added to the waitlist.
Once inside, you can choose from a wide variety of burgers—from classic cheeseburgers to the popular Triple Trouble, with banana peppers, bacon, and barbeque sauce. Vegetarian options are also available.
The Common Man chain of restaurants is another popular local spot. The atmosphere is bustling, yet cozy, with a large fireplace often going in winter months. You'll find New England classics like pot roast and meatloaf here, alongside vegetarian options like quinoa-stuffed peppers.
Kids have their own menu (which they can mark with a pencil) and which is chockful of options such as steak tips and pizza pie. As you eat, you can reminisce about all the wintery fun you have been having…and plan for the next day's adventures.
The Best Stays near the Ice Castles:
Holiday Inn Express in Lincoln
South Mountain Resort
Kancamagus Lodge
Village of Loon Mountain, a VRI resort
4. Cheshire County
While ticking off your things to do in New Hampshire list, don't forget to visit Cheshire Country. Home to the Grand Monadnock, the second most summited mountain in the world, the towns in this region look like picture-perfect postcards in winter.
The towns of Jaffrey and Dublin are perfect for quiet getaways with the family. The largest city Keene which was established in 1771 is reminiscent of days gone by. Rindge is home to the beautiful Cathedral of the Pines which pays homage to fallen American soldiers.
Spend a day with the kids exploring the Horatio Colony House Museum and the Cheshire Children's Museum. Or visit the nearby Stonewall farm to learn about regenerative farming, and take rides in horse-drawn carriages and sleighs.
Visit local breweries and distilleries to sample local spirits. You can choose from some award-winning rum at Copper Cannon Distillery or try craft beers at Branch and Blade.
If you're looking for a place to avoid other tourists in winter, the Monadnock region, and especially Cheshire County is perfect.
The Best Stays in Cheshire County:
Fairfield Inn & Suites by Marriott Keene Downtown
Courtyard Keene Downtown
Woodbound Inn
Benjamin Prescott Inn
5. Meredith
A town that transports you to Switzerland because of its beauty, Meredith is a quaint town in the Granite State. A popular resort for locals, the town was established on the shores of Lake Winnipesaukee in 1768.
The town is the perfect place to catch a game of ice hockey or learn how to go ice fishing. It's also really close to the Gunstock Mountain resort that's popular for skiing.
For a taste of days gone by, ride the Winnipesaukee Scenic Railroad from Meredith to Laconia or visit the Main Street Museum that's housed in Meredith's oldest building. The museum is filled with artifacts and memorabilia from the Civil War to World War II. See Seneca Ladd's melodeon, old newspaper collections, and many other antiques.
Shoppers will love Mills Fall marketplace which sports a 40-foot waterfall, brick walkways, charming shops, and 13 local restaurants. The restored 19th-century linen mill also offers a variety of accommodation.
The Twin Barns Brewing Company and the Town Docks are great places to grab a bite or beverage. Or you can raise a glass at one of the "500 Best Wineries in America", the Hermit Woods Winery.
And at the end of the day, lay your head in one of the local old-school Inns or hotels.
The Best Stays near the Ice Castles:
Mill Falls at the Lake
Ballard House Inn
The Nutmeg Inn
So that's the list of best New Hampshire Winter Getaway destinations. Have you visited? Which one are you going to next?