While mountains in the American West are often taller and have longer runs, the Northeast holds its own with a number of phenomenal ski resorts to choose from.
New Hampshire, in particular, is well known for its White Mountains and the White Mountain National Forest which offers great opportunities for those looking for high-quality skiing on the East Coast.
With 18 alpine and 14 nordic ski areas across the state, you are certain to find the ideal conditions for your next ski trip, regardless of your skiing style.
Here are the 10 best ski resorts in New Hampshire. Happy shredding!
1. Bretton Woods and Mt. Washington Resort
Bretton Woods and the Omni Mount Washington Resort represent one of the most famous ski resorts in the North. With multiple world-renowned conferences held there, the resort is the pinnacle of upscale skiing.
The resort has 98 ski trails and glades, 464 acres of skiable land, 10 lifts, and the ability to lift 14,000 people to the summit per hour. With some of the best grooming on the East Coast, you're certain to have a great day on the mountain.
If you're more interested in nordic skiing, no worries! Bretton Woods has over 100 kilometers of trails available, with 95 kilometers tracked and groomed. With 45 trails and 1,770 acres, you can enjoy a nice, quiet day in the woods.
And, if hot cocoa in the ski lodge is more your vibe, Bretton Woods has that too. With a full spa, 7 restaurants, and an activity center with snowshoeing, tubing, and winter fat biking, there's something for everyone at Bretton Woods.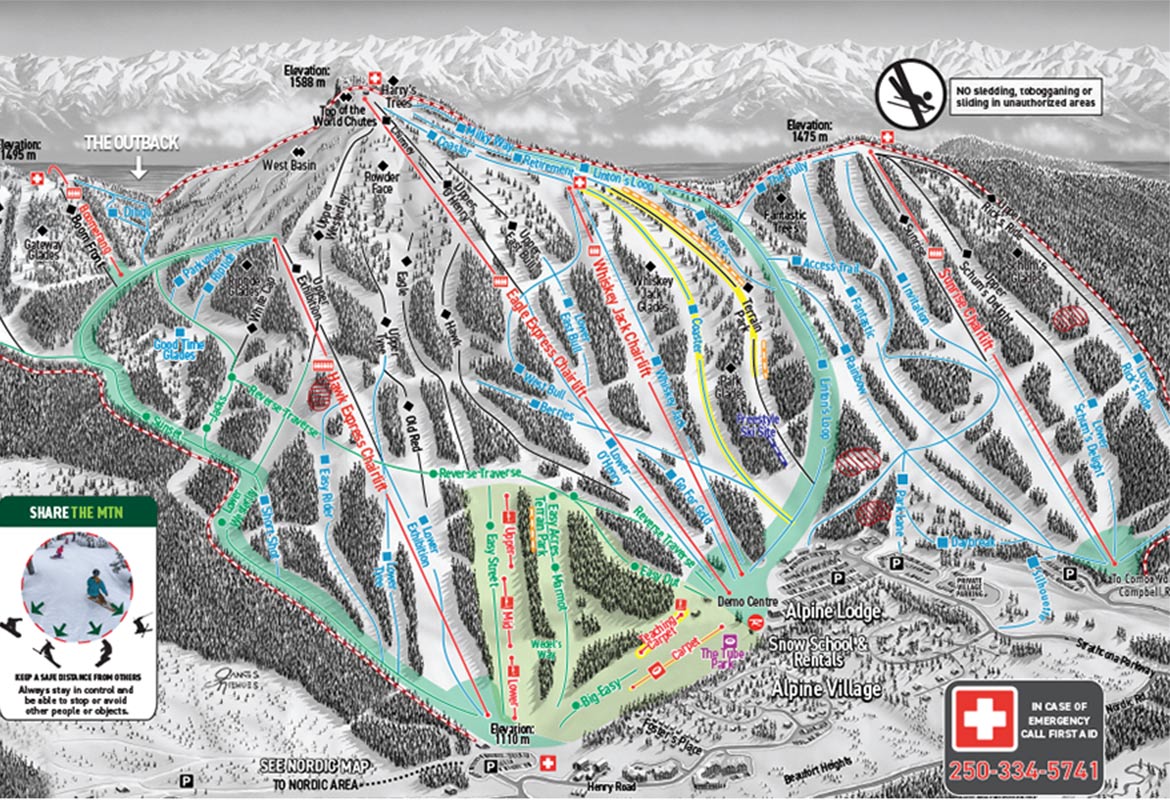 Where to stay near Bretton Woods and more:
Bretton woods was established in 1772 as part of the estate of King George III, which became the town of Carroll, NH. Bretton Woods was also where the famous Bretton Woods System was established in 1944; you know, the infamous system that led to the starting of the IMF and the World Bank a year later. Staying here is simply absorbing a part of history.
Grab a meal or drink at The Cave, a prohibition-era speak-easy with stone walls in the basement of the Omni Mount Washington Hotel. Or enjoy some Four Diamond cuisine at the nearby Bretton Arms Inn. Or take a gondola ride up to the Switchback Grille for some raclette, charcuterie, and other European fare.
And finally, lay your head in some of the best lodgings in Bretton woods. The Omni Mount Washinton Resort built in 1900 has played host to Thomas Edison and three US presidents. From premier rooms to Presidential suites this resort is impressive!
The nearby Omni Bretton Arms Inn is another resort full of history and charm, while the Lodge at Bretton Woods offers more economical lodgings that are spacious and comfortable with the added benefit of an onsite mini-market.
2. Loon Mountain
Loon Mountain has grown significantly over the last twenty years and is only continuing to grow. Only a 2-hour ride from the heart of Boston, Loon is accessible, has the capacity for a lot of people, and has great conditions all winter long.
Loon Mountain operates within the White Mountain National Forest and currently has 370 acres of skiable terrain, 61 trails, and 10 lifts (including an 8-seater and a gondola) that reaches over the North and South peaks.
If this isn't enough, Loon is getting even better with its new Flight Path: 2030. In the next 10 years, Loon will be investing heavily in lift infrastructure, snowmaking, and opening new trails.
Nestled in the small town of Lincoln, there are many lodging, dining, and recreational opportunities available. If you're looking for one of the best places to plan your next family vacation, Loon Mountain should be your choice.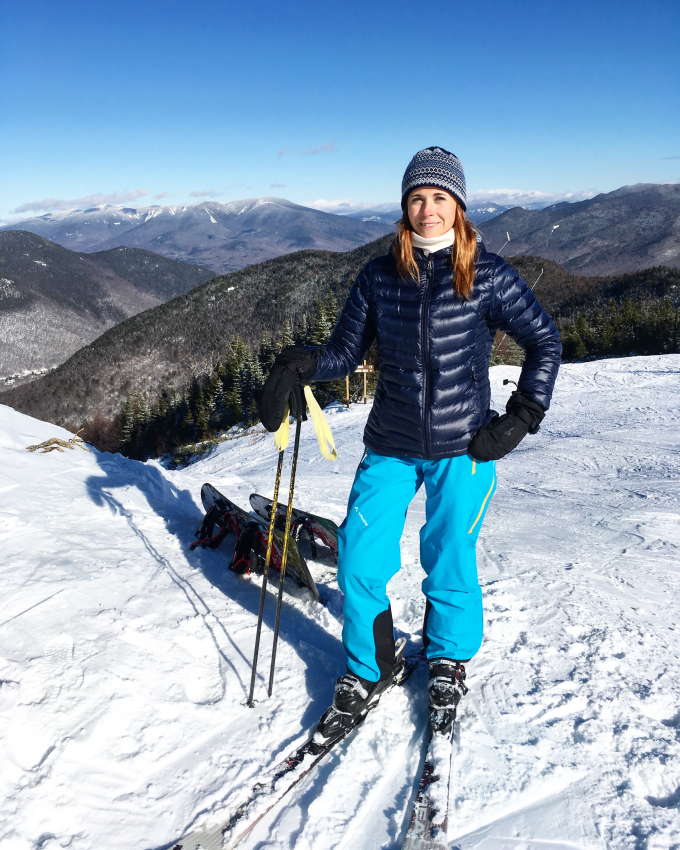 Where to stay near Loon Mountain and more:
Founded by Eisenhower's Chief of Staff Sherman Adams, you'll love your stay at Loon Mountain. Spend your nights in the homely Kancamagus Lodge or stay in the center of Lincoln town at the spacious South Mountain Resort.
The town is also within driving distance of Flume Gorge. Or take a steam train ride and watch the bear show at Clark's Trading Post.
Enjoy breakfast with stunning views of the White Mountains at the Summit Cafe, grab a pint at Babe's Blue Ox Lounge or the Paul Bunyan Room. Or grab an Egg McLoon at Governor Adam's Lodge, named after the founder of Loon Mountain. Don't forget to shop at The Bird for exclusive Loon Mountain wear.
3. Cannon Mountain
If you're on the prowl for the classic New England skiing experience, Cannon Mountain should be your first destination. Cannon is one of the few state-owned ski resorts in New Hampshire, making it slightly more affordable than many of the other resorts in the state.
This seemingly small fact actually accounts for so much of what there is to love about the mountain. As skiing has grown more popular, it's gotten more expensive. Resorts increasingly are filled with BMWs and Teslas, with far fewer locals getting out to rip on the fresh powder.
Cannon has seemingly avoided this trend. Characterized by steep, narrow, winding trails and a cold bite, you'll find a nice combination of out-of-town visitors as well as hardened, long-time locals of the area. But don't be intimidated, this combination is what makes the resort so unique.
On top of just a phenomenal atmosphere and culture, Cannon also has some phenomenal terrain. With 97 trails, 10 lifts, 285 acres, and 10 miles of trails, you'll never get bored at Cannon!
Where to stay near Cannon Mountain and more:
There's a lot to do in Franconia when you're not skiing at Cannon. Go visit the Franconia Notch State Park, hike up Artist's Bluff, or visit the Old Man of the Mountain Profile Plaza and the New England Ski Museum.
At the end of the day, lay your head at the Best Western White Mountain Inn near the center of Franconia. Or stay at the charming Franconia Inn which offers onsite sleigh rides and horse riding. For a more budget-friendly stay, head to the Stonybrook Motel & Lodge.
4. Attitash Mountain Resort
Attitash is perhaps one of the most family-friendly resorts in New Hampshire. With everything from a great learners area and expert instruction, to some of the steepest trails in the state, Attitash has something for every level of skier.
Attitash Mountain Resort is spread out over two peaks, Attitash Mountain and neighboring Bear Peak. It includes 68 trails, 8 lifts, 60+ acres of glade skiing, 23 miles of ski trails, and 311 skiable acres.
On top of the large size of the resort, Attitash also has a policy of limiting the number of ticket sales daily, especially after the COVID-19 pandemic. Your day will never be interrupted by ridiculously long lift lines.
Additionally, Attitash includes many great services for skiers and riders. With five hotels, a mountain village, and 7 dining locations (including two bars), Attitash Mountain Resort provides the full ski vacation in the small oasis of North Conway, New Hampshire. If you need a place to unplug and reconnect with nature, come to Attitash.
Where to stay near Attitash Mountain and more:
The towns of Bartlett and North Conway are within driving distance of Attitash, and can be good bases to explore the surrounds of the Mountain resort.
Visit Story Land and Living Shores Aquarium with the kids, or grab a beer at the Ledge Brewing Company in Bartlett. From North Conway you can visit Diana's Baths, take a ride on the Conway Scenic Railroad, hike in Whitaker's Woods, or taste some local wine at the White Mountain Winery while playing with the cute dog mascots.
Stay at the cosy yet comfortable Bartlett Inn which features fireplaces in every room. The Fox Ridge Resort in North Conway features a sun terrace and hot tub, while the elegant White Mountain Hotel and Resort features a year-round heated outdoor pool and hot tub with mountain views. For something modern, stay at the Fairfield by Marriott Inn & Suites.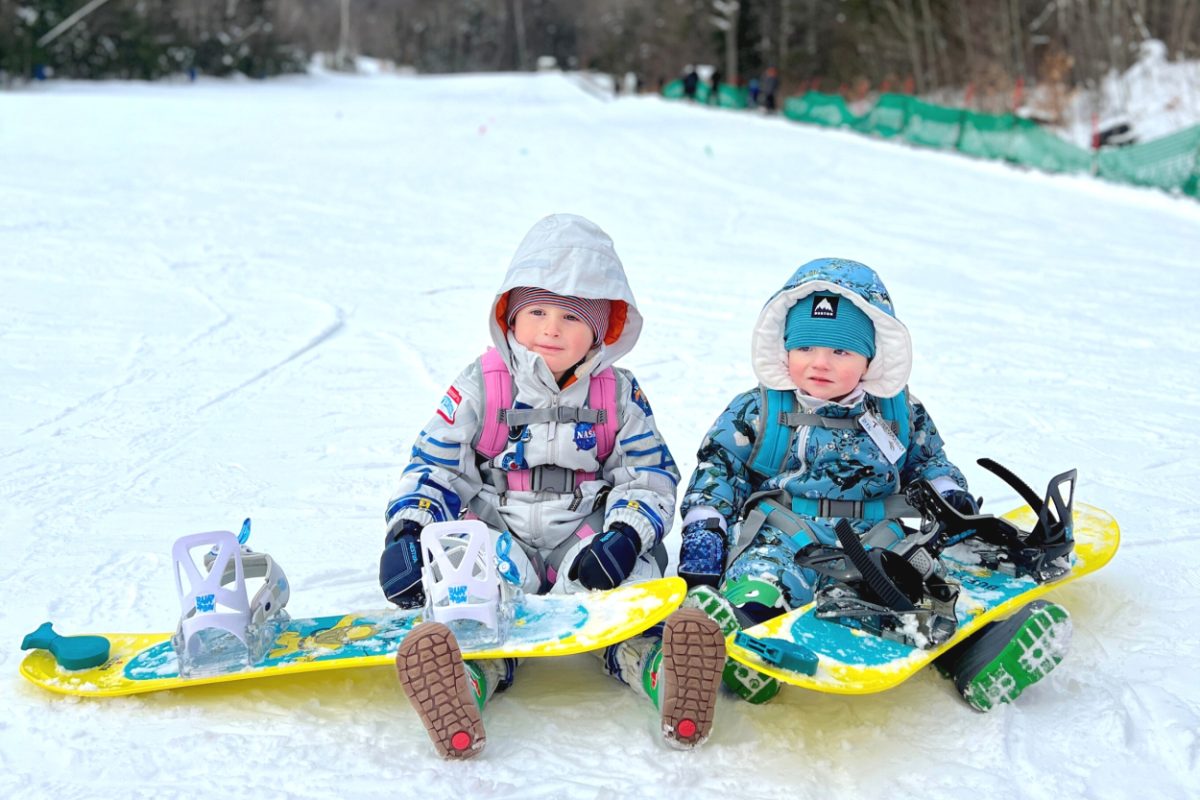 ---
5. Gunstock
Gunstock Mountain Resort is one of the smaller ski mountains in New Hampshire but serves as the closest major ski resort to the Boston Metro Area. Easily accessible from I-89, I-93, and I-95, its central location serves as a huge perk.
Gunstock includes 49 trails, 7 lifts, 227 skiable acres, and multiple terrain parks to choose from. Somewhat unique to Gunstock, however, is the amount of night skiing available. 21 trails and 6 lifts are available – about half the mountain! This is far more than most resorts in New Hampshire, so be sure to take advantage of this perk!
Gunstock also includes a wide array of Nordic skiing options. With 30 groomed trails totaling 22 kilometers, the trails are also available for snowshoeing, fat biking, and dog-pulled skijoring.
Gunstock doesn't have lodging on-site, but the local town of Meredith has many lodging and dining options on the beautiful Lake Winnipesaukee.
Where to stay in near Gunstock and more:
Close to Gunstock, there's a lot to do in the town of Meredith. Your family will enjoy visiting the Winnipesaukee Playhouse, riding the Winnipesaukee Scenic Railroad, or grabbing a bite at the Hermit Woods Winery.
Stay at Mill Falls at the Lake, a restored 19th-century linen mill that has an onsite Marketplace with restaurants and 13 shops. For more pocket-friendly options, Ballard House Inn and The Nutmeg Inn are good options.
6. Waterville Valley Resort
It's not uncommon to see locals walking around Waterville Valley and the nearby towns with a sweatshirt reading "Ski 49". Though not the largest mountain in the state, Waterville Valley plays an outsized role in the local community and is well-beloved by all.
The mountain, located about 12 miles off of I-93, is situated in the small town of Waterville Valley. Though seemingly far from bordering communities, Waterville has everything that a large mountain town demands.
With the beautiful Town Square that includes multiple shops, restaurants, and activities, the area has 9 lodging options, 14 dining options (both on and off the mountain), and a full shuttle service making your car unnecessary.
With 62 trails, 6 terrain parks, 12 lifts (including a new six-person bubble), and 42 nordic trails totaling 72 kilometers, Waterville Valley has everything you need for a great ski vacation.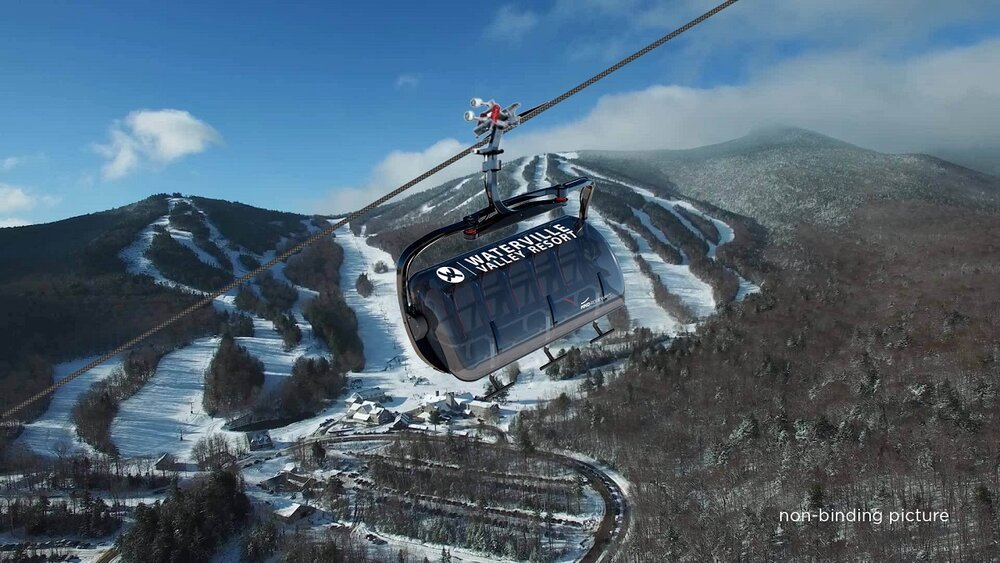 Where to stay near Waterville Valley and more:
When you're not skiing or snowshoeing, take a walk along the Mad River that flows through town or hike around Greeley Pond.
One of the closest accommodations to Waterville Valley Resort, the Silver Fox Inn features an outside deck and nice mountain views. The Snowy Owl Inn features onsite skiing, a dry sauna, and a Freedom Pass for every guest. The Winter Freedom pass offers access to activities and cultural centers as well as discounts at local restaurants. The nearby Valley Inn by Ascend offers more modern rooms, access to many activities, and lovely mountain views.
7. Mount Sunapee
For a mountain of only 1,510 vertical, Mount Sunapee certainly squeezes everything out of the mountain it can but does so in a way that maintains the "wild" experience of a New Hampshire State Park.
The mountain itself is owned by the state, but it is leased to the Colorado-based Vail Corporation which operates the ski area. The strange ownership agreement has created issues in the past, but with an increased focus on customer service, Sunapee has only gotten better in recent years.
The mountain includes 67 trails, 4 terrain parks, 9 glades, 4 module runs, 233 skiable acres, 18 miles of trails, and 9 lifts. Being located in southern New Hampshire, the mountain gets less snow than some of its competitors, so 97% of the terrain has snowmaking capabilities.
Not far from I-89, Mount Sunapee has five lodging options in the immediate area, as well as several dining options.
Where to stay near Mount Sunapee and more:
Visit the neighboring town of Sunapee, home to three functional lighthouses dating back to the 1890s. Or go ice skating, winter hiking, or snowmobiling near Lake Sunapee in your free time.
Stay at the Bluebird Sunapee and enjoy the beautifully done interiors. Located just 450 m walk from the Mt Sunapee State Park, it offers access to a games area and vintage recorder, as well as an indoor pool.
The nearby Lodge by Sunapee Stays features modern yet rustic interiors and kitchenettes in some rooms. The Mountain Edge Suites at Sunapee by Ascend Hotel Collection are charming and spacious and feature fireplaces in the living rooms. Large spacious rooms are perfect for traveling with family or friends.
8. Wildcat Mountain Resort
Wildcat, another Vail-owned mountain, is well known as one of the best alpine skiing resorts in New Hampshire, and also all of New England. Located in Pinkham Notch immediately across from Mt. Washington, Wildcat frequently gets heavy snow, and cold conditions, making it one of the first mountains to open and last to close in the state.
The mountain the resort is situated on is incredibly long, giving the resort a wide variety of phenomenal trails for skiers and riders to enjoy. The mountain enjoys 225 skiable acres, 48 trails, 80 acres of glades, five lifts, and a lift capacity of 6,700 per hour.
Wildcat joins many other New Hampshire ski mountains in having a wonderful adaptive ski program. With clinics from December until March, Wildcat is really trying to expand the accessibility of skiing to communities previously unable to join.
Wildcat does offer fewer dining options on the mountain, but it is so close to the Attitash Mountain Resort (which is also owned by Vail), that many dining and lodging options are available near the mountain.
Where to stay near Wildcat Mountain Resort and more:
The closest place to stay near Wildcat Mountain Resort is The Glen House on the Mount Washington Road towards Gorham. Large spacious rooms are pleasantly decorted, while some offer mountain views, but the best part is the ski-to-door access and the outdoor fireplace.
Other hotels are in the neighboring town of Jackson, home to the famous Honeymoon Covered Bridge and Jackson Falls. RavenWood Curio Shoppe is the perfect place to grab some unique handcrafted artwork.
Stay at the Christmas Farm Inn and Spa, The Wentworth, or The Inn at Thornhill for some New England style accommodation close to city center.
9. Ragged Mountain Resort
Ragged Mountain provides two serious benefits for those who want to spend as much time shredding as possible: no lines and quick lifts. Located in Danbury, New Hampshire, Ragged Mountain is just two hours north of Boston at the base of the White Mountains.
Because of the number of high-quality resorts just north of Ragged, the mountain sometimes gets overlooked. This is, of course, a mistake. But having shorter lift lines certainly doesn't hurt!
Ragged Mountain has 57 trails, 3 terrain parks, 250 acres of skiable land, and 5 lifts. These stats are great in themselves, but when you consider that 2 of these lifts are high-speed with one fitting 4 people and the other fitting 6, the mountain becomes even more appealing.
Ragged has 14 great lodging options within the immediate area and three restaurants off the slopes. Additionally, being a short distance from Concord, riders can spend the night out and about in New Hampshire's capital city.
Where to stay near Ragged Mountain Resort and more:
Set between the towns of Danbury and Andover, there are quite a few options to stay at close to Ragged. Highland Lake Inn in Andover features a ski school and onsite watersport facilities.
The Inn at Pleasant Lake in New London has a nice homey feeling and onsite watersports activities and cooking classes, while the New London Inn nearby features fireplaces in some rooms.
10. Cranmore Mountain Resort
Cranmore isn't often considered one of the monoliths in New Hampshire's ski community, but it gets overlooked for poor reasons. With a wide variety of activities, Cranmore is a great winter trip for families who might need more than just skiing options.
Mt. Cranmore includes 170 acres of skiing, with 56 trails, 8 lifts, and 3 terrain parks. Cranmore is unique when compared to other New Hampshire mountains in that 100% of the terrain is supplemented with snowmaking capabilities.
Outside of regular daytime skiing, Cranmore also includes night skiing on select days. The mountain is also home to one of the best tubing areas in the country, with ten lanes with lift service for plenty of fun!
Cranmore is also home to mountainside lodging with Cranmore Condominiums and the new Fairfield by Marriott coming to North Conway. Coming to Mt. Cranmore has never been easier!
Where to stay near Cranmore Mountain Resort and more:
Apart from the Fairfield, which is the closest to Cranmore Mountain, there are a few small inns and motels to choose from in North Conway. Stay at the Spruce Moose Lodge, Kearsarge Inn, or the Red Elephant Inn for charming and budget-friendly stays. And don't forget to hike to Diana's Baths or take a ride on the Conway Scenic Railroad while in the area.
---
The next time you're booking your ski vacation, be sure to come and visit New Hampshire. With many great ski resorts full of activities for all ages and abilities, you won't regret it!