Home to the majestic Alps and some of the most challenging slopes in the world, Europe is a dream destination for winter sports lovers all over the world. If you're coming from the US you'll be pleased to hear that the best ski resorts in Europe are much cheaper than in the US or Canada.
Because ski resorts in Europe are spread over several countries, finding the perfect destination for you requires taking into account not just the slopes themselves, but also the culture, gastronomy, and vibe of each place. Ski locales like Courchevel in France and Cervina in Italy may both offer similar tapes, but the overall experience you'll get at both resorts will vary greatly!
If you're currently wondering where to go in Europe this winter for some serious fun in the snow adventures, here are some of my top recommendations for the best ski resorts in Europe to keep on your radar!
I grew up in Europe and lived in various places as an adult, so I had a chance to ski and snowboard and many European resorts.
The ski resorts below are the most picturesque and well-known, but there are many more than that (I also enjoy skiing in Madonna di Campiglio, Zillertal, Risoul 1850). You can truly ski anywhere in Europe, but one question you need to ask yourself is whether you pick a glacier or regular mountains.
On a glacier, you don't depend on snow as you can ski there pretty much the whole season and even beyond. In other spots, you might depend on snow conditions.
1. Courchevel, France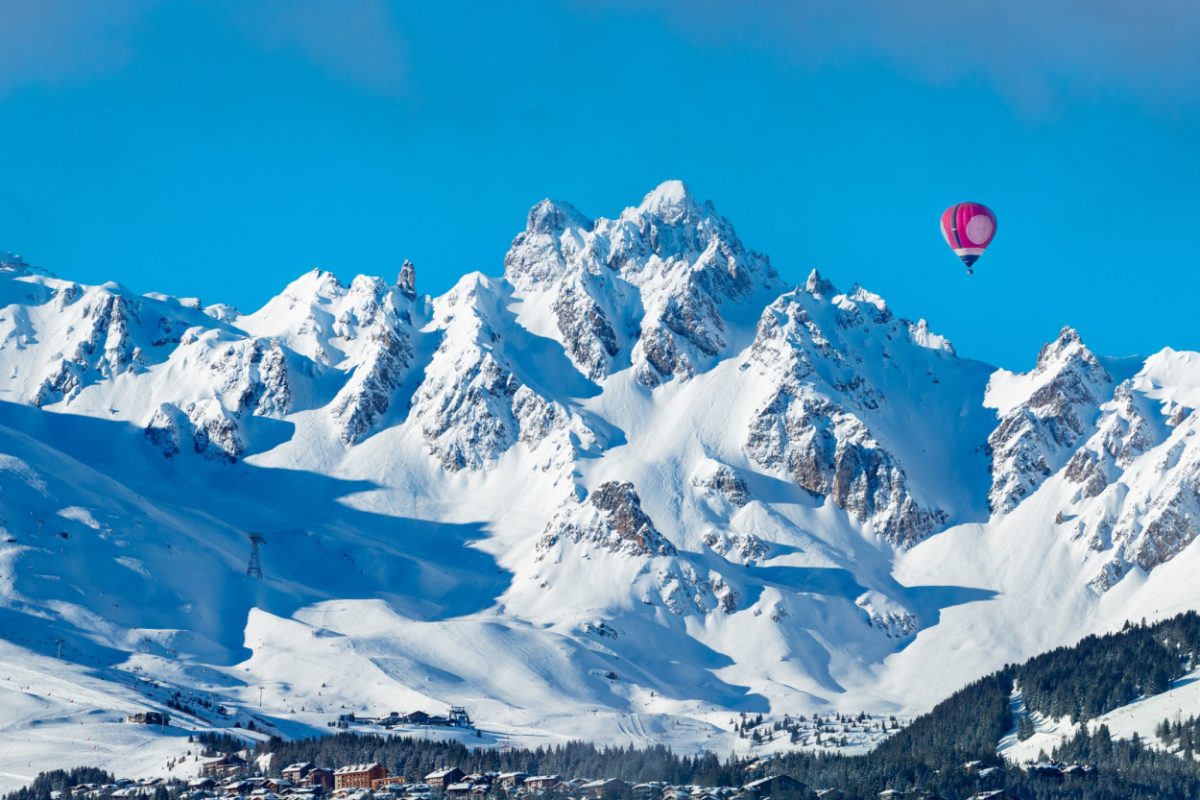 Part of the wonderful Les Trois Vallèes (The Three Valleys), Courchevel is a fantastic resort in the French Alps that offers exceptional skiing and snowboarding across the most expansive interlinked ski area in the entire world.
Famous for being the fanciest winter playground for millionaires in France, Courchevel consists of four villages, with Courchevel 1850 offering some of the most luxurious accommodations, finest dining, and plenty of upscale boutiques. This is where you're most likely to come elbow-to-elbow with the rich and famous, provided you're willing to splurge!
Courchevel offers a very balanced selection of greens, blues, reds, and blacks across three valleys. This means it makes for epic skiing for beginners and experts alike. For those traveling with kids, the Children's Village features more than seven acres where kids can learn and enjoy special activities created just for them.
If you'd only visit Courchevel on a date trip, there are some tours you can join.
Some amazing resorts in Courchevel to Stay at:
---
2. Zermatt, Switzerland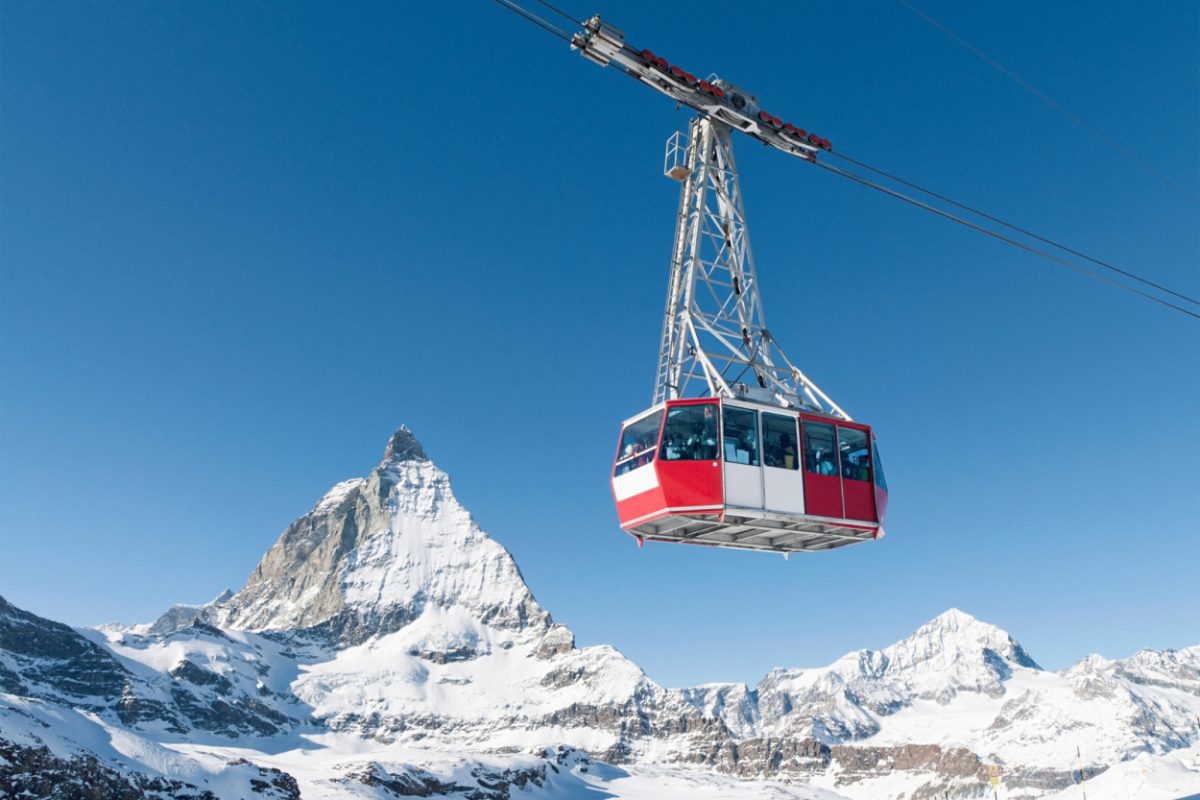 Set beneath the majestic Matterhorn, Zermatt is an iconic ski destination that has something to offer everyone regardless of their level of expertise.
Because it's surrounded by one of the highest peaks in the Swiss Alps, Zermatt offers 223 miles worth of runs with plenty of blues, greens, reds, and blacks to suit just about everyone.
Plus, this gorgeous town on the Swiss-Italian border has access to four large ski areas, a state-of-the-art lift system, and a new ski-in/ski-out test center on the Theodul Glacier where skiers can demo the latest snow equipment. The good news is that you can enjoy skiing and snowboarding here pretty much year-round!
Beyond the skiing experience, Zermatt is a charming car-free alpine village with a quaint historic downtown you'll love exploring. Here, horse-drawn sleighs are the most popular form of transportation!
Don't be deceived by its rustic appearance, though, as the town has no shortage of luxury boutiques, Michelin-star restaurants, and ritzy après-ski entertainment. The cost of visiting Zermatt is high, but worth every single penny if your wallet can handle it.
Tours you can take in Zermatt
Where to stay in Zermatt
---
3. Cortina D'Ampezzo, Italy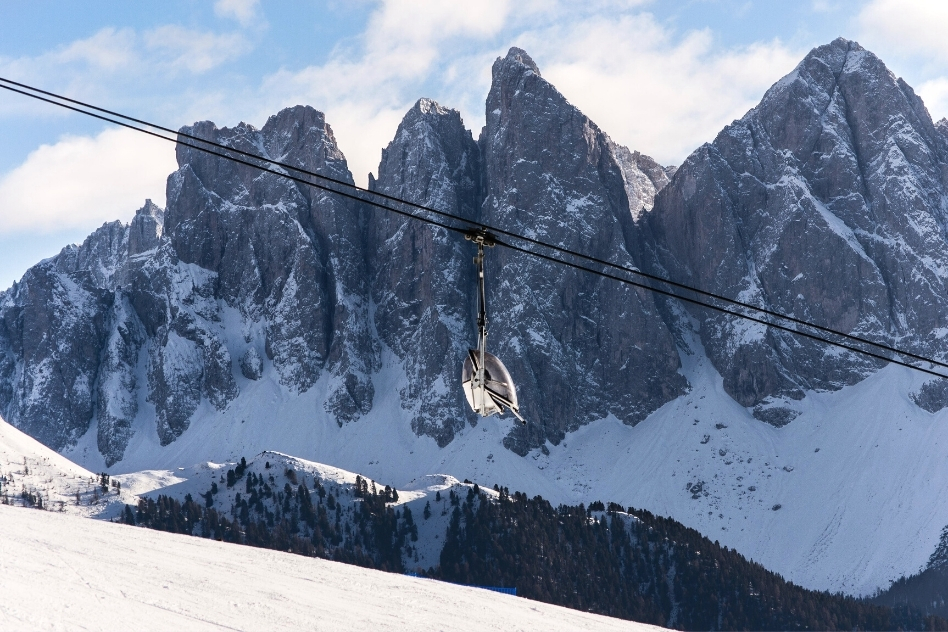 Cortina d'Ampezzo is a world-famed ski resort with trails that cross a total of three ski areas and offer spectacular views of more than 20 mountains, including Cinque Torri, Croda del Becco, and the majestic Dolomites.
Nestled in the Boite River and located only two hours away from Venice, Cortina D'Ampezzo got into the skiing spotlight when it hosted the Winter Olympics in 1956, a feat that will be repeated again in 2026.
This quaint European ski resort is perfect for advanced skiers who want to challenge their skills on black trails, but it also offers several runs for all levels and techniques, especially in adjacent areas.
What visitors love about Cortina is the fact that it offers a more low-key vibe in comparison to other ski resorts in Europe.
Here, you'll find plenty of upscale lodging and gourmet dining options, but you will also get the chance to enjoy a resort on a lower budget because it also offers rustic restaurant terraces, simple cabins, and cozy après-ski bars that have a more local feel to them.
Tours you can take in Cortina D'Ampezzo
Where to stay in Cortina D'Ampezzo
Faloria Mountain Spa Resort – Set in the quiet village of Zuel di Sopra at the base of the Olympic ski jump, this luxurious resort offers rooms and suites with balconies, two onsite swimming pools, and an amazing spa and wellness center.
Rosapetra SPA Resort – Small Luxury Hotels of the World – You know you're in the heart of the Dolomites at this exceptionally beautiful hotel. Furnished entirely in wood, most rooms offer mountain views, and guests can use the free shuttle to the Faloria ski lift.
Franceschi Park Hotel – Close to the Funivia delle Tofane cable car and Faloria ski lift, this charming hotel looks just like a chalet. Rooms and suites feature wooden furnishings, and guests can use the onsite spa, jacuzzi, and sauna at a charge.
---
4. St. Moritz, Switzerland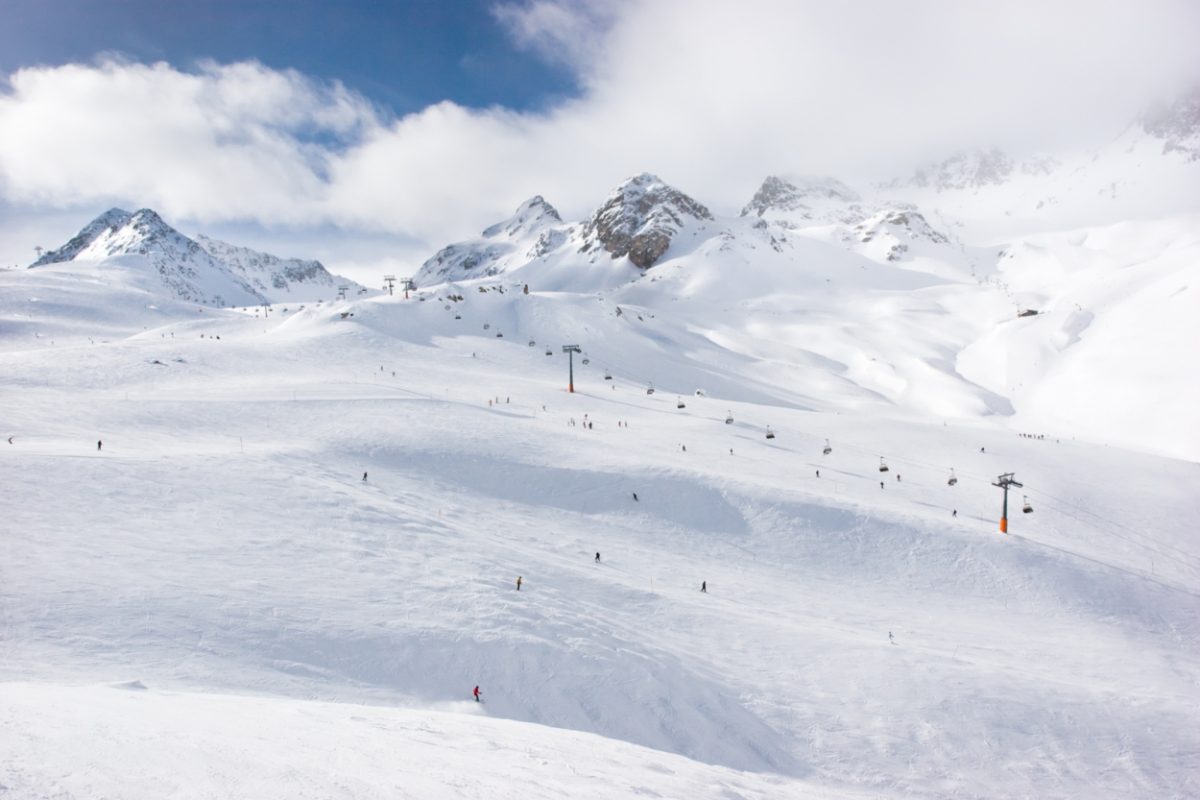 No guide to the best ski resorts in Europe would be complete without mentioning St. Moritz. This is said to be the oldest and quite likely the most quintessential winter holiday resort not just in Europe, but the entire world.
St. Moritz is about as exclusive as it gets, with some of the best hotels in the world, chic shopping, and fine dining acting like magnets that attract celebrities and royalty.
The town's skiing area has hosted two Winter Olympics already, with slopes suitable for intermediate skiers as well as beginner and advanced levels and excellent off-piste options for free-stylers. A
s a bonus, St. Moritz sees over three hundred days of sun every year, making it a treat to visit for those who prefer avoiding gloomy spots during the winters.
Tours you can take in St. Moritz
Where to stay in St. Moritz
Grand Hotel des Bains Kempinski – Surrounded by scenic Engadine countryside, tis luxurious 5-star hotel is home ot the Michelin-starred restaurant Ca d´Oro. Apart from the beautifully appointed rooms and suites, guest also have access to a grand well-equipped spa, and many onsite activities.
Badrutt's Palace Hotel St Moritz – Featuring panoramic views over Lake Sankt Moritz and the Engadine Alps, this luxurious 5-star hotel was built in 1896. Spacious well-appointed rooms and suites help you make the most of your stay in this fantastic locaiton.
Hotel Waldhaus am See – Rated one of the best 3-star hotels of Switerland, this lovely hotel is right on the shores of the St. Moritz Lake. Swanky rooms with tradiitonal wooden decor keep you comfortable, and the largest whisky bar in the world is right here to please the palate.
---
5. Lech, Austria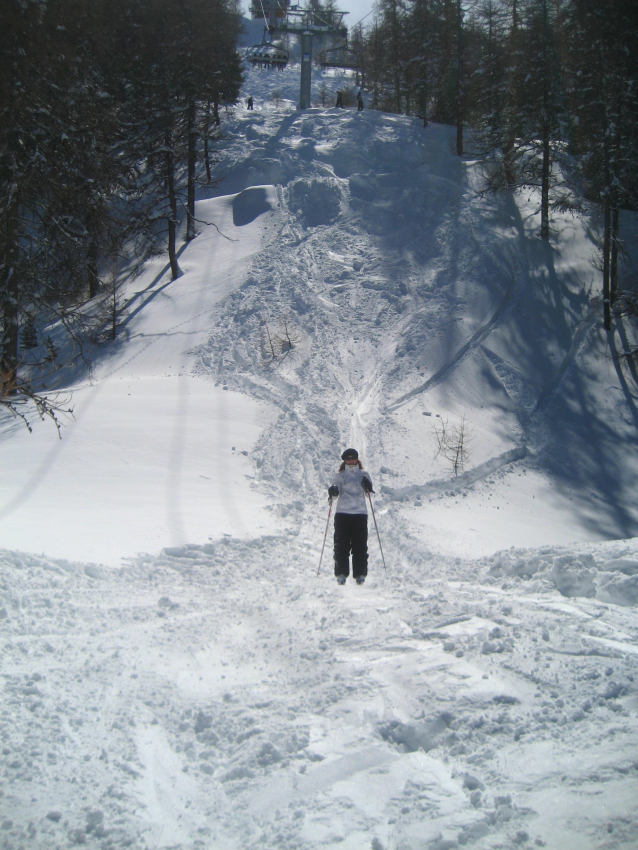 Even though it's not as popular as other ski resorts in Europe like St. Moritz, Lech is a gorgeous ski resort in Austria perfect for those who prefer to avoid the swanky see-and-be-seen scene and would rather visit a much more low-key spot while still getting to enjoy fabulous amenities.
Behind its rustic facade, you'll find the highest concentration of award-winning restaurants in the world as well as chic hotels, stylish boutiques, and elegant art galleries spread all over the area.
Lech's spectacular trails offer skiers and snowboarders the perfect opportunity to revel in the slopes of the legendary Arlberg Mountain. As a bonus, you'll also get to have access to the famous White Ring, a circuit of 14 miles that links Lech with the nearby towns of Zürs and Zug, making skiing here a unique experience!
Tours you can take in Lech, Austria
Where to stay in Lech, Austria
Post Lech Arlberg – Formerly a post house, this luxury hotel has been family-run since 1937. Thick walls, tiled stoves, hand-painted woodwork, and antique furniture. Enjoy the famous home-made strudels in the Post-Cafe.
Romantik Hotel Krone – Running since 1741, this historic hotel features ski-to-door access. Marble bathrooms with starry sky ceilings are available in the suites.
Alpenland – Das Feine Kleine – Featuring balconies in every room, this family-run hotel is just 150m from the Fluhenlift and a short walk from the center of Lech.
---
6. Garmisch Partenkirchen, Germany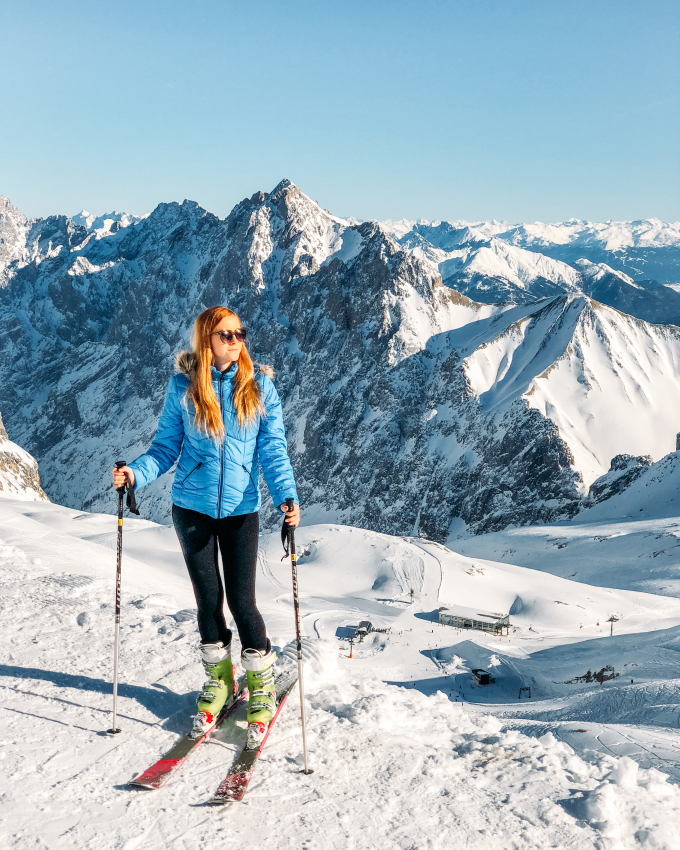 Home to Germany's largest standalone ski resort and a wide array of trails to suit every experience level, Garmisch Partenkirchen is a wonderful ski resort in Europe to get that Bavarian Alps experience.
Commonly nicknamed "Ga Pa", this town offers excellent lodging options, plenty of restaurants delivering delicious food, and a wide array of après ski spots all over. While here, you'll get the option to choose from beginner pistes as well as trails for those yearning for a challenge.
Garmisch Partenkirchen also boasts a gondola that will take you up above tree line and into even more slopes as well as a snowpark where you can enjoy even more winter activities!
Tours you can take in Garmisch Partenkirchen, Germany
Where to stay in Garmisch Partenkirchen, Germany
Hotel Rheinischer Hof – This family-run hotel features an outdoor pool with alpine mountain views. Just a short walk from the town centre, you'll love the spacious rooms and Finish sauna.
Biohotel Garmischer Hof – This family-run eco-friendly hotel is close to the Michael Ende Kurpark and the train station. The moutain-view saunas and Turkish hammans aare just perfect!
Reindl's Partenkirchener Hof – This 4-star hotel is a short walk from the Zugspitze Mountain and the train station. Apart from the 3 saunas and whirlpool, you will love the charming wooden decor in the executive suites.
---
7. Cervinia, Italy
Sitting on the Italian side of the Matterhorn, Cervinia is a charming ski resort that is linked to Zermatt in Switzerland, all while still offering its own vibe and culture.
While here, you'll be able to cover a vast terrain in the skiing arena, but also in the cultural and gastronomic one! Most visitors to Cervinia cross the border to and from the Swiss border to test the slopes of both countries as well as to satisfy their cravings for pasta or fondue.
At Cervinia, many of the slopes were designed for beginners and intermediate levels, which makes it one of the best ski resorts in Europe for newbies and families. There are several advanced trails available as well.
Where to stay in Cervinia, Italy
Hotel Hermitage Relais & Châteaux – Set at the foot of the Matterhorn, this charming hotel features balconies with panoramic views of Mount Cervino from all the rooms. Guests can take advantage of the heated indoor pool and free shuttle to the ski lifts.
White Angel Hotel – Located on the slopes where you can ski in and out, as well as a short distance from the Plan Maison cable car. Some rooms have mountain views, but all guests can take advantage of the sun terrace and heated indoor pool.
Hotel Punta Maquignaz – Rooms and suites at this traditional alpine hotel feature wooden paneling and carpeted flooring, with balconies in some. Guests enjoy ski-to-door access from the Campetto Cretas slopes as well as an on-demand shuttle service.
---
8. Verbier, Switzerland
Verbier is more than just panoramic vistas of beautiful white mountains and charming cottages covered with snow. It's where the who's who come to spend their winters. So if rubbing shoulder's with the rich and famous is something you want, head to Verbier.
Since it's in the middle of the 4 Valleys, there are more than enough slopes for all levels of skiers. Featuring over 100 lifts and more than 400 km of ski runs and backcountry skiing options, it's also one of the best resorts in the world for off-piste skiing.
The town hosts the annual Verbier Xtreme freeride contest and is popular with free-riders and freestylers. Being higher in altitude, snow and sunny skies are guaranteed throughout the season.
The apres-ski activities and active nightlife are also magnets that draw partygoers. Sit out on the panoramic terrace of the Pasay Snack Bar, grab a drink at Bar 1936, or go dancing till the wee hours in the Farm Club.
Where to stay in Verbier, Switzerland
W Verbier – Featuring luxurious rooms in the modern center of Verbier, this hotel consists of alpine chalets in the center of town. Guests can use the indoor pool and a heated outdoor pool, free access to the spa, and beautiful alpine views.
La Cordée des Alpes SUP – This 4-star hotel is 100 m from the Ski Lift Le Moulins. Some rooms include a kitchenette with an oven, stovetop, and dishwasher which are perfect for nights in.
Hotel Mirabeau – This affordable chalet hotel is just 200 m from the Verbier-Médran Cable Car. Compact rooms contain every necessary amenity.
---
9. Baquiera Beret, Spain
Opened in 1964, this Spanish ski resort is one of the largest in the Pyrenees and perfect for all levels of skiers. You'll find 165 km of slopes, 36 lifts, and 5 km off-piste routes here.
Stretching across the Beret, Baqueira, and Bonaigua areas, the Baqueira area has the most black diamond pistes for experienced skiers. Families and beginners will also love the area as there are good ski schools here.
Restaurant La Perdiu Blanca in Hotel Montarto and Wine Bar by Viña Pomal are perfect for tapas, drinks and meals. Or grab a hearty T-Bone steak at La Borda Lobata which is housed in the oldest Aranese borda (stables).
Tours you can take in Baquiera Beret, Spain
Where to stay in Baquiera Beret, Spain
Eira Ski Lodge– Offering everything from budget rooms to spectacular 8-room chalets, this ski lodge also has ski-to-door access. Guests also get complimentary tea & coffee all day, which is really perfect in winter.
Hotel Montarto – Located next to the ski slopes, this resort offers free guided tours of Baqueira for guests staying over 4 nights. Apart from well-appointed rooms with modern amenities, guests can also enjoy access to a spa and live piano music at the onsite bar.
Hotel de Tredós Baqueira, Affiliated by Meliá – This 4-star hotel with mountain views also has a seasonal outdoor swimming pool and sun terrace. Rooms and suites feature wooden decor, minibars, and tea/coffee makers.
---
10. Chamonix, France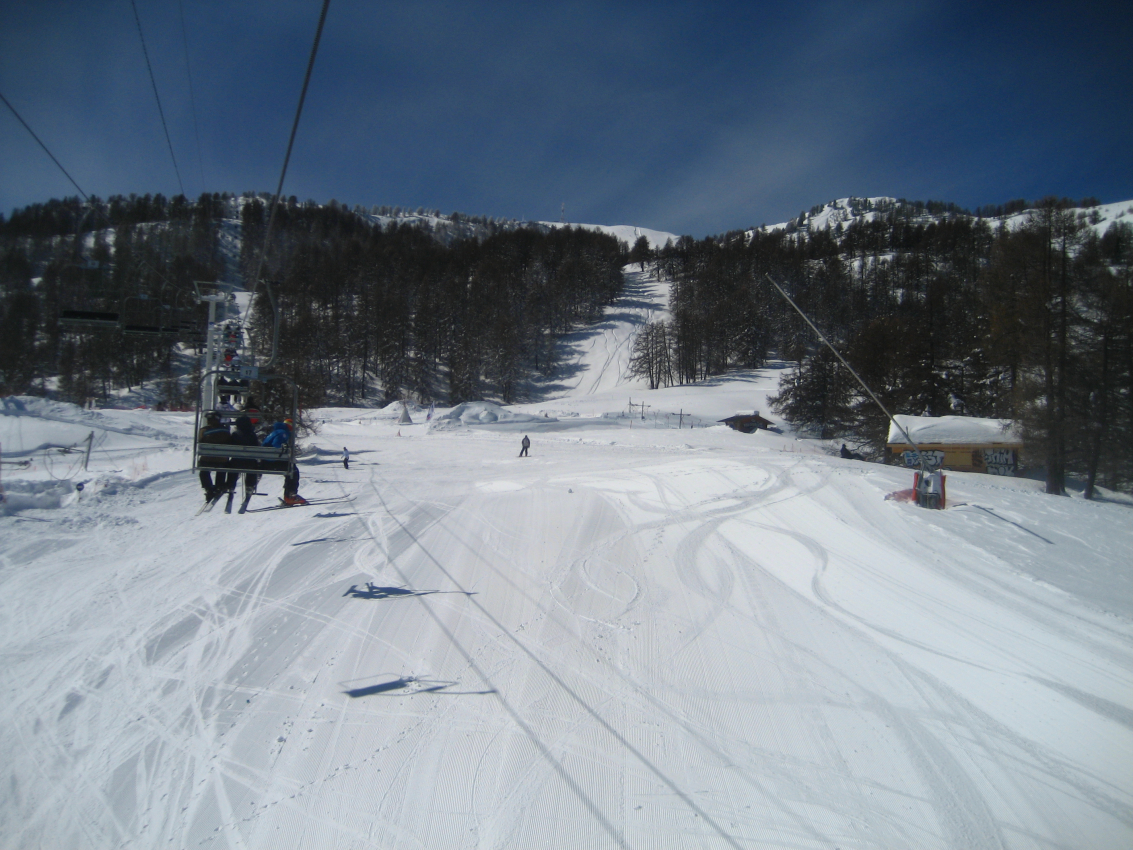 One of the oldest French ski resorts, Chamonix was home to the first-ever Winter Olympics a century ago. 'Cham' as it's known is where skiers can show off and develop their skills.
With over 155 km of ski area and a lot of off-piste and challenging terrain at the foot of Mont Blanc, it's perfect for advanced and intermediate skiers and free riders.
Once you've spent a hard day going off-piste in the Vallee Blanche, head over to
Once you've spent a hard day going off-piste in the Vallee Blanche, head over to 3842 or Le Panier des 4 Saisons for some calorific meals. During winter, head over to Chambre Neuf, the apres-ski bar with the liveliest and loudest music from 17:30 to 19:30 on weekdays.
Tours you can take in Chamonix, France
Where to stay in Chamonix, France
Grand Hôtel des Alpes – Set in the heart of Chamonix within walking distance of Crystal Museum Chamonix and Les Jardins de Fujiyoshida, this luxurious 5-star hotel also offers a free shuttle service to the slopes. The popular Suite de l'Ancienne Tour makes the stay truly Alpine.
Alpina Eclectic Hotel – Centrally located in Chamonix, this 4-star hotel is close to the TK de Samaran and TK Savoy Ski Lifts, as well as many of the local attractions. Apart from elegant rooms, guests have access to an onsite grocery store, sauna, hammam, massage room, and more.
Chalet-Hôtel Hermitage – This beautifully designed hotel looks like it escaped from a fairy tale. Rooms with alpine decor feature views of Mont Blanc and a pond, while guests also have access to 3 outdoor saunas and a spa bath.
---
Bonus European Ski Resort: Kranjska Gora, Slovenia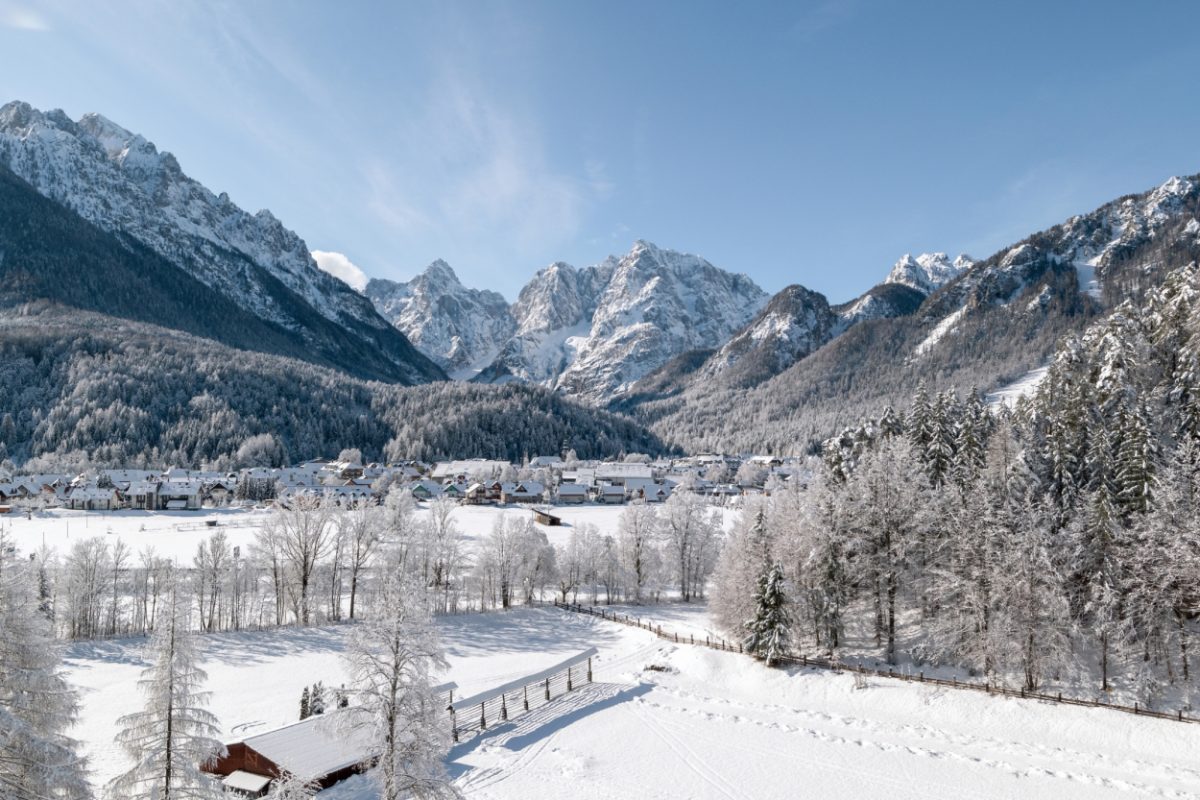 One of the top 5 resorts in the Upper Carniolan region, the Kranjska Gora resort is home to 20 km of slopes and 15 lifts. Perfect for skiers of all levels, the resort is also popular with snowboarders.
It also hosts the annual Vitranc Cup competition, which is a part of the famous FIS Alpine Ski World Cup.
You can stay either in Kranjska Gora or the neighboring town of Podkoren which are both equidistant from the ski resort. While Kranjska Gora is full of hotels and resorts, Podkoren is better suited to those who want to stay in quieter home rentals or Airbnbs.
There's a lot to satisfy the palate too in Kranjska Gora. From dinner at the Michelin starred Milka, to čevapčiči and octopus at Okrepčevalnica Lačni Kekec. And on days you're not skiing, visit the Zelenci National Reserve to see Lake Zelenci which never freezes, or the Russian Chapel built by prisoners in the Vrsic Pass in 1916.
Tours you can take in Kranjska Gora, Slovenia
Where to stay in Kranjska Gora, Slovenia
Ramada Resort Kranjska Gora – Set at the base of the ski slopes, this hotel offers panoramic mountain views and ski-to-door access. Mojca 1, Mojca 2 and Rozie ski lifts are nearby. Classy rooms feature balconies with mountain views.
Best Western Hotel Kranjska Gora – Centrally located in Kranjska Gora, this hotel is a short walk from the ski lifts. Guests also have free access to the swimming pools, sauna, hot tub, and fitness room.
Boutique Skipass Superior Hotel – This family-run hotel is just 400 m from the slopes, and guest bikes and motorcycles can be parked for free in the secured garage. Charming rooms feature mountain or garden views, and the Austrian and Italian ski areas are also close by.
---
Have you ever skied in Europe? What are some other wonderful ski resorts to visit in Europe for a perfect winter getaway? If you have any more recommendations, please let me know about them in the comment section below!