"Keep Austin Weird" is the unofficial slogan for this Texas capital, a city that combines southwestern flair, diverse cultures, and beautiful countryside. It's also one of the fastest-growing cities in the US.
Austin is also known for its live-music scene and delicious food- with TexMex, BBQ, and international options that are all sure to please. This mashup makes Austin an interesting destination offering varied activities and sights. It's also a great family destination, with lots of open space and kid-friendly attractions!
I had a chance to live in Austin for a little bit, so got to know the city and its surroundings fairly well.
When to Visit Austin?
Given its location in the southwestern U.S., it's best to visit Austin in the spring or fall, avoiding the heat and humidity of the summer. Austin is home to an international airport, so getting it is relatively simple. The best way to get around the city is by Uber, bike, or scooter.
If you can, book your accommodation in the 6th Street District or Downtown Austin. Make sure to pack clothes for the warm weather, good shoes, and some fun outfits to hit the bar and restaurant scene!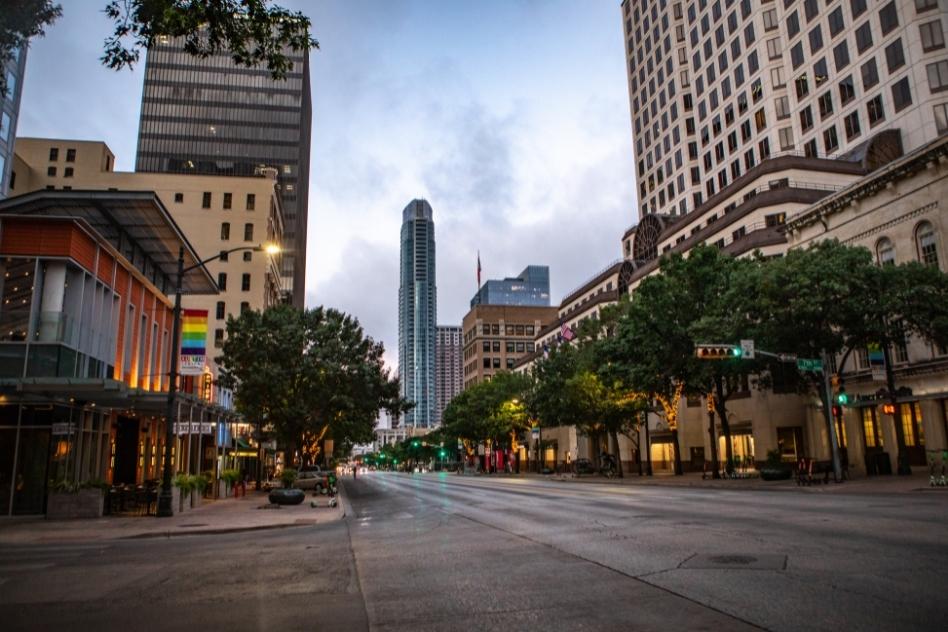 How To Get To and Around Austin, Texas
If you're traveling internationally, you'll most probably enter Austin at the Austin-Bergstrom International Airport that receives flights from across the world. It will take you about 25 minutes to drive from the airport to the main parts of the city.
Austin is also well connected to other cities in Texas by Amtrak. So you can hop on a train and get here for as low as $15. Greyhound and RedCoach buses also connect Austin to Houston, Dallas and other important cities.
With the plethora of options available, it's really easy to get around Austin, Texas.
Metro
By far the easiest method of travel in Austin is taking the Metro. Single rides cost $1.25, Day Passes cost $2.50 and 7-day passes cost $11.25 for locals. These fares apply to travel on the MetroBus, MetroRapid, UT Shuttle, and the new Pickup service that they offer.
For commuters using the MetroExpress and MetroRail, the single ride costs cost $3.50, day passes cost $7, and a 7-day pass costs $27.50.
There are more options for reduced fares, discounts, and the CapMetro App info that you can find out more on the CapMetro site.
Walking & Bike Rentals
You can hire a bike from the Austin city bike program called Austin MetroBike. It allows you to use bikes 24/7 from over 50 locations in Downtown Austin.
But Austin is a pedestrian-friendly city, so if you're staying close to the Austin attractions, it's easy to simply walk around with a local guide.
Cars and Taxis
There are a number of cab companies operating in Austin – Lone Star Cab, Austin Cab Company and more. But you can just hire a taxi anywhere or using apps like Lyft, Uber, Fare, ZTrip, and others.
The other option is to rent your car and drive yourself around. This works out perfectly if you don't want to be limited by time schedules or running meters and see things outside of town.
There are many parking spaces all over downtown Austin. Perhaps the best option is the Capitol Visitors Parking Garage that allows you to park free for the first two hours. After that, it costs $1 for every 30 minutes which is a real steal!
---
Is Austin TX Safe?
Is Austin safe? Do you need to worry when traveling to Austin alone or with your loved ones? Questions that plague every mind before a trip to any new city.
Yes, Austin ranks as one of the top 10 safest cities in the US. The violent crime rate is 313 per 100,000 people which is a lot lower than San Antonio, Texas which has 469.
Most parts of Austin are safe and as long as you take precautions, you'll be safe. Avoid traveling through dark alleys or isolated areas at night, park in well-lit areas, used antitheft backpacks or wallets, and lock your car doors.
Austin is safe to visit alone or with the company. Be aware of your surroundings and be smart, and Austin will seem a pretty safe place to visit!
---
Top Things To Do In Austin, Texas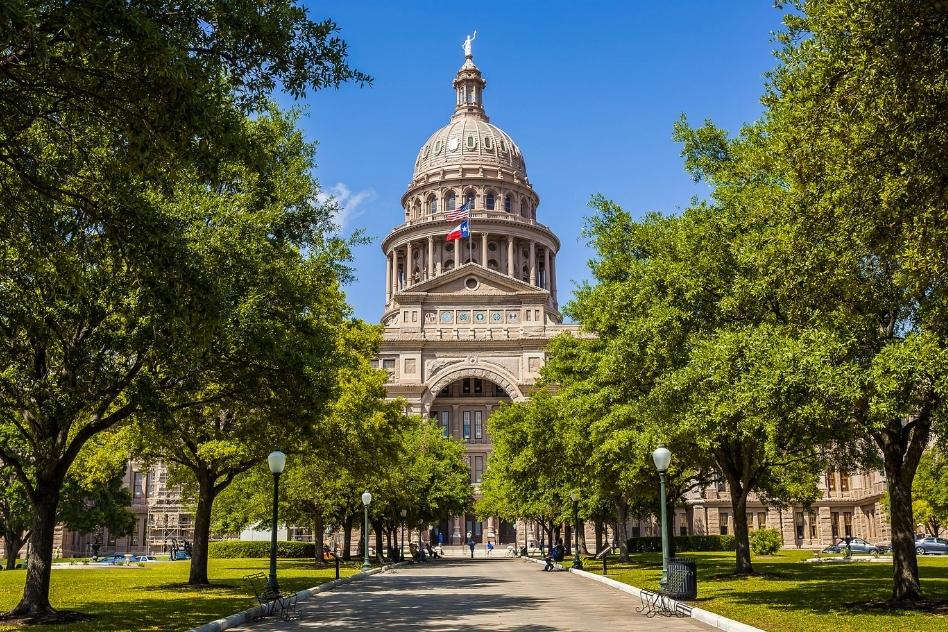 1. State Capitol
Austin's impressive Capitol building is one of the largest in the U.S. (surpassing the size of the national Capitol building in Washington, D.C.) and was built in the late 1800s. The building is known for being made of red granite and constructed with extensive detail.
In addition to impressive architecture, the State Capitol offers free guided and self-guided tours, including interesting themed options such as the "Women in Texas History Tour" and "Heroes of the Texas Revolution Tour."
Visiting the State Capitol is a great free option for solo travelers and families alike! Standard tours are offered every day of the week, except on holidays. Visit the State Preservation Board website for specific hours and additional information. Afterward, walk the grounds or visit one of the on-site restaurants.
There are also some popular bike tours that take you along the famous Town Lake Hike and Bike Trail and parks and end with a visit to the Capitol Building.
2. Murals
Austin is an artsy city and home to many colorful murals. The most famous is probably "The Rainbow" on the corner of Brazos and Second Street. Another iconic mural is the "Greetings from Austin" vintage postcard-like mural on S. 1st and Annie St.
One great way to see the city is to go on a self-guided mural tour. Here is a helpful guide to over 80 murals. Guided mural tours are also available. This is definitely a great option for the photographer or Instagrammer!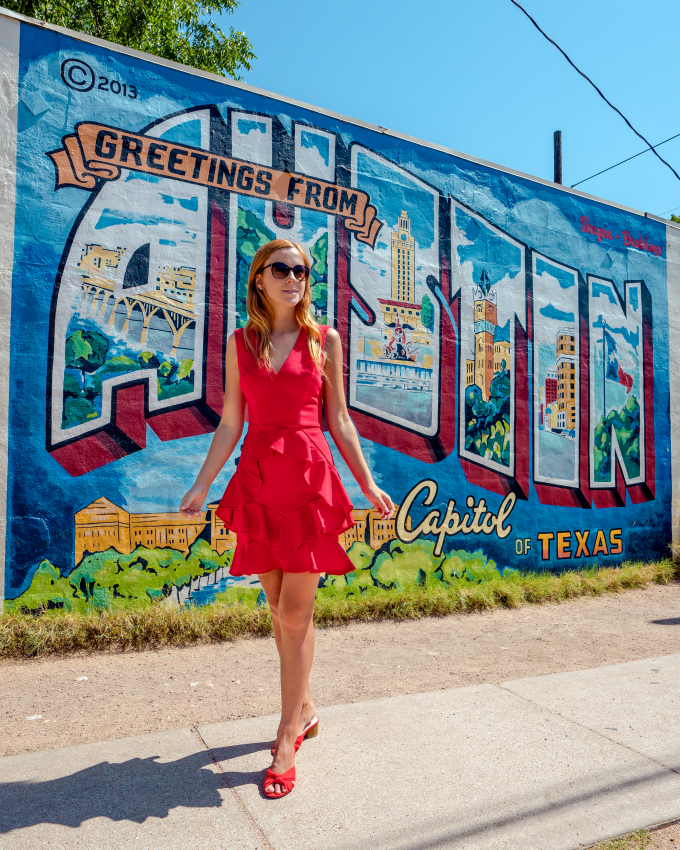 3. Bullock Texas State History Museum
After visiting the State Capitol head over to the Bullock Texas State History Museum, where you can learn about the state, watch an IMAX film, and discover one of the permanent or temporary exhibits. This museum was founded by Lieutenant Governor of Texas, Bob Bullock, in order to preserve and educate about Texas history.
The Bullock Texas State History Museum is a great option for families and is open every day, with abbreviated hours on Sunday. Make sure to visit the "Becoming Texas" exhibit!
4. Blanton Museum of Art
Across the street from the Bullock Museum, this art museum houses a diverse selection of over 19,000 pieces. Blanton is part of the University of Texas and is one of the largest art museums in the country.
The museum's collection of Latin American art is particularly impressive. Thursdays are free for all, and the museum also stays open late on this day.
5. Lady Bird Lake
Lady Bird Lake is a reservoir in Austin that is home to recreation activities, named for former First Lady and Texas resident, Lady Bird Johnson. Walk along the boardwalk, take a hike, or rent a SUP (stand up paddleboard). You can also kayak or canoe in the lake, but don't try to swim there (swimming is prohibited). Various cruises and boat tours are also offered.
If you like you could also take a biking tour to important spots around the lake such as the old Mopac railroad bridge, the Pfluger pedestrian bridge, and Austin's newest library.
6. Zilker Metropolitan Park
Zilker Park has something for everyone– sports fields, playgrounds, bike trails, a pool, a science center, and more! Located on Barton Road, just a few miles from Downtown Austin and there is no fee to enter.
Rent a kayak, pack a picnic, or attend one of the many events that are held in the park. There's also a miniature train (the Zilker Zephyr) that's a favorite with kids. The pool is a particularly fun attraction- it's massive (3 acres) and fed by underground springs!
If you prefer to exercise, take a 1.5-hour bike ride around the famous Barton Springs Pool and Zilker Park area while your guide tells you all about Austin's largest park.
7. Bats at Congress Avenue Bridge
One very unusual thing to do while is Austin is to go bat watching. Mexican free-tailed bats are well-known residents of Austin, and many live under the Congress Avenue Bridge between spring and early fall. Because bats are nocturnal, it's best to watch for them around sunset (which varies based on the time of year), when they "wake up" and leave the bridge to begin their nightly adventures.
The bats are harmless and help to control bugs, which adds to their charm for residents of the city. You can watch this nightly ritual from various places near the bridge, including the Statesman Bat Observation Center. If you really want a special experience you can also book a bat watching cruise tour.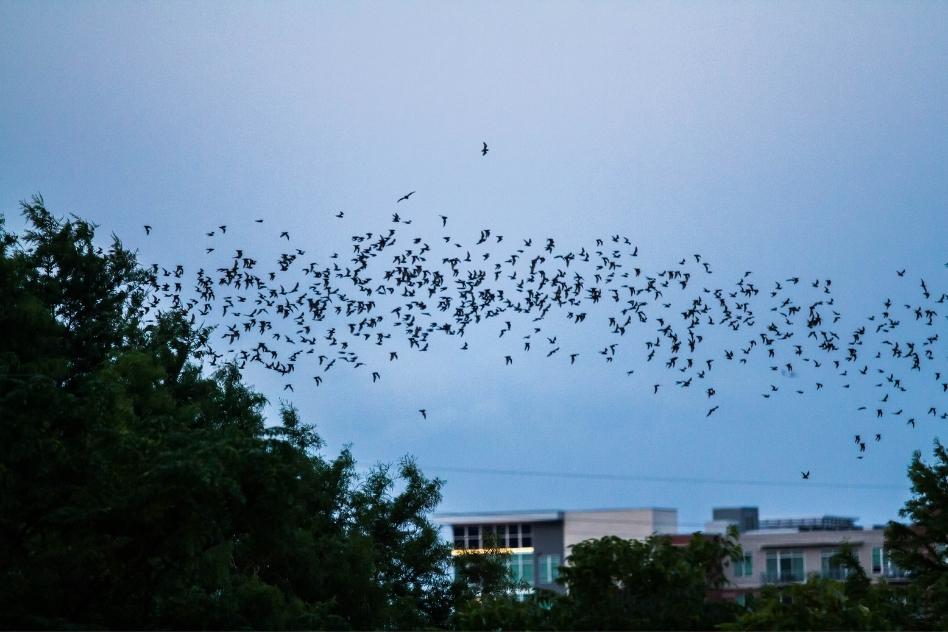 8. Lady Bird Johnson Wildflower Center
The Lady Bird Johnson Wildflower Center is an extensive botanical garden that is part of the University of Texas. The center focuses on sustainability, research, and education, and was founded by the former First Lady of the United States.
Take a tour, climb the Observation Tower, or walk a trail – the Center is a great outdoor activity. The Center also hosts periodic events and classes and is open every day except for holidays.
9. McKinney Falls State Park
Right outside the city, McKinney Falls State Park offers a variety of outdoor and adventure activities for the nature enthusiast. Here you can camp, hike, bike, or even go bouldering. There are also fishing and bird watching opportunities.
Two interesting sites are Smith Rock Shelter, which was used by Native Americans, and the McKinney stone house which was home to the namesake of the park. Renting a car is the best option to get to and from, and travel within, the park.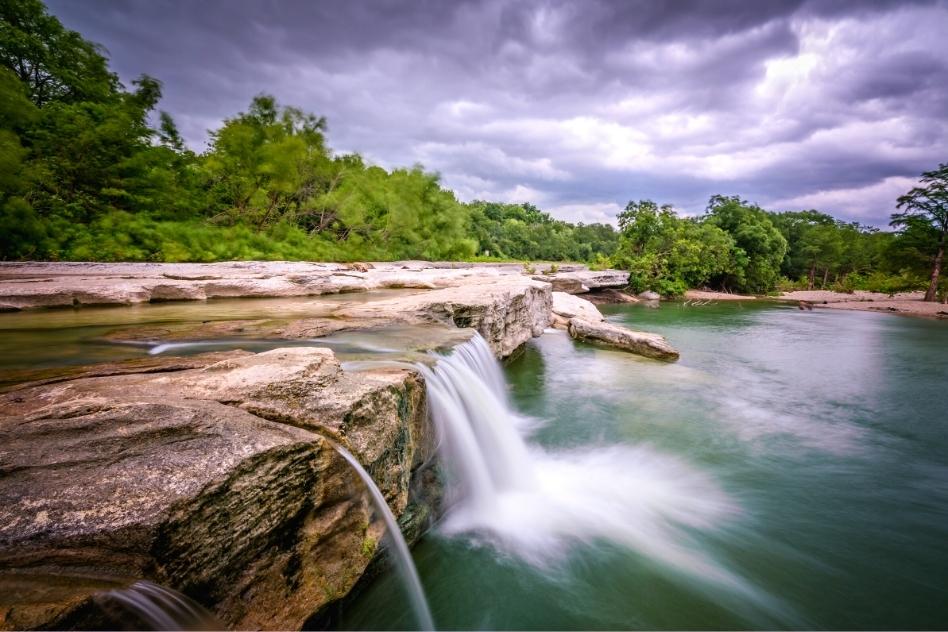 10. Museum of the Weird
Definitely, a "weird" attraction, this museum on Sixth Street houses a private collection of oddities. Some of these objects include mummies, freak animals, and more. There's also exhibits that explore local myths and legends, a live show, and a shop that includes "Keep Austin Weird" merchandise. Admission costs $12 and is open daily at 10 AM.
There's also a popular ghost tour that starts and the Museum of Weird and visits haunted places around Austin.
11. Jacob's Well
Just 45 minutes outside of Austin, in Wimberly, Jacob's Well is perhaps the longest underwater cave in Texas and an artesian spring that delivers several thousand gallons of water per minute.
Reservations for swimming at Jacob's Well can be made at here run by the Hays County Park Department. You pay in full online at the time of booking, and all sales are final. The area gets busy, so plan on visiting in the morning.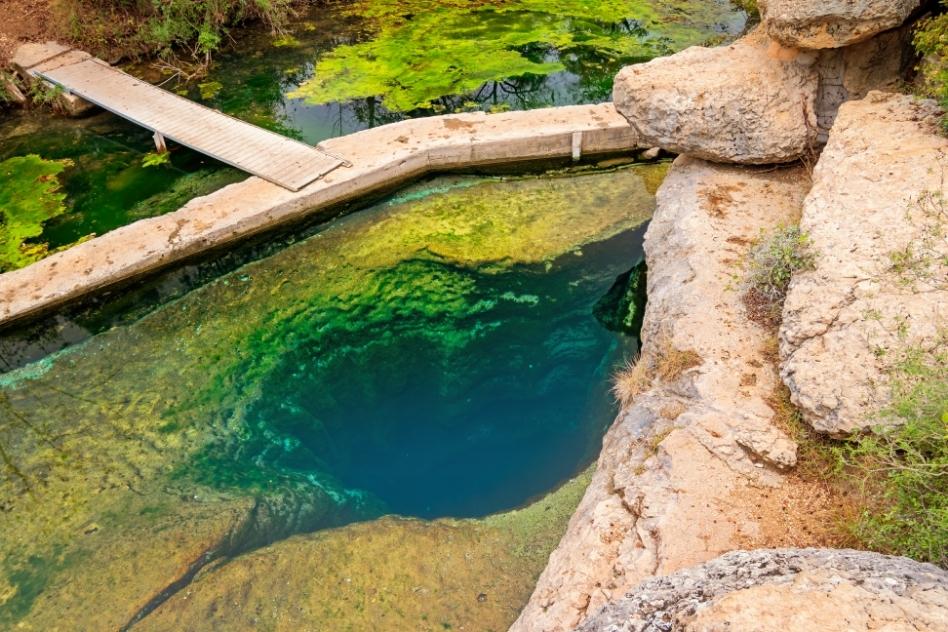 12. Circuit of the Americas
Outside of the city lies the Circuit of the Americas, a major raceway that is home to famous motor races, including Formula One and Indy car races. Depending on the time of year, you can catch a race or one of the other activities happening at this venue (such as concerts).
You can even book an experience, like a classic car show or go-karting. Check the official website for event information and tickets.
13. Hamilton Pool Reserve
While Barton Springs Pool is Austin's most famous swimming area it's always super crowded. This moss-draped natural crater of Hamilton Pool Reserve is a much better option. It's just over 10 minutes west of Austin and was formed by the collapse of an ancient underground river.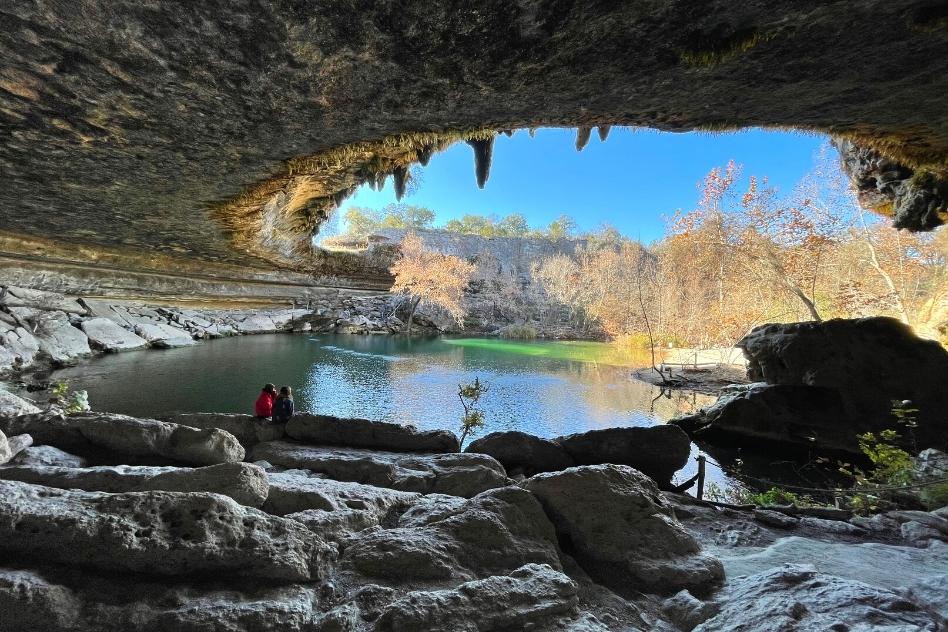 14. Shopping in SoCo
The SoCo (short for South Congress) district is the perfect area to shop Austin's eclectic boutiques. Pick up a piece of artwork or locally made souvenir. There are also great food options and live music in this fun area of town.
Check out the famous Allen's Boots to purchase your own pair of cowboy boots! Other favorite spots include South Congress Books and Yard Dog Art Gallery. Make sure to watch for some of the street performers.
15. South by Southwest (seasonal)
An extremely popular festival, South by Southwest (also known as SXSW), is held in Austin for 10 days every March, and celebrates music, film, and emerging technology. If you plan a trip when this festival is happening you will be sure to bump into some of the festivities (it's spread out all throughout the city)!
There are several attendance options, including various levels of badge access. You can also catch some of the events for free. Check out the website and also some of the brands or artists' social media and websites for specific information.
---
Where to Eat in Austin
One of the top things to do in Austin is to sample the local food scene, particularly the Tex-Mex and BBQ offerings. Considered the best BBQ in Austin (and possibly the world), Franklin BBQ's brisket is not to be missed.
Keep it in mind to get there as early as 9am and prepare to wait in line for hours before they run out of food, but it's worth it (it was right in front of my apartment and there was always a line)! You can bring your own chairs and drinks to hang out while you wait.
Nixta Taqueria is a newer restaurant in East Austin known for its tacos and tostadas – which are awesome in Austin. This is not your average Tex-Mex, and features homemade tortillas with gourmet toppings. Don't forget to order a horchata (Mexican rice drink) and relax in the small and colorful space.
When in South Congress, make sure to stop at The Magnolia Cafe. Open 24/7 this diner offers all kinds of food at all hours of the day. The gingerbread pancakes and delicious brownies are fan favorites. Other great options include jambalaya stuffed peppers and migas (a type of breakfast scramble with tortillas or bread).
Austin also offers international and fusion cuisine, such as Uchi, a "non-traditional take on Japanese food." This is a pricier but highly rated option for an upscale dinner. Food here is incredibly fresh and beautifully plated. Make a reservation in advance, then sit back and enjoy one of the specials, delicious sushi, and sake cocktails. For a more budget-friendly option, head to Uchi during their "sake social hour".
There's also the option of doing a street food tour with a local guide to taste the hidden flavors of Austin. Or of heading out of the city to a nearby winery to enjoy some drinks with delicious Texas BBQ.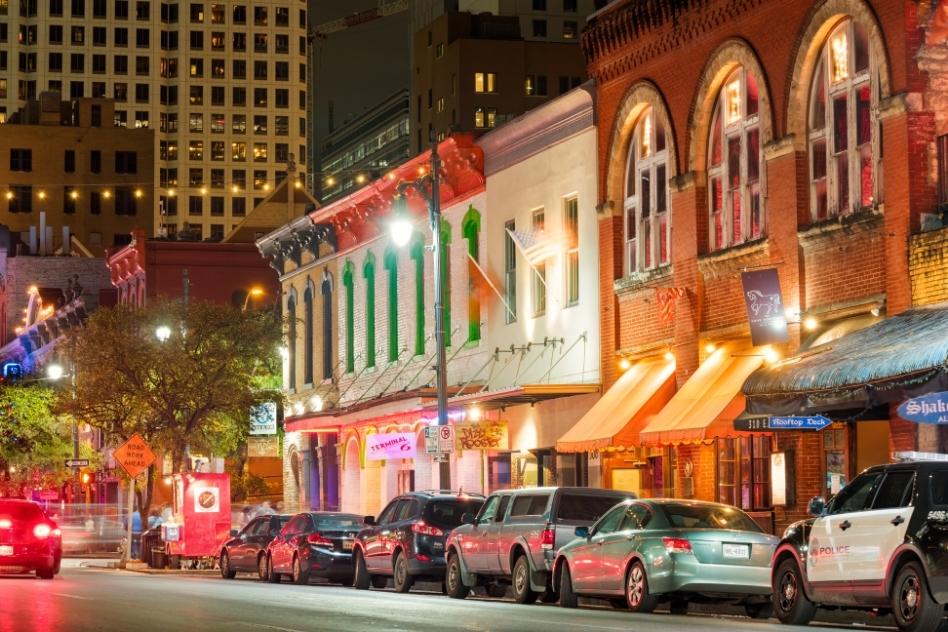 Nightlife
A night out in Austin must include live music, particularly blues, folk, jazz, and indie genres. Check out the Continental Club in SoCo, which has been open for over 60 years. Visit the Club any night of the week- look for the neon sign and check out the website for its music schedule.
Or head over to Blind Pig Pub and on Sixth Street for a more modern dance club experience (and rooftop view!). This area is known as the "party street" of Austin.
Spider House Cafe and Ballroom in Central Austin is another great choice for live music and cocktails, featuring an outdoor patio and food trucks. For the craft beer fans, make sure to visit Brew Exchange downtown. This spot has a great selection, including local beer options.
For fancier cocktail options, check out Watertrade in South Congress, attached to Otoko (a Japanese restaurant). Try the Goma Fashioned cocktail.
Another option for a slightly more quiet evening is Alamo Drafthouse. It's a unique chain of cinemas that serve dinner and drinks while you're enjoying your movie. I miss them a lot!
---
Where to Stay in Austin, Texas
Luxury Hotels in Texas
The Driskill, in The Unbound Collection by Hyatt
Built-in 1886, this luxurious hotel combines old-world charm with modern state-of-the-art amenities.
Hotel Granduca Austin
Offers luxurious and pet-friendly rooms, suites and villas as well as an onsite Italian restaurant in an area popular for hiking and golfing.
Commodore Perry Estate, Auberge Resorts Collection
Within driving distance of the University of Texas, Capitol Building, and Texas Memorial Stadium, this luxurious estate offers exceptionally decorated rooms and suites with private minibars.
Mid-Range Hotels in Texas
The Stephen F Austin Royal Sonesta Hotel
Within walking distance of the State Capitol building and other attractions this hotel offers elegantly decorated rooms and suites with coffee makers. Spend your time in the indoor pool and hot tub area or enjoy a local meal at the Roaring Fork.
Omni Austin Hotel Downtown
Featuring a heated rooftop pool, this traditionally decorated hotel welcomes you to Texas. Large spacious rooms and suites overlook the city and some include balconies.
The LINE Austin
Set in the heart of Austin, this hotel features an outdoor pool and free use of bikes. Pick from a range of rooms, studios, or suites with picturesque views of Austin Lake.
Budget Hotels in Texas
Element Austin Downtown
The sharp-looking hotel offers rooms, studios, and suites with well-equipped kitchenettes, fridges, and coffee makers. Enjoy American cuisine at Caroline Restaurant or cocktails and snacks at the Coffee Bar.
Courtyard Austin Downtown/Convention Center
This top-notch hotel with spacious rooms decorated with classy artwork also include a well-equipped kitchenette. It also features an indoor pool, onsite bar, cash machine.
Hyatt House Austin/Downtown
Comfortable rooms include every necessary amenity at this pocket-friendly hotel that's a short walk from the Frank Erwin Center, University of Texas at Austin, Texas Memorial Stadium, and Capitol Building.
Apartment Rentals in Austin, Texas
Kasa Austin 2nd Street
These spacious apartments and suites with balconies are perfect for longer stays and within walking distance of the Austin City Nightlife.
Mint House SoCo Austin
Spacious and airy apartments are a home away from home in Austin. Shoal Beach and Austin Convention Center are a short walk away.
---
Austin has something for everyone, and is a top choice for music fans. When you arrive, take advantage of outdoor activities, and make sure to experience the culture of the city, or even rub shoulders with the city's famous ghosts. Definitely plan your trip around the weather– the oppressive summer heat will dampen many of the attractions.
Keep your eyes out for street art and interesting shops with local fare, make sure to dedicate some of your trip to just wandering around. Most importantly, don't forget to take advantage of the excellent food and bustling nightlife!