Looking for the best things to do in New Hampshire? Centered between Maine and Vermont, the Granite State is host to the rugged White Mountains, apple orchards and covered bridges, and some of the most beautiful lakes in the country.
New Hampshire is often an underappreciated state as that offers a wealth of opportunities to families, outdoor adventurers, history buffs, foodies, and beachgoers. The motto of the state is, in fact, "live free or die." No matter the season, you will find plenty of things to do in New Hampshire.
When thinking of New England, Boston and Maine's lobsters might come to mind. After reading this list, you might think of New Hampshire as the quintessential New England getaway!
1. Go Leaf Peeping on the Kancamagus Highway
Fall in New England is gorgeous, but the foliage you'll see from the Kancamagus Highway is unreal. Known as "the Kanc" to locals, this 34.5-mile National Scenic Byway is full of twists and turns around the White Mountains.
Be sure to stop at Kancamagus Pass, the highest point of the highway, where you can catch a glimpse of jaw-dropping valleys that sport autumn's vibrant hues.
Whether you're on the west or east side of the mountains, you can access the Kanc. If west, you can start your trip from Lincoln. If east, you can start your trip from Conway. A self-guided tour with aa mobile app is a great option as you can drive and experience the pass at your own speed.
For prime leaf peeping, try to hop on the Kanc within the first two weeks of October. Columbus Day weekend is a safe bet if you want to see peak leaf color, but traffic might be at a standstill several times throughout the day.
An opportunity for a fun hike and seeing peak foliage can be found on the Lincoln Woods Suspension Bridge. One of the first stops you can make if starting your journey from Lincoln, the suspension bridge is a must!
The bridge will take you into the heart of the Pemigewasset Wilderness. If you'd rather take a seat and gaze at the leaves for a bit, that's your call! Plenty of other trails can be accessed from the Kancamagus Highway, too.
Stays on or near the Scenic Byway:
Village of Loon Mountain – VI
InnSeason Resorts Pollard Brook
South Mountain Resort
2. Explore America's Stonehenge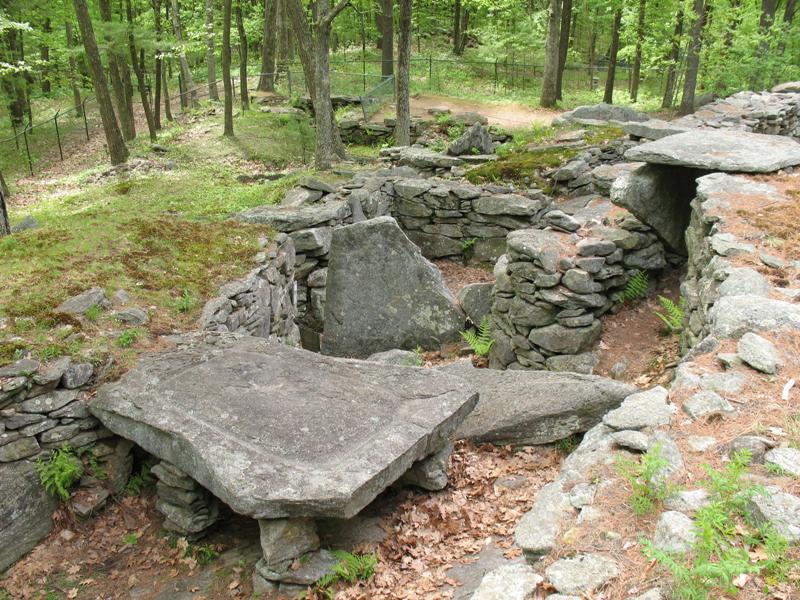 Did you know America has a Stonehenge? Forget about Europe. Head to Salem, New Hampshire to find an incredible array of stone chambers and walls, once called Mystery Hill. The formations are thought to have been created by ancient peoples that historians and archaeologists have yet to identify.
America's Stonehenge can be used for determining different solar and lunar events. In other words, the site acts as an astronomical calendar. Despite centuries of weathering, America's Stonehenge remains well-intact and the solar and lunar events can be predicted with accuracy.
Though privately owned, you can tour the area with friends and family. Don't forget that America's Stonehenge is a true archaeological site. This means it is important to be careful when exploring the formations. Don't deface any stones or move anything. For contactless check-in, check out the attraction's website, stongehengeusa.com, and watch the 11-minute introductory video before touring the area.
Budget-friendly Places to stay nearby:
Park Inn View
La Quinta by Wyndham, Salem
Hampton Inn Haverhill
3. Drive to the Summit of Mt. Washington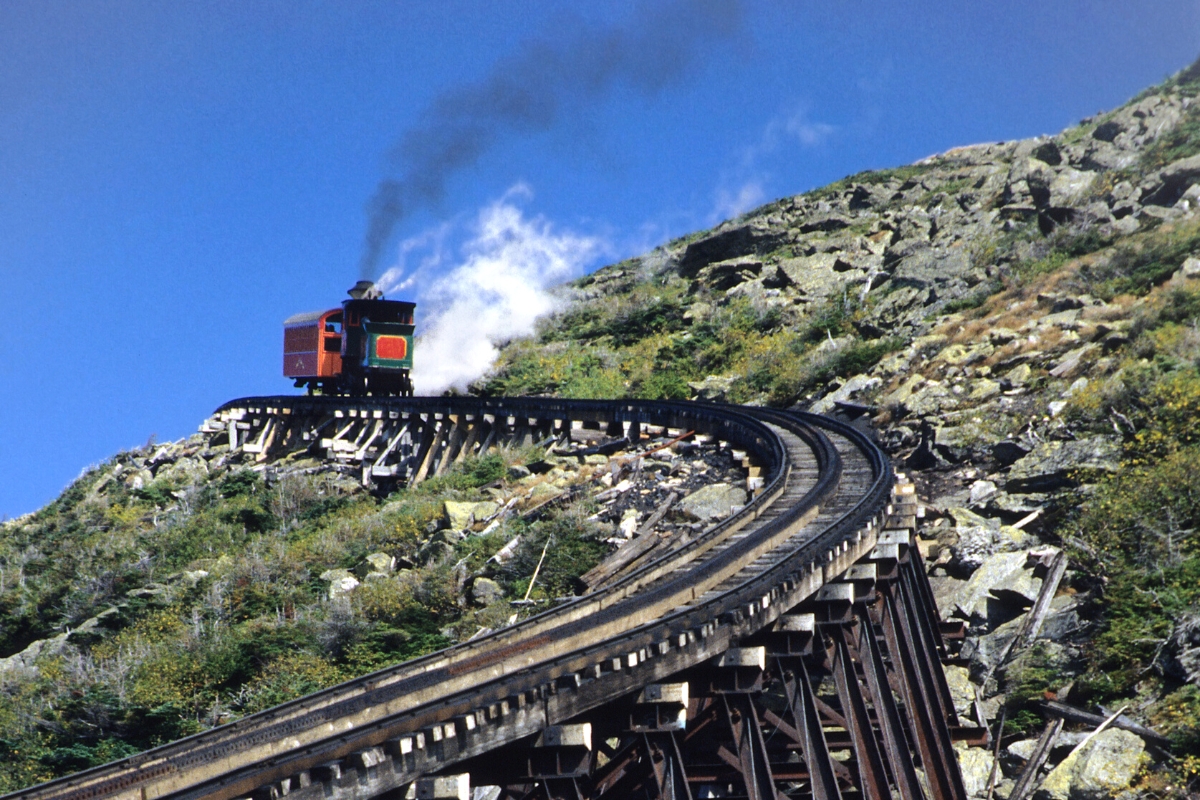 Mt. Washington is New England's tallest mountain. You'll find it included in many fall foliage tours from Boston. At 6,288 feet, extreme weather is known to rip through the summit and endanger hapless hikers.
The Mt. Washington Auto Road is only open during the summer and fall, when snow is only found on mountain peaks. While only a 30-minute drive up the mountain, the views are stunning!
At the summit, visitors can enjoy breathtaking views of the White Mountains and attend educational programs at the Mt. Washington Observatory.
The Mt. Washington Observatory was built in 1932 and has been staffed ever since. Thanks to this nonprofit organization, curious naturalists can learn about the intense weather patterns that make the White Mountains so unique.
If you're worried about your car, it might be reassuring to know that you can easily drive up the mountain in your normal gear and then stay in first gear when riding back down. This will enable you to brake less often and avoid overheating your car's brakes.
Alternatively, you can take the cog railway all the way up to the summit.
Affordable Stays nearby:
Omni Mount Washington Resort
The Glen House
The Ski Haus
4. Hike the Flume Gorge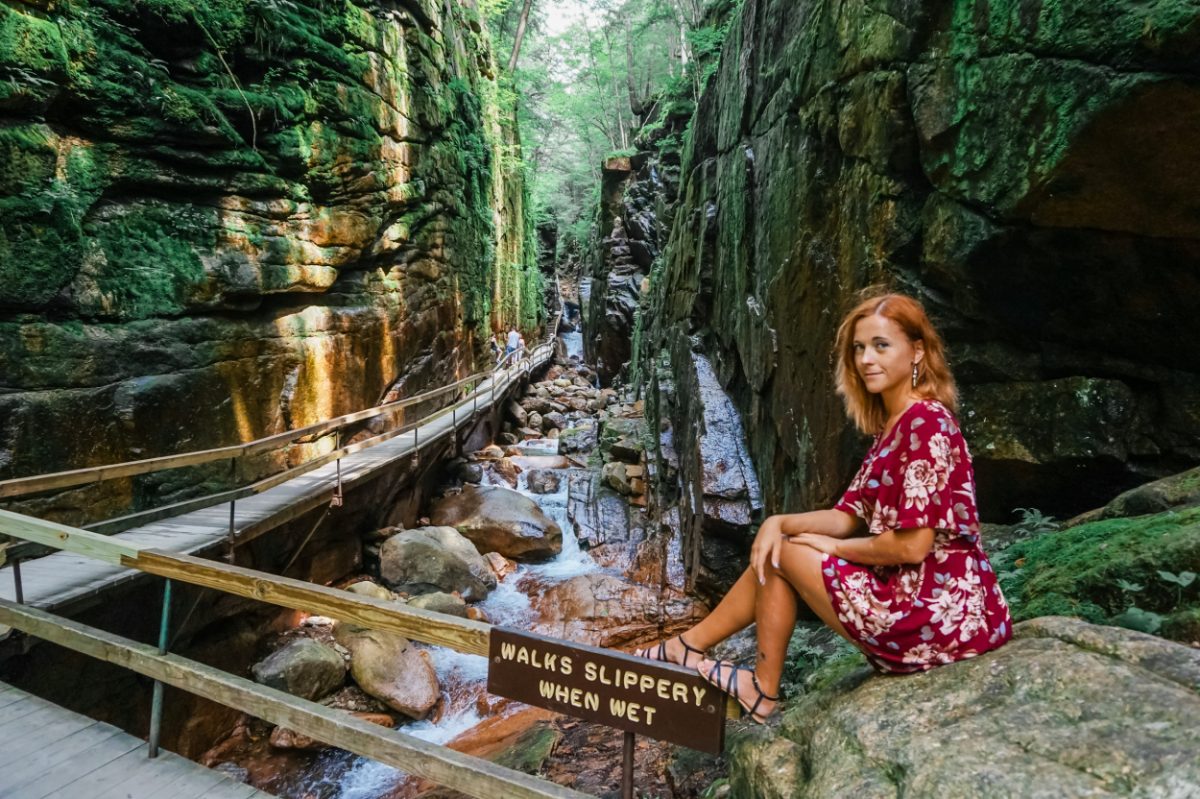 Nature lovers can't afford to miss out on seeing the Flume Gorge. Situated between two colossal slabs of granite measuring 90 feet in height, the natural gorge can be followed into the mountainside thanks to a hiking trail. You will find stunning waterfalls, trees, birds, and other wildlife as you walk on wooden stairs and bridges.
Just north of Lincoln, accessing the Gorge is simple. The Flume Gorge Trailhead is right off I-93. Remember that seeing the gorge involves hiking a one-way-only trail, meaning you will have to begin walking on one side of the loop and then return on the other side.
The trail's length is only 2 miles and it only takes about an hour and a half to hike, so families can have loads of fun as long as they bring water.
Gilman Visitor Center offers gifts, food, and restrooms for hikers. The best way to ensure you see the gorge is to make reservations. Reservations are not required, but you might be turned away if the trail is filling up with hikers.
Flume Gorge is located in Franconia Notch State Park, but this area is just minutes away from another gem: Cannon Mountain.
Stays close to the Flume Gorge and Franconia Notch State Park:
Days Inn by Wyndham Lincoln
Holiday Inn Express & Suites – Lincoln East – White Mountains
Jack O'Lantern Resort & Golf Course
5. Ski, Snowboard, and Hike on Cannon Mountain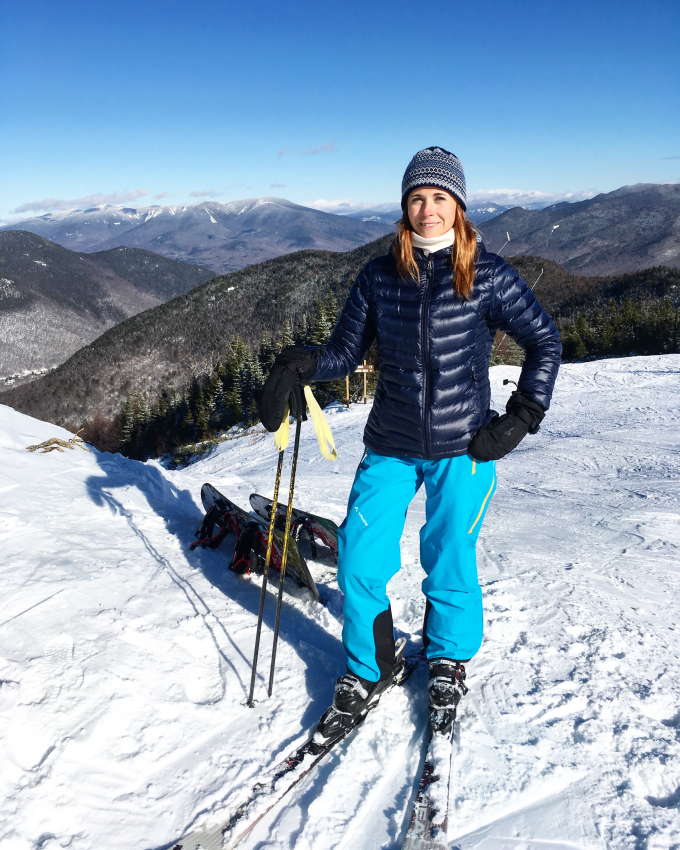 For adventurous types, Cannon Mountain should be first on the list. Hike up the mountain and enjoy the vistas of the White Mountains.
You can climb the stairs leading to an observation deck for unparalleled views. Cannon Mountain is one of New Hampshire's 48 4,000-footers, or one of the 48 mountains in the state that exceeds 4,000 feet in height.
Many intrepid outdoorsmen and women try to climb each mountain over a lifetime. Fewer choose what might sound insane: a handful of hikers have succeeded in checking off every summit on The Grid.
The Grid is a peak bagging list that involves hiking every single one of the 48 4,000-footers each month in a calendar year. That equates to 48 mountains per month, or 576 mountains in one year. And you thought hiking the Appalachian Trail sounded nuts…
For those who don't like coughing up a lung every 50 feet when hiking a steep trail, Cannon Mountain has 10 different lifts that operate in the winter.
Affordable stays close to Canon Mountain:
Sugar Hill Inn
Franconia Inn
Best Western White Mountain Inn
6 Walk a Winter Wonderland at Ice Castles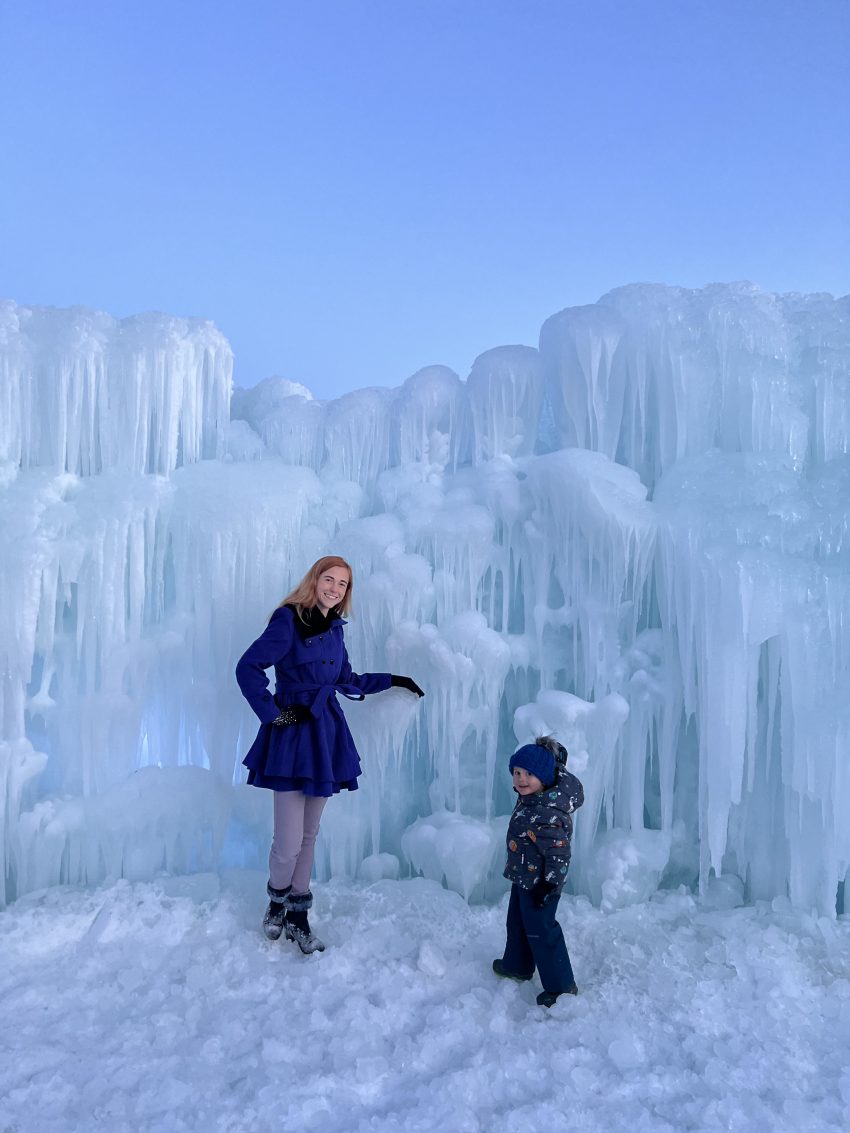 If you feel like experiencing something out of a Disney movie, look no further than Ice Castles. Located in Woodstock, which is right off I-93, this winter wonderland is fun for the whole family.
Every year, artists build and sculpt otherworldly spires, slides, and tunnels with literal tons of ice! Kids will love the slides and tunnels while the adults will migrate to the ice bar called Polar Pub for a winter-themed drink.
Plenty of fire pits are scattered around the area so don't be afraid to get your boots wet and slide around!
Professional photographers will be there to capture that perfect shot. Once you see the ice sculptures with falling snow in the background, you'll definitely want a picture taken. If camera shy, or you just want to have some fun, the attraction features snow tubing and sleigh rides.
If you'd like to pretend you're in a fairy tale, look no further than the Winter Fairy Forest. Immerse yourself in a fantasy world where fairies and gorgeous lights abound!
For special occasions, you can even book a VIP experience for the Arctic Alcove. Thinking about proposing to someone special? Ice Castles might be the perfect backdrop for your proposal!
Affordable stays close to Ice Castles in North Woodstock, NH:
Woodstock Inn, Station and Brewery
Launchpoint Lodge
South Mountain Resort
7. Sunbathe and Whale Watch at Hampton Beach State Park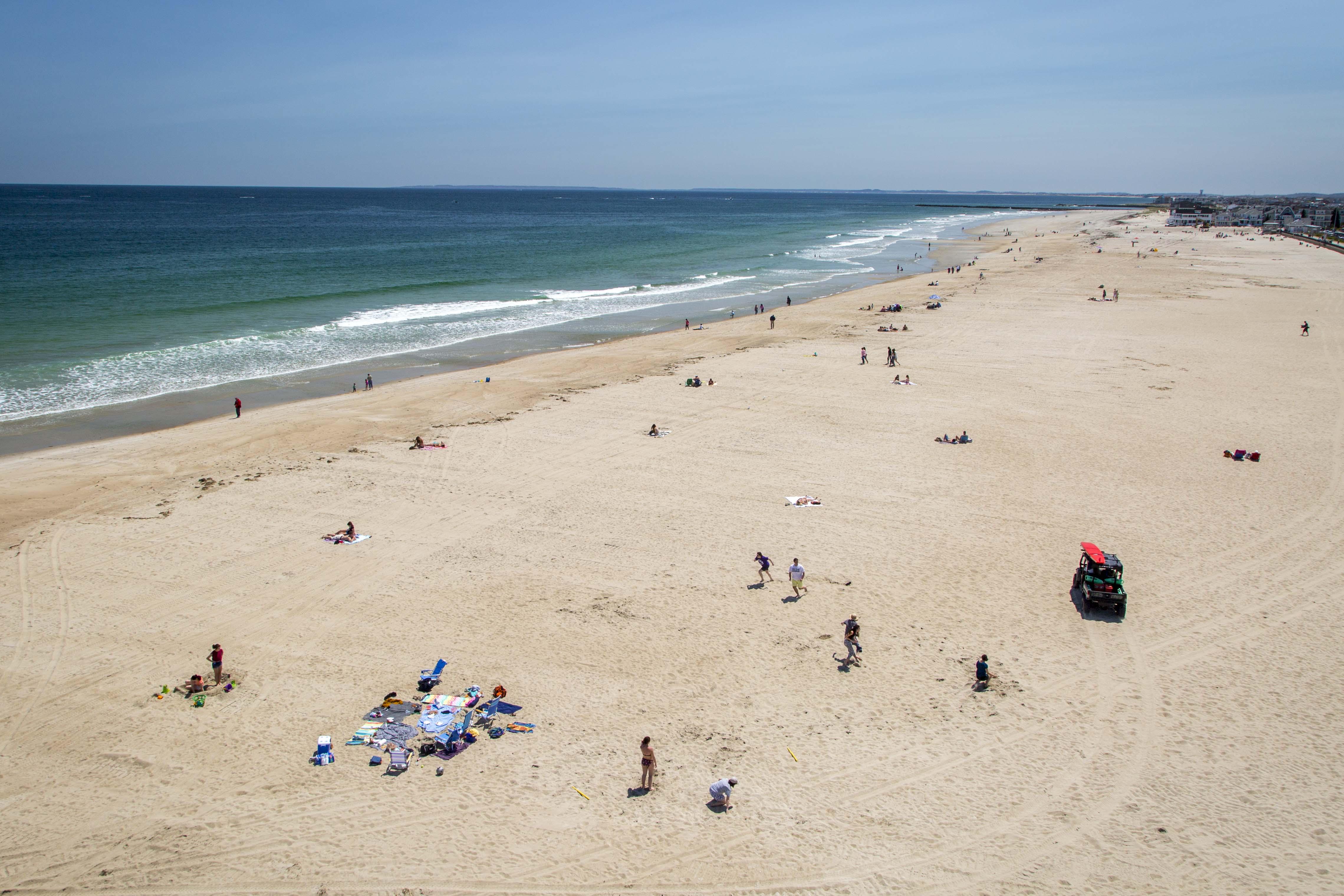 New Hampshire has less than 20 miles of coastline. However, the coast is home to one of New England's most prized beaches. Hampton Beach State Park is known for its clean ocean water and glorious sunsets. Spend the day soaking up the sun, playing in the sand, swimming, and birdwatching.
Traipse along the boardwalk on Ocean Boulevard and enjoy shopping, sightseeing, and fine dining. The beach community here is especially friendly. Ask locals about the best restaurants in the area!
Sea charters offer fishing and whale-watching activities that will surely impress. For whale watching, be sure to visit sometime from May to October for the best chance to catch a glimpse of humpback whales.
Keep your eyes peeled for the smaller minke and right whales, too. If you're lucky, you might even see the second largest animal in the world, just behind the blue whale – the mighty finback whale! This whale can grow over 65 feet long and weigh 100,000 pounds!
Good Places to stay nearby:
Ashworth by the Sea
The Victoria Inn Bed & Breakfast and Pavilion
Lamie's Inn & The Old Salt Tavern
8. Tour the USS Albacore, a Real Submarine
Are you prepared to see the inside of a real submarine? Welcome to Albacore Park, home of the USS Albacore! This monstrous vessel once hosted dozens of Navy shipmates.
A self-guided tour, the USS Albacore will show you the meaning of "cramped quarters." If you're claustrophobic, be warned. The bunkrooms are small enough; wait until you see the bathrooms!
For the children (or your inner child), make sure to look through the periscope and imagine what it would have been like to remain underwater for months at a time.
Certain areas, like the control room, feature stories from real crewmembers with the push of a button. The recordings offer a window into Navy life as well as the struggles of being out at sea for lengthy periods of time.
Make sure to pay your respect at The Memorial Garden near the gift shop. Buried here are many of the shipmates who served on the USS Albacore and other submarines built by the U.S. Navy.
History buffs will be delighted to know that the USS Albacore was among the first submarines built with a cylindrical frame that is now standard for all submarines. Researchers used the vessel for various operations and procedures to test military equipment and new technologies.
Note: The submarine is closed mid-December through mid-February. For more details visit www.ussalbacore.org
Perfect Places to stay nearby:
Courtyard by Marriott Portsmouth
The Hotel Portsmouth – Downtown
Fairfield Inn Portsmouth Seacoast
Hampton Inn Portsmouth Central
9. Shop and Dine in Downtown Portsmouth, NH
Any person who has never been to New Hampshire must visit the city of Portsmouth. Nestled on the coast between Boston, Massachusetts and Portland, Maine, Portsmouth is a New England delicacy.
Enjoy fresh seafood, craft beer, shopping, and dogs! Portsmouth is exceptionally dog friendly, especially since the city is so walkable. You'll see canines and their humans hanging out at bistros, bars, and cafes.
For those new to the city, I suggest eating at La Maison Navarre, a French pastry, bistro, and wine bar. Enjoy a hot cup of coffee while sampling the different pastries and wines.
Then walk Market Street and shop to your heart's content! Everything from designer clothes and antiques to artisanal pottery can be found here. Visit the Portsmouth Brewery and enjoy a wide selection of craft beers and a hardy New England meal.
Feel free to stop at the harbor and watch the sun go down before walking into Federal Cigar, an underground bar that lets you light up a fat stogie. Puff away!
Mid-range Hotels to stay nearby:
Holiday Inn Portsmouth, an IHG Hotel
AC Hotel by Marriott Portsmouth Downtown/Waterfront
Hampton Inn & Suites Portsmouth Downtown
10. Take the Kids to Story Land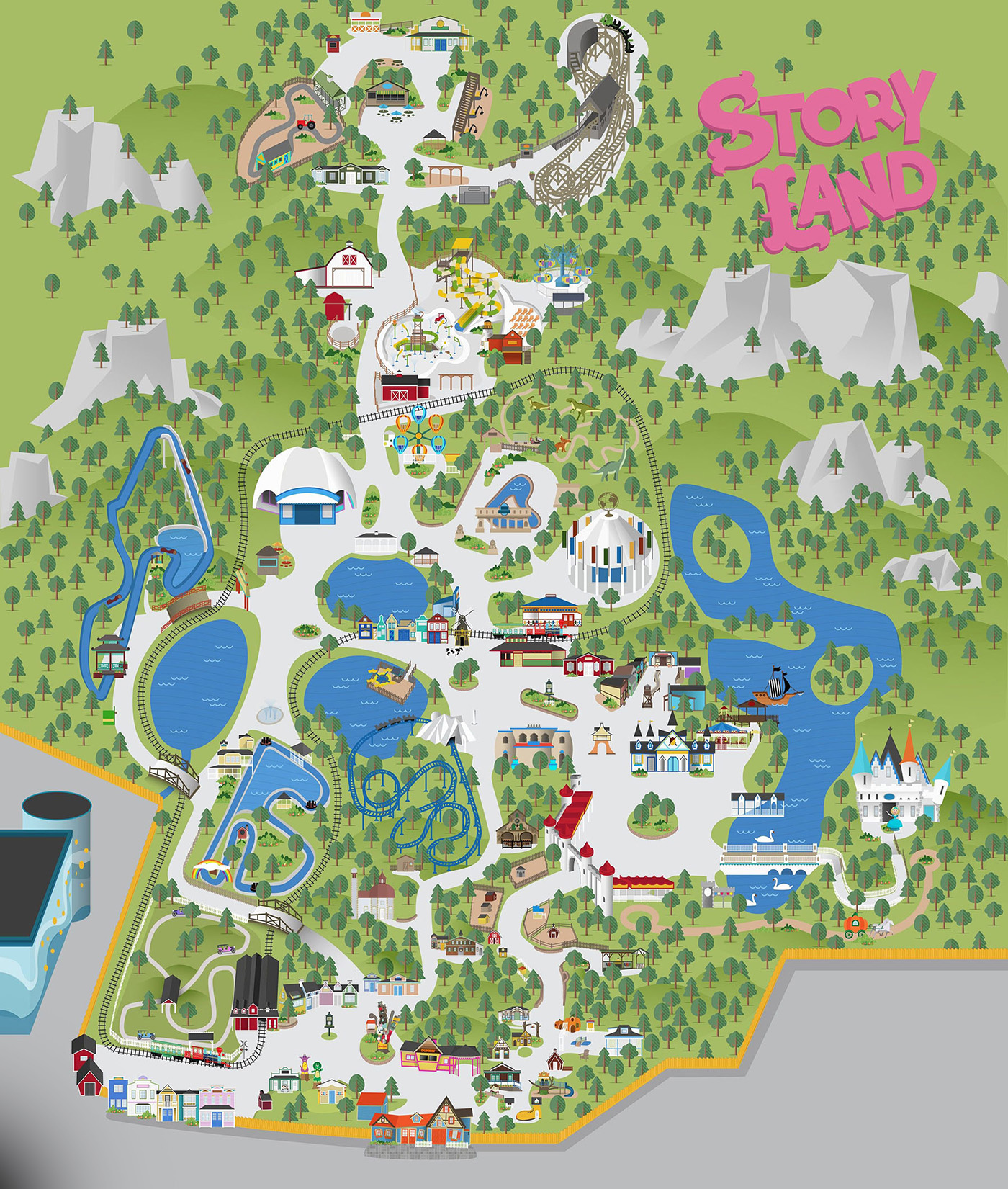 The attractions at Story Land are bound to make you smile. Welcome to a fairy tale-themed amusement park where the kids can meet princesses, watch magic shows, and hop aboard plenty of fun rides.
Just past North Conway in Glen, New Hampshire, the park is easy to find. With just one actual roller coaster, the park features more family-friendly attractions, like antique cars, a pirate ship, and spinning rafts.
Story Land's website is very user-friendly. Parents can check out the intensity level of all the rides to determine which ones they might plan to do when visiting the park.
Between soft, moderate, and intense, there's a ride for every child! Season passes and discounts are also available, so be on the lookout for the best deals before buying tickets.
Story Land is only open during select months in the summer. Be sure to check their opening dates before scheduling a trip.
Select Hotels to stay nearby:
The Lodge at Jackson Village
Christmas Farm Inn and Spa
Stonehurst Manor
11. Visit Seven Birches Winery
Sommeliers and drunkards alike will enjoy Seven Birches Winery. While all the offerings are in Lincoln, you will have to drive to each store/tasting room/studio. You can enjoy European grapes at the tasting room located in the RiverWalk Resort Hotel.
If you would like to learn how wine is made at Seven Birches, schedule a winemakers' tour! And for those looking for charcuterie along with some tasty beverages, Rhythm Studio is located within the Lincoln Village Shops. The Atrium Wine bar is also located within the Lincoln Village Shops.
No need to worry about navigating! It's easy to get around Lincoln. The different offerings of Seven Birches Winery are no more than five minutes apart from one another, and you'll only be driving on one street to reach each destination.
12. Explore Madison Boulder Natural Area
Have you seen one of the biggest boulders in the world? If not, visit the Madison Boulder Natural Area, home to an enormous glacial erratic.
The natural history of New Hampshire is fascinating in its own right. There's a reason New Hampshire is nicknamed the Granite State. Among the many granite slabs that occupy the state, Madison Boulder is exceptionally large. Weighing over 5,000 tons and believed to be over 14,000 years old, this glacial remnant is a National Natural Landmark. When hiking to this ancient boulder, you'll be mesmerized by its height and girth. The trail to the boulder is out-and-back, which means you'll only have to walk about half a mile in total to see it.
I suggest having a picnic near this rarity. You won't find such a colossal boulder anywhere else in the country.
13. Climb the 4000-footers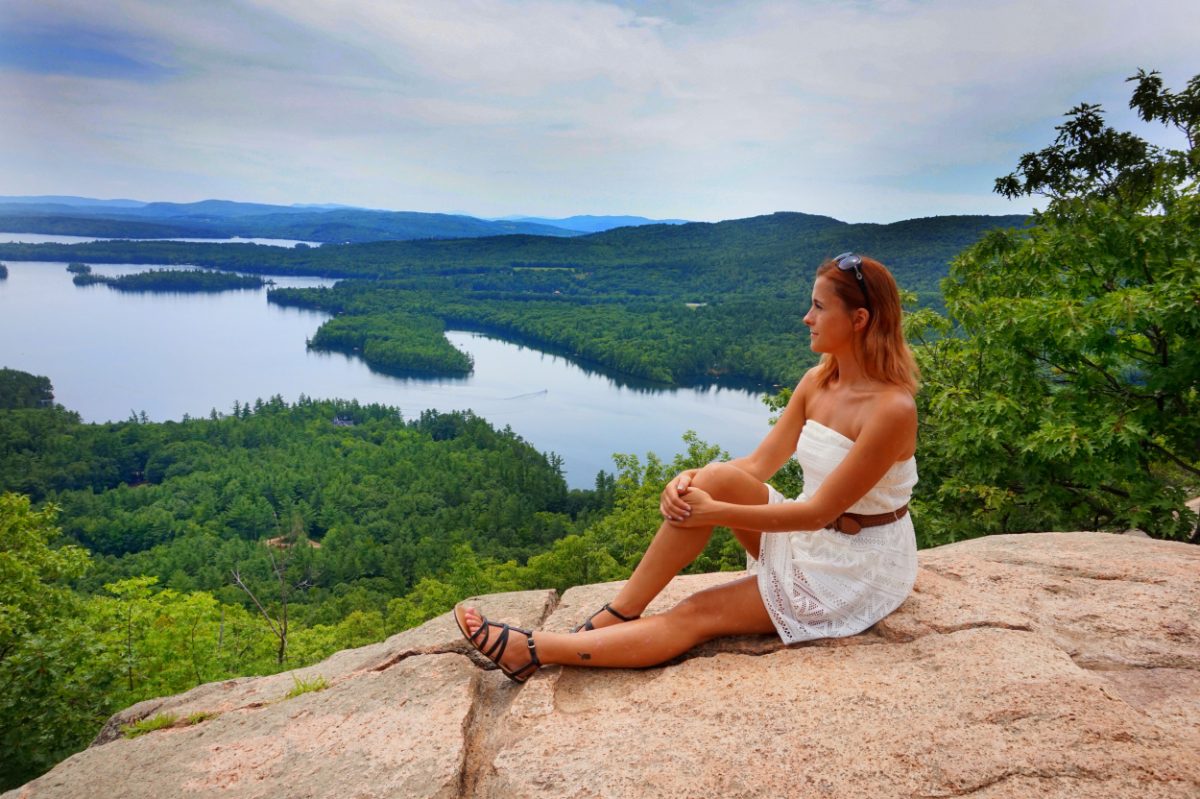 If you like hiking, the ultimate New Hampshire achievement is completing the NH 48! New Hampshire is home to 48 4000-footers – mountains that exceed 4,000 feet in elevation. My sister-in-law did them all with her dog, which was pretty cool!
14. Visit a Waterpark
New Hampshire offers quite a number of indoor and outdoor waterparks. Almost all of them are kids friendly, but don't lack adventures for older folks.
If you're passing by in the summer Whale's Tale Water Park in Lincoln is fantastic. For the winter,
15. See Castle in the Clouds
This unique attraction in Moultonborough offers tours of the mansions built in 1913 and features some modern technological advances of the time, including a central vacuum system.
Trails in the Castle in the Clouds Conservation Area are free to access for summer hikes and winter snowshoeing and cross-country skiing. The place is gorgeous!
Those are ten of the best things to do in the smallest state in Northern New England – New Hampshire. What are you going to do first? Comment and let me know!