In a state that has boundless majestic nature destinations, Rocky Mountain National Park might be the most famous in Colorado. The Rocky Mountains start in Canada's British Columbia coming all the way down through New Mexico. (Not Mexico, the US state!)
Rocky Mountain National Park is home to amazing wildlife like elk, bighorn sheep, moose, deer, black bears, and mountain lions to name a few. It is also home to one of the most famous 14er mountains, Longs Peak, that constantly looms overhead.
The park was established in 1915, making it one of the top 10 oldest national parks in the USA. There are so many incredible hikes to do and here are some of the best to do on your trip to RMNP. But first, a bit of information about entrances and fees.
Rocky Mountain Reservations
Because of the overload of people now visiting make sure to visit the official RMNP website to book your entrance time or camping spots.
From the end of May through early October, you must make a reservation to enter the park even if you aren't planning on camping overnight. In recent years, like many national parks around the country, they have become overcrowded, and to preserve nature this is the best resolution even if it seems a bit frustrating.
Trust me, it was much more frustrating without reservations when I had to wait for hours to enter at 7AM and still couldn't find parking so hiking was questionable. It's better now, especially if you're coming from Boulder or Denver.
Here is the link to the official website to make your reservations for timed entrances to the park. You won't be permitted to enter if you don't have a reservation even if you have an annual pass.
In the off-season from late October to early May you don't need to make a reservation, just show your park pass or pay the entry fee at the entrance gate.
Entrance Fees
After making your reservation the fee to enter the park is $30 per vehicle which you pay at the entrance gate. If you plan to visit more than one national park I would recommend buying America the Beautiful Pass which is an annual pass for $80 that is good for a year and gets you into all National Parks and Federal Recreational Lands.
You can then visit the other 3 National Parks in Colorado, Great Sand Dunes, Black Canyon of the Gunnison & Mesa Verde. Once you enter the park make sure to take the free map brochure to easily get around.
Note: For faster delivery of the card, you can also buy the pass at other OTAs such as REI.
Nine Best Hiking Trails In RMNP
1. Emerald Lake Trail
Difficulty: Moderate
Length: 3.2 miles Out and Back
Although one of the most popular trails, Emerald Lake Trail is one of the most spectacular in the park. This trail is a little over 3 miles, takes about 3 hours to complete, and passes through 3 alpine lakes.
Note for those visiting from outside of Colorado: don't be spooked if you see people geared up for this hike like they're about to conquer Mount Everest. People in Colorado like to get the fanciest and most elaborate sports gear, but it doesn't always equal abilities. I've done this hike in sandals and a dress, it's super easy and I'm not a hardcore hiker at all.
On the way to Emerald Lake, you will also pass Nymph and Dream lakes along the way. Take in the views at all 3 lakes to really enjoy the hike.
This trail is beautiful both in the summer and winter time but you might need snowshoes to complete it during the winter months. The lakes even freeze over in the really cold months so it's fun to walk on them.
Notes:
One of the lakes, Dream Lake is a bucket list hike that you can choose to do in the morning golden hour. Find out more info here.
And if you want to do a combined sunrise tour of Dream and Emerald lakes, it is well worth getting out of bed before the sun is anywhere to be seen.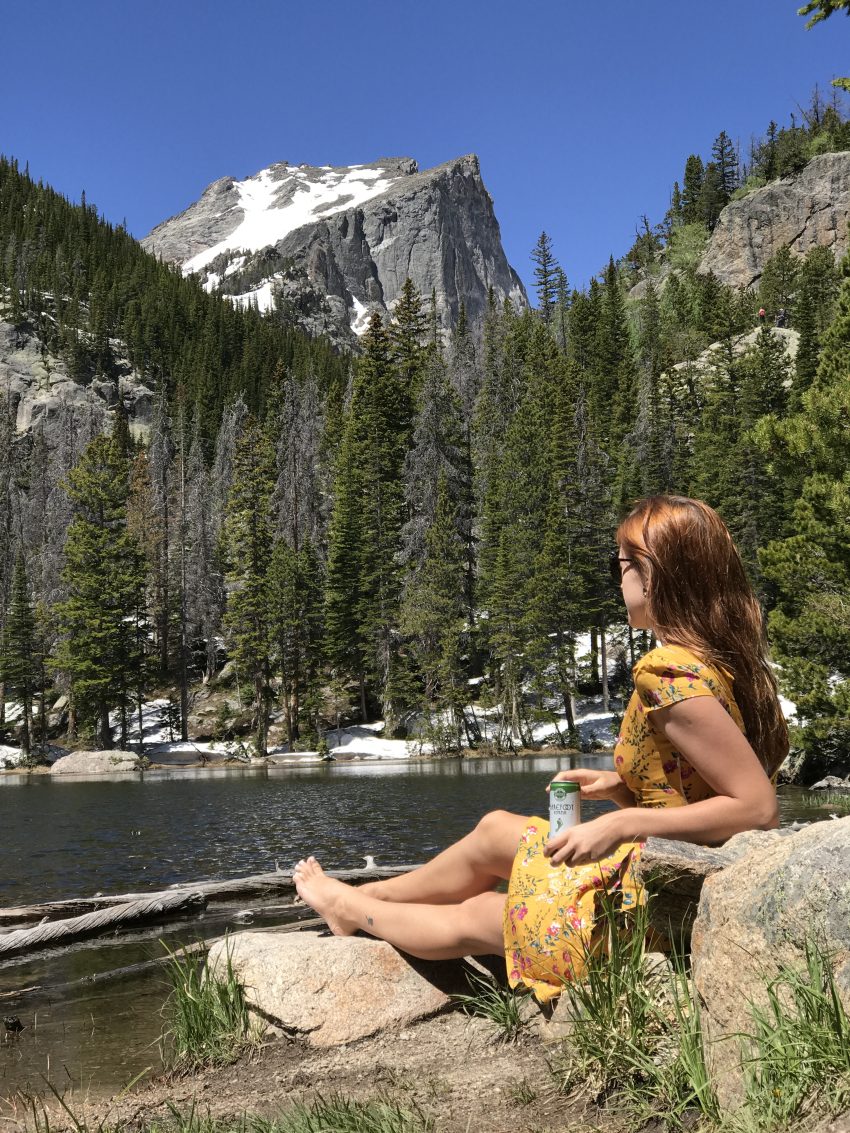 2. Sky Pond Trail
Difficulty: Hard
Length: 9.4 miles Out and Back
Arguably the most beautiful hike in RMNP is Sky Pond Lake hike. This amazing hike is not easy though but can be done by all ages. It's a little over 9 miles total and will take you around 5 to 6 hours to complete.
There is a significant amount of elevation gain so make sure to bring plenty of water but the views of the surrounding mountains and the final destination of Sky Pond are incredible and make this hike definitely worth the trek.
3. Alberta Falls Trail
Difficulty: Easy
Length: 1.6 miles Out and Back
Another very popular and easy trail in the park is Alberta Falls Trail. It leads to one of the most beautiful waterfalls in the park and only takes about an hour to complete.
The trail is about 1.6 miles round trip, and some of the terrain is uneven scrambling over some rocks, but overall can still be done with families and people of all ages.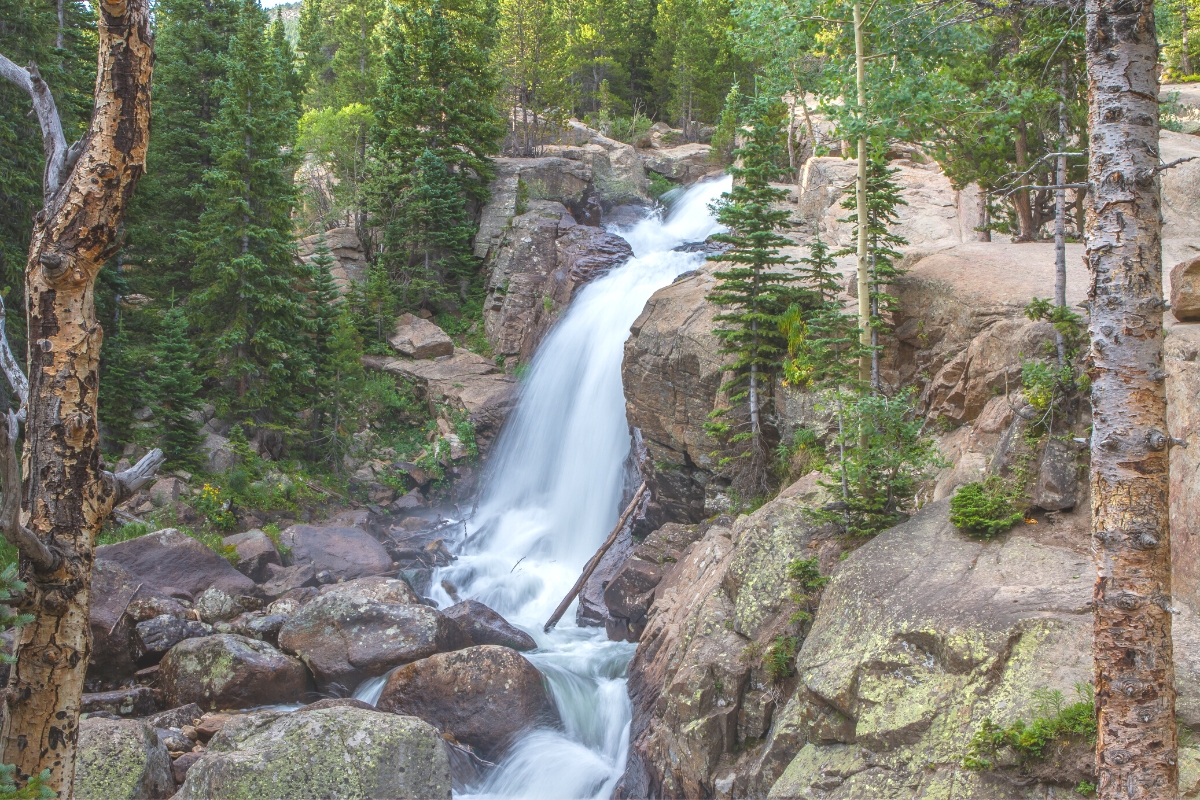 4. Alpine Ridge Trail
Difficulty: Easy
Length: 0.7 miles Out and Back
While driving through the park make sure to stop at the quick Alpine Ridge Trail that is right near the Alpine Ridge Visitor Center.
This is just a quick in-and-out trail that is under a mile and easy for any skill level. This is one of the highest-elevation trails, so the views of the mountain peaks are jaw-dropping.
5. Longs Peak
Difficulty: Very Hard
Length: 13.3 miles Out and Back
For the most serious hikers, you can climb Longs Peak standing at a whopping 14,259 ft. You can take the Keyhole Route trail but this is not for the faint of heart and can be really dangerous.
It should only be attempted in the summer and still make sure to check weather conditions. You should be starting your incline around 3 or 4 am.
Even with perfect conditions realize there is a lot of scrambling, falling rock, and parts that cross sheer vertical rock faces. Please exercise extreme caution if attempting to summit Longs Peak.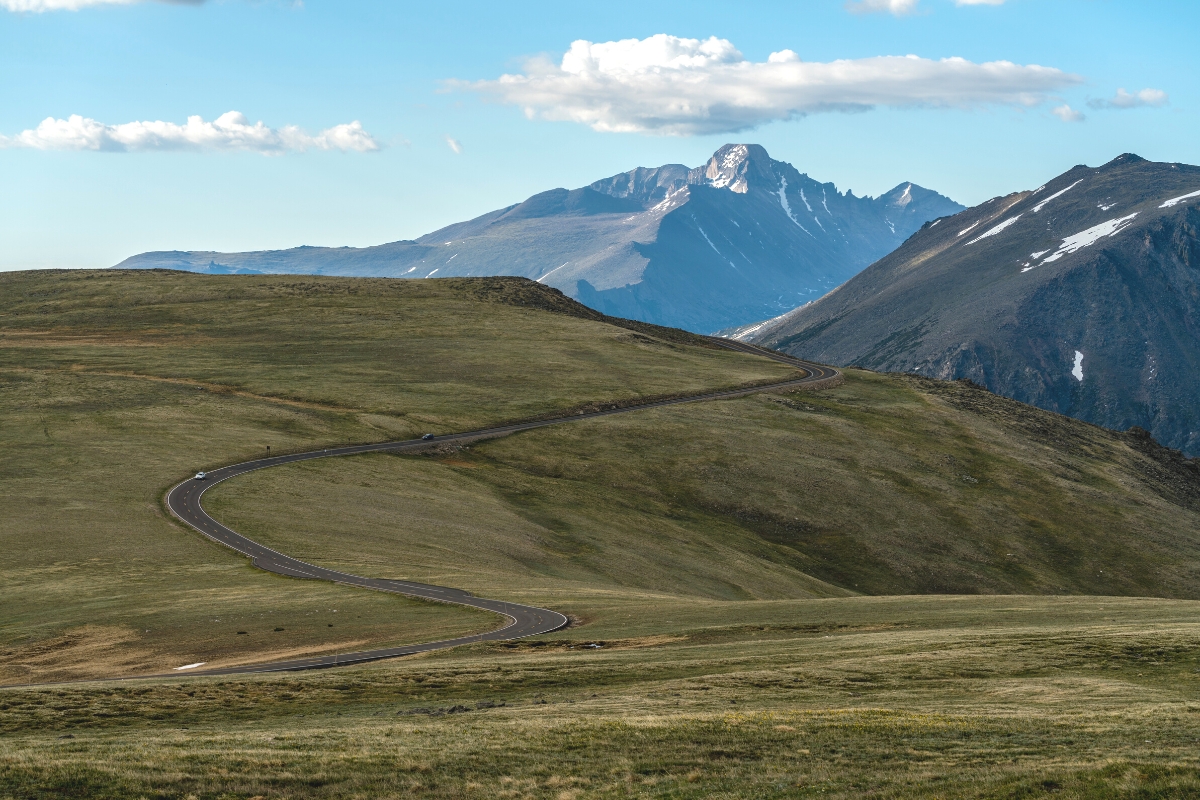 6. Twin Sisters Peak Trail
Difficulty: Hard
Length: 7.5 miles Out and Back
Another difficult trail that gives amazing views of Longs Peak and the surrounding landscape is Twin Sisters Peak Trail. The start of this trail is located right outside the park in the town of Estes Park.
This hike can be done year-round but in winter months it certainly gets really cold with the wind cutting through you once you get to the ridgeline.
There is some scrambling as well when you get near the top. But the amazing 360 views make this difficult trail well worth it. It is also not as congested as some of the other trails directly in the park.
7. Bear Lake Trail
Difficulty: Easy
Length: 0.7 miles Loop
One of the easiest and family-friendly trails in the whole park. Bear Lake can be done in all seasons and gives you beautiful views of the mountain peaks and lake.
Because of its popularity and easy access from the nearby parking lot, I would advise getting there early if you want to experience the beauty with just a few other people because after 9 am you will most likely be one of the hundreds of other tourists at this location, so it can get quite congested at times.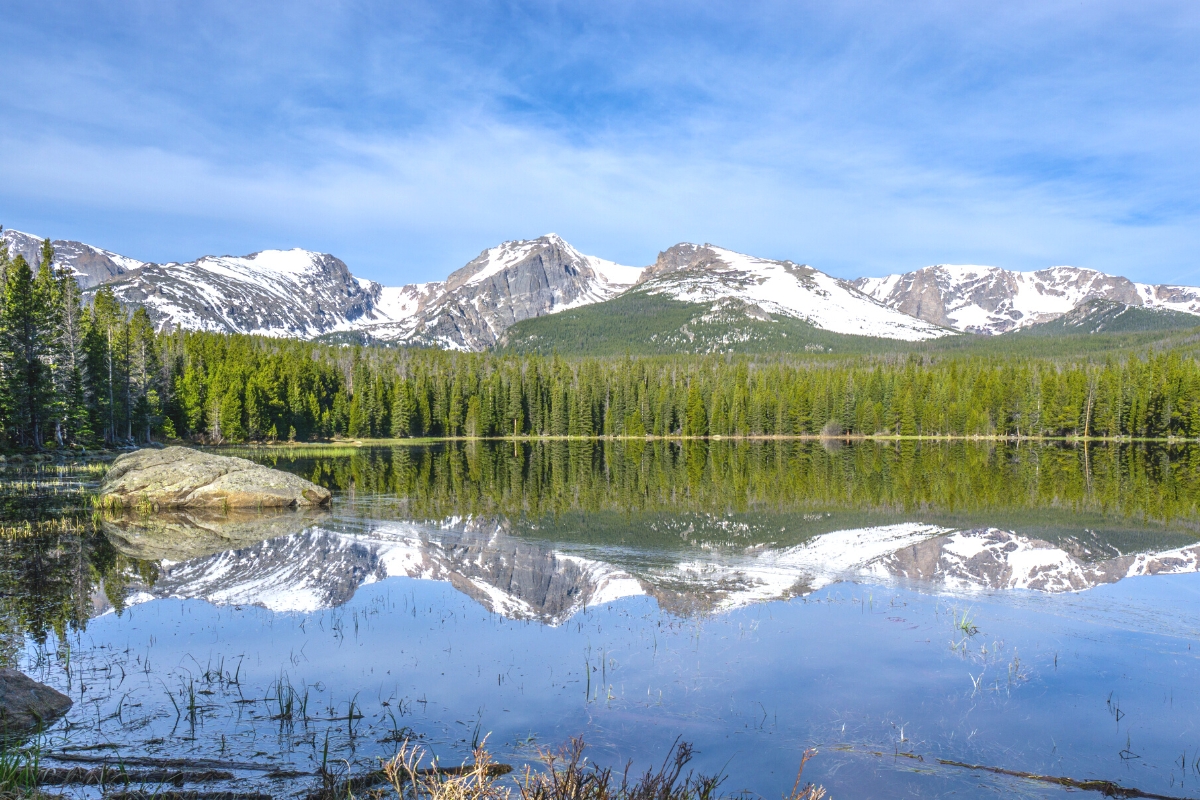 8. Boulder Brook Trail
Difficulty: Moderate
Length: 4.6 miles Out and Back
The Boulder Brook hike is a bit off the beaten path which is great because it means it is way less trafficked and crowded in a park that can get quite over-packed at times.
Along the way, you'll see small falls and creeks that go along the trail. This hike is also best done in fall where you can see some great autumn foliage and some of the famous Aspens turning yellow.
9. The Elk Rut
In the fall months while the leaves and weather are changing, drive your car into Moraine Park on the East side or Kawuneeche Valley on the West side to see something truly spectacular.
Although this is not a hike, bring a lawn chair, some drinks & snacks, and pull your car up along the side of the road with the hundreds of other spectators to witness the annual Elk Rut. (Get there early to get the best spots)
During this time of year, the male elks are vying for power to control their harems. The bull elks will be fighting the challenging bulls and making the eerily magical bugling calls that echo through the meadows off of the surrounding mountains. It's quite the scene to behold.
Bonus: Where to stay near the Rocky Mountain National Park Entrances
Note: The Wild Basin Entrance Station does not have well-rated lodges or hotels close to it. Hence, we prefer to stay closer to one of the other entrance stations we've listed here.
Affordable Stays near Fall River Entrance Station
Budget-friendly stays near Beaver Meadows Entrance Station
Grand Lake Entrance Station / Kawuneeche Visitor Center
So those are some of the best hikes to go on in the Rocky Mountains in Colorado and some of the best places to stay near the entrances. Have you tried any of them? Which do you recommend?