Washington State is such a unique place in the USA as it has everything, the beach and ocean, mountains, city, country, and desert. No wonder so many people want to experience it at least once. However, to get the most out of your trip, you need to know the best places to go and when.
When visiting Washington in the spring, the best places to visit include Snoqualmie, and the Olympic Peninsula. Summer is the best time to tour downtown Seattle, as well as Mount Rainier.
Fall is the perfect season for apple picking and taking a dip in the hot springs. Winter is a great time to camp in the cabins at Mount Rainier National Park, and to see the Christmas lights in Leavenworth.
In this article, we will take you through some of the best places to visit in Washington, no matter the time of year! That way, you know how to experience the best vacation ever in the Pacific Northwest.
Best Places To Visit in Washington In The Spring
Spring is a great time to travel to Washington State. With the flowers coming into full bloom, you definitely don't want to miss these places!
1. Snoqualmie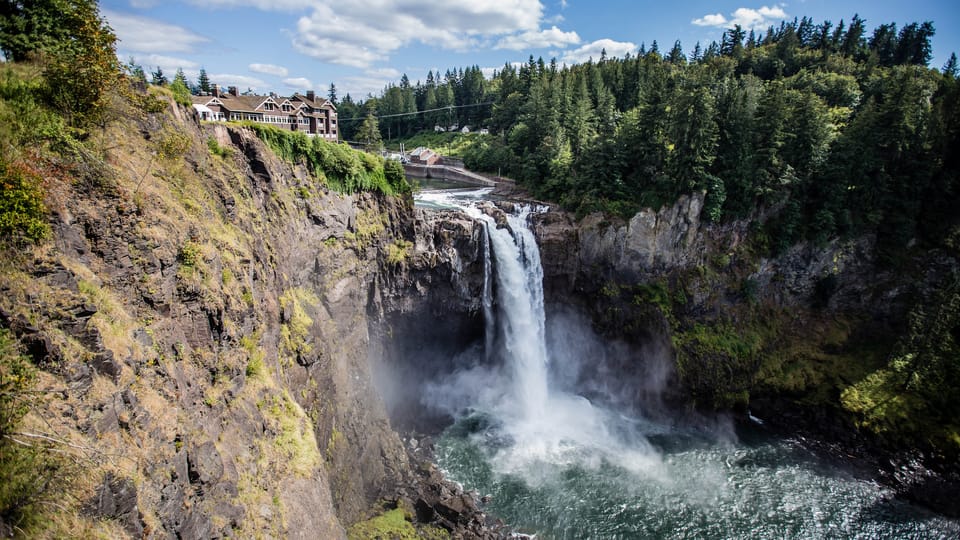 Pulling over a million visitors annually from all over the world, Snoqualmie Falls remains a popular attraction in this little town of just under 14,000 people.
It's one of Washington's prettiest waterfalls, standing at 270 feet. What's unique about it is that it's never the same. It's best to visit in the Spring as this is when the winter runoff is happening, which causes the falls to overflow. It's a sight to be seen!
There are two parking lots at Snoqualmie Point Park. The upper lot requires you to have a Discover Pass, while the lower lot is complimentary.
Moreover, Snoqualmie as a town has much to offer as well! You will see car shows, parades, and other local events throughout the Spring. The Seattle food scene has wholly spilled into Snoqualmie, so you're sure to have your belly filled with goodies.
Stay near Snoqualmie Falls
Snoqualmie Inn by Hotel America * Salish Lodge & Spa
---
2. Olympic Peninsula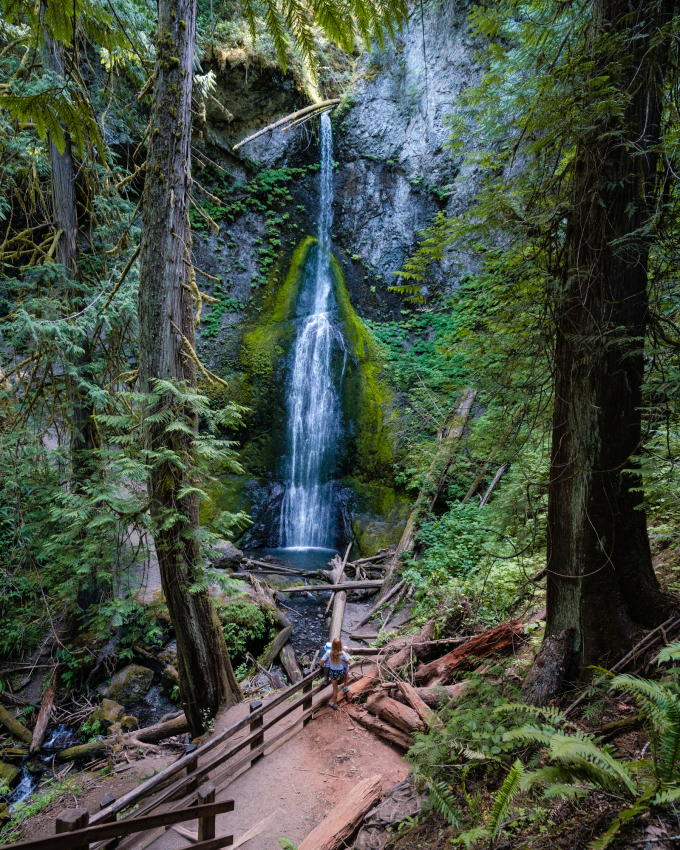 Another place you can't miss when visiting Washington State is the Olympic National Park. It is home to the only temperate rainforest in the USA, the Hoh Rainforest. As a bonus, you'll also experience the untamed coastline and the beautiful mountain peaks!
Moreover, there are plenty of beaches to visit along the coast. However, our favorites are Kalaloch Beach and Ruby Beach, which contain plenty of driftwood to climb and many untouched sections.
Not to mention, if you're a Twilight Fan, you can see Bella's truck sitting outside in Forks and a couple of other locations in the movie. But please be aware La Push Beach doesn't exist; they were in Cannon Beach, Oregon.
Stay near Olympic Peninsula Park
Pacific Inn Motel * Olympic View Inn
---
3. The Skagit Valley Tulip Festival
Springtime is the best time to stop at the Skagit Valley Tulip Festival. Every year, people travel worldwide to witness this beautiful event, which takes place during the whole month of April.
Extending the festival span an entire month made it more likely that the vast tulip meadows in the Skagit Valley—covering well over 300 acres—would blossom during the celebration. Visitors can enjoy blooming tulips in several fields throughout the month. And it's set up as a driving tour, so you don't even have to get out of your car!
The festival now offers a staggering array of connected activities, such as:
Musical performances
Gala Celebrations
Fine Art Exhibits
Local farm tours and more!
Stay near Skagit Valley
Fairfield Inn & Suites Burlington * Holiday Inn Express Hotels & Suites Burlington
---
Best Places To Visit In Washington In The Summer
Summertime is a great time to visit Washington State, as this is typically when you can see her in all her glory, without the rain! Below are some places you should take the time to visit.
1. Mount Rainier National Park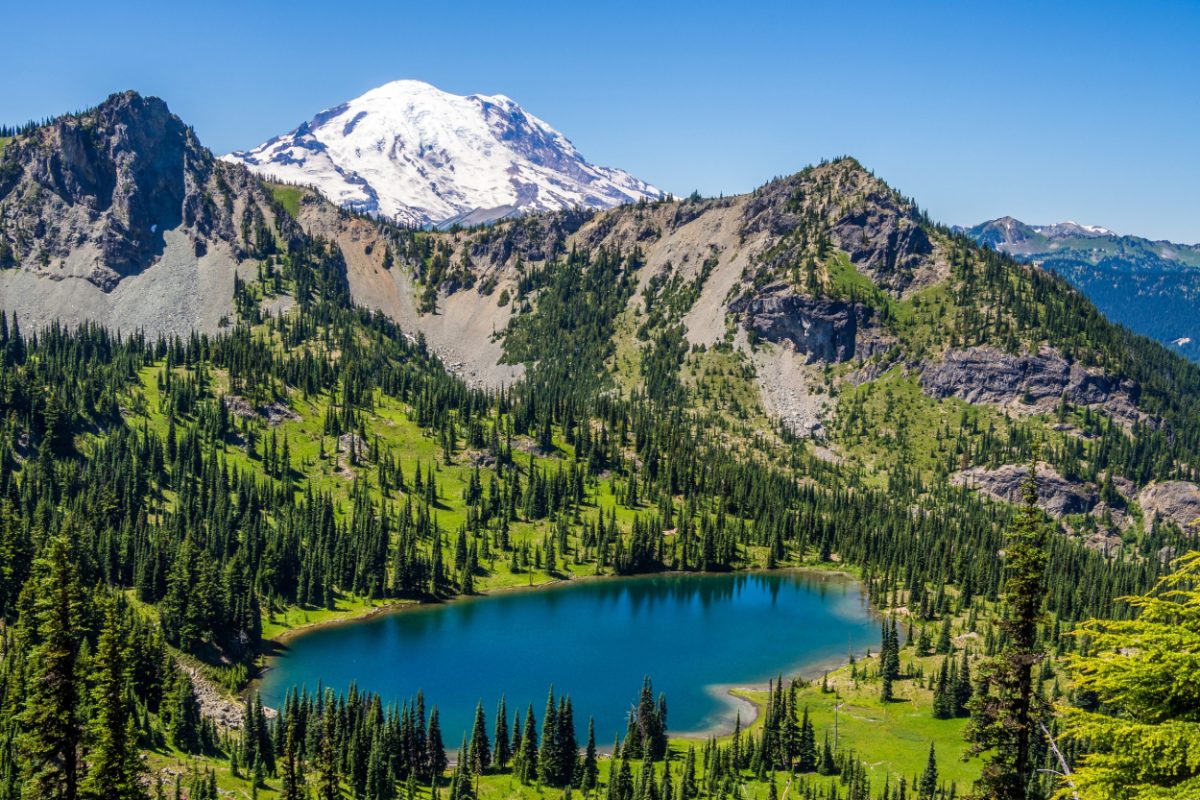 If you find yourself in Washington in the summertime, you cannot miss the opportunity to visit Mount Rainier National Park. Most people think they should visit in the winter, but most of the park is shut down at that time as the roads and hikes are too treacherous.
Mount Rainier is an active volcano that stands 14,410 feet tall. That alone is something that many visitors see. Not to mention the breathtaking view of Paradise's blooming meadows or the view from Sunrise (the highest point you can reach by car).
One more thing you will want to take advantage of is the wildflowers. The view is postcard perfect. A plethora of blossoms encompasses the hillsides, crests, and valleys of Mount Rainier National Park from early July to mid-August.
But, if you're an active person looking for a fantastic hike or a good run, you can take on the Wonderland Trail. It circles Mount Rainier for 93 miles (150 km). However, it is only for skilled individuals, and we highly suggest you do this in a group rather than alone. Ensure you obtain your wilderness permit for backcountry camping, which can take 5 to 11 days.
Stay near Mt Rainier
Mountain Meadows Inn * Gateway Inn & Cabins
2. Deception Pass State Park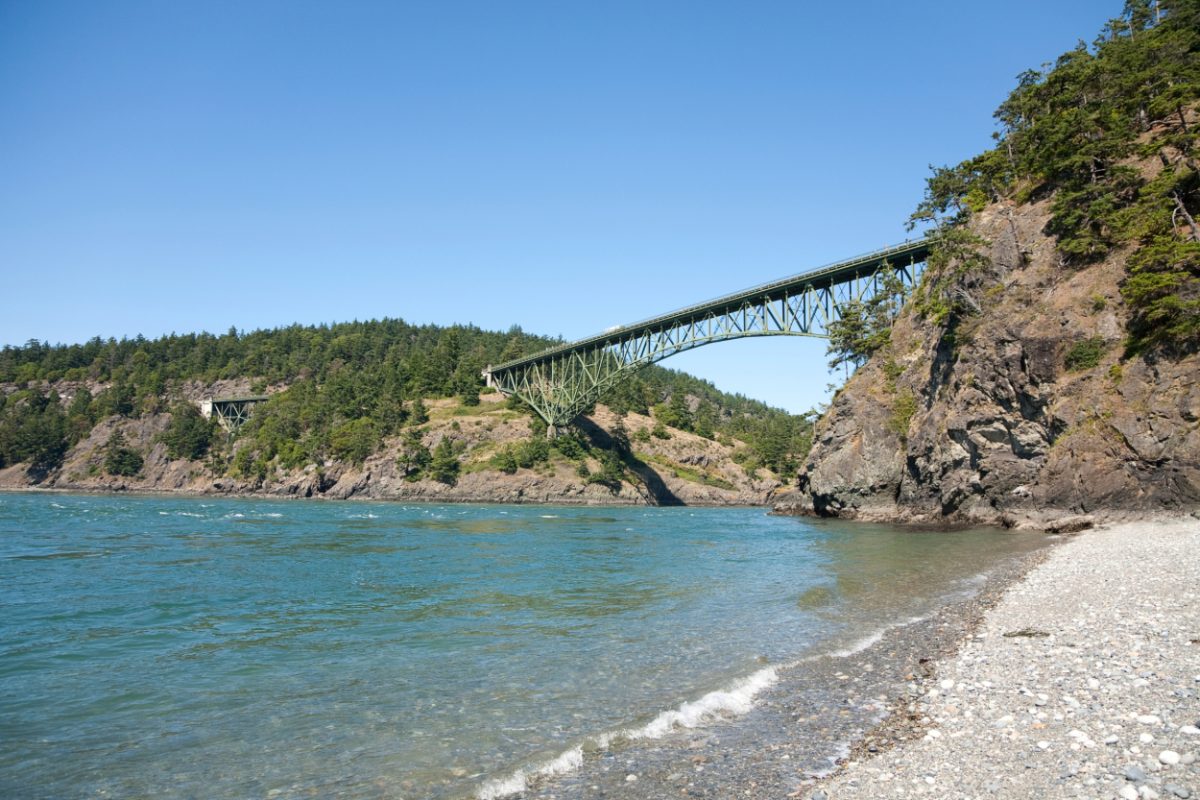 Deception Pass is Washington's most popular state park among the 200 or so scattered throughout the state. Hikers love to visit Bowman's Bay, a popular hiking destination with 38 miles of other paths nearby for walkers, runners, and bikers alike.
Deception Pass is an excellent location for kayaking and viewing the local marine species up close. Expect to encounter seals and otters up close. But be careful, as these creatures are wild and can hurt you if you approach them.
There isn't much to do by way of events here, but it's the perfect place to enjoy untouched nature at its finest. And don't forget to cross the Deception Pass Bridge, as the view from there is pretty unforgettable.
Stay near Deception Pass
Best Western Plus Oak Harbor Hotel * Coachman Inn Oak Harbor
3. Downtown Seattle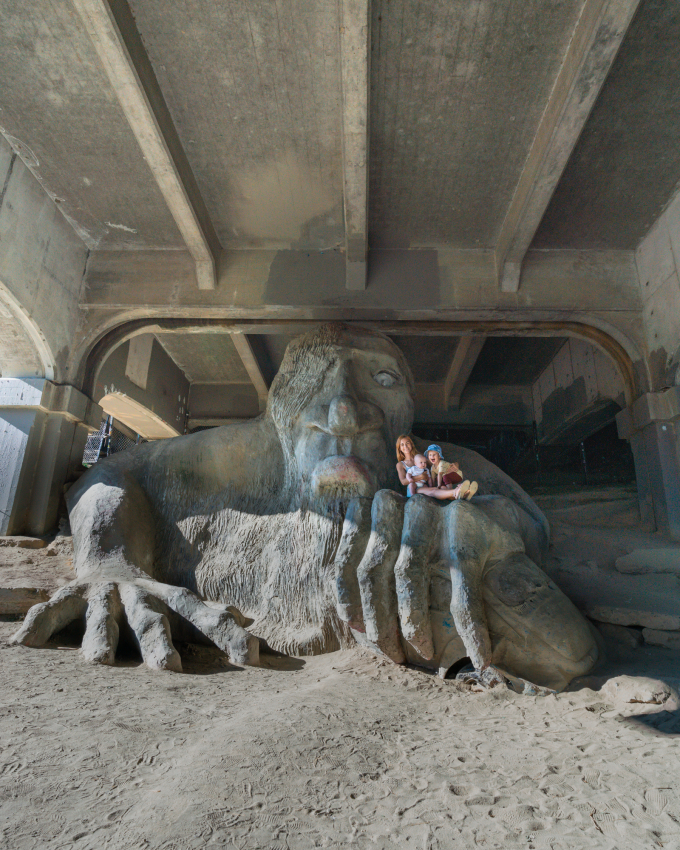 Everyone always assumes that Seattle is constantly rainy or depressing, which couldn't be farther from the truth. However, it does have more rain than other cities due to the lack of snow during the winter.
But, if you want to see downtown Seattle, it's best to do it in the summer as it's usually beautiful, and Washington is in drought season then.
From Westlake Mall to the waterfront, there are many fantastic shops, eateries, and activities to enjoy. You can try making your own piece of blown glass or play chess on a giant life-size board. There's also a giant Ferris wheel on the pier behind Pikes Place Market, where you can watch below you through the glass bottom as you go up and over the water.
If you're more into walking and looking, you can check out an international spice market near Pikes Place. And there's a gum wall. It's a massive brick wall in an alleyway where people stick their chewed gum. Sometimes, you can see pieces of art created from it. Dare we say it also smells good when you're passing through?
So, as you can see… Seattle isn't just filled with rain and knock-off Gucci bag salespeople (Although those still exist)—there is something for everyone there. It would be a shame not to experience the beautiful city at least once.
Stay in Downtown Seattle
citizenM Seattle South Lake Union * Belltown Inn
---
Best Places To Visit In Washington In The Fall
If Fall is your favorite season, think about spending it in Washington State. From hot springs to apple picking, you can't go wrong!
1. Sol Duc Hot Springs Resort
One of the best places to visit in the fall is the Sol Duc Hot Springs, which has its own resort. The resort itself features 32 cabins that each include four best, as well as 17 RV sites with full hookups.
There's also a grocery store, spa, gift shop, restaurant, and, of course, the hot springs. There are three hot springs and one freshwater pool.
If it's fully booked, you can always stay at one of the lodges within driving distance of the hot springs and Sol Duc Falls.
At the Port Angeles Visitor Center near the Port Angeles Entrance Station, visitors can consult rangers for guidance and obtain permits, bear canisters, and a paper map. It's open until late October. Be sure to call the springs beforehand to ensure the pools are available.
The price to enter Olympic National Park where the hot springs are located is $30 for vehicles, $15 for adults, and $10 for kids ages 4 to 12. Children under 3 are free but only have limited access to the pool. The resort provides discounted prices for senior people, military members, and groups.
Stay near Port Angeles to get to Sol Duc
Super 8 by Wyndham Port Angeles * Angeles Motel
2. The San Juan Islands
The San Juan Islands are a popular destination, even for locals! What makes them so unique is that every island has a personality. San Juan is the island that receives the most visitors, and Friday Harbor is dotted with unique eateries and shops.
Although there are more than 100 islands, only a small number are inhabited. Three of them are reachable by ferry, so don't get too overwhelmed.
The largest of the islands is called Orcas Island. This is an excellent choice if you're bringing a vehicle or renting a car, as you'll need it to get to and from each side of the island.
Lopez Island is the final island that can be reached by ferry. There are numerous eateries, stores, and art galleries on this island. It's great for anyone who loves biking.
Stay near San Juan Islands
The Orca Inn * Earthbox Inn & Spa
3. Columbia River Gorge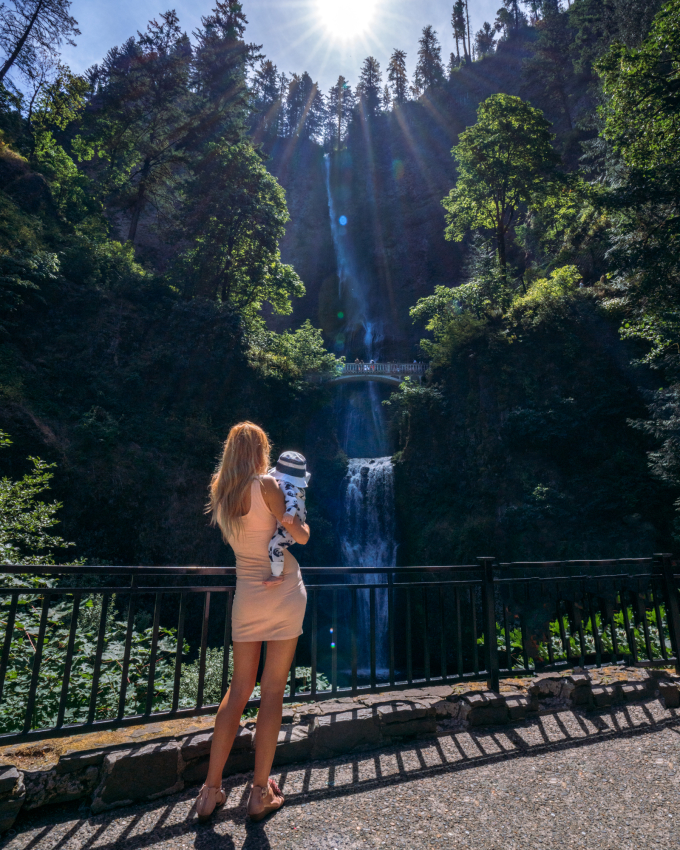 The Columbia River, which divides Washington State and Oregon, is a beautiful body of water that sculpts the canyon. It's made up of miles upon miles of deciduous forests, including oak and maple trees.
One place you will want to take advantage of is Dog Mountain, as it's one of the most visited locations in the gorge. This place is well known for its spectacular springtime wildflower show.
If you're into museums and learning local culture and history, the Columbia Gorge Interpretive Center on the outskirts of Stevenson is a must-visit museum. Its mission is to "Bring to life the people tales and historical background of one of our nation's most intriguing landscapes."
And, of course, you won't want to miss the hot springs! Bonneville Hot Springs includes a stunning resort and spa tucked away in the woods outside North Bonneville. It was constructed near a hot spring that the local tribes had used for thousands of years before the more recent construction took place.
Stay near Columbia River Gorge
Best Western Plus Columbia River Inn * Skamania Lodge
4. Washington Park Arboretum
You can't go to Washington in the fall without seeing the most beautiful Autumn Foliage on the west coast! There are around 230 acres of trees along Lake Washington that have been carefully tended to since 1934.
The neat thing is that it's very accessible. You can walk or drive through the Arboretum. You can also park at Lake Washington and kayak to it. But the foliage has beautiful purple and golden hues. It also includes the largest collection of Japanese Maples in North America, along with plants from the sassafras and witch hazel families.
The Arboretum is open daily from sunrise until eight o'clock and is free to enter. However, the Japanese Garden, which has distinct hours from the Arboretum itself and changes depending on the season, has an entrance fee ($8 for adults and $4 for anyone aged 6 to 17).
Stay within driving distance of Washington Park Arboretum
Silver Cloud Hotel – Seattle Lake Union * Sonder at Solis
5. Swans Trail Farms
Why come to Washington in the fall if you're going to pick some authentic Washington apples? And yes, they're truly as good as they say! Five acres of apple trees may be found at Swans Trail Farms in Snohomish.
The apple crop from the orchard is typically ready by late September, starting with everyone's favorite Honeycrisps and continuing through the rest of the season with Jonagolds. (Jonagolds are great for home baking, especially in apple pies!)
Swan Trail Farms is a historical, pastoral treasure peacefully located on the Snohomish River. The location is over a century old and features a freshly remodeled red barn and a lovely inside reception space. So, people have been known to rent the property for weddings and other large celebrations.
Stay near Swan Trail Farms
WoodSpring Suites Seattle Everett * Delta Hotels by Marriott Seattle Everett
---
Best Places To Visit in Washington In The Winter
Don't rule out a winter vacation just yet. We bet if you read some of the amazing places to visit in Washington during the winter, you'll want to plan a vacation right away!
1. Three Bears Lodge Cabins
Now, we said to visit Mount Rainier National Park in the summertime, as this is the best time to enjoy all it has to offer. But, if you prefer to go in the winter, then the Three Bears Lodge Cabins is hands-down the best place to stay.
We say winter because this is an off-peak season, meaning that the prices for the cabins are typically 30 – 50% off, depending. And even though there isn't much to do except ski, snowshoe, or snowboard, you most likely won't want to leave your cabin anyway.
Each cabin has all the necessities that you need, so if you forget something at home or the store, you won't have to worry about it. There are six different choices of cabins, and they include:
Three Bears Lodge
Lazy Bears Creekside Cabin
Glowing Pines Log Cabin
Coho Cabin
Starry Nights By The Creek Cabin
Dancing Bears Lodge
Some sleep only 2 to 4 people, while others can sleep up to 10 or even 18! Plus, a few of them come with private hot tubs, terraces, and firepits. You can't go wrong staying here. However, they do book quickly, so be sure to make your reservations a few months ahead of time.
If they're all booked by the time you plan your visit, here are a few other options in Ashford close to Mt Rainier.
Alexander's Lodge – Traditional hotel only minutes to the Nisqually Entrance of Mt Rainier with an onsite Tesla charger.
Gateway Inn & Cabins – Suited to those on a very low budget, these cabins are a short walk from the Mt Rainier entrance.
2. Leavenworth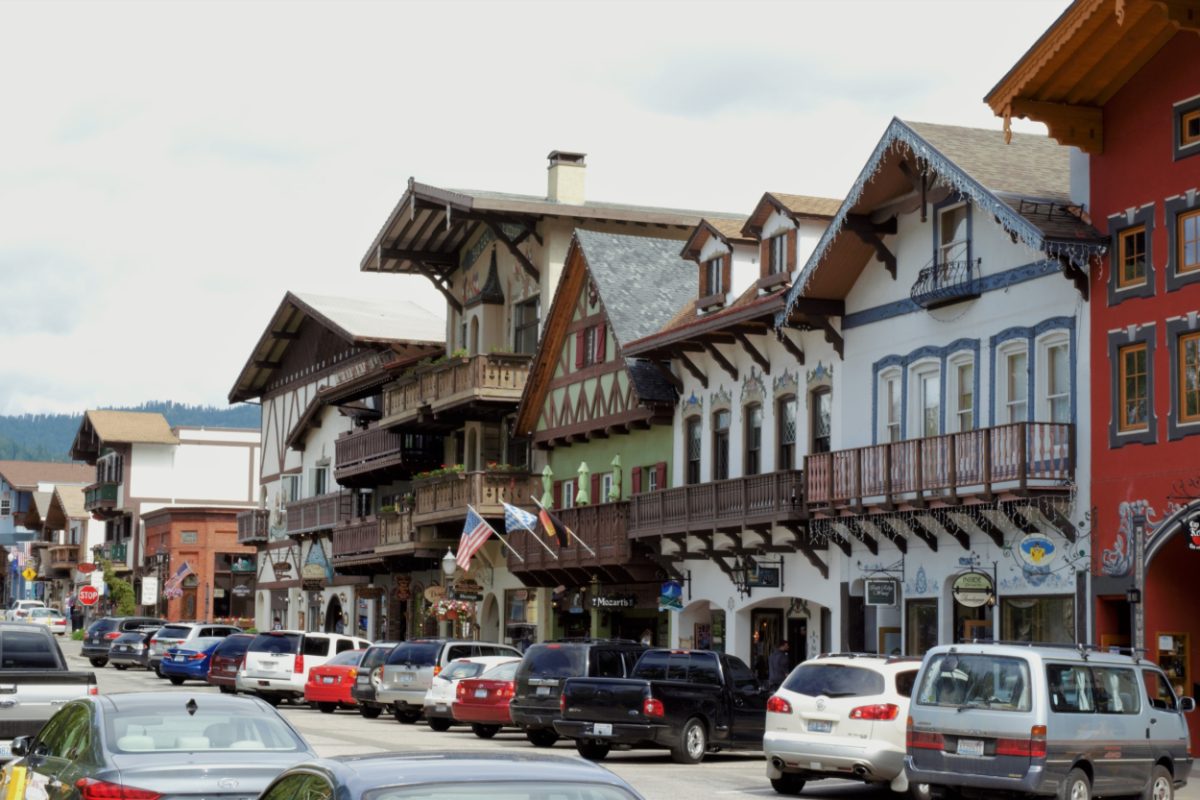 Leavenworth is a beautiful Bavarian community in the Cascade Mountains in central Washington. While it can be enjoyed at any time throughout the year, Christmas seems to be the favorite time to vacation there.
At Christmas, Leavenworth transforms into a magical village, like the ones you see in snow globes and storybooks. With over 500,000 lights, the Leavenworth Christmas Lighting Festival brings the town to life. While the Christmas lights are beautiful in Seattle, they're nothing compared to the lights of Leavenworth.
The Christmas season also features several other festive events! You can expect to hear the Christmas Carolers chiming up and down the streets while enjoying the sweet aroma of roasting chestnuts. There's also live music and an annual cookie crawl for any kids you bring on the trip.
You don't have to travel to Europe to appreciate the distinctive Bavarian way of life, which makes Leavenworth unique. Whether you come for Christmas lights, polka performances, or hiking, you will be in awe of how Leavenworth captures the feel of the old world.
Stay in Leavenworth
Hampton Inn & Suites Leavenworth * Bavarian Lodge
3. Stevens Pass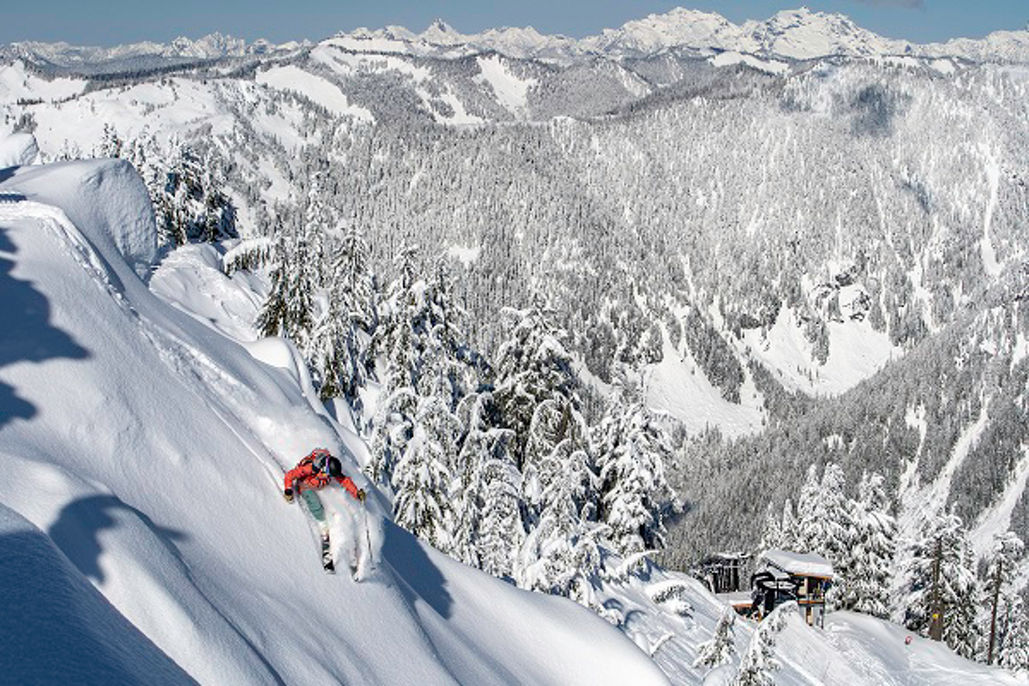 Rent a pair of snowshoes and explore Skyline Lake for an adventure that doesn't require you to empty your pockets or take safety courses. However, if you're looking for something with more heart-stopping action, skiing, snowboarding, and sledding are all available at Stevens Pass!
However, if you're looking for a trip that's a little less extreme, a trip to Yodelin, Grace Lakes, and Lake Susan is excellent too! Here you can experience the flat terrain and breathtaking panoramic views of the mountains freshly powdered with snow.
Snow isn't very common down in the valley or on the coast, so Stevens Pass is usually the place everyone goes to enjoy playing in the snow.
Stay within driving distance of Stevens Pass
Squirrel Tree Resort * Beaver Valley Lodge
So that's the rundown of the best places to visit in Washington State in different seasons. Which are you going to visit and when?