The Pacific NorthWest is the perfect route for a road trip. It's right up there on the list of best road trips along with the ultimate Utah road trip in the US or the Pacific Coast highway in California.
Planning the perfect trip from start to finish can reduce a lot of last-minute stress.
Starting with mouth-watering street food in Portland and ending with wildlife in Cascades National park, here's the perfect itinerary for a road trip through the Pacific North West.
What is the Pacific Northwest PNW region?
It really depends on who you ask. More or less from very northern California, through Oregon, Washington, and British Columbia in Canada. Some people also include parts of Idaho and Montana into PNW.
The core of the Pacific Northwest Region is Washington, Oregon, and British Columbia.
Pacific Northwest Road Trip Highlights
Experience Portland's food trucks
See Cascades National Park
Explore busy Seattle
Warm up in hot springs
Stay in an A-cabin
Get impressed by waterfalls
Hike through the rainforest in Olympic National Park
Spot Thor's Well
Get up close with wildlife
---
Ultimate Pacific Northwest Itinerary for 2 Weeks
Most itineraries say you can do it in a week and while you can, I really think you'd be better off spend at least 2 weeks in the region. Otherwise, you would barely scrape the surface. You can spend a month alone in each Oregon and Washington and still have plenty more to see and experience.
Many itineraries suggest a day at Olympic National Park for example and let me tell you – it's a piece of bad advice. Especially if you're driving from Seattle – you'll experience about 6h of driving minimum and you'll be able to do one hike and maybe a viewpoint. Try to save a few days for the park, more if you can.
Day 1: Fly into Portland
Day 2: Columbia River (Multnomah Falls) & Portland night
Day 3: The Oregon Coast (Thor's Well + White Wold Sanctuary)
Day 4: Umpqua Hot Springs + Crate Lake National Park
Day 5: Mount Rainer National Park
Day 6: Mount Hood +Bagdy Hot Springs
(you can add an extra day to Mount Hood + Mount Rainer Parks because driving takes a long time)
Day 8: Seattle
Day 9: National Forests around Seattle (cabin or treehouse stay)
Day 10-11: Olympic National Park
Stay in one of many cabins on the way up north.
Day 13: North Cascades National Park + Leavenworth
Day 14: drive back and fly out of Seattle or continue to cross the bord into Canada
If you're on your "Great American Road Trip" you can easily combine this trip with Southern California, then the Pacific Coast Highway itinerary and Northern California (to start with), then continue onto Montana & Idaho all the way to Utah.
---
Is This Trip Family Friendly?
You bet! This itinerary can be enjoyed as a solo traveler, couple, and also with kids. We actually did this with a 5-month-old baby and a 2-year-old toddler.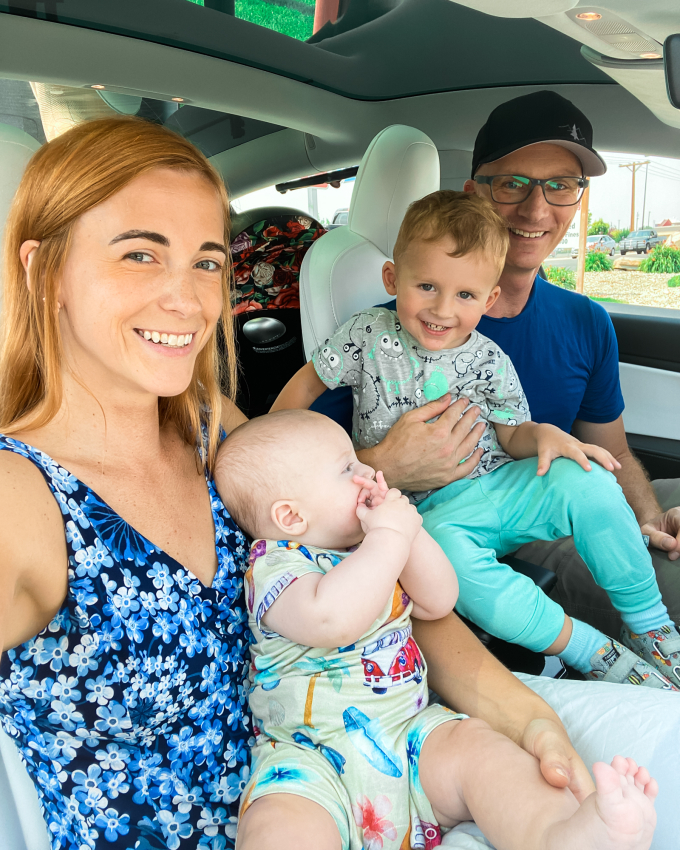 ---
How to Get Around Pacific Northwest?
The best way to travel around the Pacific Northwest is by car. Although in cities like Portland or Oregon you can ditch the car because public transportation works just fine.
If you're driving an electric car, don't worry. We found chargers everywhere on the way.
You can also travel by campervan as there are many free and paid camping spots.
Can You Visit Pacific Norwest Without a Car?
While it's more convenient with the car you definitely can enjoy PNW without a car. You can take a bus or train between Portland and Seattle and day trips from there.
When to Visit The Pacific Northwest?
Famous for its rainy winters and sultry summers, you can go from sunny to rainy weather and back in a matter of a few miles. But the best time to visit the Pacific Northwest is usually between the months of May to October.
Since the vagaries of the weather keep you on your toes, it's best to carry summer dresses and rain jackets at the same time. But visit during September, and you might just have perfect weather throughout.
But really, the time you choose to visit PNW also depends on what you plan on doing there. If you're a snow person who loves skiing and staying in chalets and making snow angels, then winter is the best time to visit.
If you love hiking and camping under the stars, or just taking scenic drives along scented pathways, summer from June to August will be perfect for you! Autumn is good for drives too! And if you're one of those people who love taking pics of autumn leaves or swimming in cool lakes, fall will be perfect for you to visit!
Your Pacific Northwest PNW Roadtrip Itinerary
Day 1: Fly into Portland
Fly into Portland and start your trip by renting your car. If you get in early, you can spend the day admiring the cherry blossoms or visit the Portland International Rose Test Garden which is home to over 10,000 roses of 550 types. The garden also features amazing views of Mount Hood and Downtown Portland.
Get in a day early and you can go mountain biking in Forest Park, hiking on the Wildwood Trail, or exploring the Columbia Gorge by air.
If you're a museum aficionado, you can't miss the Pittock Museum and the Portland Art Museum. There's a lot to do in Portland, and you could easily spend a few days exploring the bridges and bicycle paths of Oregon's largest city.
Portland is known as a foodie city, so you can't leave Portland without trying its street food and local brews with a local guide. If you have kids with you, opt for the underground donut tour and taste the best of Portland's donuts.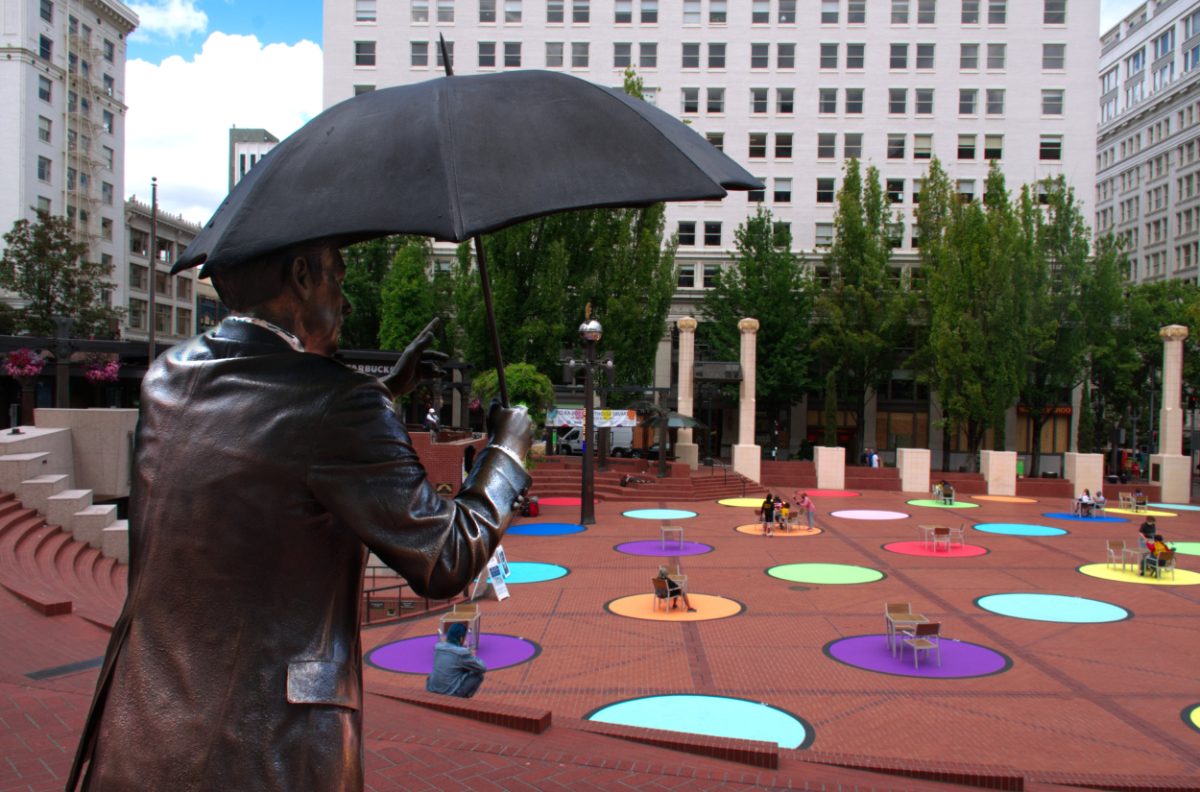 Other Important Info About Portland
The cherry blossom trees Portland were a gift from Japan for the dedication of the Japanese American Historical Plaza in 1990, much like the cherry trees in Washington were planted in 1912 as a gift of friendship to the People of the United States from the People of Japan.
The city's founders Asa Lovejoy and Francis Pettygrove tossed a coin to name the city. If Lovejoy had won the toss, the city would have been named Boston instead of Portland.
Inspired by the Austin, Texas slogan, Portland's slogan is 'Keep Portland weird'.
The smallest park in the world is in Portland. Called Mill Ends Park, it's a small 2 ft circle with a total area of 452 sq and has only one tree.
The Portlandia Statue is the second largest copper statue in America, the first being the Statue of Liberty in New York.
Where to Stay In Portland, Oregon
The Benson Portland, Curio Collection by Hilton – Grand and centrally located.
Dossier – Perfectly located and pet-friendly!
Sentinel, a Provenance Hotel – Luxury hotel close to the waterfront and city center.
The Heathman Hotel – Local-inspired minibars and lovely onsite library.
---
Day 2: Columbia River (Multnomah Falls) & Portland night
Drive along the Columbia River Gorge and stop at the main attraction, the Multnomah Falls. With over 2 million visitors every year, it is the most visited natural site in the United States.
The springs are fed by the underground springs from the Larch Mountains and the waterfall dropping 620 ft over 2 tiers of basalt cliffs is the tallest waterfall in the State of Oregon.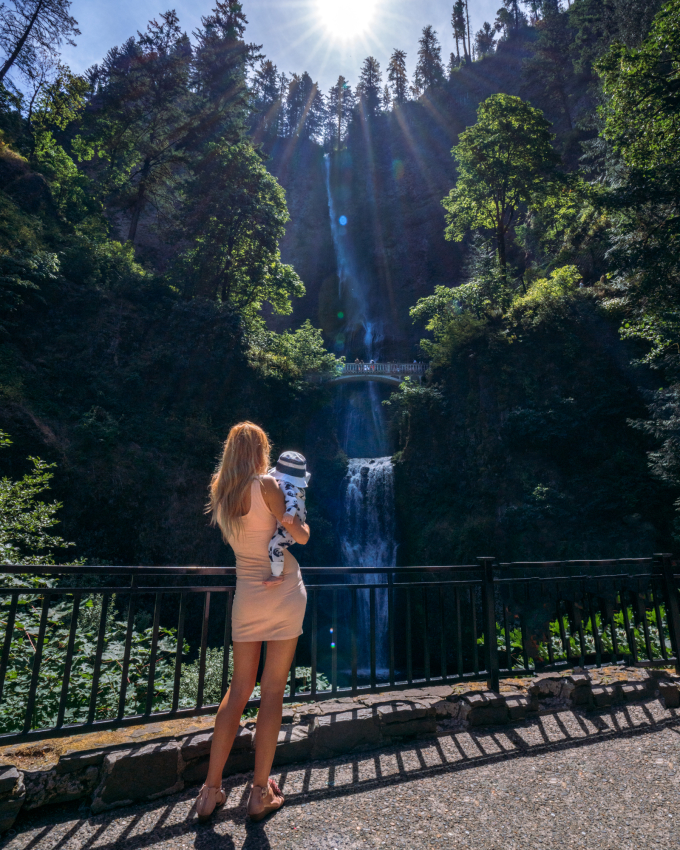 The Multnomah Falls Lodge was built by Albert Ernest Doyle between 1915 and 1925 and the area surrounding the falls was added to the National Register of Historic Places in 1981.
You can visit the falls on your own or join one of many groups tour going to the falls, and head back to spend the night in Portland.
Other Important Info About The Columbia River
Multnomah Falls is accessible via Interstate 84.
Depending on the route you take, hiking to the top can take from a few hours to the entire day.
The flow at Multnomah Falls is higher in winter and spring.
According to a Wasco legend, the daughter of Chief Multnomah sacrificed herself to the Great Spirit from the top of Multnomah Falls.
---
Day 3: The Oregon Coast (Thor's Well + White Wolf Sanctuary)
Drive down the Oregon coast towards Yachat's oregon to see Thor's Well. Why do they call it Thor's Well? This well is named after the Norse God of thunder and lighting because it looks like a gigantic sinkhole that the water from the Pacific Ocean pours into.
Also called the Drainpipe of the Pacific, the well is the collapsed top of a sea cave that water rushes into. Powerful and breathtaking, it's particularly beautiful and looks like something out of a movie featuring ancient Roman and Greek gods.
After gasping at the wonder of the ocean, drive inland to the Whitewolf Sanctuary. Founded in 1999 close to Tidewater, this sanctuary covering 35 acres is home to 12 wolves that are allowed to live as freely as possible while being cared for.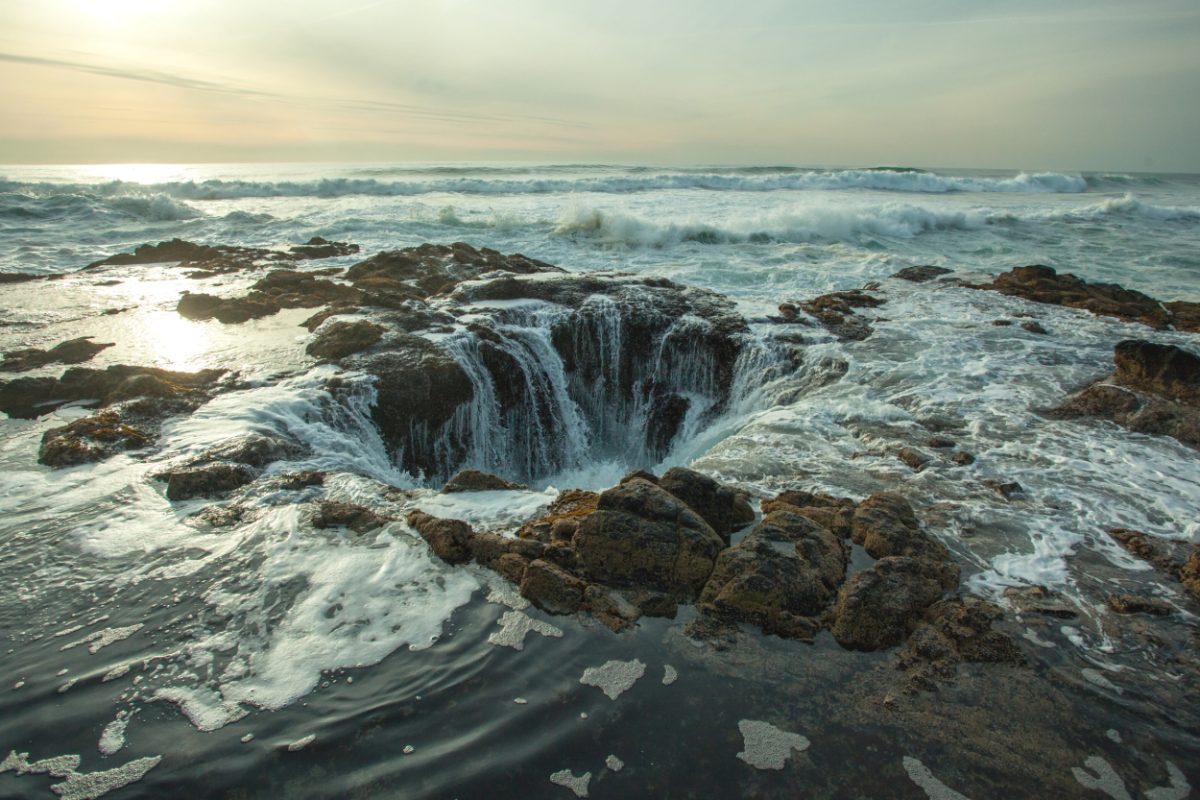 Other Important Info
The best time to visit Thor's Well is about an hour before high tide so that you see the well without water and then see the power of the water fill it.
Thor's Well is only 20 feet or 6 meters deep.
The area around the well is known for sweeping away unsuspecting visitors. So be careful.
If you have more time near Thor's Well, see the Spouting Horn at Cook's Chasm.
You must contact the Wolf Sanctuary in advance to book tours.
Entrance to the sanctuary is $75 for adults and $25 for children under 12 years.
Where to Stay Near The White Wolf Sanctuary (Tidewater) & Thor's Well (Yachat)
The Loft at Bob Creek – Large spacious apartment for a private stay.
Guinevere's Cottage – Cosy cottage just across the river in Yachats, Oregon.
Sanderling Sea Cottages, Unit 9 – Stay in a lovely seaside cottage on Big Stump Beach.
---
Day 4: Umpqua Hot Springs + Crater Lake National Park
About 175 miles south of Thor's Well are the Umpqua Hot Springs. These two to three small geothermal hotsprings along the North Umpqua River are a short 0.3 mile (0.5 km) hike off road.
Sitting right on the edge of the cliff, the mineral waters of these pools are soothing at about 43 C (110 F) to 44 C (112 F) warm. The pool at the top is the hottest, and the water gets cooler as it flows down to the other pools and into the North Umpqua River below. Clothing is optional here, so come prepared to answer questions if traveling with kids.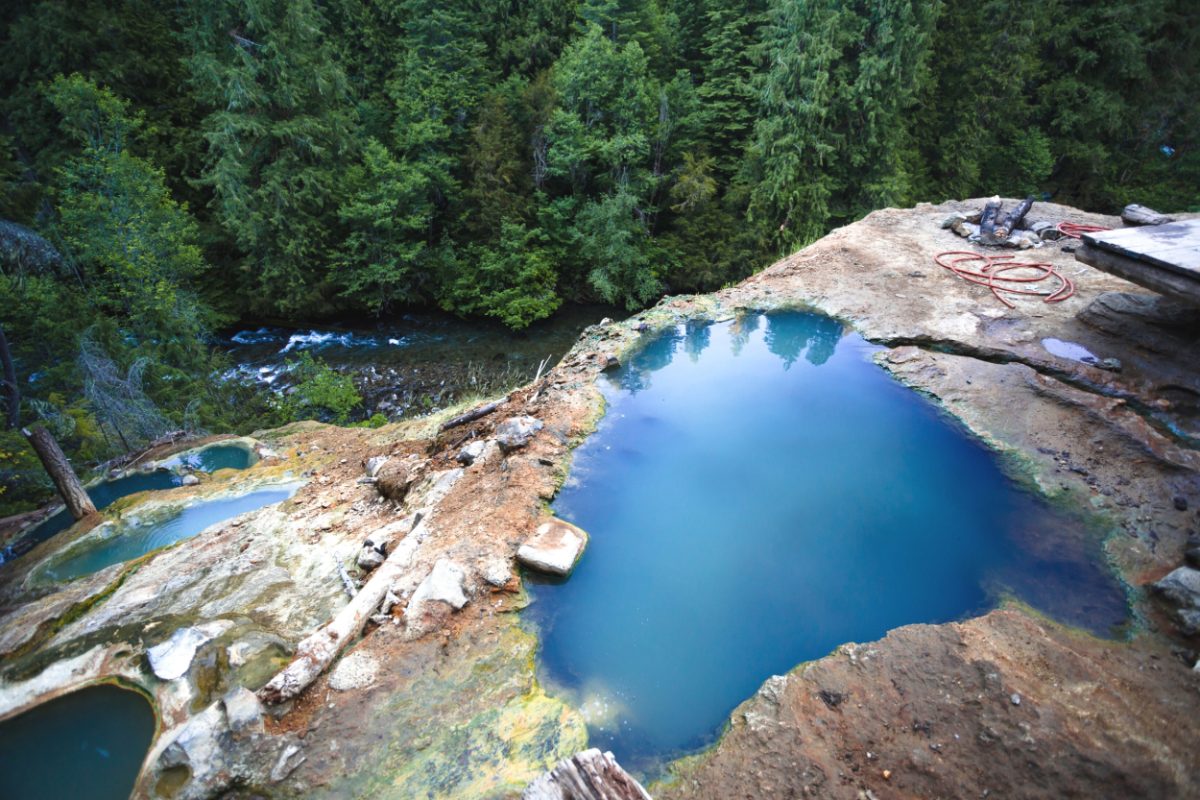 The deepest lake in the US, Crater Lake in Oregon was formed 7,700 years ago when Mount Mazama collapsed during a violent eruption. Now surrounded by what is Crater Lake National Park sitting atop the Cascade Mountain Range, the beautiful lake is a must-visit.
You can stay at the historic Crater Lake Lodge that was built in 1915 in Rim Village and is open from May to October.
To get your fill of the beautiful landscape do the Crater Lake Rim Drive between May and November; and stop for a look at the Devil's Backbone, Pumice Castle Overlook, Discovery Point, Vidae Falls and more.
And take a boat tour to Wizard Island to swim, hike and explore the island.
Other Important Info
The closest campground to the Umpqua Hot Springs is the Toketee Lake Campground.
The hot springs might be difficult to access during rainy or cold weather.
Entrance to the hot springs is $5 a day or with a NorthWest Forest Pass.
The trail to the pool is steep. Wear good hiking shoes.
The best hiking spots in Crater lake are Plaikni Falls and Garfield Peak.
You can stay at Mazama Campground and Village and Lost Creek Campground while at Crater Lake.
Where to Stay in or near Crater Lake
Klamoya Sleep Inn & Suites – Featuring an onsite casino.
Crater Lake Resort – Spacious cabins close to Fort Creek.
Eagle Crater Lake Inn – Studios and suites at this Inn in Chemult are the perfect base for visiting Crater Lake National Park.
---
Day 5 / 6: Mount Hood + Bagby Hot Springs
Mount Hood is surrounded by amazing ski resorts that are perfect for skiers or all levels. It's also home to beautiful lakes and hiking trails. If you're an Instagrammer, you can also visit Trillium Lake which is a popular spot for shots with reflections of the sky.
The Timberline Trail, Pacific Crest Trail, Mt. Hood Cultural Center and Museum must be added to your visit. If you don't have enough time, you could take an aerial tour of Mount Hood and the Columbia Gorge while you're in Portland. (This is on Day 1)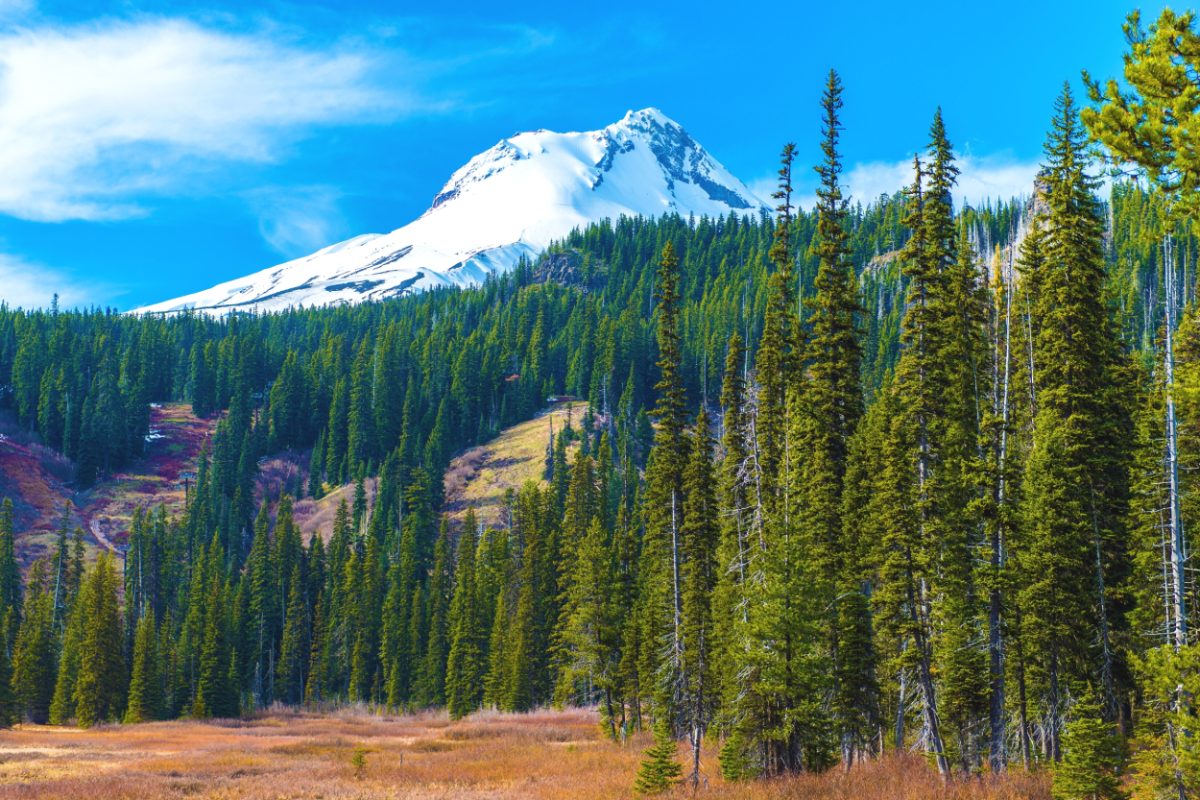 The Bagby Hot Springs at the Mount Hood National Forest are natural hot springs within the Cascade Mountains.
Surrounded by fir trees, these Bagby hot springs are accessed by a 1.4-mile (2.25 km) hike with spectacular views. The three hand-hewn log bathtubs and open deck round tub are reflective of the primitive forest facilities.
Other Important Info
Mount Hood is also a popular ski destination in winter.
There are three popular resorts in Mount Hood.- Mt. Hood Meadows, Timberline Lodge, Mt. Hood Skibowl.
The Bagby hot springs are clothing optional, but clothes are required in all other areas.
The soaking fees at Bagby are $5 per person.
Where to Stay In Mount Hood
Cooper Spur Mountain Resort – Lovely resort with comfortable and clean cabins and mountain views.
Whispering Woods Resort, a VRI resort – About 3.1 km from Wildwood Recreation Site, this resort in Welches has large suites perfect for families or goups.
BW Premier Collection, Mt Hood Oregon Resort – Featuring a 27-hole golf course, 2 restaurants and an outdoor swimming pool, this resort offers rooms of all sizes.
---
Day 7: Mount Rainier National Park
Mount Rainier rises to 14,410 feet above sea level in Washington. An active volcano, the peak is the most glaciated in the US and gives rise to 5 rivers.
The Mount Rainier National Park with its resplendent wildlife is perfect for hiking and climbing with over 30 popular trails covering over 260 miles (420 km). Peaceful lakes, forests, and streams are perfect for exploring on your own or with friends.
For shorter day hikes choose the Trail of the Shadows, Rampart Ridge Trail, Pld Mine Trail, Chenuis Falls Trail, and the Twin Firs Loop Trail.
If you wish you can join a small group tour of the National Park or join a group tour that includes lunch at a popular cafe in Mount Rainier.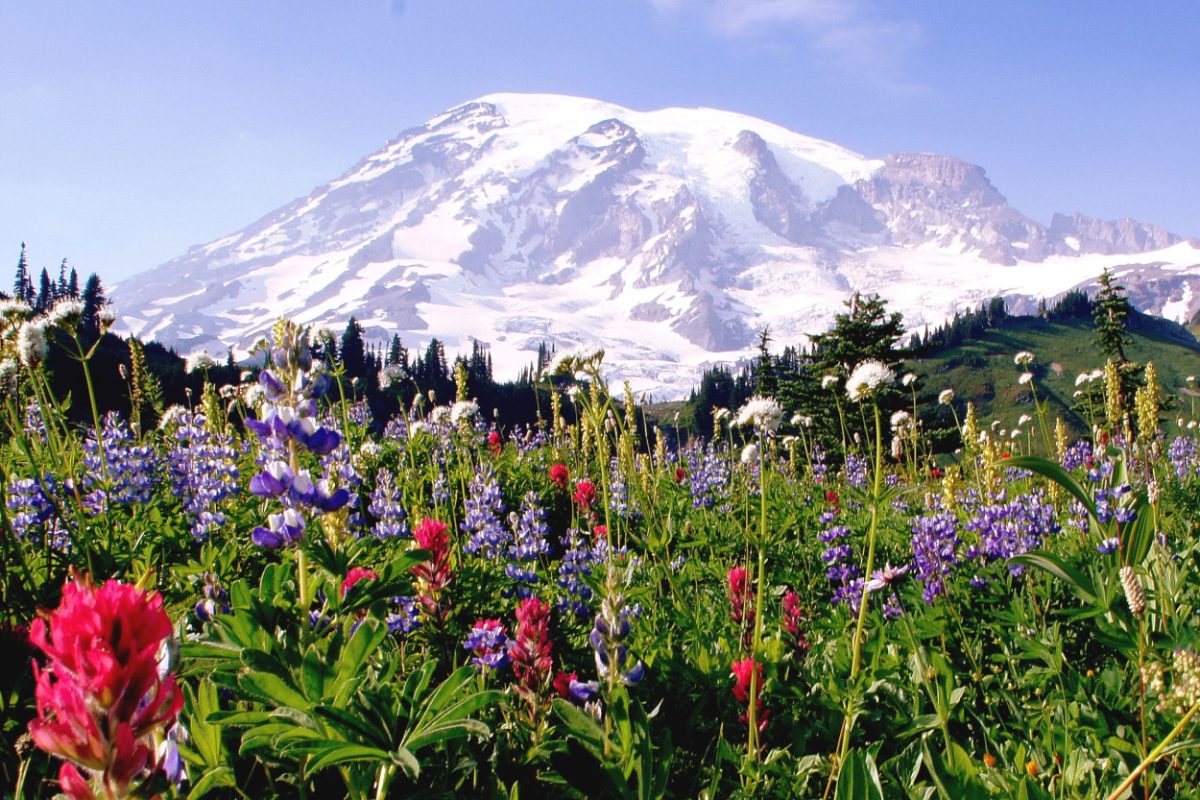 Where to Stay near Mount Rainier
Nisqually Lodge – About 8 km from the park with good forest views.
Mountain Meadows Inn – This quiet inn close to Ashford OCuntry Park offers traditional suites, studios, and 3-edorom homes.
Bonus Tip: It's best to add an extra day to Mount Hood and Mount Rainer Parks because driving takes a long time.
---
Day 8: Seattle
The largest city in the state of Washington, Seattle is surrounded by mountains, forests, and lots of water. From the iconic Space Needle to the blend of modern and rustic attractions, there's a lot to do in Seattle – even with kids.
Take a foodie tour of Pike's Place market or go on a cruise in Puget Sound. Explore the underground passageways of the historic Pioneer Square.
There's a lot to see in Seattle, from the world's first Starbucks to the Chihuly Garden and Glass, to the Ballard Locks and Elliot Bay. Get an amazing view of Kerry Park from the Space Needle, or soak your feet in the tidepools at Golden Gardens Park.
Take pictures of the amazing houseboats in the marina or eat seafood at Alki Beach. There's so much to do in Seattle, you can easily spend a few days here.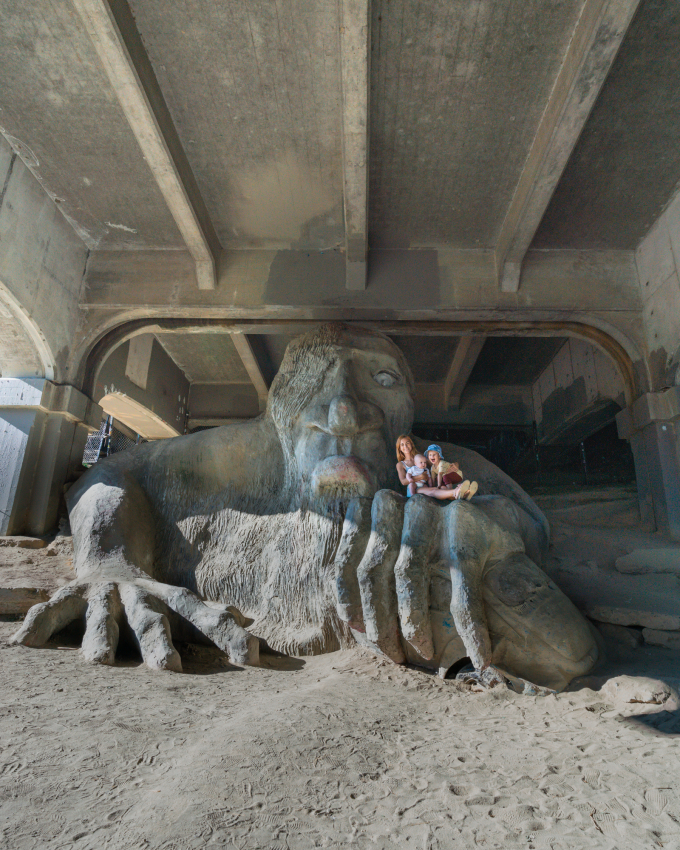 Other Info About Seattle
Take pics with the Fremont Troll under the George Washington Memorial Bridge.
Pike Place Public Market is the oldest continuously-operating market in the US.
Take a walking chocolate tour with tastings to discover the importance of chocolate to Seattle.
The Mediterranean Inn – The rooftop patio at The Mediterranean Inn offers panoramic views of the Seattle Skyline, Mount Rainier, the Olympic Mountains, and Elliot Bay.
Warwick Seattle – Offering uniquely decorated rooms just a short walk from Pike Place Market.
Mayflower Park Hotel – Set in a historic hotel with traditional furnishings that was built in 1927.
---
Day 9: National Forests around Seattle (cabin or treehouse stay)
Seattle has the 7th-most-highest density of trees in the world, and it's second only to Sacramento in the US.
Seattle is within driving distance of Olympic National Park, North Cascades National Park, North Cascades National Park, Okanogan Wenatchee National Forest, EC Manning Provincial Park, Cougar Mountain Regional Wineland, and Mt Baker Snoqualmie National Forest. These lush forests and woodlands are perfect for exploring on your own at a slow pace.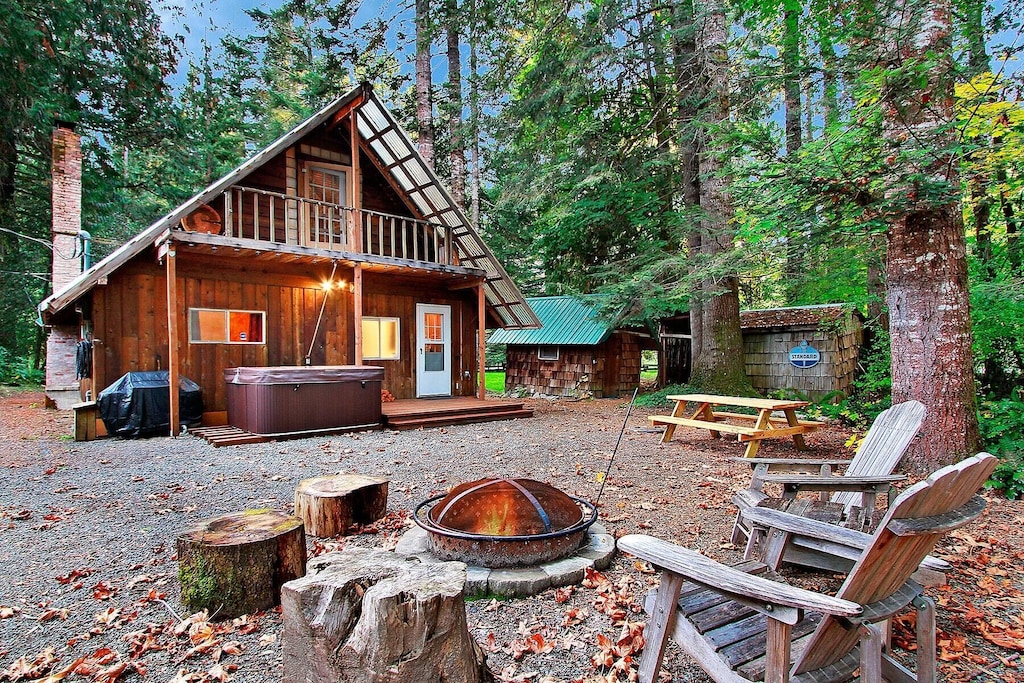 But if you're only spending the day here, you can choose from a variety of tours that show you the highlights of the forest in a day or half-day. Here are a few top choices.
Popular Park Tours Around Seattle
Where to Stay In Lodges, Cabins or Treehouses
Cottage Lake Bed and Breakfast – Suites at this cottage have beautiful lake views, and guests also have access to the onsite library and kayaks.
Moon River Suites – A townhouse with 2 bedrooms, and a fully equipped kitchen located on the South Fork of the Snoqualmie River with perfect views of Mount Si.
The Cabins at Beaver Creek – Beautiful cabins where you can sit on the porch and listen to the river.
---
Day 10-11: Olympic National Park
The vistas in the Olympic Peninsula are jaw-dropping. Olympic National Park covers an area of 922,000 acres, and although it's included in the list of national parks above, it deserves a special mention.
It's home to Hurricane Hill, a paved 1.6 mile (2.6 km) trail that offers views of the surrounding mountains and seas. Klahhane Ridge is another popular trail with a 2.8 mile (4.5 km) hike.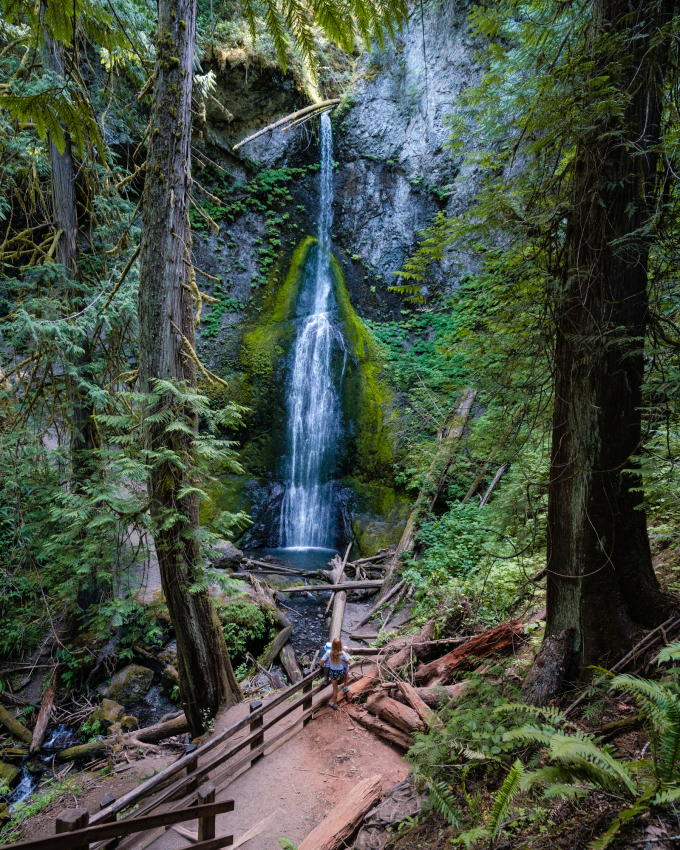 The Hoh Rain Forest and Hoh River Trail require a good amount of energy to tackle.
If you want to see all there is to see in a short time, take a small group tour of the World Heritage Olympic National Park, explore Lake Crescent and drive up to Hurricane Ridge for amazing views of Strait of Juan da Fuca, and San Juan Islands.
Other Important Info About Olympic National Park
The diverse ecosystem also includes over 70 miles of coastline.
There are around 800 lakes and 4000 miles of rivers in the Olympic National Park that offer some of the most extensive runs of wild salmon, trout, and char in the PNW.
A free Washington State catch record card must be acquired if fishing for salmon or steelhead.
The tidepools at Mora's Hole in the Wall and Kalaloch's Beach 4 are some the most popular.
Be careful of the sneaker waves while visiting the tidepools.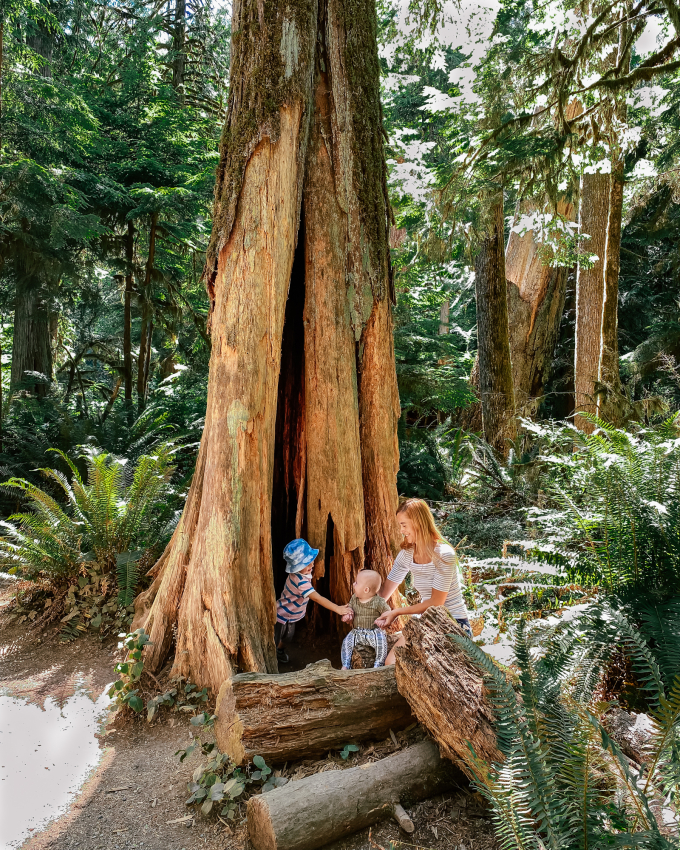 Where to Stay Near Olympic National Park
Olympic Lodge by Ayres – This classy lodge at the base of the Olympic Mountains offers complimentary Rain Shadow Coffee daily 6 am to 10 am.
Super 8 by Wyndham Port Angeles at Olympic National Park – This traditional hotel in Port Angeles offers rooms, suites, and studios.
Hoh Valley Cabins – Well-equipped bungalows in Forks that exceed every expectation.
---
Day 12: Stay in one of many cabins on the way up north.
There are so many charming cabins in the forested around Seattle, you'll be spoilt for choice on which to pick. Choose something that's nested in nature but close enough to groceries and attractions that you need to visit.
Luxurious Log Cabin at White Pass – Large spacious cabin with mountain views and barbecue facilities perfectly located near excellent skiing, snowboarding, snowshoeing, fishing, hiking, kayaking, boating, paddleboarding, and swine/beer tasting venues.
Alpine Thyme Cabin – A short walk from the fish lake in Leavenworth, this cabin has a boat dock nearby and is perfect for hiking, skiing, fishing, and kayaking.
Large Cabin Style Home with Hot Tub and Sauna – This beautiful 306 m² cabin is a short walk from the beach and hiking trails. Featuring a spacious deck, sauna, and outdoor jacuzzi it's perfect for a fancy rustic vacation.
---
Day 13: Cascades National Park + Leavenworth
Another National Park within the Washington State Area, the North Cascades National Park is about 3 hours drive from the north of Seattle or about 8 hours drive if you go from Olympic National Park via Tacoma and Leavenworth to North Cascades.
The rocky forested valleys are perfect for hiking or snowshoeing against the backdrop of snow-covered peaks. You can take hours or weeks to explore it.
While traveling from Olympic Park to North Cascades, make sure you stop awhile at Leavenworth. This Bavarian-style village in the Cascade Mountains is home to Alpine-style buildings and restaurants serving German food and beer.
Considered a gateway to neighboring ski towns, Leavenworth is perfect for wintertime adventures such as skiing and sleigh rides, or summertime activities such as camping, biking, horse riding, river tubing, fishing, climbing, and more.
Other Important Info
Leavenworth is popular for birding and watching migratory birds in spring.
You can visit the Icicle Brewing Company and the Doghaus Brewery which is located in the former morgue of the Cascade Sanitarium.
There are many popular eateries in Leavenworth, from Visconti's authentic Italian food to Andreas Kellers schweinshax'n, to Mozart's Steakhouse, La Javelina Texas Kitchen, and Leavenworth Cider House.
Where to Stay In Leavenworth
FairBridge Inn & Suites – A short walk from the town center, this hotel features an indoor pool.
Der Ritterhof Inn – Large spacious rooms with traditional decor close to love cafes and restaurants.
Linderhof Inn – Another bavarian-styled inn filled with beautiful flowers in the springtime and serving the most delicious cheesy hash browns and cinnamon rolls for breakfast.
---
Day 14: Drive back and fly out of Seattle or continue to cross the border into Canada
Spend the last day driving back to Seattle and picking up last-minute gifts and trinkets for the loved ones there. If you want to spend a few days here, the hotel suggestions are the same as earlier.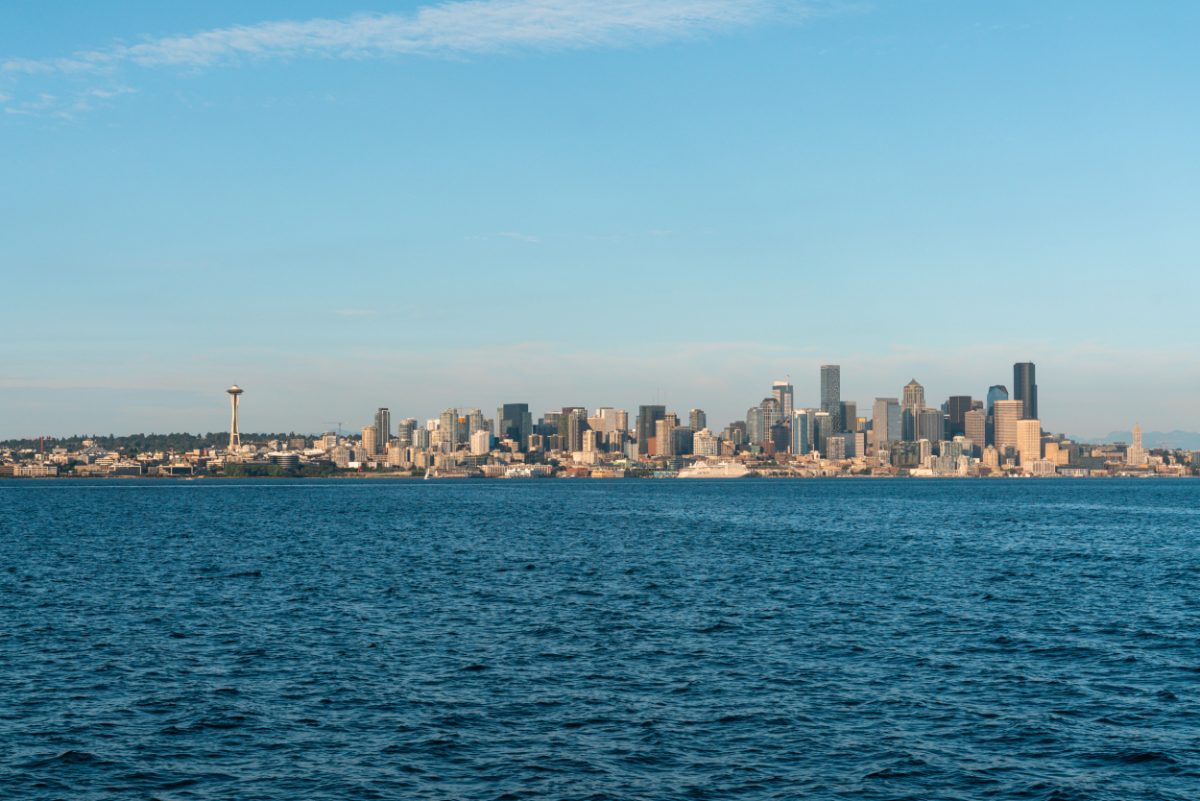 From here you can fly out of Seattle to return home or cross the border into Canada and continue your adventures.
Any questions about this itinerary, comment and let me know!