Seattle is known for its many fantastic attractions. Many great rock bands used the Seattle music scene as their launch to become some of the most successful rock bands known to the world, including Pearl Jam, Nirvana, and Queensryche. But, let's not forget about Seattle coffee!
Unlike the music, these locations typically don't expand beyond their local region (aside from Starbucks), which means they provide you with the true authentic Seattle coffee experience.
In our list below (created by locals!), there is something for everyone, no matter if you're a sweet coffee lover, someone who goes to the café for the atmosphere or someone who loves their plain black hot cup of coffee.
Take some time to read through our selections of coffee shops throughout the city! We've included their menus, as well as the GPS location of each.
Starbucks Reserve Roastery
Map It: 1124 Pike St, Seattle, WA 98101 | View The Menu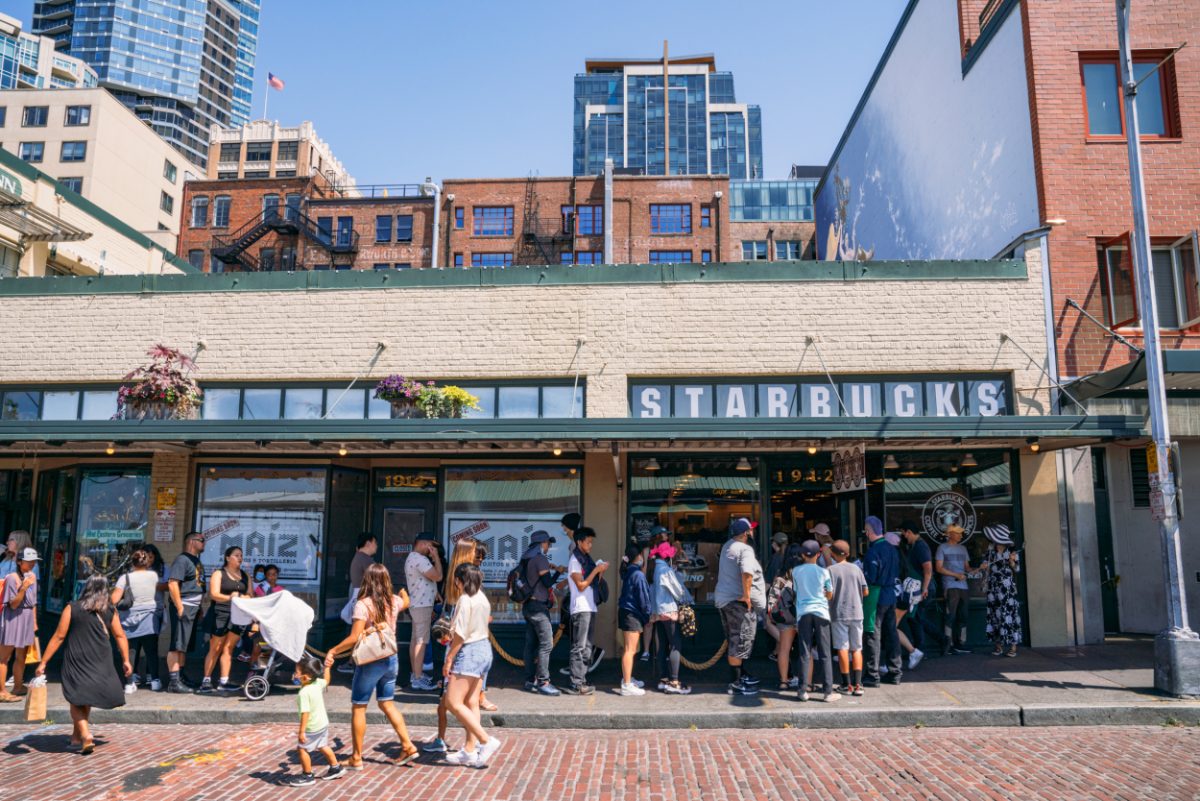 In 1971, the very first Starbucks opened in Seattle, and while you might think that this particular location made it on our list, this is not the Starbucks we are talking about.
Sadly, the original Starbucks is still a basic Starbucks and is entirely void of the sophistication and quality that it once harnessed. However, the Starbucks Reserve, a deluxe enhancement from the standard franchise coffee, was introduced after Starbucks acknowledged the calls for a better-tasting brew.
What's different about the Starbucks Reserve is that they distinguish themselves from the initial Starbucks beverages by specializing in small-batch roasting and scarce, top-quality coffee.
If you're visiting Seattle, it's worth the stop because you will finally get a taste of what Starbucks once offered. Don't be shy; try anything and everything, as these drinks are unavailable at your standard Starbucks locations throughout the country.
Coffeeholic House
Map It: 3700 S Hudson St, Seattle, WA 98118 | View The Menu
One of the most distinctive cafés in Seattle that is a must-see is Coffeeholic House. There are two locations total, one in the Columbia City portion of Seattle and a newer location in Greenwood; both offer Vietnamese coffee.
The coffee here is different from most cups of coffee that people are accustomed to. Coffeeholic House produces its coffee using sweetened condensed milk, creating a sweet-tasting coffee that's great for people with a sweet tooth or those just looking to experience something a bit different.
Some of the drinks are also finished off with a sweetened egg foam, which is unique and sets this place apart from other coffee shops in Seattle.
If you're unsure what to order, we highly suggest either the Coffeeholic Dream or the Purple Haze; these are top sellers. Be careful; after ordering one of these, you'll be sure to return to this café when you find yourself back in Seattle.
Ghost Note Coffee
Map It: 1623 Bellevue Ave, Seattle, WA 98122 | View The Menu
Every beverage prepared here begins with single-origin beans, and even the prepared coffee is produced using a customized espresso machine.
The menu includes bean alternatives as well as the tasting notes so that beginners and coffee fanatics alike can discover their preferred tastes. It takes the coffee experience to a whole new level!
However, there is one drink that you absolutely have to try when you visit this coffee shop, and that's the Sunship.
The Sunship is served with torched rosemary inside of a martini glass. It consists of an espresso-based concoction that includes rosemary syrup, coconut water, sparkling water, lime, and smoked grapefruit. That's all we're telling you! Oh, and it's vegan friendly.
It can be simple to dismiss coffee-based mixed beverages as a fad unrelated to the emphasis on beans and skilled artistry, but Ghost Note shows why doing so is a bad idea.
Distant Worlds Coffee
Map It: 6417 Roosevelt Way NE, Seattle, WA 98115 | View The Menu
Distant Worlds is a unique coffee shop in Seattle that attracts all members of science fiction culture which includes tabletop enthusiasts, D&D players, and fantasy fans.
As soon as you arrive, you will notice all the board games and books that are out for use at your disposal. You can also browse the handmade arts and crafts collection. Open mic nights and other entertaining events are held at Distant Worlds.
If you're shy, there's no need to be! This coffee shop strives to embrace a friendly atmosphere, anyone who is not also striving for the same will be asked to leave.
As far as their goodies go, they provide a range of brunch and pastry dishes that are all vegan, vegetarian, and hypoallergenic in conjunction with their coffee.
Monorail Espresso
Map It: 510 Pike St, Seattle, WA 98101 | View The Menu
Monorail Espresso is a little hole in the wall, run-down establishment in the Westlake neighborhood of downtown Seattle. But don't let that fool you!
Since the 1980s, when they first opened, they have remained in operation. Since then, they have developed a mastery of the traditional Seattle coffee, elevating them to the status of one of Seattle's top coffee establishments.
Their espressos are robust and thick, and their lattes are creamy. A visit here is essential if you don't have many opportunities to experience other cafés but want to establish a benchmark for Seattle coffee.
They're also great if you are someone who isn't big into the 'fru-fru' coffee drinks. The best aspect of Monorail is in the way they roast and brew their coffee.
Elm Coffee Roasters
Map It: 240 2nd Ave S #103 Seattle, WA 98104 | View The Menu
The distinguishing characteristics of Elm Coffee Roasters, a roasting and coffee house that appreciates the coffee shop experience, are single-origin coffee beans with small-batch roasting.
Elm Coffee Roasters is about more than just the coffee; it's also about having a friendly vibe and a location to enjoy interaction with people. The distraction-free, sleek, modern setting is a wise choice because it encourages dialogue over a delicious cup of coffee.
So, when you visit, feel free to leave your devices behind. Or, if you want a few photos for your Instagram or Facebook, take them, and turn your phone off. Let yourself be engulfed by the Old World Seattle coffee experience!
Seattle Coffee Works
Map It: 108 Pine St, Seattle, WA 98101 | View The Menu | (206) 340-8867
Seattle Coffee Works tries to steer clear of the snobby atmosphere that certain coffee shops usually have in the area. This is another establishment that specializes in single-origin coffee. They roast it efficiently to enhance the taste.
Despite having a wide selection of roasts and beans, medium and light roasts are among the most popular, which is what you should order should you decide to visit.
The décor combines elements of classic and modern coffee shops to create a peaceful atmosphere. Seattle Coffee Works is the ideal coffee shop, regardless of whether you want an atmosphere to socialize, or a place to dive into your favorite book while enjoying your cup of coffee.
Bonus Coffee Shops in Seattle:
Find yourself outside roaming outside the heart of Seattle? Try a few of the local espresso drive-thru stands! Experience great coffee on the go: