Seattle is one of those cities that you absolutely must visit! There's so much to do, so many things to see. It's easy to fill up your itinerary, but have you decided on a place to stay yet? If not, don't worry!
Seattle is huge! It's just a little over 83 square miles, to be exact. Booking a place to stay in "Seattle" doesn't necessarily mean you will be close to your activity of choice. Seattle is broken down into several sections, so this guide is to help you choose your preferred stay by location.
Part of your experience in Seattle is going to also be your stay. There are both luxury and budget hotels and a list of some popular things to do in each area! Let's get into it.
Downtown – The Heart of Seattle
Downtown Seattle is what everyone thinks of when visiting Jet City. In this area, you have everything from your favorite types of eateries, such as Korean BBQ, local seafood specialties, and the good 'old burger and fries.
Some of the must-see places here include the Seattle Art Museum, which boasts 25,000 pieces from around the world. There's also the Seattle Center Monorail you can ride, Pike Place Market, and the Seattle Great Wheel on the waterfront.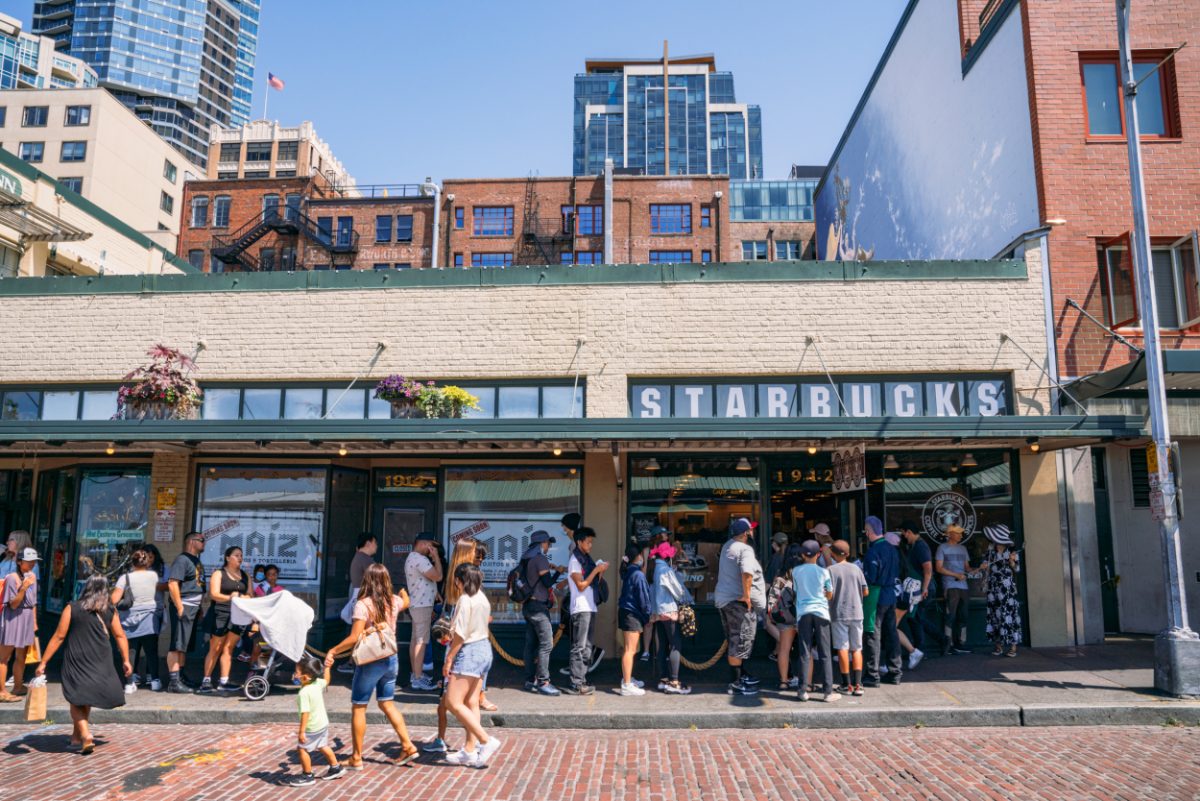 Top 3 Activities in Downtown Seattle
1. Visit Pike Place Market
If you love your local farmers' markets, you will love Pike Place! It has been operating since the early 1900s, and is among the oldest established farmes' markets in the USA.
You'll find fresh seafood and produce, over 200+ shops that include local artists and local business goodies, and over 80 restaurants.
The Market is open every day. You can book a guided walking tour or take a tour run by a professional chef.
2. Try Gourmet Coffee At The Starbucks Reserve & Roastery
The Reserve & Roastery is unlike any other Starbucks location you have been to as the roasting process is nothing shy of perfect.
There are many different variations of coffee here, so come prepared to try as much as you can! You will leave with more knowledge of coffee than ever and probably full of energy.
3. Take A Ride Into The Space Needle
The Space Needle is a 650-foot iconic landmark in the middle of downtown. The lower deck is a glass bottom that you can stand on it and watch as the floor revolves. You also have the option to try the virtual bungee jump or grab a bite to eat in the revolving restaurant at the top of the Needle.
The Needle is right next to Seattle Center. You can hop on some rides, catch fun and unique shows, or walk around and get your fix of fair food and carnival games.
Fun Facts About Downtown Seattle
Onions are what ultimately started Pike Place because locals loved the fresh foods from nearby farms.
Superheroes were real in Seattle. Benjamin Fodor would run around downtown Seattle, stopping crime, helping people, and serving as an overall role model.
The Space Needle began with a trip to Germany, in which the tower was drawn onto a napkin by Edward E. Carlson (also the organizer of the 1962 world fair.)
Where to Stay in Downtown Seattle
Below are some of the best places to stay in Downtown Seattle!
Luxury Hotels in Downtown Seattle
This luxurious hotel is within walking distance from the Seattle Art Museum (2 minutes) and Pike Place Market (5 minutes).
Focused on lathering their guests in luxury, it features a rooftop infinity pool, a full spa, and wood and stone detail in every room. You can't miss the comfy, pillowtop beds!
This Inn is inside Pikes Place Market. Yes, inside! If Pike Place is your main reason for visiting Seattle, you should book a room here. For the cheapest rooms, it's under $150. (Prices are always subject to change.)
The hotel overlooks Elliott Bay and offers a rooftop deck, free Wi-Fi, and a bar onsite. The rooms are comfortable, spacious, and filled with the beautiful aromas of the Market.
Lotte is a gem, smack dab in the middle of Downtown Seattle and less than 3 miles away from Pocket Beach. It includes a restaurant, bar, and fitness center and even offers guests private parking if they rent a vehicle.
Budget Hotels in Downtown Seattle
This charming, chic hotel is in the heart of downtown Seattle and within walking distance of Pike Place and the Seattle Art Museum. Many sites host a variety of deals for this hotel, so you're sure to get a room for under $100 per night.
Warwick Hotel is a great stay if you're looking for luxury on a budget. The rooms here are spacious and very comfortable, complete with private, Juliet balconies. Any room above the 5th floor will give you sweeping views of the gorgeous city below.
Plus, it's not far from the Space Needle or Pikes Place Market, so you're still in the heart of downtown and within walking distance of most activities!
---
Queen Anne / Lower Queen Anne- Seattle's Two-For-One Neighborhood
Queen Anne is the site of the 1962 World's Fair and has both an Uptown and Lower section. This is the perfect location if you have a wide variety of interests, as you'll have access to museums, theaters, the Space Needle, and the Hockey Arena.
Not to mention, there are many favorite eats and drinks in the area, such as Queen Anne Beerhall for the local brews and sausages, as well as diner food at the Citizen Café and Bar.
This gorgeous neighborhood is also known for its architecture and boasts a wide variety of Queen Anne-style and modern homes. So, if you need a break from downtown, feel free to stroll around the neighborhoods or take a local historical tour!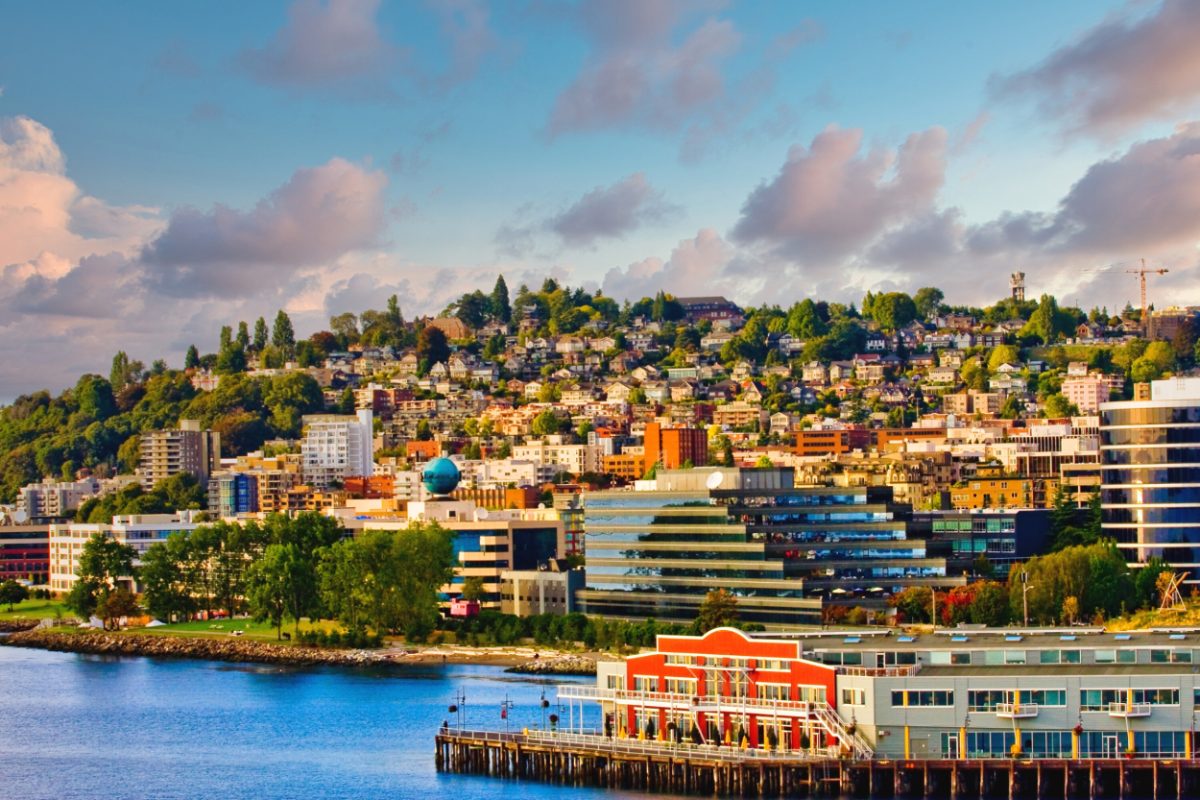 Top 3 Activities in Queen Anne
1. Climb the Stairs
In Queen Anne, there are over 100 sets of stairs around the neighborhood. You can climb these to get up the hill and have a fantastic view of the city!
2. View Seattle From Kerry Park
Kerry Park is a trendy place for all sorts of photographers and videographers, and it's even been featured in several music videos and movies. This is the best place to see Seattle's skyline without leaving the city.
3. Visit the Pacific Science Center
The Pacific Science Center has everything from a butterfly house and planetarium to an IMAX theater! It's great for family and solo adventures alike. Many of their exhibits are hands-on and interactive, and you won't be disappointed.
Fun Facts About Queen Anne
Queen Anne's first name was Eden Hill, an associated part of Downtown Seattle due to its proximity.
The name of the city falls after its style of homes. Many of the houses in the neighborhood are 19th-century Queen Annes.
The city was built on a 456-foot hill that boasts tons of stairs all over the hill that lead to different places.
Where to Stay in Queen Anne
Below is a list of the best places to stay when you want to be in the heart of the city but also out of the chaotic scene.
Luxury Hotels in Queen Anne
Homewood welcomes their guests by including a kitchen in every suite and daily hot breakfast and Wi-Fi. Their modernly sleek rooms include a workspace, and a cozy bed to get your rest.
This home away from the home hotel is perfect for anyone near Pike place or the Space Needle. It's also perfect for those waiting to embark on their cruise, as it's about a half mile from the Port of Seattle.
A previous hotspot for Foo Fighters, the Beatles, and Pearl Jam, Edgewater Hotel is a local gem on Pier 67, just a short distance from downtown.
The coolest part? You're literally on the water! This luxurious hotel even offers sheet music, record players, and complimentary rental guitars!
Budget Hotels in Queen Anne
If you want the biggest bang for your budget, the Mediterranean offers fantastic rates with spacious rooms complete with the best hospitality. On their rooftop terrace, you can see Mount Rainier, the Space Needle, and Seattle's skyline!
Featuring colorful interiors with original artwork, the rooms also include iHome Bluetooth docking stations. Guests can enjoy delicious pineapple treats and free coffee in the afternoons.
The best part is you're still within walking distance of the Seattle Space Needle, Monorail, and many other activities.
---
Green Lake – Most Popular Park In Seattle
Green Lake is a suburban area of Seattle, mainly residential. However, it has its fair share of local hotspots.
This area is a liberal neighborhood that has a younger population. Many excellent restaurants, bars, local parks, and coffee shops exist. It's the perfect place to visit if you still want the Seattle experience without the large crowds.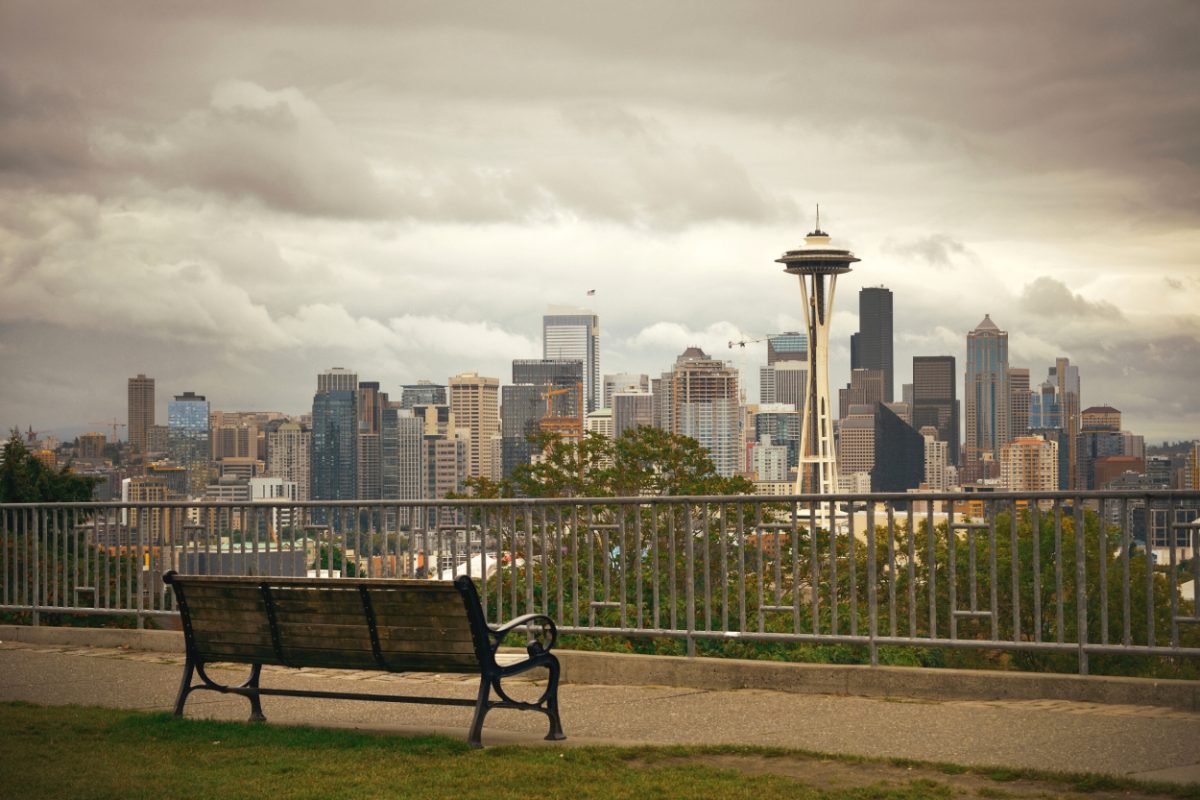 Top 3 Activities in Green Lake
1. Take a Stroll around Green Lake
A paved trail leads around the lake; it's only 2.8 miles! There are two lanes included so that bikers and skaters have their road, and anyone walking or jogging has their own.
You'll get beautiful views of the lake and the lush green park surrounding it. It's the perfect place to immerse yourself in nature.
2. Take a Boat Out On The Lake
The Green Lake Boathouse allows you to rent everything from water bikes and paddle boards to pedal boats and kayaks.
However, it is only open during the warmer seasons. You can expect to pay around $25 to $30 an hour, and prices are always subject to change.
3. See Duck Island
Duck Island is a manmade wildlife habitat. You can sit on a few benches across the water from the island and watch all the ducks and birds that stop and play on the island.
Fun Facts About Greenlake
Green Lake is no deeper than 30 feet in its deepest spots and has a 259-acre surface area.
An inner trail around the lake is paved, making it wheelchair friendly, both powerful and manual.
The Green Lake Aqua Theater hosted the first Seafair event.
Where to Stay in Greenlake
Green Lake is an excellent choice if you're looking for the perfect place to stay outside the main parts of the city!
Luxury Hotels in Greenlake
Hotel Nexus is a genius in mixing fresh, retro, and vintage-style atmospheres with the most modern accommodations for their guests. They offer a complimentary shuttle, so you don't have to worry about transportation, and are a dog-friendly venue.
This fantastic accommodation is best known for its comfort, location, and amenities. Guests have a fitness center, indoor pool, and comfy mattresses with down pillows and comforters.
Additionally, you are around 3 miles from the University of Washington and the Woodland Park Zoo. Within 7 minutes of walking, you can take public transportation into the city from Northgate Station.
Budget Hotels in Greenlake
This budget hotel does not cut corners when hosting guests, as they always prioritize comfort and offer complimentary parking for anyone who brings a car.
Comfort Inn & Suites is about 10 miles from the heart of downtown if you wish to step foot into the city for a bit. Furthermore, you're closer to Woodland Park Zoo or Green Lake Park.
This smaller stay prides itself on its simplicity. Each room features air conditioning, a microwave, and a fridge, and some even include a kitchenette!
It's located on Highway 99 and is just a quick bus ride or a drive to downtown Seattle. Depending on the season, most rooms are under $80, but the price is always subject to change.
This quaint hotel aims to make your stay accommodating and pleasant. Each room has a microwave, and the receptionists speak Spanish and English. The motel is located away from the city but in the middle of many activities.
The Space Needle is 7 miles away, while Westlake Shopping Center is 8 miles. The Museum of Pop Culture is about 7 miles away and closer to the airport. Don't have a car? That's okay! It's right on the bus line.
That's all about where to stay in Seattle while you visit the top sites in the city. Have a great time visiting Washington State's largest city, and let me know if you have any questions about where to stay here.