There's no question that the vast resorts of Walt Disney World dominate most itineraries in Orlando, FL. People flock from all around the globe to ride the Big Thunder Mountain, probe the curiosities of Epcot, whiz down the slides of the Typhoon Lagoon – the list goes on!
But your time in the self-dubbed Theme Park Capital of the World doesn't actually have to be about theme parks at all. Nope, once you're done meeting Mickey Mouse and gawping at Cinderella's castle, there's a whole load of other stuff to get stuck into in this corner of the Sunshine State. Plus, it doesn't cost as much as Disneyworld, so can easily be added as a bonus 😉
Cue this guide. It scours the super famous Space Coast and hops across to the sparkling waters of the Atlantic Ocean, all in search of the top things to do in Orlando beyond Disneyworld. Get ready for adrenaline-pumping skydives, encounters with manatees, and even cosmic adventures into the solar system, folks…
---
1. Wonder at the rockets at the Kennedy Space Center
Calling all budding astronauts and cosmologists. The Kennedy Space Center is a veritable must if you're going to be vacationing in the vicinity of Orlando. The very beating heart of the so-called Space Coast, the site is written into the history books as the location where Apollo 11 took off on its way to drop Neil Armstrong and Buzz Aldrin on the Moon way back in 1969.
There's plenty to see there today for adults and for kids. The first time I went was on my own and I had a blast, but I'm certain my kids would love it too – especially on days when they launch a rocket!
Walk through the prestigious Astronaut Hall of Fame to encounter the faces of the Space Race and cosmic exploration. Go to Mission Control and you'll stand in the very room where mankind engineered the Apollo landings. Hit the Rocket Garden to wander amid the massive engines that spurred the spacecraft into orbit on the Gemini and Mercury missions. It's endless.
Anyone who really gets into the cosmic vibe here might want to opt for a trip to the all-new Astronaut Training Experience (ATX) facility. That five-hour experience will put you through your paces, teaching you how to survey the surface of Mars and perform your very own spacewalk. See you on another planet!
If you're renting a car you can drive there yourself. It's an easy drive from the airport. If you don't want to rent a car, you can simply book one of the tours below:
---
2. Swim with Manatees in the Crystal River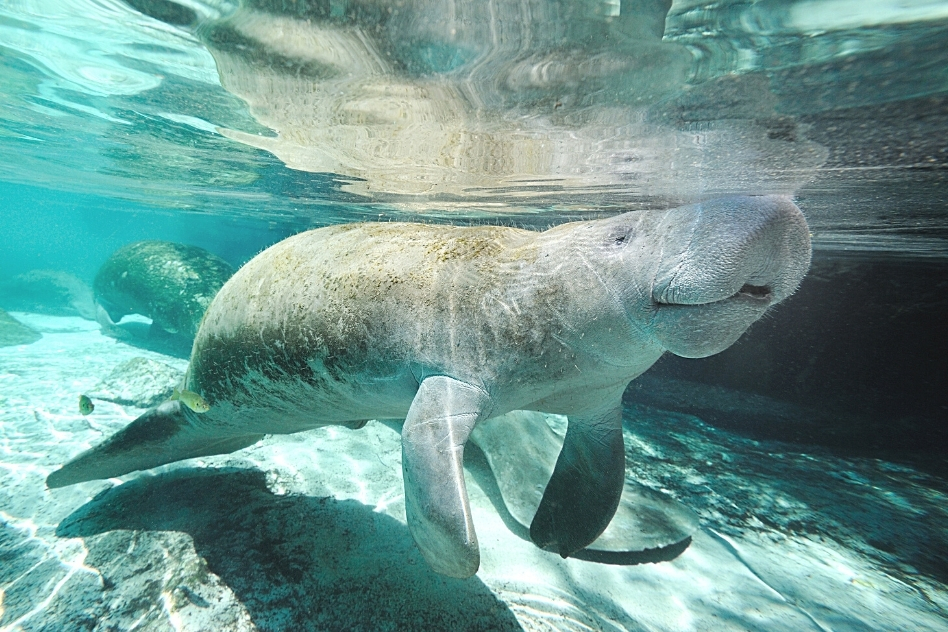 It's less than two hours on the Florida Turnpike from the peaking and troughing rollercoasters of Universal Studios to the see-through waters of the Crystal River. With its ancient hammocks and hardwoods and turquoise lagoons, the spot would make a nice trip with the family even without the added bonus of its winter inhabitants: Manatees.
Yep, the winding waterways and wetlands of Crystal River up in Citrus County are one of the few places in the whole of the United States where it's legal to swim with the galumphing cows of the sea. There are dedicated nature guides there to offer expert introductory lessons on how to behave around the endangered beasts. After that, you'll be taken to one of the gorgeous rivers for the all-important meet and greet.
You can make the drive yourself, but there's really no need. Organized tours offer early-morning pickups from Orlando and drop-offs at the end of the day. Packages also often include lunch, snorkeling gear may be included, as well as a 30-minute boat ride through the gorgeous tropical coastlands.
You really do need a guide to take you, so it's something you need to prebook. Here are a few options:
---
3. Spend A Night in Downtown Orlando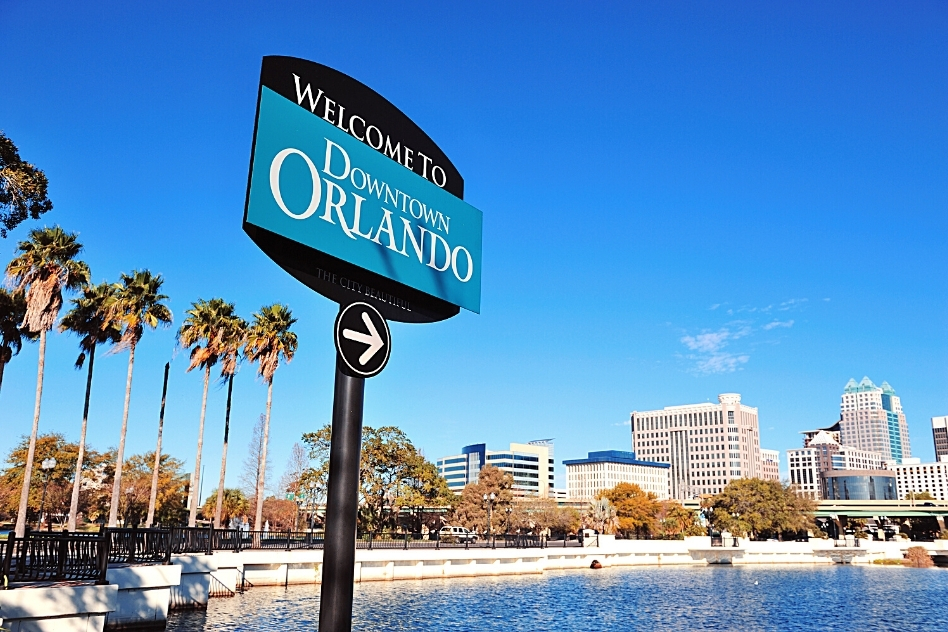 Orlando was a city long before it was a haven for theme parks, you know? Just north of Lake Buena Vista and the fairy-tale spires of Cinderella's castle, a lived-in town center still buzzes with life and energy. It's a darn fun place to explore, too, especially after dark when the nightlife gets a-rolling.
However, we'd say that it's a good idea to come early enough to appreciate the Downtown in the light. Then, you can wander the lawns and riverside paths of Lake Eola Park, an oasis of greenery in the metropolis, where it's possible to feed the ducks and swans and ride paddle boats.
From there, it's an easy hop to the west to find Church Street. This is the nerve center of the town. It's home to countless theatres with long histories, along with craft ale bars, steakhouses, and cocktail joints. Be sure to begin your evening with a sighting of the historic railroad station, though, which was raised here way back in the 1880s!
---
4. Skydiving above the Space Coast
Forget the viewpoints over the sawgrasses of the Everglades, folks. There's one seriously jaw-dropping way to appreciate the sheer beauty of the Sunshine State from way higher up…skydiving.
Yep, in true Space Coast style, the area around Orlando and Central Florida is now something of a mecca for those looking to fling themselves out of a perfectly good plane and drop more than 18,000 feet back to the sparkling beaches and wetlands below.
There are a number of outfitters running jumps just a short drive away from the Orlando theme parks. However, unquestionably the most popular of the lot is Central Florida Skydiving, also known as Skydive Space Center. They claim to offer the single highest tandem skydive in the world, along with a budget-friendly jump for just $99!
An alternative for those still unsure about whether plummeting to Earth with only a parachute for a company is for them would be the indoor skydiving offered by iFLY Orlando. That's super-close to the city itself. In fact, it's just a whisker north of the theme parks in Lake Buena Vista, right on International Drive.
Keep in mind that this activity depends on the weather. When I was doing it, they had to cancel it twice as it was too windy or rainy two days in a row.
---
5. Underwater Adventure in the SEA LIFE Orlando Aquarium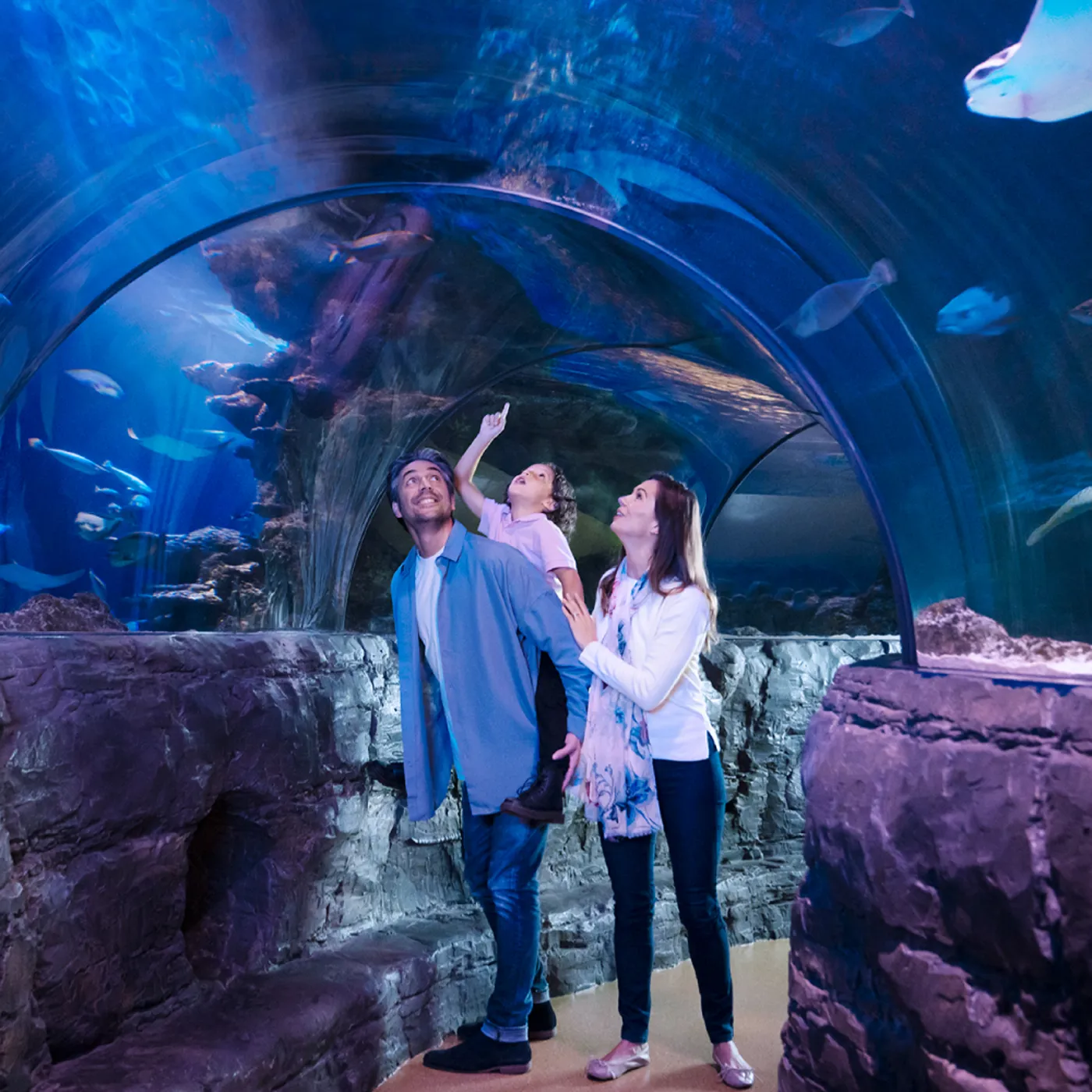 You won't have to venture too far to dive under the seas for an encounter with strange marine life. In fact, you don't even have to travel across to the Floridian coastline. Nope, the acclaimed SEA LIFE Orlando Aquarium makes its home smack dab in the middle of the rollercoasters, in the midst of ICON Park, just off the I-4, International Drive, and Universal Boulevard.
Inside, you'll traverse the state's only underwater walk-through tunnel. That opens up visions of a submerged land of reefs and rocks, where stingrays and loggerhead sea turtles drift overhead. Then there's the strange Jelly Wall, complete with bioluminescent moon jellies that glow an eerie blue, or the Coastal Rockpool, which recreates tide pools replete with starfish and anemones.
However, surely the sharks are the stars of the show at the SEA LIFE Orlando Aquarium. Yep, the center plays host to a whole range of the 420-million-year-old predators of the oceans. You'll see spotted zebra sharks, formidable tiger sharks, and even odd bamboo sharks with their gleaming yellow eyes.
---
6. Hit the Surf of Cocoa Beach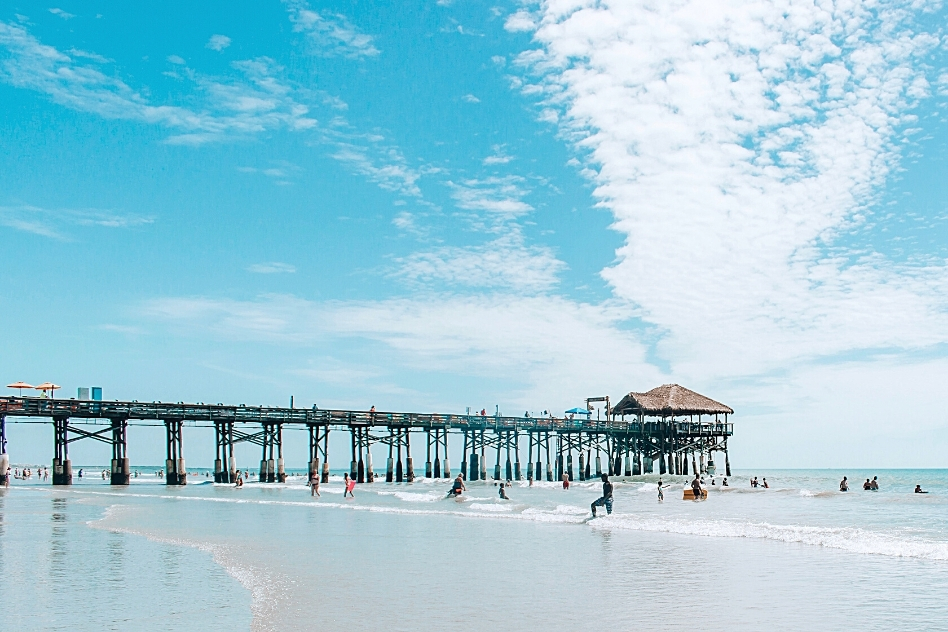 Cocoa Beach isn't just one of the closest Atlantic beaches to Orlando. It's also the place that gave the world Kelly Slater, arguably the most legendary surfer to ever rip up the waves. The art of wave riding continues to this day. The whole run of sand is known for its glassy swells, which can be particularly good for beginners outside of the hurricane season.
Check out the wealth of surfboard rentals and surf schools dotting the area around the boardwalk if you fancy giving it a go.
Talking of the boardwalk, that's a top place to head if you're not keen on pulling on the boardshorts. It's home to the vast surf-fashion outlet of Ron Jon (a colossal surf shop that covers over 50,000 square feet!). And it's got cracking places to settle in for some hearty Floridian surf n turf – check out Sandbar Sports Grill and Captain J's for some of the most legendary.
Of course, there's also lots of sand space for those who simply want to unfurl the towel and top up the tan. Just remember that this is the Atlantic side of the Sunshine State, so there are more waves and rip currents. You might be better off heading west if you've got the little ones in tow (check out Clearwater Beach below, for example).
---
7. Relax on Clearwater Beach
Another beach, only this time on the far western side of the Florida peninsula, Clearwater Beach is all about sampling the quartz sands and azure waters of the Mexican Gulf. Stringing along a barrier island at the far end of Interstate 4 past Tampa Bay, it's a glorious run of soft powder and bath-warm seas, often hailed as the very best beach in the whole of America, no less!
You could start your day at Pier 60, a big shopping and entertainment complex that juts out from the middle of the town and over the main beachfront. The beach is hemmed in by a lovely coast path, which soon gives way to a salt-washed dockside area packed with crab shacks and seafood kitchens.
The beach itself tends to get quieter the further north you run along the island. This takes you away from the surf-turf grills and up to the clusters of coast villas. Keep going and you'll eventually hit the reserves of the Caladesi Island State Park. There, the Sunshine State goes full Robinson Crusoe, with tranquil beaches scored by empty dunes and seaweed blooms.
---
8. Explore Kissimmee
The city of Kissimmee lies immediately to the south of Orlando. However, for folks hitting the fairy-tale castle spires of Disney World, it's an easy 30-minute drive down Florida's Turnpike to the town of Kissimmee. In fact, the theme parks and Kissimmee are so close that loads of travelers will even opt for a hotel in these parts when they come to experience the magic of Disney – rates tend to be a tad cheaper, and there are oodles of family-sized villas with pools up for grabs.
More than that, Kissimmee itself is a fun place to be. You can delve into the charming area of the Kissimmee Historic District. That's centered on Main Street and Broadway and comes with lots of little cafés that spill onto the sidewalks. You'll also find loads of shopping, in boutique clothes and jewelry stores, along with the curious Monument of States, which was raised in 1926 using something sourced from every single one of the US territories.
Family visitors might want to aim for the fun-filled Old Town attraction. It lies on the north-western side of Kissimmee itself, where it offers an action-packed array of themed pirate shops, British pubs, go-karts, fairground rides, and Mexicana taco restaurants.
---
9. Ocala National Forest
Calling all dedicated adventure buffs – the Ocala National Forest is one of the last swathes of true untouched Floridian backcountry there is. Up there with the Everglades and the Big Cypress National Preserve, it's among the largest protected areas in the state. Within, you can discover the typical habitats of this sub-tropical corner of the USA, including bald cypress thickets, gurgling springs, basin swamps, and prairies.
There are plenty of excellent hiking routes to take you through the whopping 430,000 acres encompassed by the Ocala National Forest. Among them, there are the fern-shaded boardwalks of the Salt Springs Observation Trail (pack the bug spray for that) and even portions of the uber-long Florida Trail, which connects up the Panhandle to central Florida. Be sure to keep your eyes peeled for gators, wild boar, gophers, and even black bears while you're on the tracks. The area is positively teeming with wildlife.
Others prefer to explore the Ocala Forest by the water. For that, there are countless canoe and kayak routes, not to mention high-octane airboat rides that whiz through the surrounding wetlands. You've also got ample opportunities for backcountry camping in Ocala, with pitches at Juniper Springs and Doe Lake alike.
10. See Bioluminescent Bay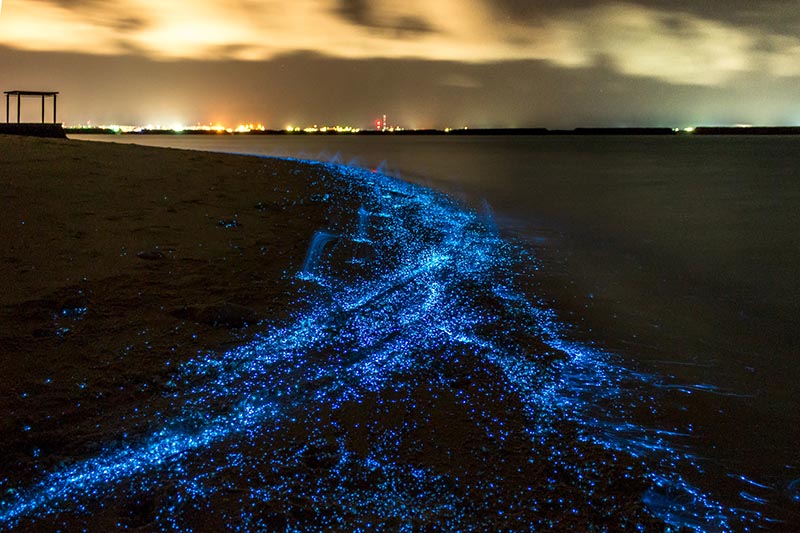 During the summer month, the Indian River Lagoon comes alive with Bioluminescent Plankton. Plankton grows in large numbers creating an amazing light show!
---
Bonus Tip!
If you plan on visiting Orlando for a few days, you'd do well to get one of the city's 2, 3, or 5 day passes. These passes give you discounted entry to over 25 attractions in Orlando.
Apart from the attractions listed above in this post, you also get entry to the Titanic – the Artifact Exhibition, Legoland Resort, Starlite Majesty Daytime Cruise, The Wheel at ICON Park, Gatorland, Daytona International Speedway All Access Tour, American Police Hall of Fame and more. Click here for more info!
Where to Stay In Orlando, Florida
Luxury Hotels in Orlando
JW Marriott Orlando Grand Lakes
Featuring an epic pool, beautiful grounds, and spectacular views of the lake, this 5-star hotel near Universal Studios is both luxurious and classy. Seven onsite restaurants and a poolside bar cater to the needs of the stomach, while an extensive fitness center and spa help you burn those calories off. Fly fishing excursions and kayak tours can be arranged.
Waldorf Astoria Orlando
Located on a 482-acre nature preserve next to Walt Disney Resort, this hotel features an 18-hole golf course, a lazy river, kid's club, 2 swimming pools, private cabanas, and a full-service spa. 12 onsite restaurants provide fantastic drinking and dining facilities, while rooms include every luxury.
Arnold Palmer's Bay Hill Club & Lodge
Feels like staying in an Arnold Palmer museum, this Club features a 27-hole championship golf course, a Junior Olympic-size pool, a well-equipped spa, and an onsite Bay Hill Pro Shop that sells signature golf equipment. Guests can choose from rooms, suites, or entire houses.
Mid-Range & Budget Hotels in Orlando
Embassy Suites by Hilton- Lake Buena Vista Resort
This all-suite hotel with exceptional amenities is also family-friendly and perfect for travel with young ones of all ages. Take advantage of the happy hour with drinks and snacks every evening, or watch the nightly movie on the big screen in the pool area.
Rosen Shingle Creek Universal Blvd
This elegant resort covering 230 acres features its own golf course, full-service spa, 4 swimming pools with one of them being adult-only. Guests can participate in the golf academy, go fishing or explore scenic walking trails. Dinner can be had at any of the four onsite restaurants, including the legendary steakhouse, A Land Remembered, named after the book by Patrick Smith.
Universal's Loews Sapphire Falls Resort
This Carribean-inspired resort looks like an island paradise. One benefit of staying here, is that rooms and suites include Early Park Admission to Universal's Volcano Bay Park, as well as free transfers to Universal Studios and Islands of Adventures. Try to book a room with lagoon views!
La Quinta Inn by Wyndham Orlando International Drive North
The Inn is located off Kirkman road where you can avoid the International Drive traffic. La Quinta Inn offers spacious rooms and suites with seating areas, ironing facilities, coffee machines, microwaves, and small refrigerators. Guests also have access to an onsite pool and laundrette, and most attractions are within driving distance.
Candlewood Suites – Orlando – Lake Buena Vista, an IHG Hotel
Rooms and suites at this IHG Hotel include every necessary amenity from dishwashers to coffee machines, and a desk and are budget-friendly too! Guests can take advantage of the shuttle service, and also have access to a shared lounge, onsite ATM, and outdoor swimming pool.
Villas Hotels in Orlando
Luxury 8 Bedroom, 6 Bathroom Upscale Villa Near All The Fun in Kissimmee
With Kissimmee closer to Disney and other attractions than Orlando, this upscale luxury villa is the perfect place to base yourself while visiting Orlando! The 8-bedroom villa features a sheltered swimming pool, hot tub, kitchen, dining area, and every amenity. Perfect for a larger family or group traveling together!
Budget-friendly Orlando Lakefront Tiny Houses
This tiny house right on the lake has a lot to offer. You might get to see birds and animals wandering right outside your door. Apart from that guests have access to fishing poles, BBQ facilities, and a sun terrace. There is also access to a small dock as well as to the owner's kayaks and rowboats. The houses are well-equipped and perfect for short stays!
So that's my list of things to do in Orlando beyond Disney. Which ones do you plan on doing next? Comment and let me know!