While there are many things to do in LA, Southern California is much more than a mild climate getaway that's filled with beaches and a stunning coastline. It also has a lot to offer to people in their 20s that's far more entertaining than the standard routine of going to one packed tourist destination after another.
In fact, there's a much hipper side to Southern California that those of us without kids or on a limited budget can have a great time exploring.
Here's a breakdown of some of the best unique things to do in Southern California if you're looking for something a bit different than just Universal Studios or Beverly Hills.
Best Things to Do in SoCal
Let me start this compilation with In-N-Out as it's one of the most iconic Californian things. Californians are obsessed with these simple burgers and tourists find them so interesting that they're willing to spend hours waiting to get a burger like it recently happened in London where there are many better places to eat.
In-N-Out is not a typical chain: due to religious beliefs, the founders' cups and bags consist of the book, chapter and verse from the Bible. Also, only the most basic menu is displayed while you need to know about the 'hidden' menu to get a better meal – like 'animal style french fries'.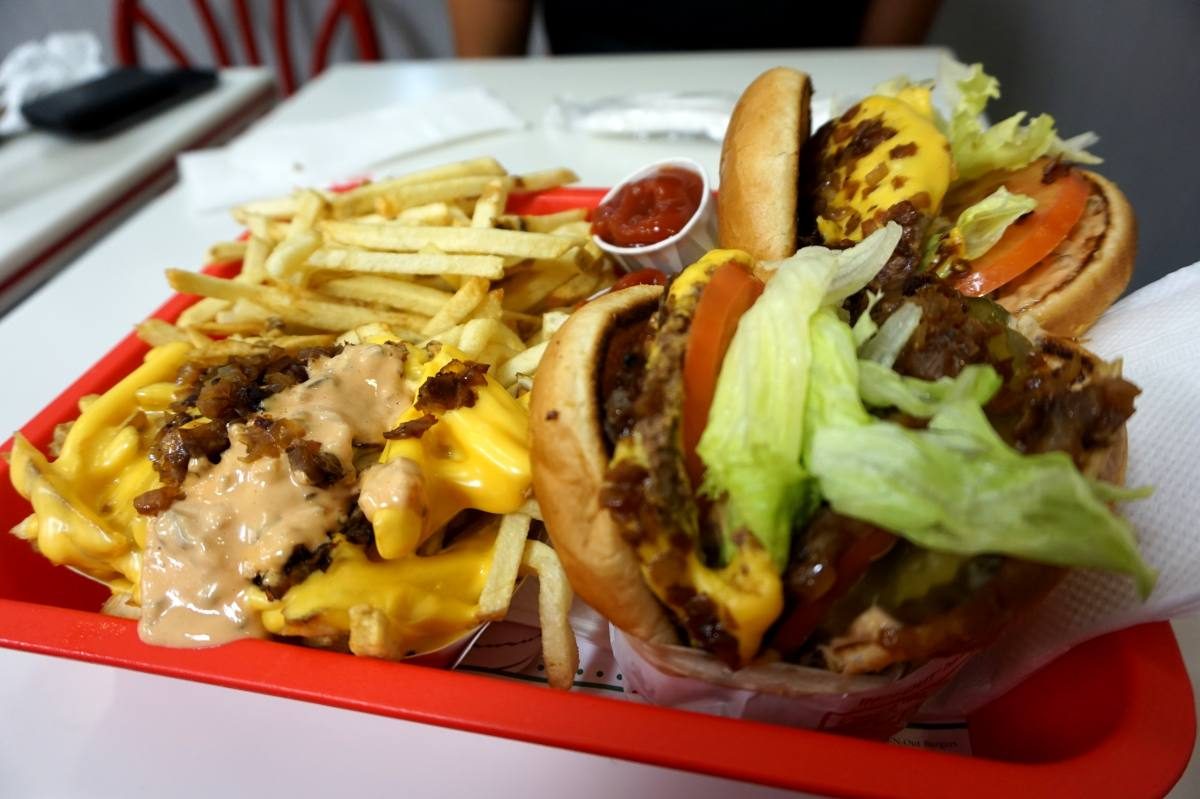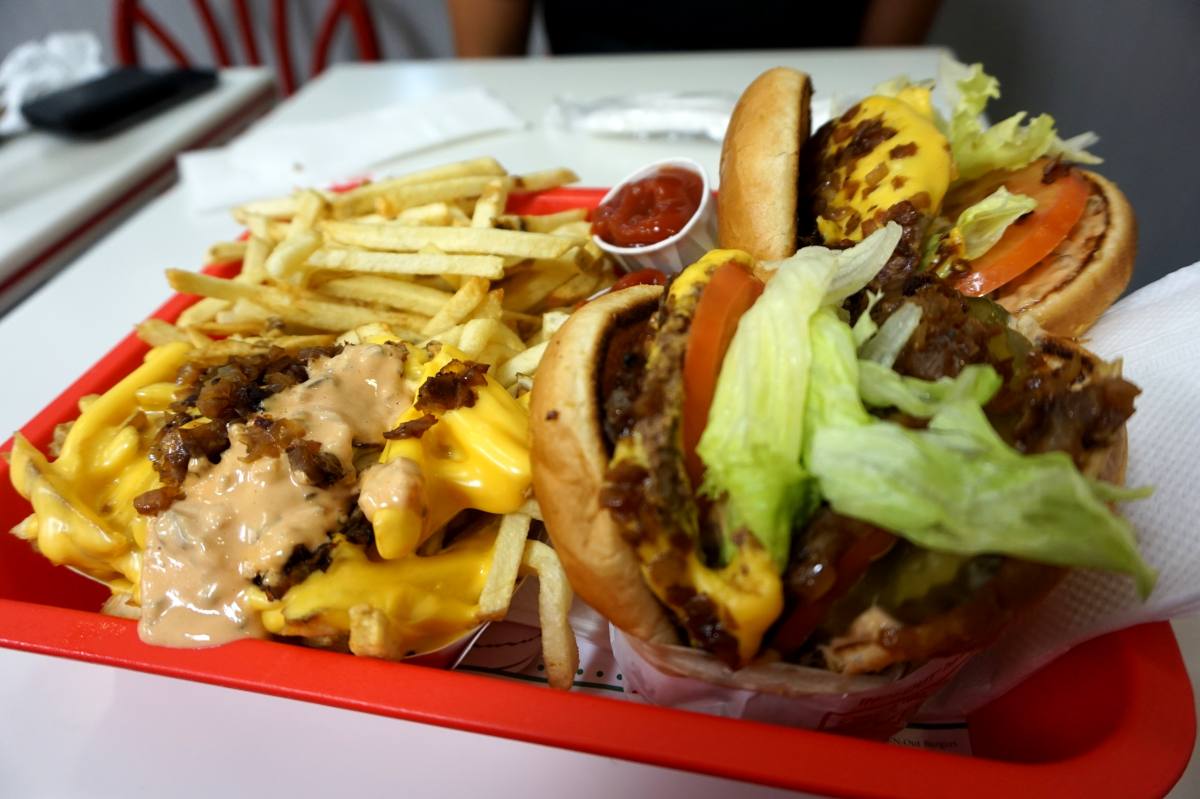 I'm not a picky person especially when hungry, but I tried to eat there a few times and both times ended up leaving unsatisfied. The burger bun is too mushy unless you order it toasted, and French fries aren't good. I might not like it, but you should check it out for yourself to decide.
---
Best Things to Do in the Los Angeles Region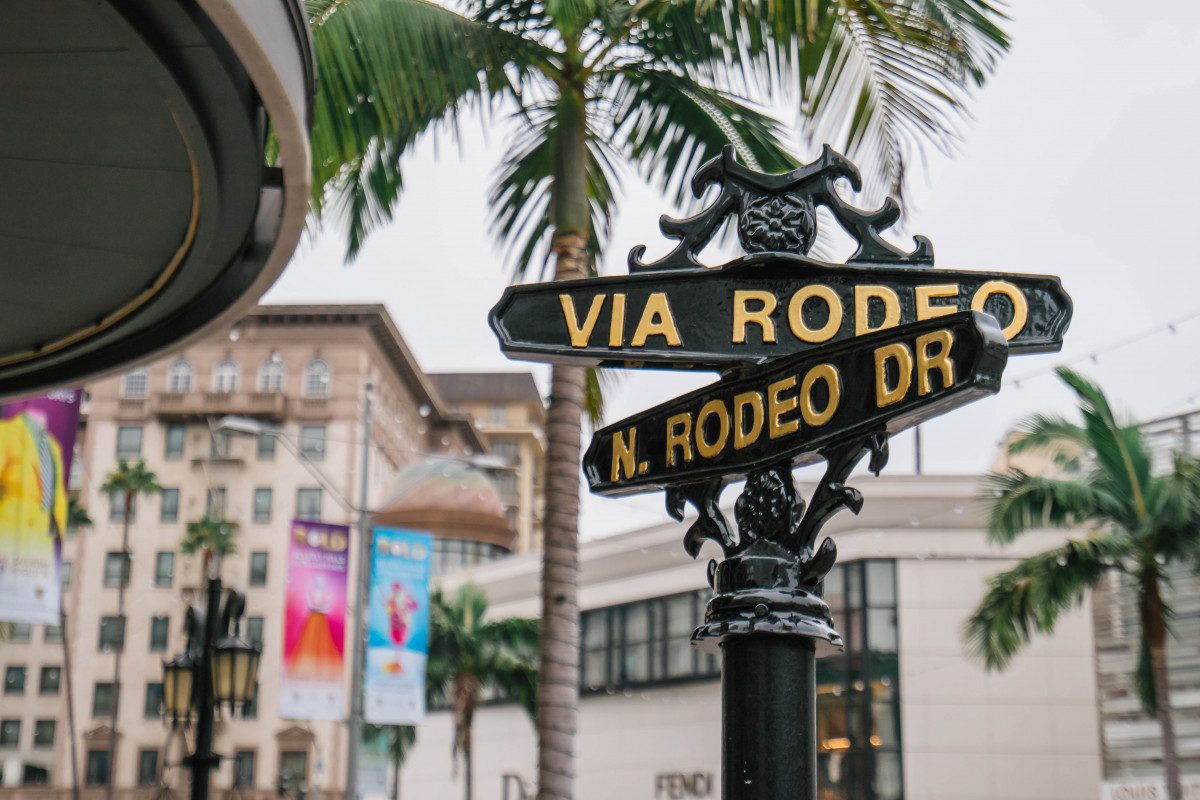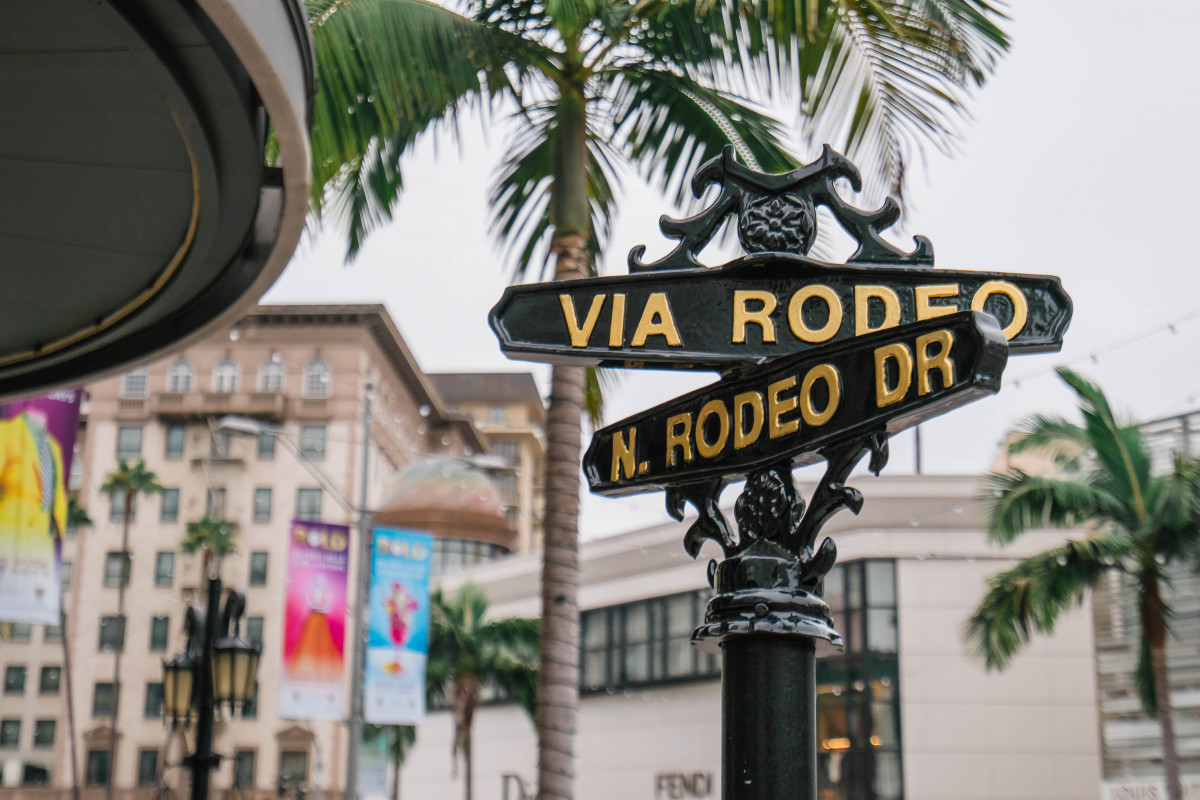 The Greater Los Angeles area includes five counties: Orange County, Los Angeles County, Riverside County, San Bernardino County and Ventura County.
This puts most of Southern California's best options inside this region, and you could easily spend several days taking in the offbeat sites in the Los Angeles area.
---
1. Tour Local Breweries
Want to combine day-drinking with the history of some of Southern California's coolest breweries? There are two well-established options that offer tours you won't soon forget. If you want to hit them both on the same day, be sure to book your tours for a Monday, Tuesday or Wednesday.
Your first stop should be the Bluebird Brasserie for one of their Happy Hour tours. This Sherman Oaks, Belgian-styled brewery is led by a multi-award-winning brewer and has a beautiful interior.
Next up on your list is a stop in the Downtown Arts District for an early evening tour of Angel City Brewery. A diverse selection of beer has been available at this brewery since it first opened its doors in 1997.
---
2. Take a Graffiti Walking Tour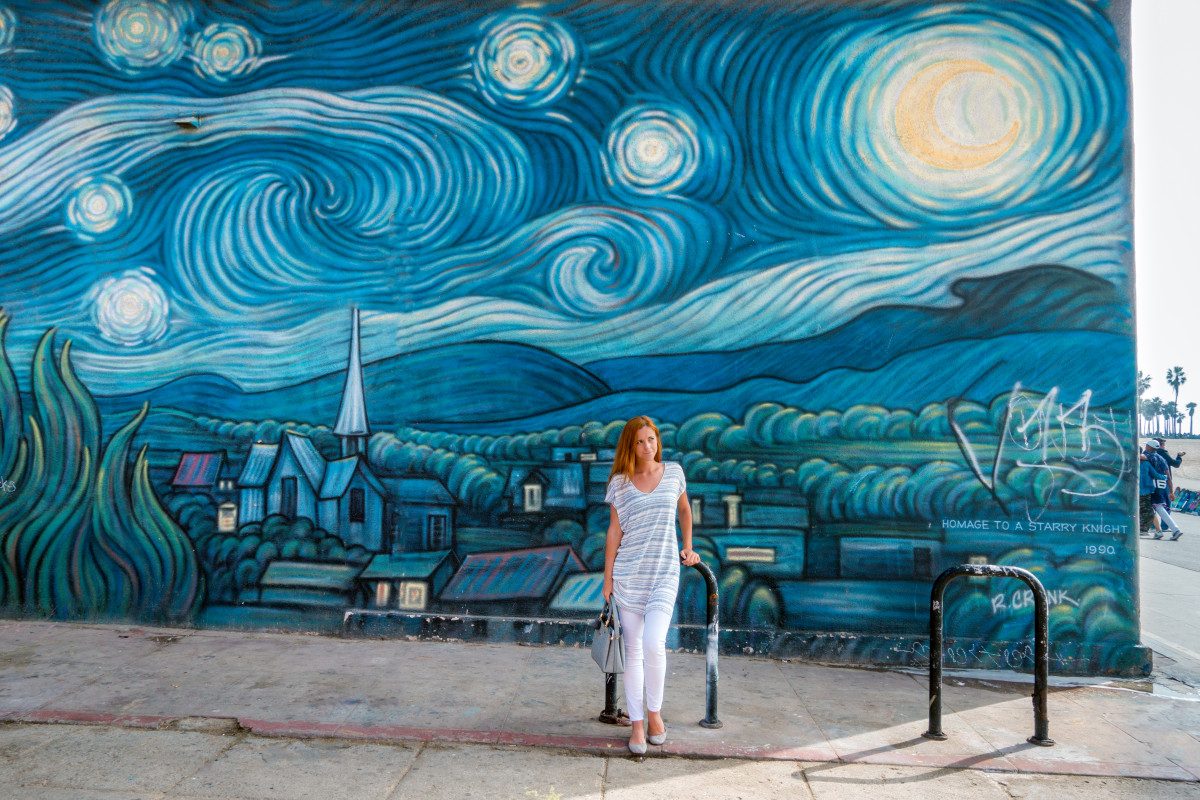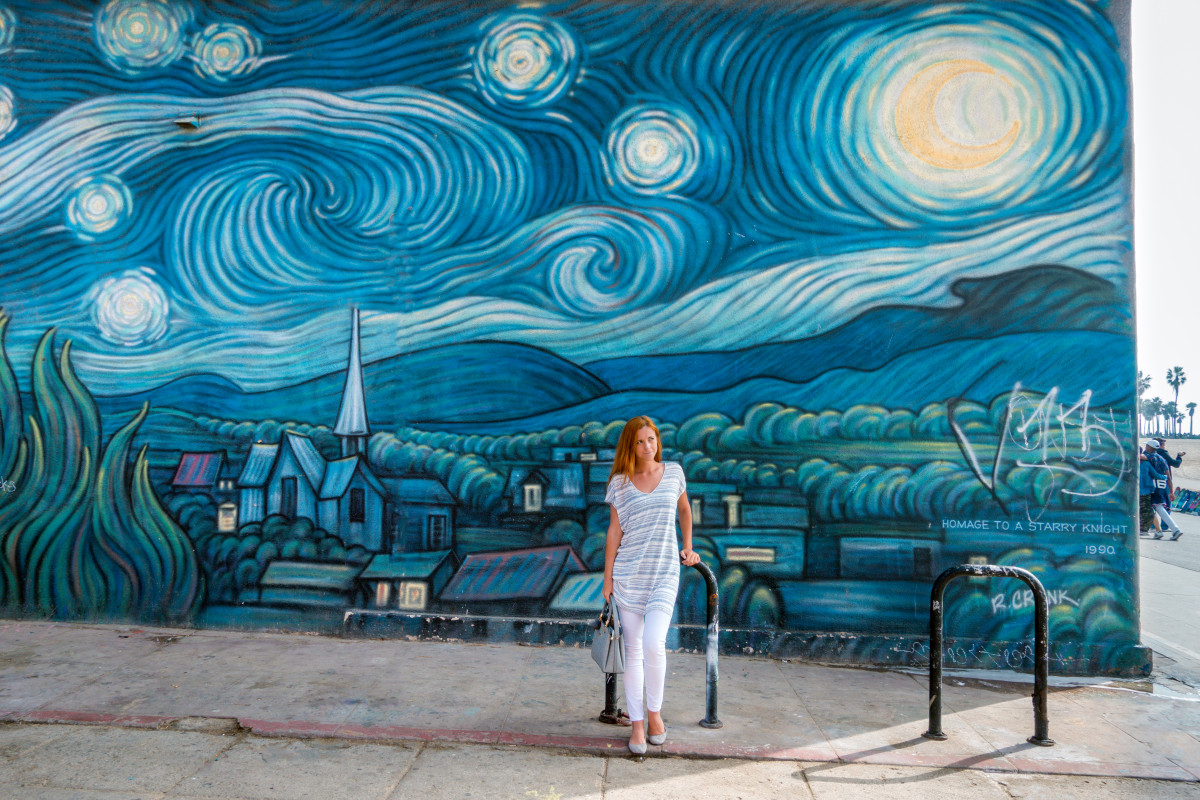 Street art has never been hotter, and the artists in the Los Angeles area keep producing work that's insightful, thought-provoking and occasionally hilarious. Anyone can walk around Downtown Los Angeles and see the art.
However, if you want to find the best transient pieces and learn about the area's artistic history, be sure to join the Downtown LA Graffiti/Mural Tour. As an added bonus, many previous tour participants have been able to see one or more artists in action!
---
3. Learn How to Make Unusual Pizzas from a Pro
Let's face it; everyone loves pizza, and it's even better when its washed down by a delicious alcoholic drink. Most of us are skilled at cooking frozen pizzas, but do you know how to create one from scratch?
The Baldoria Bar + Kitchen's head chef hosts informative and tasty classes that will help you take your dating game to a new level.
Baldoria's pizza is famous for offering a highly unusual array of toppings. One of their wildest examples is the Charred Octopus pizza that's made with a charred radicchio cream sauce, caramelized cipollini and, yes, it's topped by a tender baby octopus. A variety of pizzas will be made by the class, and each participant will get a free glass of beer or wine.
4. Head Underground for Beer and Sideshow Games
Madame Siam Sideshow Emporium is one of the area's most unique drinking experiences. Built underground inside of a former speakeasy, Madame Siam has the look and feel of an old-time carnival.
You'll be able to play several carnival games as you enjoy beer and live acts, including illusionists and contortionists. You can even get a tarot card reading while soaking in the atmosphere.
Arguably the most popular game within this themed bar allows players to toss balls into the mouths of two of the most polarizing current world leaders.
The bar is usually filled with people on the left side of the political aisle, so keep that in mind if you have a more conservative mindset.
5. Gaze at the Universe from Griffith Observatory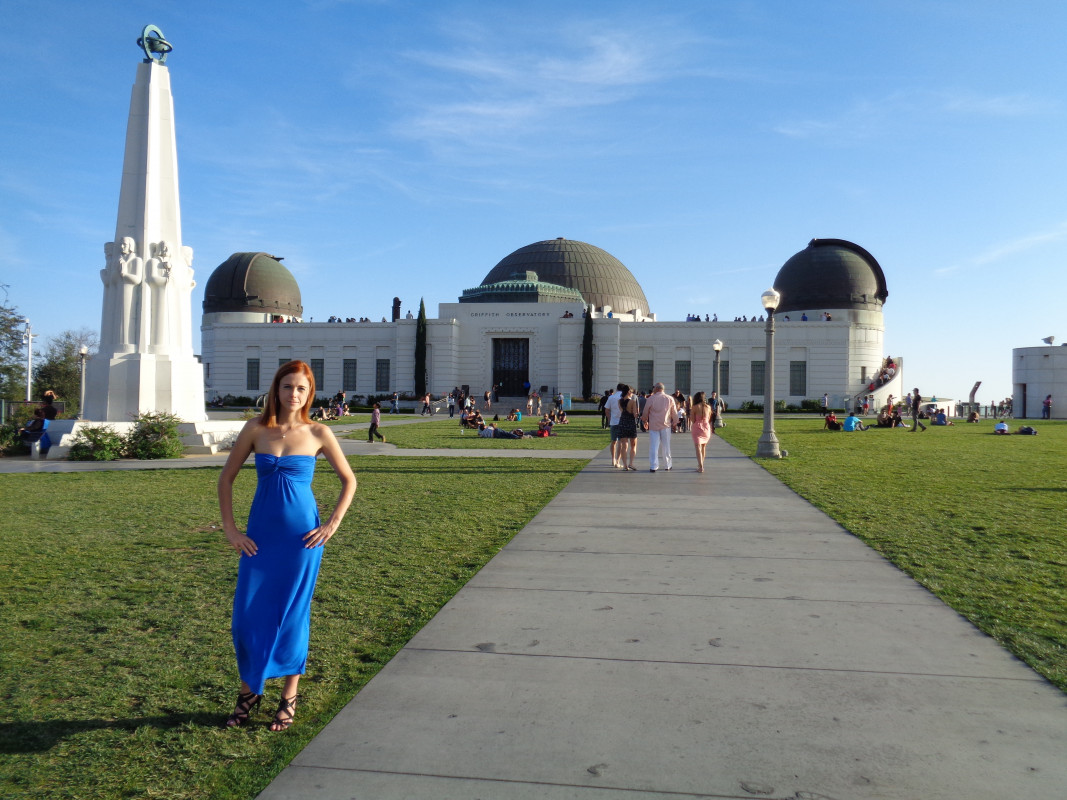 Whether you're an astronomy buff or simply looking for a romantic outing, you'll want to add one of the monthly Griffith Observatory star parties to your itinerary.
Stargazers gather from 2 p.m. to 9:45 p.m. during these events and everyone will get a turn with one of the attraction's professional telescopes.
If you prefer not to join a big party or won't be in town during one of these events, you can head to Griffith Observatory on any clear night to use one of their telescopes. No matter when you go, this is a free outing that's certain to spark good conversations about our place in the universe.
---
6. See an Outdoor Movie at a Unique Location
Have you ever wanted to watch a classic movie from inside a graveyard? Or perhaps you'd prefer to sit on a roof as you revisit one of your favorite movies?
The good news is that you can do either of these options and much more, thanks to the area's extensive list of summertime outside film screenings.
Be sure to buy your tickets early because these screenings usually sell out. The most popular screenings are typically those hosted by Cinespia at the Hollywood Forever Cemetery. You'll also need to take a blanket or a low-sitting beach chair with you as no seating other than the ground will be provided.
7. Get Instagram Worthy 3D Images
Did a trip to Southern California really happen if it wasn't documented on Instagram? Surprise all of your followers by visiting the Museum of Illusions. Inside this fully interactive museum, you'll be able to take stunning 3D images that showcase you floating on Rose's door as the Titanic sinks, climbing a mountain, looking up Marilyn Monroe's dress, punching a divisive politician and more!
In total, the Museum of Illusions has more than thirty 3D scenes for you to interact with and photograph. Add filters after to get the most realistic looking results.
8. Eat Fusion Udon at Marugame Monzo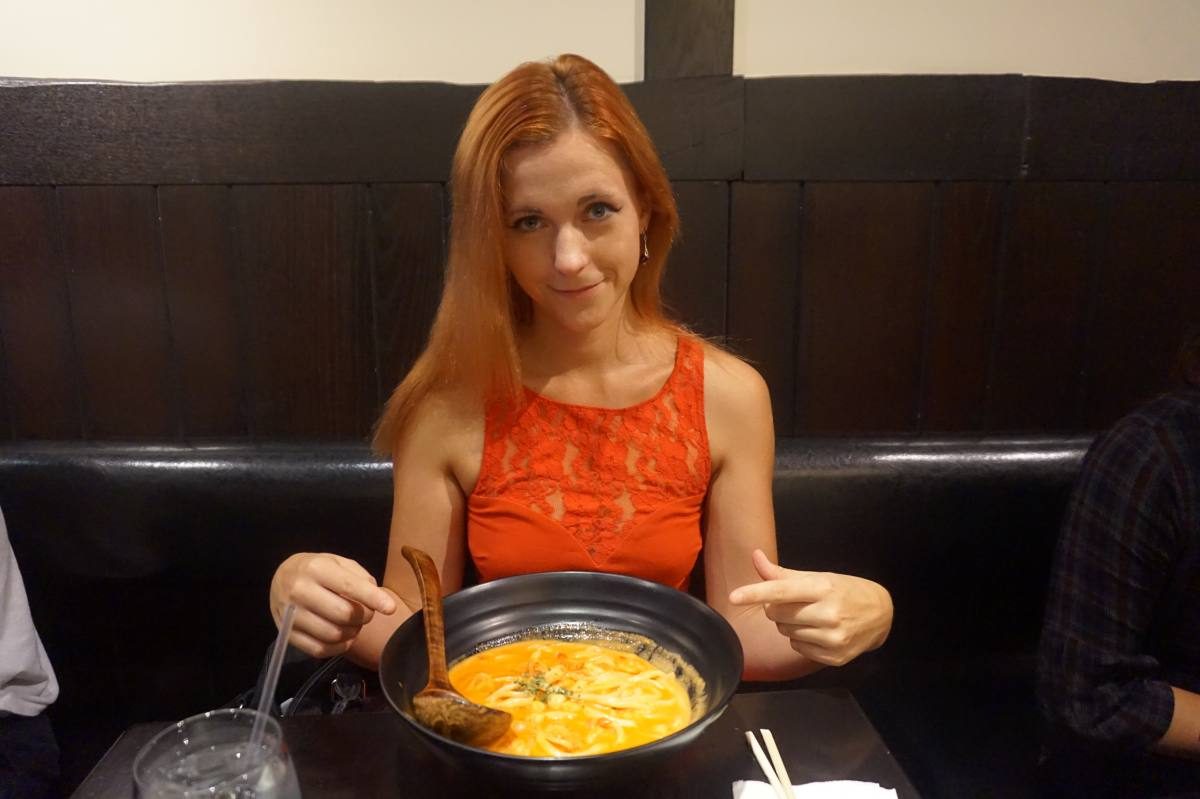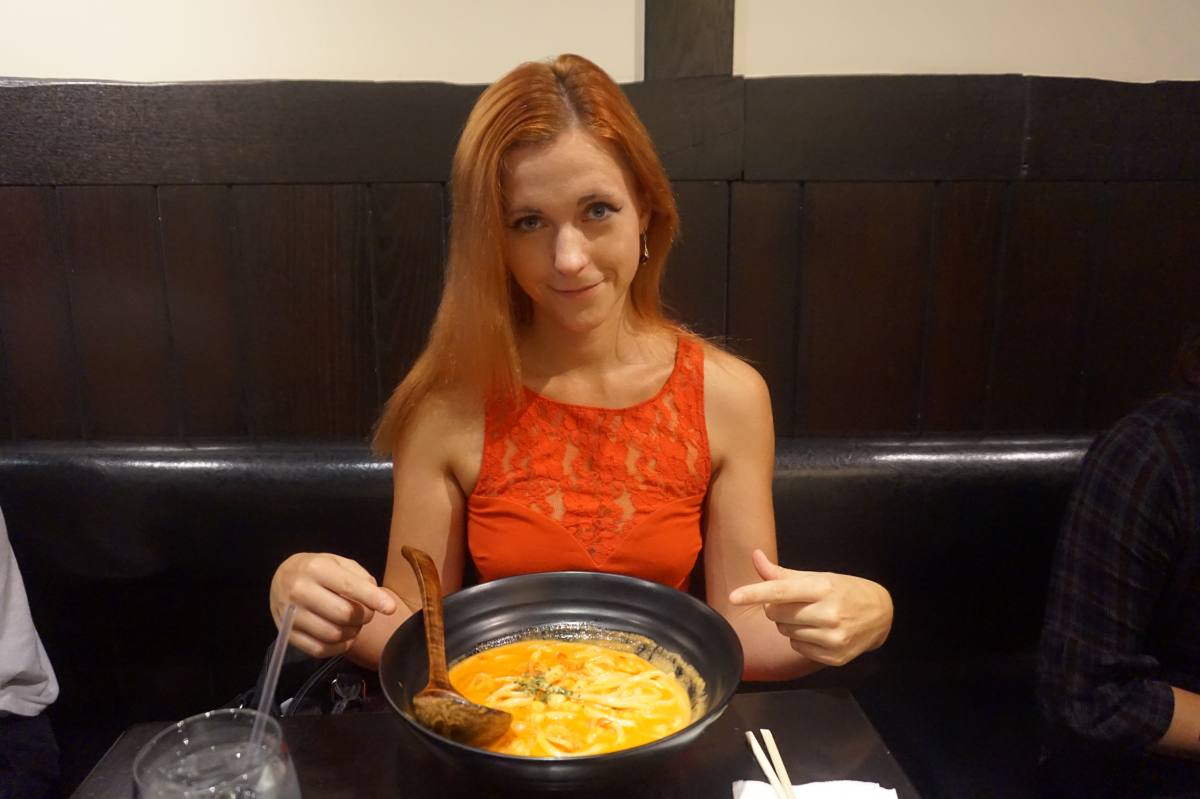 Monzo is all about udon noodles. Located in Little Tokyo, this small restaurant you can see it being made behind the glass counter what already makes this experience cool.
The place serves more than 20 variations of udon, which are among America's least fetishized Japanese noodles and… it's not always the udon you imagine in a hot Japanese stew.
Monzo is a place where udon meets Italian cuisine and combines the best possible creation I've ever tried. You can get udon with mushroom carbonara, udon with creamy tomato sauce and seafood, or some other variations. And you can top it all with shrimp tempura.
The place is affordable, ranging from $15-20 for a giant bowl of udon.
---
9. Create Your Own Soda at Galco's Soda Pop Store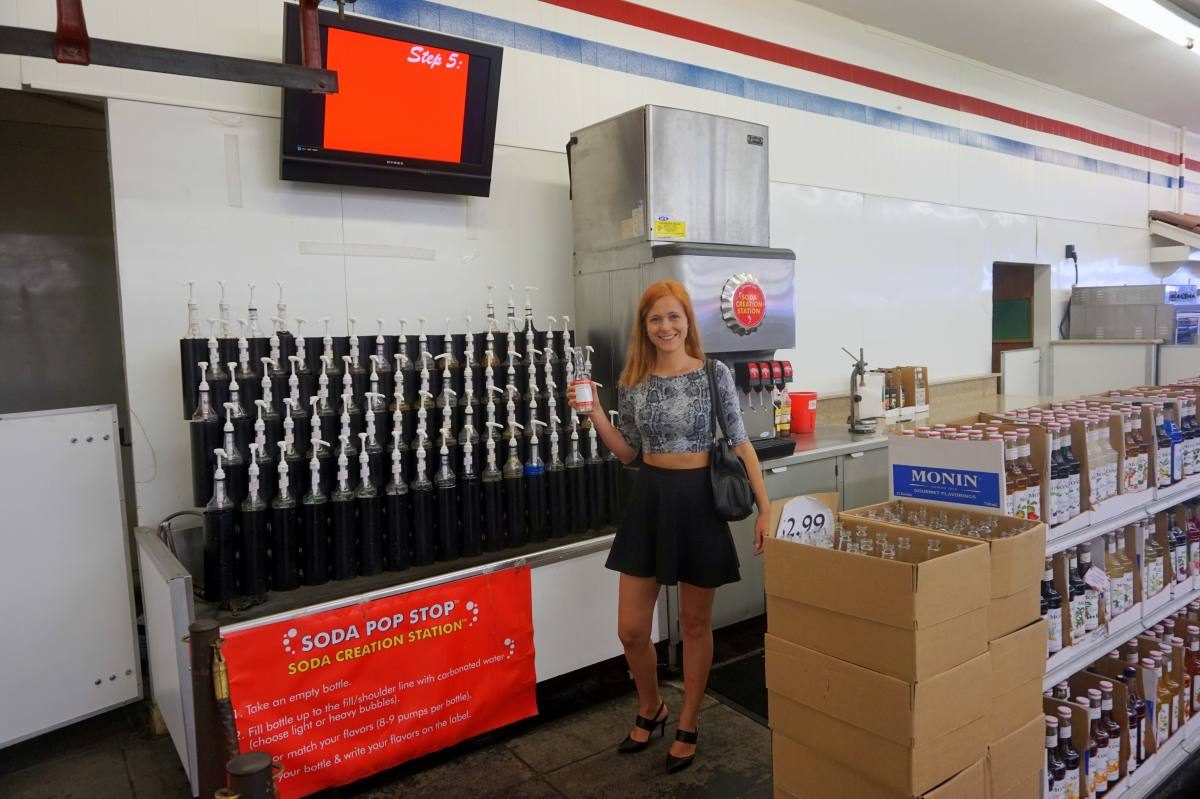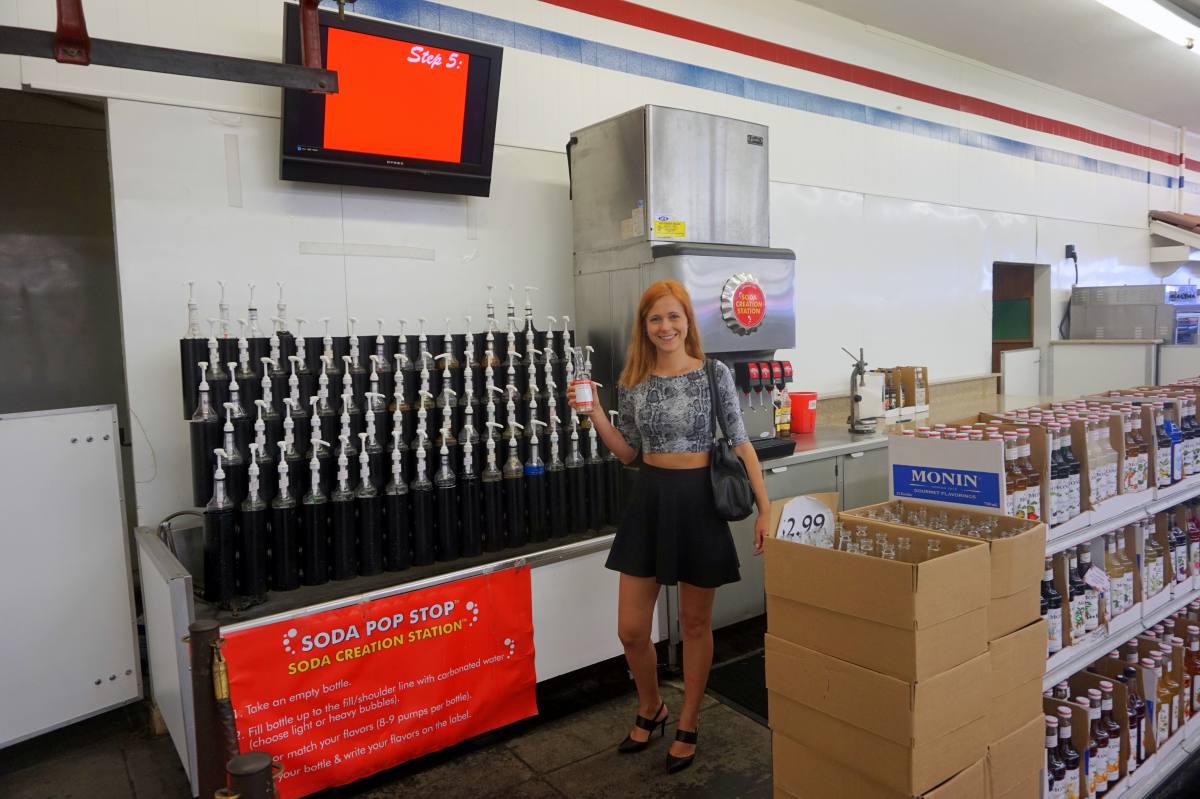 Have you ever wanted to come up with your own personal flavor of soda? Take a trip to Galco's and you can do just that!
This awesome family-run Soda Shop has been around for over 100 years and actually started off selling blockbuster sandwiches from their deli. Now, Galco's is incredibly popular for having over 600 different flavors of soda, but they do still have their famous sandwiches in the back!
They only have one store in Highland Park so you'll want to add this stop to your list of places to go. You'll be able to pick from a mix of flavors, add a carbonate strength, add a cap and label and you'll have created your perfect drink!
---
10. Cheer on a Real-Life Turtle Race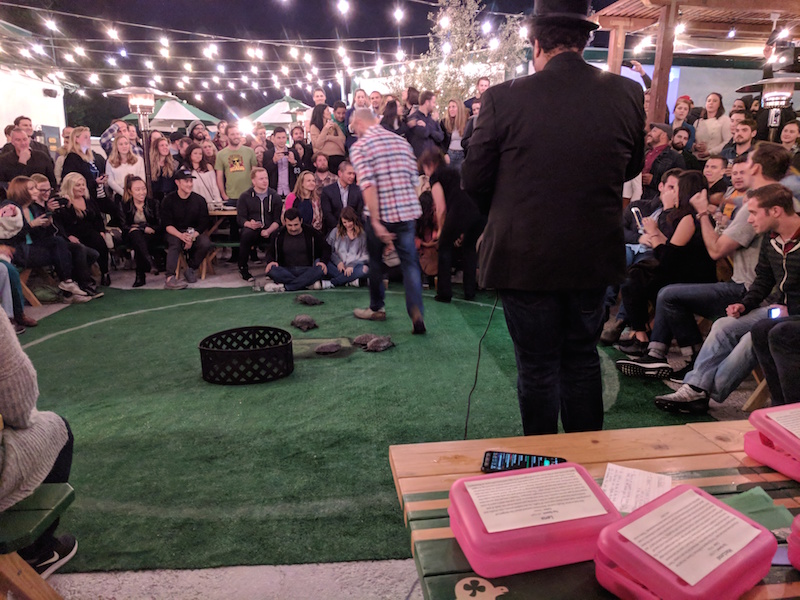 Turtles have a reputation for being slow, but it turns out that they've been wrongfully maligned for decades. Find out just how incorrect this misconception is by heading to Brennan's Turtle Races. Races are held once a month, and the turtles seem to really enjoy participating.
When they're not entertaining crowds of race watchers, the turtles live a life of luxury inside special sanctuaries that were approved by a herpetologist. After the end of the race, you can enjoy some drinks at the bar and nosh on Brennan's vegetarian-friendly menu.
11. Take a Flying Trapeze Class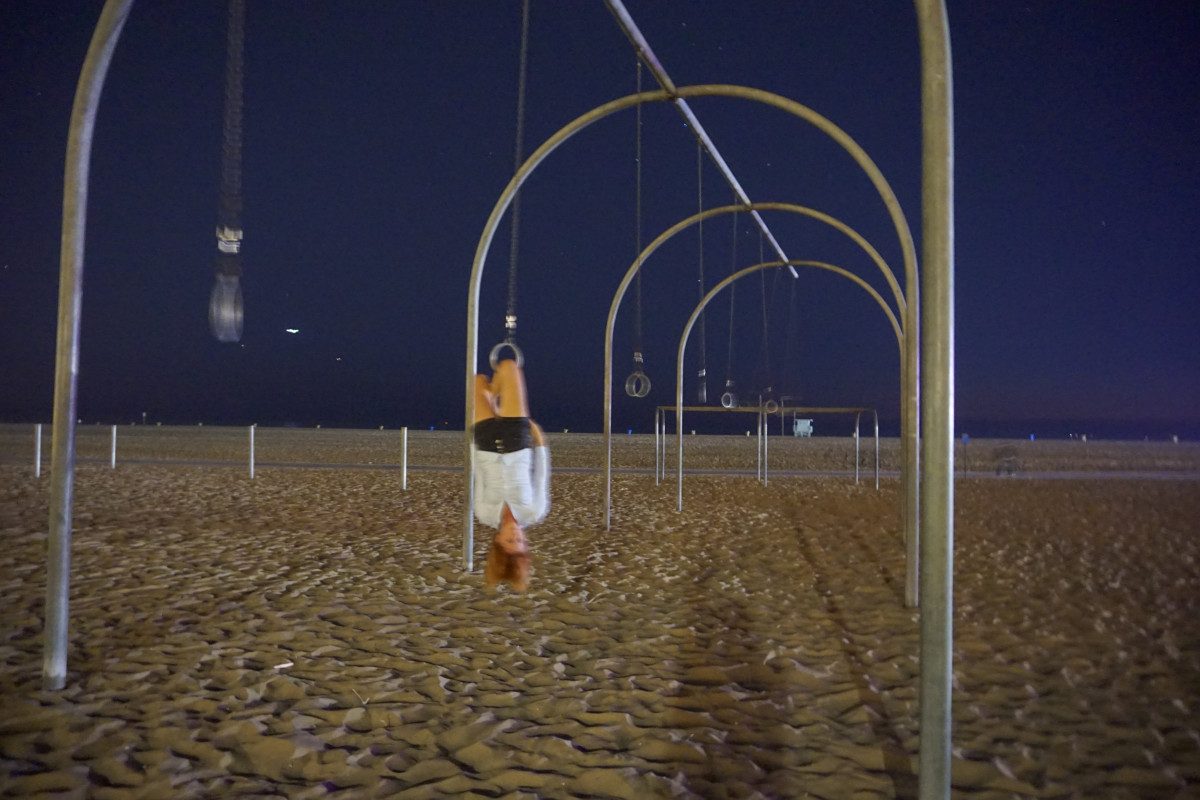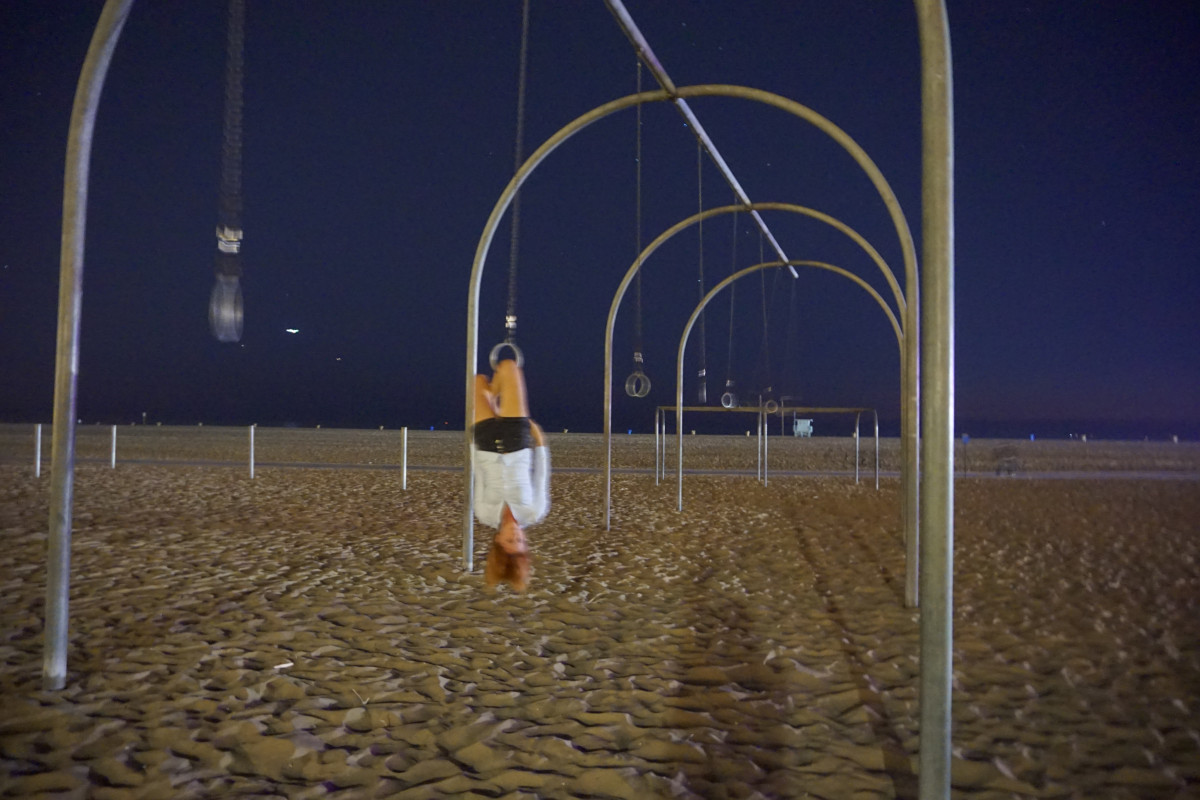 I'm a big fan of the trapeze, given that I'm an aerialist as well, and I genuinely think it's a super fun activity to try for the first time if you've never done it before, in a safe environment of course, and SoCal has several cool places to do just that including Trapeze High in San Diego.
Most of the places have classes targeted towards all ranges of experience from beginners to experts and as a hobby, it's actually more popular than you might think!
---
12. Picnic at an Abandoned Zoo
The Old LA Zoo in Griffith Park was opened and functional up until 1966 when it was replaced by the current Los Angeles Zoo. Today, you can visit the old zoo completely free of charge for a fun day of exploring the old animal exhibits and wandering around the abandoned park.
Grab some snacks and have a chilled picnic in a secluded spot in the otherwise busy LA area. They've erected picnic tables and benches all over the park but beware of coyotes and rattlesnakes if you're wandering around the more overrun cages.
---
13. Take a Gondola Ride in Long Beach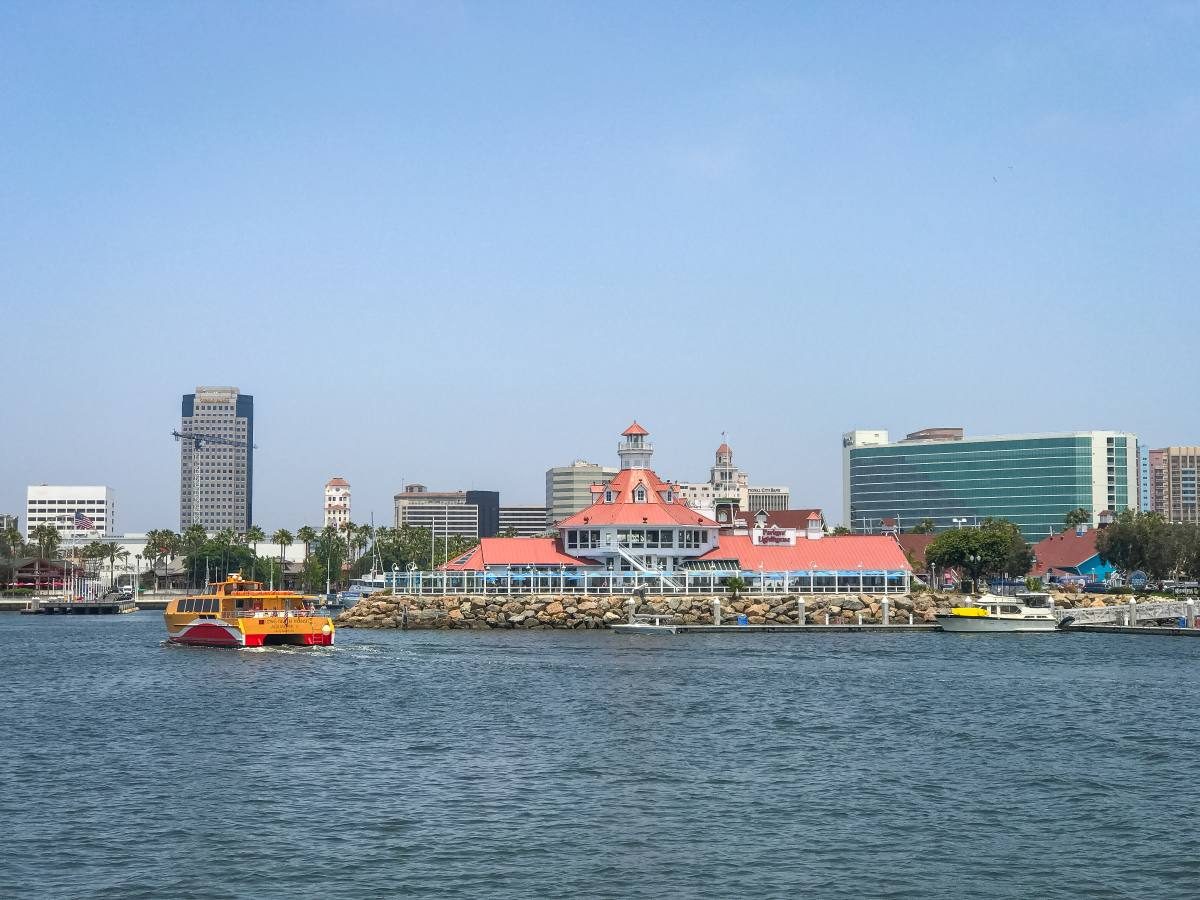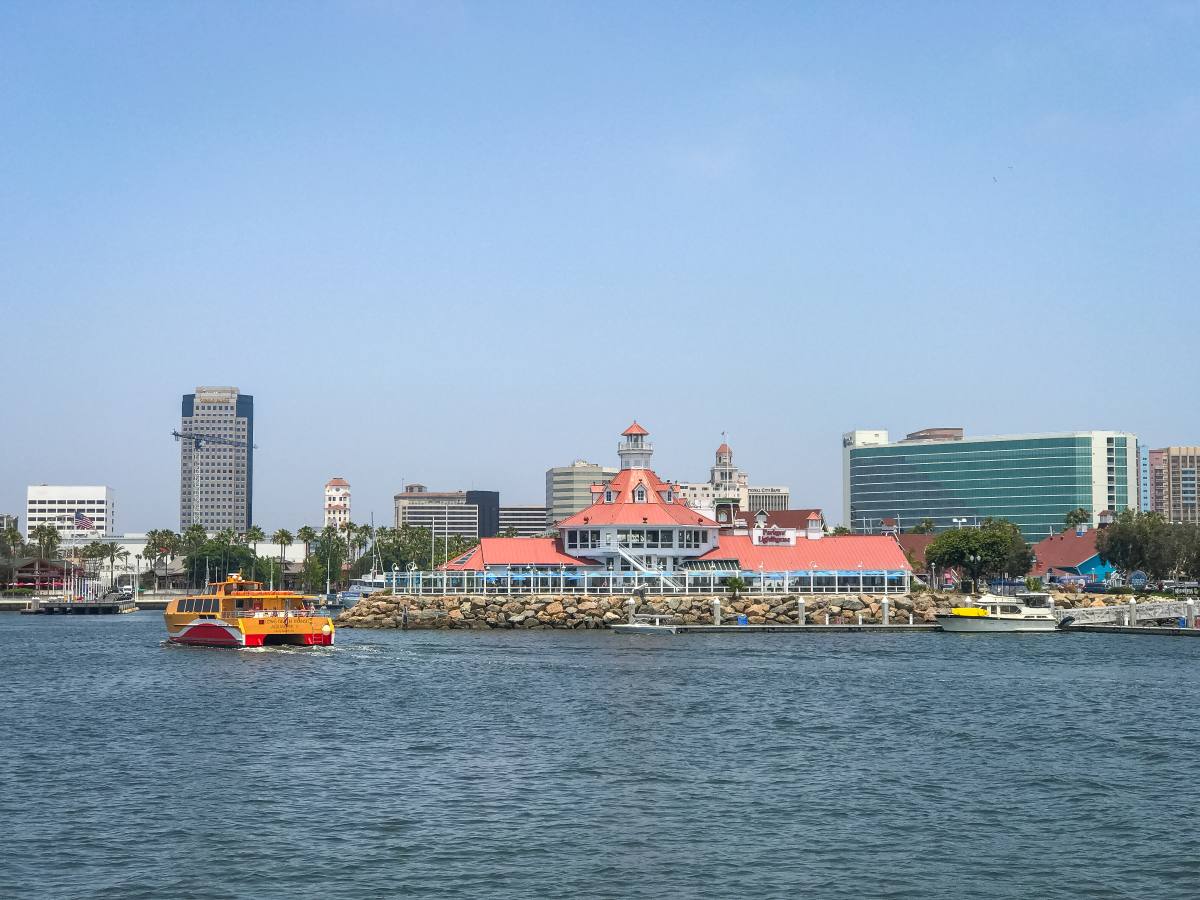 Naples Island in Long Beach California is not only Italy inspired in name but also in character and architecture, complete with romantic or excursion based Gondola Rides, organized by the company Gondola Gateway, to tour the canals.
There's so much to see and do in Long Beach so a gondola ride is a good way to enjoy some of the landscape while sitting and sipping some bubbly.
Plus, your gondolier will probably have lots of fun stories about the area, tips on what else you need to explore and will know the best places to take pictures too!
---
Best Things to Do in San Diego Area
San Diego may look like a nice, normal city on the surface, but it has a hidden freaky side that's certain to make your visit to the area a lot more interesting. Instead of spending time at boring, crowded tourist attractions, try something truly different.
1. Attend a Full Moon Gathering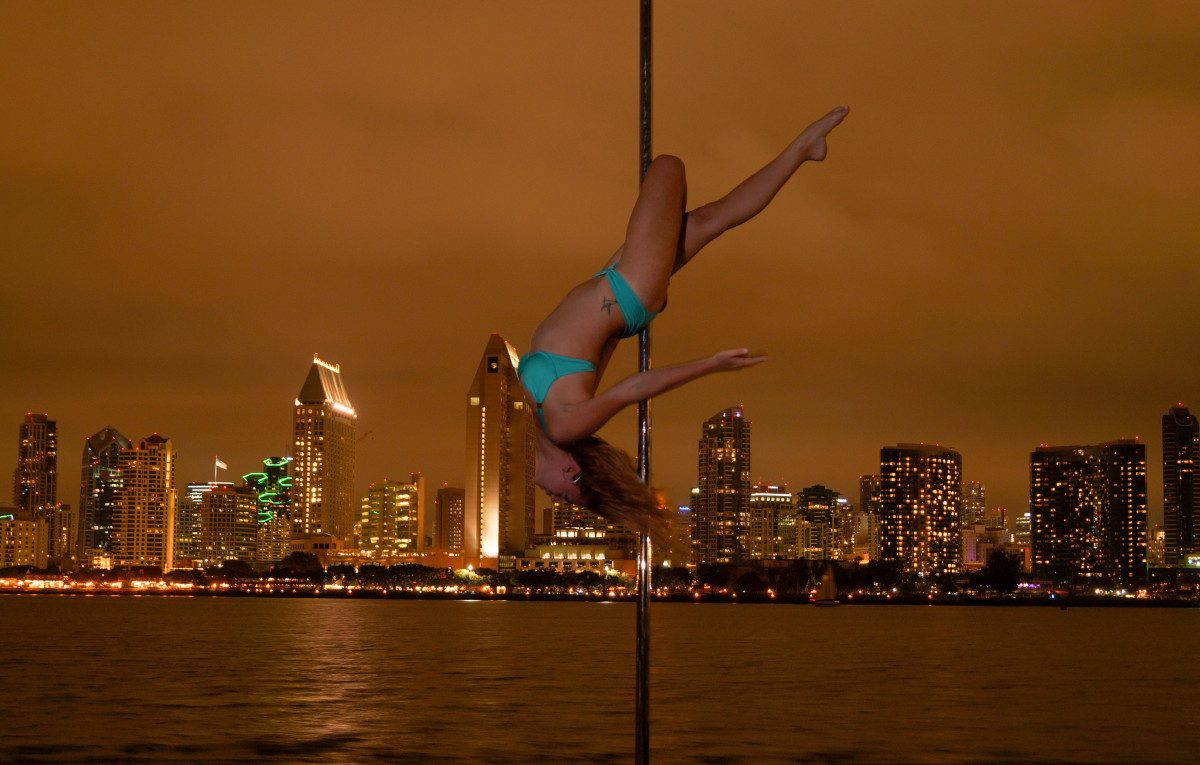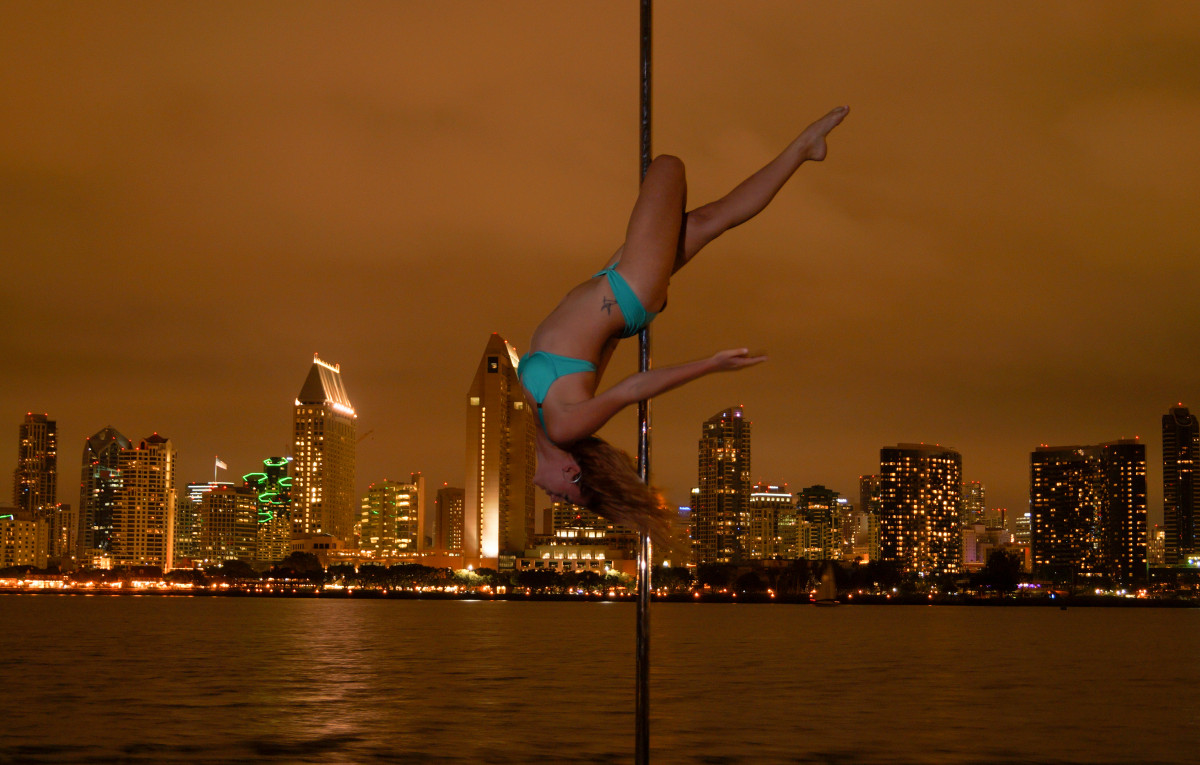 The monthly Trilogy Full Moon Events are a great example of San Diego's freakier side. A theme will be added to most months, but other than that, nothing specific is planned.
Participants are invited to bring hand drums and other instruments, along with any type of eclectic performance they'd like to share with the entire group.
It's common to see drum circles, acro-yoga demonstrations and fire dancers at each event. It's best to grab your tickets online as San Diego area residents tend to flock to these gatherings.
---
2. See the Topiary Magic of Edna Scissorhands
What do you do when your shrubs look like everyone else's? Unleash your inner Edward Scissorhands, of course. That's exactly what Edna Harper, who goes by the nickname Edna Scissorhands, decided to do with her Mission Hills property. There are more than 50 topiary creations decorating Harper's lawn, and visitors are invited to view them for free.
Climbing and touching the seemingly magical green sculptures is forbidden, but you are allowed to take pictures and get a close-up look at Harper's hard work.
Some of the ever-evolving creations waiting for you include a herd of elephants, a dinosaur and some pyramids. As an added bonus, this unusual attraction is located within walking distance of the nearby Spruce Street Suspension Bridge that allows pedestrians to walk 70 feet above Sessions Canyon.
---
3. Admire Artistic Vision of Salvation Mountain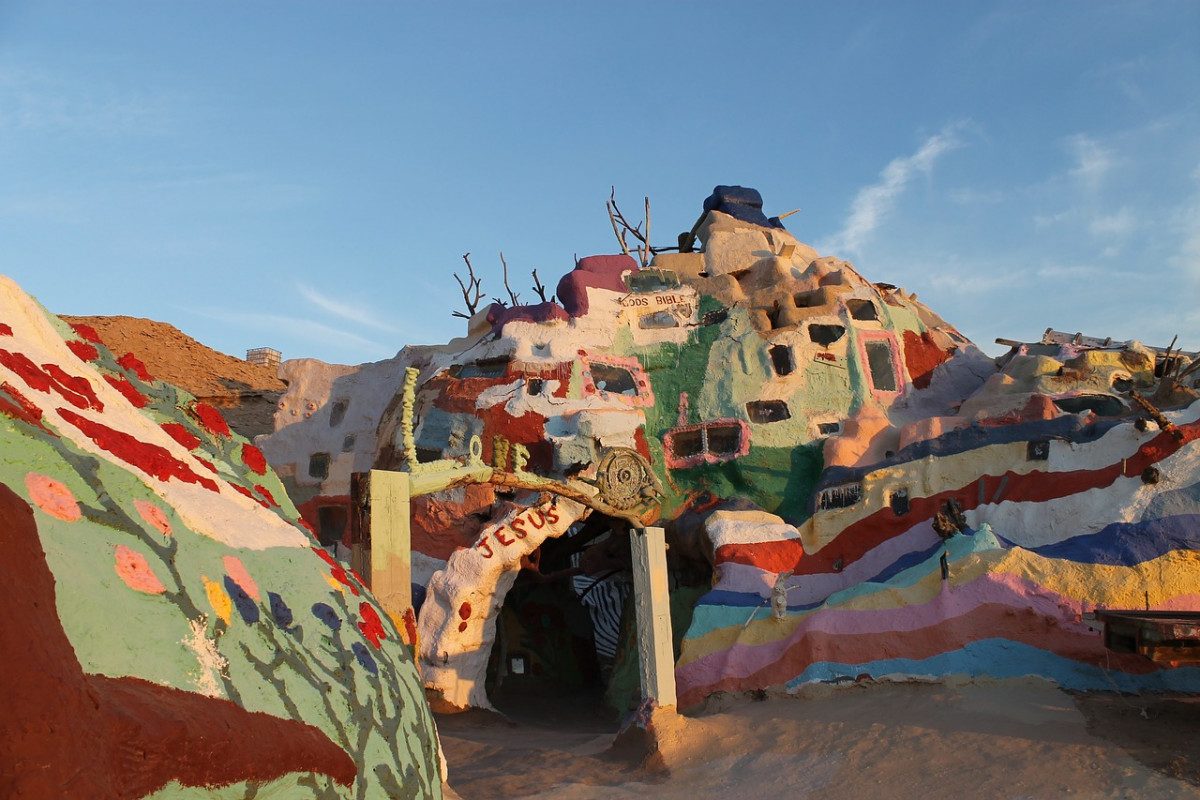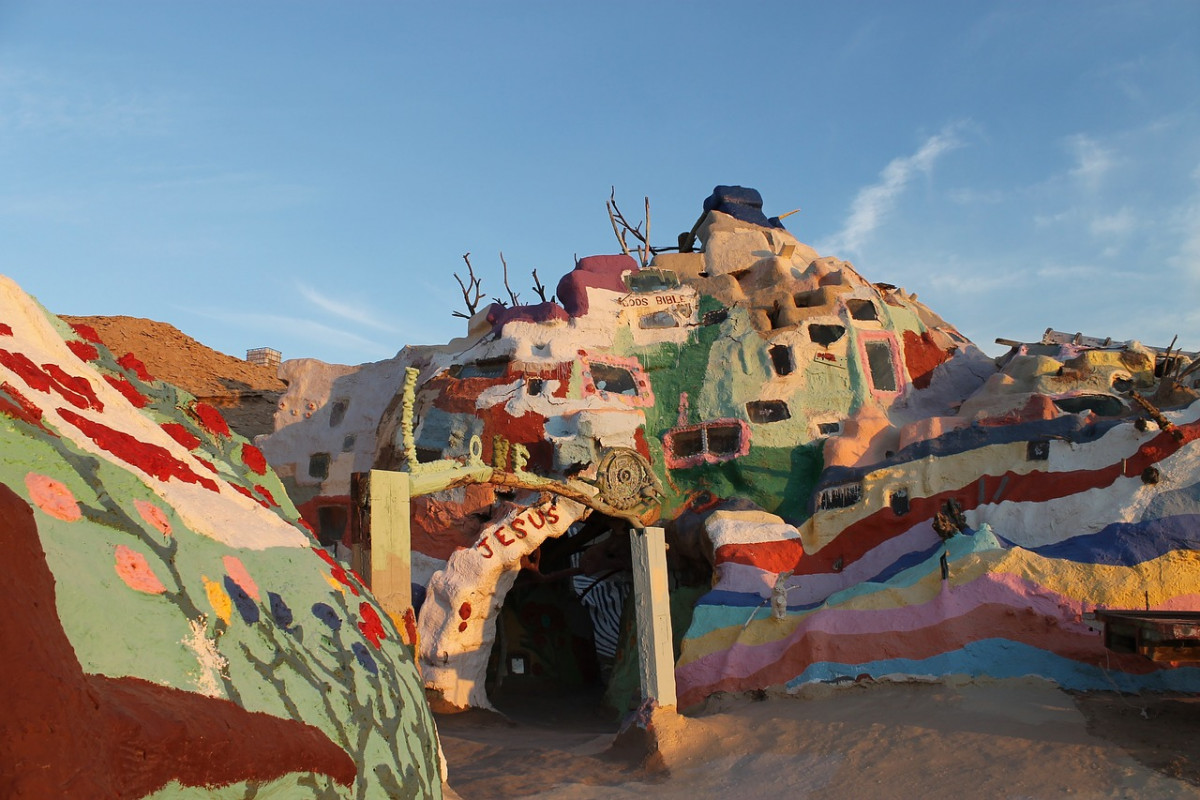 Salvation Mountain is the brainchild of artist Leanard Knight, who found a love for God on his journey through life and chose to share that love with the world through the 50 by 150-foot masterpiece.
The artwork took 28 years to complete and is made with local clay, about half a million gallons of donated latex paint and integrated man-made structures such as car windows, tires and sculptures. It depicts biblical verses as well as natural elements such as flowers, birds and waterfalls.
You can arrange guided tours of the Mountain to learn more about the life of the artist and his message behind the various parts of the artwork. Otherwise, it's free to visit by yourself without a guided tour.
---
4. Shop at a Dispensary
One of the things to do in southern California for people from other states is to try CBD since it's legal there. San Diego has approximately 12 dispensaries and anyone who is 21 or older can legally buy from them.
Be aware that these businesses all close no later than 10 p.m., so you'll want to pick up your legal green recreation before heading out for a night of bar or club hopping. You may also want to stop at a dispensary if you're planning to go to a Full Moon Gathering.
Be sure not to partake of your purchase in a public place, and keep in mind that you can still get a DUI if you choose to drive. Also, don't make the mistake of having any of these munchies-inducing products with you when you go to the airport or drive across the state line. Finally, please note that most dispensaries only accept cash.
---
5. Kayak at La Jolla Cove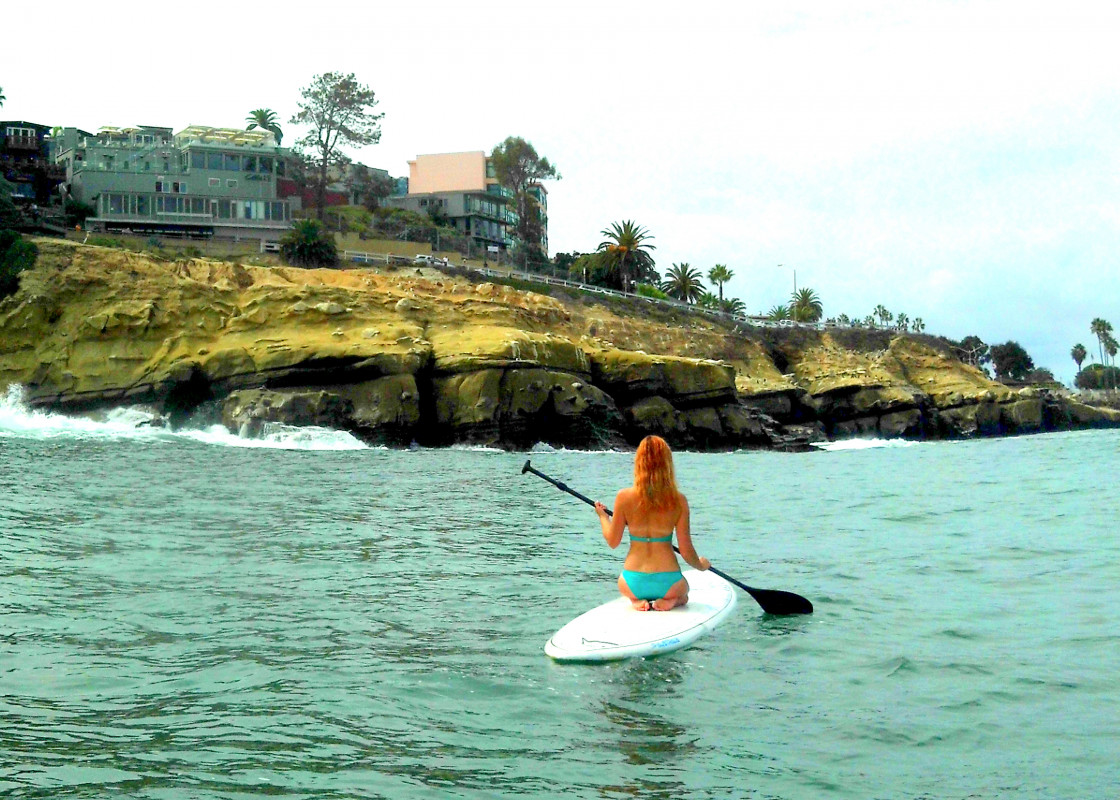 In the mood to cool off by the ocean? The picturesque cove at La Jolla in San Diego is perfect to go swimming, snorkeling and kayaking.
The crystal clear blue waters are home to a thriving underwater world filled with rich marine life. Amidst the cliffs framing the cove are 7 stunning caves through which you can kayak and explore.
Plan a kayaking tour to explore the reserve and learn about the history and geography of the area with some expert local guides who will be able to give you the best experience. You'll spot leopard sharks, sea lions, a multicolored array of fish and maybe even some dolphins!
---
6. Visit Nurtured by Nature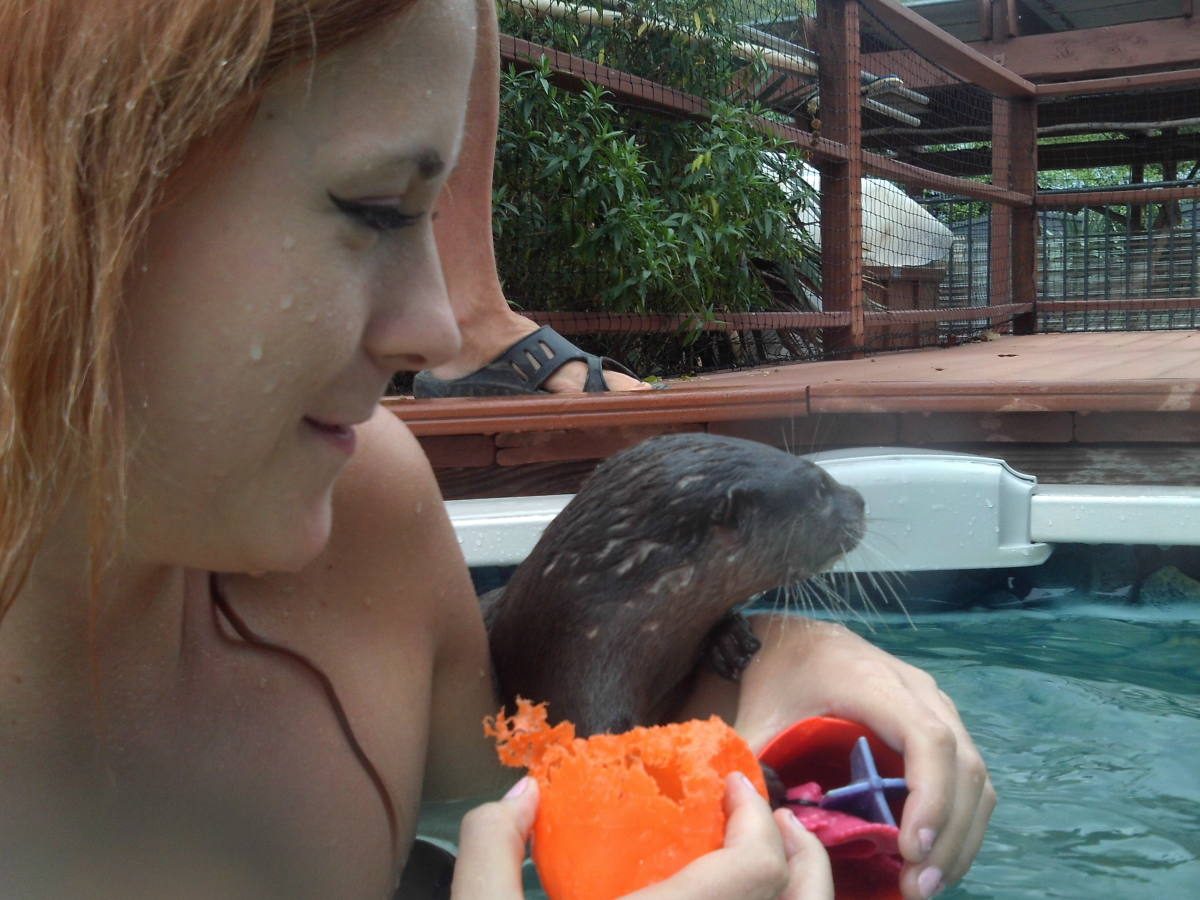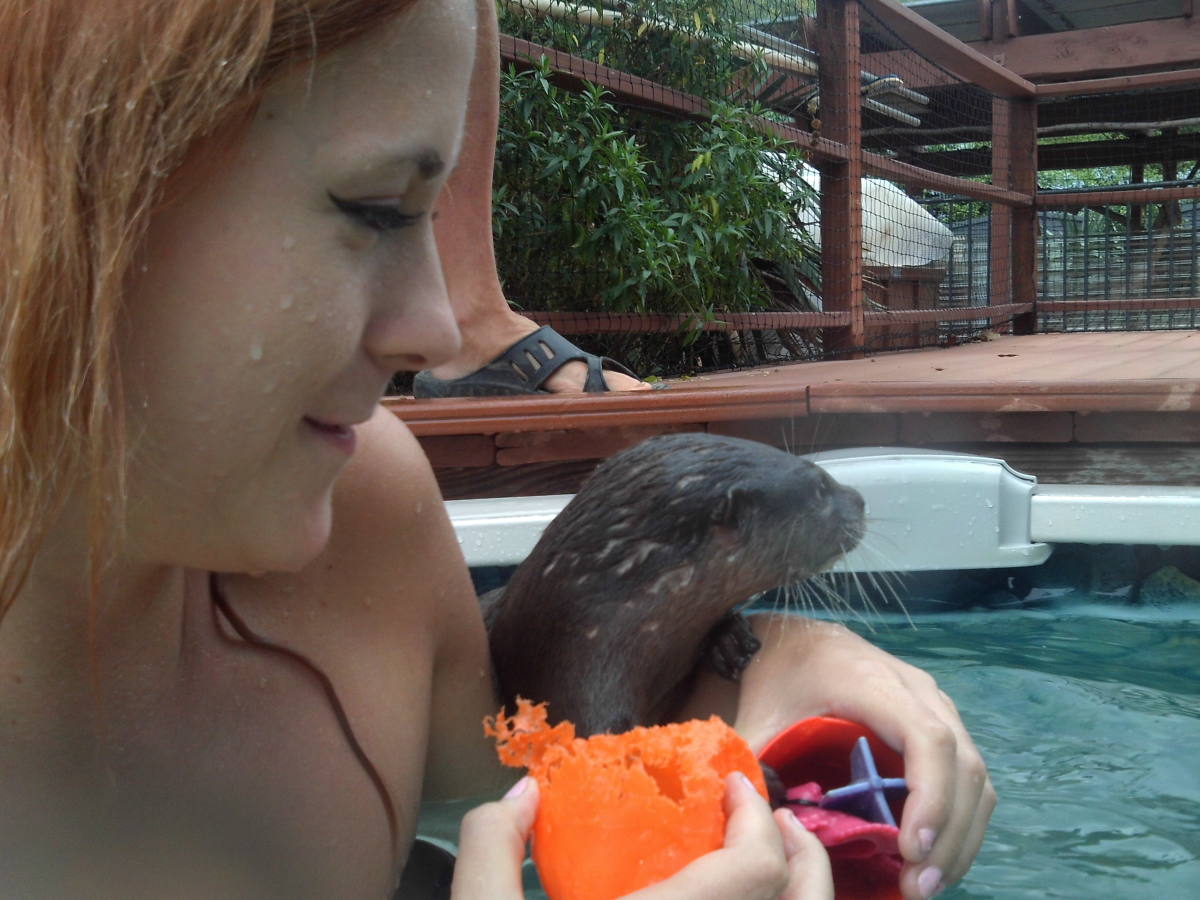 Did you know that 12 out of 13 of the world's species of otters are either threatened or endangered? Nurtured by Nature not only provides otters with rehabilitation and a safe home but is a way of raising awareness and educating people on these adorable critters.
You interact with and learn about the otters but you can even book a special tour and swim with them too!
This precious encounter is however only available for groups where everyone is over 18 years of age. It's also not done an excessive amount in order to maintain the otters' welfare.
Even if you don't get the chance to swim with the otters, you'll still be able to learn about and interact with them and other adorable animals including kangaroos and sloths.
---
7. Eat Authentic Mexican Food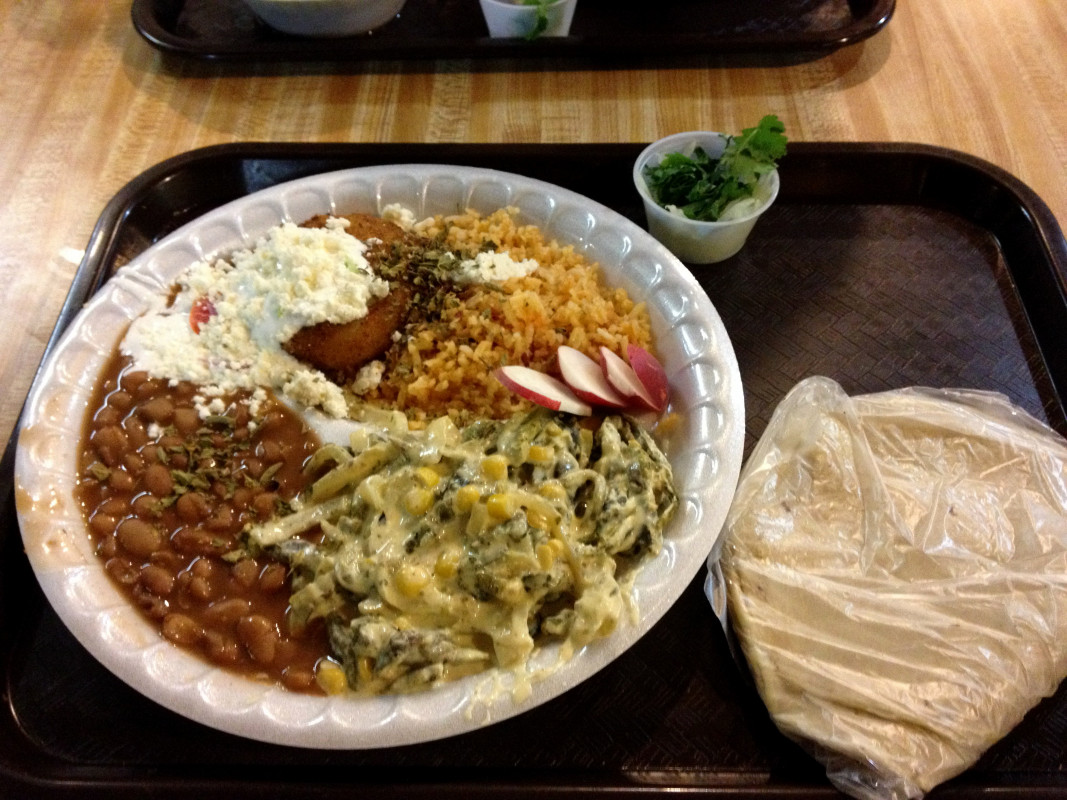 Fun fact: San Diego is actually located exactly to the north of the Mexican border, so it's no surprise that the much beloved Mexican classic cuisine is very popular in this coastal state.
From fish tacos to enchiladas, this area has some of the most authentic Mexican food, apart from Mexico itself of course!
Tacos specifically are very popular and you should definitely get your hands on some, from beef tacos to fish tacos and even innovative takes on traditional classic favorites.
Some of the best tacos in San Diego would have to be from Mi Rancho Market, La Fachada and The Taco Stand. For best Mexican food I recommend Super Cocina.
---
8. Hike to Victoria Beach's Pirate Tower
Although Pirate Tower may seem very mysterious and mystical, its name may not as be as exciting as it suggests. The tower, seemingly one with the cliff rocks at Victoria Beach, was once privately owned by what locals call an eccentric who used to hide coins within the nooks and crannies of the tower, that served as a staircase from his mansion above to the water below.
Don't let this stop you from making your way there, because it's a beautiful structure to see tucked at the edge of the cliffs.
Victoria Beach itself is actually quite secluded but is of itself beautiful to experience with its fine white sand and clear blue waters.
---
9. Smell Some Flowers in Carlsbad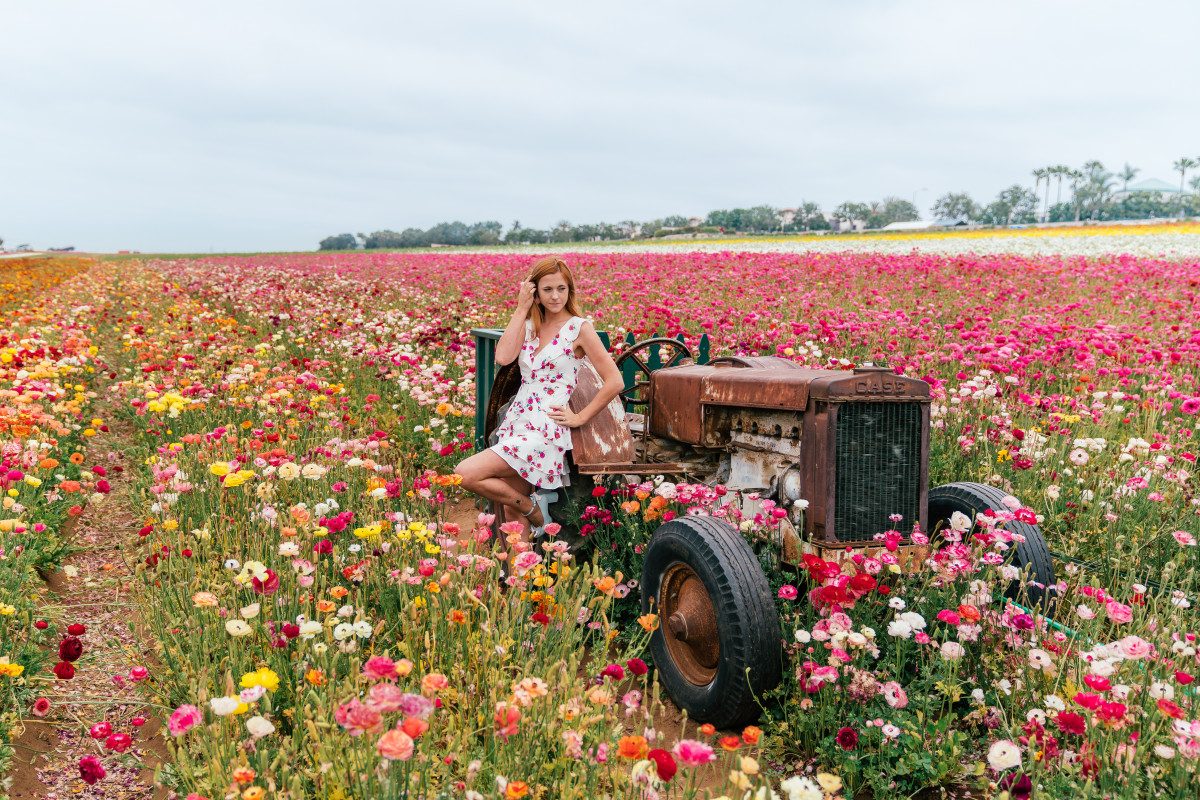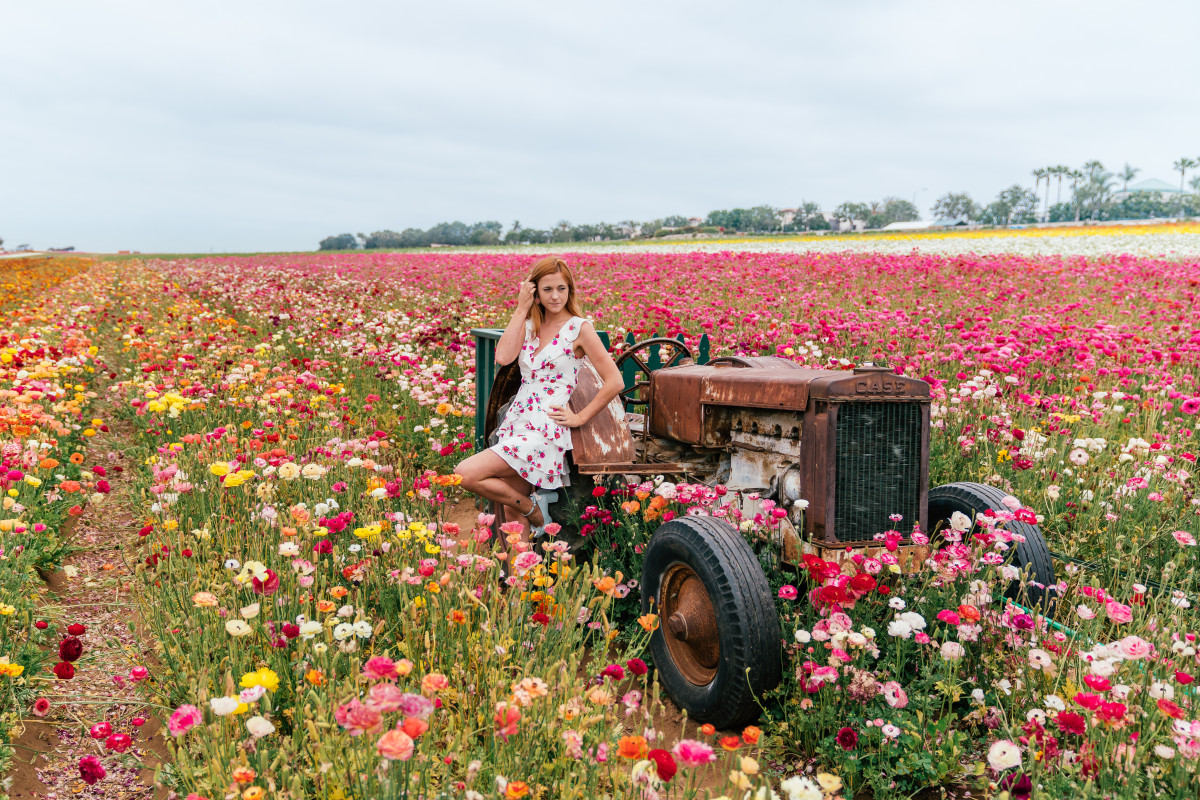 Nothing heralds the coming of spring better than the blooming of thousands of beautiful flowers. The Carlsbad Flower Fields are made up of fifty acres of the beautiful colored Giant Tecolote Ranunculus flowers that bloom between March and May.
Throughout the six weeks when the flowers are in bloom, there are plenty of activities to take part in apart from just visiting the fields. These include seeing performances by guest musicians, having tea in the gardens, taking part in arts and crafts or even taking part in flower arranging classes.
10. Hike to Potato Chip Rock
I'm fairly sure that you've seen tons of pictures of this landmark with people dangling off the edge of the rock or perched over it overlooking the stunning view.
You can find this funnily named rock on the top of Mount Woodson Summit in San Diego and it quite literally looks like a potato chip. When you're standing on it, it doesn't feel as fragile as it looks!
The hike up the Mount is about 4 miles, takes about 3-4 hours and does get quite steep when you're reaching the top. Potato Chip Rock itself is very close to the summit but along the way, there are plenty of other cool rock formations to enjoy. Once you're at the top, there are some pretty epic views of San Diego.
---
Other Fun Things to Do in Southern California
1. Relax in Palm Springs
Palm Springs is essentially the hipster center of California, a desert oasis that has modernized to meet the trends of the young, wild and free.
With year-long summer weather, this is where you come to bake in the sun, swim in the pool and take part in all the festivals that are hosted here, including the very popular annual Coachella festival.
The area is filled with chic restaurants, top trending fashion boutiques, art galleries and museums all against a stunning background of palm trees and mountains. The vibes are very relaxed, no one is ever in a rush so it's the perfect place to unwind.
Some of the most popular things to do in Palm Springs include taking a ride on the aerial tramway, cycling on the San Andreas fault, visiting the art museum or attending any of the wild upcoming events and parties.
2. Sleep in Crazy Rooms at Madonna Inn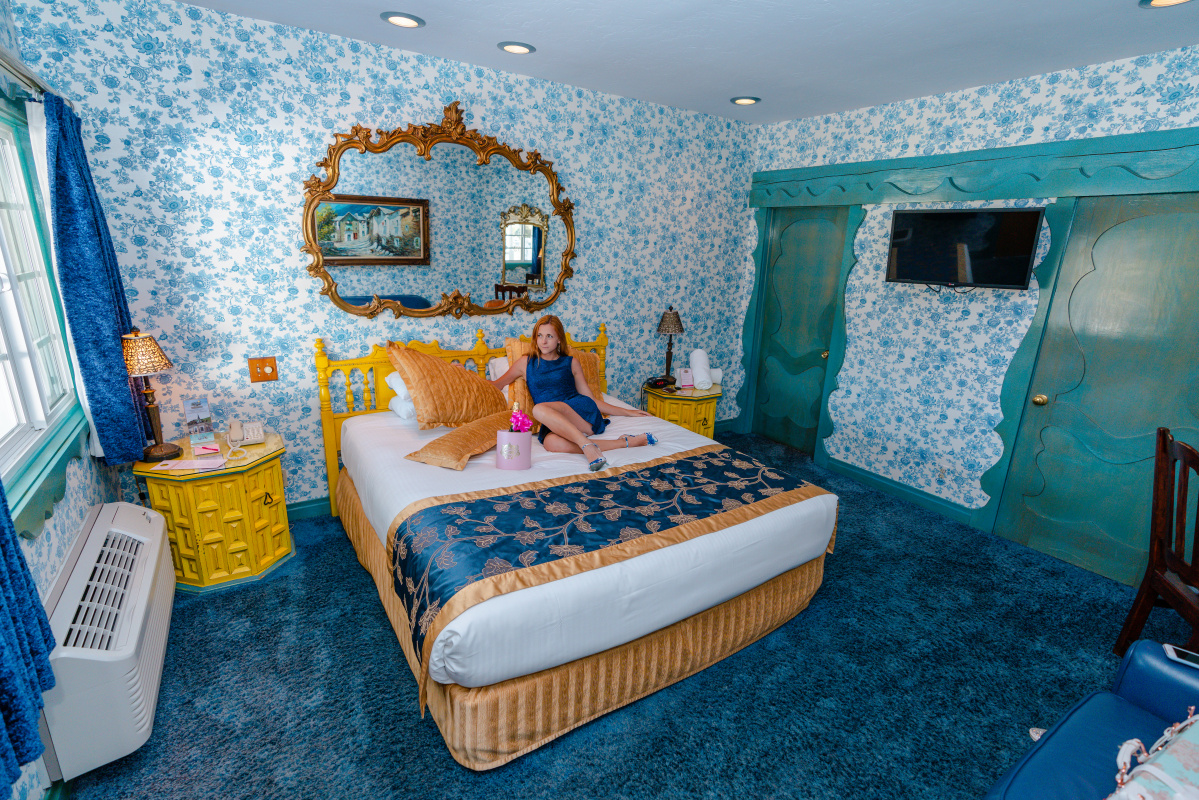 Just as crazy and wild as its popstar namesake, the Madonna Inn has 110 rooms that you can stay in and each one has a completely different style of architecture, colors and interior design.
The resort also has a luxury spa, offering everything from massages to facials, as well as a stunning infinity pool to make your stay even more relaxing. It's also very popular for its famous Copper Cafe and the Gold Rush Steakhouse which are just as colorful and eccentrically decorated as all of the rooms!
---
3. Visit Danish Town of Solvang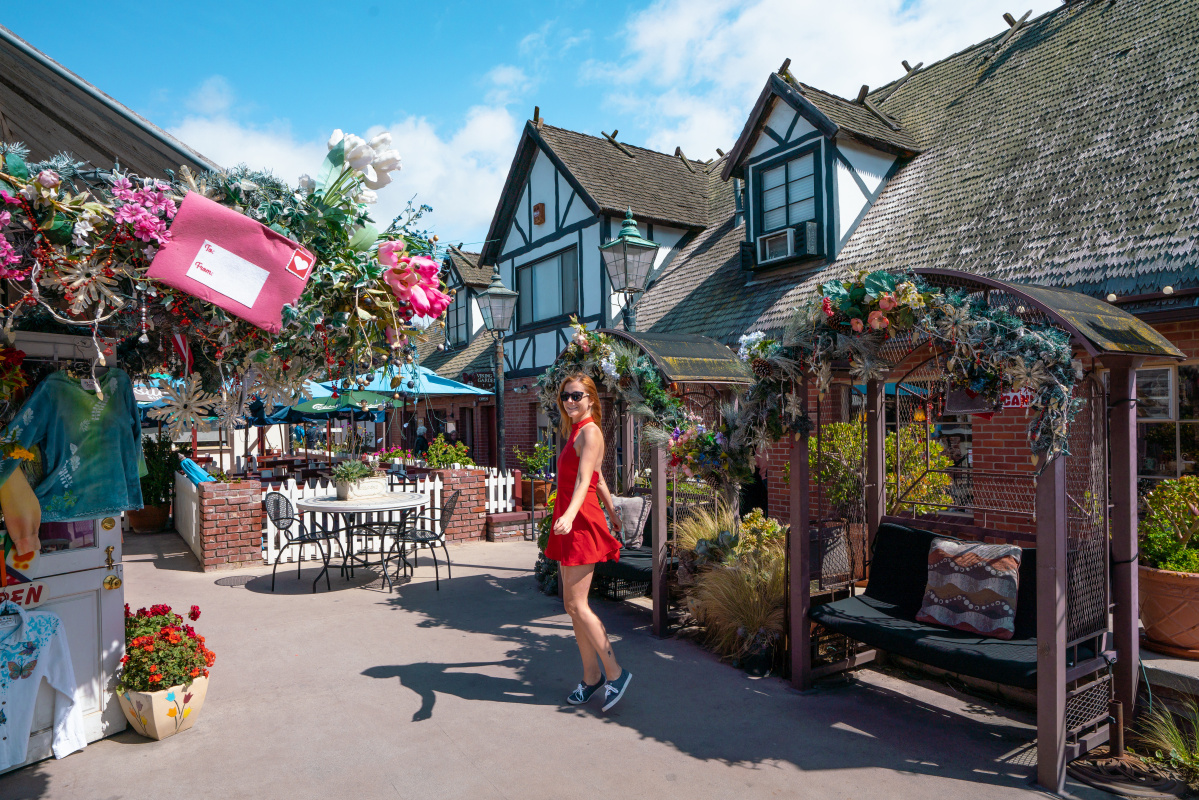 Nestled in the Santa Ynez Valley, the Danish village of Solvang has been around since 1911, when a group of Danish Americans decided to bring a little piece of home to Southern California.
Enjoy the traditional Danish architecture and culture in the town, complete with 5 windmills, the beautiful Little Mermaid Fountain or indulge in traditional pastries from world-renown bakeries.
The village is within the Santa Barbara wine country so its a perfect place to wind down with some local wines from over 120 wineries and vineyards.
Another interesting thing to do within the village is the Elverhøj Museum of History & Art. This museum explores the city's Danish heritage through personal stories and photographic exhibits.
The village also has some beautiful churches to see or you can hop on and ride a traditional historic wooden horse-drawn street cart to cruise around the Santa Ynez landscape.
---
4. Experience Cowboy Vibes at Pioneertown
Have you ever imagined living in one of those quintessential 1900s cowboy towns in the wild west? Pioneertown in the California desert is exactly that. It was originally built as a Hollywood movie set in the 1940s but when the popularity of the cowboy franchise died down, people actually began to move into the town and started setting up small businesses.
The town still only has one restaurant, one single Motel, very little amenities and is surrounded by quite a hostile environment with hot weather and harsh desert plants and animals. Nevertheless, its become a very popular destination for visitors. It's interesting to visit to see the western style buildings and you may even see real life tumbleweed tumble down Main Street!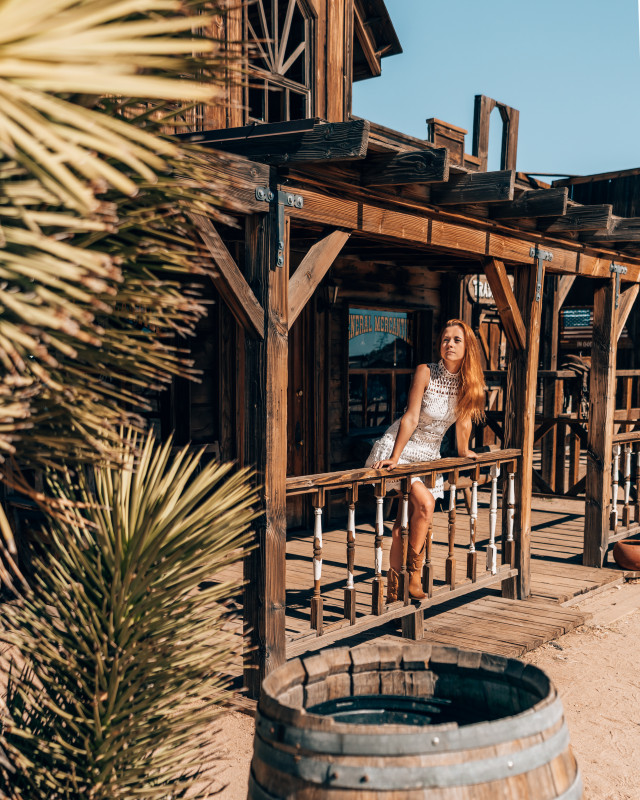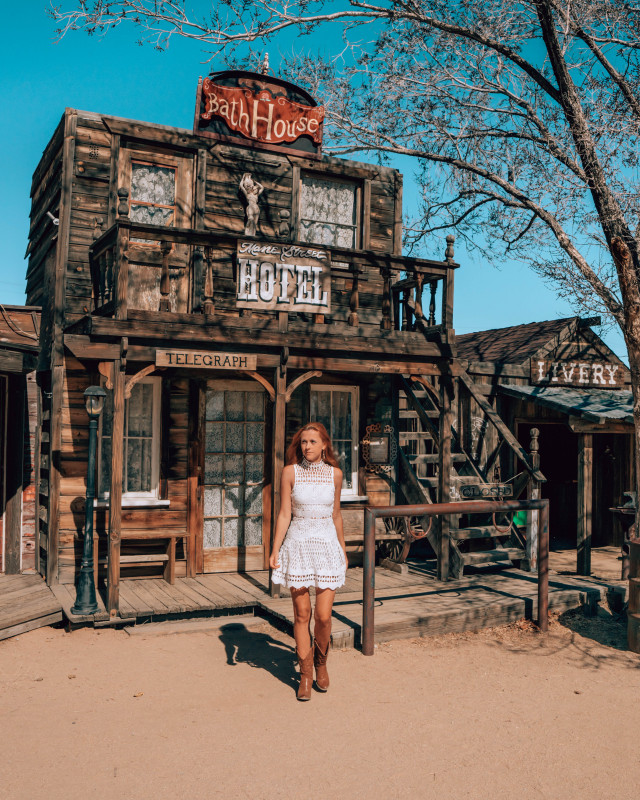 ---
5. Glamp at Joshua Tree National Park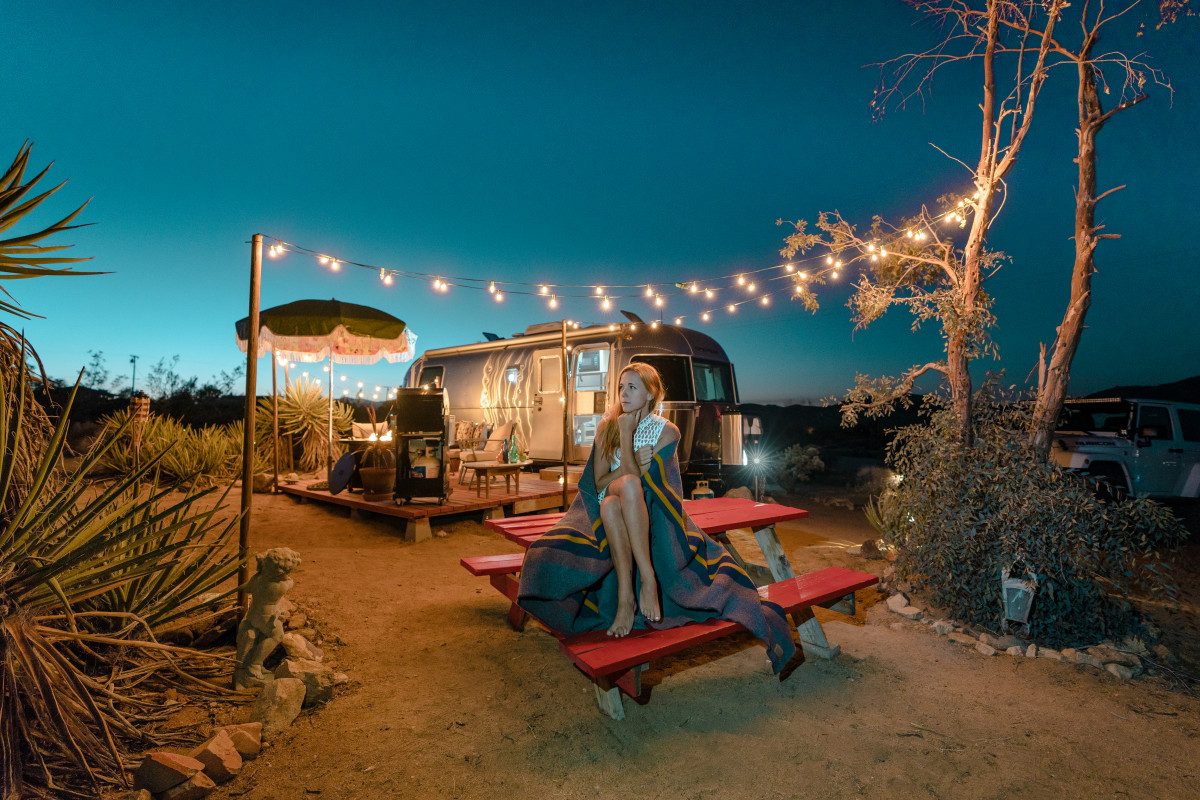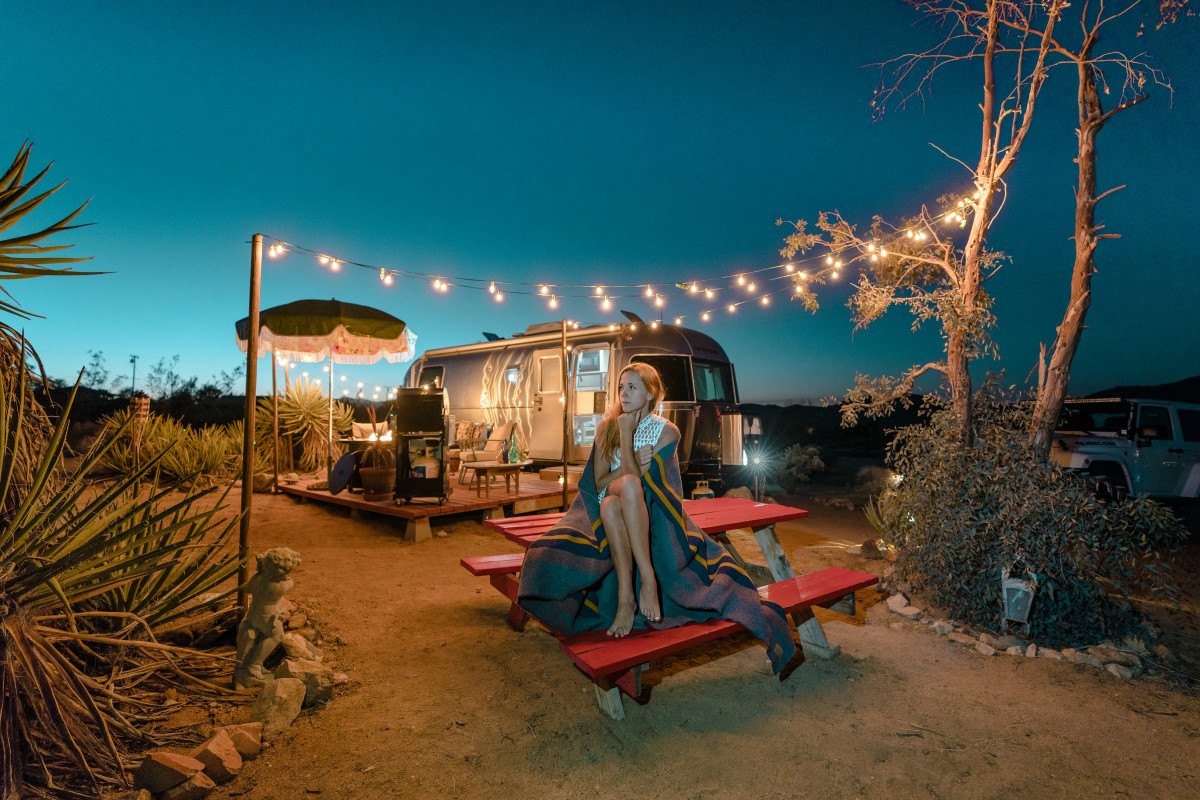 Glamping at Joshua Tree is one of the best things to do in southern California. This National Park sees two desert ecosystems converge, the Mojave and Colorado. It's rich in diverse wildlife, stunning desert landscape, the famous Dr. Suess like Joshua Tree. It's the ideal setting to camp under the stars.
The campsites in Joshua Tree are separated into those that you have to make reservations for and those that operate on a first-come, first-serve basis.
Each campsite has a different price range because of the views that they offer and the amenities in the area such as water, pit toilets and fire grates. You can either camp in a tent or in a small RV or trailer depending on what the site you want to visit allows.
From your campsite, you'll be able to witness some of the most stunning sunsets. You should definitely also adventure to Skull Rock, hike up to Ryan Mountain, visit the Barker Dam National Trail, see the Cholla Cactus Garden and climb up to Key Views to marvel at the 360 views of the desert and beyond.
---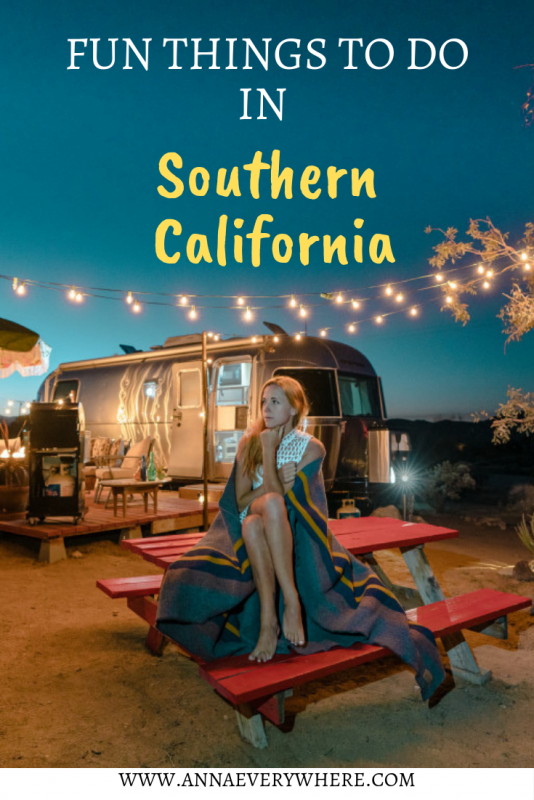 Since it's impossible to add all of the quirky, worthwhile places to visit in Southern California to one list, here are a few more quick suggestions that are well worth checking out: the Lucha Libre Taco Shop in San Diego, Lotusland in Santa Barbara and The Last Bookstore in Los Angeles.
Know something I don't? Let me know your suggestions for the best things to do in Southern California in the comments!