Are you bored of typical hotels that mostly look the same? Or simply looking for something different? This is where AirBnB comes in handy. Travelers who like unusual lodging have plenty to choose from in California, as there are many themed AirBnBs in California. And more importantly, they're all affordable!
I picked out these Instagram-worthy Airbnb vacation rentals for you to enjoy the California beach life and endless fun from.
Some of these places are more affordable than others, but I decided not to put a price cap on any AirBnBs, because maybe you'll fall in love with some so much that you'd like to splurge!
Most Unique & Themed AirBnBs in California
This designer 5-acre hillside villa almost looks like a castle. It's reputed to be the former home of legendary magician Harry Houdini. And it's also pet-friendly, so your furry friends can enjoy it too.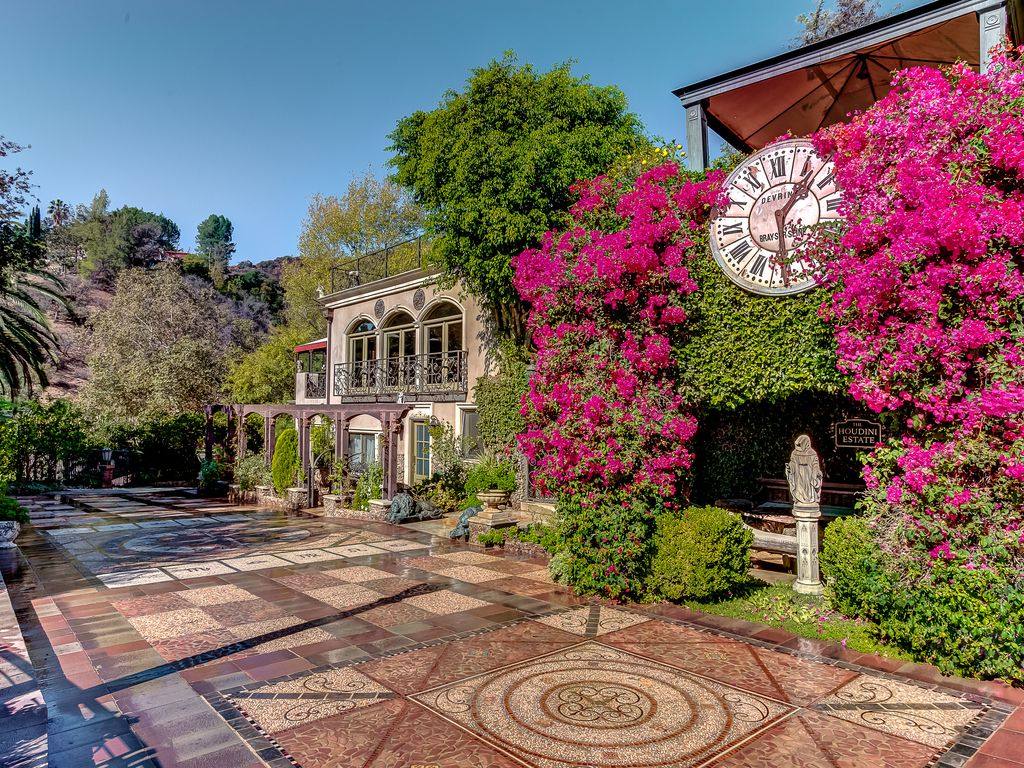 ---
This uniquely constructed cob Gingerbread House is decorated with stained glass windows with LED lights inside the glass. It has an outdoor shower and animal sanctuary nearby. Great if you want to glamp in the middle of the forest.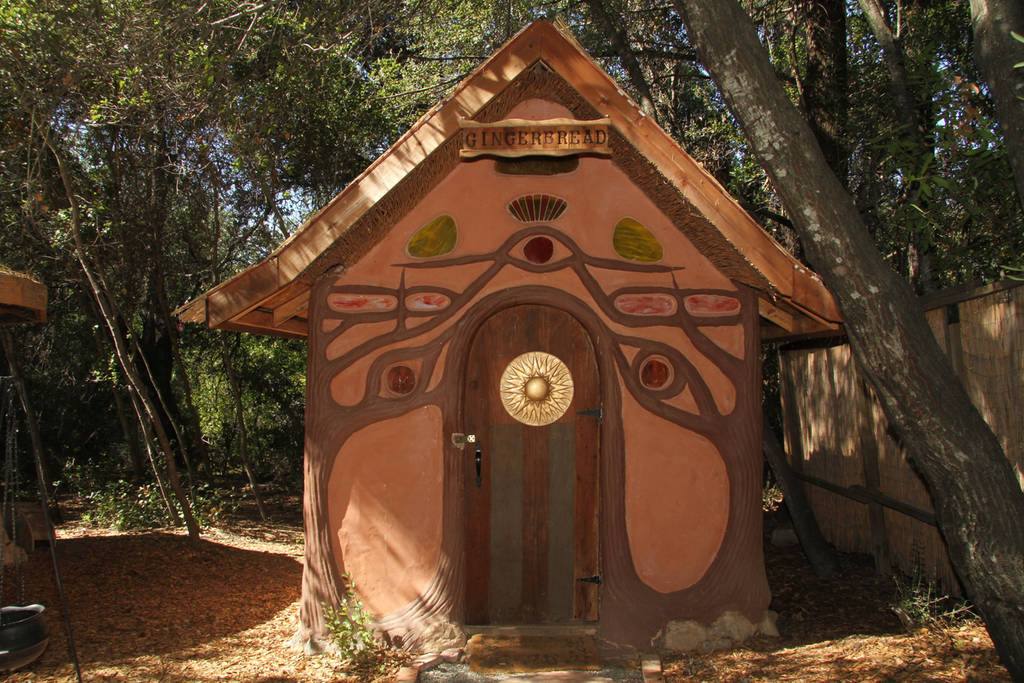 ---
A Beautiful ranch that has a variety of animals that are very socialized for you to enjoy. All guests will have a tour of the property and a complimentary drink in the Saloon. Those who want to be pampered can also book a massage or facial.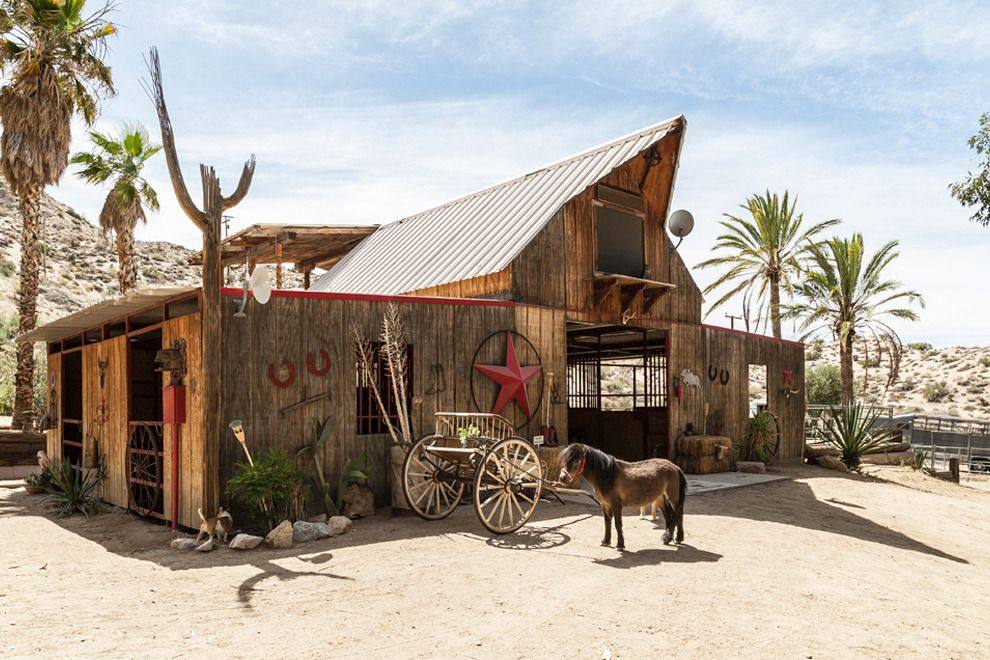 ---
The totally magical decor of the Pirates of the Caribbean retreat will transport you in the jungle. Great place for a romantic getaway.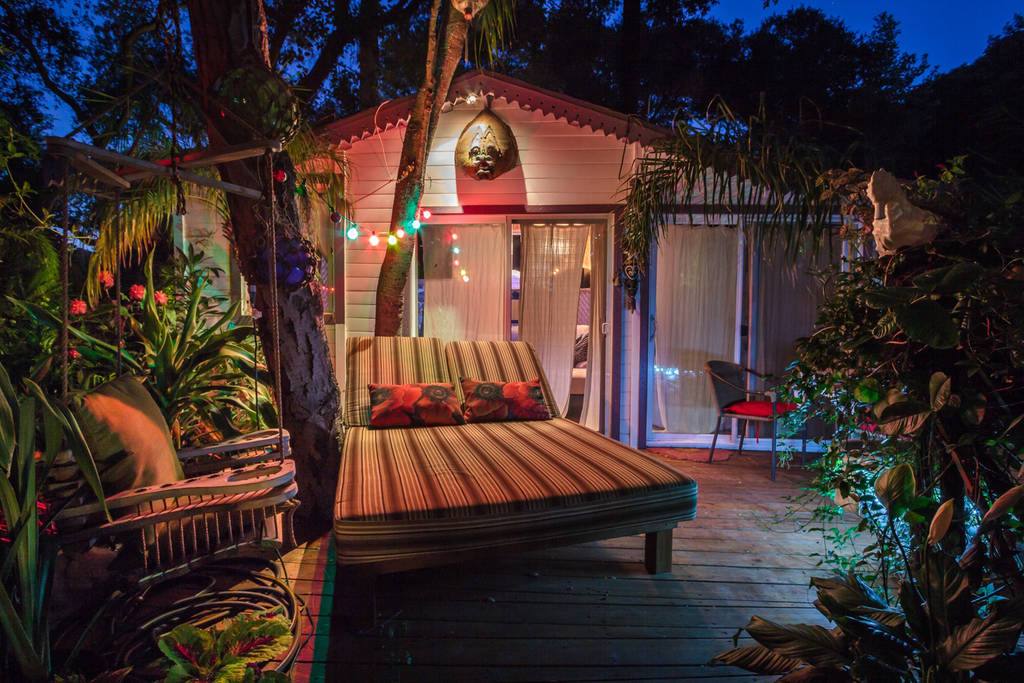 ---
A classic Airstream travel trailer, that has been converted into a fully functional Glamping unit. If you get too hot, you can always use the hot tub outside.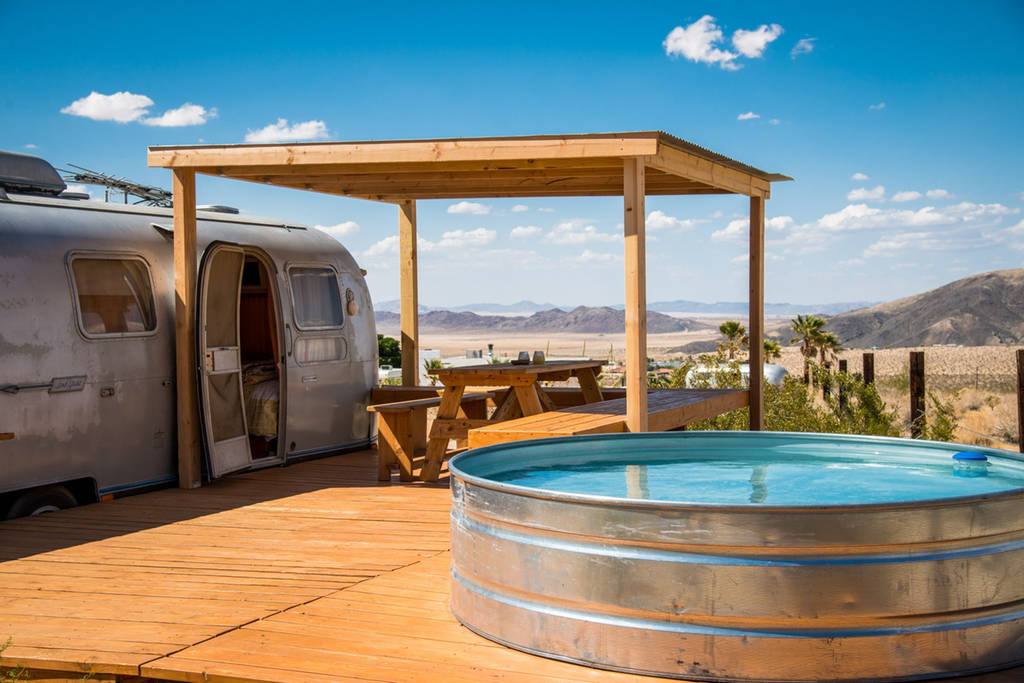 ---
Originally built in 1947, this one owner cabin was the former residence of music composer Franklin Lacey and one of the highest homes of Los Angeles. Inside the house you feel as if you were living in a huge treehouse built onto an array of trees.
Also check some other cool treehouses: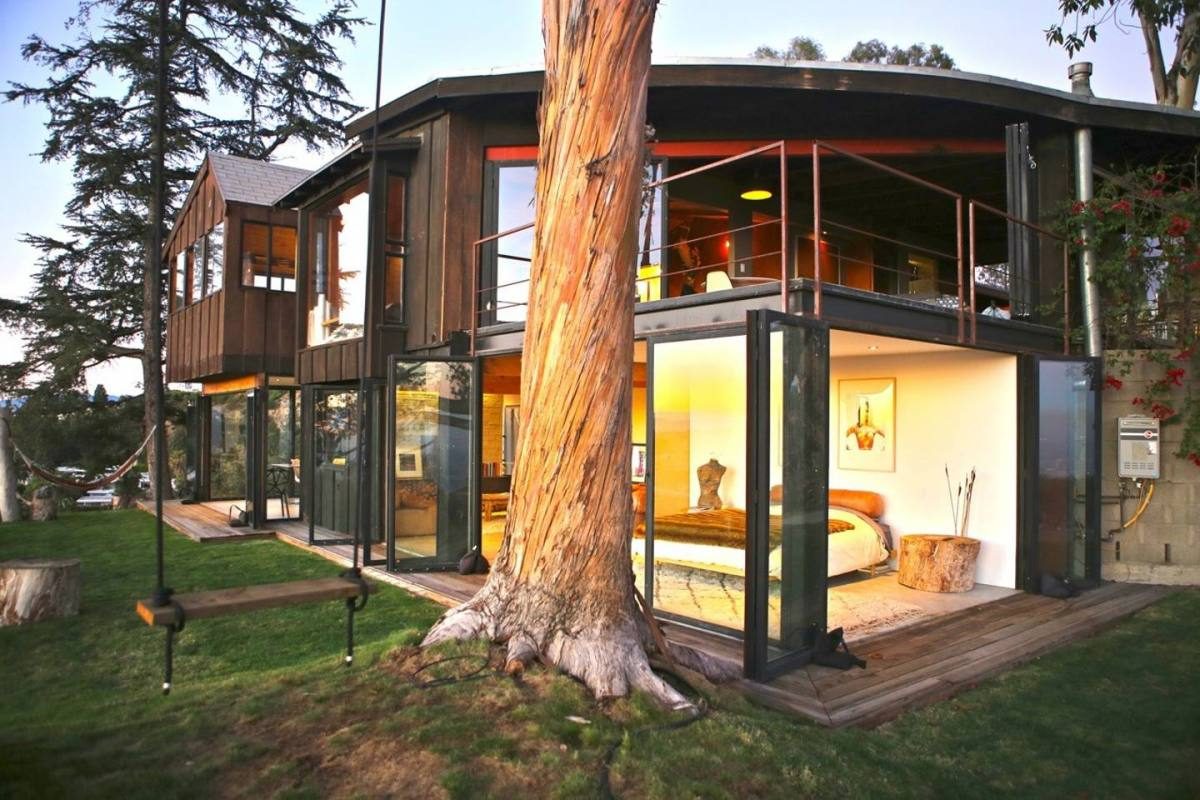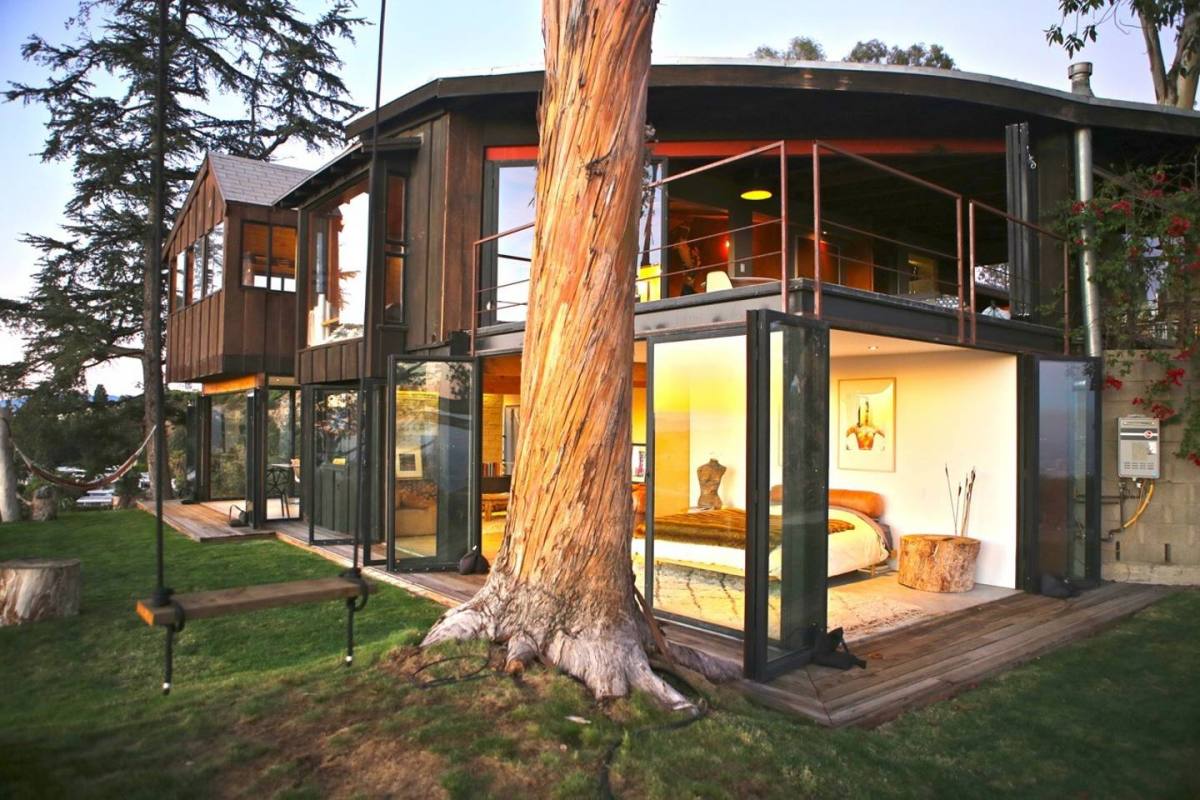 ---
This treehouse dome offers the best of both worlds – securely nestled above it all in a quiet forested canyon and close enough to Giant Sequoias Park. Must stay!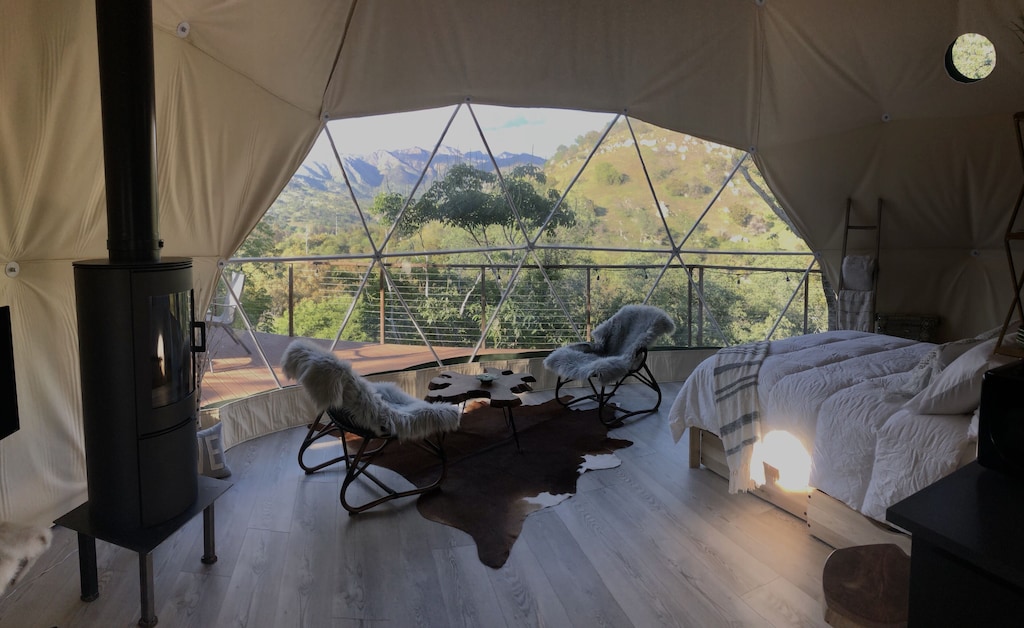 ---
Wake up to a rugged, beautiful landscape with picturesque mountain views close to the beach. The patio nestled in a small avocado orchard provides a peaceful place to relax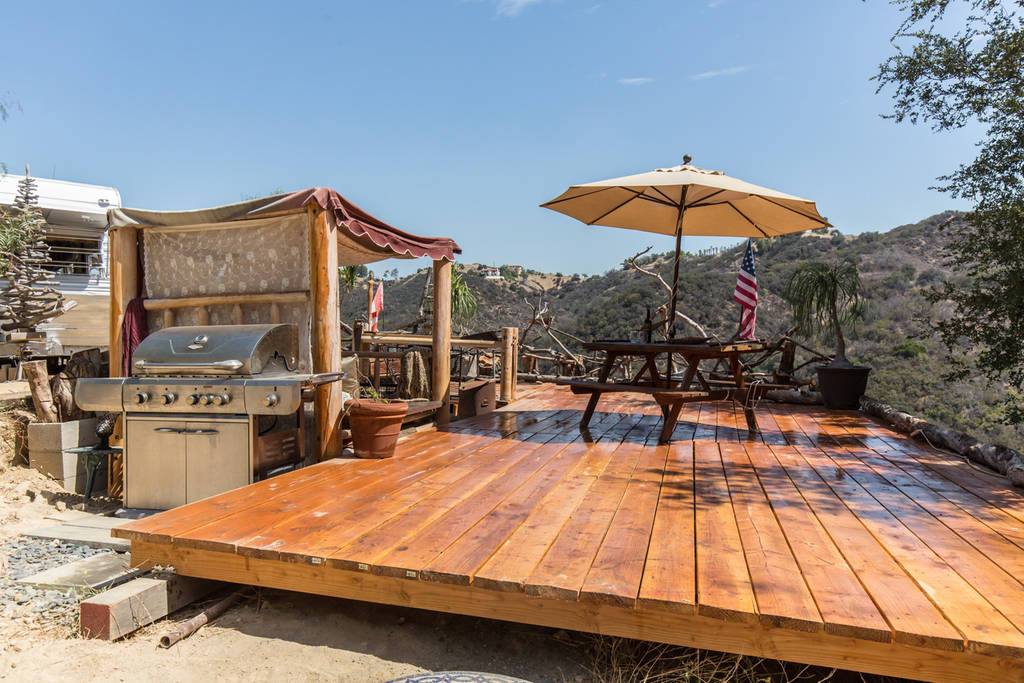 ---
Stripped down and past its aluminum studs, this airstream has been redesigned into a large studio with three large frameless glass panels that slide open to a huge cantilevered deck with unrivaled views of County Line beach, the Channel islands, Catalina and Deer Creek Canyon.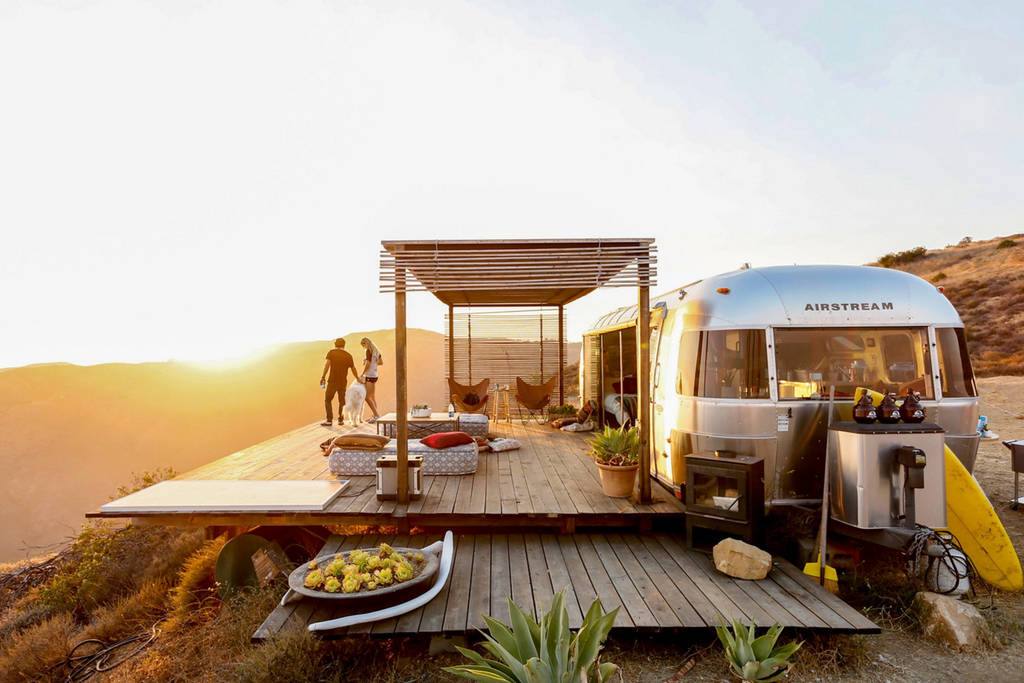 ---
A two-bedroom house with an outdoor hot tub and gorgeous views made entirely out of tiles. Both inside and outside.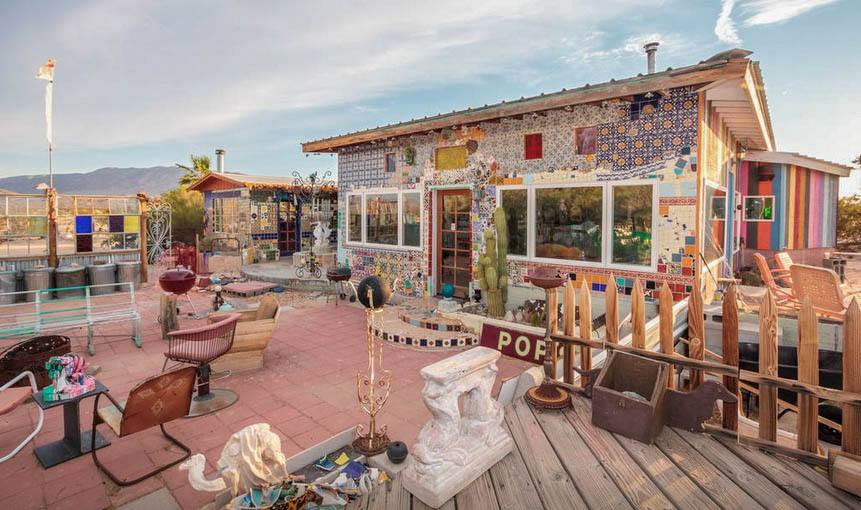 ---
Enjoy a private and secluded eco-friendly Yurt with all the modern conveniences. Right in the middle of an all-organic farm that can make you home-cooked meals too. It's also very pet-friendly!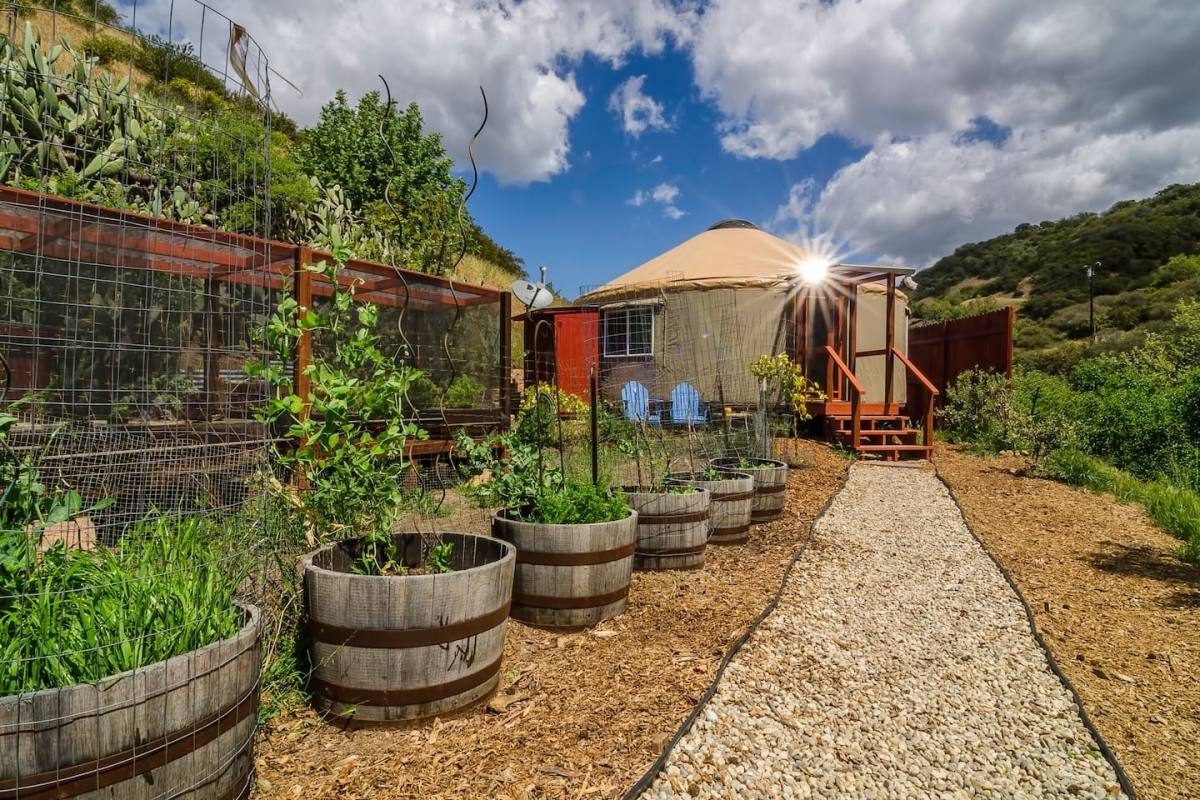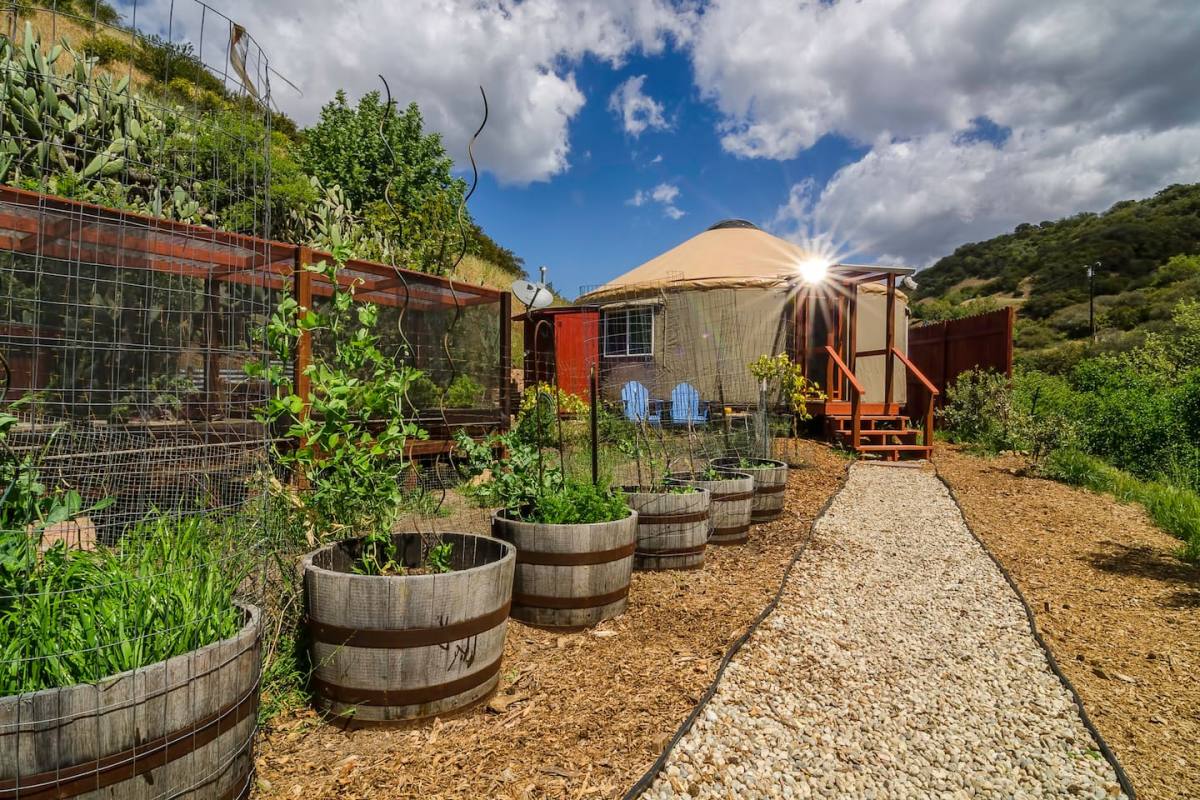 ---
My dreams came true! They finally built a place for mushroom lovers.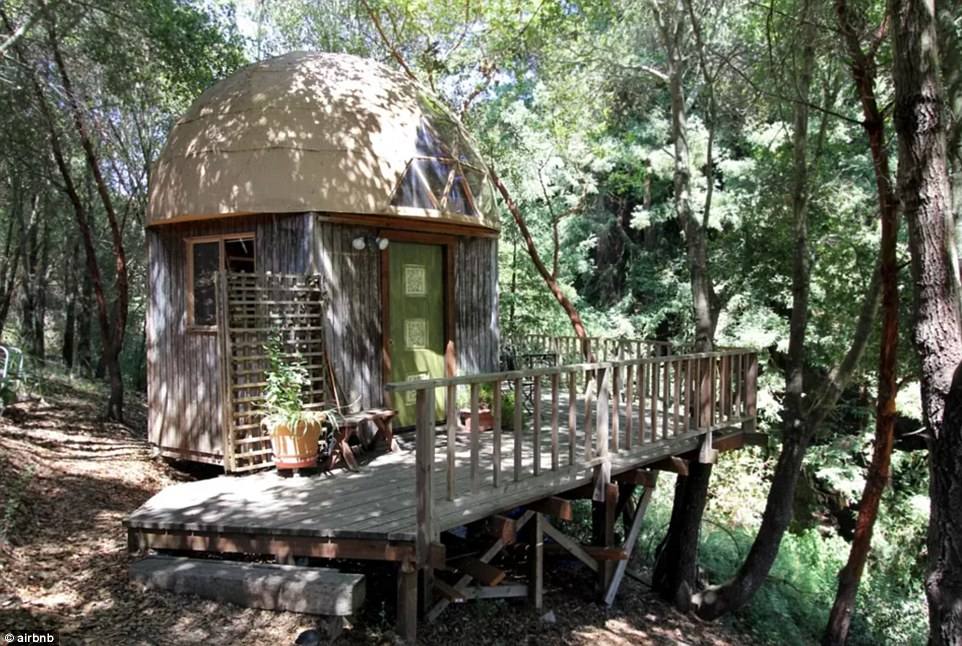 ---
Beautiful cottage with an outdoor hot tub on the deck and infinity pool nearby. All surrounded by trees.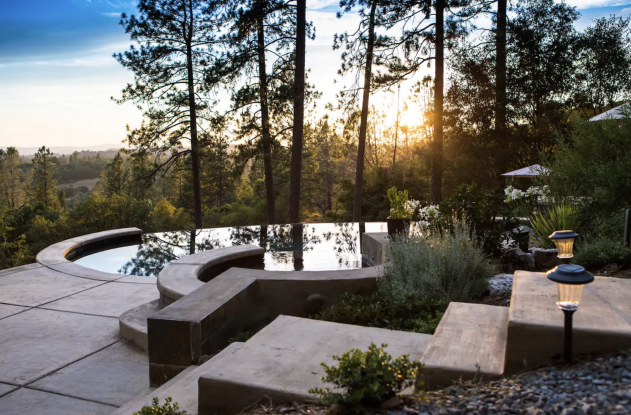 ---
Traditional Japanese architecture tucked away in a great Berkeley neighborhood. The place has Tatami mats, an organic queen size futon, and an "Ofuro"- a deep and luxurious soaking tub.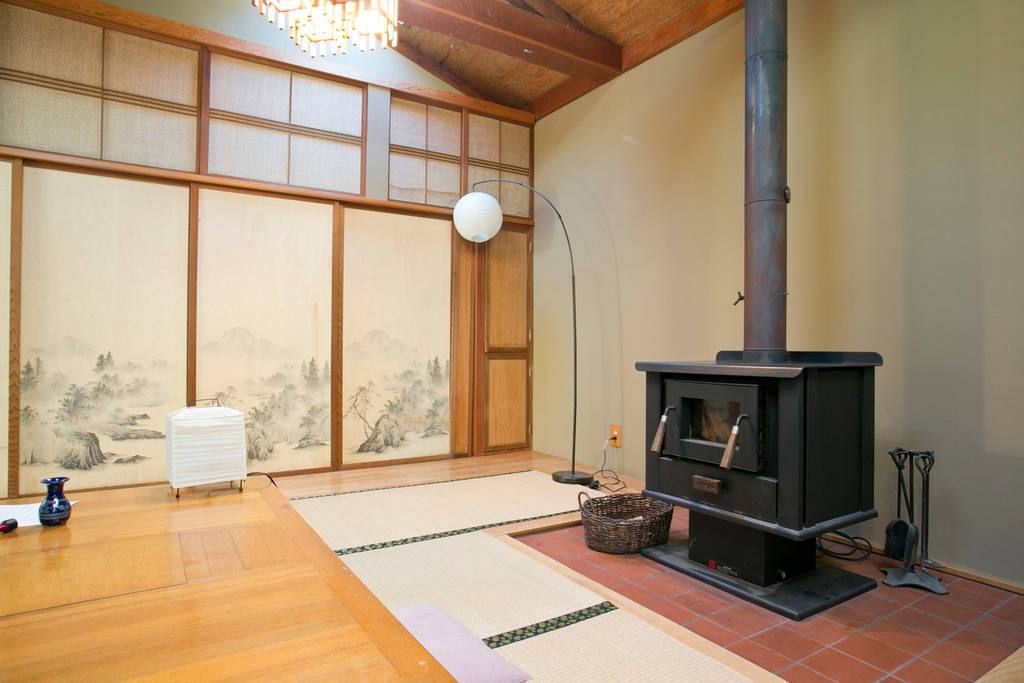 ---
Awesome tipi with amazing energy in the Mojave Desert next to Nevada. You will hear roosters crowing in the morning, owls calling to each other at night and our local coyotes who can be heard "yipping" to each other.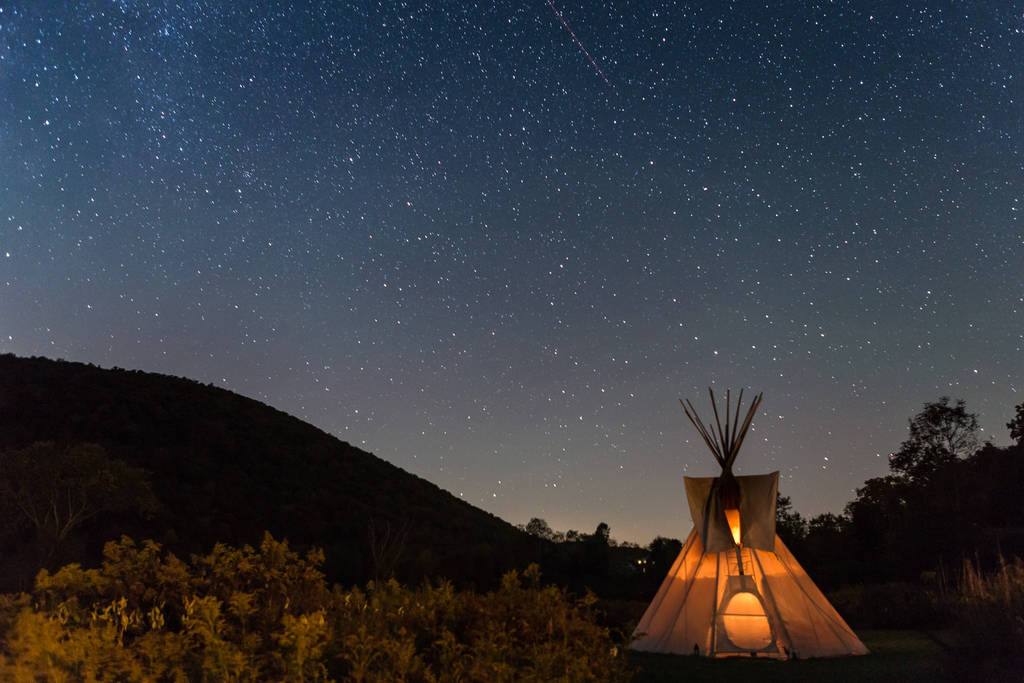 ---
Luxuriate in safari romance in this secluded African-style 'Out Of Malibu' canvas tent with en-suite bath and sun-warmed shower. Super private location in a canyon, surrounded by nature.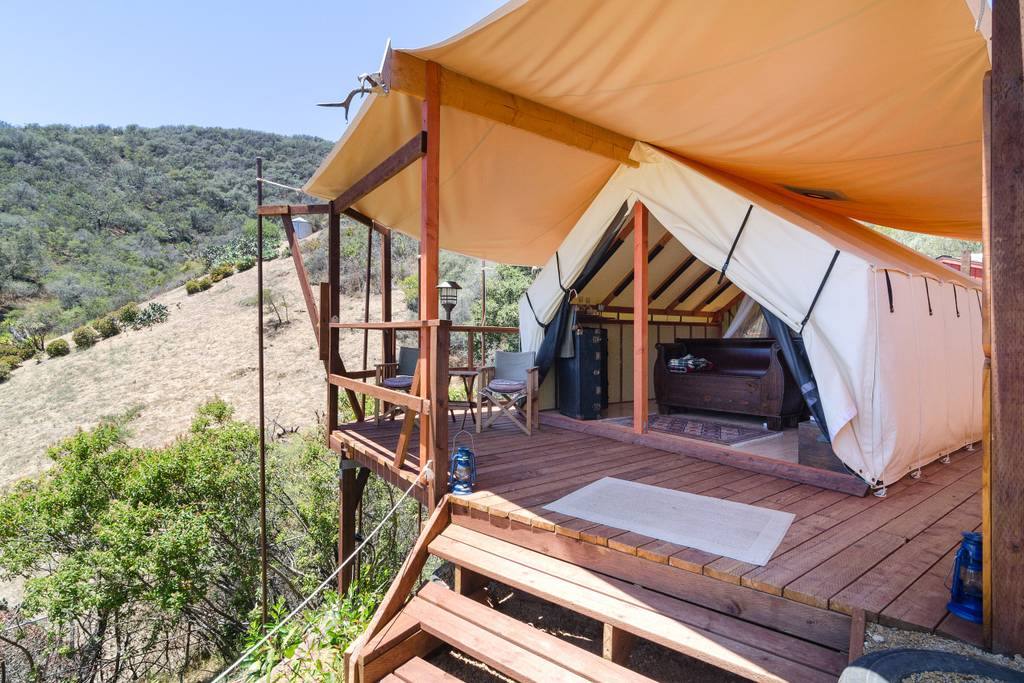 ---
This 1908 tugboat is berthed in one of the finest marinas on the west coast. You can arrive there by bike, by car, or by ferry as it's quite easy to reach.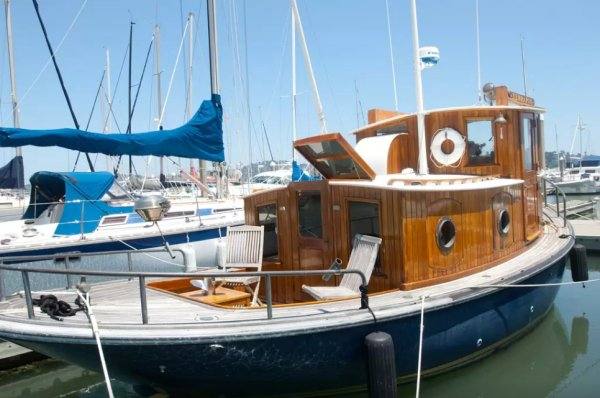 Do you have any other recommendations for the unique AirBnBs in California? Let me know in the comments below! BONUS: if you've never used AirBnB get a $40 credit by clicking here.