The capital city of Colorado has no lack of things to do… From amazing hikes near Denver to delicious restaurants to countless events happening in the city, you'll be sure to keep busy during your time here.
But, sometimes you need to escape from the busy life in Denver and find a way to relax after exploring all that Colorado has to offer. That's exactly when to take advantage of the amazing hot springs in Colorado.
There are many hot springs pools and resorts scattered around Colorado and they all make for a unique and relaxing experience.
Whether you're looking for hot springs close to the city, one with amazing mountain views, or a full resort with spa treatments and a luxury experience for a romantic date, this list has a variety of options for you to find a place to take a soak and enjoy the fresh mountain air in a unique way!
1. Mt. Princeton Hot Springs Resort – Buena Vista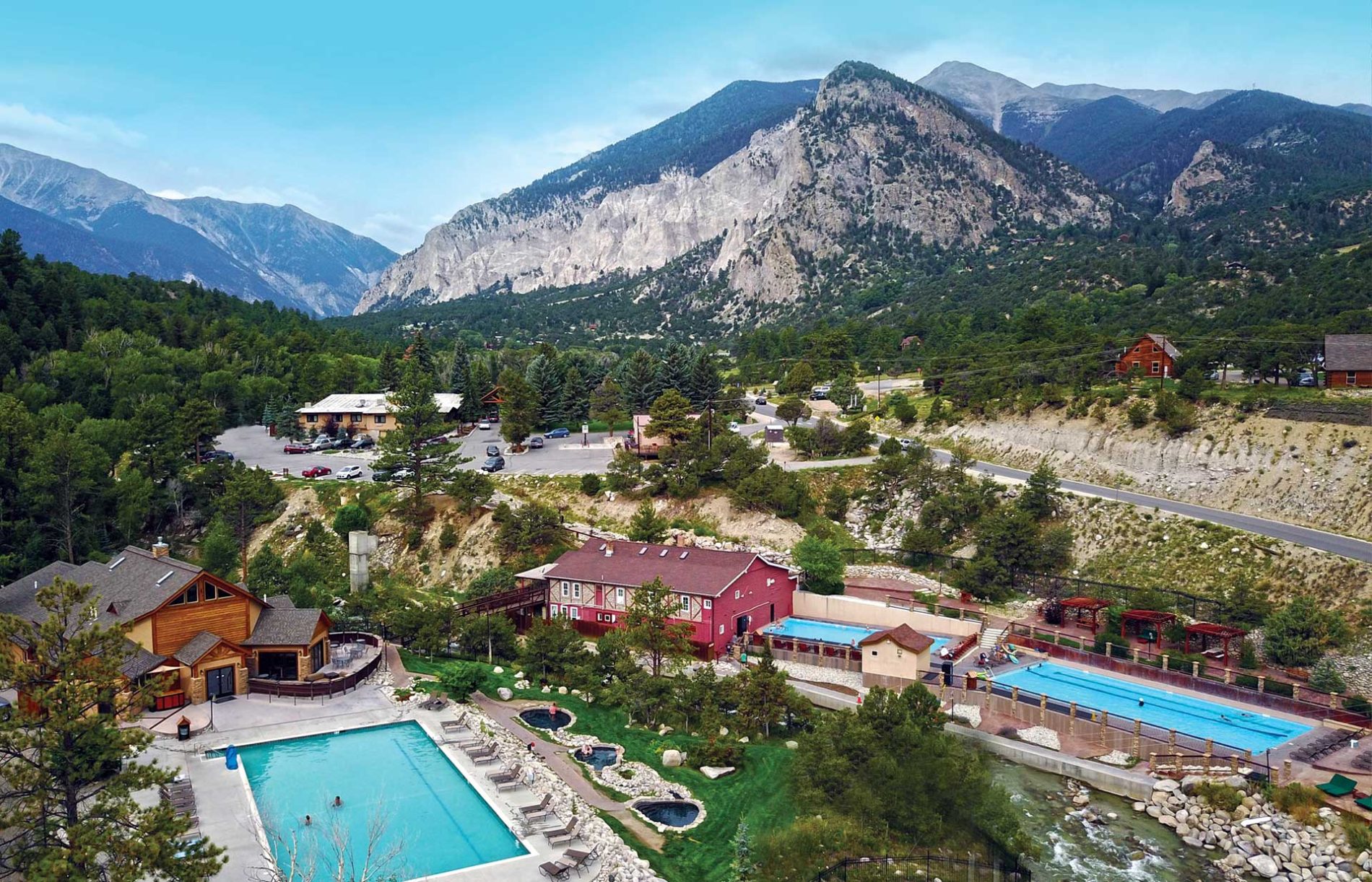 This high-end hot springs resort near Buena Vista tops the list of hot springs near Denver.
Mt. Princeton Resort is open year-round and has several springs to soak in. From the scenic creekside hot springs to the infinity pool or family-friendly pool with a 400-foot water slide, there is something for everyone at Mt. Princeton Resort.
Spa treatments, fitness classes, and private pool rentals make this more than just a place to soak in hot springs but a full-on deluxe experience! To make it a whole weekend trip, book a room for the weekend and enjoy all of the resort amenities.
2. Indian Hot Springs – Idaho Springs
Located in the historic mountain town of Idaho Springs about 40 minutes from downtown Denver, these hot springs are one of the closest hot springs to Denver.
The main pool at Indian Hot Springs is the closest thing to a tropical getaway you'll find in the mountains with the glass atrium and tropical plants enclosing the mineral pool.
If you're looking for a more private experience, book an indoor private bath or outdoor jacuzzi to enjoy a soak on your own. Or, for a very unique experience, head to the geothermal caves to take a dip in a hot springs cave or Club Mud to enjoy a clay mud mask filled with minerals.
Make the most of your time in Idaho Springs by going shopping on downtown Main Street, experiencing a rafting trip, or taking a tour at Phoenix Gold Mine to learn about the rich history of mining and gold panning in Colorado.
Recommended Tour:
Glacier Hike and Geothermal Cave Pools
3. SunWater Spa – Manitou Springs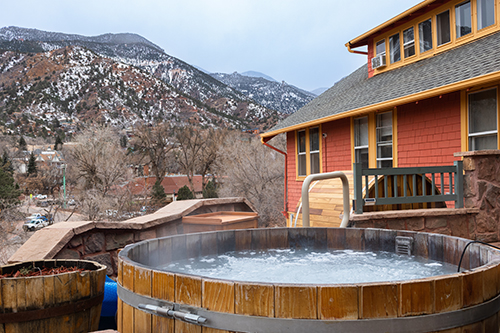 The mineral water cedar hot tubs at SunWater Spa will be sure to soothe away all your stress, aches, and pains.
The water in these pools is sourced from 7 Minute Spring which provides water full of holistic healing minerals. All of the tubs have mountain views for a beautiful view as you relax.
Pair your mineral water soak with a spa treatment to make it a full spa day. View a full menu of spa services here.
If you're staying in Denver, SunWater Spa is only a 1 hour and 15-minute drive from the city so this could be a half-day trip! Or stay in Colorado Springs for a night if you want to be super close by!
---
4. Iron Mountain Hot Springs – Glenwood Springs
Iron Mountain Hot Springs is one of the most popular places to soak among Colorado locals.
Though it's located in Glenwood Springs, approximately a 2-and-a-half-hour drive from Denver, it's definitely worth a day trip to come to relax in the 18+ pools at Iron Mountain.
A daily soak ticket includes access to 16 mineral pools and a freshwater family pool with an attached spa as well as a new "experience pool" which uses a mixture of mineral waters from hot springs all around the world.
The hot springs are surrounded by the Rocky Mountains which make this a truly remarkable place to come. For an unforgettable experience, visit when it's snowing and enjoy the warm pool while taking in the beauty of the snow around you.
---
5. Cottonwood Hot Springs – Buena Vista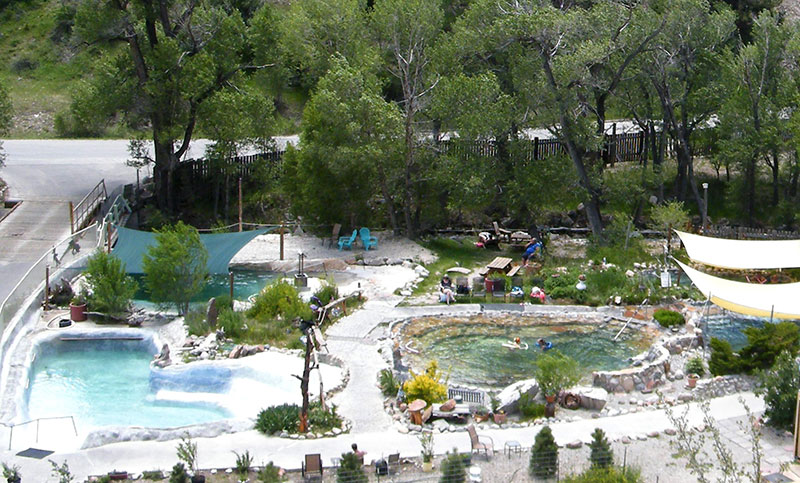 For centuries the water at Cottonwood Hot Springs was used by the Ute Indians as a spiritual gathering place. Today, Cottonwood uses the geothermal gravity-fed mineral waters as a place for anyone to come for ultimate healing and relaxation.
They are located in Buena Vista in the San Isabel National Forest and have a few different pools of 100% natural hot springs water on site.
The temperatures range from 94 to 110 degrees and each of the pools is outdoors in the fresh mountain air. If you'd like to stay for a night or weekend, they offer lodging at the resort along with spa treatments for guests to book.
---
6. Hot Sulfur Springs Resort & Spa
If you're looking for a completely natural experience, head to Hot Sulfur Springs Resort & Spa.
Each of their 15 pools on site has no added chemicals and is balanced by the natural water flow through the springs. The first bath house on site was built in the 1850s and they have upheld their natural standards since.
If you're interested in also utilizing their spa services, you can book a massage here and receive a complimentary day pass to all 15 mineral pools. Choose from Swedish or Deep Tissue massages along with your hot springs soak to experience a day full of relaxation!
There is also lodging on-site if you want to stay for a night or weekend.
7. Salida Hot Springs Aquatic Center
This aquatic center is one of the largest indoor hot springs in North America. Though it seems like a normal aquatic center, the water is piped in from underground springs nearby and is rich in minerals.
Come to swim laps or swim with the family in the main pool all while receiving the benefits of spring water.
For a hot spring experience, head to the leisure pool. The water in this pool is collected from a spring a few miles away where it bubbles from the ground at 140 degrees. It's then collected and sent to the leisure pool where it's kept at 101 degrees. Come soak in the hot mineral-rich waters and relax the day away!
Before your visit, make sure to check the daily schedule to look for open swim times, lap swim hours, swim lessons, private soaking pool bookings, and special discount days.
8. Eldorado Springs Pool
During the summer, Eldorado Springs serves as a family-friendly place to swim in the natural mineral waters of the mountains.
It's not a hot spring so it's only open from Memorial Day to Labor Day, but in the summer you'll find this pool to be a fun place to cool down and take a dip in a natural pool. Take a ride down the water slide to feel like a kid again on a hot day this summer!
It's only a 40-minute drive from Denver, close to the city of Boulder. With a snack bar, a slide, and changing facilities on site, this is a great place to head with the family for a fun afternoon of swimming in the natural mineral waters surrounded by the mountains.
9. Old Town Hot Springs – Steamboat Springs
Located in the heart of Steamboat Springs, this center for health and wellness is a place not to miss if you're in town!
At the hot springs pools at Old Town, there are 8 different pools all filled with natural healing mineral water.
The water comes from a spring that pumps 220 gallons of 103-degree water out of the ground per minute and is pumped to each of the pools. This perfect temperature allows for an all-natural experience soaking in the healing waters.
Along with the relaxing, healing waters, there are also water slides and areas with fun for the whole family to enjoy an afternoon in the springs.
Along with the hot springs, there is a fitness center and full spa on site. Book a massage or other spa treatment to get yourself fully relaxed, or join an exercise class at the fitness center to leave feeling refreshed and energized.
If you're a climber, check out the climbing wall at Old Town! Make sure to check the daily schedule for events and special promotions happening at Old Town in Steamboat Springs.
10. Ouray Hot Springs – Ouray, Co
The last hot springs on our list aren't necessarily "near" Denver, but definitely worth a trip if you're looking for an amazing hot springs experience.
Ouray is known as the "Switzerland of America" and is well worth a visit to the historic town nestled in the middle of the mountains. While you're there, Ouray Hot Springs is a must-do activity with state-of-the-art facilities and five different geothermal pools with 360 views of the mountains.
There are five pools at Ouray Hot Springs and three are geothermally heated. These sulfur-free odorless pools are full of healing minerals and range from 75 to 104 degrees.
With options like adult-only areas, lap swim areas, waterslides, and climbing walls, there is something at this facility for everyone to enjoy.