From the iconic peaks of the Flatiron sandstone formations to a bustling downtown to a full calendar of community events, Boulder is a favorite place to visit for both Colorado locals and visitors alike, much of which can be experienced on a bike tour.
With many things to do in every season, this vibrant and young hip town offers something for everyone. Whether you're coming to Boulder for your next weekend getaway or just want some inspiration for a fun day trip outside of Denver, check out this list of things to do in Boulder!
I actually had a chance to live in Boulder for a few months, so happy to help you plan your trip!
1. Pearl Street Mall
If you just have a few hours to spend in Boulder, I'd say head to Pearl Street Mall! This bustling street is the heart of the city. If you want to go shopping for some unique finds, there are many shops to pop in to and find unique gifts or souvenirs.
If you're hungry, Pearl Street is full of delicious restaurants that will be sure to hit the spot. Have a sweet tooth? Check out one of the many ice cream shops on Pearl Street.
On warm days, Pearl Street will be bustling with visitors watching street performers and taking advantage of the outdoor dining patios. In the winter, watch the snow fall from one of the cozy restaurants or come here to find the perfect Christmas gifts. In any season, you'll find Pearl Street Mall to be the place to go in Boulder to experience this hip city.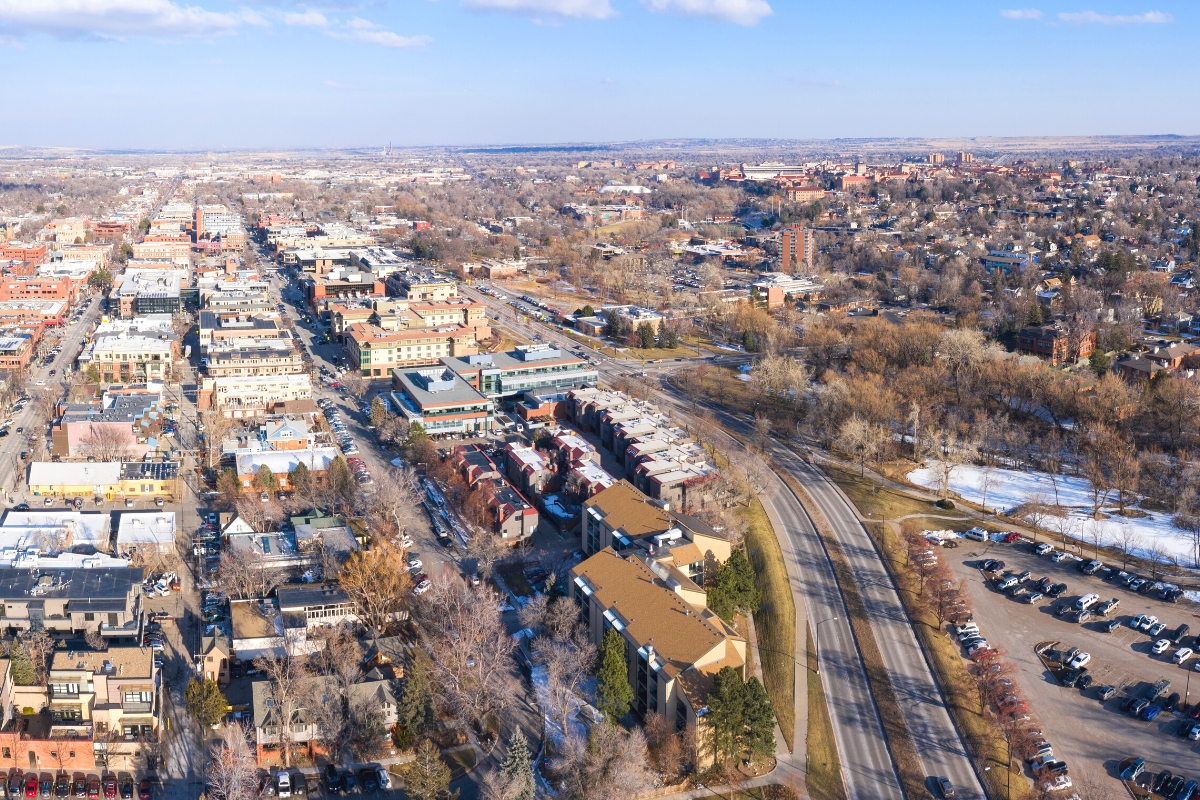 2. Flatiron Mountains
If you're in Boulder, you'll see the Flatiron mountains. As Boulder's most iconic landmark, these sandstone formations create an incredibly beautiful backdrop for a fun city. You'll see them from afar, but the real fun is finding a hike or drive to see them up close. There are many walking and hiking trails for all levels of hikers so find a trail and take in some views you'll never forget!
If hiking isn't your thing or you don't have time, then don't be afraid to drive up the mountain! The Flatirons Vista Loop is a 40-minute drive that gives you beautiful views of the sandstone formations from the comfort of your car. Head here for other scenic drive options around Boulder.
You can also go off-roading in the best off-road 4×4 truck, a 2020 Ford Raptor.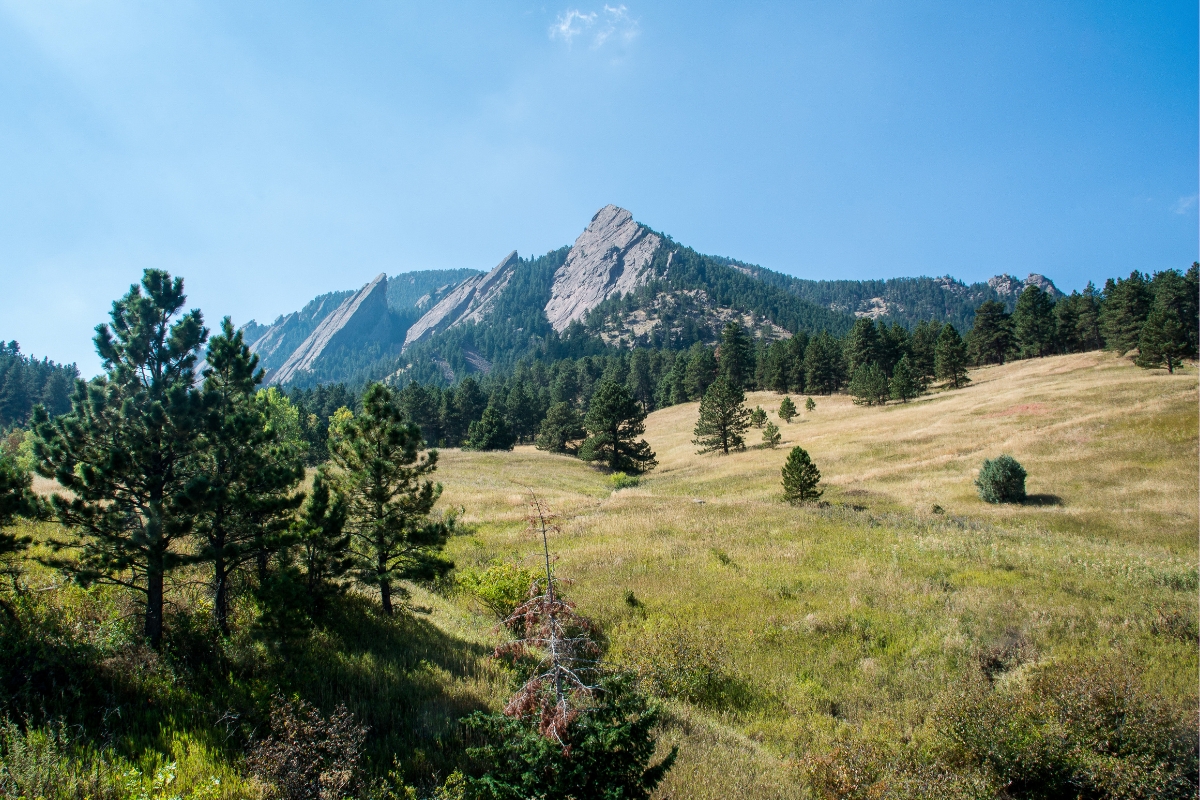 3. Avanti – A Collective Eatery
For a place with lots of options, great views and consistently great food, head to Avanti on Pearl Street! This food court-style restaurant boasts of "one collective space, seven culinary options". It's a casual yet fun place to hang out and grab some good eats!
How it works: Find a table (join the crowd downstairs or head up to the rooftop for some great views) and order drinks with your server. Then take a stroll around the restaurant or use your phone to browse the menus of the seven different vendors to choose from. Each vendor has a specialty, so it's easy for everyone to find something unique and delicious!
Options include unique dishes from many cultures including Middle-eastern, Italian, Costa Rican, and Taiwanese cuisine. See below for current vendors serving up delicious eats at Avanti.
Browse menus for the current vendors:
Boychik – Middle-eastern dishes focused on fresh ingredients
Lost City – Coffee, desserts, ice cream, and more!
New Yorkese – New York and Italian-inspired pizza
Pollo Tico – Costa Rican cuisine
Pig & Tiger – Modern Taiwanese cuisine
Rooted Craft Kitchen – American classic eats
Rye Society – Jewish cuisine with a contemporary twist
Location: 1401 Pearl Street, Boulder, CO
4. Boulder Community Events
From live music and holiday events to art exhibits and pop-up markets, Boulder is a community with a constantly full community calendar. Whether it's a family-friendly magic show, a thought-provoking photography exhibit or exciting trivia nights you're looking for, Boulder probably has it!
For some stunning Christmas light displays, check out the "Snow Much Fun" light show around downtown Boulder. Celebrate local artists each April during Boulder Art Week.
In the summer, enjoy some sunshine and music at Art in the Park. No matter the season, there is something to do! Check out the Boulder upcoming event calendar to make sure you don't miss what's going on when you're in town.
5. University of Colorado, Boulder ("cu")
Known as "CU" to locals, this iconic university campus is the largest campus in all of Colorado. Whether you're a student or tourist, there's always something happening at CU!
In the summer, head here for the Colorado Shakespeare Festival for a unique experience. In the fall, come watch a football game at the stadium! For a unique experience, buy a ticket to watch a play at the Outdoor Theatre on campus.
Head to the planetarium for an out-of-this-world afternoon, or just head to campus to simply take a walk and see the beautiful camps. Don't miss Varsity Bridge, which is one of the most picturesque spots on campus!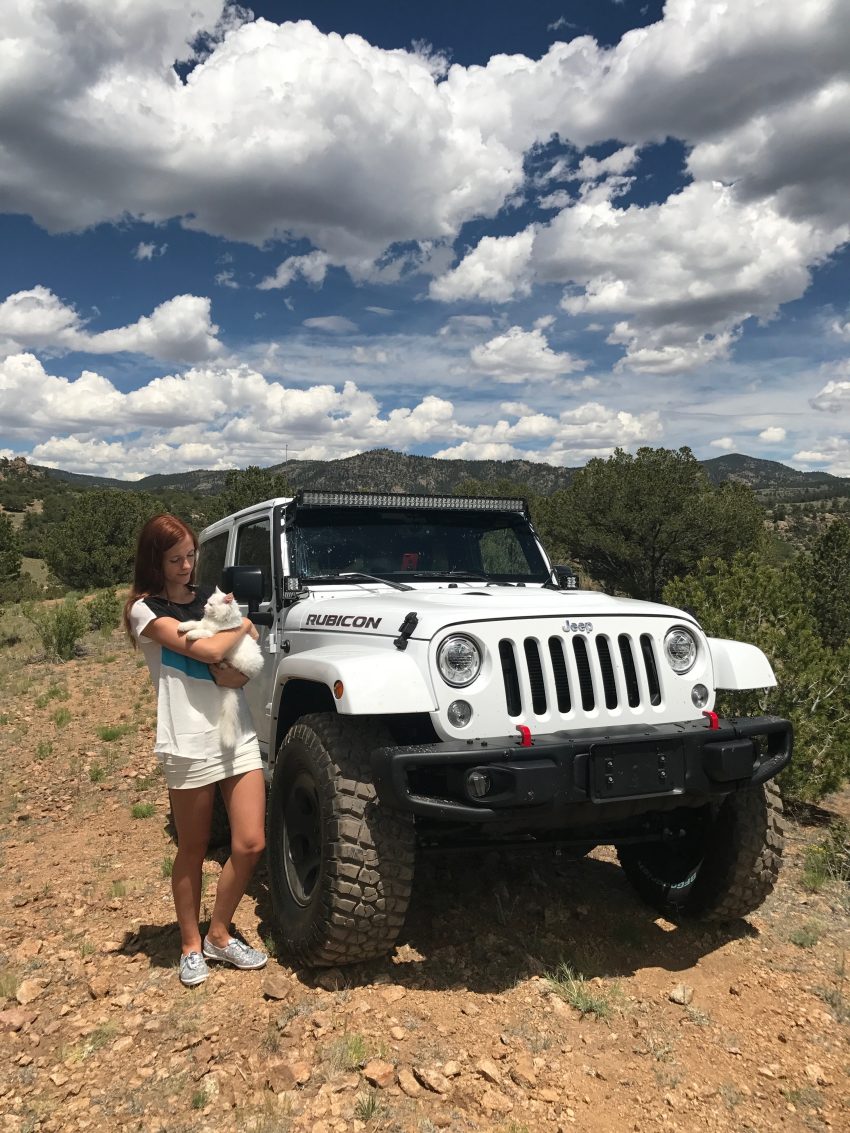 6. Eldorado Canyon State Park
If you want to get into nature during your time in Boulder, head to Eldorado Canyon! This state park is filled with hiking and biking paths where you can spend an afternoon with Mother Nature. Come here for some rock climbing or even fishing. Pick one of the many amazing trails to explore the park and take in the stunning vistas.
$10 per daily vehicle pass, $4 per individual pass
Location: 9 Kneale Road, Eldorado Springs, CO 80025
7. Grab a drink at a local Brewery
Among many things, Boulder is known for its beer! What could taste better than a cold pint after a long hike in the Flatirons? With 18 breweries to choose from, you'll be sure to find a brewery that serves a pint just how you like it. Check out some of the most popular places in Boulder to grab a pint below.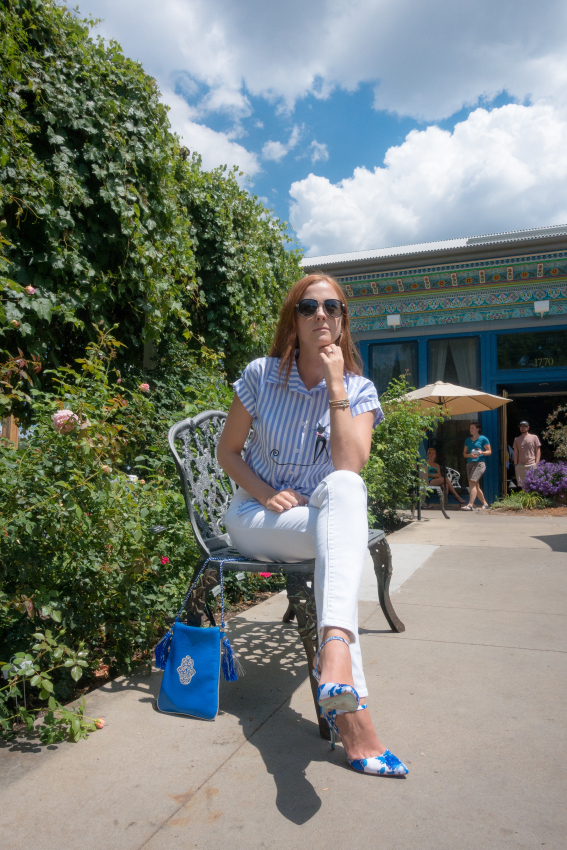 8. Eldorado Ski Resort
Want to plan a fun weekend ski trip or just looking to hit the slopes for a day? Head to Eldorado Ski Resort! They have a wide range of runs for varying difficulty levels. It's not a huge ski resort, but it's affordable, usually not too crowded, and close to Boulder. Check out their website for ticket info, booking a ski class, or seeing options for ski passes!
Location: 2205 Broadway Boulder, CO 80302
Places to Stay near Eldorado Ski Resort
The Silver Lake Lodge – Adults Only
Holiday Inn Express Hotel & Suites Fraser Winter Park Area, an IHG Hotel
Thorpe On The Water, Creekside Nederland Cabin
9. Chautauqua Park
Home to some of the best views in Boulder, Chautauqua Park is a great place to spend an afternoon in Boulder. Head here to see the Flatirons from afar and take in the views while exploring one of the walking trails or having a picnic in the open grass.
Whether you're looking for some family-friendly fun or you're a solo traveler looking for a place to hang out, Chautauqua Park will be the perfect stop!
Location: Baseline Road & 9th Street, Boulder, CO 80302
10. Boulder Farmer's Market
On Wednesdays and Saturdays from April to November, head to the local Boulder farmer's market to find the freshest produce and most delicious eats! Expand your taste buds by trying something new or find your classic garden favorites. Either way, you'll be sure to find something tasty here as well as enjoy a great summer atmosphere!
With over 50 vendors, live music, a beer garden, and a food court, the Boulder Farmers Market is more than just a place to get your groceries. Join Yoga in the Park on Wednesdays to get your zen on after work or bring the family or come with friends for a fun Saturday afternoon.
Address: 13th Street, Boulder, CO
11. Boulder Reservoir
Head to Boulder Reservoir on the next beautiful summer day for an afternoon of recreational activities such as boating, swimming, fishing, cycling, and wildlife viewing. Bring your paddleboard out on the calm water or head here with your boat for a day on the lake!
Enjoy the summer sunshine by taking a dip in the water or relaxing on the shore with a good book. For a perfect lake day in Boulder, Boulder Reservoir (also known as "the rez!) is the place to be!
Location: 5565 51st Street, Boulder, CO 80301
12. Museum of Boulder
Learn a little about the history of the amazing town of Boulder by spending an afternoon at the Museum of Boulder. The Museum focuses on preserving the history and stories of Boulder, so the exhibits on display are constantly changing but always impactful and informational.
Come here with your kids for a fun afternoon of learning and exploring with many hands-on exhibits, like the Google Garage!
Location: 2205 Broadway Boulder, CO 80302
13. Flagstaff Mountain
Drive up Flagstaff Mountain or hike the 2.1-mile loop that is doable for most. On the way up Flagstaff and at the summit you'll be rewarded with stunning views of the Front Range mountains as well as city views over Boulder Valley.
Though it's beautiful at any time of year, this hike is especially stunning in the fall when the leaves are changing and the colors are on full view in the valley. Visit the Nature Center at the summit to learn about the geology and wildlife around the Boulder area.
Location: Flagstaff Summit Road, Boulder, CO
14. Boulder Philharmonic Orchestra
If you're looking for a classy night out, look no further! Founded in 1957, the Boulder Philharmonic Orchestra has been providing musical entertainment to the Boulder community for over 65 years.
With world-class musical performances in a beautiful concert hall, this will be sure to be an entertaining and unforgettable night out on the town. Check out the upcoming shows below and book your tickets soon!
Location: Macky Auditorium, 1595 Pleasant Street, Boulder, CO 80309
15. License No. 1
This speakeasy-style bar makes for a perfect date night or night out with friends! With live music and comedy shows each Wednesday-Saturday, you can be sure to not only find some great food and drinks but also have a good laugh at License No. 1. Step back in time at this creative cocktail lounge with a great atmosphere and fun entertainment.
Open Wednesday – Sunday, 5 pm onwards
Location: 2115 13th Street, Boulder, CO 80302
16. Boulder Falls
This short hike has a big payoff at the end! If you like waterfalls, head to Boulder Falls for a quick but beautiful hike, or come here for a picnic for a picturesque afternoon.
The trail is only 0.10 miles from the parking lot so it's perfect for a quick stop as you drive down Boulder Canyon drive. There are cool rocks to sit on and watch the water splash as you take in the views.
Address: Boulder Canyon Drive, Nederland, Boulder, CO 80466
Boulder has many gems to discover, be it on foot or e-bike. From iconic mountains and falls to the simple joys of farmer's markets steals, you'll love the city.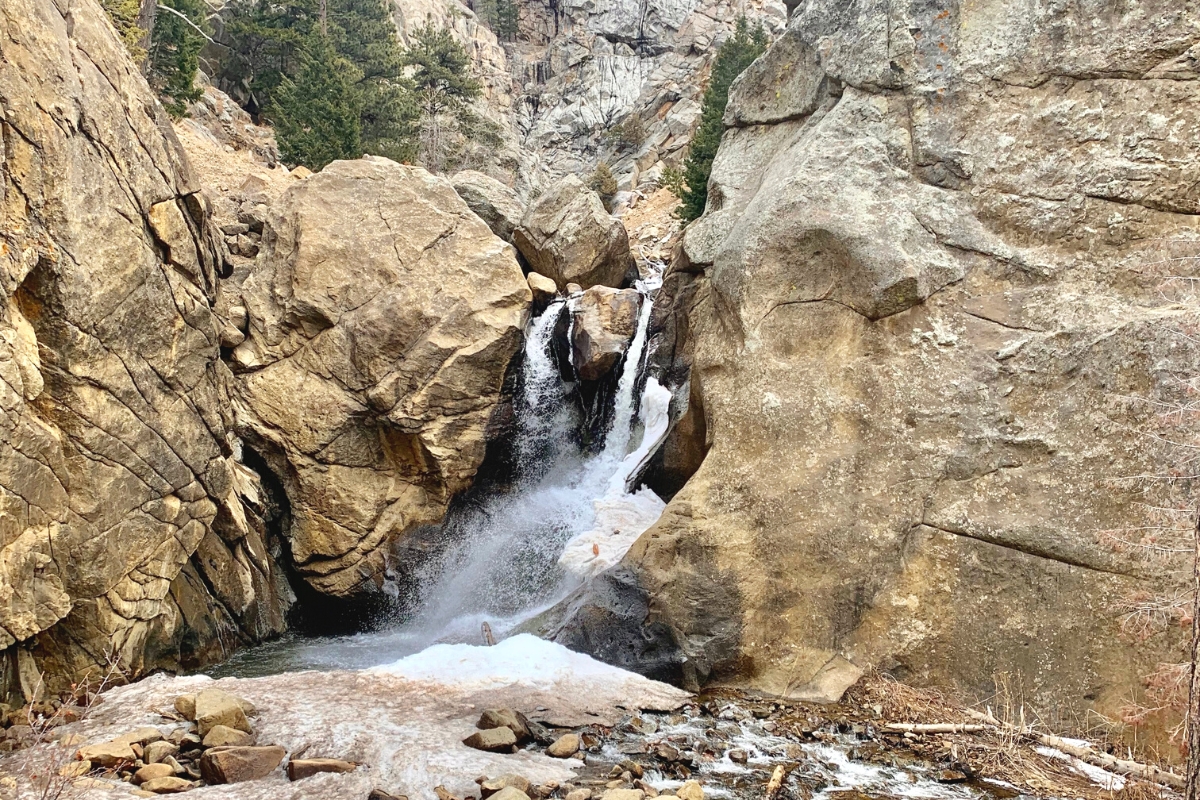 Where to Stay in Boulder, Colorado
Boutique and Luxury Stays:
Hotel Boulderado • Basecamp Boulder • Embassy Suites By Hilton Boulder

Mid-range Stays:
Millennium Harvest House Boulder • Residence Inn by Marriott Boulder Canyon Boulevard • Hyatt Place Boulder/Pearl Street

Budget-friendly Stays:
The Bradley Boulder Inn • Colorado Chautauqua Cottages • Homewood Suites by Hilton Boulder
That's the list of top sites to visit in Boulder and places to stay at! What do you plan to see first? Comment and let me know!