If you're planning a trip to Florida with toddlers everyone automatically assumes that you must be heading to Disney World, or maybe Legoland. Universal isn't quite as baby and toddler friendly as other theme parks and it's really aimed at teenagers and adults…
This doesn't mean that you need to wait until your kids are grown to visit. Universal Orlando with kids can be fun! Is there enough to keep a toddler entertained in Universal Studios and Islands of Adventure?
We "risked" going to Universal Orlando after realizing that our kids – aged barely 4 and barely 2, didn't know any Disney characters but knew a ton of Universal personalities. From Toothless the Dragon, through Spiderman, Minions, and dinosaurs, to Transformers… it just made more sense to take them to Universal Studios for our family.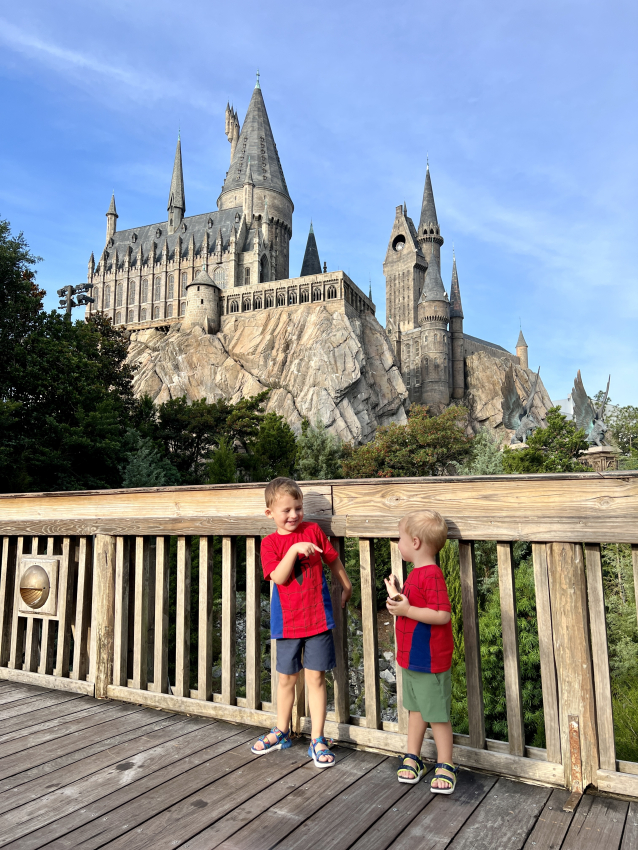 ---
What is the best age to take kids to Universal Florida?
Most people will tell you 7 or 8 is the best age and this is what was scaring us from going with our younger kids, but I'll say that it truly depends on your kids. Here's what you should consider before making a decision.
Most importantly many of the rides at Universal do have height restrictions. Some kids will be tall enough to ride certain things years before others, but 42″ was an optimal height restriction to ride pretty much everything apart from a few huge roller coasters.
Some kids will be scared of riding roller coasters regardless of their age or meeting the height requirement. I still refuse to ride some and I'm an adult, so you need to take this into account.
That said, I think 5 years old can be a perfect age to take your kids. My mature 4-year-old (he turned 4 years just 2 weeks before our visit) was mesmerized by everything, had a ton of fun at different areas and rides, and at 42″ he was riding everything minus things I was afraid of riding myself.
Some can say that kids might get terrified of certain rides at this age, but we didn't feel that way.
Does that mean taking toddlers to Universal isn't worth it? Not necessarily.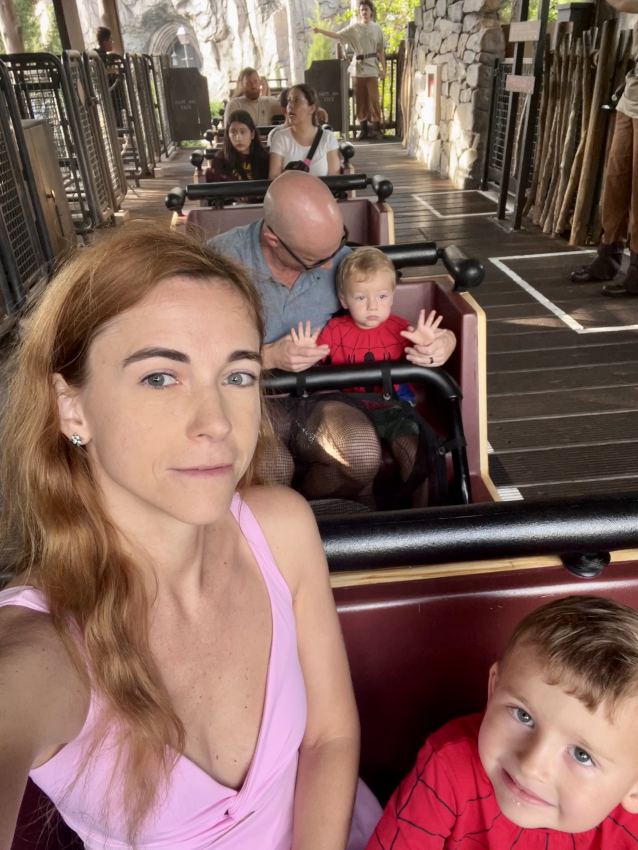 ---
Is it worth taking a 2 year old to Universal Studios?
Depends. My younger son was 2 years 2 months when we visited and I was worried whether he'd have enough to do, but I took everything into account… including his height and preferences.
He was exactly 36″ tall which was a requirement for various rides, including some of those in Dr Seuss's land. My son had a blast on all the rides as he's quite fearless and was even able to ride his first roller coaster – Flight of the Hippogriff.
For us, it was worth taking a 2-year-old to Universal Orlando, but I wouldn't recommend going without reaching this minimal height requirement of 36″.
While I saw various younger and shorter toddlers having a blast in kids' play area I specifically waited until my son reached 36″ as I knew that he would have been bored just waiting for everyone to ride everything without him for a whole day. However, some kids might just sit in the stroller or Child Swap room and chill. My kids wouldn't have had 😉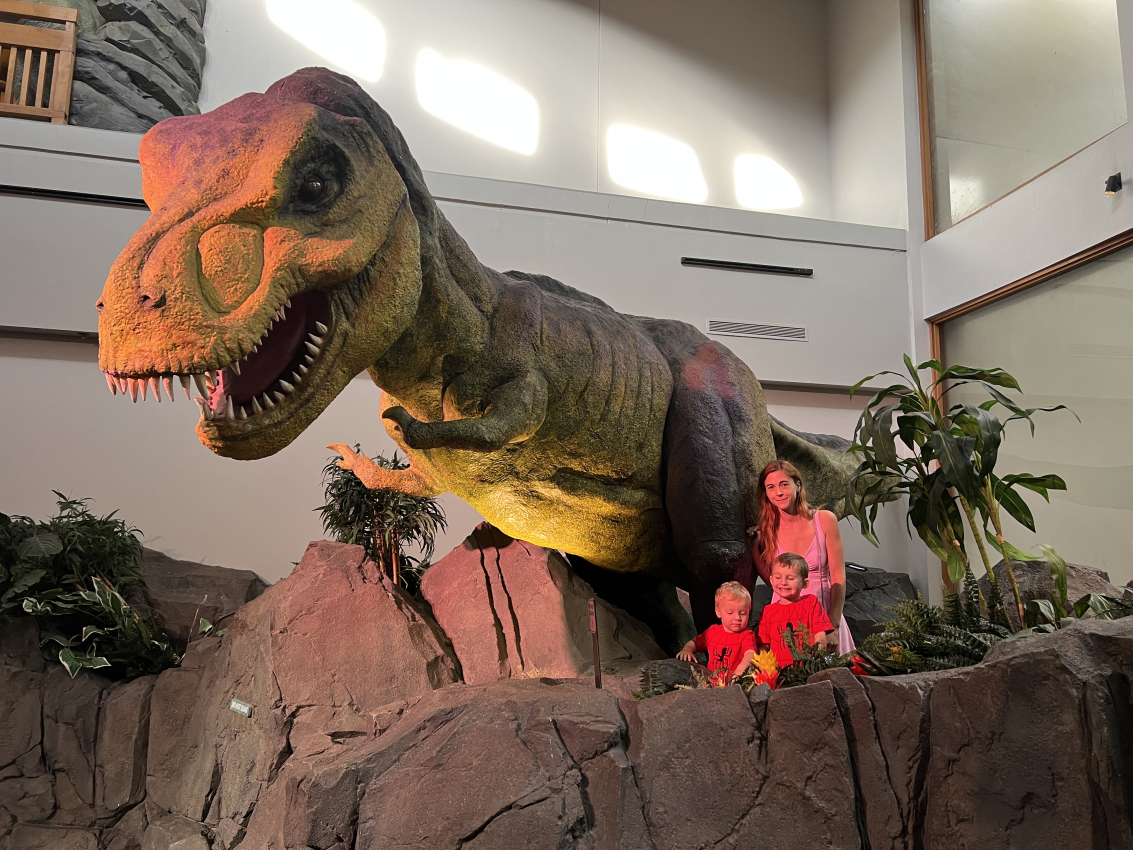 ---
Tips for Visiting Universal Orlando with Toddlers and Preschoolers (Kids under 5)
1. Buy Combo Tickets to Both Parks
I would definitely recommend buying the combined 'Park to Park' ticket to visit both parks – Islands of Adventure and Universal Studios Orlando. This really is the best way to enjoy the experience with younger children.
The experiences for little visitors are set across the two parks and it really felt that the two combined were the perfect way to enjoy it with younger kids.
And the best part is that kids under 3 don't pay for the entrance. They do require Express Passes (more on this later).
I do think it's best to spread your visit over at least 2 days because you will be rushing otherwise and surely won't be able to do everything in one day.
2. Get Express Pass
Express Pass for Universal are expensive and you might think that you don't need them, especially with a small child, but honestly – don't go without them!
The lines are long all over the parks, regardless of the time of the year. It's boring for adults to wait one or two hours in line, now imagine a little kid. If we didn't have Express Passes we probably would have given up on the parks because after 11 am even the littlest rides at Seuss Landing had a 20-40 minute wait time.
With Express Pass you skip the line. You might still have to wait a bit, but we never waited longer than 10 minutes, with the exception of Kong: Skull Island (but it was due to the ride having an issue while we got in line) and Escape from Gringotts (we waited 20 minutes but it was well worth the wait!).
The hack to getting Express Pass is staying at one of Universal's premium hotels: Hard Rock, Loews Royal Pacific, or Loews Portofino Bay.
They aren't cheap, but everyone from your room receives Unlimited Express Pass for every day of your stay (including check-in and check-out night), hence why so many people book a hotel for a night even if they're spending a few days elsewhere because it's ultimately cheaper.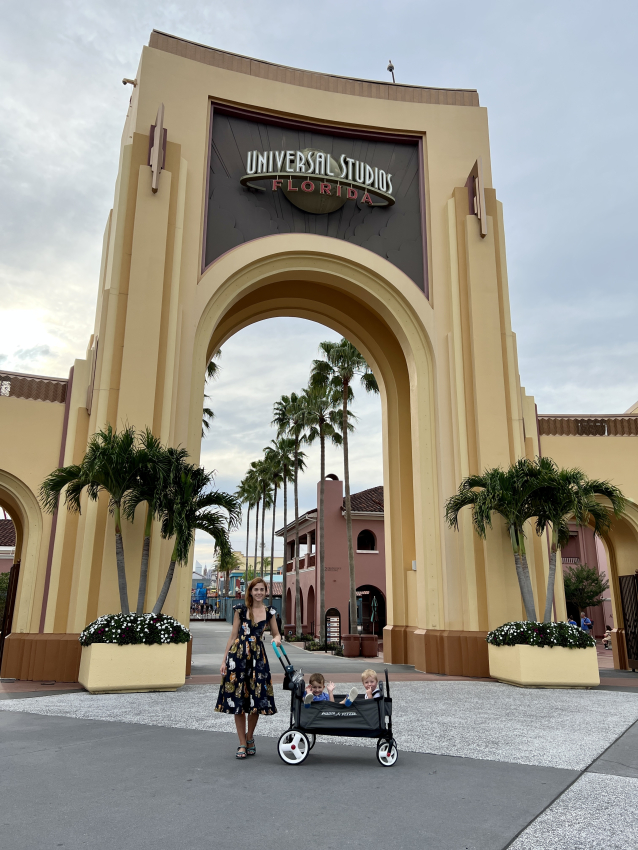 3. Bring a Stroller
Yes, you need it even for a 6-year-old potentially. Universal Studios stroller policy doesn't limit the stroller size.
Universal Studios Wagon Policy also allows stroller wagons. We saw many Wonderfolds and we rolled with our Radio Flyer Wagon, which was super functional.
Single or double plastic strollers are available for rent upon entering Universal Studios Florida and Universal's Islands of Adventure, but it's expensive so you might prefer to buy a cheap stroller.
Keep in mind, you won't be able to bring strollers into any ride queues or shows and this is also why I say that you need the Express Pass.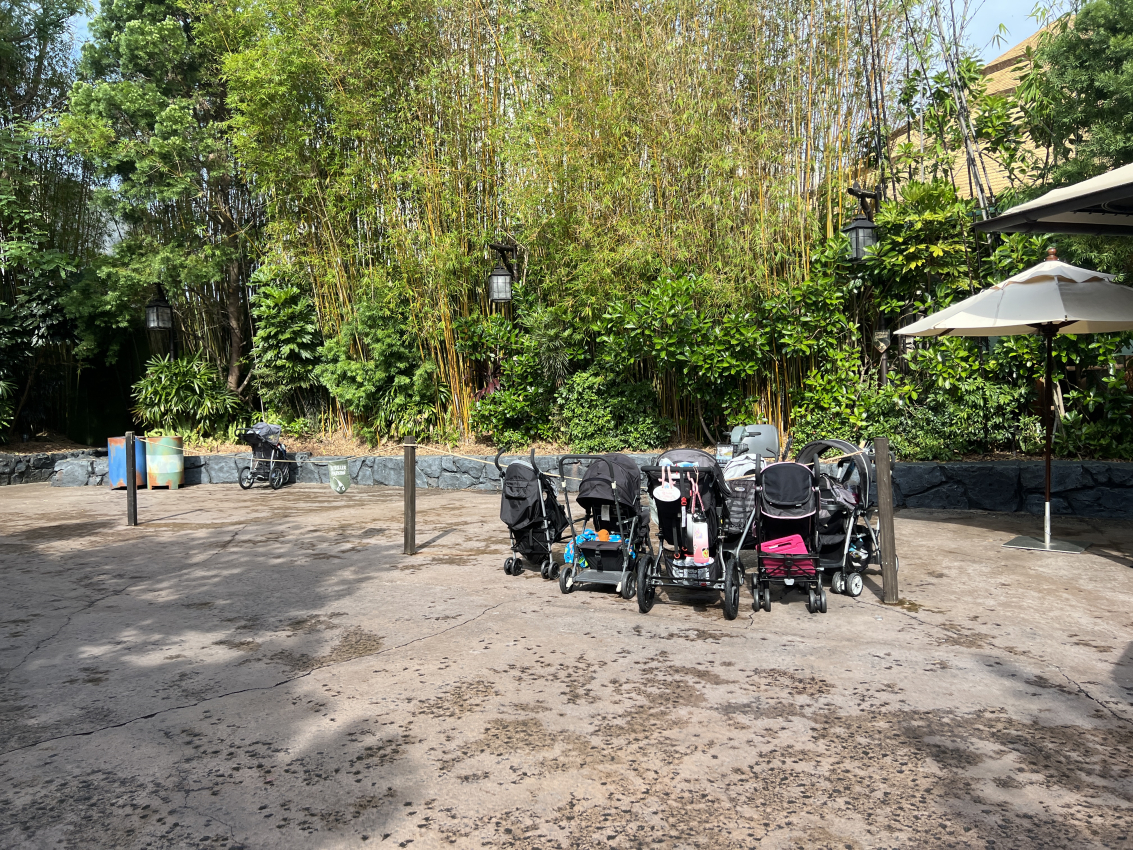 ---
4. Understand the Reality of Child Swap
There are no rides at Universal Orlando that allow lap-sitting babies. If your child isn't tall enough you can utilize Universal Orlando Child Swap.
This service allows you to wait in line with your party and child. Once you reach the front of the line, one person waits in a designated area with a child while everyone else rides, then the person waiting swaps with someone.
Sounds great, but in reality, you need to understand that it's not always so easy unless you have a child under 1 and we only used it once. How come?
To start with, you cannot bring a stroller in line which means you need to hold your child the entire time. Unless you have an Express Pass most lines are at least 35 min long, but various rides can be an hour or two. An active toddler won't wait in line with anything to do for so long…
We did the Child Swap at the Harry Potter and the Forbidden Journey ride only because we basically walked in when the park opened with an Express Pass and the lady let us pass even an Express line with a child swap, but for us, it was the first and last time.
Both kids got bored easily waiting for both of us to ride and my 2-year-old one wasn't really feeling watching pretty gruesome scenes from Harry Potter on a big TV in a baby swap room.
5. Arrange Food Beforehand
Thankfully, you can bring snacks and some food to Universal, but for any "normal food" you'll need a lot of patience. Lines for everything were absolute bananas and all restaurants at CityWalk were booked up weeks and weeks before our arrival.
Even with a reservation we still waited forever to get seated and by then the kids were done. My tip is to do mobile order on Universal App at least an hour before you want to eat.
I waited exactly an hour every single time for 2 donuts and 45 minutes for a hot dog, so be prepared.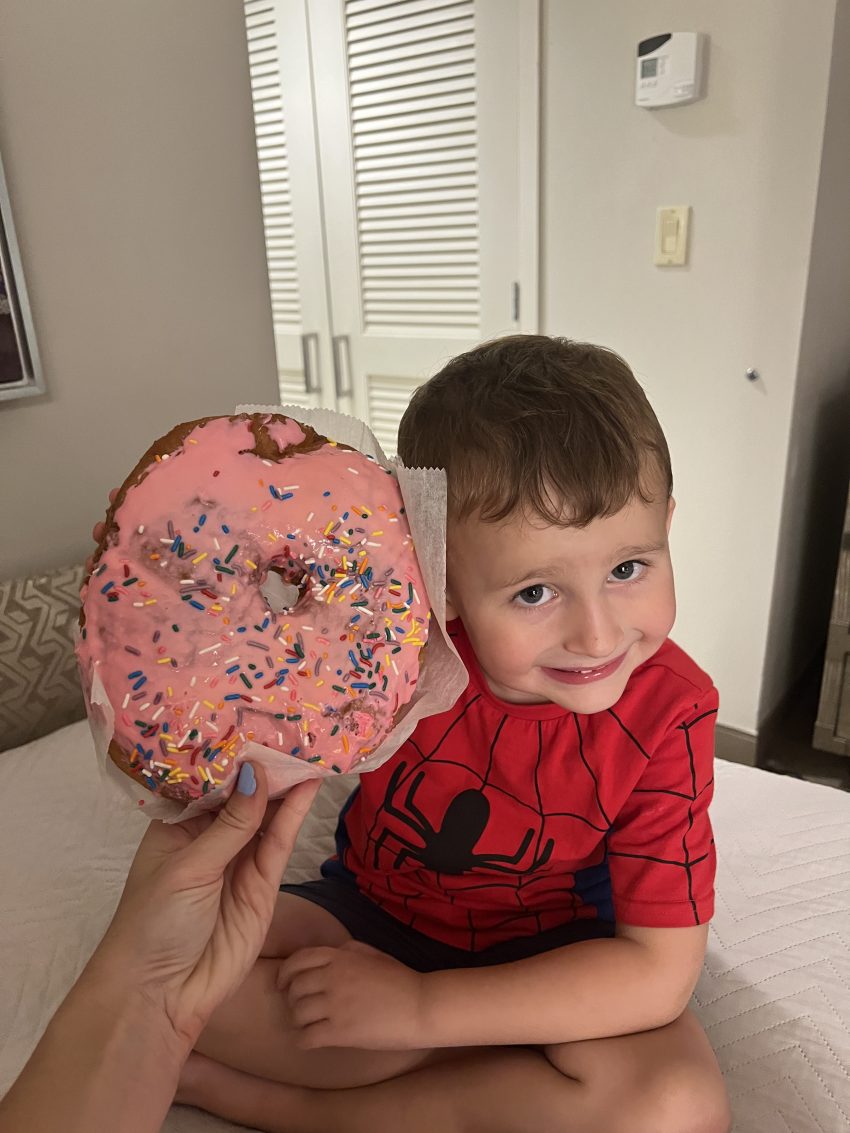 ---
Best Things to Do With Toddlers at Universal Studios Orlando Florida
Have Fun at Camp Jurassic (Islands of Adventure)
This mega recreation area is a multi-level prehistoric playground with slides, a ropes course, and water cannons. It's pretty fun and the slides are slow making it safe and fun for all ages.
Keep in mind that it's easy to get lost there, so make sure your child knows where you are.
If your little one is 36″ he can ride the Pteranodon Fliers swing ride in that area. We all loved it and it's actually for kids only – adults cannot ride it unless they have a child under 54″ with them.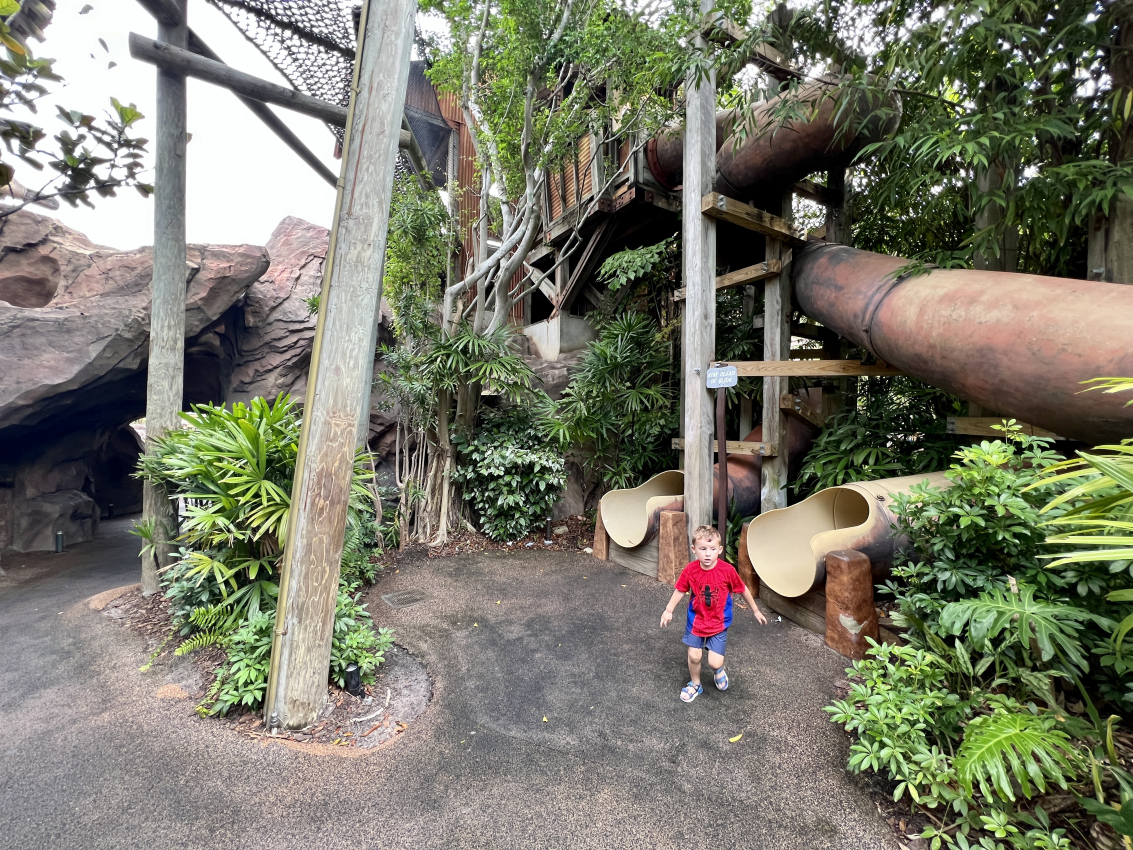 Board Hogwarts Express (between Islands of Adventure and Universal Studios)
I didn't expect much from the train, especially since we're not Harry Potter fans at all. However, the train ride was weirdly fun!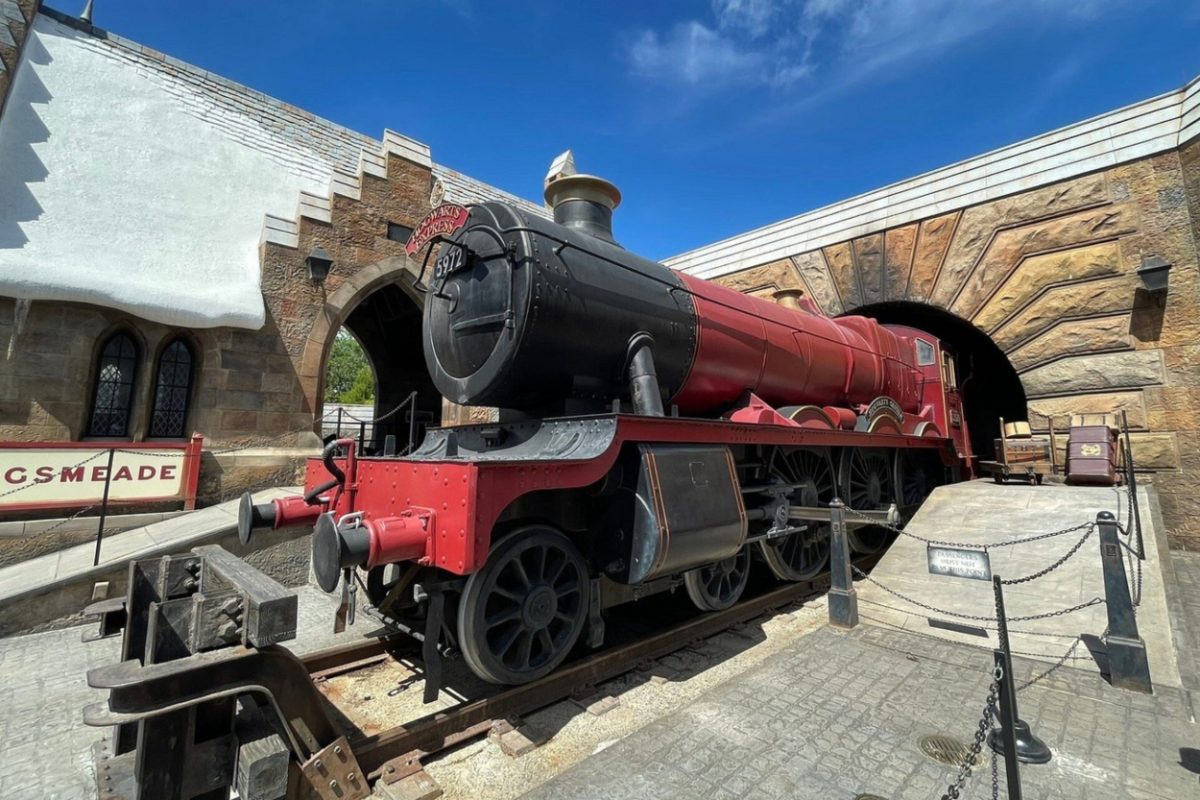 Explore Seuss Landing
There's a big play area called If I ran the Zoo Play Area at the Seuss Landing. It's like a kiddie playground that for kids under 2 seems perfect.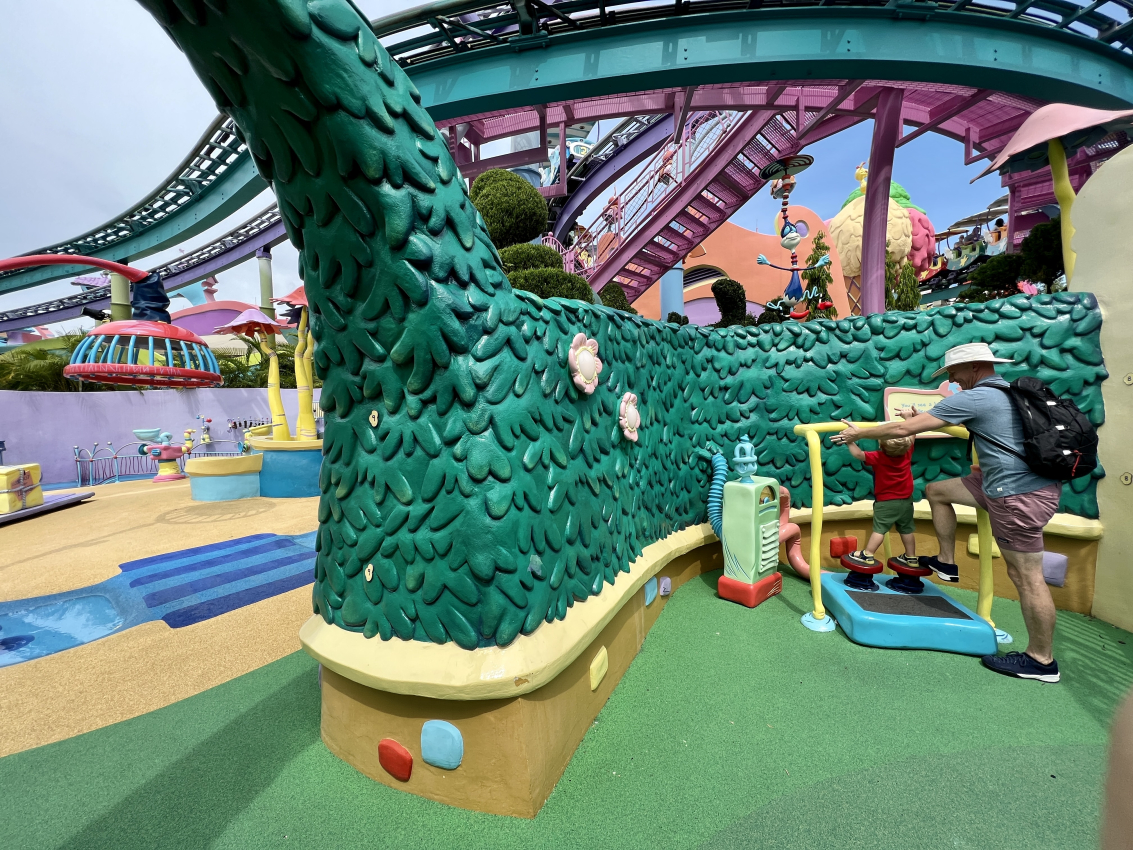 Meet the Characters
Characters are walking around both Universal parks, so you will most likely stumble upon someone during your visit. In our case, we saw Lorax and Cat in the Hat.
Ironically, my son is terrified of any cutesy characters in costumes so Lorax wasn't his favorite, so we did the Velociraptor Encounter instead and he loved it… there's no age limit on that and we saw other toddlers doing it too.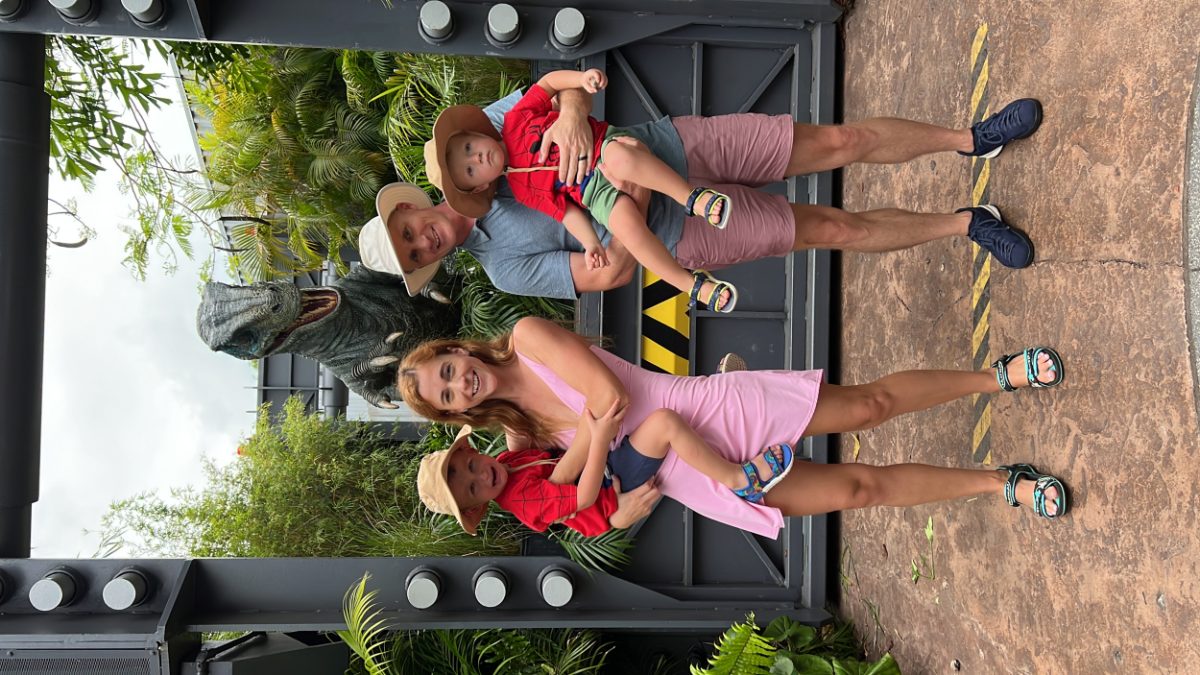 Play with the Magic Wand
If you purchase a wand after Olivanders show little ones can explore the world of Harry Potter alleys and make magic happen.
Mega tip: My 2 year old kept banging his wand on the ground which resulted in a scratches sensor. I thought we were out of luck, but a friendly lady told us that you can exchange a damaged wand at the Owl Post at NO CHARGE!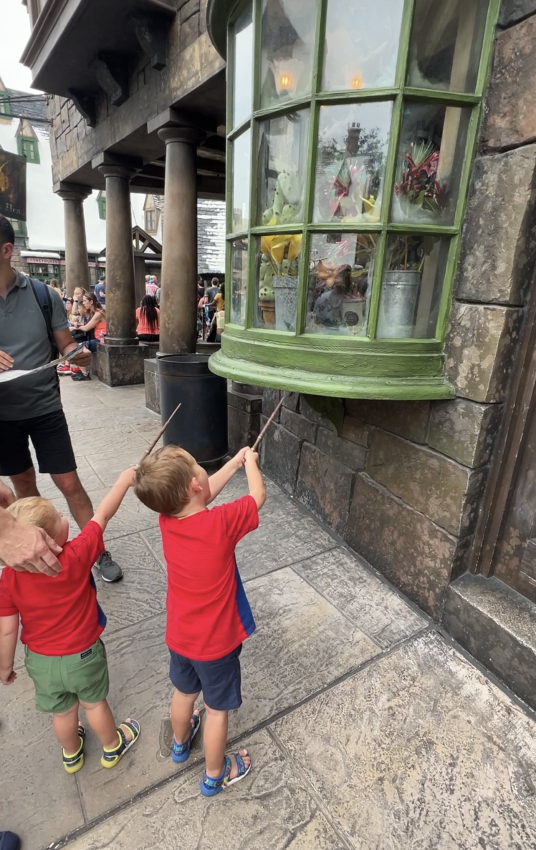 See Animal Actors on Location Show
Which kid doesn't like animals? The show is cute and interactive, perfect for both kids and adults.
---
Rides at Universal Orlando for Toddlers
There are only a few rides for toddlers at both parks.
At Islands of Adventure One Fish, Two Fish, Red Fish, Blue Fish allows toddlers who can walk on their own to ride with an adult. The same goes for the Caro-Suess-el, also located in Suess Landing.
On Marvel Island, right next to Hulk coaster, toddlers can also ride Storm Force Acceleration which is basically like teacups.
At Universal Studios there's Kang & Kodos' Twirl 'n' Hurl and toddlers who are 34″ tall can ride E.T. Adventure – a very mild but fun original ride.
One little-known thing is that while the Minions ride has 40″ height limit anyone can experience it from a stationary seat! Even a baby!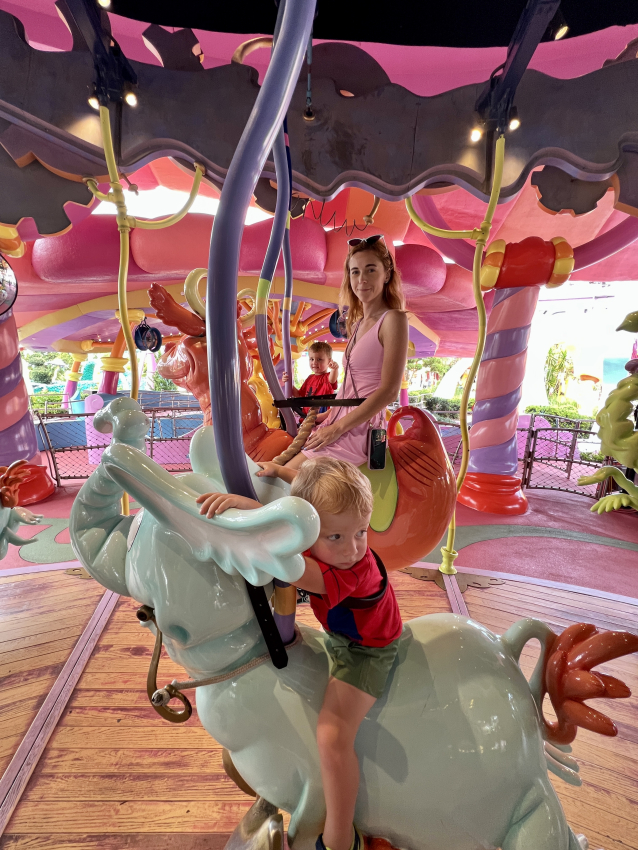 Rides at Universal Studios Orlando for 3-year-old
Preschool-age children can ride a lot more at Universal Studios and Island of Adventures. What your child can ride will be determined by their size, not their age so make sure you measure your child before your visit.
My barely 2-year-old son rode all the rides below as they have a height limit of 36″.
P.S. Some can say Skull Island is a terrifying ride, but my 2-year-old was completely unbothered.
Skull Island: Reign of Kong (Islands of Adventures)
Pteranodon Flyers (Islands of Adventures)
Flight of the Hippogriff (Islands of Adventures)
Cat in the Hat (Island of Adventures)
The High in the Sky Seuss Trolley Train Ride! (Islands of Adventures)
Woody Woodpecker's Nuthouse Coaster (Universal Studios)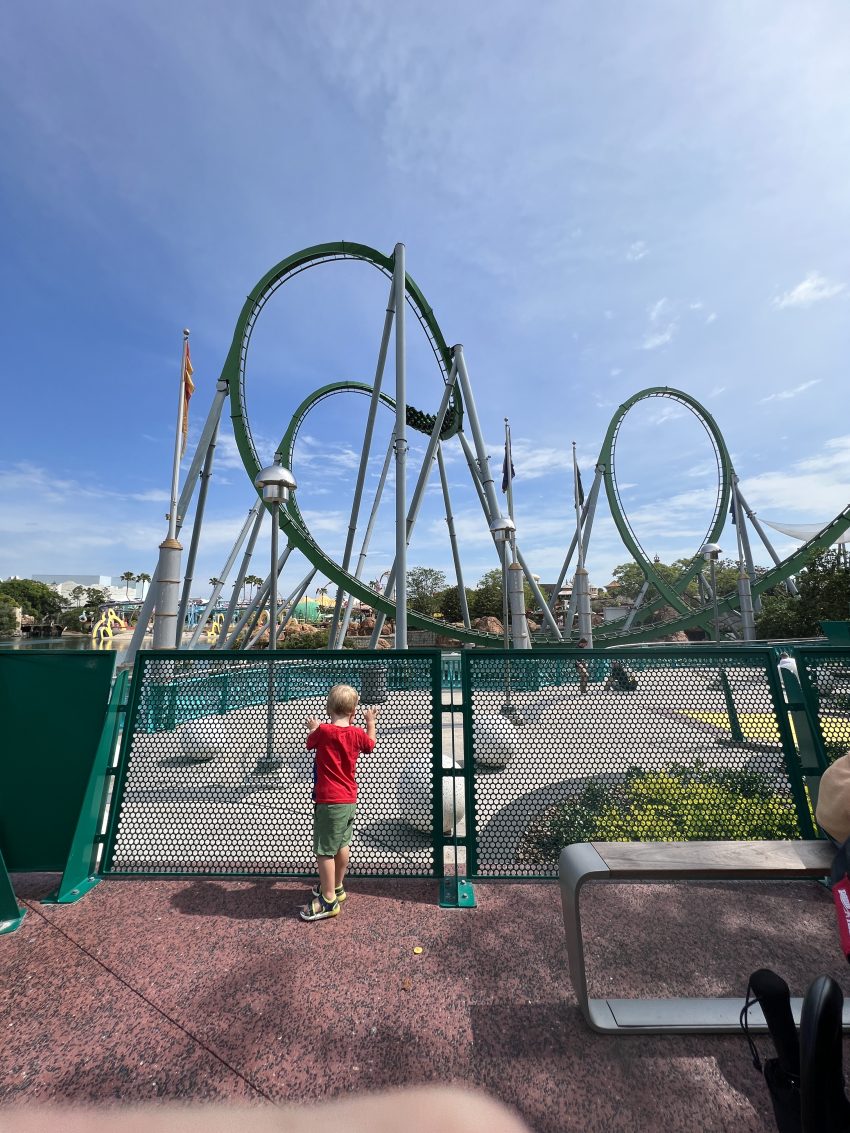 Rides at Universal Studios Orlando for 4-year-old & 5-year old
The cutest age to go to Universal in my opinion. My barely 4-year-old son rode all the rides below as they have a height limit of 40″ or 42″, plus all the other rides with lower limits.
Some rides are more intense than others. My son loved the Spiderman ride, but a 7-year-old girl behind us was freaking out from the intensity. I thought Escape from Gringotts was going to scare him because the coaster really moves around, but he was smiling the whole time.
40″:
Spiderman (Islands of Adventures)
Fast & Furious (Universal Studio)
Despicable Me (Universal Studio)
The Simpsons (Universal Studios)
Race Through New York (Universal Studios)
Transformers (Universal Studios)
42″:
The Simpsons (Universal Studios)
Jurassic Park River Adventure (Islands of Adventures)
Popeye & Bluto (Islands of Adventures)
Harry Potter & Escape from Gringotts (Universal Studios)
Men in Black (Universal Studios)