People are often surprised that I travel with a carry-on suitcase only. Depending on the place I travel to and time of the year, items in my suitcase change, but my carry-on packing routine is nearly the same. Air travel can also be a stressful, sometimes unpleasant, sometimes downright infuriating experience. But it doesn't have to be when you pack right and be prepared for every eventuality.
Many of you have been asking about my travel gear, so here it is! Please note that this packing system will be fine on most regular planes. But, if you're traveling with some very low budget carriers, a suitcase like mine might be too big.
I understand that this travel list might not work for everyone. I'm not a typical girly girl, even though it might seem so at the first sight, and I use only basic cosmetics (I still have no clue what a concealer is!), so I can fit everything in my small bag.
Carry-On Packing: What's in My Suitcase?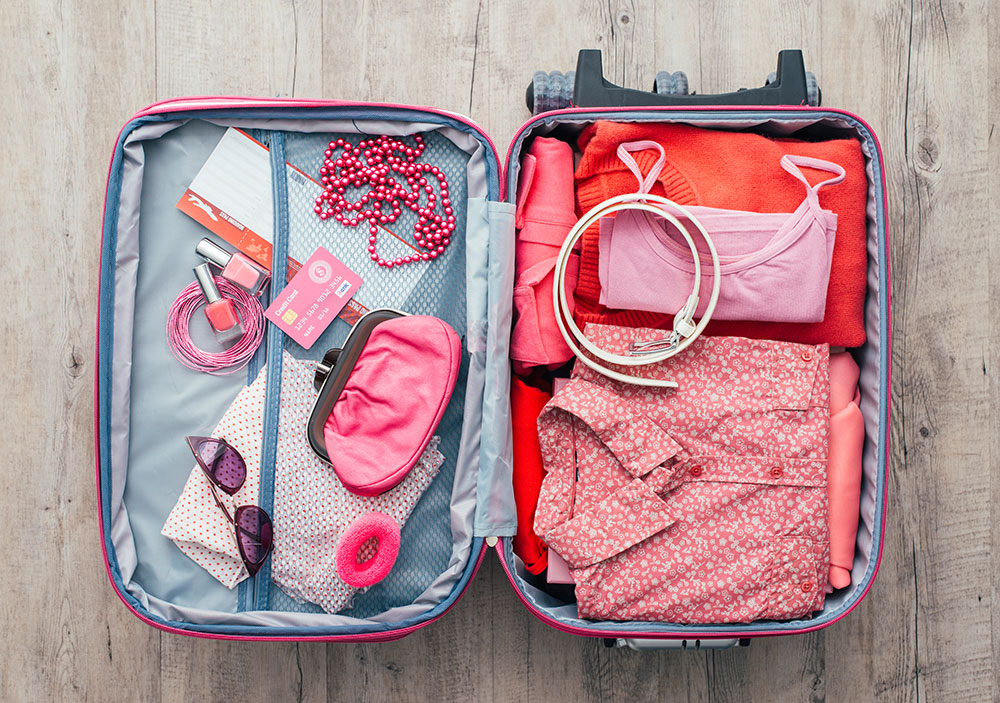 ---
1. Carry-On Packing Basics:
I've never been a fan of backpacks and honestly, I'm still not convinced. The suitcase can protect my gear, whether like a laptop, camera or gimbal, better than a backpack. I also prefer to roll my suitcase, instead of having to carry everything on my back.
Find out what's the best carry-on suitcase in my ultimate best carry-on luggage review.
No matter if you have a suitcase or backpack packing cubes might be your most important items. They saved space many times and helped me keep my things not messy. While there are many packing cubes out there, I exclusively use Edge Creek Packing Cubes.
Tips for packing clothes: always roll clothes instead of folding them. This way your clothes will have fewer wrinkles and take less space in your luggage.
Before discovering this packing organizer I was always worried about my cosmetics and liquids exploding in my luggage. In fact, it happened on quite a few occasions. And while simple zip lock bags are helpful, nothing can beat an organizer that you can hang on top of your suitcase.
I've never had issues entering the plane with Origami Unicorn staying on top, so not only it saved me space in my suitcase, but also helped me keep my liquids in one place
---
2. In-Flight Accessories
These days any airlines don't provide their passengers with pillows on short-haul (or even long haul if you fly Norwegian). I've tried many types of travel pillows and they either looked uncool or weren't comfy.
So far the best two I found were Trrtl Pillow and Giant Shrimp if you prefer to look geeky.
Eyemask & Earplugs for Sleeping
Speaking of sleeping on planes, while I personally can sleep under any circumstances, you might want to pack these two items. Years ago many airlines used to hand both of these items for free, but nowadays you'll be charged for everything. If you want to get a funny mask, get a Pusheen Eyemask.
Headphones + Extension if you're an owner of an iPhone7 or newer
Most airlines don't give away free headphones unless on a long haul, so make sure to bring a pair before you embark on your adventure.
If you don't want to watch a movie or watched all the ones available (happens often in my case), get your Kindle out and start reading. You can also just download Kindle app on your phone, but beware – it eats your battery.
I don't know about you, but to me, every flight I've recently been on was freezing cold. And despite traveling from warm destinations to the other hot spot, socks are a must-have item. I have my fun emoji socks for long-haul flights.
My skin always gets very dry on planes, so I always carry a small bottle of lotion and basic lip balm.
---
3. Toiletries For Carry-On Packing
I'm probably not going to be much help in terms of cosmetic recommendations. Like I mentioned before, I know next to nothing about brands, differences between them, and how to use some things. As a result, I only have some makeup essentials:
Eyeliner
Eyeshadows
Mascara
Liquid base
Principal toiletries that I pack into my Origami Unicorn organizer:
Mini shampoo
Mini conditioner
Argan oil – only put in another container like this, as original packaging always opens on its own (trust me – I experienced it after I bought some in Morocco!)

Biodegradable sunscreen

– many natural swimming holes, like cenotes, forbid using a regular sunscreen. You might want to be prepared.
Mini deodorant
Foldable toothbrush
Mini toothpaste
---
4. Photography & Technology Gadgets
I'm not talking about a heavy-duty case, but something just in case you drop your phone. A rubber one like mine should be enough.
Very handy video tool and so tiny that it fits in my smallest purse.
If you travel solo and want to take beautiful photos of yourself. If you don't know how to do it, check out my post here.
Being in a different country often means having to deal with different electronic plugs. Buy a converter, and check if your electronics will work with different Voltage power.
I've encountered so many people burning their hair dryers and curlers on the travels, not to mention having to pay for the blown fuse at their accommodation.
If you take photos, you might want to back them up on a regular basis. Laptops and SD cards might stop working, so better be safe than sorry. I once lost all my photos in Ethiopia and had to pay $800 to recover files.
I always try to stay connected when abroad and TEP helps me do it, without having to buy a new SIM card in every foreign country. You can buy or rent the device, and either way you should be fine.
Why should you bring a solar charger? Simply because you might not be able to plug your phone to charge everywhere. So why not buy a mini solar charger that you can place on a table during lunch or attach to your backpack.
If you're heading to a remote location don't forget the Lifestraw bottle. It'll allow you to drink water from basically anywhere.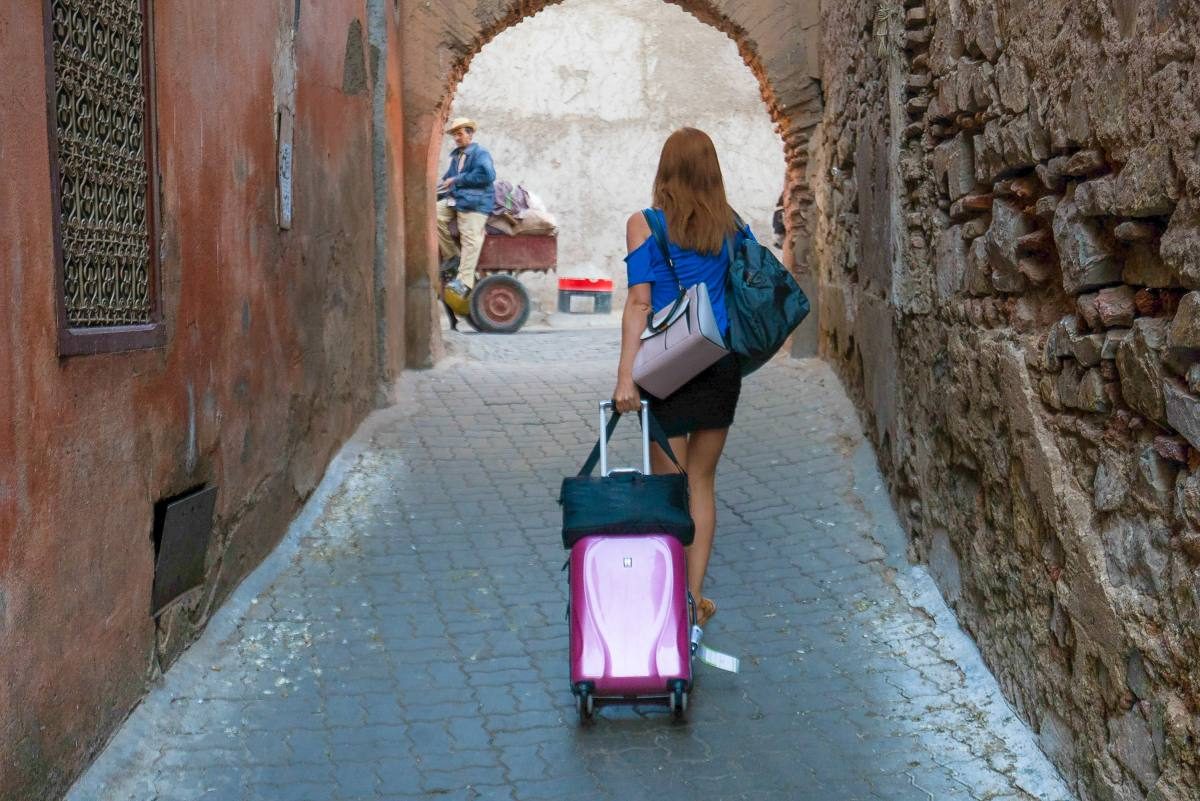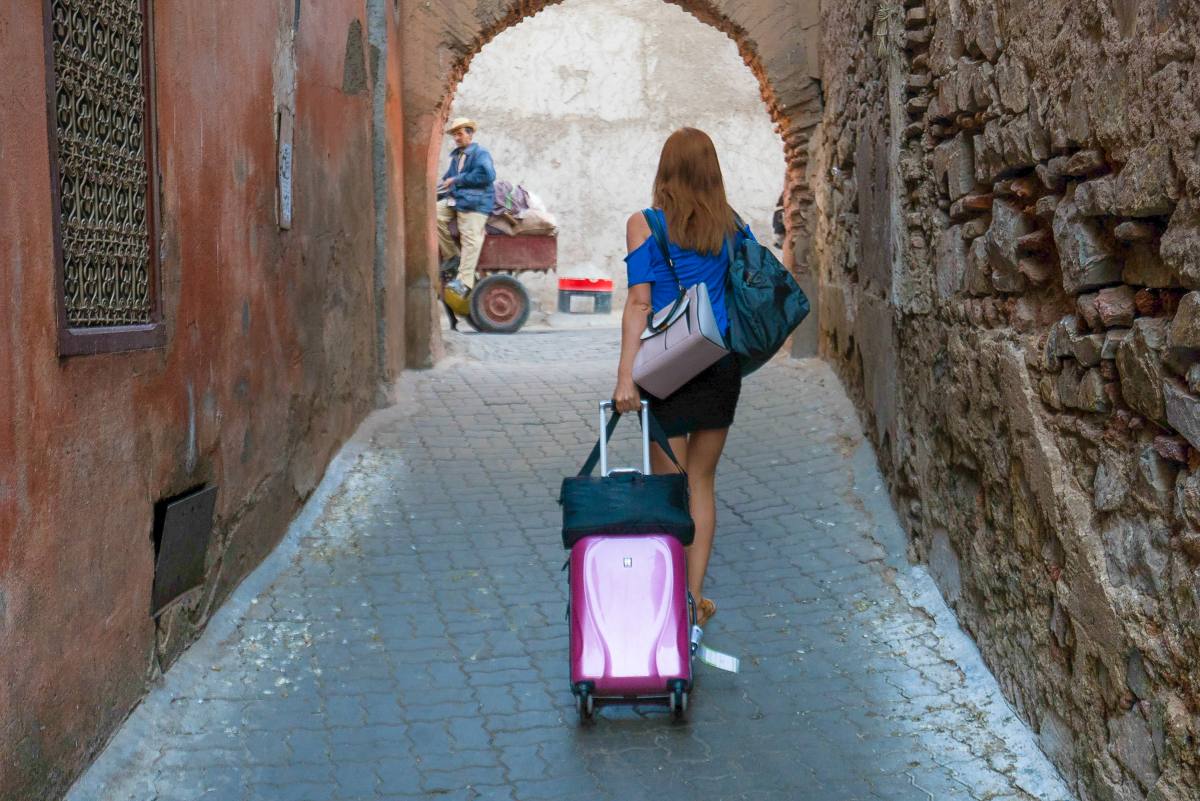 ---
5. Extras (Depending on Destination)
Always bring a towel with you, whether you stay at a hotel or a hostel. A microfiber towel is tiny, so it won't take much space in your luggage.
I usually recommend bringing at least one bikini. You never know when you might stumble upon a cool spa or swimming pool.
---
If you're looking for destination-specific packing lists, also check out:
---
6. Make Sure You Don't Forget:
Passport
Credit cards
Local currency
Travel insurance proof – World Nomads Travel Insurance is the cheapest and the most reliable out there these days.
Health certificates (if necessary)
Medications
---
I suggest dresses for traveling, not because they look good, but they also take less space than pants and shirts. If you're flying with a carry-on suitcase and check your main suitcase, pack one outfit in a carry-on.
In case the main suitcase gets lost or delayed, you can refresh yourself and put clean clothes on after your land.
I'm not here to tell you what kind of clothes you should pack, but my advice would be to pack a pair of underwear for each day. If you want to get the same clothes as you saw on my Instagram check my other post on where I buy my travel clothes.
Do you have any questions? Or did I forget about some important carry-on items? Let me know in the comment section below!