Home to the White Mountains, New Hampshire boasts some of the best foliage in New England. Hiking trails, scenic byways, and lush forests offer countless opportunities to appreciate the leaves. The New England charm that so many travelers adore can be found throughout the state's apple orchards, covered bridges, and old railways.
The best time to see fall foliage in New England varies. Columbus Day Weekend is typically the safest bet for peak color, but this past fall season proved that catching the leaves at their finest can take strategic planning and a bit of creativity.
Adventurers ought to arrange for extended stays in New Hampshire and coffee-strapped drives to ensure they find what they're looking for.
As a general rule, the first and second weeks of October are the best time to see fall foliage in New England. Weather patterns, precipitation, and temperature, however, all play a role in affecting the leaves.
Climate change is also disrupting the traditional autumn timeline. As temperatures rise and unpredictable weather patterns mislead the researchers creating foliage trackers, travelers will have to plan accordingly.
As someone who used to follow foliage trackers religiously, note that seeing peak color does not have to involve gluing your face to a screen and waiting for the perfect time to start your trip. Just seeing New England during the fall season is worth it!
Fortunately, when one region may seem underwhelming, another is bound to sport vibrant hues that won't disappoint.
If you're traveling to southern New Hampshire and the coastline, but you don't find the colors you're looking for, a northward jaunt to the White Mountains will offer mesmerizing views you won't regret.
Likewise, if the North Country and hamlets are past peak, you can zip down I-93 to explore the Lakes Region and the more populated cities in the state, like Concord, Manchester, and Keene.
New Hampshire only has three interstate highways. This means that bottlenecks occur during the fall season, but it also means that the state is simple to navigate. Even when traffic becomes congested, the state is so small that an excursion to almost any region takes no more than a couple of hours.
Before we begin our journey, it's important to embrace the idea of becoming a chaser. A chaser is a birdwatcher who gleefully steps in their car to travel hundreds of miles in order to spot a rare bird.
Whether you drive around in a rental car or your own, like the bird chaser, you're more likely to see what you want if you're willing to get in the car, crank some tunes, and welcome a new extension of your identity – leaf chaser!
🚙 Discover Cars has plenty of options including convertibles for your New Hampshire road trip experience.
With the right attitude, New Hampshire leaf peeping can be unforgettable. So grab your camera, a fleece, and that selfie stick you just had to buy, and let's chase some leaves.
1. The Kancamagus Highway
A 34.5-mile stretch with multiple overlooks, the Kancamagus Highway might be the best driving route for fall foliage in New Hampshire. The National Scenic Byway is coveted by locals and tourists alike. New Englanders passionately refer to the route as "the Kanc." Make sure to rise early if you want to beat the crowds.
If starting your drive from Lincoln, stop in at the Mountain Wanderer Bookstore and meet Steven Smith. A lifelong local, Smith has literally written the book on hiking every trail in the White Mountain National Forest, including each trail leading to the summits of New Hampshire's 48 4,000 footers.
Make sure to at least grab a map and a book on the natural history of the region. And don't be afraid to ask him where to find the best trails for New Hampshire leaf peeping!
If you don't start here, the Fodor's travel guide to Maine, Vermont and New Hampshire will work too.
If starting your drive from Conway, it might be worthwhile to first drive ten minutes to North Conway and pick up some hiking gear at REI or Eastern Mountain Sports. You'll be driving through higher elevations, so the temperature can dip unexpectedly.
When driving the Kanc, you want to plan for a leisurely day. Stop at each overlook and be mindful of the singular mountain range that lies before you. Note that the White Mountain National Forest covers about a quarter of the entire state and that perilous weather patterns maroon hikers, mountaineers, and scientists every year.
The highest elevation you'll reach is 2,855 feet at the Kancamagus Pass. When stopping, scratch your funny bone and watch tourists overestimate their parking skills. Some trail mix can act as great makeshift popcorn while you entertain yourself. Don't forget when it's your turn to park, though!
You'll want to continue eating your trail mix/popcorn while taking in some of the best foliage in New England. Make sure to get out of your car and gaze into the valley. The treetops will look like something out of a Dr. Seuss book!
If you enjoy hiking, plenty of trailheads are found along the highway. Enjoy views of the Pemigewasset Wilderness, the Osceola Range, Lincoln Woods, Sugar Hill, Mt. Tremont, numerous waterfalls, and the gargantuan slabs of granite that gave New Hampshire its nickname, the Granite State.
Where to stay in Lincoln or Conway close to the Kancamagus Highway
---
2. Mt. Washington Valley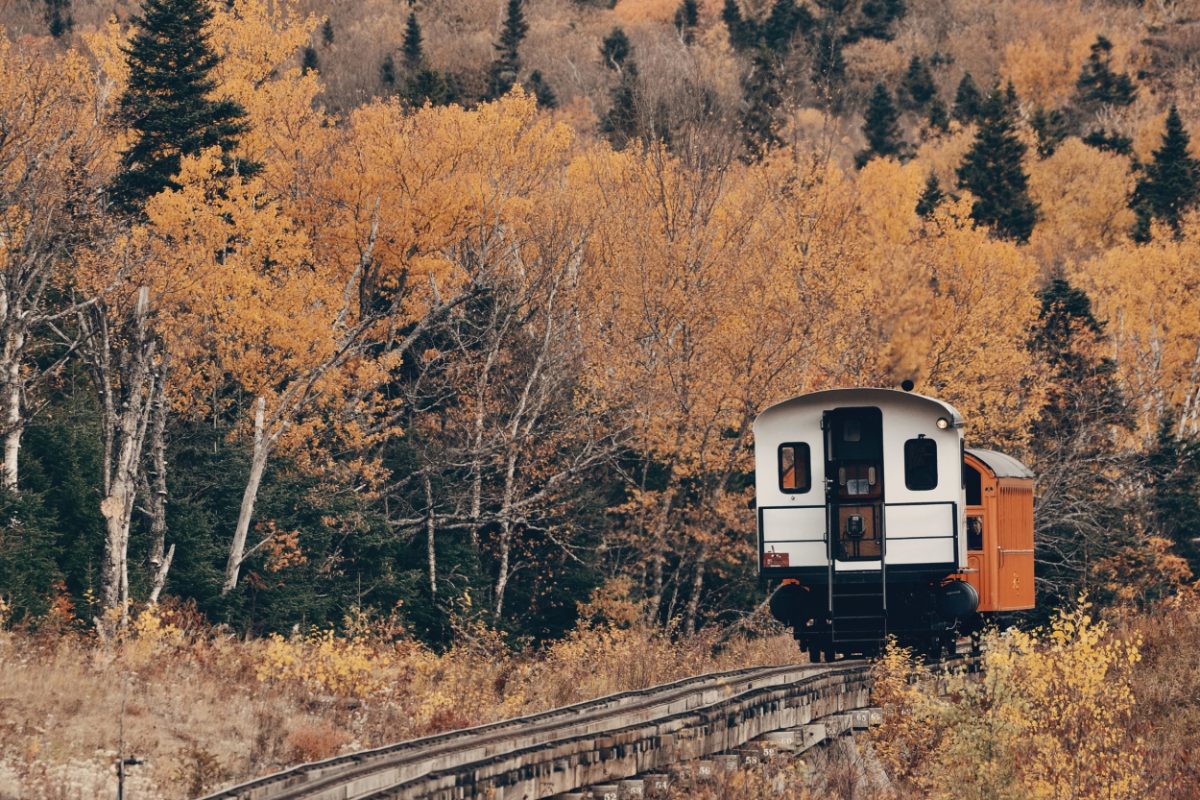 Mt. Washington is the tallest mountain in the northeastern region of the U.S. At a towering 6,288 feet, the summit challenges intrepid climbers every year.
Risking their health and sanity, climbers endure record-pushing winds and thunderstorms that sweep over the mountainsides, which are known to confuse even the most skilled orienteers. There's a reason multiple books have been written on search and rescue missions in New Hampshire.
To appreciate the sheer intensity of White Mountain weather, drive or hike to the summit of Mt. Washington and visit the Mt. Washington Observatory, a private nonprofit devoted to educating people about weather and climate systems, and the place where researchers experienced the highest surface wind speed ever recorded in the world (a lip-curling 231 mph).
The road leading to the summit may not be the best driving route for fall foliage in New Hampshire, but it's definitely the most thrilling!
For the faint of heart, or those who simply don't wish to risk paying thousands of dollars for an emergency helicopter, the foliage can be viewed from the Mt. Washington Cog Railway. Perfect for families, the Cog Railway travels at a leisurely pace up the west side of the mountain.
Although the biodiesel trip doesn't always take you to the summit of Mt. Washington, you will be graced with profound views from Waumbek Station, where Quebec and an untapped region in Vermont known as the Northeast Kingdom call out from the north and the west.
The train stops here for a short time where you can enjoy refreshments and snap photos of the multi-colored trees that lay beneath you.
If you would rather stay below the summit to avoid bad weather, the Mt. Washington Valley area has plenty of trails and conservation centers that promise unmatched opportunities for leaf peeping. Try visiting Pine Hill Community Forest and Redstone Preserve for calming strolls among the hardwood trees.
Where to stay in the Mt. Washington Valley
---
3. The North Country (Pittsburg, NH and Dixville Notch)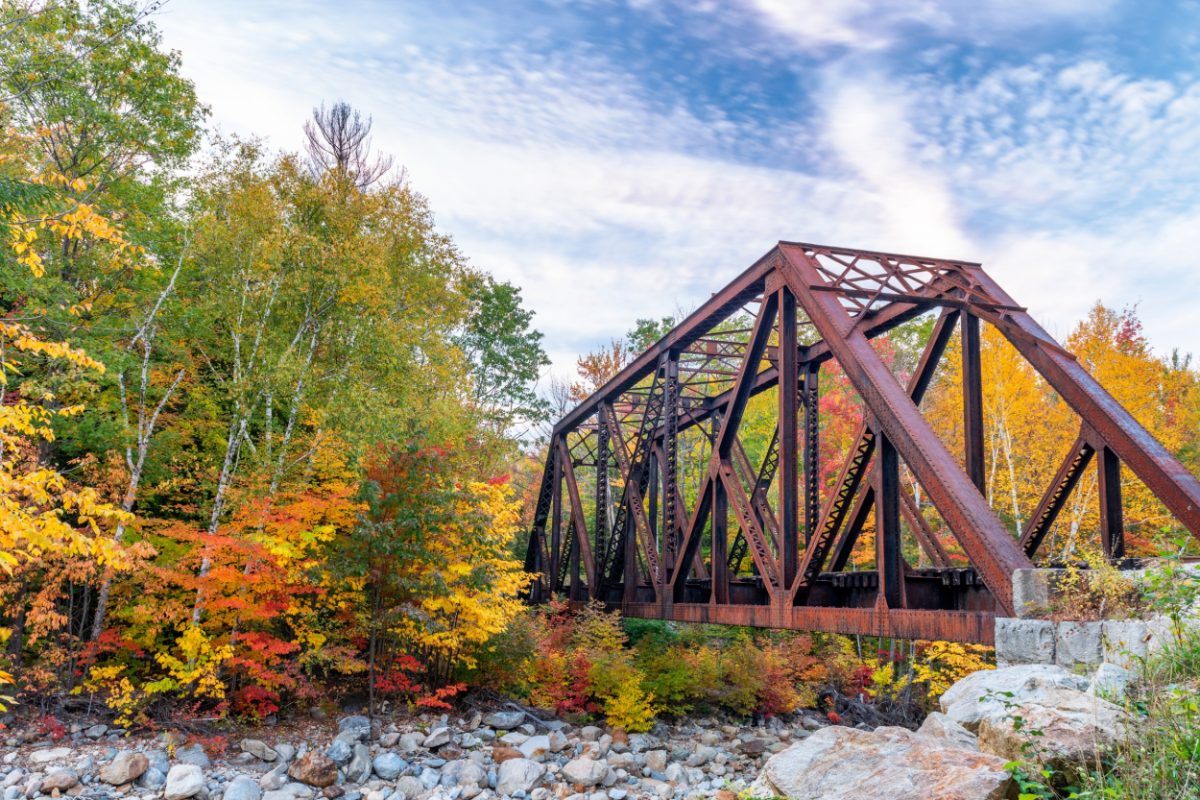 Now that you've seen the more popular regions of the state for fall foliage, it's time we embark on a journey that few are willing to take.
Welcome to the North Country. Any guide for New Hampshire leaf peeping is incomplete without mentioning this region of the state. Expect a more libertarian, rugged mindset here.
Residents are more likely to keep to themselves, which means you'll have freedom from crowds and more time to enjoy some much-needed solitude.
Pittsburg, NH is the northernmost part of the state. Just 20 miles from the Canadian border, this town of fewer than 1,000 residents is home to tranquil lakes and sleepy forests that drip with color at the season's peak.
Most importantly, the drive alone will take you through lesser-traveled areas that many New Hampshire natives haven't seen before.
A must-do in Pittsburg is paddling on one of the town's many lakes. Splash your paddle and watch the leaves fall and become one with their reflections.
Don't forget to release your primal scream of joy through the open air. After all, no one is around to wag their fists at you and call you a disrespectful, ungrateful whippersnapper (although, I secretly enjoy being called a whippersnapper – what an awesome word).
A half-hour drive from Pittsburg is Dixville Notch State Park. Keep your eyes peeled for moose and bobcats as you hike the northernmost stretches of the White Mountains. Lake Gloriette is perfect for getting out of your car and stretching your legs after a long drive.
Spend some time looking for moose since October is mating season. An image few have had the privilege of seeing, try spotting a bull moose with water droplets glistening on his rack and peak foliage acting as his background. If you have such a privilege this year, put the selfie stick away – the moose is much prettier.
Where to stay in Pittsburg, NH
---
4. The Lakes Region (Squam Lake, Lake Winnipesaukee, and the Castle in the Clouds)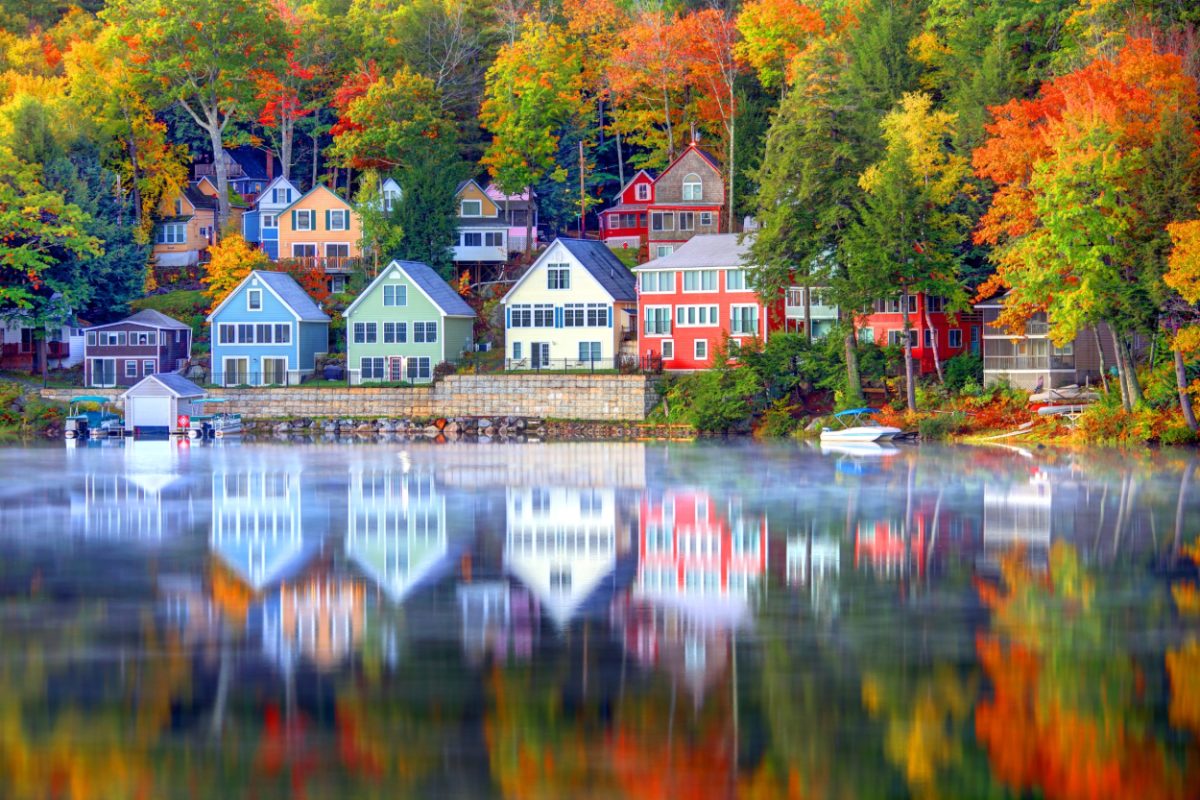 One of New Hampshire's primary revenue streams is tourism. And no wonder. Bostonians are known for traveling northward throughout the year to ride their boats on some of New England's most gorgeous lakes. Next to the White Mountains, the Lakes Region could be the set for a Hollywood film. And guess what, they were!
The cult classic, On Golden Pond, was filmed on Squam Lake, a body of water that lovers of fishing and kayaking frequent year-round.
After enjoying a bed and breakfast, leaf peepers can hike the trails on Rattlesnake Mountain. Climb the mountain to discover a brilliant view of Squam Lake. You'll see small islands dotted throughout the lake with red, orange, and yellow leaves waving in the wind like nature's confetti.
For photographers, rising early to shoot photos of Lake Winnipesaukee is a must. This is the largest lake in New Hampshire and the sixth-largest natural lake in the U.S. Local photographers never miss the chance to frame that timeless photo of leaves reflecting in the water, so get out there and capture some of the best foliage in New England!
If you are impressed by the Lakes Region, did you know you can visit a castle that overlooks it? After shooting photos of Lake Winnipesaukee, head on over to the grandiose Castle in the Clouds.
Tour the grounds and attend programs for birdwatching, yoga, and music. I enjoy the tours of the mansion and then gazing at the sunset. Unlike anything else in New England, the Castle in the Clouds is a must-see during the autumn season.
Where to stay in the Lakes Region
---
5. Southern New Hampshire (Monadnock Region Loop Scenic Drive and the Robert Frost Farm State Historic Site)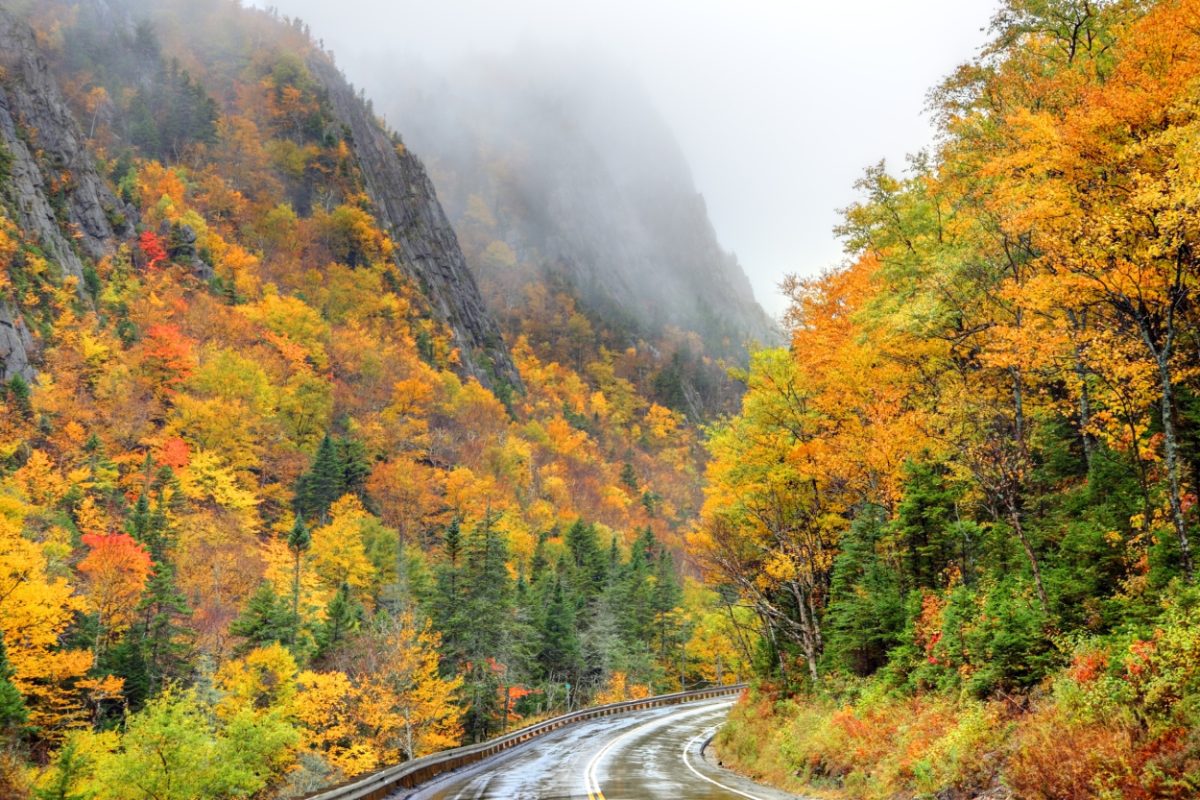 Southern New Hampshire offers a wealth of opportunities for late coming leaf peepers. Throughout the second and third weeks of October, this region of New England brims with color. The best time to see fall foliage in New England is hard to pin down, but you can rest assured that southern New Hampshire's time frame feels longer and more forgiving.
I believe the best driving route for fall foliage in New Hampshire is a tie between the Kanc and the Monadnock Region Loop Scenic Drive. When taking the 80-mile loop in southwestern New Hampshire, you'll roll through idyllic New England towns while catching glimpses of the mighty Mt. Monadnock.
The most-climbed mountain in New England, Mt. Monadnock offers 360-degree panorama of New Hampshire, Vermont, and Massachusetts. If hiking isn't your style, take it easy and walk downtown Keene.
For a day filled with both history and poetry, drive through the small, wooded town of Derry and visit the Robert Frost Farm State Historic Site. The property is managed from May to October by the state's parks system. Take the self-guided tour that spans the property grounds to appreciate fall through the lens of one of America's greatest poets.
After taking in the bucolic scene and the bright hues of fall, you might just make an offer on the house. That is, until you see the wallpaper and the stove… and the privy… but maybe you'll be sold on fine China!
Where to stay near the Robert Frost Farm State Historic Site
Robert Frost was wrong when he wrote: "Nothing gold can stay." After a week or so of New Hampshire leaf peeping, gold beech trees will never leave your memory.