San Francisco will always be a city that changes often. Since the early days of the Gold Rush, San Fran has been a hub for everything new and exciting.
While San Francisco sometimes has a futuristic feel, bits and pieces of the city will always reflect its rich past. San Francisco has over 30 neighborhoods, each with a unique vibe, history, activities, and scenery.
With so many options, choosing where to stay in San Francisco can seem daunting. Ahead, we've broken down all the top areas to stay while in SF, the best activities in the area, and some fun facts about San Fran you may have never heard before. There is something for everyone in this charming city in Northern Californian.
Why listen to me? I stayed in pretty much every corner of the city, the good, the bad, and the ugly. On top of that, I used to come to the city regularly when I was living locally in the Bay Area.
Best Hotels in San Francisco
Best Luxury Hotels in San Francisco
Palace Hotel • Taj Campton Place • Hotel Nikko
Best Boutique Hotels in San Francisco
Noe's Nest • Hotel Boheme
Best Cheap Accommodation in San Francisco
1906 Mission • The Urban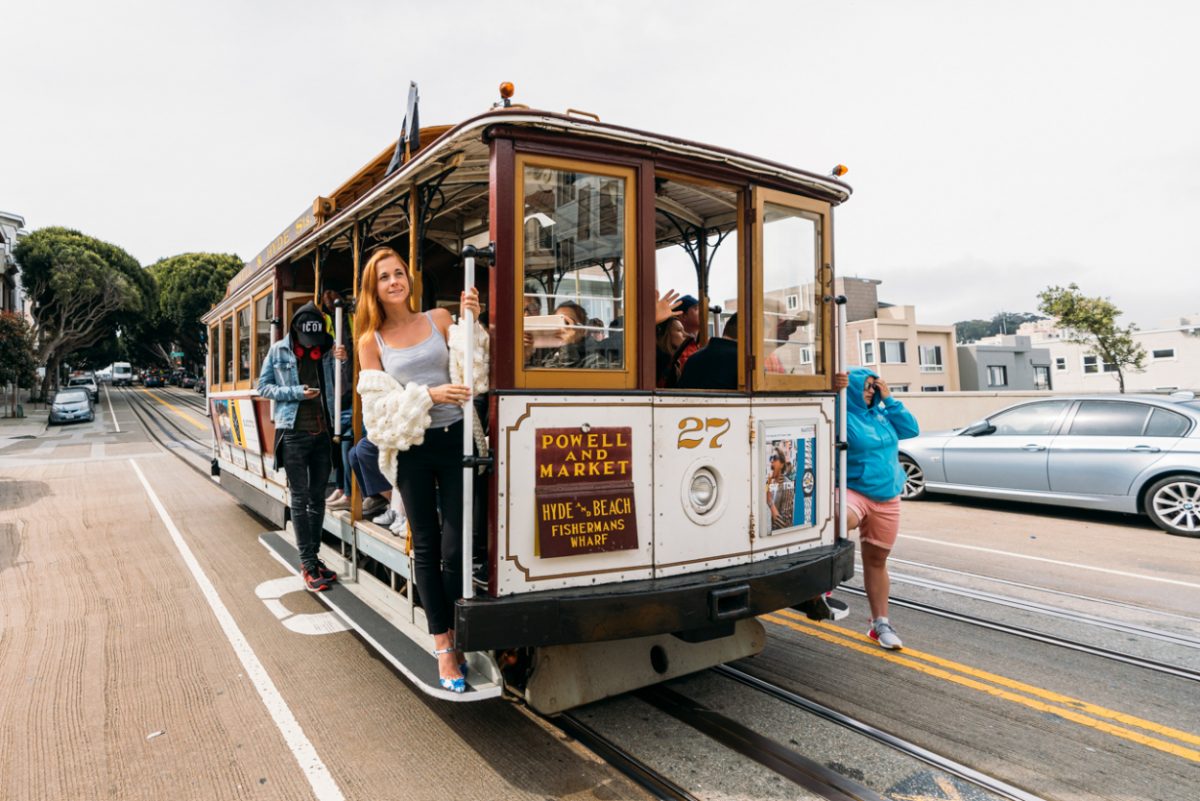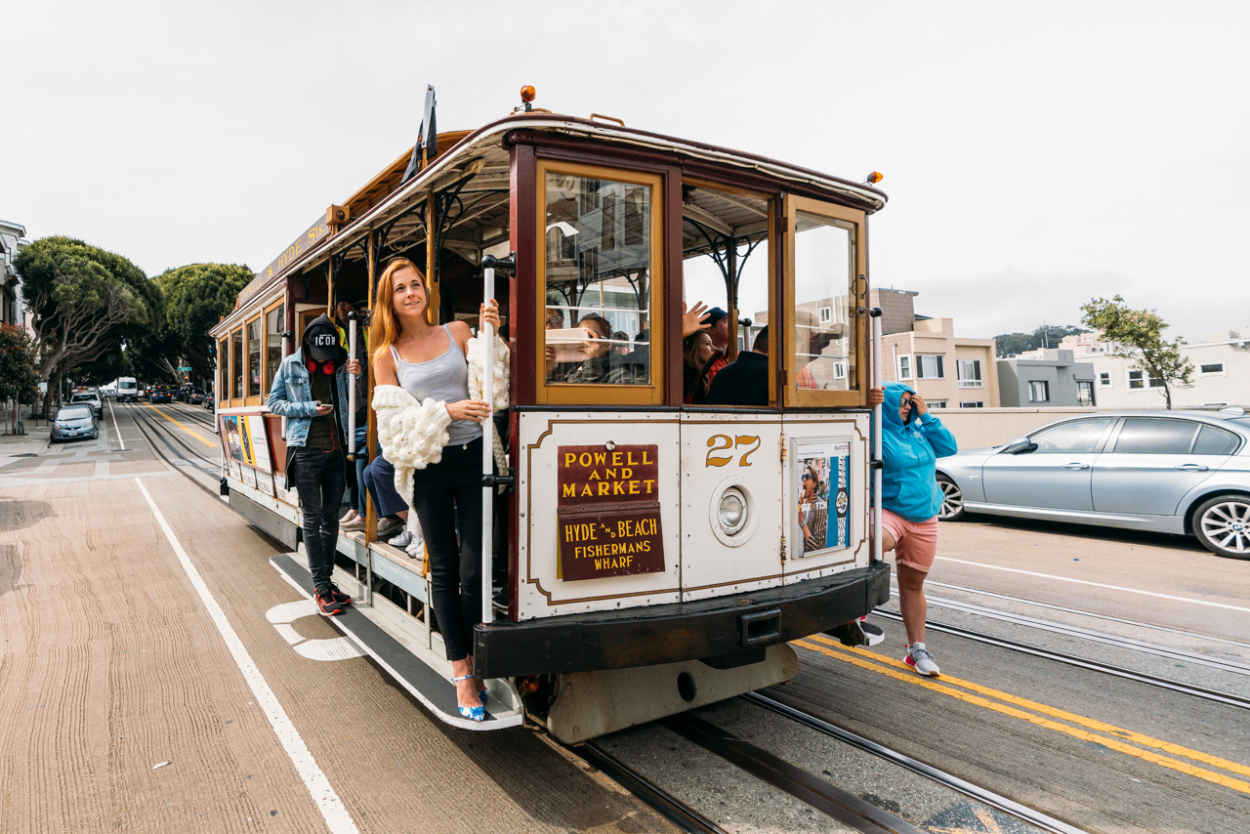 How to Get Around San Francisco
Getting around San Francisco isn't that difficult. Unlike in most US cities in San Francisco, you have a range of options to choose from – walking, bikes, taxis, cable cars, and more.
You can rent a car from Discover Cars and use it for day trips. Within the city range, it's best to navigate without a car because parking is horrible.
The Hop-On-Hop-Off buses are another great option. With options from 24-hr, 48-hr, or 72-hr tickets and routes running every 15 to 20 minutes, it's the perfect way to see all the tourist attractions. Find out more here!
Walking around the city is by far the easiest method of getting around, with many of the hotels close to the attractions. Here are a few good hotels for your stay that are close to the top things to do in San Francisco.
What to Remember
Bring walking shoes to The City. San Francisco is a town full of hills so get ready for long walks.
San Francisco has a LOT of homeless residents. This can definitely be a bit of a culture shock, but remember that the folks might be mentally ill and talk to themselves, but they could be harmless. Don't act superior.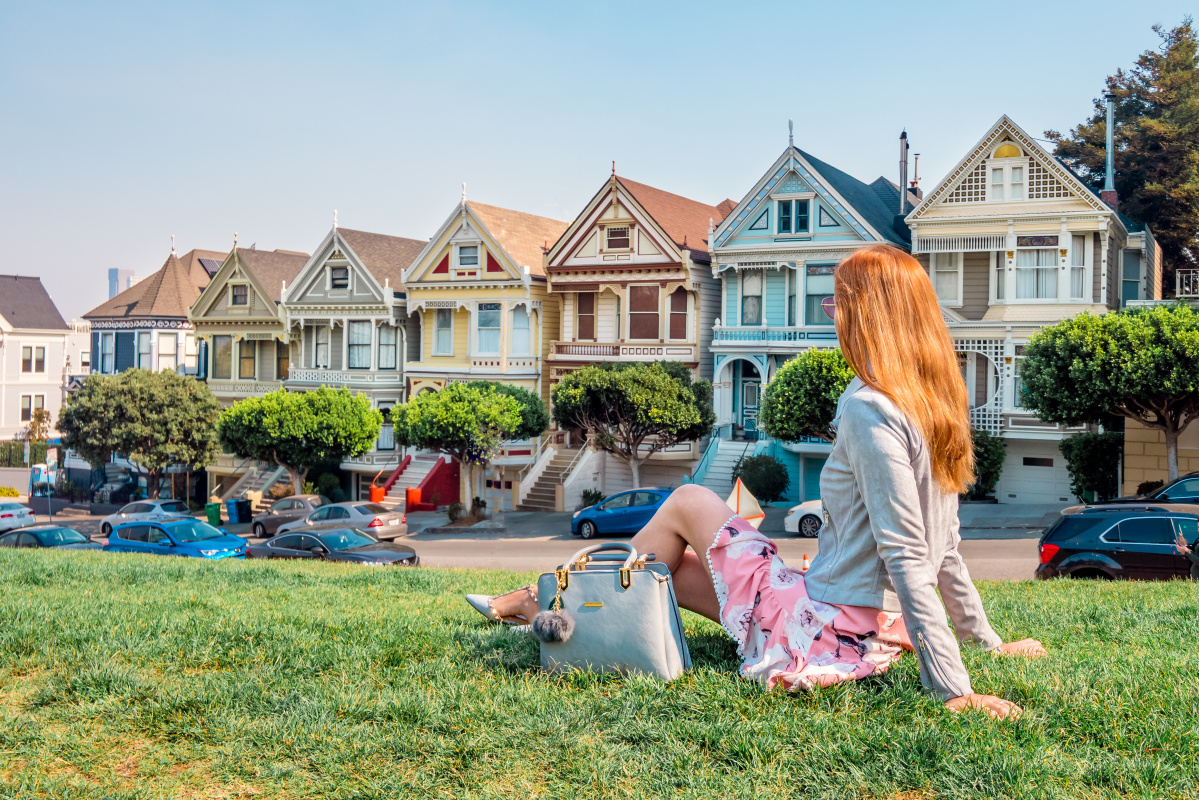 ---
Union Square & Downtown Area: for First Timers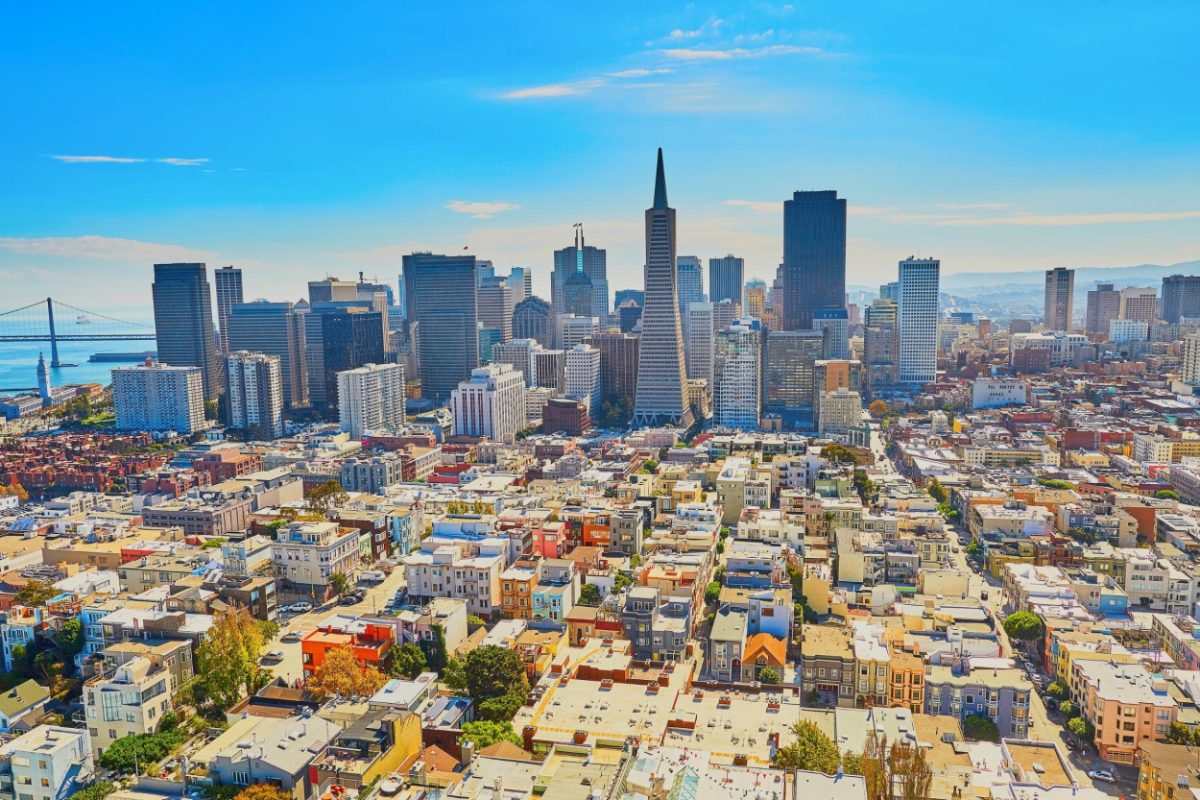 Union Square is located right in the center of the city with many hotels available for tourists. Cable cards start nearby at Powell Street Station, there are shopping plazas everything, and parking garages so it makes it convenient for first-time visitors.
Some question whether Union Square is safe at night and my response will always be the same: just like in any other American big city you need to take precautions, but various people walk around so it's totally fine.
However, I feel like the place lacks a local vibe or any vibe. It feels a bit like an empty district where people are just passing by here and there.
Keep in mind, nearby Powell Street station the district of Tenderloin starts. While you might be fine, it's the place to get mugged and as a female I never felt very welcomed there. If I was to recommend a place I'd say avoid Tenderloin.
Where to Stay near Union Square:
Hotel Nikko San Francisco – close to Curran Theatre and the San Francisco Cable Car
Palace Hotel – the oldest and most legendary luxury hotel in San Francisco
High Ashbury: for Artsy Vibe
It's one of San Francisco's most famous spot and beloved neighborhoods. The area still has a frozen-in-time feeling. A trip here feels like a blast from the past, and that's just what folks who visit are looking for.
As the center of the summer of love in San Francisco in 1967, the nationwide hippie movement is said to have begun here.
Colorful shops, cafes, and restaurants with the perfect combination of the old and new line the streets. If you're a classic rock fan, Haight-Ashbury is a must. During the 1960s, The Haight was home to Janis Joplin, Jerry Garcia, and Jimi Hendrix.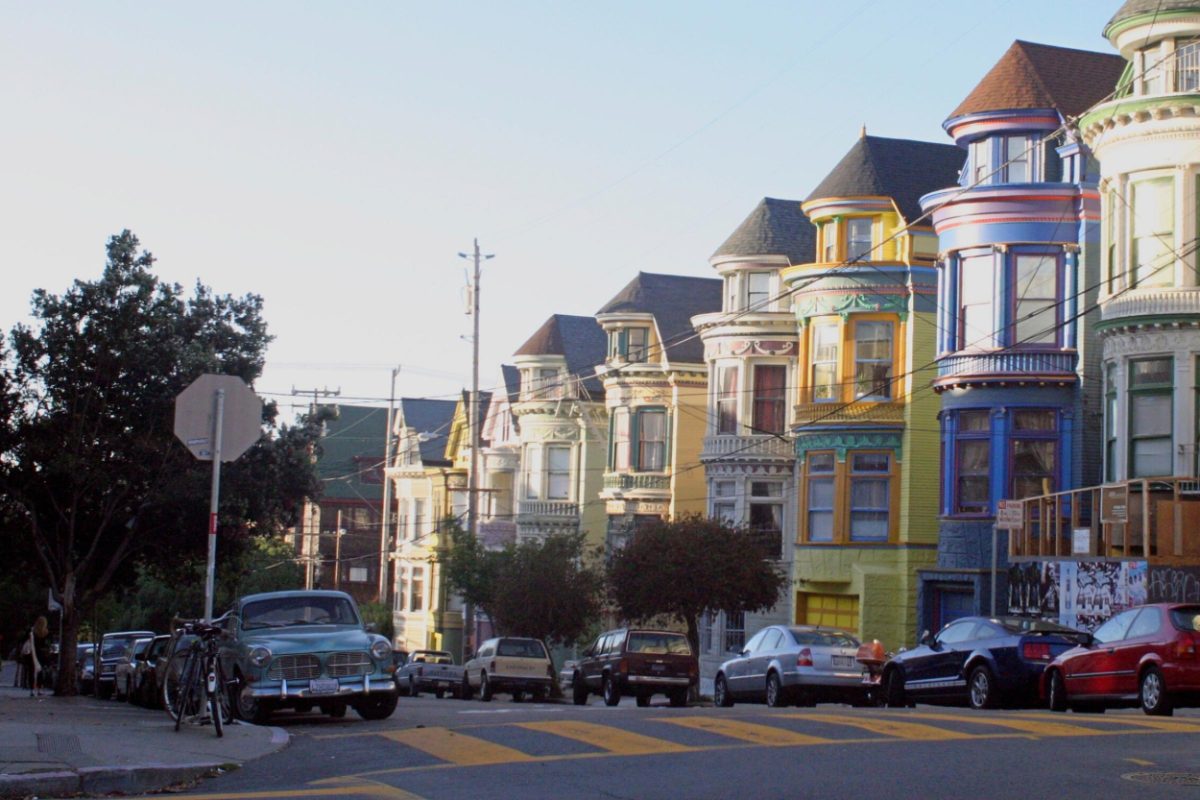 Top 3 Activities in Haight-Ashbury
1. 'Deadheads' have traveled thousands of miles across to catch a glimpse of the Grateful Dead House that started it all. The house is the original starting place of the band's long history. They lived there from 1965 to 1968 when Jerry Garcia and bandmates made rock & roll history.
2. This activity is not for scaredy cats. If you're aren't afraid of ghosts, the Haunted Haight Walking Tour is a perfectly creepy paranormal experience.
See where Charles Manson started his "family" and go on a tour led by a professional ghost hunter. While it's not a guarantee, many have reported ghosts making themselves known while they were on the tour.
3. For live music 7 days per week head over to Club Deluxe. This intimate jazz house is the perfect place to enjoy a cocktail and the sweet sound of jazz.
Tip: This is a cash-only venue, so be sure to leave the credit card at home.
Fun Facts About Haight-Ashbury
The area got its name from two crossing streets, Haight and Ashbury.
In the 60s, mainstream media coverage of hippie life in the Haight-Ashbury captivated the attention of youth from all over the US.
Many members of the Flower Power generation still call Haight-Ashbury home.
Where to Stay in Haight-Ashbury
In keeping with its history, you won't find luxury hotels in the Haight-Ashbury area, but you'll find some really good budget or midrange hotels.
Budget & Mid-Range Hotels
Stanyan Park Hotel – Restored in 1983, this hotel located opposite Golden Gate Park is listed on the National Register of Historic Places. Elegantly decorated rooms and furnishings take you back to the early 20th century while the amenities are classy and modern.
The Metro Hotel – This budget-friendly hotel is located within walking distance of the Grateful Dead House, Castro Theatre, Painted Ladies, William Westerfield House, and more. The comfortable rooms with chic decor are perfect for your stay in San Francisco.
North Beach: Best Area with a Car
The buzzing neighborhood often referred to as the "Little Italy" of California attracts visitors looking for a lively area packed with local history. Any area with a high concentration of Italians is undoubtedly going to have some of the best cuisines in town. Plus, any stroll through Little Italy won't be complete without a cannoli and a scoop of gelato.
North Beach is home to some of the best homemade Italian restaurants with large portions any Italian grandma would be proud of. There are plenty of fun outdoor activities to do in North Beach, like climbing The Greenwich Steps, which is a great hike if you feel like breaking a sweat.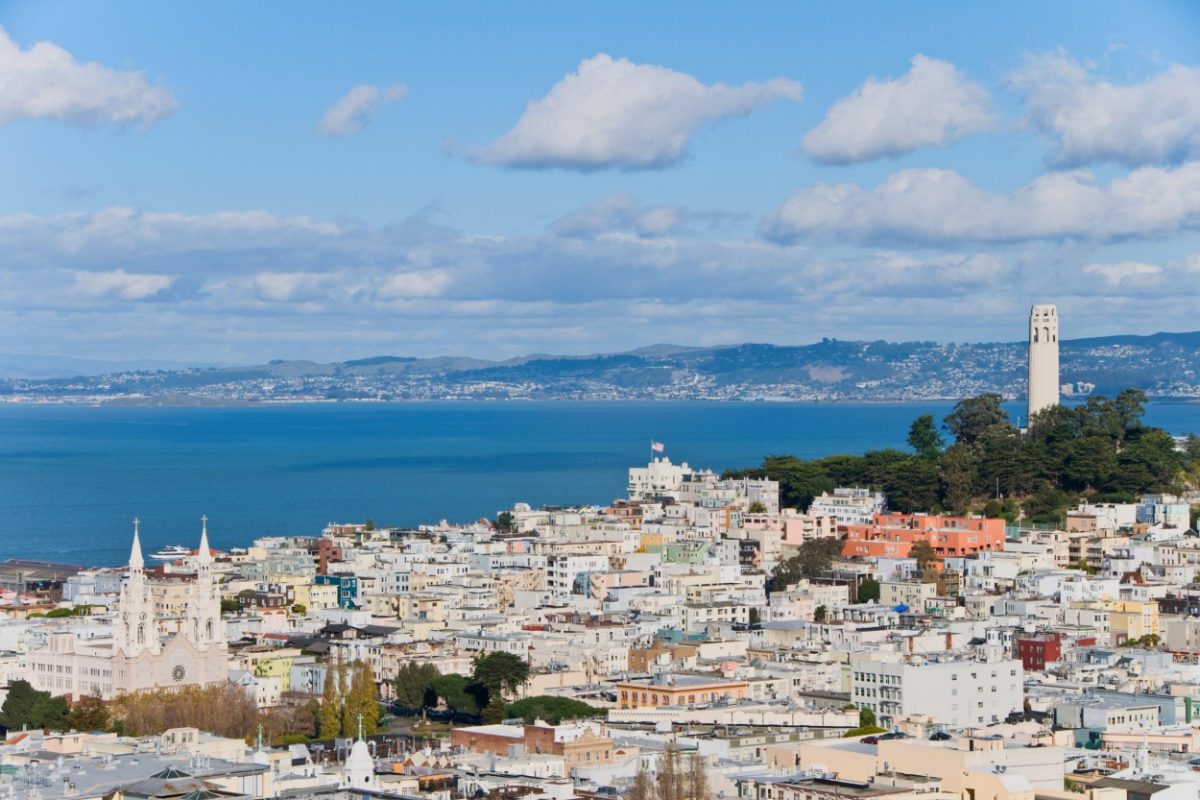 Top 3 Activities in North Beach
Plan a visit to The Beat Museum to learn all about the influential group, The Beat Generation. SF helped shape this impactful artistic movement, and the museum is dedicated to preserving the manuscripts, books, and rare artifacts from the time period.
Visit one of North Beach's oldest drinking establishments. Since 1907, Comstock Saloon has been serving classic cocktails and providing live music to folks in North Beach.
Take in a panoramic view of the city and the bay at the top of Coit Tower. Don't worry about having to climb steps to take in the spectacular view; the tower has an elevator.
Fun Facts About North Beach
The Bank of America was started in North Beach in 1904 by Amadeo Giannini.
The SS Peter and Paul Church is readily visible in Dirty Harry. It's also where Joe DiMaggio's funeral was held in 1999.
Twelve thousand people call North Beach home. Take a historical walking tour of this amazing area.
Where to Stay in North Beach
Mid-Range Accommodation In North Beach
Hotel Boheme – Reflecting the Bohemian culture of the 1950s and 1960s, this magical hotel is a short walk from jazz clubs, cafes, and Italian restaurants, as well as Lombard street and the cable cars. Cosy comfortable rooms are with old-style linen and the box telephones are just adorable.
Washington Square Inn – This boutique hotel overlooking Washington Square Park lovely wooden decor. Select a room with a fire place for a more inn-like feeling. Don't forget to enjoy the free wine, cheese, and crackers during the evening happy hour.
Budget Accommodation In North Beach
Green Tortoise Hostel – If you're looking for really cheap accommodation in North Beach and don't mind staying in a dorm room or hostel, the Green Tortoise is perfect! This centrally located hostel also offers private rooms with shared bathrooms and a sauna on the 4th floor.
Columbus Inn – A short walk from Ghirardelli Square, Lombard Street, and Pier 39, this motel offers old-fashioned rooms with modern amenities. As opposed to $25 to $70 elsewhere, the free onsite parking is truly a blessing.
Bonus Hotel: Luxury Accommodation Near North Beach
Club Quarters Hotel – A short walk from North Beach, this hotel in the Financial District is also the perfect base for touring the city. It has everything you need and is in a quieter location away from the noise. Rooms with kitchenettes are also available.
---
Embarcadero: For Families
For anyone looking for the quintessential tourist-focused San Francisco, a stay at Fisherman's Wharf will not disappoint. Iconic landmarks and attractions, delicious seafood, bustling streets, and a salty sea breeze make Fisherman's Wharf a place to add to your bucket list.
Grab a bowl of the famous San Francisco clam chowder and take a ferry to the famous Alcatraz Island. Learn all about Alcatraz, how it went from being a prison to the birthplace of a nationwide protest.
Fisherman's Wharf is filled with history, and the colorful buildings and brisk air will make you feel like you're in a daydream.
Is it cheesy? Yep, but your kids might love it.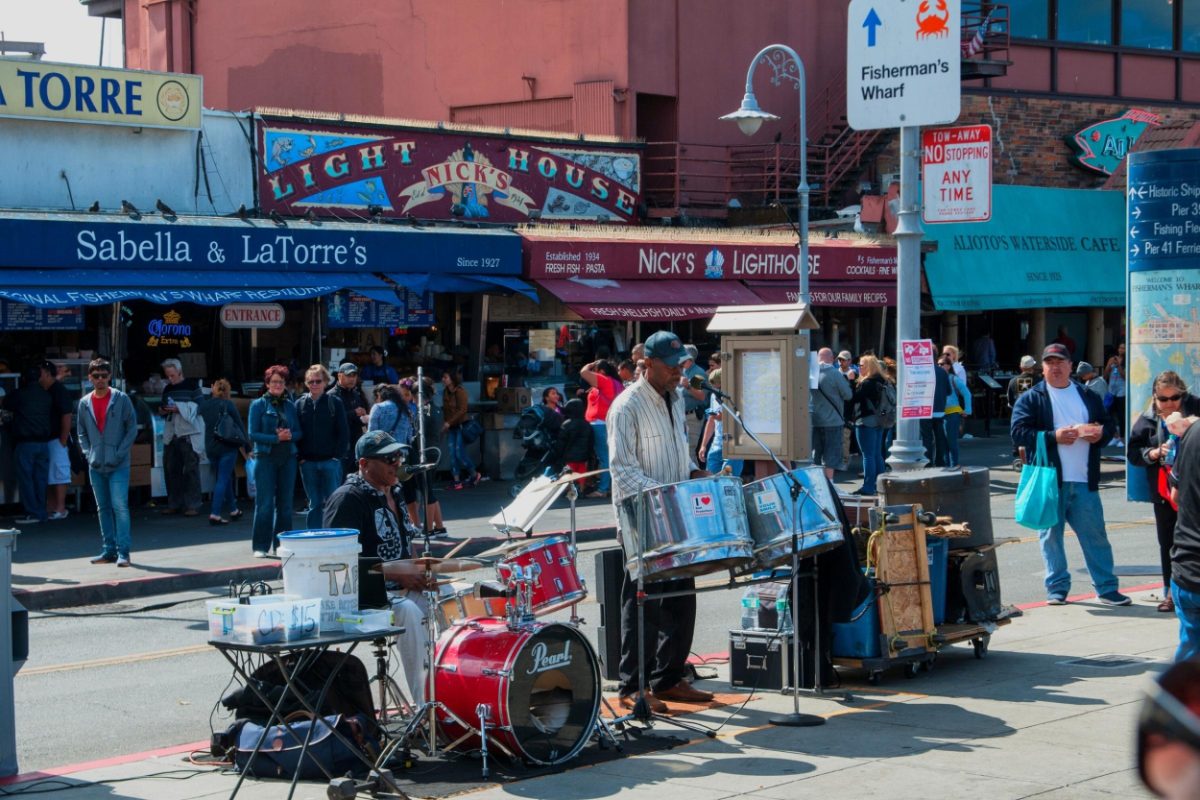 Top 3 Activities in Fisherman's Wharf
Take a photo with your favorite celebs at Madame Tussauds Wax Museum. The SF Madame Tussauds museum is the 17th to open worldwide. Here you will find Wax figures of famous singers, actors, politicians and more. Even though they're made out of wax, the figures are so life-like you will feel up close and personal with Hollywood's finest.
Walkthrough The San Francisco Dungeon for a 60-minute journey through San Francisco's past. The Dungeon recreates historical events like the Gold Rush and Occupation of Alcatraz Island using live actors, special effects, and 360° sets. The Dungeon is so well done that it makes you feel like you stepped back in time. You can get access to the dungeon and other attractions with the San Francisco Sightseeing Day Pass.
Head over to Pier39 for some shopping, great eats, street performances, and virtual 3D rides. Be sure to check out the Aquarium of the Bay and catch a glimpse of the cute California sea lions hauled on the docks.
Fun Facts About Fisherman's Wharf
The "Fleet Week" celebrations that happen annually every fall is the most famed event in Fisherman's Wharf. Events honor the men and women serving in our armed forces.
It's the most frequently visited place in San Francisco. Each year an estimated 12 million people come to Fisherman's Wharf.
High-quality seafood is one of Fisherman's Wharf's most prosperous industries.
Where to Stay in Embarcadero
Luxury Hotels in Fisherman's Wharf
The Fairmont Heritage Place, Ghirardelli Square – Once part of a clocktower, this luxurious heritage hotel offers sweeping views of the bay and large recreational grounds with fire pits. The large spacious apartment-style rooms include glass showers, on-call butlers, and the plushest of amenities. Wattle Creek Winery and Ghirardelli Chocolate store are just outside.
Marriott Vacation Club Pulse – Just a short walk from Pier 39, this eco-friendly hotel offers chic modern rooms with the latest amenities. Perfect for a great night's sleep with city views.
Argonaut Hotel, A Noble House Hotel – This maritime-themed hotel overlooking the wharf is within walking distance of the main piers. Enjoy the seafood and clam chowder at the Blue Mermaid restaurant and taste the California wines and ocean-themed cocktails.
Budget & Mid-range Hotels in Fisherman's Wharf
The Suites at Fisherman's Wharf – An all-suite hotel where you are greeted with a cool glass of welcome Cava, in a lovely location with rooftop views of the San Francisco Bay. Suites can take up to 10 guests and include a well-equipped kitchenette and the best of amenities. An absolute gem of a place!
Holiday Inn Express Hotel & Suites Fisherman's Wharf, an IHG Hotel – Elegant and spacious rooms and suites are just a short walk from Pier 39, Fisherman's Wharf, and close to the cable car on Hyde Street.
---
The Mission: for Nightlife & Food
The Mission District has Hispanic roots embedded in the neighborhood, which gives it an incredibly welcoming feel. Plus, you'll find the most trendy cafes and shops. Smells of freshly roasted coffee and spicy Mexican food fill the air.
The streets are decorated with colorful murals, and locally-run grocery stores sell food from all around the world. The district is heavily influenced by Hispanic culture. Find local taquerias serving traditional Mexican dishes that are a must-try, trendy bars, and boutique shops selling one-of-a-kind items.
The area has a certain charm that is only unique to the Mission. It's a melting pot of cultures, old and new architecture, and some of the best food in town. It's also home to three Michelin-star restaurants – Lazy Bear, Al's Place, and Californios. If you're a foodie, a trip to The Mission is a must!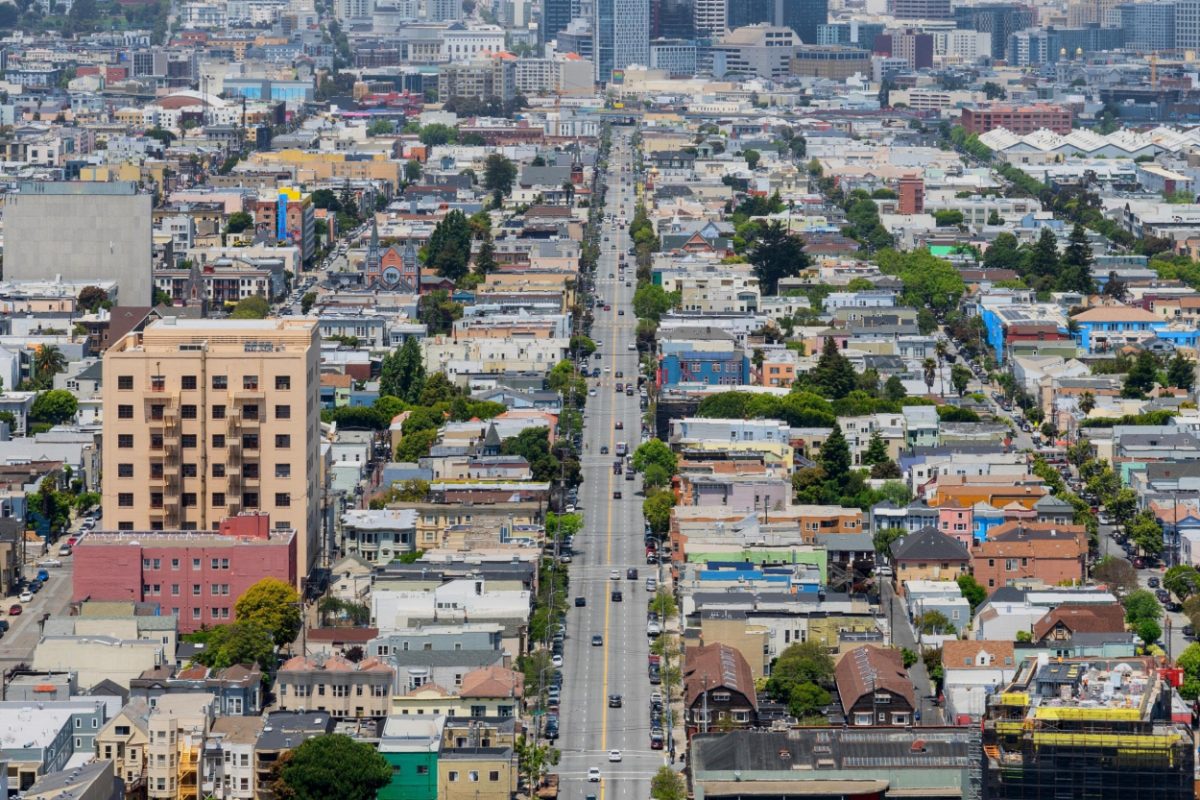 Top 3 Activities in The Mission
Be sure to try a 'Mission Burrito.' It's a SF twist on an old classic Mexican burrito. The dish became a staple in San Francisco in the 1960s, and today, restaurants like Pancho Villa are serving up some of the district's best.
If you need some downtime, relax at Mission Dolores Park for the afternoon. Many view the park as the main landmark in the Mission. People watch, pack a picnic lunch, and bask in the beautiful California sunshine.
Tip: There's a local man who sells fresh coconuts with rum that are to die for!
For a completely free activity, walk around the district and check out all of the incredible murals. The buildings are covered in stunning artwork by local artists. You will see many people stopping to take photos of the beautiful artwork.
Fun Facts About The Mission
The district is named after a Spanish-era mission, Mission San Francisco de Asis, also known as Mission Dolores.
The Mission is home to the oldest movie theater in San Francisco, the Roxie. The theatre is a non-profit community art house.
Carlos Santana, the famous musician, spent most of his teenage years in the Mission.
Where to Stay in The Mission, San Francisco
Midrange Hotels in The Mission
Noe's Nest Bed & Breakfast – This charming Victorian House in the Mission District is an extraordinary place. Sophisticated decor and modish furnishings meet modern amenities to give you a unique stay.
Inn San Francisco – This family-friendly B&B hotel is absolutely gorgeous! Cozy rooms, beautiful dining rooms, spa tubs, warm fireplaces add to the snugness of the stay.
Budget Hotels in the Mission
Hotel Sunrise – If you're looking for budget-friendly rooms with your own refrigerator and basic amenities, this one isn't too heavy on the pocket.
1906 Mission – Originally built after the 1906 quake, this Victorian hotel building was restored in 2014. The creatively decorated B & B with shared bathrooms features earth-friendly amenities, repurposed building materials, and energy-efficient lighting.
---
The Castro: for LGBTQ
The Castro District is home to stunning Bay views, locally made goods, and some of the best vibes you will find in San Fran. The Castro has become a center for the LGBT community.
The community's struggle for equality is nothing less than inspiring, and the district pays respect to the tragic history LGBT people have had to endure.
The local culture is committed to pride for all. The LGBT community is extremely active here, and the Castro is the home base for many events supporting LBGT rights. Pride flags line the streets, and it's home the San Francisco historic landmark, The Castro Theatre. People from all over the city come here to catch a flick and enjoy the positive atmosphere.
The locals are some of the most welcoming you will find in SF. Ideals of equality, love, pride, and freedom are found throughout the district. To spread the love on your next San Fran trip, be sure to head over to the Castro.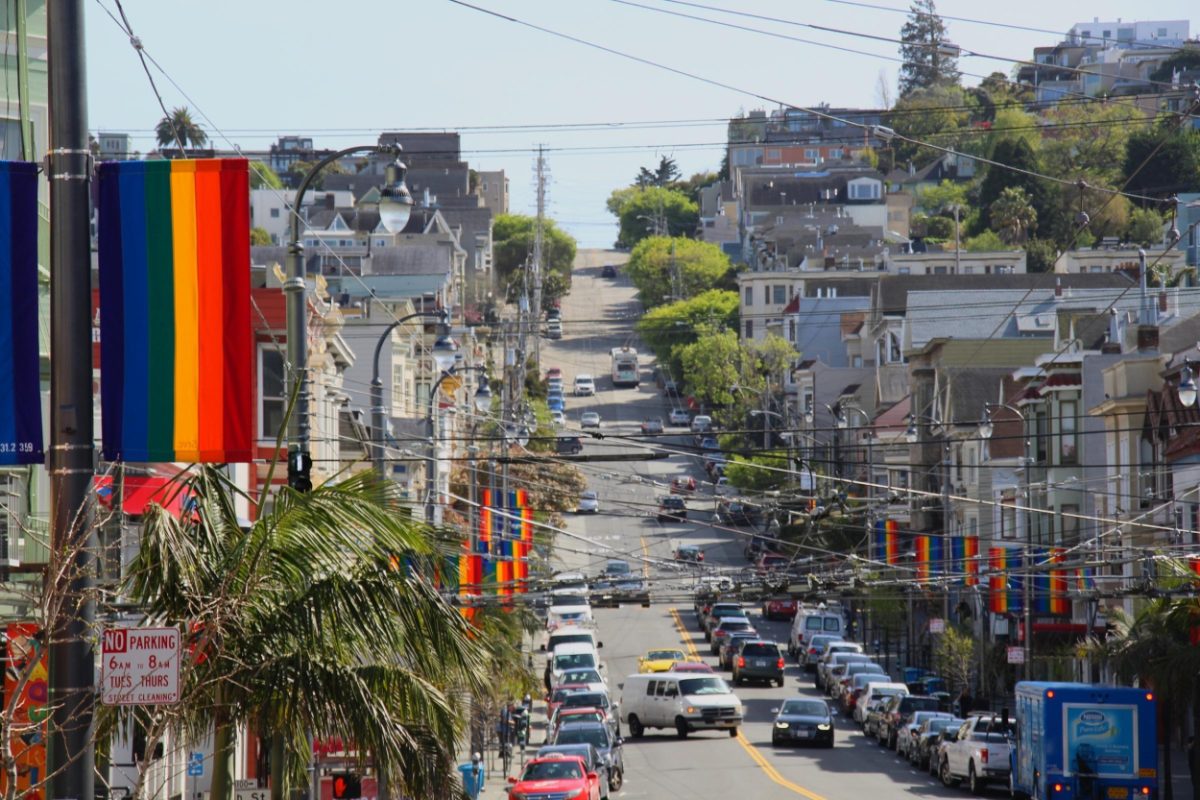 Top 3 Activities The Castro
Take a photography lesson. The Harvey Milk Photo Center is an ode to a San Francisco icon. He was the first openly gay elected official in California who was tragically assassinated in 1978. The center honors Milk's passion for photography. Guests can take classes and check out exhibitions of work by renowned photographers. It's open to people of all skill levels, so if you're a photography newbie don't be shy to visit.
If you're in Castro during early October, be sure to check out the Castro Street Fair. Harvey Milk founded the fair in 1974, and all proceeds to go to various charities around the area. Entertainers flood the streets to promote the LGBT community. Four different stages play music from all different genres. The event is truly magical. It's worth planning a trip in October just to take part in it.
Amp up your wardrobe without breaking the bank in the Castro. Bargain hunters will be delighted by the second-hand stores all over. Shops offer vintage and designer clothing at unbeatable prices. Find unique handmade pieces from shops like Local Take.
Fun Facts About The Castro
The Castro was one of the first predominately gay neighborhoods in the United States.
It's one of the safest areas in all of San Francisco. People feel comfortable to roam the streets at night without batting an eyelash. Many say it's because of the strong sense of community.
It's home to The Rainbow Honor Walk. Similar to the Hollywood Walk of Fame, The Rainbow Honor Walk gives credit to those who have fought for LGBT rights throughout the years. There are plaques on the sidewalks throughout the district.
Where to Stay in The Castro
Midrange Hotels
Parker Guest House – A delightful property in a fantastic location with a lovely garden where breakfast is served. You can choose from economy to deluxe king rooms with every amenity. Enjoy the free wine at 5:30 pm daily!
Beck's Motor Lodge – This motel on a tree-lined street close to the cable car stop offers large rooms with chic designs. Guests also have access to onsite laundry facilities which are useful when doing a California road trip.
Budget Hotels
The Willows Inn – A very homely bed and breakfast with wooden furnishings located on the upper floors of a 1900s Edwardian building. Guests have access to shared bathrooms and a shared lounge.