San Francisco is one of the largest namesakes in America. It's the birthplace and home to some of the world's most famous stars, and the set of many a rom-com or action blockbuster movie is the top city to visit in Northern California.
Yet, despite its great name and reputation, it is really only a small drop in the ocean of the Earth's landmass, spanning just seven miles long by seven miles wide.
Due to its small size, it's quite possible to see much of San Francisco in a short period of time. To help you out, I have compiled a list of some of the best things to do in San Francisco. Enjoy!
At the bottom of the post, you'll also find my best tips for visiting San Francisco. I've spent quite some time in the city and visited numerous times, as I used to live in California. If you have any additional questions about things to do in San Francisco, post a comment.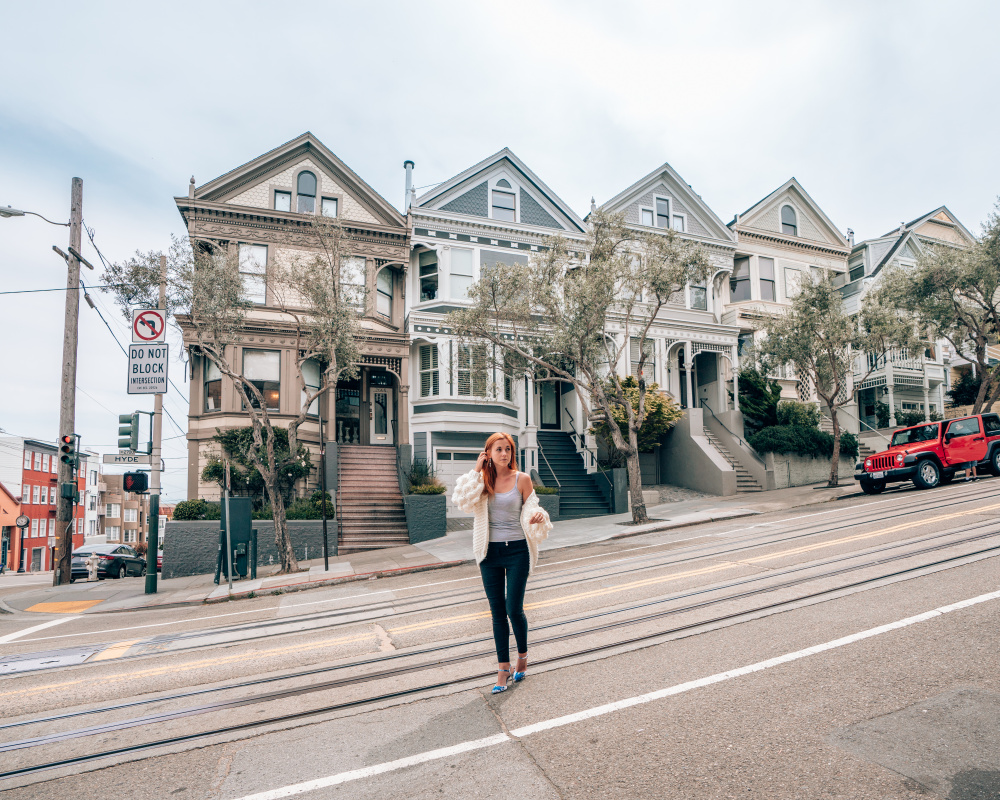 ---
Things to Do in San Francisco
1. See the famous Golden Gate Bridge
Built in the 1930's, the bridge connects the San Francisco bay with the Pacific Ocean. Golden Gate Bridge has been declared one of the famous wonders of the world as it's about 1.7 miles and made of steel metal bars. By the time this bridge was opened, it was the longest created bridge on suspension.
Facts and stats aside, the bridge itself, like many of its' neighbors and nearby residents, has been a background star in many Hollywood movies, including Superman: The Movie, A View To Kill, Star Trek IV, Godzilla, and has even appeared in cartoon form for Disney's Big Hero 6.
The bridge gets pretty foggy around the bridge, and often you can find yourself crossing the bridge without even being able to see the iconic orange-red structure. Despite this, it's a focal point in the San Francisco area and is well worth a visit. It's also one of the most photographed structures in the world, so get your camera ready.
Popular Ways To See Golden Gate Bridge For Better Views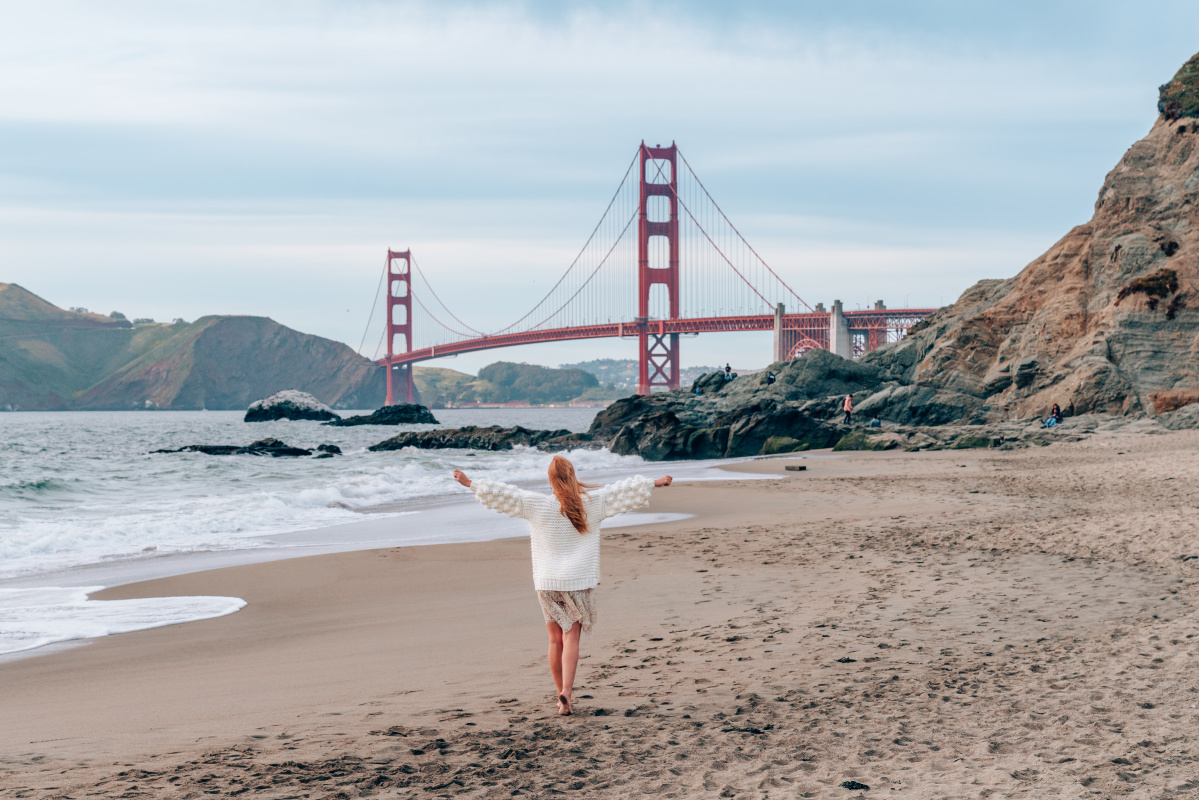 2. Eat Seafood at Fisherman's Wharf
San Francisco surrounds a bay. Because of this, there are plenty of opportunities to bring out your inner fisherman or stroll along the banks of the bay and take in the waters and beautiful sunsets.
Fisherman's Wharf is an outdoor waterfront community where you can find some of the best foodie options available, including fresh Dungeness crab and a whole array of fish.
You can also catch various boat tours from the Wharf – and try to remember that despite the rumors, there aren't actually any man-eating sharks in San Francisco bay. The great whites tend to stick to the Ocean and very rarely – if ever – do they venture inside the bay.
If you don't want to sit down and eat at a fancy restaurant, feel free to walk around and get some delicious food from several stands. They sell fresh crab, lobster rolls, fried shrimp and naturally – clam chowder.
Tours At Fisherman's Wharf
3. See Seals at Pier 39
When you're in the Embarcadero area stop by at Pier 39. While the Pier is famous for crazy touristy shops like one for left-handed people, oyster bar and awesome fudge store.
This place sells fudges in over 30 flavors from caramel to Snickers to white chocolate muffins with cherries. The best part of the experience is of course free tasting!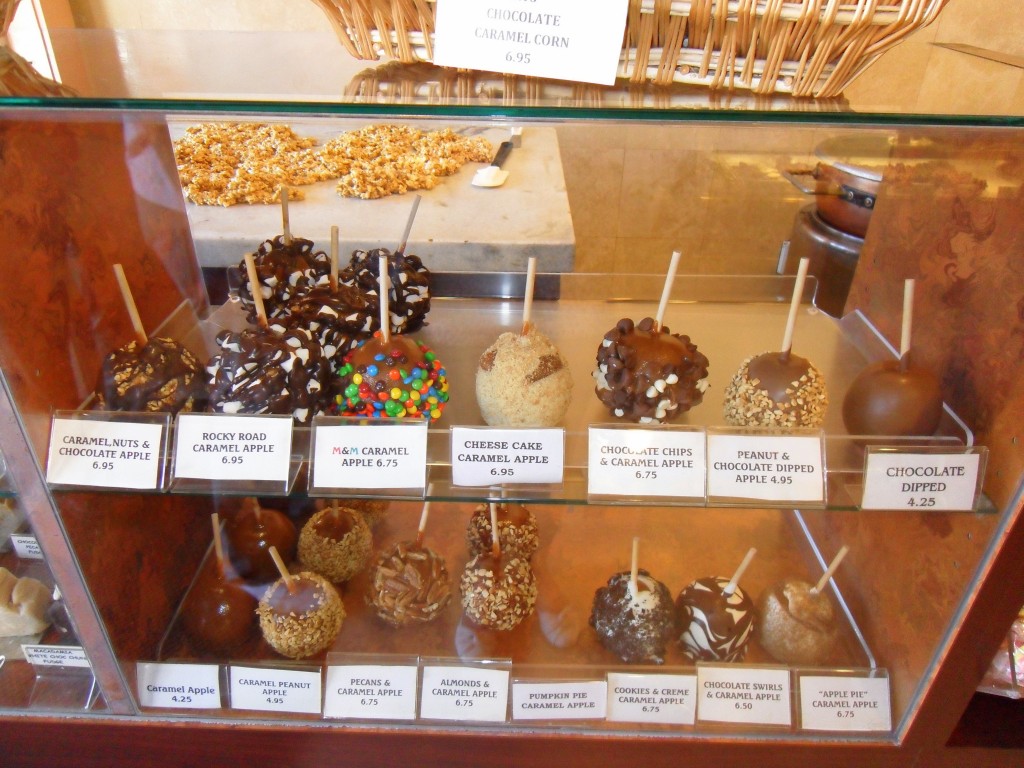 It's also home to many wild sea lions that sunbathe on the side of it (the difference between seals and sea lions is that the latter have ears).
There are pretty much always there, and it's impossible to miss them – they 'yell' a lot so you'll hear them before you spot them.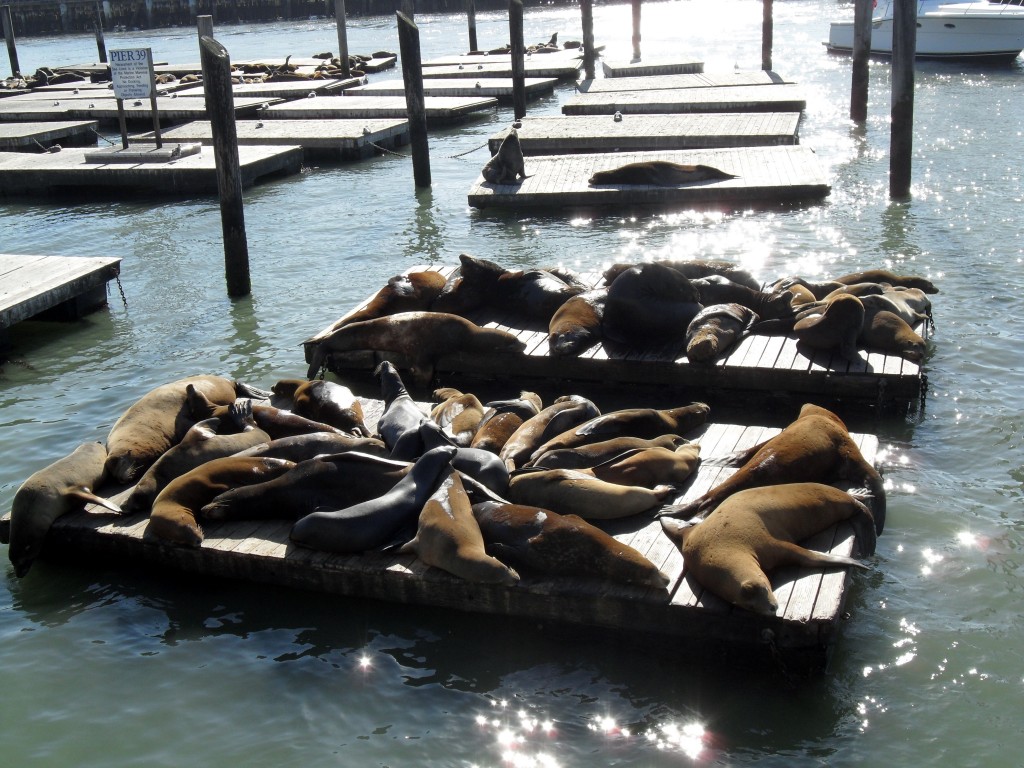 4. Stroll Around Presidio of San Francisco
A former military base that has been turned in to a park that falls under the Golden gate area of recreation. The ownership was initially in the custody of Spanish. In the recent past, the ownership and management was reverted back to the Mexicans, before it was transferred to the US in 1948.
It's known for it provides a good view of the great Golden Gate Bridge and a viewpoint for the Pacific Ocean. It has 9 great hiking trails, running trails, walking trails, so not surprisingly you can see locals enjoying it on a daily basis.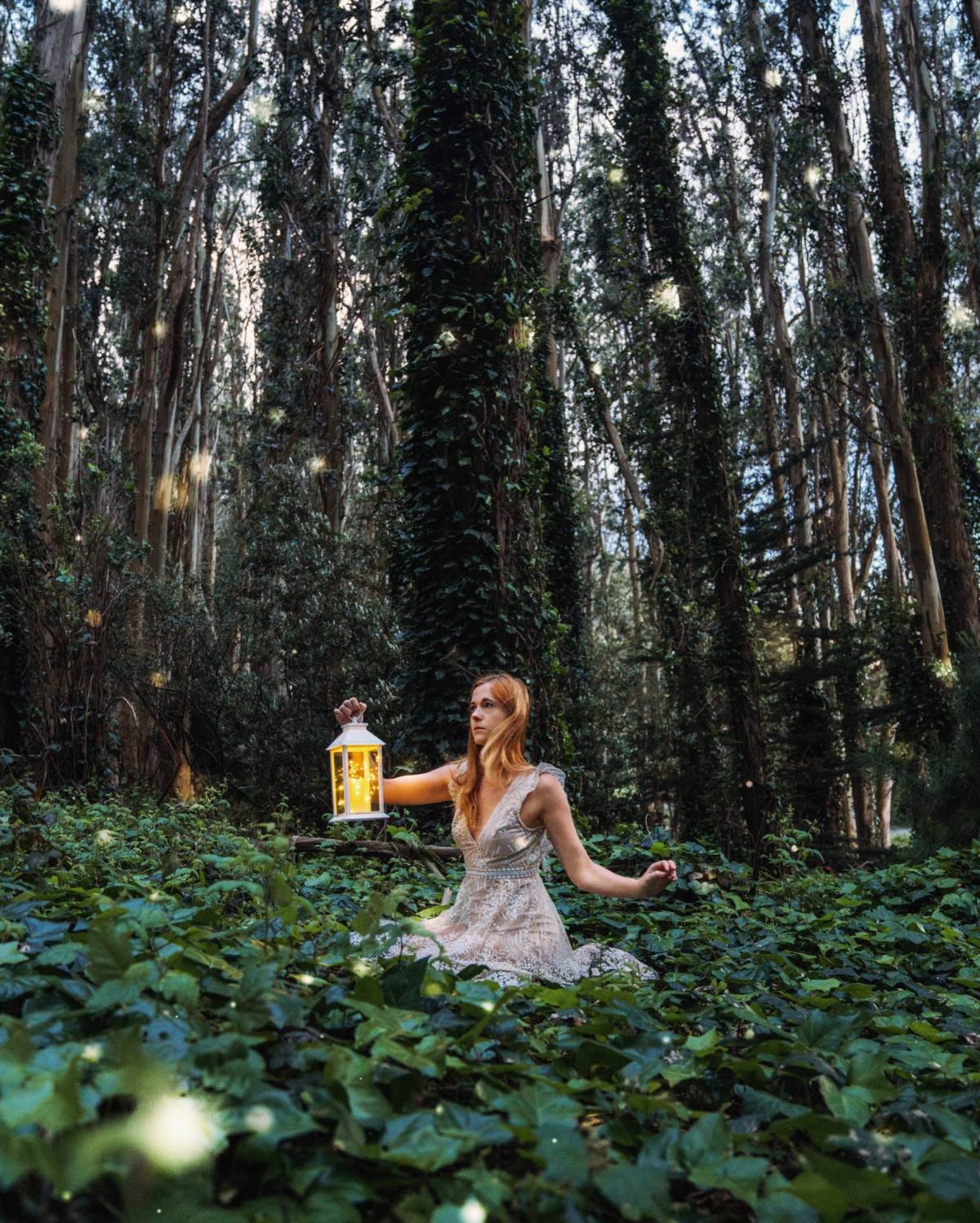 5. Admire Jellyfish at Aquarium of the Bay
The Aquarium of the Bay based on Pier 39 at the waterfront of San Francisco, is where you can appreciate and encounter marine life. The aquarium is trying to do work on the protection and preservation of the ecosystem that surrounds northern California.
Unlike your typical aquarium with rooms of tanks, this San Francisco masterpiece is made up of clear tunnels for visitors to walk through, surrounded on all sides by 700,000 gallons of water and 20,000 animals. Keep a special eye out for the jellyfish that float around like giant mushrooms!
If marine life is your thing then you'll welcome the opportunity to go whale watching, with full-day expeditions leaving the Bay and giving visitors the chance to spot everything from humpback and blue whales to seals, sea lions, dolphins, and more.
6. Visit The Walt Disney Museum
The Walt Disney Family Museum is an unquestionable requirement see for any individual who is an aficionado of their motion pictures. The museum brings together fans from across the world as visitors are invited to study the historic items that inspired Walt Disney, alongside some of the earliest drawings and sketches from the early movies and the Anaheim-based Disneyland.
The museum is also home to the 248 awards won by Disney himself, with a built-in theatre which only shows the Disney classics on a daily basis. There is also a portion of the notable things that breathed life into Walt Disney's creative energy. Some portion of the gallery is a Fantasia roused theater which indicates Disney works of art every day.
Founded by Walt Disney's daughter Diane, the museum is a non-profit organization that aims to preserve and display the art and historical items which will aid educational and public programs in the area.
7. Go to Ghiradelli Square
The historical backdrop of this square is what makes it fascinating. Ghiradelli was at first a chocolate processing plant that was claimed and built up by Domenico Ghirardelli. Ghirardelli was conceived in Italy in 1817; he filled in as a youthful confectioner before leaving for Uruguay at 20 years old.
As time passed by Ghirardelli turned into an espresso and chocolate shipper, in the long run winding up in San Francisco where the chocolate plant was set up. The square is presently home to numerous shops and cafes.
A trip to the Bay area would be lost without trying some California famous chocolates. I got introduced to their stores years ago when as a poor student I discovered that you get a square of chocolate every time you decide to enter the store.
Don't ask me how many times a day my friend and I walked into some stores sometimes. If you're visiting California in September make sure to get tickets to the chocolate festival in San Francisco as it's one of a kind event.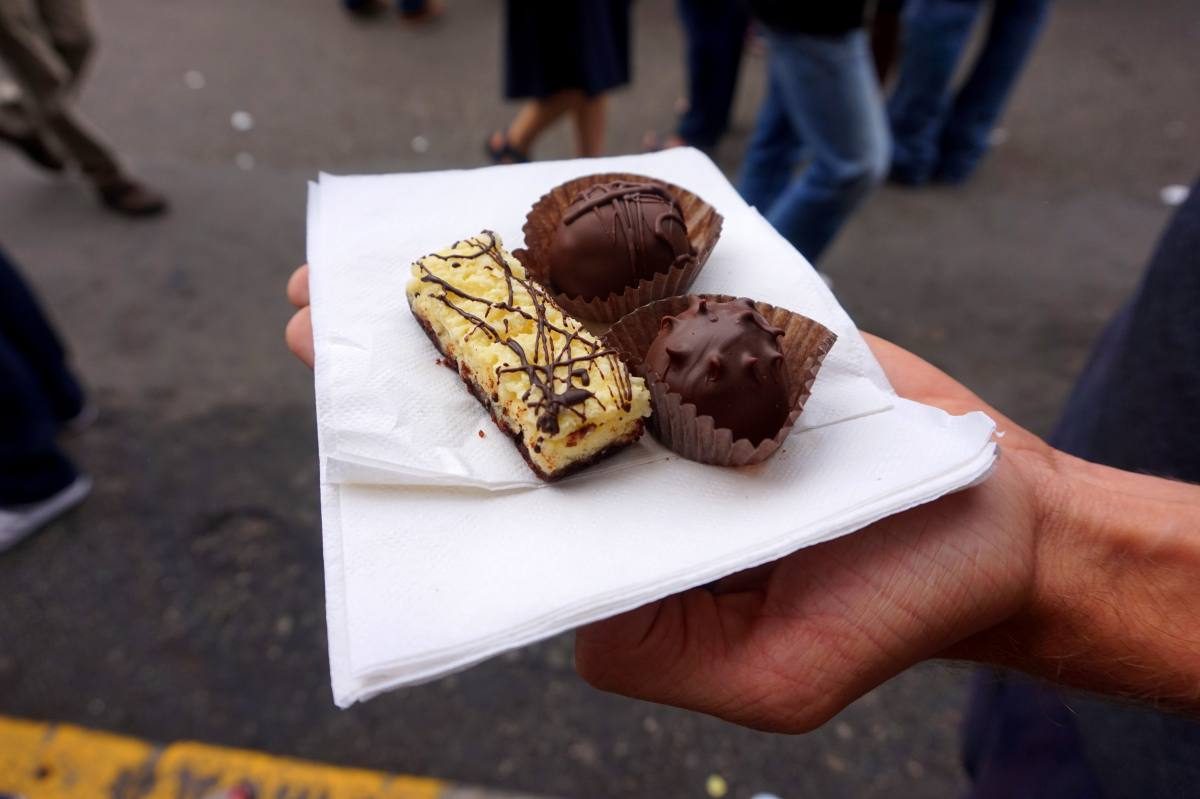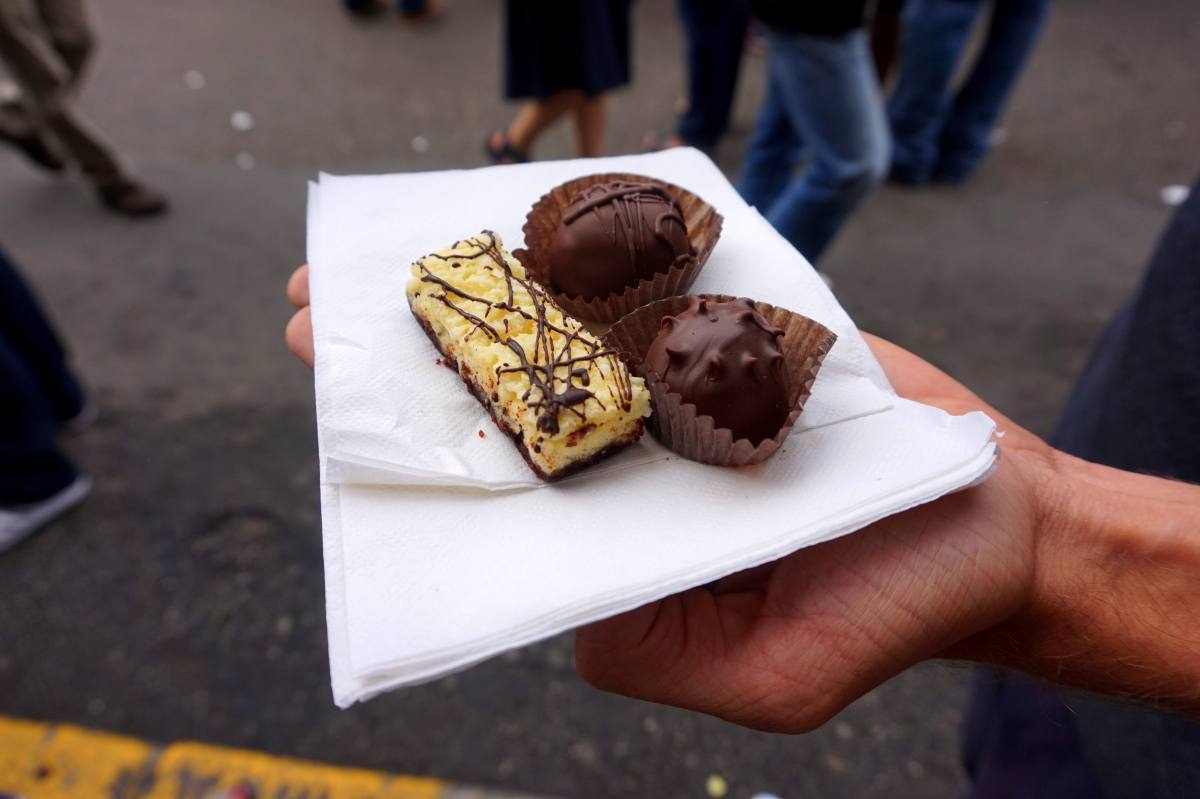 8. See the City from a Helicopter
Helicopter rides don't need much of an introduction anywhere – they're usually amazing. Since droning isn't allowed around Golden Gate bridge, the only chance to get this fantastic misty photo you might have seen on Instagram is by hopping on a chopper.
Popular Helicopter and Seaplane Tours Of San Francisco
9. Hike Lands End Trail
Most people don't associate San Francisco with any hiking, forests and trails, but the city definitely isn't lacking it. Lands End Trail is a 3.4 mile heavily trafficked loop trail with views of the ocean and Golden Gate Bridge. There's also a fun labyrinth that you can find on the way.
10. See Some Movie Locations
San Francisco has plenty of movie locations! Mrs. Doubtfire, The Princess Diaries, Full House – just to name a few! You can do it yourself if you have lots of time, or get a tour that will show you all of it.
11. Ride a Cable Car
A trip to San Francisco isn't complete without riding a cable car. The cable cars have to turn around at the end of each line. To do that, they drive onto a big turntable.
Most websites will tell you that you need a ticket to get on it – not true, you can pay. They can get pretty packed despite the $7 fee.
The best place to get on it isn't actually at Powell Station, where they all start and turn. Wait for it a stop or two after at Union Square. They never pack the cars fully in order for people to get on it, so you'll get on faster than if you waited in a giant line at Powell Station.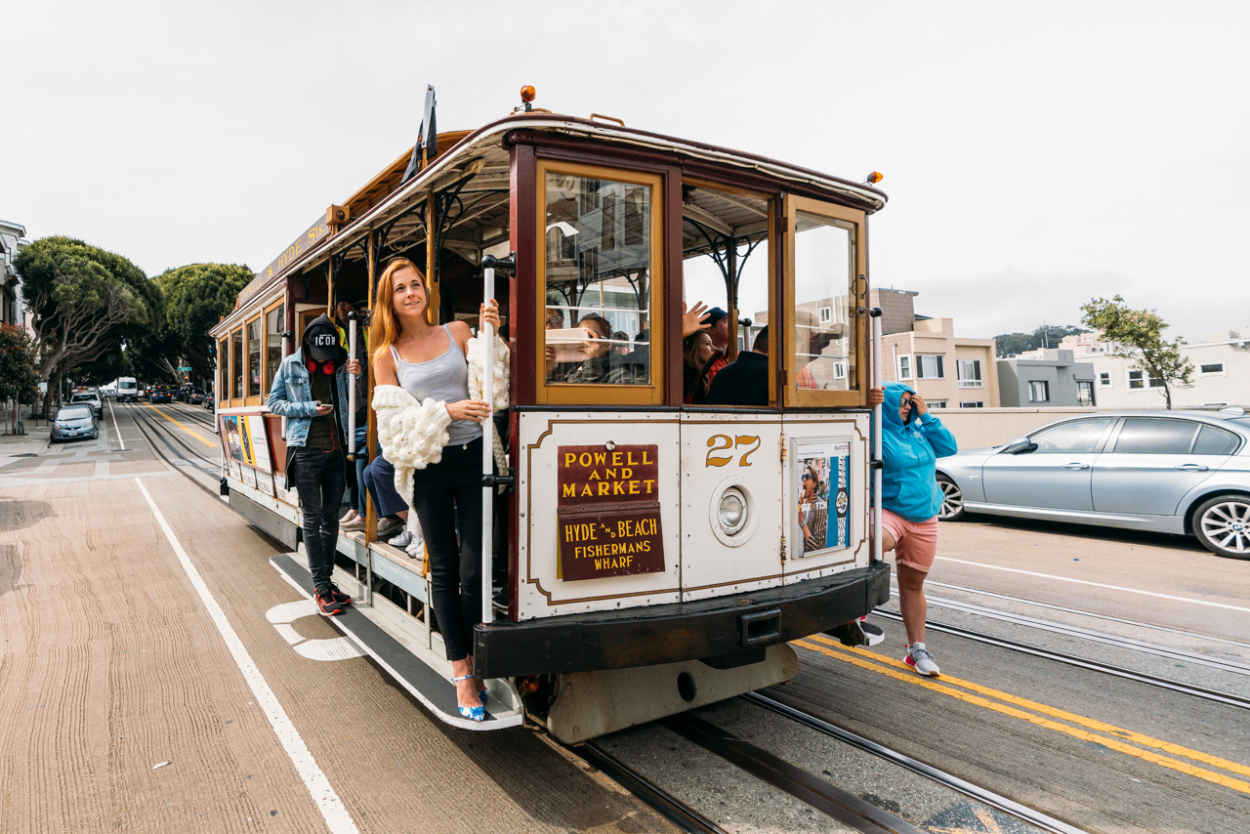 12. Take a Photo in Front of Seven Painted Ladies
Seven Painted Ladies is a row of colorful Victorian houses located at 710–720 Steiner Street, across from Alamo Square. It's your to-go postcard shot in the city. Plus, you can picnic with locals and tourists in the park across it.
Disclaimer: don't climb on these stairs, fences and look through the windows. People actually live there!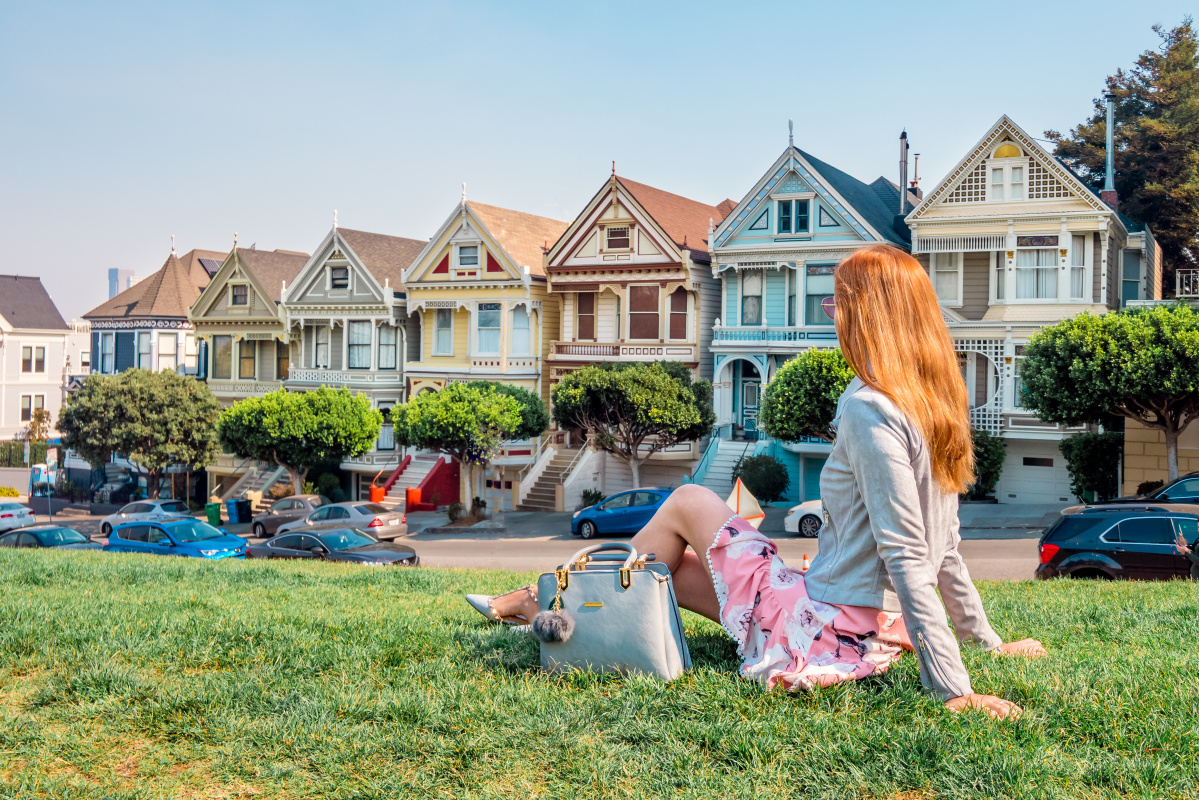 13. Eat Lunch at Yerba Buena Gardens
At the heart of the downtown social region is Yerba Buena Gardens. In the Yerba Buena Gardens, you can discover eateries, bistros, exhibition halls and theaters.
There is additionally a commemoration to Dr. Martin Luther King Jr. that is absolutely worth setting aside the effort to see. There is continually something occurring and consistently many free open-air occasions are put on for local people and guests.
You can go bowling, ice skating or take a ride on the noteworthy historic merry-go-round. The recreation center has been cast a ballot among the main 28 urban stops in the nation.
Personal Tip: I always feel like lunch is the best spot to be there, so you can watch locals lie on the grass during lunch break. Grab some sushi or ramen to go and enjoy it with locals in the park.
14. Climb the Coit Tower
The Coit Tower has been remaining at the highest point of Telegraph Hill since the 1930s. At the highest point of the pinnacle is a review deck that gives 3600 perspectives on the city and the encompassing inlet.
The pinnacle was named after Lillie Hitchcock Coit; she was somewhat erratic and extremely affluent. When she passed away he left a significant aggregate of cash to the city thus this pinnacle was worked to respect her.
You can go up the pinnacle by lift throughout the entire year and tickets can be purchased from the close-by ticket shop.
Personal Tip: There is a hidden staircase leading up to the Coit Tower. I found it by accident when my friends and I got lost once. I'm not going to lie to you – it's a workout! This blog has some inside tips on how to find these stairs.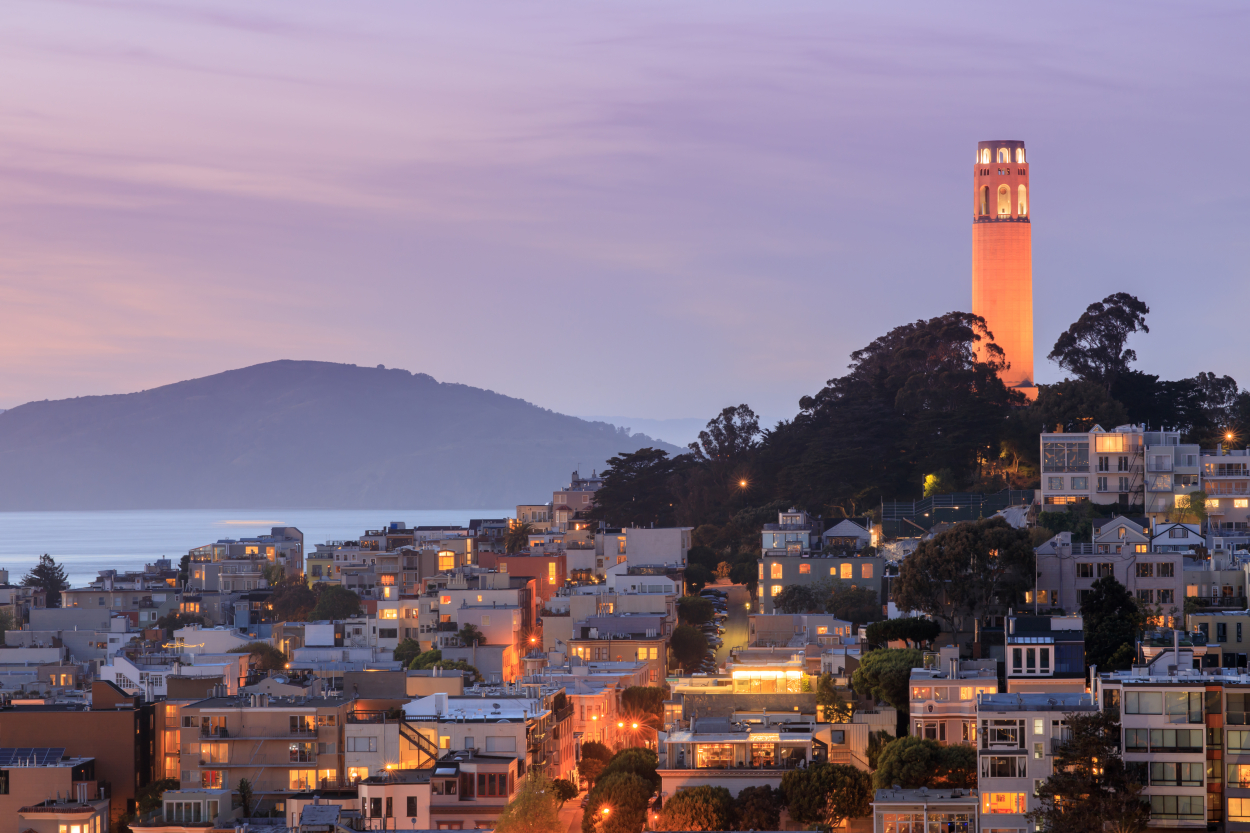 15. Stroll Around at The Palace of Fine Arts in San Francisco
The Palace of Fine Arts in San Francisco is an amazing structure that is on the U.S National Register of Historic Places and furthermore a San Francisco Designated Landmark.
The structure was built in 1915 to display show-stoppers. The structures have had different uses throughout the years including tennis courts, military stockpiling and now a craftsmanship display.
The water encompassing the Palace has numerous kinds of untamed life including ducks, swans, geese, and raccoons.
16. Visit Museum of Ice Cream
Museum of Ice Cream is a series of pop-up exhibitions that started in NYC and then expanded to LA and SF. The art installations were super cute and created for everyone to interact with them.
I got the visit SF location and I enjoyed myself a lot. It's not just for kids. I actually think it's more for older kids and adults.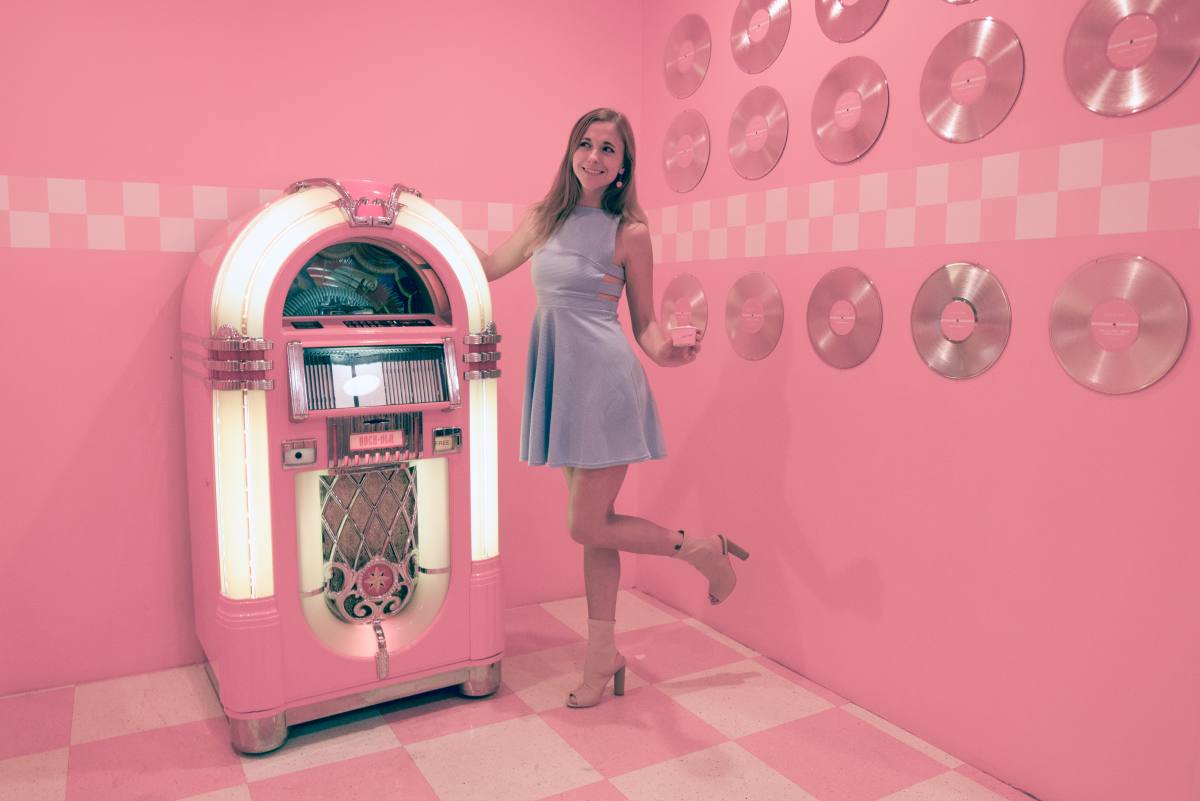 17. The San Francisco Museum of Modern Art
The museum was the principal gallery in this piece of the nation to demonstrate just present-day craftsmanship. There are right now in excess of 29,000 bits of work in plain view including artistic creations, figures, photos, and architecture.
The gallery is over 80 years of age and was at first housed at the War Memorial Veterans Building before moving to the area that remains in today.
18. San Francisco's Japanese Tea Garden
If you're into Japanese things you'll be happy in San Francisco. It has it's own Japantown with shops, restaurants and snacks. There's also a Japanese Tea Garden.
The patio nursery was made for a show in 1894 when the presentation shut a noble man's understanding was come to and the greenery enclosure remained. As time passed by the patio nursery extended to the size it is today, around 5 sections of land.
Today the greenery enclosures are gigantically prevalent with sightseers who come to see the pagodas, venturing stones, curved scaffolds, and local Japanese plants. There is likewise a Koi lake and Zen garden.
On the off chance that you are ravenous or parched on your visit, you can stop for some customary Japanese refreshments.
19. Try Infamous Burritos from Mission District
California loves food trucks! Another foodie treat is a series of events known as Off the Grid events – a weekly food truck festival that travels around and is located all over the Bay area of San Francisco. Combining firepits with cabanas, live music and outdoor games, the mini-festivals are a real local experience with food to die for and an incredibly welcoming atmosphere.
Trucks selling Mexican food can be found pretty much anywhere, especially at gas stations and believe me, they are always busy. They are run by Mexicans but had to adjust their standards to Californian expectations and the most popular dishes served by every Mexican place are… burritos.
As mentioned before in a post about Mexican food burritos are eaten only in some Northern part of the country and definitely not in Mexico City.
But when in San Francisco you should head to El Farolito and try one of their signature stuffed burrito. If you're brave enough you can even get a tongue or head meat in your roll. I recommend chile relleno.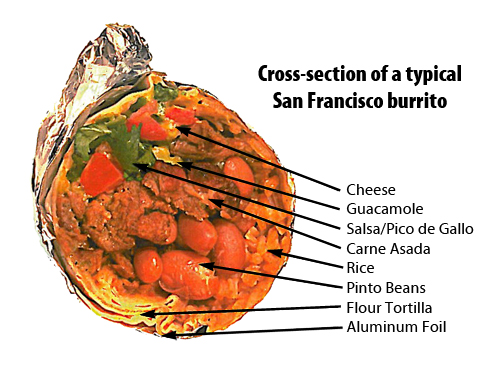 20. Visit China Town
If you like Asian food then San Francisco is the place for you, as it's home to the largest Chinatown outside of Asia. In fact, the district is so large that it houses two hospitals, a variety of parks, and sees more visitors than the Golden Gate Bridge.
Visiting Chinatown, you can take part in a tour, help yourself to traditional Chinese cuisine or simply wander around and take in the vibrant atmosphere and bustling lives of the 100,000 fulltime residents.
And if you time it right and coincide your visit with the Autumn Moon Festival, Chinatown's celebration is really something to behold!
21. Don't Miss the Alcatraz Island
Alcatraz Island lends its name and reputation to the movies. Alcatraz was home to a notorious federal prison between 1933 and 1963, ensuring prisoners were not only locked up but also completely isolated; 1.5 miles away from the shores of San Francisco.
Some of the most famous prisoners included Al Capone and Robert Franklin Stroud. They have undoubtedly contributed to Alcatraz Island now being a huge tourist attraction, with tours of the island and prison available to over 1.5 million visitors every year.
The island is now a national park and home to many interesting natural features, though the abandoned prison still stands – visitors can simply hop on a ferry and take part in self-guided audio tours, learning about the treatment of prisoners, the regular prison riots, and the truly harrowing escape attempts. Very interesting but certainly not one for the faint-hearted, especially at night!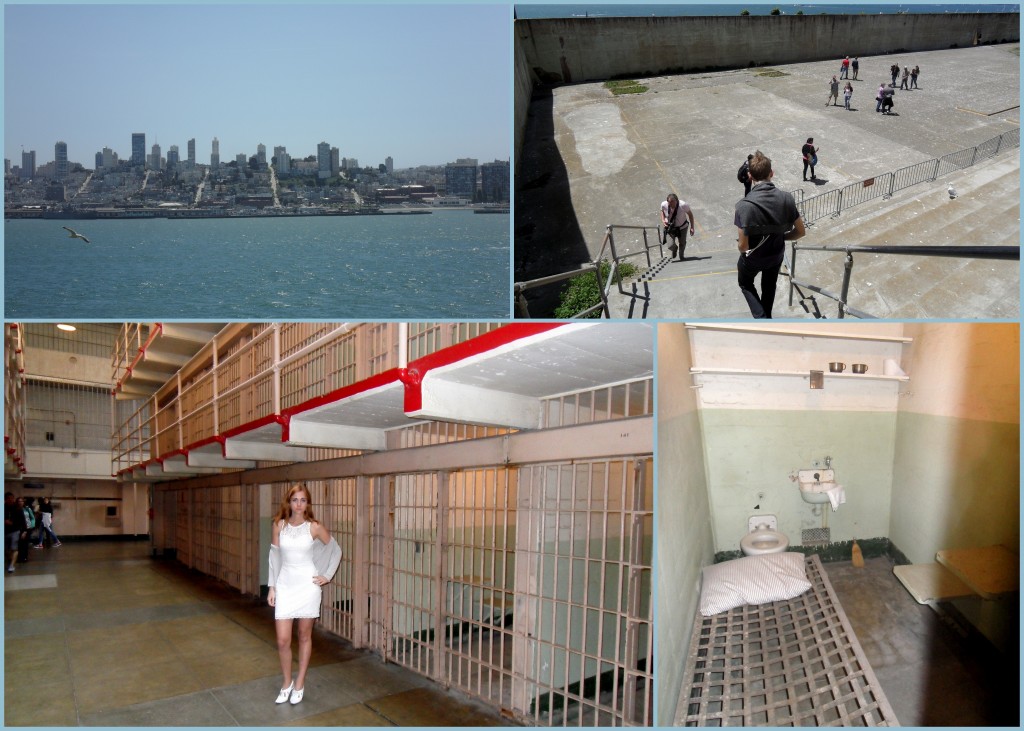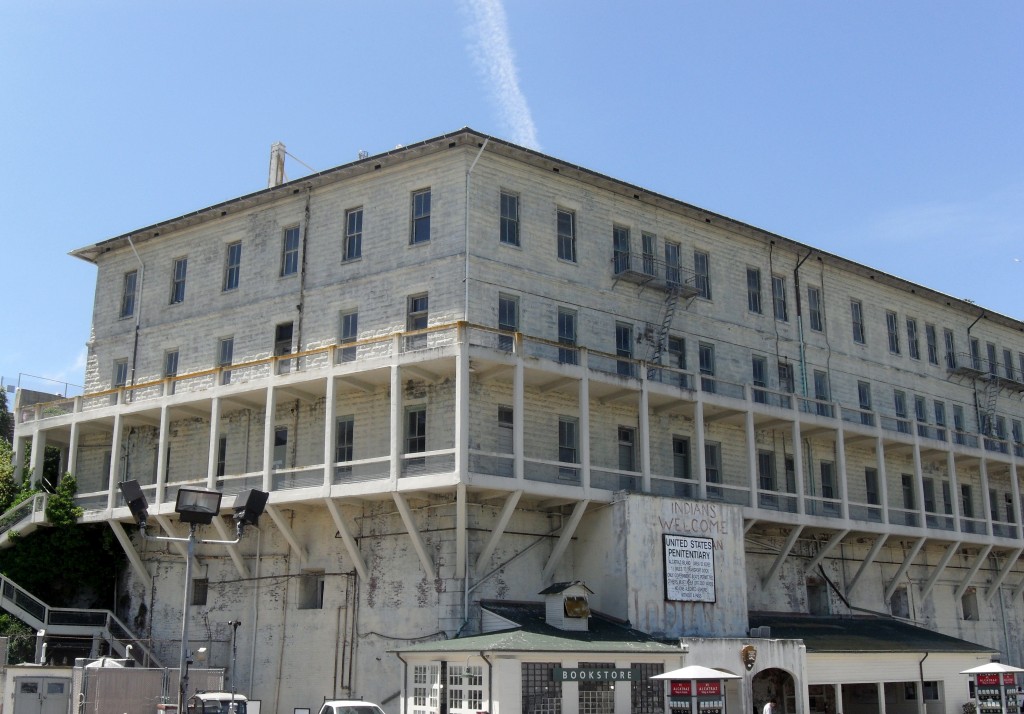 Popular Alcatraz Tours
22. Visit Golden Gate Park
Golden Gate Park receives approximately 12 million visitors annually. It has an area that is beautified and ideal for photography sessions of about 1,020 acres set aside for the picture sessions.
Furthermore, it has been equipped with natural sceneries that can be explored by visitors to relax in. There you can explore lakes, gardens, picnics, playgrounds, and historical monuments.
Awesome Tours of Golden Gate Park
23. Drive Down Lombard Street
Driving the hilly streets of San Francisco felt like being on a roller coaster, constantly going up and down. We drove Lombard Street, probably the most famous street in San Francisco, at least twice because I clearly enjoyed the ride.
You're free to walk around and take some photos, but remember that it's a residential area so be respectful. Don't climb onto people's houses.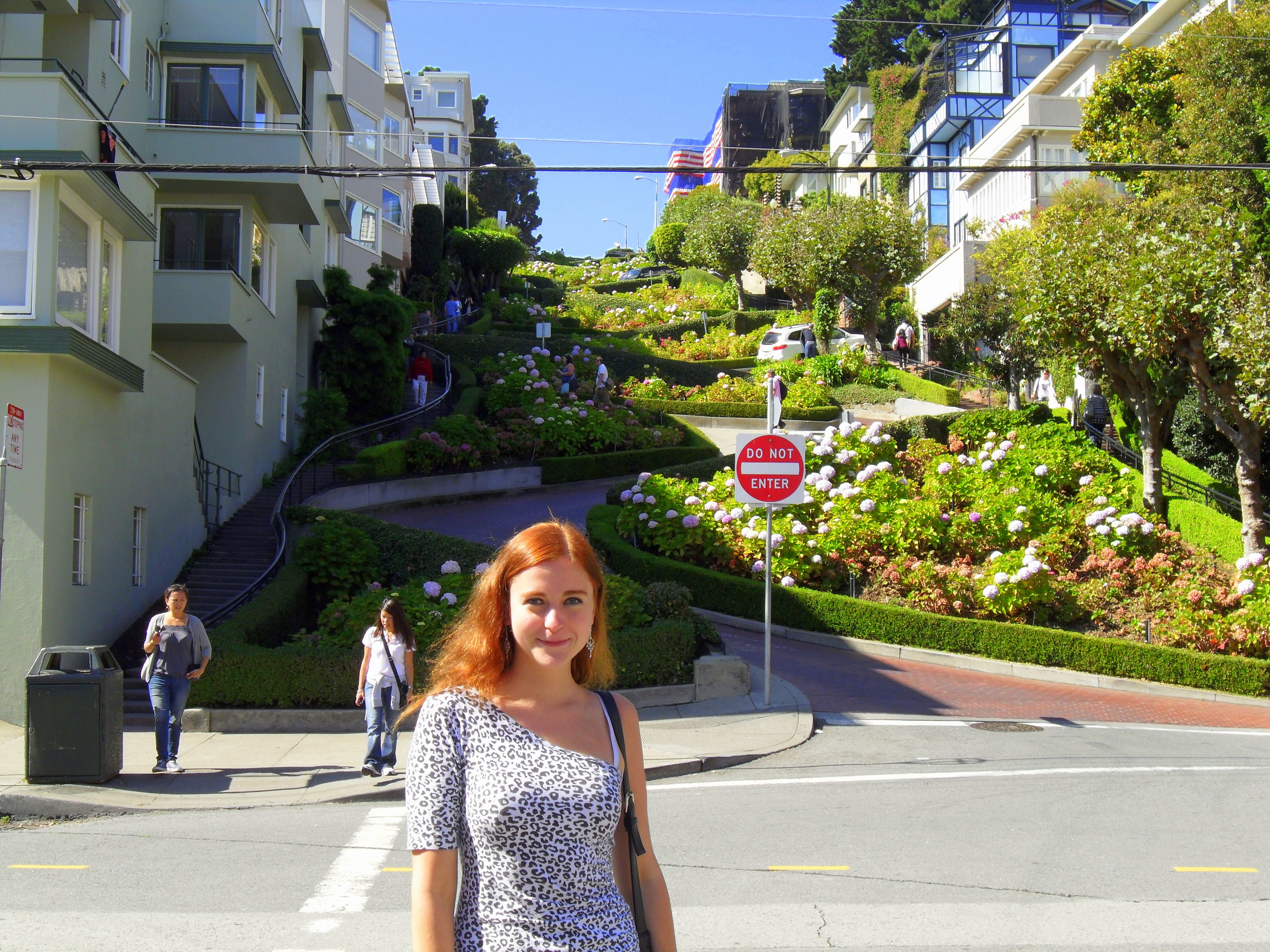 24. Climb Secret Tiled Steps
If you've ever wanted to find a hidden art gem in San Francisco, head to 16th and Moraga. There you can admire and walk up the 16th Avenue Tiled Steps, a beautiful staircase made of tiles. It featured flowing sea up to the stars. Actually, if you've seen The OA on Netflix you might already know what I'm talking about.
***
There are so many things to do in San Francisco that we truly can't list them all or we'd be here all day. These are some of the highlights and things not to miss, merging the iconic must-sees with the more low-key local treats.
When you arrive, get yourself a map of the city (and a cocktail – I recommend Pagan Idol Bar), and just soak up all the options available to you before you commit to too much – you won't regret it!
---
Day Trips from San Francisco With & Without a Car
Yosemite
Yosemite National Park is in California's Sierra Nevada mountains is a well-known spot. It's known for its giant ancient sequoia trees, waterfalls, hiking trails and great rock climbing opportunities.
I've actually only done Yosemite on a day trip I linked to below and while I do wish I had more time, I think you can surely have a great time. In a day I was able to do three small hikes, see waterfalls and sequoias, and didn't feel rushed at all.
Possible Organized Tours That Don't Require a Car: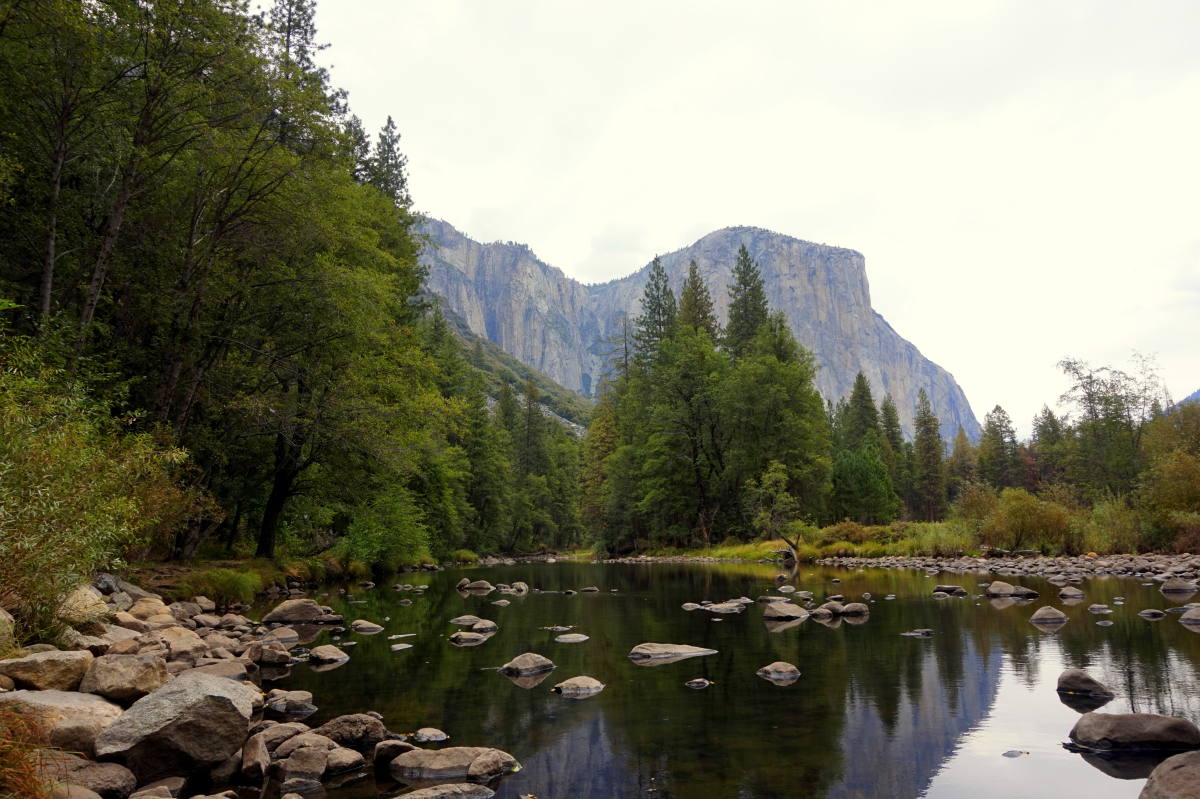 Point Reyes
Point Reyes is an interesting place with many iconic spots such as shipwreck, cypress tunnels, or fields full of flowers overlooking the coast. Plus, if you go there during the winter you may be able to spot some whales.
Afterwards, you can go try some local food on the farms in Point Reyes Station.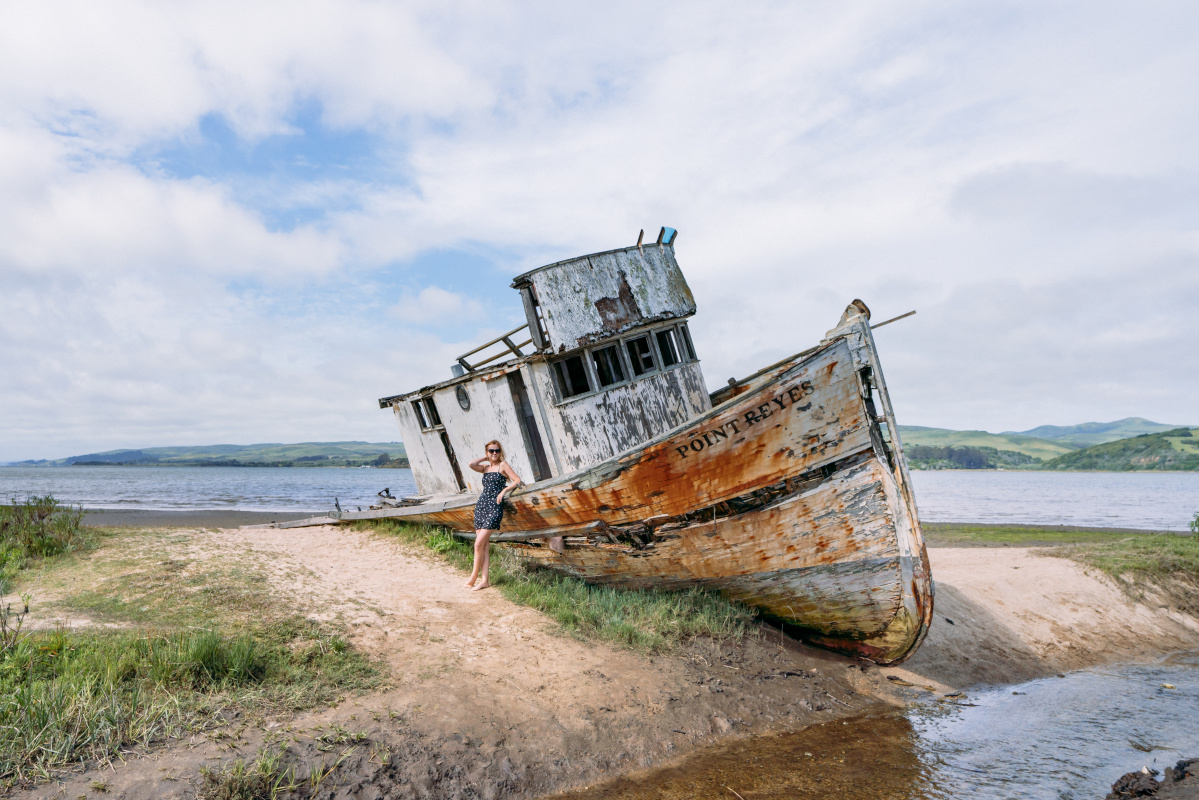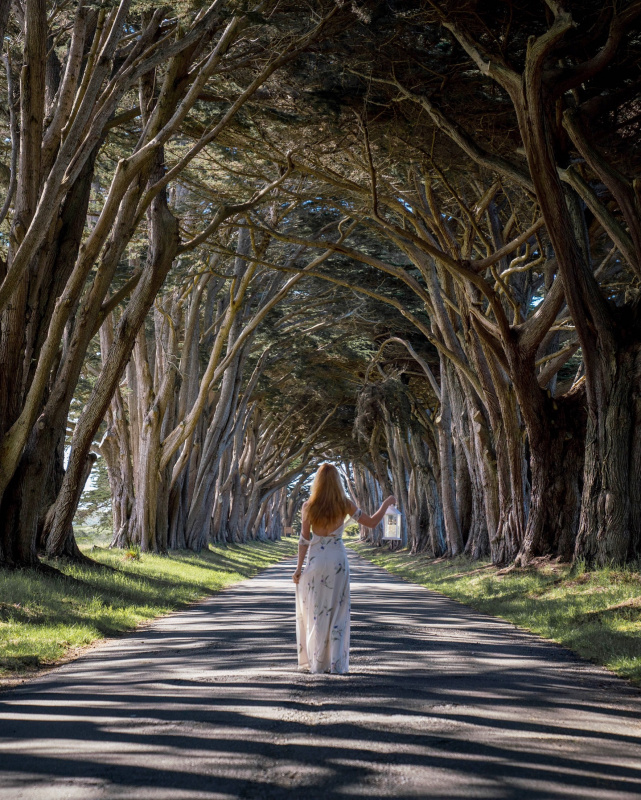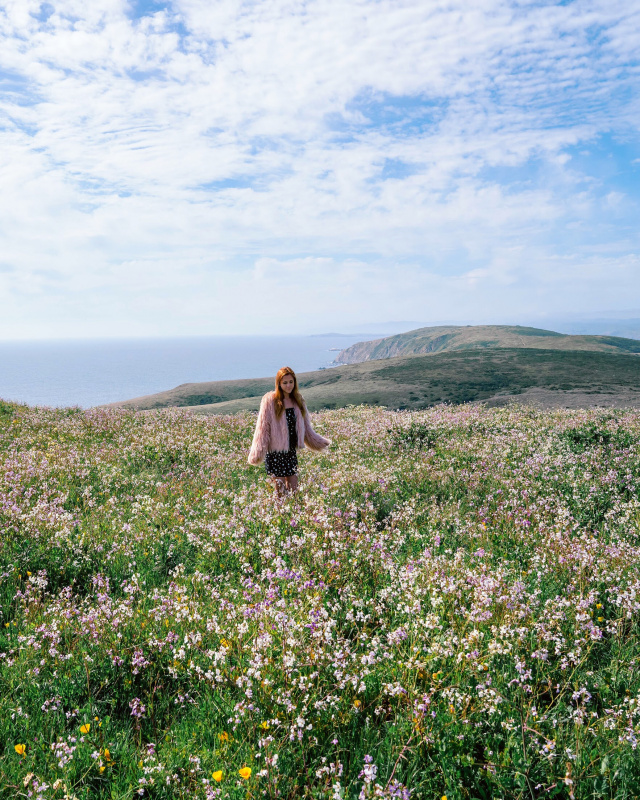 Napa Valley
Napa Valley is the spot for wine lowers. There are so many wineries to visit, each with a different character, that you can easily spend a few days driving around.
My personal favorite winery in the area is Castello di Amorosa. Sure, it's not an off the path small spot, but it looks like a castle straight out of Tuscany and their wine is actually delicious. Last time I purchased a few bottles.
Possible Organized Tour That Doesn't Require a Car: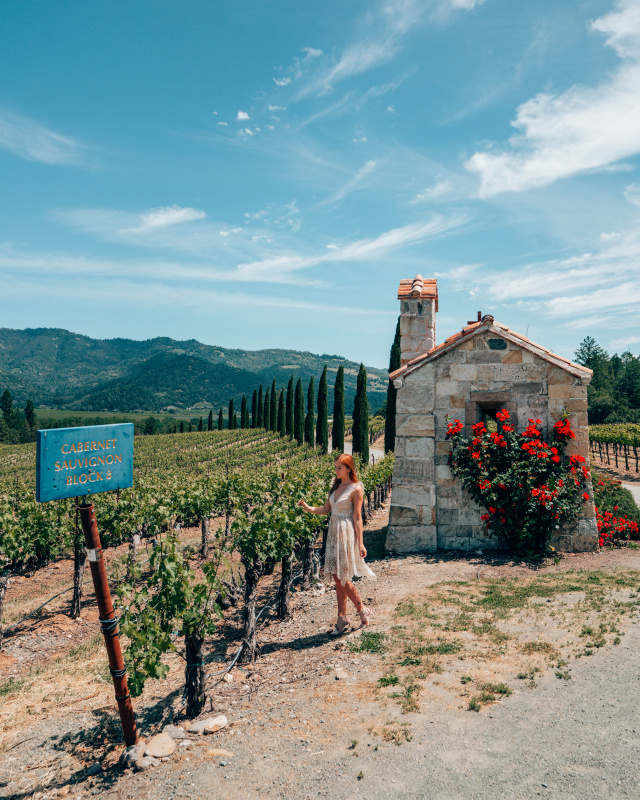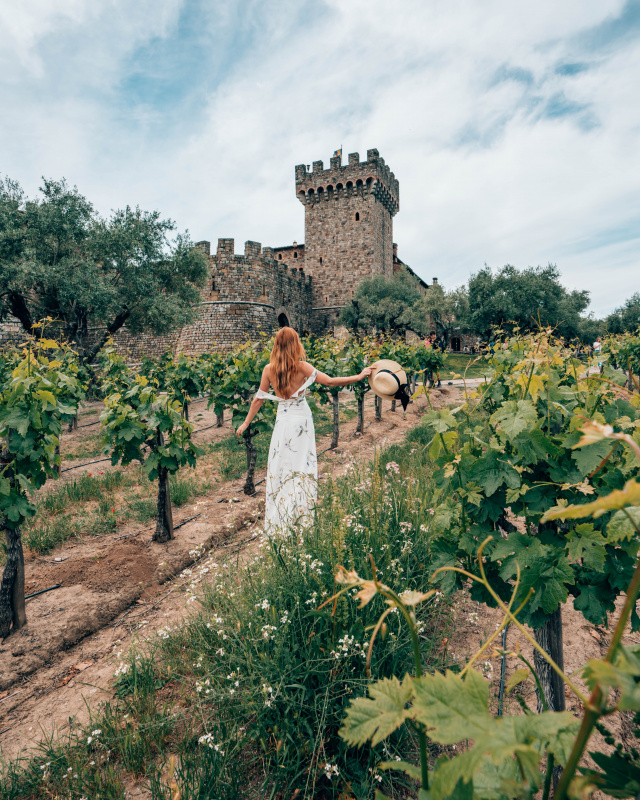 ---
Muir Woods & Sausalito
Muir Woods is an area of forest land which spans over 554 acres, at least half of which is home to the giant redwood trees. There is many footpaths and trails cutting through the woodland, giving visitors the chance to get lost among the trees and appreciate the magnificence of their size.
Note that Muir Woods National Park Service does NOT allow any tour guides to lead guided tours within the parks, but detailed commentary and best routing map information are provided on the way to Muir Woods.
Also, there is NO cell phone service at or around Muir Woods.
Organized Tour That Doesn't Require a Car: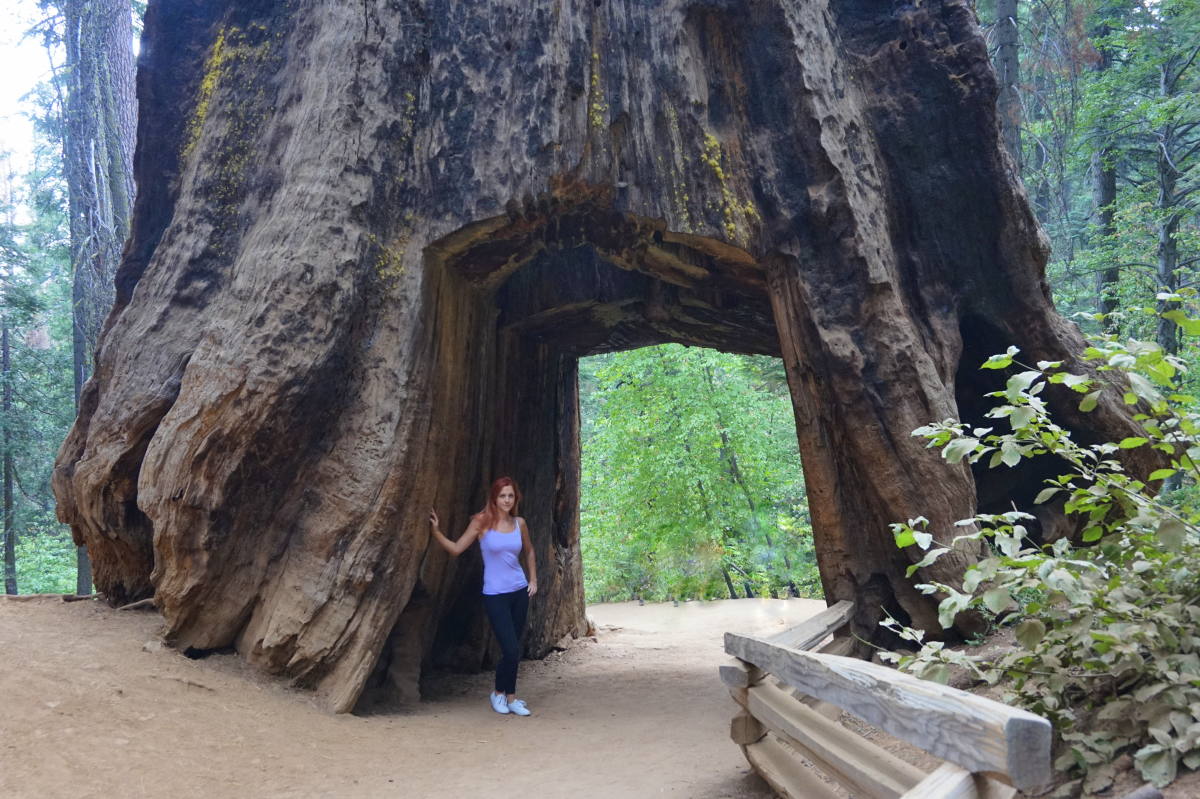 ---
My Best Tips for Visiting San Francisco
Renting a Car in San Francisco – Yay or Nay?
I would say renting a car is essential no matter where you go in California and particularly in Los Angeles. However, in SF it can sometimes be a liability because finding parking is a nightmare.
I was just fine with and without a car in the city, as Uber works just fine, and a trip on a famous trolley is a must for a first-time visitor. Additionally, there are also tour buses and Hop On Hop Off tours that you can take with the All-Inclusive Pass.
I like having a car in the city as it allows me to explore some lesser touristy spots without having to wait for an Uber. I'm not the biggest fan of walking in SF, especially not in heels as the city is like a mountain.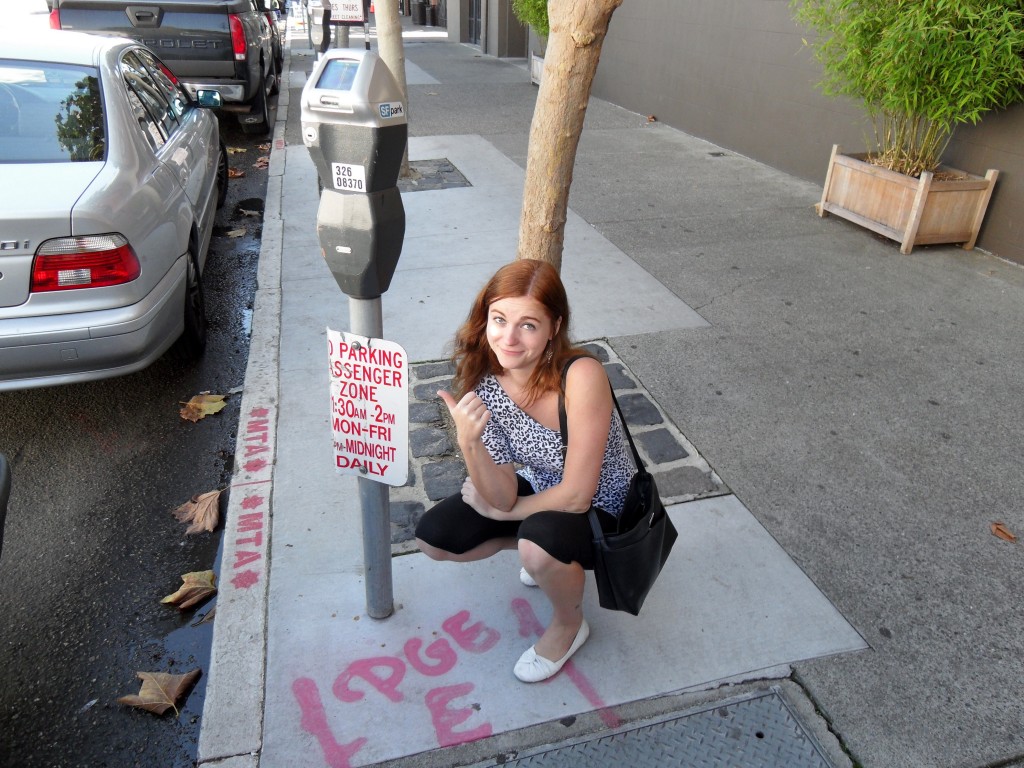 Dress Accordingly – San Francisco Isn't Usually Warm
Many foreigners coming to San Francisco are making the mistake of packing up summer dresses and bikinis for the beach… Because it's California.
Let me tell you that San Francisco is rarely hot. While it can be warm and you will be able to wear a summer dress, always keep a jacket with you as well.
It's usually very windy in the city which makes it cold. I'm also yet to go to the beach for sunbathing – I'm usually sitting on the beach wrapped in a sweater, haha! And if you're thinking of swimming, think again – water is freezing around Northern California.