Asheville, or North Carolina itself, wasn't at the top of my list of places to visit. However, I think it definitely deserves more appreciation, as the Bohemian Asheville is surely one of a kind.
From the moment you step foot in Asheville, you'll be amazed how vibrant the place is. At least I was. There are plenty of surprisingly adventurous things to do in Asheville NC.
Surprisingly Adventurous Things to Do in Asheville NC
---
Visiting Asheville, North Carolina
If you can just walk around a town or city without getting bored, I think it's a sign that the place is interesting. Asheville did not disappoint in this case. Asheville's colorful streets are full of interesting art and street performers. Where else would you walk around downtown where a giant iron suddenly rises from the ground?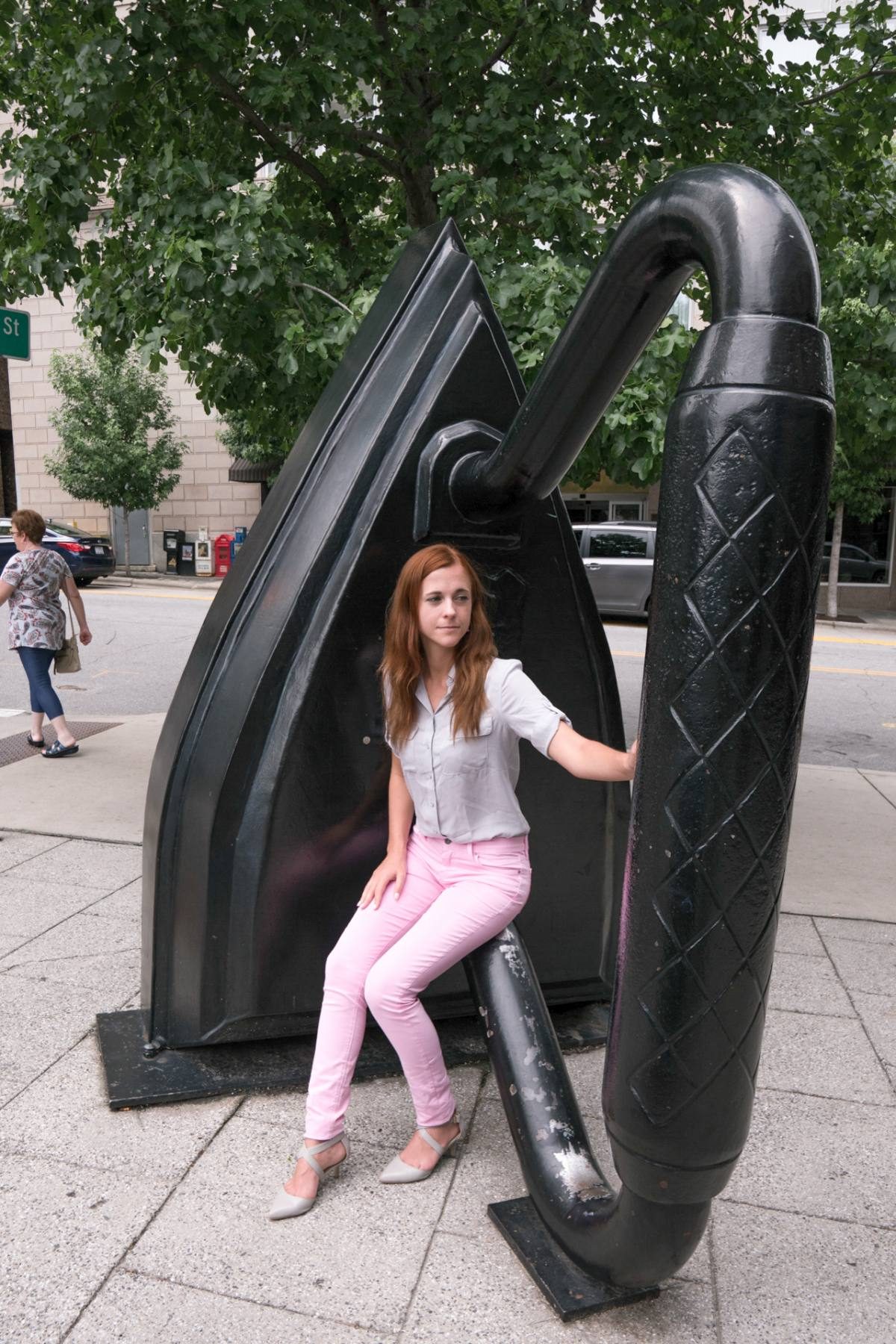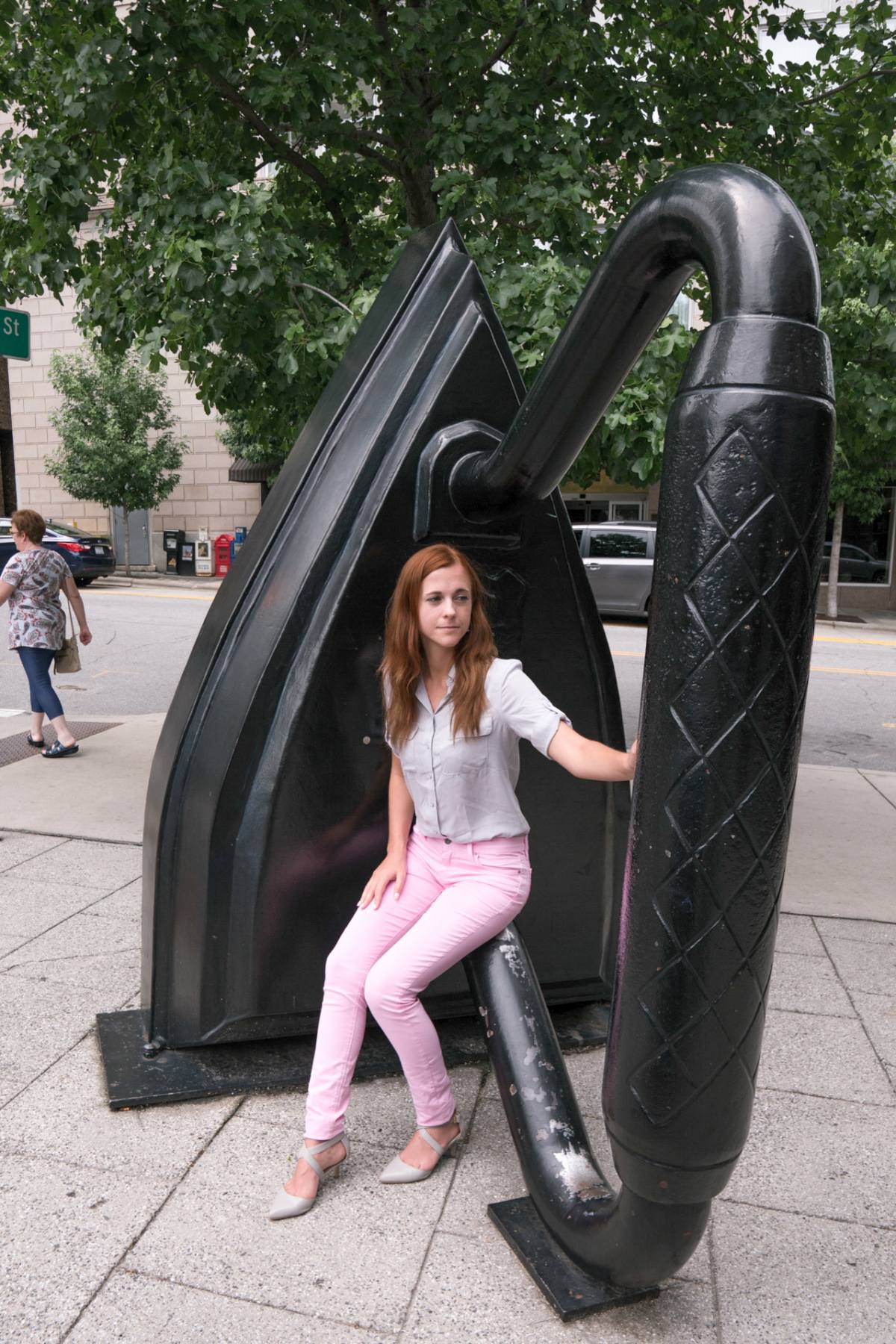 My favorite artistic part of Asheville was Carolina Lane, a small street also known as the Chicken Alley. The area was the site of a family-run poultry processing plant and rumor has it that stray chickens used to roam the street. While it's just a regular street these days, someone painted two gigantic chickens on the wall.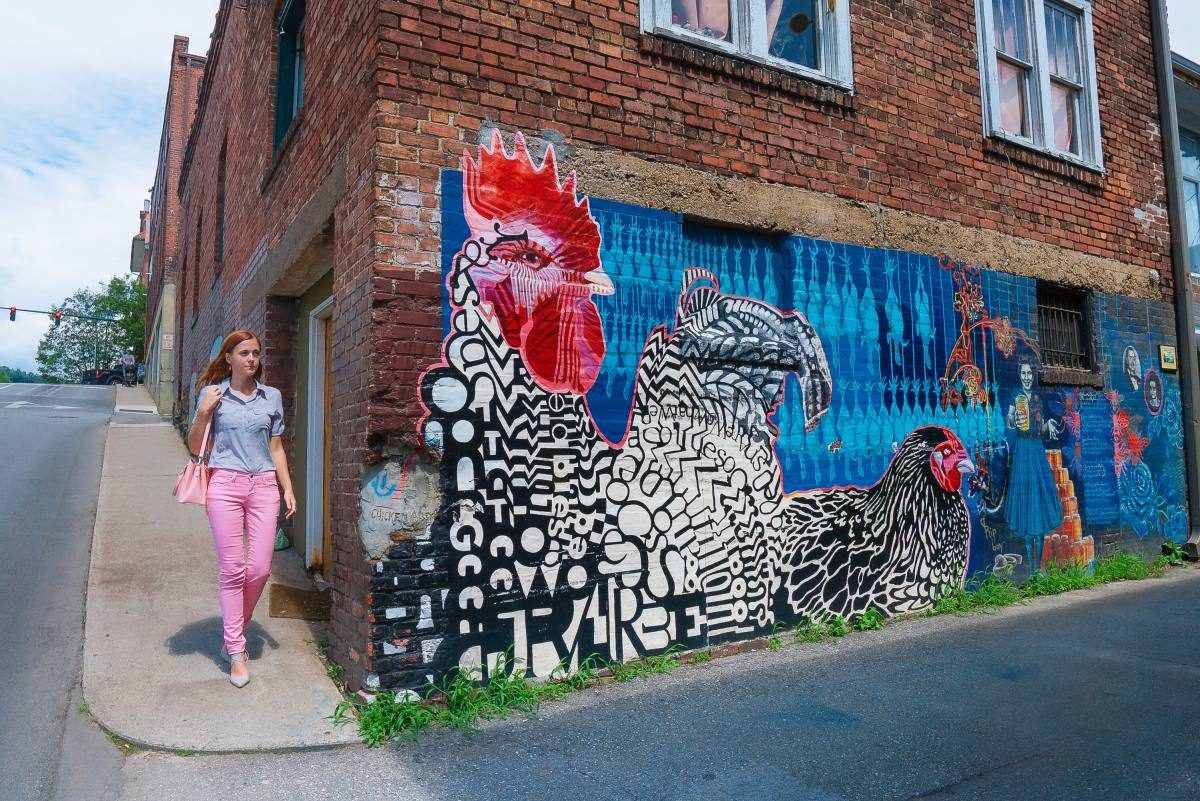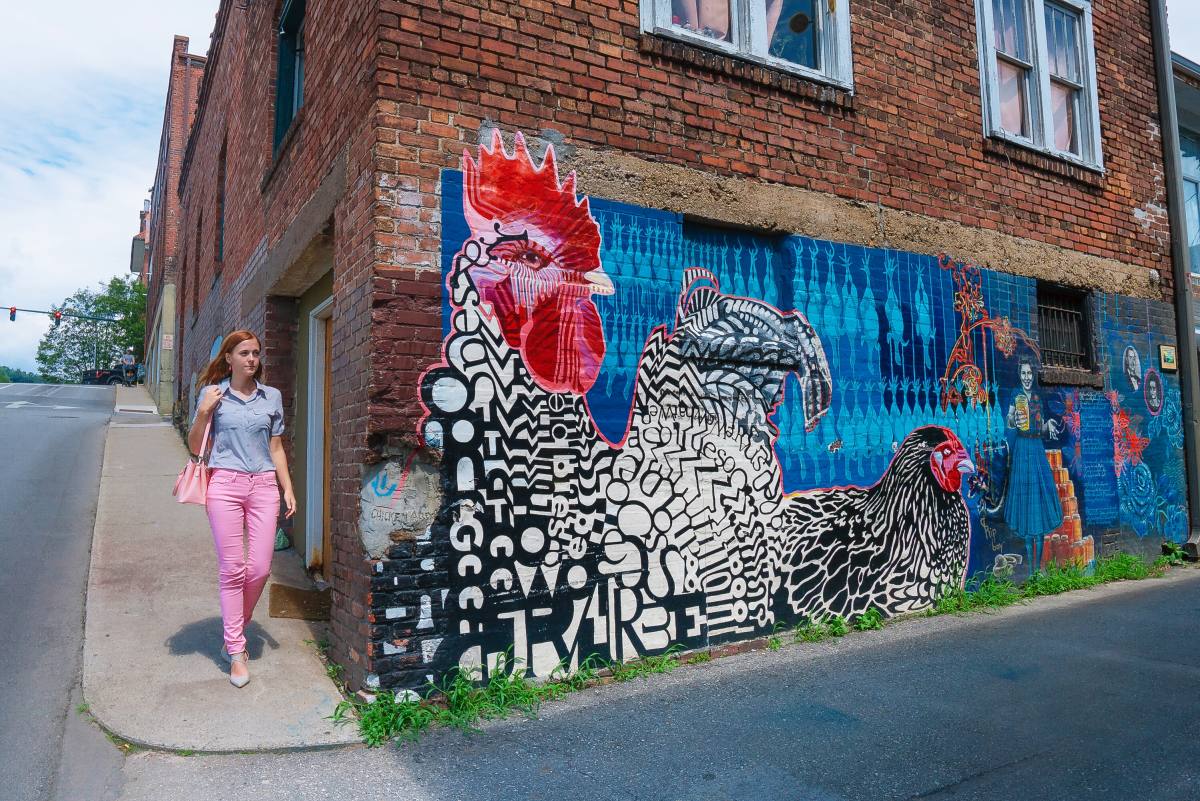 Right next to the chickens, you can see some tiny houses. This 3D art installation presents some houses, perfectly sized for hamsters. All of this among quirky shops selling antiques, vintage dresses and other things you don't need but dying to have once you see it.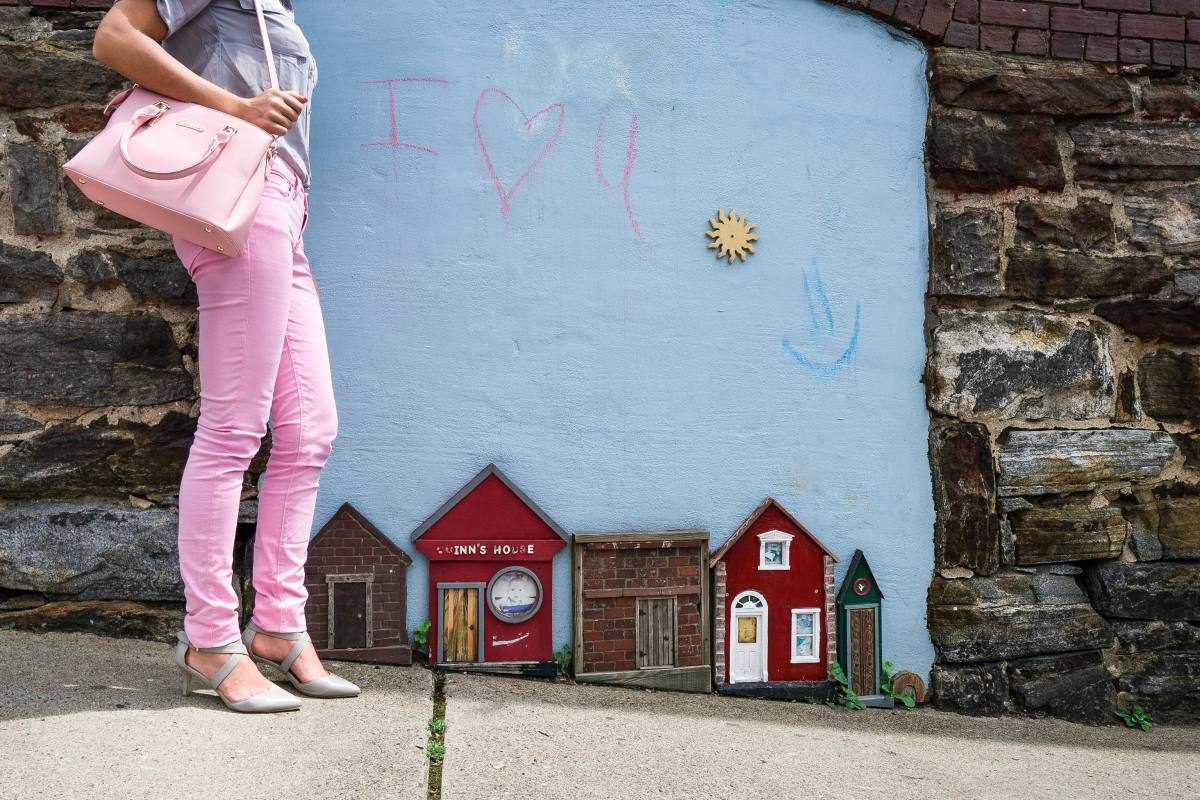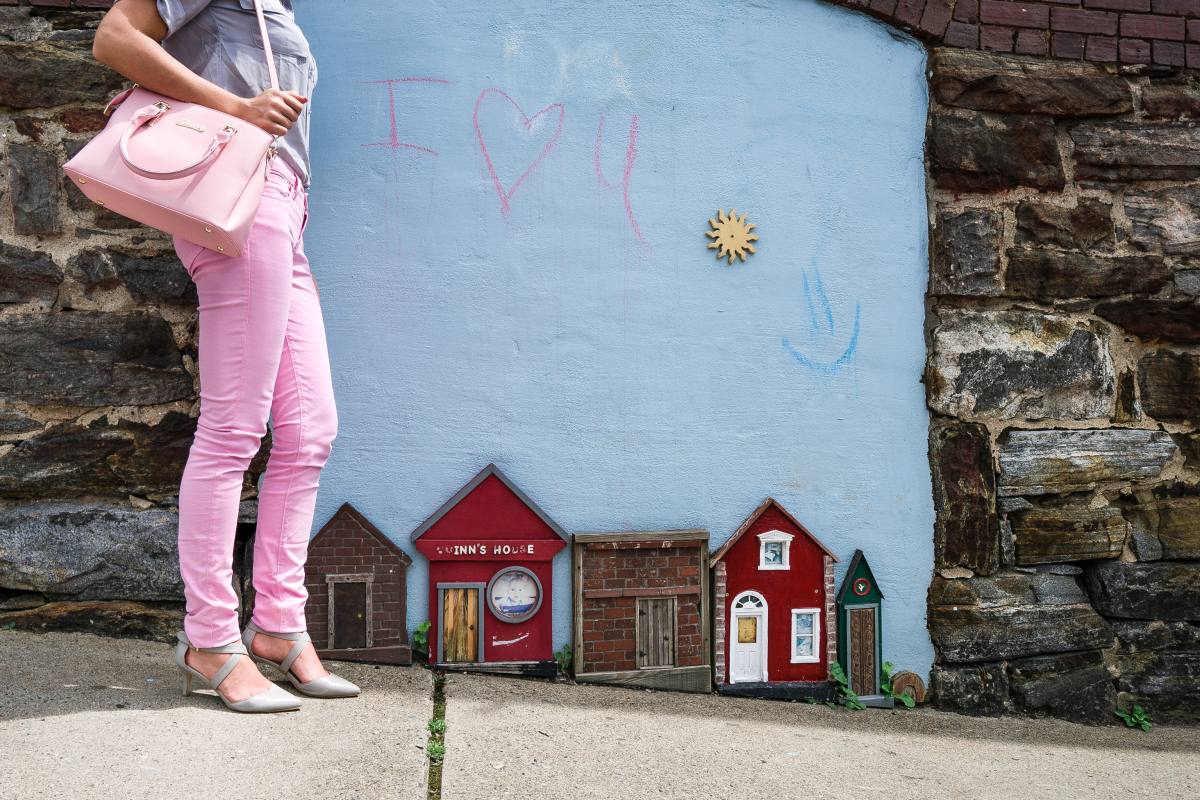 ---
Where to Eat in Asheville NC?
Asheville is well-known for its breweries, but the food is an important part of this city's culture. But if you're not a beer person like me, fear not! This town has plenty of other awesome places, and even more importantly, affordable ones. Sadly, my stomach abilities are limited and I didn't have time to eat at all restaurants and cafes I wanted to visit. If you want to check out some other great places to eat, check out some other suggestions!
French Broad Chocolate
French Broad Chocolate isn't hard to find as it's known by everyone from Asheville. People line up in front of it every day to buy their ice cream and chocolate drinks. I got to try a champagne float, which Matt totally stole from me!
Dobra Tea
No matter whom I asked for a recommendation, they all told me to visit Dobra Tea – and they were right. This place has a relaxed atmosphere and their homemade chai spices immediately hit you. If you're into bubble tea you'll be satisfied too.
Red Stag Grill at Grand Bohemian Hotel
If you're feeling fancy, I recommend stopping by Red Stag Grill for dinner. Decorated as a modern-chic hunting lodge, this restaurant serves some of the best steaks and fish in town. All ingredients are freshly picked from surrounding farms, so the menu changes all the time.
---
Things to Do in Asheville NC
Visit Biltmore Estate
The Biltmore is high on my list of the things I enjoyed most while in Asheville. It's a huge estate that once belonged to the Vanderbilts, and holds a title of the largest privately owned home in the US. George Vanderbilt built this property as a retreat reminiscing about the grand castles and estates he saw in France and Britain.
Take your time walking through the home and make your way down to the garden and conservatory. And don't forget about shops, as they sell plenty of cute things. I seriously wanted to buy it all! There's also a winery on the estate and a free wine
tasting is included with each ticket (for people over 21).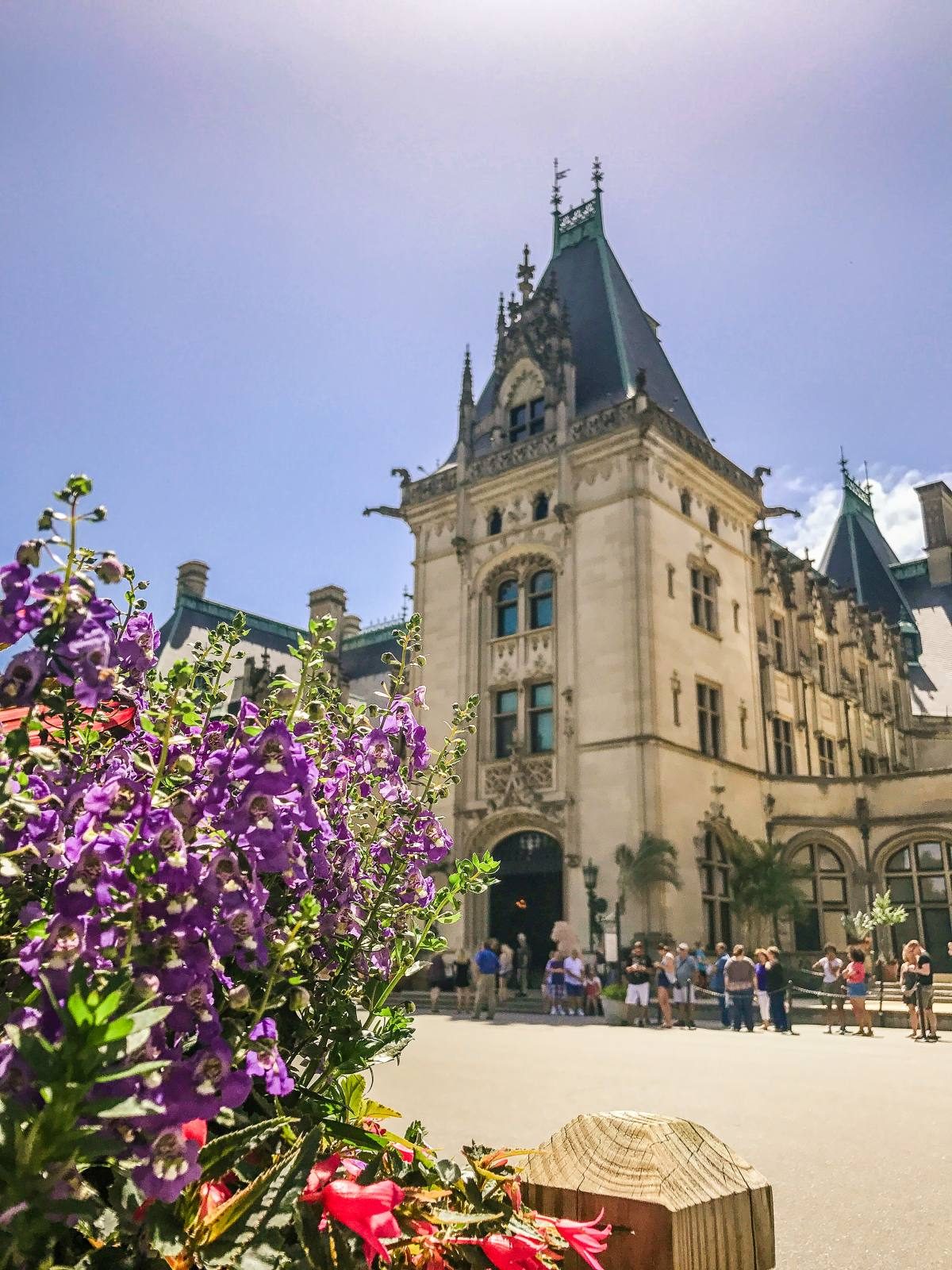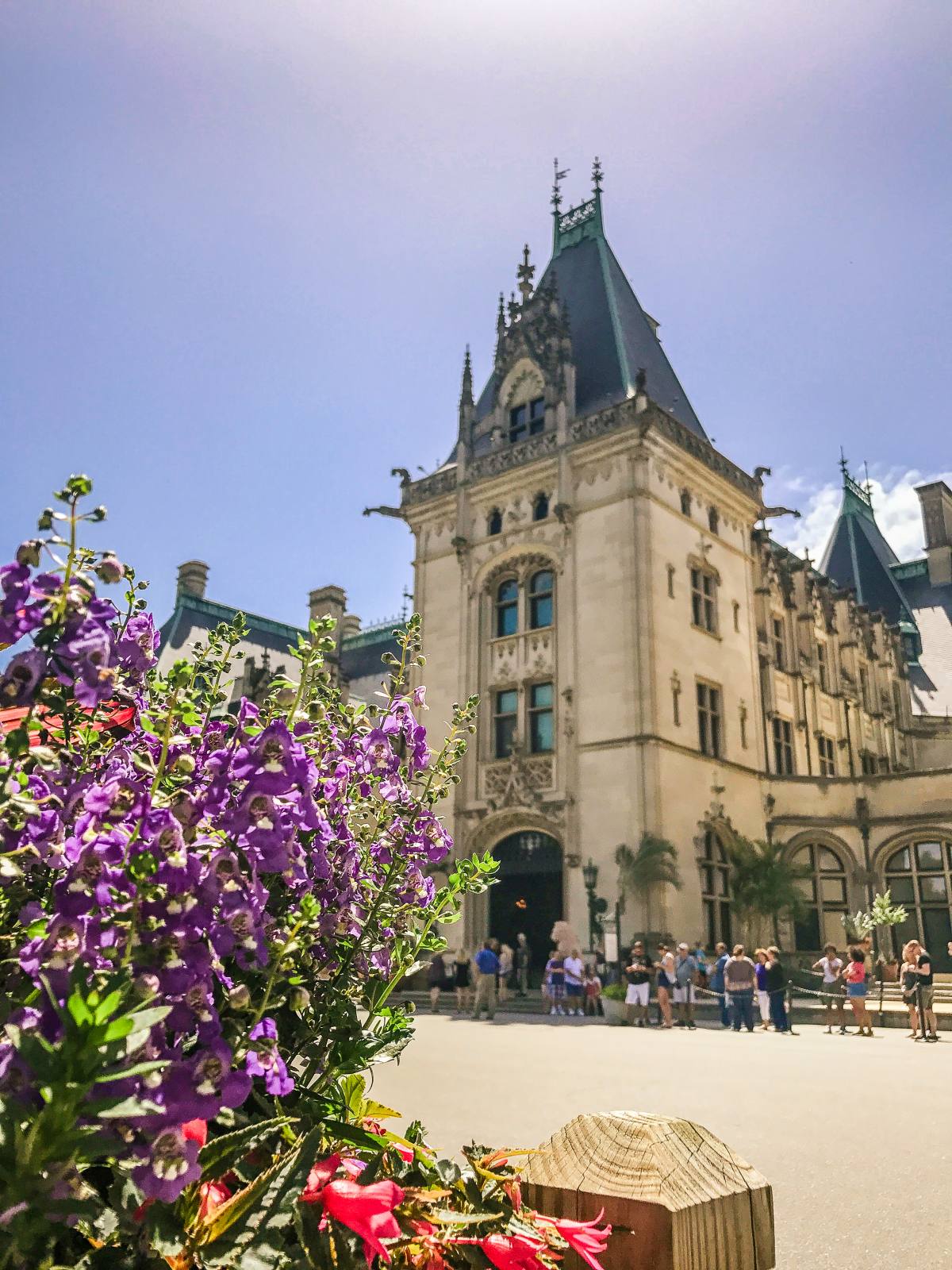 During the summer you can also go horse riding and visit a baby animal farm. But don't be fooled – the Deer Park turned out to be a restaurant. It had nothing to do with deer. Imagine my disappointment when I found out!
If you're a bit fan of learning more about the daily life of Biltmore's inhabitants, take a Biltmore rooftop or behind the scenes tour. These guided tours will show you the secret life of butlers and maid, as well as make you feel like you're attending a big party in one of the ballrooms.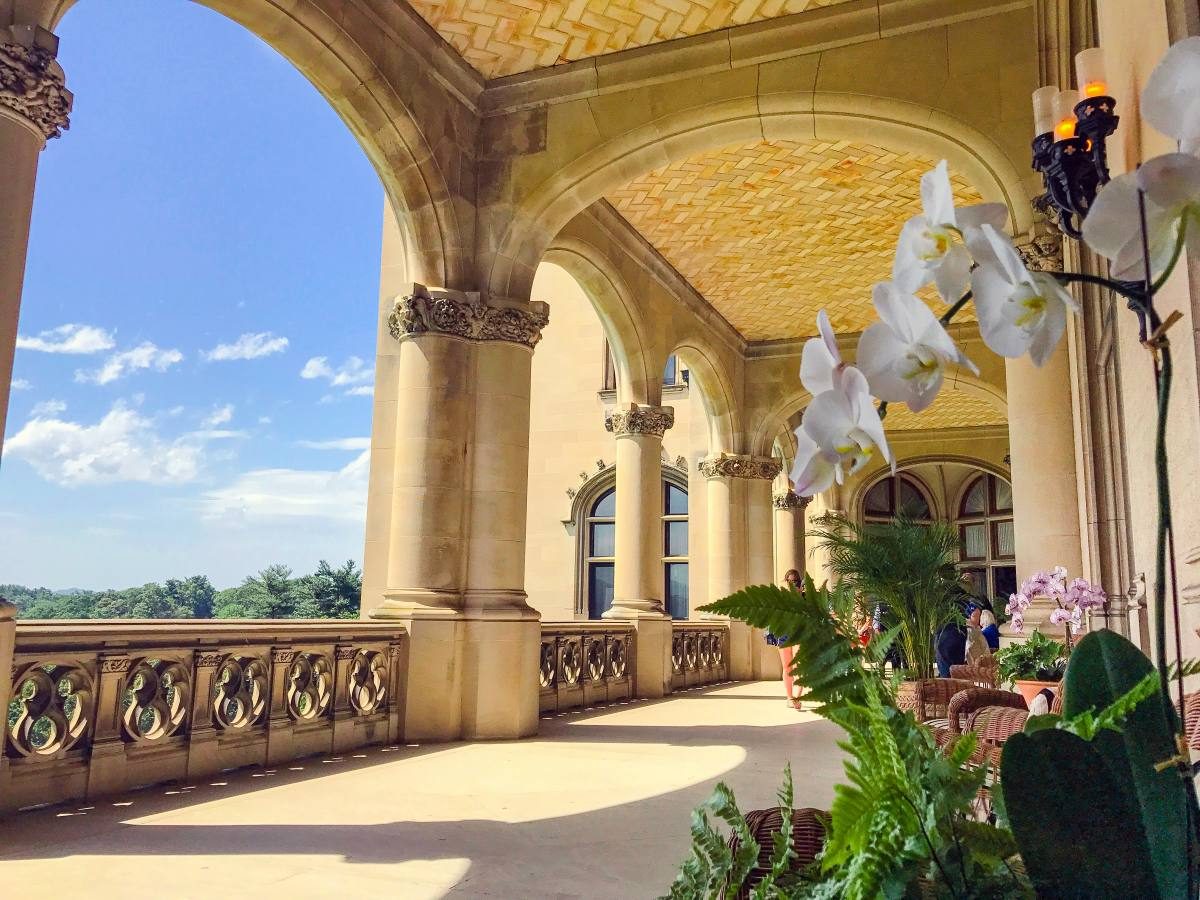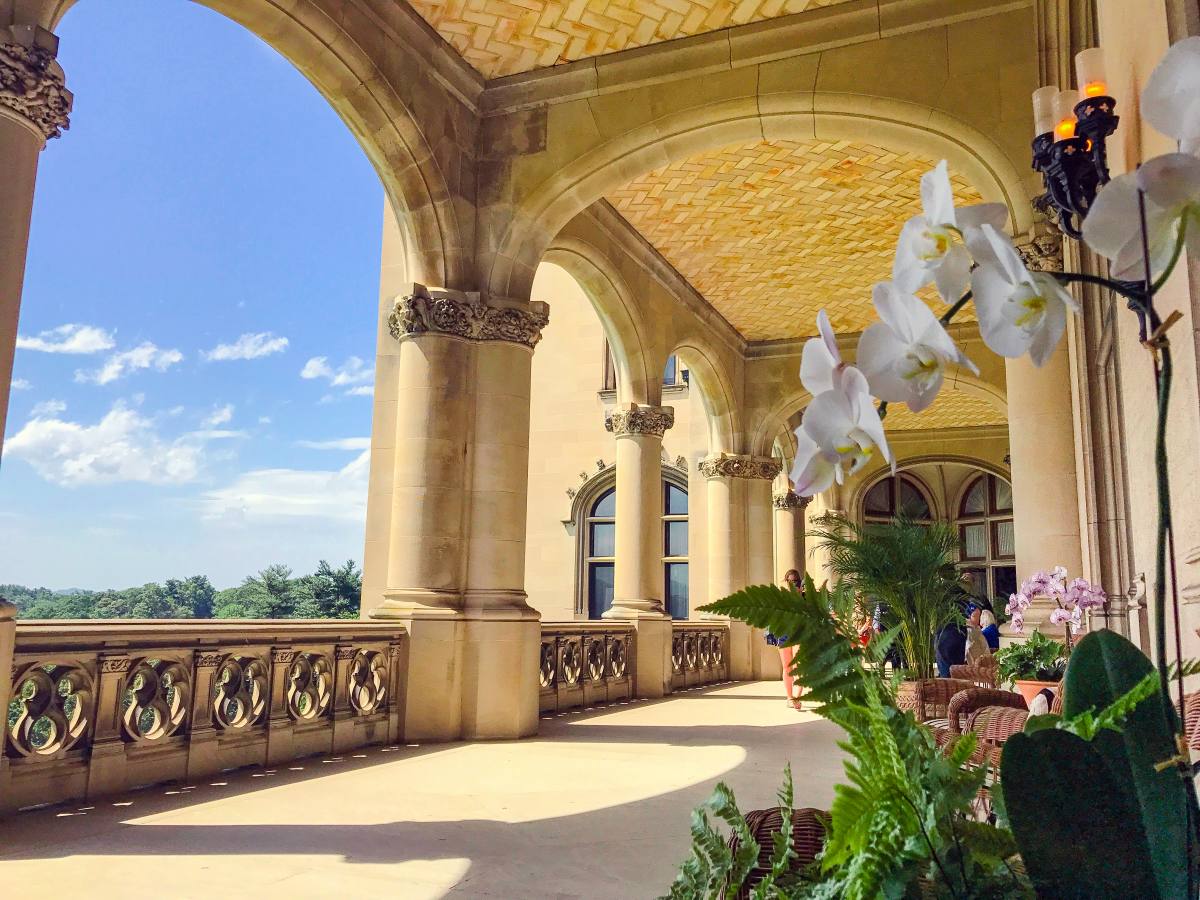 ---
Relax at Shoji Spa
Shoji Spa is probably one of the coolest spas I've been to in the US. This upscale place is nestled in a mountainside forest, just minutes away from downtown Asheville. As the name indicates, Shoji is a Japanese style spa, so each guest gets their own private hot tub with a wooded setting. It makes for a very intimate experience, so whether alone or as a couple, you'll enjoy this spot.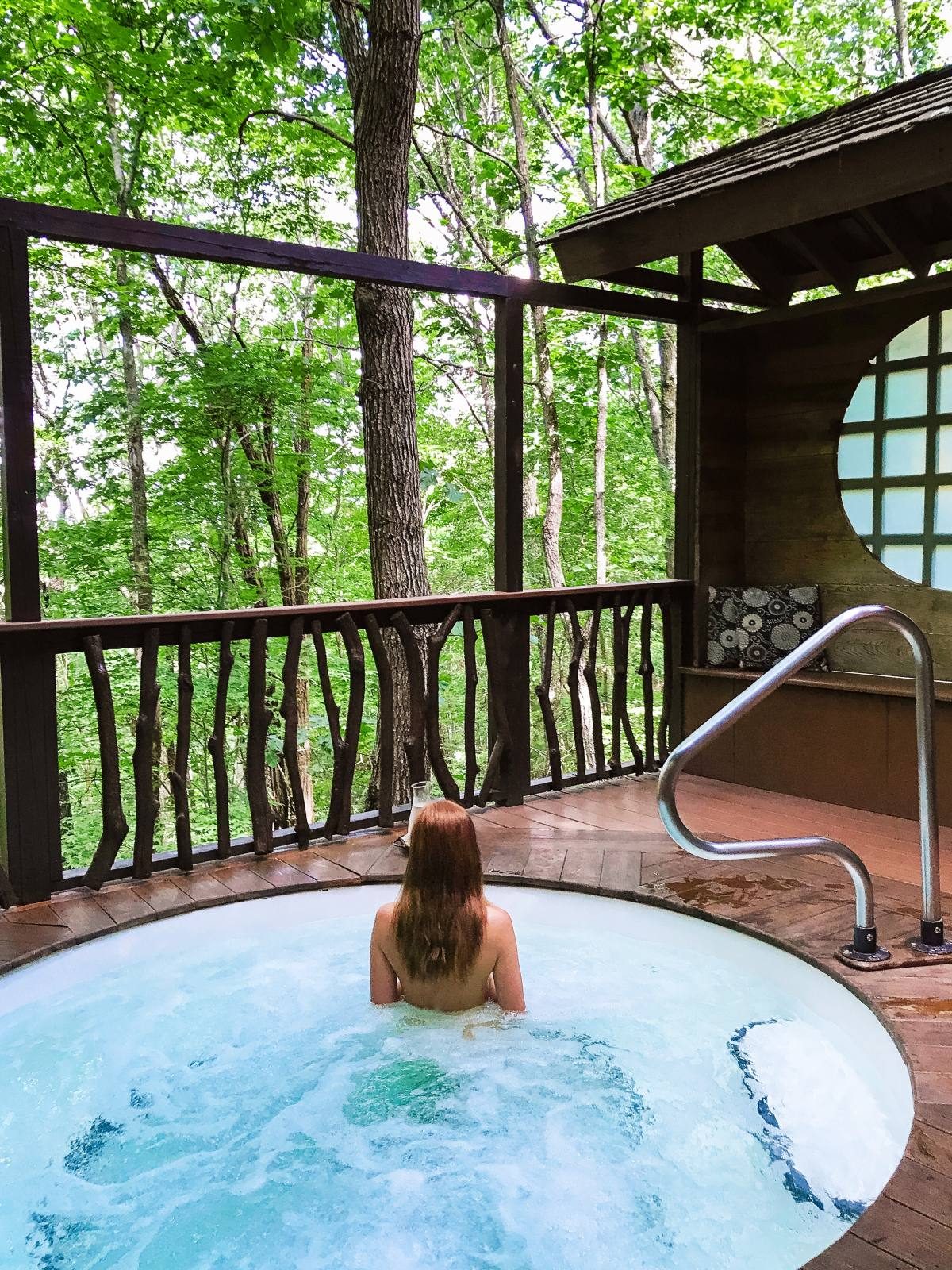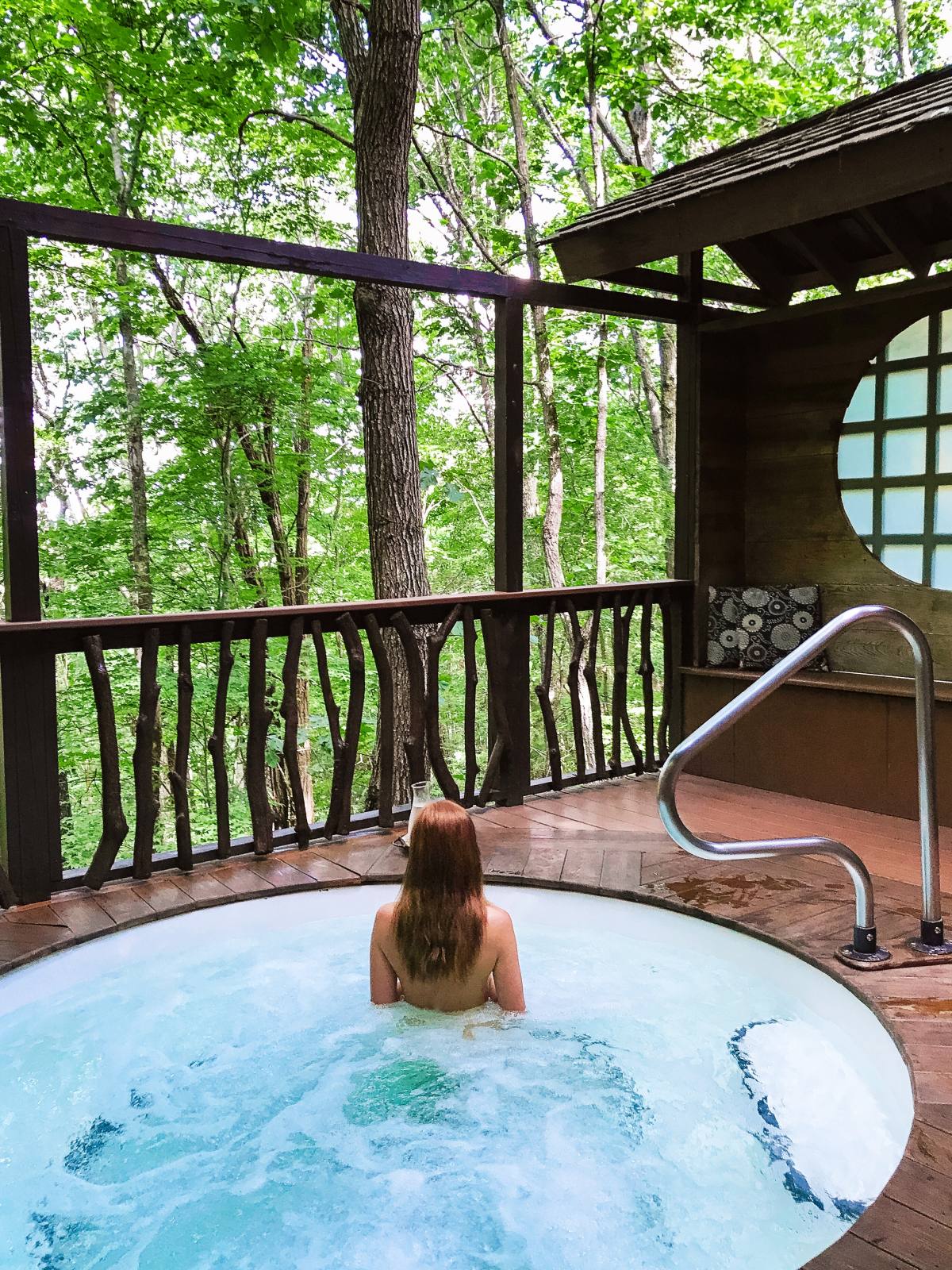 Take a Foraging Tour – Mushrooming Tour in Asheville
I grew up picking mushrooms, but in the US this activity isn't common. In fact, in some states mushrooming is prohibited. Thankfully, in North Carolina foraging is fully legal and you can find over 300 edible species in the forest. If you're unsure what can you eat or not, Asheville has a perfect solution for you – a foraging tour from a company called No Taste Like Home.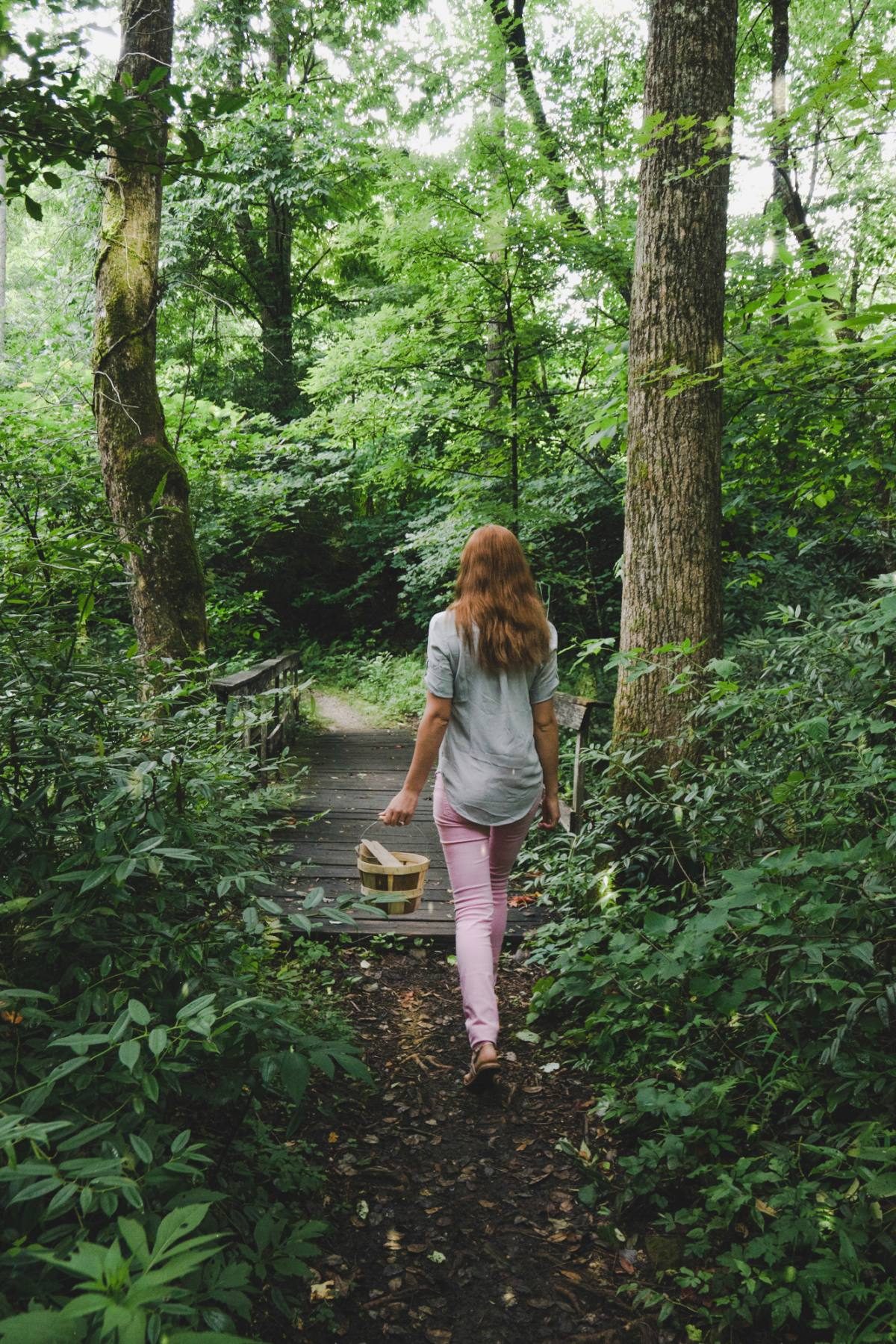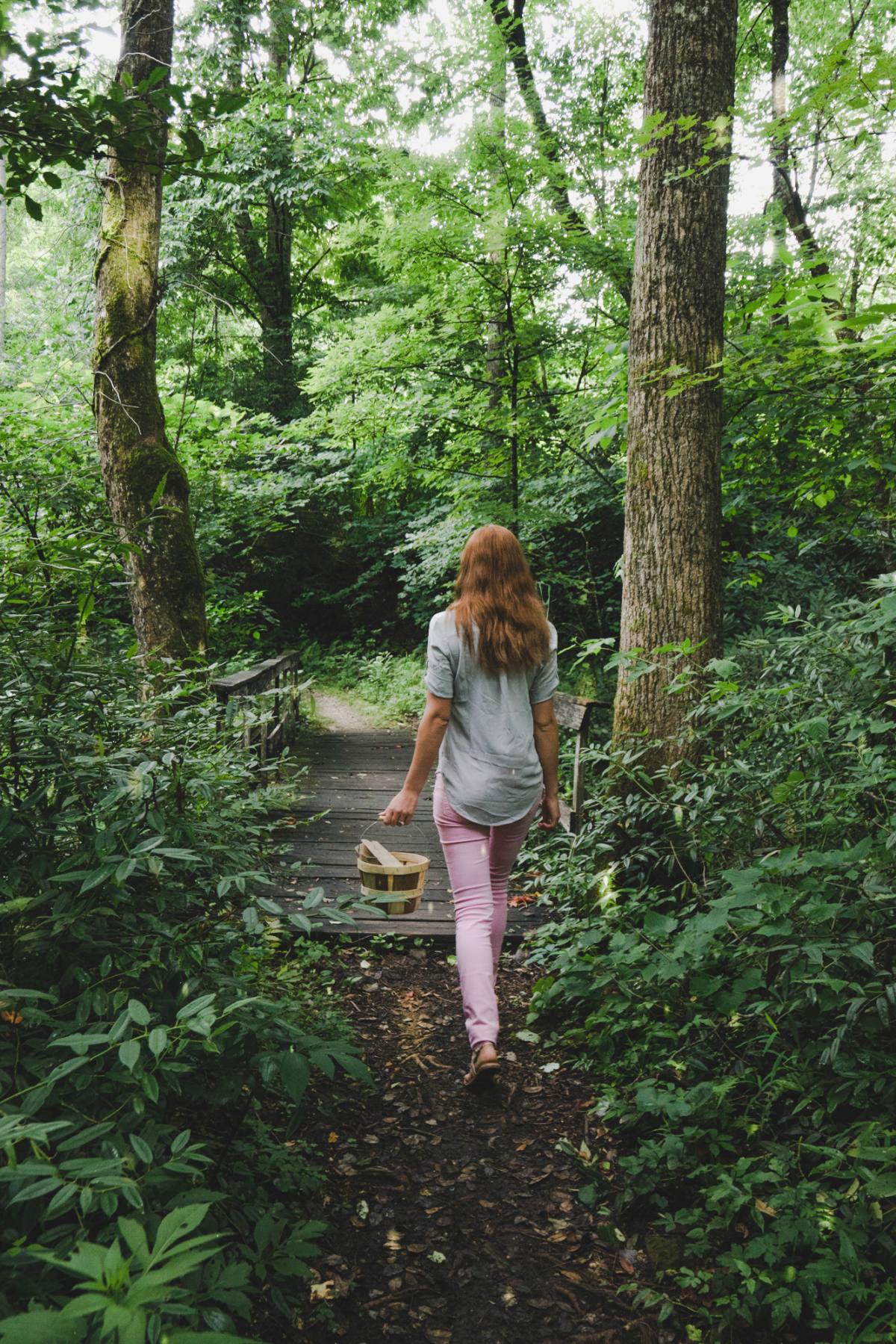 Their experts will take you on a short walk in the forest, showing you what can you pick and eat. I ended up eating daylilies, some savory wild plants and even picked up a few chanterelles (Mushroom season generally runs between July and October, so we're there slightly too early).
After the tour, we dropped our forest goodies at a restaurant in Asheville that created a great dish for us from it in the evening. The Market Place chef made everything incredible. We had stuffed fried daylilies, chanterelles, and nettle stew and even tried out weird black hairy rubber cups that are apparently a delicacy in Malaysia. The last one I was definitely not a fan of, but at least now I know how they taste 😉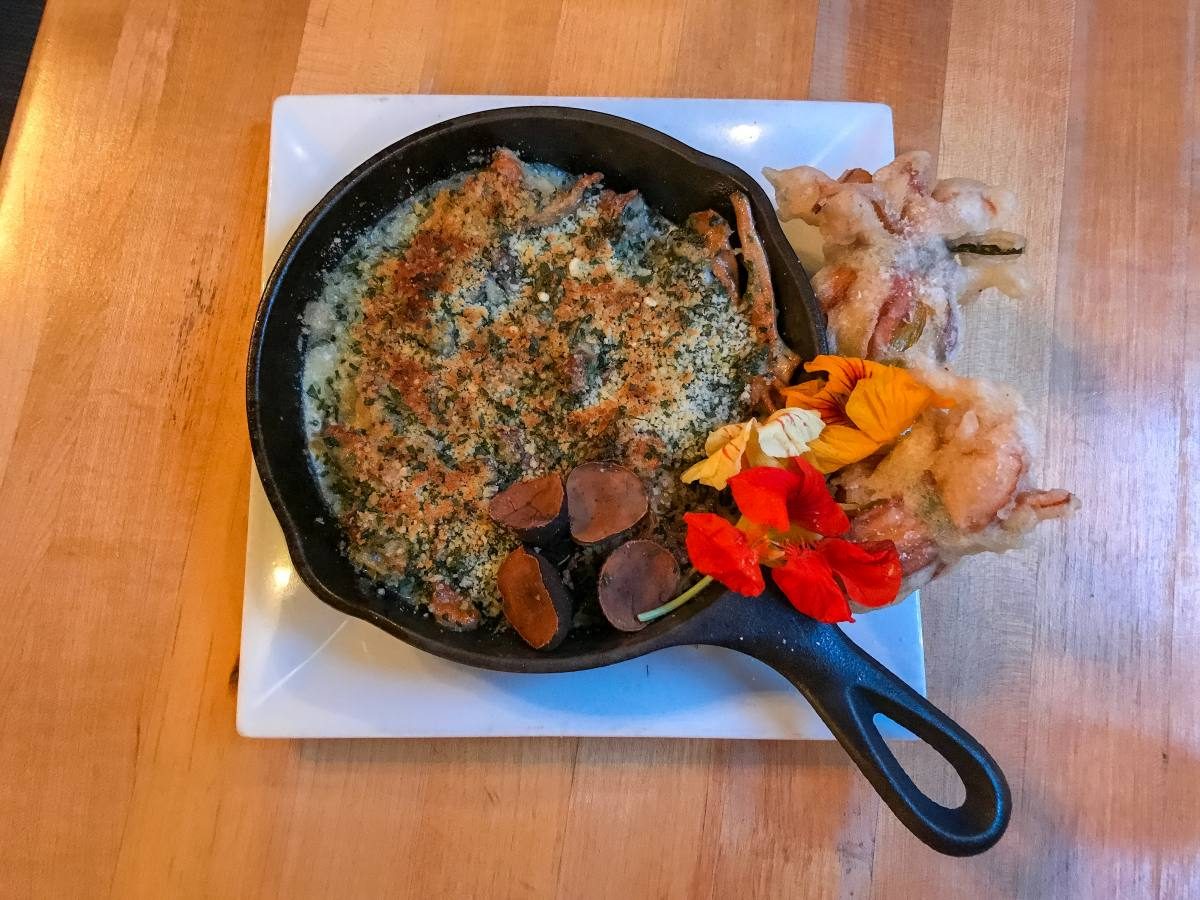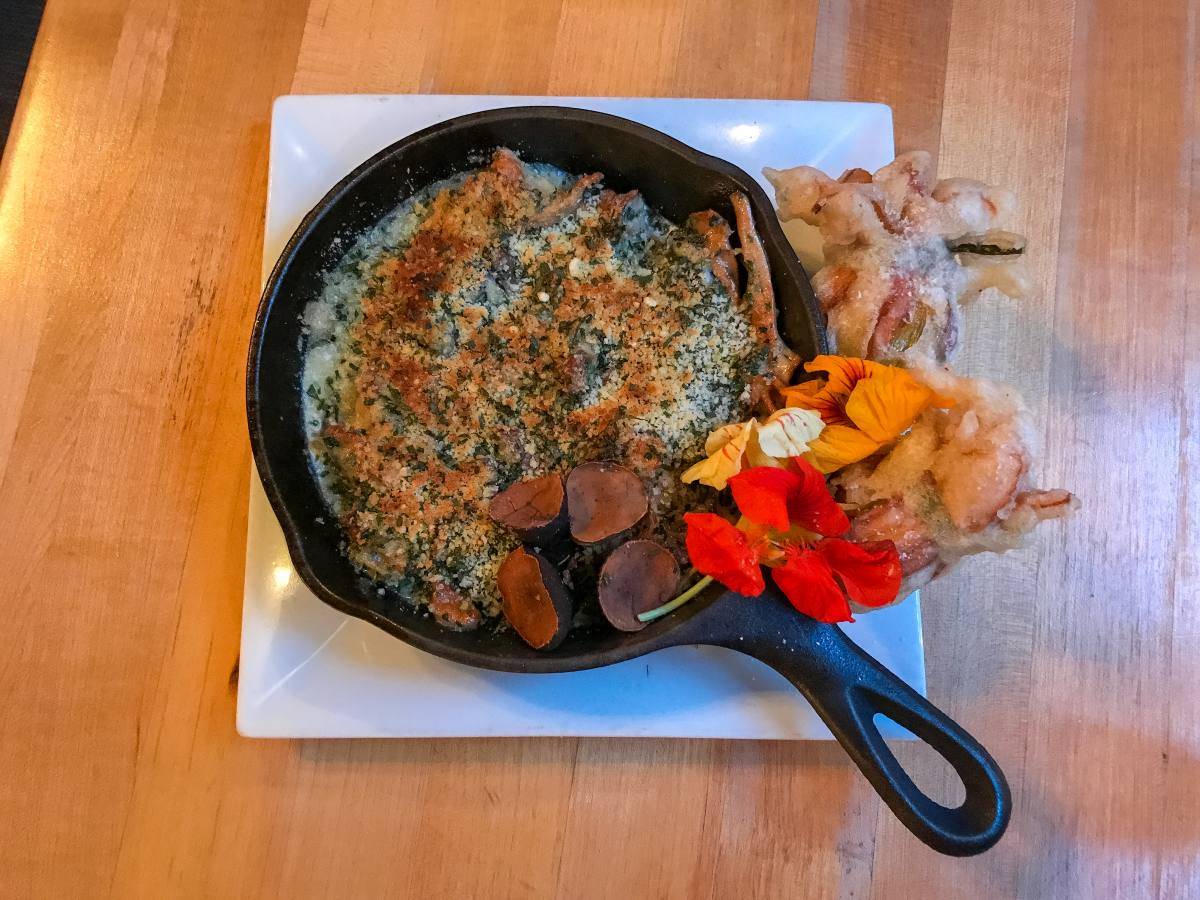 Hike or Drive the Blue Ridge Parkway
Don't forget to go up the Blue Ridge Parkway. It's a National Parkway and All-American Road in the United States noted for its scenic beauty. This road will bring you to locations straight from Jurassic Park.
You can stop in various places and go on a hike, but. if you're not in a mood for walking around, you can just drive through and stop for photos. For hardcore enthusiasts, the area is also known for its mountain bike trails. It looks quite extreme and while I'd probably pass on that, who knows, maybe you'll love it!
What I didn't know about the Blue Ridge Parkway is that it's a unique opportunity for your own self-drive wildlife safari. With binoculars, you could spot a deer, black bears, birds, and many others. I was mostly hoping for some fluffy animals and found a few squirrels, so I left this place satisfied and happy.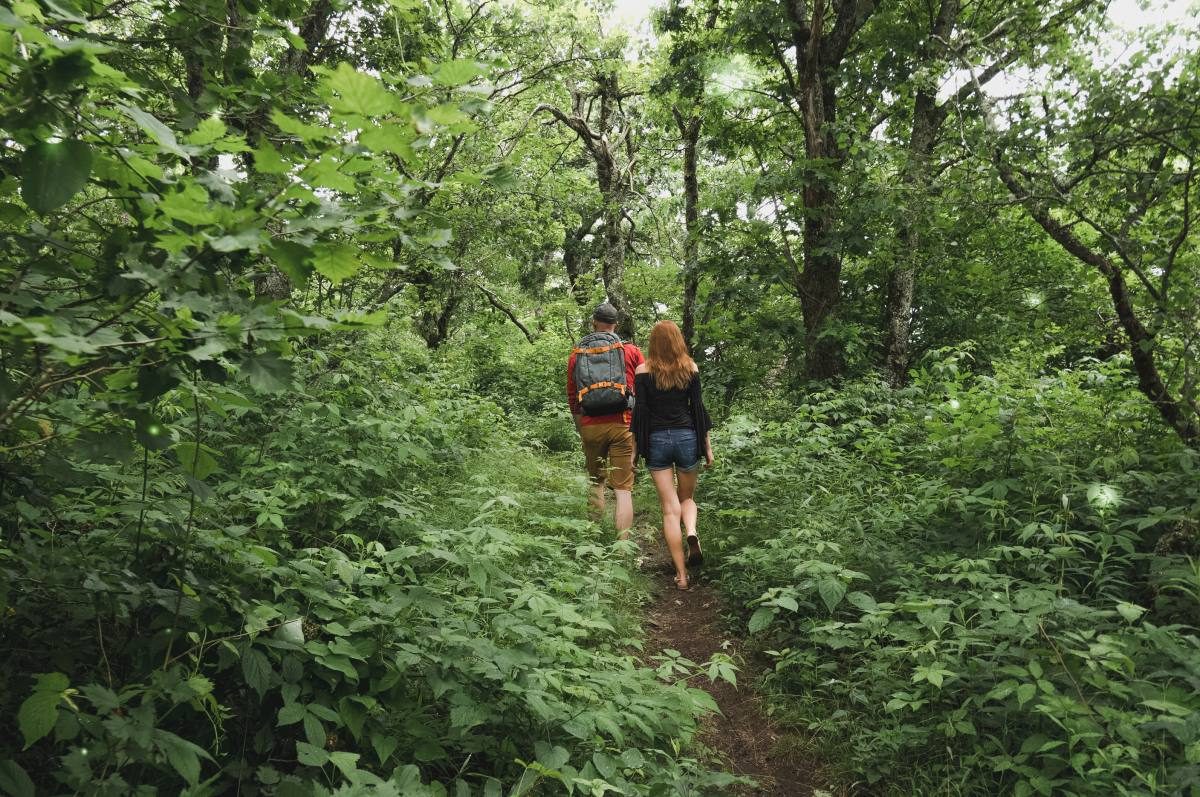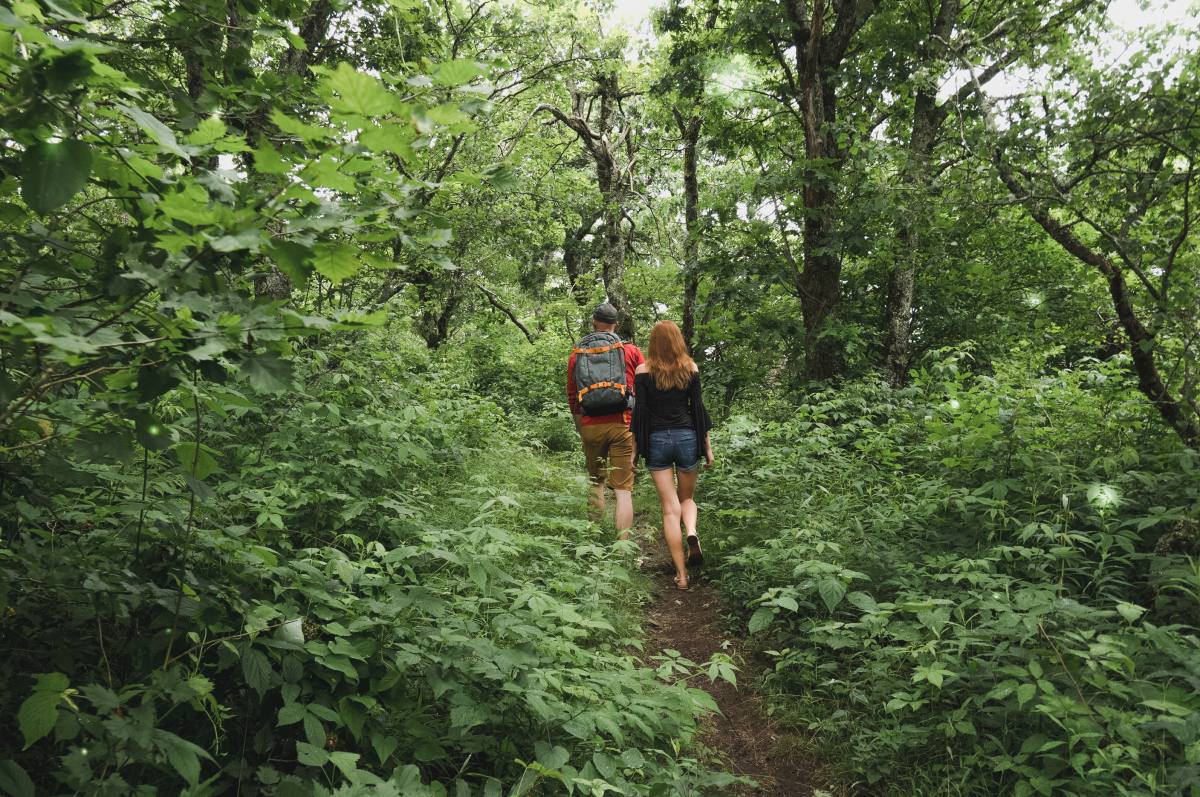 Slide the Rock
If you like to get out of the city and chase some waterfalls, head to Pisgah National Forest. Pisgah is home to hundred waterfalls that you can swim in. Some are quite close to the road, so you don't even have to hike that much to see them. Adventure lovers will adore the sliding rock. This 60-foot natural water slide got extremely popular over the past couple of year for a very good reason. If you're a kid, teenager or an adult you'll have fun sliding a natural slide that ends in a natural pool.
Adventure lovers will adore the sliding rock. This 60-foot natural water slide got extremely popular over the past couple of years for a very good reason. If you're a kid, teenager or an adult you'll have fun sliding a natural slide that ends in an 8-foot deep pool of water. Just remember, the water is freezing!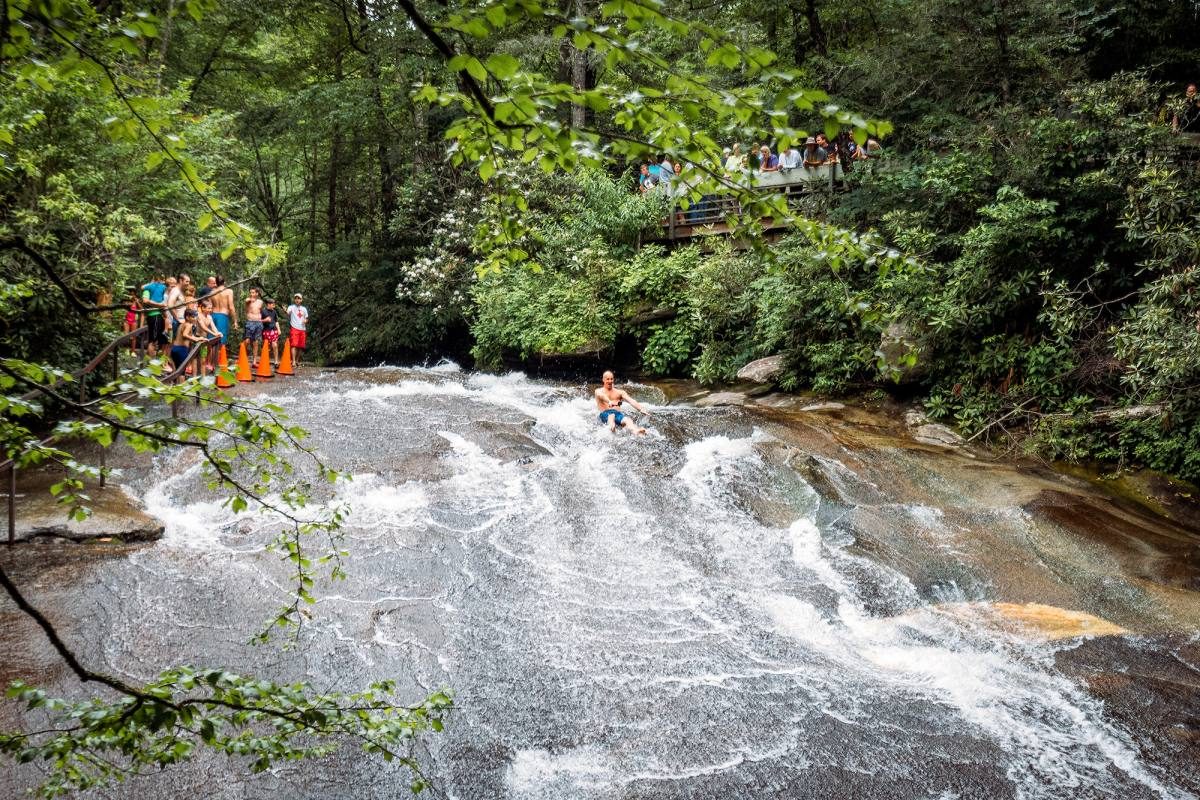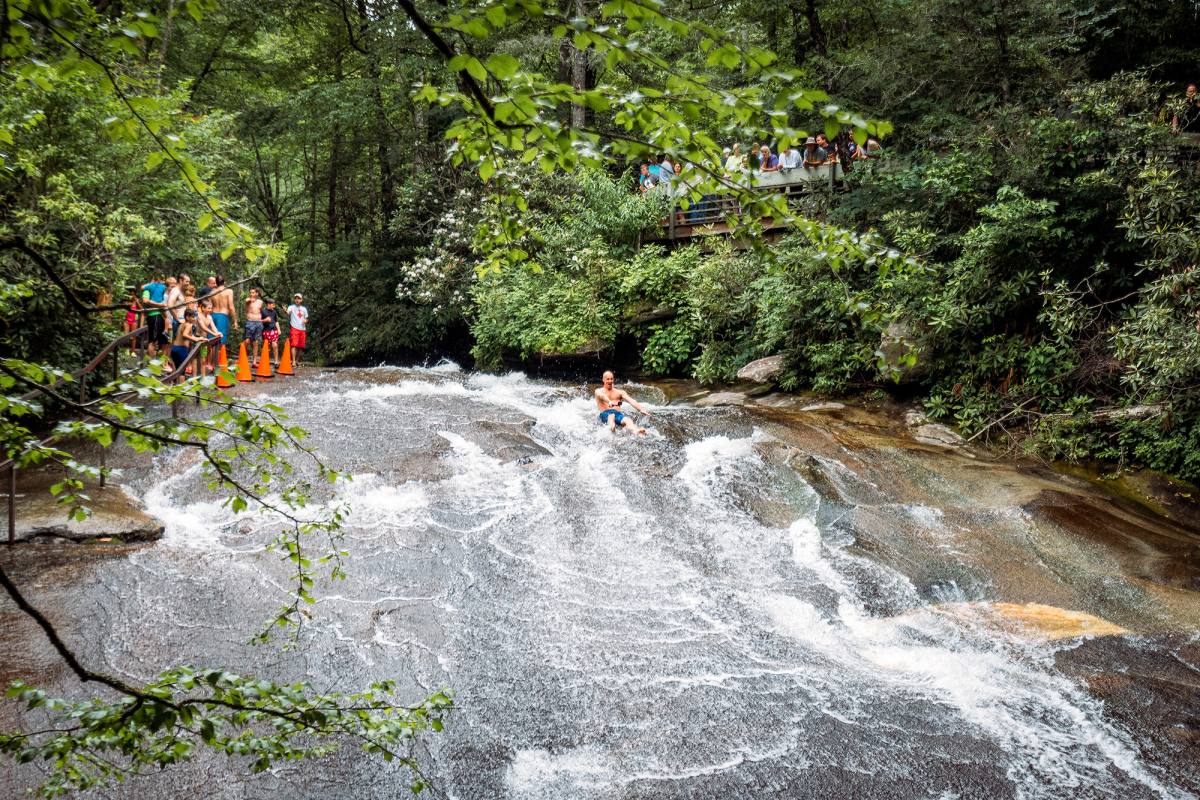 ---
Where to Stay in Asheville NC?
The Grove Park Inn is one of the most beautiful hotels I ever stayed in. Even though I had a feeling like it could be haunted, and my suspicions got confirmed after I read up about it. While it's huge, it still doesn't feel too busy. As it's right on the side of the mountain you can enjoy your views from your room or while having dinner at some of the 4 * restaurants on the property.
There's also an incredible saltwater pool grotto, but unfortunatel,y no photos are allowed so you're going to have to take my words for it.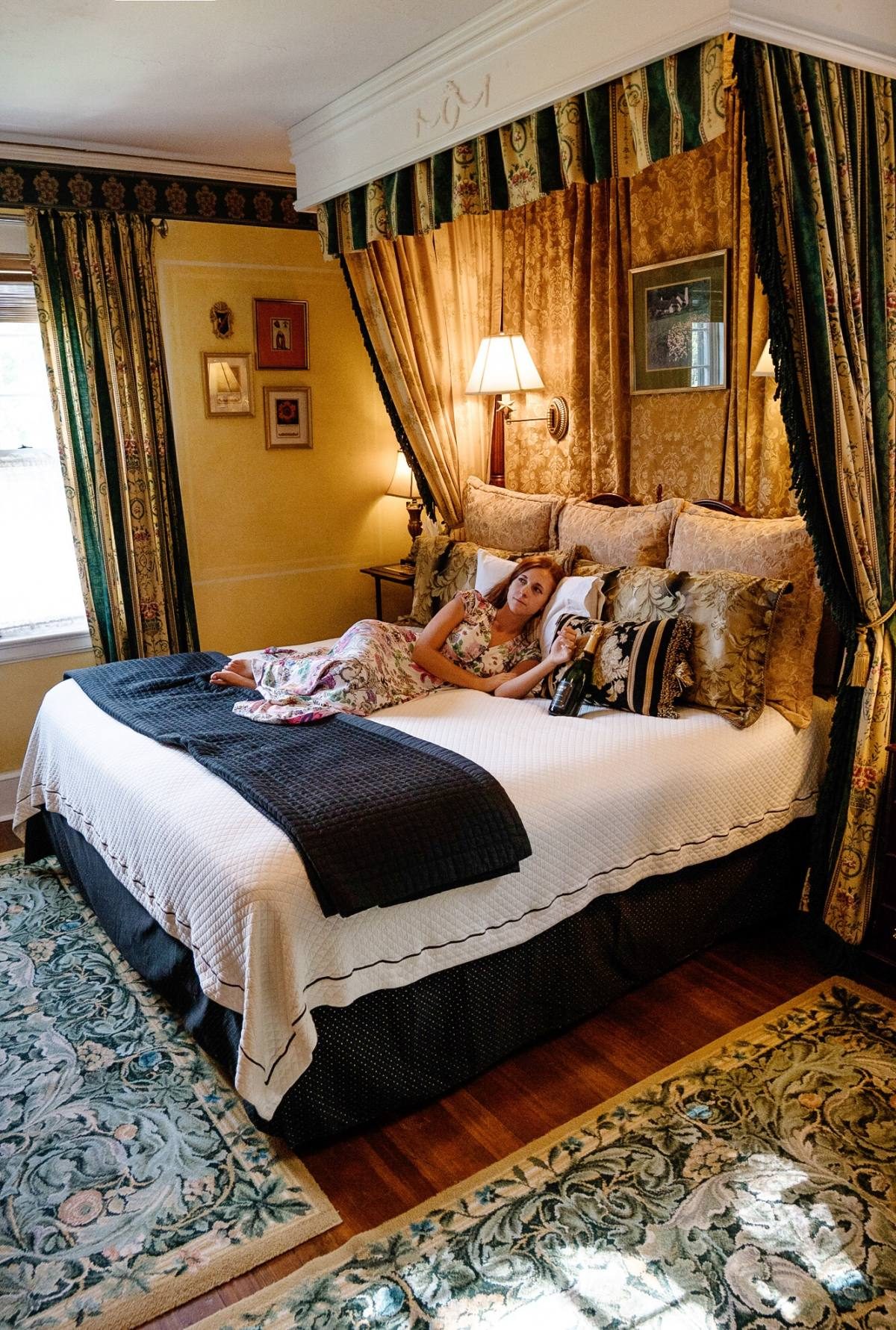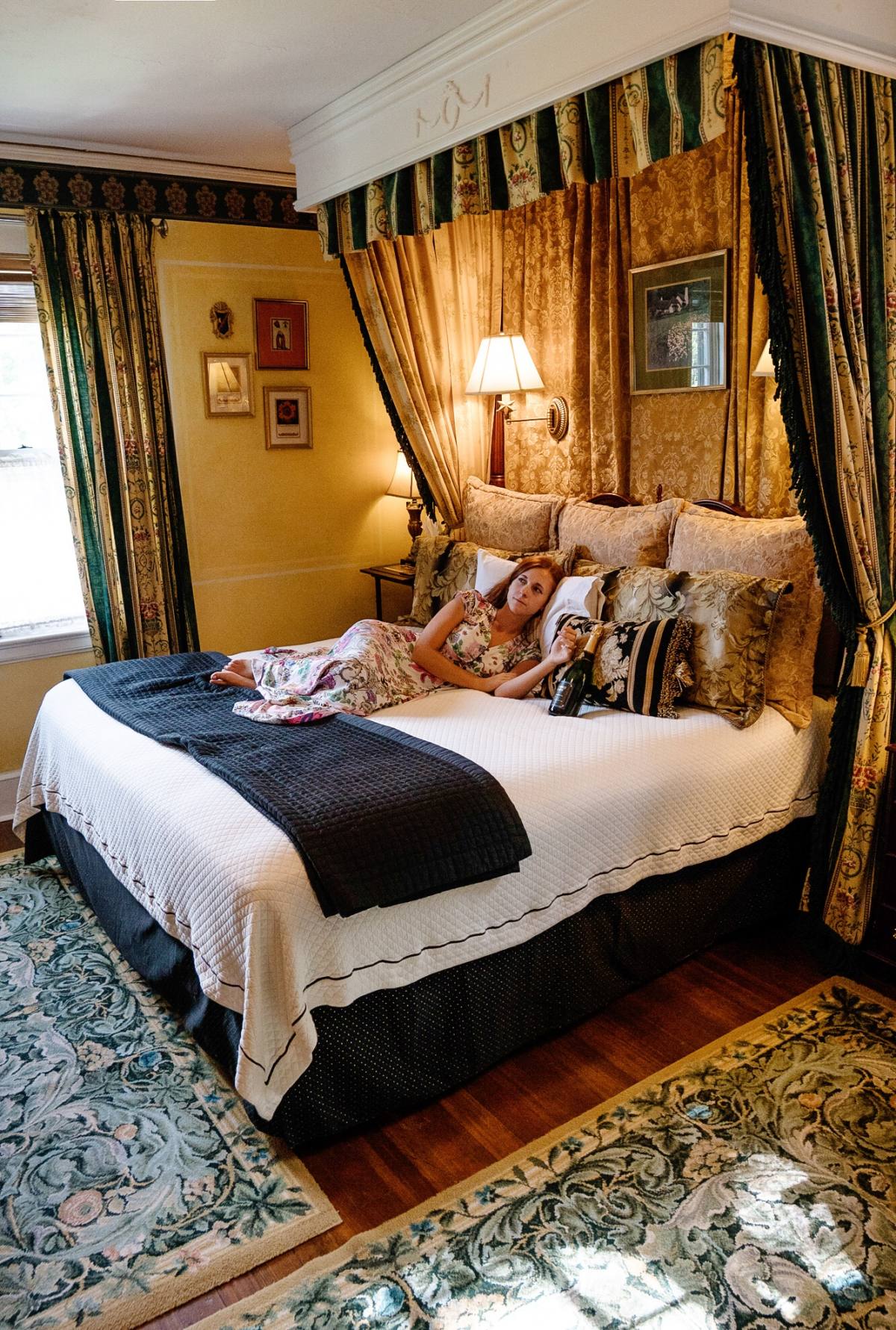 From the moment we stepped out feet at Abbington Green we felt welcomed and loved everything about this place. Their gardens, terrace, royal decor and free afternoon snacks. Not to mention Matt actually loved the bedsheets so much that we decided to purchase a set of them for home.
---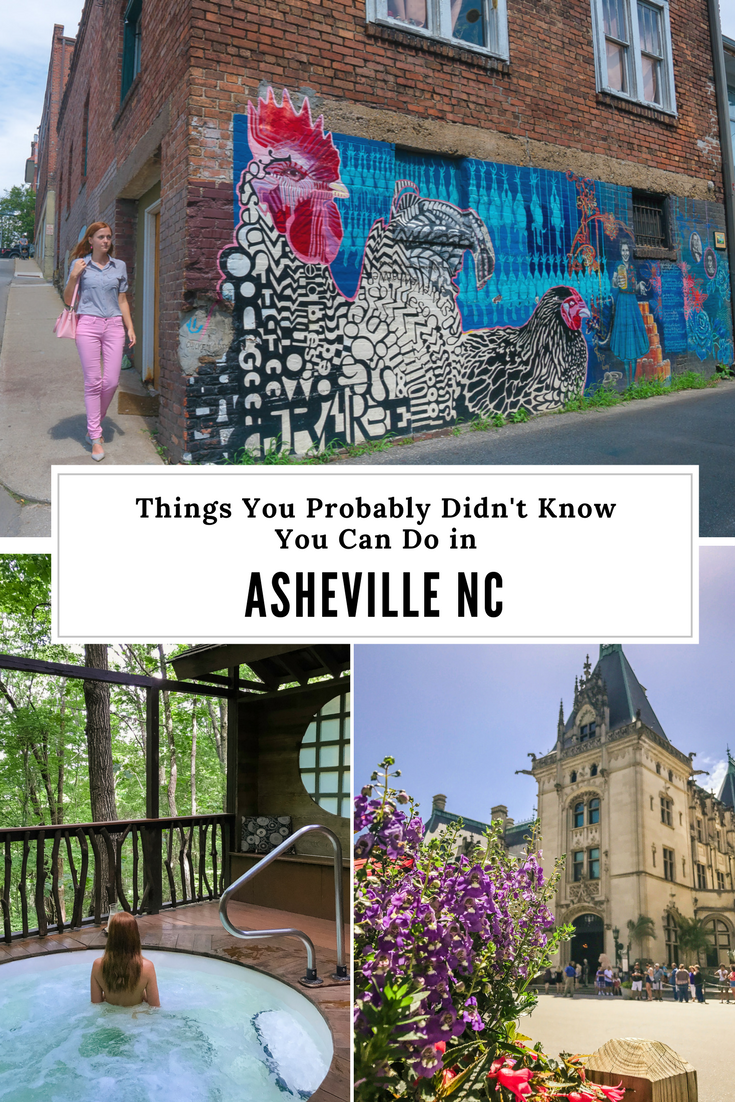 Any questions about Asheville NC? Don't hesitate to ask in the comments below! For more information on visiting Asheville, NC visit Explore Asheville.com.