This is a sponsored post written by me on behalf of Spring & Vine. All opinions are 100% mine.
Mystic Hot Springs is one of these places that's on many people's Utah bucket lists. Old metal bathtubs are tucked in orange rocks and filled with natural hot spring water – making it one of the most unique hot springs in the USA.
Originally, the hot springs were used by Native American tribes, but in the 19th century, the area was a hang out for travelers on horses.
Unlike many other hot springs, Mystic Hot Springs are mineral, not a sulfur spring so it doesn't smell bad.
---
Mystic Hot Springs: How to Get There?
Mystic Hot Springs are located in the small town of Monroe in the central part of Utah, just off of I-70 that basically divides the state in half.
Coming from Salt Lake City it took us about 2,5 hours to get there. It's a good place to stop on the way to Bryce Canyon, just 1,5h away from Mystic Hot Springs.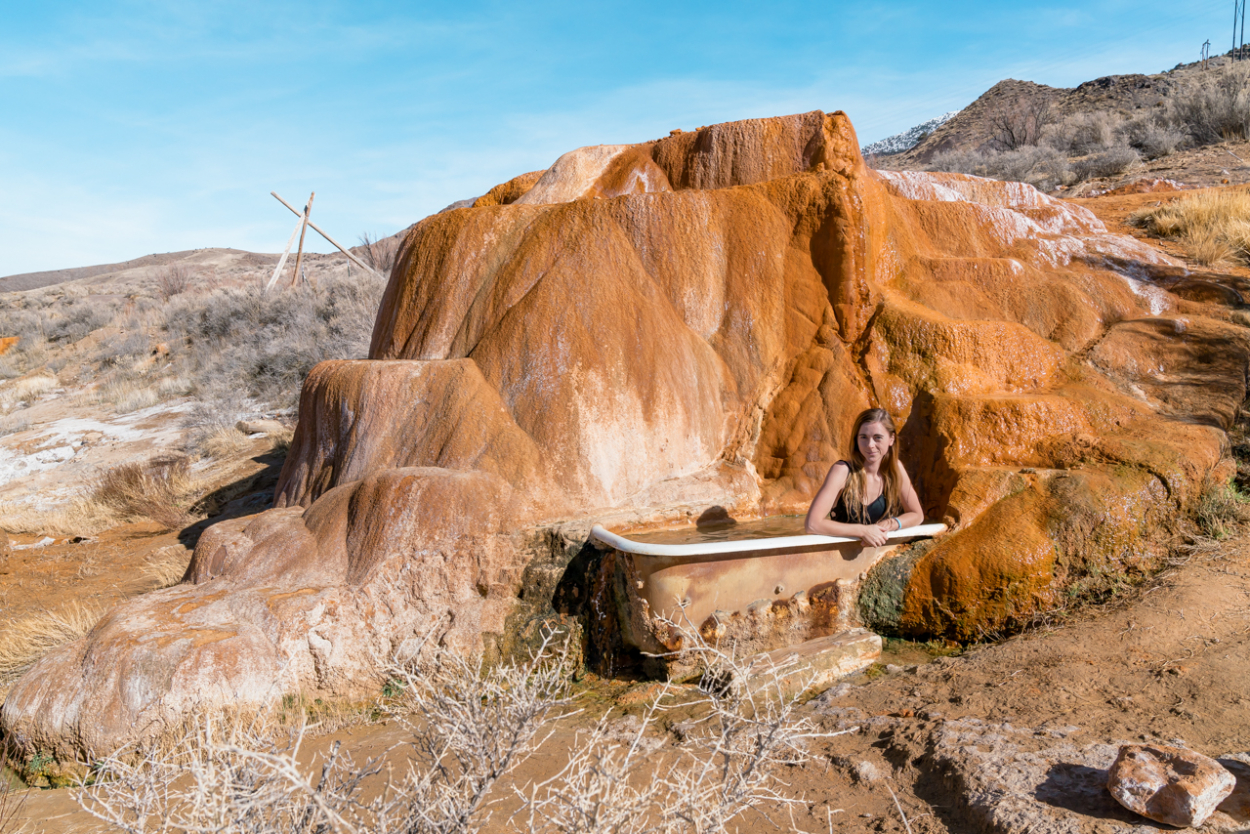 What to Expect
Mystic Hot Springs isn't your luxury spa and it's not as remote as some photos make them seem. The place is rugged, hippie and basic. Once you pay your fees and get a wristband at the office you'll walk up the stairs and see 6 individual bathtubs located up on the hill where the hot springs flow, plus a big pool with mineral arch.
When we arrived about 12:30 the place was already quite full, but we managed to get one of the bathtubs. Around 2 pm the place got very packed though – and that's in the middle of the winter!
Each tub has a different temperature, apart from one very hot tub the rest was fine for babies. It says that bathtubs are kept between 98F-110F, but I think some were slightly colder. Ironically, the ones directly under the orange travertines are colder.
Apart from the springs and camping grounds, the place is a working farm. You can see peacocks casually walking around and geese are guarding the grounds, and view some emus and llamas. Baby Dylan loved meeting his new sassy friends!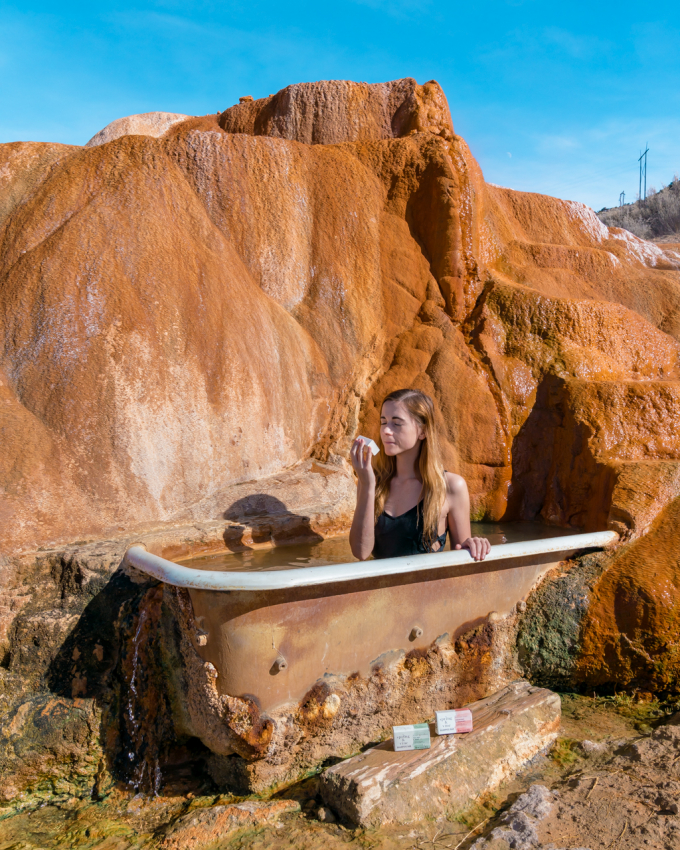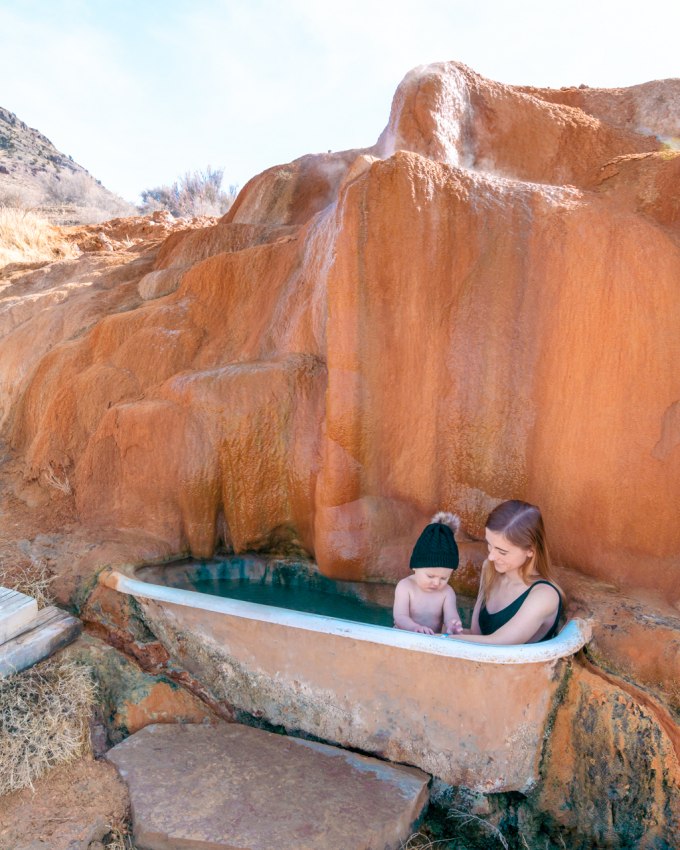 Accommodation at Mystic Hot Springs
If you're in for a full-on hippie experience you can stay at Mystic Hot Springs property. They offer basic cabins, one gypsy wagon and refurbished school buses to rent.
If you're a family of 3 (2 adults + 1 child) it's actually cheaper to book their accommodation, instead of just buying a soaking pass to use the hot springs. Every child has to pay, even if they're under one, so soaking passes came up to $48 vs $60 for accommodation with soaking passes included.
As you can imagine, the place functions like a campground so bathrooms are located outside and they're pretty basic with curtains and no lights in the shower.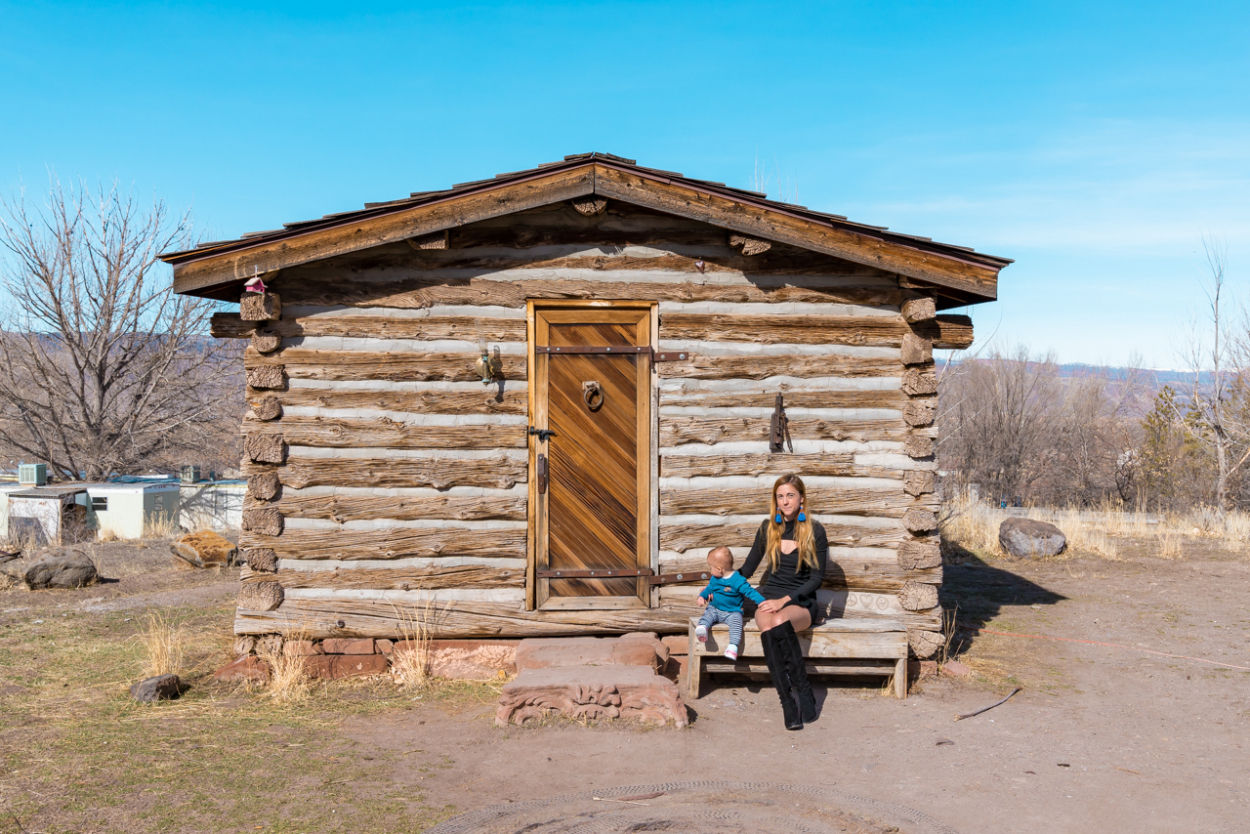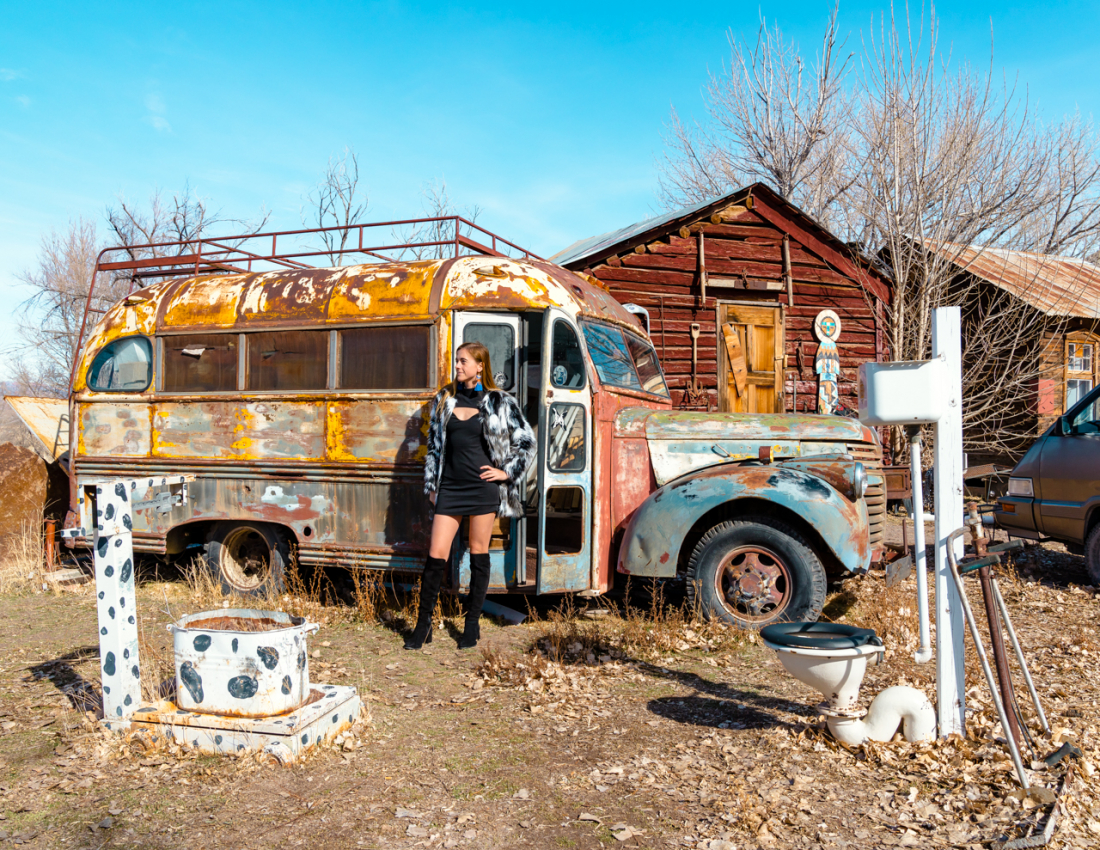 ---
What to Pack for Visiting Mystic Hot Springs?
A swimsuit is a must to bring with you, as there's no nudity. If you're traveling with a baby or kid, don't forget a swim diaper and towel.
There are no dining facilities at the springs, so you need to bring all your food and drinks from Monroe.
Even in the middle of the winter the sun was strong. Bring sunglasses, sunscreen and a hat for a baby.
If you're staying overnight at one of their cabins or buses, keep in mind that you need to bring your own toiletries. While there are bathrooms, they're pretty much camping style-ones.
Bringing your own toiletries when it comes to camping and staying at basic accommodation is a must. When you're traveling, small shampoo bottles are the most common option. However, not only it's not sustainable, but it's also hard to get the last bits of the shampoo out of the bottle.
About Spring & Vine Shampoo
For this trip I got to try Spring and Vine
shampoo bars. I was a bit skeptical at first, since soap bars seemed messier to clean my hair and to carry around, but God I was wrong.
When traveling to remote locations like Mystic Hot Springs, you don't want to litter small bottles and a big bottle takes up space in your luggage. Spring & Vine bar is small but lasts as long as 12.6 oz of a regular shampoo bottle.
The shampoo is made of shea butter and essential oils so they smell nice and when they dry up after usage they're not sticky at all. My hair was clean and soft after using it, and actually not required washing again for a few days.
I got to try a few different scents and I feel like Tea Tree & Mint one was my favorite. It made my scalp feel quite refreshed, especially after dipping it in hot spring water.
Spring & Vine are made with up to 95% less plastic and 90% less water vs. a traditional 12.6 oz. bottle of shampoo, plus PETA-certified vegan and cruelty-free, and packaged in a recyclable paper box that you can replace later with a reusable box to store it.
The product is available exclusively at Target stores. If you're environmentally conscious this is a product for you. Spring and Vine