While not a common internationally, Ethiopian food is loved by many of those who taste it! Spicy, colorful and hearty, the staples of the Ethiopian culinary diet include spongy bread and thick stews made of meat and vegetables.
Most people are also familiar with the country for its popular coffee, which is consumed on a global scale (yep, even Starbucks uses it). Prepare yourself for tasting a variety of dishes, experiencing new flavors, and eating with your hands!
I can honestly say that my time in Ethiopia was brief (it's a long story), but one thing I did do there was eating a lot of traditional Ethiopian dishes and these days I often search for Ethiopian restaurants abroad. That's pretty much all I did in Ethiopia, so here's my guide to the best of the best.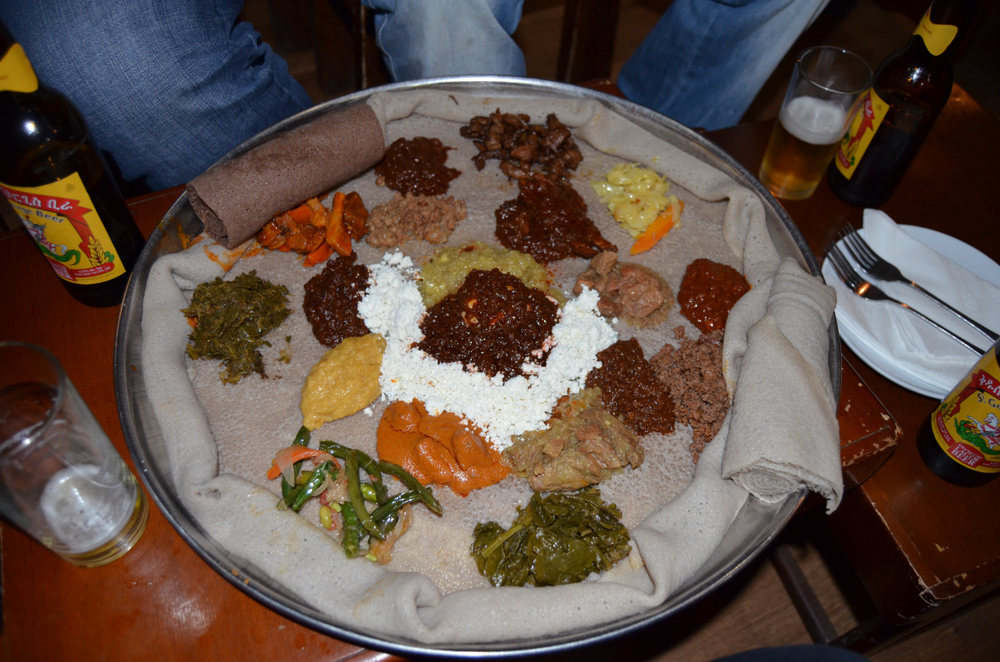 Ethiopian Food Culture & Customs
Ethiopian cuisine doesn't import much so utilizes the herbs, beans, and other crops readily available and easily grown in the region.
Hence why stews and bread are common and coffee is a daily ritual, invoking hospitality and community. There are many vegetarian meal options, a custom which stems from religious fasting (many Ethiopians practice Ethiopian Orthodox Christianity).
Pork and seafood are rarely on the menu, due to additional religious restrictions (both for Ethiopian Christians, as well as Jews and Muslims). Some days also include fasting, during which time Christians will not eat until after 3 PM.
These days are typically Wednesdays and Fridays, but customs and restrictions can vary based on the religious calendar. Ethiopian Muslims will fast all day (sun-up to sun-down) during the month of Ramadan.
Traditionally, Ethiopian food is shared from one plate between diners, and this is how it's served. A dinner in Ethiopia is a social event and you'll need to use your hands to eat!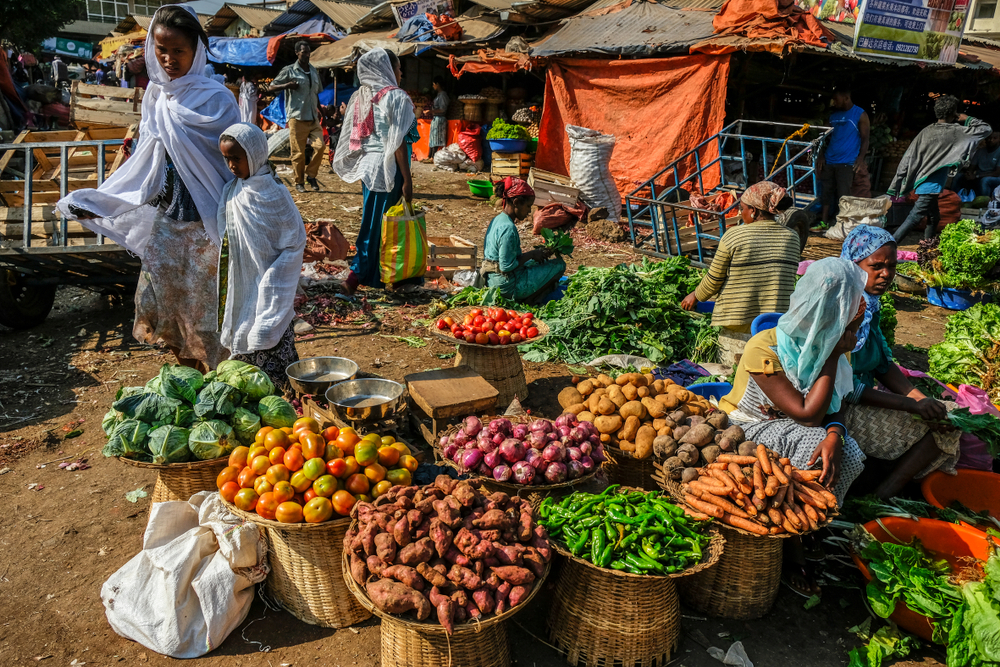 This may sound strange for a culture that relies heavily on stews, but that's what the sourdough injera bread is for! Due to this custom, people wash their hands right before and after eating. If you're eating with Ethiopians, they may feed you by hand at some point, this is a gesture of comradery called gursha.
In general, Ethiopian food is very healthy because it largely consists of protein and vegetables. The black coffee and delicious fruit juices also help to round out the Ethiopian diet.
You may also find Italian food in Ethiopia due to a brief occupation of Ethiopia by Italian forces (same thing happened in neighboring Eritrea). If you're in Ethiopia and want a "Western" meal, Italian is a good option!
Here is a list of the most common and popular foods and drinks that you will find in Ethiopia, or at an Ethiopian restaurant abroad. Please note, there are some variations in spelling and translation for some of the dishes.
If you're really creative, you may even try your hand at making some of these meals yourself! This article also includes some suggestions for Ethiopian restaurants both in the country itself, and internationally.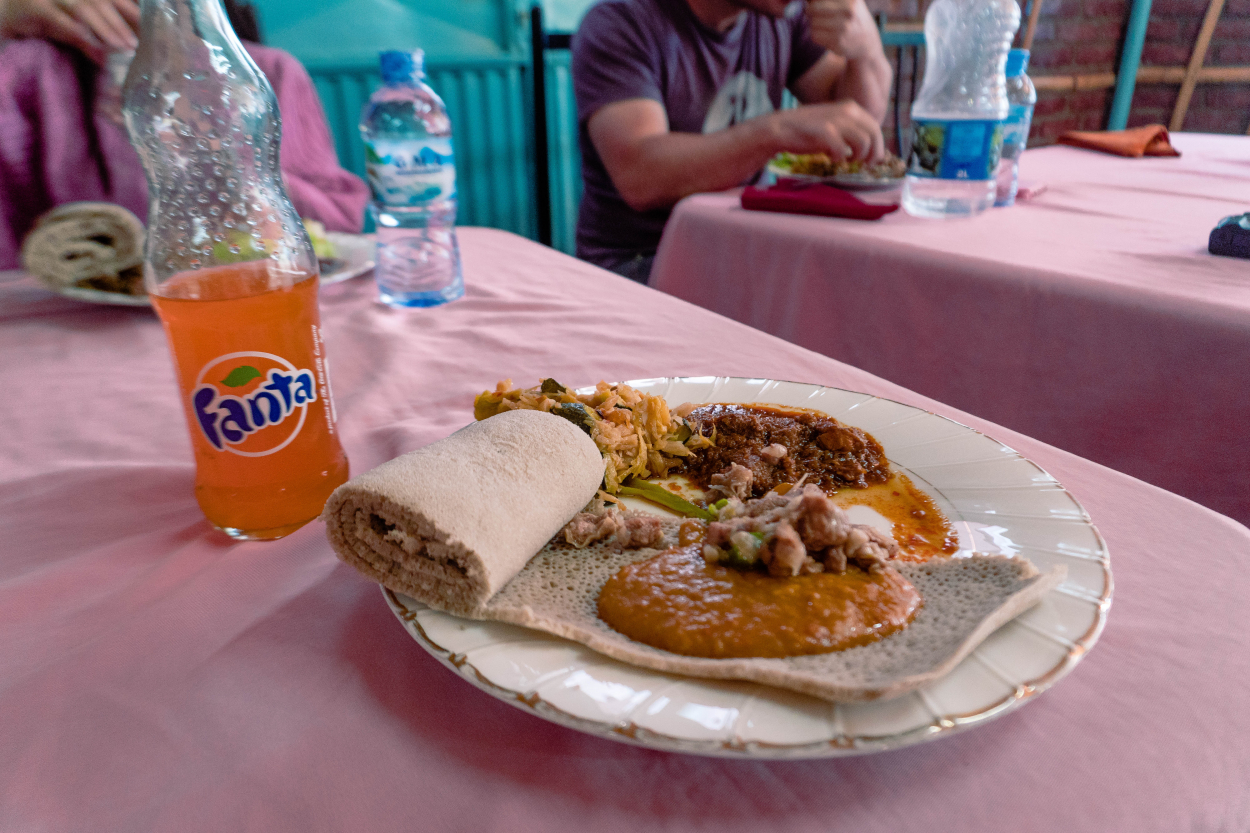 ---
Best Ethiopian Dishes
Injera (Sourdough Pancake)
Injera is by far the most prominent Ethiopian staple. This sourdough flatbread pancake is made of the Ethiopian grain teff and goes through a fermenting process, resulting in a spongy bread.
The shape allows the diner to wrap, shovel, and dip food in various stews and spices, serving a similar purpose to a tortilla or pita bread. Literally, almost everything goes on top of the injera with pieces of it served rolled on the side.
Injera definitely has a distinct, sour flavor, dark appearance, and bubbly texture. Some dislike it, but I love it. It pairs well with an Ethiopian stew and is eaten with pretty much every Ethiopian dish.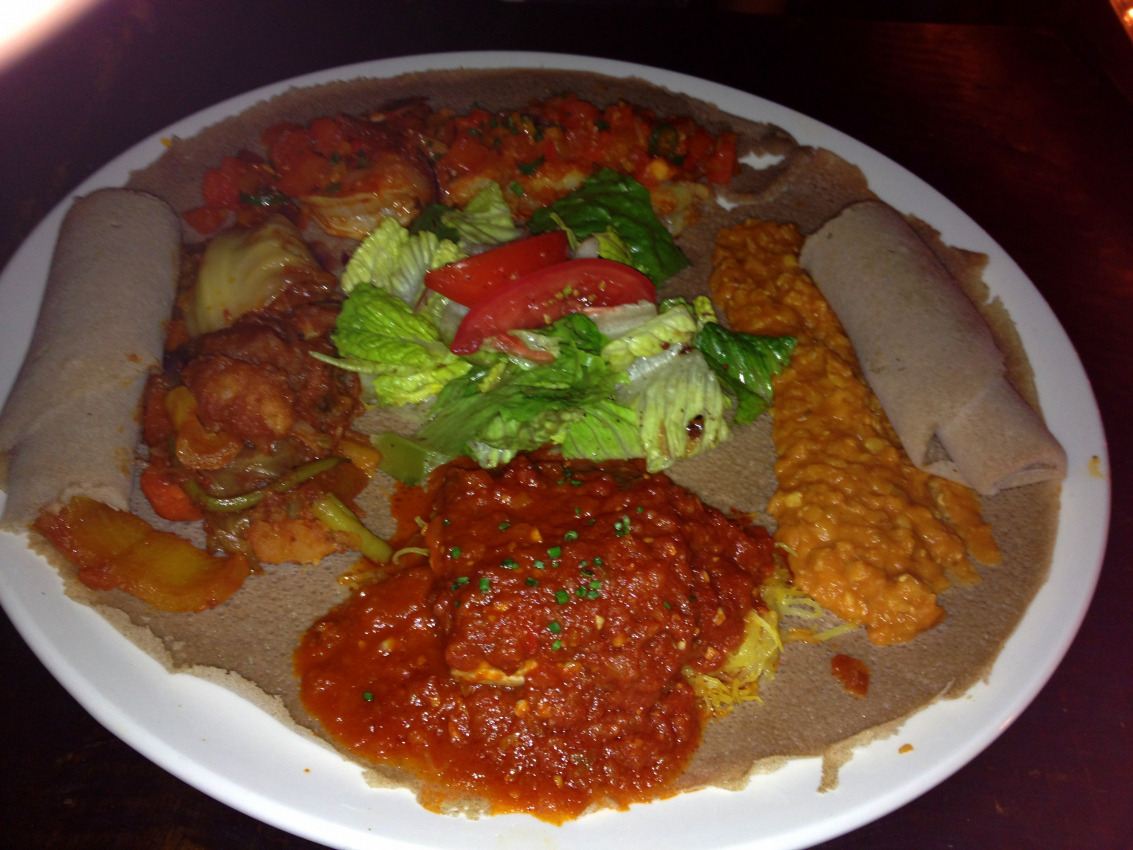 ---
Mixed Platters
Mixed platters are common Ethiopian dishes and can include meat (maheberawi) or vegetarian (yetsom beyaynetu) options.
Meat mixed platters usually include stew, kitfo, and tibs. Meat platters may have a variety of types of meats as well (i.e. beef, lamb, etc). Vegetarian mixed platters include stews made of lentils, peas, tomatoes, potatoes and other meat-free ingredients. Vegetarian dishes are often also simply vegan.
It's important to note that in Ethiopia, you may find a rotating menu, where some days vegetarian options are available, and other days only meat platters are served. This is due to the fasting schedule (particularly for Orthodox Christians). Regardless of what platter you choose, expect it to come with plenty of injera!
Tibs – Sauteed Meat
Ethiopian tibs are essentially pieces of stir-fried meat (usually beef, but sometimes lamb, chicken or fish) with vegetables, served over injera.
Like most Ethiopian food, tibs are made with ample spices. Tibs are typically eaten for special occasions and are sometimes served in a clay pot or dish over coals.
Kitfo – Raw Marinated Meat
Kitfo is a type of marinated minced steak tartare (raw), made with spices. This dish is eaten with injera and sometimes served with cheese and Ethiopian butter (see nitir kebe).
If raw isn't your thing, there is usually an option to have this dish lightly cooked, which in reality it's just slightly warmed up.
It's important to note that kitfo is typically made with high-quality beef, similar to French tartare. If you would eat it in a fancy restaurant in Paris, there's nothing wrong with eating it in Ethiopia 😉
Ethiopian Fish
Fried fish, also known as asa tibs, is also a popular Ethiopian dish. The fish, typically branzino or tilapia, is fried and served whole or in chunks, using spices such as mitmita or berbere.
Here's one simplified recipe that uses filets instead of a whole fish. There is also a sauteed option, called yasa tibs.
Bayenetu – Vegetarian Mix
Similar to mix grill with meats, Ethiopia also offered a vegetarian/vegan mix platter. The best to eat it is Wednesday since Ethiopian Orthodox Christians don't eat meat that day, so many restaurants put it on the menu.
What you can find on top of your injera varies, but often include gomen – made of collard greens and aterkik alitcha – yellow pea stew.
Looking for a salad? Azifa is a type of salad that includes green lentils, or opt for a beet salad.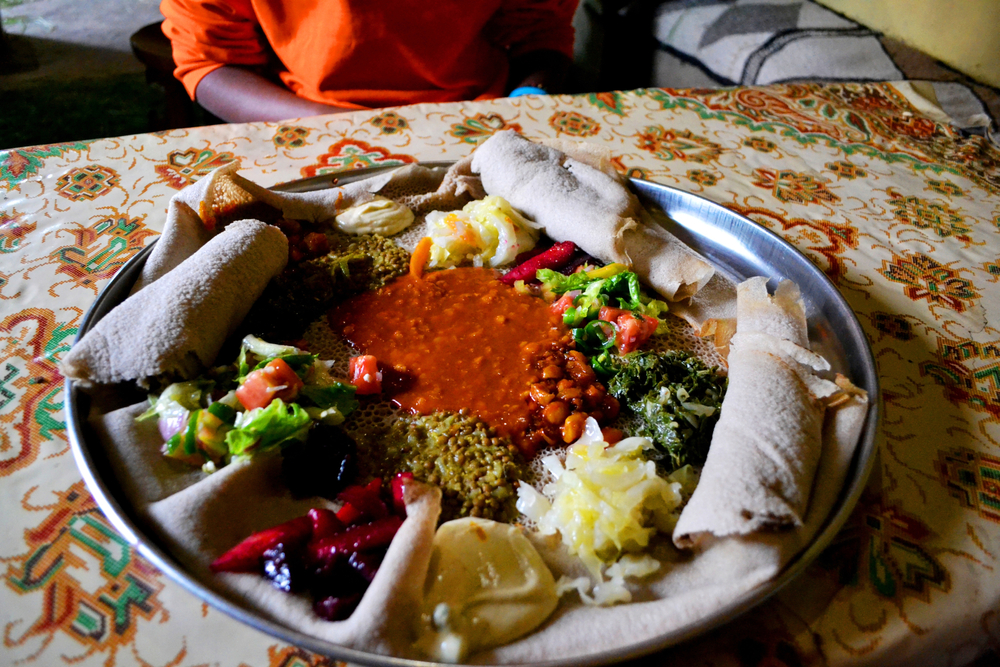 ---
Wats – Ethiopian Currys:
Doro Wat – Chicken Curry
Doro Wat (also spelled wot) is a traditional spicy chicken stew or curry. It's considered Ethiopia's "national dish" this stew includes onions and hard-boiled eggs, along with berbere, and is served with injera. For the adventurous chef, you can try making it yourself with the recipe available here.
Sega Wat
Sega wat is a stew made with beef and spices. It's similar to doro wat, and is also made with berbere and served with injera.
Shiro Wat
This vegetarian stew/curry is primarily made of chickpeas or lentils. Onions, garlic, and berbere give this dish its distinctive taste.
This dish is almost always vegan, depending on if Ethiopian butter or substitute is used. Once again, you will be scooping this spicy stew with a healthy portion of injera!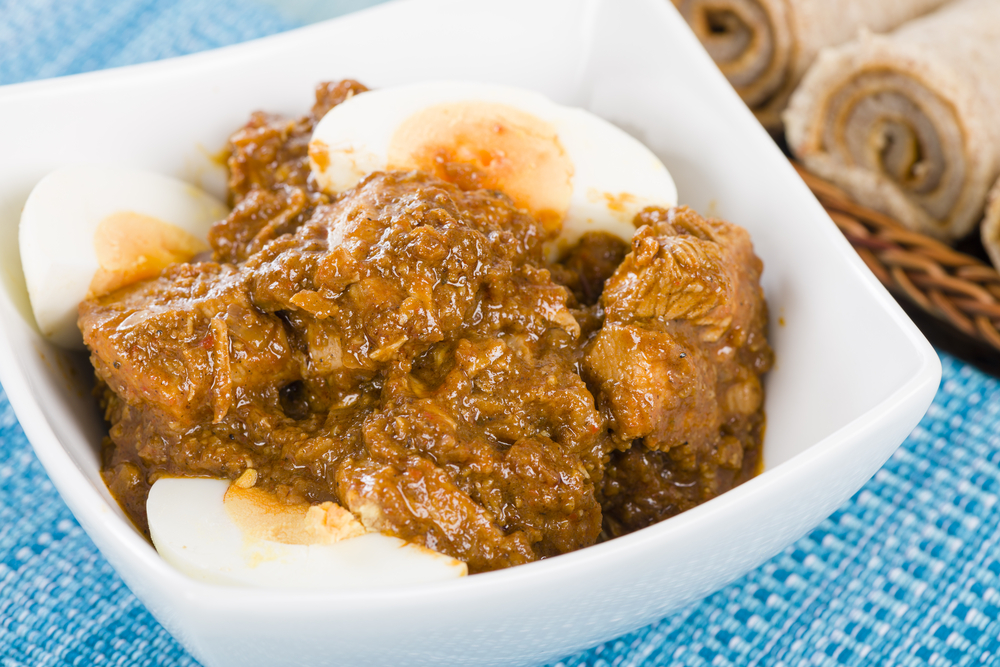 ---
Ethiopian Breakfasts
Breakfasts in Ethiopia can be very different from those you may eat at home.
Ful is a breakfast dish made with fava beans, eggs, and vegetables.
Firfir is another option made with pieces of injera ripped apart, nitir kibe, and spice. Because injera is already inside the dish you actually eat it with a spoon.
---
Ethiopian Drinks
Ethiopian Coffee
One common Ethiopian saying translates to "coffee is our bread," which shows how important this drink is to Ethiopian culture. It's likely that coffee or buna originated in Ethiopia over a thousand years ago, and there are several legends surrounding its origin story.
Ethiopians not only grow a lot of coffee, but they also consume vast amounts of the strong Arabica style beverage. Macchiatos are also popular due to Italian cultural influence in the past.
Coffee is typically drunk in small cups (think espresso style) black or with a little honey, salt, or other add-ins. Coffee is a fundamental part of the community and a ritual that invites friends and family into the home or local gathering spot.
A traditional coffee ceremony includes preparation of the drink from start to finish, ending with the serving in small cups out of a clay pot. If you have the opportunity to attend a traditional coffee ceremony in Ethiopia or at an Ethiopian restaurant, you should definitely take part!
When drinking coffee, you may be served popcorn or kollo (toasted barley) on the side.

Tej – Honey Wine
Tej is a (highly) alcoholic yellow beverage made from honey and a local Ethiopian herb. This strong drink is similar to mead.
In Ethiopia, Tej is often homemade. It's hard to find outside of Ethiopia and neighboring Eritrea, but if you want to try a version you can attempt to make it yourself. There is also a non-alcoholic variation, called berz.
Fruit Juice
Fruits are widely available in Ethiopia, so fresh juice is common and usually served thick like a smoothie. There are many fruit juice stands and shops available everywhere around the country.
Usually, juices are made with a variety of fruits and vegetables, and sometimes they are "layered" which makes for a beautiful tropical juice display!
Try a spris, which includes tropical fruit and avocado, or a magnum, which contains peanuts.
---
Restaurants to Visit in Ethiopia
Lucy Gazebo Restaurant
This low-key spot is located next to the National Museum in Addis Ababa (King George VI Street) and is named after the oldest "human" skeleton that is housed there.
Although it's a slightly pricier option, Lucy Gazebo is centrally located and offers exceptional kitfo and other traditional dishes. Another bonus is that this restaurant is outside and filled with greenery, making for a nice atmosphere.
2000 Habesha
Also in Addis Ababa, 2000 Habesha (Namibia Street) offers delicious injera and traditional dancing in the evenings (after 8 PM). Don't forget to end your meal with a strong cup of Ethiopian coffee!
This is a popular tourist restaurant, so expect crowds.
Ben Abeba Restaurant
Located in Lalibela, Ben Abeba is situated on a hill next to the UNESCO Heritage ruins that the ancient town is known for. The restaurant itself is an architectural wonder and stays open all day.
Ben Abeba is owned by a European woman, and the meals combine Ethiopian and international cuisine.
Paradise Lodge
The Paradise Lodge in Arba Minch is both a restaurant and resort in southeast Ethiopia. The food at the restaurant is made from locally grown ingredients, and the whole complex sits on the side of a National Park, making for an amazing view.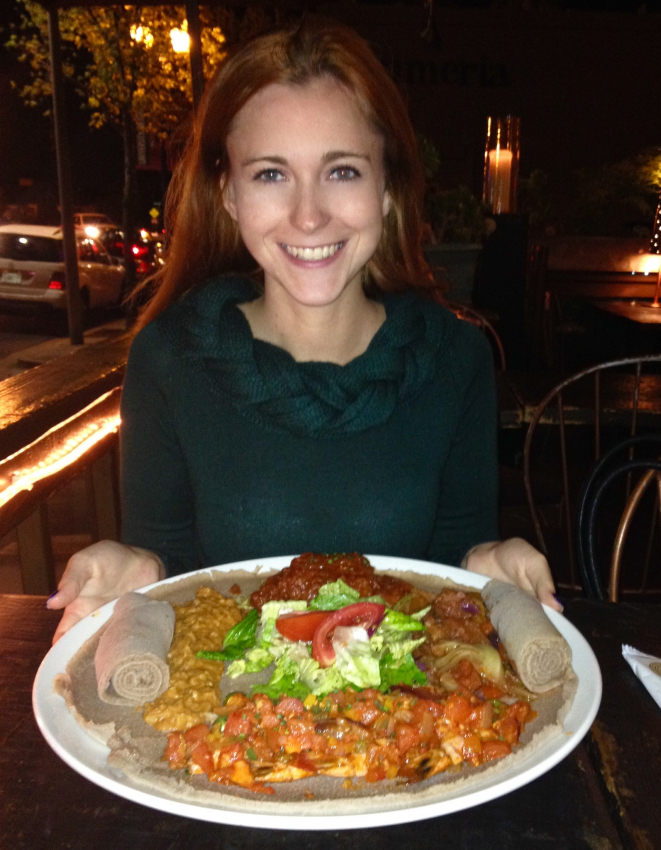 ---
Best Ethiopian Restaurants to Eat Outside of Ethiopia
Bejte (Berlin, Germany)
Bejete is an extremely popular Ethiopian restaurant located in Berlin.
It's a great option for vegans, and often does not offer meat based on the Ethiopian Christian calendar. Make sure to try a mixed platter with a side of tej!
Addis in Cape (Cape Town, South Africa)
This restaurant is a great choice if you want to experience an Ethiopian coffee ceremony.
Located just in heart of Cape Town, Addis in Cape is also halal-friendly and gluten-free. They also serve their meals in traditional woven baskets.
Zagol Restaurant (Dubai, United Arab Emirates)
Zagol Restaurant (Floor, Mabrooka 1 Building, 4B St, Sheikh Khalifa Bin Zayed Rd، Opp Burjuman, Al Karama) in Dubai is reasonably priced and highly rated. Definitely try the tibs or beyayenet (vegetarian platter)!
Awash Ethiopian Restaurant (New York, USA)
Awash has two locations in New York City (check their website for details). They offer a lunch buffet, and amazing vegan and meat platters.You can also get take out!
Messob Ethiopian Restaurant (Los Angeles, USA)
If you want authenticity this place is perfect. Cozy, low-priced and authentic.
Awash Ethiopian Restaurant (San Diego, USA)
This place might not look great and it's located in a small market store, but it's actually amazing. One of the best Ethiopian food I've eaten outside of Ethiopia.
Zeret Kitchen (London – Peckam, UK)
Zeret is a hole in the wall Ethiopian restaurant in Peckam, an often forgotten corner of London. You need to wait for a table almost always, but it's worth it. Their lamb is delicious and the portions are enormous.