Are you looking for the perfect Paris photography locations? Paris is one of the most photogenic places in the world for a good reason. The city combines old architecture, with stunning gardens and palaces, with charming cafes. Whether you are looking for instagrammable places in Paris, a spot for a family photoshoot, or just
I have lived in Paris as a student and revisited the city hundreds of times, so I know the city quite well. If a photo spot you have in mind isn't listed or you have any questions, do not hesitate to ask me in the comments.
This list below includes the best Paris photography locations including some of the most iconic ones, but also some hidden spots. Don't skip a spot because it's a popular location (eg. Montmarte) – it's popular for a reason and while it might be more crowded, it's definitely still worth your time!
If you'd like to stay near any of these locations, check out my ultimate guide on where to stay in Paris depending on your preferences and enjoy your trip to Paris!
Also, don't forget that Paris offers plenty of amazing day trips to other amazing castles, palaces and gardens that are must-see spots on every photographer's Paris bucket list.
Great Photo Spots in Paris
1. Eiffel Tower
Everyone wants a photo with the Eiffel Tower and your possibilities are endless! If you're looking for the best spots for Eiffel Tower photo, there's no such thing as a top spot. Each spot has a different charm and hence why I included various options.
Because of endless opportunities and angles, I put together a separate post on best places for an Eiffel Tower photoshoot.
---
2. Pont Alexandre III
The Pont Alexandre III is a deck arch bridge that spans the Seine that connects the Champs-Élysées with those of the Invalides and Eiffel Tower. The bridge itself is stunning and the views from it are photoworthy. There are always many wedding photoshoots going on there, but everyone is always respectful regardless of whether you're just shooting a quick selfie, complicated Instagram scene, or professional gown photoshoot.
Click here for Google Maps Location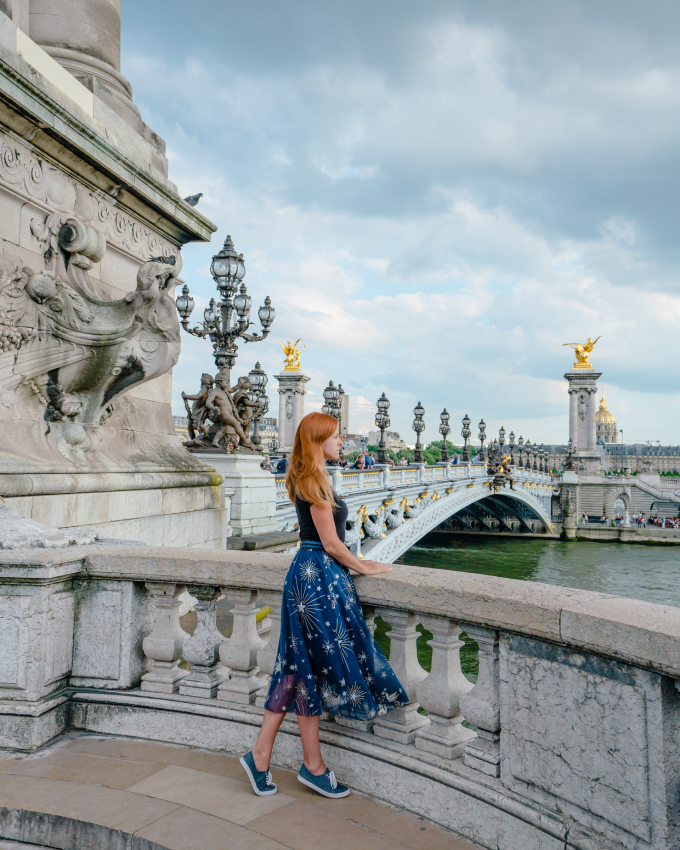 3. Notre Dame
Notre Dame Cathedral used to be the top spots to photograph, especially the gargoyles from the terrace. Unfortunately, due to the fire of 2019, this is obviously no longer possible as the terrace and roof are under renovation.
But, it doesn't mean the cathedral isn't photogenic from the front of the sides. It's actually a pretty awesome spot for cherry blossoms if you're traveling in the springtime.
Click here for Google Maps Location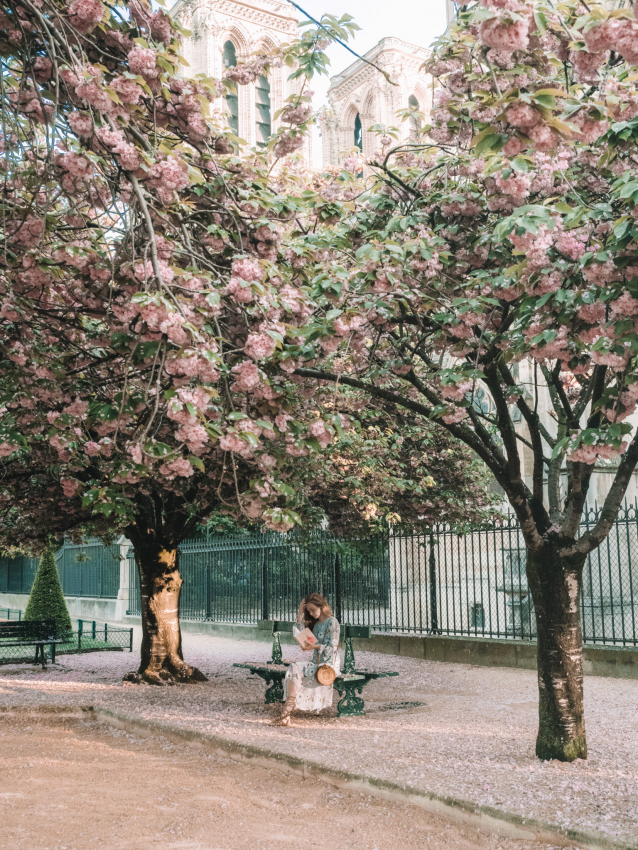 ---
4. Arc de Triomphe
Arc de Triomphe is a gorgeous building worth a photo.
My tip is not to go there very late. It's not the safest spot, especially if you're just walking with your girlfriends.
IMPORTANT: I see many Instagrammers promoting standing or even worse – sitting, on the dot located in the middle of the road saying the traffic cannot go that way. Trust me, many cars still pass through so it's pretty dangerous. Also, if you ever partied in Paris you know you'd never want to actually sit on the street especially in your fancy clothes 😉
Click here for Google Maps Location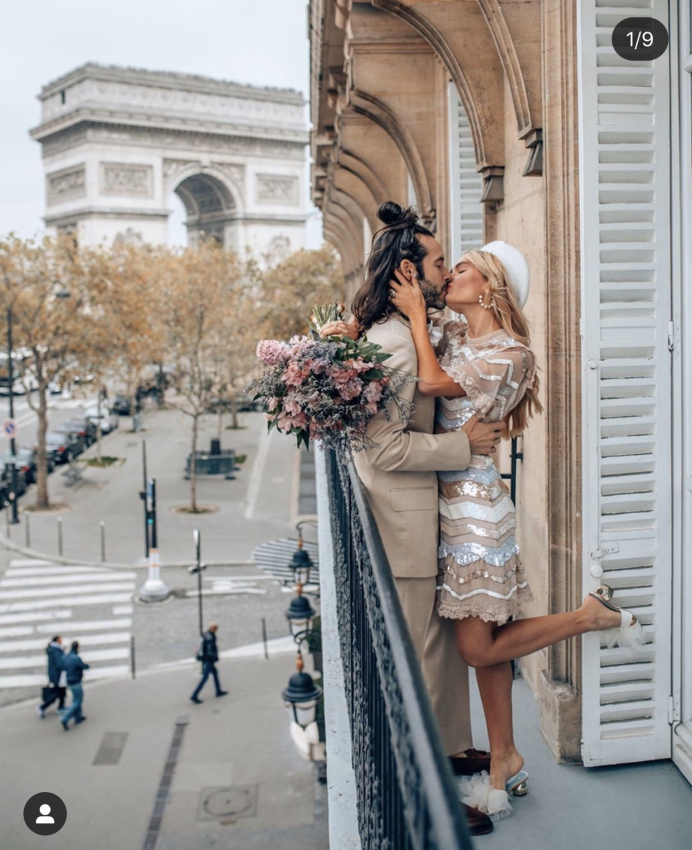 ---
5. Plaza Athenee Balcony
Plaza Athenee is THE instagrammable hotel that comes with a heavy price tag. Personally, unless you want the same photo a famous instagrammer has got, I would suggest Shangri-La Hotel instead or even an AirBnB with an amazing rooftop.
Click here for Google Maps Location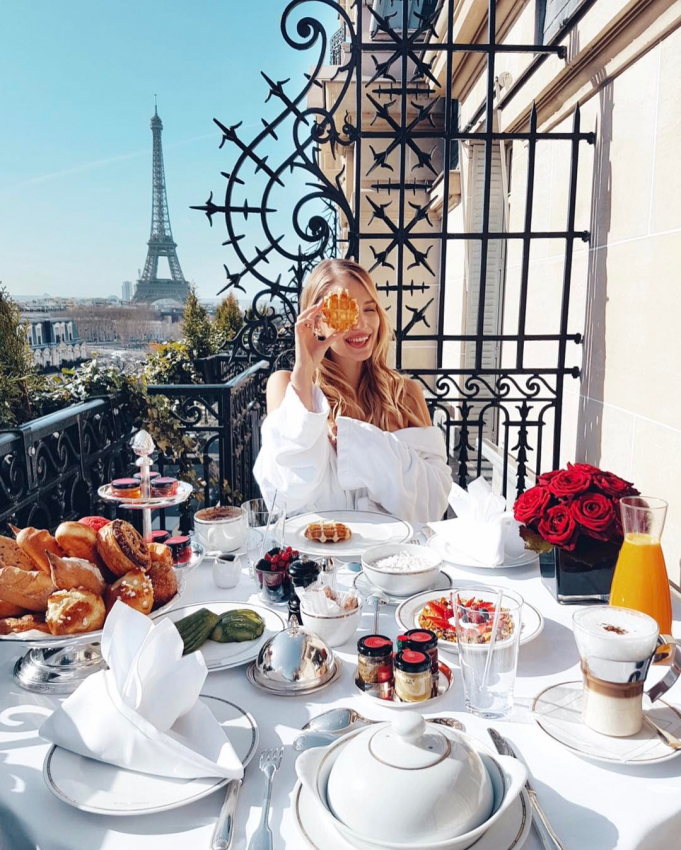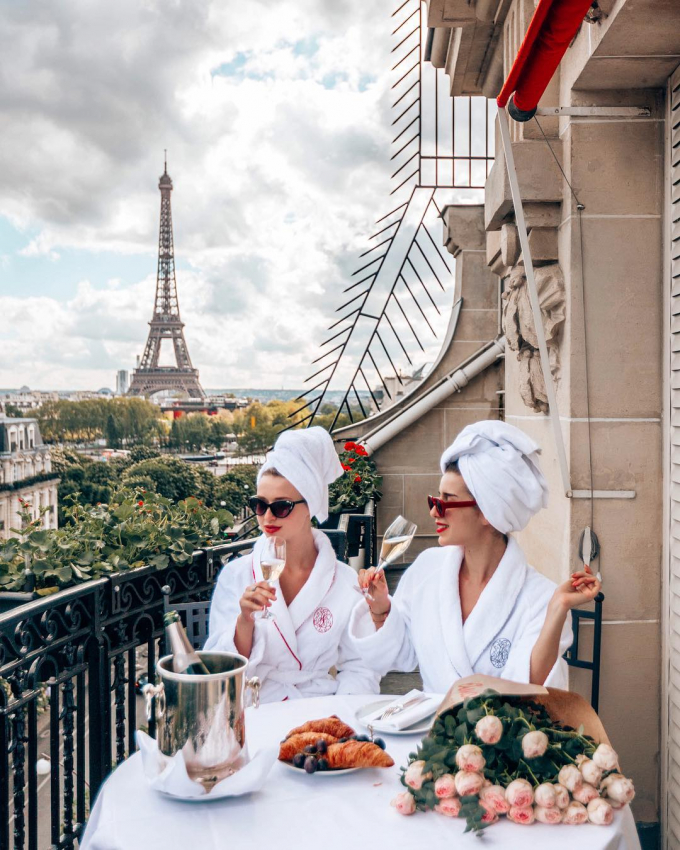 Credit: @leoniehanne | @katieone
6. Musee D'Orsay Clock
Situated in the 7th arrondissement of Paris, the Musée d'Orsay is a former railway station converted to host some of the most iconic works of impressionists.
The photogenic clock is part of this former train station offering great views over Paris and the Seine river. Head there early in the morning to avoid crowds and enjoy the museum after getting your photo.
Click here for Google Maps Location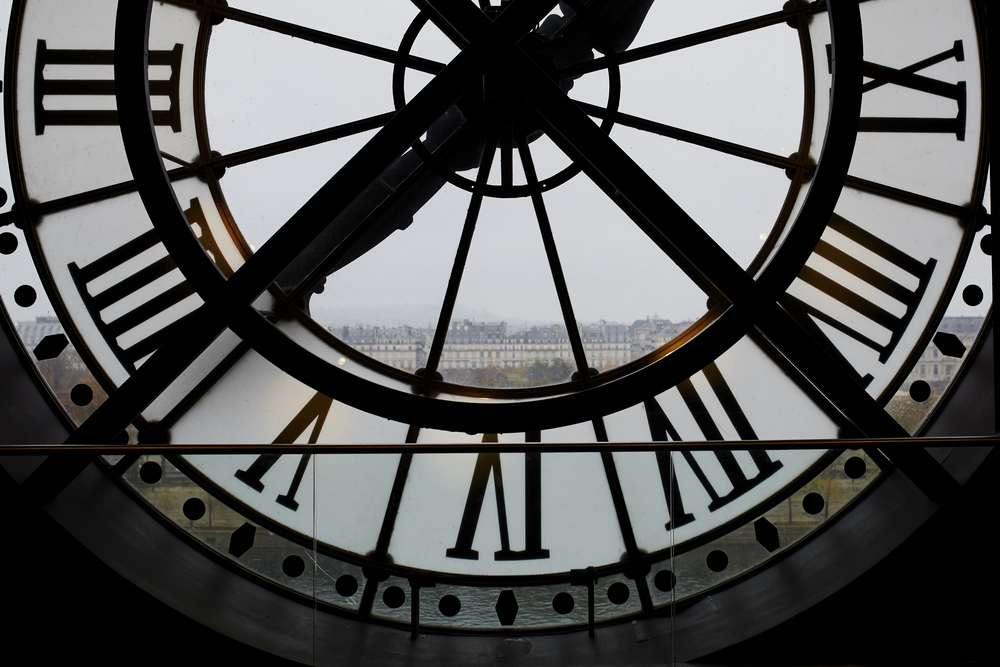 7. Les Colonnes de Buren
The 17th century Palais Royal is photogenic itself, but the most popular part – Les Colonnes de Buren. It used to be a highly controversial art installation from 1980s. Its original purpose was to ventilate, but it turned out to be not sustainable enough. Nevertheless, it's a great photo spot these days!
Click here for Google Maps Location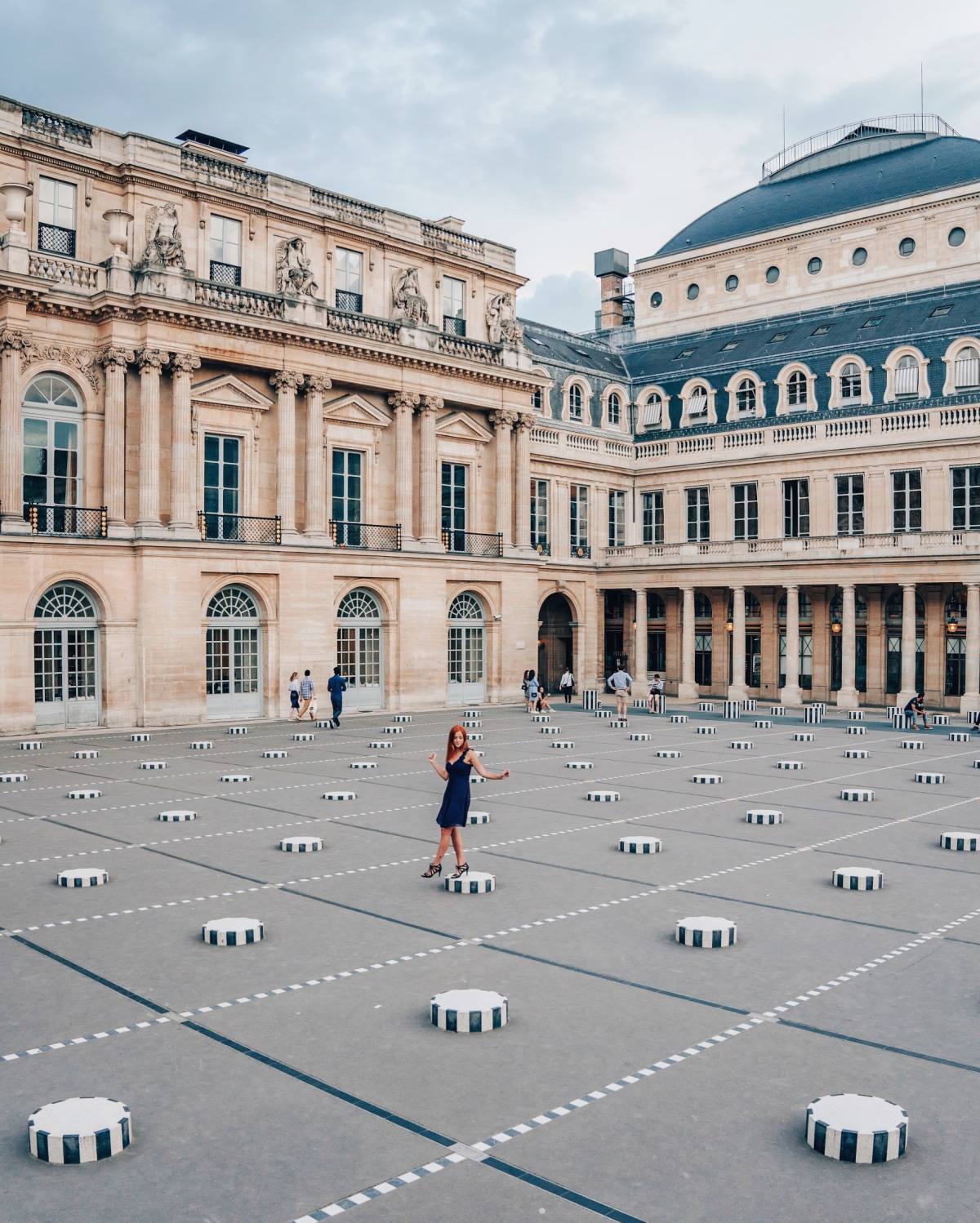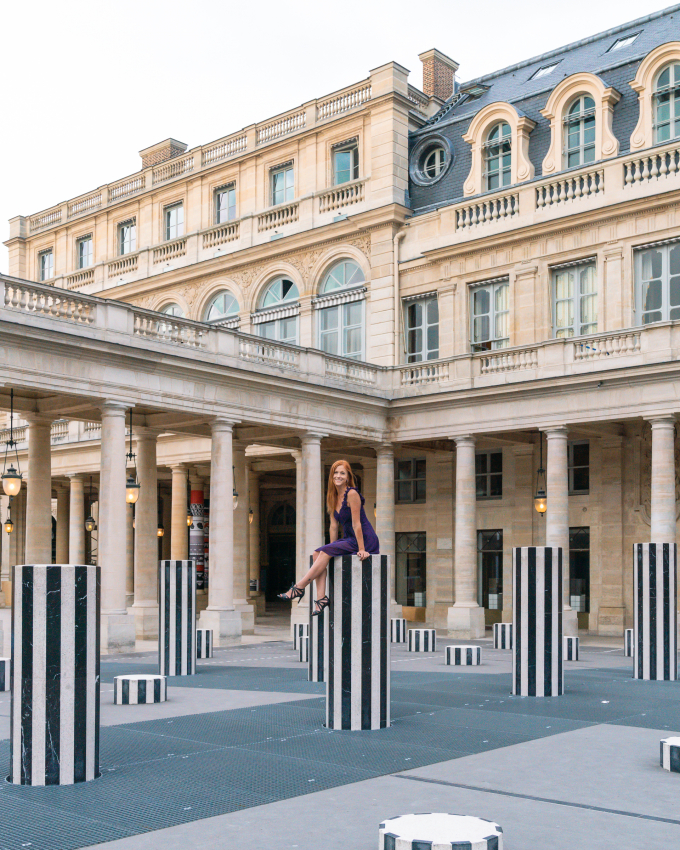 8. Louvre
The Louvre offers endless photo opportunities. Starting from the pyramid at the entrance, to view from side cafes and sunsets. However, you can also take photos inside the museum – it's pretty spectacular!
Click here for Google Maps Location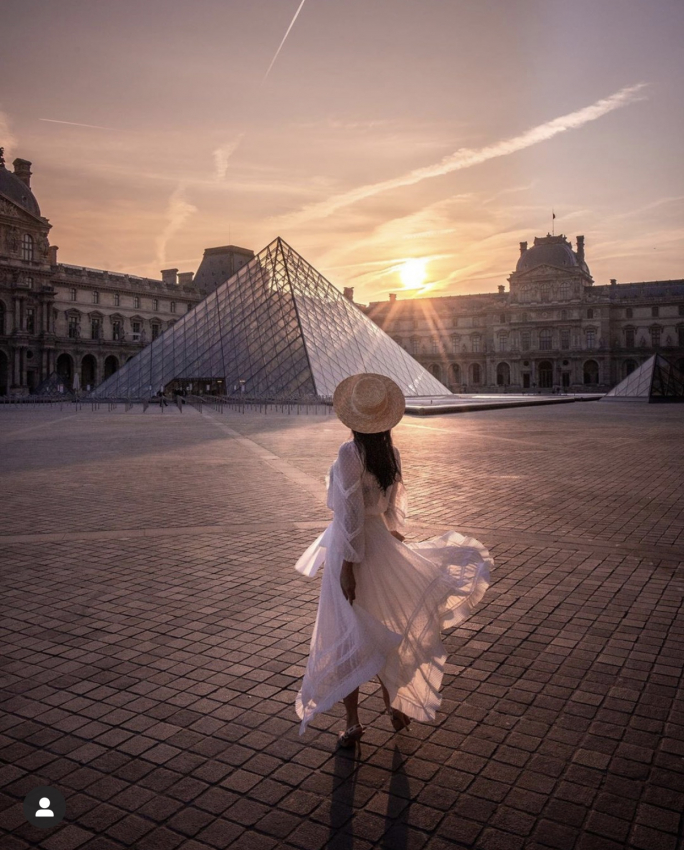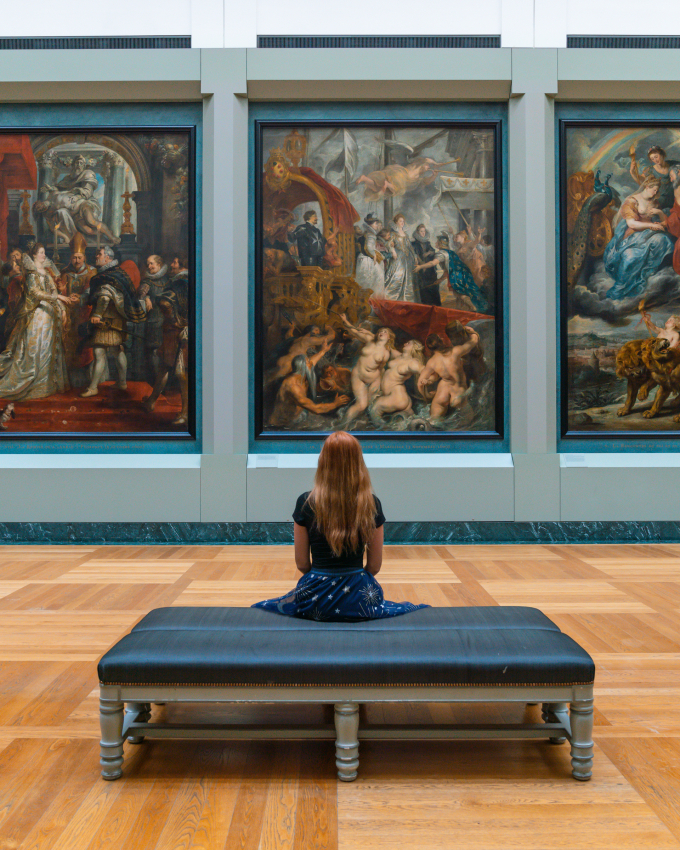 9. Galerie Lafayette
Galerie Lafayette is a shopping mall with the most incredible seasonal decorations. If you're visiting in the winter you need to see their Christmas tree.
There are many photo angles at Lafayette, but if you wish to take a photo on the glass bridge be aware of long lines.
10. Magazine Stands
Along the Seine there are plenty of newsstands that appear in literally every single movie featuring Paris.
Remember, if you want to take a photo please ask the owner if they're ok with being in the shot and having their stand photograph. It's a common courtesy.
11. Dior House
Dior House has never been on my bucket list when I lived in Paris, but thanks to a big Instagrammer @leoniehanne is became super famous.
Click here for Google Maps Location
12. Opera Garnier
My favorite photo spot in Paris. Opera Garnier is where the infamous Phantom of the Opera was born, so you'll see actors walking around in phantom's masks. Everything at this place is gorgeous – stairs, ceilings, balconies!
I recommend visiting right before they close when most crowds are gone. Since it's a working opera it requires tickets to visit, but there's no need to purchase them in advance.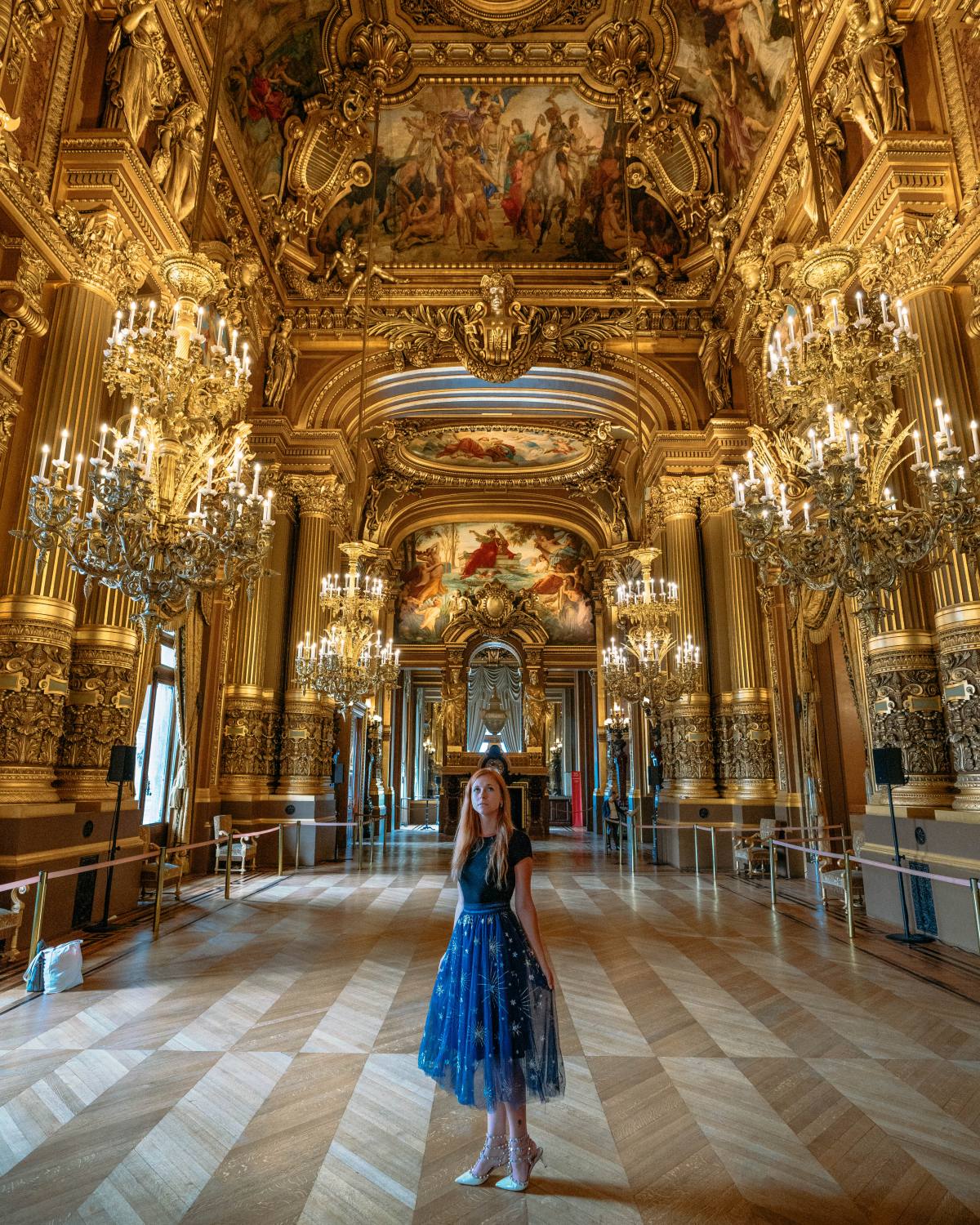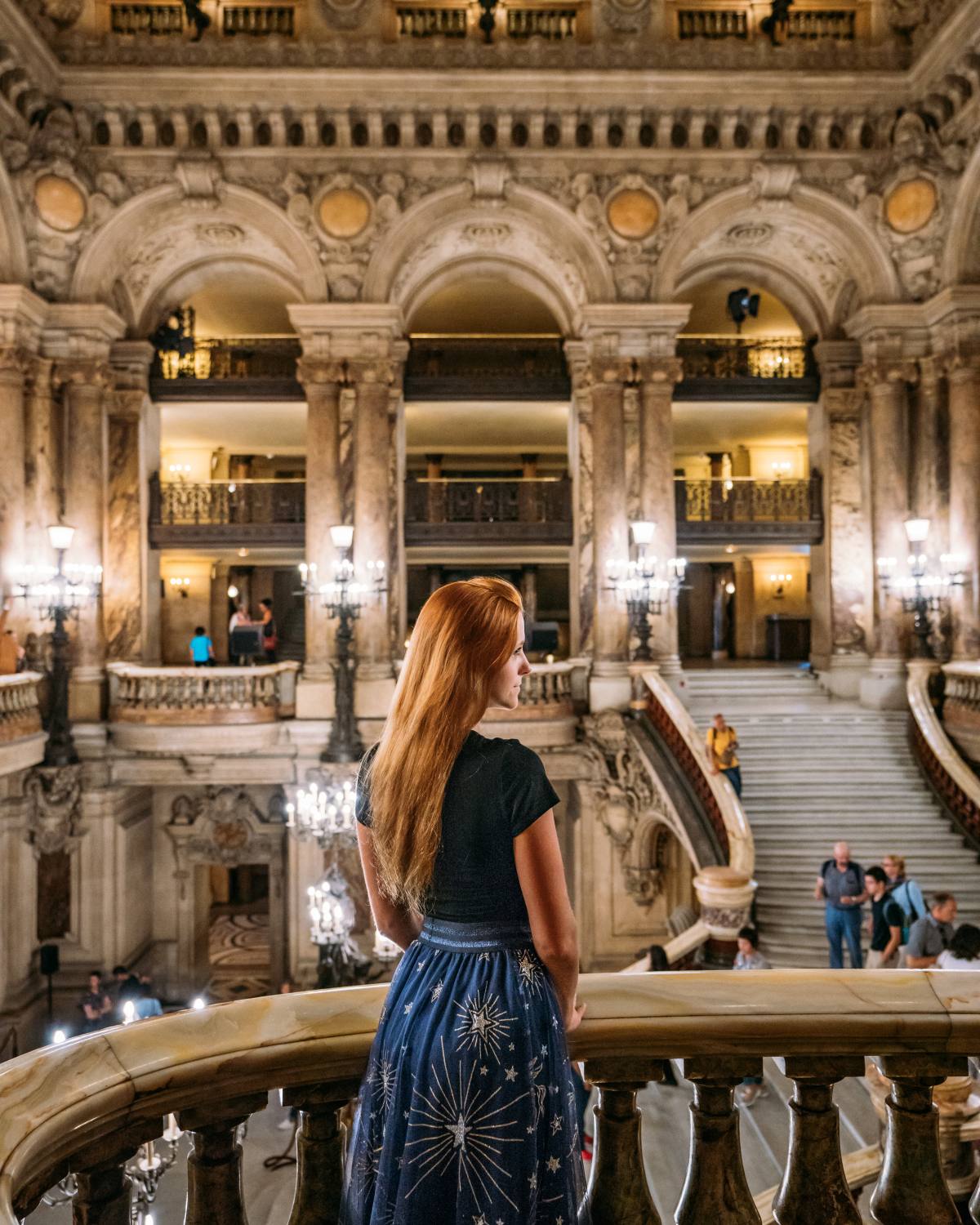 13. Sinking House of Montmarte
The house is not actually sinking – it's an optical illusion caused by a hill position. Perfect fun photo opportunity!
Click here for Google Maps Location
14. Le Consulat
Le Consular is an iconic cafe in Montmartre. Not my favorite spot since it's always packed with tourists (and if you go in the morning the tables aren't out and the magic disappears).
Click here for Google Maps Location
15. La Maison Rose in Montmartre
A pink building in Montmarte is a famous photo spot, yet it's never crowded for some reason. It's also a working restaurant so you can stop and grab a bite to eat.
I actually found streets around it way more photogenic, so remember to wander around Montmartre and simply get lost!
Click here for Google Maps Location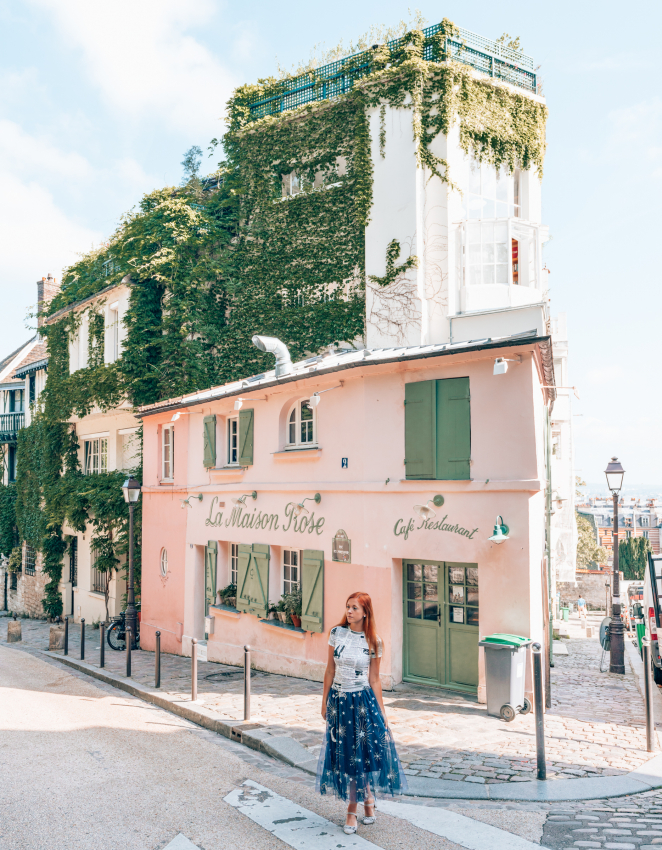 16. Sacré-Cœur
The Basilica of Sacred Heart of Paris is located on top of the hill in Montmartre. It's photogenic itself, but also offer a panorama of Paris when you're standing next to it. There's also a carousel at the bottom of the hilly meadow.
P.S. If you want to purchase the helium balloon for your photoshoot there are many stores in Paris that sell them. I got mine at 1000 Fetes store.
Click here for Google Maps Location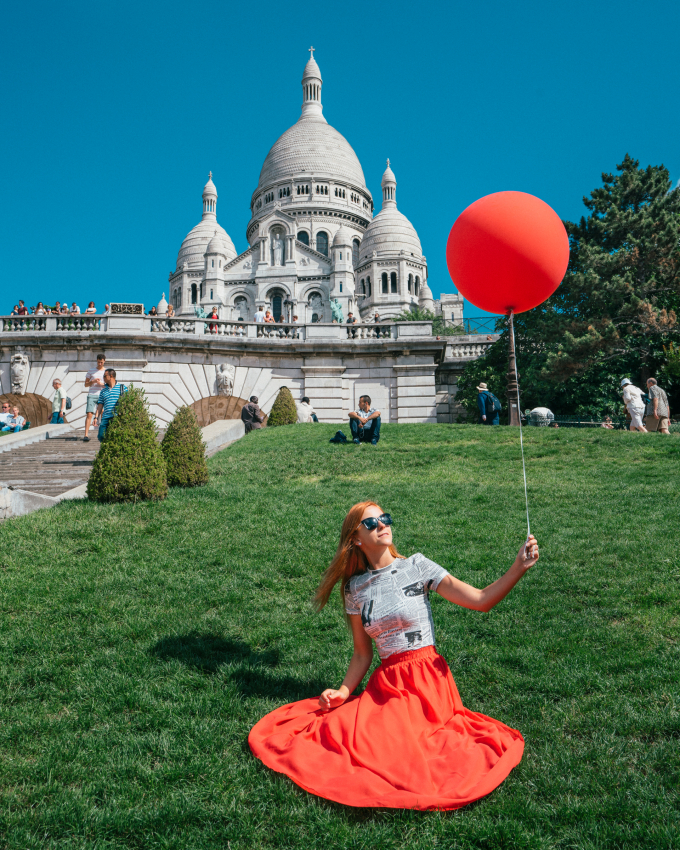 ---
Lesser-known photo locations in Paris:
17. Pink Mama
Pink Mama is a VERY photogenic restaurant. It might not be your typical "Paris photoshoot spot", but it's definitely very instagrammable. Plus, the food is actually excellent there.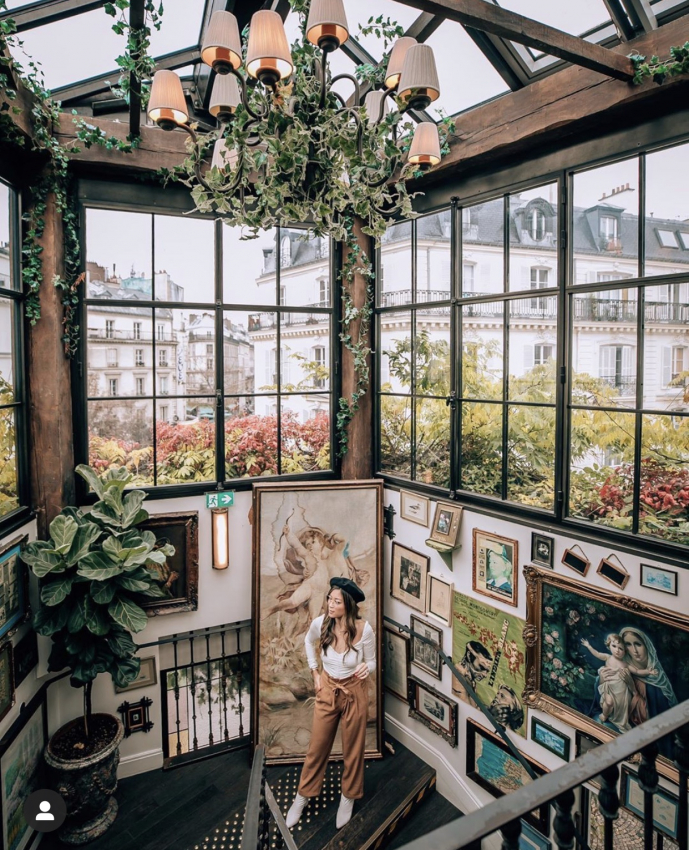 18. Rue Cremieux
Rue Cremieux is a regular street with houses painted in different colors, occasionally with different accents like a cat or bird. Think Seven Painted Ladies in San Francisco but on a bigger scale!
The street became famous and while it's a bit off the tourist path, due to the increased volume of wedding photoshoots the residents ask for not sitting on their porches and definitely respecting their privacy.
Click here for Google Maps Location
19. Square Gabriel Pierné
I discovered this spot by accident and I'm stunned it's not more famous. Square Gabriel Pierne is a small square, just like many others in Paris, but the benches are shaped like open books.
Click here for Google Maps Location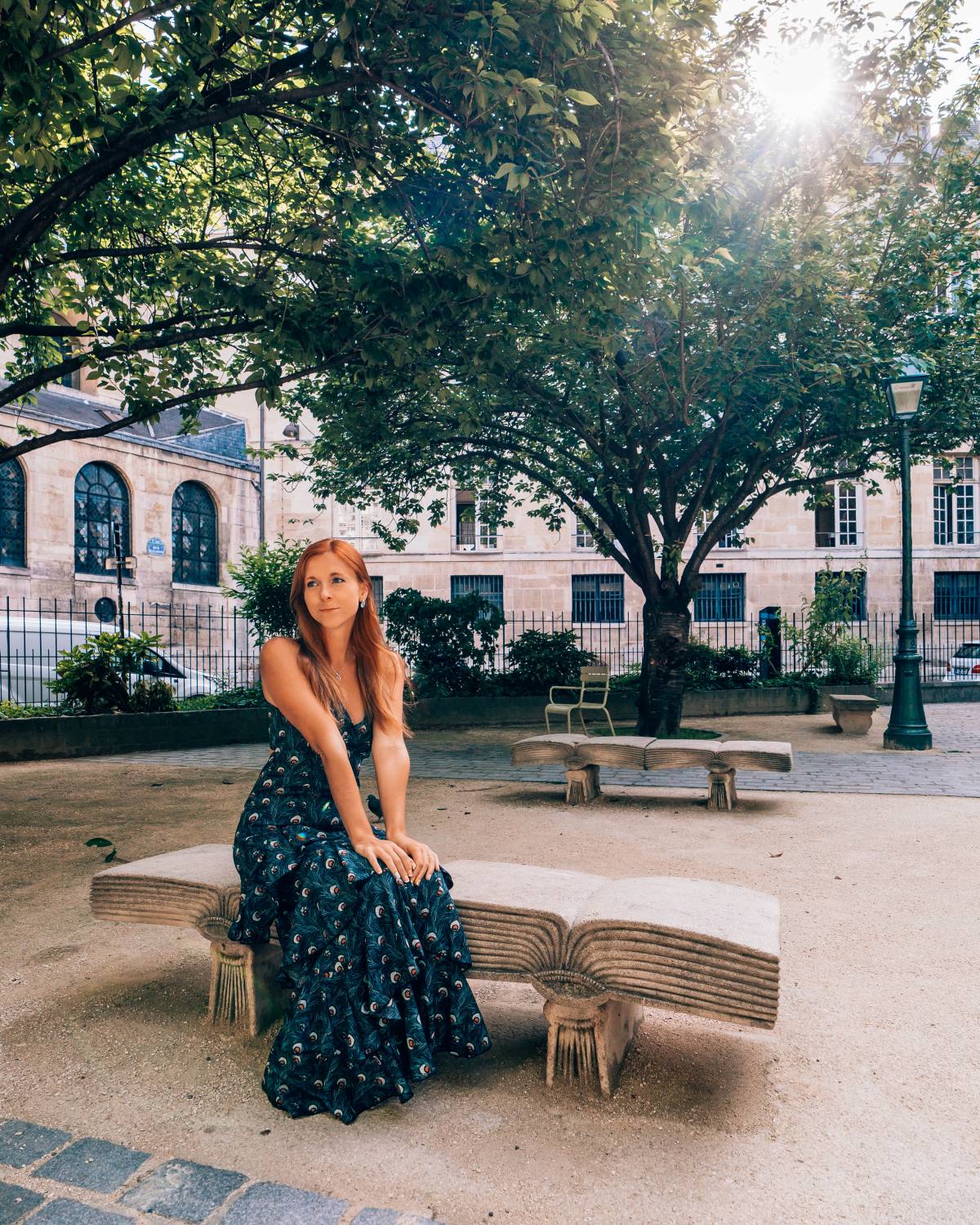 20. Pigalle Basketball Court
Pigalle doesn't have the greatest reputation due to its past, but it's now perfectly safe. It's also home to one of the most colorful basketball court in the world.
It's not easy to get to a spot, as it's private property and often closed or used by actual players. If you're very nice to the caretaker he can open it for you for a few minutes before a new game starts.
Click here for Google Maps Location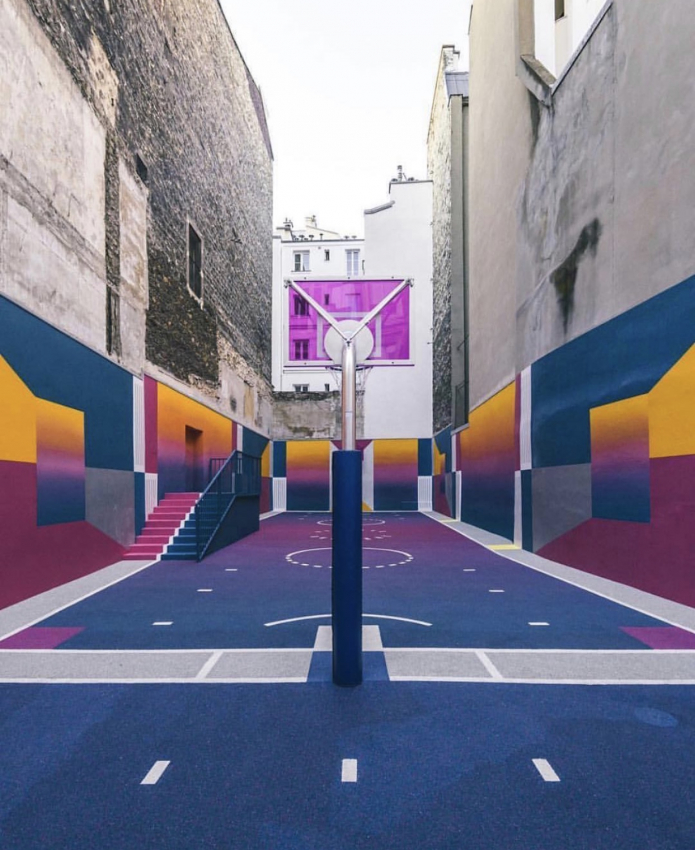 21. Au Vieux Paris d'Arcole
It's a semi-secret cafe a few steps from Notre Dame. It looks very cute with tables set outside and the decor changes during the year to match the season and holidays.
One thing almost every photographer is skipping is to actually go inside – the cafe has a whole restaurant floor upstairs and it's just gorgeous!
Click here for Google Maps Location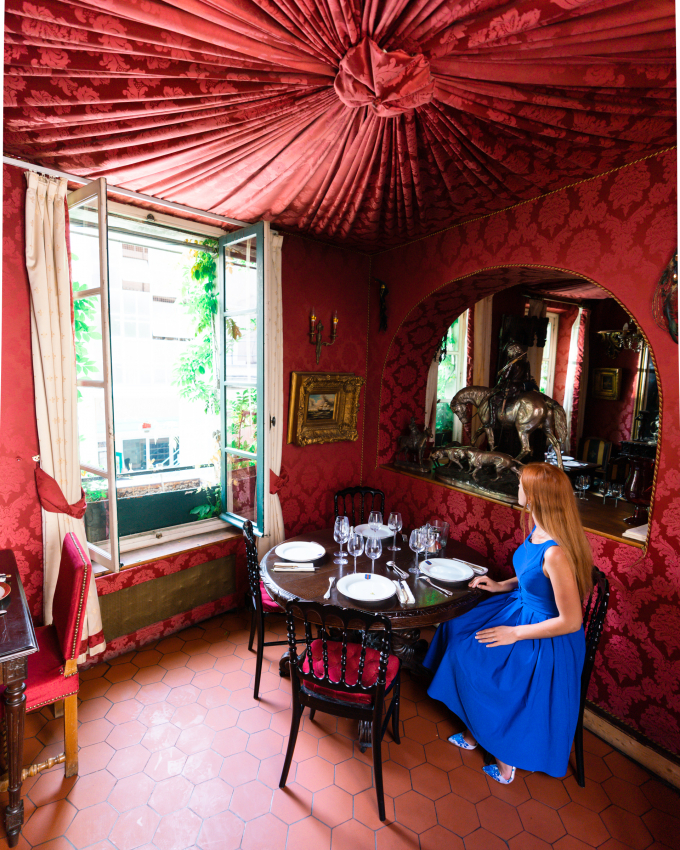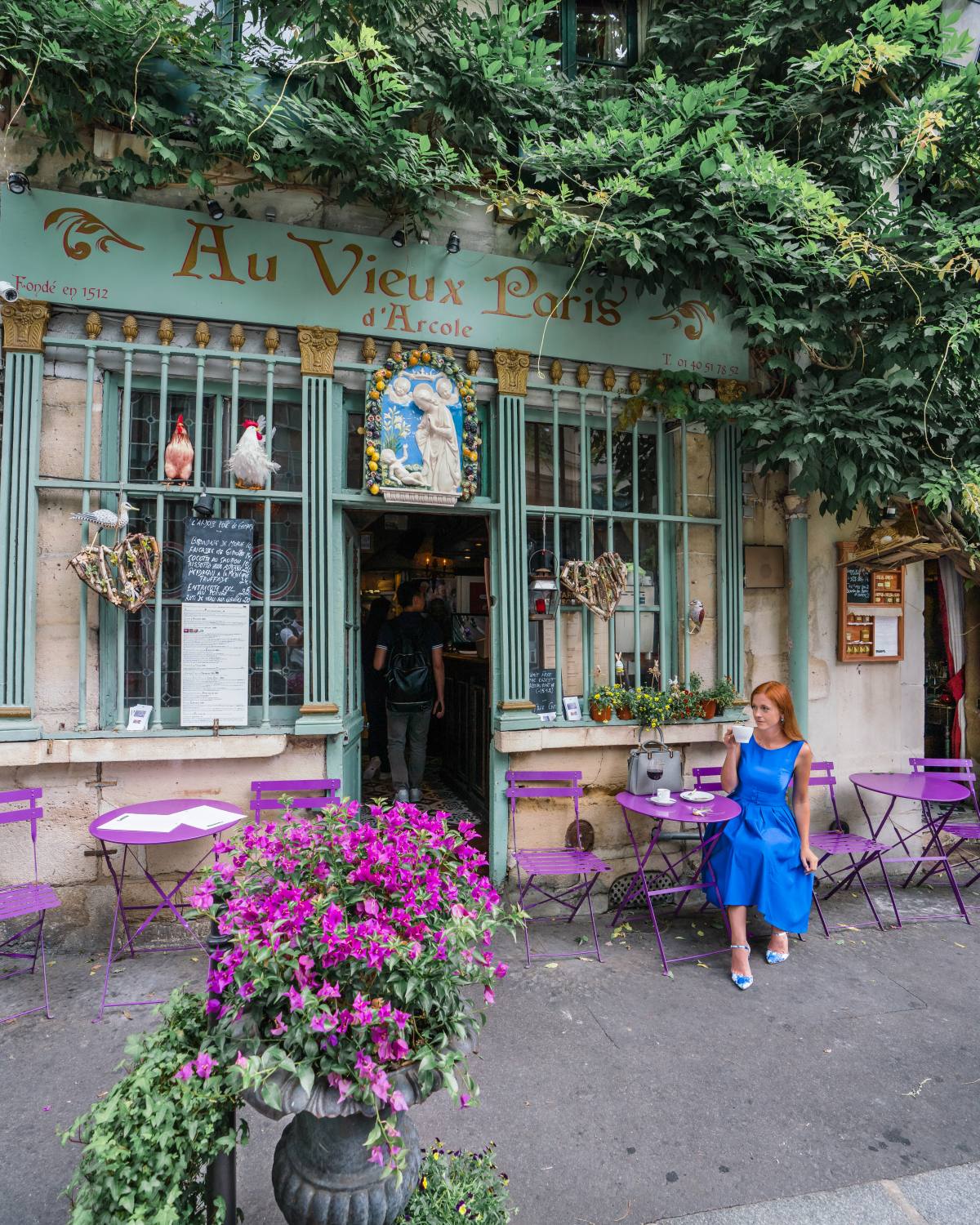 22. Sainte Chapelle
Most tourists head to Notre Dame and skip Saint Chapelle, located right next door on the same island! It has a beautiful chapel with tall floor-to-roof stained glass windows and gorgeous gothic ceilings.
Click here for Google Maps Location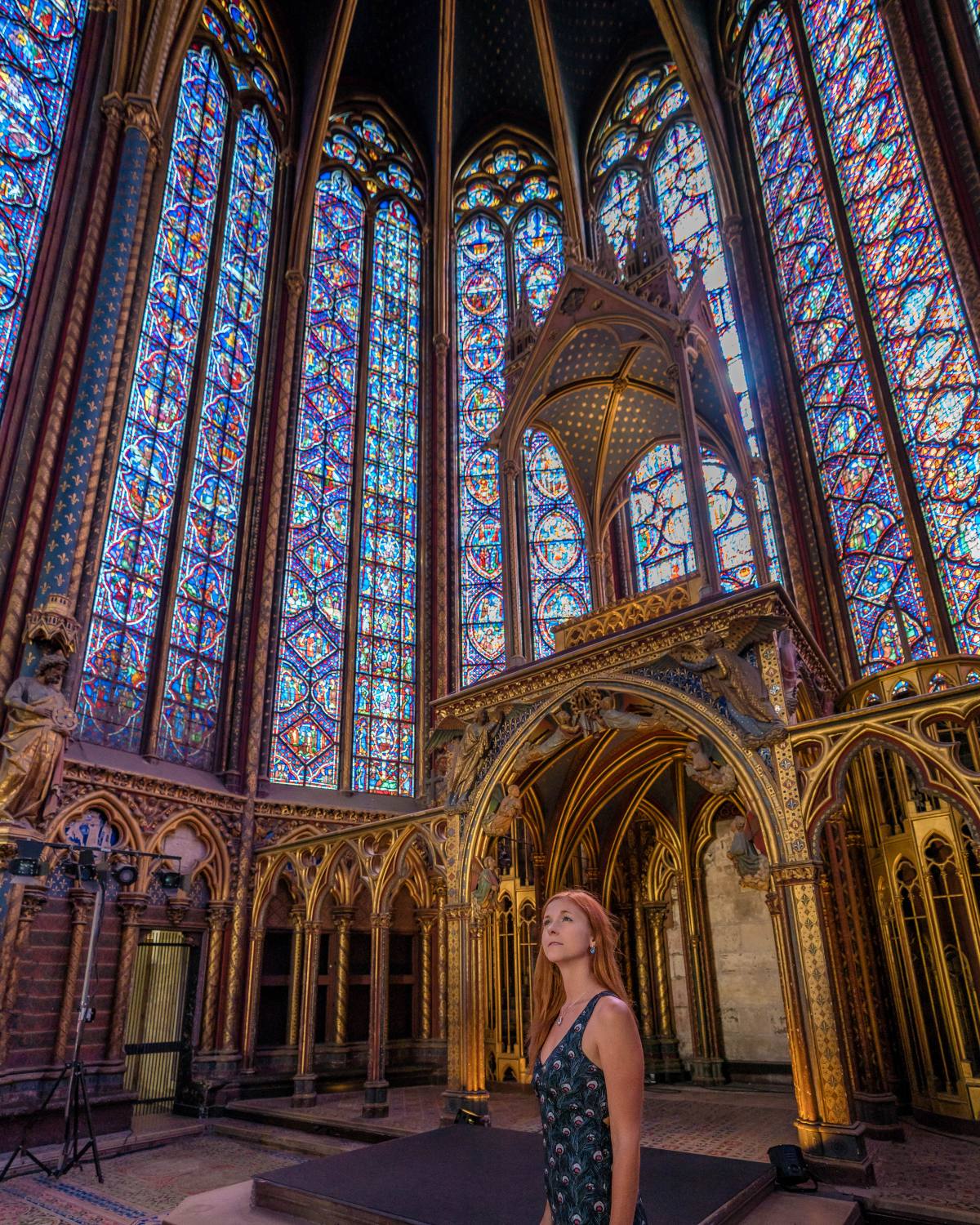 23. Galerie Vivienne
A visit to the covered passage is a must in Paris. Vivienne is 176 meters long and 3 meters wide, and officially a historic monument. It's never too busy, so you can shoot your photos any time!
Click here for Google Maps Location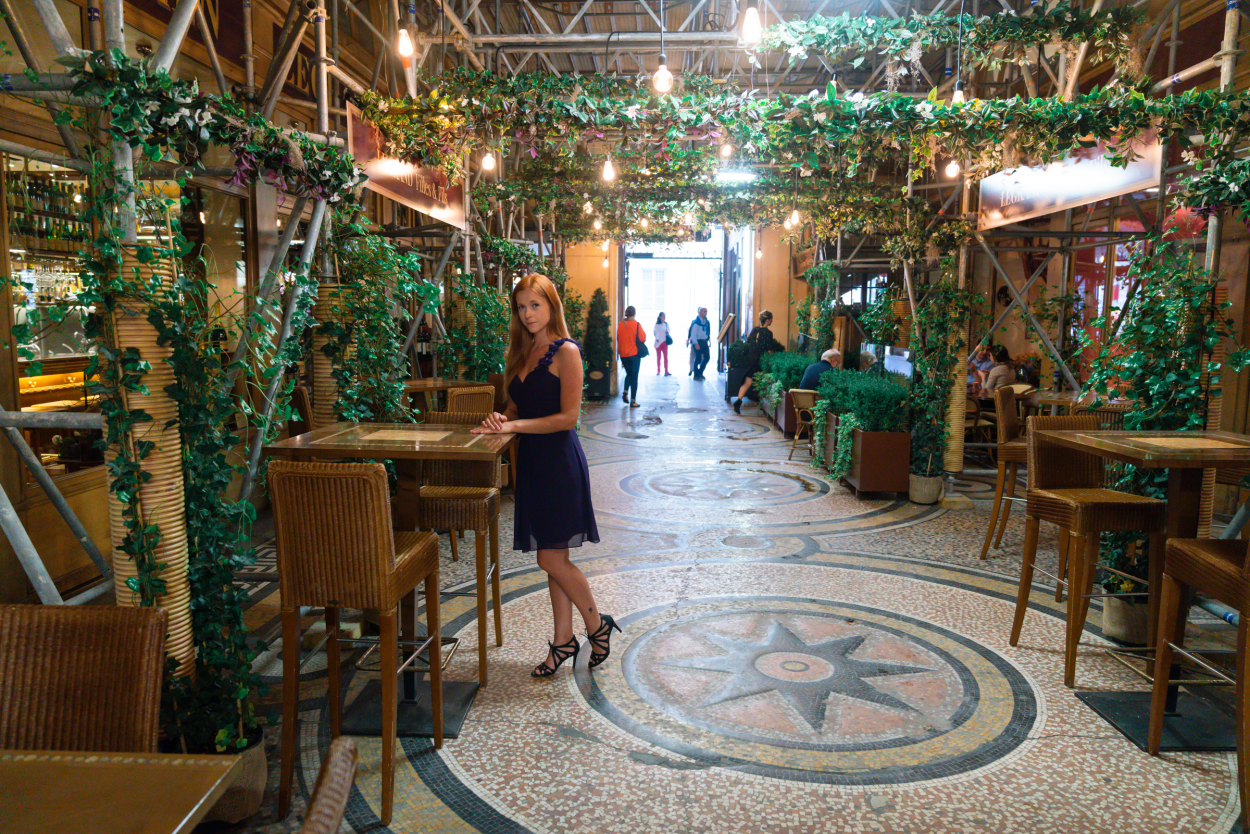 24. Midnight in Paris location
You've probably seen the movie! The locations of Woody Allen's masterpiece are now a mini-tourist attraction, but I've never seen any crowds to be honest. Head to Place Place de l'Abbé Basset to sit on the same staircase Owen Wilson sat when he was picked up by a magic car. Actually, if you wait around you might see a vintage car passing by quite often.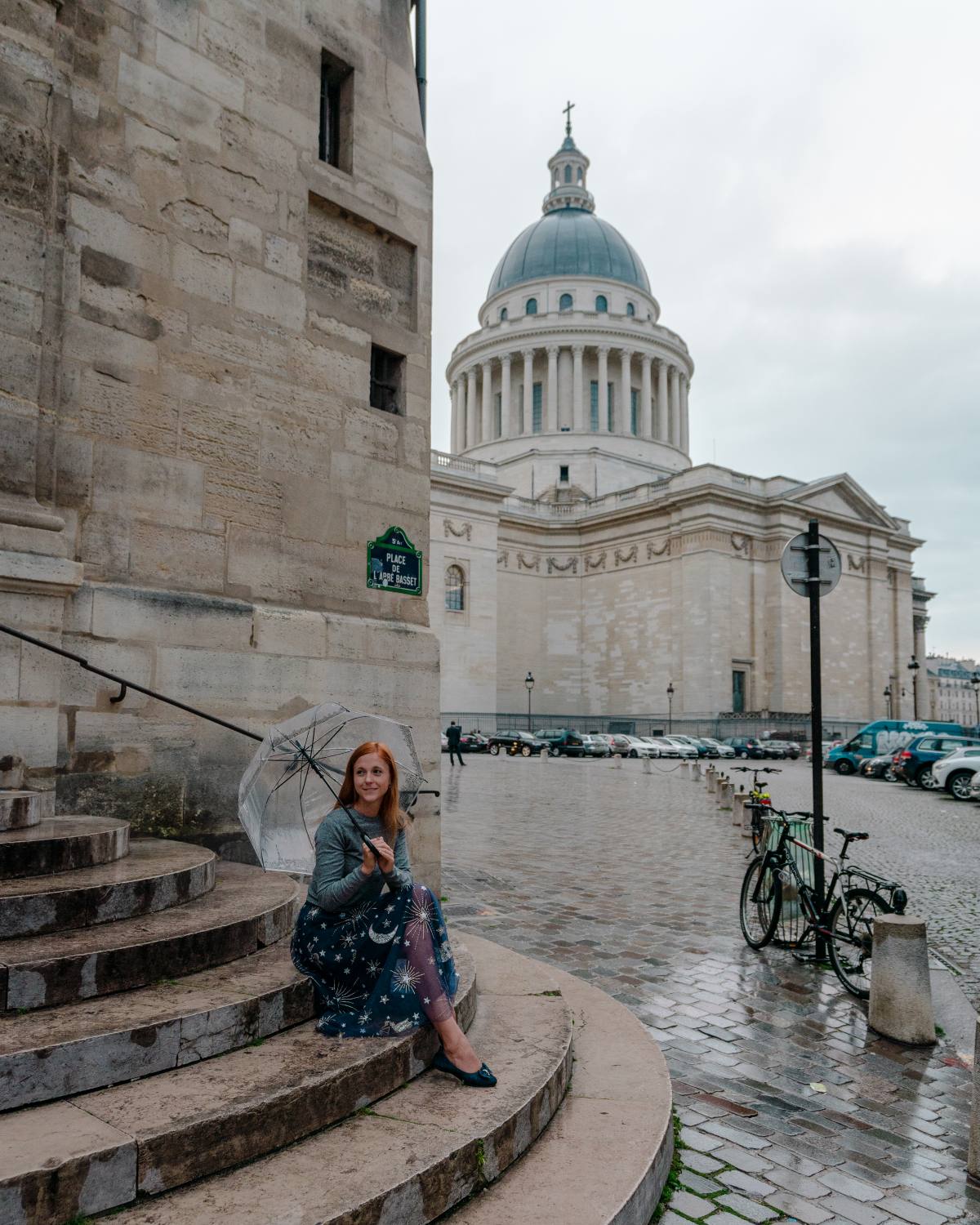 Once you're done with your photos check out Polidor restaurant nearby – it's also been featured in the movie. It's a very old traditional and photogenic restaurant that I really love.
Click here for Google Maps Location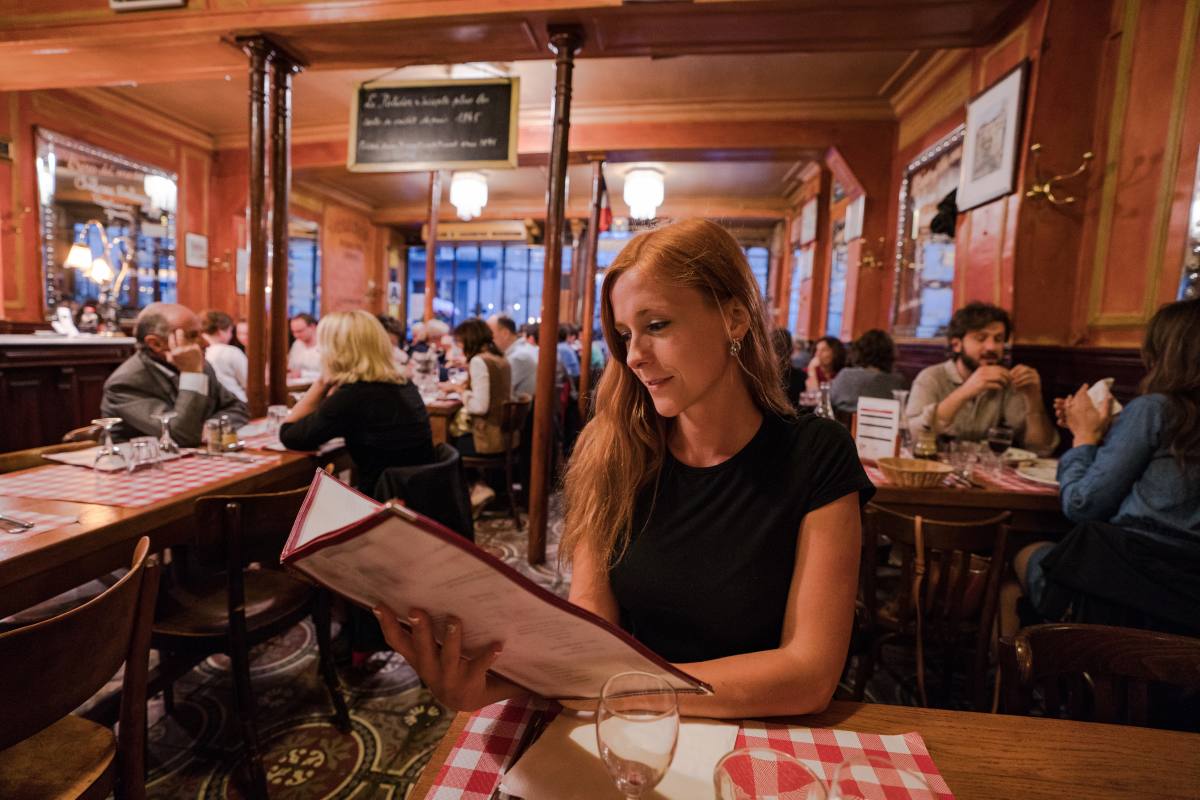 25. Le Refuge
Le Refuge is a cafe that's not very photo-worthy itself, but its location creates a beautiful Parisian shot.
Click here for Google Maps Location