Petra, one of the 7 Wonders of the World, is undeniably on many people's bucket lists. For many visitors, visiting Petra is the only stop on their Jordan trip.
It's surely a price trip, so you might want to get the most out of your visit. Here are my most essential tips for visiting Petra.
Essential Tips for Visiting Petra in Jordan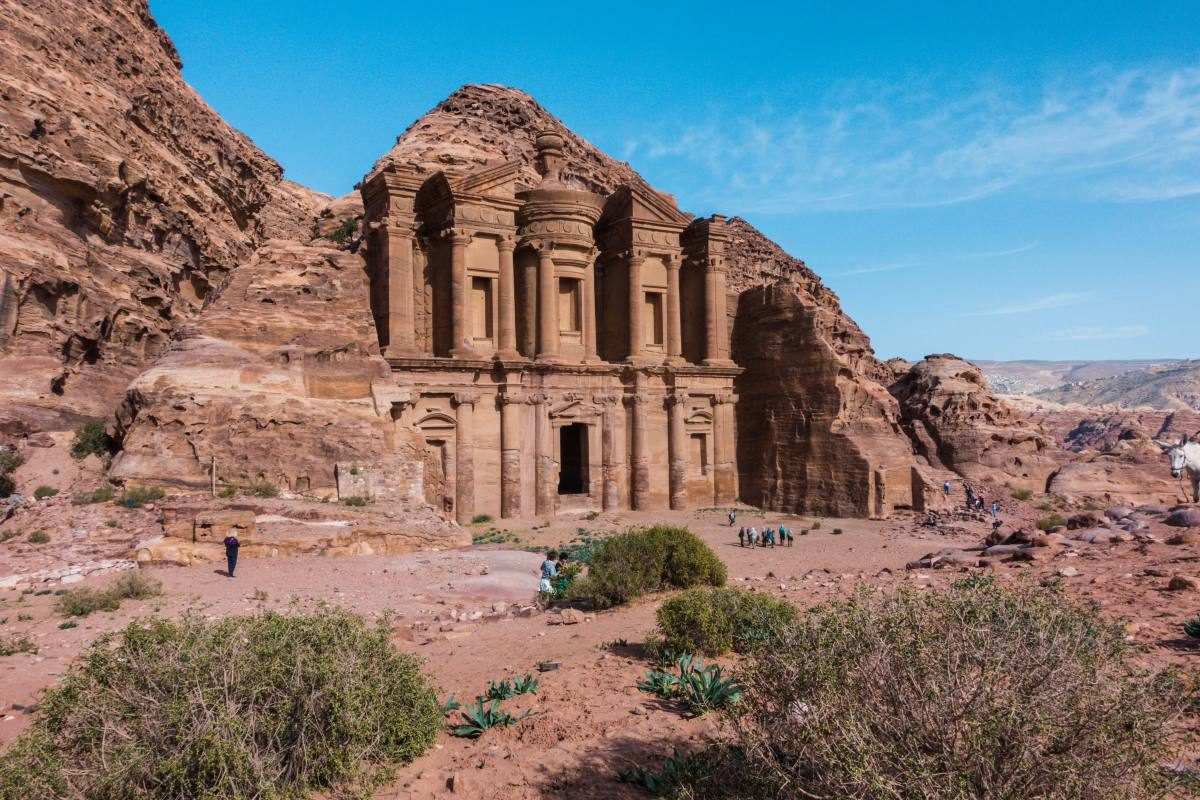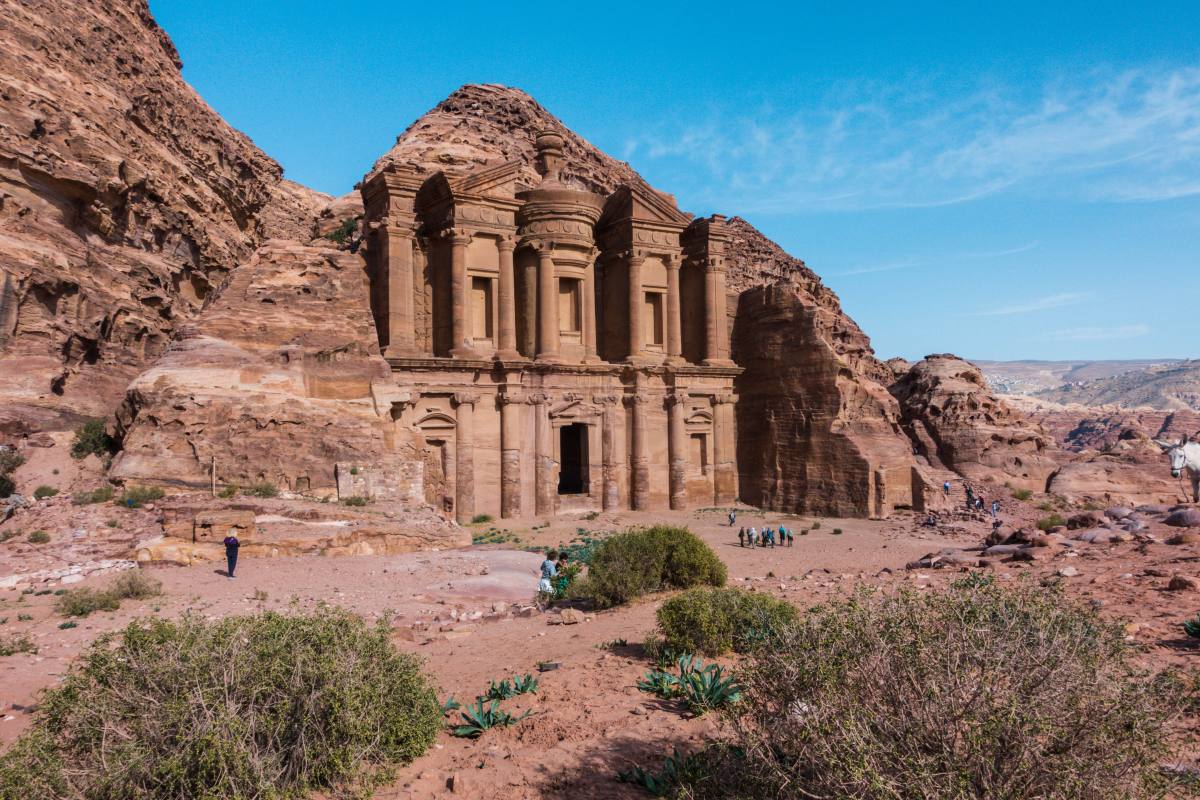 What Exactly is Petra in Jordan?
Also known as the Rose City because of the color of the stone it is carved from, Petra was established in 312BC as the capital city for the Nabataeans.
It remained under Nabataean rule until 100 AD when the Romans invaded it, and in the 12 century, it was finally abandoned and left to the local people.
The site remained unknown to the Western world outside local communities until 1812 when Swiss explorer Johann Ludwig Burckhardt found it.
The Lost City of Petra was designated a World Heritage Site on December 6th, 1985 and became Jordan's most visited tourist attraction.
The Treasury – The Most Famous Landmark of Petra
The Treasury was named so because it was believed to have treasures hidden inside. I was told that there were four lions at the top of it, but the Bedouins used to shoot at the facade and these statues because they thought that Pharaoh put his gold and treasures in them. However, no treasure has ever been found there.
These days, the official info is that Bedouins are the only one who is allowed to live on the site. They used to live in caves on the site, but these days they might occasionally sleep in their local stalls if even.
They've moved to a nearby village, but return to the site on a daily basis to make some money. No one actually knows what the treasury was for.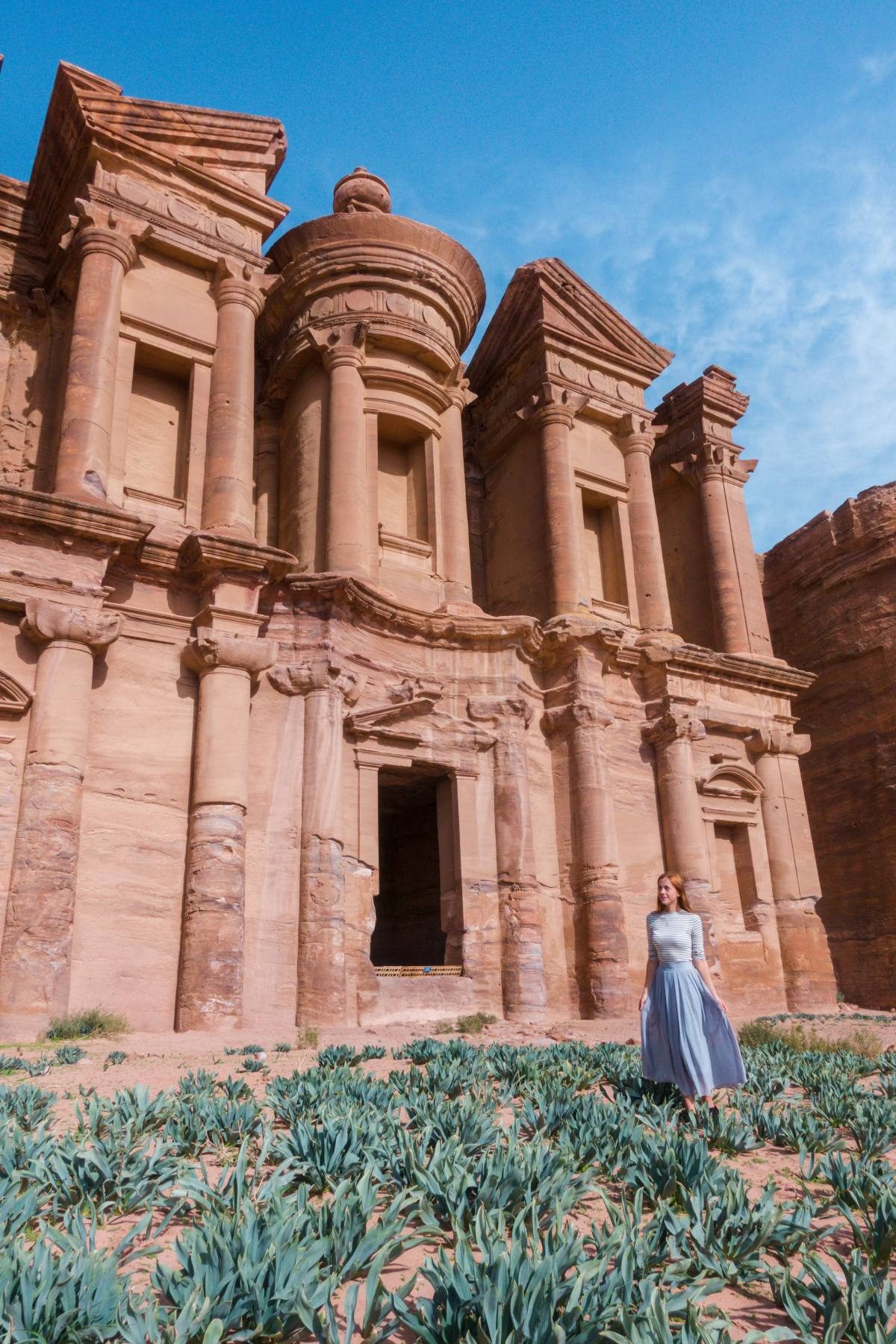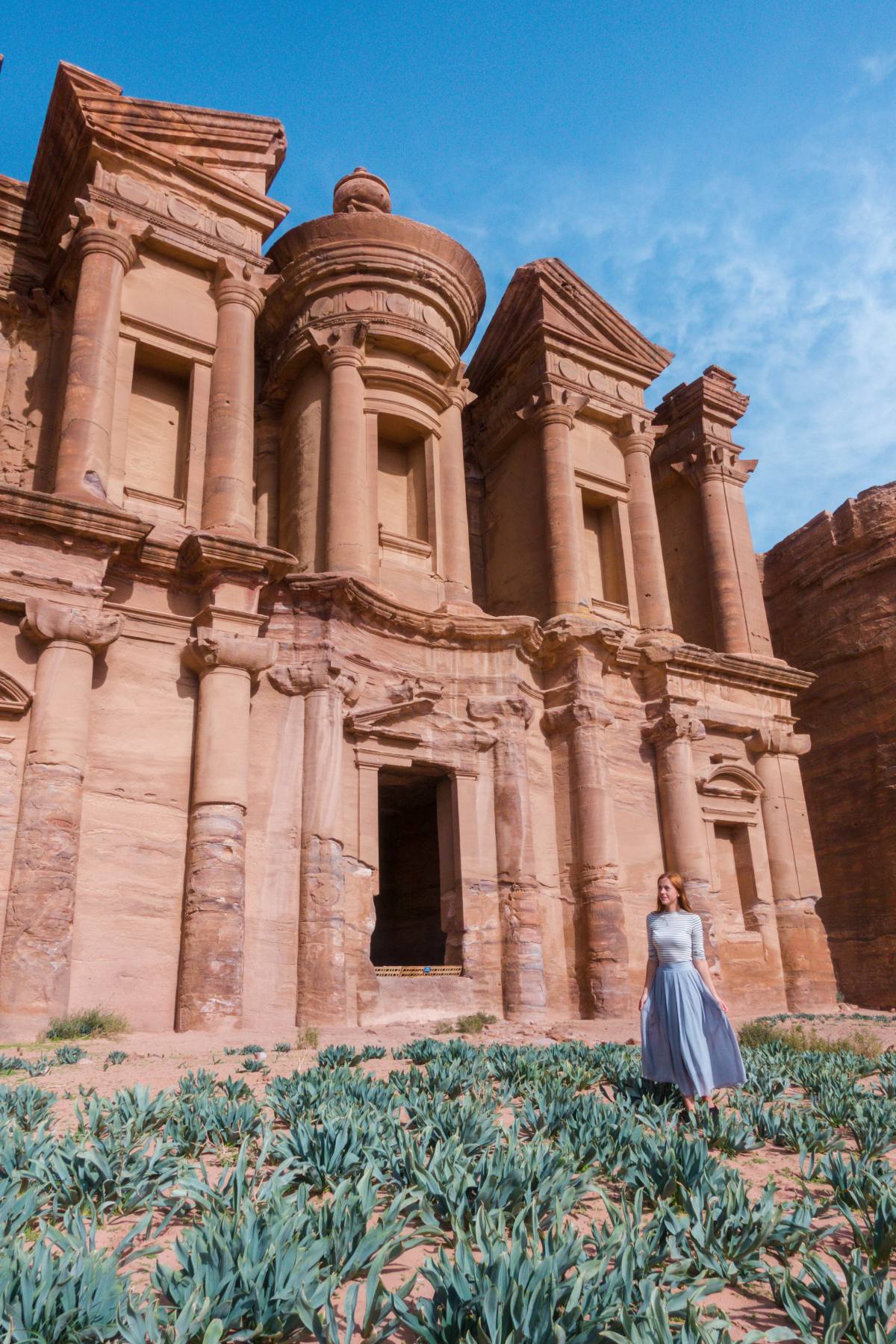 ---
Solo Female in Jordan
Many ask whether it's safe to travel to Jordan as a solo female. I think the definition of safety is relative and depends on personal experience. Define "safe" first. In the same place, one woman can feel at ease, but others can struggle.
If you ask me, I'd tell you that I felt completely safe at all times and I can say the same about Lebanon or Iran. As I always say: use your common sense when traveling and trust your instincts when it comes to strangers.
The most famous woman traveling to Petra is probably Marguerite van Geldermalsen from New Zealand who met the charismatic Mohammad, a Bedouin man living in a cave in Petra selling souvenirs, who convinced her that he was the man for her.
She's written a book about her experiences called Married To A Bedouin, which you can buy there and visit their souvenir stall.
While her story is slightly different than reality these days. While I did get whistled at here and there (so did I in many places including the US or Europe) and caught the interest of locals as I self-drove everywhere on my own, I experienced mostly kindness and friendliness.
However, I did hear stories of girls going alone at night to the middle of the desert to have drinks with someone they just met claiming to be a Bedouin and getting drugged.
While it's horrible, I would never recommend someone to do such thing in any foreign country or even their home country.
That said, take your precautions when you travel to Jordan or anywhere abroad and stay alert.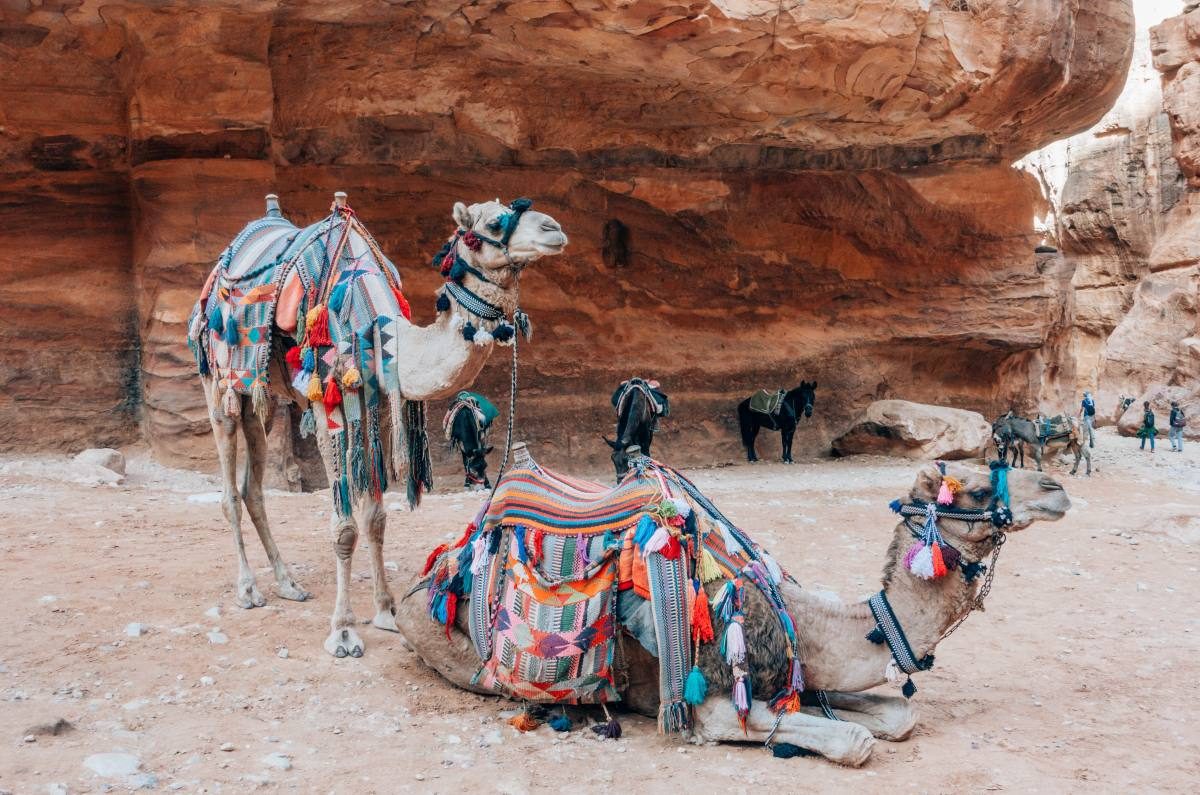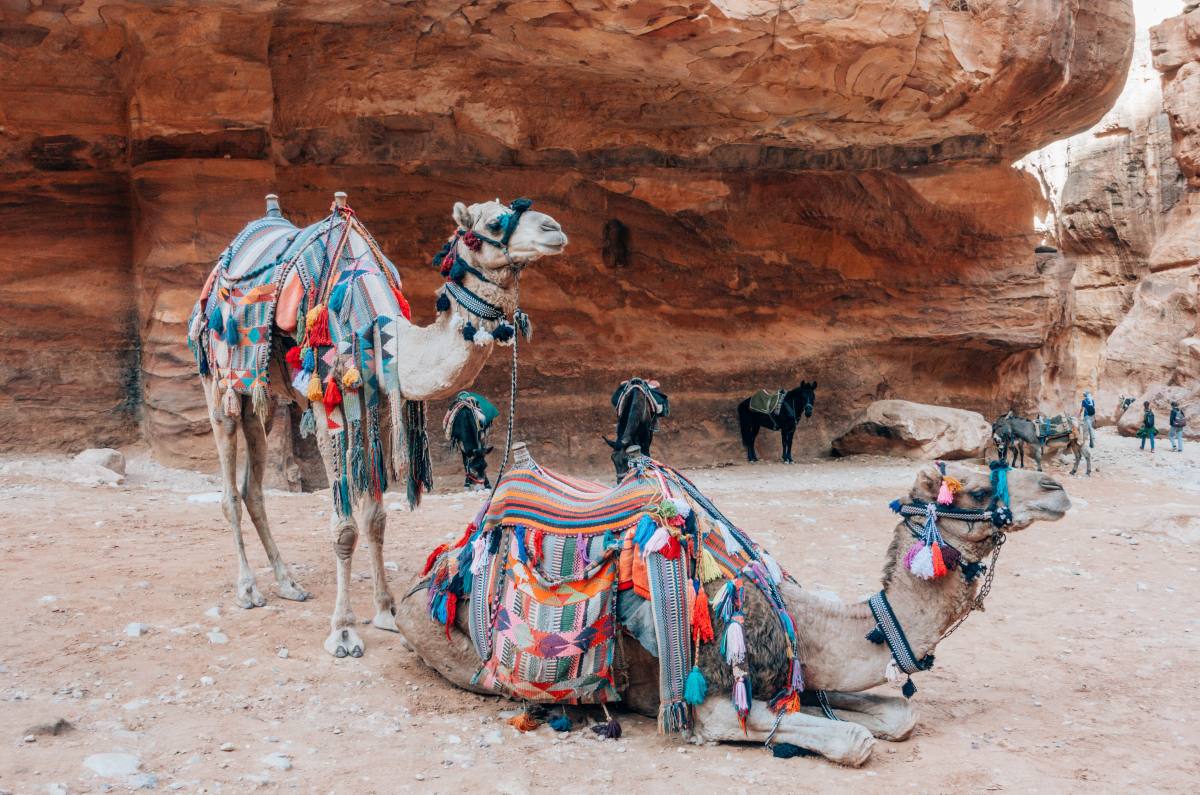 ---
How to Get to Petra
There are two popular ways to get to Petra. First, you need to either fly to Amman, or cross the border from Israel in Aqaba.
If you're flying, I recommend finding the cheapest flights on Skyscanner. I flew from London with MEA (Middle East Airlines) with a layover in Beirut, Lebanon and I can highly recommend this airline. Once you reach Amman, instead of heading to the city I recommend going down to Petra first as it's the opposite direction from the airport than Amman city.
While there are some buses to Petra, they aren't frequent and not too reliable. You can take a JETT bus from Amman downtown to Wadi Musa.
Your best bet is to either rent a car and drive or hire a driver to take you. A driver can be easily arranged upon arrival, as everyone offers to take you anywhere. I have to warn you, it's not cheap.
I actually drove myself and I can't recommend this option enough as it's flexible and about 6 times cheaper than hiring drivers. Driving in Jordan was easy (outside of Amman), most roads were empty, and easy to navigate without wifi since you just follow the King's Highway (you can get a local SIM CARD at the airport with 6 GB of data and unlimited calls for $8). No one was ever bothering me when driving alone as a solo female either.
I booked my rental car on DiscoverCars. I recommend getting a car from a company that's located within the terminal of the airport since I was struggling to find a shuttle to my rental car company outside the airport. It turned out they reached out to me on WhatsApp to let me know when to pick me up, which was slightly confusing.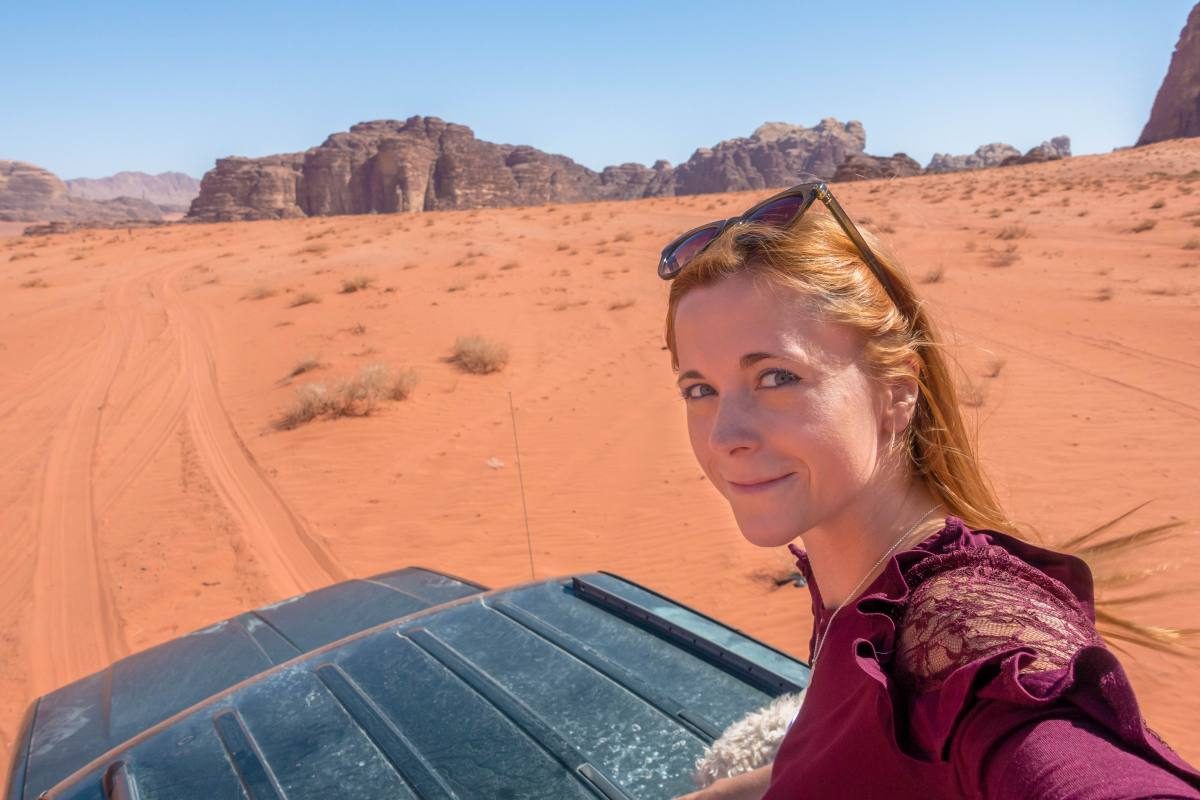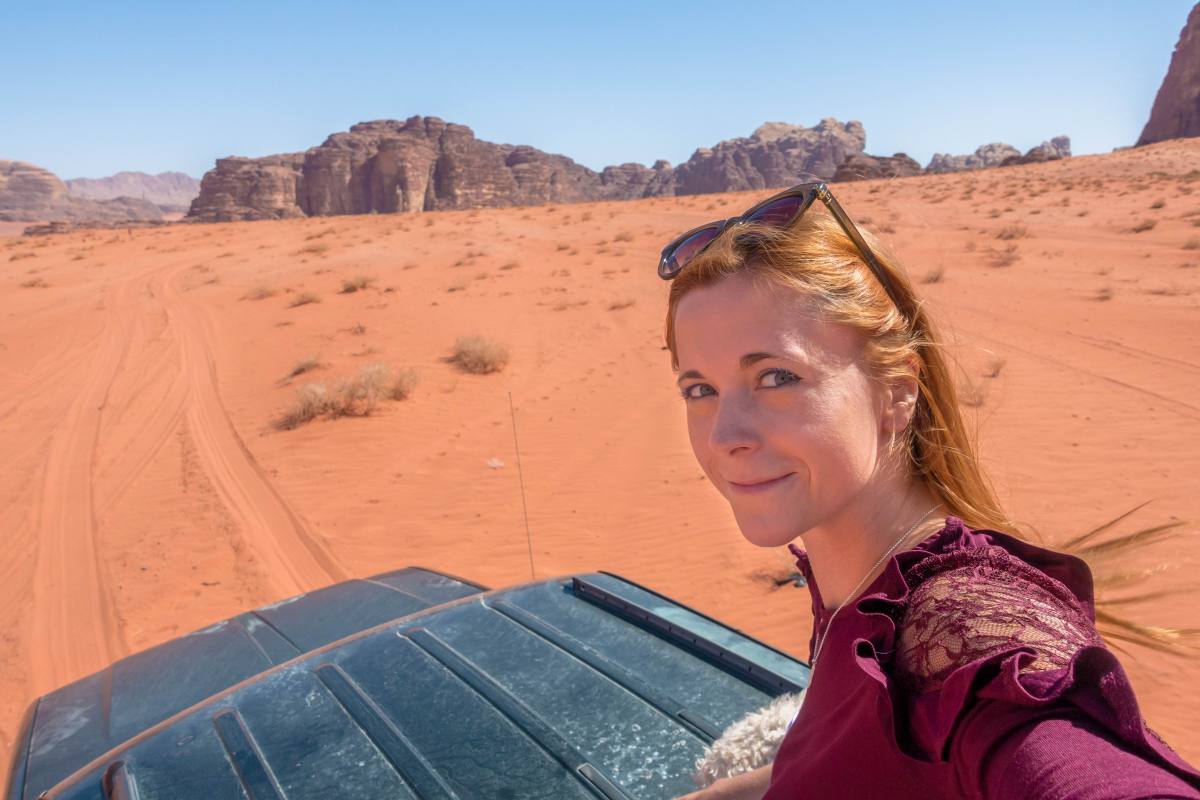 ---
How Many Days Should You Stay in Petra
Even one full-day at Petra might not be enough, leave alone just a few hours like most tourists tend to do. With more than 800 registered sites sprawling across 102 square miles, it's a place where you can hike for days and keep finding new spots.
Petra Visitor Center and Ticket Office opens from 6 am and closes at 4 pm in the winter and 6 PM in the summer. I was told that I should start my exploration right when it opens to avoid the crowds. I can assure you that when I entered the site at 8 am there were barely any other tourists around, and the sunlight wasn't even lighting the Treasury up (it happens around 9:30 am). I had to wait for the sun to make its way over the high cliffs.
Petra by Night
You should definitely be planning on staying at least one night in town in order to see Petra by Night, the unique opportunity to see the Treasury and Siq surrounded by beautiful lights. Petra by Night starts 8:30 pm and finishes around 10:30 pm.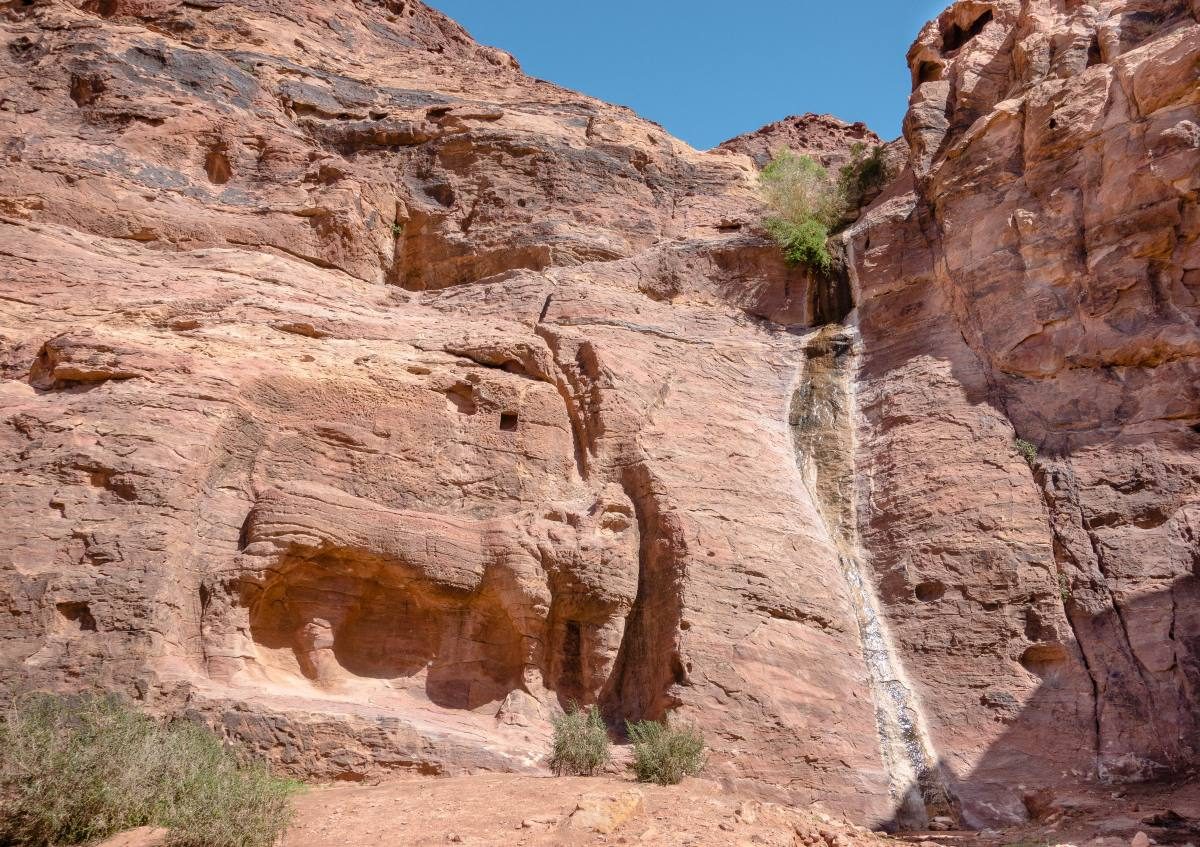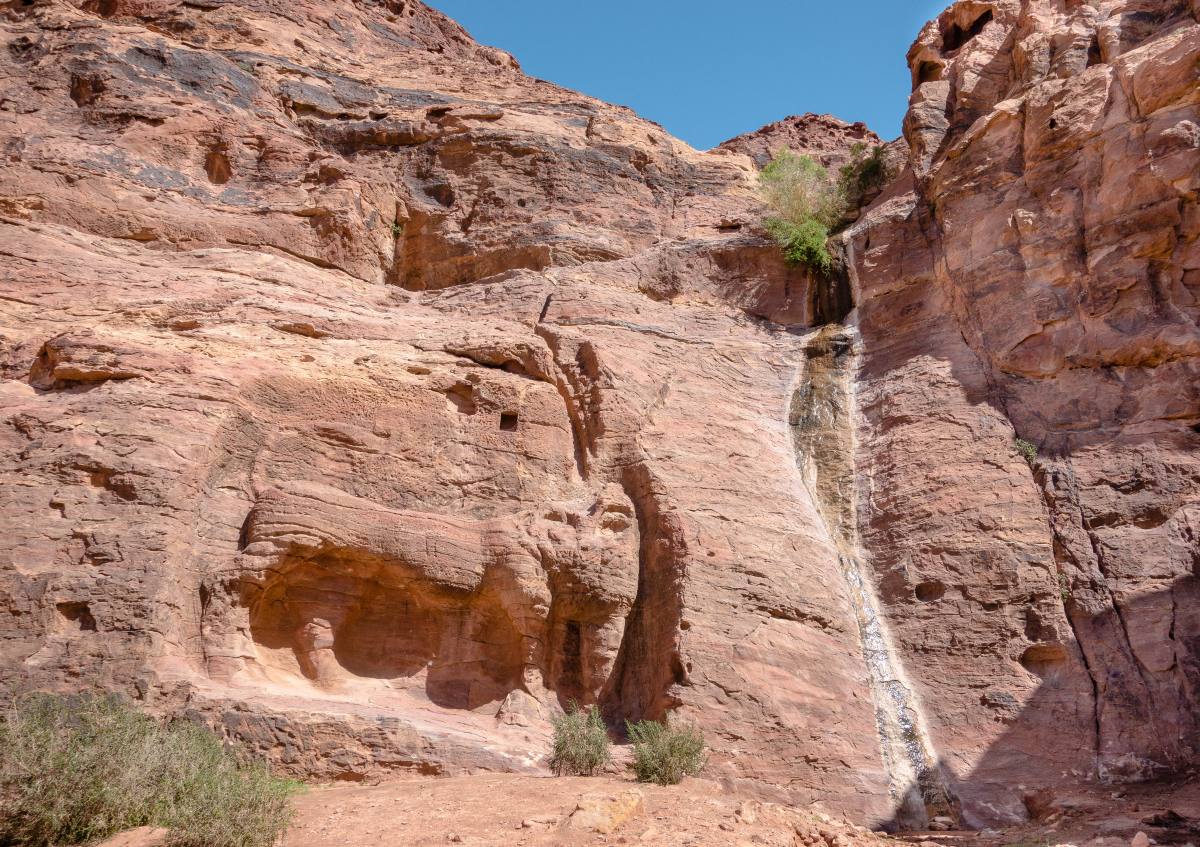 ---
How Much are Tickets for Petra
Visiting Petra isn't cheap. Even the whole town is also ridiculously overpriced in terms of accommodation and food. For the same thing you pay in Amman 2 JD, in Petra you pay about 9 JD. But don't let it scare you – I think it's definitely worth your time and money.
Entrance to the Petra site will cost you 50 JD ($70) for a one-day pass, 55 JD for a 2-day pass and 60 JD for a 3-day pass. The price of your ticket includes a free horse ride to the entrance of the Siq (you don't really need it though and you're expected to give a tip). Petra by Night is not included in day-passes and costs an additional 18 JD.
If you're planning on spending a decent amount of time in Jordan, you might consider buying Jordan Pass. It's a tourist card that includes entrances to many sites and waives the amount you need to pay for Jordan visa (40 JD).
---
Map of Petra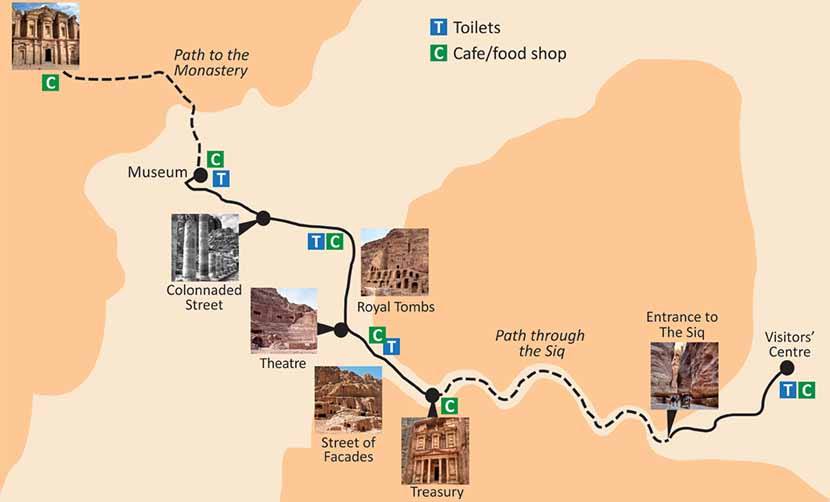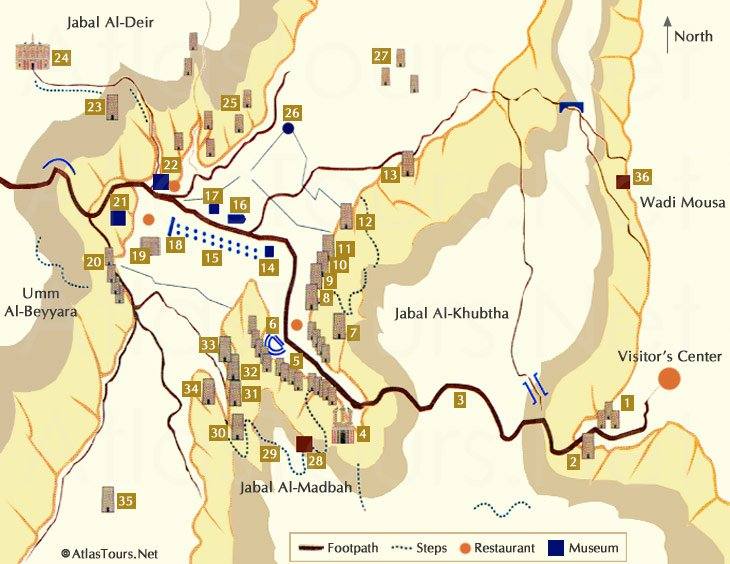 Toilets at Petra
Petra is well-equipped with toilets. There are some at the visitor's centre, near the theatre and at cafes throughout the entire site. Don't worry about it.
---
What to See in Petra:
The Siq
Al-Kazneh (the Treasury)
The Theatre
Royal Tombs
Colonnade Street
Monastery
High Place of Sacrifice
Siq (a canyon that serves as the entry to the city) is actually one of the biggest highlights of the experience. You'll walk through the narrow canyon, smoothen by the river.
Parts of the corridor still have majestic sculptures and drawings, but most of them got destroyed.
Notice the pipes and gutters along the walls as they were important components that channeled water into the city.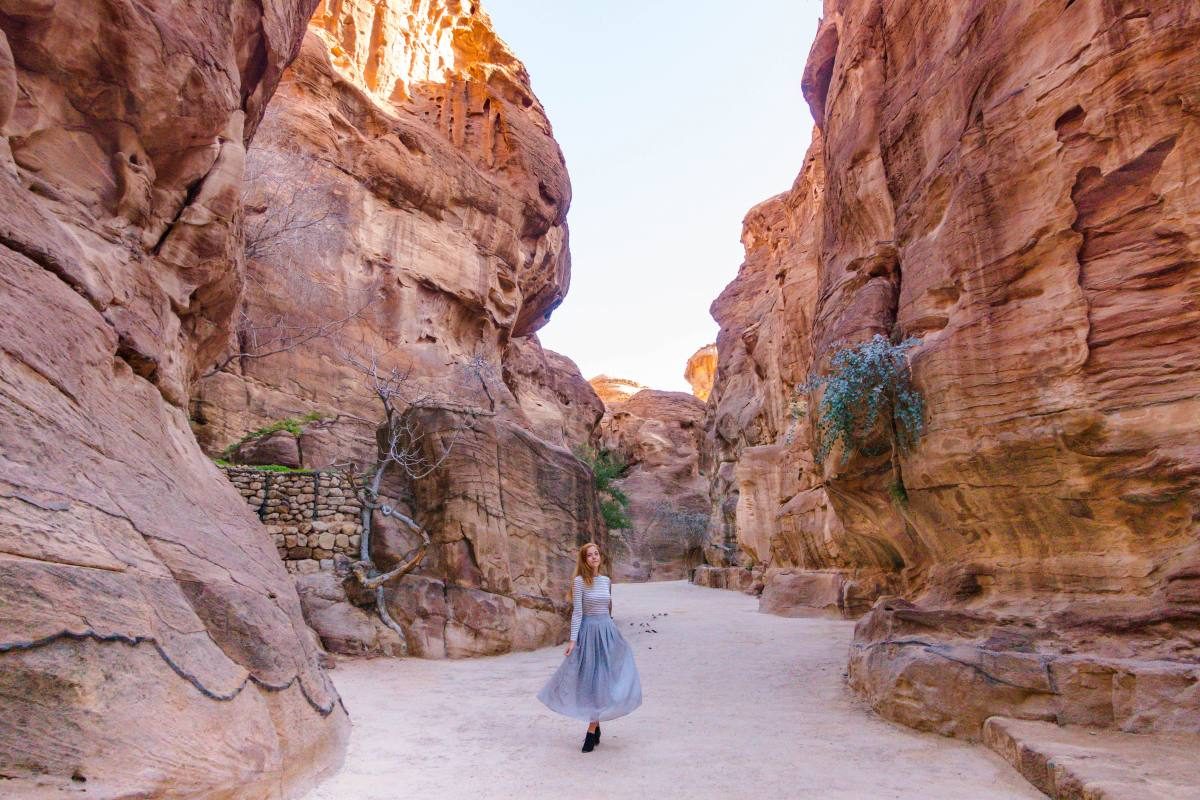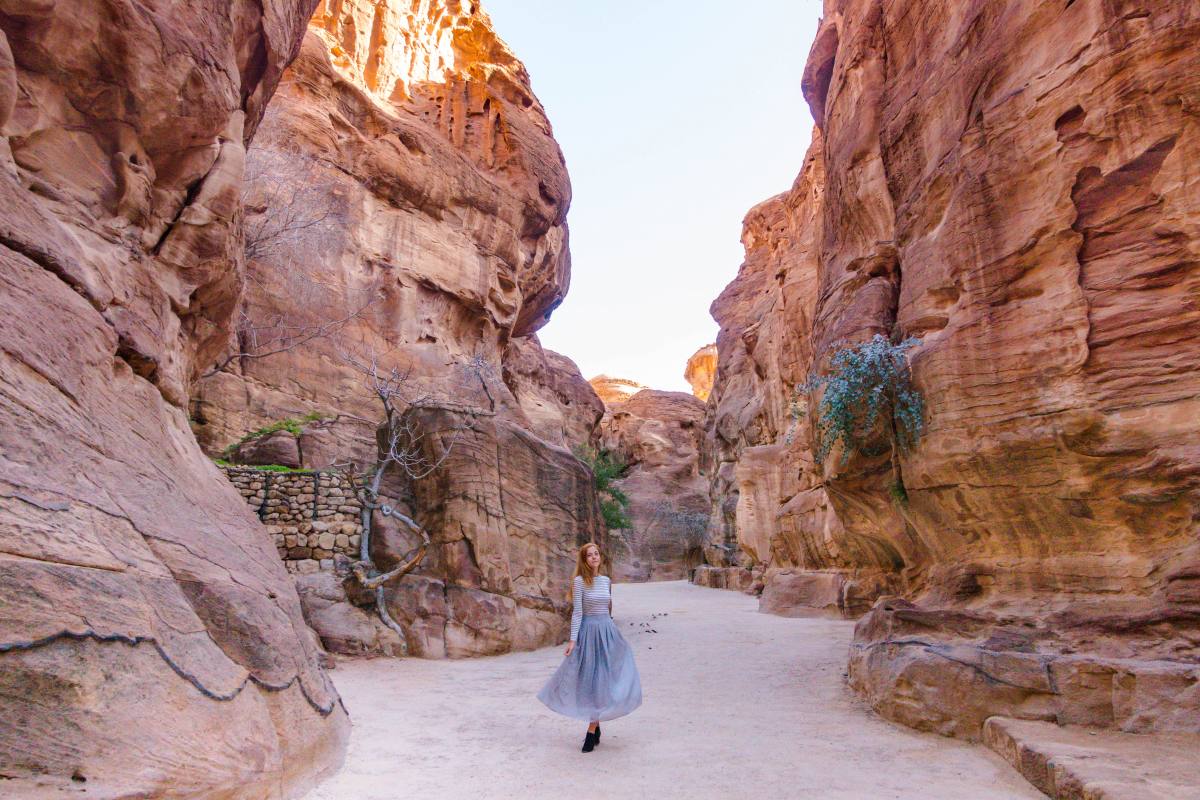 Once you reach the end of the corridor you'll see the most iconic site in Petra, Al-Khazneh (the Treasury).
It's a monument at the top of most visitors' itineraries. It served as a tomb for a Nabataean king, as most of the structures at Petra.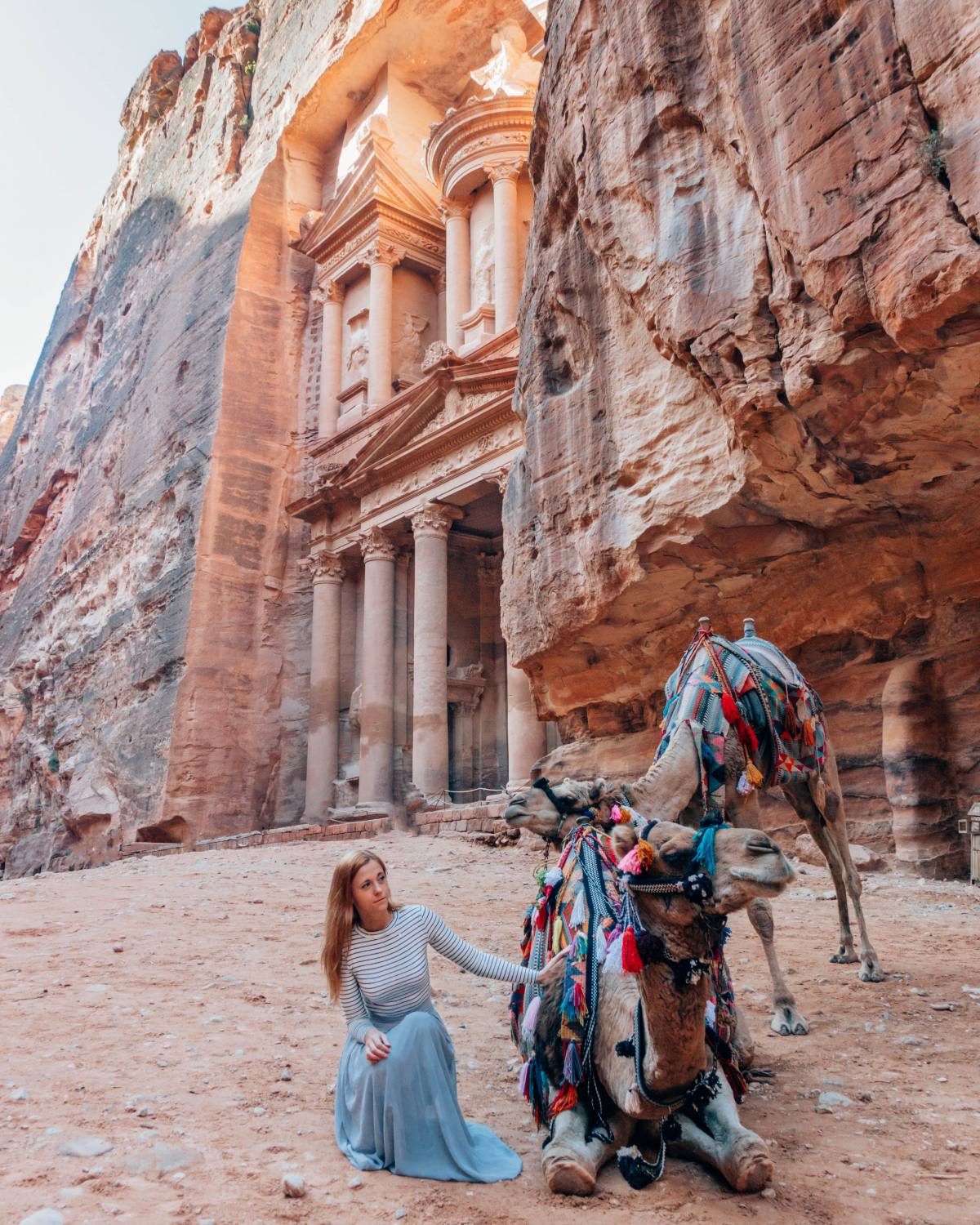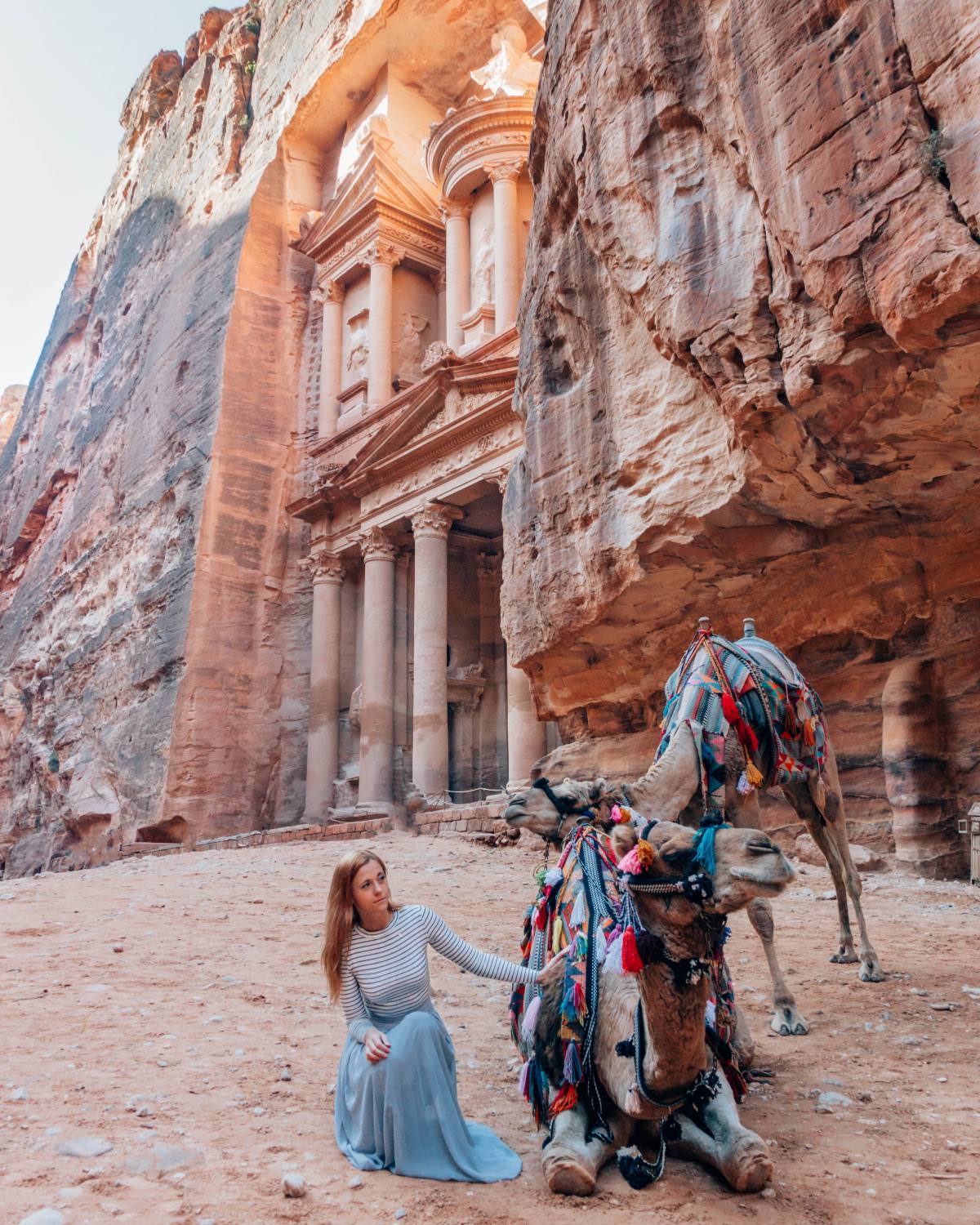 From there you can either continue the tourist route or walk up to the High Place of Sacrifice (no.28). Scroll down to -> My Best Tips for Visiting Petra.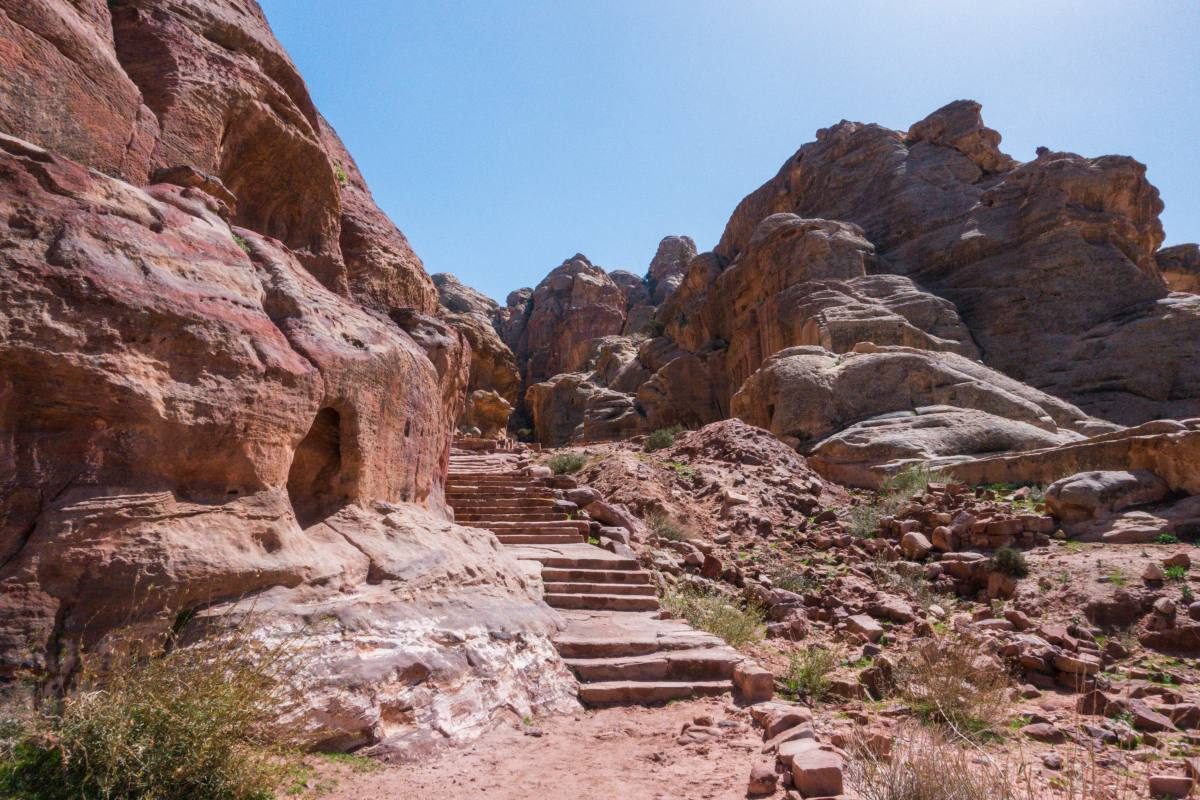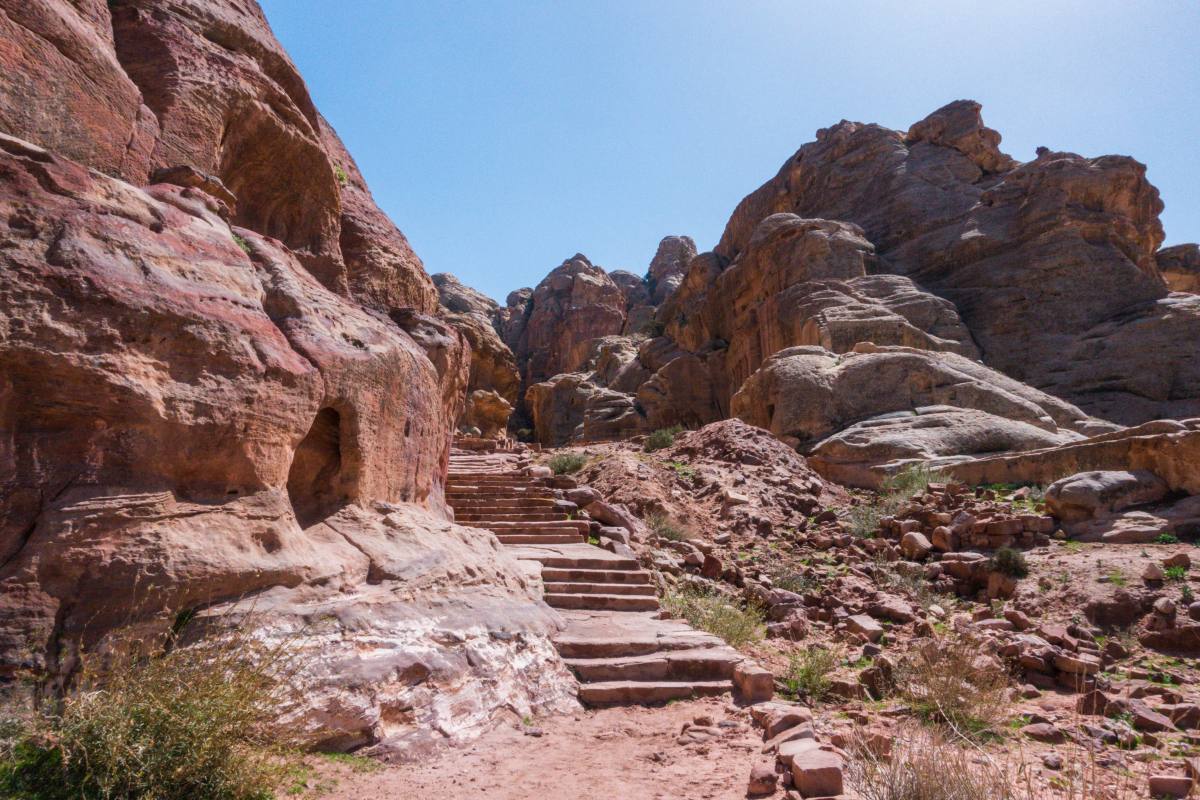 Theater (no. 6): With over 8000 seats (Romans added about 5000 seats), the Theater is impossible to miss. It's a great site to see and even better to see from above from the High Place of Sacrifice.
Royal Tombs (no. 7 & 8): are another great stop. Getting to the four distinct tombs involves a tough climb, just beyond the Theater. Behind the tombs, there's another path to the panoramic view of the Treasury, but frankly, I don't recommend this route.
Petra Monastery (no. 4): is the furthest site on the tourist route. The Monastery is about 50 meters tall and is surrounded by panoramic views of the valley. It's also the only place at Petra with bright green plants in front of it.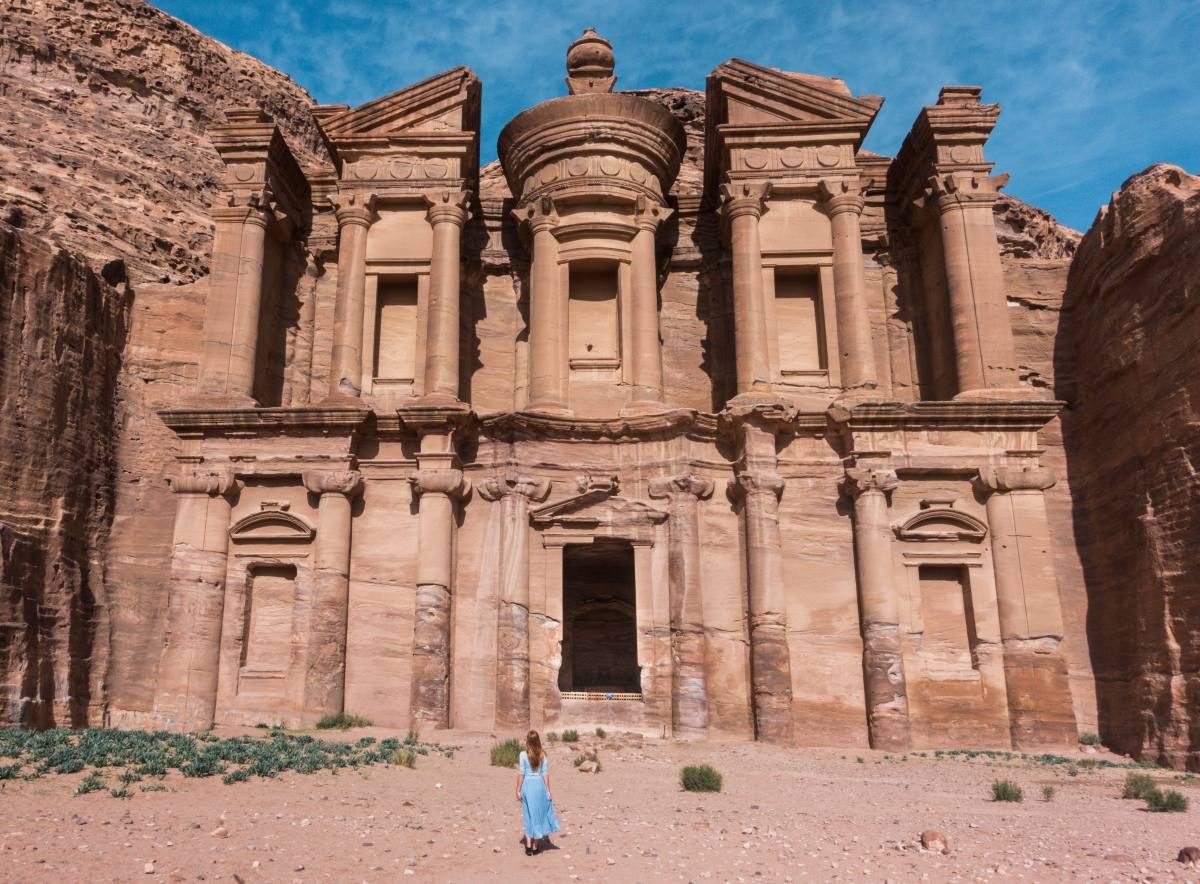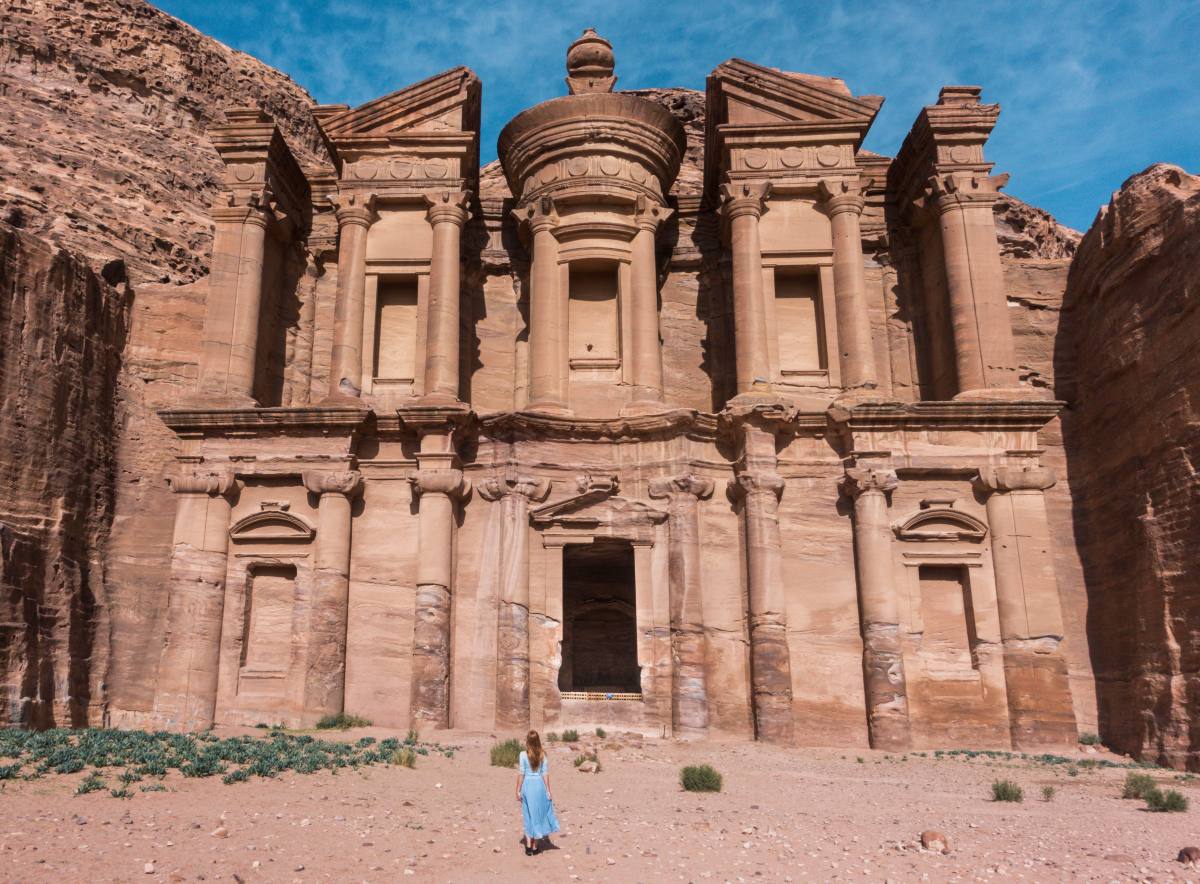 Getting there involves a long journey climbing the stairs, that many choose to do on a donkey. I walked and it took me about an hour, maybe a bit longer. It's totally manageable and surely safer than on a donkey often slipping on the stairs.
Also, decide for yourself whether you want to take a donkey or not after seeing them. Some owners keep their donkeys in great shape, but I also witnessed many who were attached to each other tightly without the possibility to move, get water or anything, just waiting for tourists to hire them.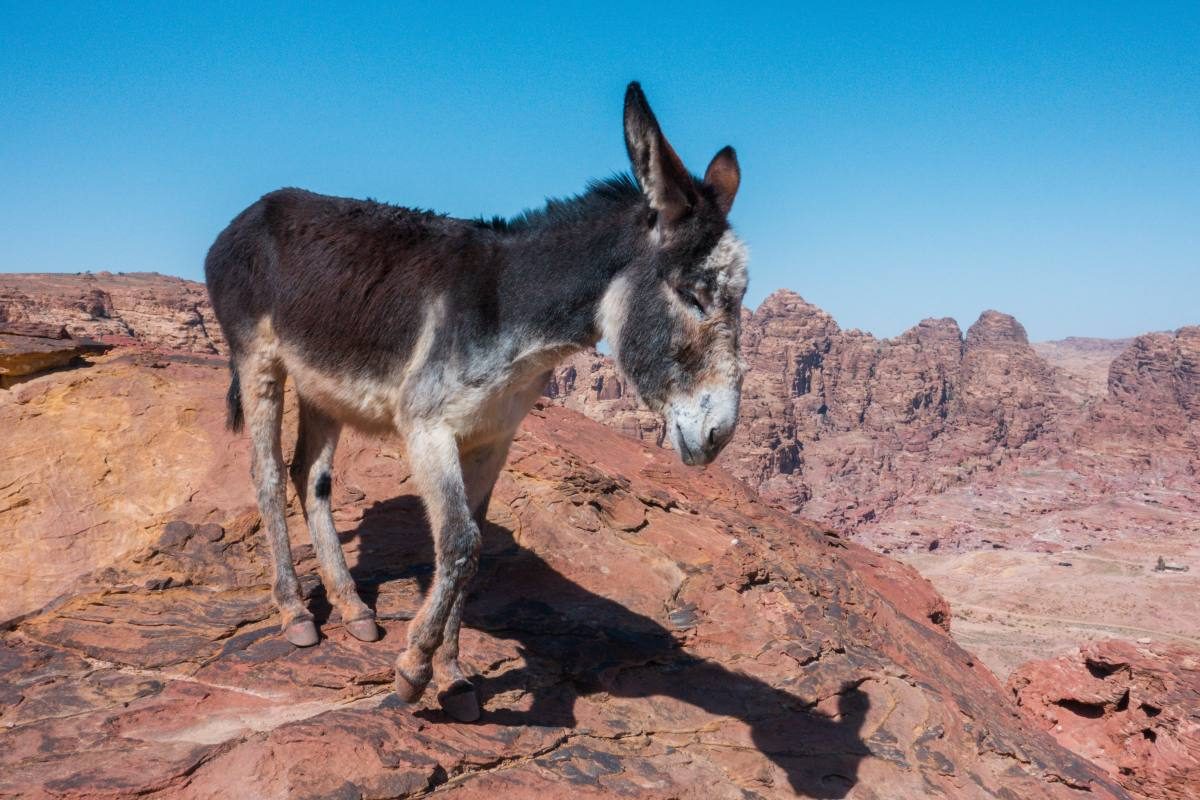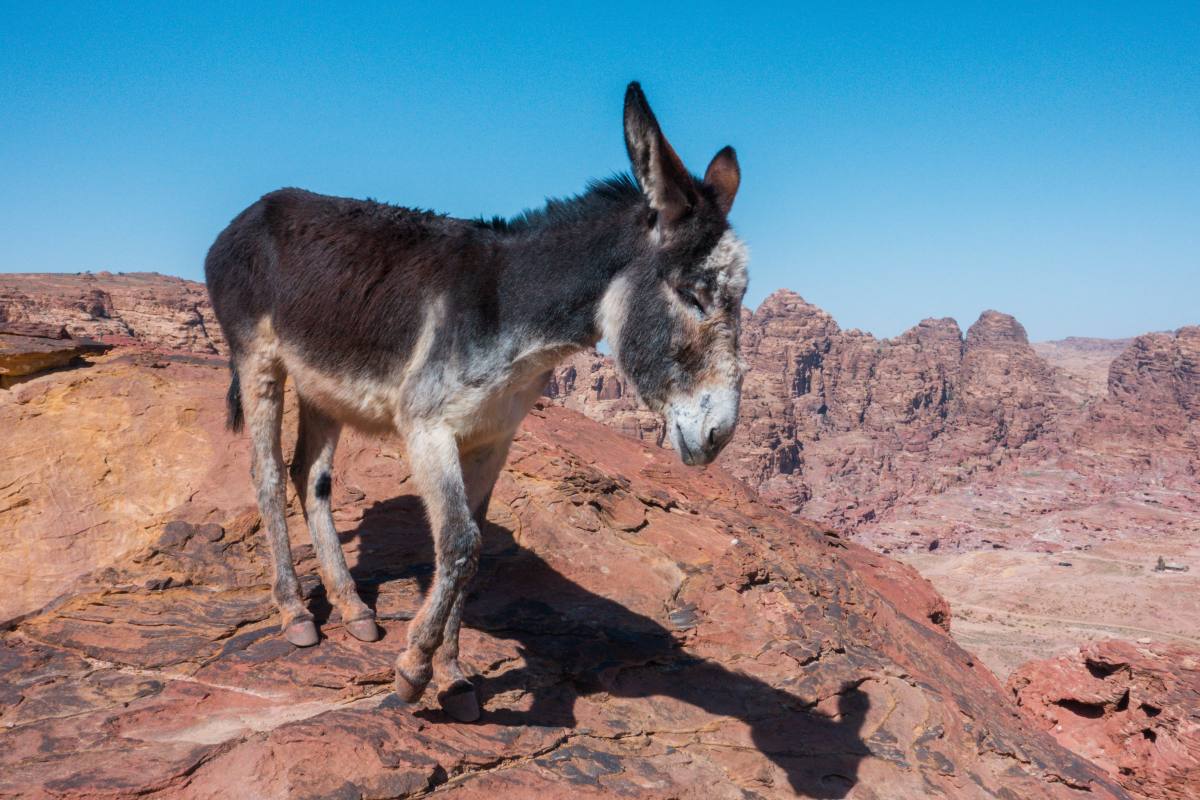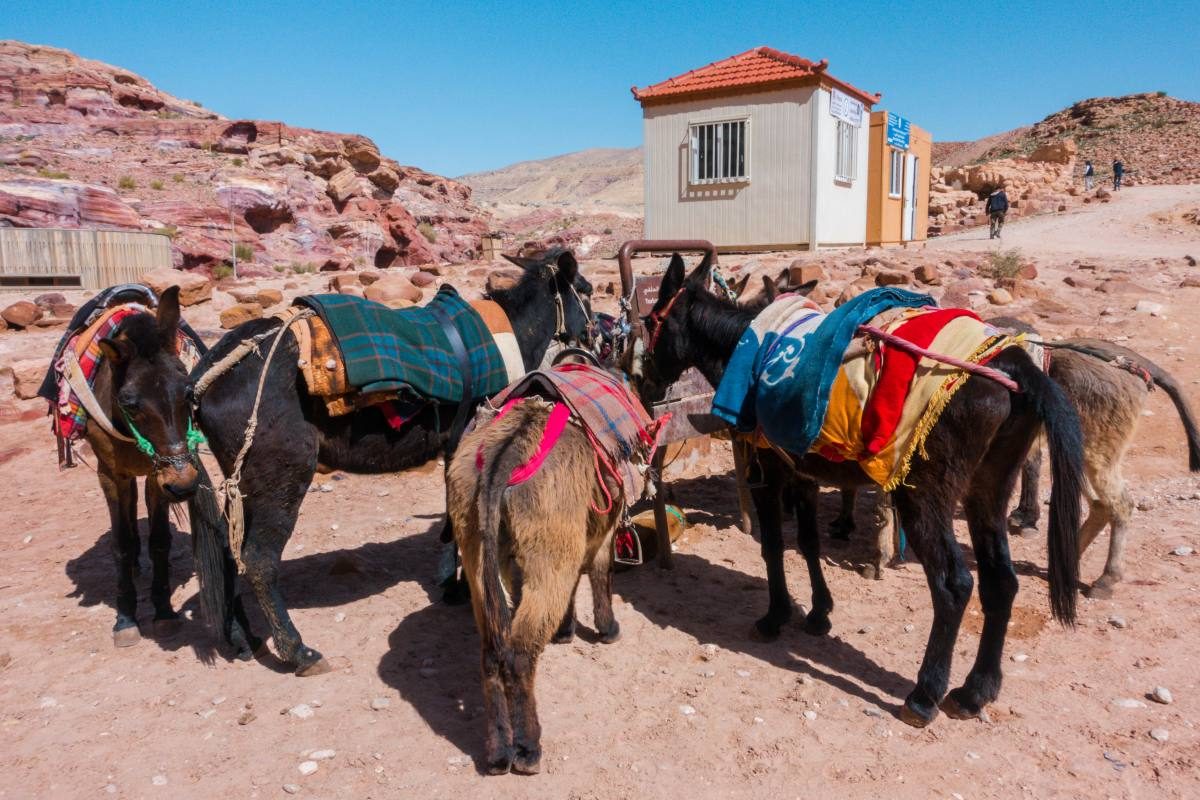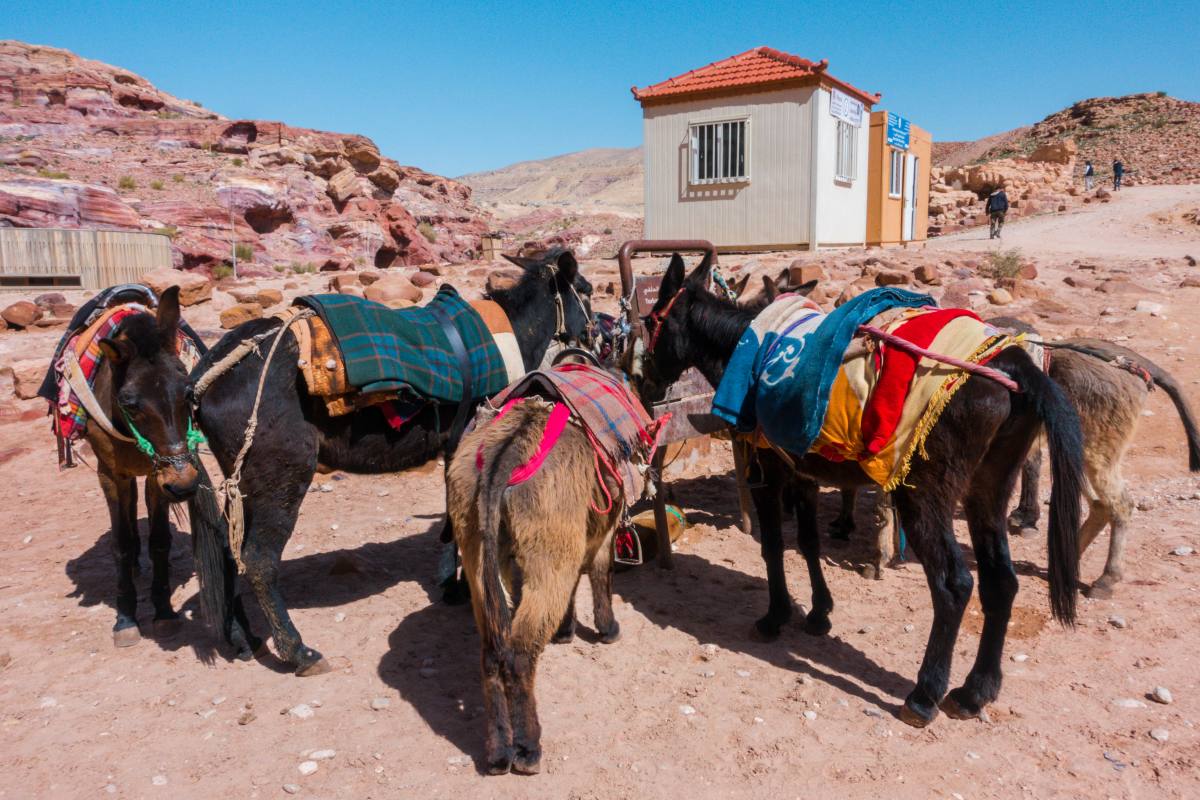 ---
Can You Go Inside Petra Treasury?
Unfortunately, you cannot go inside Petra Treasury anymore like Harrison Ford did in Indiana Jones. Fellow tourists are to blame for this ban since they were screaming inside and the noise was destroying the structure. Basically, this is why we can't have nice things.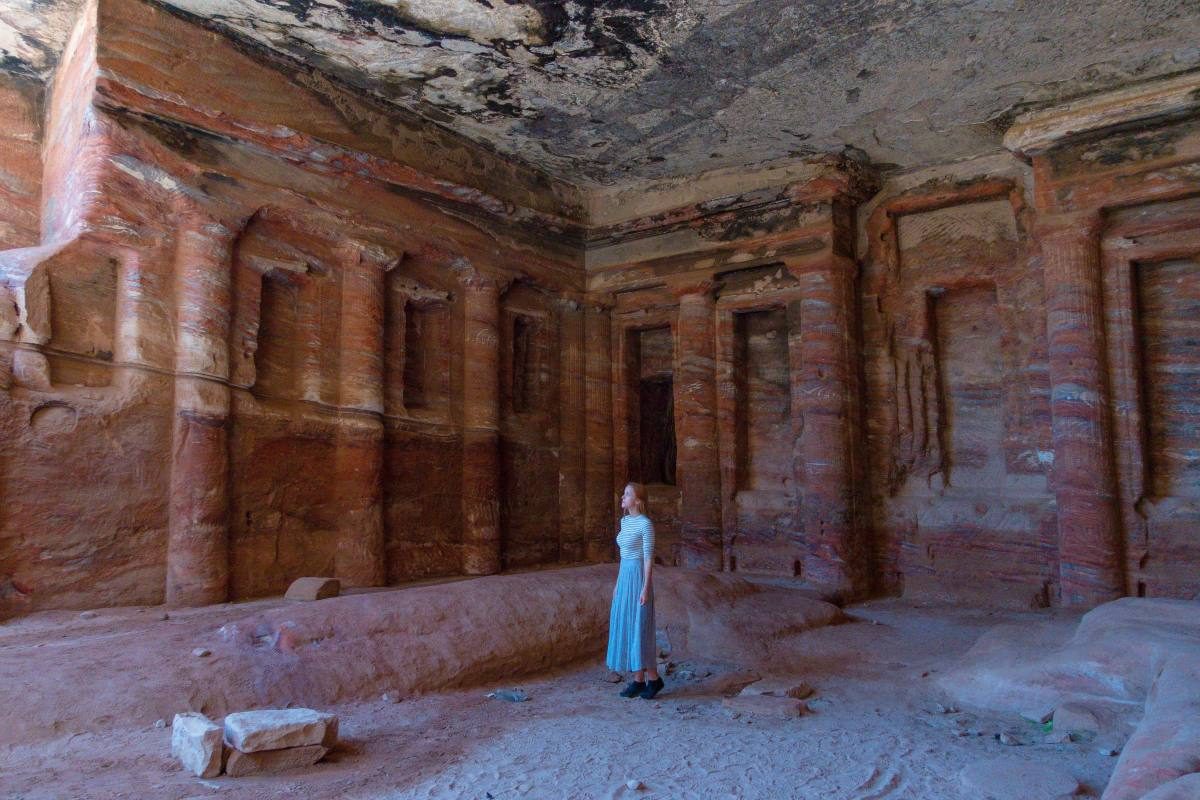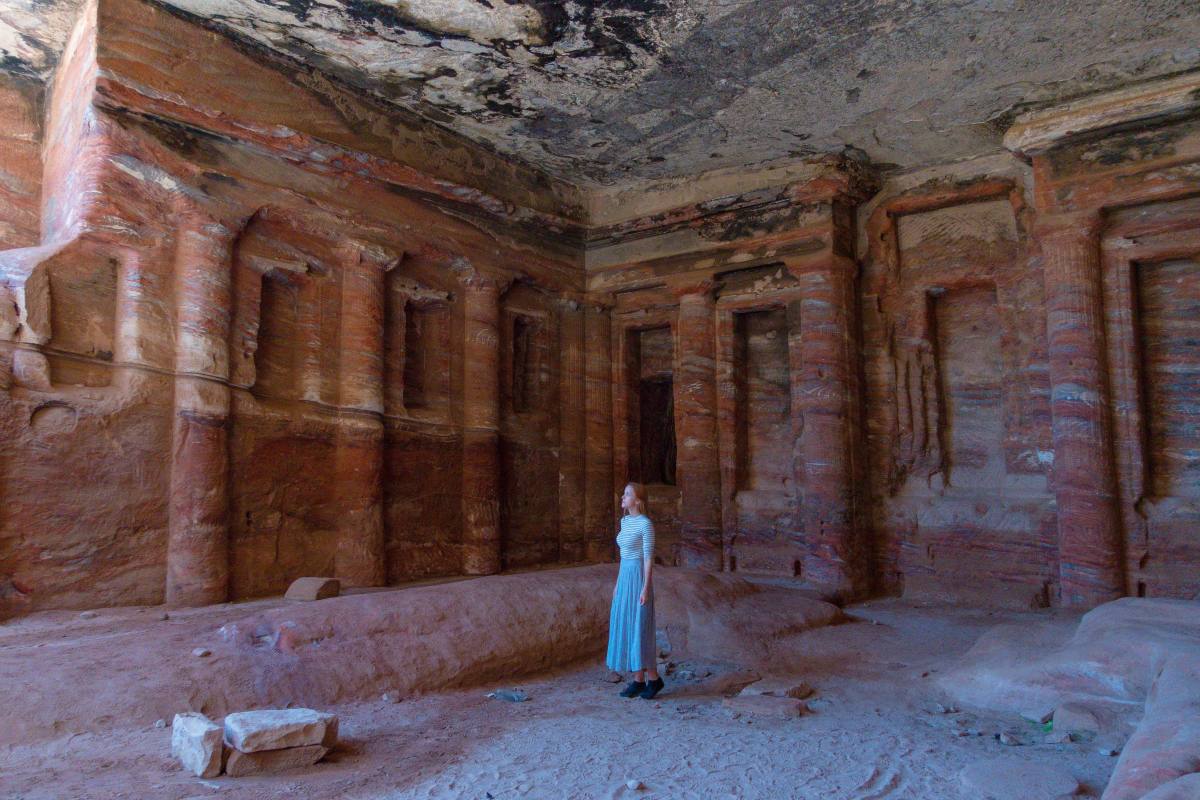 ---
Where to Stay in Petra, Jordan
Petra is located in a small local town called Wadi Musa offering a various range of available hotels and restaurants.
Many people just visit Petra and leave, but if you want to get the local vibe, do yourself a favor and walk around Wadi Musa itself as well.
If you're driving your rental car, the location of the hotel doesn't matter that much. However, if you're opting for a private driver or bus, you might want to stay nearby the entrance of Petra unless the hotel provides a shuttle to the Visitors Center. Otherwise, you need to pay extra for a taxi (2-3 JD).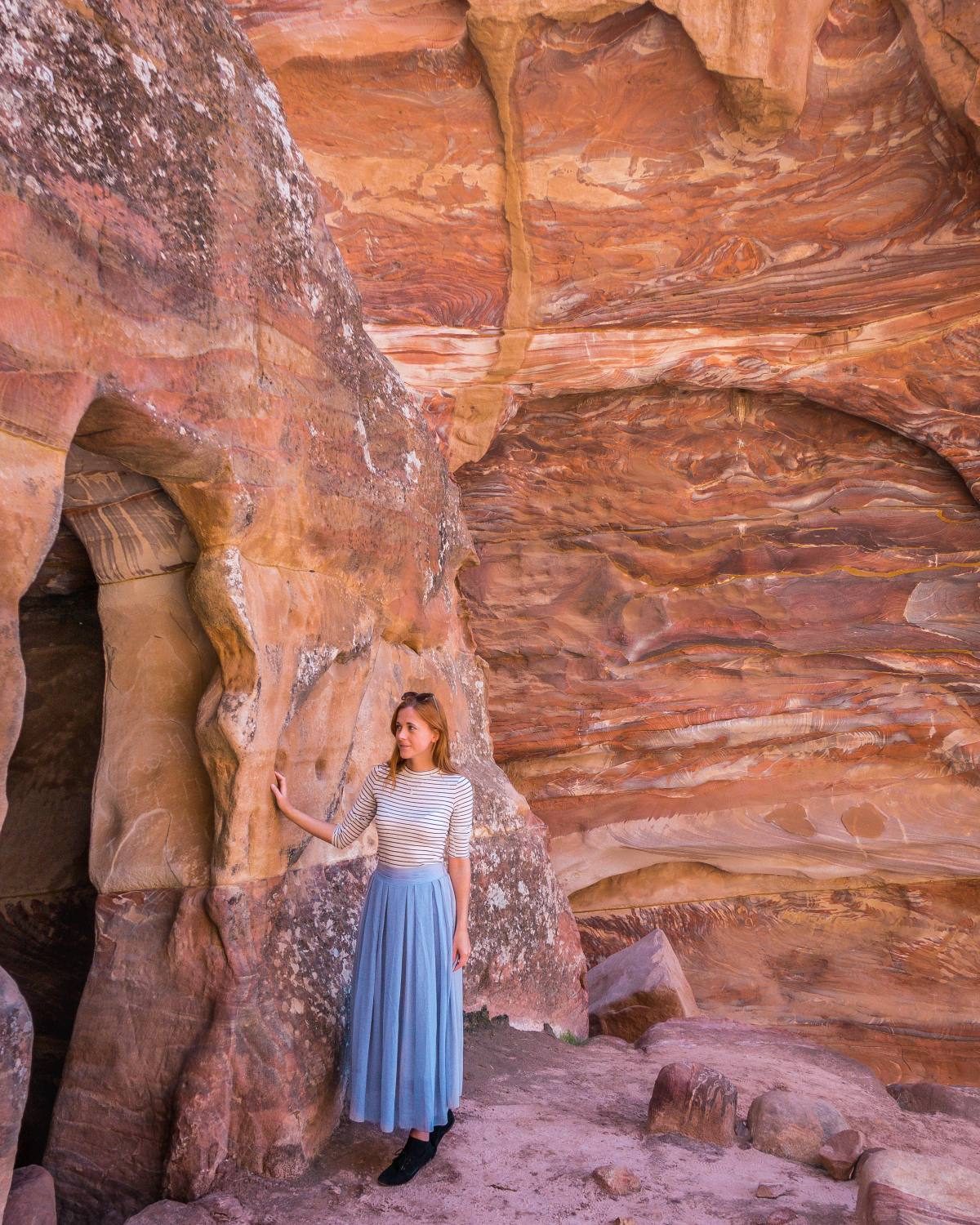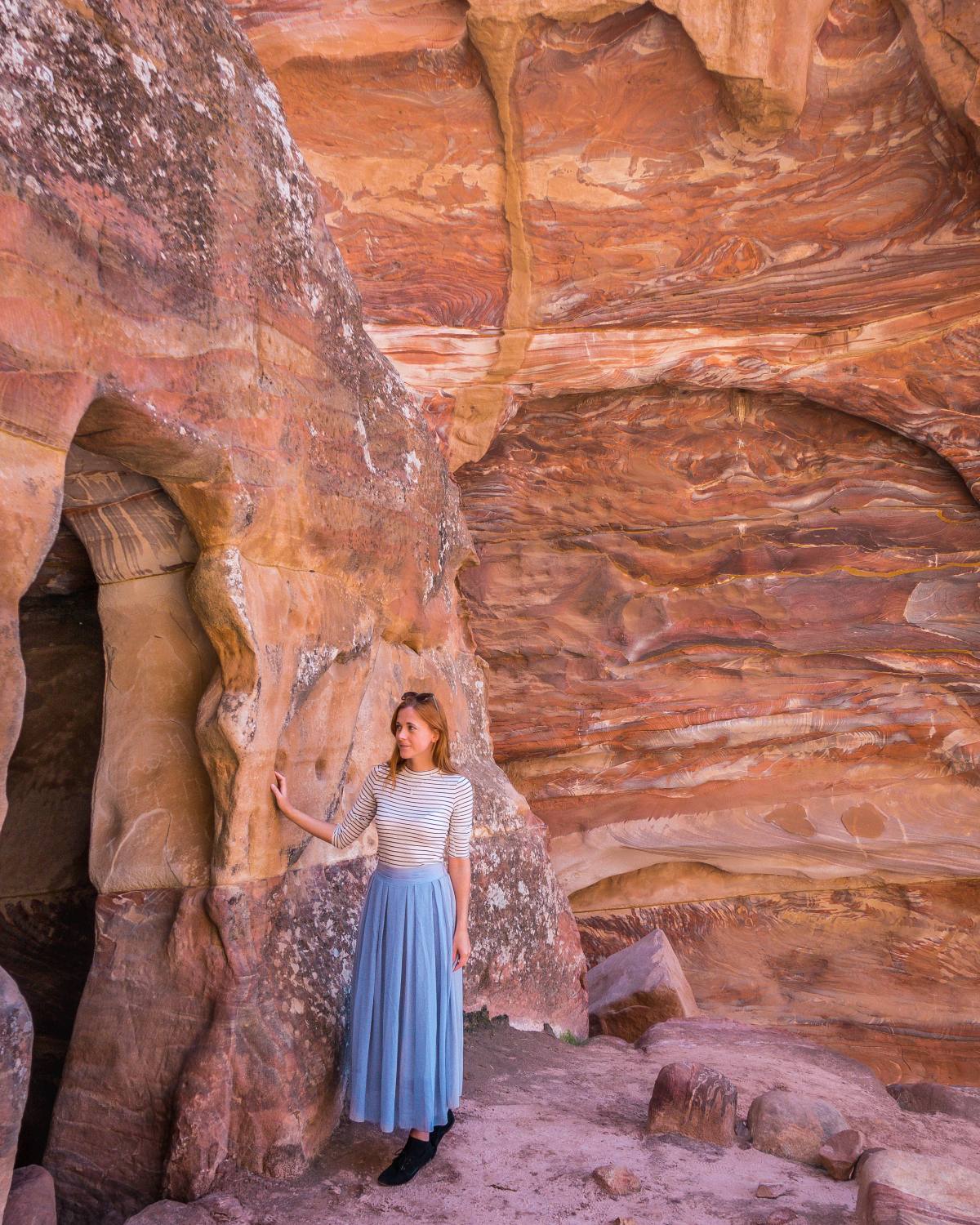 My Accommodation Recommendations:
Bedouin Camp
If you don't have time to go to Wai Rum desert, you can sleep in a Bedouin camp near Petra too. Seven Wonders is a beautiful campsite, they serve delicious dinner and breakfast and you can be at Petra in 15 minutes.
Seven Wonders Bedouin Camp – Check Prices On: Booking.com & read reviews on TripAdvisor
Budget Hotels
If you're into budget hotels, pick either Candles or Petra Moon. They're pretty much next to each other, within 1000 feet from Petra entrance. I stayed at Candles Hotel myself and it had everything I needed: working wifi, hot water in the shower and comfortable bed. Petra Moon has a better in-house restaurant though.
Candles Hotel – Check Prices On: Booking.com & read reviews on TripAdvisor
Petra Moon – Check Prices On: Booking.com & read reviews on TripAdvisor
Local Hotel
If you're looking for a hotel with more of a local vibe, opt for a Rocky Mountain. The view from the terrace is amazing. It is too far to walk to Petra, so you need a car or taxi if you want to stay there.
Rocky Mountain – Check Prices On: Booking.com & read reviews on TripAdvisor
Luxury Hotel
The best luxury hotel in Wadi Musa is without a doubt, the Movenpick. Located just in front the entrance to Petra, it's a great hotel, but compared to others not cheap.
Movenpick – Check Prices On: Booking.com & read reviews on TripAdvisor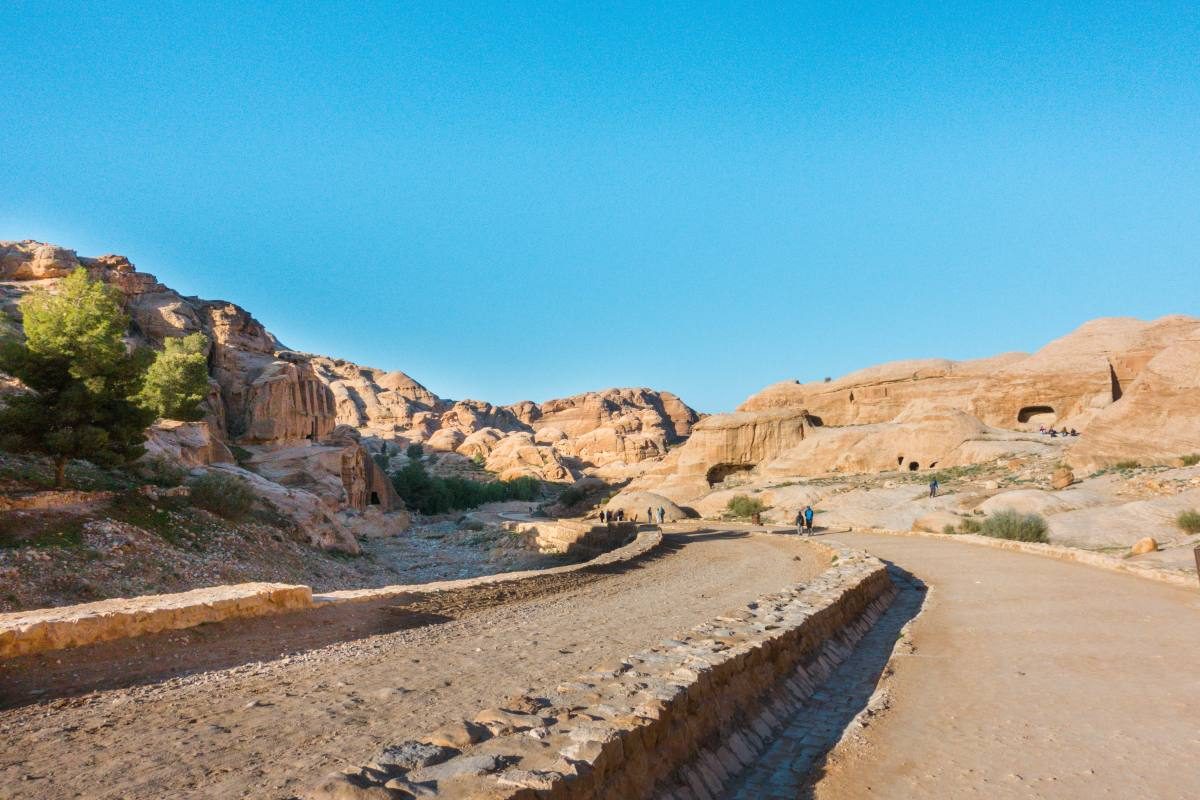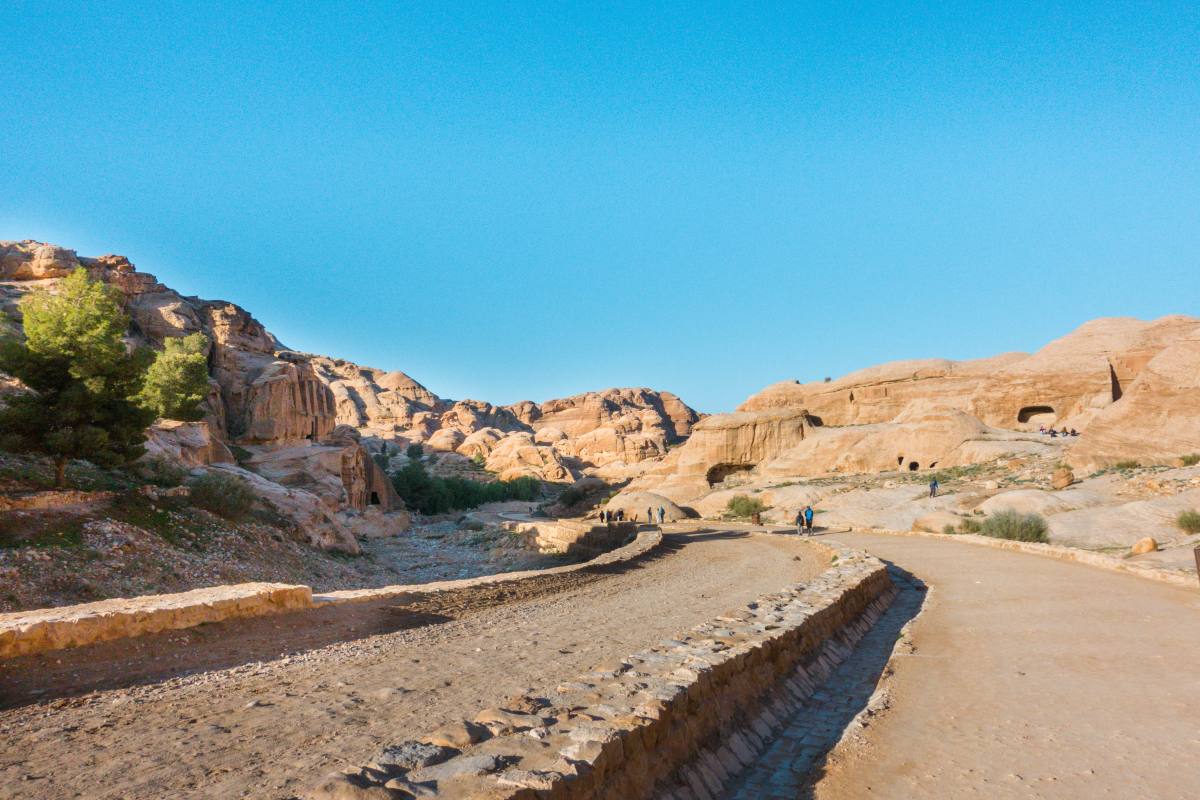 ---
Packing List for Petra in Jordan
I won't lie, there's a lot of walking involved in visiting Petra (the whole route comes down to 15 miles and involves climbing) and the best parts of it aren't so easily accessible. So my best advice is to bring a pair of comfortable shoes. I wore a simple pair of tennis from DSW and they surely passed the test.
Other Useful Items:
sunscreen – it gets sunny during the day
water – you might want to bring something to drink for a long day, but bottled water is widely available at stalls in and out of the site
snacks – there aren't any shops inside Petra apart from two restaurants that open for lunch and a few stalls with orange juice
cash – for tips, tea, donkeys (if you want), warm lunch, etc.
---
What to Wear at Petra?
Apart from comfortable shoes, you can really wear whatever you want. Petra is a tourist attraction and no one really expects tourists to follow a certain conservative dress code, but you might not want to wear a too skimpy outfit to draw an additional attention to yourself.
I've seen people in short dresses, jogging outfits, jeans, shorts, even a girl in leather pants.
When I went to Jordan (February) the morning was jacket weather and during the day it got mildly warm. I was fine with long sleeve top and breezy skirt, but if you aren't comfortable with climbing rocks in long skirts like me, you might want to put a pair of pants on instead.
The vast majority of visitors wore a hat. I honestly regretted not bringing mine, so you should do it.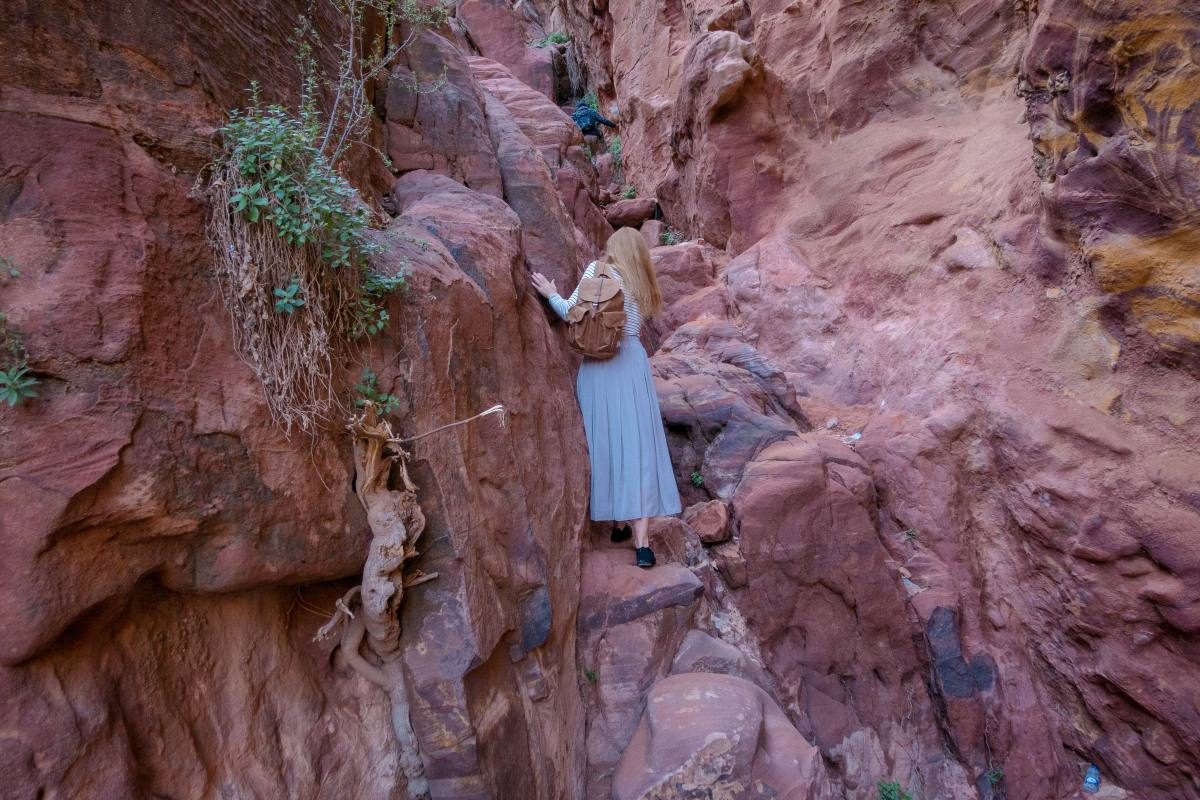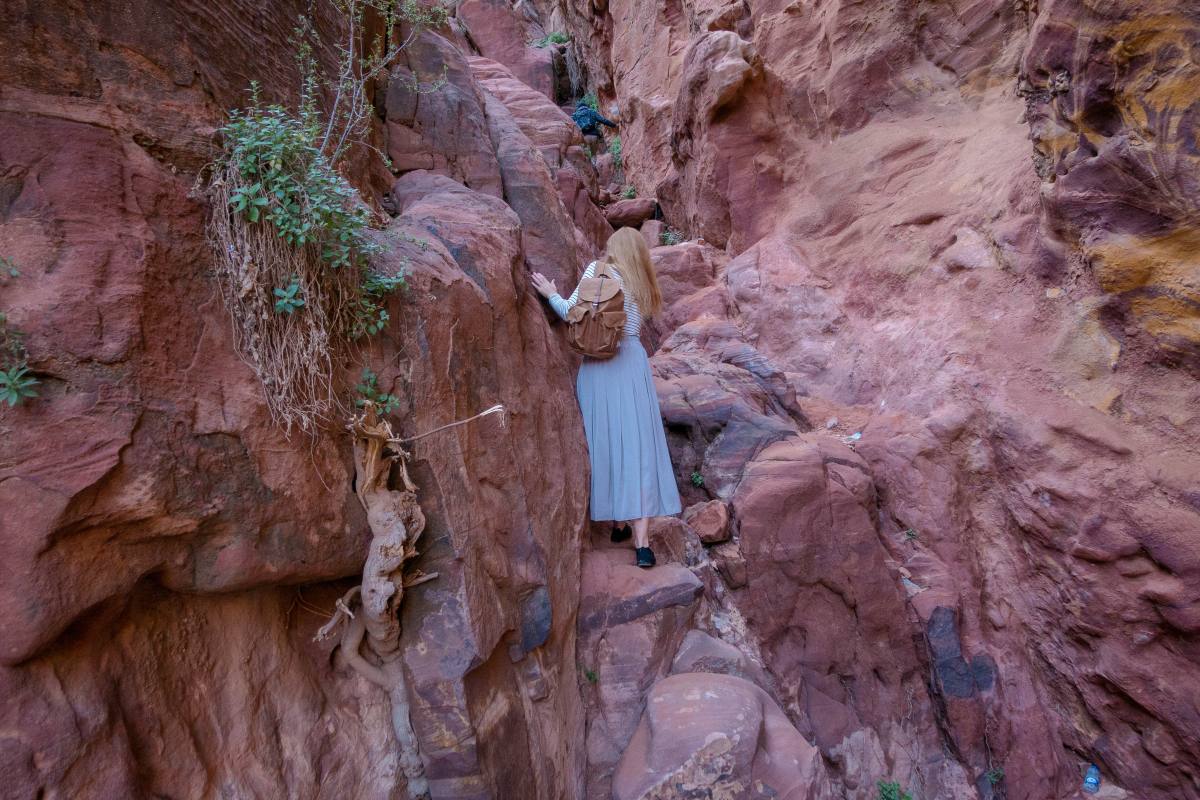 ---
My Best Tips for Making the Most of Petra
1. Petra is huge.
You can't see the whole site in one day, even when using a donkey. Most day tours and any types of tours just lead visitors to the Treasury for a photo opportunity and back. Many visitors feel like they waste a lot of money without getting much in return by doing that. I would too.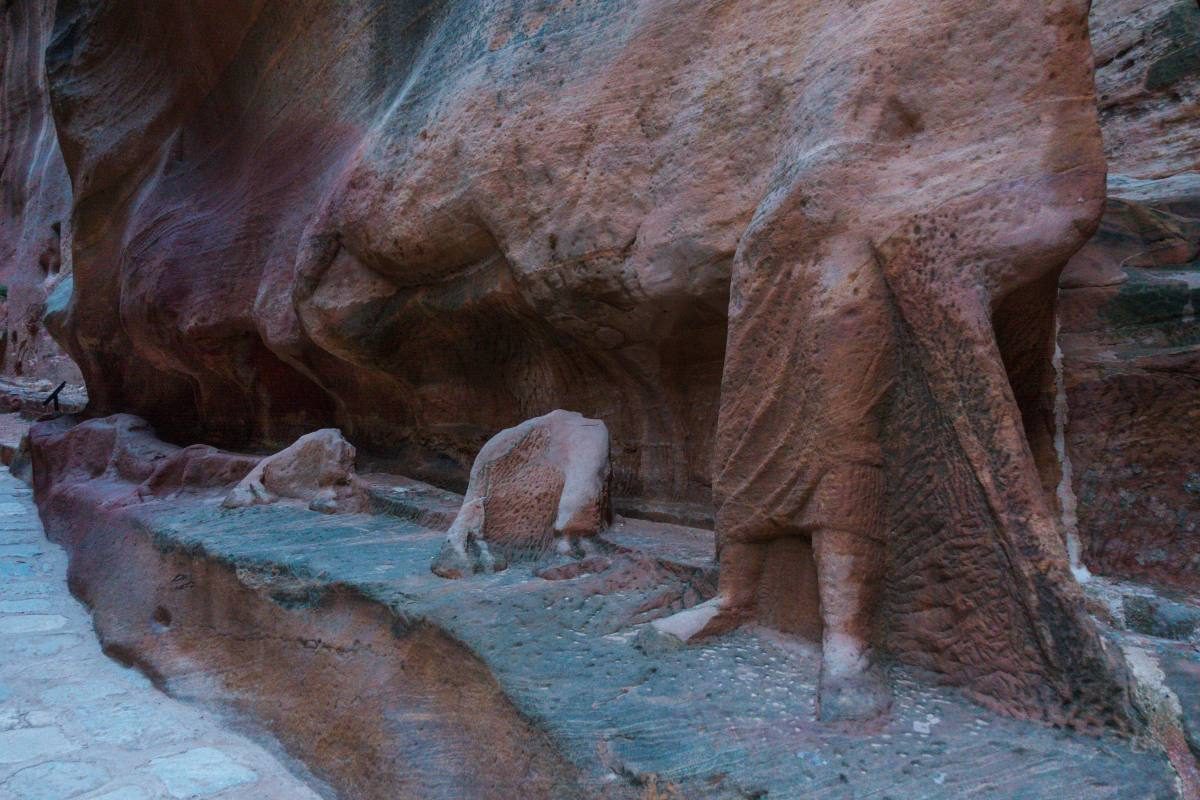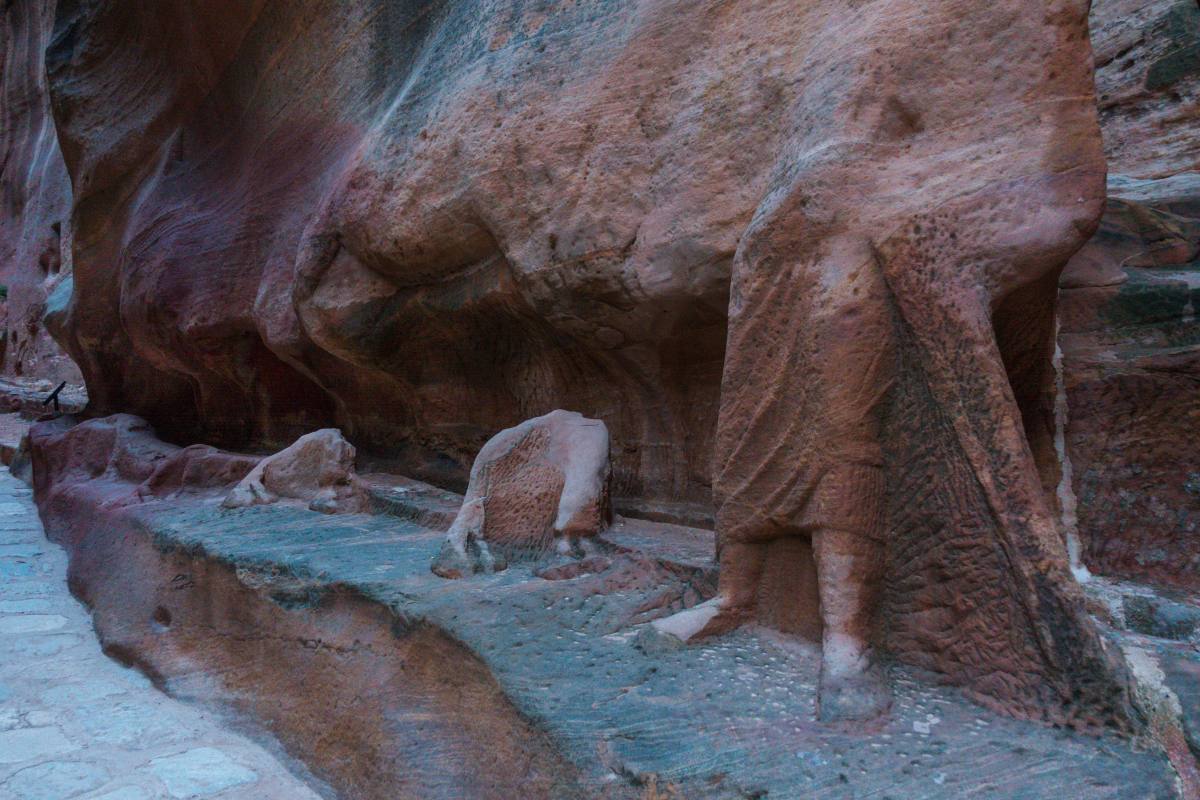 ---
2. Don't hire a guide at the entrance, get one inside Petra.
There are many guides waiting for tourists to hire them right at the entrance of Petra. Naturally, many people hire them.
I strongly advise against it, not because I don't like having a guide (quite the opposite), but those guides will take you down the tourist route down the road and you can do it all on your own.
What you can't do on your own, however, is going to the shortcut to the best view of Petra Treasury. But the guide hired from the entrance isn't going to take you there, because he can't.
3. There are Two Ways to Get to the Best View of Petra (the one from the top!).
That said, there are two ways to get to the viewpoint of the Treasury. Both aren't the easiest hikes, some parts involve climbing some rocks, but don't worry – you can do it!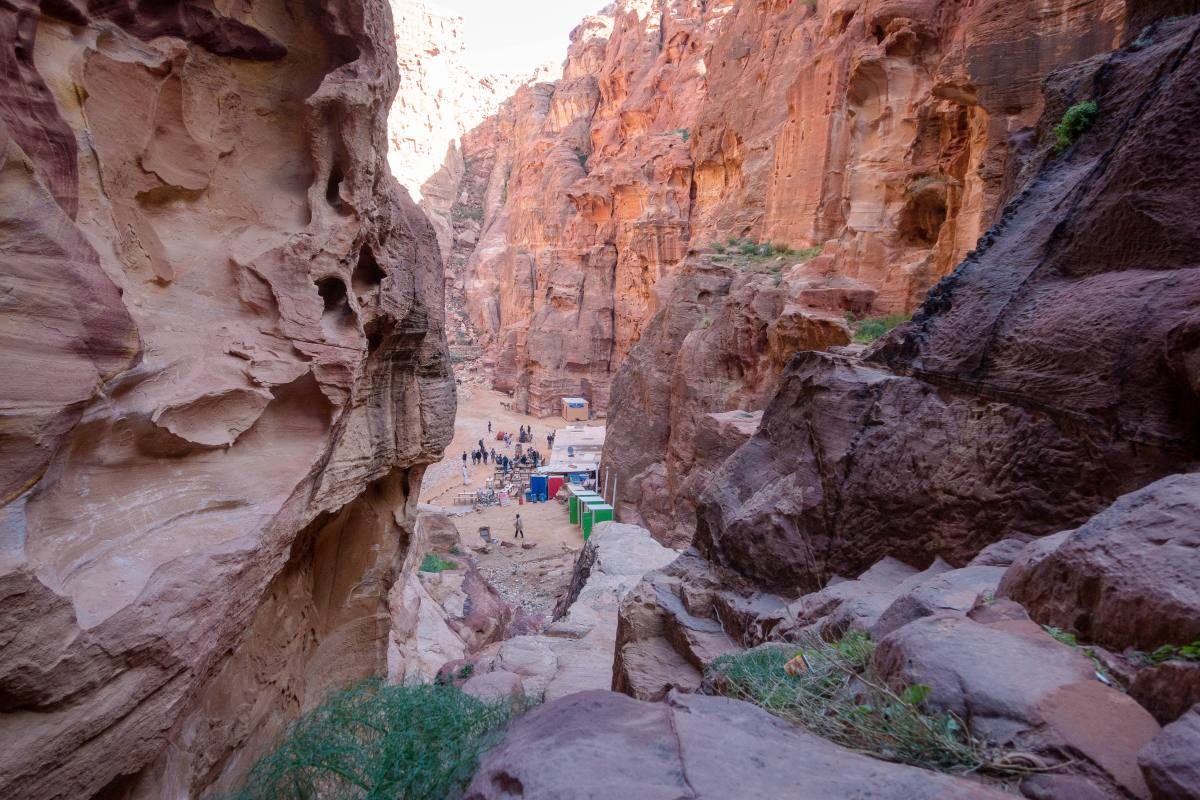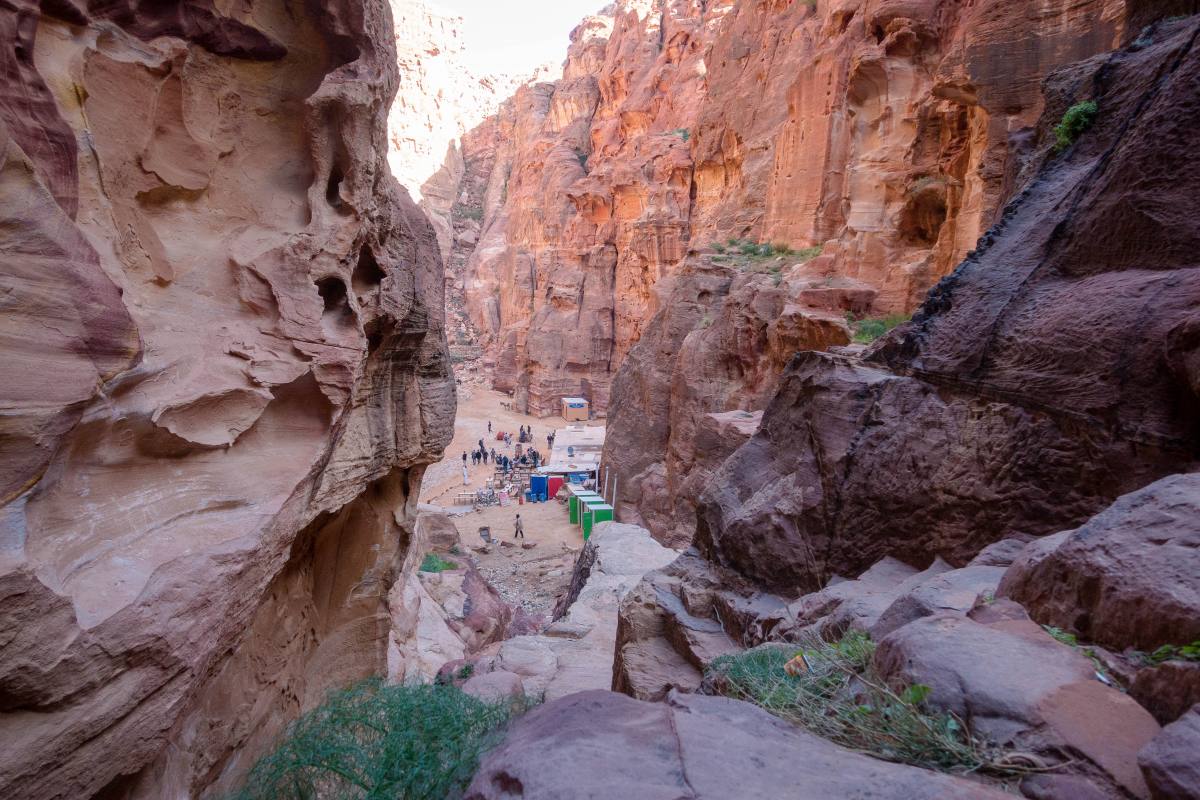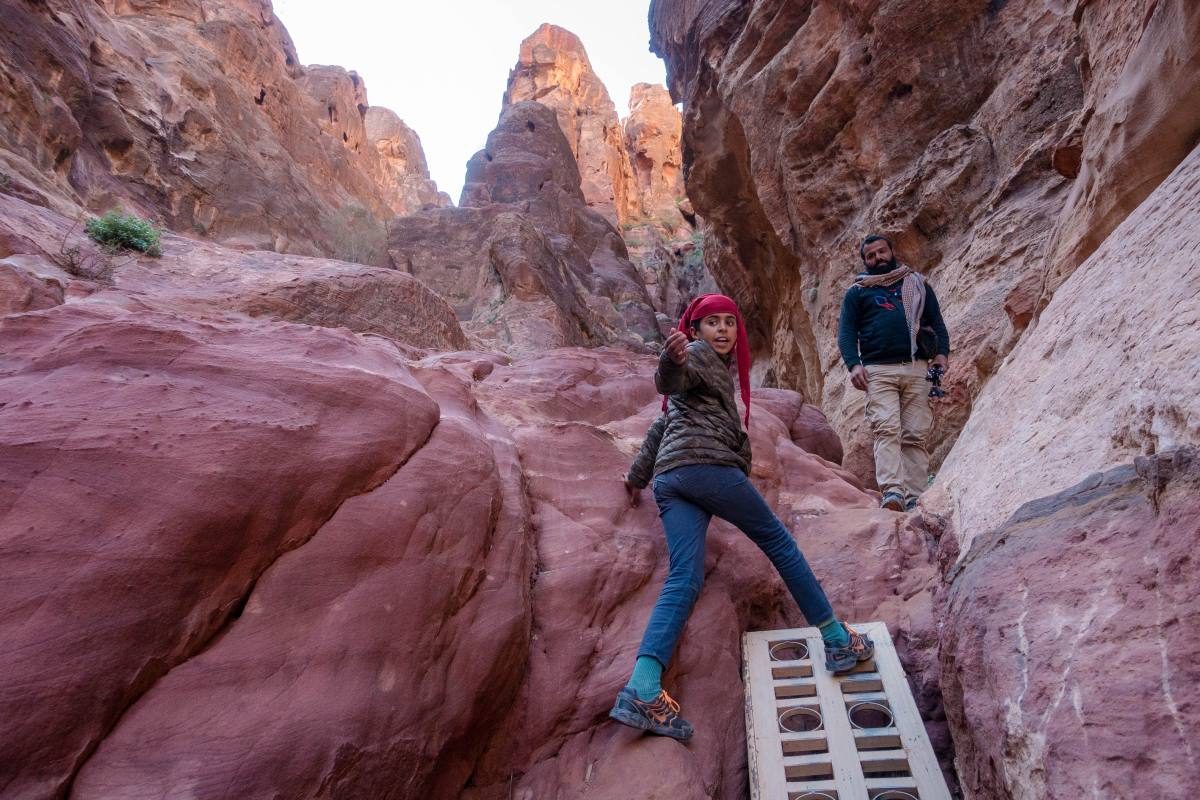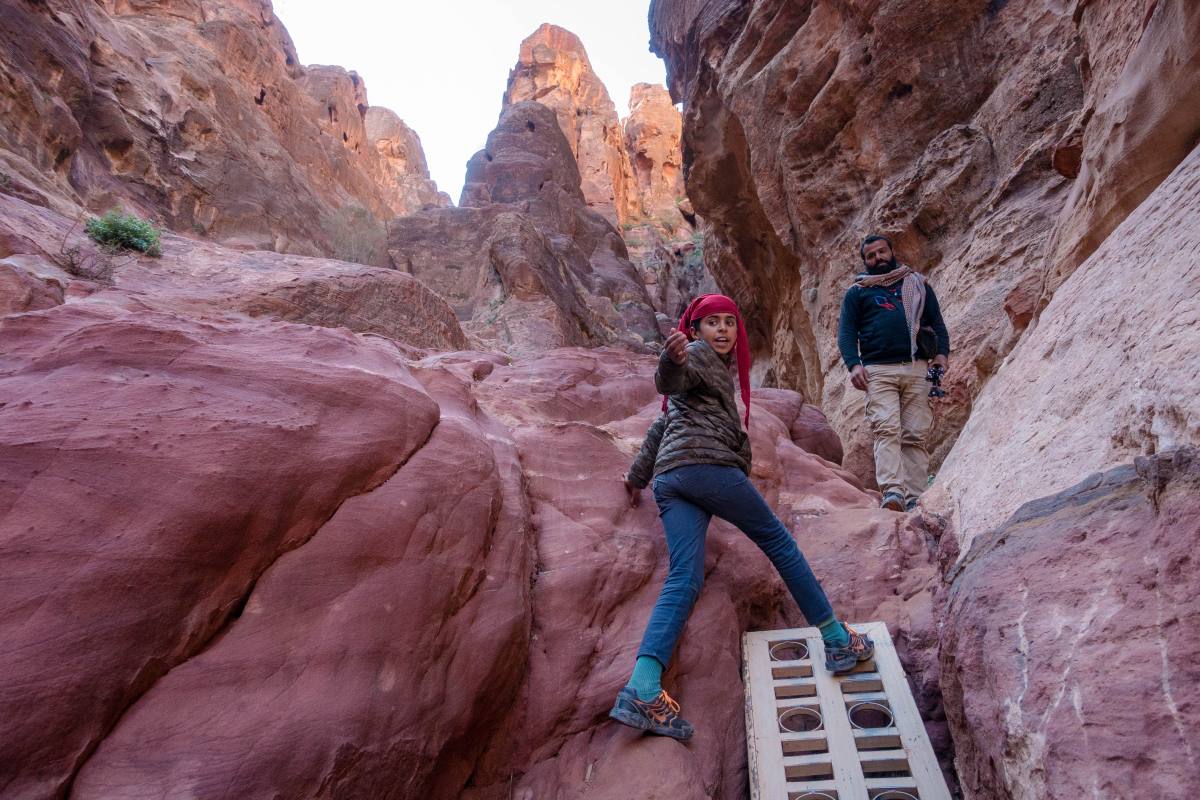 One, on the right side, is a regular route that you can do on your own starting from behind the Royal Tombs. It will take you about 45 min to 1 hour to reach it and then you'll have to go back the same way.
The second way is a shortcut, for which you need a guide. There are many 'bedouin' guides waiting for you once you reach the treasury (They're technically not Bedouins since the 'bedouins' living at Petra are actually Bedul gypsies).
I highly recommend it, as not only it will save you time, but also enable you to reach the not so touristy route of Petra from the High Place of Sacrifice.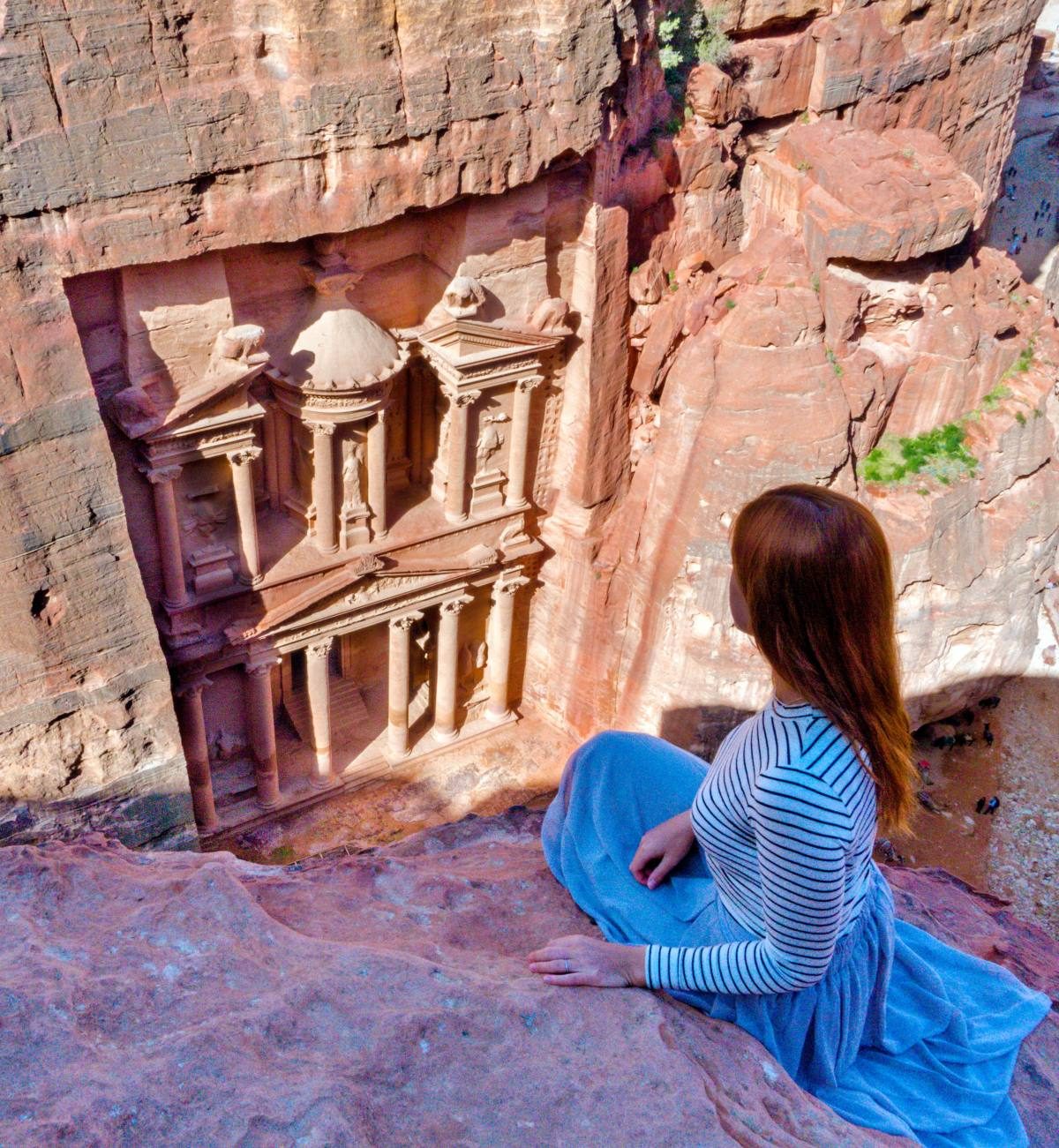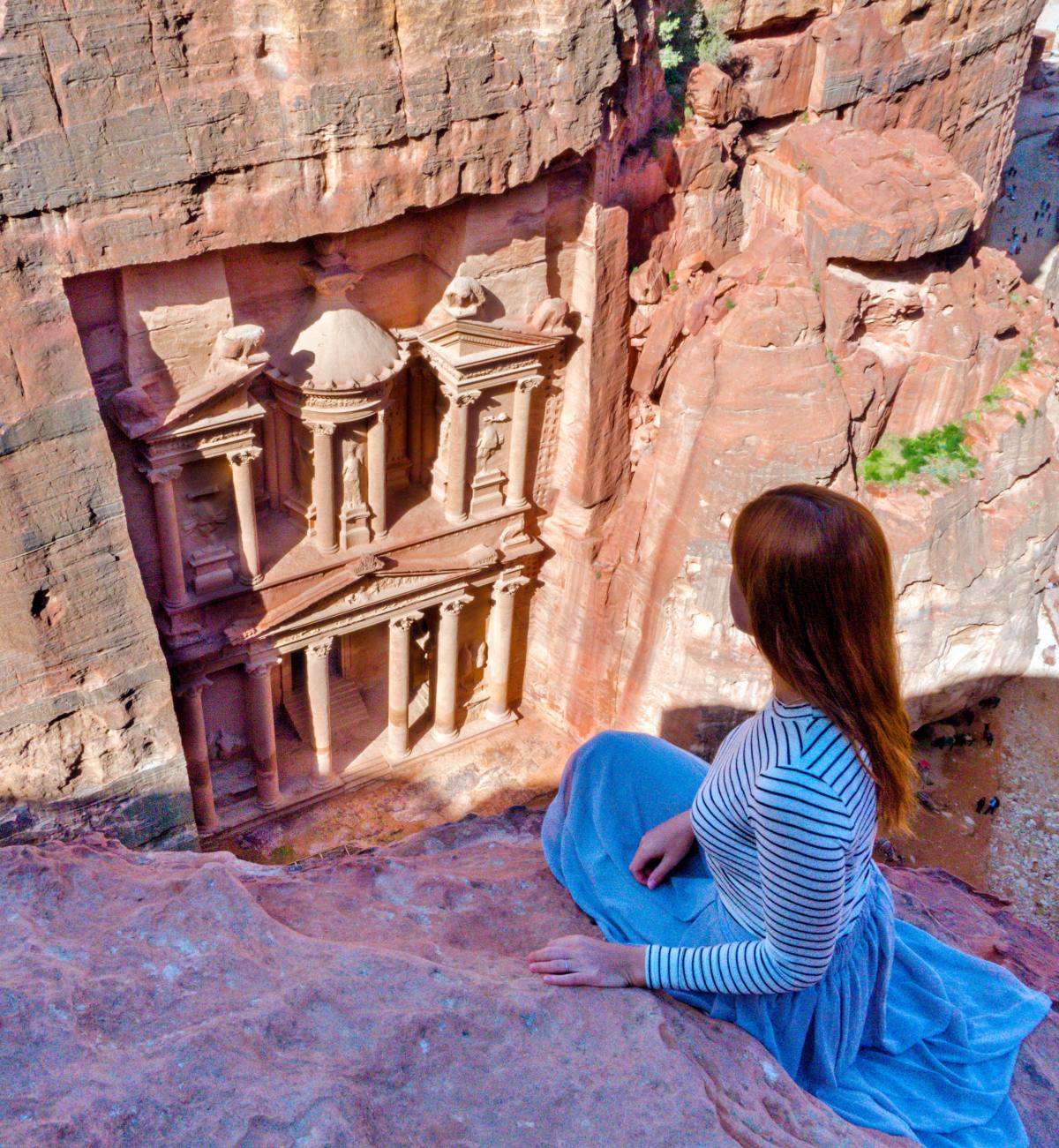 ---
4. Explore Petra off the path
Many maps of Petra don't show more than the typical tourist route. But if you decide to explore more of Petra and go down from the High Place of Sacrifice, you'll have the best time.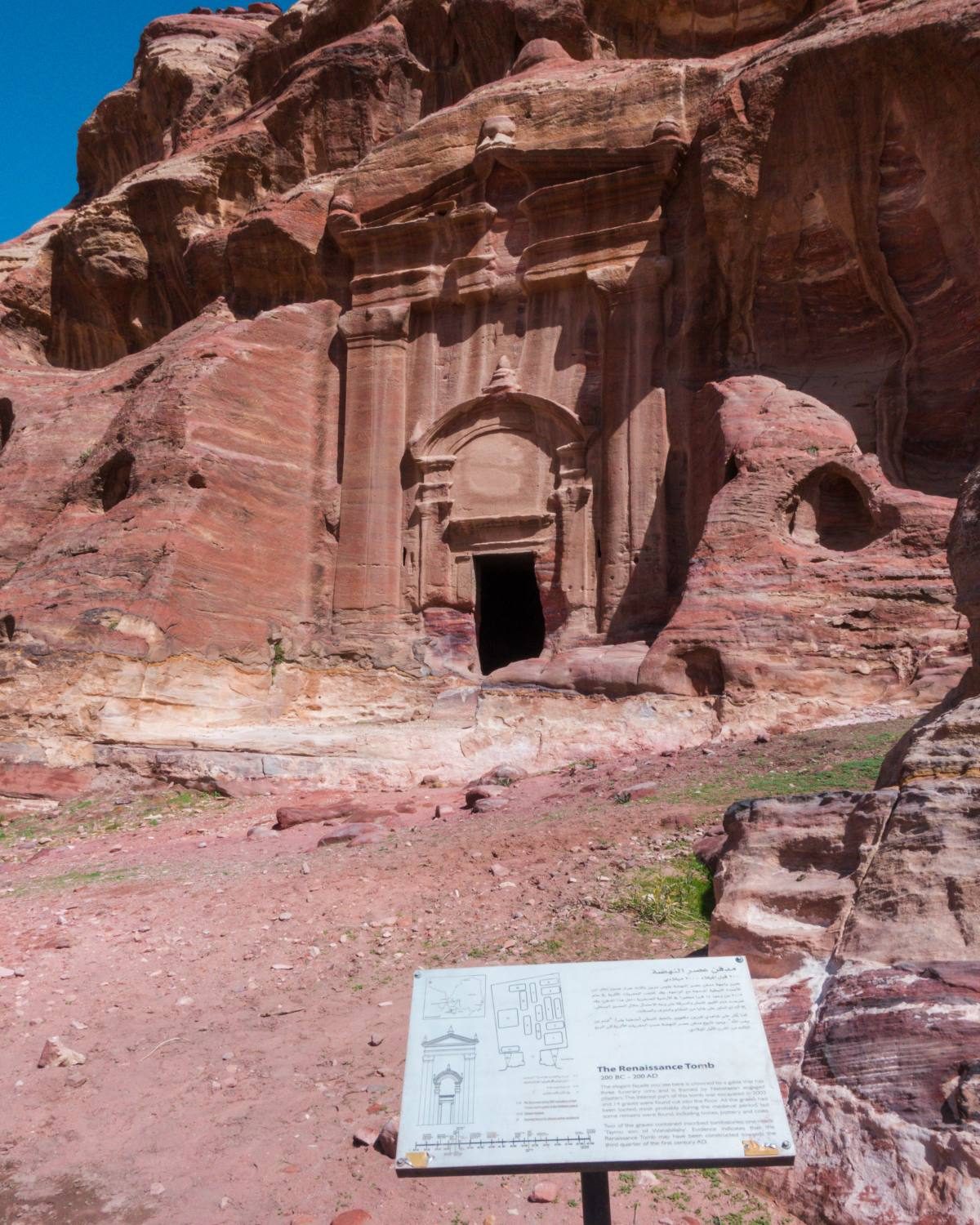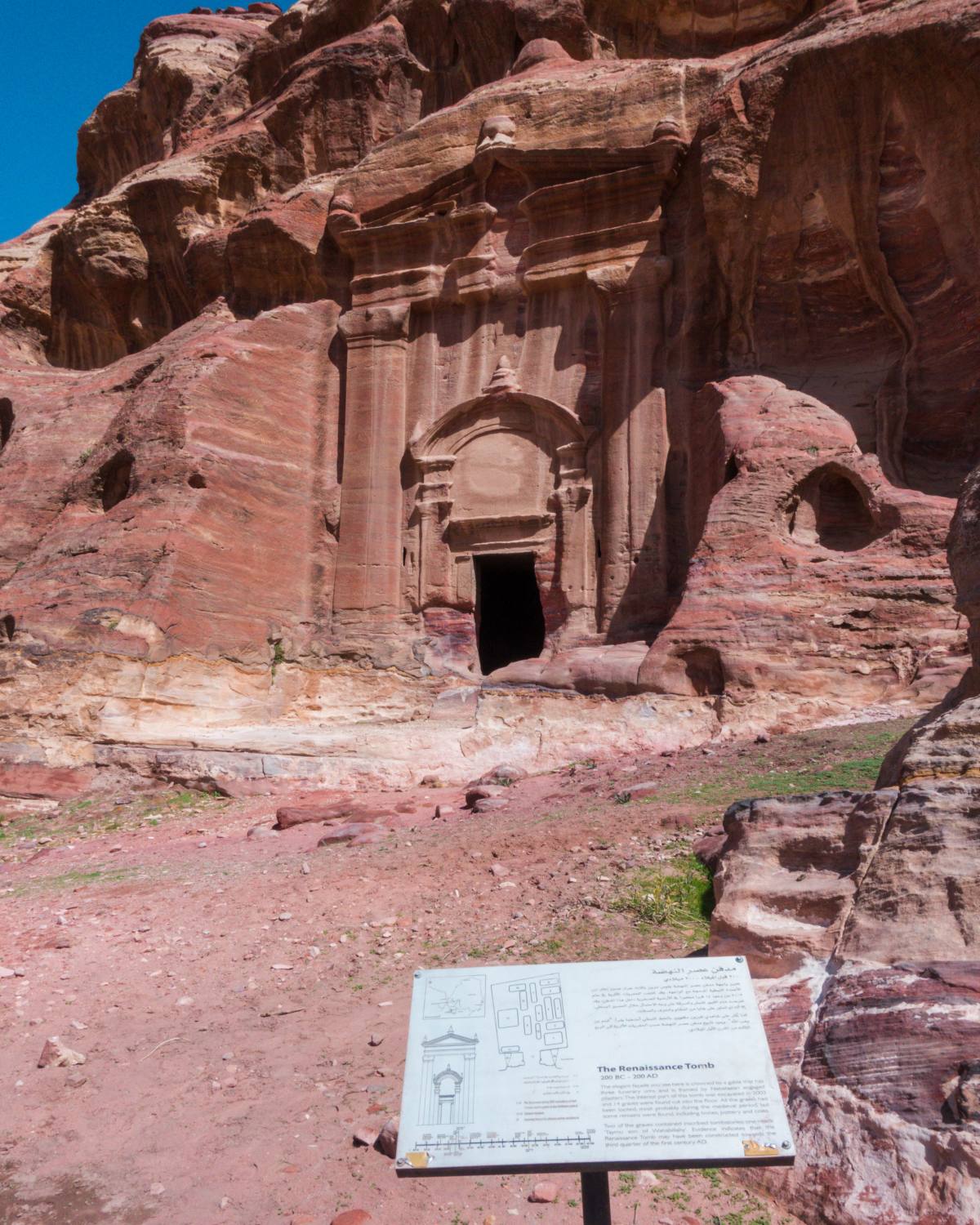 There were barely any tourists there (I met like 5 in 4 hours), you can go inside many structures, drink some tea with the local women and play with their kittens.
The rocks in that area had way more colorful than anywhere else in Petra.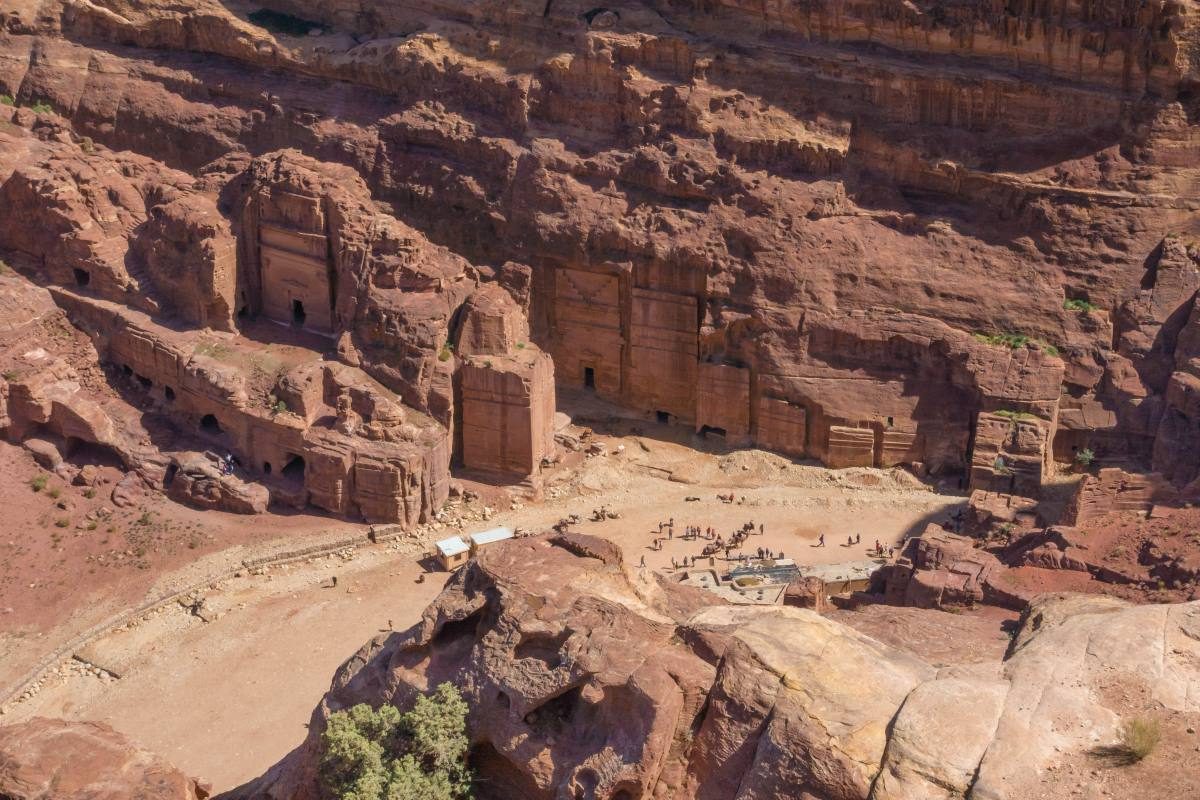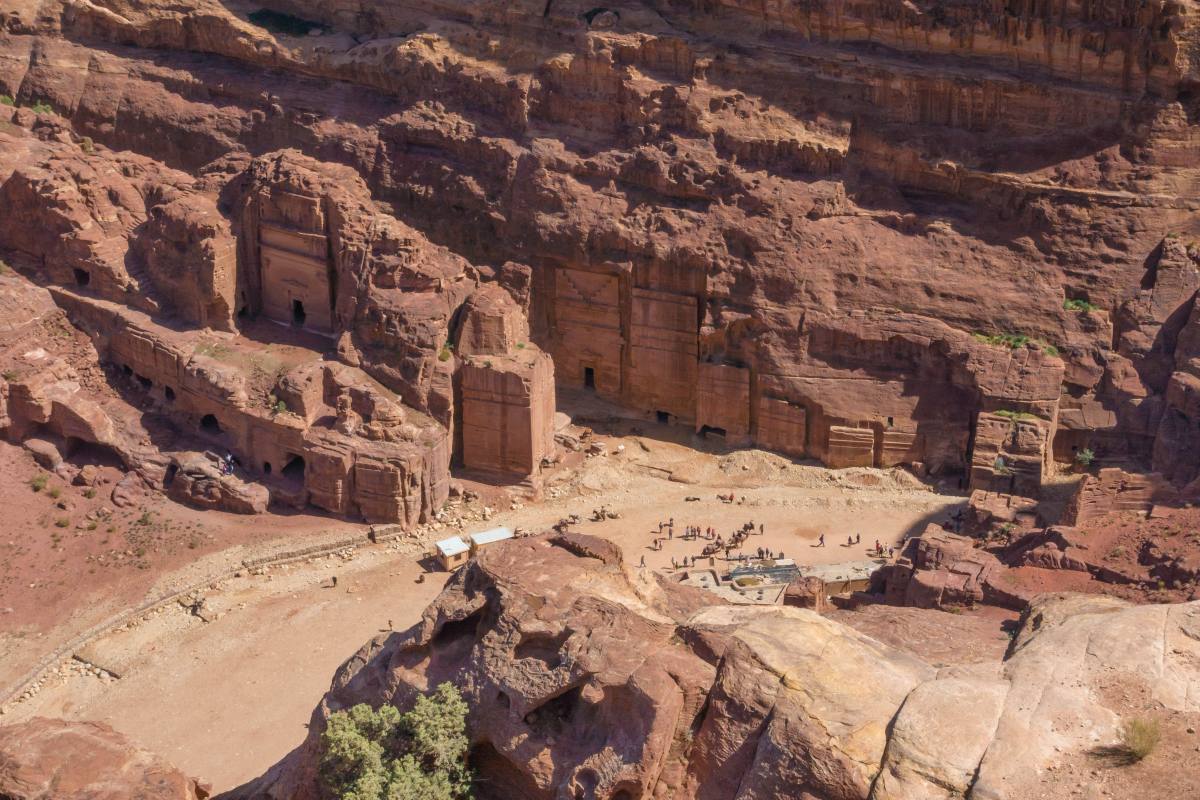 5. If you're heading to the Monastery, do it at the end of the day.
Most blogs and sources will tell you to get to the Monastery first and see other things on the way back. I disagree. I think you should head there in the afternoon, simply because it will be less sunny to climb the stairs up there (it's quite a hike!) and it will be less busy.
If you get there around 3 PM, most tourists will be walking away (as they choose to go there straight after the Treasury), so you can get the site to yourself. There was barely anyone when I got there around 3 pm as I passed most tourists leaving on my way up.
On the way back, stop at the orange juice stall close to the top (not at the top). It's very refreshing and I highly enjoyed sitting with a group of locals and chatting about their lives.
---
Movies Filmed at Petra Jordan
In 1989, Hollywood set Indiana Jones and the Last Crusade in Petra.
Other features include The Mummy with Rachel Weisz, Queen of the Desert with Nicole Kidman, Mortal Kombat: Annihilation, Sinbad and the Eye of the Tiger.
The most recent movie filmed at Petra was Transformers II, but quite frankly I haven't watched it and have no desire to.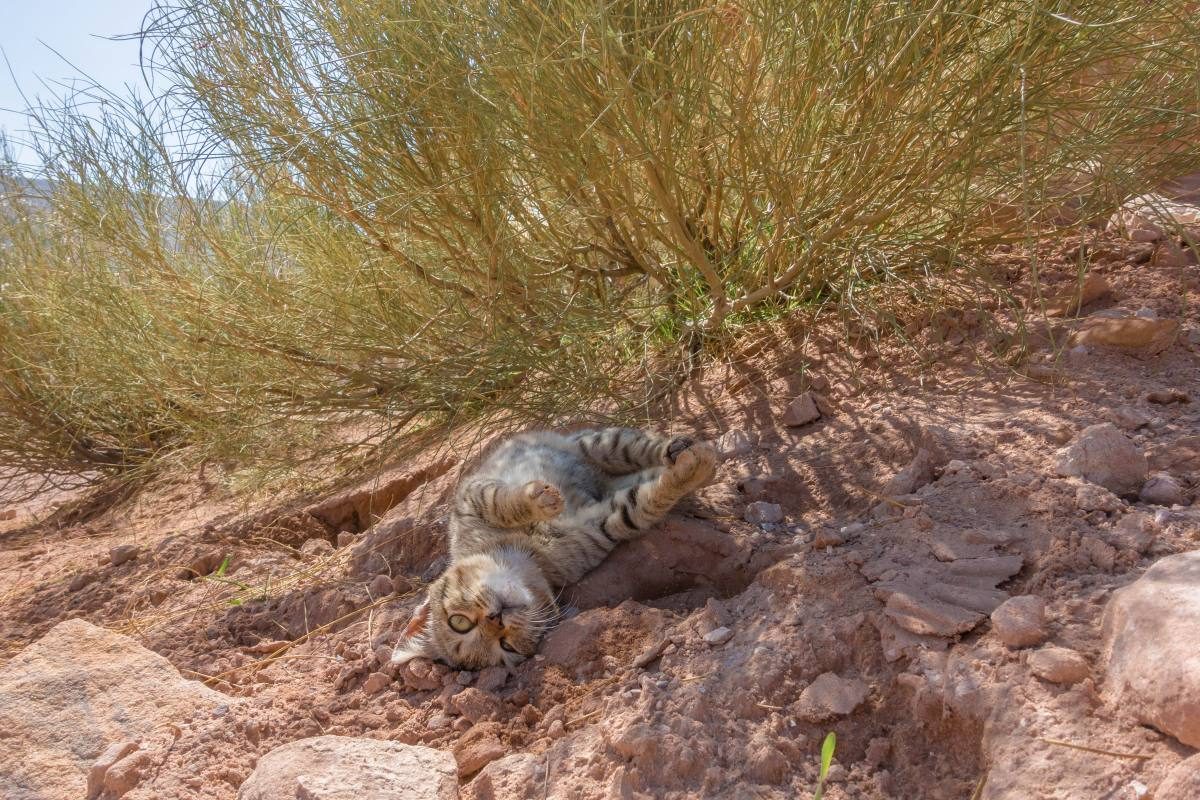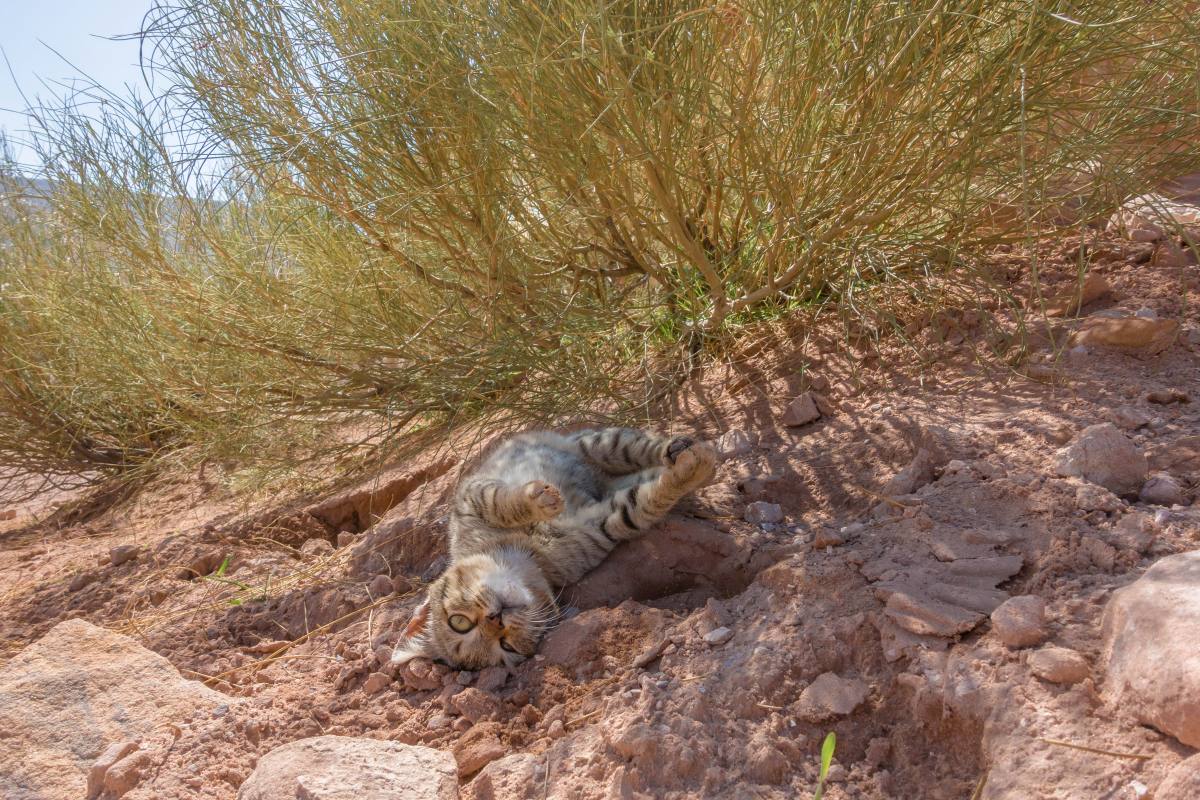 Any questions about visiting Petra? Let me know!