There are so many incredible day trips from Annecy you could take during your time in this charming alpine city.
I highly recommend basing yourself in Annecy for a few days, as there are many things to do in town as well.
Chateau de Menthon-Saint Bernard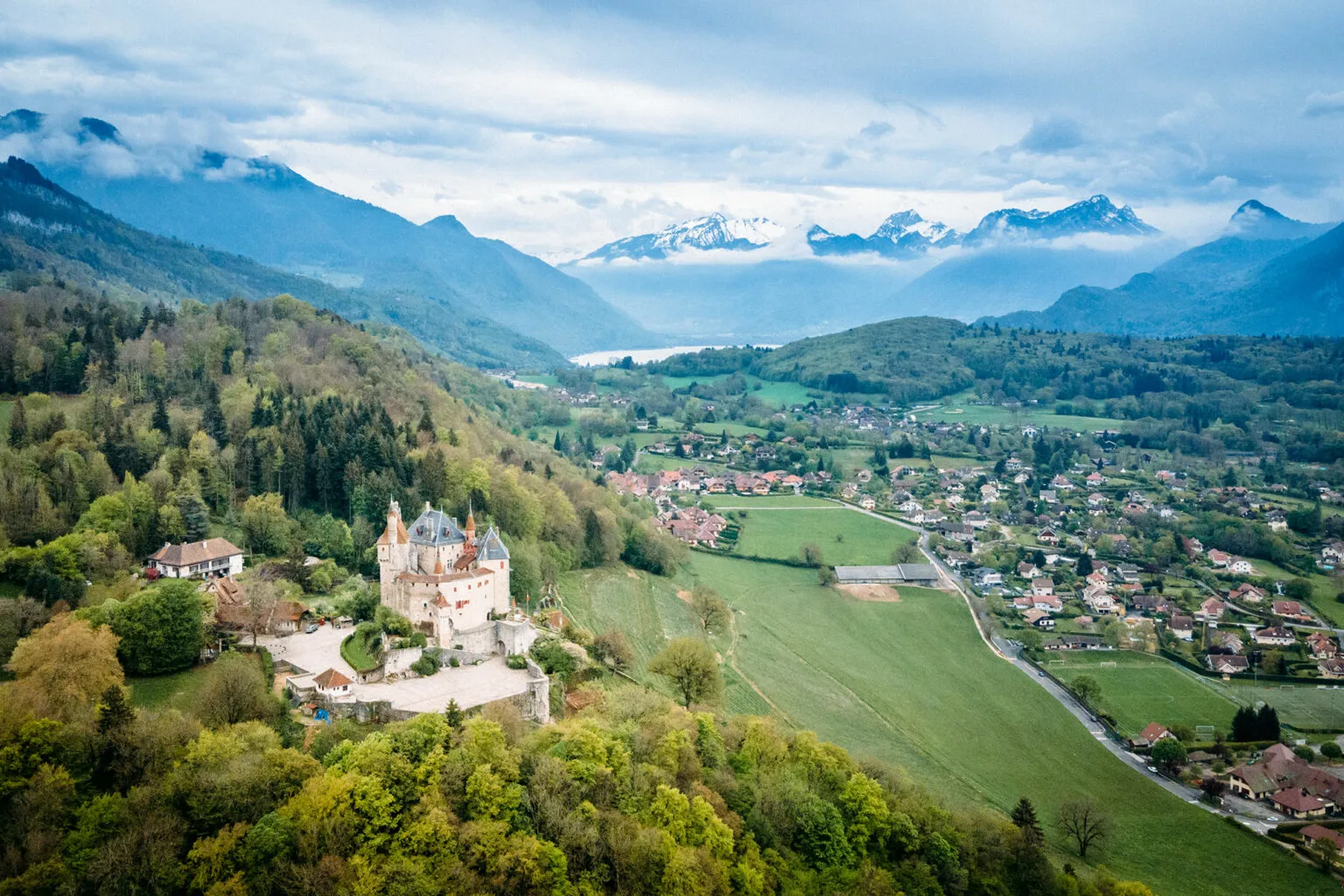 Chateau de Menthon is an impressive medieval castle right outside Annecy. Home to the same family for over 100 years, it's open to visitors from April to October on weekends.
I do recommend visiting, but I will say that it's gorgeous from the outside with a view and the castle grounds are nice to explore as well as there's also a small garden along with sheep, pigs, and peacocks.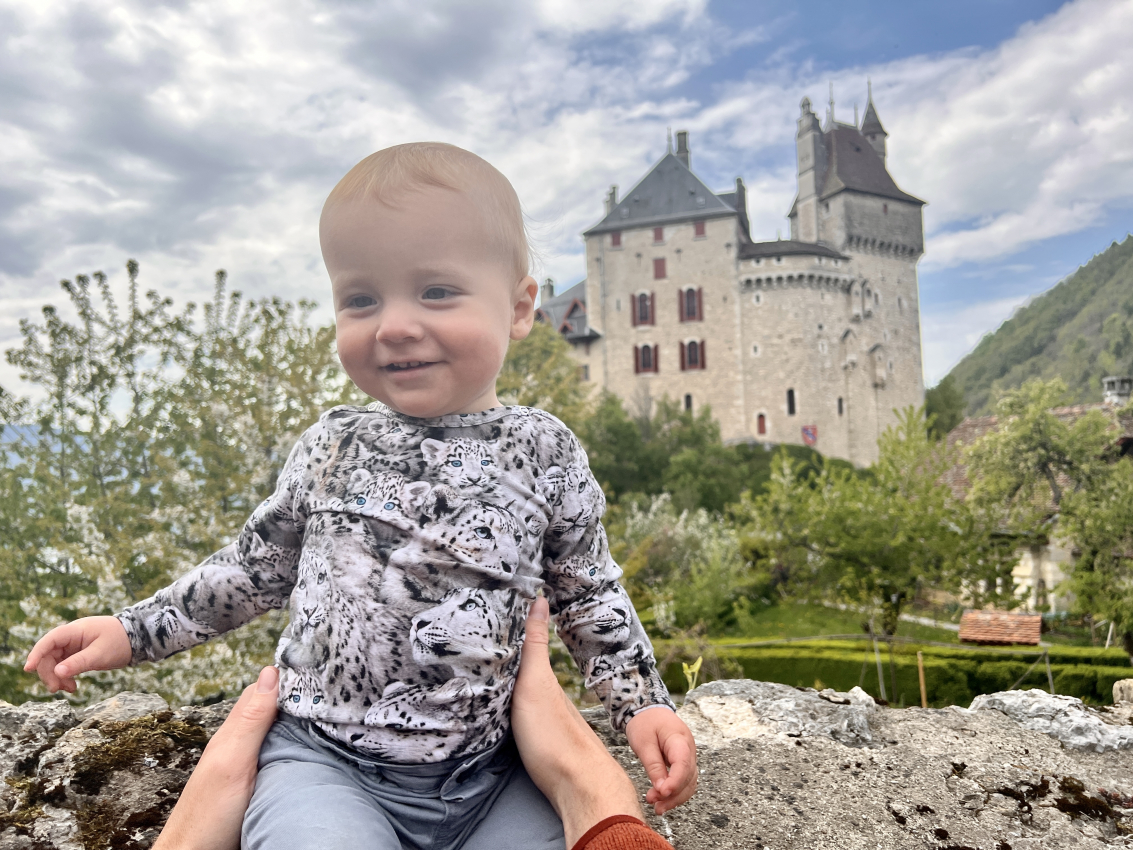 Guided tours of the inside of the castle are in French only and last about an hour. If you don't speak French then skip the guided tour and if you speak French but coming with kids also skip it – guides are super sensitive to anyone even taking a step or making the tiniest little noise while they go on and on about the castle's history and you can't go freely to the next room.
---
Gorges du Fier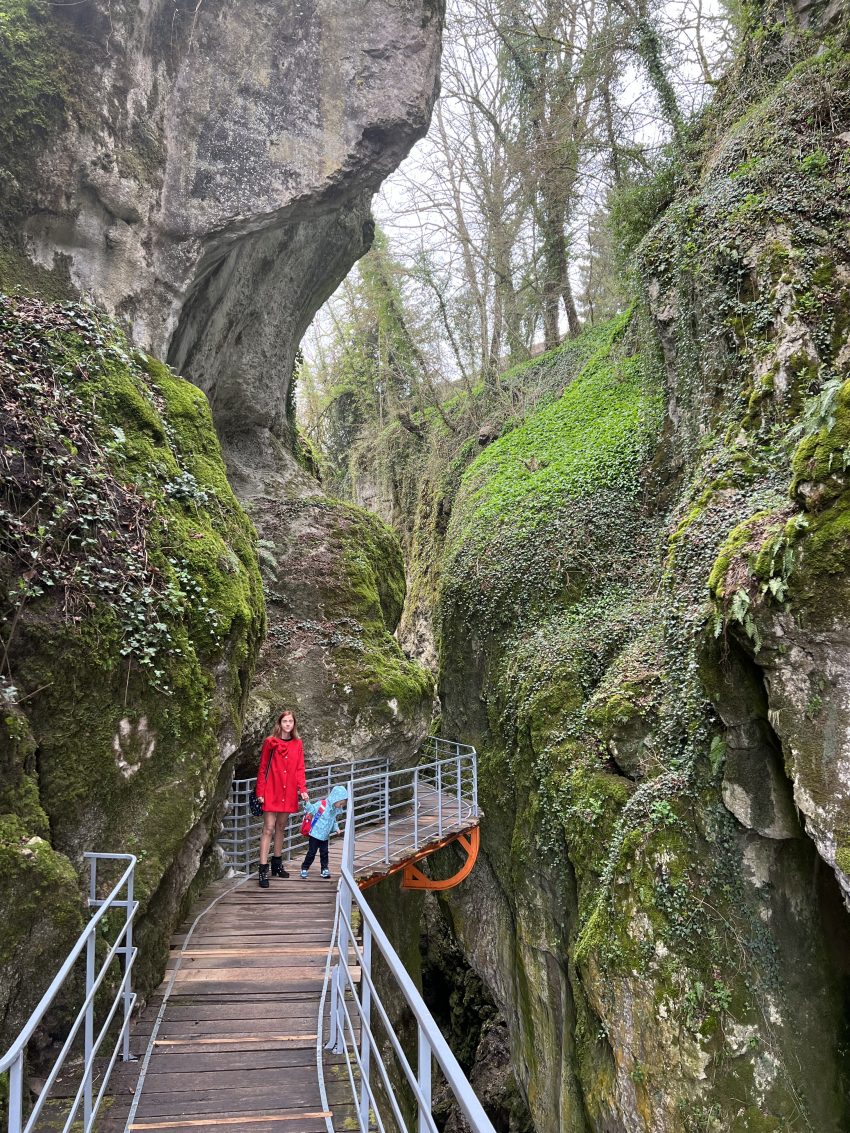 Classified among the greatest geological curiosities of the Alps and discovered 150 years ago, these gorges are a result of the water erosion on rocks. Gorges du Fier can be visited thanks to the footbridges installed all along the torrent.
It's a short walk in a nice natural site at about 10 km from Annecy – both my kids did it without issues at ages 1 and 3 at the time.
The site is closed in the winter from October to March and is then open everyday.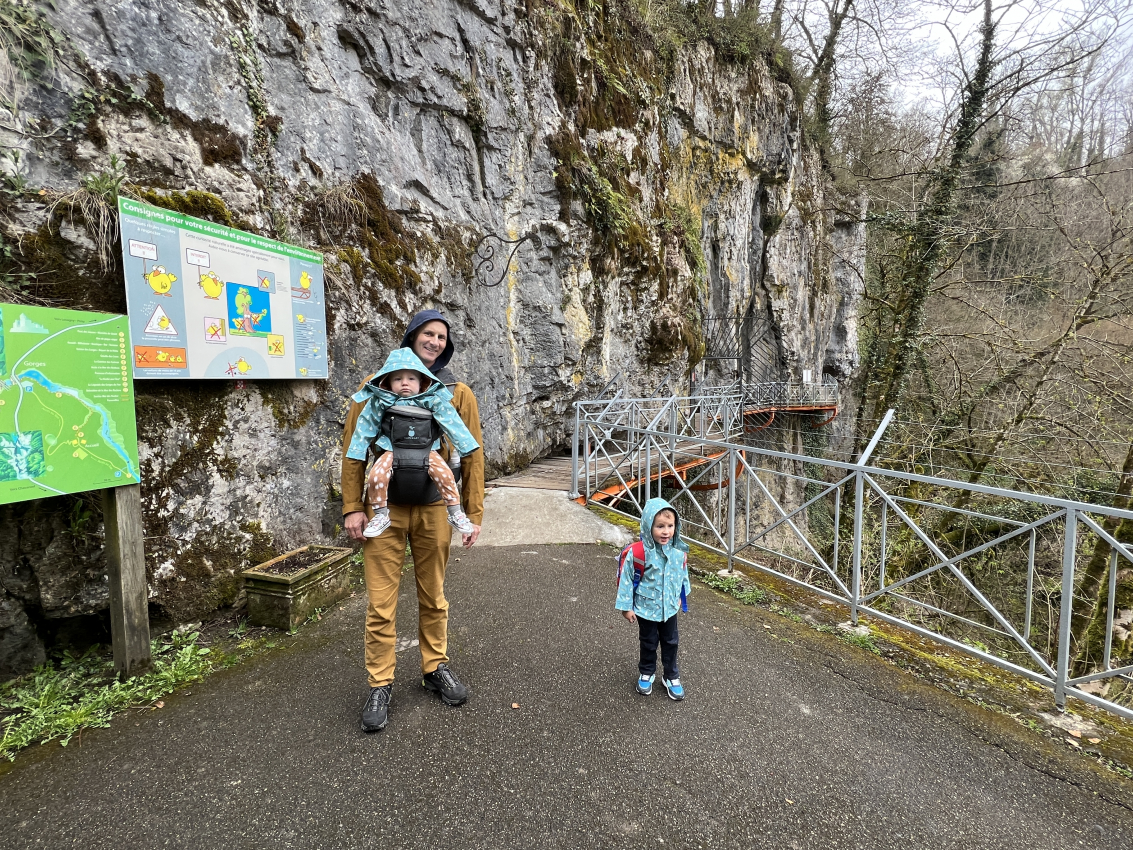 ---
---
Yvoire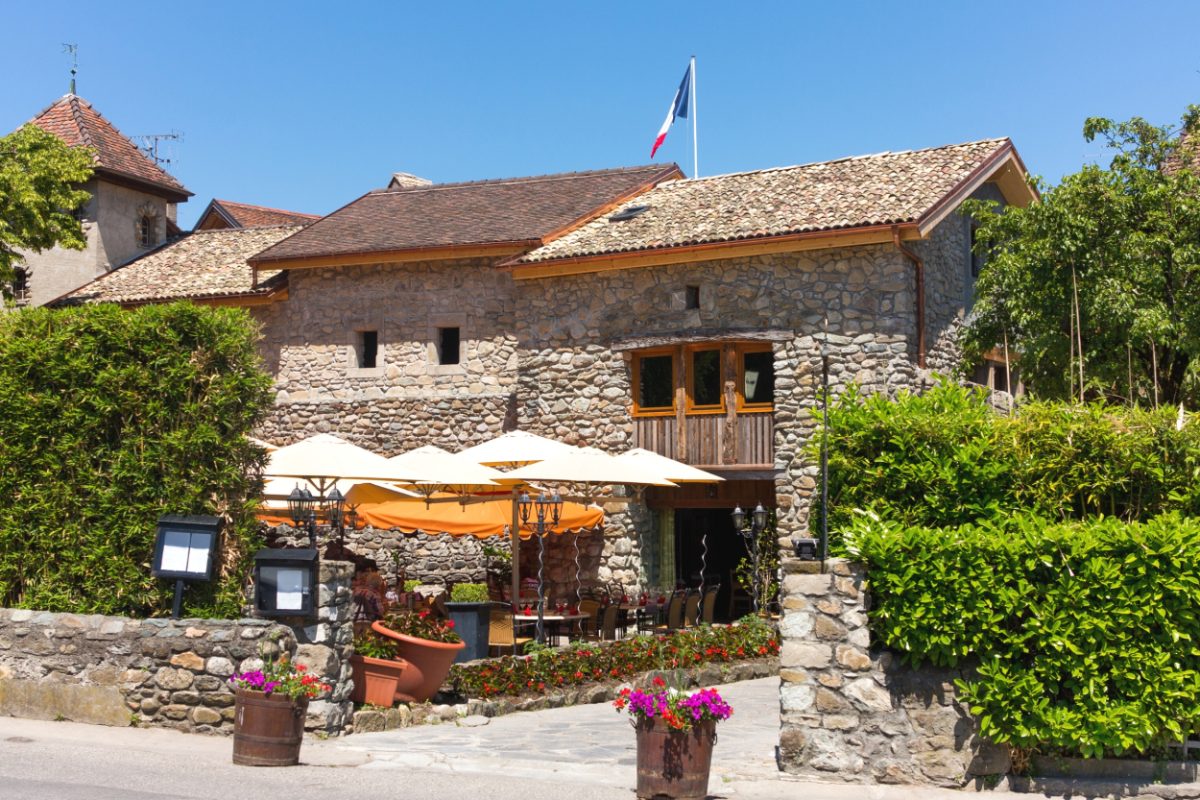 Yvoire, a pretty medieval village listed as one of the most beautiful villages in France. You will be able to discover its castle and small local craft shops.
The majestic shape of the Yvoire Castle is still standing as a sentinel on lake Geneva and during the spring and summer don't miss the Labyrinth – Garden of Five Senses.
Cascade d'Angon
Cascade d'Angon is a 35m tall waterfall fronted by a smaller waterfall forming an arch through which its cliff-hugging trail passes behind near Annecy, France.
It can be reached with a 20-minute walk, but you must have good shoes because sometimes the path is slippery and steep at the end (but easy for the most part).
Cirque de Saint-Même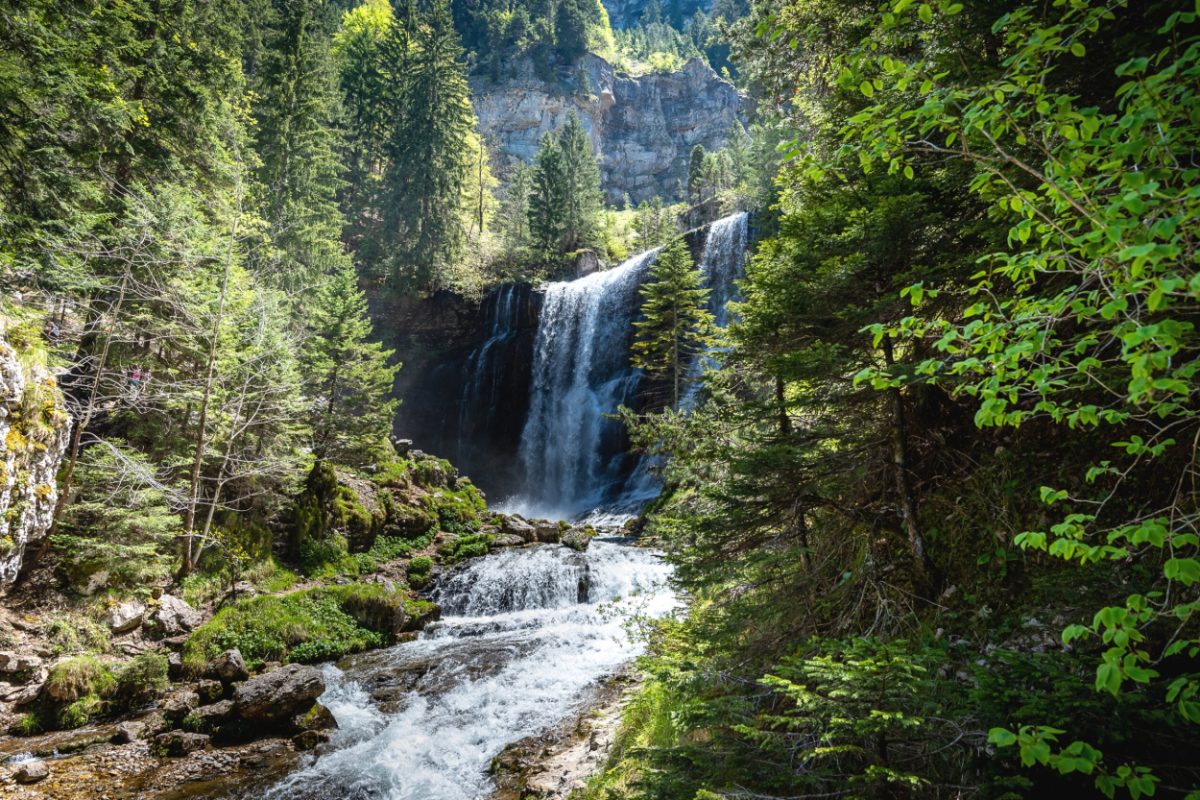 This cannot be missed, trust me! The Cirque de St Meme is a gateway to the Hauts de Chartreuse Nature Reserve and its scenery is unbeatable.
A natural park with trails suitable for all hikers, from beginners to experts. A super easy one to the first waterfall (doable with small kids), and more sporty ones to the higher cascades. You can also chill nearby the river after your hike.
Jardins Secrets
I remember when I first looked into visiting I read a review: "Swiss woodworking meets a Moroccan riad, through a Persian garden and a decent slice of the Lord of the Ring". It's a pretty accurate one.
Lovely gardens (best visited in mid-spring) with a place for a family visit and a nice walk among lounges, patios, galleries and restaurants. Many spots to take beautiful photos and don't forget to eat the oriental ancakes there!
Geneva
Located less than an hour from Annecy via bus or car, Geneva is a fun and easy day trip to take from Annecy. Geneva is known for being the headquarters of many organizations including the World Health Organization, United Nations, World Trade Organization, and more.
Go wander around Lake Geneva and spot the Jet d'Eau, a huge water spout in the lake. Explore the old town, Palace of Nations – the United Nations office in Geneva, and find the broken chair statue outside, which was built to honor those who have lost limbs due to land mines.
Chamonix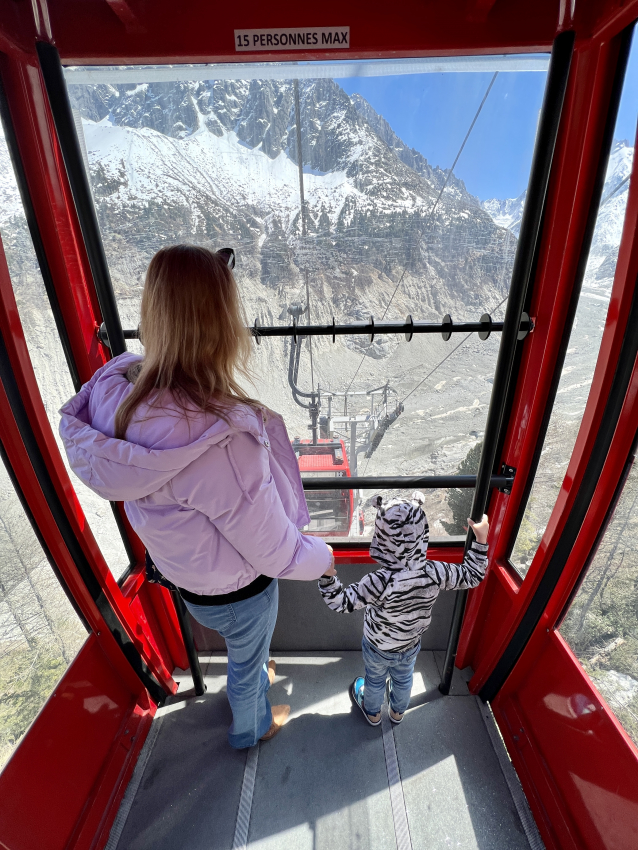 Located about 1.5 hours via car or bus from Annecy, you could visit Chamonix to see the mountains up close and enjoy some stunning views. The road itself leading from Annecy to Chamonix is just stunning!
Hop on a train to see Mer de Glace glacier or take a cable car to Aiguille du Midi Skywalk to see the ground below your feet!
Note: If you're coming with little kids you won't be let on Aiguille du Midi. Kids under 2 aren't allowed to go on high elevations in France (they are in Italy and Germany though!). It was a surprise for us, so something worth mentioning.
If you have kids with you, hit the Alpine Coaster! I must say, my husband had just as much as my son on this coaster so might not be just for the kids.
Perouges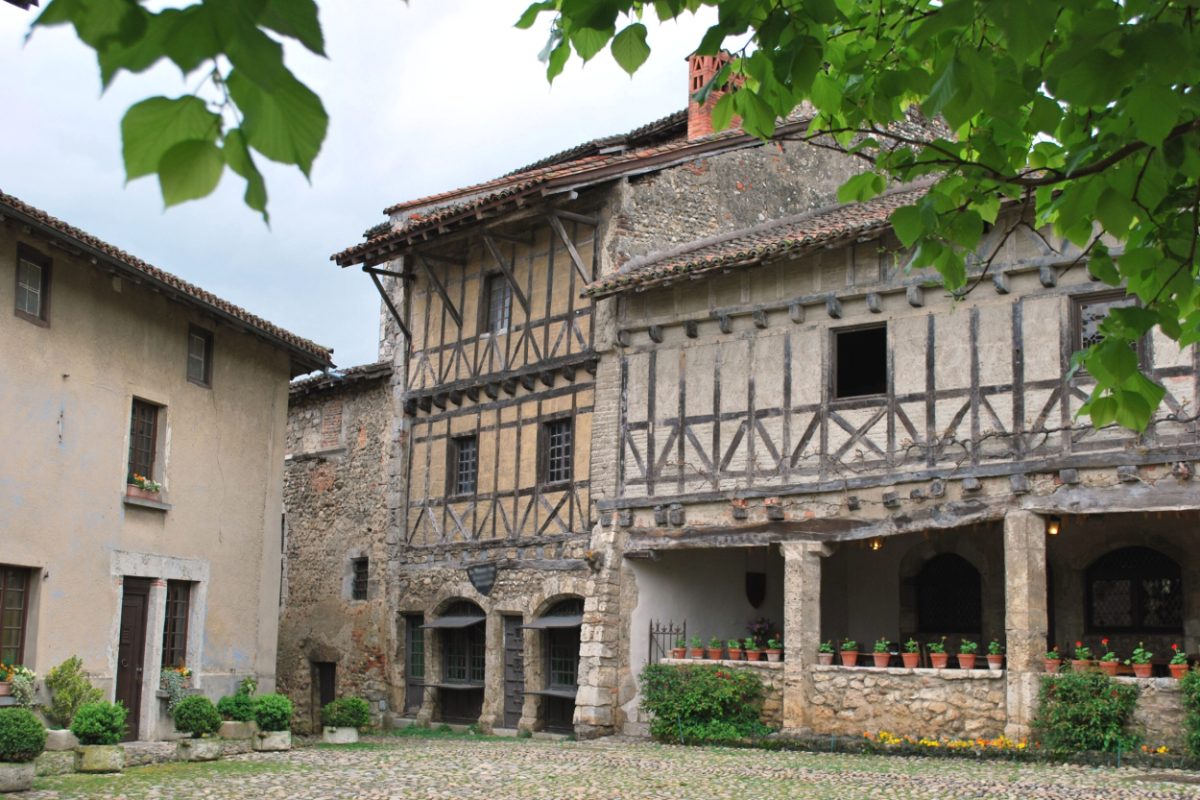 Discover France's most picturesque historical villages It's a perfectly preserved gothic treasure. With about 100 inhabitants who call the double-walled village home, Pérouges has several restaurants, gift stores and craft artisan shops, wineries, as well as places to stay that cater to the visitor.
I think I liked it much more than the popular villages around Colmar. Especially if you consider lower tourist crowds.
As you traverse the cobbly streets, you can admire tiny doors and easily feel transported back in time.
Le Hameau du Père Noël
Explore the home of Father Christmas and his elves, Mother Christmas, Father Whipper and the Attic of Dummies all year round. Yep, you can go see it in June!
The moment you set foot through the door you are immersed in the magic of Christmas – just a really charming, beautifully presented setting, and kids can meet Santa Claus.