Eating out with kids can be so great because it means you get a break from cooking, but when you travel with kids it might also be a necessity because not all places offer self-catered accommodation and even if they do, you might not want to stay there – we actually prefer hotels vs Airbnbs when traveling with kids (find out why here).
Taking kids to restaurants isn't uncommon anywhere in the world, but for many parents, it can feel stressful, especially when traveling abroad when customs might be different.
Your baby or toddler might be accustomed to eating early but, for example, in Italy or France most restaurants don't even open until 7:30 PM at the earliest. You might be traveling to a place where they don't offer kids' menus and you have a picky eater. What to do then?
We've been traveling around and eating out with kids all over the world ever since they were a few days old (Dylan at 5 days old, Holden at 8 days old) so here are my travel dining hacks for kids, including products that can make eating out with kids easier!
Tips for Dining with Toddlers & Babies: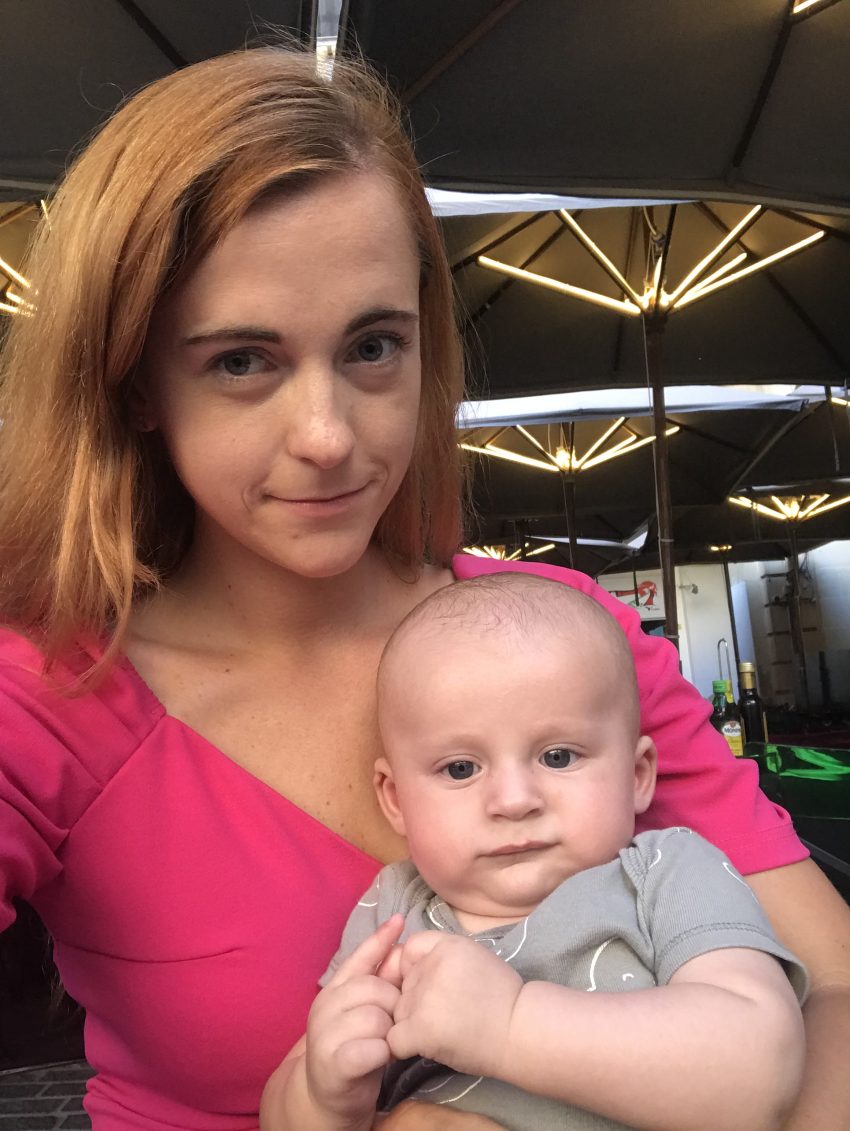 Don't Get Too Set on Only Dining at Kids-Friendly Restaurants
When we moved back to the US after living in Europe with out kids I realized that American parents will often only take kids to restaurants that are kids-friendly. Which, often ends up being chains with crappy food but possibly a play area.
It's definitely not that way in Europe or Asia – people are used to going out and seeing babies, toddlers, and kids of all ages at normal or even fancy restaurants. Nobody will take a double look, it's completely normal.
In fact, there aren't many chain restaurants or venues in Europe that are marketed as "family-friendly".
You Don't Need Kids Menu
Don't get scared if the restaurant doesn't offer kids' menu. I remember traveling to Mexico when my son was about to turn 2 and another family stopped us asking how we eat at these restaurants when they don't have any "kids items" on the menu and they're doomed to french fries from room service.
I couldn't understand it, because you can always ask for something "off menu" for your kids. Not once anywhere in the world, we were declined – even at the 3* Michelin Star restaurant in the Maldives they still brought my kids a plate of purple carrots, because why the hell not.
Even the pickiest eaters will be able to find plain pasta, cooked veggies, bread, rice – anything. You can make the meal enjoyable for everyone, and not be doomed to eating fast food just because the kids are picky eaters.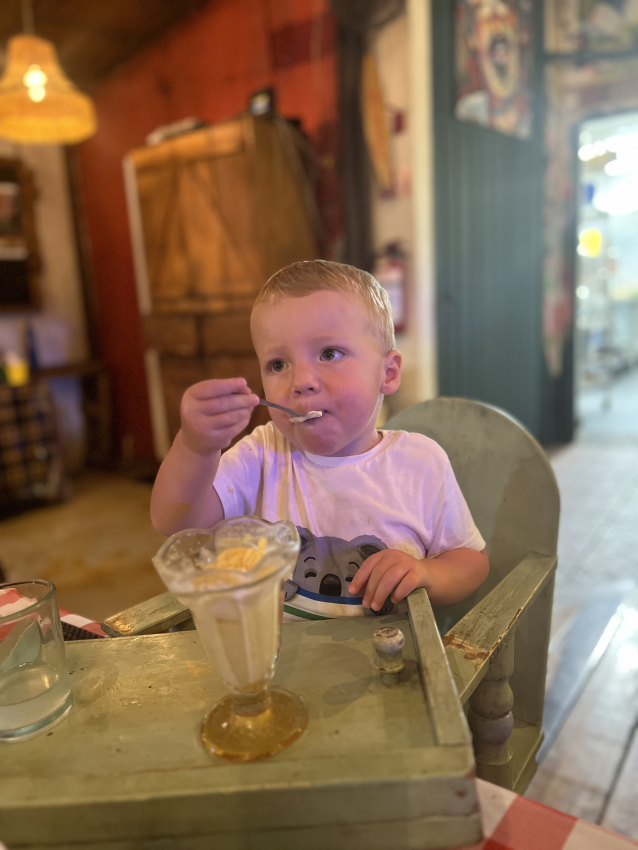 ---
Outdoor vs Indoor Dining with Kids
I always read recommendations to sit outside with the kids, but I'm still on defense on that one. Unless there was a big garden, my kids would often feel like running away onto the square or street when they were toddlers when we ate outside so we started asking for inside tables often.
With a baby, sitting outside was fun because the baby would get fresh air while chilling in the travel stroller.
Early vs Late Dinner with Toddlers
Let's start by pointing out that eating early might not always be an option for kids. For example, our dining in the Maldives wouldn't start until 7:30 PM. When we went on a cruise we missed the first dining slot so the dinner seating wouldn't start until 8 PM. In Italy restaurants wouldn't open before 7:30 or 8 PM.
At first, I was worried the kids will be a mess – especially since my kids stopped napping before they even turned 2 years, but as the years of experience passed by I realized that we prefer late dining with kids, because if the kids got tired we just trained them to take a nap while we enjoyed the meal in peace (because let's be real for a second – any meal with toddlers who are awake is rarely peaceful, no matter the time).
Quite often at bigger restaurants waiters would offer us an extra chair for a sleepy kid to lie down.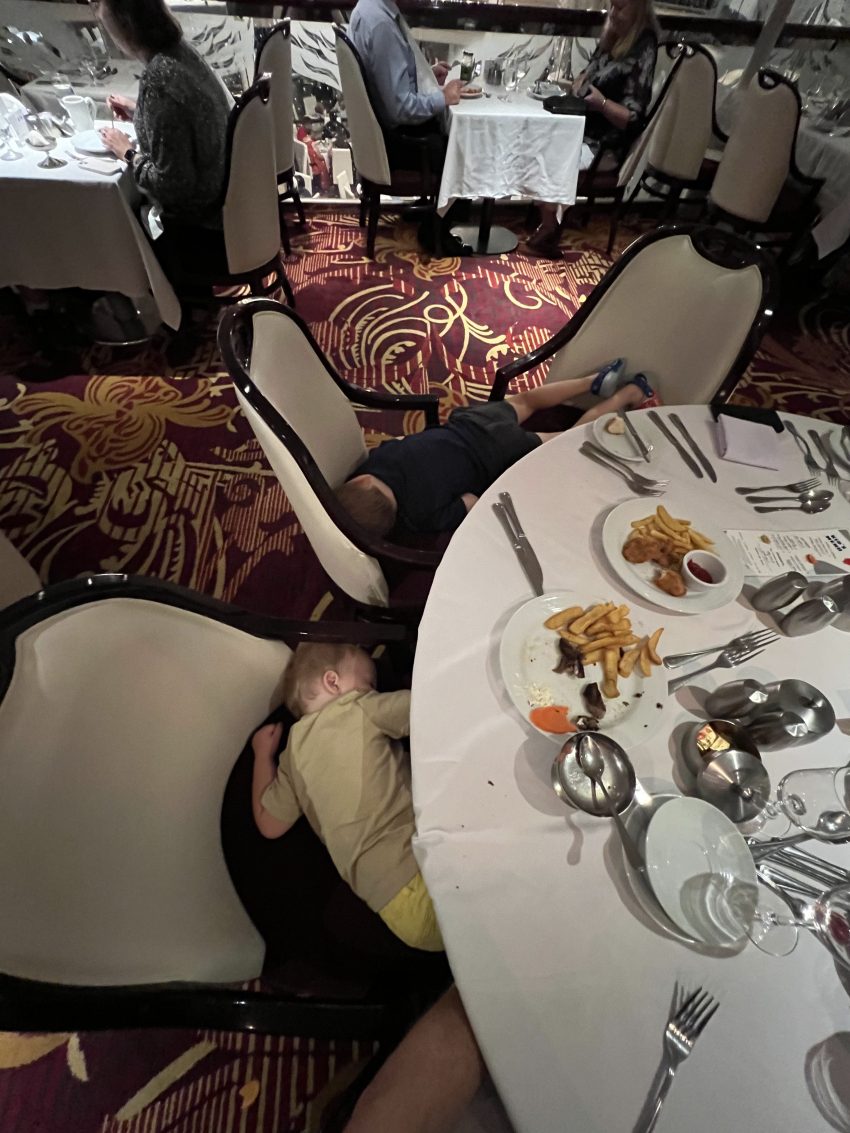 ---
High Chair vs Regular Chair
Not all restaurants will offer high chairs or even if they do they might not always be available. We trained kids to sit in a regular chair from as early as 15 months. It's especially helpful because in many places (eg. Mexico, Maldives, Italy) the high chairs never have straps so toddlers can easily get out of it unless they're taught to stay seated.
For younger ones, we often brought a portable high chair.
When kids were babies we naturally brought our own foldable bib and cup, but nothing else.
Some parents keep bringing placemats and their own utensils, but we thought it was never necessary. There's no need to be wasteful – you can just wipe the table down.
Solo vs Other Families
I saw so many bloggers saying to invite another family with children to a restaurant outing. With kids over 4 (or mature kids over 3) I'd say yes, but with toddlers I must say: hell no to that.
Every time we did that the outing was turning into a mess with kids fussing, arguing, and going crazy.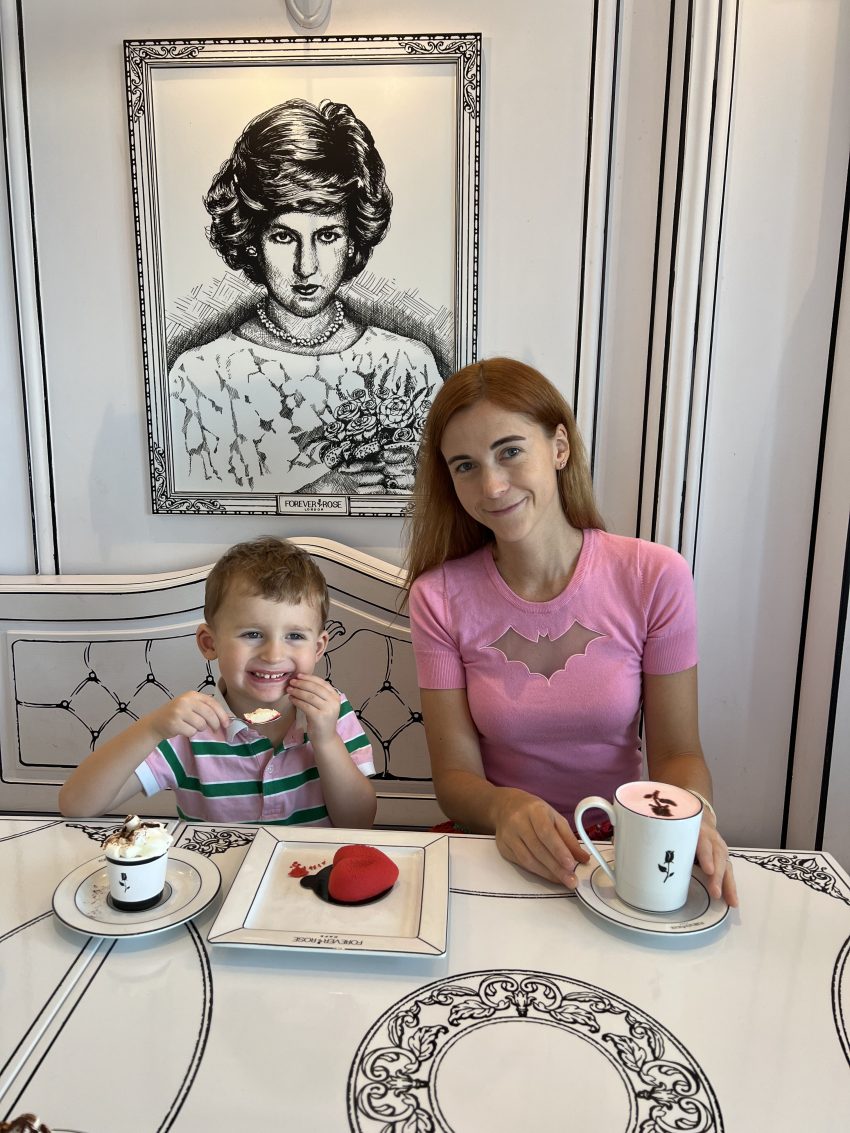 ---
Bring Toys
First things first, never sit the two kids (especially siblings) next to each other…fighting will occur 97% of the time. Alternate which parent sits with which child and remembers the pattern… they always fight.
We started by bringing crayons and a coloring book, but this was a 10-minute fix, especially with toddlers (because how long can kids really scrub on a piece of paper).
We usually had smaller toys like little cars or figurines as well.
We bring iPads these days, especially for long meals. The kids don't get to use the iPads at home or when you're out doing stuff – only on planes and at restaurants, so for them, it's something that's unique to them and keeps them occupied.
I think it's undeniably better than buying your kids new toy for every restaurant outing as some bloggers recommend.
Most important though… are not the toys – it's the snacks.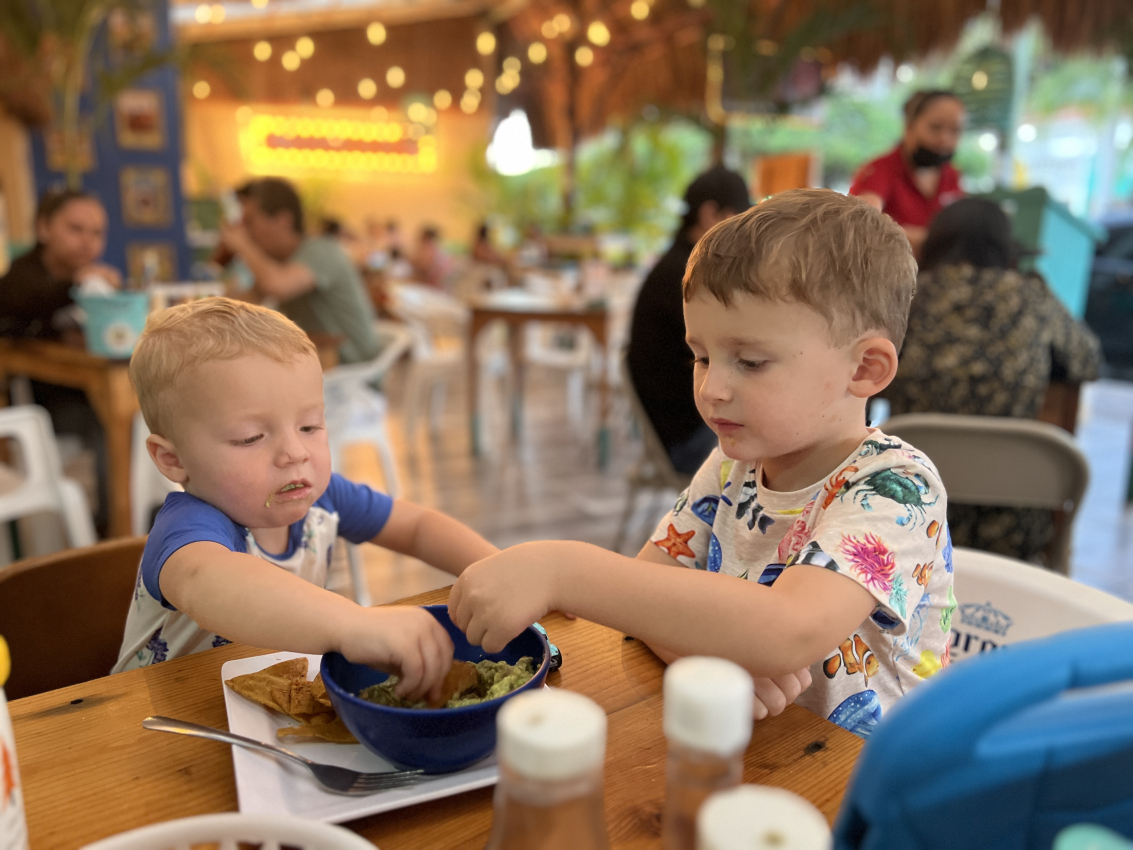 ---
Bring Snacks for Waiting Time
The second we enter the restaurant the kids know we're there to eat and they instantly get hungry. We bring snacks while we wait for our meals.
Kids Meal Comes First or Not
Many families try ordering kids' food as soon as they sit down. I will say that it can be a very good or a very bad idea, depending on the circumstance.
If I know my kids are tired and will take a nap or fall asleep at meals then yes, I'll order their meals first.
Any other time I keep them occupied with snacks until everyone's food comes. Otherwise, they eat theirs and are done with the restaurant experience before our meal comes out and we're doomed to fight with them that mommy and daddy haven't eaten yet while they're ready to explore already.
Have a Plan B.
No matter how well your kids might be trained, always have plan B in case of a bad mood. Be prepared to take a meal to go and leave if you have a baby. Be ready to get that iPad or iPhone out for a toddler. And most importantly – don't stress about it.