What is the best town to stay in on the Amalfi Coast? Positano and Amalfi are two of the top towns to visit if you're touring the Amalfi Coast. However, they're not the only places to stay on the Amalfi Coast. Many more stunning Italian seaside towns are set in the dramatic cliffs along the sea, such as Praiano, Maiori, Salerno or most famous Positano.
Where should you stay when visiting Amalfi Coast? As Amalfi Coast in Italy stretches for a while you have plenty of gorgeous small towns to visit, and hence many options for spots to stay depending on your preferences.
Where to Stay on the Amalfi Coast
★ Where to Stay in Amalfi Coast Without a Car – Salerno
★ For a Quick Trip to Amalfi Coast – Sorrento
★ Where to Stay on Amalfi Coast for Honeymoon – Positano
★ Best Place to Stay to Visit Other Towns in Amalfi Coast – Amalfi
★ Best Place to Stay in Amalfi Coast for Families – Maiori
★ Where to Stay in Amalfi Coast on a Budget – Praiano
★ Best Quiet Romantic Area – Ravello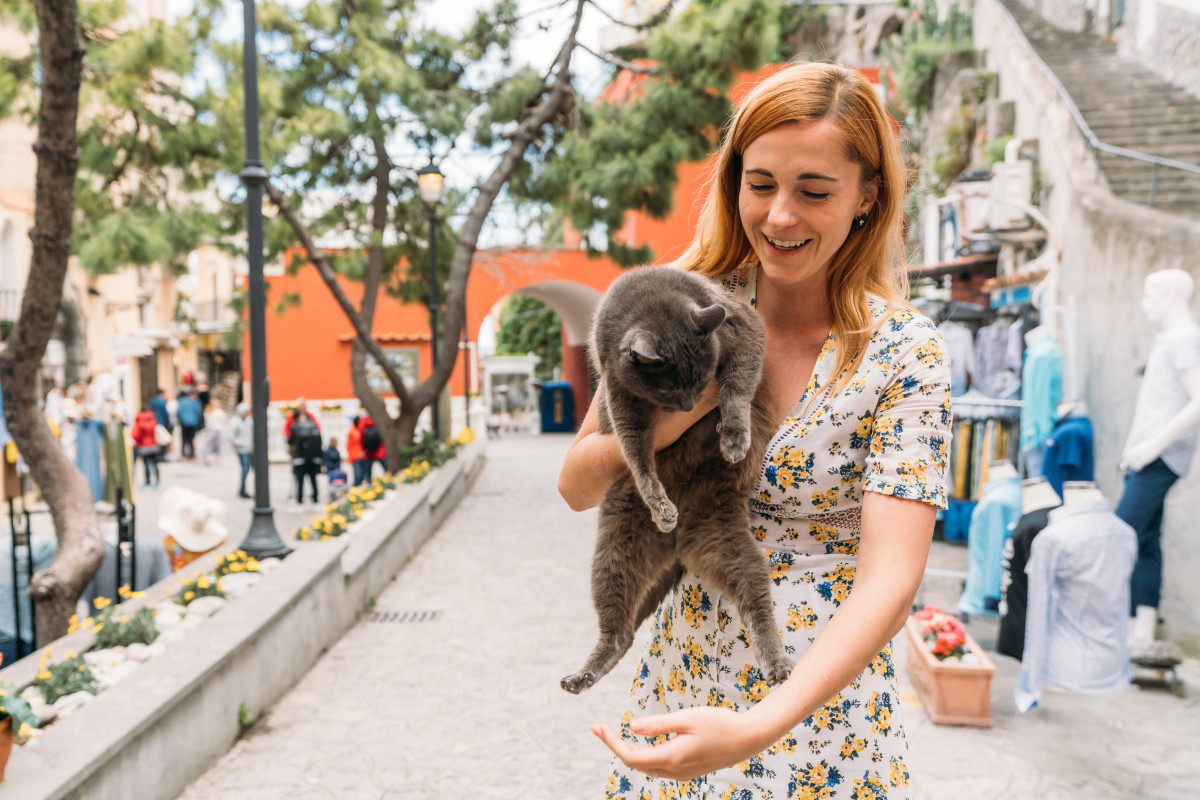 Best Hotels to Stay in Amalfi Coast:
Best Luxury Hotels
Palazzo Avino • NH Convento di Amalfi • Hotel Santa Caterina
Best Boutique Properties
Casa Angelina • That's Amore • Hotel La Badia
Best Hotels to Stay with Kids
Best Affordable Places
Eleanor's Garden • Roof Garden
---
Best Time to Visit Amalfi Coast
Most visitors tour the Amalfi Coast during the summer between April and October. While it may be tempting to visit off-season due to lower prices and fewer visitors, keep in mind that many restaurants, shops and bars shut down as it's not profitable to them to stay open. The experience isn't the same.
Many blogs recommend visiting Italy in May or September, as it can still be warm enough. However, most people already got a memo and come to Italy in September. In fact, this year September in Italy tends to be way busier than the summer.
Early May on the Amalfi Coast might be quite rainy and the beach isn't actually ready for visitors yet (sun loungers are only beginning to come out) and pools might not be open or too cold to get in. While it's still enjoyable, it might just not be ideal for some people – you've been warned.
* Speaking from experience here, as I actually visited the Amalfi Coast in May this year and I've lived in Italy.
---
Salerno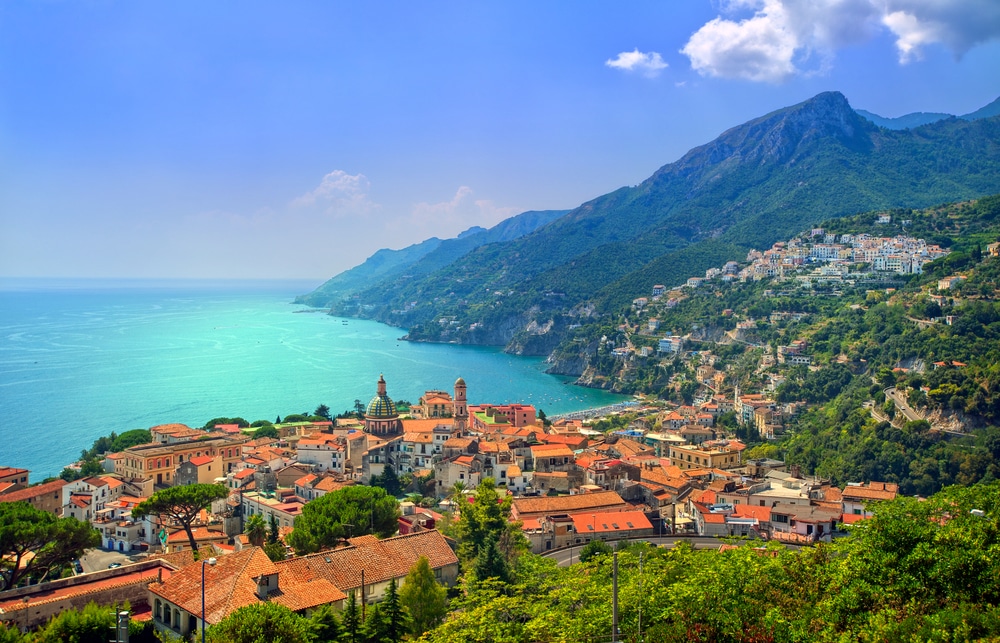 Getting around the Amalfi Coast might be tricky if you don't want to self-drive, but even if you do the parking is an experience for another long blog post. If you're planning on using public transportation to get around the Amalfi Coast, you might want to stay in Salerno.
Salerno is on the main train line from Rome, unlike any other spots that cannot be reached by train. The bus that stops in Positano, Amalfi, and other towns ends in Salerno, so the buses are less crowded than the ones from Sorrento. It's also very easy to get to Pompeii or Temple of Hera in Paestum from Salerno.
Salerno's beaches are also much bigger than any other ones on the Amalfi Coast, making it perfect for families and those who hate crowds.

Boutique:
Roof Garden
Beautiful historic building overlooking the old town, equipped with modern facilities. Host Roberto does a great job taking care of his guests.
Check Prices On:
Apartment:
Suite Avenia
Steps from downtown and 10 minutes away from a public beach. Well-equipped apartment with nice views from the balcony.
Check Prices On:
---
Sorrento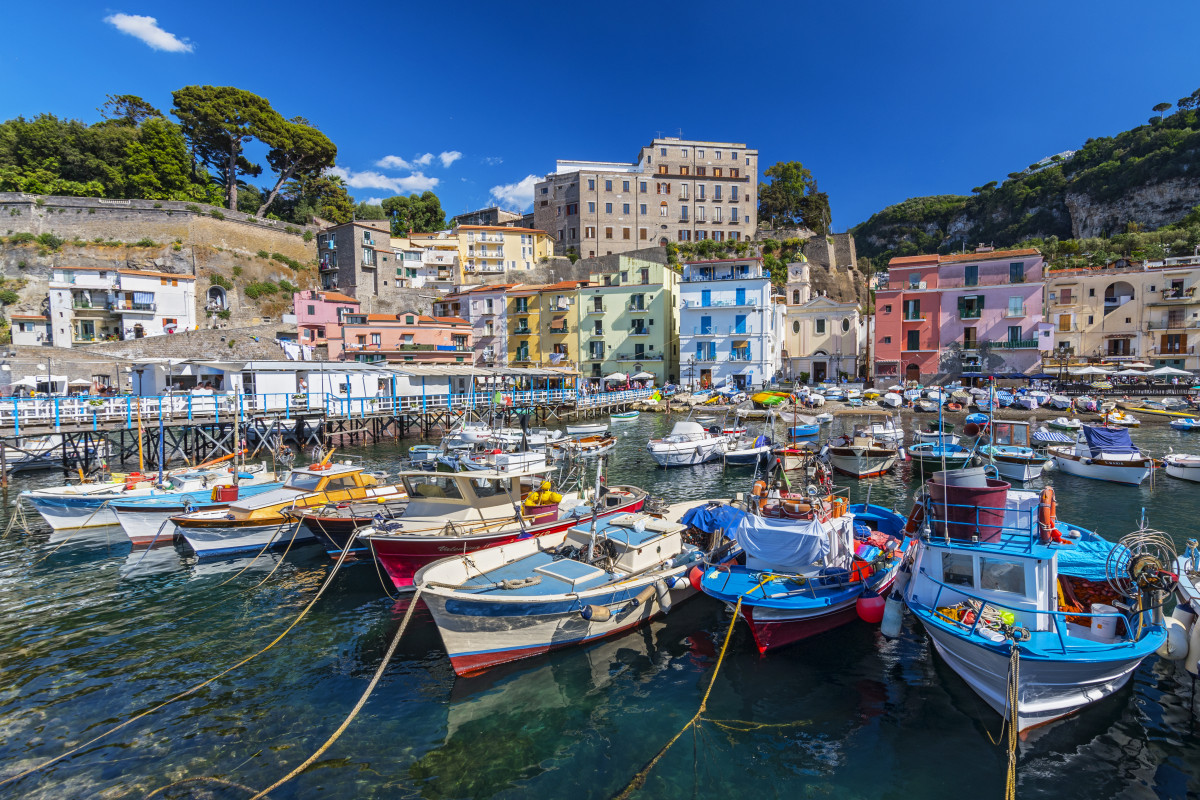 Sorrento is technically not on the Amalfi Coast, but many use it to explore the area, especially if you're planning on taking organized tours. It's also a good area for those without a car if you don't fancy staying in Salerno because they prefer a bigger town like Sorrento.
Sorrento is best for those wanting to visit Capri, as it's the closest to the island. The fastest boat from Sorrento takes just 20 minutes. Almost everyone in Sorrento is tourist-oriented, hence English is widely spoken. There's really almost no bad place to stay in Sorrento, but I wanted to point out two best spots.
Luxury:
MelRose
Next to Piazza Tasso, MelRose features stylish decor and very kids friendly facilities. There's access to the sister hotel MelRose Relais with a pool.
Check Prices On:
Boutique:
Hotel La Badia
Excellent quiet cliffside hotel with outdoor swimming pool. Very quick walk to restaurants and shops.
Check Prices On:
---
Positano
Positano doesn't need an introduction as it's known for pastel-colored houses coming down to the sea from the cliff. People come here to shop, see beautiful sunsets, spend time on the beach, but also for the nightlife as it has the only nightclub on the club (plus, it's on the beach in a cave!).
However, Positano hotels are among the priciest on the coast and in Italy. Nevertheless, the hotels sell out months in advance. While I do think it's more than worth to stay there, keep this in mind when planning your getaway.
Another caveat of Positano is that it requires climbing stairs and hills, so if you have mobility issues you might not want to stay there.
Full Guide to Positano -> Read Here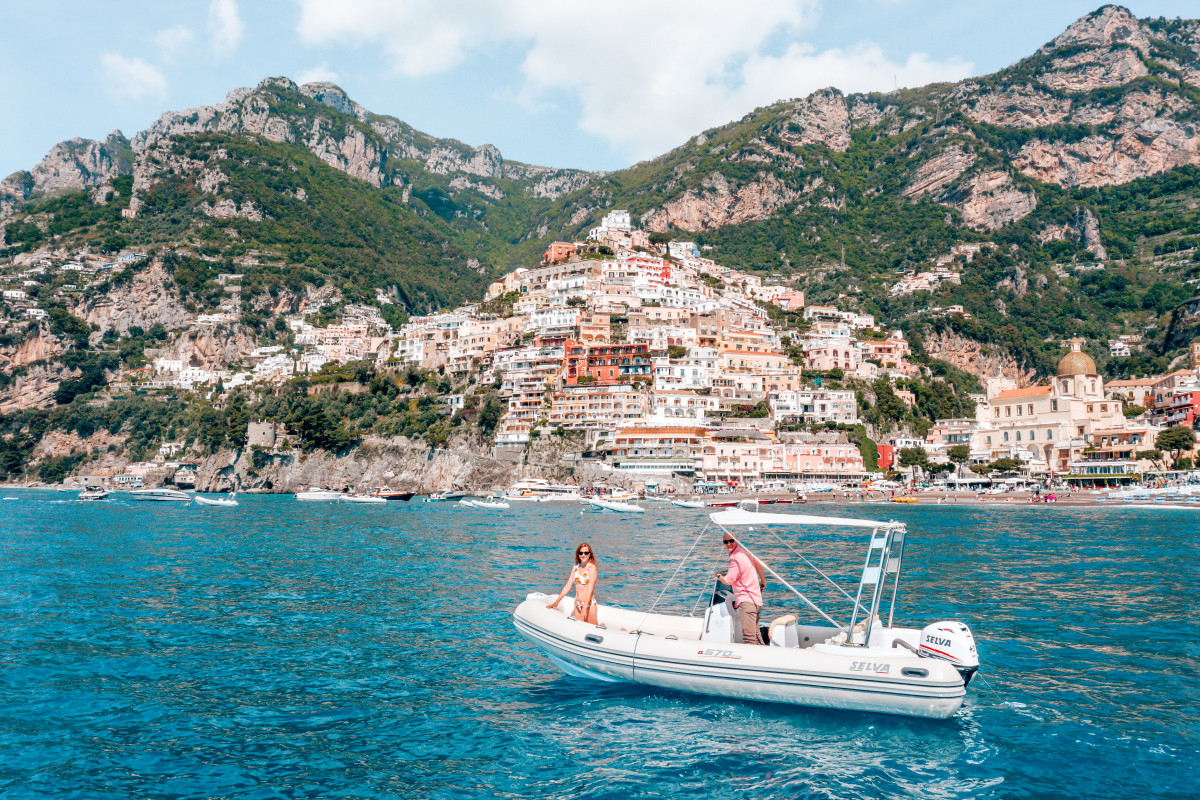 Where to Stay in Positano?
There are so many options in Positano, so don't get too bumped when you cannot book or afford the infamous Le Sireneuse.
Marincanto is one of the most photographed spots in town, as they host many weddings on their terrace. I highly enjoyed my stay there, and unlike from most hotels located on the other side of town I had a view overlooking the photogenic Positano at sunset instead of the other side of town.
Marincanto is a hotel that can be accessed without having to climb any stairs. They also offer to park on the property, pool and access to the private beach area (which many don't know about).
You cannot go wrong by staying there. Their pool is simply amazing, and buffet while pricy it's one of the best in town. Poseidon also has a big private pool and fantastic terrace restaurant for dinner.
The only reason we couldn't stay there is that they don't allow kids.
A gorgeous spot in a fantastic location. The breakfast room even has a flower ceiling. Remember to book a room with an 'infinity bathtub and shower'.
---
Positano vs Amalfi: Amalfi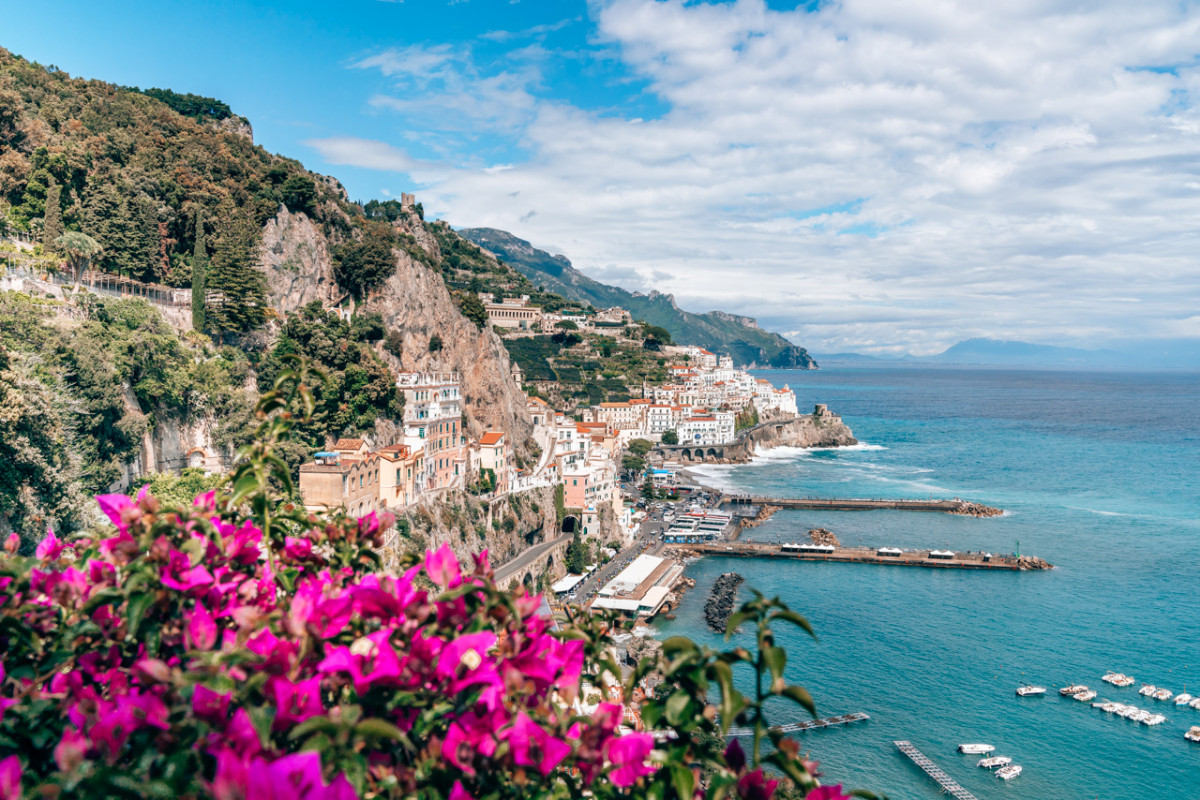 Amalfi is the largest town along the coast, as the name may suggest, and one of the most popular towns to stay after Positano. Not surprisingly, as it's a good centrally located based. It's perfect for day trips to Ravello, Positano and other spots on the coast.
If you're looking for a nice beach, Amalfi won't disappoint, although it's more of a pebble beach – not a sandy beach. You can also go to the beach in Atrani. You can actually walk to Atrani, hence why Atrani isn't mentioned separately in this article.
Amalfi is also mostly flat, so easy to visit with small kids and strollers. Even if you're not staying in Amalfi I recommend visiting the town to its beautiful main square with a colorful cathedral.
– Beautiful hotel on top of Amalfi town with a jaw-droppingly-gorgeous seaside pool.

Luxury:
NH Convento di Amalfi
Stunning giant hotel in a converted 13th-century monastery. They even have a lemon farm.
Check Prices On:
Boutique:
Hotel Miramalfi
Property with outstanding views, private beach and even a lift that has been carved in the cliff.
Check Prices On:
---
Maiori
Maiori is known for the nicest and largest beach of the Amalfi Coast. Yes, that's right – if you're coming for the beach it might be your best choice, as it's just 3 km from Amalfi.
Many people confuse Maiori with Minori, the latter which was an ancient Roman settlement and ruins of Villa Marittima Romana.
Maiori is perfect for families who want to have peace and quiet without having to carry strollers and children up and down the stairs. The town is mostly flat.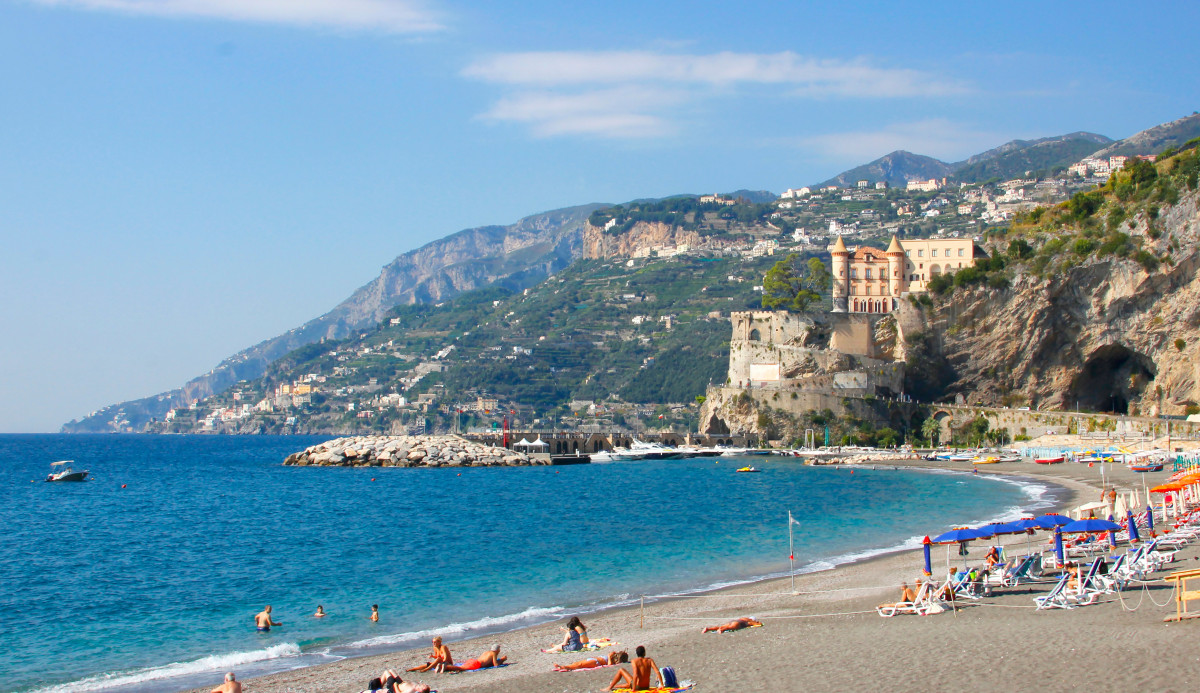 Luxury:
Villa Constanza
Spacious villa with with breathtaking views from the pool and extremely welcoming hosts.
Check Prices On:
Boutique:
That's Amore
Self-catered holiday homes with a fantastic view. Bicycle and car rental service available on the property.
Check Prices On:
---
Praiano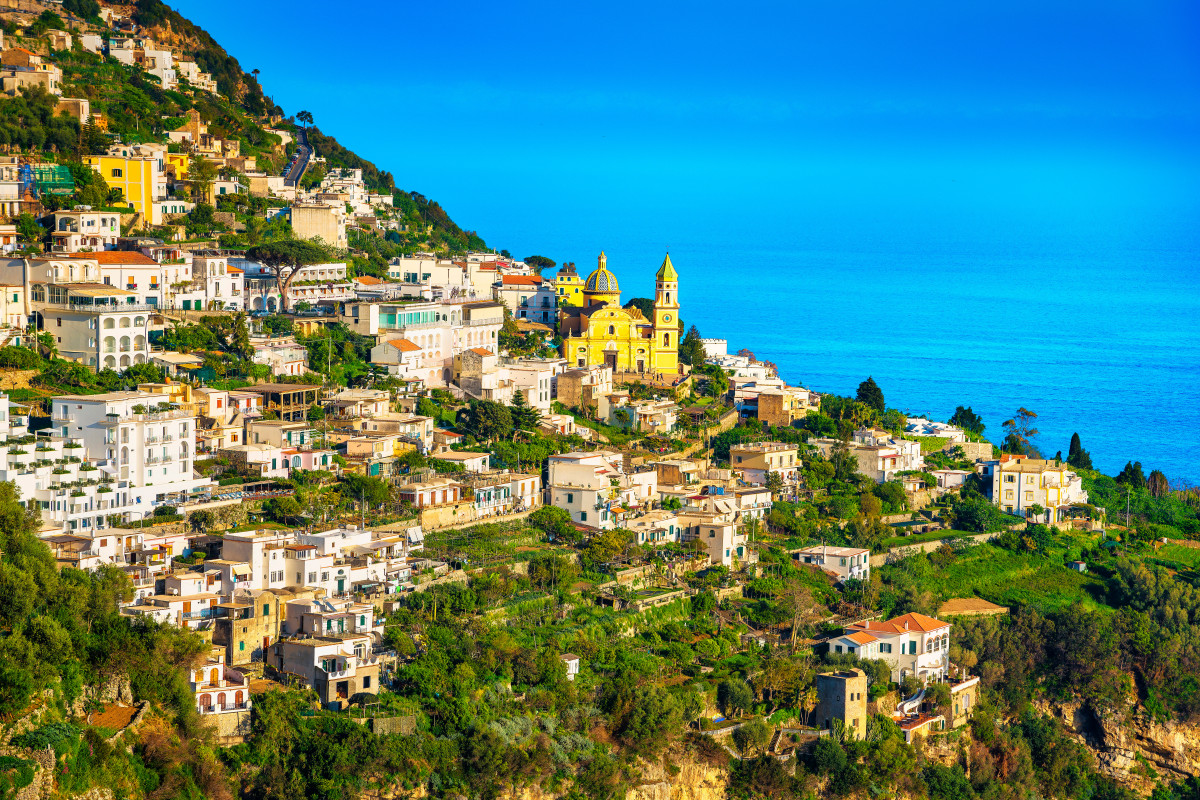 Located exactly halfway between Amalfi and Positano, it's Praiano that most people skip. Hence why all the local publications are trying to promote Praiano this year.
The quiet fishing village of Praiano is a great base for outdoor lovers as many hiking routes start there. Praiano is more of a local town, so when you go out to eat, you'll actually hear Italian being spoken at the tables next to you.
While quiet if you want to go out for drinks and dances visit Africana Famous Club, a nightclub built in a natural cave – similar to Music on the Rocks in Positano, but more glamorous.
Luxury:
Hotel Torre Saracena
Quirky hotel offering lots of privacy and independent villas built on the rock.
Check Prices On:
Boutique:
Casa Angelina
A boutique hotel perched on the cliffs with magnificent views.
Check Prices On:
---
Ravello
You want peace and quiet in a romantic town, Ravello is for you. Perched atop a cliff overlooking the sea with noteworthy hamlets and fortifications in between ending finally at the Gulf of Salerno,
There is no direct beach access from Ravello, but the town is overlooking the Mediterranean. While you won't be lacking food or bar choices, there isn't much nightlife going on.
In my opinion, Ravello has the best shopping as I've seen the most beautiful ceramics over there.
Luxury:
Belmond Caruso Hotel
Fantastic hotel in a renovated 11th century building gorgeous terraced gardens and infinity pool.
Check Prices On:
Boutique:
Palazzo Avino
Best views of the coast and fantastic breakfast on the rooftop terrace.
Check Prices On: