Before I had my baby I thought that picking up a stroller was a simple task. With so many strollers available on the market I thought anything I get should be good to travel with, as I've seen many parents gate checking their travel strollers.
When many friends warned me that I'll need two strollers: one for home and one for travel, I didn't believe them. Let me tell you – I was very wrong. In fact, I ended up with FOUR strollers I've been frequently using as my circumstances changed, and ended up buying and selling a decent amount of other strollers I personally tested. I didn't research everything I needed from the beginning following the crowd, which was a big mistake.
However, one big myth about travel strollers is that they can't be used from birth. These days it's absolutely not true, as many recline flat or offer a newborn insert. The only strolling equipment you cannot use since birth (unless it's car seat compatible) are stroller wagons. But, as handy as they are at home I'd never recommend traveling anywhere with them as they're way too bulky and heavy.
Why trust me? I personally tested every stroller mentioned here (and more!) and many other less compact ones as well – yes, I'm the crazy lady who have owned over 25 strollers because I'm crazy about honest reviews. I have detailed reviews on my lifestyle/parenting blog.
A travel stroller is one of the most useful things to travel with a baby.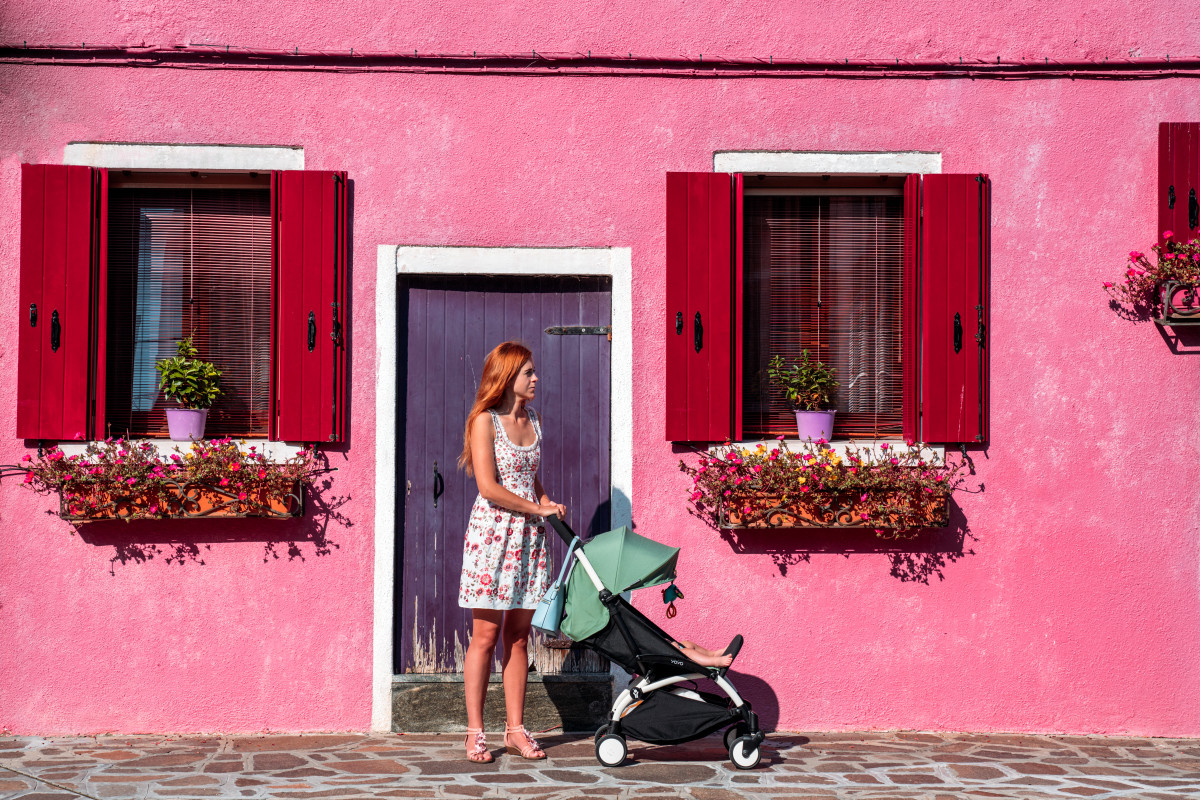 ---
Why Do You Need Different Travel Strollers Depending on Your Needs?
You need to think about what do you need and want to use your stroller for. For the stroller I don't use for travel I had a few requirements:
all-terrain wheels
the option of extending it for the second child, without having to buy a whole new stroller later (I was very wrong about that one though)
big basket underneath
big canopy (so you don't need a stupid umbrella attached to the stroller that can poke someone's eye)
easily clippable car seat (which after all, wasn't necessary – I'll explain this later)
Looking back, I learned the hard way and I wish I just got Cybex Priam and once the second child showed up then I'd switch to a double option or get a buggy board. There's absolutely no need to have a heavy expandable stroller for just one child at first.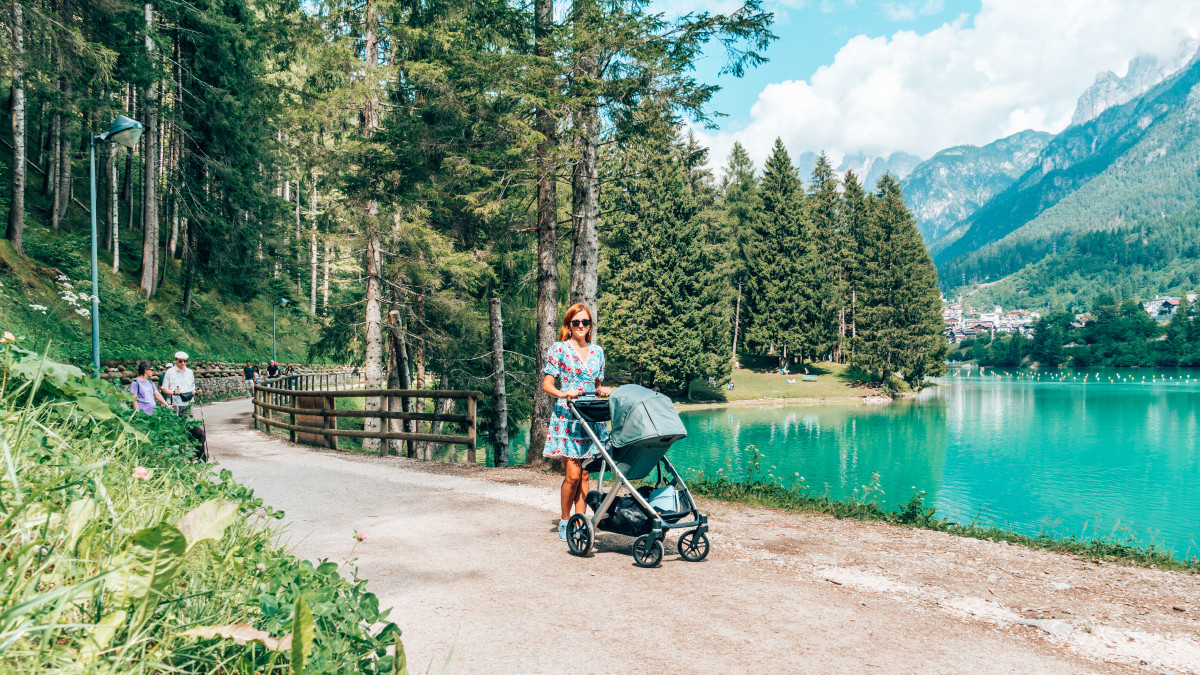 ---
Do you really need a stroller that fits in the overhead when you can gate check a stroller for free?
Yes and yes. My husband thought we didn't until he actually flew with our giant monster stroller while watching other parents carelessly unloading and carrying their tiny travel strollers and went to buy a small stroller himself.
Let's be real, a lot of tiny strollers will miss out on the functions offered by slightly bigger, yet still compact, strollers. If you fly often then I would say that a stroller that fits in the overhead compartment in the cabin is a must.
First, and most important, gate-checking a stroller isn't always as smooth as it should be (some airlines won't gate-check strollers heavier than 15 lbs). Sadly, that means most double strollers aren't eligible for gate checking unless the staff has a good day and lets you sneak in with it.
On top of that, the airline actually broke our stroller on the first flight when we gate-checked it and a few times after that. On another flight, they actually forgot to load someone else's gate-checked stroller along with a wheelchair, and these things aren't that uncommon either if you look into stats.
As airlines frequently lose my luggage I'd rather not risk it with a stroller and I often travel with a carry-on only.
Some airports don't return your strollers until the luggage belt (which means you might need to walk 30 minutes to your stroller) or take forever to unload your gate-checked items (eg. Amsterdam Schiphol) so if you have a short connection combined with a delay it can cause a disaster.
That, on top of the fact that while the bigger strollers can be handy, if you're renting a car the trunk will be full of your suitcases. We had a situation in Mauritius where the agency only had a smaller car available and I ended up having to hold a stroller on my lap… if I had a more compact stroller I'd just squeeze it between the seat.
---
Benefits of a Super Compact Travel Stroller
These days having the best travel stroller that is both compact and lightweight is paramount in making the journey as easy as possible. Trust me, I've done a few trips alone without a proper travel stroller and it wasn't as easy as it could have been.
The benefit of having a really compact lightweight stroller means that you can literally land, pop the baby into the pram and walk down the gateway towards baggage reclaim. No waiting, stress about missing connection, no wondering whether your things are going to make it where you'll pick it up (sometimes they give you back your gate-checked stroller at baggage reclaim).
Compact Stroller for Disney
Many parents are always looking for a stroller for Disney World since kids, even older, won't want to walk too much and most big strollers aren't approved for Disney. While Disneyworld has a stroller rental service, it costs $15 and it might not be everyone's preferred choice – especially since you still need to get through the airport and to various parks. Disney rental stroller is like a giant plastic container.
Since 2019 wagons are NOT permitted at Disneyworld and Disneyland anymore either. Many parents were bringing wagons to Disneyworld, but it's no longer possible.
Strollers larger than 31" (79 cm) in width and 52" (132cm) in length are not permitted to reduce space, so keep this in mind.
---
Best Travel Strollers in 2022
When my research on travel strollers started and I quickly realized that there was no such thing as a perfect travel stroller. Every stroller had its pros and cons, and it really depends on what does your child and you prefer.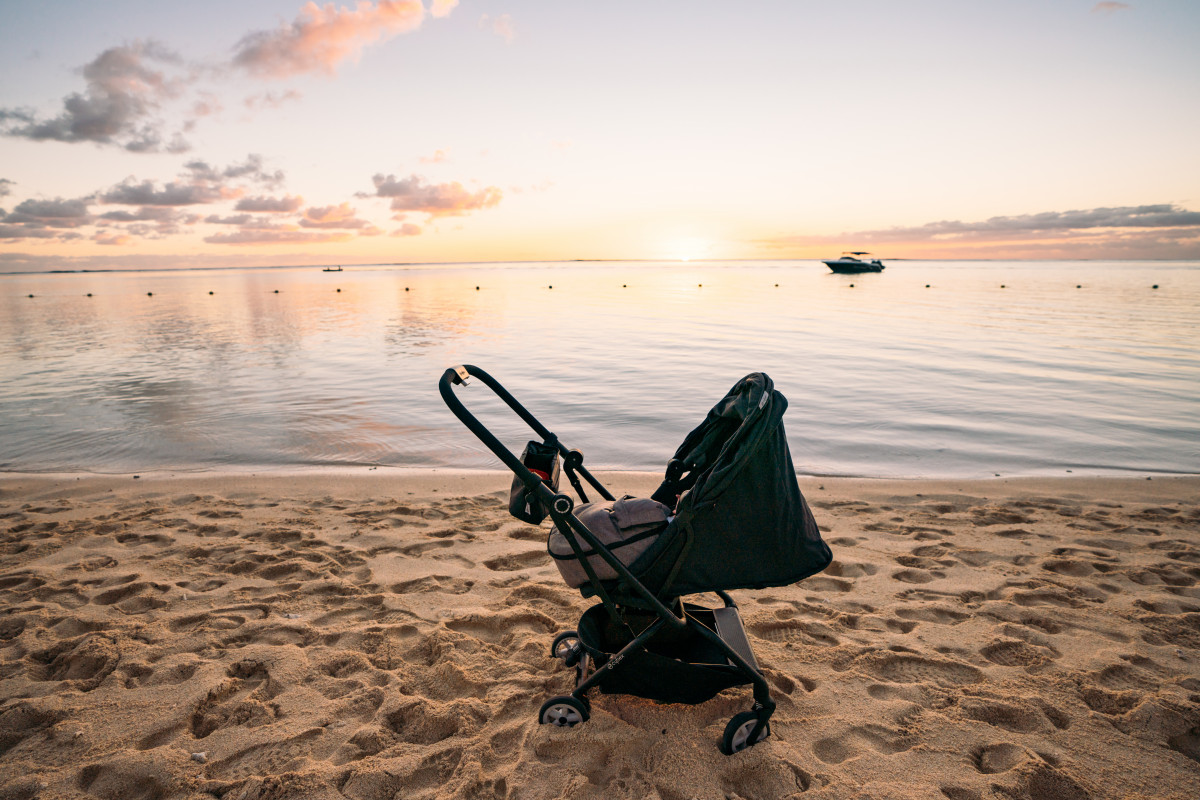 Some babies love strollers (and even some cats!), others prefer carriers. Some only want to sleep with a flat recline, others like mine hate a flat recline even since he turned 3 months. Some love cocoons, others hate cocoons. Some are fine in a car seat, others like mine hate the car seat. Plus, you'll want to see how do you handle luggage and carry-ons on the plane and how a stroller fits or doesn't fit, in this scenario.
Each lightweight travel stroller comes with fewer features and comfort, but that's the tradeoff for the other functions. The best traveling strollers are those that are lightweight and narrow to lug around and carry, but feature extras such as recline, a sun canopy and a decent basket underneath.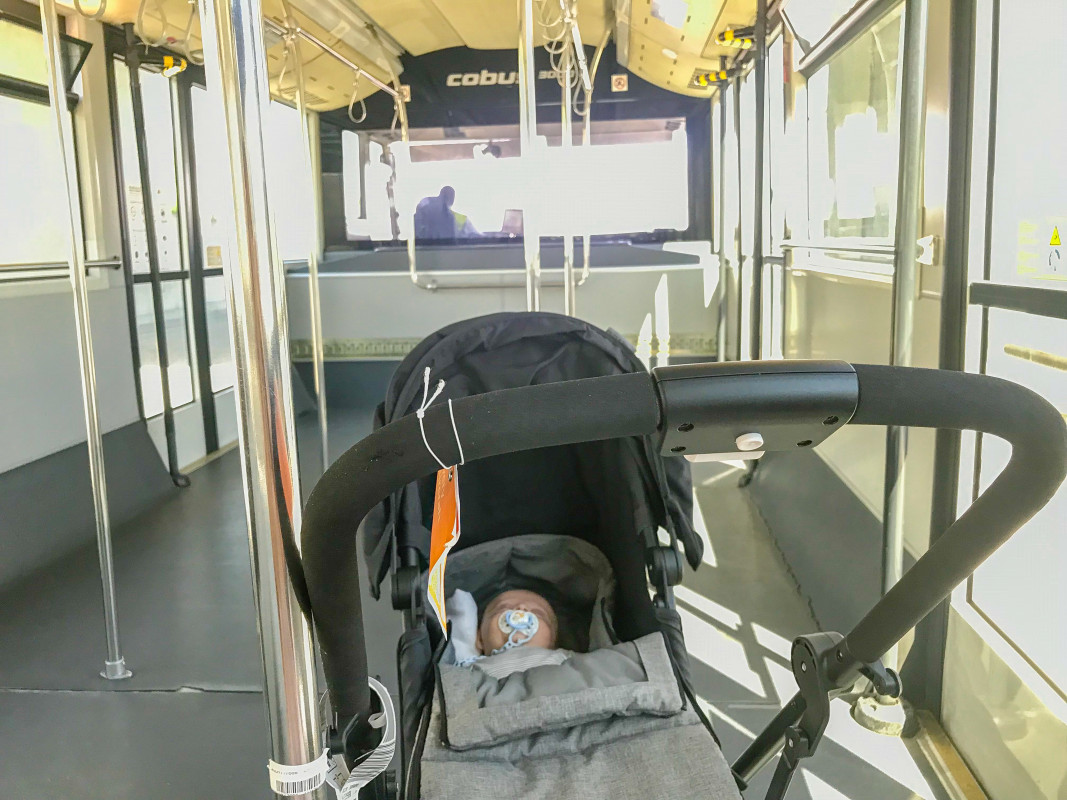 ---
Detailed Reviews of Good Travel Strollers
20 x 17 x 7 (folded) | 13lbs | $$$
52 x 44 x 18 cm | 6.2kg
For a long time there was no competition for Babyzen Yoyo, and this stroller used to be no.1 on the market. I believe it still is honestly.
As it's on the more expensive side, I tried to avoid getting it as I thought I can easily get away with another travel stroller – just to realize I needed a Yoyo after all.
I tested it when traveling in Italy, Greece, Poland, Malta, France, Mexico, Spain, El Salvador and the USA.
Its wheels, while small, are surprisingly good and there's no need to even lift the stroller over the curb or cobblestones. I've also driven through mud and gravel without any issues. It's definitely sturdier than some other travel strollers that are actually heavier, like Joolz Aer or Bugaboo Butterfly.
It's the only travel stroller that doesn't fall backward with a diaper bag or another stroller hanging from it (Yoyo Connect) – even without a baby sitting in the stroller.
Many people complain would be the fact that the seat recline degree isn't flat, but it's just the same exactly with Uppababy Minu doesn't receive any complaints. The recline is more than sufficient. My complaint, however, would be the fact that the break is slightly annoying especially when it comes to unlocking it.
If you want Yoyo to be suitable from birth you will have to get a newborn pack or bassinet (I recommend a newborn pack over a bassinet!).
You can now make Yoyo a double stroller with Yoyo Connect. It's an absolute game changer as you can fold the other stroller when an older sibling wants to walk!
WARNING: There are fake Yoyo strollers sold online and known as Yoya Baby Stroller and they're not safe or tested. Don't buy them.
Pros:
Fits as cabin luggage on ALL planes
Can be one-hand folded on the 2nd step
Great wheels & suspension
Easily maneuverable with one hand
Can be a double with Yoyo Connect
Cons:
Needs additional Yoyo-only accessories (footrest, bug net, bumper bar)
Canopy on a smaller side
Breaks could be better designed
Pricy
Would I Recommend It Overall: YES
Read my extra detailed review of Babyzen Yoyo+ Stroller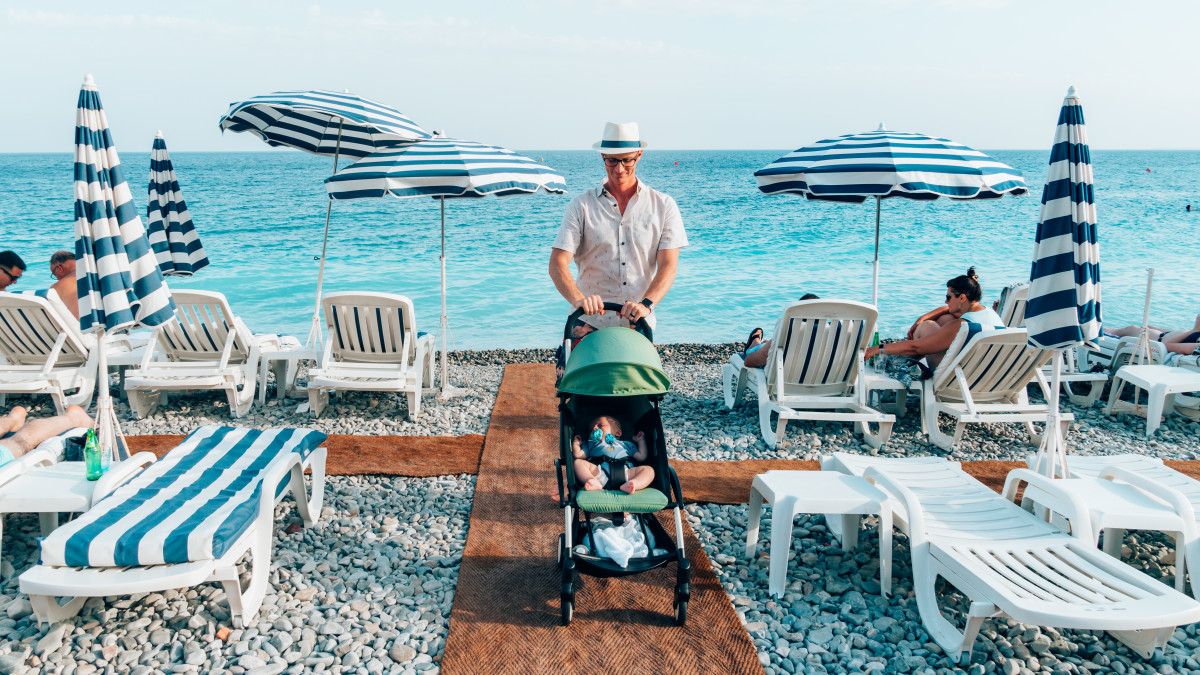 ---
22″ x 14″ x 9″ (folded) | 11.3 lbs | $$
If your kid likes the stroller, but only sometimes GB Pockit could probably be your top choice. It's so small and light that it can be carried like a purse, or even inside it as you need an extra strap to carry it around.
Naturally, it fits as a carry-on on airplanes, or should I even say it'll fit under the seat as well.
It was going to be my preferred stroller, but it's definitely not. This stroller was a total fail in Europe for me, because of the wheels and I ended up keeping Cybex Libelle instead.
While small, folding and unfolding takes a few steps and getting used to. It's not a 5-second unfolding system like with other strollers.
The wheels work fine, but not as great as Yoyo or Cybex. Pockit will go through cobblestones, but not as smoothly as you might want it to go. Also, make sure you lock it correctly, otherwise, your fingers might get stuck.
While the company claims it's possible to push the stroller with one hand, I'm yet to see anyone doing it. If you ask me, it's not really comfortable.
Unfortunately, you pay for the compactness of Pockit with many cons. The sunshade is practically useless or designed to basically attach a separate one to it, and there's no storage, as the basket underneath can hold nothing.
Pros:
Tiny (can fit underneath a full-size stroller)
Cons:
Weird seat
Tiny sunshade with no peekaboo window
Flimpsy fold
Awful wheels
Would I Recommend It Overall: NO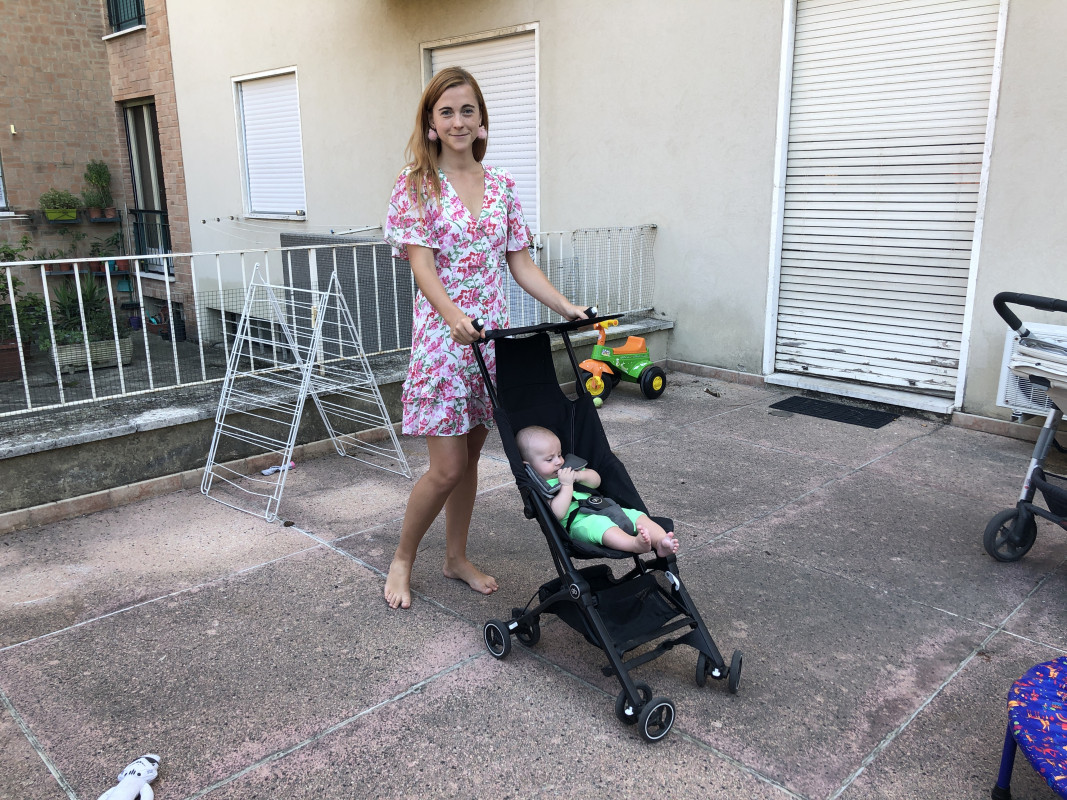 ---
18.9 x 12.6 x 7.9 (folded) | 13.7 lbs | $$
48 x 32 x 20 | 6 kg
Cybex Libelle is a good stroller and I got it as a secondary stroller for my older son who doesn't need a stroller all the time.
The stroller works great and rolls nicely, turns nicely, it's definitely a quality set of wheels.
It's also amazing how small it folds, yet it's better quality than GB Pockit. It will fit anywhere, even in a small bag (or under another stroller!)
It unfolds in one move, but folding takes some getting used to and requires both hands and a few steps. Unlike Pockit, it never got stuck once which is a plus!
I tested it when in France, Spain, USA and Poland.
The Cybex has the brake pedal located on a bar behind the stroller basket and it can't be kicked while walking and is easily pressed and unpressed which is a huge plus for sandals. And the stroller basket is easily accessible.
The canopy, similar to GB Pockit, is too small for sunny days to cover the child completely. The handlebar is shorter than on our Babyzen Yoyo. However, if you're used to things like Doona stroller then it will be fine for you as it's a bit taller.
A bumper bar is an option but as it's clippable so it doesn't fold with a stroller which is annoying. However, you can roll it and put it in a purse – just make sure not to lose it.
One-hand steering is an option, but it's not as smooth as on Yoyo or other Cybex strollers. That said, I feel like this stroller is good for older kids who go in and out of the stroller – my 3 year old loves it. However, I wouldn't recommend it for babies and small toddlers because the recline is small and slightly bent.
If you don't mind something that folds slightly bigger, get a Cybex Beezy instead. Higher handlebar, bumper bar already included and one-hand folding are possible.
Read my extra detailed review of Cybex Libelle stroller.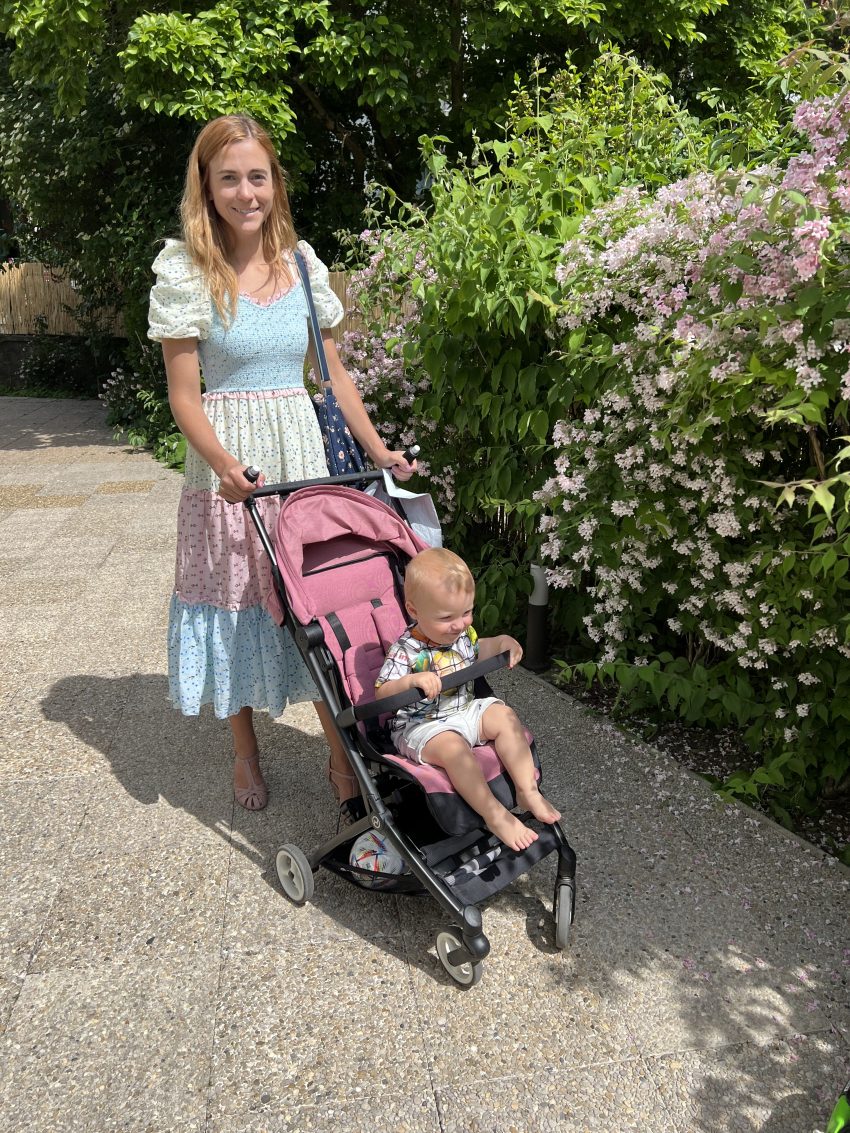 Pros:
Folds super small
Lots of accessories available
Cheaper than some competitors
Great wheels
Cons:
Suitable from birth only with a car seat
Can't fold with a bumper bar
Lack of carrying strap
No one hand fold
Would I Recommend It Overall: As a secondary stroller for older kids
---
21″ L x 17.7″ W x 8.5″ H (folded) | 13.4 lbs | $$
53 x 44 x 22 cm | 6 kg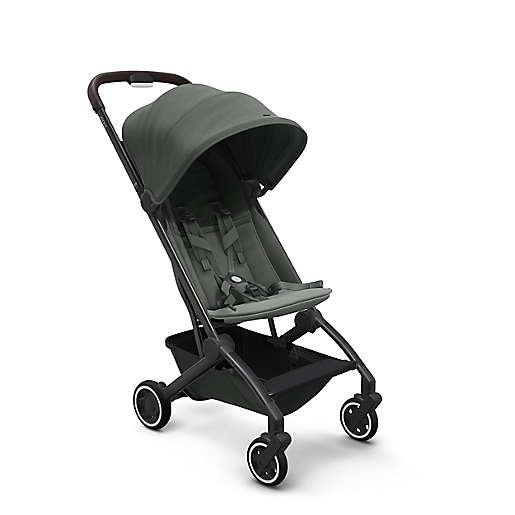 Unlike full-size Joolz strollers, in my opinion, Aer is somehow well-designed. Somehow because the stroller won't fold if you use it with a bumper bar officially made by Joolz – which is odd.
It has a one-hand fold, good recline, peek-a-boo window and other perks one might want from a travel stroller. It also includes accessories like a rain cover.
Wish the button to fold wasn't in the middle of the handlebar as it makes things more difficult when steering with one hand.
The seat back is higher than on many other competitors and the canopy is plenty big.
Tiny planes will not fit it, because of an additional inch in height, unfortunately, similar to Uppababy Minu.
I still love this stroller and it offers a bassinet for a newborn as well (only two travel strollers offer that option – another one is Yoyo). Full review is available here.
Pros:
Sturdy wheels
Easy one-hand fold & unfold
Big basket
Lifetime warranty
Cons:
On the pricier side
Doesn't fold with bumper bar
Won't fit on smaller planes
Would I Recommend It Overall: Yes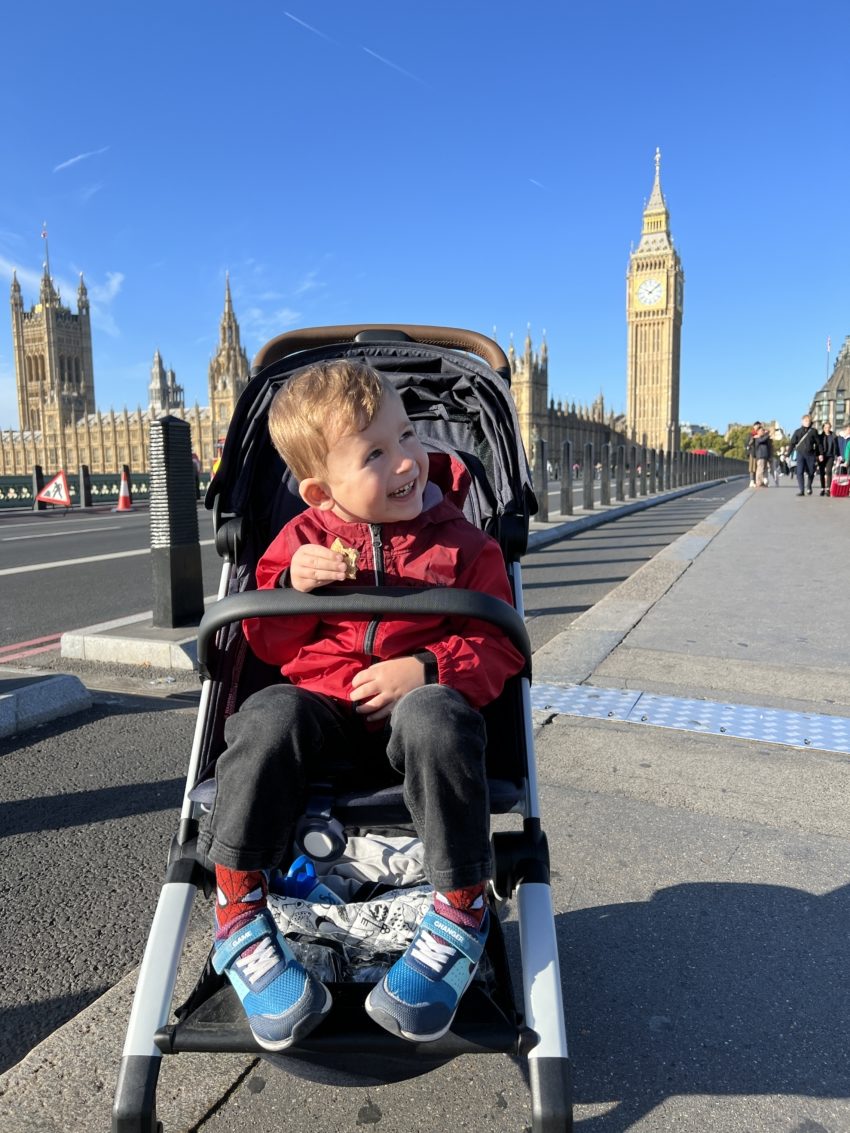 ---
20 x 18 x 12 (folded) | 11.3 lbs | $$
53 x 45 x 25 | 6 kg
Cybex Eezy S Twist (the 2018 version) was the first travel stroller I've ever purchased. I thought it would let me pay less than I would for Yoyo and I was wrong – it is not even close to Yoyo. Unless you fly a lot I think it is a great stroller for the price.
While it fit just fine in overhead bins on big planes (Emirates), on smaller European routes it was missing a few centimeters in depth. Folding and unfolding is super easy with one click.
I do think that the newer version Eezy S Twist S is not worth it, because the price is also double what it was for the 2018 first version.
I tested it when in Italy, USA, Mauritius and Poland.
While it fit just fine in overhead bins on big planes (Emirates), on smaller European routes it was missing a few centimeters in depth so I was forced to gate check it. Folding and unfolding is super easy with one click.
The new version has a few improvements such as a bumper bar, can accommodate a bassinet (the previous version could only accommodate a car seat) and a footrest. However, the recline is not as flat as it used to be and it all folds even bigger than the 2018 model. It means it can pretty much very rarely fit in the overhead compartment of the plane.
It can easily be pushed with one hand even on mud or grass. As the wheels suspensions work great, it's good the handlebar doesn't feel hard at all. It doesn't have a peekaboo window, but as you can turn the seat around it's easier to keep an eye on the baby.
While the canopy is naturally not waterproof we got caught in the rain once and the baby wasn't drenched. That said, it's water-resistant for sure.
As I bought it early on when my baby was just a month old I purchased an additional newborn cocoon, which he loved until he was about 3 months old. He then refused to be put in it and wanted to be strapped in with regular straps. It might be my baby specific, or the fact that it was over 90 degrees (35 C) outside. Possibly he would have felt differently about it in the winter.
A few of my complaints would be the seat and frame. The seat doesn't give the baby much depth, so might not work great for chubby babies. Some parents complain that the seat is too narrow (45 cm), but Yoyo, Ant, or GB Pockit have even narrower seats. You can't expect a narrow airplane-friendly stroller with a wide seat. The frame easily gets scratches, so be prepared for it to look slightly beat-up.
Also, comparing to Yoyo it feels less sturdy (but more than Mountain Buggy Nano) and a bit harder to drive over uneven surfaces, but for this price I can't ask for everything.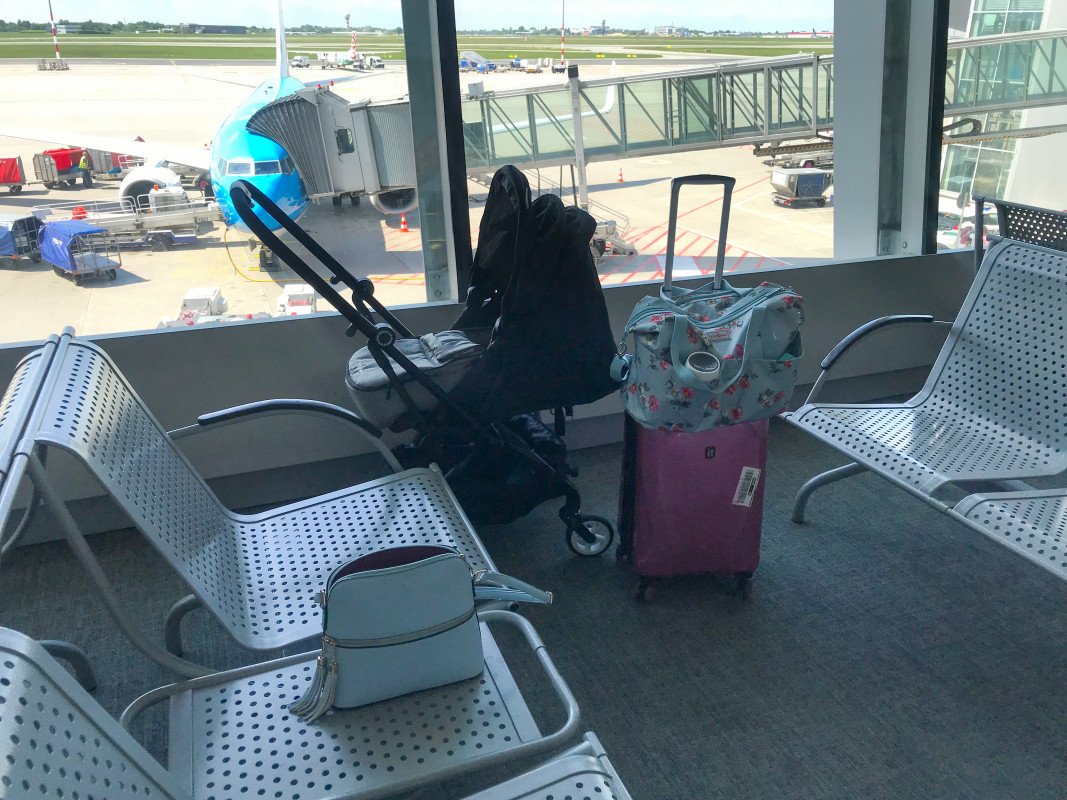 Pros:
Easily Reversible Seat
Full recline
Big basket
Easy one-hand fold
Cons:
Narrow seat
Static footrest, so no footrest when parent-facing
No peekaboo window
Would I Recommend It Overall: Not Quite
---
23 x 18.3 x 6.8 (folded) | 13 lbs | $$
58 x 46 x 17 | 5 kg
I rarely see Inglesina listed in top choices for a travel stroller, but I feel like it deserves a mention because it's honestly a good product.
It's very similar to Uppababy Minu at a more affordable price, but folds smaller, the canopy is better in terms of flimsiness and adjustable footrest.
I used it in the US so far and I like it a lot.
You need to buy accessories because it doesn't come with a rain cover or carry bag. There are currently no car seat attachments so there's no way to use it with a newborn.
The recline isn't completely flat, but almost flat and I believe no kid ever needs more than 150 degrees.
While the stroller is bigger than other smaller brands it might not always fit on all aircraft, you might be able to squeeze it on some but don't always count on it.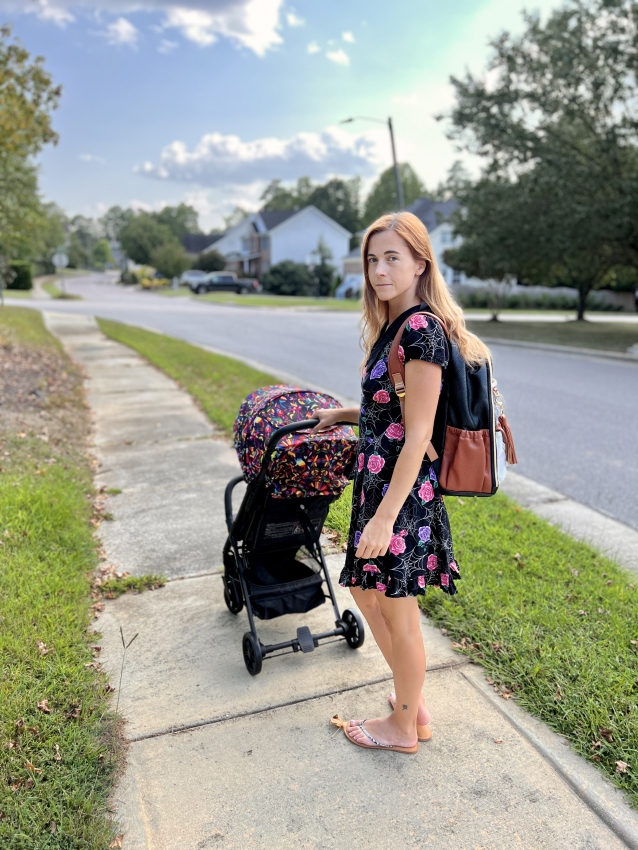 Pros:
Big canopy
Almost full-recline (adjustable levels)
Much more affordable than most
Various cute designs
Adjustable in-built footrest
Bumper bar included
Cons:
Needs both hands to fold & unfold
No carseat attachment possible
Seat/fabric doesn't come off so we're still figuring out how to clean it
Would I Recommend It Overall: YES
---
---
22 x 15 x 9 (folded) | 15.8 lbs | $$
55 x 38 x 23 | 7.2 kg
Bugaboo Butterfly is a highly anticipated and marketed replacement for the now discontinued Bugaboo Ant.
Butterly is surely an improvement from Ant, but it's far from being a decent competitor of Babyzen Yoyo or even Joolz Aer, in my opinion.
It folds but you needs a little push at the end and the carry strap gets lots in the stroller. The basket underneath is perfection with mesh sides. No issues with navigating it on uneven terrains.
The seat is actually taller than Yoyo's or most strollers and has a higher weight limit up to 50 lbs, so it's advertised that it can be used for a child longer but as the canopy is built-in I have to disagree – for a tall child 3.5 years is a max (as tested on my child – we also maxed out on top straps and he told me he feels uncomfortable at only 3 years, not even 3.5).
While the seat height is tall the canopy is built-in which results in similar headspace as on strollers with lower seat back height. The recline is also less than on Babyzen Yoyo or Joolz Aer.
I tested it when in the USA. You can read my extra detailed review here.
The wheels are durable, but the stroller is a bit heavier and bigger than Yoyo which means it won't always fit all smaller aircrafts. But, when the stroller is folded, all 4 wheels are down, unlike in Yoyo, so you don't get your clothes covered in dirt. The break also makes up for the wheels, as it's easy to lock and unlock.
My other concerns with this stroller are the footrest that is harder to adjust (seems tight, especially when stroller is folded already) and smaller kids can get their feet caught in it, due to the space between fabric and material.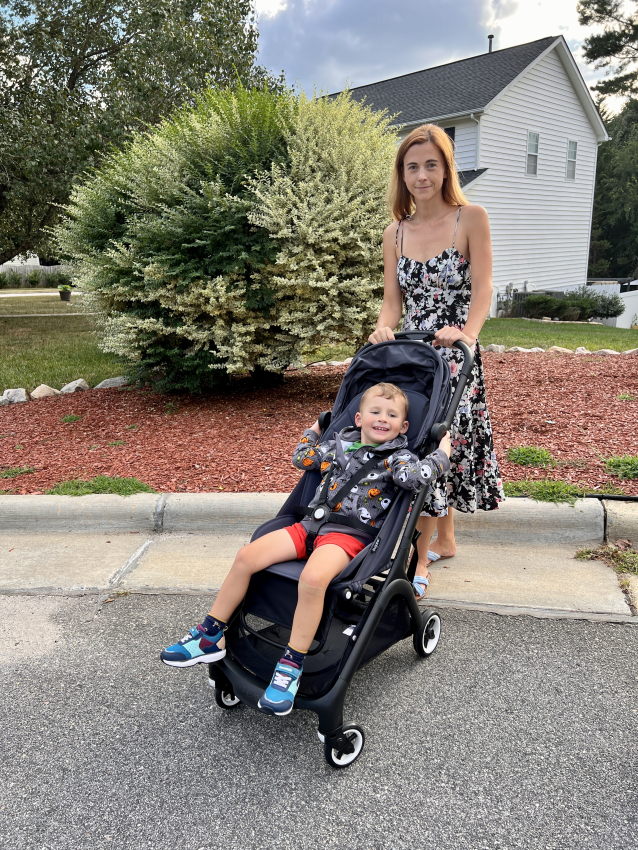 Pros:
Amazing basket
Folds with bumper bar
Adjustable harness
Big extendable canopy
Washable seat fabric
Cons:
Doesn't fit on smaller planes
Frame paint peels off easily and scratches
No newborn options apart from a car seat
In-built footrest gets in the way
Carry strap can block the break and often disappears inside when the stroller is folded
Would I Recommend It Overall: Not Really for this Price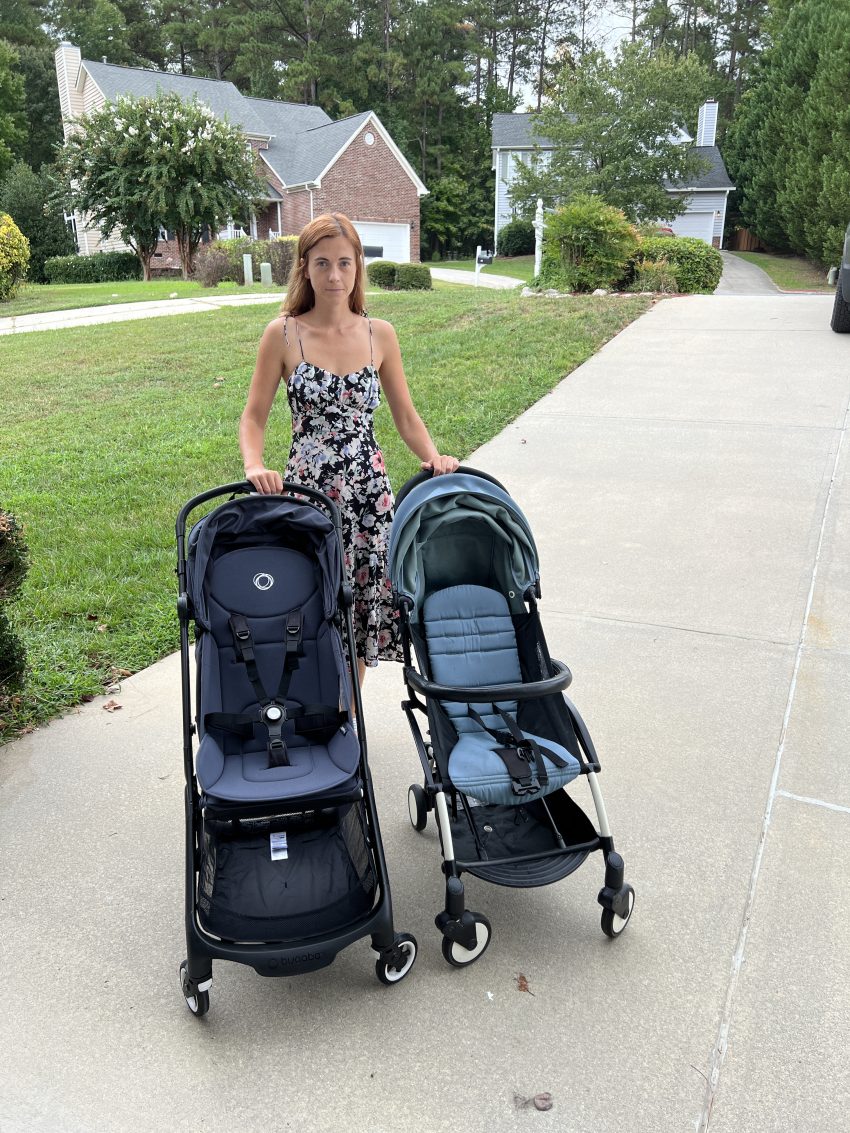 ---
22 x 17 x 9 (folded) | 14 lbs | $
57 x 45 x 23 | 6.3 kg
First things first – BabyJogger is a brand name and none of their strollers are jogging strollers. City Tour is more lightweight and newer brother of the Babyjogger City Mini GT, which I'd probably recommend more overall unless you need to exclusively for travel.
It's smaller and sturdier than Mountain Buggy, but not as sturdy as Yoyo. It offers an almost full recline and built-in footrest, which is a huge plus. The only downside is a small canopy.
The basket is spacious, but I wouldn't hang anything from the handlebar as it could tip over.
The seat could have more depth as it's shallow, but not terrible. The straps aren't super comfortable according to my child, but the younger one never complained.
Pros:
One-hand fold
Many colors available
Big basket
Near flat recline
Cons:
Two-hand unfolding
Seat is a bit hard
Won't fit in the overhead on some airlines
Would I Recommend It Overall: Possibly
---
23 x 20 x 11 (folded) | 14.8 lbs | $$$
59 x 52 x 29 | 6.7 kg
Uppababy Minu basically replaces the bulky umbrella stroller Uppababy G-Luxe. You can't beat their customer service if something breaks and their free repair service in the US, Canada and UK.
The fold is super easy, basically, it folds the same way as Cybex Eezy S Twist, but it can also stand on its own.
Unfolding technically requires one hand, but you need to open a small lock on the side first, and for me it kept locking back unless I used both hands, unfortunately.
I tested it when in the USA. You can read my extra detailed review here.
The wheels are the best and can go on any terrain. The peekaboo window has mesh ventilation and can be covered to protect the baby from the sun.
The hoods in all Uppababy products are the best of the best in terms of size, but unlike in their full-size strollers the Minu canopy is fragile and I can see it breaking easily.
One concern some parents might have about the seat is that when the child bends forward the whole seat back moves as well. It's not a deal breaker for me (Babyzen Yoyo and Cybex Libelle do the same thing) but some parents aren't happy about that.
If you're a bumper bar parent like me, don't be too excited about the Minu bumper bar that's included with the stroller. It's a bit of a joke, because it's way too short it feels like an additional hard belly strap – when my baby holds it his elbows are squished all the way back (see photo below).
I'd actually say that Minu can definitely be used a main stroller as well, not just a bigger travel stroller. As it might be too big for many parents to travel with all the time, especially on planes, if you have no space in the apartment you can just get Minu instead of a giant Vista or Cruz.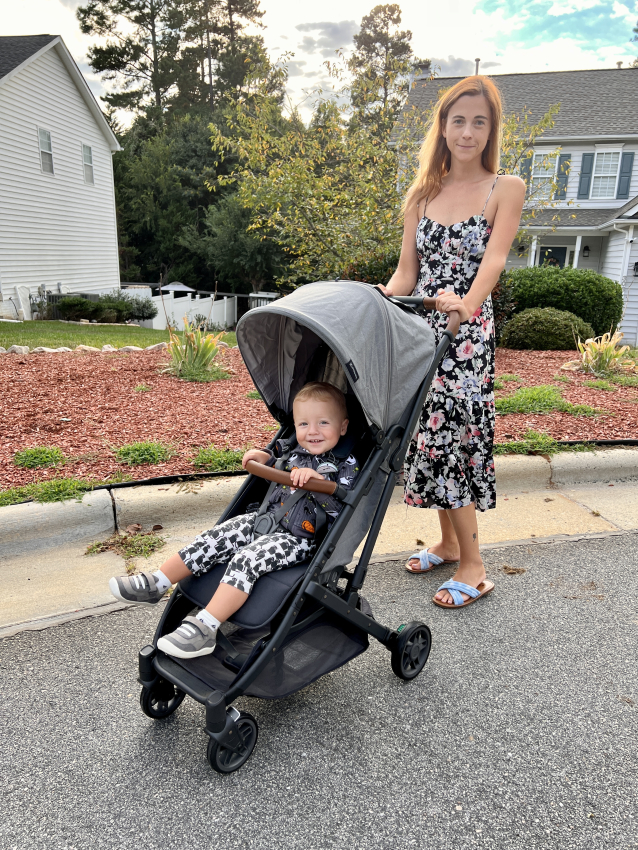 Pros:
Sturdy quality tall seat
Easy one-hand fold
High handlebar
Fantastic customer service
Cons:
Expensive
Bulkier than others
Needs both hands to unfold
Bumper bar is way too short
Would I Recommend It Overall: Yes as a compact stroller, but no for plane travel
ZOE Twin+ Double Travel Stroller
29 x 28 x 9 (folded) | 19 lbs | $$$
73 x 71 x 22 cm | 8.6 kg
ZOE is still relatively narrow and extra lightweight for a side-by-side stroller. For a double, it folds fantastic and small and it's also Disney approved stroller.
Did I mention it can also expand to a triple?
Zoe Twin is one of the strollers I never thought I'd be recommending but ended up loving it. Switching to a double stroller when you have a toddler is a pain in the butt – not going to lie. We kept considering just getting two single travel strollers, but decided to try out Zoe and didn't regret it.
Each seat can recline separately, the canopy is just amazing (similar to their single stroller) and there's even a cupholder for the kid and parent.
The wheels are the best and can go on any terrain. The peekaboo window has mesh ventilation and can be covered to protect the baby from the sun.
The hoods in all Uppababy products are the best of the best. There's no denying that. Same with baskets as you can really stuff it in.
I'd actually say that Minu can definitely be used a main stroller as well, not just a bigger travel stroller. As it might be too big for many parents to travel with all the time, if you have no space in the apartment you can just get Minu instead of a giant Vista or Cruz.
I tested it in the USA and Mexico (read my detailed review).
Pros:
Huge canopy
Easy one-hand fold
Cupholders included
Great recline
Cons:
Won't fit though many doors in small historic cities or Europe
Wheels could be better
Would I Recommend It Overall: Yes!
---
23.5 x 20.5 x 9 (folded) | 13.5 lbs | $
59 x 52 x 23| 6.5 kg
Contours Bitsy isn't the most popular stroller on the market, but it should be. It's cheap and has almost everything you need.
Contours has something that many other strollers are lacking: sandal friendly brake (Cybex and Ant have the same type of break). While the recline isn't the greatest, it's enough for most babies.
The wheels are so maneuverable and provide a smooth ride, definitely smoother than Yoyo.
The only thing that's too bad is that it's larger than what some airlines (American or most European carriers) allow for a carry-on.
Pros:
Adjustable leg rest
Huge canopy
Adapter-Free Car Seat Compatibility
Sandal friendly brake
Cons:
Could recline more
Seat is quite hard
Not everything is detachable to wash
Would I Recommend It Overall: Yes
---
Questions to Ask Yourself Before Buying a Travel Stroller
How Much Are You Willing to Spend?
I originally refused to pay a lot for a second stroller. However, as I travel all the time I realized that I'd rather spend extra money to be able to comfortably fold the stroller and bring it with me on the plane.
You might think that a cheap stroller from Walmart is good for your trip to Disney, but keep in mind that if it breaks right after you won't be able to use it again or sell it. It doesn't always pay off to be cheap.
Is Taking It With You Into the Overhead Bin Important?
Personally, I hate gate-checking the stroller or car seat. After you deplane you need to usually wait forever for the stroller to be returned to you and pray that it's not lost or destroyed. If they even return it to you at the gate, because some airports in Europe simply don't return it until the luggage belt. If it's raining it might also arrive soaking wet.
Can The Travel Stroller Be Used Since Birth?
We started traveling with baby Dylan since he was 2 weeks old. By 4 months he flew on 20 flights, at least half of which I've taken solo just with him, without my partner. Most travel strollers cannot be used from birth and it's recommended that you wait at least 4-6 months, as they don't fully recline.
There are a few strollers, however, that have an option of a newborn insert or flat recline that can make them usable from birth. As great as it sounds, however, my baby basically refused any type of bassinet or cocoon by 3 months. There was no way I was able to put him in a bassinet to lie flat.
Do You Need a Carseat Clip Option for a Travel Stroller?
Strapping a car seat in isn't something anyone should do unless you're in a car because it's not healthy for a baby. Practically though, I think it also defeats the purpose of a lightweight stroller (most car seats aren't exactly light at all!) – I'd rather strap the car seat to my carry-on.
Various types of strollers either recline flat or offer a newborn insert, which makes them usable from birth.
However, some parents might want to have this option and it's a fair requirement. Almost all travel strollers have a clip-on option, vs umbrella strollers mostly don't.
Do You Need a One-Hand Fold Travel Stroller?
If you're always traveling with your partner, one-hand fold might not be as important. However, if you're handling your child alone, especially babies that cannot yet stand up, along with your luggage, one hand fold might become a must. For me, it was a deal-breaker.
You will need to fold your stroller and put it through the X-ray machine while going through security if you are gate checking it or taking as hand luggage. If it doesn't fold compactly it will need to be manually inspected.
One way or another, you'll need to hold your baby and fold the stroller with one hand. Otherwise, you'll need to hand the baby off to someone as you fold and unfold the stroller.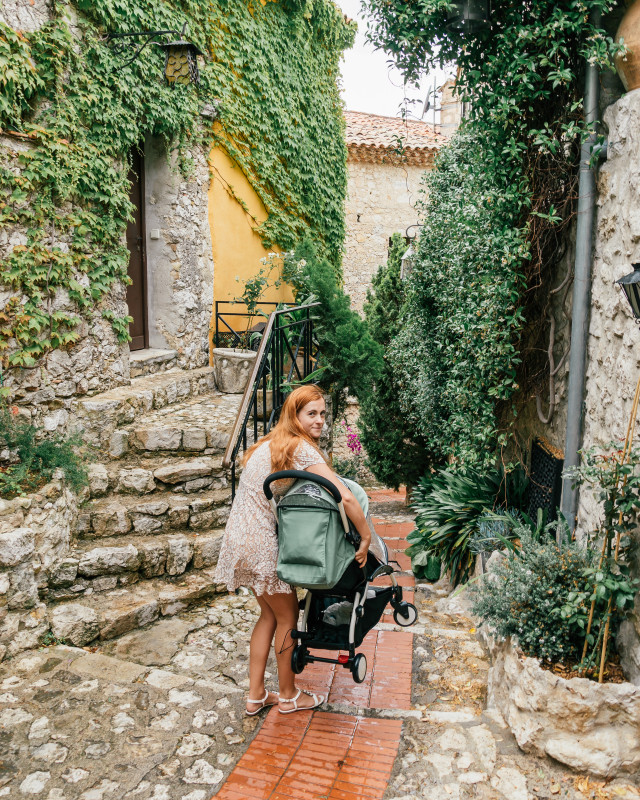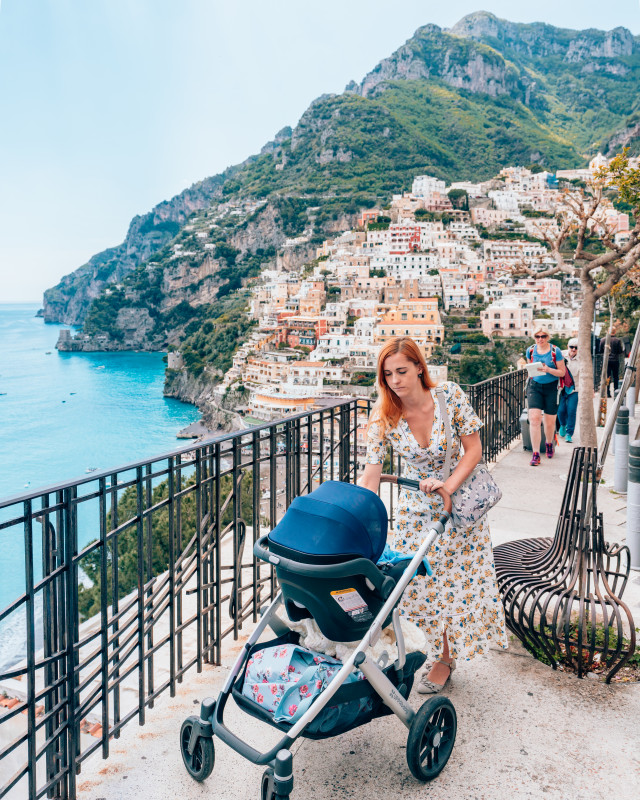 ---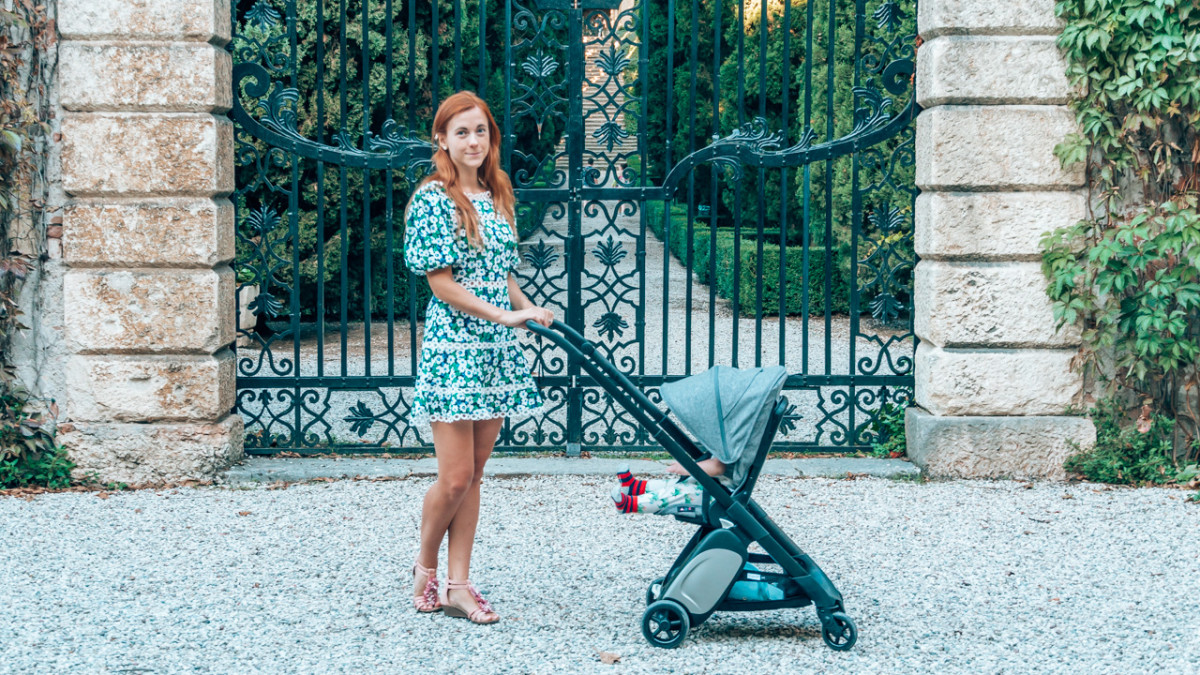 Is There One Travel Stroller That's The Best?
Unfortunately, every stroller has some cons that you'll have to deal with.
Babyzen Yoyo is great, but expensive and lacks a flat recline without a newborn insert and an extended canopy would be nice.
Baby Jogger City Tour has a great fold, but the seat is super shallow in depth.
Mountain Buggy Nano has a fine footrest and compact fold, but requires a 2-hand fold and lacks a peekaboo window.
Cybex Libelle is small and lightweight, but wobbly.
Cybex Eezy S Twist works perfectly, but missing a peekaboo window and it's slightly too big to fit in the overhead bin.
My personal favorites and those I kept for myself after reviewing are: Babyzen Yoyo as a single and Zoe Twin+ for a double.
---
IMPORTANT Things to Consider:
1) If you look at any family blogs or websites with reviews you'll see the same strollers popping up over and over again. However, every year they come up with new strollers with more improvements. 2 years ago the same stroller might not have had the same function the newer model of the same stroller has now.
Many reviews are also sponsored or gifted and then not allowed to mention flaws (you're asked to omit the flaws and say nothing). Always look for reviews of the newest model on the market!
2) Many all-in-one travel stroller reviews haven't even seen the stroller they're reviewing. I read that some fit in the overhead bin when they clearly don't and that some recline when they don't.
I read many complaints that apparently, the stroller I own doesn't recline, when in fact it reclines flat. That said – make sure you're certain about the things you need before you purchase a stroller. As you can see from the photos, I tested many strollers I'm talking about and if I didn't, I asked friends to do it for me or borrowed a stroller for a bit.
---
Which Compact Strollers Didn't Make the Cut and Why?
Before I begin let me tell you what I value in travel strollers. I only buy strollers that have a single push-bar since they're way easy easier to push one-handed. You'll thank for later for this advice.
---
SilverCross Jet – Too restricted basket, complicated fold, and not worth the price.
Summer Infant 3D Lite – While super cheap, it's an umbrella stroller so too bulky after folding and breaks easily. Plus, double wheels are harder to maneuver.
GB Pockit – No canopy, no recline – included in its newer brother GB Pockit+.
Besrey Airplane Stroller – Double wheels hard to maneuver, no recline at all.
Jovial Portable Folding Baby Stroller – Great stroller, but front wheels have to be unlocked manually by hand – yuck!
Kolcraft Cloud Umbrella – You get what you pay for. It tears along the sides where internal poles rub within a month and doesn't recline at all.
---
Best Travel Stroller Accessories
Often you can buy accessories like cup holders, bag clips, or trays to make the stroller more convenient. That, on top of the basics such as rain cover and bug net.
While many strollers already come with a bug net and rain cover, many do not – and it might not depend on the stroller, but the shop you're ordering it from.
Even when buying on Amazon, you'll have 10 different companies supplying the same stroller with different bundles.
The problem with many strollers is that not everything from one stroller will fit on the other. For instance, Babyzen Yoyo or Bugaboo Ant require its own accessories because of the design and there's no way around it (I've tried).
Add everything to your budget before making a final decision about the best travel strollers.
If you're looking for more baby gear and toys posts, check out my wooden pikler triangle review.