Traveling to Spain with a toddler or baby? Sure, it's a great idea! Spain is a great baby-friendly destination.
Is Spain Kids Friendly?
Spain is always on top of the list of family-friendly destinations in Europe, but similar to Italy (which also often tops the list) it isn't the easiest for babies and toddlers due to the infrastructure and facilities.
Baby changing facilities are close to non-existent (I swear I only saw them at the airport), so a baby changing mat is essential to pack, but the good news is that no one will care if you change a baby on a bench in the park or other public places.
On the other hand, locals adore children and go out of their way to accommodate them so as long as you're prepared for some cultural differences your kids will thrive in Spain!
It's not uncommon to see kids being welcome at bars, because Spaniards rarely use babysitters. We weren't the only ones enjoying cocktails on the rooftop bar with kiddos dancing around. We always got gifted free fruits like strawberries from the bar so kids had a snack.
When to Visit Spain with Kids
If you only have a week in Spain, try to limit yourself to two or three destinations when traveling with kids. If you'll be visiting for two weeks, you can stretch that to four.
June to August are the busiest times of year in Spain. It's the most expensive and boiling hot, so I wouldn't advise going with a baby. It's much nicer to go during the shoulder season of May or September… or even in the winter because it never gets as cold.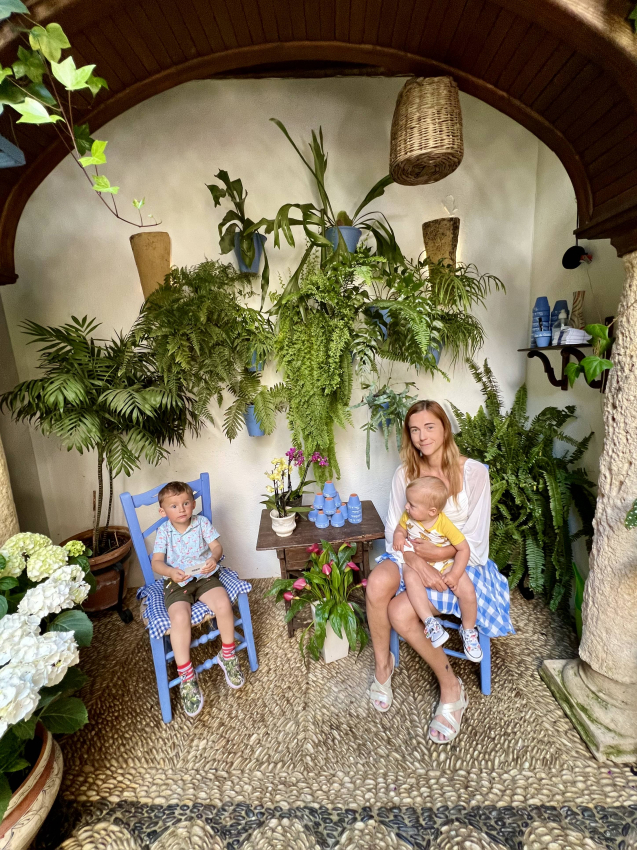 Best Places to Visit in Spain with a Baby
Spain isn't just a continental Spain and includes various islands. The main islands popular to visit are Tenerife, Fuerteventura, Gran Canaria, Lanzarote, La Palma, Mallorca, Menorca, Ibiza, La Gomera, and El Hierro.
The most family friend islands are for sure Tenerife and Mallorca.
Tenerife has warm and beautiful temperatures all year round, but it offers a great variety of activities ranging from waterparks, beaches to jungle parks.
Mallorca attracts with blue watered beaches and resorts adjusted to little kids needs.
For continental Spain, the top choice is usually Malaga, followed by Barcelona, Valencia and Seville.
Malaga with a Baby or Toddler
Many budget airlines fly to Malaga, so it's a budget-friendly choice, especially considering easy access to other destinations in Costa del Sol. There are beaches, water parks, and amusement parks, combined with castles and museums to keep the entire family happy.
Barcelona with a Baby or Toddler
Neither Barcelona nor Madrid is known as a popular destination for kids, as there are no major attractions aimed at children like you can find in Malaga for example. However, both Madrid and Barcelona have parks, restaurants, and places where kids will be welcome so I wouldn't scrap it if you want to visit.
Plus, I do think that most kids would be at least amused when visiting Casa Batlló or strolling through the Mercado de La Boqueria or Parc Güell is always amazing to visit for all ages.
Seville is a fantastic choice for kids, especially during Feria de Seville. We visited when kids were only 3 and 1 and they loved bustling Andalusia.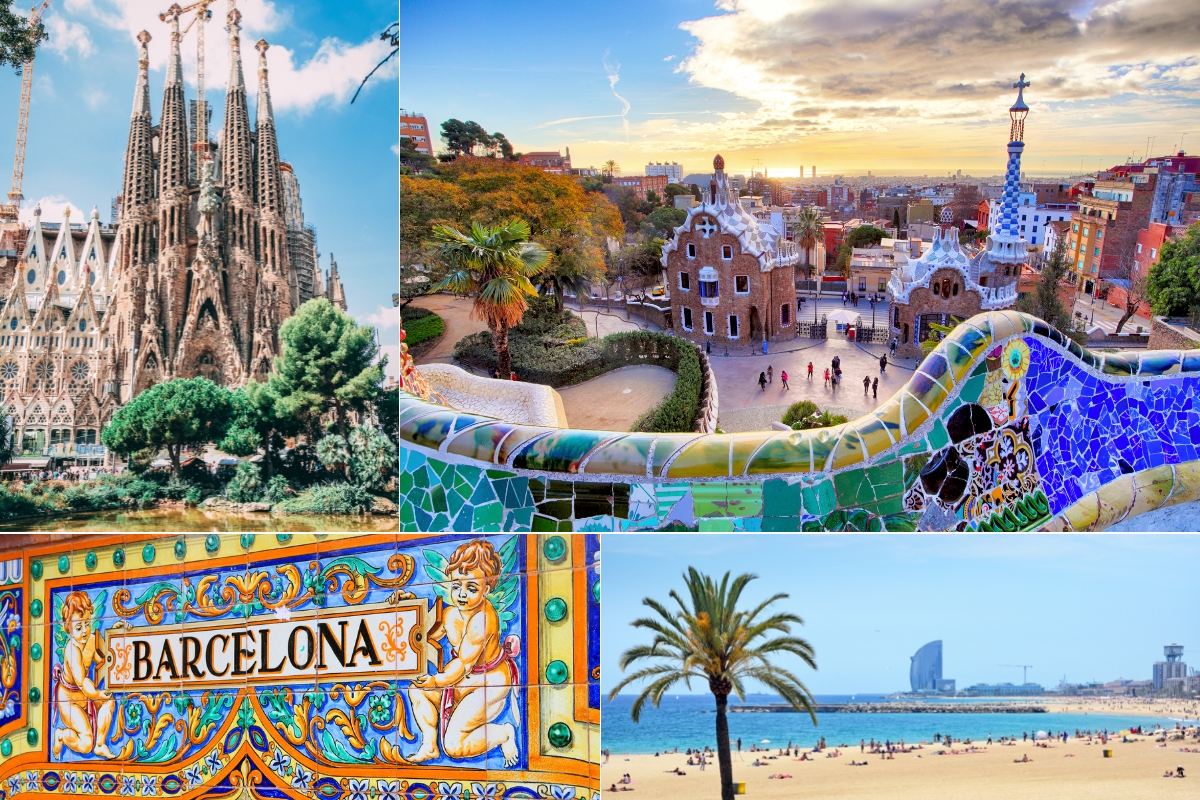 ---
Getting Around with a Baby or Toddler in Spain
There are many options for fantastic public transportation, so unless you really want to do a road trip in Spain you can rely on it entirely.
High-speed AVE trains can zip you across the country. Children under 4 can travel for free by rail, though they still require a reservation and it gets a bit tricky as I had to go to the counter to get it done. It wasn't possible to buy my tickets in the ticket machine because of the kids so give yourself some time before the train departs – I usually waited about 10 minutes.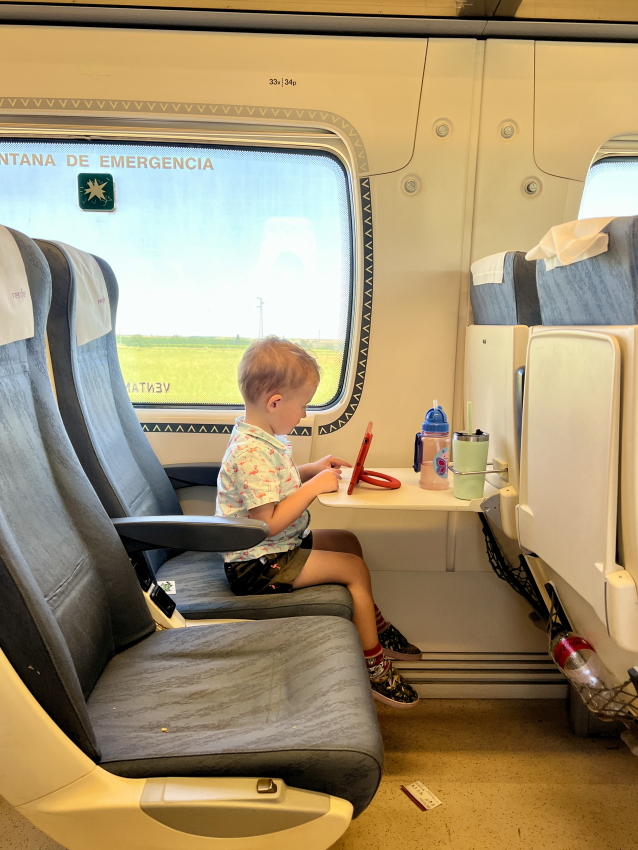 Major cities also have a metro that can bring you anywhere or buses. Drivers are usually friendly, so will let you know if that's the right stop.
Renting a car in Spain is also a good option for places outside of major towns. A car can provide you with comfort and flexibility even for day trips, but you need to remember that in some towns – Seville for example, streets are even more narrow than in Italy so it's challenging to drive.
In Spain, children need to be over 135 cm tall and over 12 years before they can travel without a car seat, but as you might suspect car seats aren't required in taxis and drivers don't have them.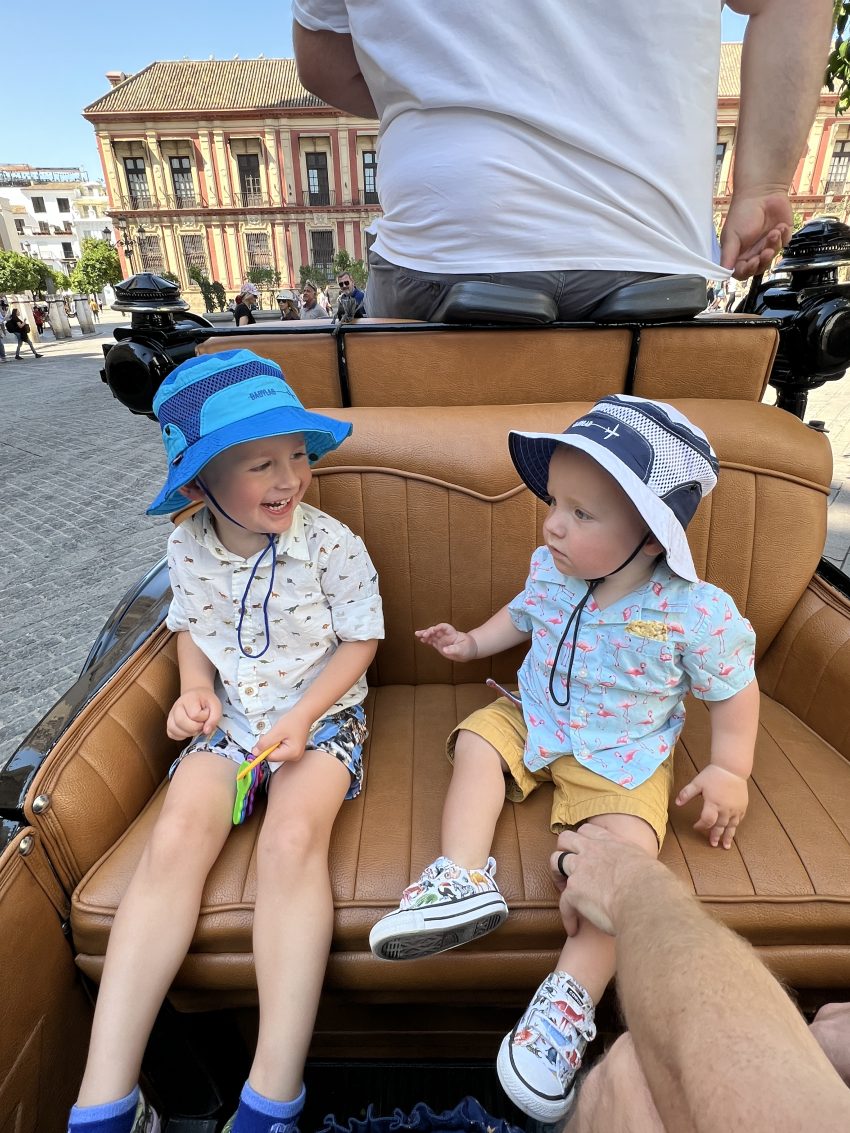 Is Spain Stroller Friendly?
For the most part, Spain is stroller friendly and I'd say essential if you're out and about exploring all day in the heat. In fact, we purchased a second travel stroller for our son who was 3 at the time because we knew that he won't be able to walk all day long.
While you might be used to the carrier keep in mind that it gets hot in Spain, so you and your baby might easily overheat in it. We never used a carrier in Spain for this exact reason.
The only exceptions would be Park Guell in Barcelona where strollers simply can't pass and Alhambra in Grenada where it's prohibited. Anywhere else it's fine… I cannot imagine not having a stroller when we were strolling through Royal Alcazar and both kids were peacefully napping.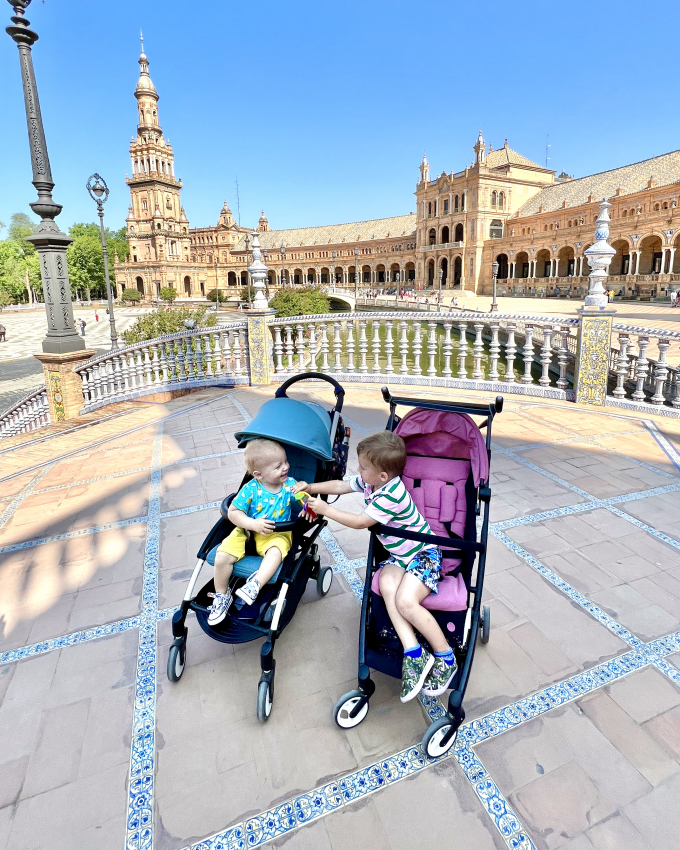 ---
Baby Products and Gear in Spain
Pharmacies and supermarkets in Spain sell essentials like diapers, formula and baby food. We didn't bring any from home and had absolutely no issues finding everything we needed.
I specifically picked a hotel that offered a crib (the majority does), so that was one less things to carry.
There are plenty of places to find baby gear in Spain. Take a look at Backpack Baby, Strollaround.
For Barcelona specifically Wallyboo and for Madrid My Little Rider and Bebe Away.
Bringing Babies to Restaurants in Spain
Any restaurant is very baby, toddler, or kids-friendly and you'll always see some kids eating out. It's not weird or unusual to take small children to even a fancy restaurant – especially considering the fact that most restaurants have outdoor seating.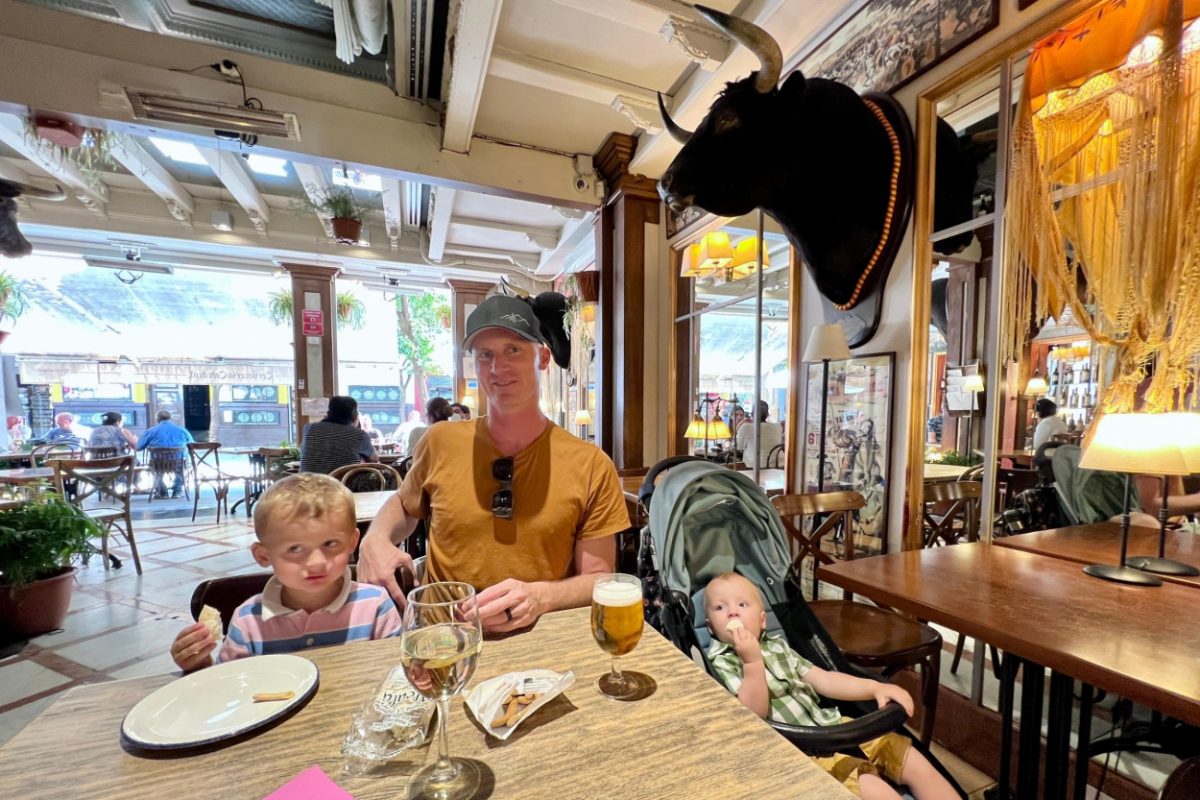 One thing that caught us off guard is the rampant smoking still prevalent in Spain. various times I wanted to switch seats because so many people were smoking in restaurants.
The only exception we encountered was in Andalusia where kids under 8 were banned from dinner dance shows.
There are a few things you need to be aware of. The siesta is very much a part of daily life and most shops and businesses shut down from around 2/3 pm to usually 7:30-8 pm. It means… you cannot find food earlier than later dinner and you gotta roll with it!
Spanish kids eat later and go to bed later, especially in the summer when it's super hot outside during the day. Some places might serve selected tapas after 3 pm or before 7:30, but it's not a common occurrence.
Toddlers run around and play at 10 pm in front of restaurants quite often… it's just like in Italy or Greece.
Not once we found high chairs, even in big cities. We tucked the stroller next to the table for our barely 1 year old and fed him in the stroller (another reason why I said strollers are almost essential in Spain). You might want to bring a portable high chair.