Outside the hustle and bustle of Mexico City, In the Hidalgo state, you will find Grutas de Tolantongo. Grutas de Tolantongo comes from the Aztec language meaning "Caves where it feels warm."
It has been a destination attracting local visitors throughout the years, looking to become a top trendy hot spot very soon.
What is Grutas de Tolantongo?
Grutas de Tolantongo is a system of caves and grottoes through which water flows into a Tolantongo river. The whole area is a creation of mother nature working hard over thousands of years.
The caves were first officially introduced to the tourism World in the mid-1970s and that is also when a simple spelling mistake in a newspaper gave the caves its name.
Over the years a resort was built by the community of local families to cater to hundreds of tourists visiting daily with a system of mineral hot pools, hotels, and restaurants.
Until this day the resort is run by the locals and your visit is a great way to support the local economy.
---
Where Are Grutas de Tolantongo?
Depending on the traffic, you can get to this superb location within 3-4 hours of leaving Mexico City. As with many gems, it is not the most accessible destination, but you can bet it's an escape worth visiting.
Tucked away from the city, you will discover an oasis in the middle of a semi-desert climate.
You'll be able to disconnect with some spotty cell phone coverage while taking in the Mexican desert countryside, passing little to no towns on your drive.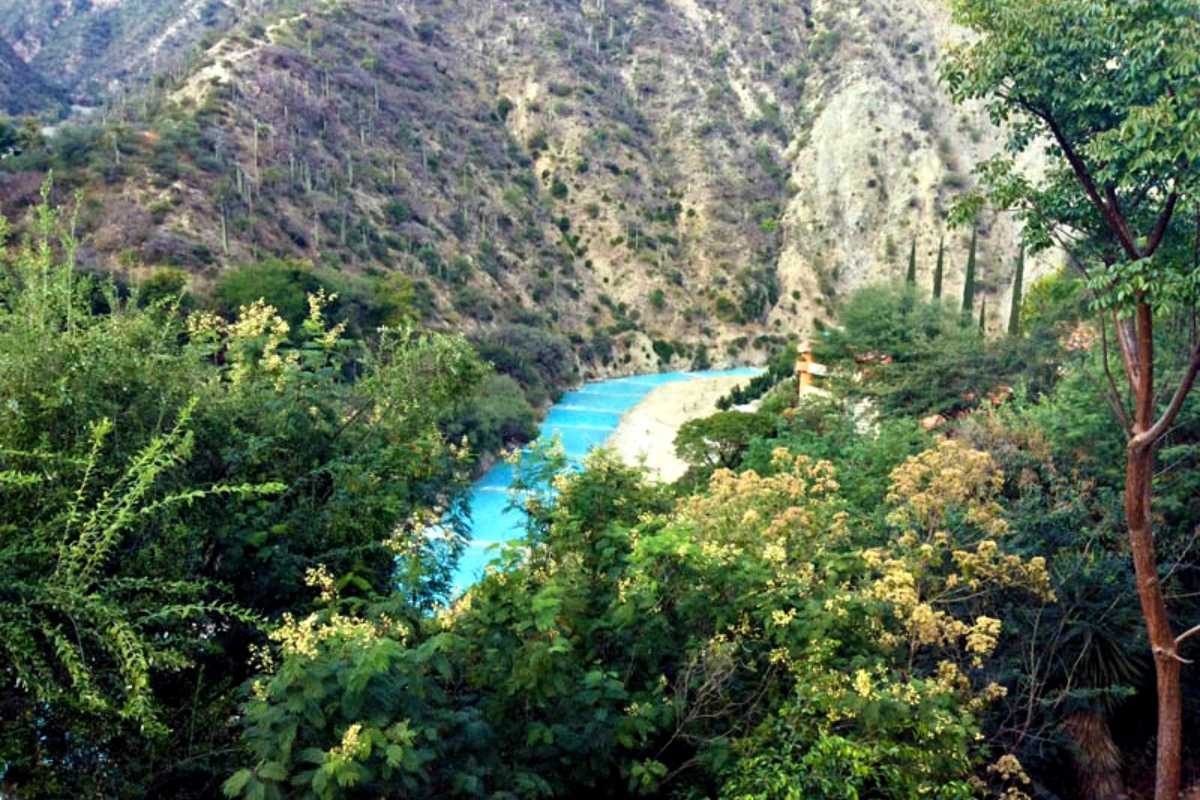 ---
How to Get to Grutas de Tolantongo, Mexico
There are numerous modes of transportation options. However, the most convenient is to take a personal car (rental), especially if you're with friends or family.
You will have the space and save on some traveling time. If you are thinking about renting a car in Mexico, here is everything you should know beforehand. Parking costs $30.00 MXN per vehicle.
Public transportation, such as a shuttle service, autobus, or collectivo (shared van), is the most cost-effective. Take note your arrival time will be a bit later, leaving you less time to explore every nook and cranny of Grutas Tolantongo.
Another popular option is to hire a tour guide. The tours range in price depending on the length of your stay. Most visitors usually opt for a day trip (5 am-7 pm).
Many solo travelers who do not speak the language feel the most comfortable taking this route. It's an easy, stress-free, and safe option to access this wondrous place.
There will be areas that require you to hike up steep areas. Suppose that sounds different from something you're interested in doing. In that case, you can take shuttle vans around for a reasonable 10 MXN.
How to Get to Grutas Tolantongo from Mexico City
If you're coming from Mexico City all options have pros and cons depending on personal preferences, but overall it's not hard to get to Grutas de Tolantongo from Mexico City.
Taking a group tour — usually a quick day trip from Mexico City. Nice way to meet people and not have to worry about anything.
Renting a car and driving to Tolantongo from Mexico City or Queretaro or San Miguel de Allende.
Public bus from Terminal del Norte.
If you chose to get to Tolatongo by public bus, keep in mind that it requires multiple changes. You need to check the schedule of Ovnibus and Estrella Blanca companies – both operate daily to Ixmiquilpan from platforms 7 and 8.
Then, in Ixmiquilpan, you can take a taxi directly to Tolantongo (for about $40), or you'll need to first get the bus from the terminal to Mercado Morelos (after walking 20 minutes) to catch a collectivo (shared van).
The last collectivo from Ixmiquilpan to Tolantongo leaves at 6:30 pm, and the last one from Tolantongo to Ixmiquilpan departs at 5:30 pm. I personally don't recommend that option unless you're very short on time.
---
Grutas de Tolatongo Tours
You can visit the resort by booking a small group tour from Mexico City. The tour leaves first thing in the morning (6 am) and it includes roundtrip private transportation, a bilingual guide, and covers the entry fee to Grutas de Tolantongo.
You will need to bring your own food and drinks or purchase them in the park. You will get to spend approximately 4 hours at the caves before returning to Mexico City.
---
Grutas de Tolantongo Cost
Beginning January 2023, the price went up from $150 to $180 MXN and you can pay only with cash. Your ticket is valid from 7 am until 8 pm. It's crucial to keep it with you throughout the day.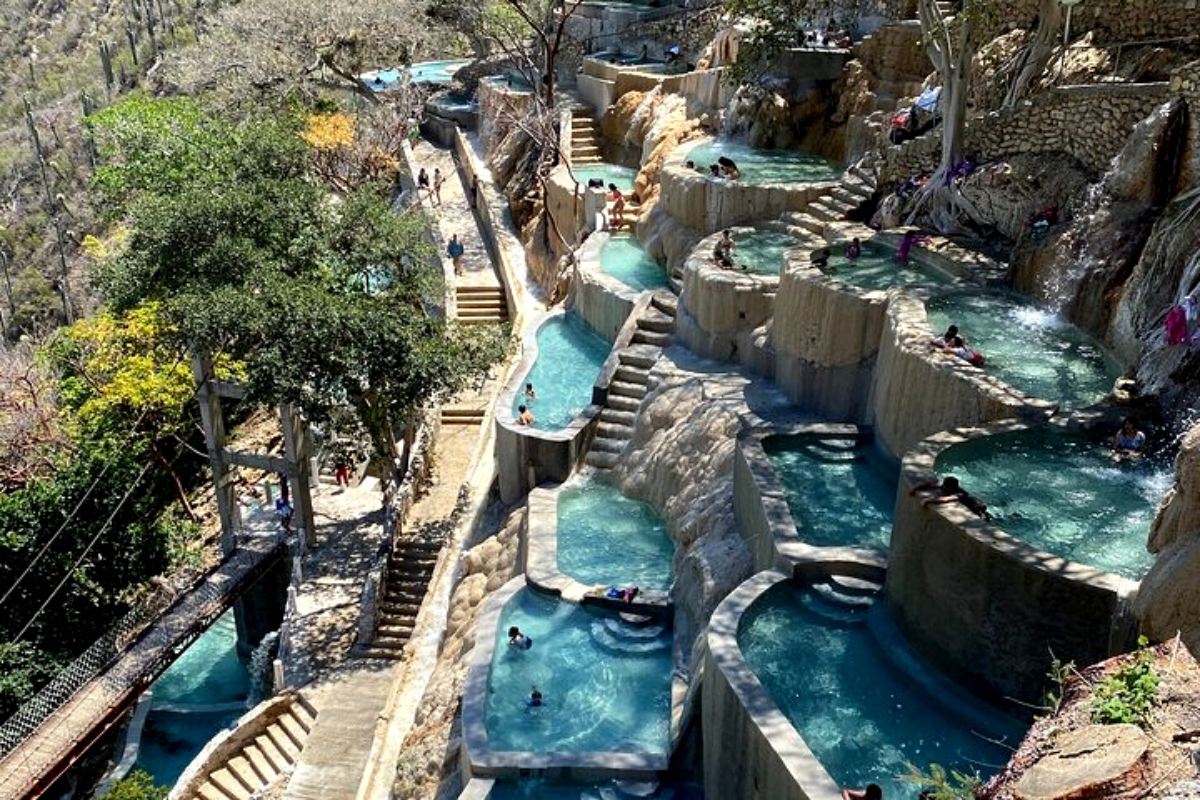 ---
What to Bring to Grutas de Tolantongo
When packing for your trip to Grutas de Tolatongo, ensure you are appropriately dressed for different activities.
Your best bet is light clothes, bathing suits, and correct footwear (no flip flops) that allows walking around the resort or going on the zipline.
It's possible to buy blankets and towels at the resort should you forget to bring them with you.
---
The Best Time to Visit Grutas de Tolantongo
The park is open all year, and the destination is well-known among the locals.
Because it is a family-friendly area, it tends to become incredibly crowded on weekends, especially during Mexican public holidays. Try your best to go mid-week.
Since Grutas de Tolantongo is blessed with lovely weather throughout the year, there is no wrong time to visit.
Of course, during some colder months (December – March) you should be prepared with the proper clothing, especially if you choose to camp there overnight.
---
Where to Stay near Grutas de Tolantongo?
Four accommodations are located throughout the park: Hotel Gruta (closest to the waterfall and caves), Hotel Huerta (closest to the river), Hotel Paraiso (closest to the hot springs and zipline), and Hotel Molanguito (at the top of the valley).
Staying in hotels near Grutas de Tolantongo
The hotels do not accept online or phone reservations, so it's best to arrive early and secure your room in person at the hotel of your choice. Prices range from $750 MXN- $2400 MXN and must be paid in cash.
Many Westerners recommend Hotel Paraiso. It's slightly more expensive than the others but it's in the best location.
Since it is conveniently located next to the pools, it is a great way to start your day with an early morning in the hot spring before the crowds arrive.
Keep in mind that this is still a locally run area, and the infrastructure isn't designed for 5-star resorts. Most hotels are simple spaces with just a bed and no Wi-Fi or TV, but I think one can live without those luxuries for a couple of days.
Some rooms in Hotel Paraiso have Wi-Fi, a TV, and a private shower. Hotel Molanguito is located right outside the park and is only open on the weekends but does have Wi-Fi, TV, and private showers in the rooms.
---
Camping at Grutas de Tolantongo
Camping is offered if you're not keen on staying in one of the hotels! A great option to stay overnight for those on a budget or simply the outdoor type. There are four campgrounds at Grutas de Tolantongo:
Huamuchil
La Ortiga
Paraiso Escondido
La Huerta
The cost per tent per night is $150 MXN. Tents can hold up to 4 people. If you don't typically travel with proper camping essentials, don't fret.
The park offers multiple basics such as a tent, grill, chairs, firewood, and blanket, all at an a la carte price.
Are you new to camping? The excellent staff will set it all up for you, you just have to pick a spot. Talk about hospitality!
How wonderful would it be to fall asleep under the stars after such an adventurous and splendid day, then wake up to the sounds of nature, surrounded by mountains and fresh air?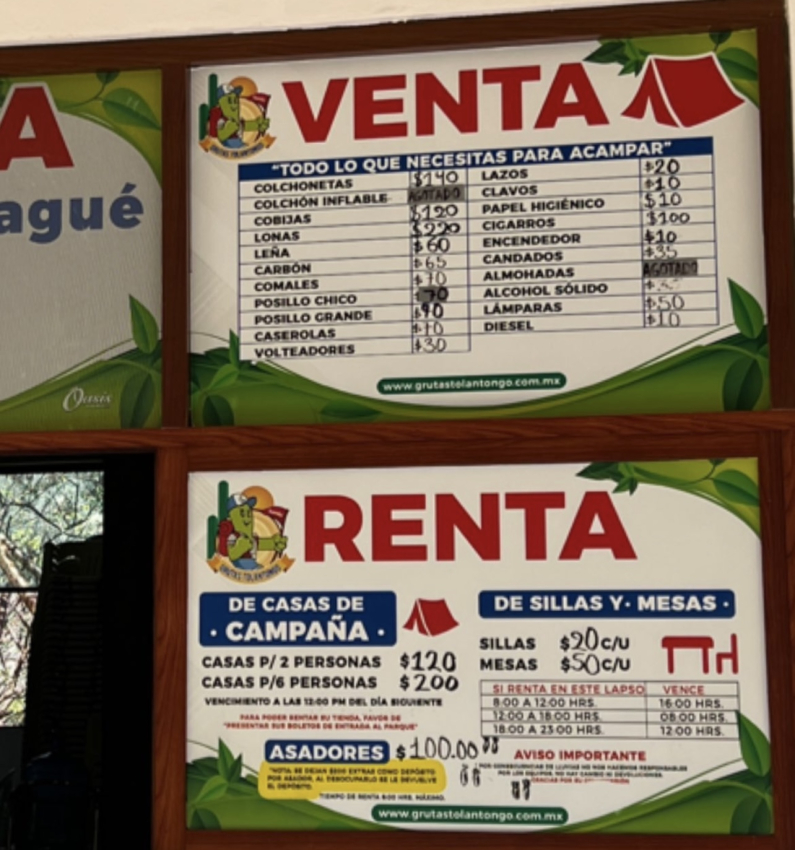 ---
Best Things to See and Do at Grutas de Tolantongo
Enjoy warm landscapes in the form of hot springs (Pozas) with infinity pool edges.
There will be waterfalls accompanied by a turquoise river and various activities to entertain you and your family. It is highly recommended to stay the night and explore everything this park offers.
1. Las Pozas de Tolatongo
One of the most beautiful spots in this park begins at Las Pozas Termales. You will enjoy stunning views with over 30 thermal pools to choose from.
The naturally warm hot-spring water, which you can find in those pools, flows from the ground and is heated by the earth's crust. The water reaches a temperature of up to 38º Celsius.
You're guaranteed to relax. It's been said that Pozas have healing effects. They contain volcanic mud, which is believed to offer multiple health benefits.
There are two sides to the pools. The pools to the right are separated by a gated entrance. Food and drinks are not allowed, and it closes by 6 pm. This area is quieter and better for those wanting to have some "me time."
If you're looking to enjoy the pools with access to BBQ'ing with your friends and family, having a few drinks, and listening to music, then the ones on your left will be a better choice.
---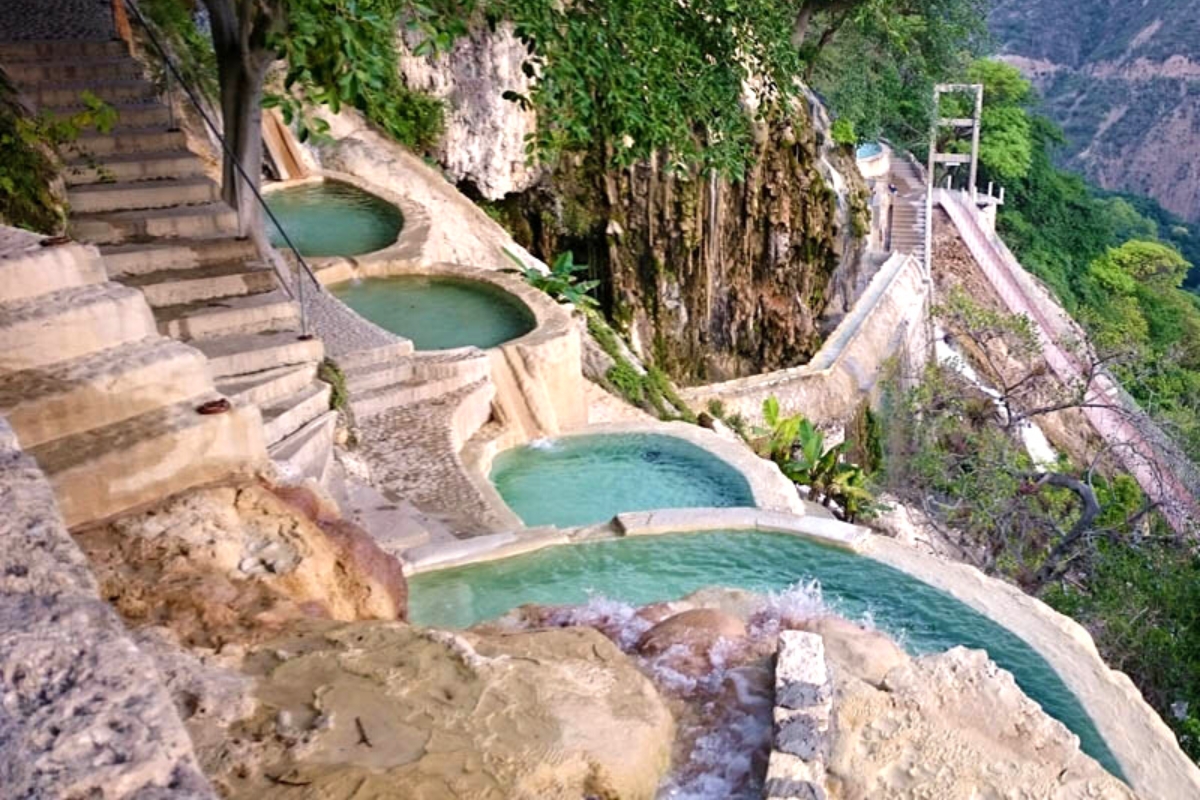 2. Waterfalls
After the pools, you'll want to see the magical waterfalls on the way to the caves. Here you can view hundreds of stalactites formed in the limestone.
---
3. Hidden Cave
You can continue onto Gruta Escondida (translation: hidden cave). Crossing the suspension bridge connecting the canyon to the hidden cave would be best. The view is great and can be adrenaline-inducing when the bridge begins to sway.
The Hidden Cave is small but lovely. Stay alert, as a lot of water trickles from all the natural holes and paths become very slippery. This is why having proper bathing attire and walking water shoes is essential. You will get wet!
---
4. Zipline
For the adrenaline-seekers, there is a zipline! The zipline is one of the few activities not included in the price of admission and costs $250 MXN.
The complete zipline is approximately 1890 meters long and is divided into four sections, all going in one direction.
The course begins at the top of the canyon and finishes near the main cave. In total, you're looking at one hour to complete the activity. It's a sure way to enjoy the Tolantongo Caves from up above.
You'll be soaring through the trees. It's recommended not to have anything on you, such as your phone, bag, or backpack.
For your convenience, there are lockers located on site. Make sure to leave what you don't need locked away. Remember to always keep your entrance ticket on you.
---
5. Hiking
Trekking is another excellent way to explore nature across the steep slopes, plus it comes with great exercise! With more than one trail to choose from, get ready for some challenging hikes.
Even though the area is desert-like, it's still surrounded by lush vegetation with vibrant plants and flowers.
This area is also home to abundant wildlife, and you may get a close view of coatis, roadrunners, raccoons, and many types of birds.
If you decide to hike around Grutas de Tolantongo, it's important to have water, snacks, sunblock, and (of course!) appropriate shoes.
---
6. Swimming in the cave
You'll have the chance to swim in a big cave with water coming down the exterior, mimicking a waterfall. It's quite the experience at The Gruta. The water is delightfully warm.
Be aware as currents can become intense. The swimming area is dim with little to no light. If you're not a confident swimmer, you'll want to approach it cautiously.
A waterproof headtorch will come in handy. Before leaving, make sure you go into the tunnel that allows you to swim underneath the river- very cool if you've never swum in an underground river. What an opportunity!
---
7. Walk the suspension bridge to La Gloria Tolantongo
La Gloria Tolantongo is a separate area that connects with Gruta de Tolantongo. Small but with fewer crowds, La Gloria Tolantongo also offers access to thermal pools and waterfalls.
Since this part is on a separate piece of land with different landowners, there is an entry charge of $150 MXN.
---
8. Swim in the Tolantongo river
Cool yourself down from the warm climate and the sun in the cool blue waters of the Tolantongo river. Especially after any long walks or hikes.
The water gets its color from the high content of calcium and magnesium. The water flows from the Gruta and continues to the canyon's end. Depending on the water flow, the current can become strong.
Be careful when entering and use proper judgment.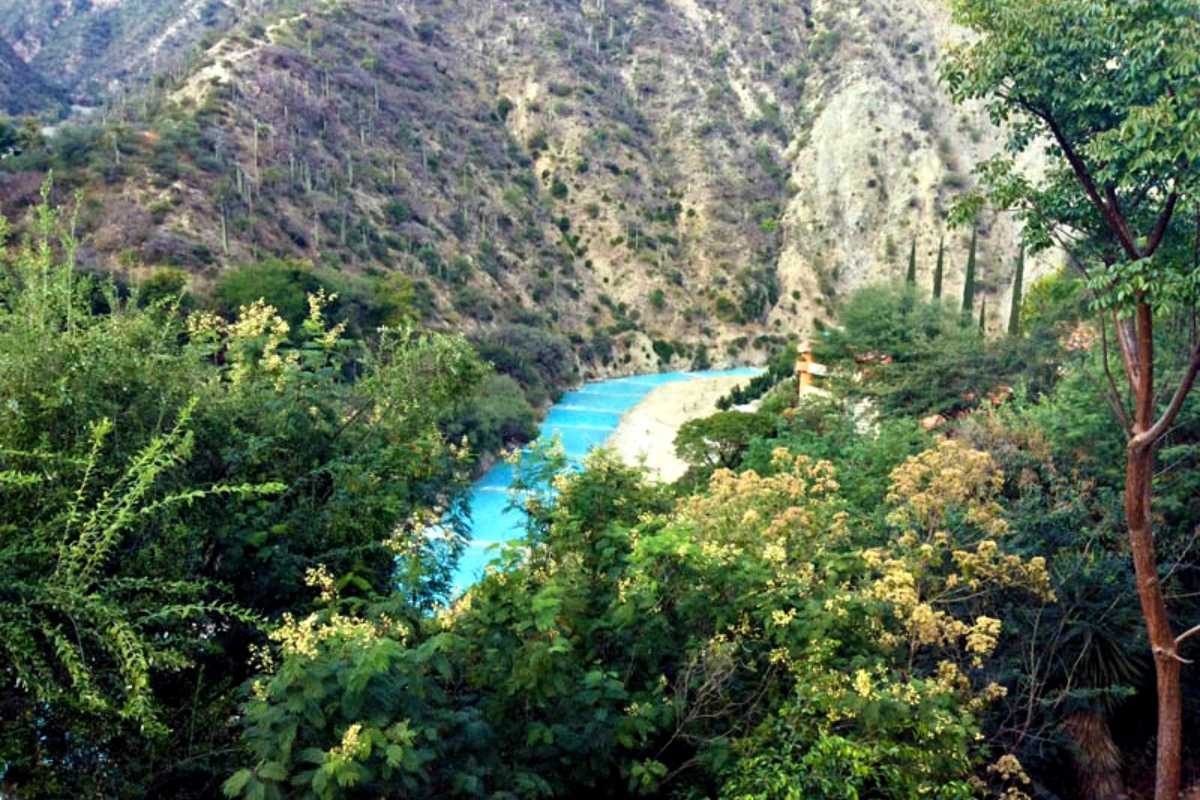 Where to Eat near Grutas de Tolantongo
After a full day of adventurous activities, you're bound to work up an appetite. Visit one (or more!) of the ten restaurants on-site for hearty Mexican dishes or delicious seafood options.
From fine dining to casual eateries, there is something for everyone.
Barbacoa tacos are always good; eat them with the lime and radishes provided! The restaurants have similar traditional plates offering chilaquiles, fried fish, menu del dia (lunch), quesadillas, and sopes (a local dish made with tortillas).
All yummy authentic Mexican food, you can't go wrong. To finish that fulfilling meal, wash it down with a local beer and truly enjoy yourself. Remember, if you choose to have a few drinks, opt for the overnight stay.
Frequently asked questions about visiting Grutas de Tolantongo
1. Can I pay with my credit card at Grutas de Tolantongo?
No, The entire park is cash only. The nearest ATM is 1 hour away, so make sure to come prepared. You can also get cash from the reception at Hotel Paraiso, but there is a 10% commission charge.
2. Is the resort kid and family-friendly?
Absolutely! Your kids are going to have tons of fun swimming in Pozas, ziplining, and exploring the caves! However, if you have a furry family member, leave them at home, as they are not allowed in the park.
3. Is the Grutas de Tolantongo resort wheelchair friendly?
Unfortunately, due to its structure and location, the park isn't wheelchair friendly. Its many uneven paths and many stairs can make it very difficult to get around.
4. Are there any convenience stores at Grutas de Tolantongo?
Yes, you will find a few convenience shops, although still very limited in what is stocked.
5. Can I decide on the spot if I want to stay overnight?
Yes, the trip can be extended overnight (more than once!) if you're too exhausted to drive home or simply not ready to leave. The park is large, and the attractions are spread apart. Feeling rushed is never fun.
6. Can I bring my own alcohol to Grutas de Tolantongo
No, alcohol is sold in the restaurants at the resort, but it's not possible to bring your own drinks.