If you're spending Christmas in Italy, you'll find the most delicious Christmas food in Italy. It's an extravaganza of delicious food and wine; and multi-course dinners that will leave you full till New Year's.
In Italy, the Christmas Eve Dinner is usually a simple affair with seafood following the Roman Catholic tradition of not eating meat during Lent or Advent. Following tradition, some families in the Northern parts of Italy, and serve seven-course meals, while some in the Southern parts of Italy such as Calabria serve thirteen dishes.
With traditions varying from region to region, you won't ever find the same dish at every Il Cenone di Vigilia, or The Feast of the Seven Fishes as the Christmas Eve dinner is called.
You'll find a variety of seafood dishes at the Christmas Eve table – from fried salted cod called baccala, to octopus salad, to linguine with clam sauce, to other dishes made with swordfish, tuna, calamari, salmon, and more.
Lunch on Christmas Day however is a feast with every meat possible. From cured meats to lasagna to sausages and beef, here is what's eaten for Christmas in Italy.
Chrismas Food in Italy
1. Vitel Tonne or Vitello Tonnato (Roast veal with tuna sauce)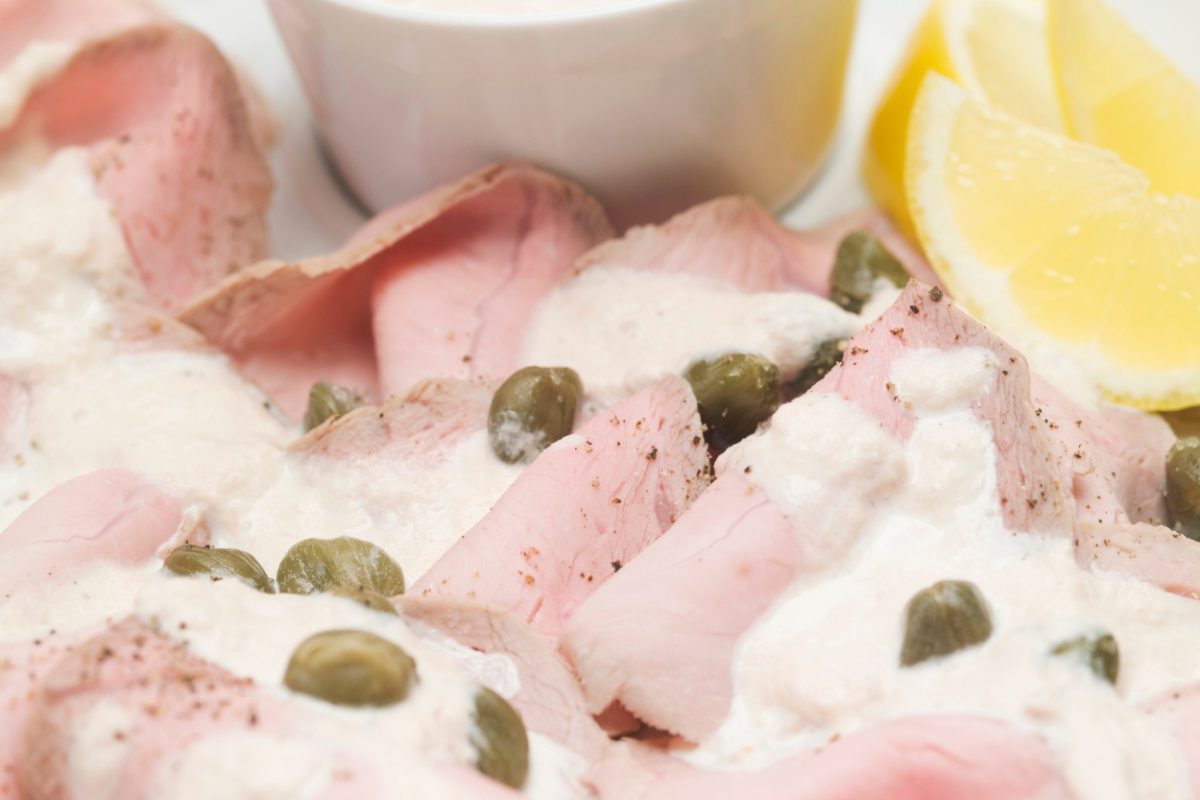 From the Piedmont area, this dish is one for those who can't decide between meat and fish, or who love their meat as much as their fish.
Roasted veal from the back leg called Eye Round is braised and cut thin and covered with a creamy tuna mayonnaise sauce. Served cold, the dish can include seasonings like capers, anchovies, lemon juice, and peppers.
A popular dish for antipasti, the dish is often refrigerated for as long as five days before serving.
---
2. Spaghetti alle vongole (Spaghetti with clams or tuna)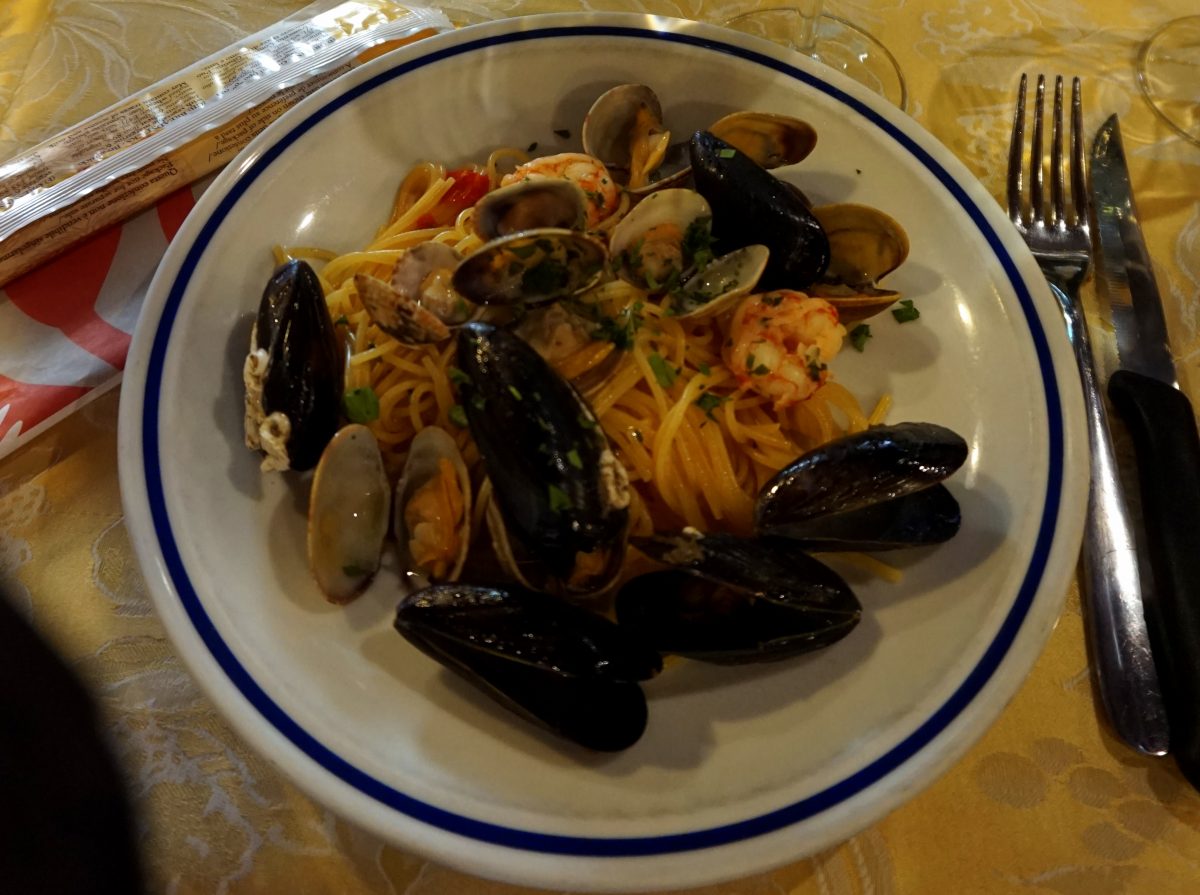 A popular dish for Christmas Eve Dinner, spaghetti with clams or tuna is often served as the first course or Primi. Originating from the Neapolitan region, it can be made with garlic, parsley, and white wine, or with tomatoes, garlic, basil, and red wine.
One version, Spaghetti Alla Rosinella is made with clams, squid, and shrimp.
---
3. Agnolotti del Plin (Stuffed pasta )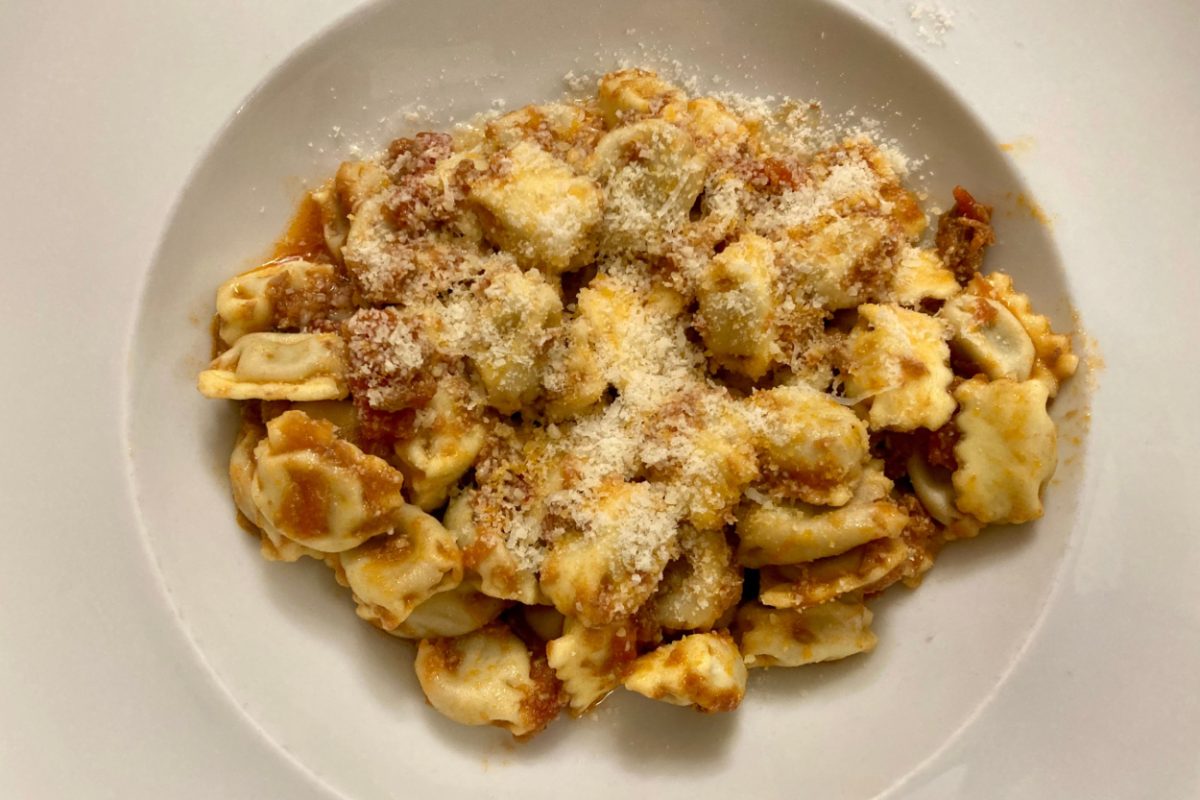 From the Piedmont region, this dish looks almost like stuffed pockets, but it's not. Made by filling square shapes of pasta with roasted beef ( agnolotti di magro) or veggies ( agnolotti di grasso), these pasta packets were originally semi-circular in shape.
The popular version eaten for Christmas is agnolotti al plin or agnolotti del plin, where plin refers to the process of pinching the pasta at the edges. After the meat-filled agnolotti are cooked in boiling water they are either served as is or topped with parmesan cheese.
---
4. Baccala
A must-have for Christmas Eve dinner, the salted cod or baccala is eaten across the country.
Some popular methods of preparation include baccala cannaruta which includes frying it with nuts, onions, and raisins, or baccala cassuola which is cooking it in tomato sauce with raisins, olives and capers.
Baccalá mantecato is salted-cod that has been mashed to a paste with garlic, olive oil, pepper, and salt.
Other variations include baccala with pasta, salad, or simply with veggies on the side.
---
5. Bagna Cauda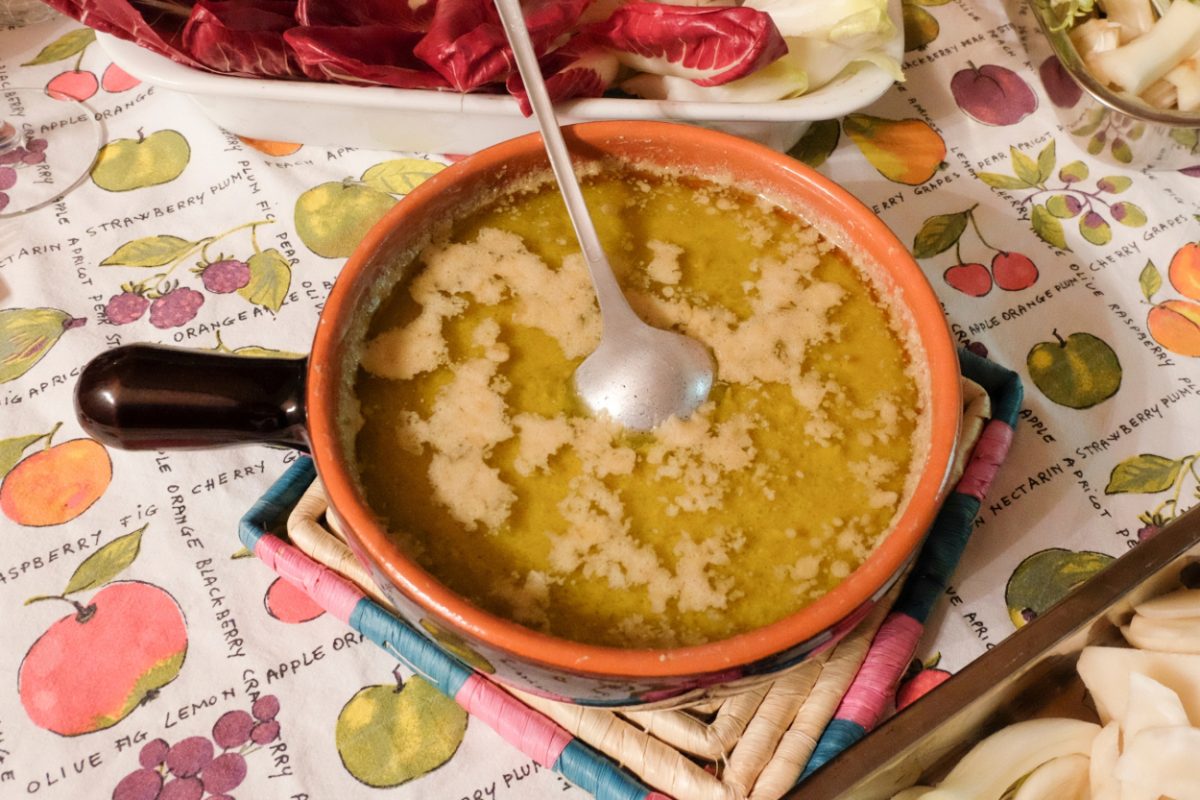 Bagna cauda translates to 'hot gravy' or 'hot dip'. Looking almost like a fondue on top of a burner or heating candle, it consists of a sauce made from anchovies, garlic, and olive oil.
Popular in the Piedmont region since the 16th century, cooked or raw veggies are served with the dish for dipping.
---
6. Capon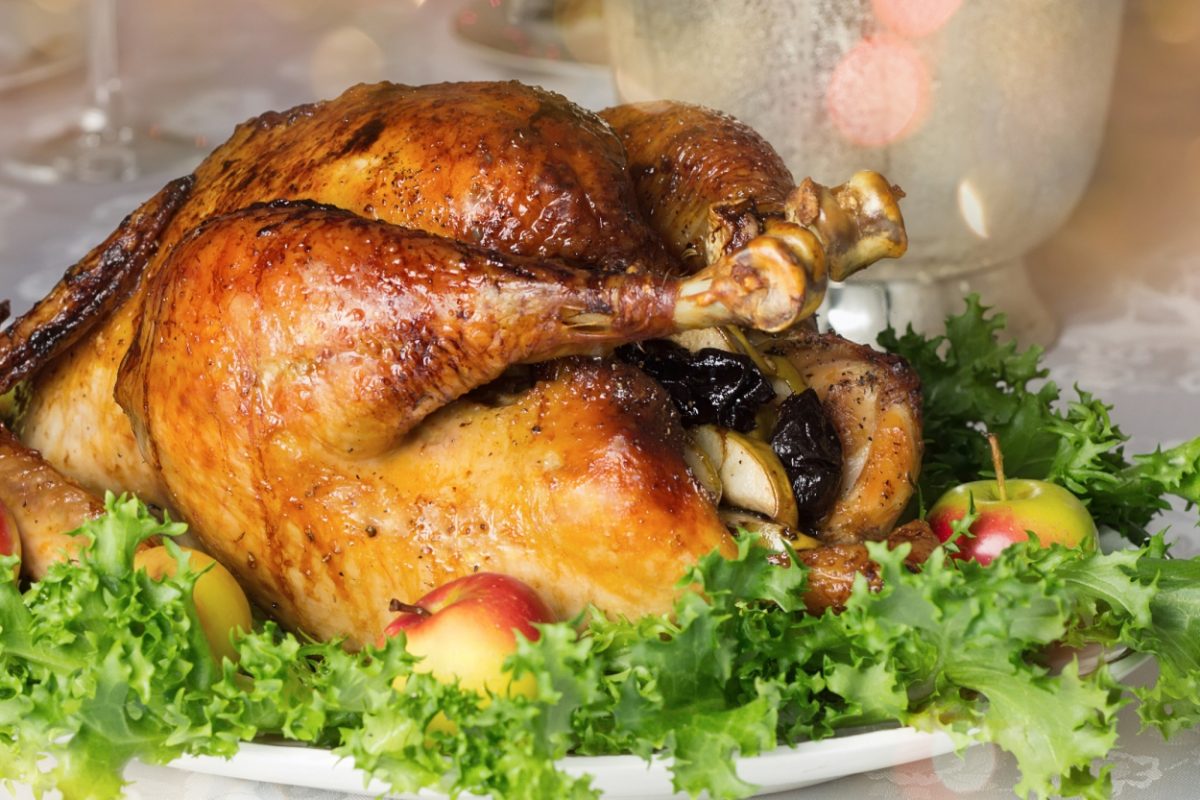 Roasted capon was a popular dish on Medieval feasting tables, and was sometimes covered with gold leaf. And even today, the capon or young rooster is a popular Christmas dish. Castrated when it's hardly 3 weeks old, the capon is fed a diet that makes it less muscular and more juicy.
Capons are usually stuffed with a mix of ingredients from nuts to salami and ham to veal meat or amaretti biscuits and raisins. A symbol of fertility and abundance, it's served with cabbage or spinach on the side.
7. Veal Rolls
Veal Rolls are made of roast veal that has been layered with veggies such as sauteed spinach and frittata or with celery, carrots, and onions.
The Rotolo All'Emiliana or Emilian Rolle is a version of the veal roll that's made with layers of veal, mortadella sausages, spinach, and eggs. Cooked in red wine, it's perfect!
8. Salsiccia e cime di rapa (Italian sausages and turnip greens)
A popular Southern Italian dish of sausages and turnip greens, the Salsiccia e cime di rapa is a secondo dish served at Christmas and other festive occasions.
The turnip greens are sauteed with chili pepper and garlic, and cooked with wine after adding the sausages. This dish is both hearty and filling!
9. Tortellini
Little ear-shaped dumplings filled with cheese and mushrooms or cheese and ham or eggs, the tortellini are a must-have at Christmas Lunch.
Often cooked in a broth of veal, beef, or capon from the other dishes, it's the perfect addition to the primi piatti at Christmas Lunch.
---
10. Cannoli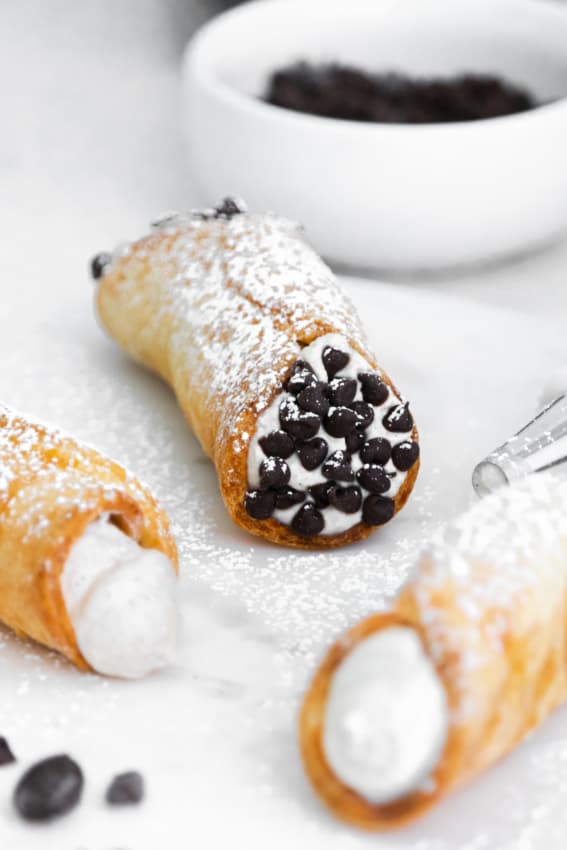 Tube-shaped shells that were invented in Sicily as an ode to male parts, in the 9th century, the cannoli look just the part.
Crispy fried shells made of wheat, lard, sugar, and sometimes Marsala liqueur, are filled with a stuffing of ricotta cheese, Marsala liqueur, and candied fruit or chocolate chips.
Eat these crunchy shells as soon as they're filled!
---
11. Arancini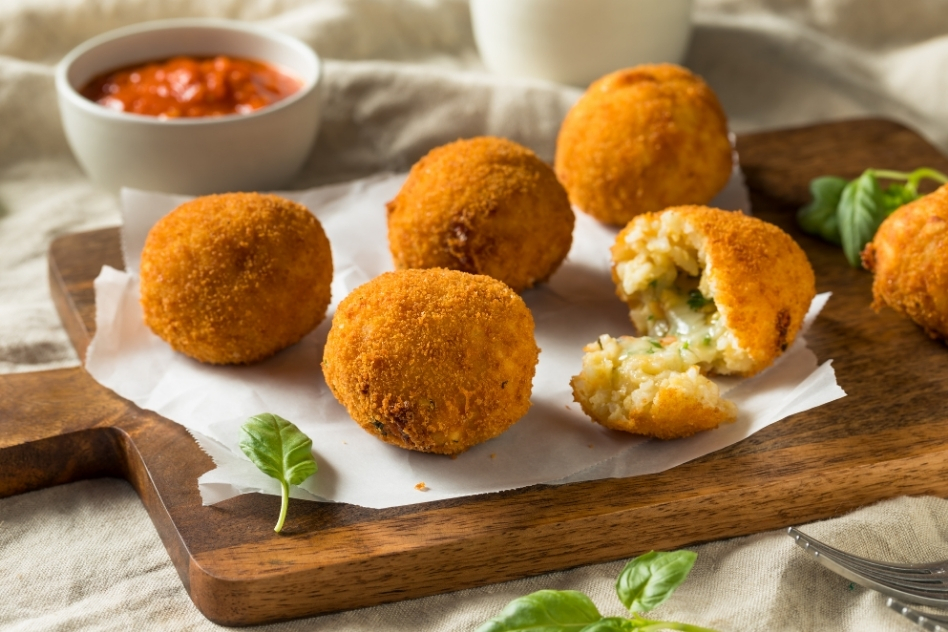 A staple of Sicilian cuisine, the arancini are balls of rice that have been stuffed with a meaty filling and coated with bread crumbs before being deep-fried.
You'll find a dozen variations of arancini all over the world. The most popular include mozzarella cheese, minced meat, peas, or ham.
---
12. Canederli
From the parts of Veneto, Friuli, and the regions of Trentino-Alto-Adige, these tasty bread dumplings are made of stale bread and speck, a local cured meat in South Tyrol.
Looking like gnocchi, canederli are often sauteed with melted butter and served in a soup or earthy broth.
13. Lasagne
This dish is what first comes to mind when anyone thinks of Italy. With a dozen varieties across Italy and around the world, lasagna is a must-have for that hearty wholesome-filled feeling.
You'll usually find it as the main dish or secondi in many homes at Christmas Lunch. And don't just expect your average lasagna filled with Italian sausage or ground beef. Think flavors filled with ricotta and mozarella cheese, or a delicious truffle sauce, or spicy marinara sauce, or even a triple-cheese lasagna.
14. Capitone (Eel fish)
Popular in Southern Italy, capitone or eel is eaten for Christmas Eve in Southern Italy. It's so popular a tradition that many Italian American nonnas would buy the eels and keep them alive in their bathtubs till right before cutting them on Christmas Eve.
Why? It's believed that the eel looks a lot like the snake that tempted Adam and Eve in the Garden of Eden. So it's considered good luck to kill and eat the eels on Christmas Eve since it symbolizes the victory of good over evil.
The soft white meat of eel can be eaten grilled or fried. Capitone in Umido (Capitone in tomato sauce) or Capitone Fritto (Fried capitone) are popular choices.
---
15. Tiramisu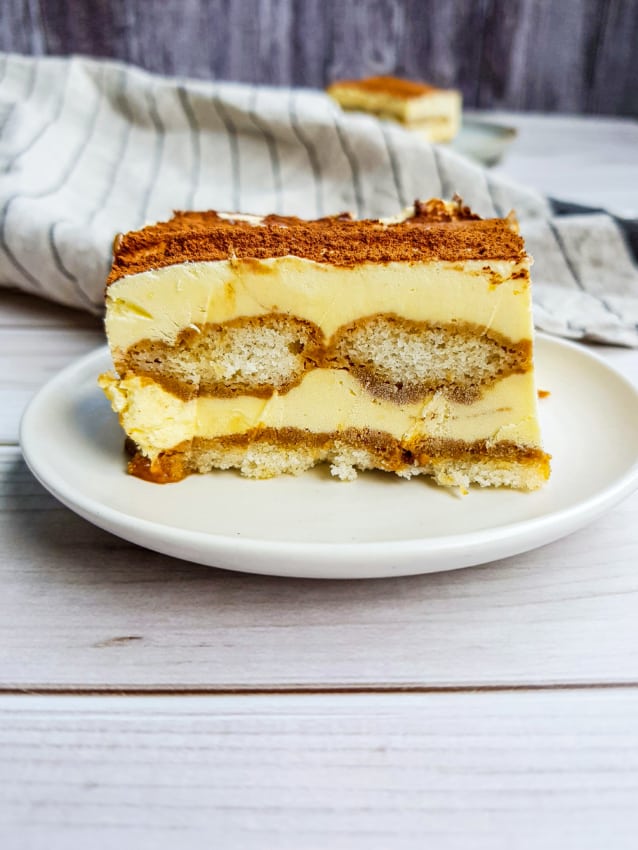 Everyone's favorite dessert, tiramisu can also be found on the Italian Christmas table. The tiramisu does not require baking, and although it was originally round in shape you can now find square versions.
Delicious layers of ladyfingers or sponge fingers are soaked in Marsala liqueur and sandwiched between creamy layers of mascarpone cheese and dusted with a coat of cocoa or coffee powder. No wonder it means 'cheer me up'.
---
16. Panforte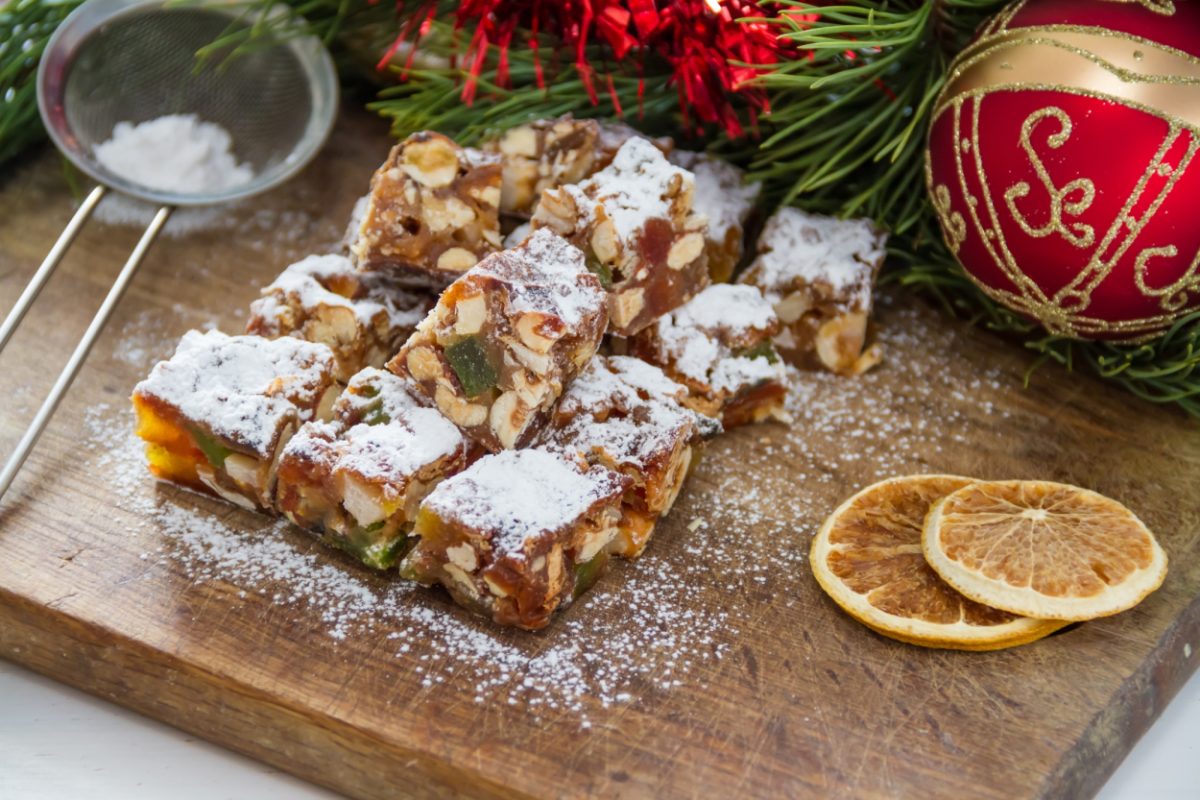 This Tuscan dessert from Sienna is sticky and sweet. Meaning 'strong bread', it was once used to pay tithes to the monks in the 13th century.
Made with nuts, fruits, spices, honey, and sugar, the bread contains very little flour. Enjoy this finger-licking bread, or its darker version called panforte nero, which also includes candied melon, pepper, and cocoa powder.
---
17. Struffoli
Another one for the sticky and sweet dessert lovers, the struffoli is a Neapolitan dessert made of deep-fried balls of dough that are covered with honey, cinnamon powder, and sprinkles.
Served warm, the dough balls are shaped into a mound or ring and everyone takes a pick from the same platter. You won't find individual servings of struffoli. It's a family dessert!
18. Torrone
A hard confection made of honey, nougat, candied oranges, nuts, and egg whites, the torrone is consumed as a Christmas dessert in Italy, Portugal, and Spain. The word torrone meaning 'to toast' in Latin refers to the almonds in it which have been toasted.
You'll also find different versions of it to try. The Torrone di Cremona can be duro (hard) or soft (morbido). Torrone di Bagnara Calabra contains cocoa and orange blossom honey. Torrone di Benevento is made with hazelnuts.
---
19. Pandoro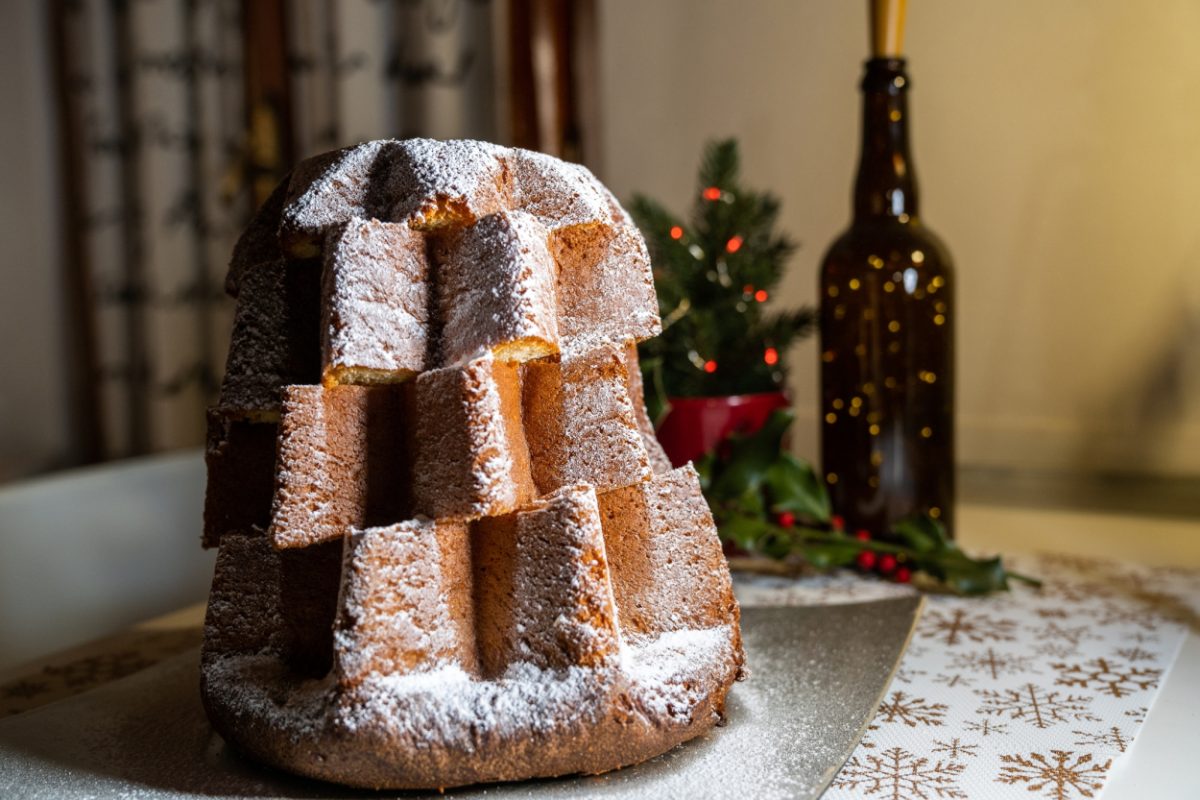 A sweet yeast bread originating in Vienna, the Pandoro is shaped like an 8-pointed star. Traditionally made plain or simply flavored with lemon zest or vanilla, you'll find modern versions made with a variety of fillings.
The Viennese bread was first sold commercially by Melegatti in October 1894 and since then is a must-have during the Christmas season. Sprinkle it with a dusting of powdered sugar just before serving!
---
20. Panettone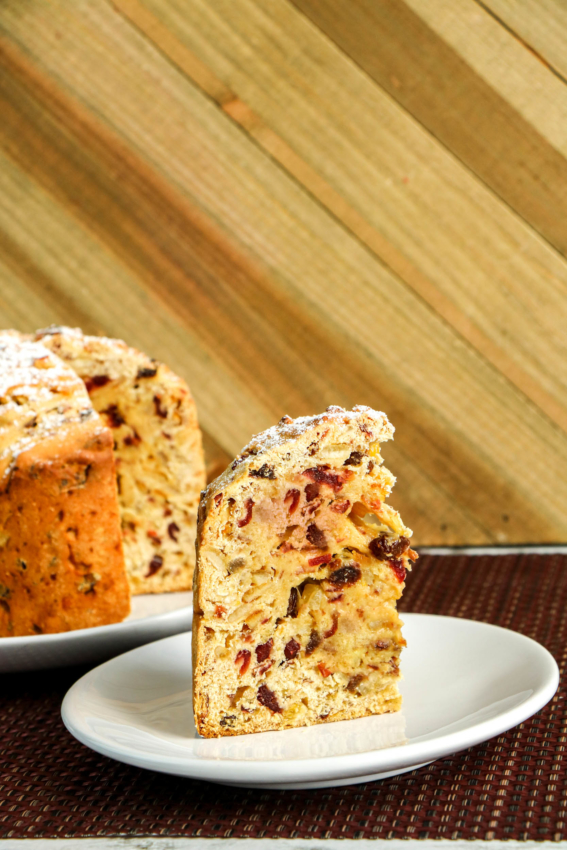 Originating in Milan, the Panettone is known as the symbol of liberty in Italy, or the bread of luxury.
There are a few legends about how it was invented, some about love and some about saving the day with this bread. But whatever resulted in its creation, this bread now has a popular place in the hearts of Italians and foreigners alike.
Around Christmas time, you'll find bakeries full of this rich and tall candied Italian cake. Say pa-net-tohn-ney!
---
Christmas Food in Italy: Il Cenone di Vigilia (The Feast of the Seven Fishes) – Christmas Eve Dinner Menu
Antipasti
Fried Calamari
Fried Baccala
Clams Oreganata
Clams Posillipo
Shrimp Scampi
Octopus Salad
Primi
Secondi
Red Snapper Livornese
Seafood Risotto
Baccala Tomato Sauce with Linguine (Salted Cod with Linguine)
Orata al Forno (Roast Sea brim)
Contorni
Roast potatoes
Roast pumpkin
Sauteed mushrooms
Sauteed spinach
Insalata
Insalata Frutti Di Mare (Seafood Salad)
Insalata di Verza e Anguilla (Cabage and Eel salad)
Insalata Russa Classica (Russian Salad)
Dolce
---
Christmas food in Italy for Lunch on Christmas Day
Antipasti
Italian cheese
Salumi (different Italian salami)
Artichoke Salad
Fried Calamari
Primi
Ravioli filled with spinach
Spaghetti with clams
Tajarin (pasta) with porcini mushrooms
Secondi
Brasato (Braised beef in Barolo wine sauce)
Three cheese lasagna
Tacchino ripieno (Stuffed turkey)
Roast chicken with potatoes
Vitel Tonne (Roast veal with tuna sauce)
Contorni
Roast potatoes
Crostini misti (Crostini with different toppings of meat, seafood or veggies)
Shrimp cocktail
Insalata
Russian salad
Pesce di guerra (Tuna and potatoes mixed with mayo and shaped like a fish)
Dolce
Stella alle Spezie (Star-shaped spiced Cake)
Panettone (Traditional Italian Christmas cake/bread)
Pizelle (Waffle-like cookies)
Crostata di mele con crumble (Apple tart with crumble)
Babà, a dessert with a soft dough soaked in liquor
Torta di Pandoro (The famous pandoro cake!)
Crostata di Mele con Crumble (Apple tart with Crumble)
---
Drinks for Christmas Lunch and Christmas Eve Dinner
Of course, there are a few more courses in between when it comes to Christmas food in Italy. The Frommagi e Frutti usually comes before the Dolce and consists of seasonal fruits and cheese.
Apertivo is served at the start of the evening. Caffe and Digestivo are served alongside or after dessert to make everything go down well. The Caffe is usually black without milk or sugar. Here are a few options for Digestivo and Aperitivo.
Digestivo
Aperitivo
Wine
Aperol Spritz or Campari Spritz
Crodini (Bitter orange non-alcoholic drink)
Champagne
Negroni
Bellini
Other sparkling drinks