Verona isn't the most popular city in Italy, like Rome, Venice or Milan, but you should definitely include it on your Italy itinerary. I first came to Verona for 2 days back in 2014, then revisited the city in 2017, and moved to Verona in 2018 and lived there for 1,5 years. Clearly, my husband and I liked Verona a lot.
Mostly known to tourists from Shakespeare's Romeo & Juliet, there's way more to do in the city than visiting Juliet's house. While you can see Verona on a day trip from Venice or Milan and most tourists do so, I highly recommend spending at least one night as it's much quieter and local than nearby big cities.
You could also treat Verona as a base for various day trips to Lake Garda or Dolomites. During the summer, there's also an option of seeing an opera or a concert at the Arena.
Ultimate Guide to Verona, Italy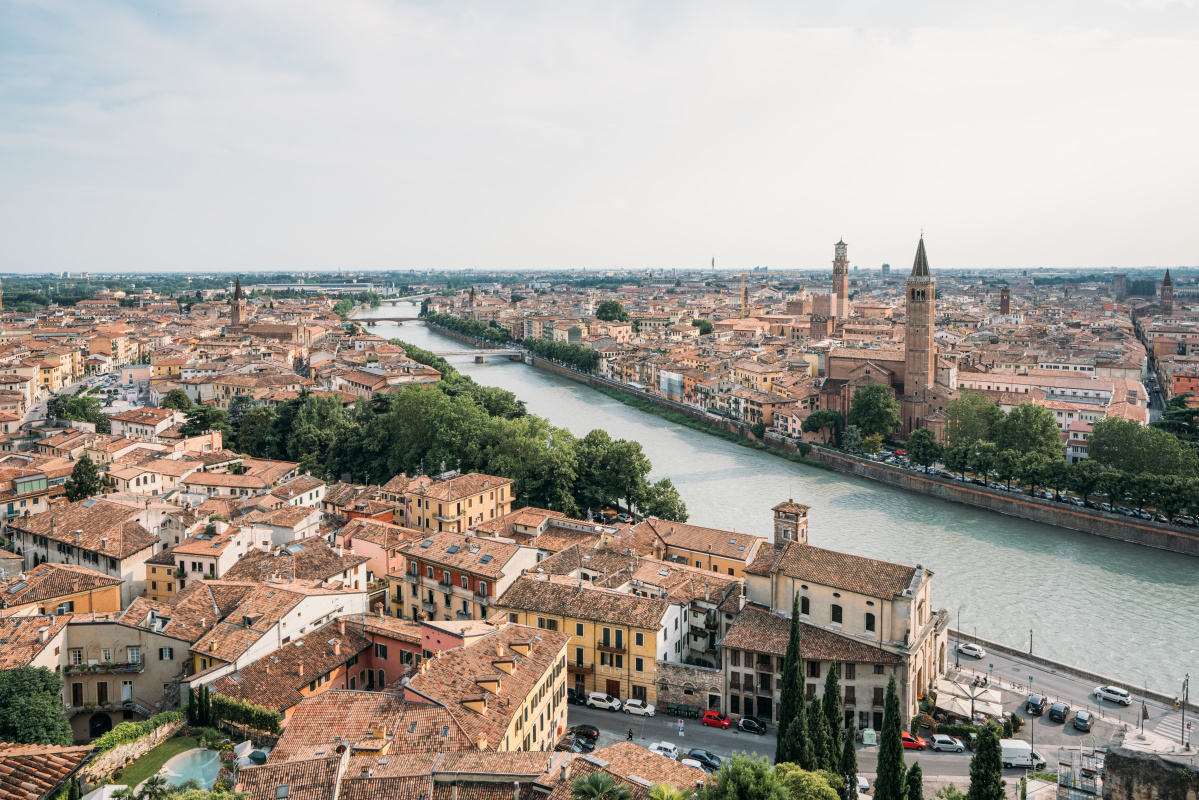 ---
How to Get to Verona?
As the city is located halfway through between Milan and Venice, getting to Verona couldn't have been easier. Verona also has an international airport that's a getaway to the nearby Dolomites, as it's the closest airport to the Dolomites (there aren't any more airports in the mountains).
If you're driving, simply hop on a Milano-Venezia highway. As in any other Italian city, you cannot bring your car to the old town as it's considered 'zona trafico limitato', but there are many secure garages within a 5-minute walk.
If you're taking a train, there are many options for regional and high-speed trains. Check TrenItalia for schedules and to pre-book your tickets. You can reach the town center within a 15-minute walk, take a bus, or a taxi.
If you're flying, you can fly to either Verona, or alternatively Venice or Milan and take a train. Verona Airport is small so things are moving fast, so there's no need to be there hours before your departure.
You can take a bus from the airport that will drop you off at the central train station (Porta Nuova). There are also many taxis and while it does take 15 minutes, it'll cost you around 35 Euros to the old town.
Check on Skyscanner which airline is the cheapest to fly to Verona with from your destination.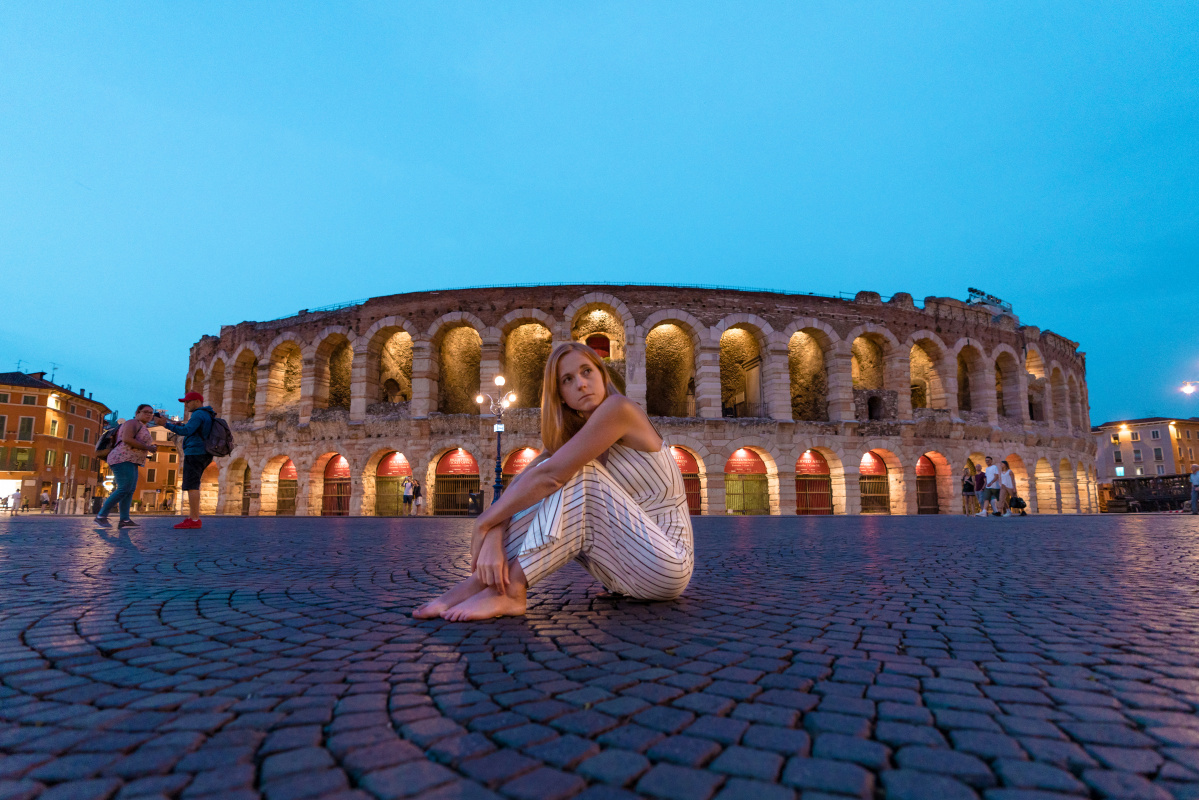 ---
When to Visit Verona, Italy?
Choosing the best time to go to Verona depends on whether you want to experience heat or cold. Verona get very hot during the summer (up to +40 C) while winters are moderate as the city doesn't really get snow (down to +5 C).
Winter visits open up possibilities to take a trip to the mountain for skiing, while summer is the only time that will allow you to see an opera at the Arena. However, the city does get incredibly busy then.
---
Where to Stay in Verona
There are plenty of amazing and centrally located hotels in Verona.
Hotel Antica Porta Leona – Check Prices On: B

ooking.com

|

Agoda
Beautiful hotel in a 15th-century building. Their spa is beautiful.
Hotel Milano – Check Prices On: B

ooking.com

|

Agoda
Located right next to the arena, this hotel has the best rooftop bar with jacuzzi in the city. It's my personal favorite place to stay!
Hotel Colomba d'Oro – Check Prices On: B

ooking.com

|

Agoda
Set in a restored Medieval convent near many restaurants, bars and walking distance to all attractions.
B&B Hotel Verona Sud – Check Prices On: B

ooking.com

|

Agoda
Near the highway and very easy to reach any destination in town and nearby places.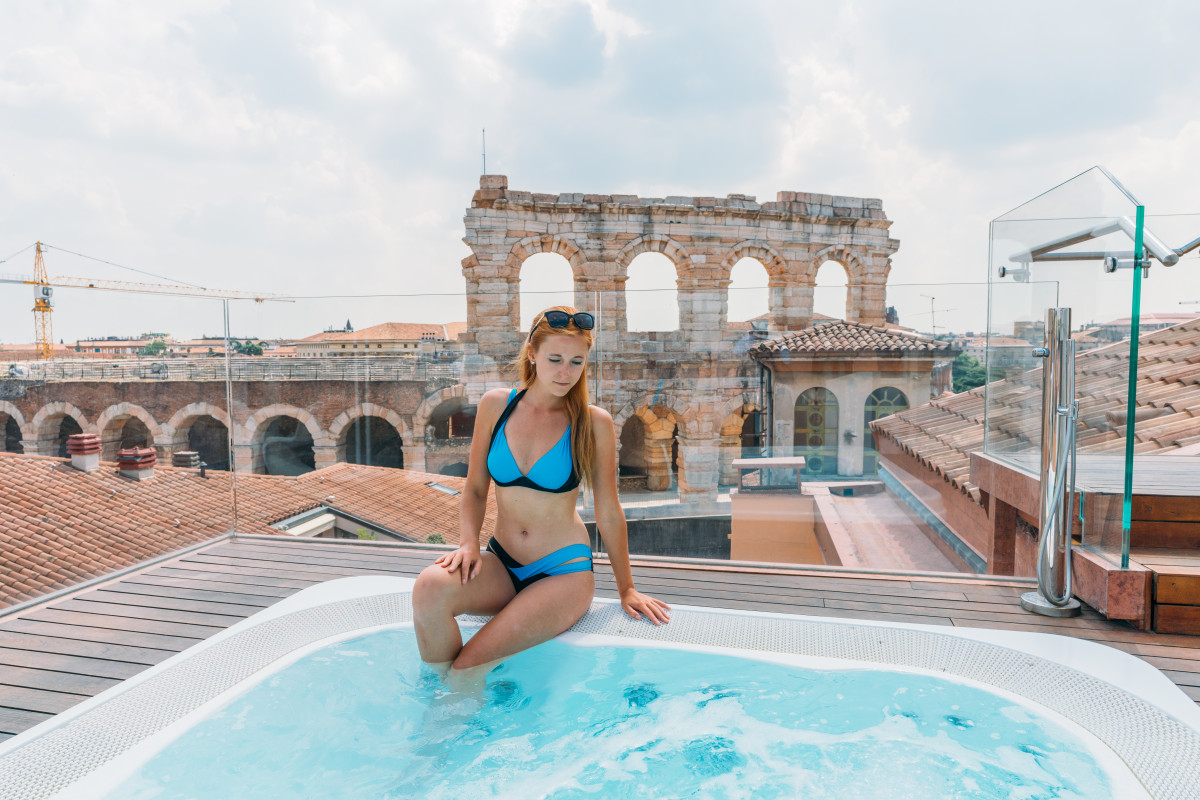 ---
Best Restaurants in Verona
You might not be aware but Verona is famous for gnocchi. They have been around for five centuries as a significant part of the Verona carnival, whose origin dates back to 1531 (yes, it's older than the Venezian Carnival).
However, you can eat more than just gnocchi in Verona. There is also risotto all'Amarone (with red wine), bigoli (thick spaghetti) and in this region, a horse meat stew is very common.
You'll also discover that many dishes contain beef cheek or veal liver, which I'm personally not a fan of.
La Griglia
While this spot is known for its steaks I actually go there for a truffle fettuccini served in a bowl made of cheese. What more can I say…
Bella Napoli
This spot isn't particularly fancy, as it feels more like a casual old Italian bar, but their pizza is delicious. I've eaten there multiple times and need to say that my favorite pizza is the one with white asparagus and egg.
Nastro Azzurro
While it is a touristy restaurant just off Piazza Bra, I keep enjoying the place and return. They have amazing homemade heart-shaped ravioli and their pizzas are delicious.
Hotel Milano & Spa
Even if you decide not to stay there, you could just visit their rooftop for a drink. While as a non-hotel guest you'll have no access to the rooftop jacuzzi, you could enjoy aperitivo with a view from 15:00 to 21:00.
La Lanterna
Whether you're actually vegan or not I highly recommend a dinner at La Lanterna. Their menu is fully vegan and changes every month. When I brought my non-vegetarian friends there they still loved it! Reservation is highly recommended otherwise, you might try to get a table but only after 9:30 PM.
Re Teodorico
Once you climb to the viewpoint you can also stop by for a drink or snack. Their menu is simple but good. If you're into steaks you won't regret it.
Cafe Wallner
Great cafe with a huge selection of brioches, cookies, cakes and savory dishes as well. You can opt for inside or outside seating. Closed on Mondays.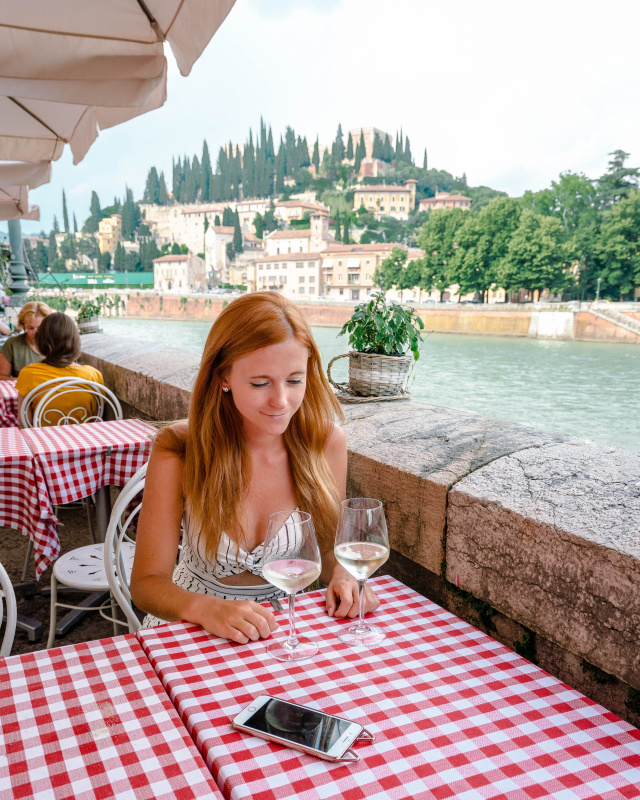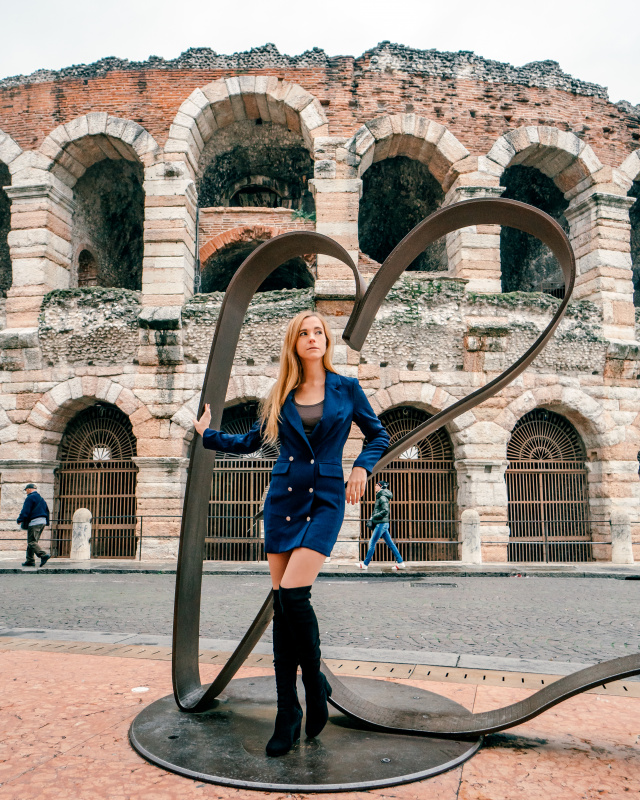 ---
Things to Do in Verona, Italy
Verona is an easily walkable city, so there's no need to take tourist buses or trams – unless you have some serious mobility issues. If you're planning on visiting a few spots in a day or two, get Verona Card which provides discounts. The Card can be purchased for 24 hours (€20) or for 48 hours (€25) and can be purchased online or at selected hotels or attractions.
1. Walk Through Centro Storico
Walking through Cento Storico you'll be able to admire various sites, stop for coffee or drink, take photos and let it all in. Coming from the train station to centro storico, right before Piazza Bra where the Arena is, you'll first stumble upon a gate with a clock. It's a beautiful place to photograph.
Points worth your attention at Piazza Bra:
Palazzo della Gran Guardia – Beautiful building started in the 17th century and completed by Giuseppe Barberini. It's now used for exhibitions and events, but it was used as barracks for soldiers during the revolutions of the Spring of Nations.
Palazzo Barbieri – Neoclassical building from 1848, today a municipal place.
Portoni della Bra – A gate with a clock on it, part of a Medieval city gate.
Other photo spots worth your attention would be:
Arco dei Gavi – Roman gate from the 1st century next to the river. Repurposed as a gate multiple times, it's now a monument.
Ponte Scaligero – Iconic Medieval bridge connecting to Castelvecchio. Beautiful, yet functional and at the time of its construction the longest in the world.
Porta Borsati – Arched limestone gate that served as the main entrance to the city.
Porta Leoni – Another ancient gate, but also a unique opportunity to see ancient Verona under the streets.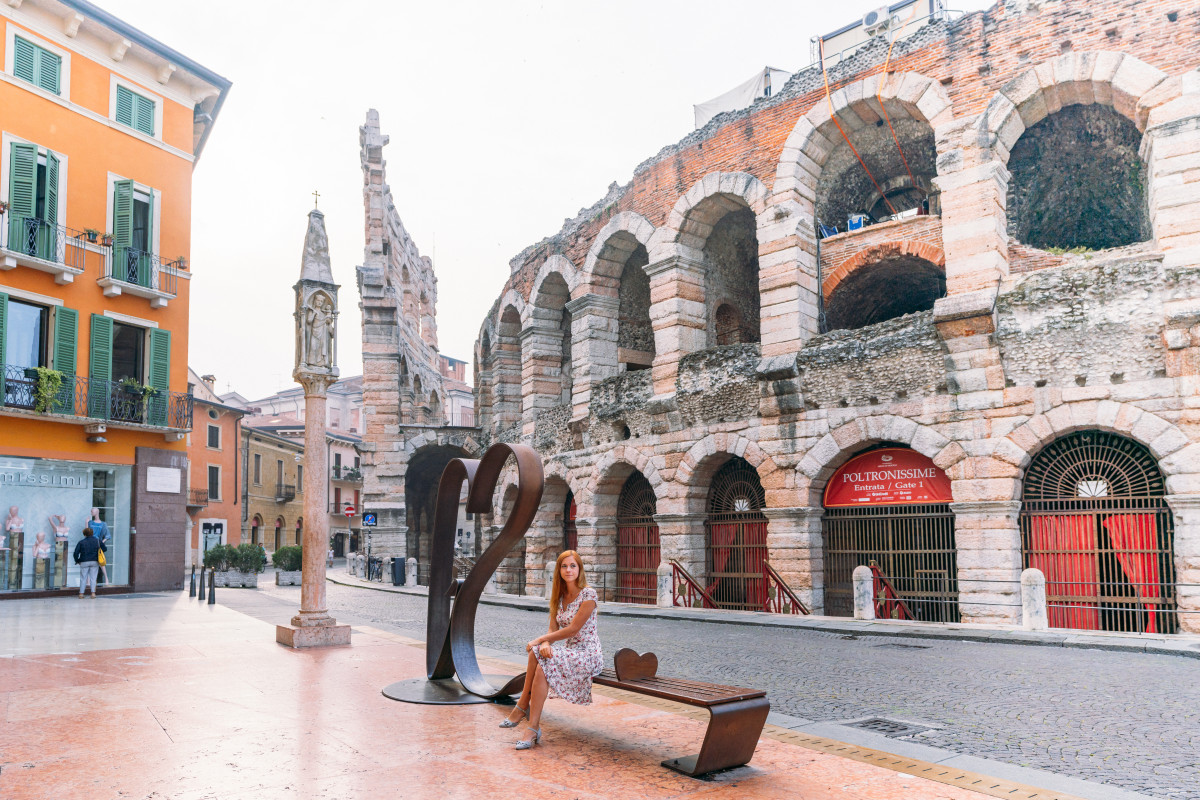 If you want to get off the popular tourist path try to find the well of Il Pozzo dell'Amore (Well of Love) just off Corso Porta Borsari. It's linked to a tragic love story between the soldier Corrado of San Bonifazio and Isabella of Donati family.
The young Corrado had hopelessly fallen in love with the beautiful Isabella, but the woman refused his courtship. Corrado accused Isabella of being as cold as the water in the well that was next to them at that moment and, in response, she challenged him to throw himself into the well to feel if the water was truly so cold.
In full winter it was freezing, but Corrado, who was trying in every way to conquer his beloved and unfortunately drowned. Isabella felt so terribly guilty about what had happened that she chose to die with him following him into the cold well.
---
2. Visit the Arena or Go for the Opera
The most well-known attraction of Verona is naturally its arena, located at Piazza Bra. Dating back to the 1st Century, this arena is one of a few that's still functional and the best-preserved Roman amphitheater in the world, with frequent operas and concerts hosted inside in the summer.
If you're in Verona during the day or off-opera season you can get inside and admire it. The arena seats up to 30,000 spectators.
For the performance schedule, visit the Arena's official website. It's totally fine to get the cheapest unnumbered seats, but you might want to get in a bit early. People begin to fill the arena a few hours before each show, so if you go last minute you'll be sitting slightly on the side.
Cushions to rent are totally worth the 2 EUR, unless you actually like sitting on a hot stone for a few hours!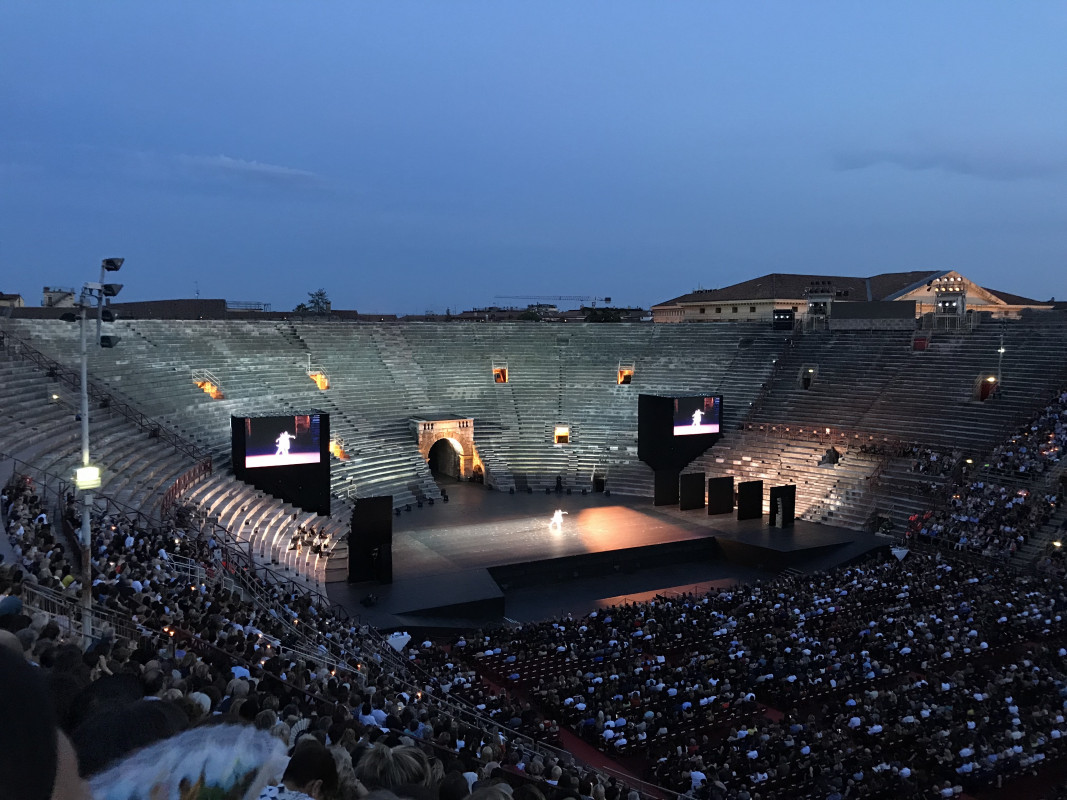 ---
3. Climb Torre dei Lamberti
When I first climbed Torre dei Lamberti I loved the view, but unfortunately, since my first and second visits things have changed and now there's a net (I assume people were throwing things down). It's still fun to go up if you have the time.
The tower is 83 meters high; in 1464 an octagonal tower floor was added. Ticket prices are €8 or free for Verona Card holders. The tower has an elevator, but after you'll have to climb a few last steps yourself.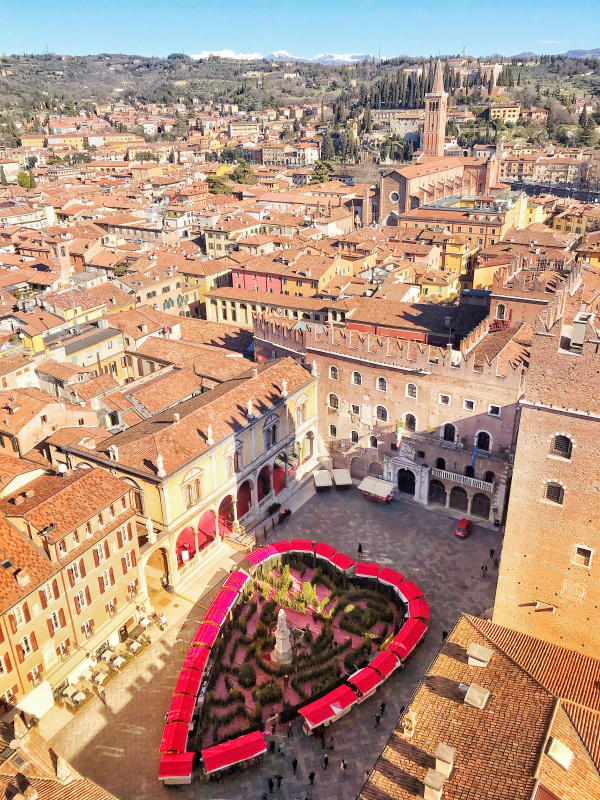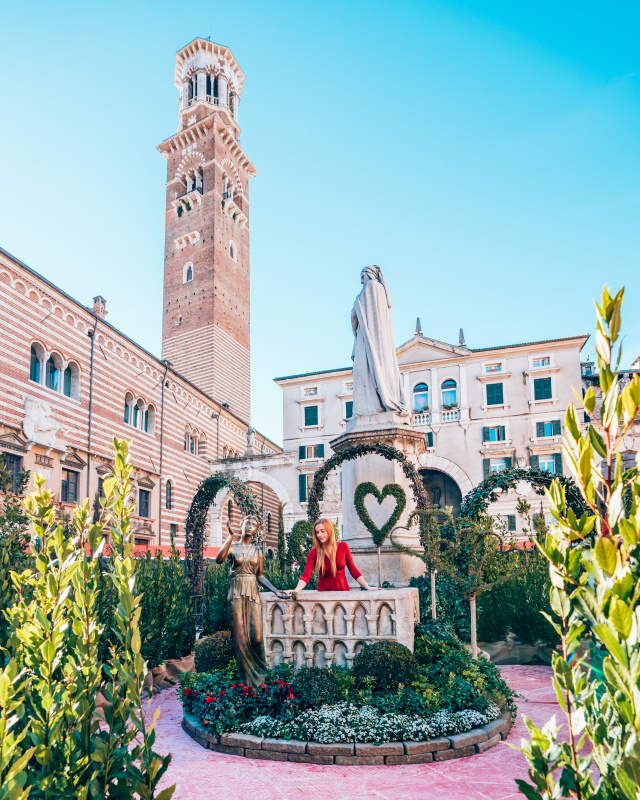 4. Visit Piazza della Erbe
Piazza della Erbe was once the town's forum during the time of the Roman Empire. Nowadays the square is a great spot for a drink, lunch, trinkets from the street vendors and people watching.
The masterpiece of the Piazza delle Erbe is a fountain built in 1368 by Cansignorio della Scala. It features a Roman statue called Madonna Verona, dating back to 380 AD.
When you're at the square, take a look and find giant whalebone hanging from one of the surrounding arches leading to Piazza della Signori.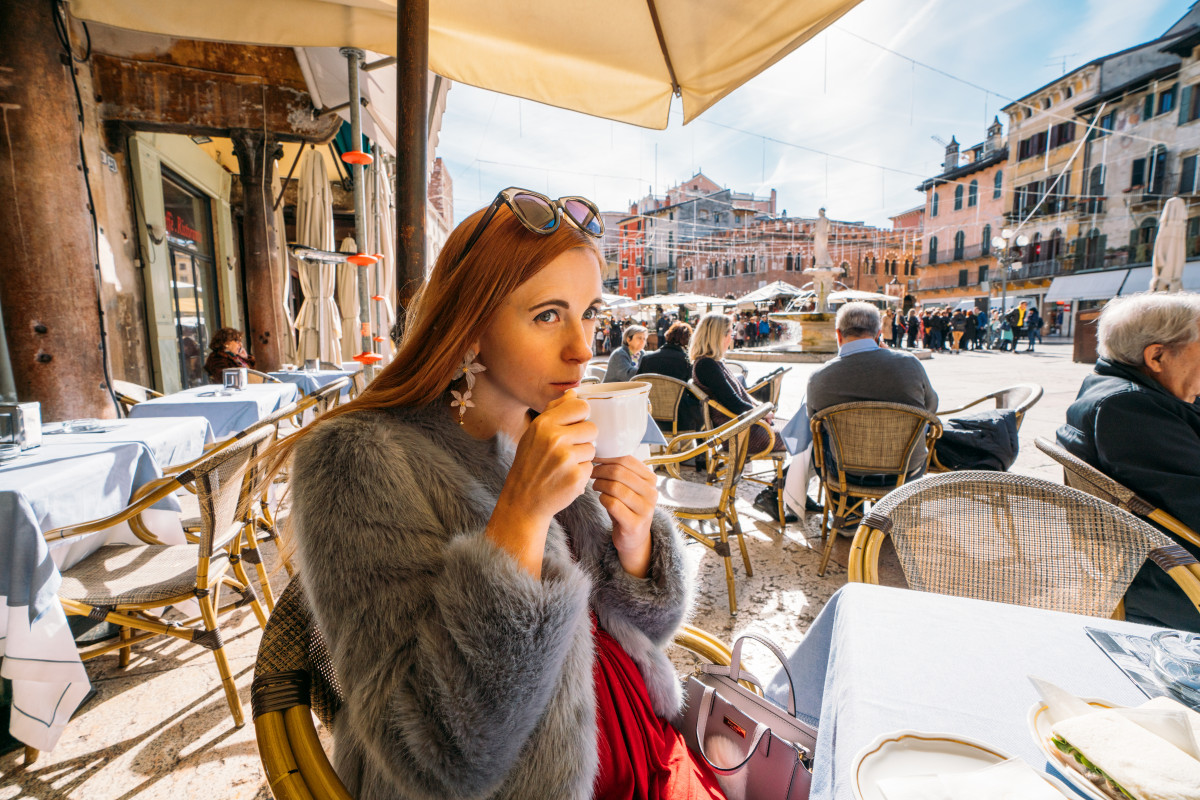 According to legend, the whalebone should fall on the first truthful and just person to walk through, but so far the old bone has stayed put. No one really knows why is the bone there or how did it get there back in the 17th century.
5. Admire Piazza dei Signori
Right next to Piazza della Erba is Piazza dei Signori, often overlooked by tourists. While on a daily basis it's often used for Christmas, Easter and Valentine's markets, it's historically very important spot.
To start with, it's often called Piazza Dante because of a monument of Dante Alighieri, the author of The Divine Comedy. Did you know that Dante actually lived in Verona from 1312 to 1318? Now you do.
Next to the Piazza you'll find the Della Scala family tomb, one of the monumental funerary complex built in the Gothic style.
---
6. Castelvecchio Museum
Right next to Ponte Scaligero there's a castle turned into a museum – Castelvecchio, constructed in 1354. The castle had some unfortunate history after the fall of the Scaligeri family as it was used by the Venetians as a weapons depot and then became barracks during French and Austrian dominion. The restoration of 1926 removed the military elements and inserted late Gothic and Renaissance ones.
It's a surprisingly big museum that I enjoyed a lot, as most tourists don't realize the size of the collection and skip it – making it almost always empty for you to enjoy the art in peace. Entrance is free with Verona Card, otherwise 6 EUR.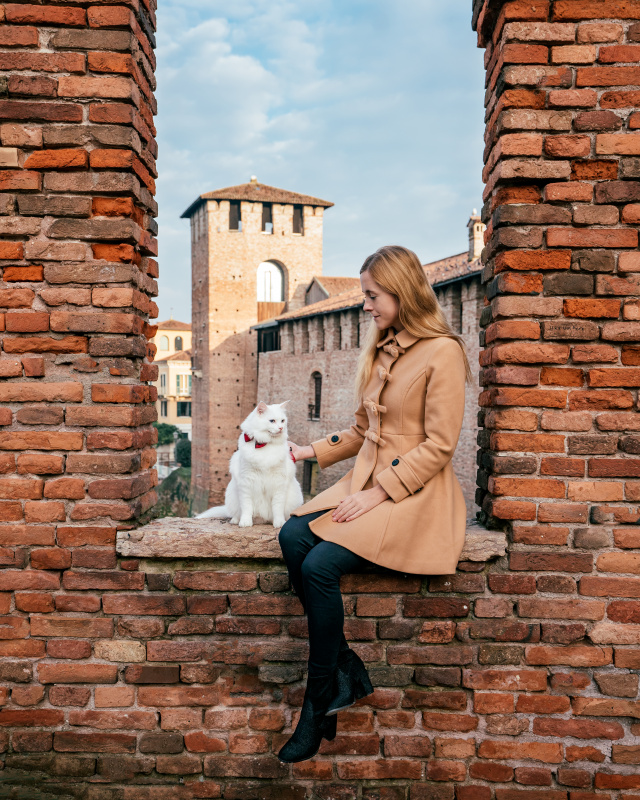 7. See Juliet's Balcony
Verona is home to Shakespeare's legendary love story, Romeo and Juliette. Even though Shakespeare just adopted the story and no one is actually sure whether any of Romeo and Juliet's stories were true, Verona surely adopted it well.
That said, Verona has Juliet's balcony and while it has nothing to do with any of the original stories (it was built in the 20th century) it's simply a photo opportunity to take a photo on the balcony or with Juliet's statue. Many visitors have rubbed the foot and breast of the statue for good luck.
If you decide to spent a few Euros to go up to the balcony you'll also be able to see a small collection of costumes and furniture from the movie Romeo and Juliet with Leonardo di Caprio.
There's also Romeo's house nearby, but it's simply marked by a sign and isn't open to the public as it's a private home close to the Arche Scaligere. On its gothic façade you can read an inscription "Oh! Where is Romeo? … I'm not myself. I'm not here. This isn't Romeo – he's somewhere else."(Act 1, Scene 1).
8. Climb to Piazzale Castel San Pietro
For a slightly different view of Verona climb up the stairs or take the funicular to Piazzale Castle San Pietro. The way is actually very picturesque – I walked my cat there a few times.
9. Visit Basilica di San Zeno
If you want a full Romeo and Juliet immersion tour, take a detour to Basilica di San Zeo. Its crypt is the location of the wedding in Shakespeare's Romeo and Juliet, but it's also home to many stunning frescos and bronze doors.
This church is also one of the most important examples of Romanesque architecture in Italy and its actual appearance seems to date back to the XII century. It's also gorgeous!
10. Explore Verona Cathedral
Verona Cathedral, also known as Cattedrale di Santa Maria Matricolare, features different styles across centuries and it's probably one of the most interesting churches in the area.
It's fully accessible (I managed with a stroller) and costs only 3 EUR to visit, or free with Verona Card.
11. Stroll through Giardino Giusti
While Verona is indeed a brick city, it's not lacking some greenery. One of the most attention-worthy gardens is Giardino Giusti, the only sixteenth-century Italian-style garden in Verona which has attracted the attention of Goethe and Mozart.
The gardens are full of fountains, statues, beautifully trimmed mazes and places to sit and relax for a bit. It costs 10 EUR to enter.
Personal tip: don't try to go there in the afternoon of autumn. The gardens will be in the shade then which attracts way too many mosquitos. I got totally eaten by mosquitos there.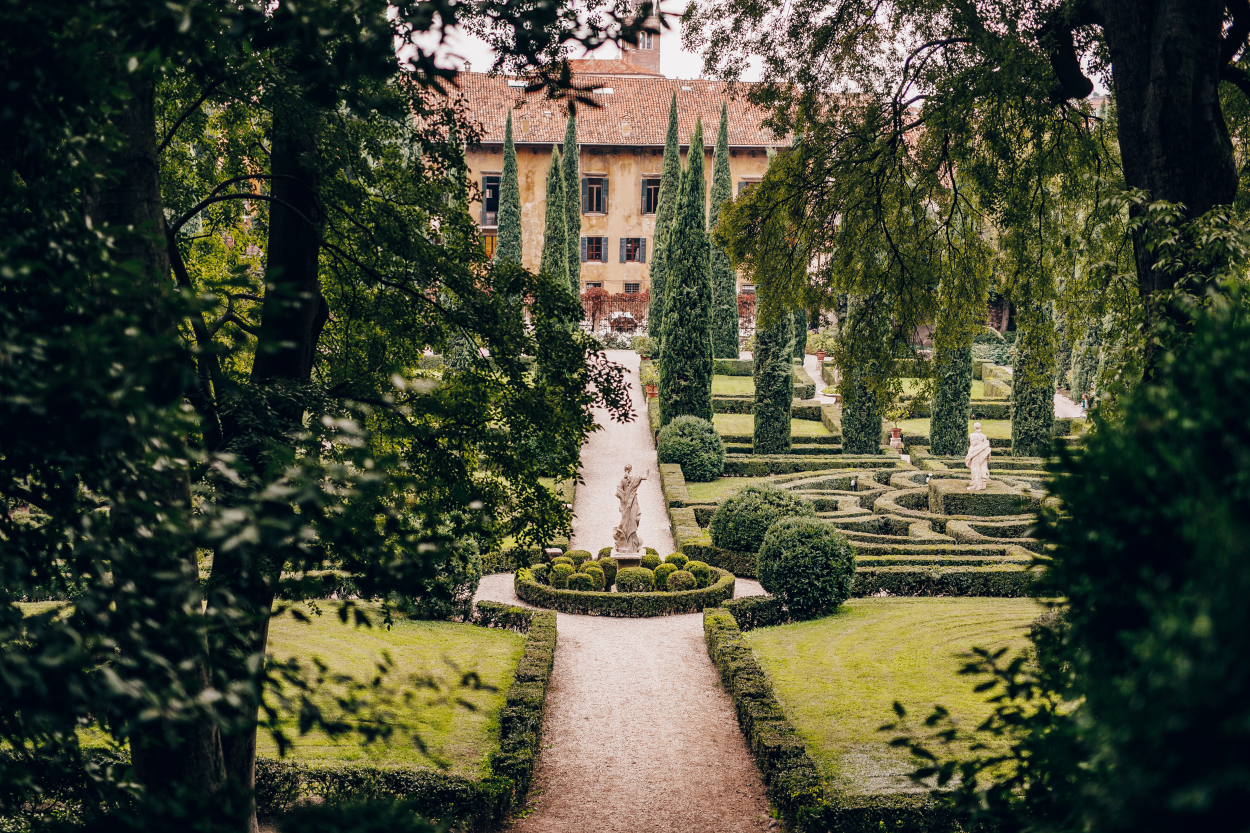 ---
For more activities and organized tours check Viator here.
---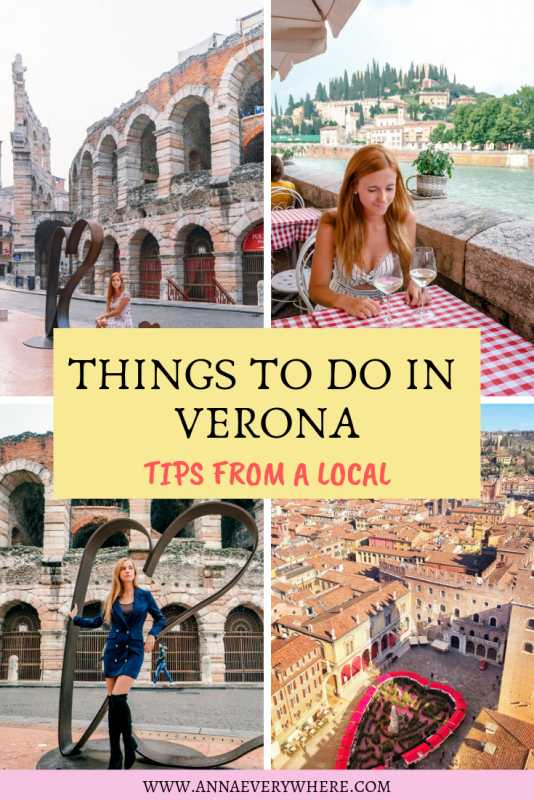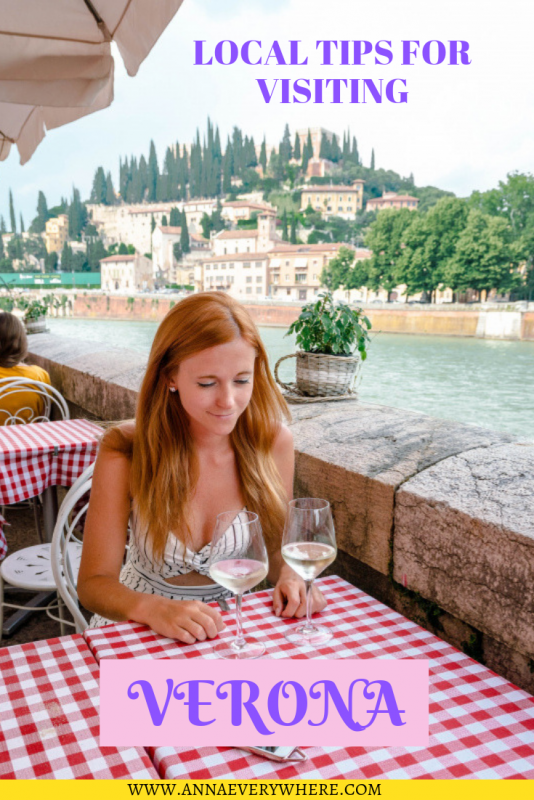 Did I miss something? Do you want to ask me anything about Verona? Post your question in the comment section below 🙂