The Tre Cime Di Lavaredo (Drei Zinnen in German) is a popular hike in the Dolomites, a region of the Alps in northeastern Italy. Named for three narrow peaks (Cima Piccola, Cima Grande, Cima Ovest), this scenic route is an easy 6.4 mile (10.3 km) loop with interesting sights, fun stops, and beautiful scenery.
You don't need any equipment for this hike which recently made it popular on Instagram. The trail includes a 1,300 mile (400 meters) elevation gain, and it should only take about 3-4 hours to complete, slightly longer when hiking with kids. You can leave extra time for food and drink stops, and stopping for photos.
The Dolomites are a UNESCO World Heritage Site and the Tre Cime di Lavaredo loop is part of a National Park. This hike is one of the best in the regions, and the experience will not disappoint. This guide provides information and tips for hiking the Tre Cime di Lavaredo, an iconic and stunning route.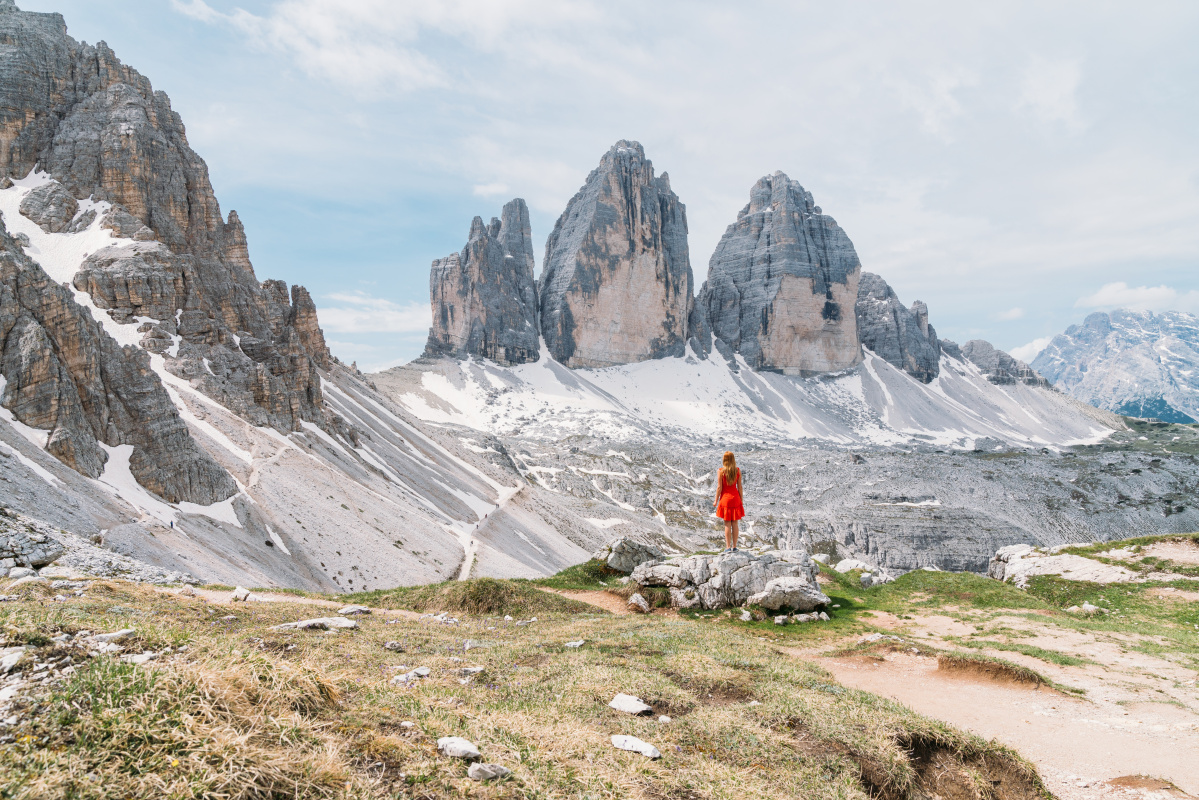 ---
Why Hike the Tre Cime di Lavaredo?
The limestone mountains that make up the Dolomites are stunning, as is the scenery that surrounds them. Valleys, lakes, and alpine flowers are some of the many natural wonders you can experience during your hike. The vantage point from the higher portions of the trail also provides picture-perfect panoramas.
Another benefit of this hike is that it's easy, so it can be completed by young kids or absolute beginners wanting to just get some fresh air and exercise as they explore these natural wonders.
Unless, naturally, you want to do a Via Ferrata for which you need a guide and special equipment.
It will not even take all day to complete the loop, but if you want to extend your trip you there are options for overnight stays. There are several rest stops (rifugios) along the way, which include food and drinks, and paths are clear and well marked. All of them are open in the high season (July to September), but even off-season you'll find at least one Rifugio on the loop open.
All of these factors make hiking the Tre Cime di Lavaredo accessible and enjoyable for locals and tourists alike. Plan ahead to make the most out of your hike!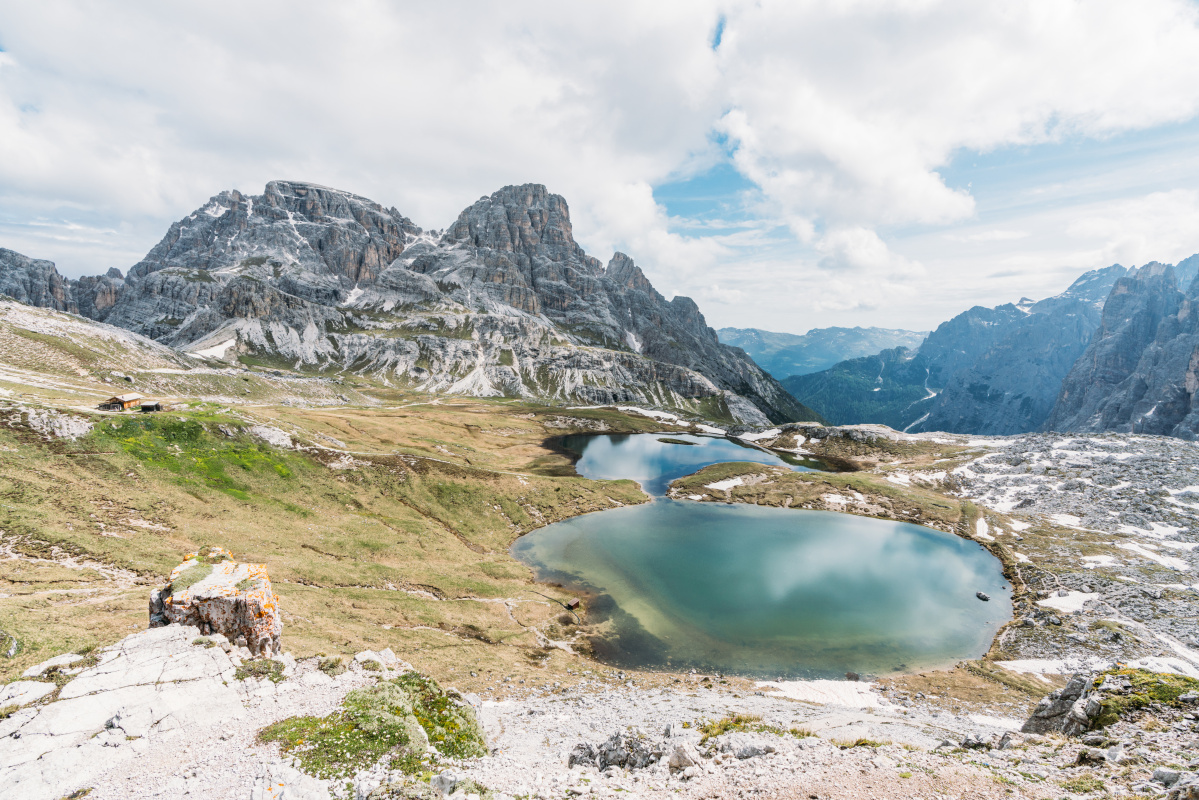 ---
When to Go?
When you go depends on your schedule and weather preferences. As Italy has many different regions you can really make the most of your trip any time of the year.
The short answer is that summer or fall is the best time to hike the loop. However, summer is also the busiest time of year, so if you prefer traveling with fewer tourists then you should choose fall.
Fall is a gorgeous time to hike the Tre Cime di Lavaredo, however, you may miss the beautiful alpine flowers. If you go later in the fall you risk the loop being closed for snowfall. Some rifugios may be closed if you go outside of the peak season.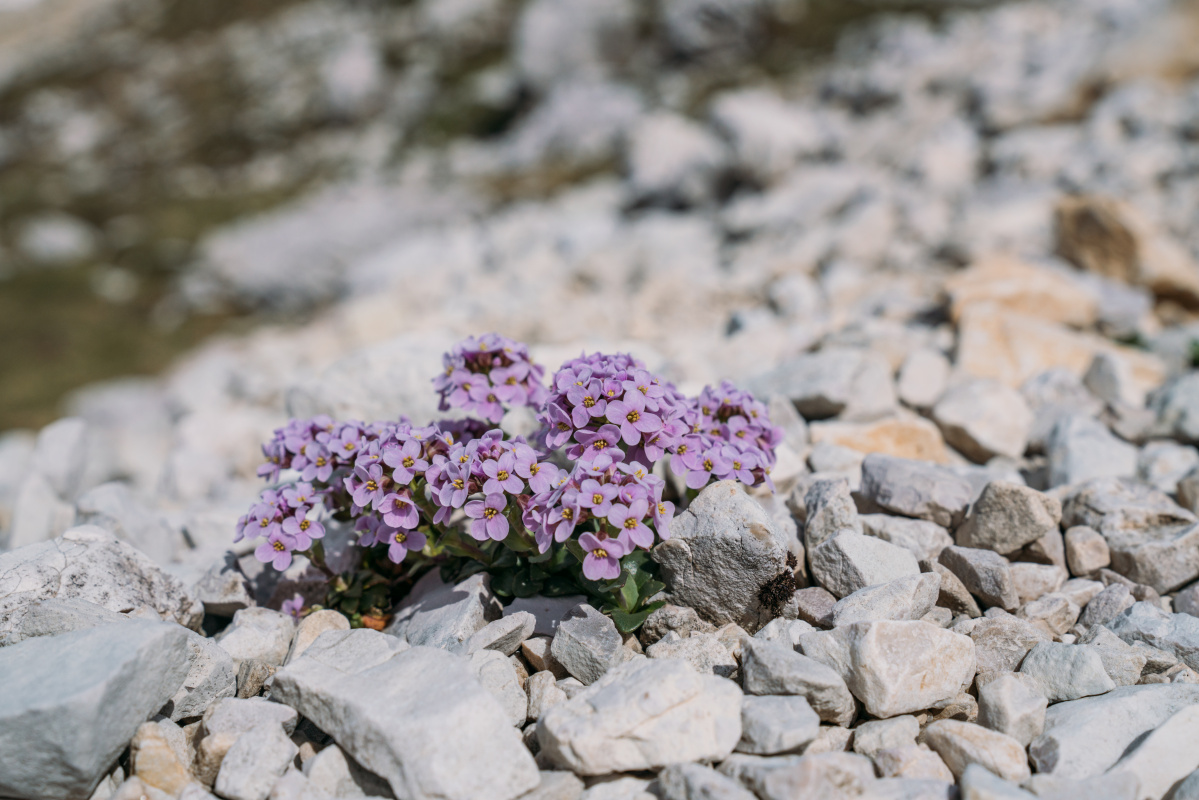 Do what works best for your itinerary. If you choose summer start early to avoid crowds, and if you choose Fall try to go early in the season and check the weather and possible road closure alerts.
Winter is also an option if you like skiing or snowshoeing. These are the only ways to "hike" the loop when there is snow unless you rent a snowcat machine. In the winter, rifugio huts won't be available and the risk of closures due to adverse weather will be greater.
If you are an avid skier you can check out the ski slopes in the surrounding region. This official tourism page provides detailed information on accessibility. No matter what time of your you go, the scenery will be beautiful!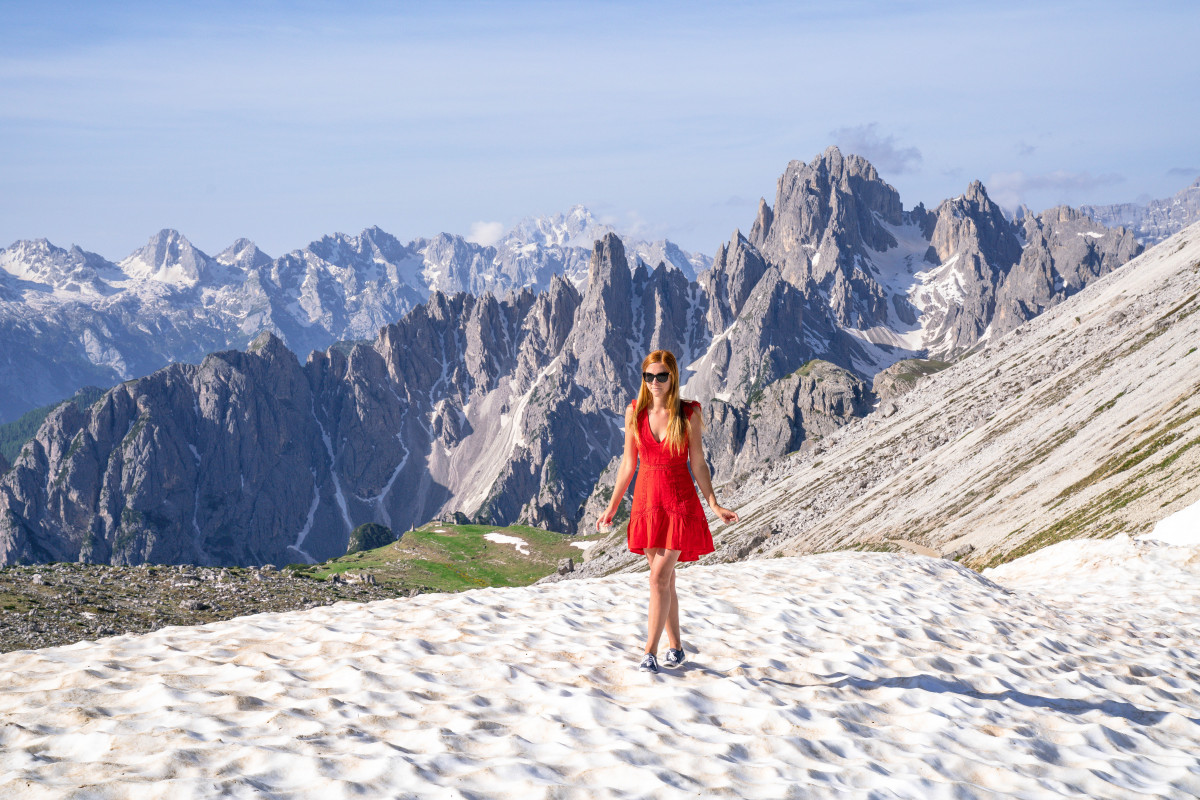 ---
What to Pack for Tre Cime di Lavaredo
You do not need any hiking equipment to do the Tre Cime di Lavaredo (as you can see from the dress in my photo!), but it's a good idea to wear sneakers or hiking boots on your journey. You should pack water, and a jacket (for higher elevations) as it gets cold even during the summer. We still encountered snow in June.
There are maps and signs available throughout the trail, so you won't get lost.
There are many maps and guidebooks available from Amazon. Here is one option that includes the Tre Cime di Lavaredo loop. This hike is definitely an activity that you can do yourself, and if you go during the summer there will be others on the trail with you. However, there are some guided tours available.
Naturally, don't forget to bring your camera! If you're going during peak season (see "When to Go") you may want to bring your own food as well, to avoid long waits at the rifugios.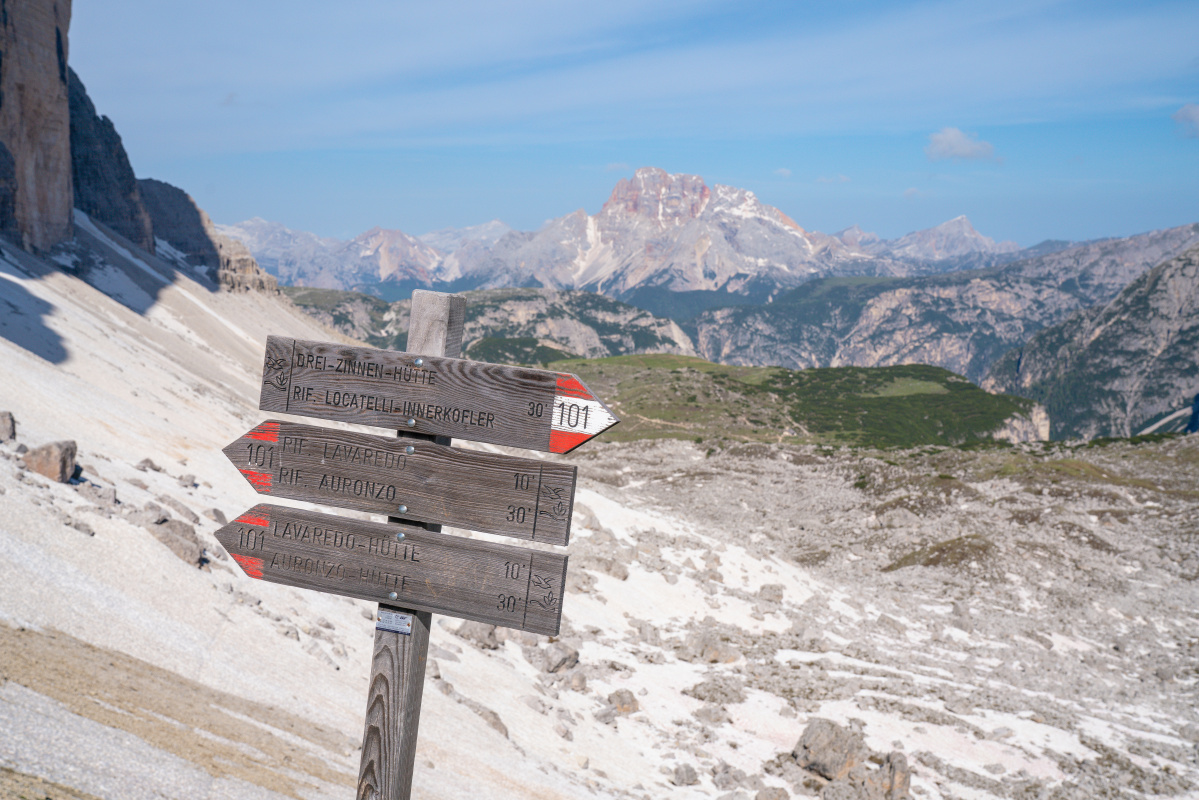 ---
Where to Start Hiking Tre Cime di Lavaredo?
The best place to start your hike is in Rifugio Auronzo. You can park your car here, take a bus, or hike a small hill (see "Transportation"). From here you can hike the loop clockwise or counterclockwise.
For the best views, hike counterclockwise and keep the three peaks on your left. There are many signs to keep you on the correct path, but the main trails you will be taking are Path 101, Path 102, and Path 105.
The path splits after Forcella Lavaredo (a viewpoint near Rifugio Lavaredo), with the more challenging path leading up, and the easier and more popular path leading down. Both options are part of the trail and will get you to the same location, but the upper one should only be attempted by more experienced hikers (with equipment).
Another thing to note is language. Due to its location, both Italian and German are used, although English is also common. Don't be surprised if you see two names for everything! Rifugios are used to accommodating tourists, so language isn't a major issue. In the worst case, you'll get a bigger beer or cake than you ordered 😉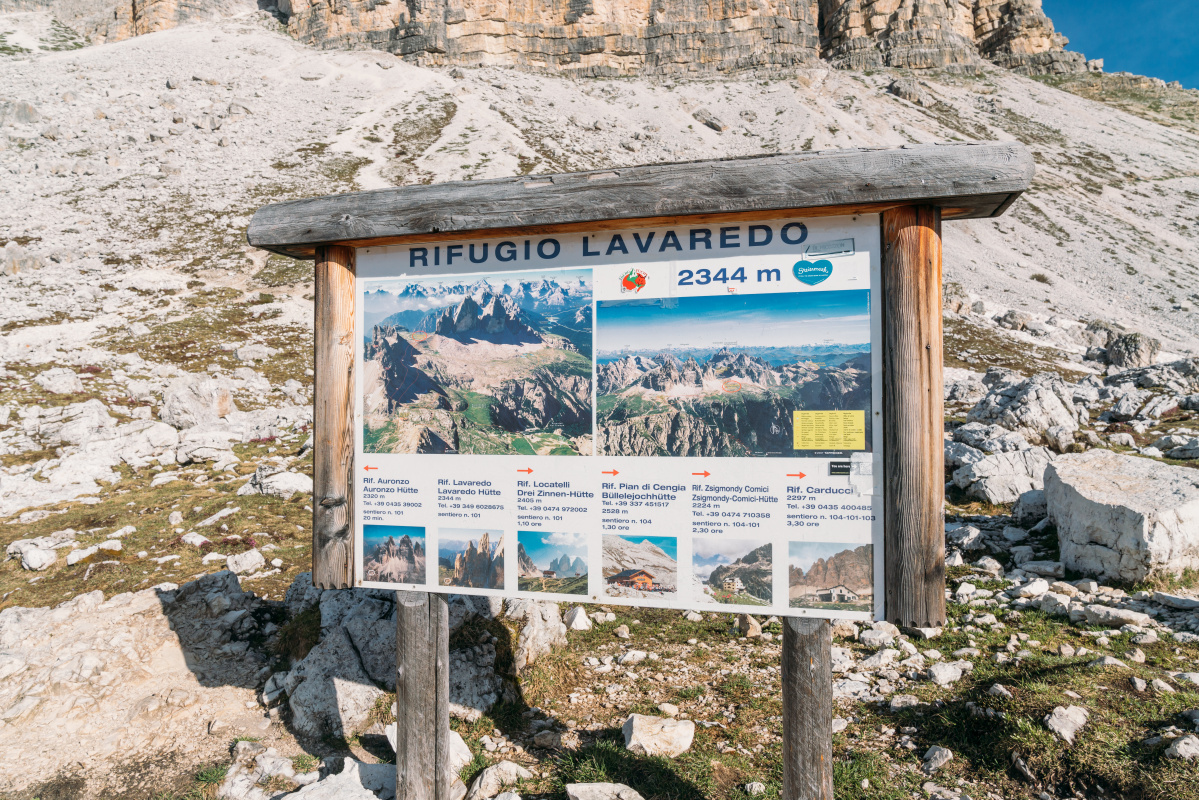 ---
What to See When Hiking Drei Zinnen
This trail offers gorgeous mountains, lakes, flowers, and picturesque viewpoints. But aside from the beautiful mountains and natural scenery, there are other interesting things to see to see along the Tre Cime Di Lavaredo.
During World War I, many small but difficult battles took place in the Dolomites, and soldiers built tunnels, caves, and other fortifications. While hiking this loop, follow signs and commemorative plaques (especially near Rifugio Locatelli), and you will be able to glimpse these preserved war relics, as well as monuments to the fallen. Don't miss this opportunity to literally step into European history!
You will definitely want to stop at a rifugio (see "Food & Accomodation") and these mountain huts themselves are lovely to see (and very photogenic!). You can also stop at viewpoints, including Forcella Lavaredo and Forcella del Col de Medo.
In addition, there is a small and picturesque chapel en route, and if you're lucky, you might spot a marmot (a small mammal that looks like a groundhog).
The Tre Cime di Lavaredo definitely has more to offer than "just" its impressive Instagrammable backdrop! Add in extra time for these side excursions.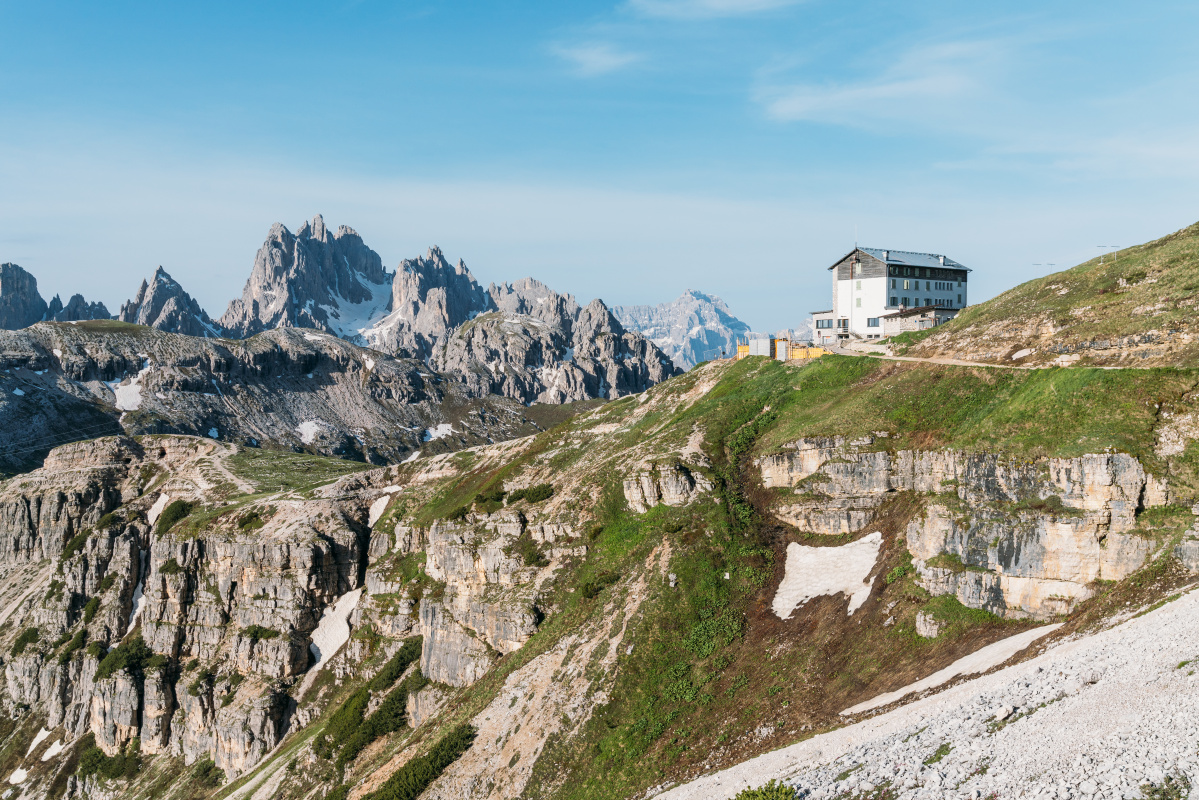 ---
Transportation
The Tre Cime di Lavaredo is conveniently located within an hour of several towns/cities. There are two transportation options to reach the start of the Tre Cime di Lavaredo hike: by car or bus.
You rent a car and drive to Rifugio Auronzo or Lago d'Antorno and park.
The first option is the most convenient and is located close to the trail, however the toll/fee is around 30 EUR (with the toll gate open 8:00 AM- 5:00 PM), and more if you plan to stay overnight or have a camper. Parking at Lago d'Antorno is free, but this option adds an additional 90 minutes of steep hiking to your journey.
There is also a bus, which is available June – September from several nearby cities and only costs 8 EUR. The routes and schedules can be found on this website. That's a convenient and more economical option.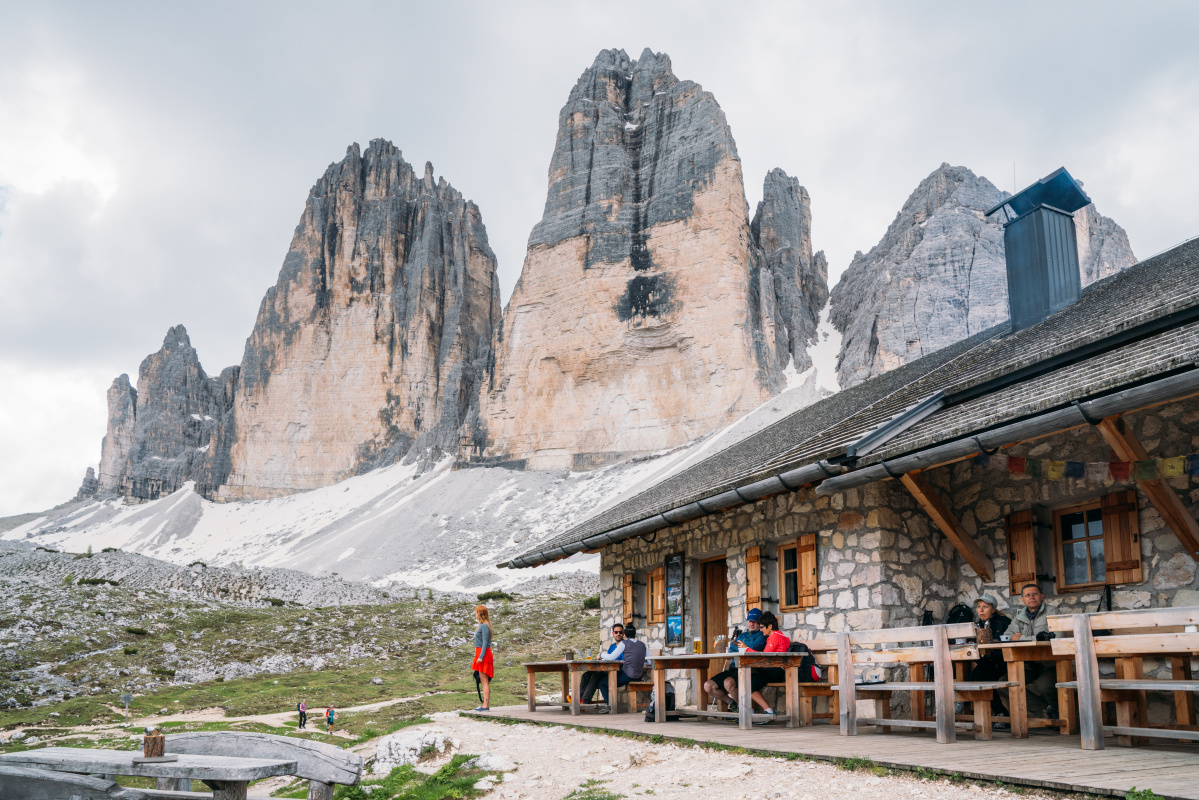 ---
Food & Accommodation at Tre Cime di Lavaredo Loop
One of the things that makes hiking Tre Cime Di Lavaredo easy and fun is the rifugios located along the path. These "refuges" offer food, drinks, bathrooms, and overnight accommodations (not all offer accommodation).
Rifugio Auronzo, Rifugio Locatelli, Rifugio Lavaredo, Rifugio Pian di Cengia, Rifugio E. Comici, and Malga Lange are some of the options. Keep in mind that these rifugios also have German names, so if they are referred to by an additional name don't be confused!
Rifugio Locatelli (also known as Dreizinnenhutte) is one of the most popular and has the best food, but you can get food and beverages (including alcoholic drinks!) at most huts. Order authentic northern Italian cuisine, a sandwich, or cake.
If you want to spend a night for sunrise views, you can stay at one of the rifugios. Most overnight rooms in rifugios are shared or with bunk beds and bathrooms are also shared. If you are interested in a private room make sure to check with the rifugio for availability.
Rifugio rooms are reasonably priced, but not luxurious. Staying overnight is a unique experience and allows you to break up the hike. You'll also get enviable sunrise and sunset pictures!
Alternatively, you can also stay overnight in one of the nearby towns, including Misurina, Cortina, or Dobbiaco. These towns are beautiful and offer more options.
Hotel Lavaredo on Lake Misurina is a good and affordable choice, while the Grand Hotel Misurina is a bit more luxurious. Ambra Cortina Luxury & Fashion Boutique Hotel is a fun and glamorous option in Cortina.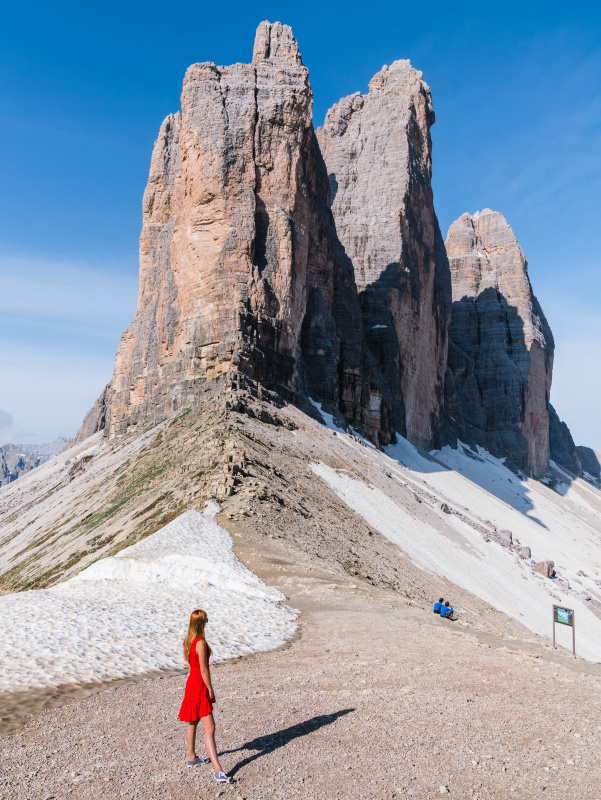 ---
Hiking the Tre Cime di Lavaredo loop is a must-do activity in Northern Italy. This easy half-day activity provides jaw-dropping views, fresh air, interesting history, and even good food and drinks! It's a truly immersive experience in the Dolomites and will provide you with stunning pictures.
Plan ahead, and book an overnight stay in the National Park or in one of the nearby towns to make the most out of your experience. Take time to explore the interesting features and history on your hike, take lots of pictures, and keep your eyes open for flowers and wildlife!
Have additional recommendations for a journey into the Dolomites? Leave them in the comments below!