What is Positano known for? Positano is a cliffside village located on the Amalfi Coast to the South of Italy. Upon first glance, Positano almost resembles a giant pyramid, with traditional and colorful buildings and boutique hotels built on every level.
Positano was a wealthy market port that played host to medieval deals in fish trade and other resources, and since the time of the Roman Empire has been a resort destination which grew hugely popular in the 1950's – and has been somewhat of a tourist hub ever since.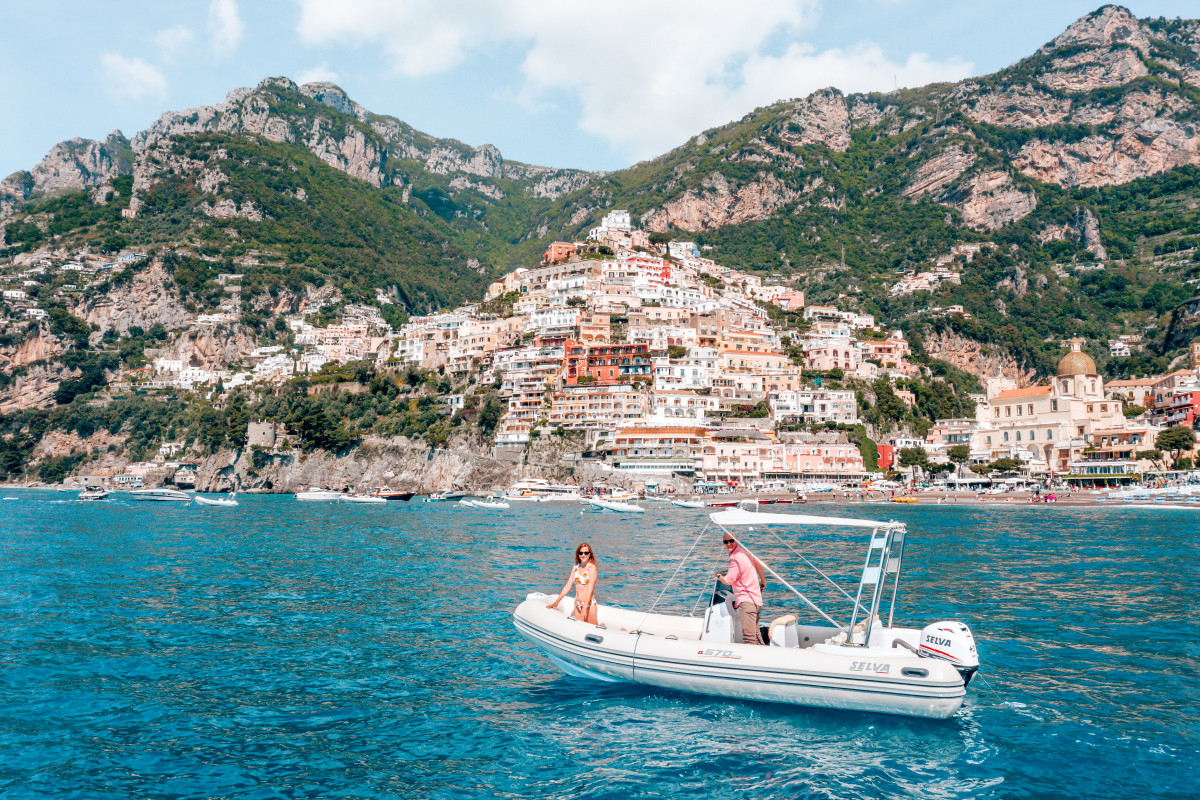 Positano is a popular destination in Italy for couples looking for a romantic getaway, but also families stopping through for a day trip. If you would like to spend a few days in there (and you should!), here are 10 things to do in Positano and additional information on Positano.
---
Where Do You Fly Into to Get to Positano Italy?
The closest airport to Positano is Naples Airport (Napoli in Italian). However, there's no train to Positano, so you need another form of transportation and it's not always the easiest or most convenient.
If you're flying into Rome (FCO), be aware that the journey from Rome to the Amalfi Coast will take minimum 4 hours from the time you land, and that's assuming that you make all the connections.
---
How to Get to Positano?
How to get to Positano can be a bit confusing if it's your first time visiting. There are a few options on how to make it to Positano quickly.
By Car:
The most obvious way to get around is by renting a car. We rented a car and drove ourselves around the Amalfi Coast which was a good option, but we paid a lot for parking (4o EUR per day is a standard Positano rate) and dealt with extremely narrow roads.
Read More on Renting a Car in Italy
Private Transfer:
Alternatively, if you don't want to drive, visiting off-season, or cannot take the bus, you can order a private transfer. It's a stress-free option for those who just want to enjoy their vacation. This is a reliable option here.
By Train & Bus:
These days there are no direct buses from Naples to Positano, but there's a train. After landing at the airport you have two options, but either will only get you as far as to Sorrento.
Then from Napoli you'll have two options again:
Once at the station, follow the signs for the Circumvesuviana, the local railway line located beneath the main station. From here you can catch trains which will take you to Sorrento in about an hour.
You can also use Campania Express train that stops in Herculaneum and Pompeii on the way to Sorrento (I've actually taken it to Pompeii before and it's a good one). It's a tourist train that costs €15, which is way more than a public train, but if you don't want to be stuffed like sardines in a can or traveling with kids take it.
Then, you will need to take one of the Sita buses which run between the Sorrentine peninsula and the Amalfi Coast. If you're traveling with a lot of luggage and/or kids I'd advise against taking Circumvesuviana and buses as they get extremely packed. People tend to push in hard and quite often you need to wait for ages to get on the next bus that has some space.
By Ferry:
Another option of getting to Positano is to hop on a ferry, but it's only possible during the summer months (June to September). There are convenient ferries which depart from Salerno and stop in Positano and Amalfi.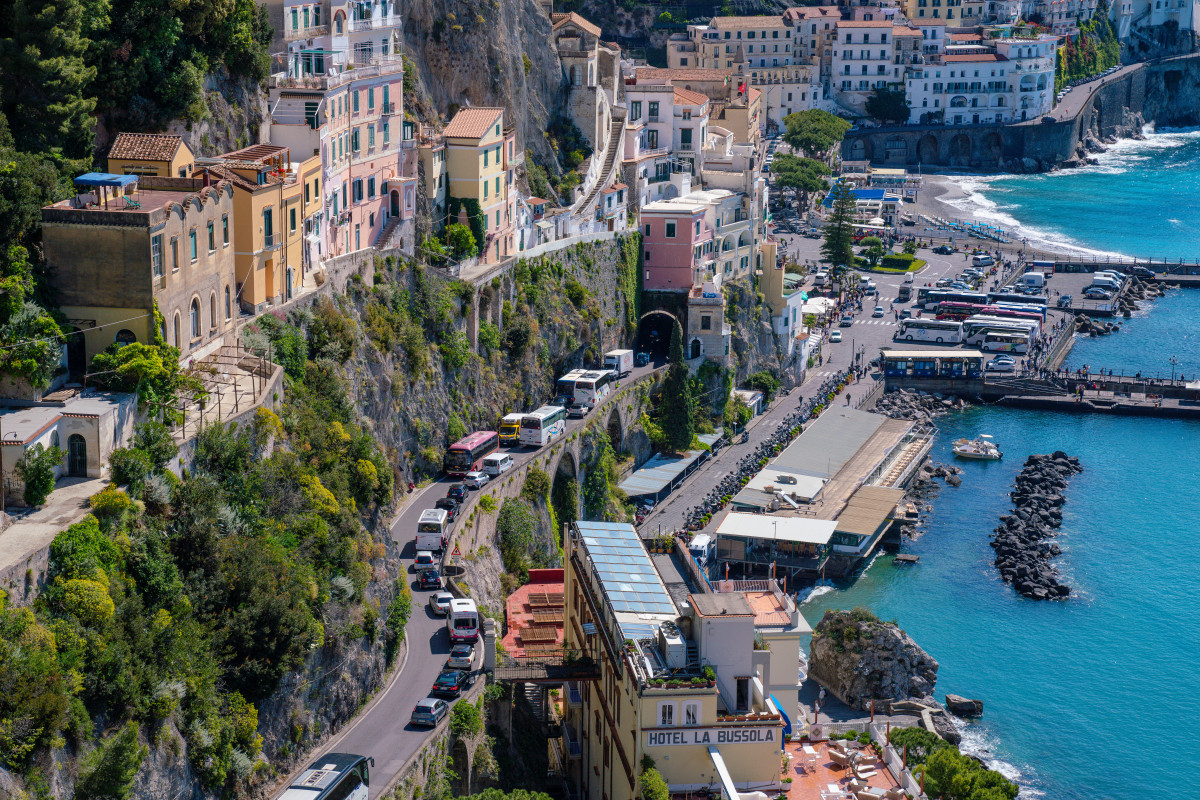 ---
Is Positano Expensive?
As it has risen from a sleepy fishing village to a popular holiday spot, so Positano has had to improve its tourism industry exponentially.
That said, Positano has become very expensive, but most tourists admit that it's worth the price if you want to fully immerse in it.
---
Things to Note About Positano
One thing to note about Positano is that it's built on a steep slope and so, inevitably, a large number of steps are involved in getting around. For those who feel daunted by the idea of trekking up all those stairs, I recommend catching the bus to the top of town and then wandering back down again at your own pace – perhaps stopping en route for a gelato or an Aperol Spritz.
That said, while I managed to visit Positano with a baby in a stroller, I would say it's probably not a good place for those with mobility issues. You can find routes that don't require more than 20 steps, but you do need to be able to go uphill and downhill.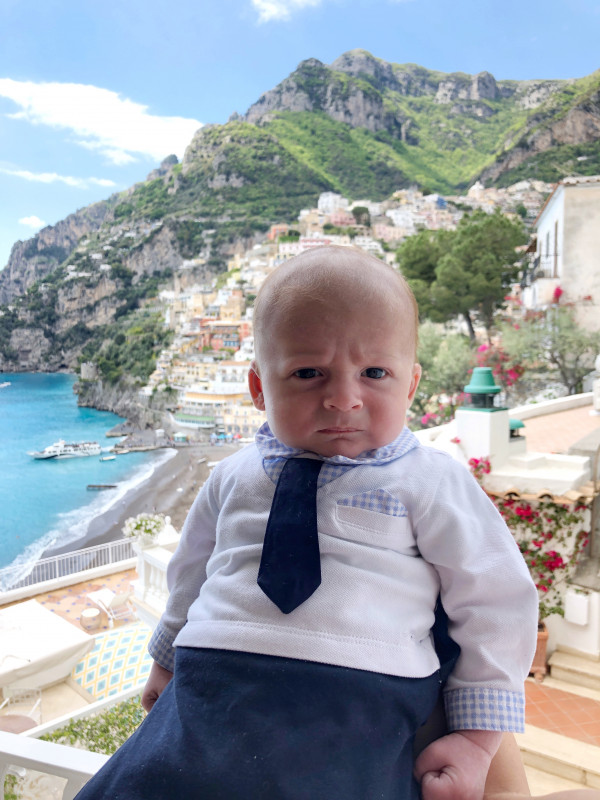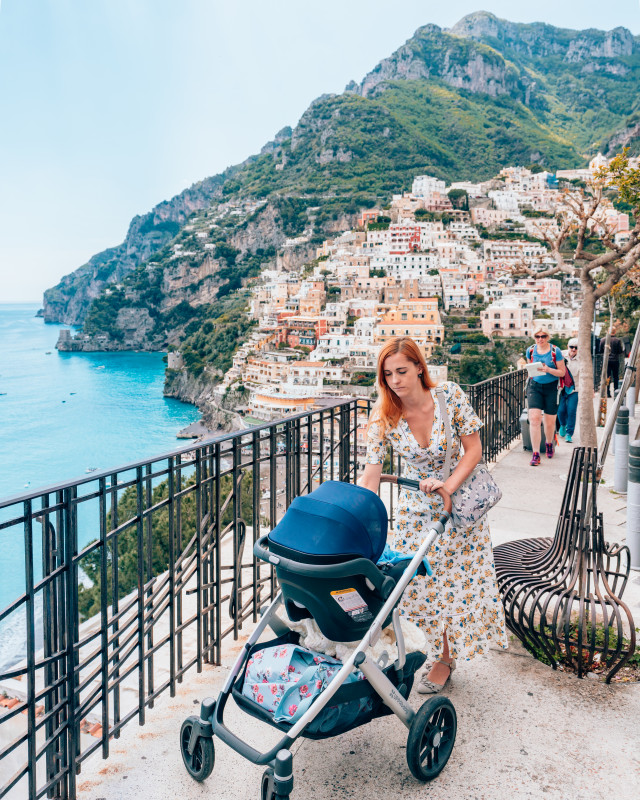 ---
Things to Do in Positano
So, what is there to do in Positano, besides marvel the architecture that appears to have been carved directly into the hills and cliffsides?
1. Enjoy Your Hotel
Due to its climate, Positano is also a hub of farming, with locals still actively growing olive trees, oranges and lemons in perfectly straight lines that are quite the spectacle from afar. As soon as you know the dates of your trip, you must book accommodation.
During the summer months, the best hotels book up a year in advance despite the hefty price tag. Yes, really. While you can save up on staying somewhere else, you've gotta stay in Positano for at least one night.
Where to Stay in Positano
Marincanto is one of the most photographed spots in town, as they host many weddings on their terrace. I highly enjoyed my stay there, and unlike from most hotels located on the other side of town I had a view overlooking the photogenic Positano at sunset instead of the other side of town.
Marincanto is a hotel that can be accessed without having to climb any stairs. They also offer to park on the property, pool and access to the private beach area (which many don't know about).
You cannot go wrong by staying there. Their pool is simply amazing, and buffet while pricy it's one of the best in town. Poseidon also has a big private pool and fantastic terrace restaurant for dinner.
The only reason we couldn't stay there is that they don't allow kids.
A gorgeous spot in a fantastic location. Breakfast room even has a flower ceiling. Remember to book a room with an 'infinity bathtub and shower'.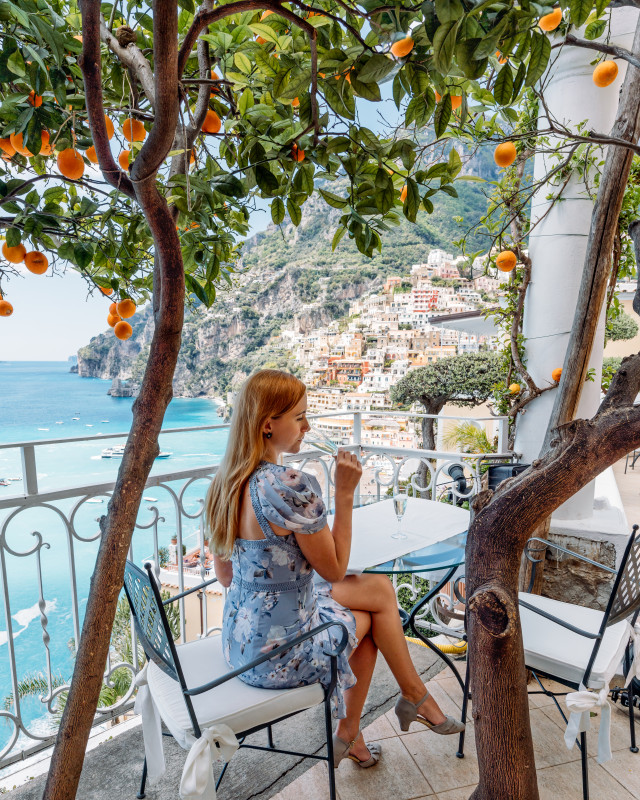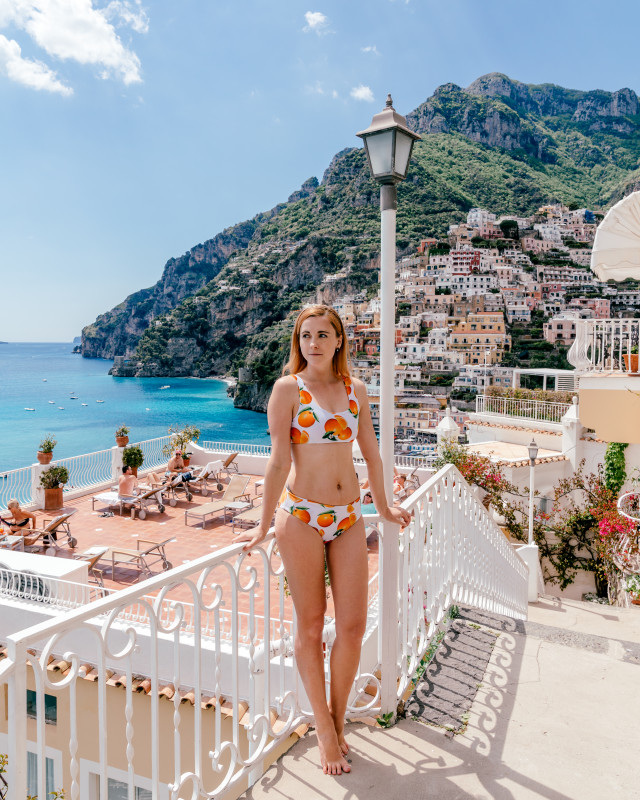 ---
2. Eat Lemon Sorbet in Lemon
Where to get a lemon sorbet served in a real lemon was the most common question I got from my followers on Instagram, as it's not really served everywhere.
There are actually only two spots (as far as I know) that do it and they run out of them by early afternoon.
Where to get lemon sorbet in lemon in Positano?
Covo dei Saraceni – Easy to locate spot as it's right on the beach and next to ferries.
La Zagara – Off the main tourist street, but with a quiet terrace on the back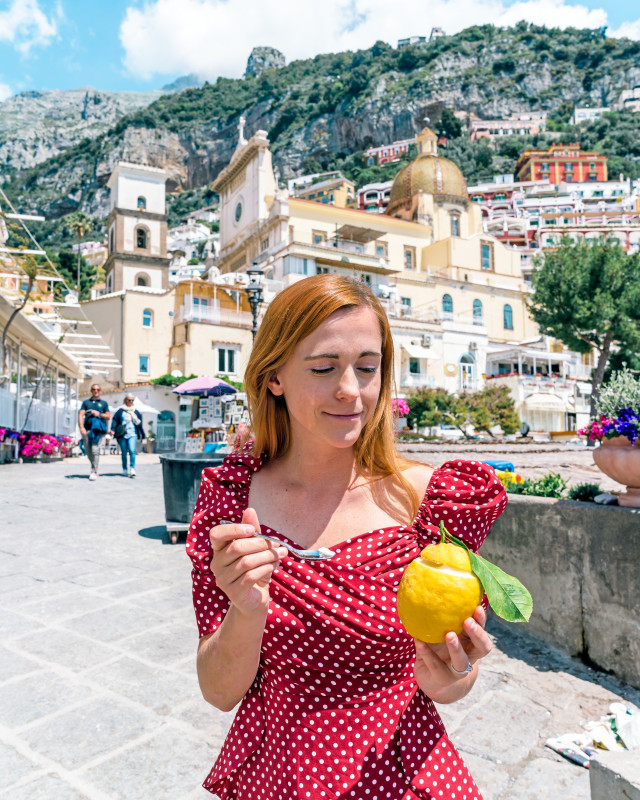 ---
3. Eat Delicious Food
Of course, the cuisine to try in Positano will always focus around the Big Two – traditional Italian, and seafood. Positano is home to a plethora of restaurants and there is something for every budget available, from little cafes to smart restaurants.
The general rule to follow is that the closer you get to the seafront, the more expensive the restaurants will be unless there's a gorgeous view involved. For those on a budget, I suggest sticking to the center of town, with an after-dinner wander down to the coast to watch the sunset.
(!) Reservations are pretty much mandatory for any dinner spot in Positano, even offseason.
Where to Eat in Positano
Chez Black – Beachfront restaurant that although touristy, it's amazing. Order
Saracena d'Ovo – Casual family-run Italian restaurant with great pizza.
Lo Guarracino – If you want to get off the tourist track, head there and book .
Ristorante Da Adolfo – It's a unique place on a private beach that can only be reached by their own boat. The boat departs and returns about every 10 minutes from 10:00 am to 4:00 pm.
Kids Unfriendly but Fantastic:
Il Tridente – Restaurant belonging to Hotel Poseidon with delicious food and unique dining terrace.
La Sponda – Good cocktail spot and restaurant for dinner, located at La Sireneuse – the most Instagrammed hotel in town.
Franco's – It's one of the most Instagrammable cocktail bars in town, but it comes with a hefty "London price" – about 18 EUR for a drink. The line is usually very long even before the spot opens, so be on time.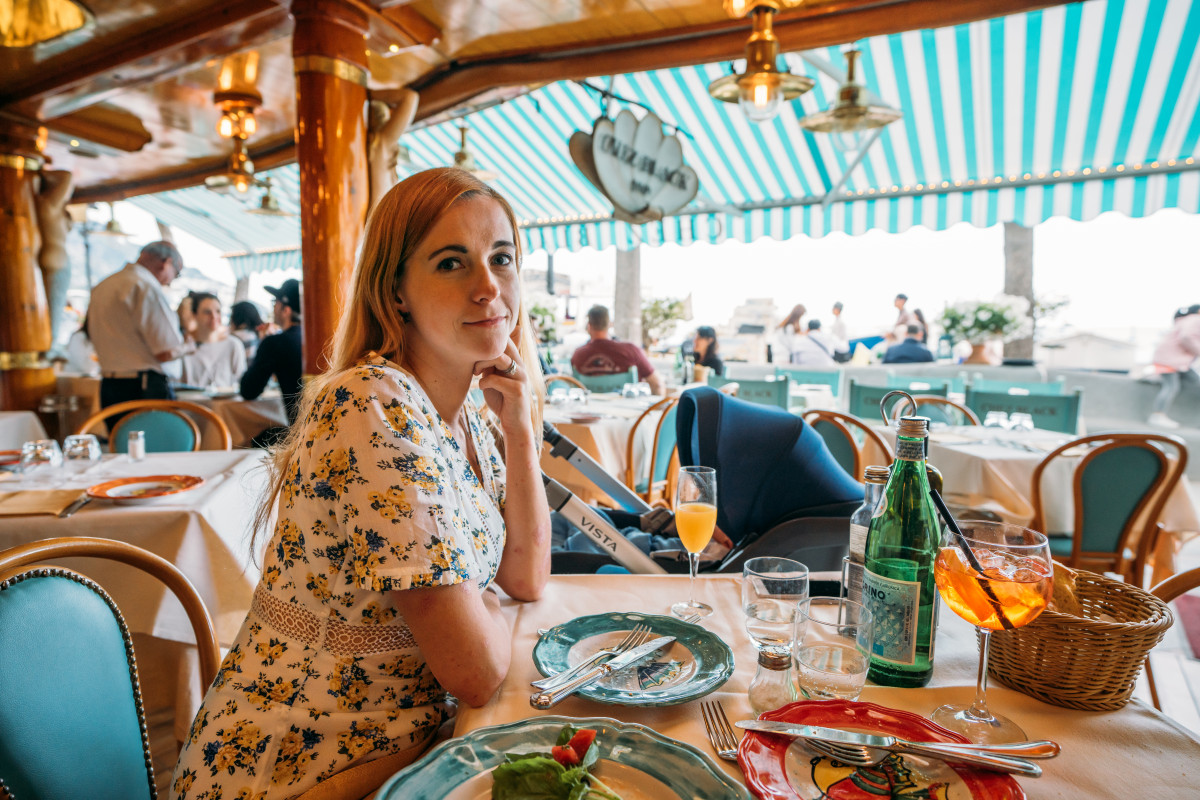 ---
4. Sunbathe
The shoreline of Positano is home to some of the most iconic beaches in Italy. They're picture-perfect, lined with bars and cafes and with water-based activities available for all ages. You simply cannot leave the town without spending at least one day soaking up the fun and sun of Positano beach.
The day-bed price on the beach is about €12.50 ($14), so keep it in mind. Due to Positano's location, the sun stays on the beach until about 3-4 PM.
---
5. Go Clubbing in a Cave
The beach is also where you will find Music on the Rocks – the only nightclub in Positano, which was carved out of the rock face itself. An amazing place to spend an evening, with delicious cocktails and the sound of the waves crashing around you combined with music.
---
6. Visit Church of Santa Maria
The church of Santa Maria s most photographed and recognizable structure in Positano, but most people skip visiting the inside. Chiesa di Santa Maria Assunta is free to enter and it's worth your time. This storied church features a Byzantine icon of the Black Madonna and Child & was once part of a monastery.
In addition, the Museo Archeologico Romano (M.A.R.) Positano offers 30-minute guided tours of two medieval crypts under the church. It puts the busy modern-day Positano truly puts history into perspective, as it shows you the ruins of the Roman Villa from the 1st Century A.C.
---
7. Take a Boat Out
Positano is an awesome place to rent a boat for the day, whether with a boat driver included or not. You can sail around the coast, sunbathe, and get the best view of Positano.
We did a private boat rental, as we had baby Dylan with us and wanted more flexibility to take photos. You can easily book it through your hotel or online, but pre-booking AT LEAST days in advance is essential. Pre-book self-drive boat here and arranged tour here.
Important when traveling with babies/kids: we were told that we'll be provided a baby lifejacket, but when we paid and got on board they said they don't actually have them (it's not compulsory by law in Italy, like it is in the US). If you're traveling with a baby you might want to bring your own lifejacket like this one.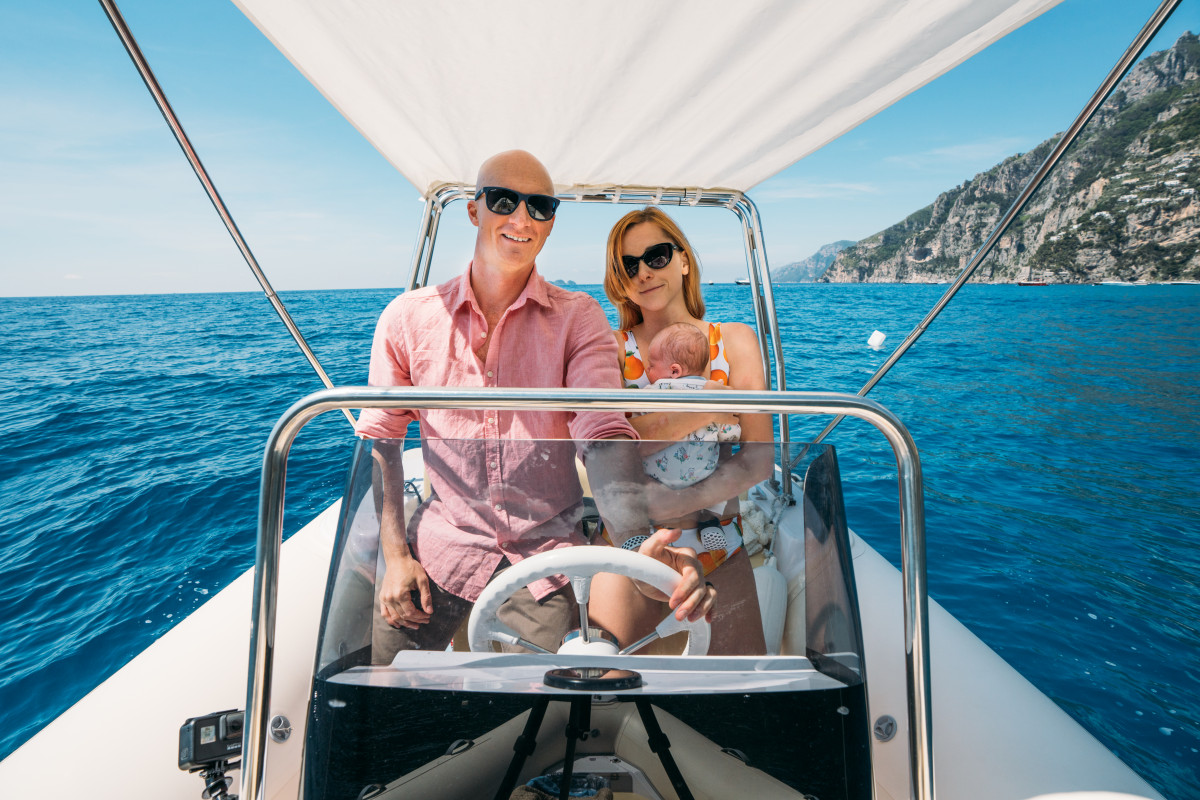 ---
8. Hike the Path of Gods
As a traditional cliffside town, there are of course the expected beaches and cliffs which draw nature lovers from far and wide. Take a walk along the cliff and look back on Positano in order to fully appreciate the beauty of the fruit trees, the variety of colored buildings and the sparkling blue of the sea below.
For more enthusiastic hikers there's the Path of Gods route (Sentiero degli Dei in Italian). The hike is moderate difficulty and it takes 3 hours one way, then you can return by bus or walk back. More detailed instructions are described in this article.
9. Shop in Positano
For those less inclined to explore the natural wonders of Positano, the retail offerings cause fashionista's and celebrities alike to flock to the town throughout the year. Smart boutiques line the narrow maze of streets, joined by wisteria-draped hotels and cute little restaurants.
No matter your taste, anyone can spend a happy afternoon exploring, getting wonderfully lost and perhaps even picking up a few treats like lemon ceramics or handmade clothes.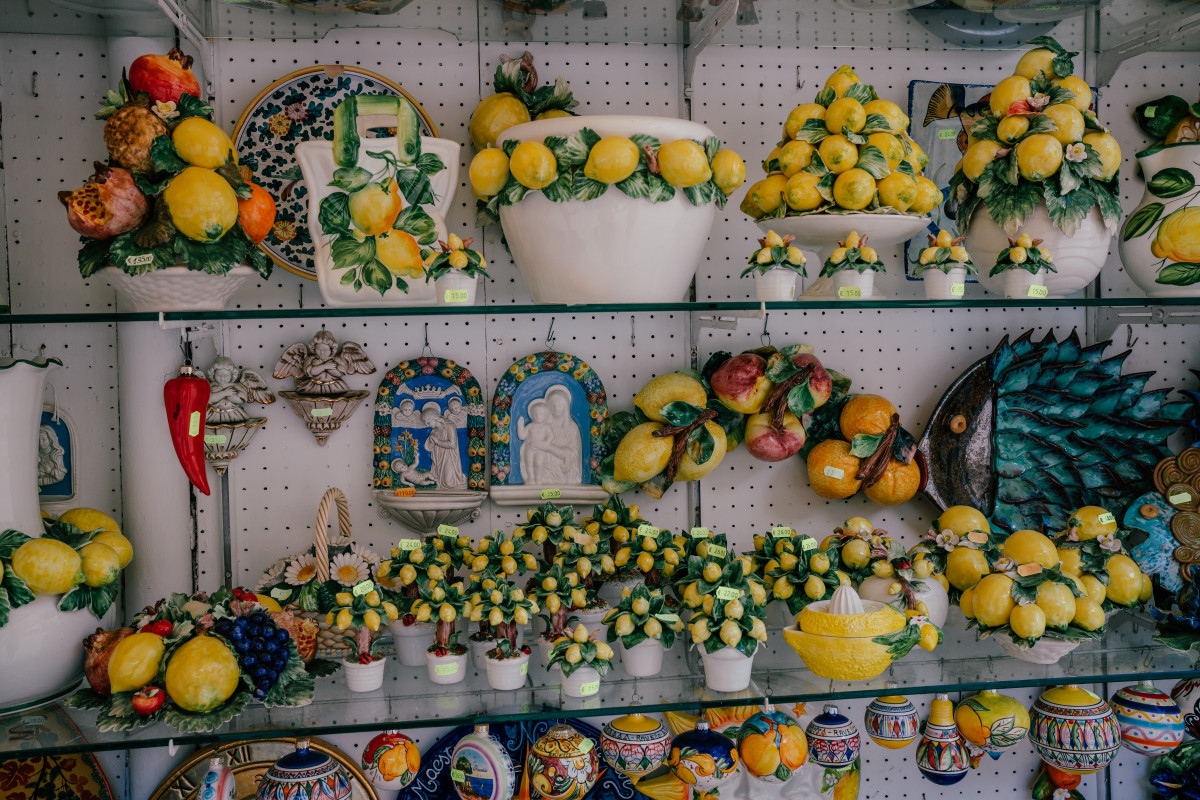 ---
10. Hunt Movie Locations
Positano features in a number of popular films including Under the Tuscan Sun and Only You. Movie fans will love simply wandering the streets where their favorite characters once tread, and can even become a part of the action when the annual Pulcinella Awards are presented for excellence in animation.
Meanwhile, those who are more inclined towards the musical side of things will love learning about the cafes that Mick Jagger and Keith Richards frequented during a holiday to Positano, and visiting the home of Shawn Phillips who composed most of his work from the town of Positano.
---
11. Take a Day Trip to Capri or Pompeii
Positano is also a great base to stay if you want to enjoy some of the more widespread activities available around the Amalfi coast. You can do a day trip to Pompeii that I would certainly recommend. From Pompeii – home to the city ruins that were covered in ash from the eruption of Mount Vesuvius centuries ago, you can visit the mountain itself and marvel at the crater left behind by the eruption.
You may also decide to visit Capri for a day if you're short on time, but I highly recommend staying for at least a night. There are boat shuttles to Capri leaving every hour (every half an hour during high season), so you can easily visit the island.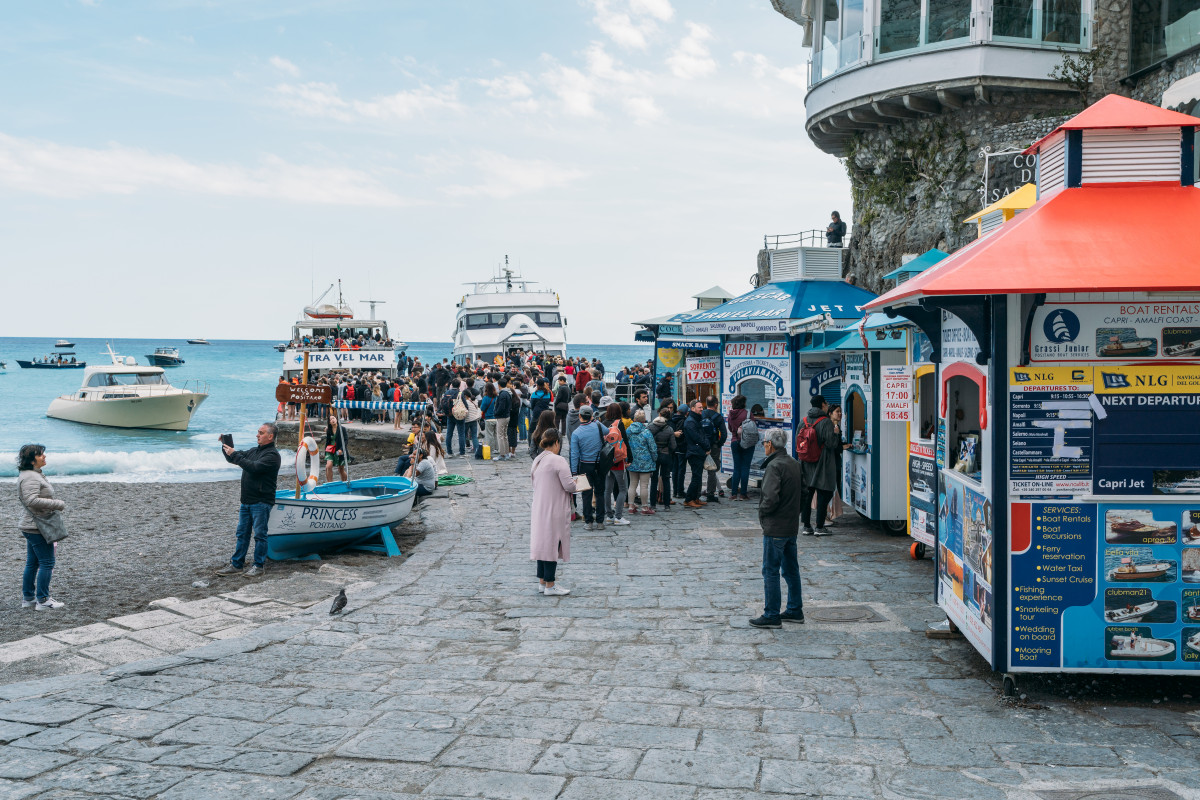 ---
12. Take a Wine Tour
Positano is surrounded from all sides by some of Italy's finest vineyards, growing the grapes for red, white and rose wines that visitors can enjoy as part of a variety of wine tours available.
Most of these tours take you to a collection of different vineyards, offering an insight into how wine is produced in the area – and promoting the community spirit that unites all of these vineyards as one.
---
13. Visit a Lemon Farm
Enter the paradise of the lemon tree, where the Sfusato Amalfitano is born and begins its journey to conquer the palates of the whole world. You will discover all the production phases: from the cultivation of lemons in our gardens to the production of all the delicacies.
If you're a fan of Limoncello you should visit one of the lemon farms and see its production. Plus, you'll be able to buy it directly from producers for competitive prices.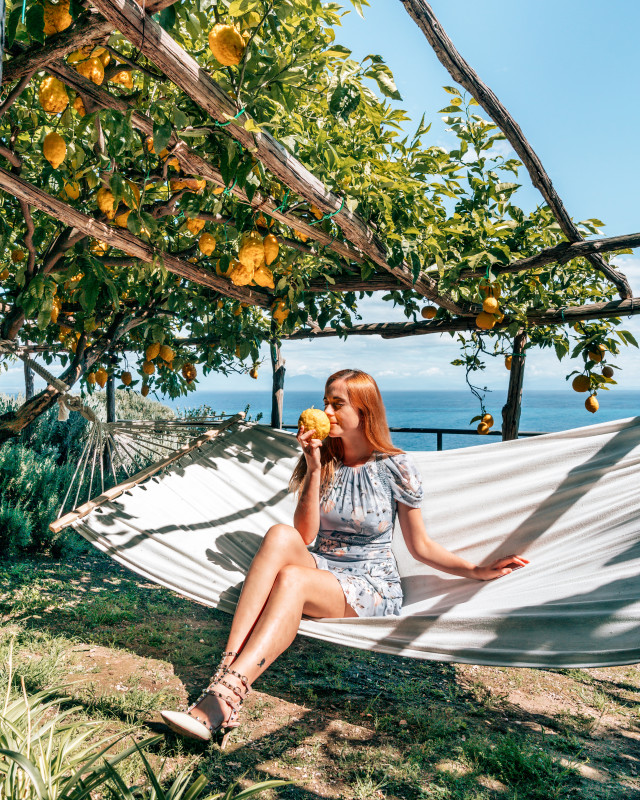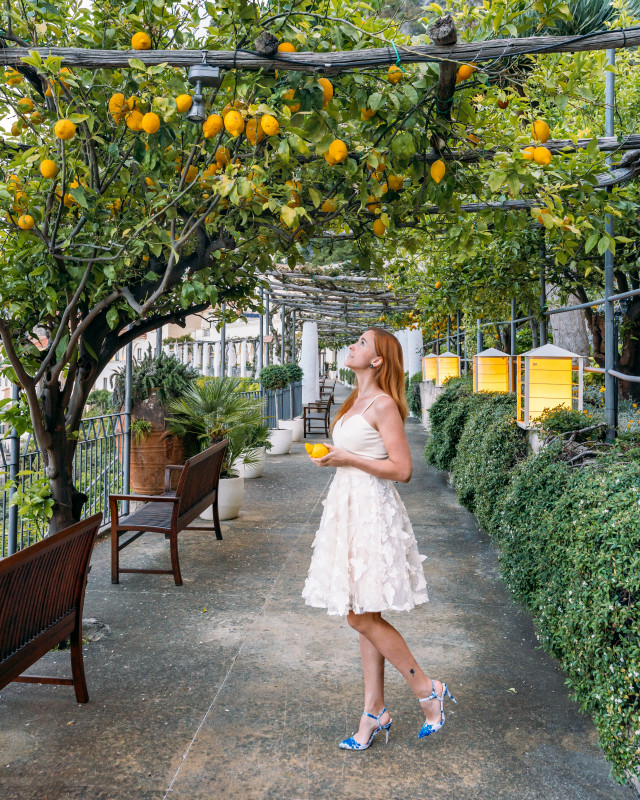 ---
14. Take a Cooking Class
Unfortunately, it rains on the Amalfi Coast sometimes and then most activities in Positano aren't possible. What can you do in Positano when it rains? Simple answer is: eat and immerse yourself in the art of cooking.
You can sign up for a cooking class, which can be done whenever – even in the rain. Learn the art of mixing, cooking and baking – to prepare dishes which were made by Amalfi grandmothers. Book here.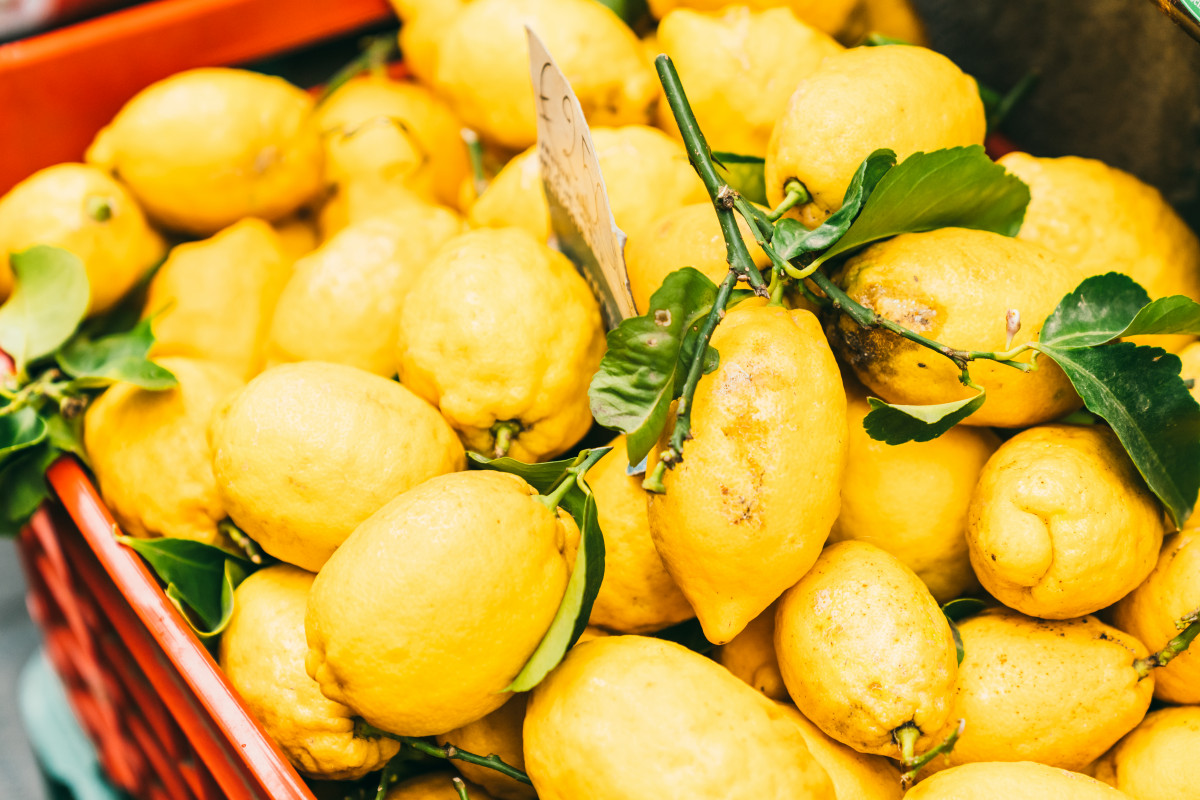 ---
15. Go Scuba Diving
Diving isn't something that most people think of when they plan their trip to Positano. It's not known as a dive destination, so what can you see there underwater? Well, it's not uncommon to find shards and other relics from antiquity. You can dive in all grottos experiencing perfectly emerald water.
---
16. Rent a Historic Car
Fiat 500 is a little jewel of a car with a popular place in Italian history. While to me, coming from Poland, this isn't the biggest attraction as we used to have this car for many years, but if you've never taken a trip in an old car, zooming around in it on the Amalfi Coast.
If you're willing to self-drive, Hertz is now renting them locally but you can also rent them at Hotel Poseidon. There are also many organized tours you can do that would allow you to taste Limoncello on the way.
---
17. Rent a Scooter
Scooters are much smaller than cars, so you can pull over anywhere you want, as often as you want. There are many cute lemon stalls on the road that you can visit, and it's easier to park in places like Ravello. If you're not comfortable driving on your own, you could take a Vespa tour instead.
---
18. Discover Grottos
Green grotto, white grotto, and emerald grotto – Amalfi Coast isn't short on grottos to explore.
You need an organized tour to enter the grotto or a special captain, as no self-drive boats are allowed. You can pre-book a tour online.
---
19. Play with Stray Cats
Cats lovers will be happy as there's a large stray cat population in Positano. Cats roam free and they're friendly and cuddly as locals feed them. Some even give high fives…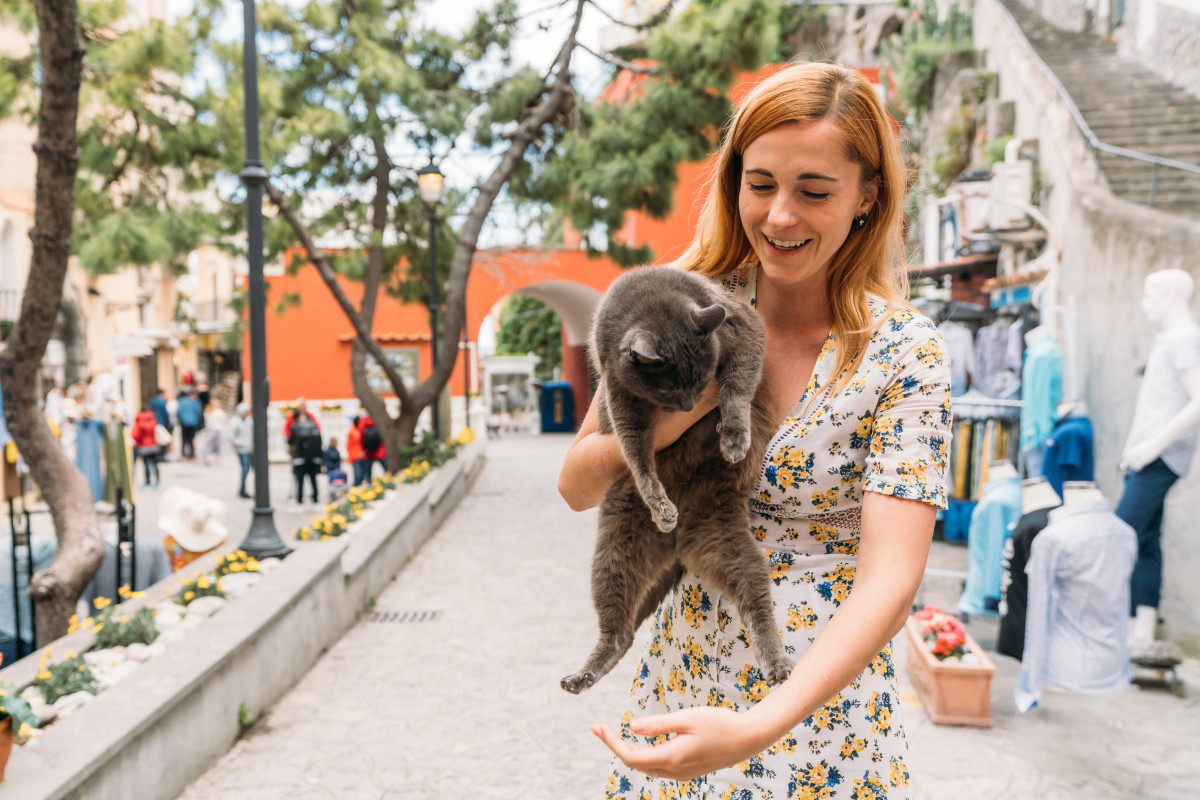 ---
20. Visit Ravello
While you could stay in Ravello for the night what I highly recommend if you don't have time do a half-day tour to visit Villa Rufolo, a 13th-century villa with beautiful cascading gardens and exquisite views. If lucky you can even meet my buddy the black cat.
My tip: Ravello is the best place to buy ceramics.
If you have a car just drive there independently, otherwise you can take a local bus (very crowded though!), or take an organized tour.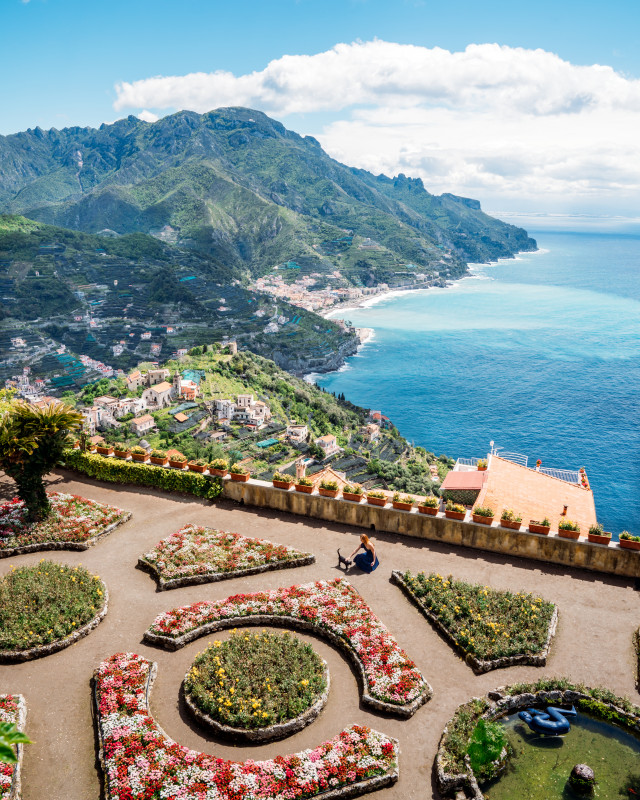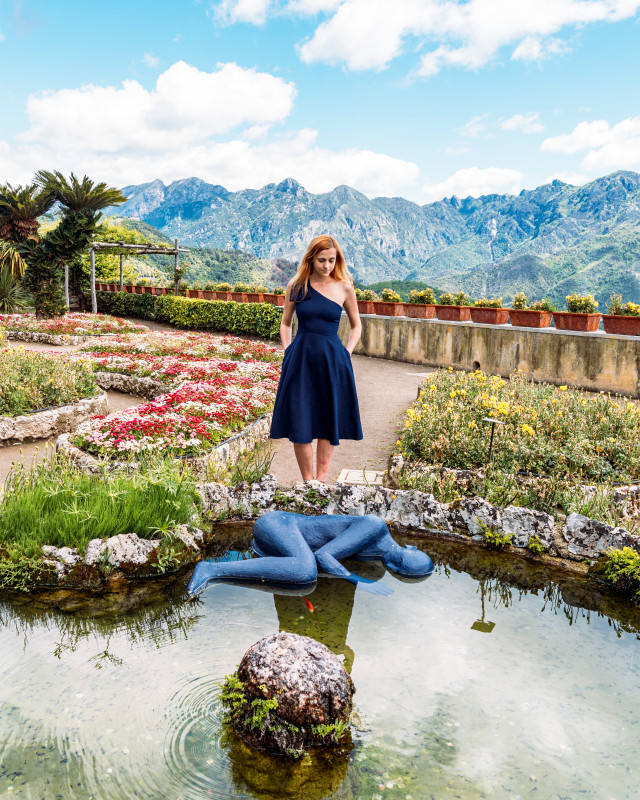 ---
Positano is one of those destinations that everyone has on their bucket list, and if you're lucky enough to go, I cannot recommend exploring enough.
While there are certainly plenty of activities to keep you occupied within the town itself, it's only by venturing outside the boundaries that one can appreciate the sheer spectacle of Positano – with its terracotta houses, sparkling waters and endless olive groves and vineyards.