Are you planning a Tuscany road trip and looking for a unique way to relax and enjoy the region's natural beauty? Hot springs in Tuscany are a must-visit, and one of the most popular is the Saturnia hot springs.
I've lived in Italy and traveled around the country for years, so I've had the pleasure of visiting some of the best ones and I can't recommend them enough.
Not only are hot springs in Tuscany stunning, but they also offer therapeutic benefits for your body and mind. The Saturnia hot spring, in particular, is famous for its warm waters and natural sulfur properties that are said to have healing effects but there are many others to see as well.
So, whether you're looking for a romantic escape or a family-friendly activity, be sure to add hot springs in Tuscany to your itinerary, and don't miss the chance to experience the Saturnia hot spring.
I'll share some of my favorite hot springs in Tuscany and offer tips on how to make the most of your visit.
Do you need a car to see Tuscany hot springs?
Depends. When I first moved to Italy as a student I didn't even have a driver's license. I lived in Florence and traveled all over the country… without a car. While I've managed, I was only able to go to popular spots using public transportation. Places like Tuscany were only reachable by organized tours.
There are a ton of excellent tours, but they won't let you create your own itinerary or go hot spring hopping in the region. You also won't be able to get places before everyone else does.
That said, renting a car and driving around Tuscany by yourself is your best bet. You can rent a car in Florence, or even Rome if you're also planning on visiting Umbria.
If you can't drive, you might want to opt for hiring a driver.
How Do You Get to the Tuscany Hot Springs?
Most hot springs in Tuscany are free, which is great, but it also means they tend to get crowded – especially on weekends. If you really want a private experience, visit the springs before 7 AM.
You can visit the hot springs whenever you want, whether it's winter, summer, night, or day! In my opinion, this makes it one of the best hidden gems to see in Italy.
These Italian hot springs aren't the easiest to get to as they're not "near" any bigger town. For example, Saturnia hot springs are located between Siena (2 hours), Rome (3 hours) and Florence (2.5 hours).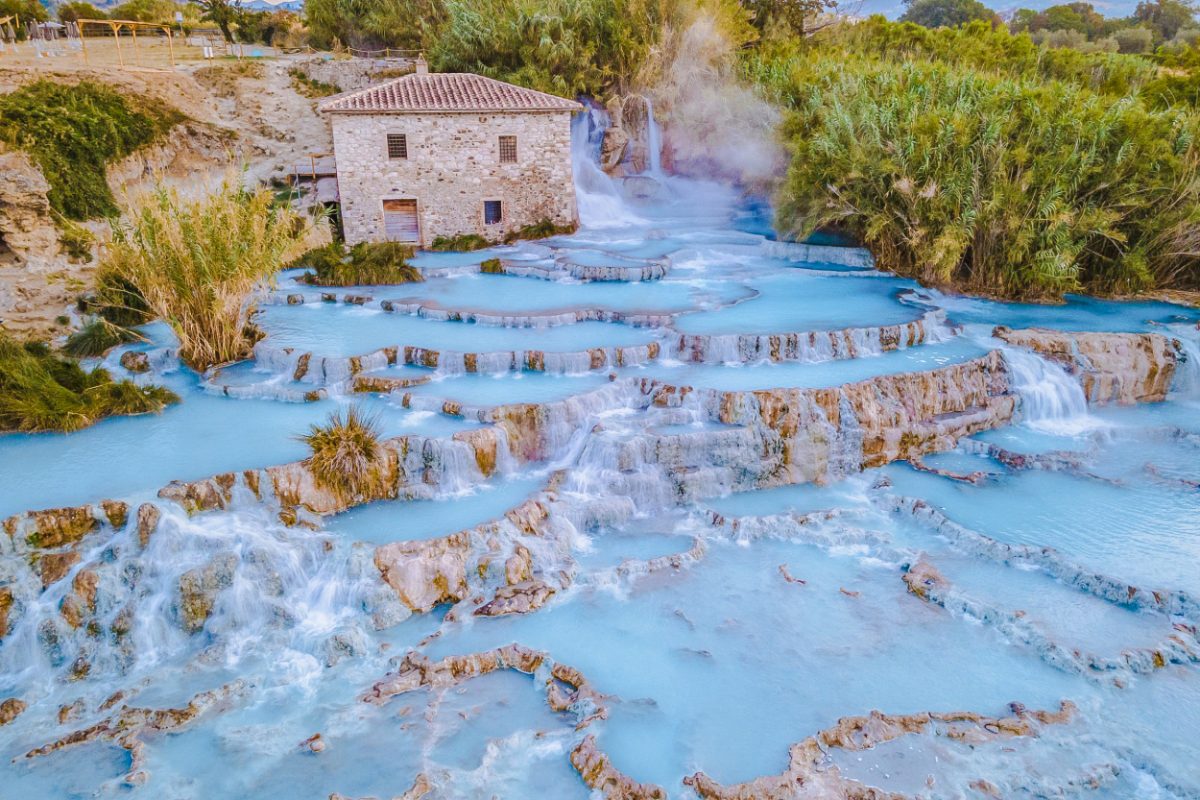 ---
Best Free Tuscany Hot Springs:
If you're coming with kids I would say that the best Tuscany Hot Springs for Families is Bagno Vignoni.
If you're looking for wine, try Terme di Sassetta.
If you don't have a car you can Best Tuscany Hot Springs Without a Car: Montecatini Terme.
If you want the most picturesque hot spring, chose Saturnia Hot Springs early in the morning
And finally, for a quick stop on the Tuscany road trip Bagni San Filippo is the most accessible.
---
---
Saturnia Hot Springs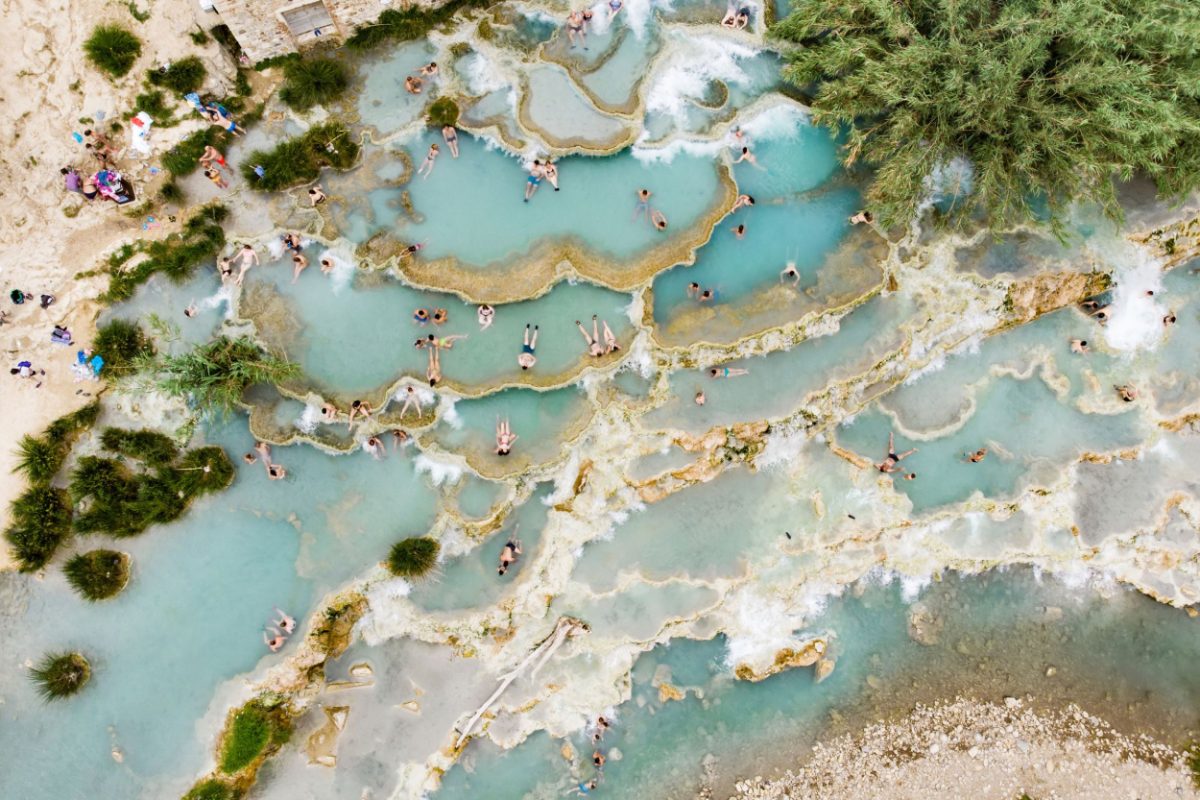 The Saturnia hot springs are famous thermal baths with terraces filled with silk blue water on different levels heated by the nearby volcano, and a little house at the top.
The waters are consistently warm 99 F(37C) which makes it possible to visit year round.
If you want to spend the night nearby to hit the spring first thing in the morning, and/or get a full spa experience the best hotel right by the springs is Terme di Saturnia Natural Spa & Golf Resort.
Practical tips for visiting Saturnia Hot Springs in Tuscany:
Make sure to already be dressed in your swimsuit because there are no changing facilities outside of the summer season.
The sulfur smell is a small drawback, but it's more intense on some days. It's all-natural though!
You might notice there are small worms in the water. Don't freak out, these are larvas that inhabit the area and flow down with the thermal stream and they are completely harmless.
Don't expect a tranquil experience, there will be other people with you as it's first come first serve.
---
Bagni San Filippo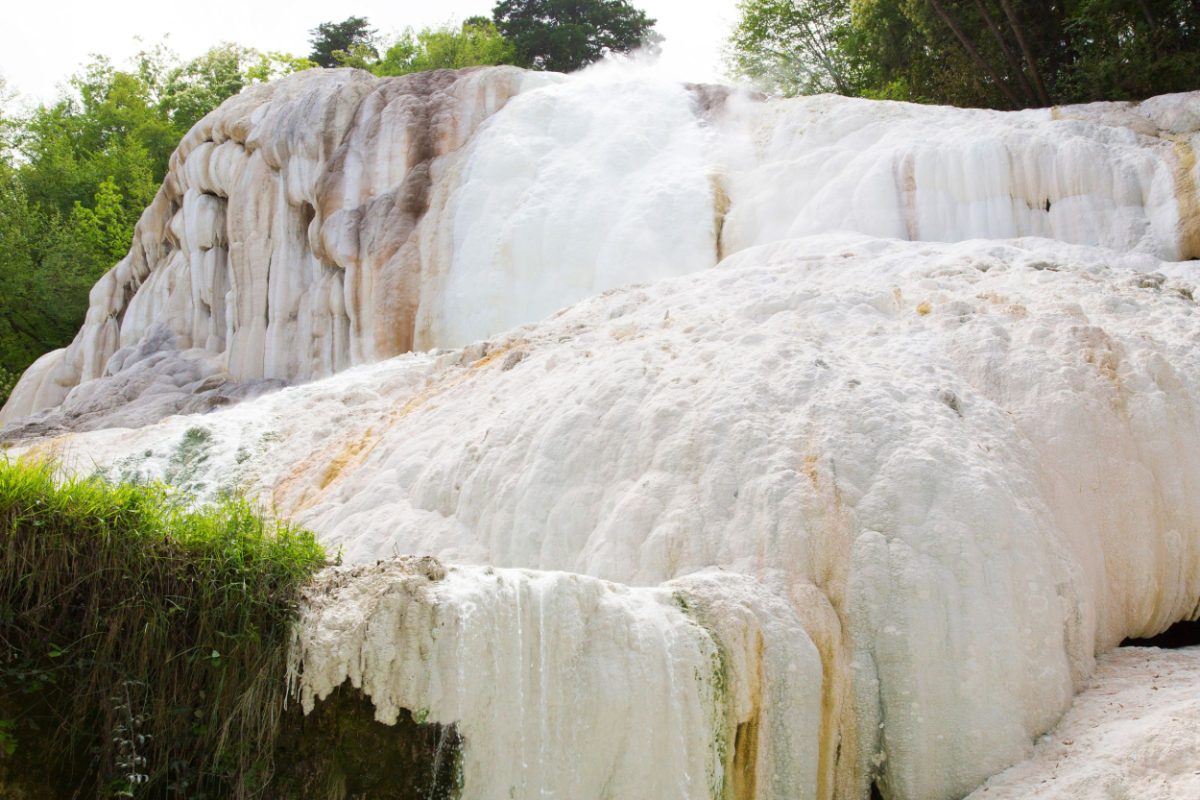 The hot springs outside the small town of Bagni San Filippo are a great option for those who want to avoid crowds at Saturnia. They're also closer which makes them easier to get to.
It's nestled in the woods and hot water here flows as a river through the wood which is awesome. The springs created impressive white formations that make the area appear as it was made of snow! The most famous of this formation is called 'la balena bianca' (the white whale).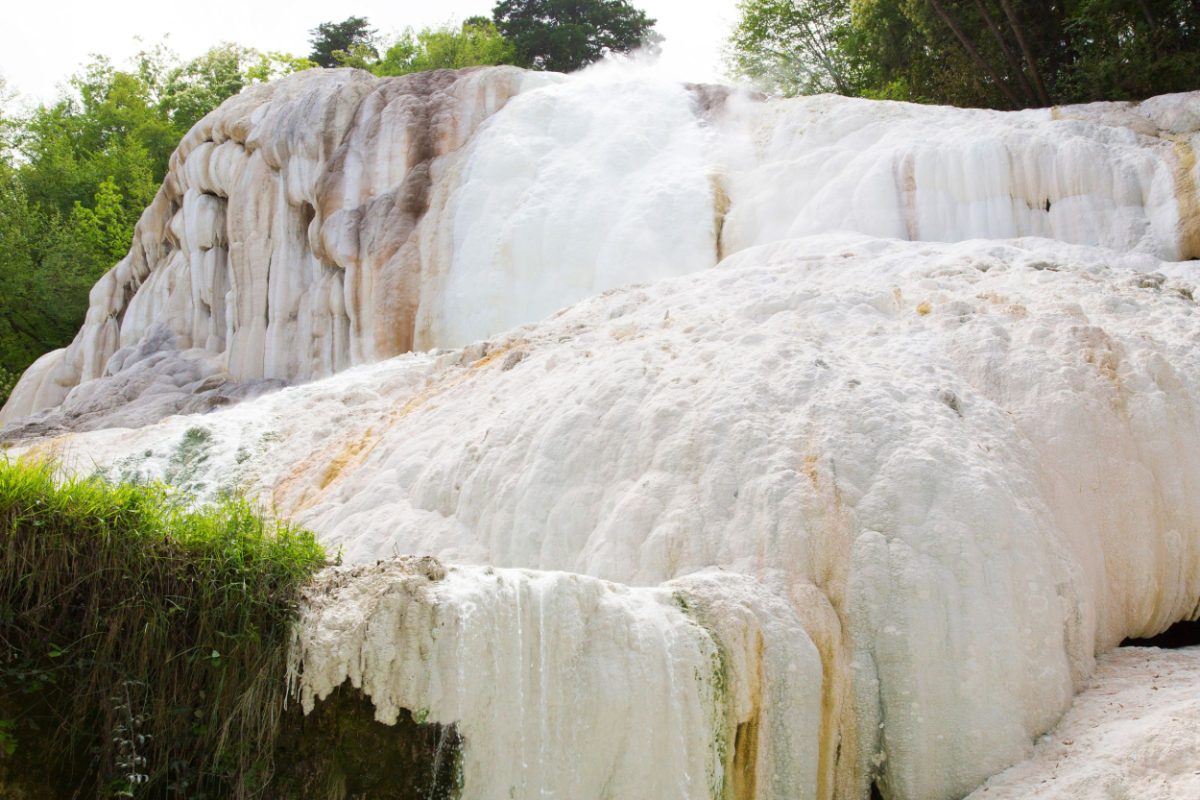 ---
Bagno Vignoni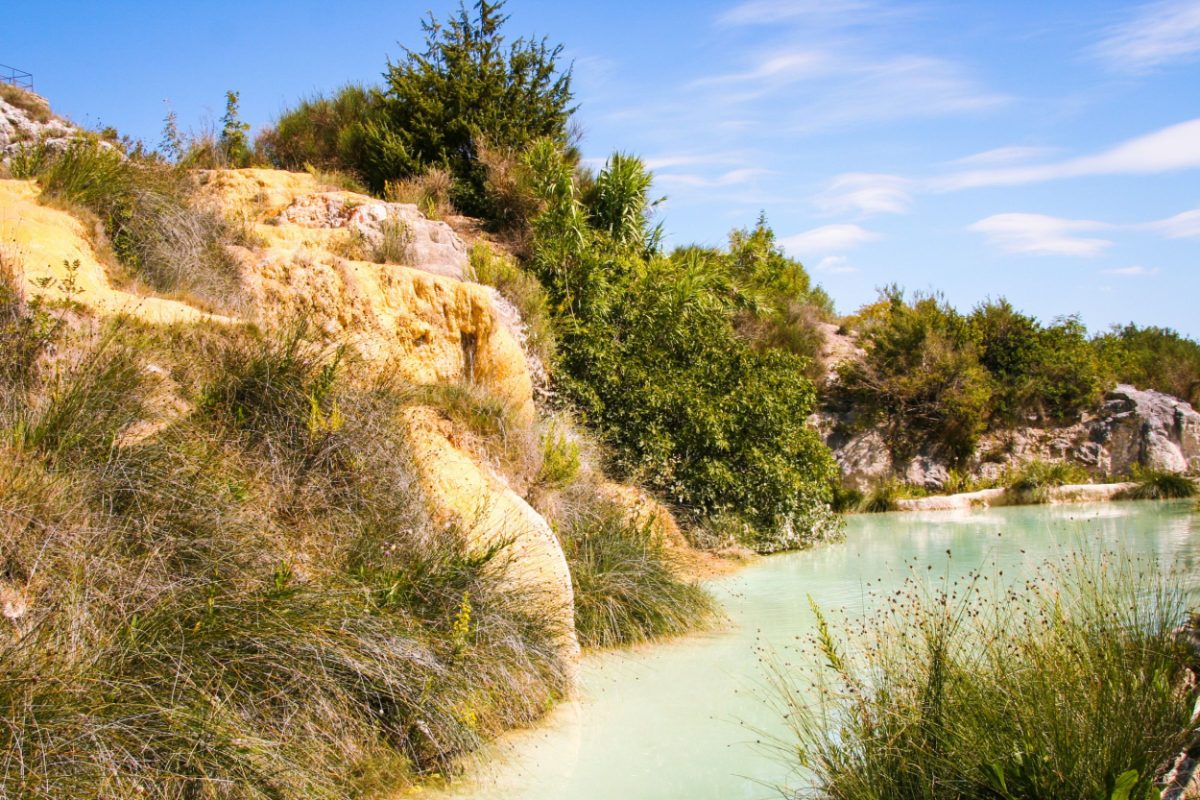 Bagno Vignoni is a tiny village in scenic Val d'Orcia. The hot water here flows there naturally from underground and even supplies the local fountain!
While it has a big pool in the center of the main square of the town, you cannot bathe there and have to go to a nearby pool at Parco Dei Mulini.
Alternatively, there are also several hotels in the area that have access to beautiful thermal pools and offer day passes.
---
Venturina Thermal Baths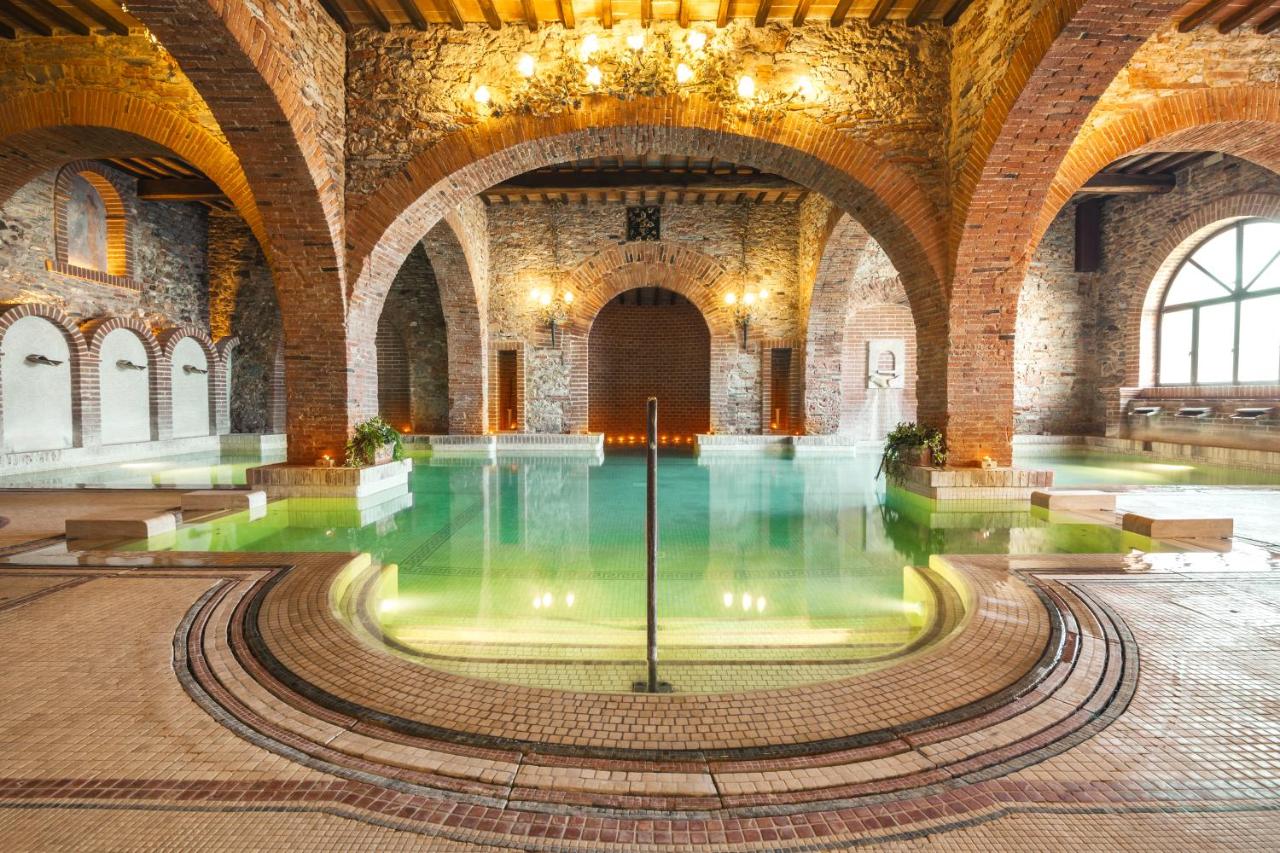 Another option for Tuscany hot springs is the small towns of Venturina and Sassetta. Venturina is famous for its hot springs at a gorgeous spa hotel and bath house Calidario – Etruscan baths. It's obviously a manmade facility but absolutely gorgeous.
Meanwhile, Sassetta nearby has wonderful thermal pools immersed in a large park so it's a more "wild" experience.