Florence is one of the most popular tourist destinations in Italy. As a result, it can get very crowded with tourists in the summer. The crowds combined with the humidity and high temperatures make summer in Florence less than pleasant. Winter in Florence, however, offers a stark contrast.
Gone are the massive tour buses and groups of tourists huddling around to take pictures. Gone is the blazing sun and sweat-inducing weather. Florence in winter belongs to the locals, making it the perfect time to experience the real culture and atmosphere of the city. Although you will have to contend with chilly temperatures and occasional rain, Florence is no less beautiful in the winter.
As an added benefit, prices for hotels and restaurants are much lower in the winter as are wait times at museums and tourist attractions. This makes visiting Florence in winter a great idea for a budget trip (even when staying at luxury places)!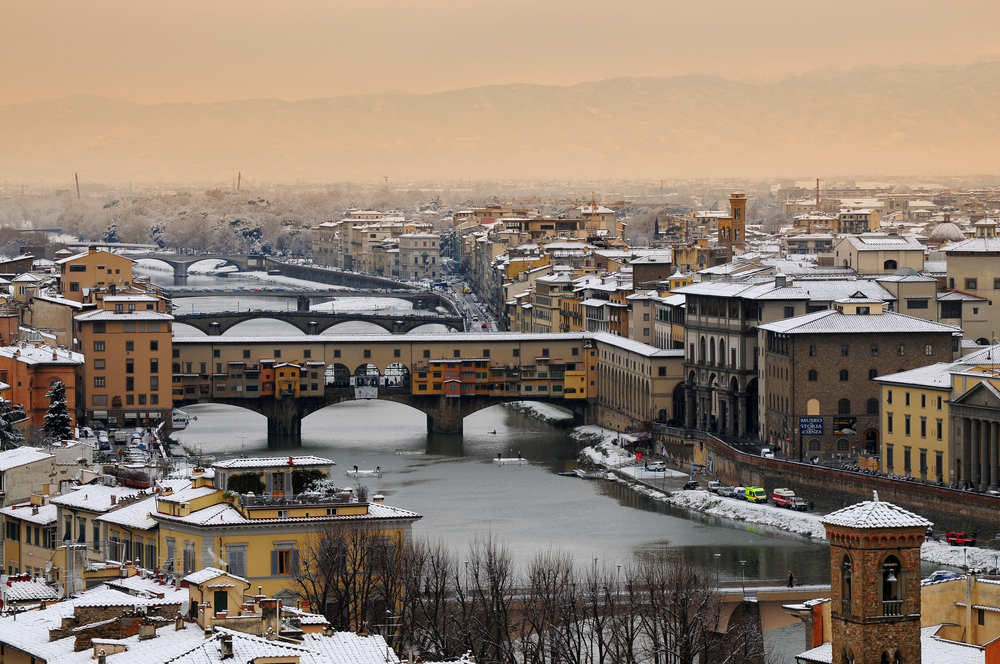 ---
Average Winter Weather in Florence
The Mediterranean climate of Italy makes it a pleasant destination, even in winter. Temperatures in Florence rarely drop below freezing and you are unlikely to see snow and if you do – it's like in the photo above – here and there, but the sidewalk is melted. Even in spots closer to the mountains like Venice or Verona it never knows, so there's nothing to worry about.
However, the high humidity and dampness can make it feel colder than it is. There is also a good chance it will rain for a day or two during your trip to Florence in the winter, with intermittent sunny and cloudy days. It won't be as cold as Paris in the winter though.
The downside to visiting Florence in winter is the lack of daylight. Around mid to late December you might get as little as 4 hours of light a day.
Average Temperature in Florence in Winter
December: 3 °C – 10 °C (38 °F – 49 °F)
January: 2°C – 9 °C (35 °F – 48 °F)
February: 3 °C – 11 °C (37 °F – 51 °F)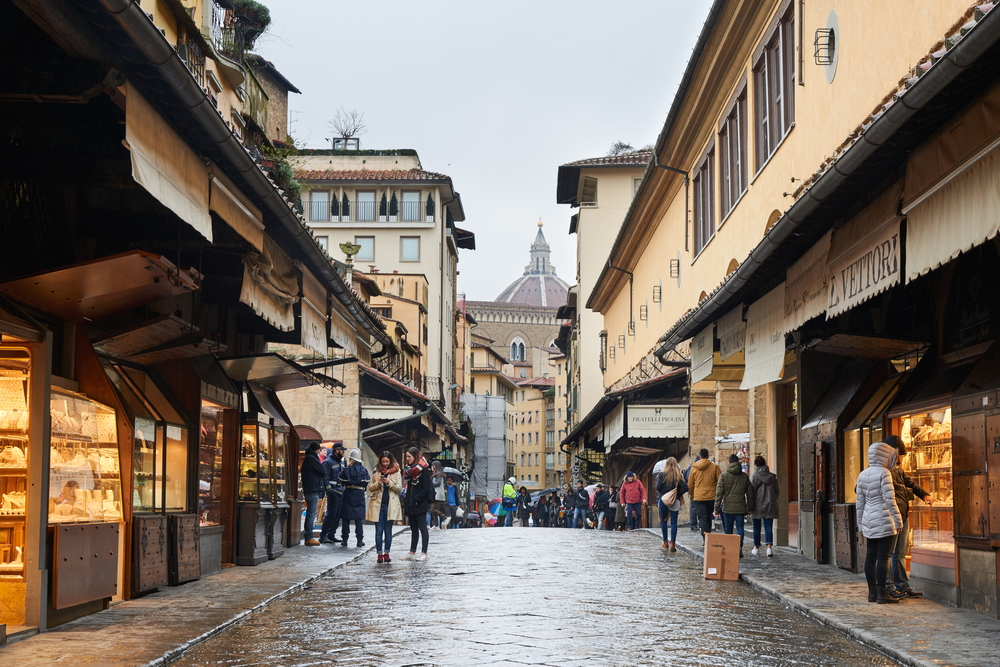 ---
Important dates in Florence in Winter
The winter months are filled with holidays and celebrations. It starts with the celebration of the Immaculate Conception on the 8th of December, which is also the start of the Firenze Light Festival.
Christmas is obviously the biggest winter holiday, with family celebrations and religious services from Christmas Even on the 24th to First and Second Christmas Day on the 25th and 26th of December. Keep in mind that many shops and activities will be closed during the holidays. Christmas markets and nativity scenes are displayed throughout December.
New Year's Eve is as big a celebration here as anywhere else in the world with fireworks and all-night parties. This is followed closely by Epiphany on the 5th and 6th of January, one of the biggest holidays in Catholic Europe, celebrated with parades. In Italy, it is also the feast of Befana, a witch-like character who brings gifts and candy for kids, much like Santa Claus.
The winter celebration season finishes in February with Carnival. Although not as big and opulent as in Venice, the second-best carnival celebration in Italy takes place in Viareggio (at 1.5 hours from Florence).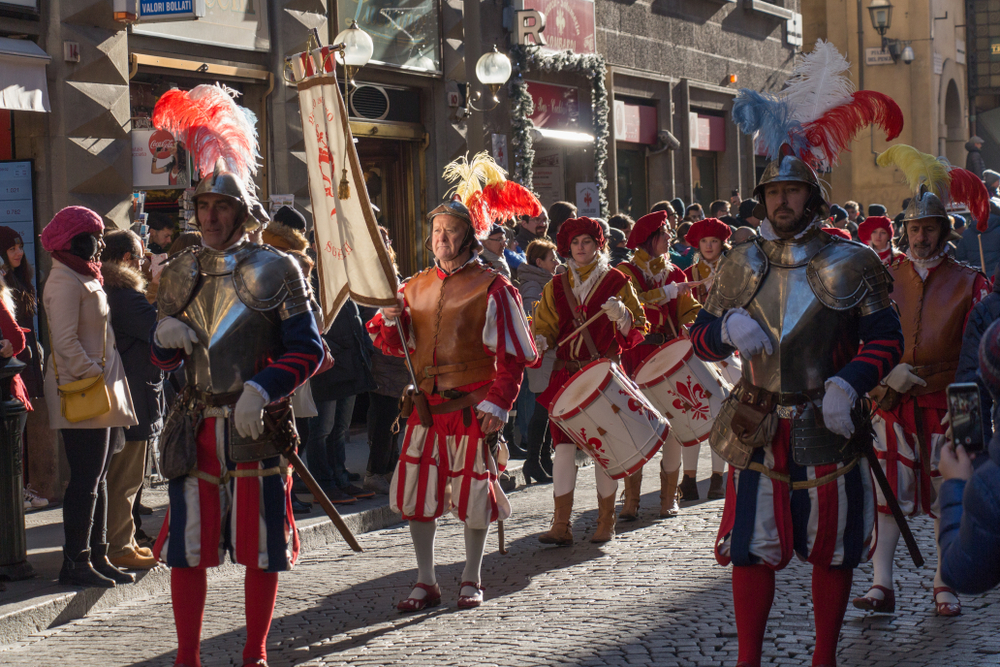 ---
How to get to Florence in Winter
Getting to Florence by Flight
Getting to Florence is just as simple in the winter as in the summer. Although the frequency of flights and trains is highest in the summer, it is easy to find a good connection any time of the year.
The quickest and easiest way to get to Florence for an international trip is by flying. The local airport in Florence, Vespucci Airport, has been updated and expanded in recent years and now receives both domestic and international flights.
Another good option is to fly to nearby Pisa International Airport, which is bigger, and take the train to Florence (1 hour).
Getting to Florence by Train
Italy boasts a good train network with international connections, which is a good option for people traveling within Italy or Europe. Santa Maria Novella train station in Florence has convenient connections to other Italian cities. The comfortable high-speed Eurostar provides the quickest way to travel through Italy. A reservation for this train is required.
Budget travelers are better off opting for regular intercity and regional trains, which are a lot slower but also more affordable. Interrail and Eurorail passes are valid on all Italian trains. Long-distance buses, such as Flixbus and Eurolines, also offer frequent and convenient connections to Florence in the winter.
How to get around Florence in Winter
Florence is a very walkable city, with not much of a public transport network. The historic city center is best explored on foot as much of it is a pedestrian zone.
There is no subway or tram network in Florence.
To reach destinations further out of the city center or nearby towns, the ATAF and LI-NEA buses will get you there. Tickets can be bought for 1.50 EUR a piece at cafés and Tabacco shops – just look for the ATAF sticker. Tickets must be validated inside the bus or you risk a hefty fine.
Remember that the buses do not run all night, so you may have to take a taxi back after a night out. Taxis are plentiful in Florence, but wait times can be long at peak hours. You cannot hail a taxi but must go to an official taxi stand or call 055 4242.
You will also see the locals zipping by on motorbikes and bicycles. Florence is a surprisingly bicycle-friendly city, although traffic can be a bit crazy. It is Italy after all. Renting a car is highly impractical in Florence, but can be a good option for day trips into the countryside.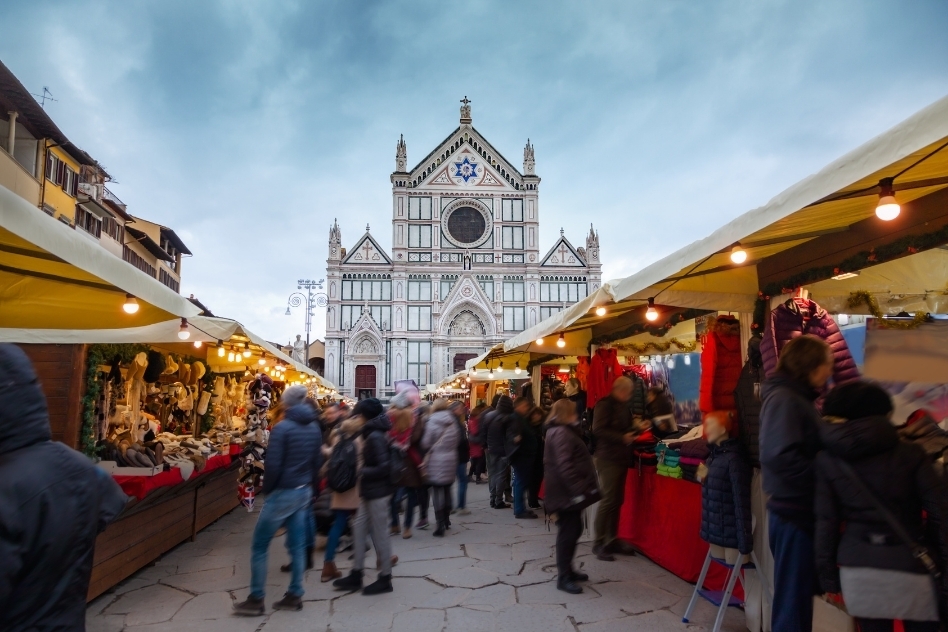 ---
What to Pack for Winter in Florence
Come well prepared for the fickle winter weather in Florence with waterproof layers. Although snow is unlikely, it might rain during your trip. We recommend taking a warm and waterproof winter coat as well as an umbrella. Scarves, gloves, and hats will keep you warm while you explore and make great accessories.
Good shoes are a must. You will walk a lot and the cobblestone streets can get slippery. Opt for warm, waterproof boots with a good grip. Long pants are a must for winter in Florence. To fit in with the stylish Italians, dark jeans are always a good option. You can definitely bring some dresses and skirts as well if you pair them with thermal legging or thick tights.
Go for elegant tops that can be layered like blouses, long sleeve t-shirts, sweaters, and cardigans. Cashmere and wool are great materials as they keep you warm and comfortable, while looking stylish.
To keep your valuables safe from pickpocketers, take a cross-body bag rather than a backpack. A backpack will make you stick out as a tourist and is easy to open from behind. To blend in even more with the locals, leave sweatshirts, athleisure wear and running shoes at home.
Florence is a great shopping destination, especially when it comes to Italian design and leather goods. So keep plenty of space in your suitcase to bring back some fashionable souvenirs.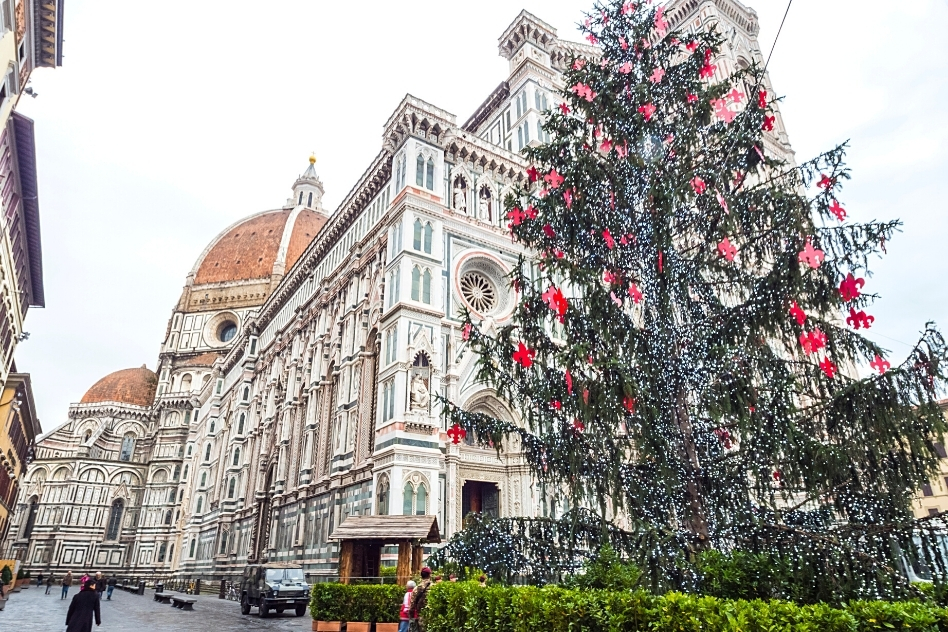 ---
Things to do in Florence in Winter
Florence is a gorgeous city with lots to do, year-round. Here are some of the main tourist attractions and specific winter activities that you cannot miss.
1. Walk through the City
Even in winter, it is a joy to walk through Florence. The sidewalks are not as crowded, but the buildings just as beautiful as in summer. Florence is a beautiful city with lots of historic buildings, narrow streets, and picturesque squares. The city itself is a piece of art, waiting for you to explore.
Definitely take a look at the Piazza della Signoria, which showcases copies of famous sculptures such as the David. But don't forget to wander into all the little side streets as well. One of the best ways to explore Florence and learn about the cities fascinating history is by joing a guided tour.
You can't miss the famous Ponte Vecchio, the oldest bridge in Florence. This iconic bridge is lined with jewelry shops, sparkling at you from all sides. You get the best view of Ponte Vecchio and the other beautiful bridges of Florence by strolling along the Arno river.
Cross the Ponte Vecchio into the north side of the city center and the hip neighborhood of Santa Spirito. This part of the city is slightly newer and popular among young locals for the cool bars and artsy boutiques.
Take one of these Florence Walking Tours
Private or Group Historical Walking Tour
Eco Tour of Florence by Electric Cart
Historical center Bike Tour
2. Visit a museum
Rainy winter weather is the perfect excuse to spend the day in a museum. And Florence is full of amazing museums.
Florence is the birthplace of Rennaissance so it isn't surprising that art and history are celebrated here. The Uffizi is a must-see for anyone who visits Florence. It is one of the most famous and important museums in the world and houses world-renowned artworks such as "The Birth of Venus". Book tickets in advance as they tend to sell out quickly.
Another can't miss is the Galleria dell'Academia. This museum is dedicated to sculptures and houses the world-famous David by Michelangelo.
Another famous resident of Florence was the poet Dante Alleghieri, who wrote the Divina Commedia and is widely considered the father of the Italian language. You can visit his former house, which is now a museum.
Some Popular Museum Tours
Bargallo Museum Tour
Child and Family-Friendly Uffizi Skip-the-line Tour
Evening Tour of Palazzo Vecchio
Galleria dell'Academia and Uffizi Tour
3. Check out a Church
Italy being a Catholic country, it is no surprise that Florence is filled with churches and chapels. The most famous church is the Cathedral of Santa Maria del Fiore, simply known as the Duomo. This enormous Gothic structure and the accompanying bell tower and baptistery were built in the 13th century. The literal highlight of the Duomo is the 15th-century dome and frescoes designed by Brunelleschi. You can climb the 463 steps to the top of the dome for an incredible view of the city.
But Florence boasts many more churches worth visiting, almost all of them with the gorgeous pink, blue and white marble facades that Florence is famous for:
Santo Spirito
San Marco
Basilica Santissima Annunziata
Some Other Popular Tour Options
Cupola del Brunelleschi Tour
Cathedral Square Tour with Dome Climb
Listen to beautiful arias at an evening of Opera in Santa Monaca Church
Explore the history of the Medici Dynasty
4. Shop for Souvenirs
Florence is a paradise for shoppers. From the elegant Italian design to high street stores, fashion is everywhere! Don't miss out on the great Italian leather goods on the markets either. You can buy leather goods and other local souvenirs at the following daily markets:
Mercato Nuovo
Sant' Ambrozia Antique Market
Visiting Florence in winter is an especially good idea for shoppers. In December, you'll be able to stroll through the Christmas markets and soak up the festive atmosphere. January is sale season and therefore the perfect time to find a bargain deal in Florence.
5. Visit the Palaces
Florence was once ruled by the powerful de Medici family. This Tuscan family of bankers worked their way up to kings, queens, and popes. The Medicis left a very visible heritage in the architecture of the city. It was them who built several churches, palaces, the Galleria degli Uffizi, and moved jewelers onto the Ponte Vecchio.
Their main palace was the Palazzo Vecchio on the Piazza della Signoria. Nowadays, it is the Florence city hall. Part of the building is open to visitors and definitely worth a peek to see the ornate decorations and priceless art.
When Palazzo Vecchio became too small, they built a new palace on the other side of the Arno: Palazzo Pitti. This huge palace is now a museum where you can see the rooms decorated as they were in the glory days of the Medici's. Palazzo Pitti also has a beautiful garden, the Giardino de Boboli, that's even impressive in winter.
Galleria degli Uffizi was once the Medici offices and once the new palace was built, they needed a way to get there without being disturbed by the commoners. So they built an elevated walkway from Palazzo Pitti, over the Ponte Vecchio to Galleria degli Uffizi. This walkway can be visited as part of a guided tour.
Because they didn't enjoy the smell rising up from the butchers that originally worked on the Ponte Vecchio, they replaced them with jewelers. A fascinating family for sure!
6. Eat Delicious Tuscan Winter Food
Tuscan food is among the best in Italy, which is saying something. The region has produced many popular Italian dishes and there is no shortage of good restaurants in Florence.
Try to avoid the restaurants right next to big tourist attractions, they tend to serve overpriced and low-quality food. Instead, go for local little trattorias and check out the Italian street food scene at Mercato Centrale.
Here are some great winter dishes and drinks to try when visiting Florence in winter:
Hot chocolate: so thick and creamy that you eat in with a spoon.
Gelato: it is never to cold for ice cream, especially when served in a hot cup of coffee (affogato) or hot chocolate!
Punch: the Italian version of mulled wine. Try the orange liquor Ponch al Mandarino or the spicy Ponch alla Livornese.
Soup: Tuscan soups are hearty and rustic, perfect to warm up after a cold winter day. Ribollita and Pappa al Pomodora are a must.
Bistecca alla Fiorentina: meat eaters will love this grilled massive steak (up to 2 kilos!)
Risotto: is there anything more comforting than a steaming plate of risotto? Maybe a steaming plate of mushroom risotto with Tuscan truffles.
Where to Stay in Florence
Luxury Hotels in Florence
The St. Regis Florence – Along the banks of the Arno River
Hotel Regency – Small Luxury Hotels of the World – In a quiet part of the city
Four Seasons Hotel Firenze – Next to Giardino della Gherardesca
The Place Firenze – In the heart of Florence
Budget Hotels in Florence
Hotel Machiavelli Palace – 14th-century convent with Florentine decor
Hotel Botticelli – Close to the center
Hotel Eden – Quiet residential area
Hotel Lombardia – Just opposite the Santa Maria Novella Basilica
Need more info on Florence? Here are some tips for how to avoid mistakes while visiting Florence!