Rainbow Mountain in Peru, also known as Vinicunca, is a place so beautiful I almost don't want to share it with people as it could get way too popular. While Machu Picchu is the most popular attraction, seeing colorful mountains in Peru was by far the best experience.
But, hiking rainbow mountain in Peru was without a doubt the high life of my trip and it definitely stole the show from the lost city of Incas. The hike to the top is no joke, but rewarding (hence why I don't recommend doing the alternative Rainbow Mountain trek).
Constantly changing weather conditions, combined with high altitude, can be a challenge for experienced hikers. But if done right it's manageable even for those who don't hike much. Especially since they built new trails and facilities around it.
Everyone who sees the photo of the colorful hills wants to see it. But after doing even the slightest amount of research many travelers give up on visiting Rainbow Mountain. Why is that?
Tips for Hiking Rainbow Mountain Peru
(updated for 2021)
TABLE OF CONTENT:
---
Where is Rainbow Mountain in Peru: Ausangate Trek
The most popular route to see Vinicunca is a 6-day hike called the Ausangate Trek in the Andes. Unlike the Inca Trail, no permit is needed. In fact, it's one of the quietest in the region and you'll likely see only a few hikers.
You'll hike through the fields full of alpacas and llamas, red mountains, snowy peaks or lakes. The views are unforgettable.
Ausangate mountain itself is considered a holy mountain by Peruvians and it's been a place of worship since pre-Inca times. The mountain is also notable for the Qoyllur Rit'I Festival held at the base at the end of May.
The festival draws over 10,000 pilgrims each year and celebrates the Andes mountains spirit and the apparition of Christ on the mountainside.
The trek isn't an easy one and your only option is staying in local houses and camping with no proper bathrooms on the way. As rewarding as this trek is, I only know that this isn't for everyone, especially those with health problems.
Here's the good news for you: there is an option of seeing the rainbow mountain in 1 day!
---
Rainbow Mountain Peru Day Trip from Cusco
Facts:
Vinicunca (Rainbow Mountain) is in the Willkanuta Mountain Range, nestled in the greater Andes Mountains, just 3 hours away from Cusco.
Starting altitude:

4,326 m / 14,189 ft (Cusco altitude 3,399 m)

Max. Altitude: 5,200m / 17,060 ft
The best time to hike Ausangate is during the dry months between May and September. The shoulder months of April and October are also pleasant.
The Ausangate local community is one of the only few shepherding (raising llamas and alpacas) communities left in the world.
While Rainbow Mountain didn't exist until 2015, recently the Rainbow Mountain trail became so popular that locals and tourism organizations around the world are worried that it could soon be completely destroyed.
The NYT raised the questions: Will Tourism Ruin the Rainbow Mountain of Peru? and frankly, I wouldn't be surprised if it happened sooner than later.
Therefore if you go, leave the smallest footprint you can. While you could go off the path back in times when I went, with over 1000 people per day on the site, it's not advised these days. Don't even think of bringing things like baby strollers (yes, I was asked about it many times) – this is a hike in the mountains, not a quick viewpoint.
---
Booking Online vs. Booking in Cusco
Many travelers prefer to pre-book all excursions in advance, and while it's totally understandable, this isn't always the best option when it comes to Vinicunca mountain. You often get overcharged this way.
If you just want to go, whether it's a small or big group, then instead of pre-booking online, wait till you get to Cusco. You used to be able to save over $100 by booking in person directly in Cusco (60-100 soles = $17-40). But you won't know exactly what will you get.
In very high season Rainbow Mountain tours might be sold out. A lot of tour operators branch together and send everyone on the same bus, serve them the same food and hike with the same group.
If you decide to book the tour online (or in-person) make sure that you can change the date of the tour last minute. Why is this important? One day you get great views, another there is a snowstorm and you don't see anything. If it's bad weather, you won't be able to see much.
The weather cannot be predicted more than a day in advance so when you book the last minute you can actually make sure you go when it's nice and sunny out. I actually had to change my original plan and do the hike on a different day, as it was hailing and snowing for a few days.
---
Alternative Rainbow Mountain Mini-Trek
From 2017 many tour operators started offering a trip to an "alternative Rainbow M0untain" for those who aren't up for a day of hiking. While it might seem tempting for those who don't usually hike as the trek is only 20 minutes long, keep in mind that this isn't a trip to the actual Rainbow Mountain.
You will see some rainbow mountains, but the route you'll take is not the same. While due to its popularity the 'main' rainbow mountain got crowded, if you start hiking early you will have it almost to yourself.
Plus, the best part of the trip wasn't actually seeing the rainbow mountain but enjoying the stunning scenery, hundreds of alpacas around and the hike itself. You won't get the same experience by doing the alternative tour.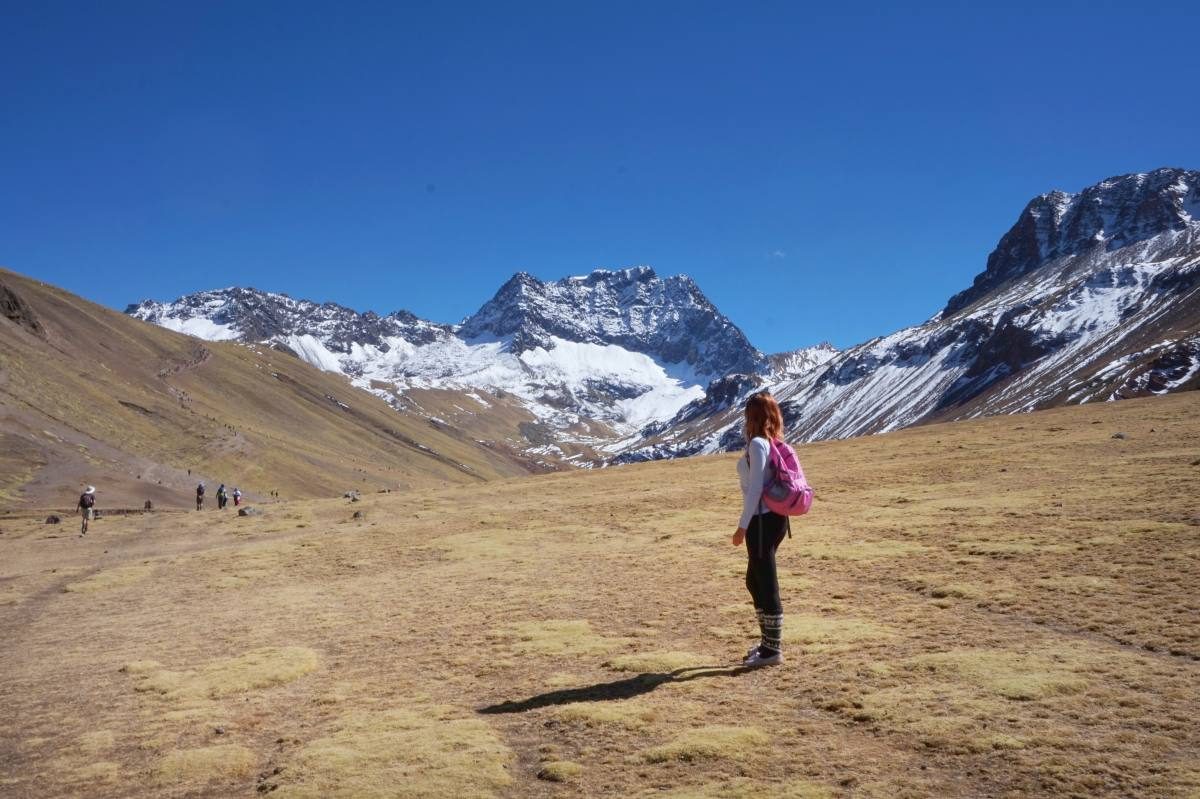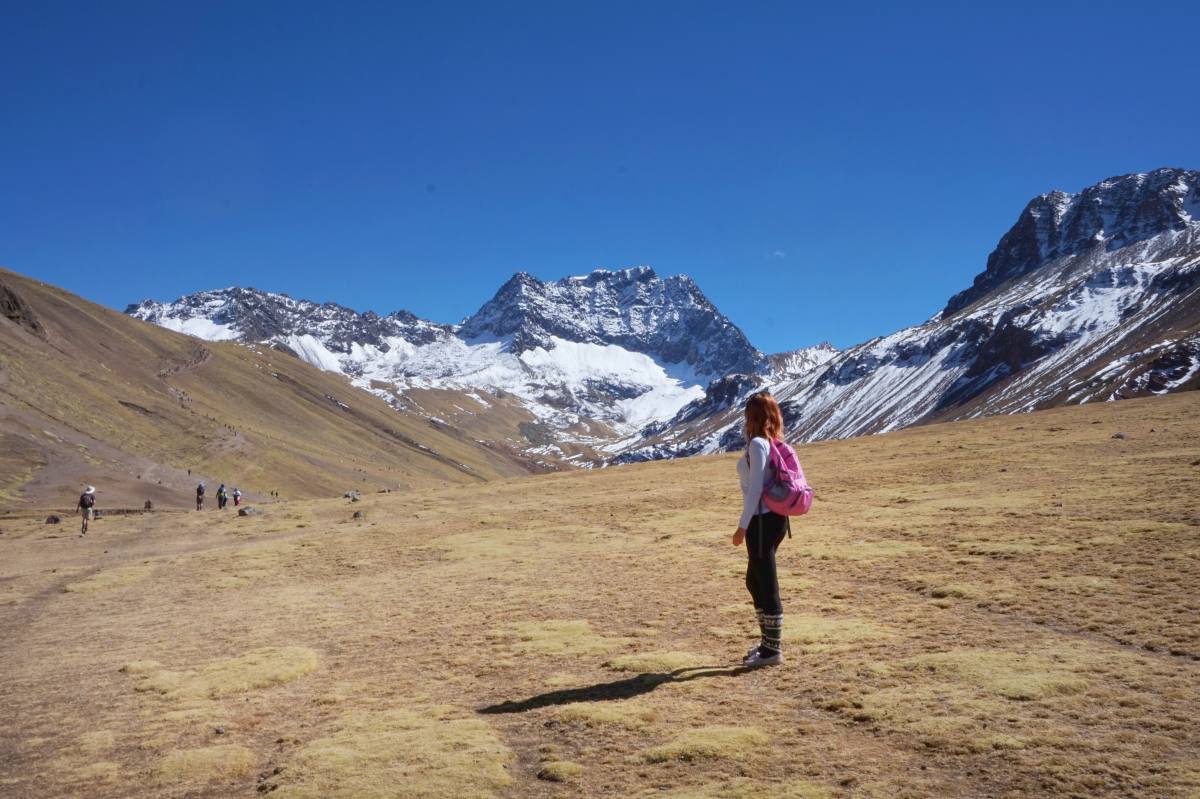 ---
---
What to Pack for Rainbow Mountain?
It's impossible to dress appropriately for Rainbow Mountain. When you leave Cusco at around 2:30 AM you want to wear a few layers, gloves and you're most likely going to be freezing. When the bus dropped us off at the beginning of the trek I was still shaking and when I saw some people in shorts and t-shirts I thought they were crazy.
However, later in the day, the sun bears down bringing skin to the boil and those hikers in shorts were actually properly dressed. Well, they were for when I visited, but the day before hikers experienced snowstorms, so everything is possible. Here what I'd recommend packing (especially if you want to travel with a carry-on only):
Small Backpack – Pink in my case 😉
Comfy Shoes – I trek in sneakers as I find standard hiking shoes very uncomfortable, but be prepared for a lot of walking.
Warm clothes – Somehow I received many comments from readers who thought I looked very fashionable on that hike. I was wearing the simplest leggings, undershirt, thin sweater. I also bought an alpaca sweater, alpaca socks and alpaca gloves that I got in Cusco. Alpaca clothes are the best invention ever: warm light and cheap! My secret is out 😉
Rain jacket or poncho – In case of a snowstorm.
Hat and sunglasses – For the sun and snow.
Sunscreen
Lip Balm with Sunscreen – Don't forget it! I burned my lips so badly!
Lifestraw Bottle – this won't be much help at the painted hills of Vinicunca, as there's no source of water anywhere.
Coca candy for the altitude – If you're afraid of the altitude you can order them from Amazon in advance, but they're widely available in Cusco.
---
Renting a Horse, Toilets and other things…
As soon as I hopped out of the van at 7 am I saw a bunch of local homes surrounded by hundreds of llamas and alpacas! For an animal lover like me, this was an incredible treat. I was served hot breakfast coca leaves tea to get the day started and got to meet the other hikers.
People in my group weren't hardcore hikers for sure, in fact, quite a few of them have never seen a squat toilet. I was actually surprised that along the trail there were squat toilets everywhere, as I expected none of them.
After we were well fed and mouths were stuffed full of coca leaves, we started our first hike. Our guides let us go at our own pace and I started walking with some new friends I made at breakfast. I think it was good that our guide allowed going at our own pace. Some people from my guide were very fast on horses and other very slow due to the lack of hiking experience and altitude sickness. Of course, various guides came to check on us many times.
I had more than enough time to stop and take photos along the way and no one limited me on the top of the mountain. I wouldn't want a guide to tell me that I only have X amount of time and then we have to go down.
My group also got split into two different minibusses, as some of us finished the trek around 3 pm, while others reached the bottom of the mountain around 7 pm. I think it was a great idea, as not everyone hikes at the same pace.
Operators provide the horses to rent but unless you're injured and need a guarantee of a horse you don't have to ask for it in advance. My guide told us that if we want a horse for an entire way up is 75 soles ($22), but I actually hiked most of the trail and only decided I'd like a horse for the last part of the trek which I paid 40 soles for ($12).
Many horsemen were walking the trail along with the hikers, so I found myself a horse within a few minutes. However, certain sections of the trek are so steep that you'll need to get off and walk beside your horse.
---
Where to Stay in Cusco Before Hiking Rainbow Mountain?
Finding accommodation in Cusco isn't a problem, but places do get booked up. Do need to pre-book it in advance. Everyone can find something for themselves, as the town offers luxury hotels, cheap hostels, and simple guesthouses.
One tip: many budget places don't have central heating and use fireplaces instead. As a result, quite often the temperature in the room is the same as outside (read: freezing at night!). Here are some options for every budget:
Marriott El Convento – Super central hotel in Cusco: expensive, but well worth it.
Novotel Cusco – Luxury hotel with a beautiful courtyard. Slightly cheaper than Marriott.
Kokopelli Hostel – Hostel & Budget private rooms. Most dorms are heated and have a private bathroom.
Ecopackers – Cheap hostel with an incredible atmosphere. Rooms do get cold at night, but if you're equipped with alpaca socks you're going to be just fine.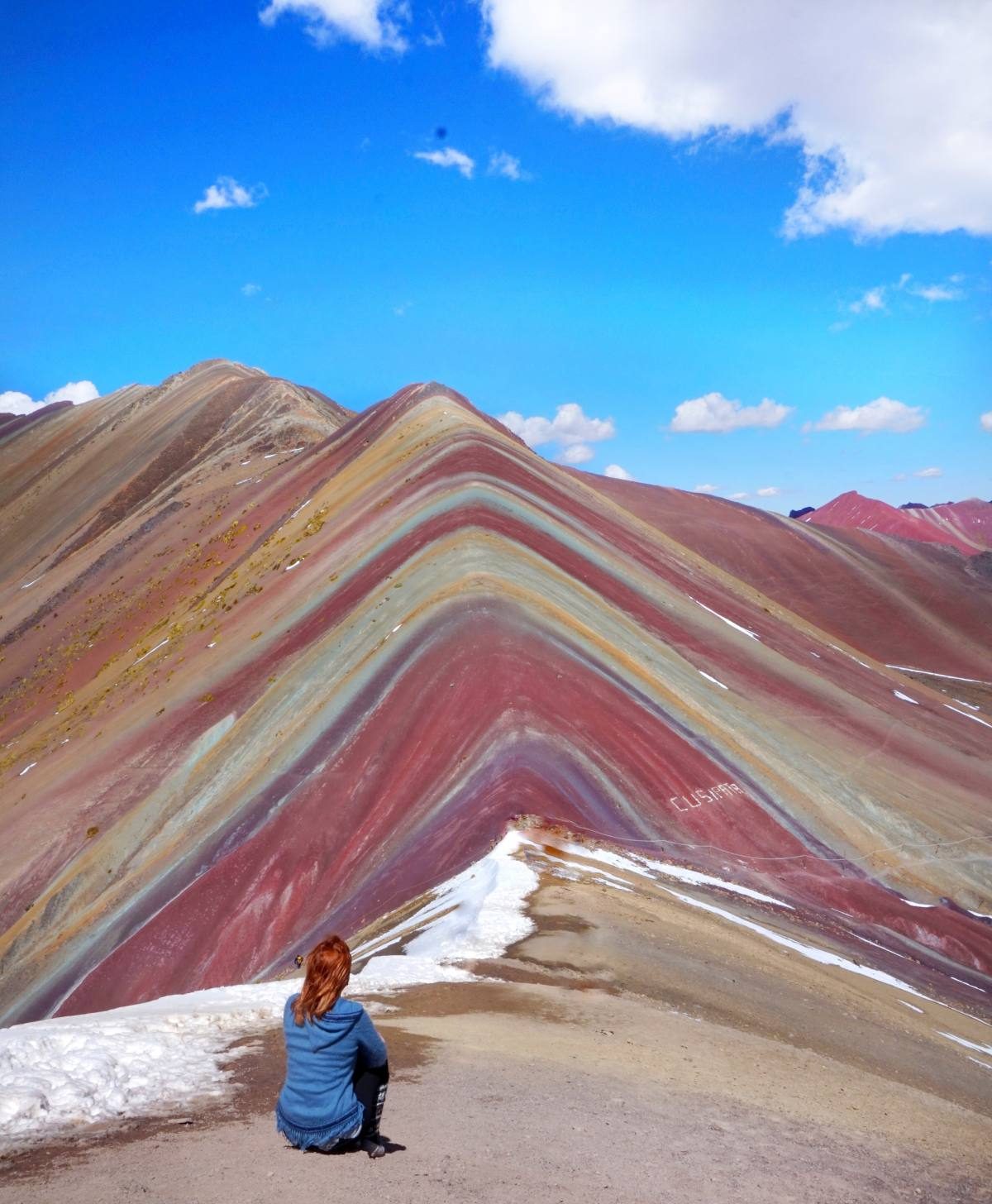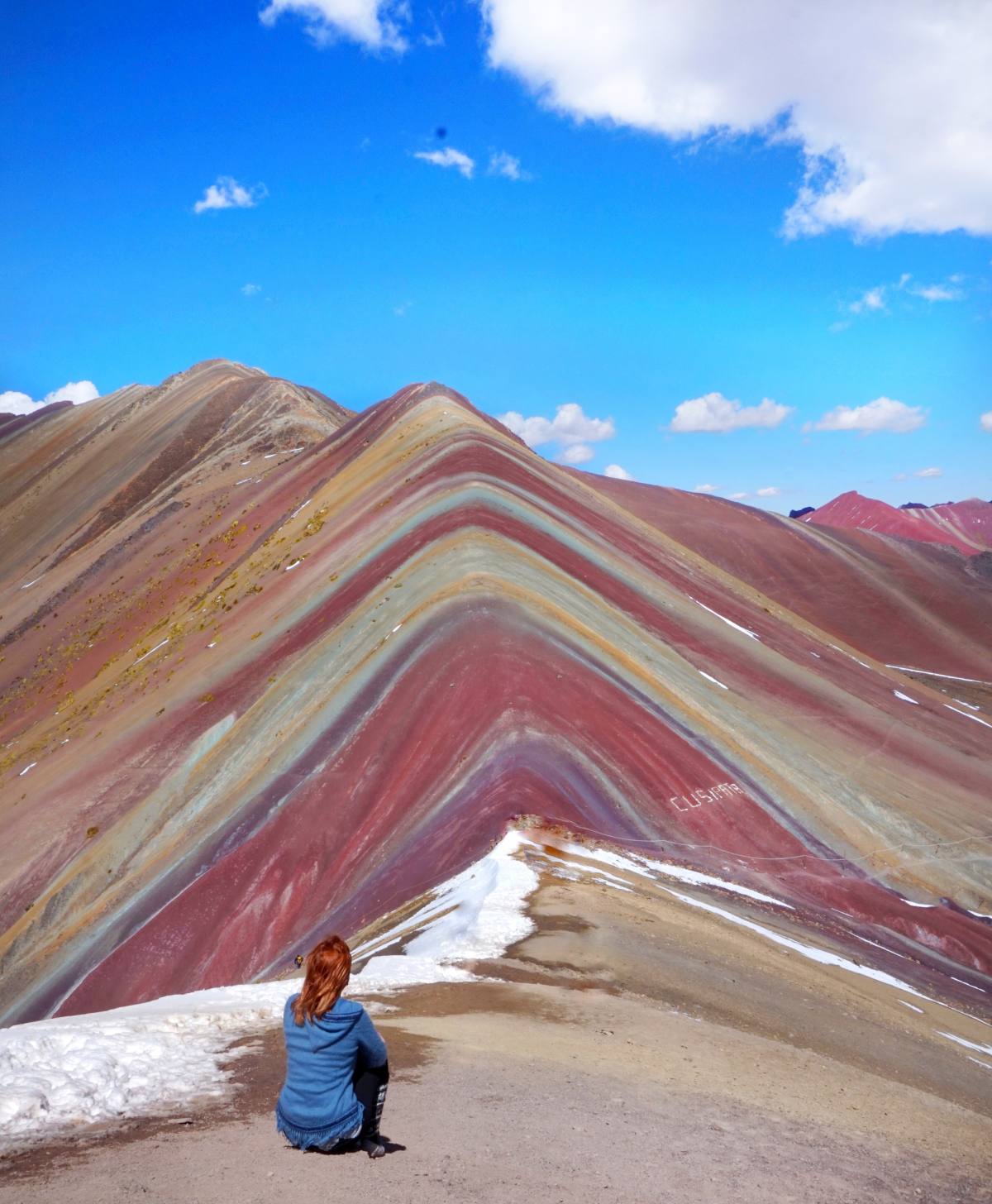 ---
Arrange Your Travel Insurance
Don't forget to arrange health insurance before heading to Peru. The easiest and most reliable travel insurance that works with high altitudes such as Peru is World Nomads. Get it before your trip to avoid unnecessary troubles that might ruin your holidays!
---
I highly recommend hiking Rainbow Mountain, even if you're not an experienced hiker. The trip is remarkable and definitely unforgettable. While Machu Picchu might be the most famous landmark of Peru, this one is definitely the most memorable for me.
Any questions about Vinicunca Rainbow Mountain? Ask below!