If you look on a map, Puglia is the "heel" of the Italian boot and it's an incredible region. But its best-kept secret are beaches in Puglia by the Adriatic Sea on one side and the Ionian Sea.
Are there sandy beaches in Puglia? Yes! Beaches in Puglia aren't all rocky, you can find gorgeous white sand beaches in the area. Plus, you can swim for miles.
How to Visit the Beaches of Puglia, Italy
While you can visit towns with public transportation, to see some of the best or secret beaches in the region you're going to need your own wheels as I advise in my Puglia itinerary.
You can rent a car from Brindisi Airport easily, or if you're combining the trip to Amalfi Coast (which many people do) you can rent at Naples Airport and return it in Brindisi, or vice versa.
Especially if you're coming to Puglia during the busy summer season you must book your car in advance. When we visited in late May (which was not even the peak season) rental cars were already fully booked and people were turned away.
There are various free beaches in Puglia (spiaggia libera), but there are also many lidos that are great for families. Famous from Italian photos it's rows of tightly packed sun-loungers paired with colorful umbrellas – that's lido and they cost money to rent.
You don't always HAVE TO rent them, but as they care most of the beach you'd be squeezing in between people very uncomfortably, so be prepared to pay because this is often Italian reality.
Some lidos require advance booking to secure your spot. To get an idea of the beach clubs available in Puglia and book online. check out Spiaggie.it.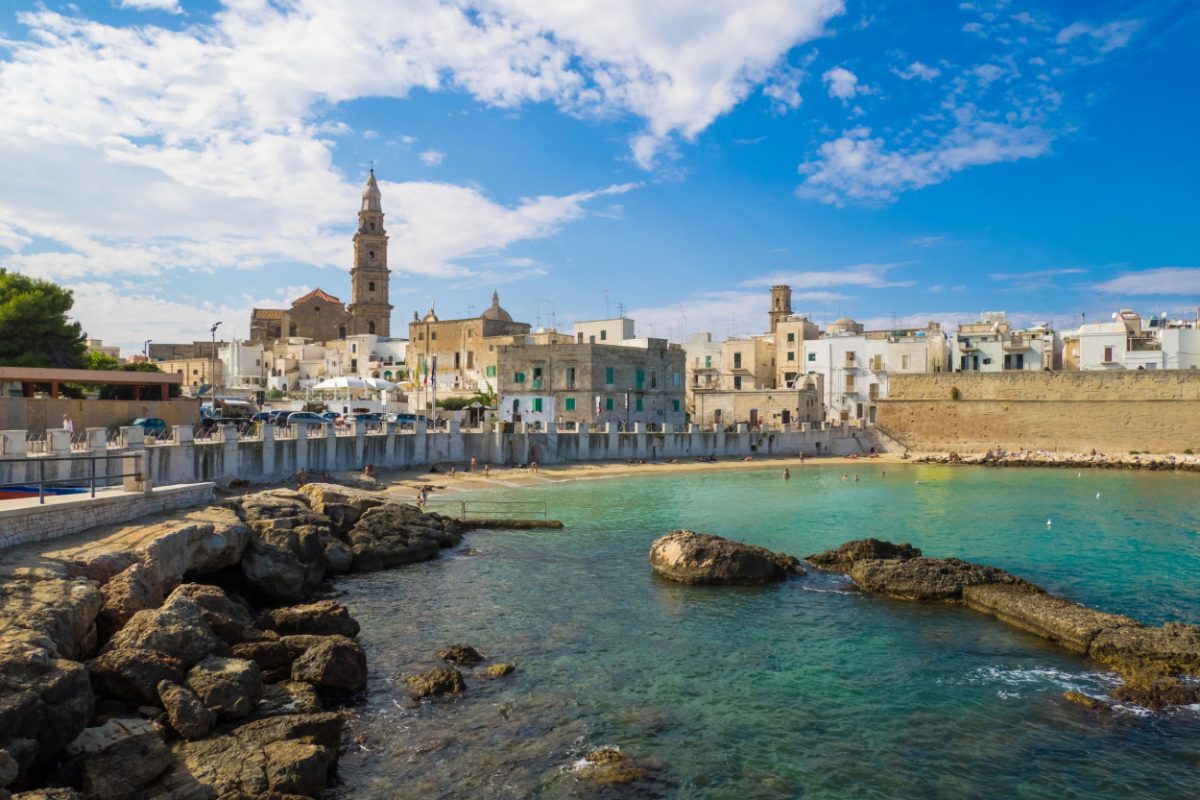 ---
Where to Stay in Puglia for Beaches
Non-beach lovers and those interested in exploring as much as they can in Puglia often opt for staying in Ostuni. Due to its central location, it's the best place to stay if you're not willing to change your base during your time in Puglia.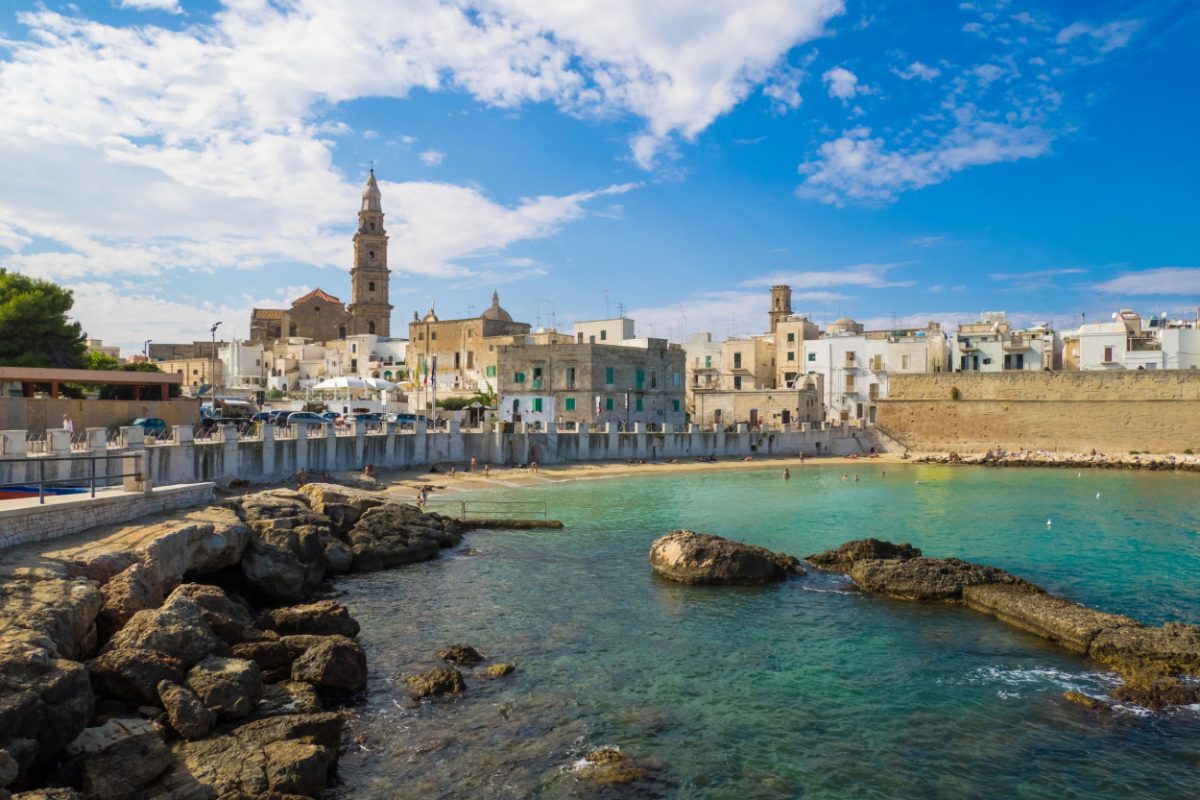 What is the best beach town base in Puglia? If I had to pick one I'd probably say Monopoli, but honestly anywhere between Monopoli and Brindisi also offers great options.
In that area the best hotel would be Canne Bianche Lifestyle Hotel, but there are various smaller boutiques and apartments right in Monopoli – such as Bellariva Monopoli B&B e Relax or Hotel Don Ferrante.
There's also a fantastic hotel in Polignano a Mare called Grotta Palazzese Beach Hotel.
---
---
Top Puglia Beaches and Swimming Holes
Cala Porto Beach in Polignano a Mare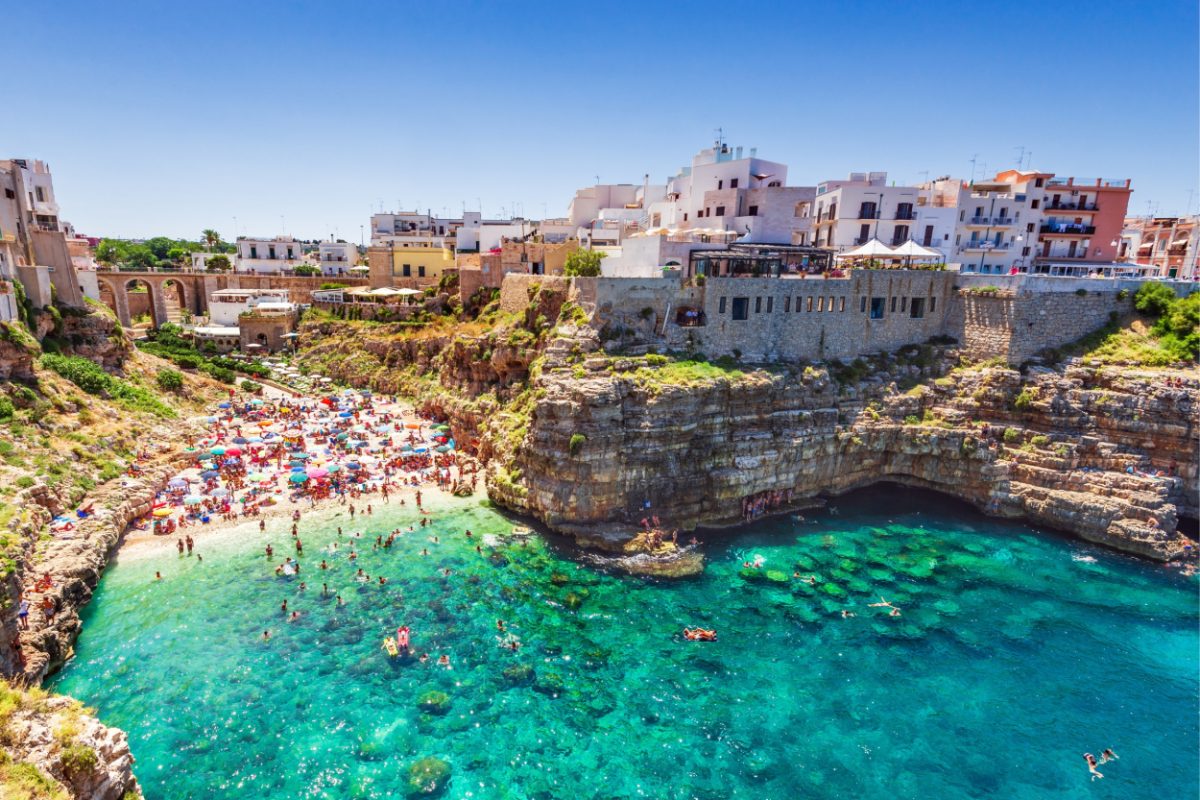 The beach is called Cala Porto or Lama Monachile beach , named after the bridge that must be crossed to reach it. It's probably the most popular beach from photos. It's Puglia's most iconic beach and as a resut one of the most crowded one.
This is a pebble beach, so bring a chair to sit on. You can visit it on feet if you're in Polignano a Mare and walk aroudn as there are various restaurants in the area.
---
Torre Lapillo Bay in Porto Cesareo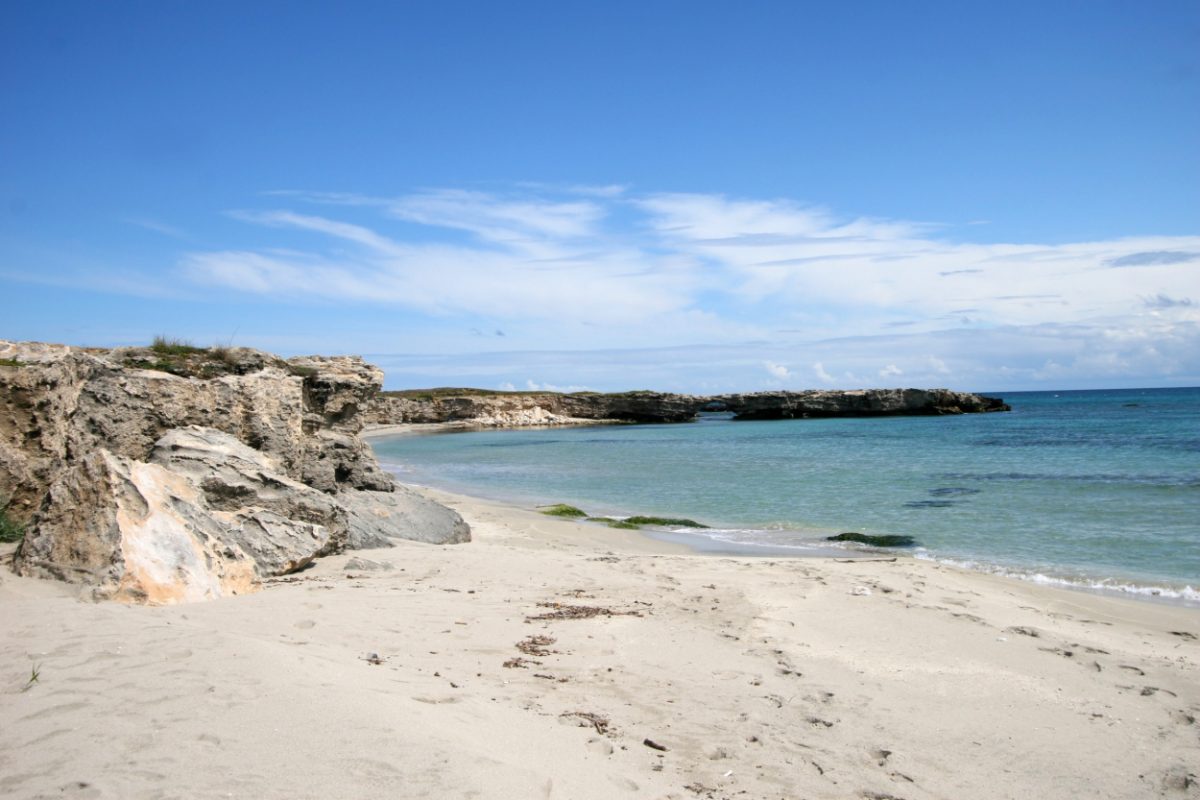 The most beautiful beach in Puglia, as it has white sand beaches combined with shallow waters of the bay that are usually calm. The 4 kilometers of sand dunes have plenty of space for everyone.
Torre Lapillo Bay can be quite busy, so plan to arrive early.
---
Pescoluse, Leuca (The Maldives of Salento)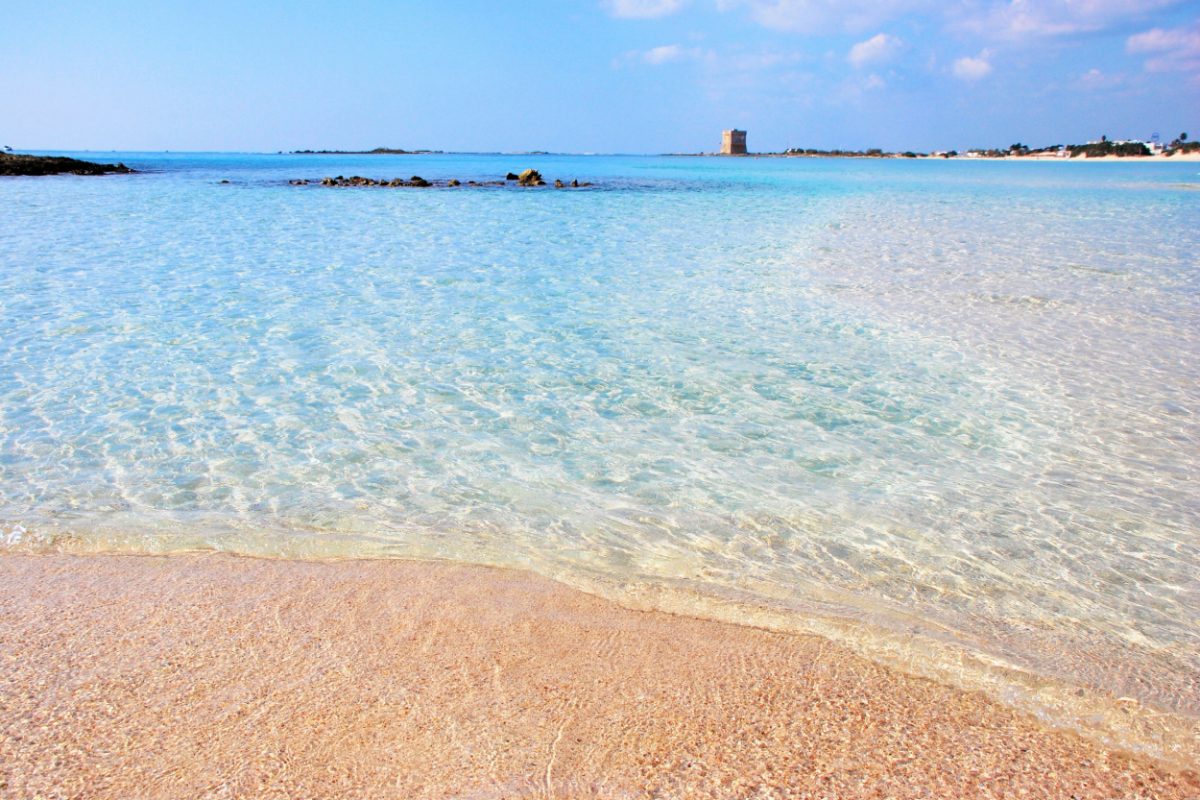 Pescoluse gets its name from the small sandbanks off the coast, but some like to call it Maldives of Salento. It has shallow waters but it gets packed even at 9 AM so save your spot super early.
---
Pane e Pomodoro Beach, Bari
This small city beach is not the most beautiful, but functional as it's sandy and nearby a road. There's no lido here so it's entirely free to enter and set up your own spot.
It's obviously busy over the weekends, but nothing too crazy.
---
Baia delle Zagare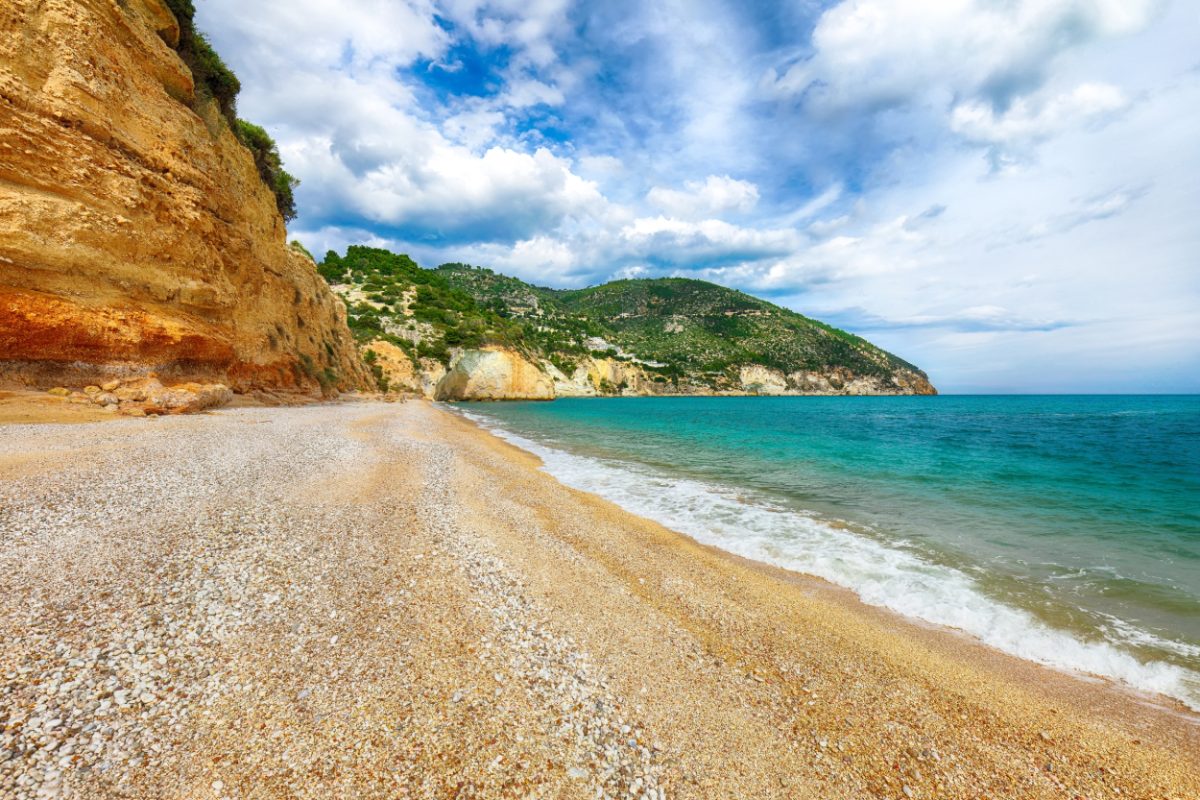 Baia della Zagare is the most beautiful beach in Puglia, but yet rarely mentioned anywhere becuase everyone head south of Bari but this beach is north of Bari. The bay is composed of three different beaches with partial shade, due to being surrounded by high white cliffs. It makes it a perfect beach in Puglia for families.
Nearby, there's also Spiaggia Di Vignanotica which is immensely beautiful as well. It's a farily isolated beach with a jaw-dropping white cliff backdrop, but there are several facilities and lifeguards on duty.
---
Mora Mora Beach
Nearby Salento you'll find the tranquil oasis that is Mora Mora beach. It's sandy, long and there are facilities nearby.
Mora Mora Bistro' del Mare is an upmarket beachfront bar and restaurant there that you can eat at. There are plenty of sun loungers on the main beach, but there are also more secluded and wild nooks if you walk around.
---
Grotta della Poesia, Roca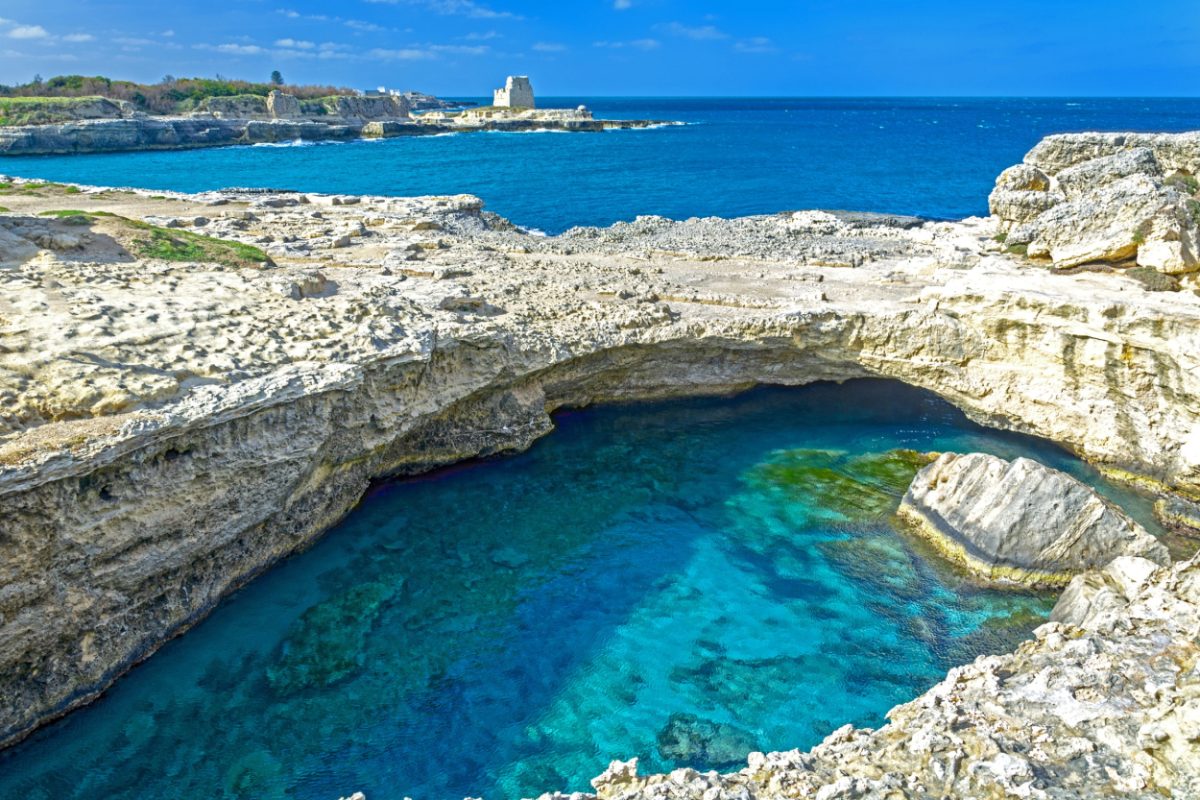 Grotta della Poesia might not be a beach destination, but it is an insanely beautiful swimming hole. Just north of Otranto, it's THE spotfor lounging and cliff diving.
The swimming hole gets its name from its heart shape, which you can see from above. Even if you don't plan to swim, go see it as it's separated from the sea by a thick sheath of rock that doubles up as an excellent viewing.
---
Beach of Purity, Gallipoli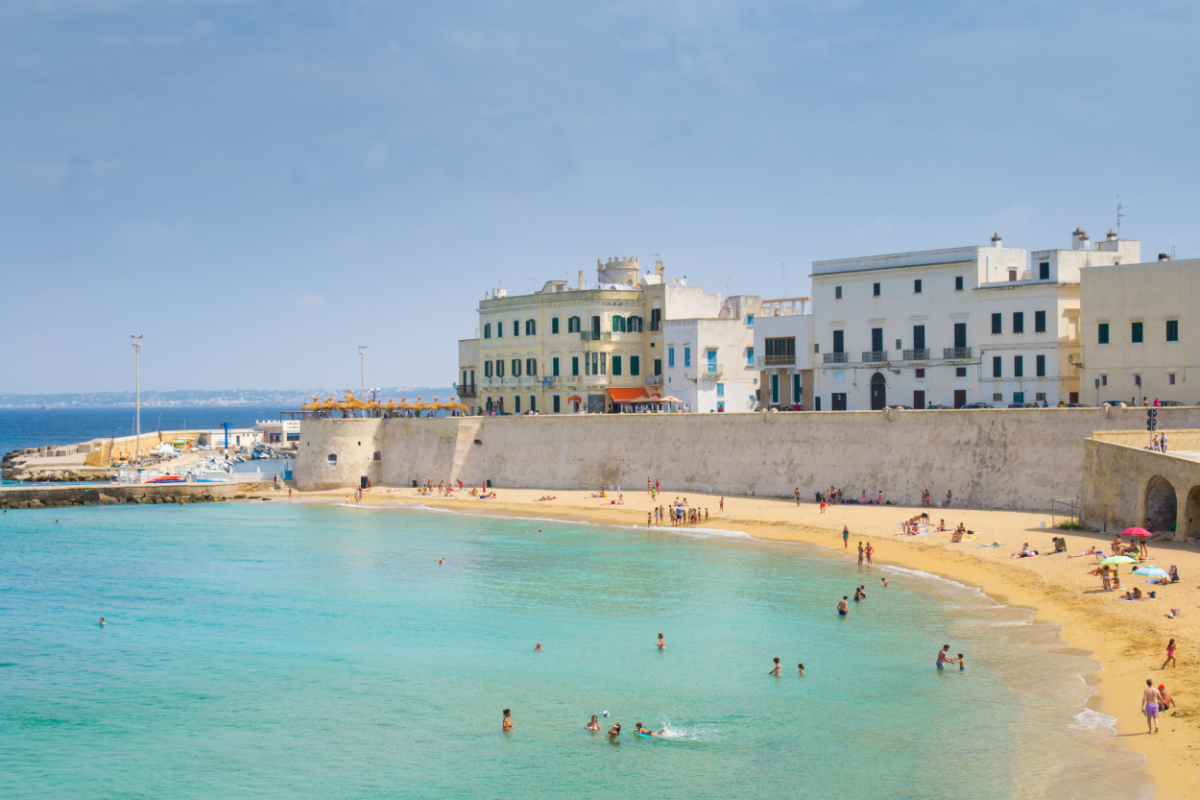 In Gallipoli there are beaches on the shore and if you book a hotel that's close you can just walk to the beach, which is a huge bonus of already interesting and historic city.
The main city beach is called Spiaggia della Purità. The whole beach is free, but you can usually rent umbrellas and chairs.