The beautiful and snow-capped Dolomites are a subsection of the European Alps, located in northeastern Italy. These mountains are a UNESCO World Heritage site, and the scenery around them is stunning.
In addition to the majestic limestone mountains and alpine sites, there are also interesting historical and cultural influences in the Dolomites. This was a key battleground during World War I, and the region is still scarred by this conflict. The Dolomites also serve as a border between Italy and Austria, and the area is heavily influenced by both languages and cultures.
Given its Alpine climate, the Dolomites are a great destination for outdoor activities, including hiking. On a trip here you will certainly spend time in the beautiful outdoor scenery, which usually includes a wide variety of flowers and livestock.
The Dolomites are very kid-friendly, and all hikes in this article can be completed by families with kids of all ages. In addition, several of these routes are also possible with strollers! For more information about travel strollers, see my post with reviews.
Enjoy these travel tips for enjoying the Dolomites with kids.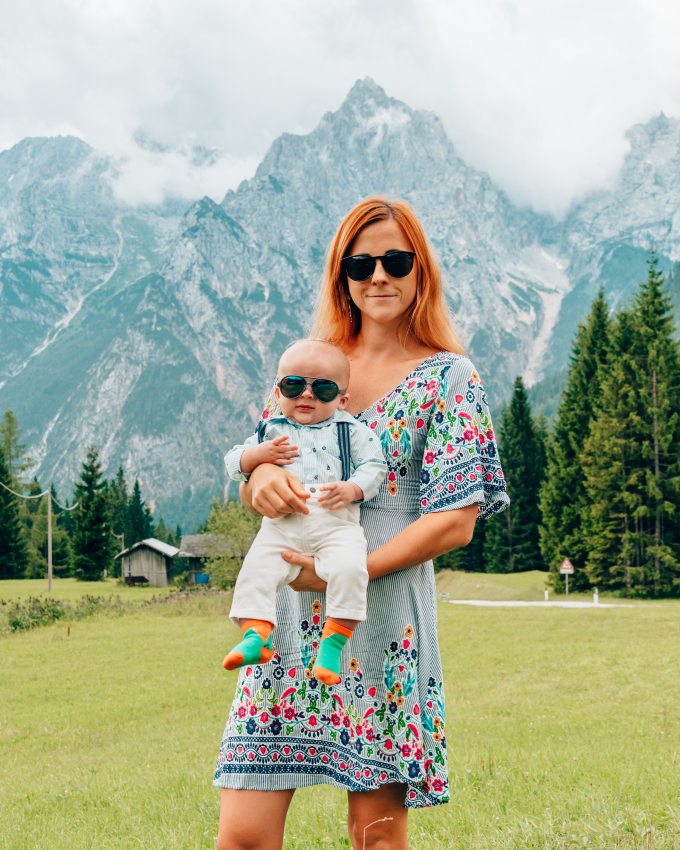 Best Places to Visit in the Dolomites with Kids
I don't think there's a bad place to stay in the Dolomites with the kids. Personally, I enjoy Cortina a lot as it gives me the best of both world: access to nature and the amenities of the town.
Val Gardena is also a great option as it gives you access to many easy hikes. The same applies to Val di Fassa. I wrote more about where to stay in the Dolomites here.
Logistics about Dolomites with Kids
All of these hikes are best done between late spring and early fall, as snowfall will make many paths inaccessible. However, if you travel to the Dolomites in the winter there is still plenty to do (there are many ski resorts in this region).
For hiking, avoid the height of the summer if you want to steer clear of crowds! None of the hikes below require equipment, but you should pack layers of clothing, water, snacks, and a map/guide book (such as this one). Plan your hikes ahead of time in order to stay safe and have the best experience.
You will see that many areas in the Dolomites use German, French, or both. You will also find English speakers. Don't be confused if many places have two or three names, this is usually just the same name translated into several languages.
One keyword that you will encounter a lot is "rifugio" which means "refuge" and refers to mountain huts that often double as bathrooms, restaurants, hotels, and shops.
The Dolomite region has decent public transportation, particularly buses. However, you may want to rent a car for easy access and the ability to travel between different towns and villages. In addition, buses are more frequent in the height of summer and less frequent during the off-season.
You will also need to rely on cable cars and funiculars to get up the mountains. The transportation service website provides additional information as well as public transportation routes.
The hikes listed below are roughly in order from easier and shorter to longer and more challenging. However, all of these routes can be hiked with children! Stroller hikes are indicated.
The whole family will be sure to enjoy your adventures in the Dolomites!
---
1. Badia (Pedraces)/Sompunt Lake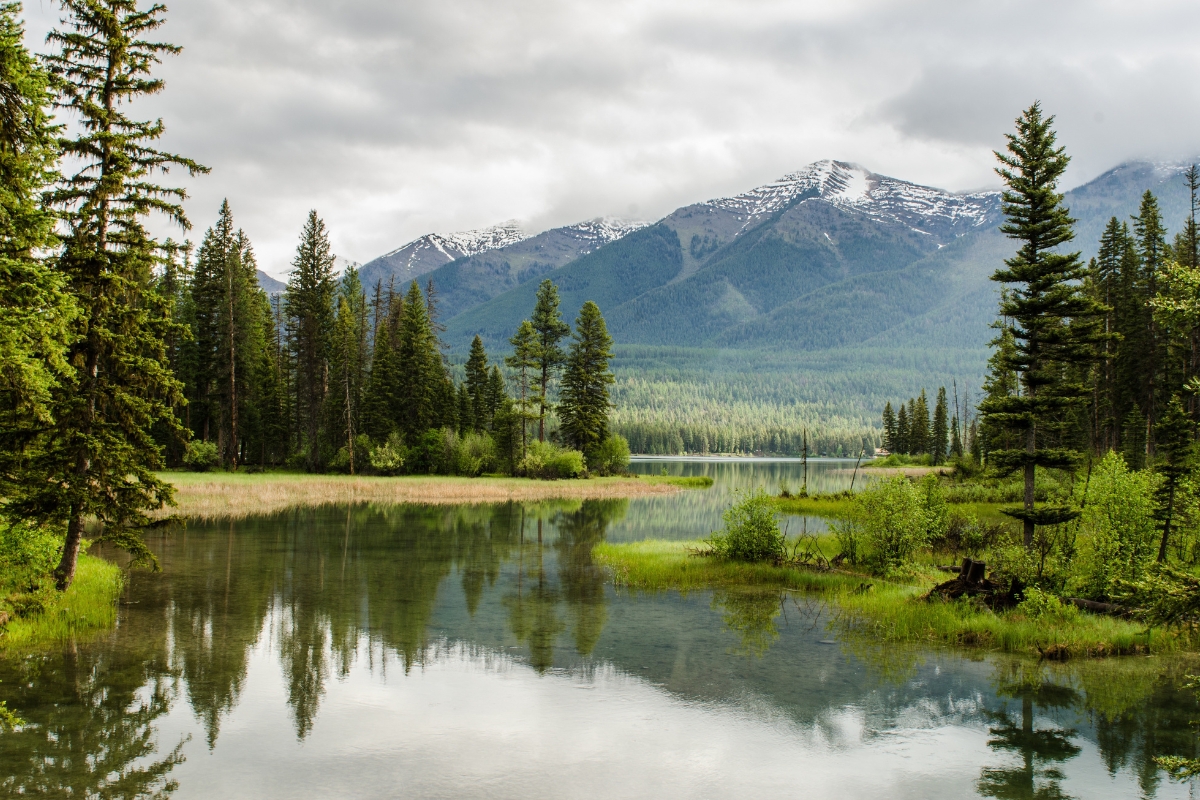 The Badia (Pedraces)/Sompunt Lake hiking route is one of the shortest on this list, and should only take about a half hour. This option is located near Alta Badia, a Dolomite ski resort. This is a beautiful valley area that offers some of the best food in the Dolomites (with three Michelin star restaurants!).
Sompunt Lake (or Lago Sompunt) is a quiet lake that comes alive in winter, when it freezes up and becomes an ice skating rink. In the warmer months, it's fairly unpopulated.
Start your journey at the Badia Municipal Offices and follow Pedraces Road to Runcac Road. You'll pass several farms and reach Sompunt Lake, where you will need to reverse your route to make it back to your car/transport. Don't miss the Paraciora-Sompunt Deer Park, which also includes other animals and a playground for children.
Budget Friendly Hotels To Stay Near Alta Badia:
Dolomites Wellness Hotel Savoy • Garni La Ciasota • Alpine Hotel Ciasa Lara
2. Giro delle Malghe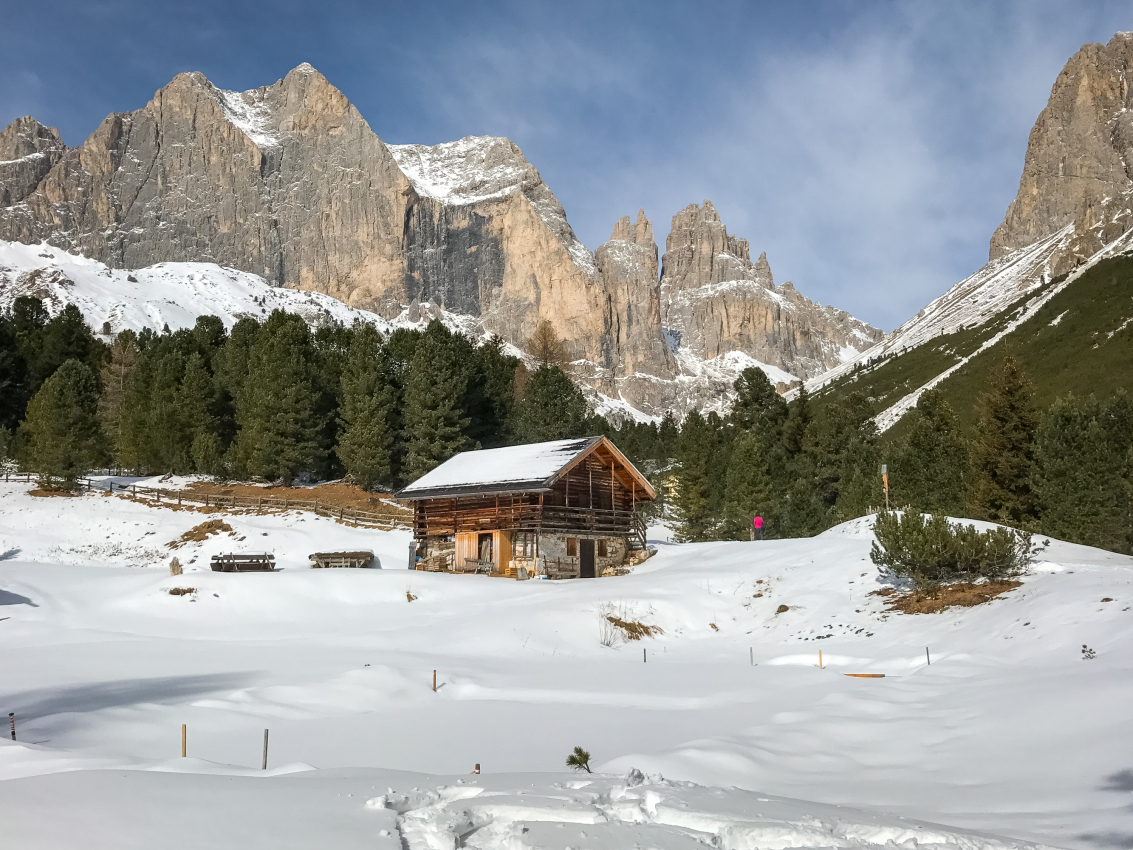 This trail is also known as the "Tour of the Alpine Huts" and is a great easy option for young children and parents with strollers! Highlights of this route include meadows and mountain goats. The Giro delle Malghe takes less than an hour and is almost entirely flat. You will see several picturesque mountain huts along the way (hence the name!).
Start your walk at Passo Staulanza heading towards Val di Zoldo. The road takes you to either Malga Fontanafredda or Malga Vescova, both farm shops/restaurants. Both options have grazing animals (primarily goats and sheep) and sell food. You will need to reverse your walk in order to get back to your starting point (and transportation). There are also options to extend this hike (but without a stroller).
Cheap Places To Stay Near Passo Staulanza and Val di Zoldo:
Rifugio Palafavera • Hotel B&B Lorenzini Ski • Hotel Alpenrose
3. Lago di Santa Caterina (also known as Auronzo Lake) Loop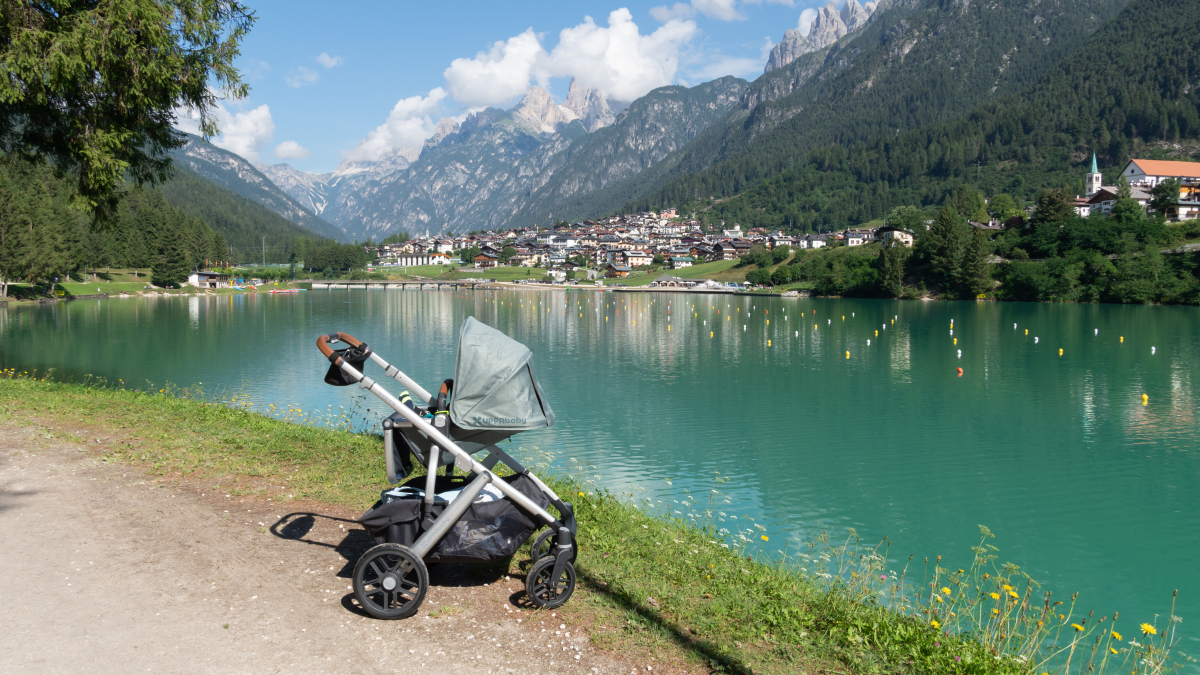 This hike takes you around a beautiful lake in the Dolomites, that's almost always included in day trips to the region from Venice. It is a quiet region with a small village, located about a half hour from Lake Misurina, and close to another hike, the Tre Cime di Lavaredo (see below).
This is a great option if you want to avoid tourists and more heavily trafficked areas. The Lago di Santa Caterina Loop is approximately 1.8 miles (3 km) long and should take around 1 hour.
Start your hike on Zardus Road in Auronzo di Cadore (the municipality). Follow Zardus and cross over the bridge to the other side of the lake. Continue your hike for about half a mile until you get to another bridge on your left. Cross this bridge and loop back up the other side of the lake to your starting point.
Affordable B&Bs and Hotels Near the Zardus Road starting point:
Albergo Miravalle • Albergo Garni Barancio • Hotel Centrale
4. Croda Rossa
This route begins at the Croda Rossa funicular station in Sesto, and takes around 1 hour. This hike is a little over 1 mile (2 km) long and is an easy option. Despite its ease, there is a lot to see and do via Croda Rosa, including animals, picnic areas, and a playground. Please note, this hike requires a funicular ride.
Start your journey at the Croda Rossa funicular and take it to Croda Rossa meadow. Once you arrive at the meadow, look for trail 19 which begins near the playground. Follow trail 19 around the meadow. You will need to take the funicular back down to your car/bus.
Popular Hotels Near the Croda Rossa Funicular:
Residence Bad Moos • Dolomitenhof & Chalet Alte Post • Hotel Kreuzberg Monte Croce
5. Cabin at the Falls/Val san Nicolo
The Cabin at the Falls/Val San Nicolo trail can be hiked with a stroller, so this is an excellent option for a family hike in the Dolomites! This route includes views of meadows and several mountains, including Undici Peak, Dodici Peak, the Monzoni Mountains, Costabella, Uomo Peak, and Col Ombert. The Cabin at the Falls/Val san Nicolo hike is a short hike taking less than 2 hours, depending on how far you go into the valley.
It's best to start this hike from Pozza di Fassa Valley, and head towards Val San Nicolo. You will need to reverse your route or arrange transport somewhere in the Val san Nicolo. Make sure to stop and admire the beautiful wildflowers!
Good Hotels near the Pozza di Fassa Valley:
X Alp Hotel • Soggiorno Dolomiti • Hotel Castel Latemar
6. Arabba Panorama
This hike is a great option that includes beautiful views at a high altitude, without the steep incline/decline of some trails. The Arabba Panorama also provides excellent views of the highest mountain in the Dolomites, Marmolada. This route takes approximately 3 hours and stretches for 4 miles (6.5 km).
While the Arabba Panorama is good for kids, it's definitely not stroller accessible. Please note, this hike includes a cable car (Arabba-Porto Vescovo Cable Car) ride to the start. The cable car is accessible by car or bus, runs every 30 minutes, and costs 10 EUR for adults and 5 EUR for kids (one way).
After you take the cable car, start your journey on trail 601 towards Col de Cuh. Follow the path to Passo Pordoi. There are cafes, bathrooms, and shops along the way. To get back to the cable car, you can backtrack and hike the Arabba Panorama in reverse, or you can take a bus, which is available in Passo Pordoi.
Good Hotels near the Arabba Panorama:
Hotel Villetta Maria Cottage • Hotel Grifone • Hotel Sassongher
7. Adolf Munkel Trail Loop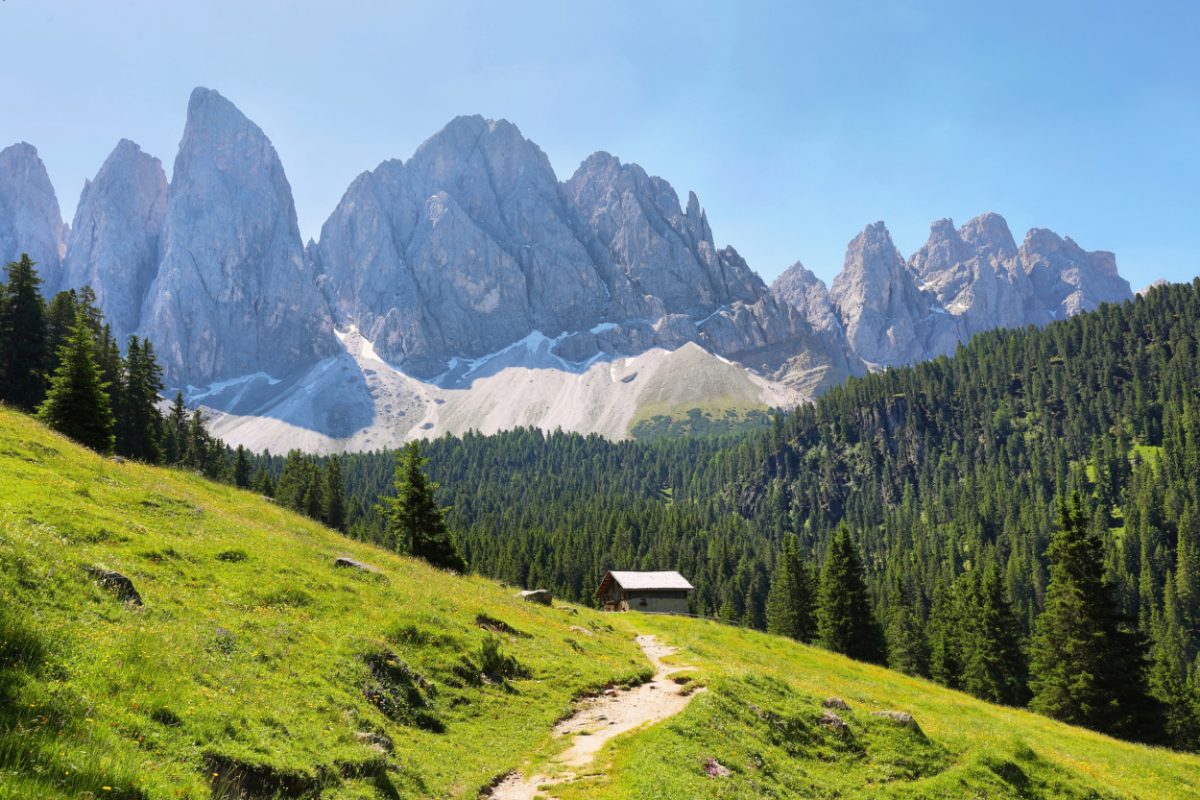 The Adolf Munkel Trail hike is an easy to moderate circular route that takes approximately 3 hours to complete, and is around 5 miles (8 km) long. This route takes you through a nature park and UNESCO site. The nature park includes a beautiful forest, which is unique to this hike.
Parking and busing is available at the starting point at Zans (Val di Funes/Villnoss Valley). This hike is a scenic option that takes you through pastures and provides excellent mountain scenery. There are also several options to stop and rest- a great benefit if you're hiking with children!
Start on trail 6 towards Tschantschenon, followed by trail 35 towards Geisler Alm. You will then turn into trail 36 towards Gschnagenhardtalm. You'll eventually reach Geisler Alm, which includes a refuge and restaurant with good food. Trail 36 towards Dussler Alm will lead you back to the parking lot. Make sure to stop and greet the donkeys en route!
B&Bs and Farmstays near the Val di Funes:
Hotel Gsoihof • Putzerhof • Gasleidhof
---
Families with Kids 5+ Years:
8. Tre Cime di Lavaredo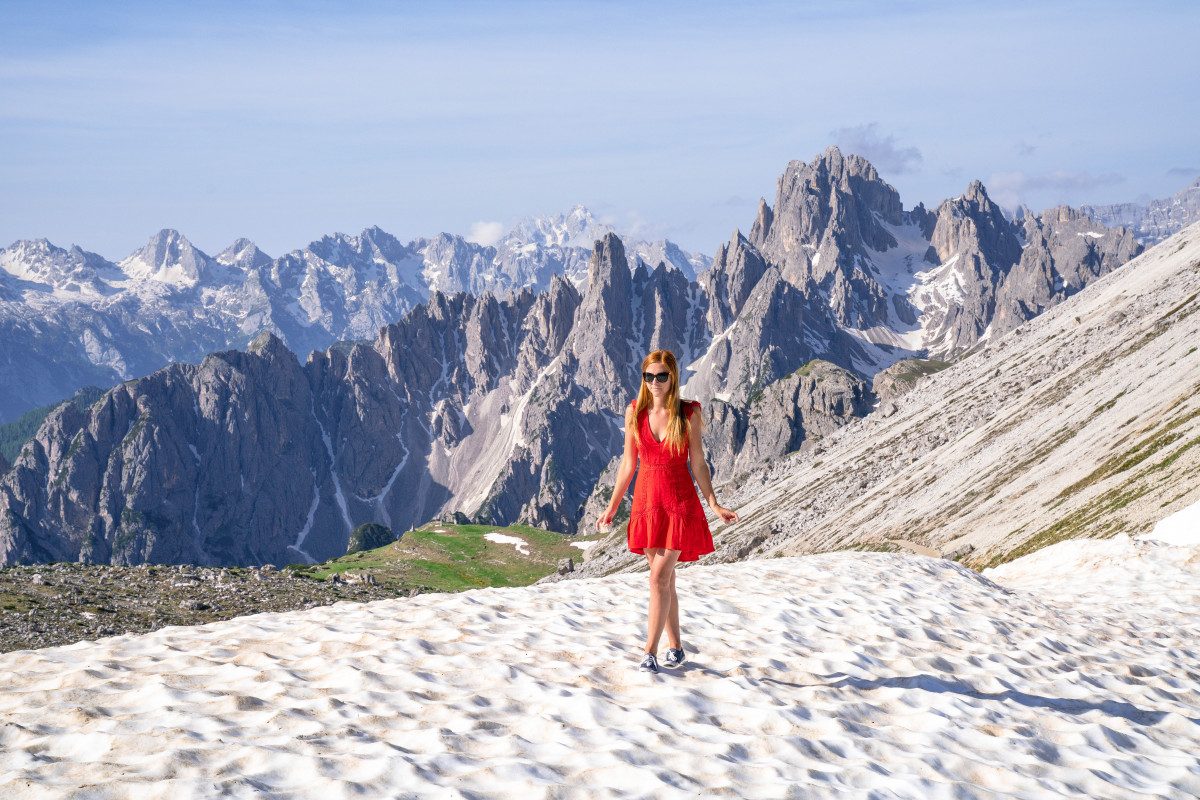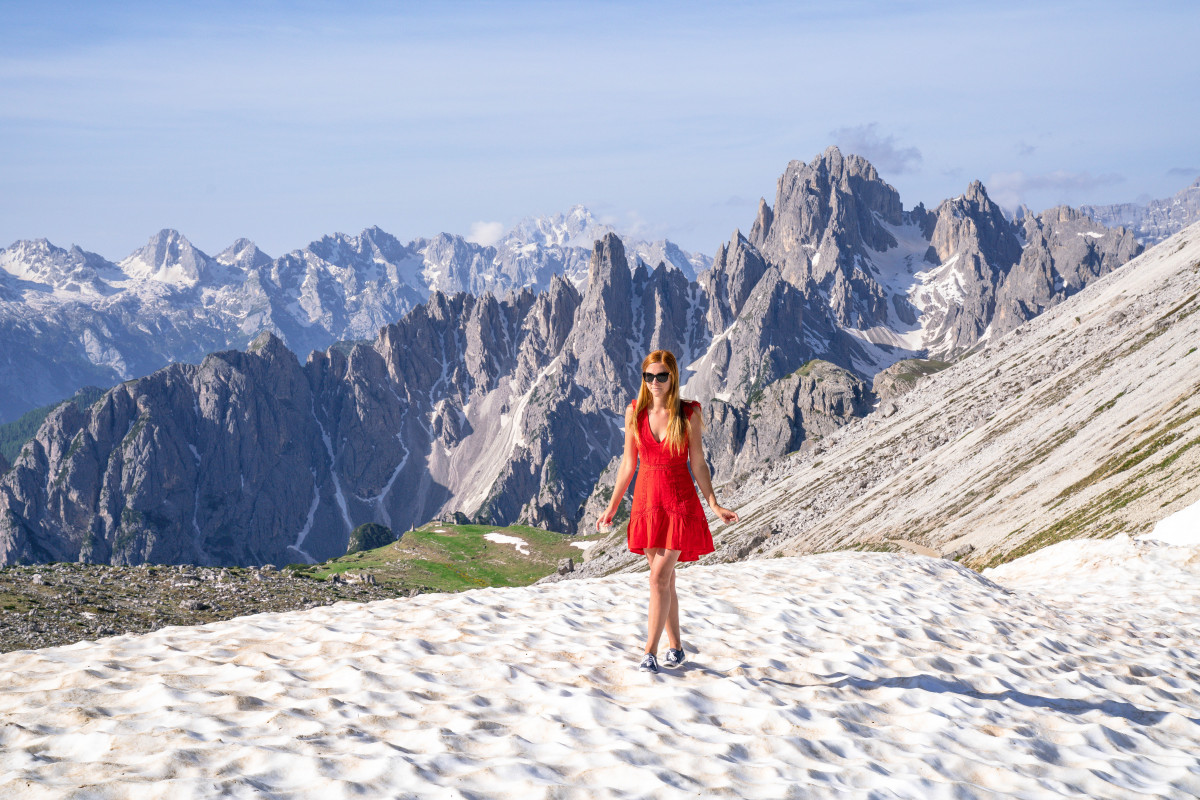 The Tre Cime Di Lavaredo (Drei Zinnen in German) is one of the most popular hikes in the Dolomites. It is a good option for families and an easy hike – I've done it in cheap sneakers and a dress (as pictured). However, it may not be the best option for smaller children, due to its length and some of the terrain.
This route is named for three mountain peaks that are visible on the journey- Cima Piccola, Cima Grande, and Cima Ovest. The Tre Cime di Lavaredo is an easy 6.4 mile (10.3 km) loop with interesting sights, including historical stops and mountain huts called refugios.
This hike should only take about 3-4 hours to complete, but you may want to leave more time to take advantage of the beautiful refuges!
The best place to start your hike is in Rifugio Auronzo, where you can park or take a bus. You can then hike the loop clockwise or counterclockwise via path 101, path 102, and path 105.
Keep your eye out for commemorative plaques (which indicate WWI heritage sites), rifugios (which offer food and drink), and the rare mountain marmot!
If you have time, make sure to stop at Rifugio Locatelli (Dreizinnenhutte), which has the best food and specializes in Northern Italian cuisine!
Budget Friendly Hotels and Chalets To Stay Near Rifugio Auronzo:
Hotel Menardi • B&B Passo Tre Croci Cortina • Albergo Chalet Lago Antorno
9. Mondeval and Croda da Lago Half Loop
This hike is an exciting adventure out of Cortina d'Ampezzo. The name may sound familiar because it was the site of an important archeological discovery- a Mesolithic burial site and skeleton.
The Mondeval and Croda da Lago hike is a half loop that takes approximately 5-6 hours to complete. It's one of the more challenging options on this list, but is still possible with children. There are also several sites along this route that kids will certainly enjoy!
You start at Giau Pass and end at the mountain refuge of Pezie a Paru. There is a beautiful small church at the Passo di Giau that's dedicated to St.John Guadalberto which is often seen on picture postcards.
From here, follow the 426 trail, which will take you through a mountain pass and valley. Take a look at beautiful Mount Pelmo and Mount Civetta. Make sure to stop in the Zonia gap to see dinosaur footprint fossils! This is definitely a great attraction for children.
There is also a refuge available en route, Palmieri, where you can stop for food and drinks. Past this refuge and after the Cason de Formin clearing, you follow trail 434 to Pezie a Paru. You will need to reverse your hike or seek transport back to the start.
Economical Stays within driving distance of the Giau Pass:
La Baita • Hotel Nigritella • Hotel Venezia
Note: If you're looking to visit more than one hiking spot in a day, you can take a tour here from Bolzano or another day tour from Venice.
Happy Hiking!
The Dolomites are the perfect destination for families that enjoy the great outdoors. In addition to hiking, this region offers skiing, sledding, biking, and a variety of other activities. This area also offers fabulous food and wine, great prices, and unique accommodation (you can even stay in a rifugio!). The Dolomites are very central; and are close to many popular and cosmopolitan European cities (it's only around 2 hours to Venice).
Choose one or more of these hikes to take with your family and you won't be disappointed. All offer unparalleled scenery, fun sites, and kid-friendly activities.
Make sure to plan ahead and decide on your transport to and from your hike (as well as between your start and finishing point). For the best experience, bring a map, enough water, and snacks for the kids; and take some time out of your hike to admire the majesty of the Dolomites!