Bora Bora is the iconic honeymoon destination and people don't usually think of bringing their kids there. The thing is… Bora Bora is no different than taking your kids to a resort in Mexico. It's just a completely different cultural experience.
I went to Bora Bora with a baby and toddler (aged 6 months and 2.5 years) and we all had a blast. If you're debating traveling to Bora Bora with kids, don't – just do it! Kids stay and even often eat for free at most resorts 😉
I met quite a number of families in French Polynesia and most of them just did Moorea with kids, but Bora Bora is also a great option. Don't skip it because of your little bubs, especially since they really don't add to your bill – Air Tahiti Nui offers very discounted flights for kids and food is either free or cheap at resorts.
In fact, do it when they're still small so you don't need another separate bungalow (more on that in the overwater bungalow section).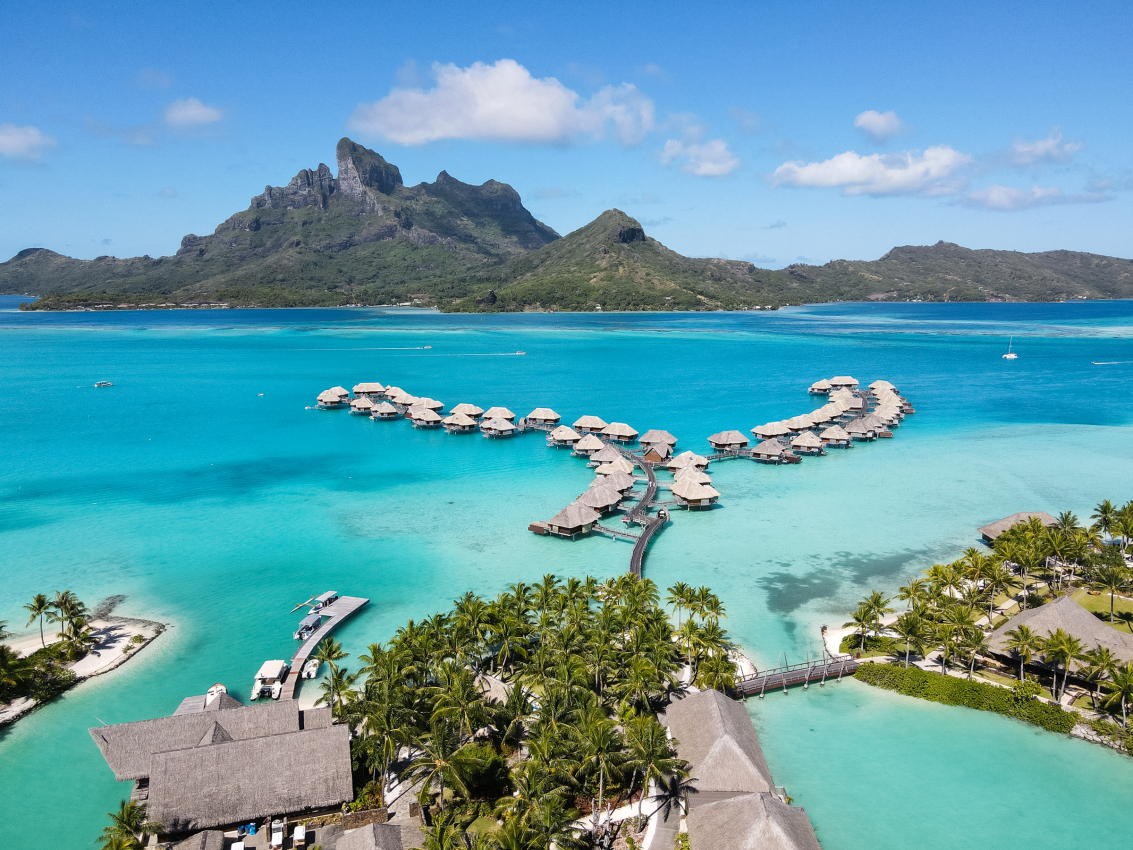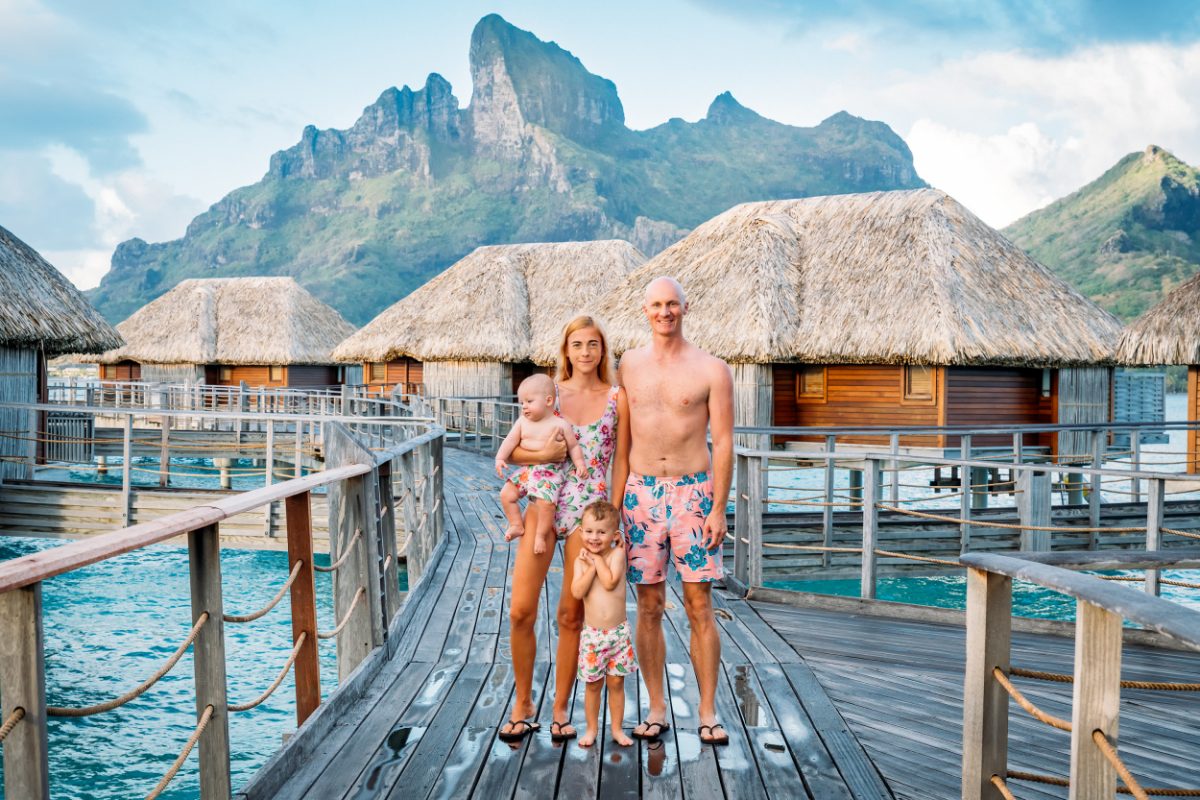 How to Get to Bora Bora
The one downside of traveling to Bora Bora with kids is a long journey, but frankly… because of how it's all set up if you're coming from the US it's not so bad. In fact, and I say that honestly after flying million times with a baby and toddler... it was one of the easiest journeys to do with kids.
We took Air Tahiti flight from Moorea to Bora Bora. It's a quick 45-minute flight on a small plane. My toddler enjoyed the views until he passed out for his mini nap.
Be warned if you are travelling with kids do not overpack as the internal flights strictly enforce the baggage weight allowance. Although there's really no need for overpacking… you don't need much.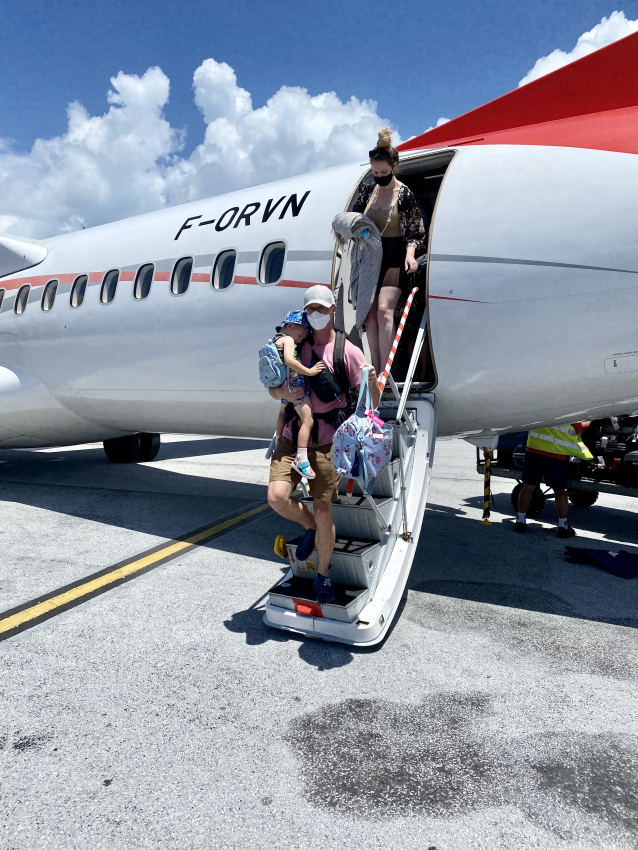 ---
Kids Friendly Hotels in Bora Bora
The good news is that unlike in places like Positano (that are kids unfriendly, but still possible to visit with little ones) Bora Bora doesn't ban kids anywhere. All resorts I know of allow kids of all ages!
Unlike in Moorea, I recommend staying at the resort rather than the island in a smaller hotel or AirBnB. It's just one of those destinations that's easier from the resort.
There are some resorts in Bora Bora I don't recommend – with or without kids, due to their location. I would advise against Conrad Bora Bora and Bora Bora Pearl Beach.
We ended up staying at the Four Seasons but also debated St Regis and Intercontintal (in fact, we booked it first but it got canceled), mostly because due to rebooking it was the only one available with a good deal. It's considered one of the most kid-friendly resorts in Bora Bora.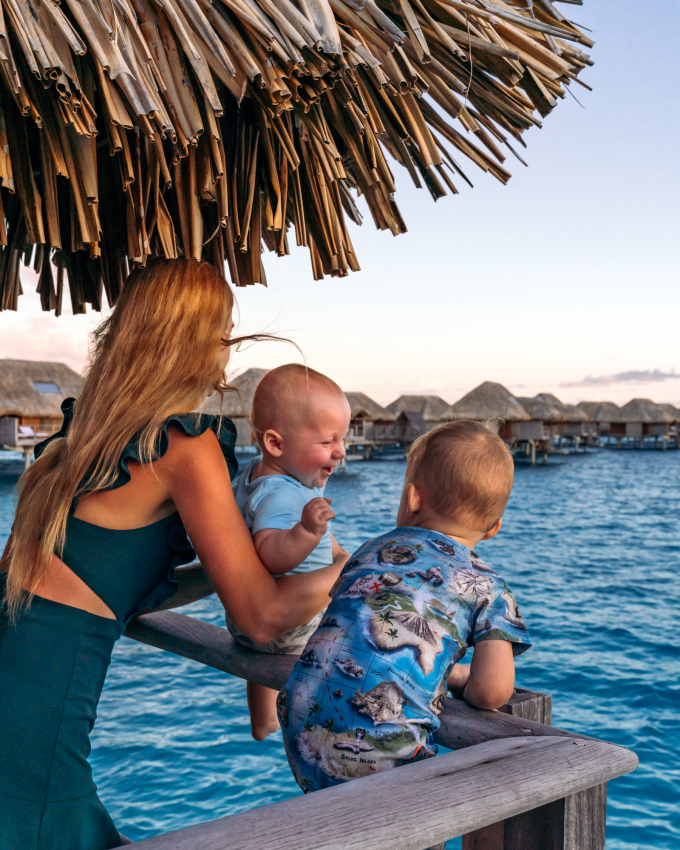 Four Seasons Bora Bora with Kids
The resort was fantastic. We stayed at Four Seasons Serengeti for our actual honeymoon a few years back, so it was nice to see another property of theirs.
At the airport, we got picked up by the hotel boat (the only way to get out of the airport island) and FS felt much more personal than some other resorts. Both kids fell asleep and the staff accommodate us so they rested on the boat.
Our check-in was easy, and quick and done separately in a lounge as the kids were asleep. The receptionist made dinner reservations for us as well, to ensure we didn't have to wait. They also arranged with Hilton Moorea to deliver my ring to me that I forgot from the room before checking out.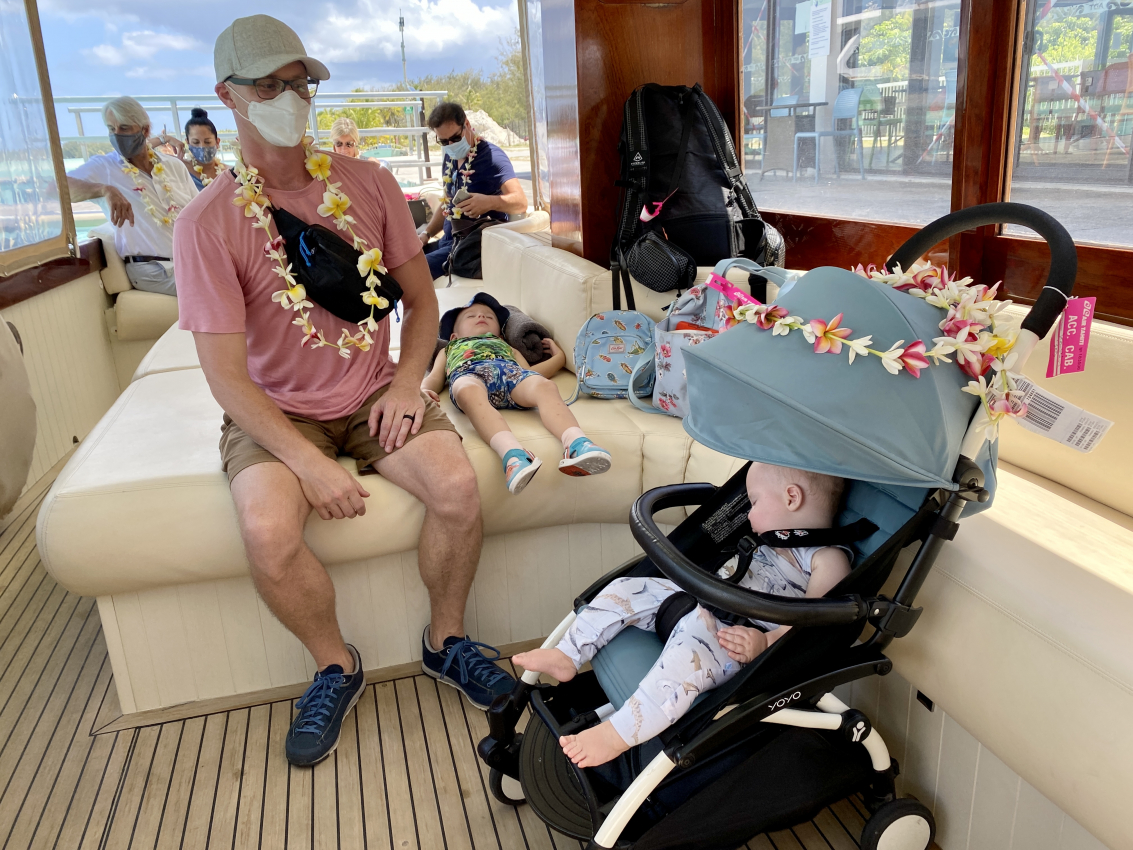 The hotel arranged some stuffed stingrays and kid-sized robes along with some chocolates in our villa. The crib for the baby was waiting (my toddler has been in a regular bed since he was 1 so he used a sofa bed they prepared for him every night). They even set up a diaper genie for the baby which was incredible, we didn't have to stink up the room.
The resort offers only overwater bungalows and one giant land villa for parties. We stayed at one of the Diamond Villas with Mount Otemanu view without Pool. If I were to do it again I'd recommend getting a villa with a pool, especially with kiddos, because Bora Bora experiences strong currents more often than I would have imagined and we were actually barred from getting into the water from our deck during our entire stay (they also couldn't do the floating breakfast because of it).
It wasn't a big deal as we just utilized the lagoon, beach and pool, but would have been nice to have our own pool as well.
My kids were too young for Kids Club but I spoke to them and they said they could arrange something for us if we want them to.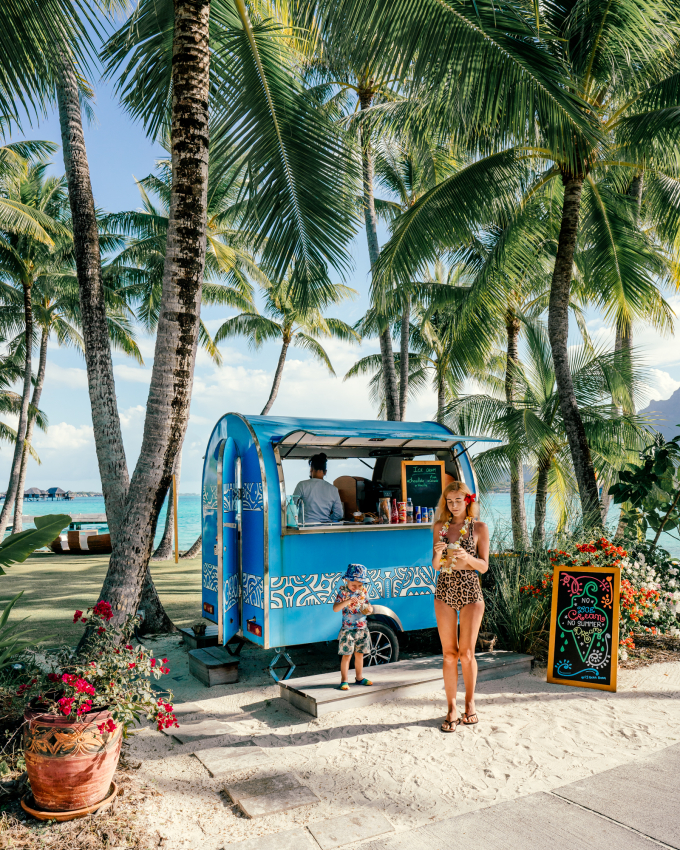 While the food in Bora Bora isn't amazing (sorry, but it's true!) and gets monotonic after a few days no matter where you stay it was pretty kids friendly.
The breakfast buffet had everything and they even gave up toddler plates, cups, and cutlery. They even dug up some Fruit Loops for my toddler, as it's the only kind of cereal he eats.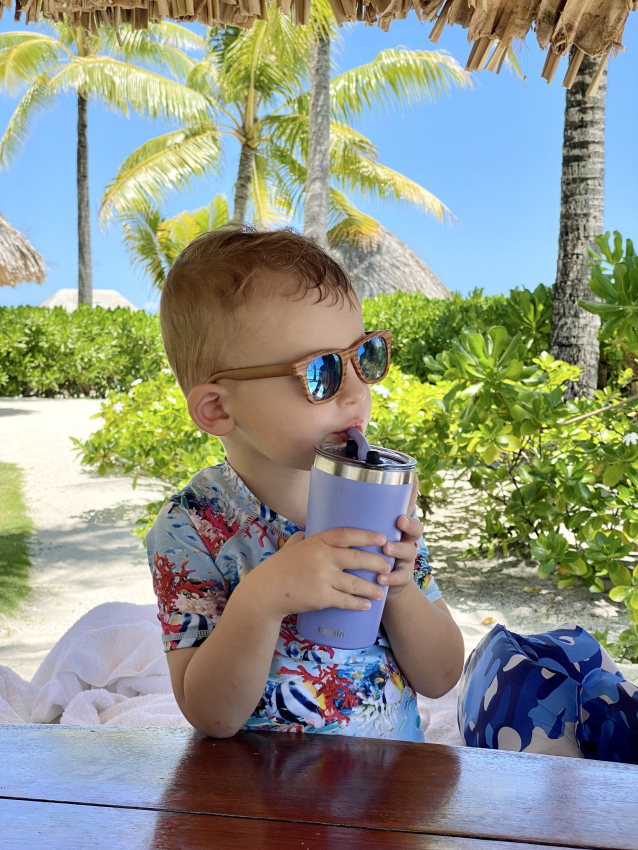 For lunch and dinner, 4 restaurants and room service had kids menu with hamburgers, grilled chicken, spaghetti, chicken nuggets, fries, hot dogs and mini pizzas. It was fairly cheap and portions were gigantic – in fact, I ordered myself a pasta from the kids' menu once and didn't manage to finish it.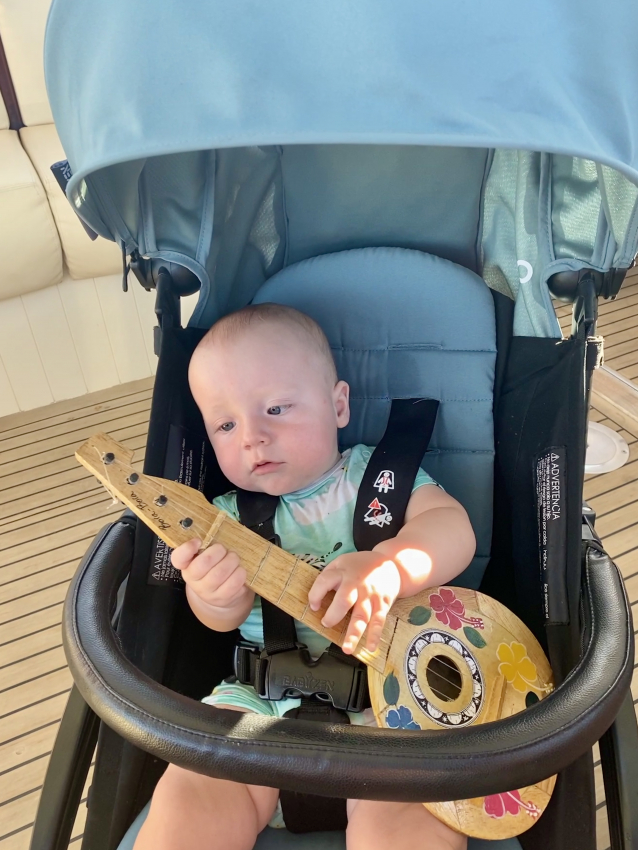 ---
Overwater Bungalow with Kids
Unlike in the Maldives where some resorts don't allow kids under a certain age at overwater bungalows, there's no such policy in Bora Bora (or anywhere in French Polynesia actually). You just need to sign a disclaimer at check-in that you're responsible for your kids at the bungalow.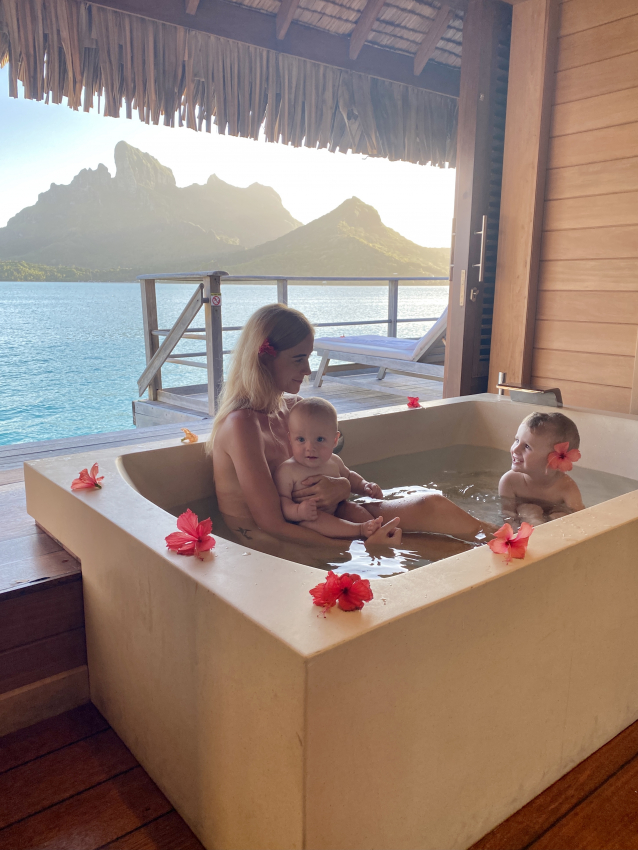 We traveled with two kids and a lot of travel agencies told us that many hotels won't accommodate us, because there's a limit of 3 in the room. It seemed ridiculous to me, especially since one child was a baby.
This policy is absolutely NOT true and travel agents are misinformed, just the system might not take it. In some places, all you need to do is to put 3 people on the reservation and inform them at check-in that you have another child. No need to rent two bungalows or a gigantic villa.
People are afraid of staying at an overwater bungalow with kids. We had no such worries since the baby wasn't crawling or moving and the toddler is careful and we didn't let him run around the deck without supervision. Just like you'd do next to a swimming pool.
Plus, let's be real: there are locks everywhere so kids were safe without a chance of getting out.
We spent a lot of time in the bungalow for the baby to nap and we used indoor dining a lot. There was no one below or above us, and no other bungalows within 20+ feet. I'll still say that Bora Bora bungalows give way less private than those in the Maldives, but we barely saw other people – in fact only once when our neighbors played some music.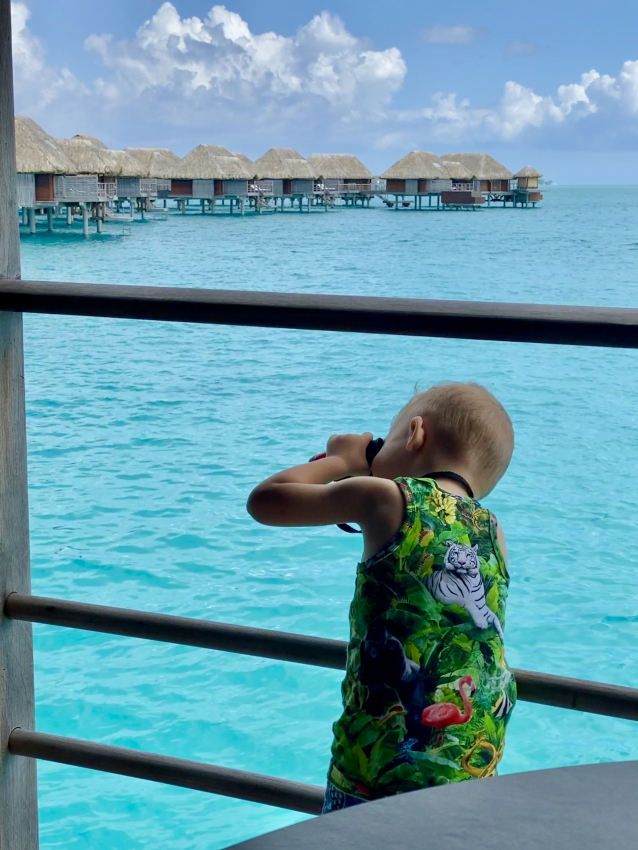 ---
Bora Bora with a Baby
Bora Bora is a remote place, so obviously you cannot just walk into a supermarket like you would in Moorea. We always buy diapers, wipes and milk at the destination and bought some in Moorea.
There was a lot of baby food in jars available in Moorea and we got a TON from the plane – Air Tahiti Nui gave us a galore of baby food for a few days.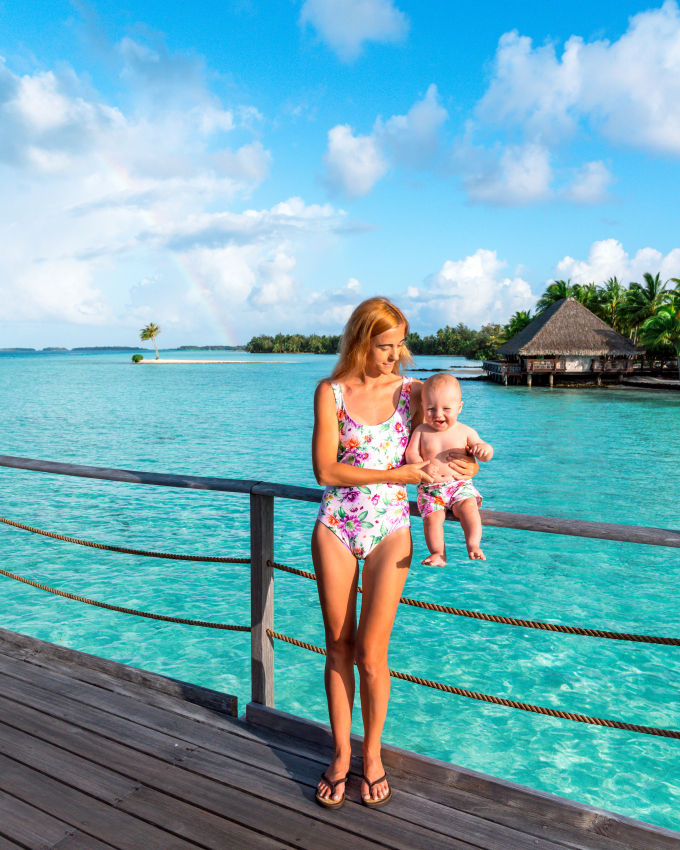 Even in Moorea, it's slightly more expensive due to French Polynesia's remote location, but we somehow ran out of diapers for the baby. We called the concierge and they went and brought us a package of diapers from the main island – so in case you forget something, you can buy baby items there, but it will cost you – $55 to be precise.
Babies get dirty easily and we always aim to travel with just one big suitcase for 4 people so it was nice that washers and dryers were free of charge and available for the guests.
We noticed two other people with a baby and small toddler, but you also don't see a lot of people around the resort because it's spread out on purpose so there might have been more.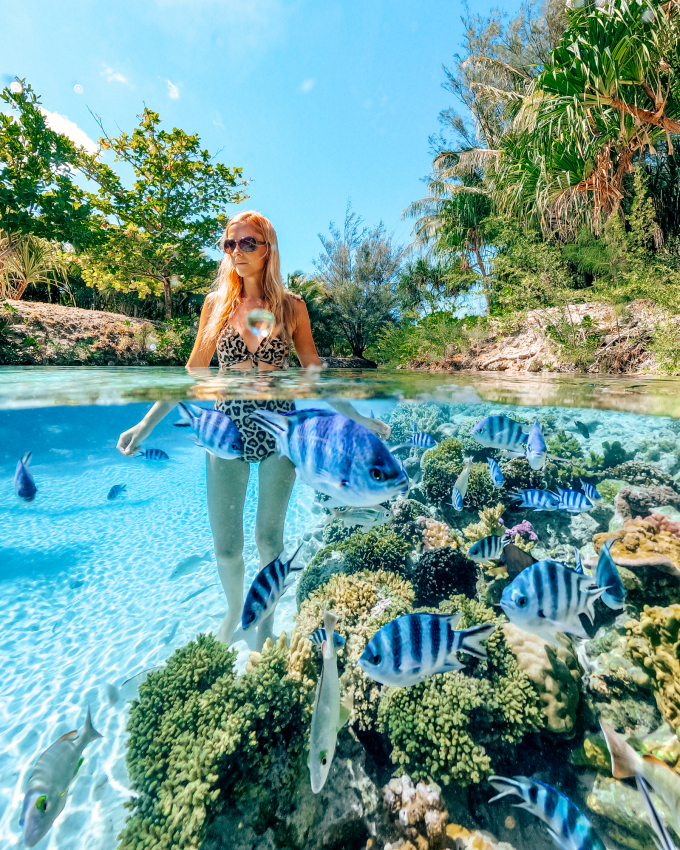 ---
Things to Do in Bora Bora with Kids
All tours are kids friendly and they can pick you up from the resort. The only one that had an age limit was ATV tour around the island.
If you want to do something on your own the resort will arrange a babysitter for you.
Four Seasons Bora Bora included paddle boarding and kayaking for the guests free of charge so I did that a lot with my toddler who was amazed by all the fish. There's also a lagoon at the property where you see a ton of fish – definitely a highlight for the kiddos! We visited daily and only stumbled upon other people there once, basically had it to ourselves.
We took a snorkeling excursion to do stingrays, reef sharks and coral gardens of Bora Bora and asked to be taken to a shallow spot for stingrays so we can stand and hold the kids. When the kids fell asleep on the boat the captain of the boat stayed with them both onboard while we snorkeled, which was great.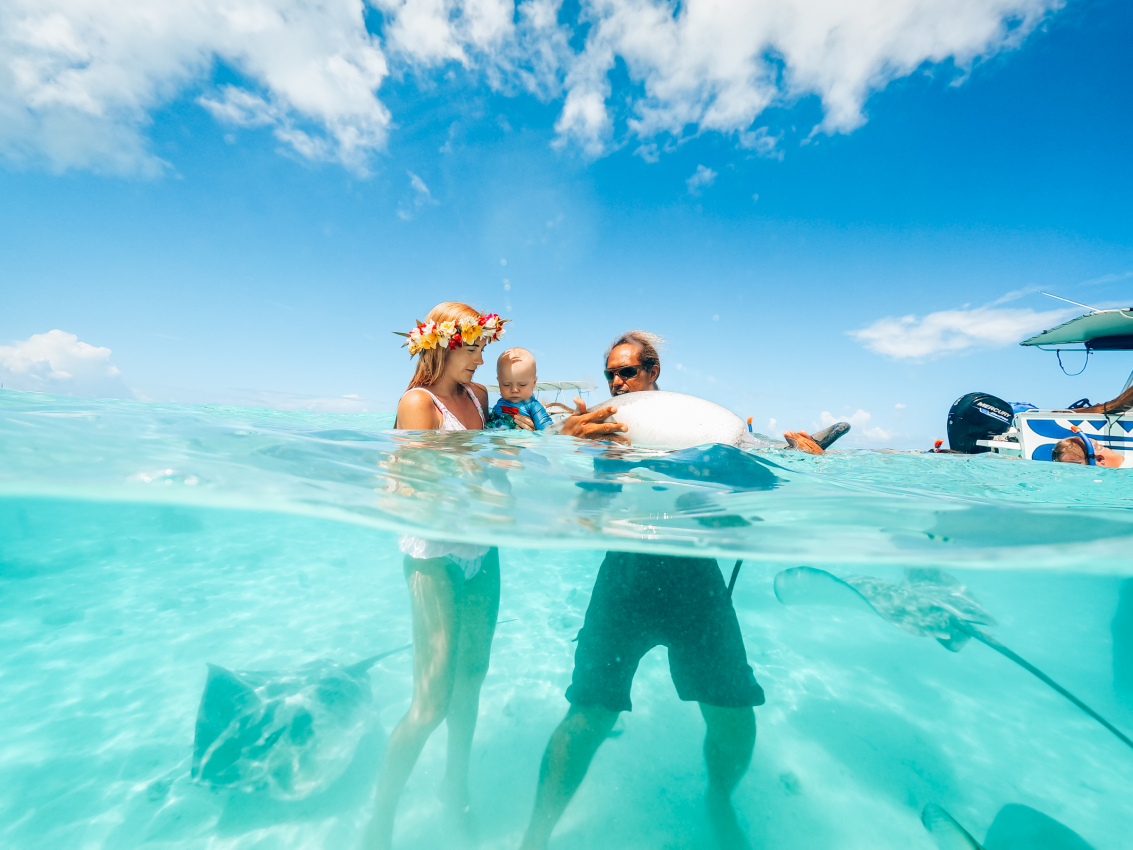 ---
Practicalities for Traveling to Bora Bora with Kids
Pack water shoes for the kids who are walking and rash guards for the sun. Lagoons can be rough. We had these and they did the job.
I recommend bringing a small stroller because walks down the pontoon are long. While you can call for a golf cart we enjoyed the walks with a stroller. Not a giant stroller because it's not allowed on local airlines, but our Babyzen Yoyo was great.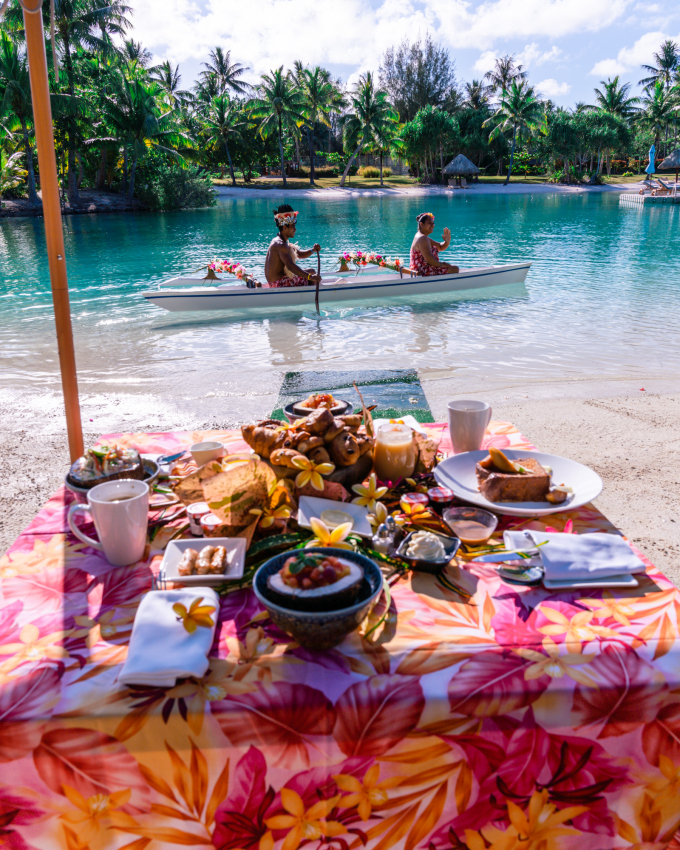 Pack your own snacks! It's a tip for everyone with kids or without. Bora Bora is pretty secluded and everything has to be imported so prices are higher. The best tip we got was to bring our own alcohol and lots of snacks for the kids.
Bring pool floats for the kids. There was really nowhere to buy any for small kids and we always bring one for the baby along with this baby lifejacket, as we found out that no matter where you travel toddler size lifejackets are available but never anything for the baby.
Bring mosquito nets for the stroller! The hotel will give you one for the crib, but my kids got eaten alive at dinners.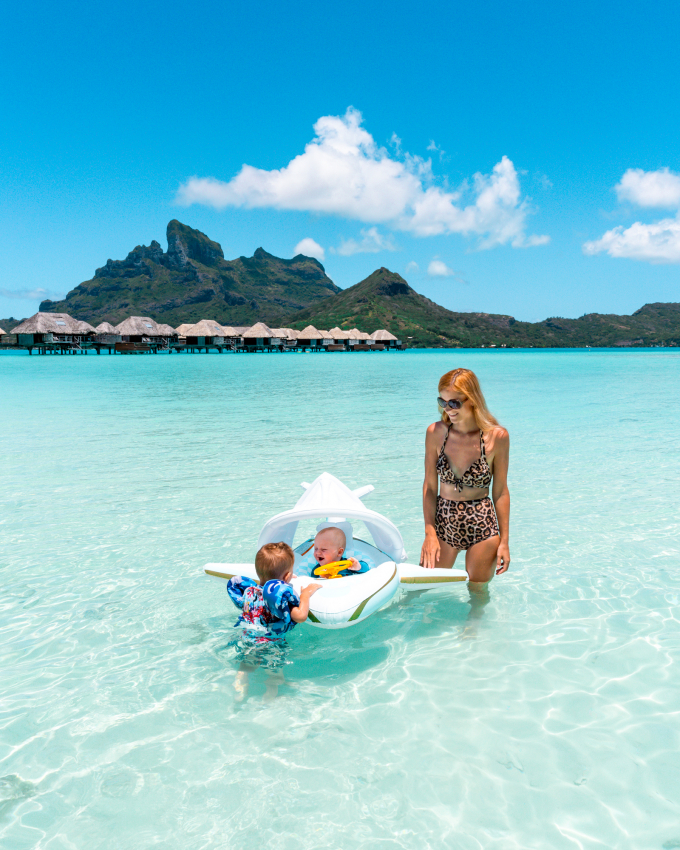 ---
I highly recommend bringing your kids to Bora Bora if that's where you want to go. It's a safe and fun destination that I believe will be a popular family getaway soon, especially as there are plenty of good travel deals for families available!