There aren't that many resorts in Moorea and many people want to pick the best one. If you only stay at one resort there's a big chance that you'll be mostly satisfied with your resort because let's be real: none of the resorts in Moorea are bad places.
Due to a mishap with a travel agent, I actually stayed at both Sofitel and Hilton Moorea and I'll be very real: there's a huge difference between them, but I thought Hilton Moorea was incomparably better than Sofitel for a number of reasons.
No matter what… don't stay at Manava Beach Resort. It's often suggested for families by travel agencies, but I refused as photos didn't look great. During my stay, my transport had to drop some people off at Manava so I got a glimpse of it and I confirm: it's pretty bad and it's not really on the lagoon so the water isn't incredible – which is the whole point of French Polynesian overwater bungalows.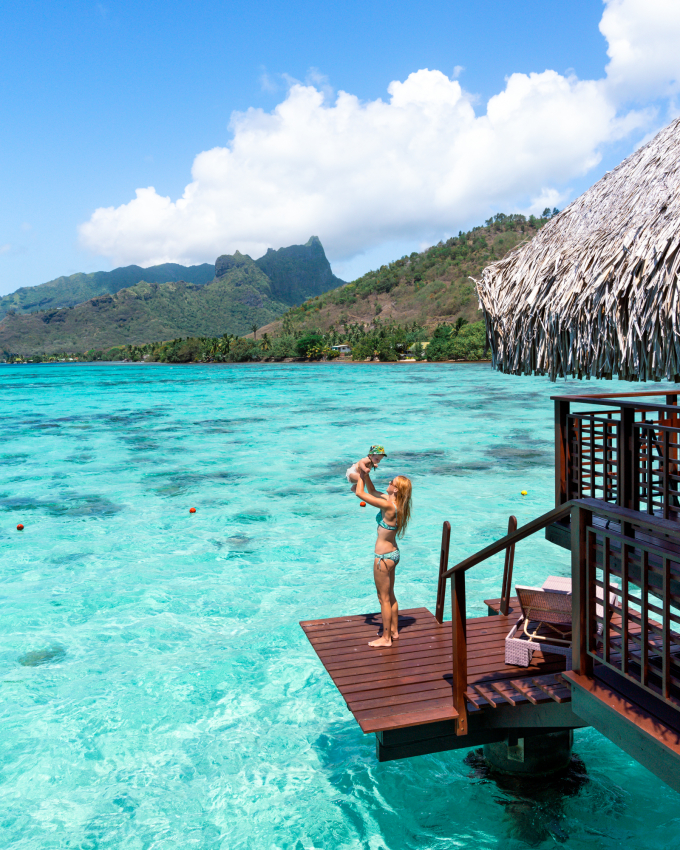 Sofitel Moorea vs Hilton Moorea
There are some key differences between both hotels, but let's be real: it's nowhere near the quality of attentive care you can get in Bora Bora.
If you pay the price of a resort in Moorea you might be slightly disappointed that it all still feels slightly like a commercial resort, because it does. I think it depends on what are you going to Moorea for, because if your main aim are activities then you might as well stay at an AirBnB and you'll be just fine.
I'd say that while the bungalows were totally fine, they both can feel a bit dated… especially if you've already experienced the standard of the Maldives. You're not paying for the luxury, you're paying for the location and Moorea basically.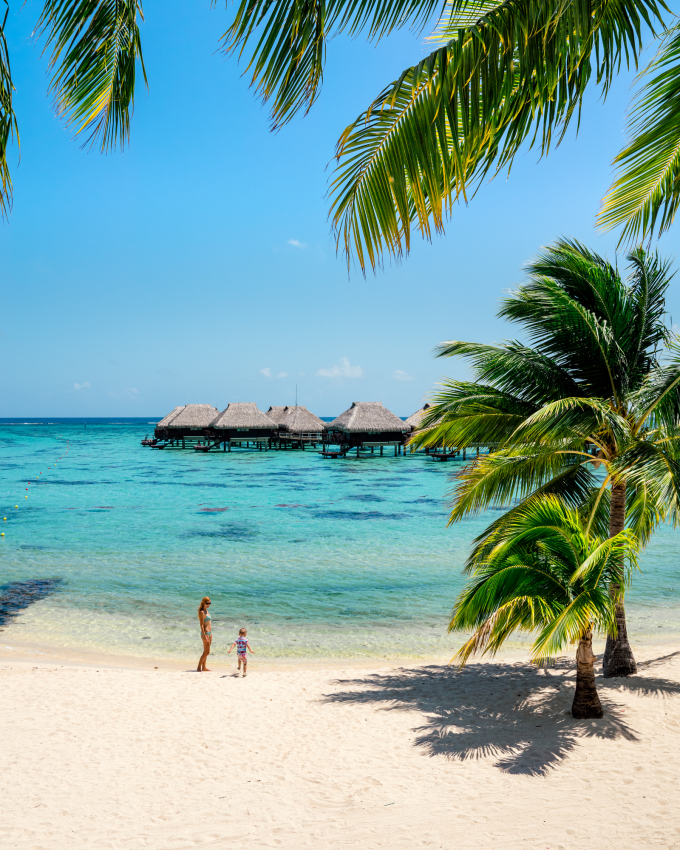 I have some friends who came back terribly disappointed and felt it was a rip-off, no matter the resort and I get that, but I feel like you're basically paying for the location. For the luxury, more privacy, and high standard it's Bora Bora or the Maldives.
One important tip for any hotel in Moorea: pre-book your transfer from the ferry! My husband had a not-so-wonderful idea that we'll just get a taxi when we get there… nope, there are no taxis waiting. Everything must be pre-booked because they are limited in Moorea. Thankfully, we found a local lady who felt sorry for us and called her friend to drive us to the hotel but otherwise, we might have been waiting for a long time 😉
---
Sofitel Moorea Review
Sofitel is near the ferry dock and that's not an advantage at all unless you want to save a few bucks for the transfer (there's really not a big difference). You can see the ferries coming in which takes away from the magical lagoon views along with the cargo island next to Tahiti.
It also makes the location of it very far from most points of interest on the island and places of necessities like supermarkets or restaurants.
One thing no one mentions in regards to the location of Sofitel is the sunset. As it's just behind the mountain the sun goes down very early at Sofitel, so you have less time for fun in the sun.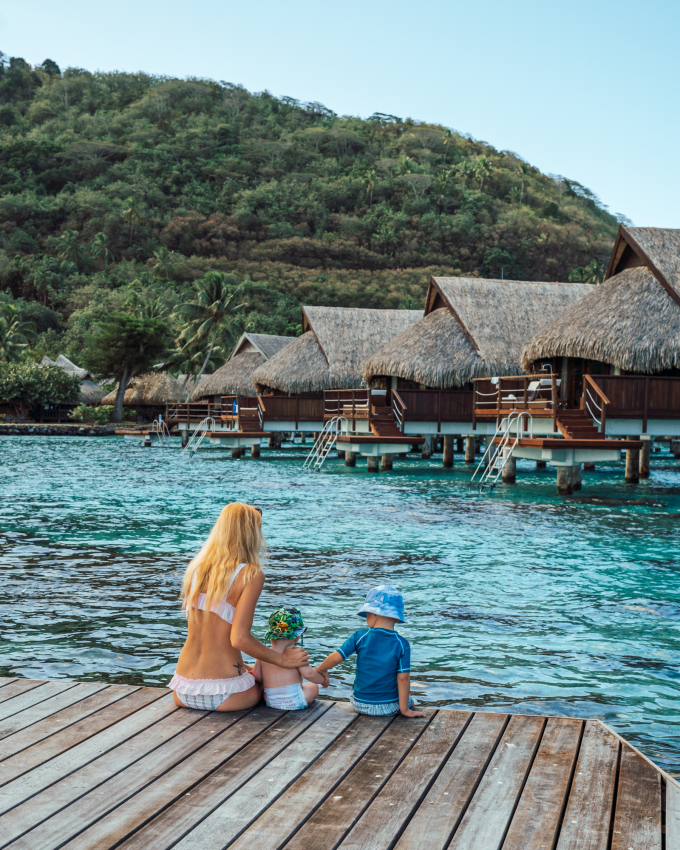 There's some snorkeling if you take the kayak out, but it's not fantastic. It's not the same as having a ton of reefs right underneath your doorstep.
Some bungalows at Sofitel were a complete misunderstanding as they were the situation in the middle of two docks between other bungalows. Honestly, if I went on my dream trip and got those two bungalows I'd cry… especially considering the price of them.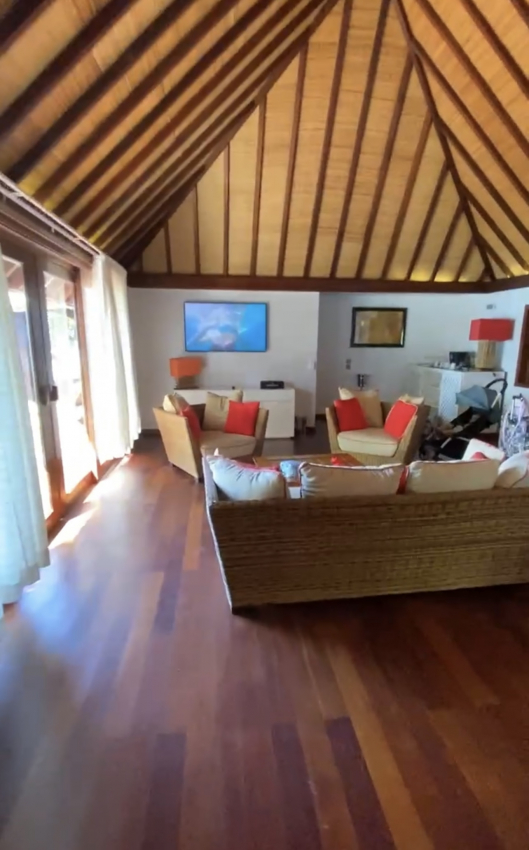 We had one of the most luxurious villas at the resort (supposedly) and although it was huge the standard was pretty low and there was very little distance to the main road (literally a few steps) so it made the whole experience less special. Tons of mosquitos were getting in through holes all over and while I originally thought it was only our bungalow, I noticed that it's most of them – I even saw two bungalows patched with plastic on the roof.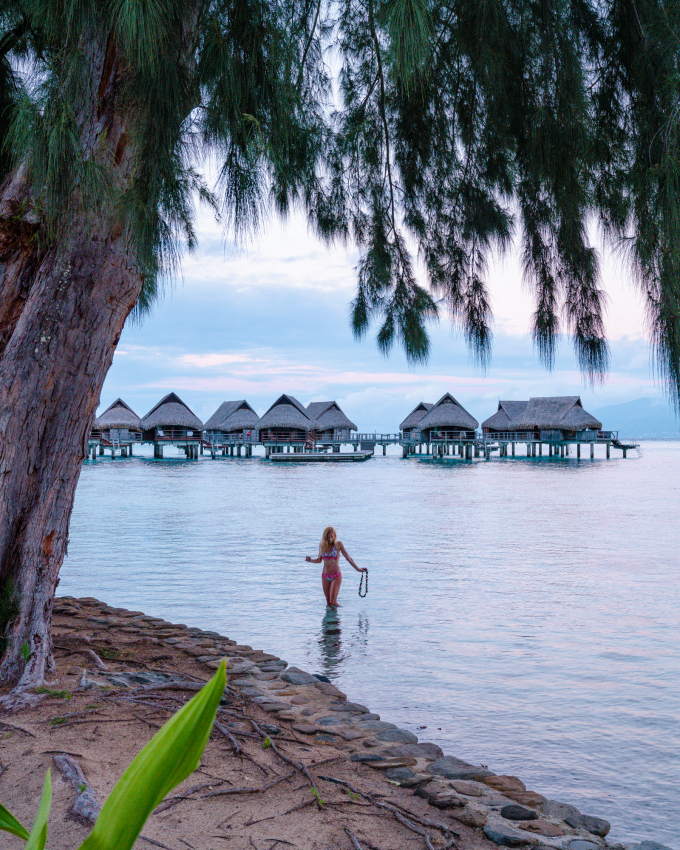 My personal least favorite thing was the beach. Unless you paid extra to be on the beachside in the garden bungalow it took forever to get to the beach. We had kids with us so it was a journey to get back and forth every time.
Then we tried and pool as we thought "why is no one using it?" only to discover that no one is using it because it's freezing cold. I'd expect the water to be a little bit heated or be at least the same temperature as the lagoon in a resort-like that.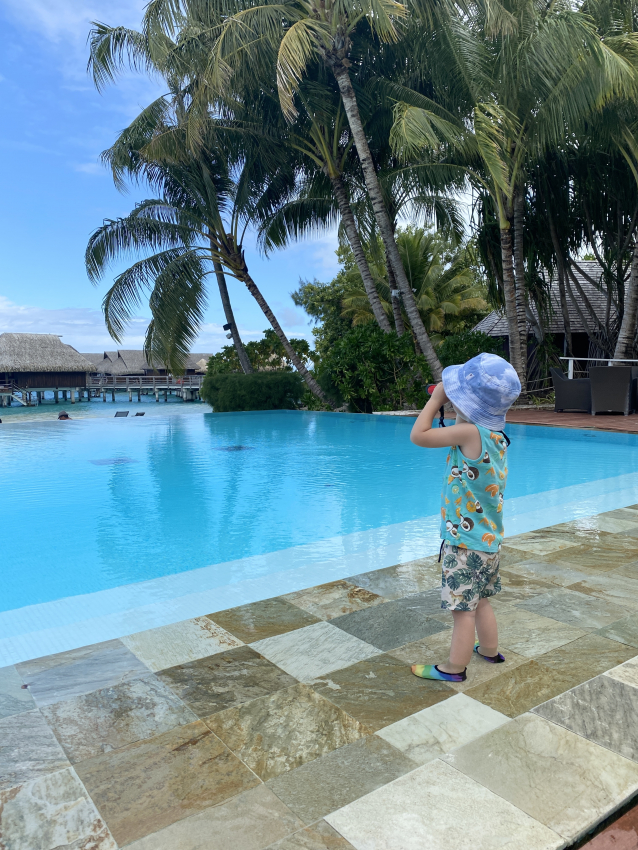 Food at Sofitel was a horrible fail in my opinion. There was only one restaurant and one beach bar/mini-restaurant with an extremely limited repetitive menu (basically the same food every day) and the food was awful… delicately speaking. When I read other reviews in regards to food at Sofitel I thought people might have been picky, but nope, food was cheap cafeteria quality.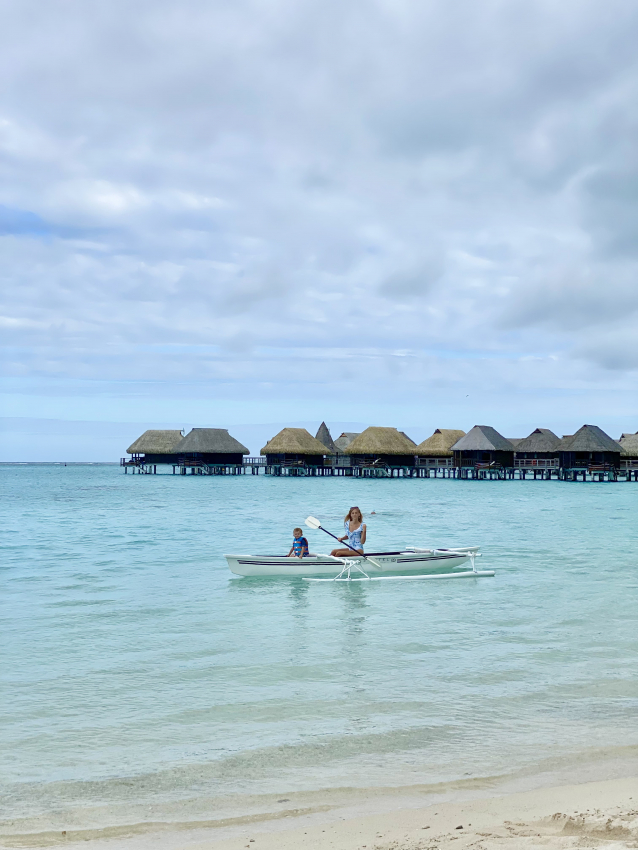 Personally, I couldn't wait to change the resort and would never stay there again. I'd say it's like a 3* resort, if even, which was disappointing.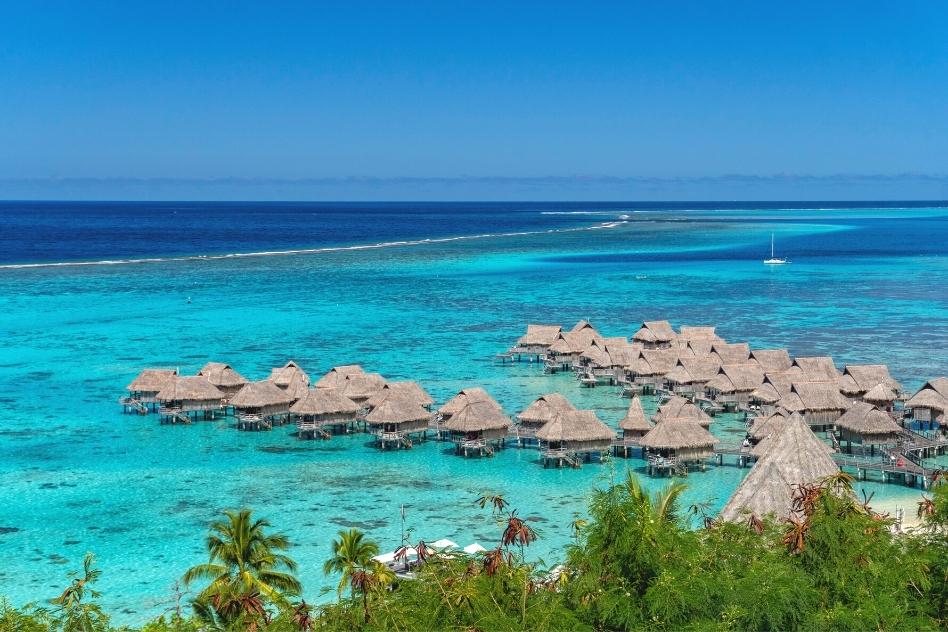 ---
Hilton Moorea Review
Location, location, location. The location of the hotel was nice, as it is situated on a lagoon so snorkeling is excellent everywhere. Gorgeous views of the lagoon and mountains without any islands or ferries to destroy your peaceful experience.
The water around the bungalows is clear as can be, and there are thousands of fish right outside your deck which is a huge bonus of Hilton over Sofitel. You can come out of your room into an amazing snorkeling experience straight away.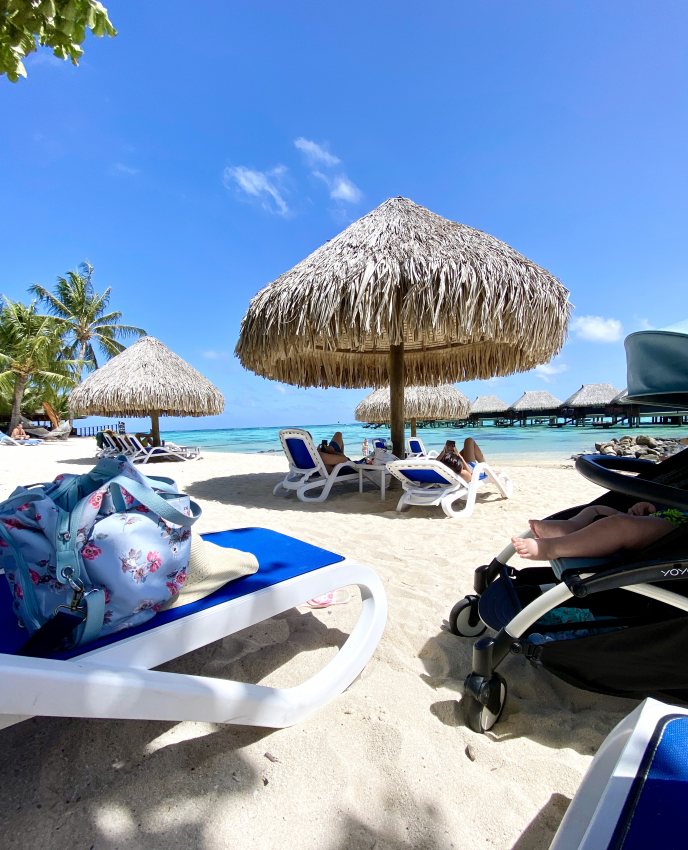 The beach at Hilton was small but easily reachable from all parts of the resort. The pool was small, but the water was heated and we met a ton of families at the pool as well. We were able to good get food delivered to the pool for lunch, while in Sofitel there were only serving deep-fried snacks that felt like Costco quality.
I honestly didn't expect so many families with small kids in French Polynesia and my friends who visited a month before said there were zero kids anywhere, I swear during our stay every second family had a child with them in both Moorea and Bora Bora.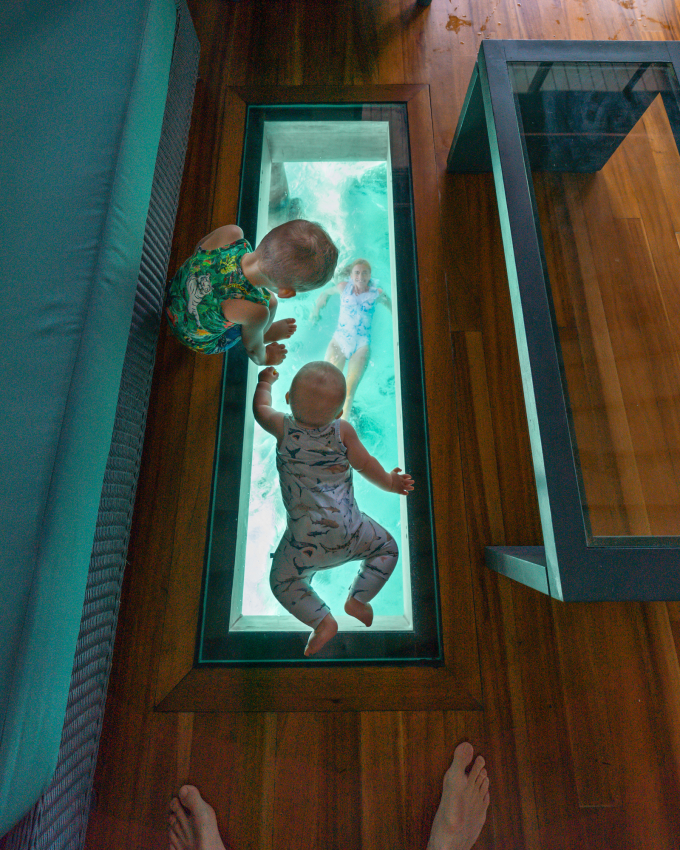 Speaking of traveling to Moorea with kids… we traveled to Moorea with two kids: one toddler and one baby. We were originally told by the travel agent (Costco Travel) that we can only book Manava or the 2 bedroom villa at Sofitel and that Hilton isn't possible, because we cannot stay in their bungalows with 2 kids. This is absolutely a lie and misinformation!
The system doesn't take it, but all you have to do is to put 1 child (if you have 2 kids) and then you're be able to book. All other families we met did the same thing and all we had to do was to inform them at check-in that we had one more child with us. If your child is older there might be a fee for an extra person, but you absolutely CAN stay in one villa with your family. I even know someone who stayed with 3 kids in one overwater bungalow.
Our overwater bungalow was of good quality. The shower was a bit odd and sprayed water everywhere, but it was really just fine.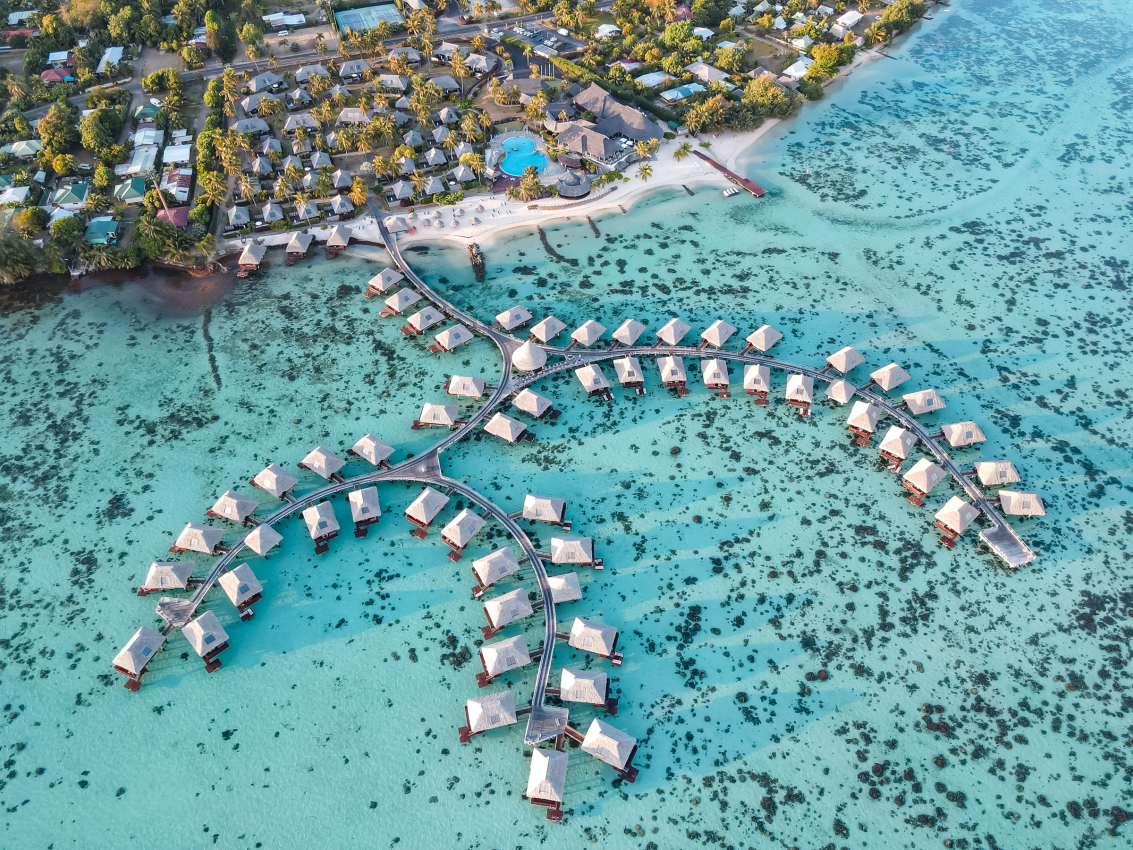 Food was just fine at Hilton, but to us, after the awful Sofitel experience it felt like the best food in the world. There are a few restaurants to pick from every night and some casual places as well like the Toatea Creperie at the pontoon between overwater bungalows. I didn't even have a chance to eat at all of them during our stay. They also had a happy hour for cocktails with live music and a band at breakfast, so meals were always fun.
The staff at Hilton was always extremely attentive and helpful and the live music at night was an enjoyable touch. To extend that dinner staff at one of the restaurants decided to take our baby for a stroll so we had a chance to eat dinner in peace.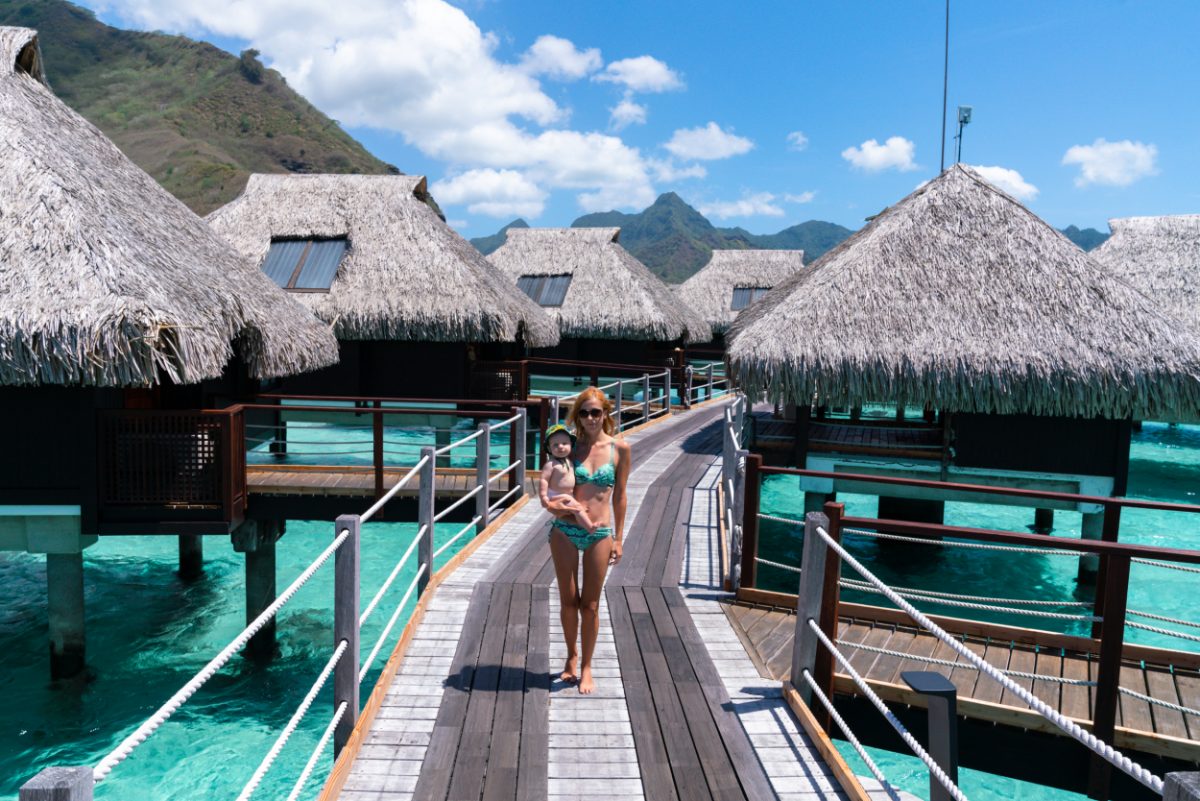 Speaking of the staff, while the official babysitting wasn't available we were told by Sofitel staff that there's no babysitting at all but it was very untrue. Hilton staff arranged private babysitters for many families so parents could get a break or go do non-kids-friendly activities.
Now, I must say that Hilton Moorea is quite Americanized in terms of entertainment and amenities. It's really not a big deal, but it's definitely aimed to attract more American customers.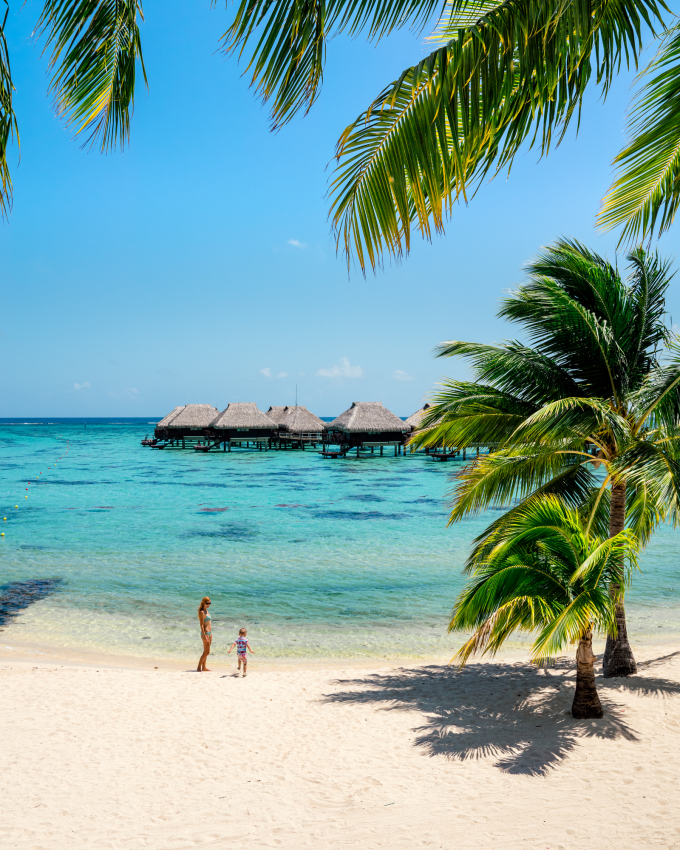 ---
Overall, while Sofitel felt slightly calmer with much older crowd and fewer things going on I would surely stay at Hilton and wouldn't return to Sofitel. The latter is just not worth the price tag.