French Polynesia has always been topping the list of the most iconic honeymoon destinations around the world. Stunning landscapes of Moorea, overwater bungalows of Bora Bora, uncovered islands like Nuku Hiva and bustling Tahiti. It's a great place to explore!
I've been wanting to go for a while, but everyone seemed to think I was insane to even think about taking kids with me. Small kids to be exact – one toddler and a baby. There was barely anything online about traveling to French Polynesia with kids.
French Polynesia with kids and babies is possible! In fact, there are more and more people doing it and it's been great. Here's my guide on traveling to French Polynesia with kids.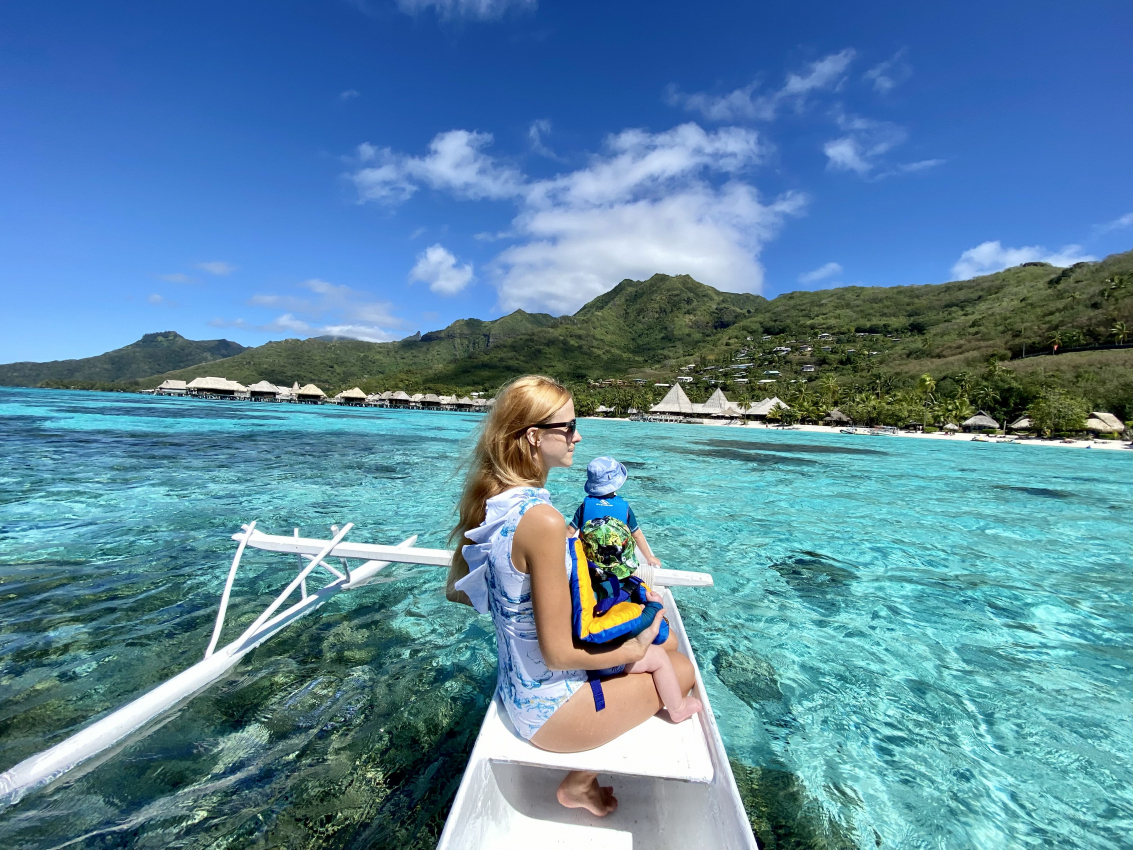 Traveling to French Polynesia with Kids
We actually visited French Polynesia twice, because of a giant mishap due to the pandemic. Needless to say… both kids had a blast and my toddler keeps pointing at the photo from our overwater bungalow in Bora Bora saying that he wants to go there again. Me too kiddo…
I'm actually glad we had to come back, as I created a slightly "less touristy" itinerary for us the second time around.
Originally, we were supposed to just visit Moorea and Bora Bora, but in the end, we also added Tahiti and Nuku Hiva. We visited places on and off the path in French Polynesia.
Air Tahiti Nui flies from Los Angeles Airport straight to Papeete International. Flight quality is amazing, one of the best airlines I've ever flown. Our baby got the bassinet and the toddler got a lot of kids' goodies but fell asleep as it was an overnight flight. We all slept and when we woke up we were already in French Polynesia.
French Polynesia is very accommodating to families with young children. Because of this, we were allowed to skip the long security line at the airport, board the plane first and everyone was helpful.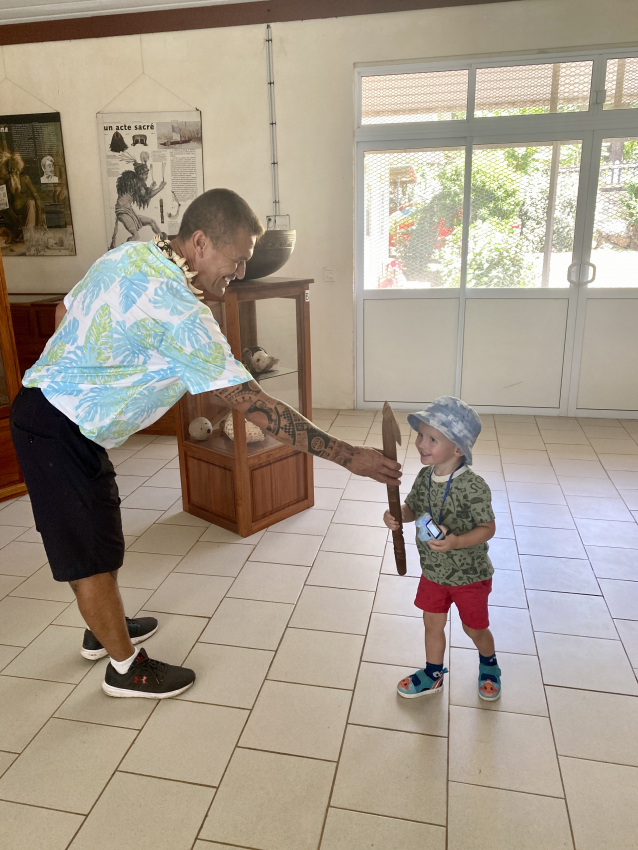 ---
Which Islands to Visit with Kids?
There's no one fits all island. We traveled to Tahiti, Moorea, Bora Bora, and Marquesas – Nuku Hiva. We enjoyed all the islands, although each was unique in a way.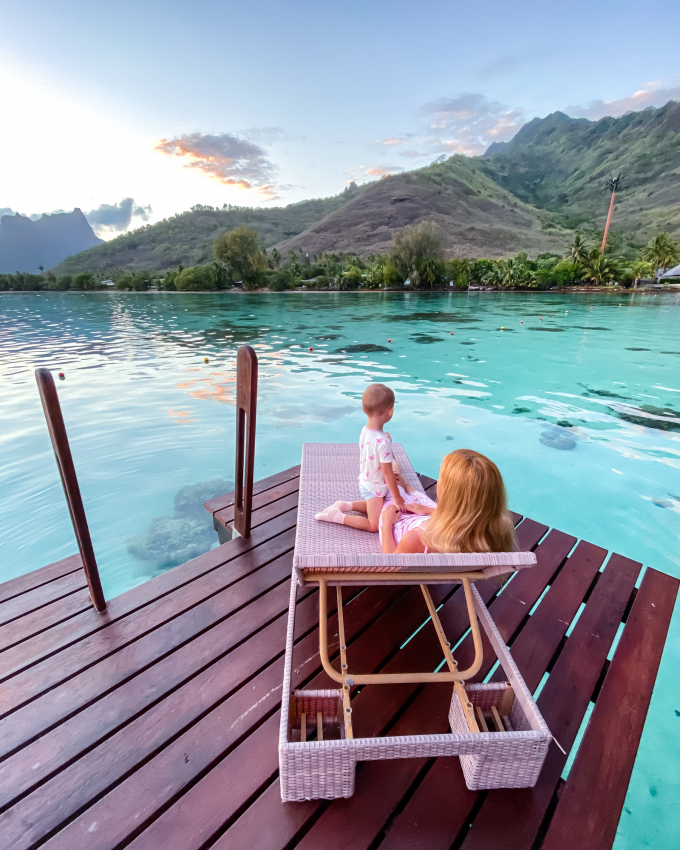 Moorea is the easiest island to travel with kids because it's just a short ferry ride from Papeete International Airport. There are shops everywhere, you can rent your own car or get a taxi, snorkeling is easy. Unsurprisingly, I saw many families only did Tahiti and Moorea.
Bora Bora is also an easy place to travel with kids, but more expensive and quiet so it might not be everyone's preferred choice.
Nuku Hiva is a very remote island that I'd classified as slightly hard to travel with kids. It's a long flight away from Papeete, long driving distances and requires preparation like being able to hike and be flexible. It's not a beachy destination, more of an adventure in the jungle type of place.
Huahine is a moderate place to travel with kids but with a more local vibe than Moorea.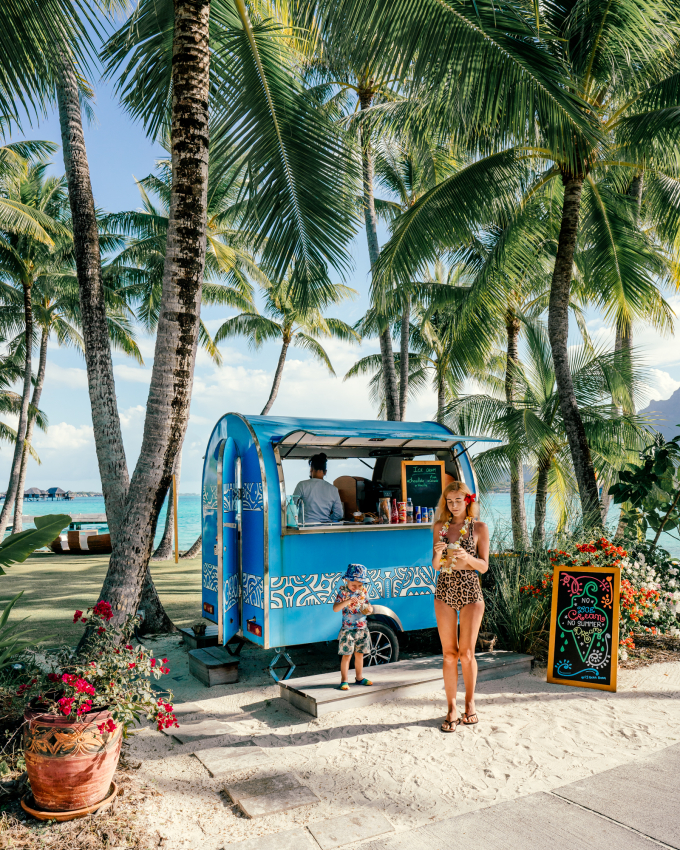 ---
French Polynesia with a Baby
French Polynesia can be absolutely amazing with a baby and I saw not only us had this idea as we saw multiple babies everywhere. Locals love and accommodate babies, so it wasn't a problem.
Babies are also much easier to travel with than toddlers as they're portable and don't move much so you can enjoy your time.
Most hotels and resorts offer cribs, so there's no need to bring any pack&plays. We even managed to get a crib in an overwater bungalow at Hilton Moorea and FS Bora Bora!
Shops in Tahiti and Moorea offer a wide range of baby products, formula, or food so you can stock up as well. We had everything we needed for Nuku Hiva and Bora Bora as options were limited but still managed to get more diapers in Bora Bora.
One thing that we prefer to bring ourselves to "water destinations" is a baby life jacket (among other baby packing list items). There's no requirement for babies to wear a life jacket in most places outside of the US and Canada (I experienced it in France, Italy, Poland, French Polynesia, Mexico, or Mauritius). Boat tour companies and rentals offer life jackets for little kids, but it's all way too big for a baby.
Some parents opt for holding kids in carriers, but we bring our own portable life jacket, so we can safely let the baby sleep with we snorkel or something. This is the exact one we have as it's comfortable.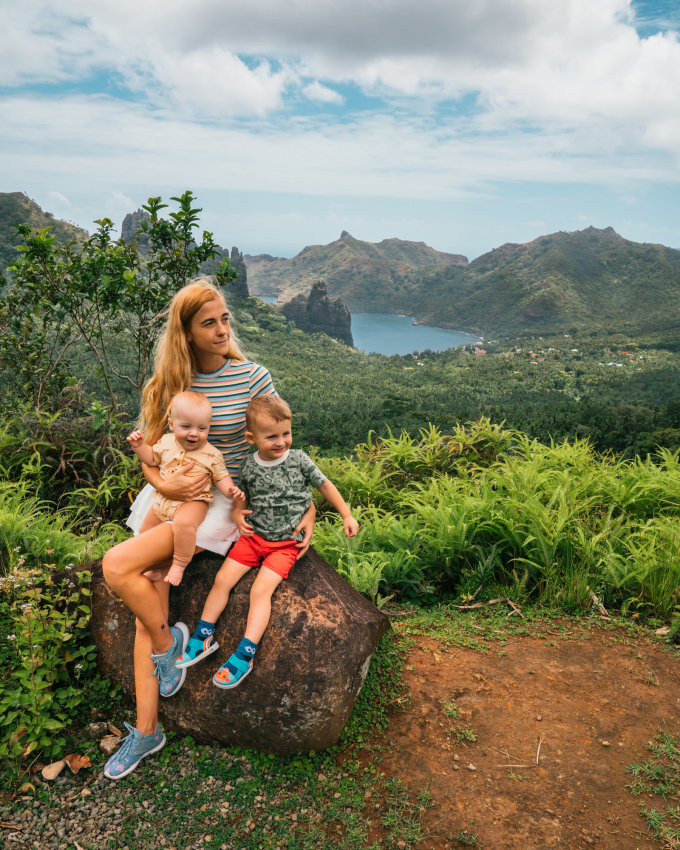 ---
French Polynesia Car Seats
There's no official requirement for children to use car seats in Tahiti, which also means there are no fines for using an American-style car seat even though they use European-style car seats.
I always say when you travel with kids you need to adjust and let go of some of your North American standards when it comes to transportation. French Polynesia is more European so bringing kids on the bus or shuttle and holding them is pretty normal.
We brought car seats for the first trip as we were meant to do a road trip with a rental car, but the second time around we just rented some upon arrival, because it would have been a nightmare to drag car seats for small planes with baggage limits (Air Tahiti domestic limits luggage a lot so you have to be strategic about what to do bring and what to leave at home).
The baby got a car seat from the hotel in Nuku Hiva and stayed with my husband in the car, while my toddler Dylan opted to ride with the rest of us on the "safari-style" van for our island excursions.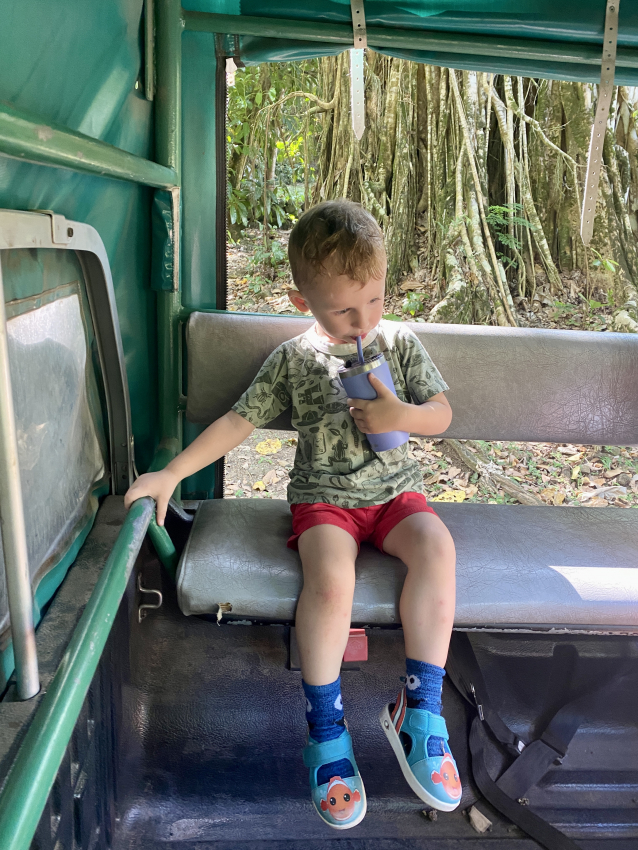 If all you need to do is to get to and from the resort you should leave your car seat at home. It's a huge item to lug around for a 5-minute trip, especially since you can often request a car seat from the pickup.
Keep in mind that Air Tahiti Nui is a European-style airline which means that it's not free for all when it comes to installing car seats on board. It depends on the car seat and whether it's not the plane is full and doesn't limit the recline and so on.
I personally saw two people got their Doonas refused on board and had to gate check it… and by then all the bassinets were taken by other babies.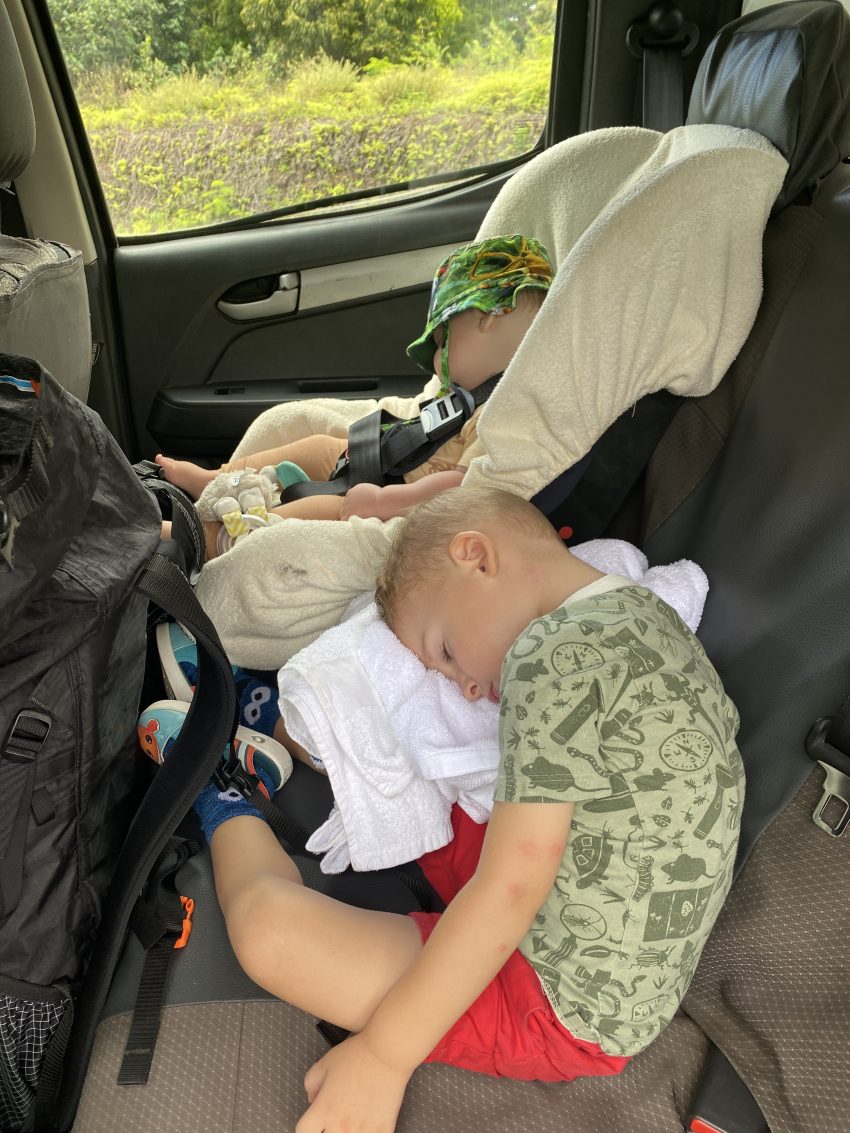 ---
Planning Your Adventures with Kids
I tried both options: having a pre-planned everything type of trip the first time and winging a lot the second time. I felt like it was relatively easy to wing a lot of things due to flexibility, but it definitely wasn't cheaper.
Keep in mind what you can and what you cannot do with the kids. In Nuku Hiva, we opted for a moderate adventure as kids were drained by flying so much, and hiking 10 miles to the waterfall didn't seem like the greatest idea.
Don't get me wrong, kids still had a blast and so did we as it wasn't as stressful.
We did a mixture of private guesthouses, hotels, and resorts starting from the simplest to the most elaborate one which was a good idea.
Bring a small travel stroller for long walks around resorts and a baby carrier or/and hiking backpack if you're planning on exploring the islands.