When I got married we had no wedding for multiple reasons (green card issues to start with) so we were able to splurge on a honeymoon in Kenya and Tanzania. I'm not going to lie – it wasn't a cheap trip.
But, if you've forked out a whole stack of savings on the wedding, you're probably on the hunt for cheap honeymoon destinations. I can hardly blame you. No one wants to start married life by dipping into the red but everyone wants to go somewhere romantic and beautiful.
Thankfully, there are all sorts of top-notch honeymoons on a budget out there. From island honeymoon destinations washed by the glistening seas of Southeast Asia to tropical honeymoon destinations that offer palm-fringed beaches to domestic US honeymoons that you don't even need an airport to enjoy – the list is endless!
Check out just a few of our favorite suggestions for budget honeymoon destinations below…
1. Bali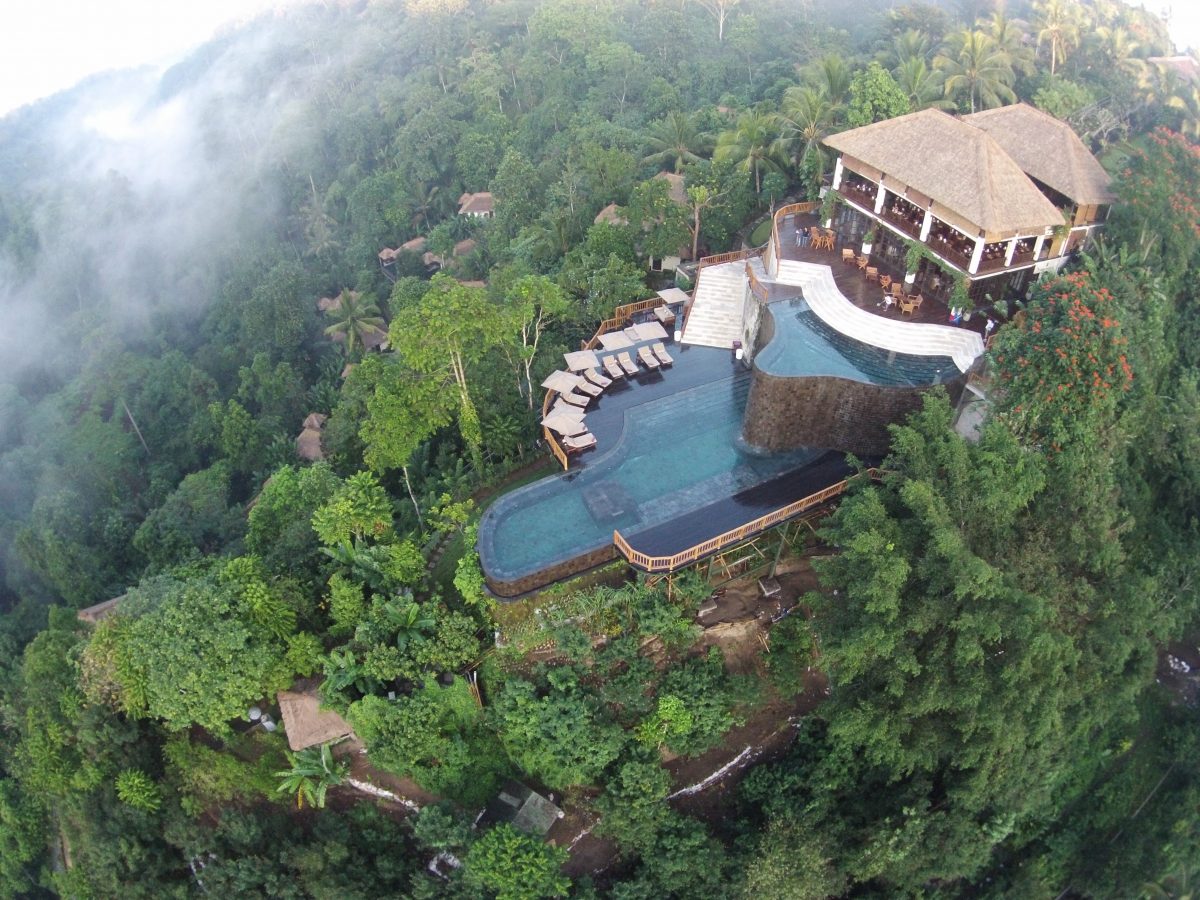 The so-called Isle of the Gods is the jewel in the crown of Indonesia. Of all the country's 17,500 specks, it's surely this diamond-shaped speck in the archipelago of the Nusa Tenggara that tops the charts when it comes to island honeymoon destinations.
The south coast is a heaven for surfers. Sadly, that cranks up prices a little, so I'd say dodge Bukit, Kuta, and Legian. Better options are up in the mountains inland.
There, verdant pockets of coconut palms give way to misty rice paddies and enthralling art towns. Ubud is the standout. It's also surrounded by gorgeous eco-hotels that have pools with rainforest views.
The far northern coast of Bali also fits the bill for cheap honeymoon destinations. Make for Lovina Beach and you could spend that special trip gazing at dolphin pods splashing through the Indian Ocean. It's also great for channeling a little of the island's famed spiritualism.
Just head down to the vast complex of pagodas and golden Buddha statues that is the Brahma Vihara Arama to meditate and contemplate together.
Where to Stay in Bali
Luxury Hotels in Bali
Six Senses Uluwatu – Perched high on a cliff above the Indian Ocean, this Balinese hotel is the epitome of luxury. Some gorgeous suites and villas include private pools too. The resort also offers five-star dining, floating breakfasts, high tea by the sea, cinema under the stars, and many plush experiences.
Four Seasons Resort Bali at Sayan – This enticing jungle retreat with private plunge pools and verdant greenery feels like an oasis of green. Balinese dance performances, pottery workshops, uninterrupted privacy, and gourmet Balinese and international dining will only add to the tantric bliss.
Alila Villas Uluwatu – These six-star villas exceed your expectations in every way. Set atop cliffs overlooking the ocean, the villa is home to hanging pavilions, a 46 m outdoor pool along with private pools, and a seamlessly flowing design. With private butler services, private cabanas and indulgent services, this hotel is truly heaven here on earth.
Mid-range and Budget Hotels in Bali
Mercure Kuta Bali – An infinity pool and beachside villas are all you need for a destination honeymoon. Mercure in Kuta may be a mid-range hotel, but you get everything you need for your honeymoon – Balinese massage treatments, live local music, food to tantalize your tastebuds and easy access to a vibrant nightlife.
Sun Island Suite & Spa Goa Gong – Affordable luxury is what you'll find at these suites in Jimbaram. Private pools with sea views, well-equipped kitchens with butler service, and classy modern decor add a fantastic touch to these spacious villas.
Balquisse Heritage Hotel – A short walk from Jimbaram beach, this heritage villa offers tasteful rooms, suites, or separate houses that are amazingly decorated. If you want a honeymoon surrounded by antique collections and rare artifacts, this property will exceed your expectations.
---
2. Mexico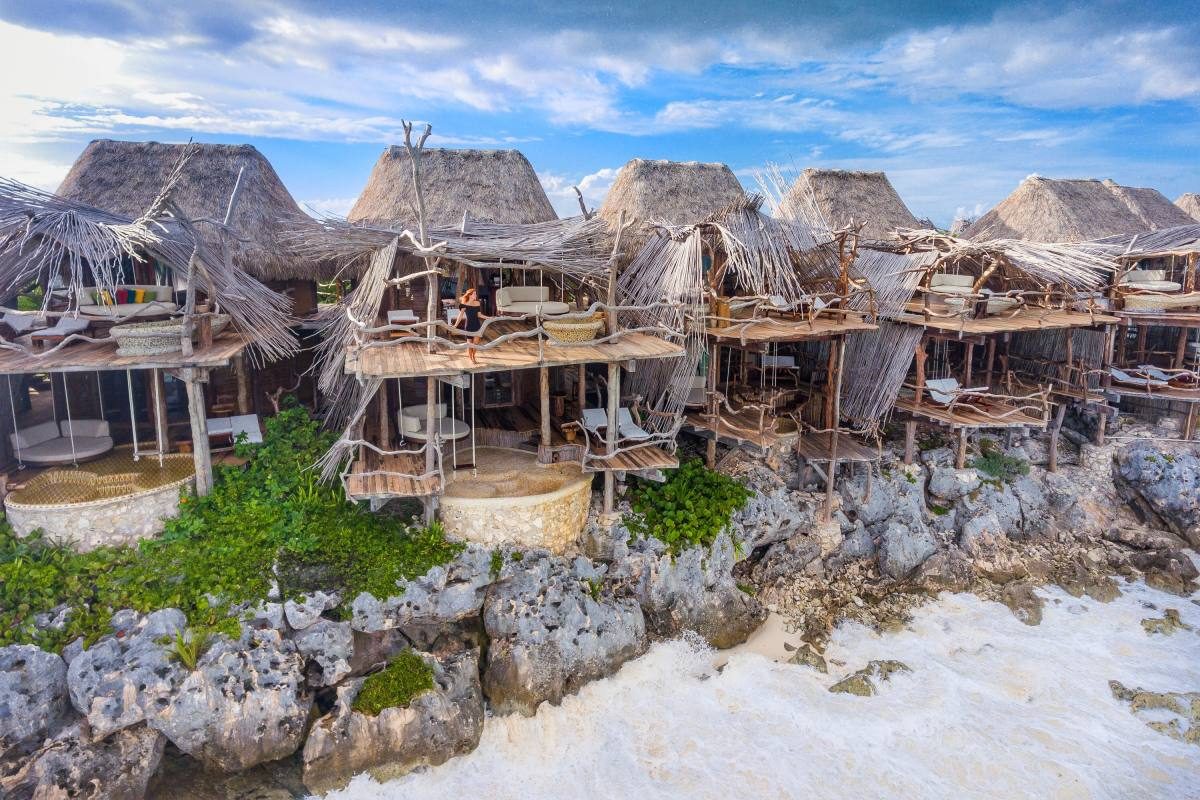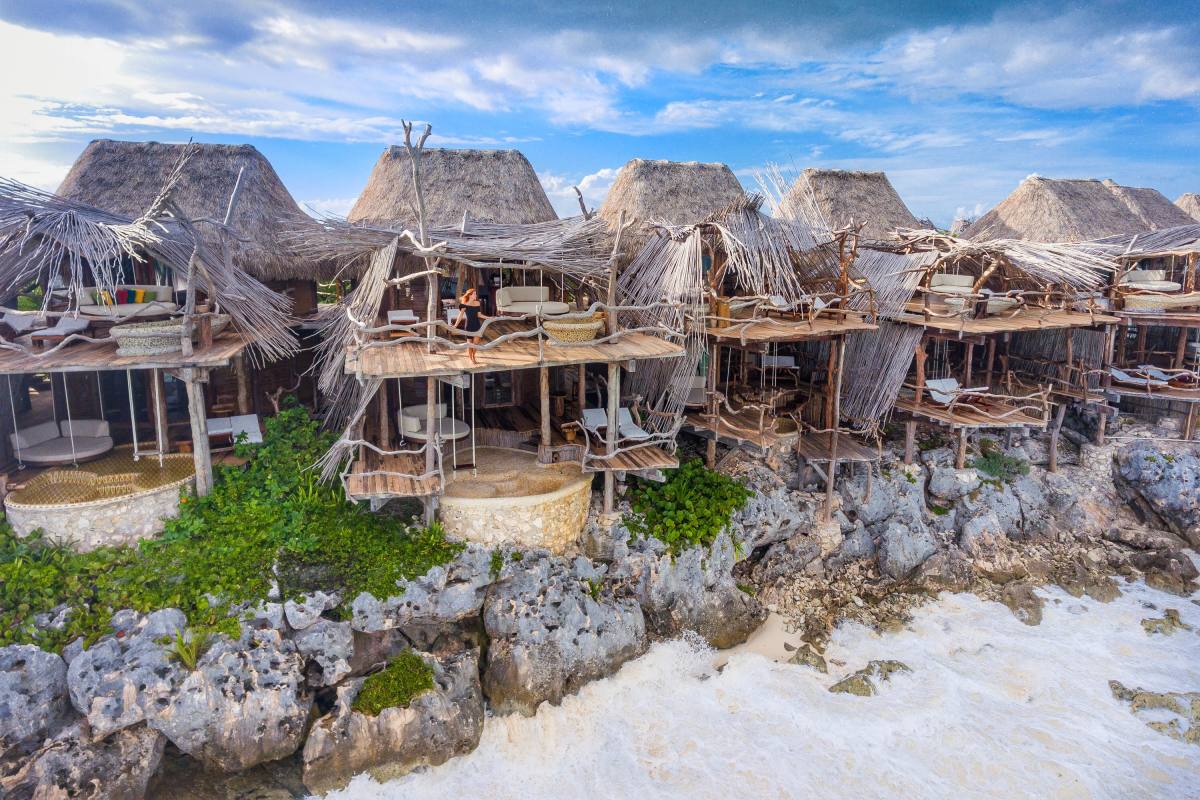 Thanks to an abundance of low-cost airlines linking oodles of American cities to resorts down in the land of agave and tequila, you're looking at just a couple of hundred dollars to kick-start your post-wedding jaunt.
But, that's not the only reason Mexico makes it onto this list of cheap honeymoon destinations. Food is always a bargain in these parts. A whole salsa-topped taco is typically eight to 15 pesos – around $0.60!
What's more, there are so many five-star hotels on the menu in the most famous honeymooner parts of Mexico that haggling for a great all-inclusive deal is usually a possibility
But where are those honeymoon parts? Let's start on the coast. Cancun and Cozumel and the stunning temple-topped cliffs of Tulum come up trumps on that count. They'll let you fuse seriously high-class accommodations with white-sand beaches, visits to wonders like Chichen Itza or simply very affordable, yet stunning cenotes.
On the other shoreline, you'll find the cool Pacific resorts of the Bahia de Banderas and Baja. Inland Mexico, meanwhile, is tailor-made for adventurous couples.
Hit the peaks of Oaxaca for earthy meals of homemade cheese and spicy chili. Or, head off-the-beaten-track to the plazas and cafes of Morelia and other colonial-era cities.
Where to Stay in Mexico
Luxury Hotels in Mexico
El Dorada Maroma – Offering the only overwater bungalows in Mexico, El Dorada Maroma offers outdoor shower "Aguas del Amor", indoor hot tubs for two, glass flooring, and plush interiors. Enjoy tequila-scrubs at the spa, open-kitchen dinners, and lovely Carribean decor.
Waldorf Astoria Los Cabos Pedregal – This phenomenal resort offers spacious private villas with pools in the rooms and amazing ocean views. The best spa facilities, 3 amazing restaurants, personal assistants, and a pool that disappears into the horizon are just some of the luxe offerings.
Hacienda Xacantun – Once an 18th-century hacienda, now a luxury hotel Xacantun offers stylish villas surrounded by tropical gardens and private pools in some. The yellow walls of the hacienda are also perfect for those Instagram photos.
Mid-Range & Budget Hotels in Mexico
Cala de Mar Resort & Spa Ixtapa – Overlooking a cliff, this secluded hotel offers Mexican style suites that take you back in time. Private plunge pools, terraces with ocean views, Mexican decor and furnishings, and spectacular views of the Pacific Ocean make it worth it!
Villas Caracol – Stylish villas and suites on Holbox Island are in the middle of a nature reserve. For an active honeymoon, you can use the hotels kayaks to explore the island.
Hacienda El Santuario San Miguel de Allende – Spacious rooms decorated in traditional Mexican style and walls covered with Mexican decor fill this beautiful hacienda surrounded by trees. The traditional esthetic is charming!
---
3. India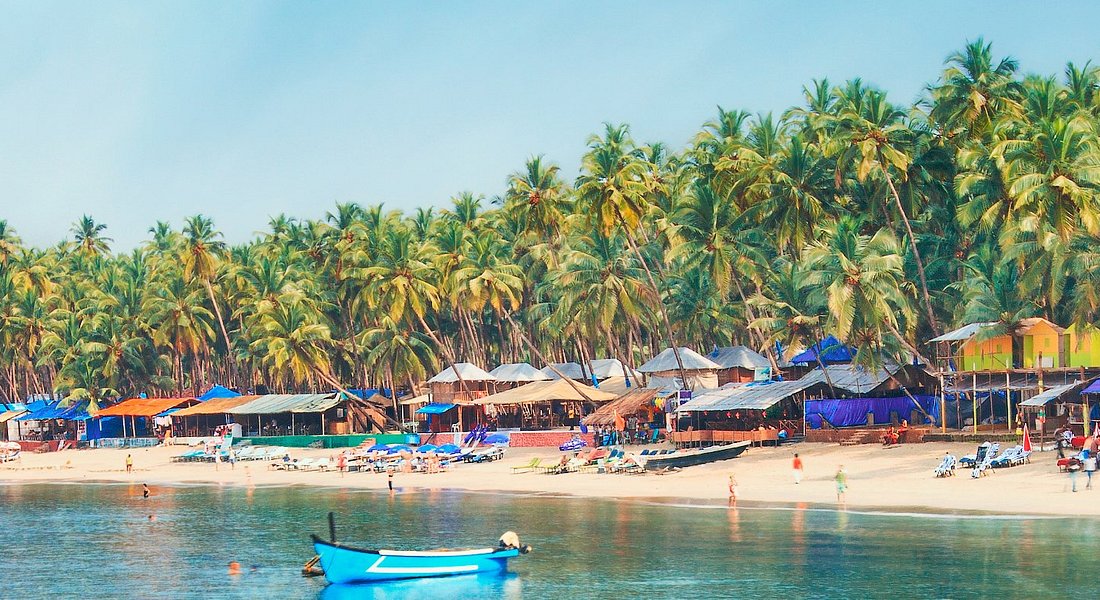 US-India flight connections might not be the best bargains going, but then it is one hefty trip of over 7,800 miles from one nation to the other.
That said, there are few South Asian destinations that can match the value for money you'll get on the ground, not to mention the wonderful spiritual awakening that is unique to this vast subcontinent.
Now, you could take the easy path and book a connection into the beach-fringed state of Goa. It's a lovely land of golden sand strips and palm-topped promontories, replete with bungalow resorts and sunset bars.
Alternatively, there's the real India. For that, consider venturing to the trio of Udaipur (arguably one of the most romantic cities in the world with that tiara of lakes), Jodhpur, and the pink bazaars of Jaipur. They have loads to keep more intrepid honeymooners busy and entertained.
Where to Stay in India
Luxury Hotels in India
The Westin Goa – Luxurious rooms just a short distance from Ozran Beach, this open-air design hotel is one of the best in Goa, India. Two luxurious pools, attentive service, a drift bar, replenishing spa and make for a heavenly honeymoon break.
Taj Lake Palace Udaipur – Built in 1746, Taj Lake Palace is right in the middle of Pichola Lake. It offers breathtaking views of the Aravalli Hills and the City Palace. Exquisite wooden furnishings and silk fabrics adorn the rooms while the fitness center sports modern equipment. And there's nothing better than trying sumptuous royal Udaipur cuisine with your partner.
Rambagh Palace – The former residence of the Maharajah (king) of Jaipur, this sprawling palace has luxuriously decorated suites that were once used by royalty. If you want to be treated like a king and queen on your honeymoon, this is the place to go.
Mid-Range & Budget Hotels in India
Seashell Suites & Villas – Set amidst lush tropical gardens a short walk from Candolim beach in Goa, the large spacious villas at Seashell offer budget-friendly hospitality in a good location.
Lake Pichola Hotel – Large spacious rooms with traditional decor and furnishings offer every modern amenity. The balcony is the perfect place to enjoy a bottle of wine while looking out at the lake or the city of Udaipur.
Umaid Bhawan – Heritage Style Hotel – This traditional hotel with marble flooring has large spacious rooms that look like they came out of an Indian movie. Rajastani decorations, chandeliers and hand-painted ceilings add a more romantic feel.
---
4. Thailand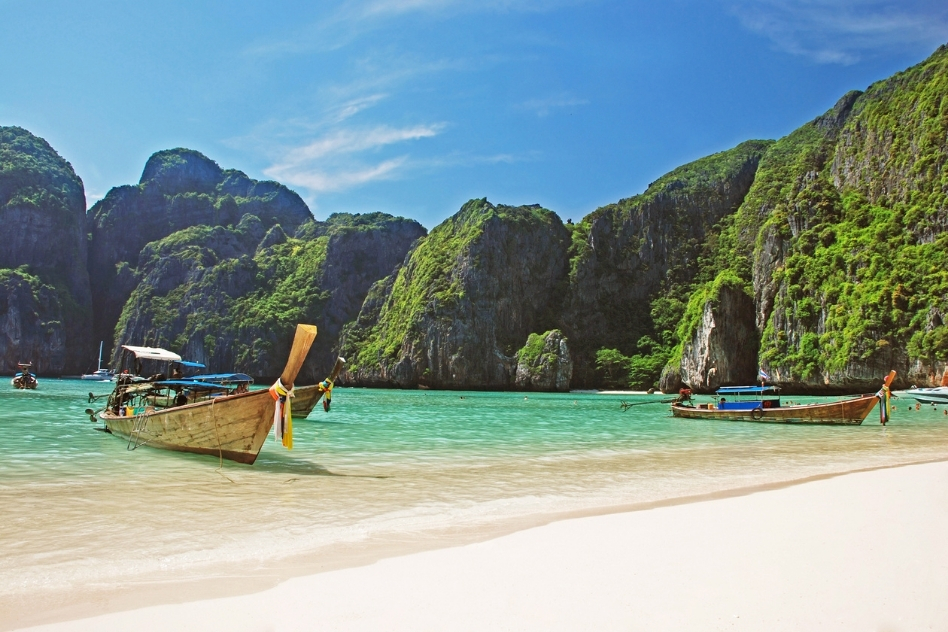 Oh, the Land of Smiles – a country with something for everyone. No matter if you're on the hunt for a rollicking night out or lux tropical honeymoon destinations, Thailand has you covered.
Romantic couples looking to spend some quality time post-wedding have an abundance of gorgeous beach resorts and islands to get stuck into. If you like big hotels with all the mod cons, Phuket and Krabi could be for you.
The beaches of Railay and Kata Noi are particularly good for that, and you can score attractive all-inclusive deals during shoulder-season months like October and November.
Then there's the remote north coast of Koh Phangan (the south side is reserved for backpackers seeking the Full Moon Party) in the Thai Gulf, or super-chilled Koh Jum (one of Thailand's best-kept secrets) over in the Andaman.
Don't go thinking that it's all about island honeymoon destinations in this corner of Southeast Asia, though. You can also head up north to discover jungle-covered hills and bucket-list national parks that are filled with elephants.
Check out the Golden Triangle region of Chiang Rai for longboat rides on the Mekong and glimpses of gorgeous temples. Or, head to the rustic village of Pai up in the hills, where you and your other half can hike to waterfalls and soak in natural hot springs.
Where to Stay in Thailand
Luxury Hotels in Thailand
The Float House River Kwai – These luxurious floating villas on the River Kwai are surrounded by the Saiyoke mountains and forests. Rustic-looking decor and the softest bed will leave you wanting to stay longer. For the adventurous honeymooners, there are activities like swimming, bamboo rafting, or hiking.
The Sarojin – This tropical retreat if filled with landscaped gardens of exotic fruit and flowers. Luxurious rooms include Thai-style pavilions, jacuzzis, and some private pools. Breakfast is served all day till 6 pm and the staff go over and above expectation. A perfect place for the dream honeymoon!
Crest Resort & Pool Villas – Spacious rooms and villas with classy decor and minimalistic design are exceptional. While some villas have private pools, the jungle or sea views from the others remind you of Tarzan and Jane.
Mid-Range & Budget Hotels in Thailand
Peace Laguna Resort & Spa – This Krabi hotel with 3 onsite pools offers spacious rooms with garden or mountain views from the private balconies. The colorfully decorated cottages are better options for the privacy they afford. The mountains are the perfect backdrop for honeymoon pics.
The Legend Chiang Rai Boutique River Resort & Spa – On the banks of the Mae Kok River, this boutique hotel features Thai Lanna architecture and scintillating views. Large spacious rooms are perfect for days in while the infinity pool is there for a dip. Perfect for a peaceful honeymoon!
Nak Nakara Hotel – Features Thai Lanna architecture and vibrantly decorated rooms in the best part of Chiang Rai. Everything you need for an Asian-inspired honeymoon.
---
5. Sri Lanka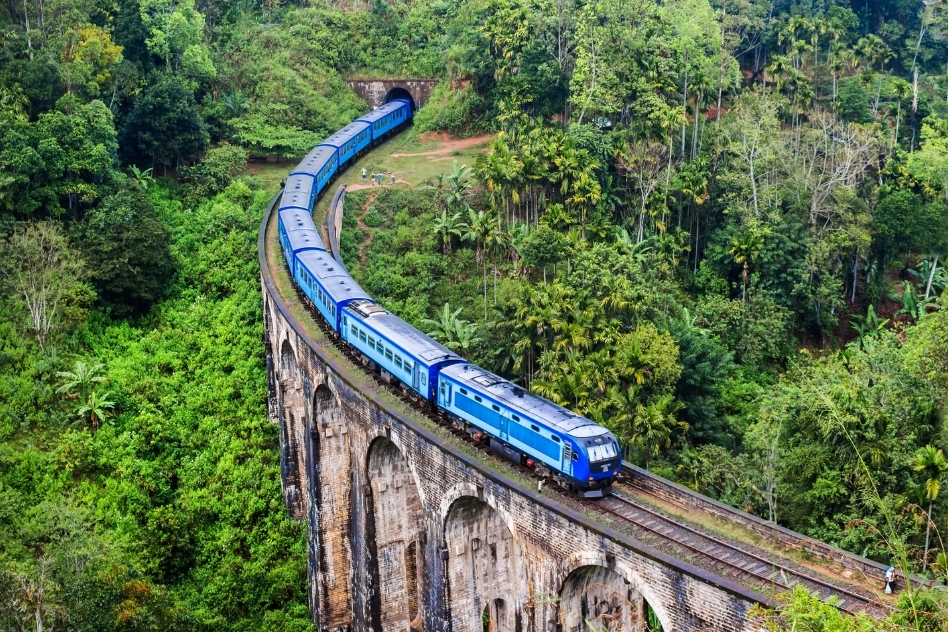 Sri Lanka has oodles of cheap honeymoon ideas up its sleeve. First off, there's fantastic weather between November and March on the south-west coast.
You can score stays in come-laze-on-me coves like Hiriketiya Beach (a yogi's and surfer's favorite) and Mirissa (for whale watching and night-time parties). Those can even give the paradise of the Maldives a run for its money, only with a fraction of the price tag.
* Although the Maldives can also be done on the budget, so you might as well combine both destinations as they're next to each other.
But the mystical Teardrop of India isn't your usual pick among tropical honeymoon destinations. It's not just beaches and palm groves in these parts. The mountain town of Ella beckons couples with sweeping emerald tea fields, and gorgeous villa resorts perched above the clouds.
A sighting of the ancient UNESCO site of the Sigiriya Fortress further north promises to be something you'll never forget. Oh, and you'll discover yoga camps and meditation retreats that teach the age-old traditions of Ayurveda in the Central Highlands. You know, just in case you were looking for something a little different to do together.
Where to Stay in Sri Lanka
Luxury Hotels in Sri Lanka
Cinnamon Lakeside, Colombo – Offering gorgeous views of the Beira Lake, this hotel offers spacious and stylish rooms and suites with balconies. Enjoy local cuisine or indulge in a massage at the onsite spa, swim in Colombo's largest pool, or walk with your loved one in the vast gardens.
Weligama Bay Marriott Resort & Spa – Close to Mirissa beach, this spectacular 5-star is all-round indulgent. Wake up to dazzling views of the bay, pamper yourself at the spa and indulge yourself with local delicacies.
Ubuntu Beach Villas by Reveal – Minimalistic villas with views of the turquoise waters are perfect for a beachside honeymoon. A stunning backdrop for your honeymoon photos, Sri Lankan cuisine, and a staff that pampers you, what more do you need?
Budget Hotels in Sri Lanka
Mirissa Gate – A pool with an ocean view, canopy beds and traditional furniture, and an easy walk to coconut beach – all the makings of the perfect honeymoon getaway! Ask for the rooftop Room 15 if it's available.
Blue Elephant Boutique Hotel – Large spacious rooms with balconies and traditional art decor and wall paintings close to Negombo Beach. A colorful piece of paradise!
---
6. Cape Cod, Massachusetts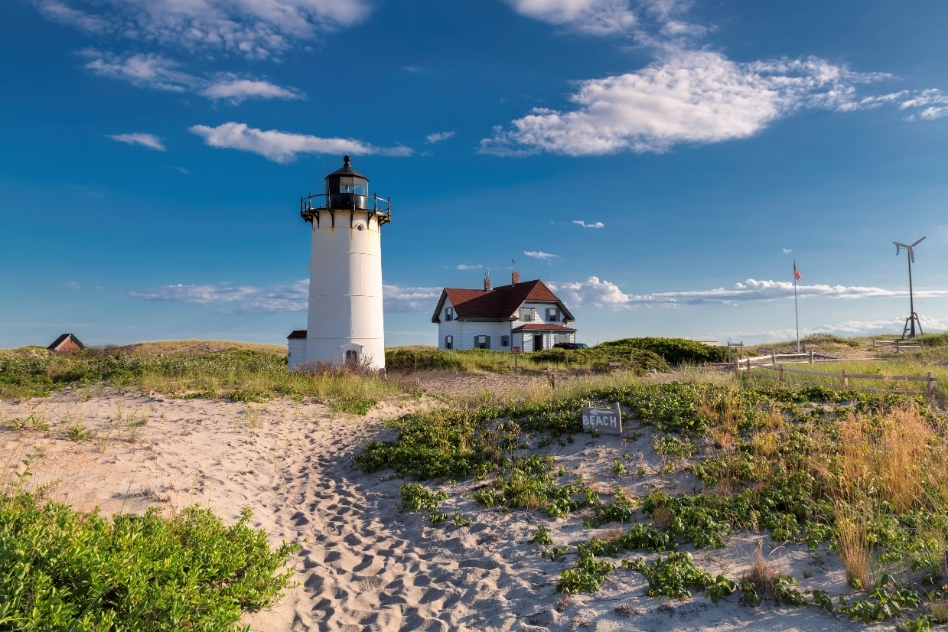 Lobster shacks, lighthouses, and long sandy beaches all combine along the stunning edges of Cape Cod. Yep, there are loads of reasons why this gorgeous corner of MA is considered a doozy of a honeymoon destination.
However, it's not often mentioned in the same breath as cheap honeymoon destinations a la Thailand and Mexico. But perhaps it's time to think again?
Married couples from the US will only need to catch an internal flight at most to whiz over here, while those who live in the Midwest or along the Eastern Seaboard could even go for a romantic road trip. In addition, lazing on the sands, hiking the dunes, and seeing the wonderful lights on the cliffs all come totally free.
The best way to get yourself a bargain is to time your trip for the shoulder seasons of early spring and late fall. Granted, you won't have the scorching heat then, but the coastal forests look wonderful and there are far smaller crowds on the Massachusetts shores.
You can also throw in a few free things to save even more dollars, like a jaunt down the cycling paths of the bucolic Cape Cod Rail Trail or a visit to the six acres of woodland and wildflowers at Spohr Gardens (perfect in April with the daffs!).
Where to Stay in Cape Cod
Luxury Hotels in Cape Cod
Carpe Diem Guesthouse & Spa – With rooms named after Emily Dickenson, Oscar Wilde, Shakespeare, and hosts that have phenomenal attention to detail, this adult-only guest house is perfect for honeymooners. Enjoy the afternoon extras – wine and cheese, coffee and cake, and more. Or rejuvenate yourselves in Hydro-jet hot tub, Finnish saunas or Turkish hamam steam bath at the Namaste Spa.
Brass Key Adult Only Guesthouse – This guest house has beautiful airy rooms in historically restored buildings. Beautiful grounds with many areas to just sit idly, an edgeless pool, 15-person hot tub, and more make Brass Key the perfect spot for wedding receptions and honeymoons.
Mid-range & Budget Hotels in Cape Cod
Anchor In Distinctive Waterfront Lodging – Rooms featuring classic Cape Cod decor get you ready for beach life. Wake up to views of the boats anchoring in the harbor, or enjoy the sunset on your balcony with a bottle of wine.
Cape Winds Resort – This VRI resort offers apartments and suites for total privacy. With its own kitchen, dining area and balcony you and your partner don't have to ever leave. If you do venture outside, there's a nice fireplace in the clubhouse, fitness and games area, and the beaches and attractions are close by.
---
7. Costa Rica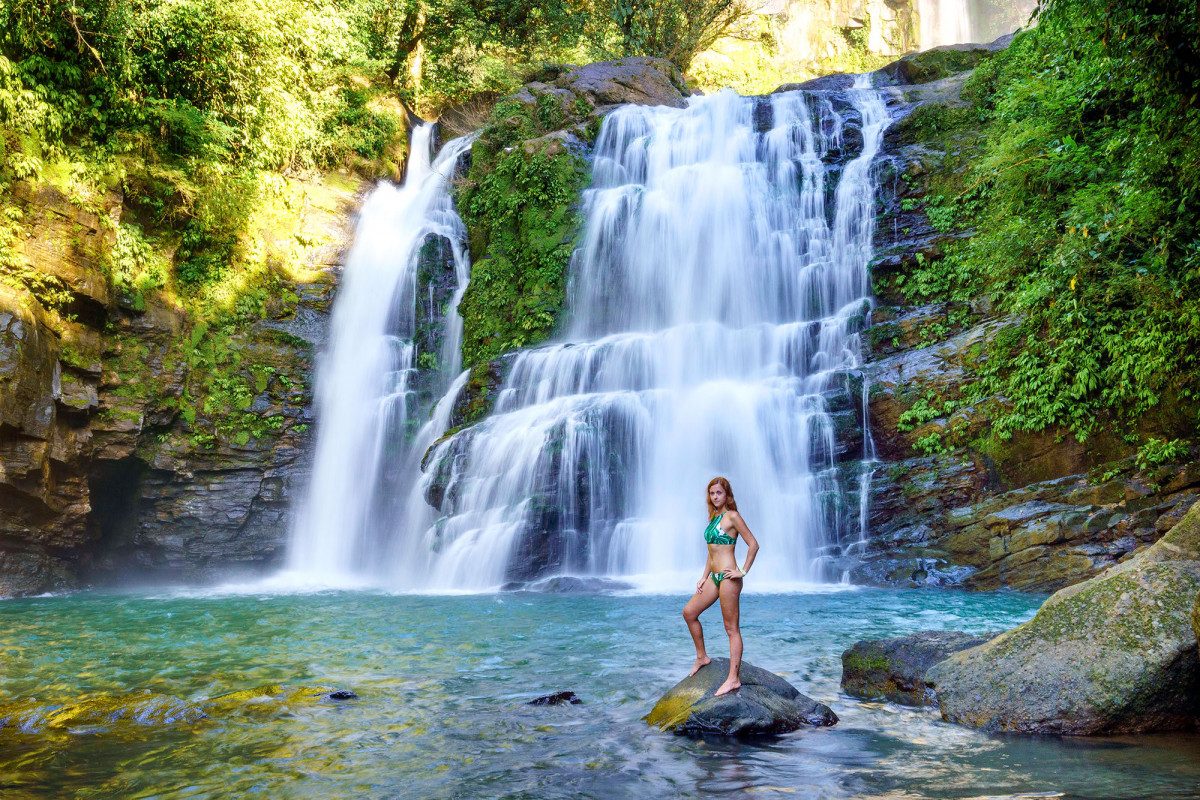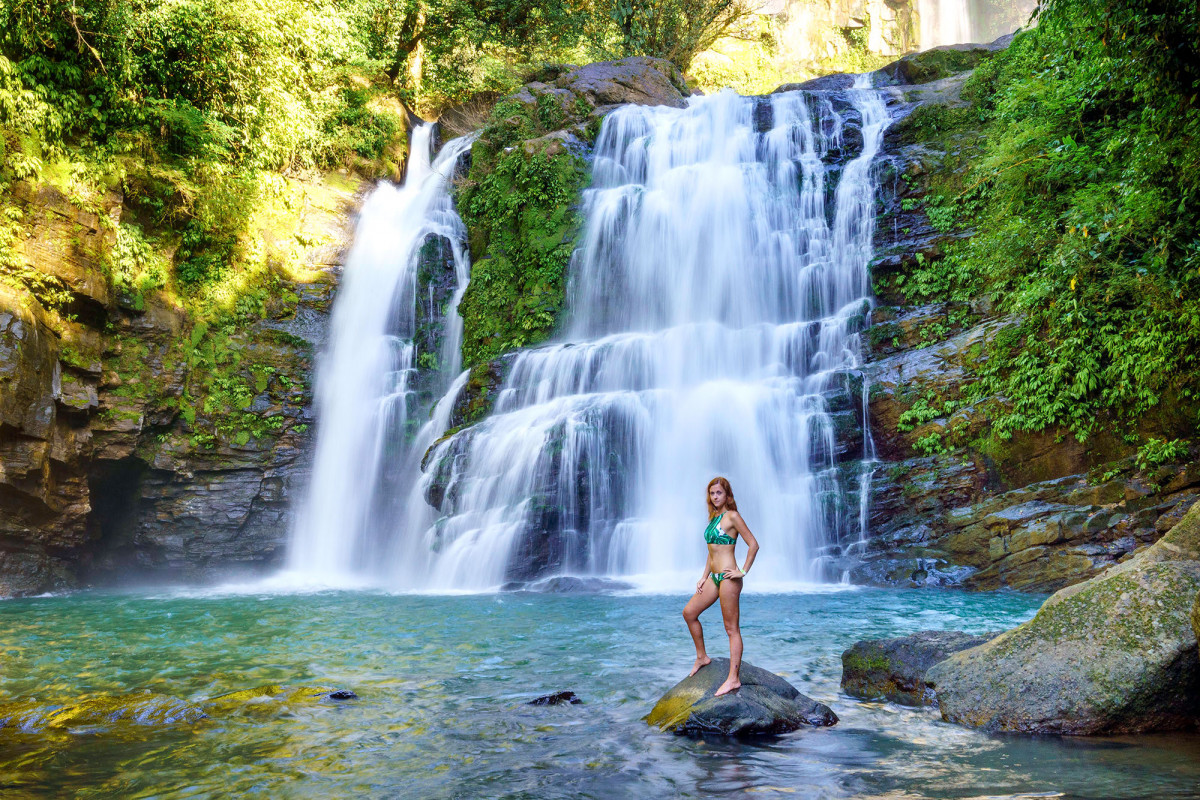 A taste of the fabled Pura Vida of Costa Rica might just be the perfect way to kick-start married life. Thankfully, a trip to this much-loved and – crucially – politically stable part of Central America needn't break the bank.
There's a new breed of boutique ecotourist hotel that could come with hefty nightly rates, but you can still enjoy a trip to see the cloud forests of Monteverde, the smoking volcanos of Arenal, or the sloth-filled woods of the Parque Nacional Manuel Antonio without spending too much.
However, there's something else that makes Costa Rica a doozy among tropical honeymoon destinations: Two coastlines. You'll find gorgeous beaches on both the Pacific Ocean and the Caribbean here.
The first probably hits a zenith with the gorgeous Guanacaste region you can explore on a road trip. Cinnamon-tinged beaches run for miles on end there, and you can score a jungle cabin that lets you wake to the sound of howler monkeys in the morning.
In the east, it's Puerto Viejo de Talamanca that often tops the bill, with its coral reefs and dashes of wild mangroves.
Where to Stay in Costa Rica
Luxury Hotels in Costa Rica
Umami Hotel – Adults Only – Terraced rooms with classy chic designs and a pool with cabanas make this adults-only hotel in Puerto Viejo perfect for privacy and luxury on your honeymoon.
Senda Monteverde Hotel– Close to the Monteverde Ecological Sanctuary, this jungle features cabin suites with balconies. Seclusion and luxury surrounded by the sounds of nature combine together for a great stay!
Chira Glamping Monteverde – Honeymoon tents and hot tubs are the theme at this glamping spot. The glass shower offers panoramic views of the surrounding jungle.
Budget Hotels in Costa Rica
Caribe Town – Surrounded by tropical gardens, the bungalows and suites have a jungle vibe. Laze in the hammocks, swim in a saltwater pool that has a swim-up bar, or take a walk to the nearby Cocles Beach.
The Coast Beachfront Hotel – Spacious wood-furnished suites and bungalows in this Caribbean paradise are perfect for honeymooning. Enjoy the pool or the beach, or just laze under the coconut trees sipping on your margheritas.
---
8. Aruba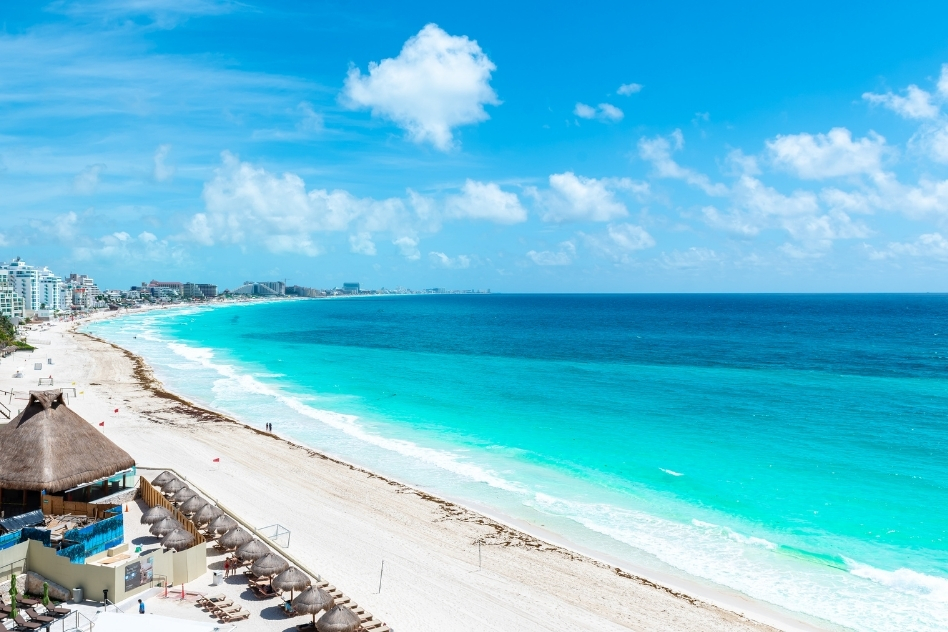 Forget the spring break crowd and the beach hunters, Aruba is also for loved-up duos on their post-marriage celebrations.
Perhaps the best thing about this island is that it sits nice and far from the Atlantic Hurricane Belt. That means balmy days, clear skies, and hardly a flash of rain, no matter the season.
On top of that, of all the cheap honeymoon destinations in the Caribbean, this one boasts some of the most affordable and regular flight connections from the US. There are direct links from Miami, New York, Atlanta, and a whole bunch of others to boot.
Aruba naturally comes with all the deluxe hotel resorts you'd expect of a stunning tropical island. There are even adults-only hotels with infinity pools by the turquoise Caribbean waters and thatched cabanas where you can laze and soak up the sun together.
The island is big enough for romantic escapes, too. Check out the gnarled divi-divi trees of gorgeous Eagle Beach or the reefs of quiet Arashi Beach for some seclusion.
Where to Stay in Aruba
Luxury Hotels in Aruba
Barcelo Aruba – All Inclusive – Featuring an onsite casino, 6 bars, watersports and nightly live entertainment, you might not want to leave this all-inclusive resort!
Eagle Aruba Resort & Casino – Classy suites wit balconies and kitchens, 3 swimming pools with waterfalls, an onsite casino, and daily happy hours, are perfect for a lively honeymoon.
Riu Palace Aruba – All Inclusive – Wake up to views of the crystal clear ocean at this all-inclusive resort. Enjoy a drink at the swim-up bar, walk in the garden, or lounge at the beach. Whatever you do, this all-inclusive hotel is perfect for a cosy yet happening stay!
Budget & Mid-range Hotels in Aruba
Coconut Inn – Affordable and comfortable studios and suites offer complete privacy while not being too heavy on the budget. Spend time in the pool or walk around the vast gardens when you're not out exploring.
Paradera Park Aruba – Landscaped gardens lined with hammocks swinging from trees in the center of the island feature colorfully decorated apartments. Tranquil seating areas, lovely pool, and picture perfect backdrops for your honeymoon!
---
9. The Philippines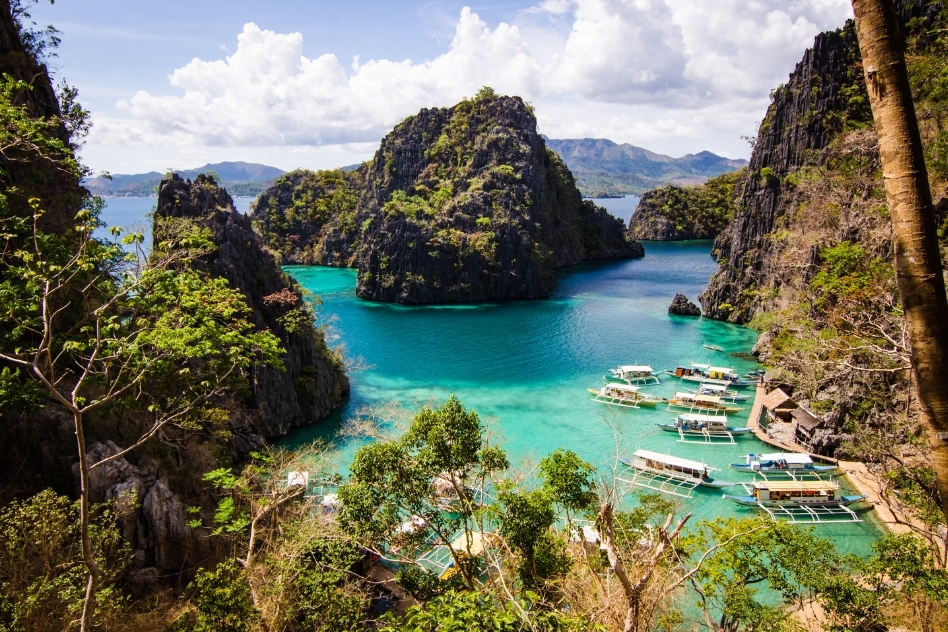 Azure seas, the most white-sand of all the white-sand beaches in Southeast Asia, hammocks swinging between palm trees – what more could you want from your island honeymoon destinations?
Well…when it comes to islands, the Philippines has more than most. In fact, there are a mind-boggling 7,641 dots of land spread between the Pacific and the Sulu Sea here. There's bound to be one that tickles your wanderlust…
I'd recommend steering away from the beaten path of Boracay and Bantayan, even if they're stunners. Better for honeymoons on a budget are the places with something of a rustic edge.
Try Siargao. It's now an Insta-famous isle that's home to glimmering coastal lagoons, tidal pools, and some lovely long stretches of palm-filled beaches.
Then there's Cebu, where you could wake in beachside cabanas and be swimming with sea turtles before breakfast. Finally, Palawan is always worth a nod. Lesser-known beach towns like Port Barton there have gorgeous resorts fronted by cotton-tinged sands and coral reefs.
Where to Stay in the Philippines
Luxury Hotels in The Philippines
The Lind Boracay – Offering large studios or rooms with garden, beach, or pool views from the balcony, you'll find everything you need in this elegantly decorated hotel. Pick the double room with a private pool for your honeymoon!
Crimson Resort & Spa on Mactan Island – Chic and elegant rooms offer spectacular views of the ocean. Take advantage of the peaceful surroundings, aqua aerobics sessions in the infinity pool, a relaxing spa, 4 onsite restaurants, and a rock bar by the cliff of sundowner cocktails at this posh hideaway. Pick the stunning oceanfront villas with private pools and hot tubs.
Budget & Mid-Range Hotels in The Philippines
7 Stones Boracay – Popular for their large suites with kitchens, seating areas, terraces, or balconies. Enjoy a drink at the poolside bar, take a walk to the beach or spend time in the in-room jacuzzi.
Fantasy Lodge – A secret pearl in the Pacific Ocean, this lodge offers sea-facing bungalows with gorgeous views. You'll enjoy lounging in the garden or at the private beach with your husband or wife.
Microtel by Wyndham Baguio – Perfectly located if you want to explore the city of Baguio on your honeymoon. With such affordable prices, it's easy to skip the rooms and stay in the suites.
---
10. Sonoma, California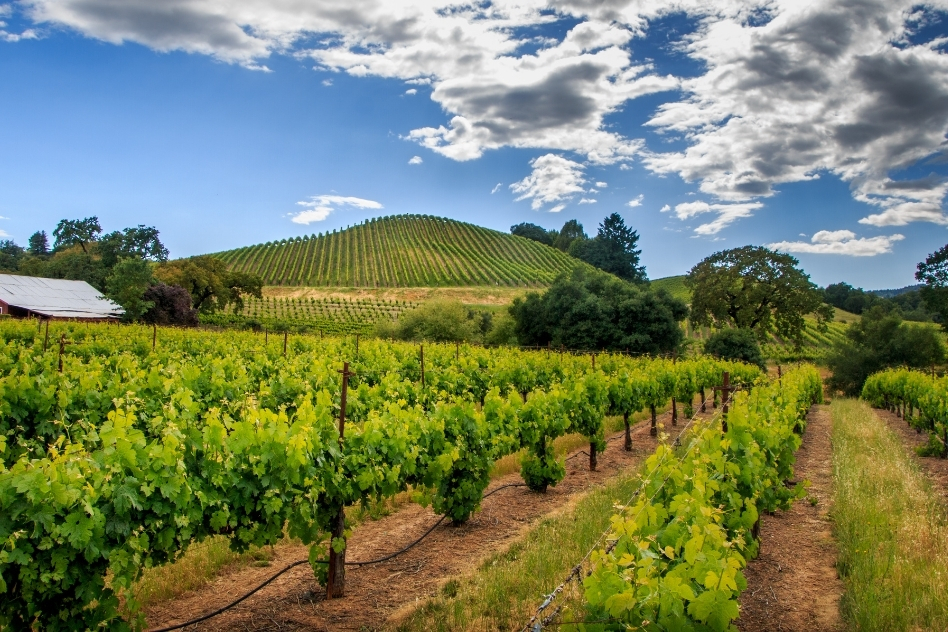 Unlike the next-door Napa Valley and the prestigious vineyards of the Santa Ynez ranges nearer to LA, the winelands of Sonoma don't come with such a jaw-dropping price tag.
There are an estimated 350-400 cellar doors and tasting rooms in the area, so there's hefty competition for that travel dollar. You'll also catch stacks of uber-charming B&Bs, either hiding between the adobe Mexicana homes of old Sonoma town or dotting the wave-smashed coastline to the west.
Come to think of it, the coastal reaches of the Sonoma region add a whole other dimension to a post-wedding trip here. They let you bring gasp-inducing drives along the Coast Highway (one of America's most acclaimed road trips) into the mix, along with picnic stops amid the craggy rock stacks of the Sonoma Coast State Park.
Just be sure to keep the eyes peeled for gray whales and harbor seals whenever you hop out of the car there!
Where to Stay in Sonoma
Luxury Hotels in Sonoma
The Lodge at Sonoma Resort, Autograph Collection – Luxurious, plush suites and rooms, a fantastic pool, and landscapes that look like Tuscany are just perfect. And then there's the happy hours for wine on the pool deck that you can enjoy!
MacArthur Place Inn & Spa – A honeymoon can't get plusher than this. Set on a 6-acre estate, this luxurious resort has winding pathways, lush gardens, a mid-century pool, a full-service spa, nightly firepits, film rentals, complimentary snacks, and free wine tasting in the evenings.
Budget & Mid-range Hotels in Sonoma
Inn at Sonoma, A Four Sisters Inn – Within walking distance of Sonoma Plaza and close to the wineries, the casual-chic rooms include fireplaces, whirlpool tubs, and balconies. When you're not enjoying the buffet breakfast or the free afternoon wine, tea, hors d'oeuvres, or freshly baked cookies, enjoy a walk outdoors with your beloved.
Sonoma Hotel – Within walking distance of wine tasting rooms, restaurants, boutiques and Sonoma Plaza, this historic looking hotel is perfect for a low-budget wine country holiday.
Sonoma Creek Inn – Colorfully decorated rooms that look like they're from the 1980s are within walking distance of the historic plaza. Pick the room with a patio so you can enjoy a bottle of wine in the evening air.