Who doesn't want to stay in a treehouse? Especially when a treehouse is located on a beautiful beach in hot Mexico? The good news is that now you can – Azulik Tulum Eco-Resort makes your dreams come true!
Azulik Hotel Tulum Review
I absolutely loved this hotel, but know that it is not suitable for everyone. It's not your typical resort experience. Don't book it if you're after a resort experience, but rather to get offline and more in touch with the nature around you. There's no electricity, but the staff will come every evening to light up your candles. What I must say it's pretty romantic!
If you're shy it also might not be the best place for you. The clothing at the hotel and the beach is optional. While I didn't see anyone fully nude, you could see your neighbors au naturel. The tree house also has no insulation to sound and since it's made out of bamboo and wood you can pretty much see everything what's happening on other terraces.
Since it's still a resort, but with no electricity, someone creative came up with the idea of the best room service option ever. In fact, I mostly wanted to order something just for the sake of dropping a ball into a tube, waiting for a gong. 20 minutes later my food arrived along with a bottle of champagne.
The room is like a cross between a treehouse and a luxury suite. I was afraid of being eaten alive by mosquitos at first. But once we returned to our ocean facing room, the ocean breeze just swept the damn mosquitoes away. There's an extra bed swing and a jacuzzi on the patio.
There's a great restaurant at the hotel, so if you don't want to leave the property, don't worry – you won't be hungry!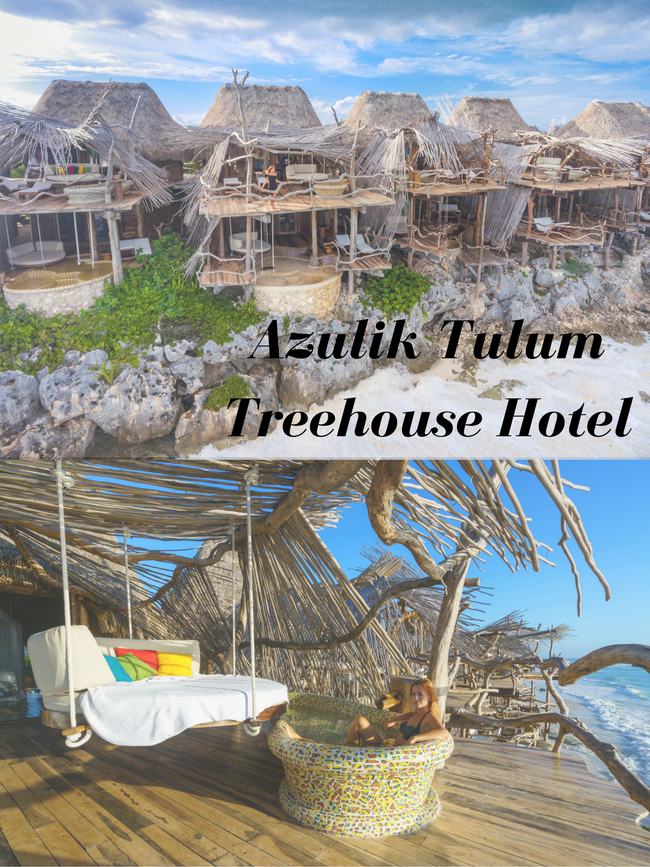 I would go back to this beautifully rustic corner of the world in a heartbeat. Can't wait to stay at Azulik Tulum again!
If you're thinking of booking this hotel check out the prices on: Booking.com | Agoda | Hotels Combined .