While Tulum isn't very kid-friendly per se, as many places are either adults-only and the place is not very walkable with strollers.
Hence why families prefer to stay in Playa del Carmen or Puerto Morelos, or even Isla Holbox which is basically like Tulum used to be 20 years ago. But, I will say that if you have the funds to stay at the beachfront hotel in Tulum the beach is stunning.
If you still want to visit it with kids, I've done it a million times. As we've lived in Playa del Carmen on and off for years, it's possible and there are even some things to do in Tulum with kids!
Things to Do in Tulum with Kids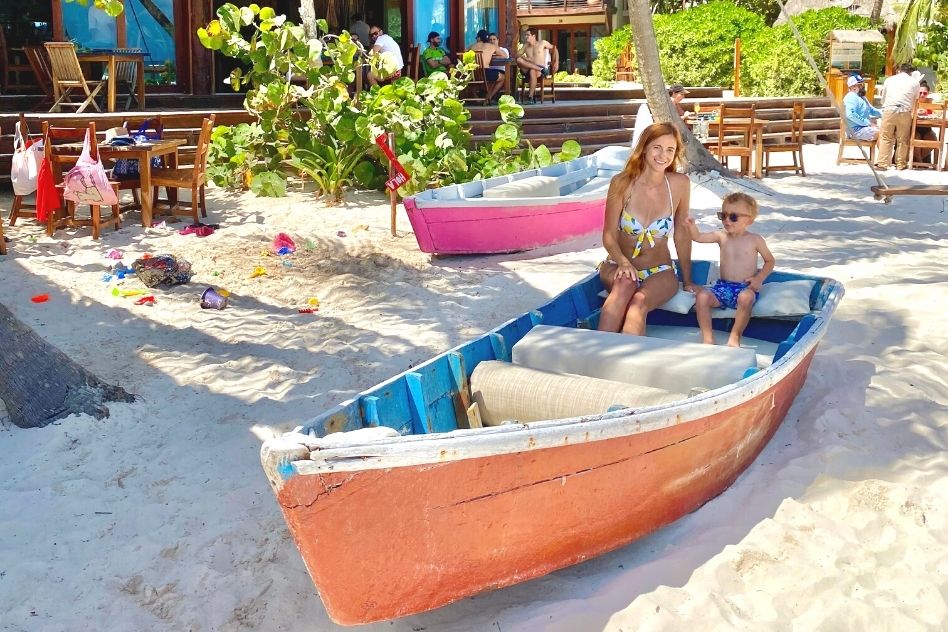 1. Be a Beach Bum
The beach is stunning in Tulum. It's much wider than in Playa del Carmen and the white sand can impress anyone.
But, that's only the case if there's no seaweed. Seaweed comes and goes in the area, so my best tip for Tulum is to book a beachfront hotel with a pool, especially with kids.
It's naturally much more expensive and prices can be insane during high season, but the beach in front of the hotels is private (technically it's not but hotels claimed it and unless you pay for the beach club you cannot enter) and the seaweed gets cleaned every morning.
There's a public beach for those who are staying in Tulum town, but I linked in my Tulum post how the Playa Paraiso beach (the most popular public beach in Tulum) looked last January-March last year because no one cleans it from seaweed. It's also a nightmare to park near it.
If the seaweed gets very bad occasionally it's safe to say you won't be able to swim in the ocean because it stinks, so it's nice to have a place with a beachfront pool. Various hotels have it and are kids-friendly!
Recommended Hotels for Tulum with kids:
Arguably the best beach club in Tulum for families with children is La Zebra. They even have a mini wooden playground on the beach.
Even if you're not staying there it's one of the best beach clubs for kids for just $45 a day (which for Tulum is cheap!). In my opinion, La Zebra is much better than Ziggy's Beach Club for daily stays.
Conveniently located close to the road to downtown Tulum, but still on the beach makes it a good place to be. Cabins, casitas, and villas at the Papaya Playa Project are built inside the jungle so you can hear the noises of nature which kids might love. Rooftop pools are fun for everyone too!
---
---
2. Visit Tulum Ruins & Coba Ruins
Perched on a cliffside overlooking the Caribbean Sea are the famous Tulum ruins. It's the most picturesque and easily accessible ruin complex, so perfect for little ones. There's also a beach where you can swim at the complex. Bring a carrier if you have very little ones, a stroller won't do it.
While Chichen Itza is one of the 7th Wonders it's way more crowded and you can't climb anything. I'll always say that Coba is much better and more of a fun adventure in the jungle.
The Coba ruins are located deep in the jungle. Most visitors either rent a bike to cycle to Nochol Mul (tallest pyramid) or ride in a bicycle taxi. Which kids won't like riding through the jungle?
Recommended Tours:
Full-day Tulum and Coba with lunch
Tulum and the Mayan Jungle adventure (Only for children above 6 years)
Coba, Mayan Lunch, & Tulum
3. Venture into Town with Bikes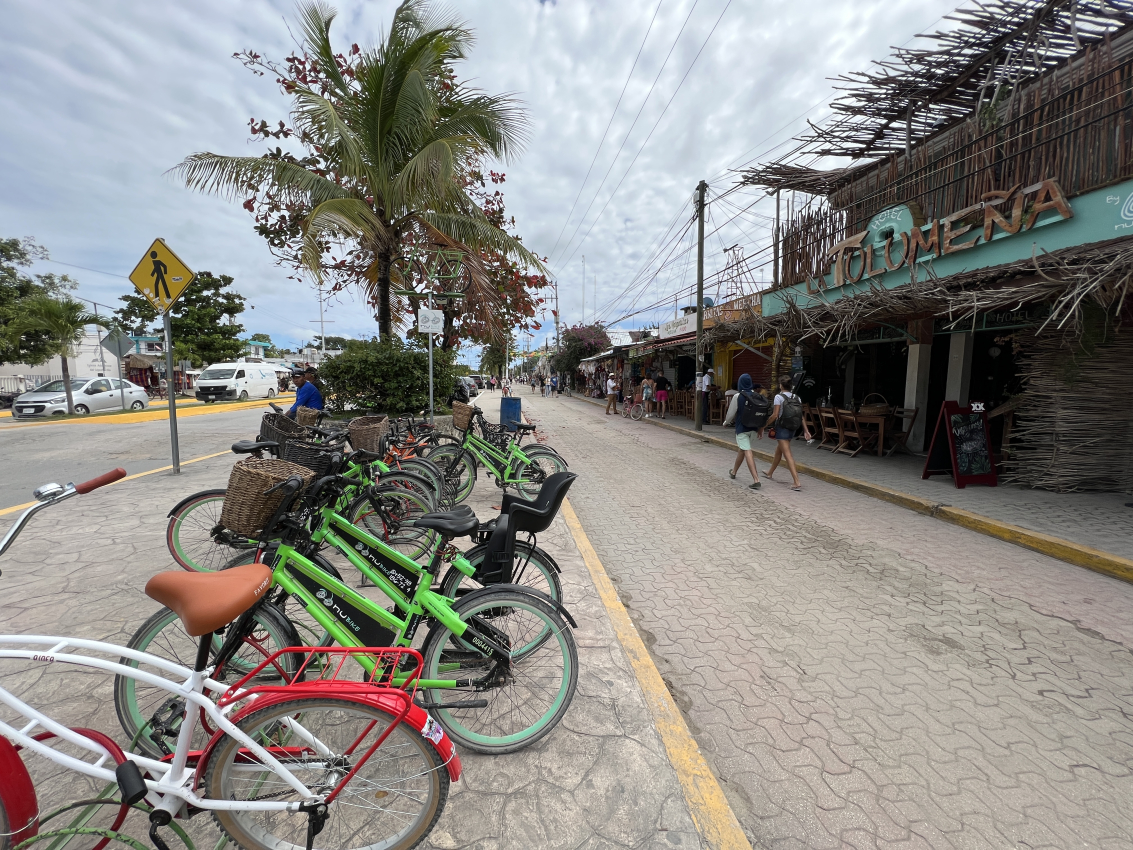 Everyone bikes in Tulum and it's the best way to get around. Roads are sandy and get muddy, so forget a stroller – you won't get far especially on beach roads without a sidewalk and traffic is insane.
A trip to Tulum town (which is further away from the beach) is a fun thing to do with kids when they can eat tacos and enjoy desserts from local stalls or explore cafes.
The varieties of Mexican tacos will suit every palate and taste bud.
If your kids are older they can bike themselves. For smaller kids, you can rent bikes with kids' seats on the back.
4. Explore Cenotes
Cenotes are the best part of Tulum! There are so many to explore for all ages as long as your kids like water.
Gran Cenote: This cenote is one of the most popular in the area and is known for its clear water and friendly turtles. There are shallow areas for younger children to play in, as well as deeper areas for older kids and adults to swim. Go early, because it can get busy.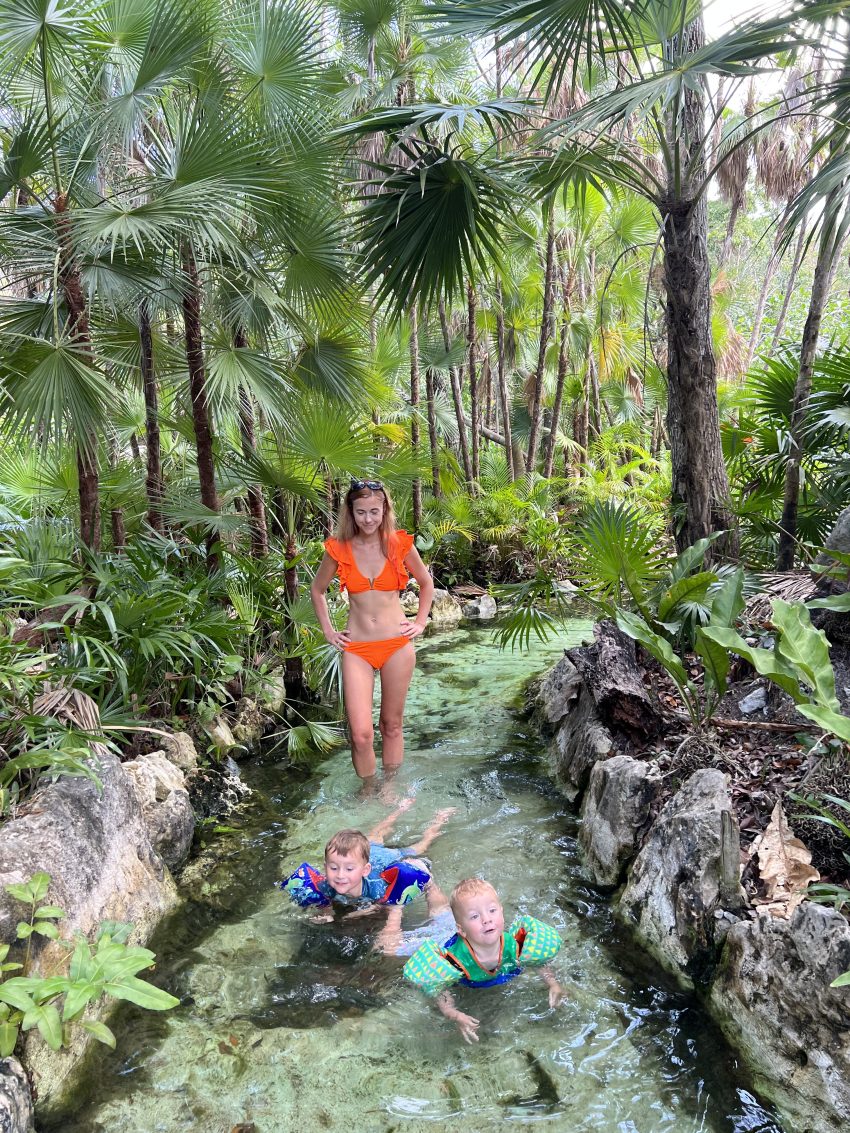 Cenote Yax Kin: This cenote is known for lots of shallow areas making it perfect for kids. It offers sun loungers, restaurants, and swings as well. This cenote is surrounded by jungle, making it a beautiful and peaceful spot to visit.
Cenote Azul: This cenote is great for families, with shallow areas for kids to play in and deeper areas for swimming and snorkeling. There are also diving platforms for older kids and adults to jump from.
Cenote Cristalino: This smaller cenote is perfect for families with younger children. The water is calm and shallow, and there is plenty of fish to observe.
Keep in mind that it's not allowed to enter the cenote wearing sunscreen unless it's a biodegradable one. We always dress kids in UV-resistant swim shirts so not putting sunscreen on them is not an issue.
Recommended Cenote Tours:
Four cenote tour
Jungle Adventure with Cenotes (for kids above 6)
Cenote Swim and Capitan Hook dinner
5. Explore Adventure Parks
There are so many adventure parks in the area with zip lining, caving, snorkeling and hiking, depending on your preference. My personal recommendation would be: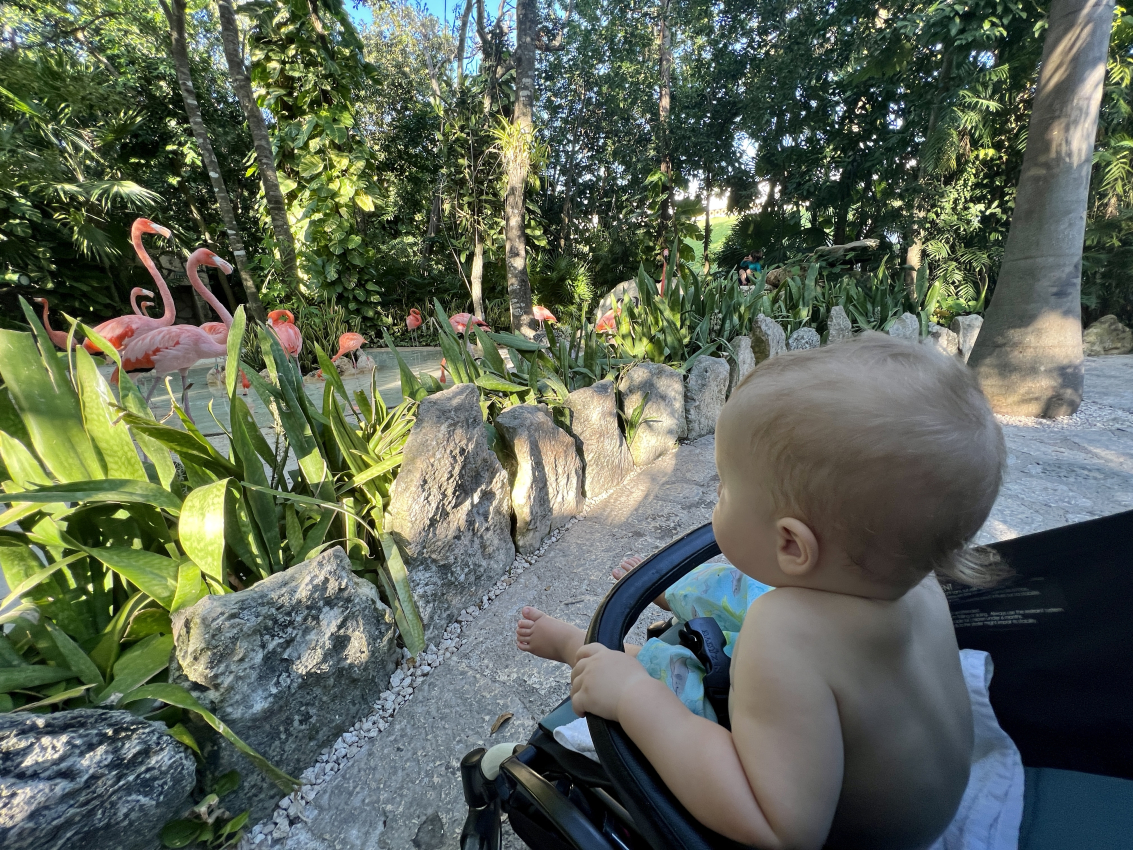 Xcaret – nice low-key outfit for all ages
We love Xcaret and keep returning. Kids had fun seeing everything as babies and now like to explore as toddlers and preschoolers. Many adults without kids have fun at the park as well. If you have the energy definitely stay for the evening show!
You can join a tour with transport and lunch included to make things easier.
Xplor – most fun with older kids
I had fun at Xplor as an adult so can only imagine how fun it will be for kids. The minimum age recommended is 5 years old, because of the activities. It's full of zip lines, underground rivers and off-road vehicles. All-inclusive entry tickets are easily available online.
Xel-Ha – best for small kids and toddlers, but everyone must like water.
You can purchase all-inclusive day passes or opt for round-trip transportation so you're not tired at the end of the day.
The minimum age for Xenses is 5 years old and the activities are designed for the whole family. You get to test your senses because the park is a bit surrealistic – think of a mud bath, weird perceptions, or anything to trick your mind. Tickets are available online.
6. Take a Catamaran Cruise
Taking a catamaran cruise with kids can be a fun and memorable experience. There are several tour operators that offer family-friendly catamaran tours that allow children on board, even babies.
Some tours may also have minimum age requirements for children, so it's important to confirm this before booking.
The kids also love the pirate shows with dinner – the most popular being Captain Hook and Jolly Roger.
So that's a list of things you can do in Tulum with kids. Which one are you going to do first? Comment and let me know!