Called the heart and soul of the Caribbean, Puerto Rico is a Caribbean paradise with old-world charm. Officially known as Estado Libre Asociado de Puerto Rico or the Commonwealth of Puerto Rico, this island is only 110 miles (180 km) long and 40 miles (64 km) wide.
Yet this small island is home to exceptional beaches, majestic mountains, lush forests, and a bounty of different flavors.
To enjoy the best of Puerto Rico during your stay here, you should stay in different zones. Spend a few nights in Old San Juan to experience its history, or spend some nights on the islets of Vieques and Culebra to get some sun.
From Condado and Rincon to Ponce and Isla Verde, here are some of the best hotels to stay in the different zones of Puerto Rico.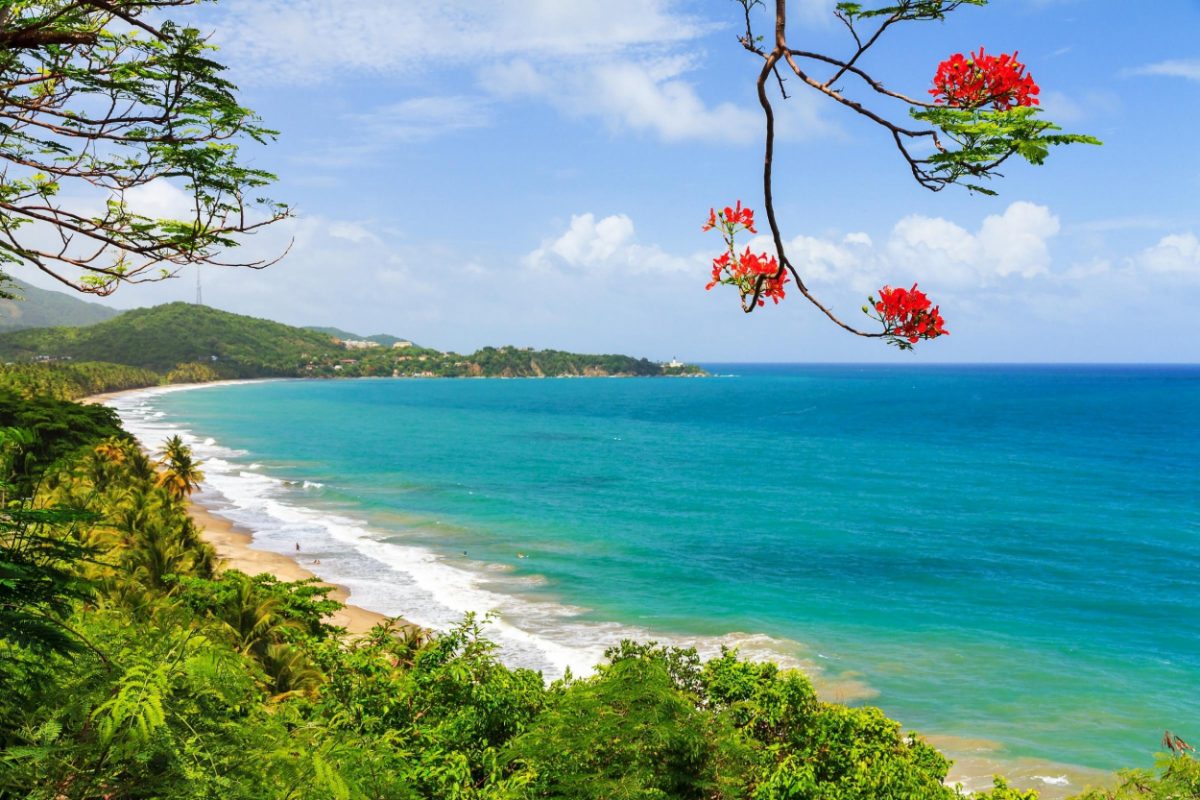 Old San Juan – Best Area For Sightseeing
Located in the Northernmost part of the city of San Juan, Old San Juan was the oldest settlement in Puerto Rico.
Listed on the US National Register of Historic Places, this part of the city is home to La Fortaleza which was built in the 1530s. Also known as the Palacio de Santa Catalina, it's UNSECO listed and is the official residence of the Governor of Puerto Rico.
Castillo San Felipe Del Morro, Castillo San Cristobal, the old city walls, and many historic buildings and structures are in this old district. Old churches, plazas and promenades are abundantly spread over this area.
Open-air cafes and restaurants give you great vantage points to look out at the old city while enjoying a meal. Local stores sell traditional crafts, brightly-colored homes line cobblestoned streets, and nightlife is pretty good too.
Old San Juan is the perfect base if you want to sightsee in San Juan!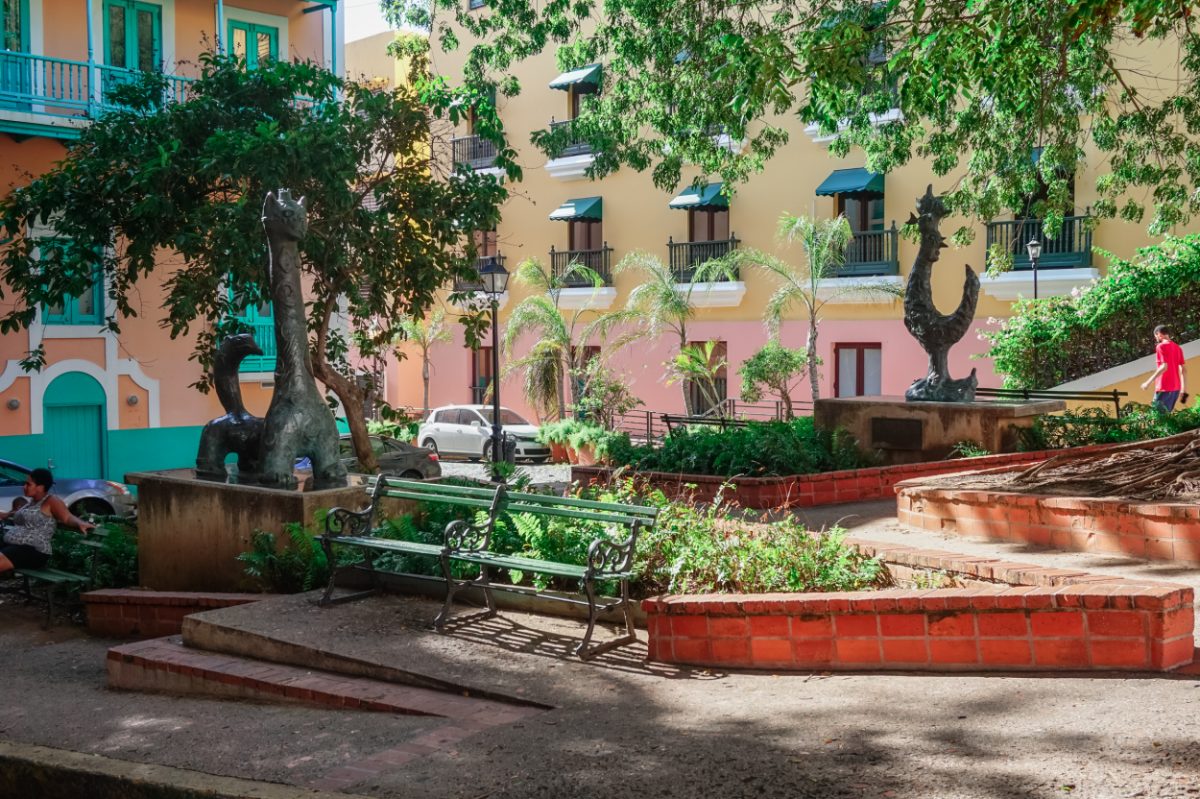 Things to Do in Old San Juan
Visit the old historic sites – there are so many – Paseo de La Princesa, San Cristobal Castle, El Morro, Santa Catalina Palace, Plaza de Armas, Santa Ana Church and more.
Best Luxury Hotels in Old San Juan
This four-star hotel built in 1646 was the first Small Luxury Hotel of the World member in Puerto Rico. Once a Carmelite convent, it's now a splendid example of luxury in the historic city center.
Elegant rooms are adorned with wooden beans, handcrafted tiles, and antique furnishing. Guests staying here get privileges to the El Convento Beach Club on Isla Verda, the best Puerto Rican beaches.
Set between Old San Juan and the Condado area, this family-friendly resort features an ocean-front swimming pool.
Modern rooms and suites, 9 onsite restaurants, a full-service spa and fitness center, a private beachfront, and 17 acres of beautiful tropical gardens welcome guests to this tropical paradise.
Best Boutique & Mid-range Hotels in Old San Juan
Featuring a rooftop overlooking the San Juan Bay, this old town hotel offers rooms and apartments decorated in colonial style. Ponce de Leon Statue, San José Church, Cristo Chapel, San Juan Bautista Cathedral, Museum of San Juan, and La Rogativa Statue are just a short walk away. The rooftop plunge pool is exceptional!
Close to the cruise ship terminal and right on the seafront, this hotel overlooks many of the historic sites. Even the rooftop swimming pool area features perfect views!
Spacious and modern rooms and suites include every amenity and modern convenience, while shopping centers and beaches are nearby!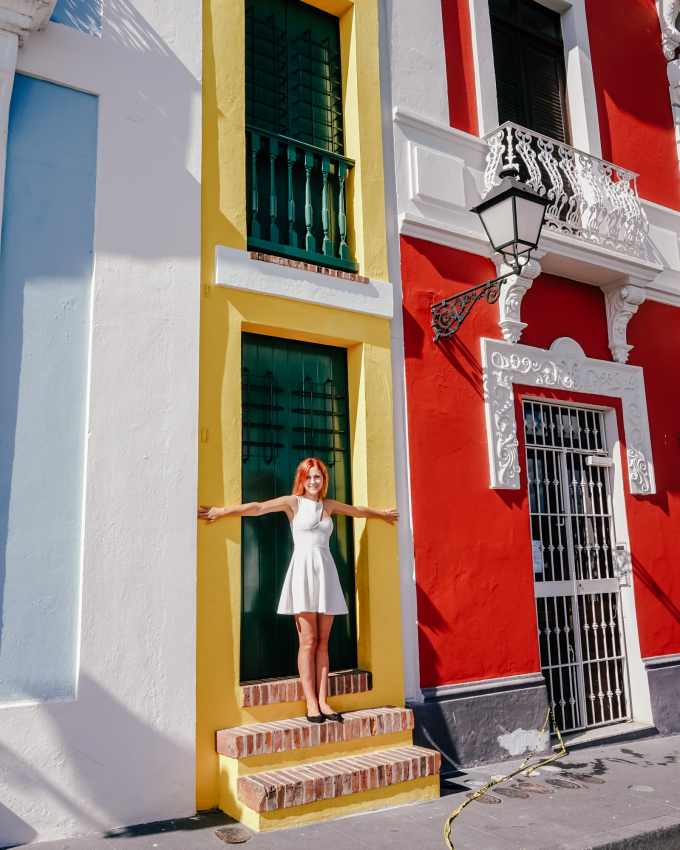 ---
Condado – The Lap of Luxury
A central beachfront area, Condado is a tree-lined area close to Old San Juan. Considered Puerto Rico's most luxurious district, Condado is home to stunning beaches, shopping boutiques, luxurious hotels, and beachside cafes and restaurants.
Puerto Rico's version of Fifth Avenue, Ashford Avenue is home to world-renowned brands like Gucci and Cartier, and also local designers such as Harry Robles.
Stellaris Casino and Casino Del Mar are good for a shot at getting rich. And Condado beach is where you'll find recreational activities like Zumba, sailing, snorkeling, surfing, diving, and more.
Home to Ford's famous Condado Vanderbilt Hotel, it's also filled with resorts of all types.
Things to do in Condado
Spend time exploring the beaches and shopping
Best Luxury Hotels in Condado
One of the most exclusive and world-class hotels is just steps from the Condado Lagoon and a short walk from the La Ventana al Mar Park.
Built in 1919 by the same people that built New York City's Grand Central Station, the elegant hotel with over 100 years of history is modern in amenities and every room or suite includes a refrigerator, coffee machine, and dining area.
Don't forget to take advantage of the access to a private beach or the free sunblock.
Stellaris Casino, a hotspot in San Juan is housed in this popular restaurant. The hotel also features an oceanfront swimming pool, wellness center, and buffet-style dining at the Gingambo restaurant.
You'll love the plush beddings, upscale amenities, Caribbean-style decor, and floor-to-ceiling windows with city views.
Best Boutique Hotels in Condado
Another exclusive hotel in Condado, the O:Live Boutique Hotel features suites with Mediterranean decor, rain showers with hydromassage jets, and L'Occitane toiletries. The rooftop infinity pool at this 5-star hotel overlooks the Condado Lagoon.
The onsite Sage Steak Loft serves dishes curated by infamous Chef Mario Pagan. You can also grab a drink and sit out at your room's patio or indoor veranda featuring stylish Spanish tiles and restored wood decor.
Featuring an outdoor infinity pool overlooking Condado Beach, a poolside bar and hot tub, modern fitness center, this 4-star resort is also home to a casino that's open 24/7. There's also a separate adult-only section!
Well-lit rooms at this elegant hotel feature floor-to-ceiling windows, comfy beds, iPod docking stations, and balconies. Guests can also rent bikes for free or enjoy meals at one of the many onsite restaurants.
---
Rincon – Family and Budget-friendly town
A small town on the Western side of Puerto Rico, Rincon is perfect for stays with families. Away from the main tourist areas, the peaceful and quiet town is perfect for a relaxing vacation.
Founded in 1771, Rincon is also a popular surfing destination drawing tourists from across the world. The popular Domes Beach, also known as Lighthouse Beach or Maria's Beach hosted the World Surfing Championship back in 1968 and is home to big waves, as well as the Punta Higueras Lighthouse.
For a water-focused vacation including whale-watching and surfing, Rincon is the perfect destination!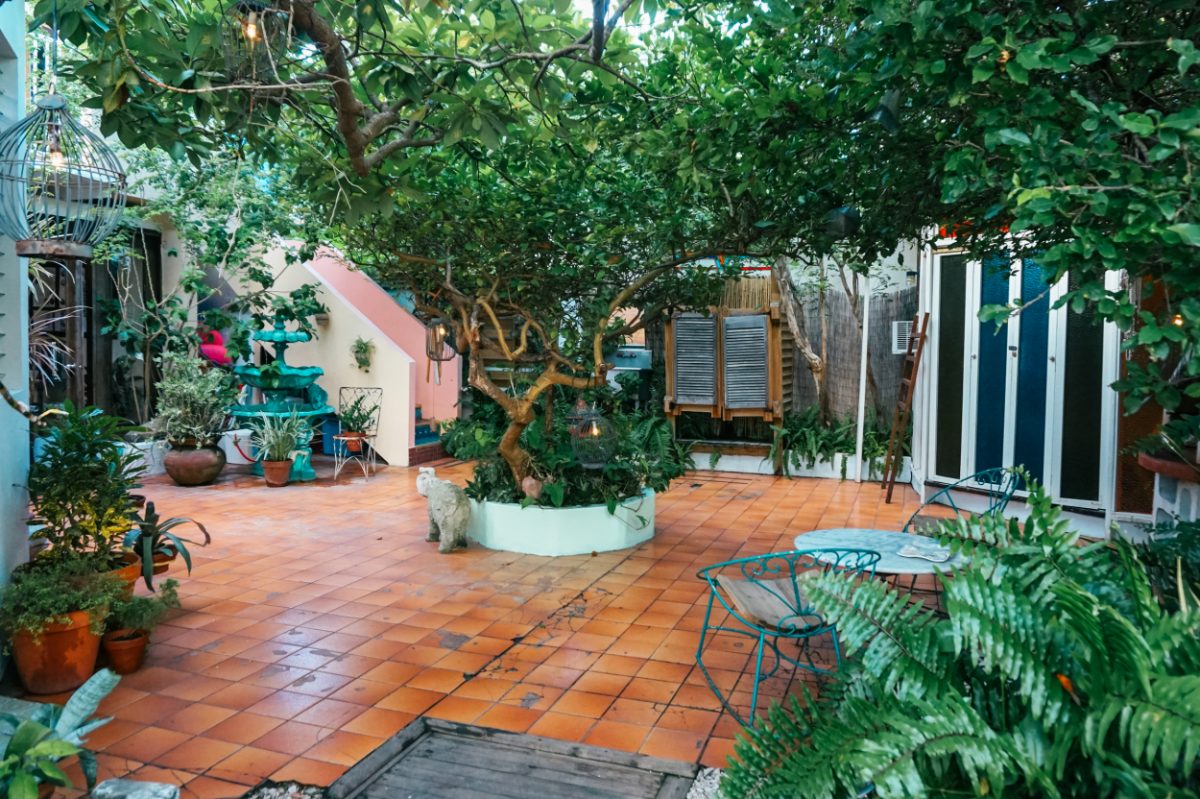 Things to do in Rincon
Laze on the beautiful beach or go whale-watching
Take a surfing lesson at one of the many schools here
Best Hotels in Rincon
Offering rooms and suites with tiled flooring and attractive decor, Rincon Beach Resort has a quiet and peaceful ambiance.
This Anasco Bay resort has amazing views of the Caribbean Sea and is a short walk from Amirante Beach. Brasas restaurant has the absolute best food at a very reasonable price, while the bar near the beach is excellent.
Located near Dona Lala Beach, this villa offers budget-friendly rooms with ACs, TVs, and fridges. If you plan on cooking, opt for a room with a private kitchenette.
The beach and pool are nearby. There's also an onsite fitness center and games room. The onsite restaurant serves delicious seafood and Puerto Rican cuisine.
Best Hotels in Isabela near Rincon
Rincon is more of a beach town with budget-friendly accommodation and doesn't have luxurious hotels. You can opt to stay in the nearby town of Isabela that's close to the Rafael Hernandez Airport.
Villa Montaña Beach Resort is set on 35 acres with its own secluded beaches and two swimming pools. The resort also features a spa, tennis court, fitness center, and kids playground. Guests can make free use of beach cruiser bikes and snorkel gear.
Exotically decorated rooms with garden or sea views feature terracotta floors and Caribbean decor, and every room has a refrigerator, while villas include well-equipped kitchenettes or kitchens.
Featuring large spacious villas with wooden decor, private plunge pools, furnished patios, and every possible amenity, this luxurious hotel is truly beautiful.
Two outdoor pools, a wellness center, and yoga classes are a plus. Hiking and water sports can be arranged. The hotel can also arrange for private picnics at the edge of the cliffs with great views.
Vieques is filled with beautiful secluded beaches, some of which are difficult to access.
---
Vieques – Puerto Rico's Little Sister Island
A small island just 21 miles by 8 miles in size, Vieques is also called Isla Nena or little island because it's considered Puerto Rico's smaller sister.
The island is home to many secluded and beautiful beaches like Blue Beach, Pata Prieta Beach, Caracas Beach, La Chiva Beach, and Plata Beach. White sands and clear waters are perfect for snorkeling or swimming.
Built in 1845, Count Mirasol Fort which is also known as Fuerte de Vieques is a must-visit. So are the Puerto Ferro Archaeological Site, Bioluminescent Bay, Vieques National Wildlife Refuge, Hacienda Playa Grande, and the tomb of Le Guillou.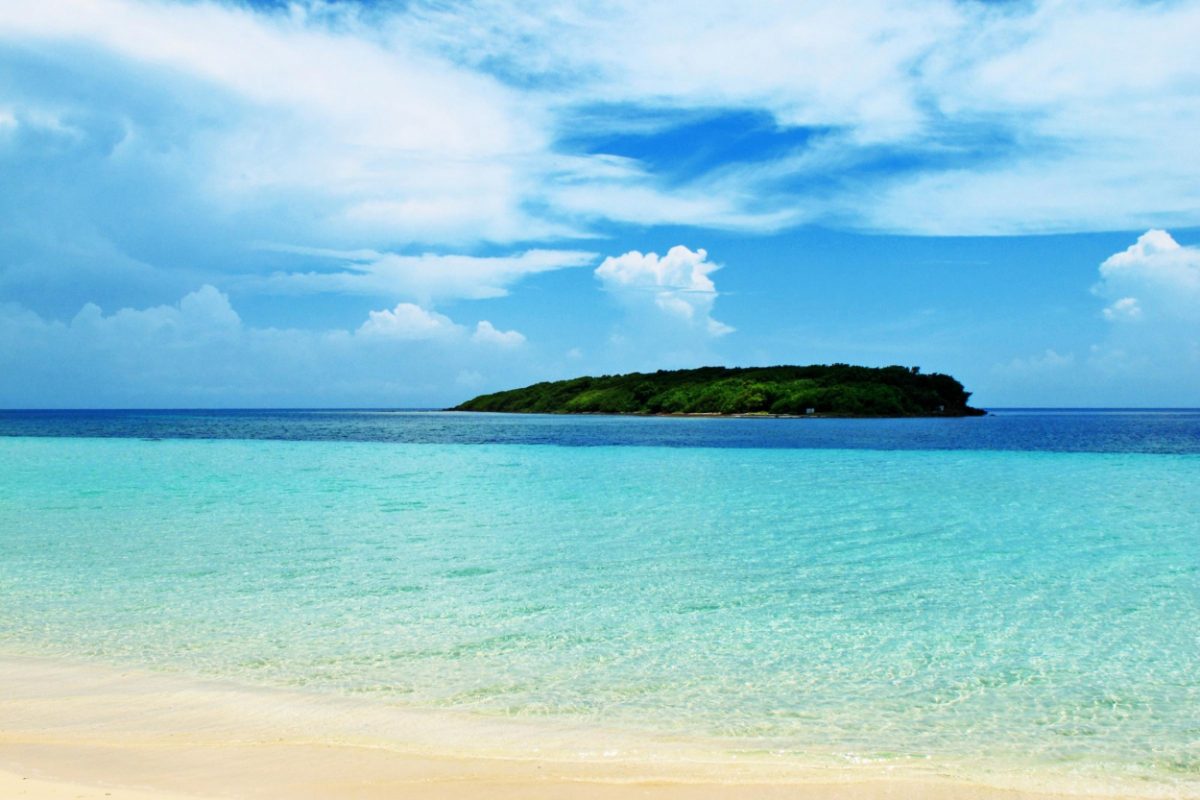 Things to do in Vieques
See the 300-year-old Ceiba tree
Visit the Fortín Conde de Mirasol or Fuerte de Vieques
Best Luxury Hotels in Vieques
A luxurious adult-only resort, the Blue Horizon is situated in a historic building and is the only ocean-front hotel in Vieques. The pool has stunning views of the ocean, the rooms are classy and modern, the grounds are breathtaking, and you have access to a private beach.
The only thing you can hear is the sound of the ocean, it's the perfect romantic getaway!
Another adults-only property in Vieques, El Blok is a concrete work of art. The uniquely designed hotel features beautiful wall displays making use of the natural sunlight.
Aesthetically designed rooms include balconies and are colorfully decorated. Guests also have access to a terrace, bar, pool, hot tub, and outdoor fireplace.
Best Boutique Hotels in Vieques
A boutique hotel with only 13-rooms, the Malecon hotel is located on the malecón or boardwalk overlooking the sea. Palm trees surround this charming hotel in the seaside village of Esperanza.
Airy rooms and suites feature refrigerators and include garden or ocean views. Guests have access to a gorgeous pool and onsite restaurant serving delicious meals, and can enjoy free wine at 4 PM.
Beautiful property with white-colored walls, and open airy rooms. If you want access to a private kitchen, choose to stay in the spacious villa.
You'll enjoy spending time on the sun terrace or in the pool looking out at the ocean, and the proximity to the ferry port, lighthouse and the fort.
---
Rio Grande – Perfect for Nature Trails and Watersports
A town filled with haciendas that once grew sugar cane, Rio Grande still attracts tourists with its natural beauty and lush beaches. Although there are any many popular beaches located within its eight barrios, Coco beach is considered the best.
The main gateway to the El Yunque National Forest, Rio Grande is also the perfect spot for adventurous travelers. The only tropical rainforest in the US, El Yunque is home to hiking trails, beautiful waterfalls, and more.
The dramatic Cascada La Mina waterfall, Juan Diego falls, Torre Britton, and so many natural and historic attractions are all in Rio Grande.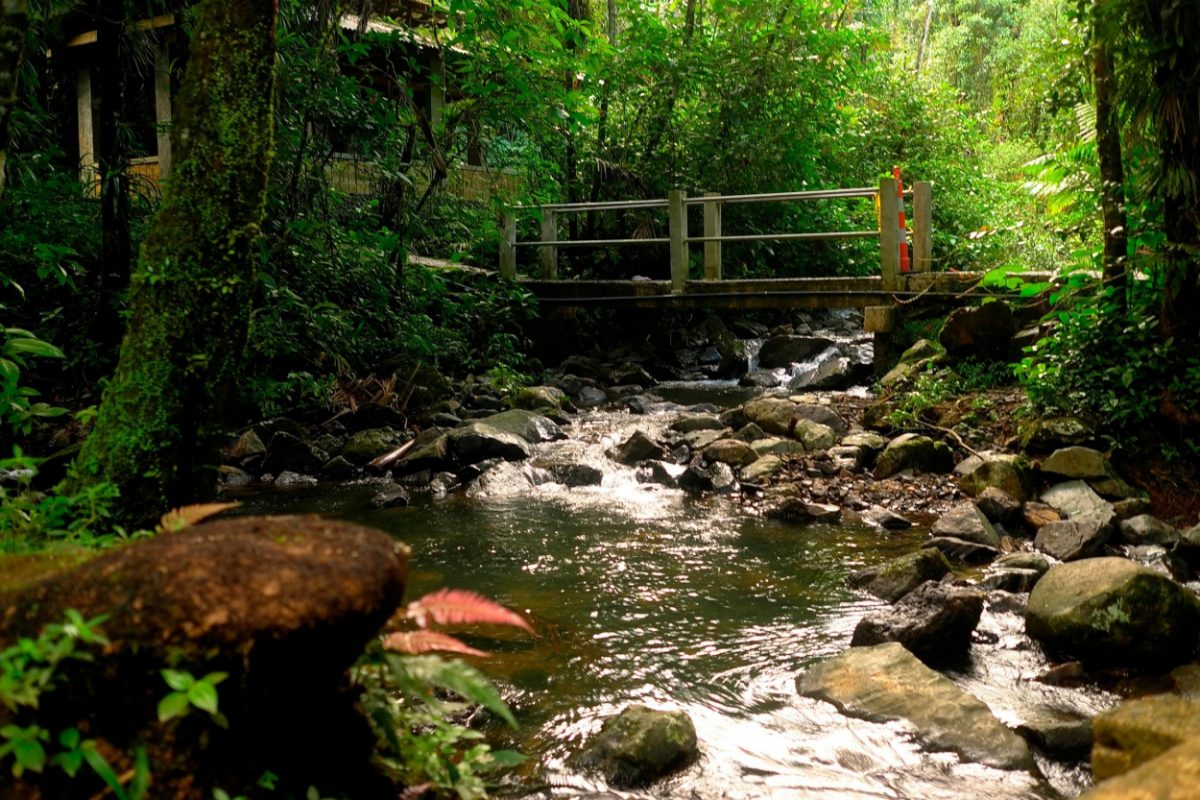 Things to do in Rio Grande
Go ziplining or sliding down waterfalls
Visit the neighboring city of Luquillo to see the golden sands of Balneario de Luquillo
Best Luxury Hotels in Rio Grande
Fantastic resort on a gorgeous beach. Guests here also enjoy access to great tennis courts, a good spa, 2 restaurants, a watersports center, spa and more. The onsite Paros Restaurant serves Greek fare while Seagrapes Restaurant features international cuisine.
Luxurious spacious rooms with every amenity feature terraces or balconies, custom-designed fixtures, oversized tubs, double showers and coffee machines, blue-ray players, iPod docking machines and butler service.
With an onsite casino and games room, and access to a private beach, there's not much more you need for your stay here.
But you'll love the resort. Three pools, a jacuzzi, multiple bars and restaurants, plush amenities, and friendly staff – all cater to a relaxing yet fantastic holiday!
Best Resorts in Rio Grande
As luxurious as they come, this secluded resort on the famous Coco Beach is just a few steps from the ocean. Rooms and suites feature mahogany wood furniture and sophisticated décor, while some suites also include private pools.
You'll also love the lagoon-style pool with 4 integrated whirlpools surrounded by lush gardens, and the multiple onsite bars and restaurants.
With 2 onsite golf courses, 13 tennis courts, 3 pools, a spa and fitness center, and 10 restaurants, you'll be thrilled with your stay here!
Add to that the seasonal onsite (optional) activities like Sea Turtle Nesting and Iguana feeding, water sports, or dance lessons, and you'll not want to leave!
Ponce – Pearl of The South
A city on the Southern coast of Puerto Rico, Ponce features historic mansions with Creole architecture. Called the 'Pearl of the South', it's Puerto Rico's second-largest city after San Juan and is often referred to as 'Museum city' because it has many museums featuring art, architecture and music.
A stay in Ponce is perfect to see the old colonial architecture or even visit coffee plantations for a tasting.
Things to do in Ponce
See the beautiful fountains and monuments in the Plaza las Delicias.
Pay respects to the lives lost in 1937 at the Museo de la Masacre de Ponce.
Visit one of the coffee plantations in the area, some of which are still run by local families. If you can't make it to Ponce, you can do this hiking and coffee-producing tour from San Juan too.
Best Luxury Hotels in Ponce
With a secluded beach area, a 27-hole golf course, multiple tennis courts, two humongous pools, this beachfront property has everything you want in a holiday resort.
Three restaurants and 2 bars fill you up while there's a full-service gym to burn off those calories. Rooms and suites have perfect views of the ocean while some include a balcony where you can enjoy a drink!
Right in the historic downtown area of Ponce, the Ponce Plaza Hotel & Casino is really cozy and comfortable. Everything is within walking distance.
The large outdoor pool and sundeck are lined with palm trees, while the onsite restaurants often give discounts to staying guests. Rooms and suites are well-furnished and often have great views of Serralles Castle.
Best Boutique Hotels in Ponce
The oldest hotel in Ponce just across the Plaza Las Delicias and set in a historic building, Hotel Melia has been operating for over 125 years.
Classically decorated rooms feature local Puerto Rican artwork and TVs with satellite channels. This pet-friendly hotel is perfect for a stay close to the Ponce Art Museum, Serrallés Castle Museum, Ponce History Museum, and many more.
An artsy and trendy hotel with images of Elvis, Marilyn Monroe, and other stars on walls, this hotel is just a short walk from the Museo de Art de Ponce and Parque de Bombas Museum.
Rooms are tastefully and colorfully decorated while double rooms include a seating area. The lobby is really vibrant and lively at night!
Isla Verde – Safest Place to Stay & Closest to Airport
Home to many casinos, restaurants and beach clubs, Isla Verde is where the island's upper-class live. Often referred to as the resort part of San Juan, Isla Verde is home to stunning beaches and quite a few luxurious resorts.
It's also home to the Luis Muñoz Marín International Airport, which people tend to think is San Juan but is actually in Isla Verde, Carolina. Isla Verde is also well-connected by buses to Old San Juan and Pinones and other parts of the island.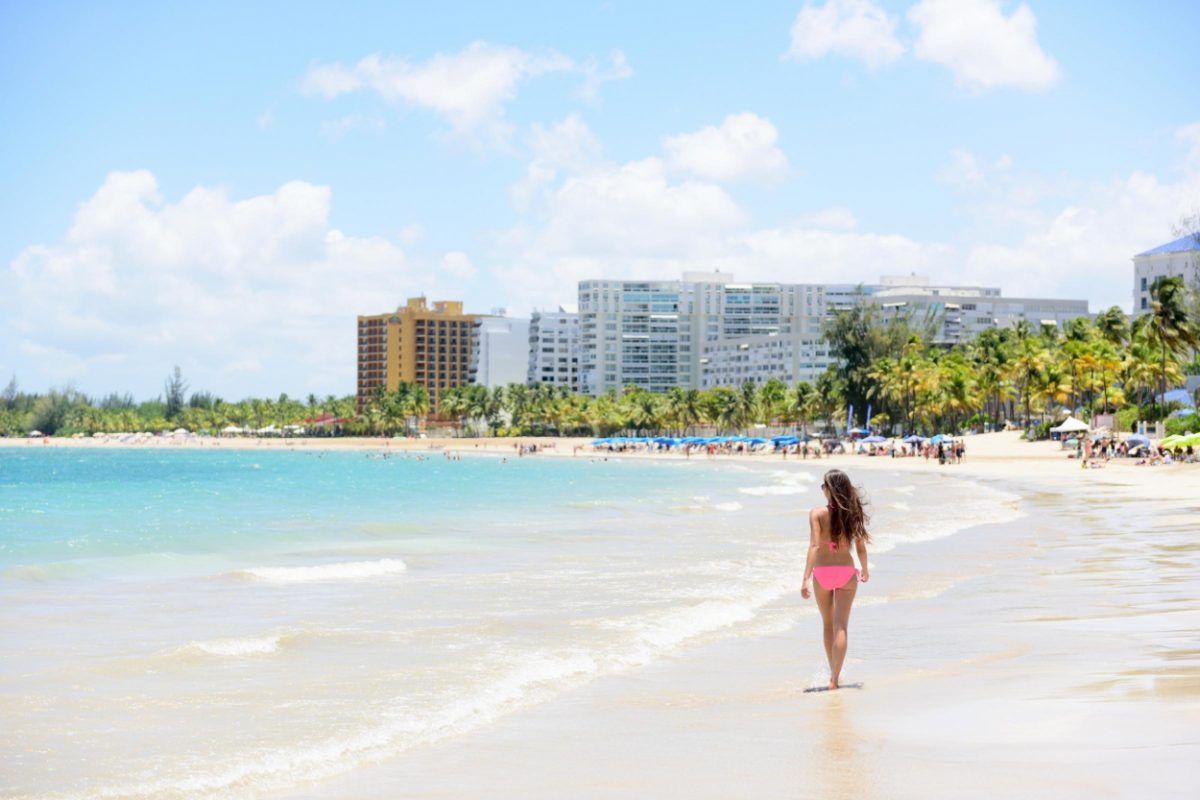 Things to do in Isla Verde
Take a ride to Pinones where you can gorge on traditional Puerto Rican fare
Go out and experience the vibrant nightlife
Best Luxury Hotels in Isla Verde
This luxurious resort covering 15 acres with a tropical setting features four outdoor swimming pools, luxury cabanas, and a swim-up bar. A casino, games room, spa and wellness center, coffee houses, and restaurants are present. The infamous Brava nightclub is also onsite.
Guests can choose from spectacular rooms and suites with balconies and amenities or private villas that are away from the main hotel. Some private villas feature ocean views while others include shower rooms with glass ceilings.
This beachfront hotel features 6 onsite restaurants serving Italian, Asian and Mediterranean cuisine, a coffee house, a games room for children, and an outdoor pool with a swim-up bar.
Elegant rooms and suites offer picturesque views of the lagoon or the town. Most rooms include step-up balconies while some also include terraces. Isla Verde beach is just outside while Pine Grove Beach is a short walk away.
Best Resort Hotels in Isla Verde
A short walk from Isla Verde Beach, the Hilton Embassy Suites offers 1-bedroom, 2-bedroom, and studio suites. Featuring a minimalist design, every suite includes a fridge, microwave, and coffee machine while the larger suites also include kitchenettes.
The outdoor pool features a waterfall. There's also a kids playground, onsite casino, 24-hour gym, pool bar, and a variety of restaurants on site. Guests also get free snacks in the atrium from 5:30 PM to 7:30 PM.
Light and airy rooms at this beachfront hotel feature floor-to-ceiling windows, air conditioning, mini-fridges, and partial or full views of the ocean. Larger suites include refrigerators and well-equipped kitchenettes.
This wedding destination resort also has an indoor and outdoor pool, an onsite ATM machine, coffee house, beachside restaurant serving seafood, a casual ice cream parlor, and more. Salsa dancing classes are held every week.
While it may be hard to choose where to stay in Puerto Rico, we hope this guide will help. No matter what your tastes, there is a part of the island that will be perfect for you!